Rock-it Radio since 1995 providing 50s and early 60s Rock and Roll, Doo Wop and Rockabilly music online! Come tune us in at http://www.rockitradio.net We also have several 100 original radio shows from the first decade of Rock and Roll at: http://www.rockitradio.net/store.html
==========================================================================
ROCK-IT RADIO NEWSLETTER AND PLAYLIST
SHOWS #6474 TO #6487
FROM
May 18, 2019 to June 5, 2019
Hi Everyone,

It's time for another Rock-it Radio newsletter. We
have 14 shows playlists in this show plus news on
our latest June giveaway for those that support Rock-it
Radio in June. Some news on another new way to tune into
Rock-it Radio. Plus a small set back of having to cut the
number of shows available back to 30 due to a decrease in
sales last couple of months. Also a special deal on
Cool Bobby B's Top 50 Doo Wop Countdown. Further down in
the newsletter and more. Plus More news from Rock-it Radio!

Our shows can be heard in our archives page at:

http://www.rockitradio.net/programs.html
and click to the speaker on the left to hear the show.

Remember if you are new to Internet Radio and having trouble tuning in though --
Check out our webpage to help you out at:
http://www.rockitradio.net/tunein.html
============================================
REMEMBER YOU CAN ORDER ANY OF THESE ROCK-IT
RADIO SHOWS ON CD!!!! NEW EASIER ORDERING!

Would you like one of these Rock-it Radio shows on CD? To
be able to play anywhere? And help support Rock-it Radio at the same time.
For complete information check out our program
ordering webpage at: http://www.rockitradio.net/order.html

Our shows are of course copies straight from the studio so they are studio
quality and satisfaction is guaranteed.
Or if you would rather receive an invoice let me know and we
can e mail you a copy - Just e mail us the show(s) you would like
to have and the Rock-it # to: rockitradio@netzero.net

==============================================
All Rock-it Radio shows stay online from 18 to 24 days and are
broadcast in MP3 Format. To tune in just click to the speaker
at our program page at:
http://www.rockitradio.net/programs.html

The newest show added replaces the oldest show so if you see a
show near the bottom of the listing - you should listen as soon as
possible.

==============================================
WE COULD REALLY !!! USE YOUR SUPPORT

Rock-it Radio is 100% Publicly supported. But when you
donate to the Rock-it Radio Launching Pad - we give you
a vintage broadcast of your choice.
100% of all sales from the Rock-it Radio Store (Launching
Pad) goes back to pay copyright fees, LLC taxes, Internet
and bandwidth costs of Rock-it Radio. Without your support
we would not exist. So. please consider a purchase at:
http://www.rockitradio.net/store.html

===============================================
NOTE: ALL SHOWS BELOW CAN BE FOUND IN OUR
PROGRAM WEBPAGE -
TO TUNE IN CLICK TO SPEAKER OF THE SHOW YOU WANT
TO LISTEN TO. EITHER MP3 OR REAL PLAYER.
BOTH FORMATS ARE SUPPORTED.
AT:
HTTP://WWW.ROCKITRADIO.NET/PROGRAMS.HTML

==================================================KEITH BAXTER AND THE GOOD ROCKIN' TONIGHT SHOW
ON ROCK-IT RADIO ON ROCK-IT RADIO SHOW #6474
Keith doesn't put out too many shows for Rock-it but
when he does they are first rate Rockabilly & Rock shows!
He's is back this week with this line up of Great
Rockabilly music when you click to the sound meter
to show #6474.

1. All Tore Up - Bill Kirchen
2. Ain't Nobody Here But Us Chickens - B.B. King
3. Boom Chika Boom - Rayburn Anthony
4. Promised Land - Elvis Presley
5. White Lightning - George Jones and The Jones Boys
6. Rattle Shakin' Daddy - The Jodimars
7. Have You Ever Had The Blues - Ray Gates
8. Put A Nickel In The Juke Box - Willie Goodson
9. Oh Happy Day - Dion
10. The Surfer Moon - Beach Boys
11. Brand New Baby - Alvin Smith
12. Suzie Q - James Burton
13. Good Rockin' Tonight - Wanda Jackson
14. Hip Shakin' Baby - Roy Brown
15. Seventh Son - Bobby Troup
16. Movin' n' Groovin' - Duane Eddy
17. I Want Candy - Strangeloves
18. Camel Walk - The Zanies

=================================================
MICKEY BO'S ROCK N ROLL REVUE ON ROCK-IT RADIO
SHOW #6475 - ALL EARLY ROCKERS ON BASEBALL!

Baseball is in the air, so MICKEY BO'S ROCK 'N' ROLL REVUE
goes bats with an hour of oldies either mentioning the game
or performed by actual pro and semi-pro players whose names
baseball and music fans will know. Listen or strike out!

1. Home Run - Chance Halladay (1959)
2. (Love Is Like A) Baseball Game - The Intruders (1968)
3. The Ball Game - Sister Wynona Carr (1952)
4. Baseball Boogie - Mabel Scott (1950)
5. Baseball Boogie - Brownie McGhee (1948)
6. Did You See Jackie Robinson Hit That Ball? -Buddy Johnson & His Orchestra (1949)
7. Robbie-Doby Boogie - Brownie McGhee (1948)
8. Doby At The Bat - Fat Man Humphries (1948)
9. Doby's Boogie - Freddie Mitchell Orchestra (1949)
10. Say Hey (A Tribute To Willie Mays) - The Nite Riders (1954)
11. Oo-Rooba-Lee - Arthur Lee Maye & The Crowns (1956)
12. Echoes Of November - Rich Allen & The Ebonistics (1968)
13. Halfway To Heaven - Conway Twitty (1959)
14. Welcome To My World - Jim Reeves (1961)
15. (There's My Baby) Walkin' (The Stroll) - Charley Pride (1958)
16. Ain't Got a Thing - Sonny Burgess (1956)
17. Guitar Picker - Bob Luman (1958)
18. After The Hop - Bill Pinky & The Turks (1958)
19. The Bases Were Loaded - "Sugar Chile" Robinson (1950)
20. Take Me Out to the Ballgame - King Curtis (Unk.)

=================================================
MATT THE CAT AND THE JUKE IN THE BACK SHOW WITH
MORE RHYTHM AND BOOZE MUSIC ON ROCK-IT #6476

Rhythm & Booze: Looped!

We continue our unsober series of vintage Rhythm & Blues
drinking songs this week with Rhythm & Booze: Looped!
In the past, Matt The Cat has focused on different types
of libations and the places where you can consume said
libations. This week, we'll delve into your drunken
state-of-mind as we dig on records all about getting looped,
loaded, sloppy drunk and beyond. The Rhythm & Blues genre is
full of such songs, because the music was aimed at an older
audience and the bragging about how drunk you were, shows
just how great of a time you were having. We're gonna find
out the ball that Melvin Smith, Peppermint Harris, Young John
Watson (before he was Johnny "Guitar" Watson), Gene Phillips
and Eddie "Cleanhead" Vinson were having. It's gonna get messy,
but that's what it's all about when you hang out at Rosie's Juke Joint
and the "Juke In The Back." Drink up, cats n' kittens!

1. Swanee River Boogie - Albert Ammons & His Rhythm Kings - Mercury 1947
2. Looped - Melvin Smith - RCA Victor 1952
3. Waiting and Drinking - Calvin Boze & His All Stars - Aladdin 1950
4. I Got Loaded - "Peppermint" Harris w/ Maxwell Davis & His All-Stars - Aladdin 1951
5. We're All Loaded (Whiskey Made Me Drunk) - Roscoe Gordon - RPM 1953
6. Drunk - Jimmy Liggins & His 3-D Music - Specialty 1953
7. I Ain't Drunk - Jimmy Liggins w/ Band- Aladdin 1954
8. Drunk, Drunk, Drunk - The Kidds - Imperial 1954
9. Drunk, That's All - Laverne Ray w/ the Rene Hall Sextet - Unreleased Jubilee 1950
10. Gettin' Drunk - Young John Watson - Federal 1954
11. Sloppy Drunk - Walter Brown and Jay McShann's Quartet - Mercury 1947
12. Stinkin' Drunk - Gene Phillips & His Rhythm Aces- Modern 1947
13. GREAT 78 - It Went Down Easy - Melvin Smith - RCA Victor 1953
14. When I Get Drunk - Eddie Vinson & His Orch - Mercury 1948
15. Drinking Blues - Wynonie Harris - King 1952
16. Thinking & Drinking - Amos Milburn & His Aladdin Chickenshackers - Aladdin 1952
17. What's The Use Of Getting Sober (When You Gonna Get Drunk Again) - Louis Jordan & His Tympany Five - Decca 1942
18. Juice Head Man Of Mine - Dinah Washington w/ Teddy Stewart's Orch - Mercury 1950
19. After Hours - Erskine Hawkins & His Orch - Bluebird 1946
Click here to Reply

=================================================
PETE CHASTON'S DOO WOP SHOW ON ROCK-IT RADIO #6477

Good news for us Doo Wop Lover's!!! Pete Chaston is
back with another great set of Doo Wop Tunes from the
1950s and early 60s. Here is the playlist of what you
will hear when you go to the Rock-it Radio program
page and click the audio meter to hear his show.

1. Doo-Wop All Night Long-The Blue Emotions (opening theme song) (1982)
2. Alone in this World-The Five Trojans (1958)
3. Beat in my Heart-The Juveniles (xxxx)
4. Darling Little Angel-The Encounters (1998)
5. Ding-A-Ling-A-Ling Ding Dong-Dicky Bell & The Bing Bongs (1958)
6. Doom-Lang-The Tokens (1960)
7. Here in My Heart-The Elgins (xxxx)
8. Do-Re-Mi-The Rob-roys (1957)
9. Jeannie-The Thrashers (1957)
10. Peppermint Stick-The El-chords (1958)

SILLY SONG (1957):

11. Bo Meets the Monster-Bo Diddley (xxxx)
12. I Hate Your Guts-J. D. & The Sha-La-Las (1982)

SCRATCHY 45 RPMs SEGMENT:

13. I Love You, Darling-The Valentines (1955)
14. Tonight, Kathleen-The Valentines (1954)
15. Baby, I Love You So-The Don Juans (1956)
16. Dip Dip-The Beau-Jives (1961)

BACK TO THE CDs &/or More 45 RPMs:

17. Ding Dong, Teenage Bells-The Crystalairs (xxxx)
18. Fine Little Girl-The Arcades (1958)
19. Please Believe Me-The Elegants (1958)
20. Do it By Midnight-The Eltones (1959)

SLOW SONG SEGMENT:

21. A Kiss From Your Lips-The Flamingos (1956)
22. Since I Don't Have You-The Skyliners (1959)
23. The Wind-The Jesters (1960)
24. Bells Ring-The Paradons (1960)
25. Chapel Bells-The Fascinators (1958)
26. Bells in the Chapel-Lonnie & The Crisis (1961)
27. (closing theme song) Adios-The Five Discs (1961)

=================================================
ROCKIN' DADDY O'S ATOMIC DOO WOP DANCE PARTY SHOW
ON ROCK-IT RADIO SHOW #6478

The Daddy O is back! with great uptempo sax honkin'
doo wop rock and roll! Come check it out as show #6478
in our program page ... delivered in true awesome
Rockin' Daddy O style! Here is the playlist.

1. What Did She Say-The Solitaires
2. Shtiggy Boom-The Fabulous Joe Houston
3. Fine Girl-The Calvaes
4. Shombalor-Sheriff & The Ravels
5. Who's That Knocking-The Genies
6. Jim Dandy-Tammi Savoy & The Chris Casello Combo
7. Pretty Little Girl-The Monarchs
8. Woe Woe Baby-The Personalities
9. Laughing Love-The Native Boys
10. You Told Another Lie-Little Pete & The Youngsters
11. That's My Girl-The Heartspinners
12. Make Love To Me-The Five Chances
13. Never Let Go-Vicky Tafoya & The Big Beat
14. I Wanna Hug You, Kiss You, Squeeze You-Billy Williams Quartet
15. She's Mine All Mine-The Royal Jokers
16. Why Should I Love You-The Harptones
17. Can I Come Over Tonight-The Velours
18. Most Of All-The Moonglows
19. Once In A Lifetime-The Sonics
20. I Want Only You-The Decoys

=================================================
JACKIE BOND AND LET THE GOOD TIMES ROLL OLDIES SHOW
FROM THE UK ON ROCK-IT RADIO SHOW #6479

Jackie is back this time with a great Rockabilly show
featuring early Rockabilly music from from the Mercury
Record Label. Some great early Rockabilly is to be
heard here. Have a look at this playlist of this show.

Rockabilly Classics From The Mercury Label

1. Crazy Blues - Jape Richardson
2. Who Shot Sam - George Jones
3. Double Talk Baby - Conway Twitty
4. Love Bug Crawl - Jimmy Edwards
5. My Search - Ben Hewitt
6. Cry Baby Cry - Narvel Felts
7. All The Time - Sleepy LaBeef
8. Rockin' Daddy - Eddie Bond
9. Rock-A-Bye Baby Rock - Connie Dycus
10. Dance Me To Death - The Hi Liters
11. Draggin' - Curtis Gordon
12. Good Time - Royce Porter & The Kounts
13. You're The One That Done It - Thomas Wayne
14. Born To Love One Woman - Don Johnston
15. You Don't Know my Mind - Roy Moss
16. Done Gone - George & Earl
17. Flip Flop Mama - Eddie Bond
18. Rock,Roll,Jump & Jive - Curtis Gordon
19. I Want A New Girl Now - Ben Hewitt
20. Maybe Baby - Conway Twitty
21. Let The Good Times Roll - Brad Paisley & B B King(outro)

=================================================
AL COOL DADDY SMITH WITH A DOO WOP TRIBUTE TO THE
SIX TEENS ON ROCK-IT RADIO SHOW #6480

This show pays tribute to the "One Hit Wonder" group known as
"The Six Teens".
Formed in 1955, they struck pay dirt on their very first recording
attempt in 1956 when Flip Records recorded them singing their
one and only tune to crack the top 40, "A Casual Look".
With 13 year old Trudy Williams singing lead with a voice that
belied her tender years and subject matter that resonated with
teens of the era the song was propelled to #28 on the Billboard
Hot 100 and #7 on the Black Singles Charts that year.
The "Six Teens" recorded from 1956 until 1960 on Flip but achieved
no other Top 40 hits. Despite that fact, they recorded some
outstanding vocal group harmony ,that other than "A Casual Look ",
is never played on radio today. This show is an attempt to rectify
this fact and contains nearly all of their body of work.

1. So Happy-The Six Teens 1960
2. That Wonderful Secret Of Love-The Six Teens 1960
3. Suddenly In Love-The Six Teens 1960
4. A Little Prayer-The Six Teens 1960
5. (Danny) This Is The Last Dance-The Six Teens 1958
6. A Casual Look-The Six Teens 1956
7. Teenage Promise-The Six Teens 1956
8. My Special Guy-The Six Teens 1956
9. Only Jim-The Six Teens 1956
10. Arrow Of Love-The Six Teens 1957
11. Was It A Dream-The Six Teens 1957
12. Stop Playing Ping Pong With My Heart-The Six Teens 1957
13. My Secret-The Six Teens 1957
14. Afar Into The Night-The Six Teens 1958
15. Love's A-Funny That Way-The Six Teens 1958
16. Baby-O-The Six Teens 1958
17. A Foolish Little Girl-Trudy Williams with The Pharaohs 1958
18. Your My Boyfriend-Trudy Williams with The Pharaohs 1958
19. Why Do I Go To School-The Six Teens 1959
20. Heaven Knows I Love Him-The Six Teens 1959
21. (Oh) It's Crazy-The Six Teens 1958
22. My Surprise-The Six Teens 1957
23. Baby You're Dynamite-The Six Teens 1957
24. A Casual Look (A cappella)-The Six Teens 1976

=================================================
LITTLE BOSS MAN WITH SOME KILLER DOO WOPS & MORE! ON ROCK-IT RADIO SHOW #6481

From his new studio with new equipment the Little
Boss Man is back with Killer Doo Wops for Part I and some
great oldies and Rockabilly and R&B for part II. It's all
Just waitingto be heard in show #6481! Here is the playlist!

Part I -
The Little Bossman Presents; THE JUMPIN' JIVE BEEHIVE
SHOW ! Rare, Unusual and Hard to Find Vynal 45s. Rockabilly,
Rockin' Rhythm n' Blues Recordings your unlikely to hear
anywhere else...I've got'em and I'll Spin them for your
entertainment and listening pleasure ....Check iT Out !!

01. Mojo (Pt 1)- Knockouts
02. Good Rockin' Daddy-Etta James
03. Party Time-Bob Norris
04. Kansas City-Rocky Olson/Jet Tones
05 I Wiish you Would- JD McPherson
06. Star Revue-Warren Lee
07. Come Back Mabeline-Mercy Dee
08. Reelin' and Rockin'-Dave Clark Grp.
09 Brown Eyed Handsome Man-Buddy Holly
10 Run Along Baby-Premers
11. The Senior Class-Mickey Lee Lane
12. A Bomb Bop-Mike Fernandez/DelRoyals
13. Teen Twist-Buddy Miller Grp.
14. Only one-Scotty Wayne
15. Grasshopper Rock-Link Davis
16 Oomp Boomp-Rhythm Addicts
17. The Gorilla-Jaguars
18. Monkey Monkey-The Rebbels
19. California Boogie-(Inst)Teen Beats
20. Let the Four Winds Blow-Roy Brown
21 I Want You for Myself-Phillip Walker Grp.
22 Chonnie-On-Chon -James Brown
23. This Train-Ruby Turner

PART II -
The Little Bossman Presents; KILLER DO WOPS....I've been
busy sorting thru this Vinyl-Landfill of 45s...Looking for
burried treasures that the mass public rejected in the
50s and 60s. The performances were so raw, payola too little
and too many new records released to Radio Stations, that all
could hardly have been played. The Little Bossmans purpose
here is to Spotlite these Artists that thought that they could
really hit the Charts I would like to represent some of these
rare gems and present them to you for you to hear! With few exceptions
like Little Stevie Wonder ..others were released on tiny vanity
labels, that became defunct and now command hundreds of dollars on
the Collectors market

01. Contract on Love-Little Stevie Wonder
02. Bermuda Shorts-DelRoys
03. Golly Gee-Zodiacs
04. Baby Don't-Royal Demons
05. Magic Wand-Don and Juan
06. One Kiss Led to Another-Coasters
07. Bon Bon-Sandy Powell Grp.
08. You Keep Telling Me-Jackie/Starlites
09. My Vow to You-Eddie LeBron
10. Your Lovely Ways-The Elgin's
11. Wedding Bells-Victorians
12 Seven Day Fool-Starlites
13. Everyone's Laughing-Spanials
14. No Hard Feelings-The Dials
15. I'm Worried-The Kittens
16. Are You Ready-El Domingos
17. You Walked out the Door-Fran and Flo
18. I Burned your Letter-Five Keys
19. Can you Love me-Little Sammy
20 Tryin'-The Saxons
21. Everybody Knew but me-Cresents
22. Is This Really the End-Babydolls

=================================================
JAMMIN' JAMES RILEY AND THE ROCKABILLY N BLUES
RADIO SHOW ON ROCK-IT RADIO SHOW #6482

TWO full hours of the Rockabilly n Blues show
with great music and interviews with your host
Jammin' James Riley! Here is the playlist of
this show....

Rockabilly N Blues Radio Hour #1:

Laura Palmer of Screamin' Rebel Angels co-hosts and picks the songs

1. Get Down Crawl- Nikki Hill
2. New Orleans- Gary U.S. Bonds
3. The Girl Can't Help It- Little Richard
4. Oh! My Soul- Screamin' Rebel Angels
5. The Girl Can't Dance- Bunker Hill
6. Good Disguise- The Delta Bombers
7. How Long You Wanna Live, Anyway- Stray Cats
8. Kill My Baby- Nick Curran & The Lowlifes
9. Treat Her Right- Roy Head
10. Slow Down- The Go-Getters
11. Bad Hangover- Boz Boorer
12. I Thought I Told You Not To Tell Them- Marie Knight
13. Sweet Petunia- Screamin' Rebel Angels
14. That's A Pretty Good Love- Big Maybelle
15. Hey-Sah-Lo-Ney- Mickey Lee Lane

Rockabilly N Blues Radio Hour #2:

Oliver Baroni of Hillbilly Moon Explosion co-hosts and picks the songs

1. Who Do You Love- Oliver Baroni
2. Eeny Meeny Miney Moe- Bob & Lucille
3. Please Give Me Something- Bill Allen
4. 300 Pounds Of Joy- Howlin' Wolf
5. You Told A Fib- Gene Vincent
6. Rooster Blues- Lightnin' Slim
7. Mojo Hand- Lighnin' Hopkins
8. Uranium Rock- Warren Smith
9. Queen Of Hearts- Hillbilly Moon Explosion
10. Baby Won't You Come Out Tonight- Buddy Holly
11. Funnel Of Love- Wanda Jackson
12. You Can't Me Doubt My Baby- Bunker Hill
13. I'm Coming Home- Johnny Horton
14. They Call Me Big Mama- Big Mama Thornton
15. Teddy Boy Flick Knife Rock 'n' Roll- Hillbilly Moon Explosion
16. Well Do It- Ella Johnson with Buddy Johnson Orchestra

=================================================
COOL BOBBY B AND THE DOO WOP STOP SHOW ON
ROCK-IT RADIO SHOW #6483
Top 50 Doo Wop Count Down.

Another fantastic segment of the Doo Wop Stop and
3 full hours + in 3 parts of the Doo Wop Stop! On
demand but catch it before it gets knocked off our
list! Here is the playlist.
This show is a special one! It is the top 50 Doo Wop
songs requested on the Cool Bobby B show from 2018!

Hour #1

1. Rockin' with the Clock - Shirley and Lee
2. #50 Why do fools fall in love - Frankie Lymon & Teenagers
3. #49 Try the impossible - Lee Andrews & The Hearts
4. #48 Diamonds and Pearls - The Paradons
5. #47 Honey, Honey - Lewis Lymon & Teenchords
6. #46 While Walking - The Fabulairs
7. #45 Church Bells may Ring - The Willows
8. #44 The Diary - Kid Kyle
9. #43 A 1000 miles away - The Heartbeats
10. #42 Blue Moon - The Marcels
11. #41 Tonight I fell in love - The Tokens
12. #40 This is my love - The Passions
13. #39 Coney Island Baby - The Excellents
14. #38 Gloria - The Cadillacs
15. #38 (tie) Gloria - Vito & Salutations
16. #37 Maybe you'll be there - Billy & The Essentials
17. #36 Could this be magic - The Dubs
18. #35 Hushabye - The Mystics


Hour #2

19. #34 To be loved - The Pentagons
20. #33 Every day of the week - The Students
21. #32 Glory of Love - 5 Keys
22. #32 (tie) Glory of Love - The Velvetones
23. #31 16 Candles - The Crests
24. #30 He's Gone - The Chantels
25. #29 Since I don't have you - The Skyliners
26. #28 I'm so happy - Lewis Lymon & Teenchords
27. #27 Devil or Angel - The Clovers
28. #26 Just to be with you - The Passions
29. #25 Tear Drops - Lee Andrews & The Hearts
30. #24 Rainy Day Bells - Globetrotters
31. #23 Life is but a dream - The Harptones
32. #23 (tie) Life is but a dream - The Earls
33. #22 Walking Along - The Solitaires
34. #21 Maybe - The Chantels
35. #20 Over the Rainbow - The Demensions
36. #19 Tell me why - Norman Fox and the Rob Roys
37. #18 Never let me go - 5 Discs

Hour #3

38. #17 11th hour melody - The Rivieras
39. #16 That's the way it goes - The Harptones
40. #15 Crying in the chapel - The Orioles
41. #14 The Closer you are - The Channels
42. #13 I only have eyes for you - The Flamingos
43. #12 One Summer night - Philly Cuzz
44. #11 There's a moon out tonight - The Capris
45. #10 You belong to me - The Duprees
46. #9 Long Lonely nights - Lee Andrews and The Hearts
47. #8 Remember Then - The Earls
48. #7 Looking for an echo - Kenny Vance & Planotones
49. #6 Morse Code of Love - The Capris
50. #5 Unchained Melody - Vito & Salutations
51. #4 Sunday kind of love - The Harptones
52. #3 I'm so young - The Students
53. #2 Earth Angel - The Penguins
54. #1 In the still of the night - 5 Satins
55. Goodnight Baby - Imaginations

To help keep Rock-it Radio running - Rock-it Radio is
offering a very special deal on purchasing this special
count down on CD. We will have details further down
in this newsletter.

=================================================
BILL GREEN AND THE GIANT JUKEBOX ON ROCK-IT RADIO
SHOW #6484

Hey Rockiteers. Bill Green is back with Rock 'n Roll Retrospective
and this time around he playing favorites on his Giant Juke Box.
From songs with girls names to 'Good Lovin" songs to a Chuck Berry
tune with a lyrical inaccuracy Bill's got a great playlist to
share with you. So hop on board this cool musical Rock-it ride.

1) Denise - Randy and the Rainbows (1963)
2) Gloria - Vito and the Salutations (1962)
3) Marlena - The Four Seasons (1963)
4) Up On The Bridge - The Chiffons (1966)
5) Good Loivin' - The Clovers (1952)
6) Good Lovin' - The Olympics (19665)
Sound Bite
7) Good Lovin' - The Young Rascals (1966)
8) Doggin' Around - Jackie Wilson (1960)
9) Been Si Long - The Pastels (1958)
10) That'll Be The Day - The Crickets (1957)
11) Smokey Joe's Cafe - The Robins (55/56)
12) Smoke Gets In Your Eyes - The Platters (1958)
13) Dum Dum - Brenda Lee (1961)
14) Make Believe World - The Kodaks (1958)
15) Teenager's Dream - The Kodaks (1957)
16) Pretty Blue Eyes - Steve Lawrence (59/60)
17) Brown Eyed Handsome Man - Chuck Berry (1956)
18) (I Wanna) Testify - The Parliments (1967)
19) Micky's Monkey - The Miracles (1963)
20) Wiggle Wiggle - The Accents (1959)
21) Wiggle Wobble - Les Cooper & The Soul Rockers (1962)
22) Hang 'Em High - Booker T and The MGs (68/69)
23) I Got A Woman - Elvis Presley (1956)
24) Beyond The Sea - Bobby Darin (1960)

=================================================
TREVOR HYLAND ROCK AND ROLL DANCE PARTY WITH A TRIBUTE TO MARGARET LEWIS ROCKABILLY PIONEER ON ROCK-IT RADIO SHOW #6485

With deep regret we announce the passing of Margaret Lewis
( Margaret Warwick ) on Saturday March 29 2019. Our thought
go out to Alton and family. R.I.P. gracious lady.
Featuring Shreveport legend Margaret Lewis. Margaret takes us on
a tour of her musical legacy and the influence she ha had in
keeping the memory of The Louisiana Hayride alive.

01.Shake A Leg - Margaret Lewis
02 That's Why I Cry & Look What You're Doing To Me
03. Turn It All Over To Jesus - Margaret Lewis
04. Ready To Go Home - Hank Williams
05. That's Alright Mama - Elvis.
06. Tweedle Dee - Elvis
07. Hey Porter - Johnny Cash
08. Dixie Fried - Carl Perkins
09. Rock It - George Jones
10. Honky Tonk Man - Johnny Horton.
11. One Guy Today Another Tomorrow - Margaet Lewis
12. No No Never - Margaet Lewis
13. Bow Wow Puppy Love - Margaret Lewis
14. Anyway You Do - Linda Brannon
15. Reconsider Me - Margaet Lewis
16. Honey - Bobby Goldsboro
17. Honey ( I Miss You Too ) - Margaet Lewis

The Party continues with Margaret Lewis in Part B of this two part
chat with the " First Lady of The Louisiana Hayride ". Check it out.
Trevor Hyland & The Rock And Roll Dance Party Rockabilly Show 109
Part B Playlist.
The Party continues with Margaret Lewis in Part B of this two part
chat with the " First Lady of The Louisiana Hayride ".

Part II

01. Shake A Leg - Margaret Lewis
02. Bring It On home To Me- Dale Hawlins & Margaet Lewis
03. One Today, Another Tomorrow - Margaret Lewis
04. Roll Over Beethoven - Margaret Lewis
05. Love Is A Fortune - Margaret Lewis
06. Birmingham Blues - Margaret Lewis
07. You Can't Break My Heart No More - Margaret Lewis
08. Johnny's Cash Or Joe's Love - Margaret Lewis
09. Wings Like An eagle - Margaret Lewis
10. The Ball Game - Margaret Lewis
11. Mrs. Cooper's Tea Party - Margaret Lewis
12. I Know What I Like Id - Margaret Lewis49. ... but I Know What I Like - Margaret Lewis
13. Thunderbolt - Margaret Lewis
14. Hello Brown Eyes - Margaret Lewis
15. Rockabilly Band - Margaret Lewis
16.. Shake A Leg - Margaret Lewis

=================================================
GLEN FISHER AND THE DOO WOP REVIVAL SHOW ON
ROCK-IT RADIO SHOW #6486

I'll take you for a ride in my time machine for the best in Doo Wop,
Acappella and a little mix of Soul. We'll revive the obscure and
sprinkle in a mix of the classics. It's the best music ever put
to wax and together we are keeping this great music alive.

1. Come To Me--Marv Johnson 1959
2. Drip Drop--Kid Kyle 2014
3. Before I Go--The Connotations 1962
4. I 've Got A Feeling--Creations 1962
5. A Night To Remember--Rivieras 1958
6. Do I Have The Right-Ideals 1958
7. Drop By--Metallics 1962
8. Need Your Love--William Dell & The Wee Jams 2009
9. A Million To One--Jimmy Charles 1960
10. Tears From My Eyes--Net Roman & Group 1961
12. Can't We Be Sweethearts--The Cleftones 1956
13. Honest I Will--Chateaus 1963
14. My Love--Chimes 1962
15. The Bells--Baby Washington 1959
16. Gloria--Manhattan Transfer 1977
17. Everything--Arlene Smith 1963
18. Trentons's Medallions--Satan & the Angels 1968
19. I Wish-Jimmy Church 1968
20. In The Still of The Night--Five Satins 1956
21. Goodnight--3rd Edition 2001

=================================================
DAVE THE RAVE AND THE RELICS & RARITIES SHOW
ON ROCK-IT RADIO SHOW #6487

Two full hours of Dave the Rave and the Relics and
rarities show with great hits and rare songs of the
1960s. If you love 60s Rock and Roll this is the
show for you!
To tune in just go to our Program page at:
rockitradio.net/programs.html and click to show #6487

==================================================
LOOK SWELL !!! AND BE COOL IN YOUR OWN
ROCK-IT RADIO T SHIRT!

Have you seen the new full line of Rock-it Radio T shirts that have been
Released. 3 New designs by Rock-it Radio's own Jammin' Jan.
Each Rock-it Radio T shirt is only $16.00 each plus shipping. And 100% of All monies goes to keeping Rock-it Radio Online.

Come check out the latest styles.:

http://www.rockitradio.net/tshirt.html

Check Website for updates and availability

VINTAGE VIDEO PICK OF THE WEEK

For the week of 5 June, 2019
This week in our archives page:
Wanda Jackson performs "I Gotta Know", The Collins Kids perform
"Sugar Time" on "Western Ranch Party" TV Show, 1958.
Top Listing on the above listed website.
================================================
GO FUND ME REMAINS OPEN TO KEEP ROCK-IT RADIO FLYING
FOR 2019.

We did receive some fabulous donations this past month
and it has died out, but to let you know that thru out the
year we have a Go Fund Me page for Rock-it Radio. The
link is towards the top of the page or also at:
https://www.gofundme.com/help-keep-rockit-radio-playing-oldies-online

We have received the following donations since
our last newsletter and a very sincere thank you
to all!

0 0 0
================================================
NEW RELEASE -- FLASHDRIVE OF ROCK-IT RADIO
SHOWS #6401 TO #6450. OUR 21st FLASHDRIVE

NEW RELEASE!!!!! ROCK-IT RADIO FLASHDRIVE #21!!

This is the best buy to collect Rock-it Radio
shows. The CD's of each show costs $9.50 each
but here you get 50 of Rock-it Radio shows for
less then $39.95 U.S.

This includes over 72 hours of Rock-it Radio oldies
programming from shows #6401 to #6450. The Flashdrive
features all these shows in their entirety in mp3 format
in studio quality and just plug into your computer
and Rock-it Away!!!! Check out #21 and it's playlist
via our Flashdrive page at

http://www. rockitradio.net/flashdrive.html

or on our Ebay Store at:
https://www.ebay.com/itm/133029526185
(you can get the playlist of shows on this site)

================================================
LANE QUIGLEY AND THE CLASS OF 1969 50 YEAR CLASS
REUNION SERIES NOW AVAILABLE ON CD.

It's always a very popular series and started last
week we started playing the the First of 5
of the 50 year Class Reunion featuring the music and the
pop culture from 1969. (Rock-it Radio Show #6437 in
our program page)
And we just now has put this 5 Plus 1 CD Set in our
Ebay store at: https://www.ebay.com/itm/143212967019

This is a 5 CD set Plus one final CD totaling 6.
Note Part 6 will not be aired and only available with
the sale of this Class of 1969 set.

The Set sells for $35.95 U.S. Plus $3.00 Shipping -
($6.00 Outside of U.S.)

This series is also available on Flash Drive for the same
price. If you wish a Flash Drive or if you don't have a
Ebay account that is ok, Rock-it Radio will send you a
non obligatory invoice. Just request one at:
rockitradio@netzero.net

100% of all sales goes to keeping Rock-it Radio online and
help finance our new expansion of more shows in our program
page.

================================================
NEW RELEASE COOL BOBBY B AND THE DOO WOP STOP
TOP 50 DOO WOPS FOR 2018 NOW AVAILABLE ON CD.

Just released in our Ebay store at Rock-it Radio
we have released Rock-it Radio show #6483 on a
3 CD set of the top 50 Doo Wop requests on the
Cool Bobby B show. If you are a Doo Wop lover and
want a copy of this show... Here is the link on
Ebay. 100% of all purchases goes to keeping
Rock-it Radio online.
Here is the Link:

https://www.ebay.com/itm/133075470515

================================================
SIGN UP FOR THE FREE DOO WOP RAMBLINGS NEWSLETTER
Glen Fisher host of Rock-it Radio's Doo Wop Revival
show also puts out a great newsletter called the
Doo Wop Ramblings. It's very informative and he
does it for free! And very easy to sign up. Just
drop him a e mail at: newsletter@doowopramblings.org
And give your name and location and just let him
know you would like to subscribe. If you are a fan
of Doo Wop Rock and Roll, I promise you won't be
disappointed!

===================================================
JUNE GIVEAWAY ON ROCK-IT RADIO - DJ JOEY REYNOLDS
OUT OF WKBW IN BUFFALO, NY
2/24/1964

Beatles fans and early 60s Rock fans will love this giveaway
from Rock-it Radio for June 2019. DJ Joey Reynolds later to
become a nationally loved Comedian and TV and Radio
personality in his early years.

YOURS FREE for all our supporters all you have
to do is - Get another Rock-it Radio product
from the sites below and we will send you this CD
for FREE. You can shop at the following Rock-it
Radio sites.

SO DON'T BUY IT! Get another Rock-it Radio product
from the sites below and we will send you this CD
for FREE. You can shop at the following Rock-it
Radio sites.


The Rock-it Radio Launching Pad:
http://www.rockitradio.net/store.html

Wolfman Jack Shows.
http://www.rockitradio.net/wolfman.html

Rock-it Radio Shows:
http://www.rockitradio.net/order.html

or our new service of Rock-it Radio shows
on Flashdrive.
http://www.rockitradio.net/flashdrivemp3.html

Or our 50 Rock it Radio shows on Flashdrive at:
http://www.rockitradio.net/flashdrive.html

Or the Rock-it Radio Ebay store at:
http://www.ebaystores.com/rockitradiostore



=============================================================
HEAR ROCK-IT RADIO ON ROKU !!!

Last month we stopped our service with DirecTV and
hooked up Roku the streaming TV application for our
TV set. While exploring what we have I noticed that
it offers .... The "Tune in" Radio channel on Roku.
So, we added that channel ... it's free! And started
searching for Radio stations to listen too on our TV
set with Roku. You do have to have a Wi Fi Internet
set up for Roku. But the first search we did was
in the search box typed in "Rock-it Radio" though
we are the original Rock-it some other stations did
pop up also. But we immediately recognized our logo
on the Tune in Radio service.... and we are now able
to hear the latest show of Rock-it Radio on our TV set.
We thought that was pretty cool!



===================================================
OUR VINTAGE BROADCASTS ON FLASHDRIVE

It's hard to believe but we realize that perhaps our
declining sales is due to Compact Discs are a
aging medium. And Flashdrives And digital is where it's
at. If you would prefer to
have Rock-it Radio shows and vintage radio shows that we
offer for sale on Flashdrive in mp3 format rather then
on CD we can provide that service here at Rock-it Radio.
Here it is how it works:

1. E mail me at rockitradio@netzero.net and let me
know what shows you would like to have on Flashdrive.
Let's make it a minimum of 3 broadcasts. Either any
Rock-it Radio show .... or Vintage Radio Show from the
50s through 70s that we offer at:
http://www.rockitradio.net/store.html

2. The Cost: Flashdrive will cost $5.00 and each show
that you wish to have will cost $5.00 - nearly 50% CHEAPER then on
CD.

3. I will send you back a invoice within a couple of days, It will be
sent via paypal and it is not obligatory. If you change your mind
just don't pay. But it is easy to pay with any major credit card.

4. Please allow up to 7 days for me to fill the order. Once payment
is sent. In case I get swamped with this offer. Probably sooner.
I have to redigitalize all sold shows into MP3 and that takes a little
bit of time. All orders will have $3.00 postage a slight increase but
that is due to it is shipped as a package and not envelope since it will
be over a 1/4" thick.

For example you order: 3 of our Alan Freed Radio shows. And a Real Don
Steele show. A total of 4 shows - That would normally be a cost of $40.00
on CD. All together on one flashdrive so the invoice would look like

- Flashdrive $5.00
- Four Shows on Flashdrive @ $5.00 each - $20.00
- shipping $3.00

Total: $28.00

Of course if you order more shows on the flashdrive you would continue saving
as you are paying the $5.00 per show rather then $9.50.

And of course we will be adding the monthly giveaway as well.

So for a invoice again just e mail me your wants on your flashdrive for
shows on mp3 at: rockitradio@netzero.net

Also, check out this offer again at:
http://www.rockitradio.net/flashdrivemp3.html

=============================================================
COLLECTING AIRCHECKS - A HOBBY OF RADIO NOSTALGIA
What is a Aircheck? It is simply a recording of a radio broadcast. Usually collected by Radio fans.
Come check out our webpage on collecting Airchecks.

http://www.rockitradio.net/aircheck.html


COME REMEMBER WOLFMAN JACK !!!
Rock-it Radio has a very special way to remember Wolfman Jack.
Arguably the most iconic of American DJ's. Come check out the
Rock-it Radio Wolfman Page at:
REMEMBERING OFFSHORE PIRATE RADIO IN THE UK
In the mid 1960s it was difficult for the youth to actually listen to Rock and Roll in the UK.
The BBC actually ran only a few hours a weekend to provide the young Brits with this outlet.
At night during the week they ventured to even tune into Radio Luxembourg to get there fill,
that broadcast rock and pop around the clock.
To fill this void some venture capitalists decided to bring in commercial radio aboard refitted
radio ships. And anchor themselves just off into International waters off the English coast.
Radio Caroline (named after Caroline Kennedy the U.S. President's daughter at the time)
and Radio London being the most famous. Rock-it Radio has a website dedicated to their ventures
and also have actual radio broadcasts available of
these offshore pirates.
We invite you to check them out our webpage at:
http://www.rockitradio.net/pirate.html
FINDING ROCK-IT RADIO ON THE 'TUNE IN RADIO' CELL PHONE APP.

We have had a few requests from listeners that they couldn't find us on the popular
'Tune in Radio' App. on Android and PC and iphones. Running a search of 'Rock-it Radio'
will actually list 100s of Rock stations.
So, the best way to find us on this very thorough and extensive app. that
I love using myself is -
run a search on 'rockabilly' - there you will easily find
Rock-it Radio listed.
Our Tune in Radio App. webpage is also at:
http://tunein.com/station/?stationId=41878
ARE YOU ON FACEBOOK ?? FOLLOW THE LATEST AT
ROCK-IT RADIO AND OUR LATEST VINTAGE BROADCAST RELEASES.

Rock-it Radio has 2 Facebook pages. One for our programming
online and notifications, and the other is for our vintage
broadcast shows for sale.


The Online Station is http://www.facebook.com/rockitface

For the Rock-it Radio Launching Pad and our latest deals and
releases you can follow us at:
MISSED A COUPLE OF NEWSLETTERS LAST COUPLE OF WEEKS??

THEN YOU CAN ALWAYS CHECK OUR BLOG WHERE IT IS ARCHIVED.
YOU CAN CHECK OUT OUR BLOG AT:

http://rock-itradio.blogspot.com/
=============================================


ROCK-IT RADIO DJ PAGE...


Remember you can check out all the Rock-it Radio DJ's

and read the bios of these DJ's that make these

Rock-it Radio Shows possible at:


And don't forget for even more pictures --

there is our picture page at:
============================================
IF YOU HAVE TWITTER COME FOLLOW US THERE

If you are one that tweets then please check out and join and get our
updates on your twitter account. Our Twitter link is right below.

http://www.twitter.com/RockitRadio1
It is our new Twitter account and we will once again start
scrolling our messages and updates on our webpages as well.


=================================================
We are in our 24th year!!! Please share the good news with your
family and friends that love original Oldies Music - We are back and
Rockin' with new shows in our program page at
http://www.rockitradio.net/programs.html
Just click the MP3 speaker to the show that has your musical interest!
=================================================
WELCOME NEW MEMBERS TO THE LISTENER'S CLUB!!!!

A big welcome to the below new Rock-it Radio listeners that
joined our Listeners Club from May 18, 2019 to June 5, 2019
We hope that you enjoy the music Rock-it Radio provides
and our playlists and information that our weekly newsletter
provides. Any comments, criticisms, kudos, compliments or
future ideas is always welcome and you can e mail me personally at:
rockitradio@netzero.net


David Dellolio - Galveston, Texas USA
Vern Anderson - Lincoln City, Oregon USA
Michael Paparella - Dallas, Georgia USA
We have gained 88 new likes in our listeners club
in our Facebook page Rock-it Radio Fan Page as well this week at:
http://facebook.com/rockitface and 8 more following us
on Twitter @Rockitradio1 .

We have added a total of 99 new members to the Rock-it Radio
Listeners Club since our last newsletter. We now have 95,803 exactly
that have joined the Rock-it Radio Listeners club.
We hope that you enjoy the rare 50's and early 60's
Rock and Roll, Rockabilly and Doo Wop (which most commercial
oldies radio stations have forgotten) that we are able to play
for you from Rock-it Radio. Remember, we are here for you!

So if you ever have any requests, dedications, comments and
suggestions we always love to hear from our listeners.
Our e mail address is:
rockitradio@netzero.net

====================================================
To learn more about the Rock-it Radio Listeners Club and our Free
Newsletter please check out:
http://www.rockitradio.net/member.html

It's free and easy to join and the Rock-it Radio Newsletter is always
online at: http://www.rockitradio.net/newsletter.html



====================================================

PLEASE HELP US SPREAD THE GOOD WORD OF ROCK-IT RADIO!

Do you know of someone that might also like the music

of Rock-it Radio? We are desperately trying to keep this

music alive and have been doing so since 1995! Please

share the information of this station. And if you have

a website would you please consider putting a Rock-it Radio

link on your page.

There are a few to choose from in our link page at:

http://www.rockitradio.net/links.html
HOW TO ORDER OLD ROCK-IT RADIO SHOWS = YOUR PURCHASES HELP US STAY ONLINE!!!
We have received many inquiries on how to order Rock-it Radio shows that are no longer in
our on archives webpage. These shows are still available on CD and mailed to you within 24
hours of receiving payment.
To help search for older shows that you may be looking for you may want to check the Rock-it
Radio blog site. Old newsletters describing the shows and playlists
are archived there and there is a menu bar on the right side that breaks down every playlist
Then you may either pay by check or money order or paypal. Rock-it Radio shows are only
$9.50 U.S. each and are studio quality broadcasts that were placed on Compact Disc here at
the Rock-it Radio Studio. We have a flat rate shipping charge of $1.50 U.S. so if you order
one or several -- it is still only $1.50
U.S. shipping. And we ship worldwide, overseas orders are mailed out first class airmail.
Instructions where to send payment is at our webpage:
like we can send you a paypal invoice within 24 hours.

When you order a Rock-it Radio show or shop at our Rock-it Radio Launching Pad you
help keep these oldies alive and help us pay the bills here at Rock-it Radio.
And at the same time -- you are not getting nothing for your donation, but actually
some of the shows and memories we hope we keep alive here at Rock-it Radio.
TOP 25 SELLERS OF THE ROCK-IT RADIO LAUNCHING PAD
FOR June 5, 2019

HERE IT IS !!! The Top 25 Countdown from the Rock-it
Radio Launching Pad http://www.rockitradio.net/store.html


As you know the Rock-it Radio Store sells vintage Radio Broadcasts -
Where you hear the actual music, news and vintage advertisements -
uncut and unedited just like you would of heard it back then.
Here are the top sellers this week.

1. Lane Quigley Rock-it Radio Class of 1969 Set
2. Flashdrive Rock-it Shows 6351 - 6400
3. RIR #393 - John Lennon Guest DJ WNEW New York 1974
4. RIR #181 - Wolfman Jack XERB Rosarito 12/8/1967
5. RIR #646 - Larry Lujack WLS Chicago 8/8/1970
6. RIR #436 - Pat Sajak - Armed Forces Vietnam Network 3/17/1969
7. RIR #115 - Rare Alan Freed Broadcasts CD
8. RIR #631 - Sean O'Callahan KYA San Francisco 11/5/1967
9. RIR #451 - Chuck Dunaway - KLIF Dallas 7/2/1963
10. RIR #359 - Gus Gossert - WPIX FM New York Feb. 1971
11. RIR #170 - Ted The Bear Richardson CKLW Windsor, Ontario 6/29/1973
12. RIR #623 - Big Jim Edwards CKLW Windsor Ont. 12/1/1969
13. RIR #357 - John Landecker WLS Chicago Pt. 2 10/11/1972
14. RIR #649 - Mike Deneen WQXI Atlanta 7/20/1969
15. RIR #391 - Art Roberts WLS Chicago 8/2/1966
16. RIR #103 - Alan Freed WINS New York 3/5/1955
17. RIR #116 - Casey Kasem KRLA Los Angeles 5/27/1965
18. RIR #191 - Best of Boss Radio 1966 - KHJ Los Angeles
19. RIR #195 - Charlie O'Donnell KRLA Los Angeles 6/16/1967
20. RIR #564 - Ed Baer - WMCA New York 10/19/1966
21. RIR #230 - Jerry Lang - KRAK Sacramento 6/5/1964
22. RIR #141 - Mad Daddy Pete Myers WJW Cleveland 2/26/1958
23. RIR #634 - Mad Daddy Pete Myers WINS New York July '64
24. RIR #397 - Wolfman Jack XERB Rosarito 8/1/1968
25. RIR #200 - Wolfman Jack XERB Rosarito 10/1/1969




If you would like to view these shows in depth you can check out

our Rock-it Radio Ebay Store at:




or in the Rock-it Radio Launching Pad store at:

and in the upper left hand corner -

there is a search box where you can type in the DJ name or

Station Call letters and that information on that show will pop up.

Ordering from the Ebay store will also qualify you for the Rock-it Radio

giveaway mentioned previously in this newsletter. Sale of

these broadcasts is what keeps Rock-it Radio going and thank

you again to everyone that buys these!

============================================



REQUEST A ROCK-IT RADIO STORE CATALOG
If you don't like ordering online but still want to have some
of the vintage radio shows from the 50s through the 70s - We
understand that. That is why we still take mail orders. You can
actually save money also in our orders if you use our coupon that
comes with every catalog - That will give your order a 25% discount!

If you would like a Rock-it Radio catalog that lists over 500 rare and rockin' radio shows with famous DJs when Radio was truly radio! Just e mail us
your mailing address and we will send it out straight away!
Our E mail address is: rockitradio@netzero.net

============================================
Rockabilly bands looking for airplay
If you or know someone that would like airplay on Rock-it Radio we invite
you to submit your press kits to Rock-it Radio. Our website for further
information is:
http://www.rockitradio.net/airplay.html
============================================
Come tune into the World on your computer!
1000s of stations around the world now broadcast online. We have a
link to some of the internet top directories to help you find these stations.
http://www.rockitradio.net/internetradio.html
============================================
Rock-it Radio Program Webpage Reminder
Remember, if the show that you want to hear is getting close to the bottom
of the list of radio shows, you should tune in as soon as you can. These shows
to have a high audio quality require a lot of internet bandwidth and memory.
And currently we can only afford the
30
latest shows online here at Rock-it Radio.
So, when a new show is put online it knocks the oldest one off the Rock-it Radio
archives page. Usually a show will at least last 16 to 20 days, once it is placed in
the archives.
============================================
OUR SISTER STATION FIRST NATIONS BROADCASTING.
We invite you to also check out our sister station -- First Nations
Broadcasting. And tune into the rather Cool North of the Yukon and Alaska
with our very own Debbie Snowdove!
============================================
Well that is just about it for this newsletter and playlists of our latest
shows. We hope that you enjoy them.
We will do our best to keep these shows on for at least 14
days and hopefully 21 days.
All the best always,
Bennie Dingo
Rock-it Radio

website: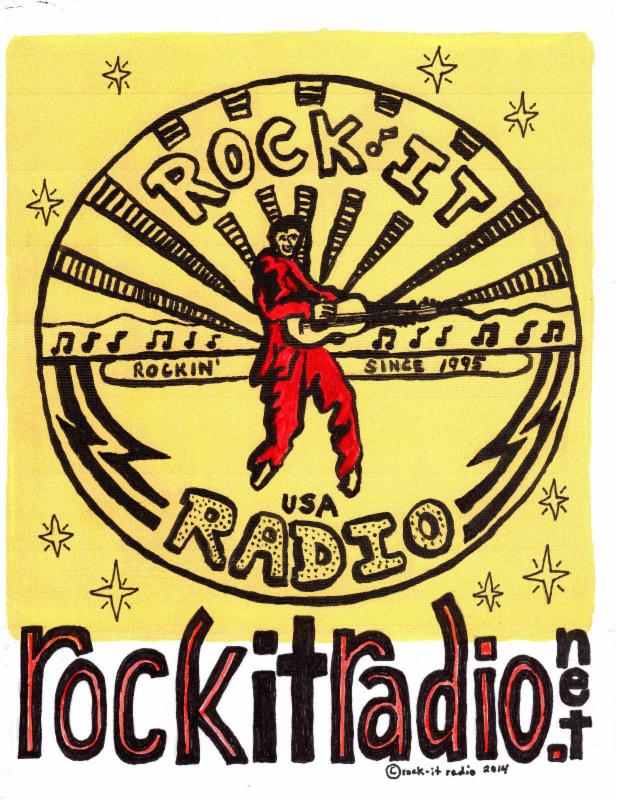 Rock-it Radio main website:
http://www.rockitradio.net

Archived Shows at:
http://www.rockitradio.net/programs.html

Rock-it Radio Vintage Broadcast Store:
(Launching Pad)
http://www.rockitradio.net/store.html