Rock-it Radio since 1995 providing 50s and early 60s Rock and Roll, Doo Wop and Rockabilly music online! Come tune us in at http://www.rockitradio.net We also have several 100 original radio shows from the first decade of Rock and Roll at: http://www.rockitradio.net/store.html
=====================================================================
ROCK-IT RADIO NEWSLETTER AND PLAYLIST
SHOWS #6562 TO #6583
FROM
September 21, 2019 to November 24, 2019
Hi Everyone,

Between illnesses and family emergencies and having to
travel it's been a long time since our last newsletter.
Rock-it Radio is still out there for now, and hopefully
this newsletter is a change of more normalcy. This
newsletter will feature the playlists of shows #6562 to
#6583 a total of 22 of our latest shows. Our Free Giveaway
happening in November and the upcoming December giveaway.
And some vintage Christmas shows we offer here at Rock-it
Radio and the future of Rock-it. In future we plan on releasing
new shows fast as we are so backed up.


Our shows can be heard in our archives page at:

http://www.rockitradio.net/programs.html
and click to the sound meter on the left of the show that that you wish to hear..

Remember if you are new to Internet Radio and having trouble tuning in though --
Check out our webpage to help you out at:
http://www.rockitradio.net/tunein.html
============================================
REMEMBER YOU CAN ORDER ANY OF THESE ROCK-IT
RADIO SHOWS ON CD!!!! NEW EASIER ORDERING!

Would you like one of these Rock-it Radio shows on CD? To
be able to play anywhere? And help support Rock-it Radio at the same time.
For complete information check out our program
ordering webpage at: http://www.rockitradio.net/order.html

Our shows are of course copies straight from the studio so they are studio
quality and satisfaction is guaranteed.
Or if you would rather receive an invoice let me know and we
can e mail you a copy - Just e mail us the show(s) you would like
to have and the Rock-it # to: rockitradio@netzero.net

==============================================
All Rock-it Radio shows stay online from 18 to 24 days and are
broadcast in MP3 Format. To tune in just click to the speaker
at our program page at:
http://www.rockitradio.net/programs.html

The newest show added replaces the oldest show so if you see a
show near the bottom of the listing - you should listen as soon as
possible.

==============================================
WE COULD REALLY !!! USE YOUR SUPPORT

Rock-it Radio is 100% Publicly supported. But when you
donate to the Rock-it Radio Launching Pad - we give you
a vintage broadcast of your choice.
100% of all sales from the Rock-it Radio Store (Launching
Pad) goes back to pay copyright fees, LLC taxes, Internet
and bandwidth costs of Rock-it Radio. Without your support
we would not exist. So. please consider a purchase at:
http://www.rockitradio.net/store.html

===============================================
NOTE: ALL SHOWS BELOW CAN BE FOUND IN OUR
PROGRAM WEBPAGE -
TO TUNE IN CLICK TO SPEAKER OF THE SHOW YOU WANT
TO LISTEN TO. EITHER MP3 OR REAL PLAYER.
BOTH FORMATS ARE SUPPORTED.
AT:
HTTP://WWW.ROCKITRADIO.NET/PROGRAMS.HTML

=================================================
MICKEY BO'S ROCK 'N' ROLL REVUE ON ROCK-IT RADIO
SHOW #6562

Pig out on some weighty music as MICKEY BO'S ROCK 'N' ROLL
REVUE stuffs you with an hour with '50s-'60s oldies about
being fat (and some late '40s rock roots tunes, too).
Gorge yourself on these records with tonnage. At the end of
the show, you'll diet with 3 tunes about being skinny!
Bon appetit!

1. Short Fat Fannie - Larry Williams
2. Jelly Belly Nelly - Larry Williams
3. The Fat Man - Fats Domino
4. Hey, Fat Man - Fats Domino
5. (Fat) Mom-Mi-O - The Chalets
6. Fat Girls - The Neons
7. Big Fat Woman - Bobby Freeman
8. My Big Fat Baby - Sonny Hall & The Echoes
9. Doctor Feel-Good - Dr. Feelgood & The Interns
10. Happy Being Fat - Big Dee Irwin
11. Try The Worryin' Way The Fabulettes
12. Too Much Weight - Mickey & Sylvia
13. Fat Mama - Ronnie Molleen
14. Big Fat Mamas Are Back In Style Again - Bull Moose Jackson
15. Big Fat Mama - Gene Phillips
16. I Like 'Em Fat Like That - Louis Jordan
17. Fat Meat - Big Jim Wynn & His Band
18. Everybody Loves A Fat Man - Pig Meat Peterson
19. Skinny Jim - Eddie Cochran
20. Skinny Minnie - Bill Haley & His Comets
21. Bony Moronie - Larry Williams

=================================================
ROCKIN' DADDY O'S ROCKABILLY RANCH PARTY SHOW ON
ROCK-IT RADIO #6563

The Daddy O is back this show with another great set
of Rockin' Rockabilly tunes. Here is the playlist for
this show.

1. Boppin' High School Baby-Don Willis
2. Chick Chick-Junior Dean & The Avalons
3. Mercy- Lorrie & Larry Collins
4. Bop Wax- Deke Dickerson
5. Big Baby-Tammi Savoy & The Chris Casello Combo
6. Side Step Round The Blues-The Doel Brothers
7. Pretty Boy-The Wildtones
8. Boomerang-Buzz & The Flyers
9. Jello Sal-Benny Ingram
10. Baby Gets Down-Screamin' Rebel Angels
11. Sheree Homer Interview
12. Tomorrow I'll Hang My Tears To Dry-Eddie Clendening & The Blue Ribbon Boys
13. Roots Man-Levi Dexter
14. I Got A Lot On My Mind-Dave Del Monte
15. Look At Me-Shaun Young & The Texas Blue Dots
16. Blue Black Hair-The Jades
17. Don't Ever Go Away-Bloodshot Bill
18. I Got Demons-Roy Dee & The Spitfires
19. Howlin' At The Moon-Hank Williams

=================================================
GLEN FISHER DOO WOP REVIVAL SHOW ON ROCK-IT RADIO
SHOW #6564

Glen is back this week with another exciting and
fun set of 50s and early 60s Doo Wop Rock and Roll.
Here is the playlist.

Unfortunately this is Glen Fisher's show #12 for
Rock-it Radio and unable to find the playlist for
this show. But you know if you love Doo Wop you will
love this show listed as show #6564.

=================================================
MATT THE CAT AND THE JUKE IN THE BACK SHOW FEATURING R&B GREATS ON JUKEBOX RHYTHYM REVIEW ON ROCK-IT RADIO #6565

Once again, it's time to put the ol' Rockola Jukebox in the spotlight
as we blast back 70 years on our annual Jukebox Rhythm Review.
Matt The Cat loads up the Juke with the biggest jukebox hits of 1949.
This week, in part one, we'll focus on the most requested records from
the first half of 1949 and next week, we'll cover the second half of the
year. 1949 was a big year for artists' debut records to go to #1, as
exemplified in this week's program by John Lee Hooker and Big Jay McNeely.
Amos Milburn scores the first #1 of the year, while Paul Williams and
Charles Brown score 2 of the biggest sellers. Sister Rosetta Tharpe hears
music in the air, while Julia Lee gets a little bit naughty and
Dinah Washington compliments her man with "You Satisfy," a song she
recorded in 1947, but not issued by Mercury until the spring of 1949.
So fill your pockets with nickels and get ready to jive n' wail to the
biggest R&B tunes from the first half of 1949 on this week's
"Juke In The Back" with Matt The Cat.


1. Swanee River Boogie - Albert Ammons & His Rhythm Kings - Mercury 1947
2. Bewildered - Amos Milburn - Aladdin 1948
3. Texas Hop - Pee Wee Crayton & His Guitar - Modern 1948
4. Up Above My Head, I Hear Music In The Air - Sister Rosetta Tharpe & Marie Knight with Sam Price Trio- Decca 1948
5. I Love You So Much It Hurts - Mills Brothers - Decca 1949
6. Boogie Chillen' - John Lee Hooker & His Guitar - Modern 1949
7. The Deacon's Hop - Big Jay McNeely's Blue Jays - Savoy 1949
8. Rockin' At Midnight - Roy Brown With His Mighty Mighty Men - DeLuxe 1949
9. The Hucklebuck - Paul Williams & His Hucklebuckers - Savoy 1949
10. Drinkin' Wine, Spo-Dee-O-Dee -"Stick" McGhee & His Buddies - Atlantic 1949
11. I Didn't Like It The First Time (The Spinach Song) - Julia Lee & Her Boy Friends - Capitol 1949
12. Caravan - Billy Eckstine - MGM 1949
13. GREAT 78 - T Bone Shuffle - T-Bone Walker - Comet 1949
14. Pot Likker - Todd Rhodes & His Orch - King 1949
15. You Satisfy - Dinah Washington - Mercury 1949
16. Trouble Blues - Charles Brown Trio - Aladdin 1949
17. After Hours - Erskine Hawkins & His Orch - Bluebird 1946

=================================================
AL COOL DADDY SMITH WITH PART Ii OF A TRIBUTE TO
ARETHA FRANKLIN ON ROCK-IT RADIO SHOW #6566

This show is the Second in a three part series paying tribute to
"The Queen of Soul" Aretha Franklin. She passed on August 16th 2018..
Her like will not be seen again.
This show is the second of what will be a three part tribute to the
late Aretha Franklin. The recordings played will cover a number of
decades in her outstanding career with emphasis on the 1960s.
These recordings will be accompanied by a narrative associated with
these recordings as well as the development of her career during
those decades.


1. Pitiful-Aretha Franklin 1969
2. Who's Zoomin' Who-Aretha Franklin 1985
3. Gentle On My Mind-Aretha Franklin 1969
4. Drown In My Own Tears-Aretha Franklin 1967
5. Respect-Aretha Franklin 1967
6. Rock-A-Bye Your Baby To A Dixie Melody-Aretha Franklin 1961
7. Dr. Feelgood-Aretha Franklin 1971
8. Jumpin' Jack Flash-Aretha Franklin 1986
9. Cry Like A Baby-Aretha Franklin 1966
10. Night Life-Aretha Franklin 1967
11. Ain't No Way-Aretha Franklin 1968
12. The Thrill Is Gone(From Yesterday's Kiss)-Aretha Franklin 1970
13. You Make Me Feel(Like A Natural Woman)-Aretha Franklin/Bonnie Raitt/Gloria Estefan 1991
14. I Knew You Were Waiting(For Me)-Aretha Franklin/George Michael 1987
15. Eleanor Rigby-Aretha Franklin 1971
16. Make It With You-Aretha Franklin 1971

===================================================
JAMMIN' JAMES RILEY AND THE ROCKABILLY N BLUES
RADIO SHOW ON ROCK-IT RADIO SHOW #6567

TWO full hours of the Rockabilly n Blues show
with great music and interviews with your host
Jammin' James Riley! Here is the playlist of
this show....

Rockabilly N Blues Radio Hour #1:

1. Hard Road To Hoe- Eddie Clendening
2. That Extra Mile- Mike Teardrop Trio
3. Hot Dollar- Gene Vincent
4. Palmira- Los Freneticos
5. Joy Ride- Greg Townson
6. Bubble Up- The Deltas
7. Pocket- The Rock 'n' Roll Kamikazes
8. Big River- The Modernes
9. I Can't Go On (Rosalie)- Dion & The Belmonts
10. Sixty Minute Man- Billy Ward & His Dominoes
11. Just A Little Bit- Fatboy
12. The Lightning Ride- Clint Bradley
13. My First Broken Heart (Since My Last Broken Heart)- The Country Side Of Harmonica Sam
14. Hit The Road & Go- Johnny Cash
15. Switchblade Sam- Jeff Daniels
16. Rough & Tumble Guy- Webb Wilder
17. Boppin' High School Baby- Don Willis
18. Pontiac Boogie- Babe Miller

Rockabilly N Blues Radio Hour #2:

1. Pretty Boy- The Wildtones
2. Fool Out Of You- Danny O & The Astrotones
3. The Worst In Me- Theo Lawrence
4. True Love- The Fabulous Thunderbirds
5. You Hound Ya Lie- Darrel Higham & The Enforcers
6. Don't Miss The Train Man- Jake Calypso & His Red Hot
7. As Long As I'm Movin'- Tammi Savoy & The Chris Casello Combo
8. Record Man- Ryan Glenn Band
9. I Wonder Why- The Cadillacs
10. Look At Me- The Sharps
11. Beware- The Wise Guyz
12. Wild & Free- The Delta Bombers
13. Jeanie, Jeanie, Jeanie- Eddie Cochran
14. Oh Lonesome Me- Don Gibson
15. Don't- Elvis Presley
16. Cross Tie Walker- Creedence Clearwater Revival
17. Walkin' Zombie- The Mellows
18. Have I The Right- Robert Gordon

=================================================
LANE QUIGLEY AND THE MEMORY LANE SHOW ON ROCK-IT
RADIO #6568

It's time to jump into the wayback machine for a visit to the
Glory Days of the 45 RPM as host Lane Quigley delivers an assortment
of great tunes from back in the day. Buckle up, you're gonna enjoy
this ride!

1. So Tough - The Kuf Linx 1958
2. I Know What You're Talkin' About - Daddy Cleanhead 1954
SOUND BITE
3. Mr. Cupid - The Vespers 1963
4. Across The Street - Lenny O'Henry 1964
5. Save It - Mel Robbins 1959
6. Pop Pop Pop Pie - The Sherrys 1963
SOUND BITE
7. Happy Birthday Sweet Sixteen - Neil Sedaka 1961
8. I Gotta Get Myself a Woman - The Drifters 1956
9. Daytripper - The Vontastics 1966
10. Honey Boy - Bill Doggett 1955
11. Gee Baby - Ben & Bea 1962
12. Keep Movin' On - Sam Cooke 1964
SOUND BITE
13. You've Been In Love Too Long - Martha & The Vandellas 1965
14. Oh Babe - Roy Milton 1950
15. Don't Say Goodnight and Mean Goodbye - The Shirelles 1963
16. It's Paradise - Lenny Vestal
17. Reet Petite - Jackie Wilson 1957
SOUND BITE
18. Rocket 88 - Bill Haley & His Saddlemen 1951
19. Smack Dab In The Middle - Ray Charles 1964
20. Come See About Me - Nella Dodds 1964
21. Don't Start Me Talkin' - Sonny Boy Williamson 1955
SOUND BITE
22. I Want a Boy For My Birthday - The Cookies 1964
23. Dry Your Eyes - The Dells 1959
SOUND BITE
24. Would I Love You? - The Miracles 1964
25. Need Your Love - The Metallics 1962
=================================================
DAVE THE RAVE AND THE RELICS & RARITIES SHOW
ON ROCK-IT RADIO SHOW #6569

Two full hours of Dave the Rave and the Relics and
rarities show with great hits and rare songs of the
1960s. If you love 60s Rock and Roll this is the
show for you!
To tune in just go to our Program page at:
rockitradio.net/programs.html and click to show #6560

=================================================
ROCK-IT RADIO FLASHBACK SHOW
RICK WARD OLDIES SHOW ON ROCK-IT RADIO SHOW #6570

Flashback about 10 years to show #2558 as we reissue
this show as show #6570 of Rick Ward and his oldies
show. :)

=================================================
JACK VAN OERS ROCKIN' WINDMILL ROCKABILLY SHOW
ON ROCK-IT RADIO SHOW #6571

The Rockin' Windmill is still turning like 45's on a pick-up.
The music in this show was recorded in various countries around
the globe including New Zeeland, The Netherlands, Italy, Sweden,
England, Canada, The USA, Finland, Belgium and Mexico. This show
includes 3 songs from the album Let's go mess around by the Italian
band The Same Old Shoes. So, find your blue suede shoes and petticoats,
turn up the volume and enjoy this Rockin' Windmill show.

1. Watch me do the twist - Misty Bonner - 1962
2. Short fat Fanny - Jerry Merito & the Howard Morrison Quartet - 1959
3. Always late - The Rocking-8-Balls - 2001
4. Get off my back - Jay Blue - 1959
5. Gone girl - Jack Jersey - 1975
6. Lover lover - Daryl Britt - 1959
7. In my life - Terry Lee - 197x
8. Loneliness - Jim Eden -
9. Baby Hop - The Same Old Shoes - 2018
10. Mister Blues - The Same Old Shoes - 2018
11. Sweet Rockin' Mama - The Same Old Shoes - 2018
12. Little red riding hood - Big Bopper - 1958
13. Little red riding hood - Chuck & the Hula's - 2005
14. Slewfoot Sue - Jerry Arnold - 195?
15. Going down that road - Sneaky Pete & his Hamtrank Homebrewers - 1986
16. Pretty Jane - Mark Robinson - 1958
17. Good deal Lucille - Jack Scott - 1960
18. Little boy blue - Hoyt Johnson - 1959
19. Hearts of stone - That Crazy Beat - 1990
20. Pretty little love song - Hayden Thompson - 1990
21. Marilyn - Los Rebel Cats - 2009
22. Star light, star bright - Jackie Johnson & Leon Smith - 1959
23. Here comes Johnny - Runnin' Wild - 2000
24. I guess I'm through with love - Danny & the Debonaires - 1961
25. Wicked - Mike Sanchez - 1960
26. Quatre Mains - Rock of Ages - 1992

=================================================
JAMMIN' JAMES RILEY AND THE ROCKABILLY N BLUES
RADIO SHOW ON ROCK-IT RADIO SHOW #6572

TWO full hours of the Rockabilly n Blues show
with great music and interviews with your host
Jammin' James Riley! Here is the playlist of
this show....

Rockabilly N Blues Radio Hour #1:

1. Winners Circle- Daddy Long Legs
2. Restless- Jacob Tolliver
3. Rockin' Route 66- Headcat 13
4. Double Whammy- Lonnie Mack w/ Stevie Ray Vaughan
5. Chicken Wire- Black Flamingos
6. Old Cowhand- Kentucky Cowhands
7. Move A Mountain- Johnny Falstaff
8. Good For Nothin'- Mike Teardrop Trio
9. A Thousand Guitars- Tracy Pendarvis
10. I Vibrate- Conway Twitty
11. Fighting Fire With Gasoline- The Kokomo Kings
12. Honey Don't (live)- Lee Rocker
13. When Life Comes Knockin'- Love Tattoo
14. Scratchin'- The Fleas
15. Why Don't You Answer- Lil Mo & The Dynaflos
16. Running Down The Road- Chris Isaak
17. State Trooper- Jesse Dayton

Rockabilly N Blues Radio Hour #2:

1. I Know- Darrel Higham & The Enforcers
2. Daddy Worked The Pole- Chuck Mead
3. Hot Foot Woman- Peter & The Wolves
4. I Don't Want To Spoil The Party- Joel Paterson
5. Speed Bump- Greg Townson
6. A Big Hunka Love- Crown City Bombers
7. Make Up Your Mind- The 40 Acre Mule
8. Monkey's Uncle- Ronnie Dawson
9. Action Packed- The Del Moroccos
10. Fish Outa Water- The Hillbilly Moon Explosion
11. Baby, What You Want Me To Do (live)- Elvis Presley
12. Change In The Weather- Janiva Magness
13. Please Love Me- B.B. King
14. Little Boy Blue- Albert King
15. I'm Tore Down- Freddie King
16. 100% Pure Fool- The Derailers
17. Stockings & Shoes- Eddie Cochran
18. She's Too High- Jolie & The Jackalopes

=================================================
JACKIE BOND AND THE LET THE GOOD TIMES ROLL OLDIES
SHOW ON ROCK-IT RADIO SHOW #6573

From his studios in the UK Jackie is back!!! With his
usual mix of great Rock and Roll from the first decade.
Here is what you will hear when you click to this show.

1. Play Those Oldies Mr DJ - Anthony and the Sophomores (Intro)
2. Why Don't They Let Us Fall In Love - The Ronettes
3. Double Crossing Baby - The Robins
4. I Won't Tell - Tracey Dey
5. Rockin Your Little Baby To Sleep - Buddy Knox
6. Mama Your Daughter Told A Lie On Me - The 5 Keys
7. Not Gonna Cry (No More) - The 5 Royales
8. Egyptian Shumba - The Tammys
9. I'm Gonna Wish For You - The Capri Sisters
10. I Need Some Money - The Miracles
11. Honey Chile - The Drifters
12. Sleep and Dream - The Keystoners
13. Ring A Ling - Hank Ballard And The Midnighters
14. When I Go To Sleep At Night - The Tokens
15. I Will Follow Him - Little Peggy March
16. Oh Gee Oh Gosh - The Kodaks
17. You Belong To Me - The Duprees
18. Goodnite Sweetheart Goodnite - The Spaniels
19. Broken Heart - The Fiestas
20. Sweet Sue - The Crows
21. Jerry - The Minors
22. Down The Road - The Dootones
23. Holy One - Jerry Glen
24. Hey Little School Girl - The Paragons
25. Getting Dizzy - The Elegants
26. Baby Sue - The Rhythm Tones
27. Give Him A Great Big Kiss - The Shangri-Las

=================================================
ROCKIN' DADDY O'S ATOMIC DOO WOP DANCE PARTY ON
ROCK-IT RADIO SHOW #6574

Rockin' Daddy O is Back! and this time with another
great set of 50s and early 60s Doo Wop Rock and Roll
favorites and some rarities. Here is this shows
playlist.... and you will hear when you go to our
archived program website and click that sound meter
to the left hand side to this show.

1. When In Love (Do As Lovers Do)-Gregory Howard
2. Teenage Love-The Universals
3. Silver Lining-The Starlites
4. Ray Pearl-The Jivers
5. Sweet Baby Of Mine-Tammi Savoy & The Chris Casello Combo
6. From The Bottom Of My Heart-The Fantastic Five Keys
7. I See A Star-The Roulettes
8. Dead-The Poets
9. Ookey Ook-The Penguins
10. Love Is A Clown-The Redondos
11. I Told You So-The Charts
12. Foolish Me-The Harptones
13. Daddy Daddy-Richard Berry & The Dreamers
14. All About You-The Clovers
15. Jitterbug-The Blanders
16. Bobbie-Joey & The Lexingtons
17. Work It Out-Nathaniel Mayer & The Fabulous Twilights
18. Bells Ring-The Night Owls
19. I Know The Meaning Of Love-Jimmy Castor & The juniors
20. The Way You Look Tonight-The Jaguars
21. Nite Owl-Tony Allen & The Champs

=================================================
THE COOCH - JOHN MINNICUCCI WITH JOHN'S ATTIC SHOW
ON ROCK-IT RADIO SHOW #6575

John's Attic show # 30. More classic R&B-R&R- Doo Wop-Rockabilly & Blues
songs and artists from the 40s,50s& a touch of the 60s & sometimes
a little beyond. Some of our featured artists on this show.
Boxing great Sugar Ray Robinson, Wheels, Van McCoy, Versatones,
Carl Perkins, and more.

First Hour

1. Well-Olympics-1958
2. Rink-A-Din-Ki Do-Edsels-1959
3. Knock Him Down Whiskey-Sugar Ray Robinson-1958
4. Sadie Green-Margie Day-1951
5. My Hearts Desire-Wheels-1956
6. Do You Close Your Eyes-Josh White Jr.-1964
7. Tenderly-Billy Eckstine-1952
8. Moonrise-Royals-1952
9. Pointed Toe Shoes-Carl Perkins-1958
10. Crazy Country Hop-Johnny Otis-1958
11. The Things I Love-Fidelitys-1958
12. Is It True-Hollywood Saxons-1958
13. Yes It's True-Tuxedos
14. Wrapped Up In A Dream- Jimmy Sacca & Hilltoppers-1954
15. The Bill Collector-Debonairs-1957
16. Sweet Rockin Mama-Hi Tombs-1960
17. Shim Sham Shimmy-Champion Jack Dupree-1953
18.Shake Your Money Maker-Elmore James-1961
19. Memories Of El Monte- Penguins-1963
20. Lovely One-4 Voices-1956
21. Girls Are Sentimental-Van McCoy-1961

Second Hour

1. Certainly All- Eddie Guitar Slim Jones-1952
2. Got My Mojo Working-All Cole & Suburbans-1957
3. Getting Nearer-John Lester& Mellow Queens-1959
4. A Touch Of Heaven-Mister Ruffin-1955
5. Merry Go Round-Marv Johnson-1961
6. Let's Dance Close-Peter Jarett & The 5th Circle-1967
7. She's Dynamite-Tampa Red-1951
8. Teenage Rock- Ronnie Jones & Classmates-1957
9. You Played Me A Fool-Story Tellers-1959
10.A Penny For Your Thoughts-Bruce Clark & The Qs-1964
11. Disc Jockey Jamboree- Sax Kari-1954
12. Bila-Versatones-1958
13. Magic Moon-Rays-1961
14. I'm Sorry-Bo Diddley & The Carnations-1958
15. Motor Head Baby-Johnny Guitar Watson-1952
16. I Want To Flop-Mattie Jackson-1959
17. I Found A Love-M&M& The Peanuts-1964
18. Evening-Rainbows-1955
19. 6 Months 3 Weeks 2 Days & An Hour-Sharps-1956
20. PS I Love You-4 Vagabonds- 1947
21. Sandman Of Love-Bill Watkins

=================================================
BILL ROBERTS - LITTLE BOSS MAN SHOWS ON ROCK-IT
RADIO SHOW #6576

This is show #14 for Bill on Rock-it Radio and in
2 parts, first part features the Jumpin Jive Beehive
show filled with great rockabilly music.

In the second part is Killer Doo Wops. !!!
Both shows are in our program page and waiting to
be heard! Hope you enjoy. Unfortunately, we are
unable to locate the playlists for these shows but
will post at in the next newsletter hopefully.

=================================================
KEN STRANGE COUNTRY RECORD ROUND UP SHOW WITH
VINTAGE COUNTRY MUSIC ON ROCK-IT RADIO #6577

Join DJ Ken Strange as he delves into the archives to brings
you another Country Record Round Up Show that features Country
Music from right across the board with tracks from the 50's through
to the 00's including his regular feature of "Duos & Duets."

01. Intro - Medley
02. We've Got A Fire Going - Don Williams (86) Capitol
03. In A Big Way - Darius Rucker (10) Capitol-Nashville
04. Fireball Rolled A Seven - Dave Dudley (75) United Artists
05. Too Fast For Rapid City - Sheila Andrews (79) Ovation
06. Blue Is My Best Colour - Sandy Posey (66) MGM
07. Two Arms Two Lips Too Lonely Too Long - Teea Goans (10) Crosswind
08. This Old Heartbreak Express - Buster Turner & His Pinnacle Mountain Boys (58) Fortune
09. Famous People - Brad Paisley (03) Arista-Nashville
10. A Good Woman's Love - The Easteners (68) Velco
11. I Cheated On A Good Woman's Love - Billy Craddock (78) Capitol
12. It Could'a Been Me - Billie Jo Spears (85) Showcase
13. I Ain't Livin' Long Like This - Rodney Crowell (04) Epic
14. Don't Get Above Your Raisin' - Ricky Scaggs (81) Epic
15. There He/she Goes - Patsy Cline & John Berry (99) Mercury
16. Milwaulkee Here I Come - George Jones & Brenda Carter (68) Musicor
17. Hush Money - The Collins Kids (56) Columbia
18. I'm On My Way Home Again - The Everly Brothers (69) Warner Bros
19. Burn Me Down - Marty Stuart (91) Geffen
20. It's A Great Day To Be Alive - Travis Tritt (00) Columbia
21. Don't Slam The Door On My Hangover - Luke Gibbons (69) Bonanza
22. One More Time - Lee Bonds (58) Todd
23. It's A Man's World - Diana Trask (73) Dot
24. Alone With You - Wanda Jackson (58) Capitol
25. Knee Deep - Leroy Pullins (66) Kapp
26. Outro - Medley

"Keep It Country"

=================================================
DJ SPINNING ROCK BOOGIE AND THE MOVIN' AND GROOVIN'
OLDIES SHOW ON ROCK-IT RADIO SHOW #6578

"TRI-STATE AREA - NEW YORK - NEW JERSEY - CONNECTICUT."

Join DJ Spinning Rock Boogie for a new series featuring the
Tri-States of New York (including the five boroughs
of New York City), New Jersey and Connecticut, with music from
the 50's and 60's including Rock & Roll, Rockabilly, Doo Wop, Teen
sounds, Soul and his regular feature of The Smooch Spot.
The tracks played are on labels that were based (although not
necessarily recorded in the towns and cities) within this particular
Tri-State Area.

01. Intro - Medley
02. Tick Tock - Ritchie Cordell (62) Rori - NYC
03. Haunted Heart - Johnny Lion (59) Coed - NYC
04. Chicken Backs - Mel Smith & The Nite Riders (64) Courtesy - Hartford CT
05. I'm Hurt - Rick & The Rockers (58) ARC - Elizabeth NJ
06. Going To The River - Jerry Jaye (58) Fine - Rochester NYS
07. Ko Ko Mo - Hawkshaw Hawkins & Rita Robbins (55) RCA-Victor - Camden NJ
08. Where's My Money - Willie Jones + Bobbie Smith & The Dream Girls (62) Mr Peacock - NYC
09. Steppin' Out - Cornel Gunter & The Flairs (56) ABC-Paramount - NYC
10. Promise Me A Rose - The Carmelettes (59) Alpine - Bridgeport CT
11. Ding Dong Rockabilly Wedding - Libby Dean (57) Savoy - Newark NJ
12. Train Of Sin - Bill Haley & The Comets (64) Guest Star - Newark NJ
13. Black Derby - Bill Lehman & The Rock-its (59) ARP - Buffalo NYS
14. In The Still Of The Night (SMOOCH) - The Five Satins (56) Ember - NYC
15. Mister Dee Jay (SMOOCH) - The Cinderellas (59) Decca - NYC
16. Daydreamin' (SMOOCH) - Jerry Lando & The Rumblers (61) Pam - Jersey City NJ
17. Young Generation (SMOOCH) - Ray Arlo (58) Castle - Boonton NJ
18. Where Can She Be (SMOOCH) - Jimmy Stevens (59) Viaphonic NYC
19. Come Along With Me On Saturday Night - Steve Reeves & The Country Swing Billys (58) Cool - Harrison NJ
20. Pumpkin (INSTRUMENTAL) - Joey Giam & The Noblemen (58) Klik - New Haven CT
21. I Sit In My Window - Russ Miller (57) VIP - NYC
22. Party Party - Dan Beard & The Crew (57) Atlantic - NYC
23. My Boy Elvis - Janis Martin (56) RCA-Victor - Camden NJ
24. I Want You With Me - Elvis Presley (61) RCA-Victor - Camden NJ
25. Bye Bye Baby Don't Cry - Cookie & Charley (57) CAL - Westport CT
26. Three Alley Cats - Roy Hall (56) Decca - NYC
27. Buttercup - Ron Hargrave (59) Cub - NYC
28. I Wanta Waltz - Thelma Blackmon (57) MGM - NYC
29. Doggone Baby Doggone - Donnie Boyd (58) Dart - Fairlawn NJ
30. Chi Wa Wa That's All I Want From You - Bob Silva & The Silva-Tones (57) Monarch - Linden NJ
31. Outro - Medley

=================================================
COOL BOBBY B AND THE DOO WOP STOP SHOW ON
ROCK-IT RADIO SHOW #6579

Another fantastic segment of the Doo Wop Stop and
3 full hours + in 3 parts of the Doo Wop Stop! On
demand but catch it before it gets knocked off our
list! Here is the playlist.

Hour #1

1. Rockin' with the Clock - Shirley and Lee
2. You're so fine - The Falcons
3. You belong to me - The Duprees
4. Your cash aint nothin but trash - the Clovers
5. Ala men sy - the Quotations
6. Bye Bye my baby - The Eastmen
7. She's my girl - Jive Five
8. Play those oldies Mr. DJ - Anthony & Sophomores
9. Come go with me - Del Vikings
10. Lily Maybelle - The Valentines
11. Jeannine - Classic Sounds
12. My prayer - The Platters
13. One Summer night - Philly Cuzz
14. Wonderful Wonderful - Tymes
15. Summertime - The Marcels
16. Not too young to fall in love - Lewis Lymon & Teenchords
17. Star Dust - Billy Ward & Dominos
18. One Summer night - The Danleers
19. Need you - Donnie Owens

Hour #2

20. Eyes - The Earls
21. Miss you - The Holidays
22. Need you - George Goodman & Headliners
23. Rainbows - Mary Lee
24. Dance Girl Tonight - The Charts
25. Tonight - Love Notes
26. Bark Battle and Ball - The Platters
27. Gloria - The Cadillacs
28. Rainy day bells - The Globetrotters
29. You'll never walk alone - Roy Hamilton
30. Down the aisle of love - Quin tones
31. Lovers never say goodbye - Flamingos
32. Little bitty girl - Bobby Rydell
33. Love walked in - The Flamingos
34. Pretty Little Angel - The Crests
35. Please don't ask me to be lonely - The Dubs
36. Please love me forever - Cathy Jean and Roomates
37. Whenever a teenager cries - Reparat & Delrons

Hour #3

39. 11th hour Melody - The Rivieras
40. Moonlight Cocktails - The Rivieras
42. Once upon a love - Blue Jays
43. Bristol stompin Annie - The Dovells
44. No greater love - Ronnie Dove & Belltones
45. Bells in the chapel - Lonnie and the Crisis
46. Jukebox Saturday night - Nino & Ebbtides
47. Shoo doo be doo - The Moonlighters
48. Whats a matter baby - Timi Yuro
49. The way you look tonight - The Jaguars
50. The way you look tonight - The Jarmels
51. I love you for sentimental reasons - The Styles
52. Tear Drops - Lee Andrews & The Hearts
53. True love gone - The Enchanters
54. The wind - Nolan Strong & The Diablos
55. Kenny Vance & Planotones - Cool Bobby B / Some kind of wonderful
56. Forever - The Vidaltones
57. The big knock - The Stereos
58. Goodnight baby - The Imaginations

=================================================
BILL GREEN AND THE ROCK AND ROLL REVUE WITH THE
BLUES ON ROCK-IT RADIO SHOW #6580

Rock-it Radio D J Bill Green launches another edition of
Rock 'n Roll Retrospective with a wide variety of songs
from his Giant Juke Box. Staring with a few 'Double Identity'
tunes, spotlighting several great sax players and spinning
records from the unknown to the unforgettable Bill has it
all for all you Rocikteers. So hop on board this Rock-it ride.

1) Speedo - The Cadilacs (55/56)
2) Linda Lu - Ray Sharpe (1959)
3) (Marie's The Name) His Latest Flame (1961)
4) Because They're Young - Duane Eddy (1960)
5) Cookin' - Al Casey 962)
6) There Goes My Baby - The Drifters (1959)
7) Unchain My Heart - Ray Charles (61/62)
8) Lucille - The Everly Brothers (1960)
9) Poor Side Of Town - Johnny Rivers 1966)
10) Love Is Strange - Micky and Sylvia (1957)
11) La De Da - Billy and Lillie (1959)
12) That's What Love Is Made Of - The Miracles (1964)
13) Would I Love You? - The Miracles (1964)
14) Thank You For Loving Me - Antionette (1965)
15) Tell Me Why - Norman Fox and the Rob Roys (1957)
16) I Wonder Why - Dion and the Belmonts (1958)
17) Just Keep It U0 - Dee Clark (1958)
18) To Be A Lover - Gene Chandler (1967)
19) Just One Look - Doris Troy (1963)
20) Easyville - Gil Bernal (1954)
21) Rockiin' At Cosmo's - Lee Allen (1956)
22) Potato Chips - King Curtis (1962)
Sound Bite
23) Big Name Button - The Royal Teens (1958)
24) Don't Mention My Name - The Sheppard Sisters (1963)

=================================================
PETE CHASTON'S DOO WOP SHOW ON ROCK-IT RADIO #6581

Good news for us Doo Wop Lover's!!! Pete Chaston is
back with another great set of Doo Wop Tunes from the
1950s and early 60s. Here is the playlist of what you
will hear when you go to the Rock-it Radio program
page and click the audio meter to hear his show.


1. Doo-Wop All Night Long-The Blue Emotions (opening theme song) (1982)
2. Runaround-The Regents (1961)
3. Runaround Baby-The Kodoks (1957 or '58)
4. Runaround Sue-Dion (1961)
5. Dance Girl-The Charts (1957)
6. Baby, I Need You-The El Dorados (1954)
7. Deserie-The Charts (1957)
8. Holly-The Five Charms (1958)
9. Can't We Be Sweethearts-Dion (xxxx)
10. Don't Ask Me (To Be Lonely) (1957)

SILLY SONG SEGMENT:

11. Baby Sittin' Boogie-buzz Clifford (1961)
12. Bo Meets the Monster-Bo Diddley (1958)

SCRATCHY 45 RPMs SEGMENT:

13. Bila-The Versatones (1958)
14. Blueberry Sweet-The Chandeliers (1958)
15. Believe Me-The Skyliners (xxxx)
16. Duffy-The Songspinners (1958)

BACK TO THE CDs &/or More 45 RPMs:

17. Fine Little Girl-The Arcades (1958)
18. Lookin' for my Baby-The Doo-Wop All-Stars (xxxx)
19. Kathleen-The Adelphis (1958)
20. Kiss-A-Kiss-the Adelphis (1958)

SLOW SONG SEGMENT:

21. Darling, How Long-The Heartbeats (mid 1950s)
22. Diamonds and Pearls-Remembrance (xxxx)
23. Cherry Pie-Marvin and Johnny (late 1950s)
24. Little Isidore & The Inquisitors song (xxxx)
25. Harmony of Love-The Five Dollars (The Don Juans) (mid 1950s)
26. Teardrops Are Falling-The Gems (1955)
27. (closing theme song) Adios-The Five Discs (1961)


=================================================
THE COOCH - JOHN MINNICUCCI - JOHN'S ATTIC SHOW WITH
HIS HALLOWEEN SPECIAL ON SHOW #6582

John's Attic show #31 Trick or Treat. Rock & Roll-R&B-Doo Wop
Vocal Groups- Rockabilly-& Blues artists Halloween songs
from the 40s-50s & a touch of the 60s and a little beyond. Featuring
Frankie,Igor,Drac & the rest of the crew.

First Hour

1. The Monster Mash-Bobby Boris Pickett& Crypt Kickers 1962
2. Midnight Stroll- Revels-1959
3. The Mummy- Jimmy Castor-1985
4. Dinner With Drac Pt.1-John Zacherle-1958
5. Monster Hop- Jimmy Dee- 1963
6. Little Demon- Screamin Jay Hawkins-1956
7. Old Black Magic-Louis Prima-1958
8. Dead- Poets-1958
9. Don't Meet Mr. Frankensteine-Carlos Casual-1962
10. The Bells- Clyde McPhatter & Dominoes-1952
11. Casting My Spell On You- Johnny Otis-1959
12. The Boogie Man- Cadillacs-1960
13. Haunted House- Johnny Fuller- 1958
14. I'm The Wolf Man- Round Robin-1965
15. The Purple People Eater- Sheb Wooley-1958
16. Witchcraft-Spiders-1955
17. Frankenstein's Den- Hollywood Flames-1958
18. Monster Twist- Tyrone A Saurus
19. Walkin Thru The Cemetery-1962
20. Rockin In The Graveyard-Jackie Morningstar-
21. I Aint Superstitious- Howlin Wolf-1961

Second Hour

1. Screamin Ball At Dracula Hall- Duponts-1958
2. Grave Yard Rock- Trantula Ghoul & her Grave Diggers-1958
3. Peppermint Stick-Butchie Saunders & El Chords-1957
4. Nightmare-Sinners-1962
5. The Fang-Jimmy Drake-1956
6. Frankie & Igor At A Rock & Roll Party- Bob McFadden-1959
7. Candy Store Blues-Capers-1959
8.The Thing- Creepers
9. The Creature- Jay Hawks-1957
10. Sinners Dream- Eugene Fox-1954
11. Witch Doctor-David Seville-1958
12. Mad House Jump- Daylighters-1959
13. Candy- Big Maybell-1956
14. I Don't Stand A Ghost of A Chance-Solitaires-1955
15. The Monster- Bobby Please & Pleasers-1959
16. Frankenstein's Party- Swinging Phillies-1958
17. Devils Cousin- Jay Hawks-1956
18. Ware Wolf-Gary Warren
19. Trick Or Treat- Brain Walker
20. Monster Love-Denny&Lenny& Hollywood Ghouls-1963

=================================================
JOHN MINNICUCCI AND JOHN'S ATTIC OLDIES SHOW -
VETERAN'S DAY SPECIAL ON ROCK-IT RADIO SHOW #6583


This show is dedicated to all of you great American Veterans
who put it on the line too keep our great country The United States
of America safe & free. We will be featuring songs & artists from
World War 2, Korea, and Nam.Some featured artists- Dick Haynes,
Chuck Berry,Stags,Mel & Tim & the 4 Vagabonds and more.

First Hour

1. Greetings This Is Uncle Sam- Valadiers- 1961
2. Draft Board Blues- Cliff Bruner & his Boys-1941
3. Oh How I Hate To Get Up In The Morning- Irving Berlin 1942
4. Boogie Woogie Bugle Boy- Andrews Sisters-1941
5. Too Much Monkey Business- Chuck Berry-1956
6. Ill Be True- Orlons-1961
7. You'll Never Know- Dick Haymes & Song Spinners-1943
8. The Plea- Arlene Smith & The Chantels-1957
9. As Time Goes By-Dooley Wilson-1942
10. Your In The Army Now- Abe Lyman & His California Boys-1941
11. Old Hippie- Bellamy Brothers-1985
12. Detroit City- Bobby Bare-1963
13. While I'm Away- Eddy G. Giles & The Jive 5-1967
14. Paint It Black- Rolling Stones-1966
15. Lawdy Miss Clawdy- Lloyd Price-1952
16. Uncle Sam's Man- Elgins-1991
17. He Aint Heavy He's My Brother- Hollies-1969
18. Only Jim- Trudy Williams & the 6 Teens-1957
19. I Miss You So- Sonny Till & the Orioles-1951

Second Hour

1. Bell Bottom Boogie-Merrill Moore-1953
2. Military Kick- Blendtones-1959
3.Sound Off- Sgt. Henry Felice & Rehabilition Class-1945
4.G.I. Jive- Louis Jordan-1944
5. Soldier Baby Of Mine- Candy & The Kisses -1965
6. Rosie The Riveter- $ Vagabonds-1943
7. Ballad Of The Green Berets-SSGT. BarrySadler-1966
8. 1000 Miles Away- Heartbeats- 1956
9.I'll Be Home- Flamingos-1956
10. Daddy's Home- Shep & The Limelites-1961
11. Mail Call Time- Mel * Tim- 1970
12. Lights Out- Zeben R. Hicks & Dynamics-1967
13. Soldier Boy- 4 Fellows- 1955
14. Sailor Boy- Stags- 1958
15. Comin In On A Wing & A Prayer- Golden Gate Quartet- 1943
16. White Cliffs Of Dover- Blue Jays- 1953
17. When The lights Go On Again ( All Over The World) Lucky Millinder-1942
18. 50000 Names Carved On The Wall- George Jones
19. God Bless America- Kate Smith


LOOK SWELL !!! AND BE COOL IN YOUR OWN
ROCK-IT RADIO T SHIRT!

Have you seen the new full line of Rock-it Radio T shirts that have been
Released. 3 New designs by Rock-it Radio's own Jammin' Jan.
Each Rock-it Radio T shirt is only $16.00 each plus shipping. And 100% of All monies goes to keeping Rock-it Radio Online.

Come check out the latest styles.:

http://www.rockitradio.net/tshirt.html

Check Website for updates and availability




VINTAGE VIDEO PICK OF THE WEEK

For the week of 20 September, 2019
This week in our archives page:

The Ikettes starring Tina Turner from 1965 singing
"I'm Blue - Gong Gong" Song on American Bandstand.



Top Listing on the above listed website.
================================================
GO FUND ME REMAINS OPEN TO KEEP ROCK-IT RADIO FLYING
FOR 2019.

We did receive some fabulous donations this past month
and it has died out, but to let you know that thru out the
year we have a Go Fund Me page for Rock-it Radio. The
link is towards the top of the page or also at:
https://www.gofundme.com/help-keep-rockit-radio-playing-oldies-online

We have received the following donations since
our last newsletter and a very sincere thank you
to all!

Donations from 9/20/2019 to 11/24/2019

George Shaffer - $50.00
Richard Butler - $50.00
Joe Shanabaugh - $50.00
Anonymous - $100.00
================================================
NEW RELEASE -- FLASHDRIVE OF ROCK-IT RADIO
SHOWS #6501 TO #6550. OUR 23rd FLASH DRIVE

NEW RELEASE!!!!! ROCK-IT RADIO FLASH DRIVE #23!!

This is the best buy to collect Rock-it Radio
shows. The CD's of each show costs $9.50 each
but here you get 50 of Rock-it Radio shows for
less then $39.95 U.S.

This includes over 70 hours of Rock-it Radio oldies
programming from shows #6501 to #6550. The Flashdrive
features all these shows in their entirety in mp3 format
in studio quality and just plug into your computer
and Rock-it Away!!!! Check out #23 and it's playlist
via our Flashdrive page at

http://www. rockitradio.net/flashdrive.html

or on our Ebay Store at:
https://www.ebay.com/itm/133176320064

(you can get the playlist of shows on this ebay site)

================================================
LANE QUIGLEY AND THE CLASS OF 1969 50 YEAR CLASS
REUNION SERIES NOW AVAILABLE ON CD.

It's always a very popular series and started last
week we started playing the the First of 5
of the 50 year Class Reunion featuring the music and the
pop culture from 1969. (Rock-it Radio Show #6437 in
our program page)
And we just now has put this 5 Plus 1 CD Set in our
Ebay store at: https://www.ebay.com/itm/143212967019

This is a 5 CD set Plus one final CD totaling 6.
Note Part 6 will not be aired and only available with
the sale of this Class of 1969 set.

The Set sells for $35.95 U.S. Plus $3.00 Shipping -
($6.00 Outside of U.S.)

This series is also available on Flash Drive for the same
price. If you wish a Flash Drive or if you don't have a
Ebay account that is ok, Rock-it Radio will send you a
non obligatory invoice. Just request one at:
rockitradio@netzero.net

100% of all sales goes to keeping Rock-it Radio online and
help finance our new expansion of more shows in our program
page.

================================================
NEW RELEASE COOL BOBBY B AND THE DOO WOP STOP
TOP 50 DOO WOPS FOR 2018 NOW AVAILABLE ON CD.

Just released in our Ebay store at Rock-it Radio
we have released Rock-it Radio show #6483 on a
3 CD set of the top 50 Doo Wop requests on the
Cool Bobby B show. If you are a Doo Wop lover and
want a copy of this show... Here is the link on
Ebay. 100% of all purchases goes to keeping
Rock-it Radio online.
Here is the Link:

https://www.ebay.com/itm/133075470515

================================================
FUTURE OF THE ROCK-IT -- DECEMBER AGAIN BECOMES
A DESPERATE MONTH FOR US.

For those listeners that remember last year we almost
went bankrupt last December and actually announced our closure.
This year due to October and actually losing $1100.00 due to
expenses and no new shows really and promotion. We are again
in that situation. So far November is a little better but not
much. We are currently running on credit card and over $1000.00
in the hole we need to dig out of for December to continue operating.
We had great support from all you listeners last December and hope
this year will be a repeat so we can continue. It was such a miracle
last year I am almost confident we can do it again. So, if there
is anything you would like from Rock-it Radio. Please purchase between
now and Christmas. I am also confident I will continue with improving
my health and looking forward to another year of running Rock-it
Radio. Thank you everyone for keeping Rock-it Radio alive.

God Bless,

s/ Bennie Dingo
Rock-it Radio

P.S. 2020 will be Rock-it Radio's 25th year online :)

==================================================
================================================
VINTAGE 1967 CHRISTMAS EVE BROADCAST MAKES FOR
A FUN LISTEN! AVAILABLE IN OUR EBAY STORE &
LAUNCHING PAD.

On Christmas Eve 1967 at WCFL in Chicago (The Top
40 Station at the time And competitor to the #1
Spot WLS in Chicago).
All the top jocks of that station went on the air
with one in the main studio spinning Christmas tunes.
The remainder out in the Streets in Chicago with several
fun reports for 5 hours from 7 p.m. until midnight that
including man on the street interviews,
Phone calls, reports of activities, and of course vintage
Christmas Songs. It's a truly great
nostalgic feel. And available on CD via our Ebay store
or at the Rock-it Radio Launching Pad. (RIR #'s is our
Catalog listings)

Hour #1 WCFL Christmas Eve '67 (RIR #218)
http://www.ebay.com/itm/140355608530

Hour #2 WCFL Christmas Eve '67 (RIR #224)
http://www.ebay.com/itm/130842056267


Hour #3 WCFL Christmas Eve '67 (RIR #226)
http://www.ebay.com/itm/140355135696


Hour #4 WCFL Christmas EVe '67 (RIR #365)
http://www.ebay.com/itm/140173013165


Hour #5 WCFL Christmas Eve '67 (RIR #369)
http://www.ebay.com/itm/140910695534


Other Vintage Christmas Radio Broadcasts Available.

- DJ Barney Pip Christmas Eve show from 1965.
WCFL - Chicago. (RIR #367)
https://www.ebay.com/itm/140356618194


- DJ Jim Runyon Christmas Eve 1965 Broadcast
over WCFL Chicago. (RIR #368)
http://www.ebay.com/itm/131667339418

any questions please e mail us at:
rockitradio@netzero.net

==================================================
NOVEMBER GIVEAWAY ON ROCK-IT RADIO - DJ COUSIN BRUCIE OUT OF WABC RADIO NEW YORK CITY FROM 9/9/1968

Last I heard Cousin Brucie is still rocking today and this
goes back to his earlier days from 1968. He has become a staple
of New York Rock Oldies Radio! this giveaway is of our catalog
RIR #177 it is part I from his 1968 that we have on Rock-it Radio.
It's Yours free when you support Rock-it Radio in the month of
November.

Uncut and Unedited just like you would of hear in all
of our vintage broadcasts we offer. The Music, The
Ads and the very cool DJ chatter of the time!

IT's YOURS FREE for all our supporters all you have
to do is - Get another Rock-it Radio product
from the sites below and we will send you this CD
for FREE. You can shop at the following Rock-it
Radio sites.

- it's yours Free with every order from the month of November 2019!
from the following websites.

The Rock-it Radio Launching Pad:
http://www.rockitradio.net/store.html

Wolfman Jack Shows.
http://www.rockitradio.net/wolfman.html

Rock-it Radio Shows:
http://www.rockitradio.net/order.html

or our new service of Rock-it Radio shows
on Flashdrive.
http://www.rockitradio.net/flashdrivemp3.html

Or our 50 Rock it Radio shows on Flashdrive at:
http://www.rockitradio.net/flashdrive.html

Or the Rock-it Radio Ebay store at:
http://www.ebaystores.com/rockitradiostore

You can view the CD and it's playlist in our Ebay
store at: https://www.ebay.com/itm/140355598939
But don't buy it get something else for yourself and
you will automatically be getting this for FREE!



=============================================================
OUR LAUNCHING PAD GIVEAWAY FOR DECEMBER

Since we are so close to December- I thought I
would add what we are giving away in December.
It will be part II of our Christmas show broadcast
from 1967 over WCFL in Chicago. Filled with all
sorts of vintage Christmas songs, advertisements and
Holiday cheer. That was broadcast on Christmas Eve night
in 1967. Every order in December from the above listed
sites of Rock-it Radio will receive this CD. From orders
made from December 1 to December 31. If you wish
to view the playlist you can at:
Hour #2 WCFL Christmas Eve '67 (RIR #224)
http://www.ebay.com/itm/130842056267

But don't order it just order something else you might
like and get this CD for FREE with your order. :)



=============================================================
KUDO'S COUNT IN OUR FACEBOOK PAGE !

If you are on Facebook and haven't checked out
the Rock-it Radio facebook page, you are missing
out on the immediate notifications of our latest shows.
It is at: http://www.facebook.com/rockitface

But the reason I am writing is to let you know if
you enjoy a certain DJ or show, every like you give
to that show.... listed on that site... goes to that
DJ's Kudo score. And I thought I would bring it up
as we are entering the last 4 months of the year. And
it's very close! At the end of the year the kudo points
are counted and the one DJ that gets the most receives
the DJ of the year award here at Rock-it Radio.
They get one point for every like or compliment we receive,
and 5 points for every shows of there's that is sold.
( http://www.rockitradio.net/order.html )
So, if you like them and you have the time they sure would
appreciate a vote. If you are not on facebook, you can
still let me know via E mail of certain shows at:
rockitradio@netzero.net



=============================================================
HEAR ROCK-IT RADIO ON ROKU !!!

Last month we stopped our service with DirecTV and
hooked up Roku the streaming TV application for our
TV set. While exploring what we have I noticed that
it offers .... The "Tune in" Radio channel on Roku.
So, we added that channel ... it's free! And started
searching for Radio stations to listen too on our TV
set with Roku. You do have to have a Wi Fi Internet
set up for Roku. But the first search we did was
in the search box typed in "Rock-it Radio" though
we are the original Rock-it some other stations did
pop up also. But we immediately recognized our logo
on the Tune in Radio service.... and we are now able
to hear the latest show of Rock-it Radio on our TV set.
We thought that was pretty cool!



===================================================
OUR VINTAGE BROADCASTS ON FLASHDRIVE

It's hard to believe but we realize that perhaps our
declining sales is due to Compact Discs are a
aging medium. And Flashdrives And digital is where it's
at. If you would prefer to
have Rock-it Radio shows and vintage radio shows that we
offer for sale on Flashdrive in mp3 format rather then
on CD we can provide that service here at Rock-it Radio.
Here it is how it works:

1. E mail me at rockitradio@netzero.net and let me
know what shows you would like to have on Flashdrive.
Let's make it a minimum of 3 broadcasts. Either any
Rock-it Radio show .... or Vintage Radio Show from the
50s through 70s that we offer at:
http://www.rockitradio.net/store.html

2. The Cost: Flashdrive will cost $5.00 and each show
that you wish to have will cost $5.00 - nearly 50% CHEAPER then on
CD.

3. I will send you back a invoice within a couple of days, It will be
sent via paypal and it is not obligatory. If you change your mind
just don't pay. But it is easy to pay with any major credit card.

4. Please allow up to 7 days for me to fill the order. Once payment
is sent. In case I get swamped with this offer. Probably sooner.
I have to redigitalize all sold shows into MP3 and that takes a little
bit of time. All orders will have $3.00 postage a slight increase but
that is due to it is shipped as a package and not envelope since it will
be over a 1/4" thick.

For example you order: 3 of our Alan Freed Radio shows. And a Real Don
Steele show. A total of 4 shows - That would normally be a cost of $40.00
on CD. All together on one flashdrive so the invoice would look like

- Flashdrive $5.00
- Four Shows on Flashdrive @ $5.00 each - $20.00
- shipping $3.00

Total: $28.00

Of course if you order more shows on the flashdrive you would continue saving
as you are paying the $5.00 per show rather then $9.50.

And of course we will be adding the monthly giveaway as well.

So for a invoice again just e mail me your wants on your flashdrive for
shows on mp3 at: rockitradio@netzero.net

Also, check out this offer again at:
http://www.rockitradio.net/flashdrivemp3.html

=============================================================
COLLECTING AIRCHECKS - A HOBBY OF RADIO NOSTALGIA
What is a Aircheck? It is simply a recording of a radio broadcast. Usually collected by Radio fans.
Come check out our webpage on collecting Airchecks.

http://www.rockitradio.net/aircheck.html


COME REMEMBER WOLFMAN JACK !!!
Rock-it Radio has a very special way to remember Wolfman Jack.
Arguably the most iconic of American DJ's. Come check out the
Rock-it Radio Wolfman Page at:
REMEMBERING OFFSHORE PIRATE RADIO IN THE UK
In the mid 1960s it was difficult for the youth to actually listen to Rock and Roll in the UK.
The BBC actually ran only a few hours a weekend to provide the young Brits with this outlet.
At night during the week they ventured to even tune into Radio Luxembourg to get there fill,
that broadcast rock and pop around the clock.
To fill this void some venture capitalists decided to bring in commercial radio aboard refitted
radio ships. And anchor themselves just off into International waters off the English coast.
Radio Caroline (named after Caroline Kennedy the U.S. President's daughter at the time)
and Radio London being the most famous. Rock-it Radio has a website dedicated to their ventures
and also have actual radio broadcasts available of
these offshore pirates.
We invite you to check them out our webpage at:
http://www.rockitradio.net/pirate.html
FINDING ROCK-IT RADIO ON THE 'TUNE IN RADIO' CELL PHONE APP.

We have had a few requests from listeners that they couldn't find us on the popular
'Tune in Radio' App. on Android and PC and iphones. Running a search of 'Rock-it Radio'
will actually list 100s of Rock stations.
So, the best way to find us on this very thorough and extensive app. that
I love using myself is -
run a search on 'rockabilly' - there you will easily find
Rock-it Radio listed.
Our Tune in Radio App. webpage is also at:
http://tunein.com/station/?stationId=41878
ARE YOU ON FACEBOOK ?? FOLLOW THE LATEST AT
ROCK-IT RADIO AND OUR LATEST VINTAGE BROADCAST RELEASES.

Rock-it Radio has 2 Facebook pages. One for our programming
online and notifications, and the other is for our vintage
broadcast shows for sale.


The Online Station is http://www.facebook.com/rockitface

For the Rock-it Radio Launching Pad and our latest deals and
releases you can follow us at:
MISSED A COUPLE OF NEWSLETTERS LAST COUPLE OF WEEKS??

THEN YOU CAN ALWAYS CHECK OUR BLOG WHERE IT IS ARCHIVED.
YOU CAN CHECK OUT OUR BLOG AT:

http://rock-itradio.blogspot.com/
=============================================


ROCK-IT RADIO DJ PAGE...


Remember you can check out all the Rock-it Radio DJ's

and read the bios of these DJ's that make these

Rock-it Radio Shows possible at:


And don't forget for even more pictures --

there is our picture page at:
============================================
IF YOU HAVE TWITTER COME FOLLOW US THERE

If you are one that tweets then please check out and join and get our
updates on your twitter account. Our Twitter link is right below.

http://www.twitter.com/RockitRadio1
It is our new Twitter account and we will once again start
scrolling our messages and updates on our webpages as well.


=================================================
We are in our 24th year!!! Please share the good news with your
family and friends that love original Oldies Music - We are back and
Rockin' with new shows in our program page at
http://www.rockitradio.net/programs.html
Just click the MP3 speaker to the show that has your musical interest!
=================================================
WELCOME NEW MEMBERS TO THE LISTENER'S CLUB!!!!

A big welcome to the below new Rock-it Radio listeners that
joined our Listeners Club from September 21, 2019 to November 24, 2019
We hope that you enjoy the music Rock-it Radio provides
and our playlists and information that our weekly newsletter
provides. Any comments, criticisms, kudos, compliments or
future ideas is always welcome and you can e mail me personally at:
rockitradio@netzero.net

Michael Dibb - Milwaukee, Wisconsin USA
Hector Trestini - Spring Hill, Florida USA
Kjell Gustaffson - Stockholm Sweden
Phil Gainer - Brentwood, Tennessee USA
Abigail Santana - Colombia
Solly Creatini - Montreal, Quebec Canada
Dennis Spradin - Tennessee, USA
Gianna Grant - Hillsboro, Oregon USA
Rob Foringer - USA
Simon Turner - Baldock, Herts United Kingdom
Bob Zippin - Batavia, Ohio USA
Jay Hinman - California, USA
Arthur Sheridan - New Hyde Park, New York USA
Clarence Tate - Hallandale Beach, Florida USA
Gary Fuszek - Philomath, Oregon USA
Theresa O'Connell - ??
Shaun Kinsey - ?
Jim Williams - Fredericksburg, Virginia USA
Joseph Roman - New York, USA
Mary Jane McAleer - New Hampshire, USA
We have gained 234 new likes in our listeners club
in our Facebook page Rock-it Radio Fan Page as well this week at:
http://facebook.com/rockitface and 38 more following us
on Twitter @Rockitradio1 .

We have added a total of 292 new members to the Rock-it Radio
Listeners Club since our last newsletter. We now have 96,969 exactly
that have joined the Rock-it Radio Listeners club.
We hope that you enjoy the rare 50's and early 60's
Rock and Roll, Rockabilly and Doo Wop (which most commercial
oldies radio stations have forgotten) that we are able to play
for you from Rock-it Radio. Remember, we are here for you!

So if you ever have any requests, dedications, comments and
suggestions we always love to hear from our listeners.
Our e mail address is:
rockitradio@netzero.net

====================================================
To learn more about the Rock-it Radio Listeners Club and our Free
Newsletter please check out:
http://www.rockitradio.net/member.html

It's free and easy to join and the Rock-it Radio Newsletter is always
online at: http://www.rockitradio.net/newsletter.html



====================================================

PLEASE HELP US SPREAD THE GOOD WORD OF ROCK-IT RADIO!

Do you know of someone that might also like the music

of Rock-it Radio? We are desperately trying to keep this

music alive and have been doing so since 1995! Please

share the information of this station. And if you have

a website would you please consider putting a Rock-it Radio

link on your page.

There are a few to choose from in our link page at:

http://www.rockitradio.net/links.html
HOW TO ORDER OLD ROCK-IT RADIO SHOWS = YOUR PURCHASES HELP US STAY ONLINE!!!
We have received many inquiries on how to order Rock-it Radio shows that are no longer in
our on archives webpage. These shows are still available on CD and mailed to you within 24
hours of receiving payment.
To help search for older shows that you may be looking for you may want to check the Rock-it
Radio blog site. Old newsletters describing the shows and playlists
are archived there and there is a menu bar on the right side that breaks down every playlist
Then you may either pay by check or money order or paypal. Rock-it Radio shows are only
$9.50 U.S. each and are studio quality broadcasts that were placed on Compact Disc here at
the Rock-it Radio Studio. We have a flat rate shipping charge of $1.50 U.S. so if you order
one or several -- it is still only $1.50
U.S. shipping. And we ship worldwide, overseas orders are mailed out first class airmail.
Instructions where to send payment is at our webpage:
like we can send you a paypal invoice within 24 hours.

When you order a Rock-it Radio show or shop at our Rock-it Radio Launching Pad you
help keep these oldies alive and help us pay the bills here at Rock-it Radio.
And at the same time -- you are not getting nothing for your donation, but actually
some of the shows and memories we hope we keep alive here at Rock-it Radio.
TOP 25 SELLERS OF THE ROCK-IT RADIO LAUNCHING PAD
FOR November 24, 2019

HERE IT IS !!! The Top 25 Countdown from the Rock-it
Radio Launching Pad http://www.rockitradio.net/store.html


As you know the Rock-it Radio Store sells vintage Radio Broadcasts -
Where you hear the actual music, news and vintage advertisements -
uncut and unedited just like you would of heard it back then.
Here are the top sellers this week.

1. Lane Quigley Rock-it Radio Class of 1969 Set
2. RIR #393 - John Lennon Guest DJ WNEW New York 1974
3. Flashdrive Rock-it Shows 5601-5650
4. Flashdrive Rock-it Shows 6351 - 6400
5. RIR #181 - Wolfman Jack XERB Rosarito 12/8/1967
6. RIR #355 - Real Don Steele - KHJ Los Angeles 2/9/1968
7. RIR #436 - Pat Sajak - Armed Forces Vietnam Network 3/17/1969
8. RIR #646 - Larry Lujack WLS Chicago 8/8/1970
9. RIR #386 - Charlie Tuna - KHJ Los Angeles 2/26/1969
10. RIR #191 - Best of Boss Radio 1966 - KHJ Los Angeles
11. RIR #396 - Humble Harv KHJ Los Angeles 9/28/1966
12. RIR #539 - Cousin Brucie - WABC New York 9/7/1965
13. RIR #200 - Wolfman Jack XERB Rosarito 10/1/1969
14. RIR #116 - Casey Kasem KRLA Los Angeles 5/27/1965
15. RIR #317 - Allison Steele WNEW FM New York 2/11/1969
16. RIR #357 - John Landecker pt. 2 WLS Chicago 10/11/1972
17. RIR #359 - Gus Gossert - WPIX FM New York Feb. 1971
18. RIR #648 - Real Don Steele KHJ Los Angeles 3/21/1970
19. RIR #381 - Charlie Tuna KHJ Los Angeles 1969 - 1970
20. RIR #115 - Rare Alan Freed Broadcasts CD
21. RIR #176 - Porky Chedwick WAMO Pittsburgh 6/17/1960
22. RIR #397 - Wolfman Jack XERB Rosarito 8/1/1968
23. RIR #451 - Chuck Dunaway - KLIF Dallas 7/2/1963
24. RIR #114 - Alan Freed WABC New York 11/5/1959
25. RIR #459 - Tom Donahue KMPX San Francisco 5/2/1967


If you would like to view these shows in depth you can check out

our Rock-it Radio Ebay Store at:




or in the Rock-it Radio Launching Pad store at:

and in the upper left hand corner -

there is a search box where you can type in the DJ name or

Station Call letters and that information on that show will pop up.

Ordering from the Ebay store will also qualify you for the Rock-it Radio

giveaway mentioned previously in this newsletter. Sale of

these broadcasts is what keeps Rock-it Radio going and thank

you again to everyone that buys these!

============================================



REQUEST A ROCK-IT RADIO STORE CATALOG
If you don't like ordering online but still want to have some
of the vintage radio shows from the 50s through the 70s - We
understand that. That is why we still take mail orders. You can
actually save money also in our orders if you use our coupon that
comes with every catalog - That will give your order a 25% discount!

If you would like a Rock-it Radio catalog that lists over 500 rare and rockin' radio shows with famous DJs when Radio was truly radio! Just e mail us
your mailing address and we will send it out straight away!
Our E mail address is: rockitradio@netzero.net

============================================
Rockabilly bands looking for airplay
If you or know someone that would like airplay on Rock-it Radio we invite
you to submit your press kits to Rock-it Radio. Our website for further
information is:
http://www.rockitradio.net/airplay.html
============================================
Come tune into the World on your computer!
1000s of stations around the world now broadcast online. We have a
link to some of the internet top directories to help you find these stations.
http://www.rockitradio.net/internetradio.html
============================================
Rock-it Radio Program Webpage Reminder
Remember, if the show that you want to hear is getting close to the bottom
of the list of radio shows, you should tune in as soon as you can. These shows
to have a high audio quality require a lot of internet bandwidth and memory.
And currently we can only afford the
30
latest shows online here at Rock-it Radio.
So, when a new show is put online it knocks the oldest one off the Rock-it Radio
archives page. Usually a show will at least last 16 to 20 days, once it is placed in
the archives.
============================================
OUR SISTER STATION FIRST NATIONS BROADCASTING.
We invite you to also check out our sister station -- First Nations
Broadcasting. And tune into the rather Cool North of the Yukon and Alaska
with our very own Debbie Snowdove!
============================================
Well that is just about it for this newsletter and playlists of our latest
shows. We hope that you enjoy them.
We will do our best to keep these shows on for at least 14
days and hopefully 21 days.
All the best always,
Bennie Dingo
Rock-it Radio

website: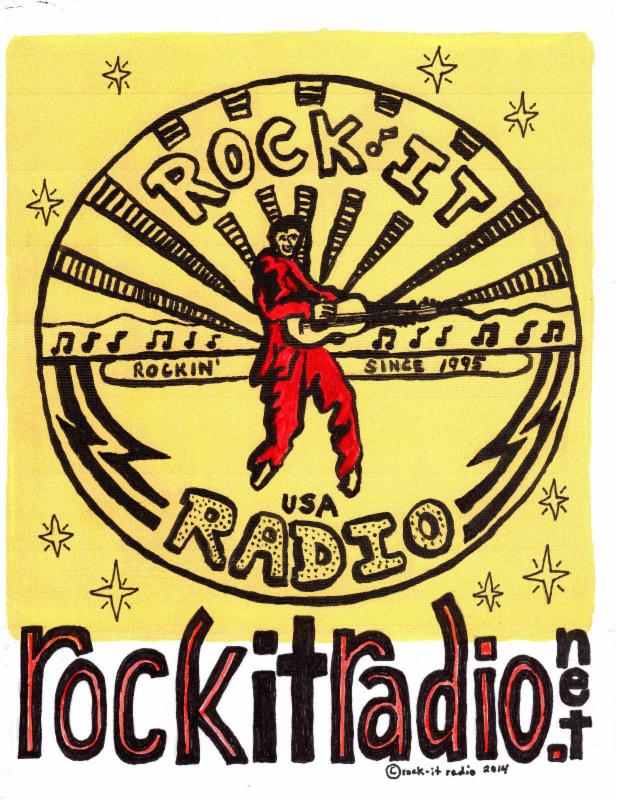 Rock-it Radio main website:
http://www.rockitradio.net

Archived Shows at:
http://www.rockitradio.net/programs.html

Rock-it Radio Vintage Broadcast Store:
(Launching Pad)
http://www.rockitradio.net/store.html