Rock-it Radio since 1995 providing 50s and early 60s Rock and Roll, Doo Wop and Rockabilly music online! Come tune us in at http://www.rockitradio.net We also have several 100 original radio shows from the first decade of Rock and Roll at: http://www.rockitradio.net/store.html
========================================================================
ROCK-IT RADIO NEWSLETTER AND PLAYLIST
SHOWS #5417 TO #5432
FROM
September 12, 2015 to September 22, 2015
Hi Rock-it Radio Listeners & Launching Pad supporters,

Time for another Rock-it Radio Newsletter on the
latest releases both on our shows on the Rock-it
and in our Rock-it Radio Store. Total of 16 shows
added since our last newsletter, Shows #5417 to #5432.
Plus results of our East Coast vs. West Coast Oldies
battle last month along with a new item in our Ebay
Store a 6 CD set of the R&B music of Louis Jordan.
And much more.

So, Let's get started with some playlists!

Our shows can be heard in our archives page at:

http://www.rockitradio.net/programs.html
and click to the speaker on the left to hear the show.

Remember if you are new to Internet Radio and having trouble tuning in though --
Check out our webpage to help you out at:
http://www.rockitradio.net/tunein.html
============================================
REMEMBER YOU CAN ORDER ANY OF THESE ROCK-IT
RADIO SHOWS ON CD!!!! NEW EASIER ORDERING!

Would you like one of these Rock-it Radio shows on CD? To
be able to play anywhere? And help support Rock-it Radio at the same time.
For complete information check out our program
ordering webpage at: http://www.rockitradio.net/order.html

Our shows are of course copies straight from the studio so they are studio
quality and satisfaction is guaranteed.
Or if you would rather receive an invoice let me know and we
can e mail you a copy - Just e mail us the show(s) you would like
to have and the Rock-it # to: rockitradio@netzero.net

==============================================
All Rock-it Radio shows stay online from 18 to 24 days and are
broadcast in MP3 Format. To tune in just click to the speaker
at our program page at:
http://www.rockitradio.net/programs.html

The newest show added replaces the oldest show so if you see a
show near the bottom of the listing - you should listen as soon as
possible.

==============================================
WE COULD USE YOUR SUPPORT

Rock-it Radio is 100% Publicly supported. But when you
donate to the Rock-it Radio Launching Pad - we give you
a vintage broadcast of your choice.
100% of all sales from the Rock-it Radio Store (Launching
Pad) goes back to pay copyright fees, LLC taxes, Internet
and bandwidth costs of Rock-it Radio. Without your support
we would not exist. So. please consider a purchase at:
http://www.rockitradio.net/store.html

===============================================
NOTE: ALL SHOWS BELOW CAN BE FOUND IN OUR PROGRAM WEBPAGE - TO TUNE IN CLICK TO SPEAKER OF THE SHOW YOU WANT TO LISTEN TO. EITHER MP3 OR REAL PLAYER. BOTH FORMATS ARE SUPPORTED.
AT:
HTTP://WWW.ROCKITRADIO.NET/PROGRAMS.HTML

===============================================
BILLY VERA'S ROCK AND ROLL PARTY ON
ROCK-IT RADIO SHOW #5417 TRIBUTE TO FLOYD DIXON

Legendary R&B/Blues singer/pianist Floyd Dixon dropped
by the studio for a conversation with Billy Vera back
in 1990. Tune in and listen to their chat, along with
some of Floyd's best records. AND, as a special bonus, Floyd
sat down at the piano to sing and play some of his favorites
live in the studio! You don't want to miss this historic hour.

1. Mighty Hard Living Alone
2. Call Operator 210 (Live in studio)
3. Hey Bartender
4. Hole In The Wall
5. Hey Bartender (Live in studio)
6. Tired, Broke and Busted
7. Sad and Lonesome (Live in studio)
8. My Blue Heaven (Live in studio)
9. Ooh! Little Girl
10. Telephone Blues (Live in studio)
11. Wine Wine Wine
12. So Long

===============================================
JACKIE BOND & LET THE GOOD TIMES ROLL OLDIES SHOW ON ROCK-IT RADIO #5418

From the Uk comes Jackie Bond with another great set
of Oldies from the 50s and early 60s. It's all great
stuff and now waiting to be heard in our program page
at rockitradio.net/programs.html

1. Bobwire Betty - Ronnie Dawson
2. Wildcat Tamer - Dale Hawkins
3. Let The Good Times Roll - Jerry Lee Lewis
4. Lewis Boogie - Jerry Lee Lewis
5. Married Women - Big Joe Turner
6. Shim Sham Shuffle - Johnny Brandon
7. Detour - Duane Eddy
8. Lucky Lou - Darrel Higham
9. 3 Months To Kill - Huellyn Duval
10 . What's The Password - Bob and Lucille
11. Hot Seat - Bobby Doyle
12. Whatever You're Doing - The Du Droppers
13. Just One More Chance - The Demensions
14. What A Waik - Bobby Lewis
15. Sex Bomb Baby - Danny B Harvey
Ernie Maresca Tribute - 5 songs
16. Shout Shout - Ernie Maresca
17. Lovers Who Wander - Dion
18. Donna The Prima Donna - Dion
19. Party Girl - Bernadette Carroll
20. Open Your Eyes - The Chiffons
21. For The First Time - Johnny Olenn
22. That Certain Female - Charlie Feathers
23. I'm Heading Home - The Jive Aces
24. Good Night My Love - Jesse Belvin

===============================================
JAMES RILEY AND THE ROCKABILLY AND BLUES SHOW ON
ROCK-IT RADIO SHOW #5419

From Tennessee, USA the birthplace of Rockabilly music
James Riley does his first show for us here at Rock-it
Radio.

Our September shows have interview segments with
Linda Gail Lewis talking about her brother (Jerry Lee), career
and new album (Hard Rockin' Woman). We also have a
"Killer Countdown" where we count down the Top 20 listener-voted
favorite Jerry Lee Lewis tracks to celebrate
the Killer's 80th birthday!!

Rockabilly N Blues Radio Hour (Hour #1):

1. Bully For You- Velonios
2. All I Can Do Is Dream You- Roy Orbison
3. My Baby Left Me- Elvis Presley
4. Hound Dog- Jai Malano
5. Real Wild Child- Linda Gail Lewis
6. Nothin' Shakin'- Linda Gail Lewis
7. Seasons Of My Heart- Jerry Lee Lewis & Linda Gail Lewis
8. Lovesick- Linda Gail Lewis
9. Big Blon Baby- Jerry Lee Lewis
10. Wild One- Jerry Lee Lewis
11. What's Made Milwaukee Famous- Jerry Lee Lewis
12. She Even Woke Me Up To Say Goodbye- Jerry Lee Lewis
13. Middle Age Crazy- Jerry Lee Lewis
14. Honky Tonkin'- John Lindberg Trio
15. Gald When I'm Gone- Big Sandy & His Fly Rite Boys
16. Live Fast Love Hard Die Young- Faron Young
17. Wear Out The Soles Of My Shoes- Deke Dickerson

Rockabilly N Blues Radio Hour (Hour #2):

1. Downtown Memphis- Jake Calypso
2. Tell Me Why- Norman Fox & The Rob-Roys- Tell Me Why
3. Rock & Roll Soul- Linda Gail Lewis
4. Ubangi Stomp- Linda Gail Lewis
5. From Sweden To Memphis- Linda Gail Lewis
6. Roll Over Beethoven- Jerry Lee Lewis & Linda Gail Lewis
7. This Train- Linda Gail Lewis
8. Lewis Boogie- Jerry Lee Lewis
9. It'll Be Me- Jerry Lee Lewis
10. I'm On Fire- Jerry Lee Lewis
11. Chantilly Lace- Jerry Lee Lewis
12. Another Place Another Time- Jerry Lee Lewis
13. Let's Have A Party- Wanda Jackson
14. Boogie Woogie Country Man- Sleepy LaBeef
15. Itchy Twitchy Feeling- Bobby Hendricks
16. Can't Stop Loving You- Marc & The Wild Ones

===============================================
LANE QUIGLEY AND THE MEMORY LANE SHOW WITH MORE ROCKIN OLDIES IN ROCK-IT RADIO SHOW #5420

The Memory Lane Show returns this week with a great
variety of songs and styles from the Glory Days of the
45 RPM record. Join host Lane Quigley for some rompin'
stompin' sides along with the usual assortment of interview
clips and another Mystery Artist where you listen and try
to identify the hitmaker performing the song.
All this and more on this week's Memory Lane Show.

1. Say Mama - Gene Vincent & The Blue Caps 1958
2. It Hurts To Be In Love - Annie Laurie 1957
SOUND BITE
3. You Baby You - The Cleftones 1955
4. Let It Roll - Earl Knight & George Kelly 1959
5. Woomai Ling - The Diamonds 1961
6. Shirley - John Fred 1959
SOUND BITE
7. Picture Me Gone - Evie Sands 1966
8. Drip Drop - The Drifters 1958
9. Baby Please Don't Go - The Orioles 1952
10. Let's Get It Over - Bobby Hendricks 1963
SOUND BITE
11. Can I Get a Witness - Marvin Gaye 1963
12. Whiskey, Women & Loaded Dice - Joe Liggins 1953
13. Do It Rat Now - Bill Black Combo 1963
14. You Broke The Only Heart - The Five Keys 1961
SOUND BITE
15. Up On The Mountain - The Magnificents 1956
16. I'm Movin' On - Matt Lucas 1963
17. Watch Your Step - Brooks O'Dell 1963
18. Looking For The Right Guy - Kim Weston 1963
SOUND BITE
19. Are You Really Mine - Jimmie Rodgers 1958
20. Boogie Woogie Teenage - Don Julian & The Meadowlarks 1956
21. She Put The Hurt On Me - Prince La La 1960
22. What's The Matter Baby - The Strangers 1965
23. Gee What a Guy - Yvonne Carroll 1963
24. MYSTERY ARTIST (Can you identify the artist?)
SOUND BITE
25. High On A Hill - Scott English 1963-64

================================================
ROCKIN DADDY O'S ATOMIC DOO WOP DANCE PARTY ON
ROCK-IT RADIO SHOW #5421

If you love high energy uptempo Doo Wop Rock & Roll
from the 50s and early 60s. And the always up and
rockin' delivery of Rockin' Daddy O this show is for
you! Here is the playlist of show #5421 and what you
will hear in this week's broadcast.

1. Zip Boom-Supremes
2. Let's Go For A Ride-Collegians
3. Fat Mom-Mio-Chalets
4. Bing Bong-Silhouettes
5. Wizard Of Love-Ly-Dells
6. (Don't Be A) Litterbug-Len-Dells
7. Love Is Strange-Mickey & Slyvia
8. Donna The Prima Donna-Dion
9. The Girl With The Wind In Her Hair-Jive Five
10. Silly & Sappy-Vic Donna & Parakeets
11. The Beat Of My Heart-Cordells
12. Kiss-A-Kiss-Adelphis
13. Zindy Lou-Chimes
14. Run Around Baby-Kodaks
15. Don't Say Goodbye-Superiors
16. Glad To Be Here-Lee Andrews & Hearts
17. Heaven And Paradise-Big Sandy & Calvanes
18. This Must Be Paradise-Don Jullian & Meadowlarks
19. The Telegram-Medallions
20. There In Your Eyes-Redondos
21. Don't Leave Me Baby-Camelots
22. Buy A Van-Little Flaytus & Dream-Airs
23. So Long-Fats Domino

================================================
TREVOR HYLAND'S ROCK AND ROLL DANCE PARTY ON
ROCK-IT RADIO SHOW #5422 TRIBUTE TO GLEN GLENN
AND HOLLYWOOD ROCKABILLY!
Trevor is back at his studio in Bendigo, Victoria
Australia this week with another fantastic show, this
week being a tribute to Rockabilly performer Glen Glenn.
Here is the playlist of what you will hear along with
a great interview of this Rockabilly legend!

Featuring the 6 great artists who ripped it out on the
Rockabilly LP HOLLYWOOD ROCK 'n'ROLL Glen Glenn,
Don Deal, Ben Joe Zeppa, Dick Busch, Dorsey Burnette &
Alis Lesley. Rock' N' Roll, rockabilly and ballads.
Gene Vincent with the last session with The Bluecaps.


Gene Vincent & The Bluecaps
01. Ready Teddy - Gene Vincent
02. Vincent's Blues - Gene Vincent

Glen Glenn
03. Blue Jeans - Glen Glenn
04. Goofin' around - Glen Glenn
05. I'm Glad My Baby's Gone - Glen Glenn
06. Would You - Glen Glenn
07. Everybody's Movin' - Glen Glenn
08. One Cup Of Coffee - Glen Glenn

Dick Busch
09. Hollywood Party - Dick Busch
10. Ezactly - Dick Busch

Don Deal
11. Don't Push - Don Deal

Ben Joe Zeppa
12. Topsy Turvy - Ben Joe Zeppa
13. A Foolish Fool - Ben Joe Zeppa
14. Doctor Doctor - Ben Joe Zeppa
15. Hocus Pocus - Ben Joe Zeppa
16. Louise - Ben Joe Zeppa

Alis Lesley
17. Heartbreak Harry - Alis Lesley
18. He Will Come Back To Me - Alis Lesley
19. Donn't Burn Your Bridges - Alis Lesley.
20. So Afraid - Alis Lesley
21. Why Do I Feel This way - Alis Lesley

Dorsey Burnette
22. Great Shakin' Fever - Dorsey Burnette
23. Everybody's Angel - Dorsey Burnette
24. It's Late - Dorsey Burnette
25. Let's Fall In Love - Dorsey Burnette
26. Bertha Lou - Dorsey Burnette
27. Circle Rock - Dorsey Burnette
28. I Only Came Here To Dance - Dorsey Burnette

================================================
AL COOL DADDY SMITH WITH PT. 3 OF TRIBUTE TO
B.B. KING ON ROCK-IT RADIO SHOW #5423


This show is a continuation of what will be a four part
look at the career of late Blues great B.B. King.
In this show his very early years (1950-1960) are examined
to show how his guitar style evolved throughout that ten
year period. As well the final track played on the show,
which was recorded in 1984, will serve as a comparison as to
how far he had come with respect to the style heard in the
prior recordings.

The play list is as follows:

1.) Walkin' and Cryin' -B.B. King 1950
2.) You Upset Me Baby-B.B. King 1953
3.) The Other Night Blues-B.B. King 1950
4.) Mistreated Woman-B.B. King 1950
5.) Shake It Up and Go-B.B. King 1952
6.) My Own Fault Darlin'-B.B. King 1952
7.) Blind Love-B.B. King 1953
8.) Ten Long Years-B.B. King 1956
9.) Crying Won't Help You-B.B. King 1956
10.) On My Word Of Honor-B.B. King 1956
11.) Sugar Mama-B.B. King 1959
12.) My Sometime Baby-B.B. King 1960
13.) I Need You So Bad-B.B. King 1957
14.) Did You Ever Love A Woman-B.B. King 1956
15.) Early Every Morning-B.B. King 1957
16.) You Don't Know-B.B. King 1957
17.) Bad Luck-B.B. King 1956
18.) The Woman I Love-B.B. King 1959
19.) Hard Working Woman 1951
20.) Why I Sing The Blues-B.B. King 1984


==============================================
PETE CHASTON'S DOO WOP SHOW ON ROCK-IT RADIO
SHOW #5424

Pete is a veteran DJ here at Rock-it Radio and a loyal
provider of shows for us here.
His dedication and knowledge of 50s and early 60s Doo Wop
shines as he spins those tunes of yesteryear. Including The
Silly song segment and the rare But scratchy 45 segment.
Here is this week's playlist of what you will hear.

1. Doo-Wop All Night Long-The Blue Emotions (opening theme song) (1982
2. Oh, Baby-The Jesters (1958)
3. Twilight-The Paragons (1958)
4. Stick With Me, Baby-The Paragons (1957)
5. Love No One But You-The Jesters (1957)
6. Fine Little Girl-The Arcades (1958)
7. Music to My Ears-The Camelots (1963)
8. Tick Tick Tock-Teddy & The Continentals (1961)
9. I'll Make You Understand-The Performers (1959)
10. Let's Do the Cha-Cha-The Magnificents (1960)

SILLY SONG SEGMENT:

11. Louie Coletti-P. G. Cenicola (xxxx)
12. Radiation Baby-The Winds of Notre Dame (1965)

SCRATCHY 45 RPMs SEGMENT:

13. I Remember-The Five Discs (1958)
14. Never Let You Go-The Five Discs (1962)
15. So Strange-The Five Dollars (The Don Juans ) (1955)
16. Candy Store Lover-The Val-chords (1959)

BACK TO THE CDs &/or More 45 RPMs:

17. In the Evening-The Keynotes (1956)
18. The Merengue-The Bell-Tones (1959)
19. Wait a Minute-Tim Tam & The Turn-Ons (1966)
20. Big Brown Eyes-The Mystics (circa 1959)

SLOW SONG SEGMENT:

21. Cherry-The Rivingtons (1973)
22. If You Want To-The Carousels (1962)
23. Lucille-The Drifters (1954)
24. Alice From Above-The Blue Jays (1989)
25. The Search is Over-The Legends of Doo-Wop (2001)
26. Oh, Let Me Dream-The Native Boys (1956)
27. Please Let Me Love You-The Legends of Doo-Wop (2001)
28. (closing theme song) Adios-The Five Discs (1961)

==============================================
TED LOUKES ROCKABILLY RHYTHM SHOW FROM SOUTH
AFRICA ON ROCK-IT RADIO SHOW #5425

Greetings from sunny South Africa as we head into
spring in this part of the world.
Another selection of Rockin' Rarities from the
50s and early 60s.

01 Little Girl - Everett Pauley And The Swinging Drifters 1963
02 Take It Easy, Greasy - Bill Lehman And The Rock Itts 1958
03 Real Gone - Acorn Sisters 1959
04 Good for Nothin' -Â Scott Engel 1958
05 Baby Let's Play House - Bobby Crown & The Kapers ?
06 It Ain't Right - Harry Carter & Matthews Band 1958
07 Roll On Big Mama -Â Gerald Self 1957
08 Teenager's Party - The Rhythm Rockers ?
09 Checkin' My Chick - Sally Bennett 1959
10 Slim Jim -Â Betty Logan ?
11 Rockin' Peg - Johnny Redd 1961
12 That Cat -Â Tommy Brown 1960
13 It Ain't A Big Thing -Â Denny Noie & The Catalinas 1964
14 Brown Eyed Handsome Man -Â Leon Starr ?
15 Let Me Go Baby - Sunset Lenney ?
16 Mean Woman Blues - Jim Johnston & The Starlighters 1958
17 I'm Gonna Tell On You - John Henry & The Steel Drivers 1960
18 Rock And Roll Rock -Â Roy Kelly 1961
19 Cross-Eyed Alley Cat - Jerry Demar 1957
20 Swing It, Little Kitty - Clyde Owens 1959
21 Rock-A-Sock-A-Hop - Jimmy Crain 1962
22 Rock And Roll Joys - Little Donnie Bowshier 1957
23 Mama, Mama -Â Jesse Stevens & Big Sandy Boys 1958
24 Ittie Bittie Rockabilly - The Boppers And Bob ?
25 If You Love My Woman - Jimmy Witter 1956
26 Summertime Blues - Rick & The Rockers ?
27 What's Goin' On - Marvin Moore ?

==============================================
MATT THE CAT AND THE JUKE IN THE BACK SHOW
ON ROCK-IT RADIO #5426 TRIBUTE TO SMILEY LEWIS

Smiley Lewis

There are so many forgotten legends along Rhythm & Blues
evolutionary highway. This week, the Juke In The Back looks at
the great Smiley Lewis, another influential force out of
New Orleans that time has chosen to forget. He played the
New Orleans clubs and cut his first single for DeLuxe Records
in 1947. After it failed to go anywhere, Lewis was fortunate enough
to fall into admiration of bandleader and Imperial Records talent
scout, Dave Bartholomew.


1. Swanee River Boogie - Albert Ammons â€" Mercury 1947
2. Here Comes Smiley - Smiley Lewis â€" DeLuxe 1947
3. Tee-Nah-Nah - Smiley Lewis & His Sextet â€" Imperial 1950
4. Slide Me Down - Smiley Lewis & His Sextet â€" Imperial 1950
5. If You Ever Loved A Woman - Smiley Lewis & His Sextet â€" Imperial 1950
6. The Bells Are Ringing - Smiley Lewis â€" Imperial 1952
7. Lillie Mae - Smiley Lewis â€" Imperial 1952
8. Gumbo Blues - Smiley Lewis â€" Imperial 1952
9. Big Mamou - Smiley Lewis â€" Imperial 1953
10. Caldonia's Party - Smiley Lewis â€" Imperial 1953
11. Blue Monday - Smiley Lewis â€" Imperial 1954
12. Too Many Drivers - Smiley Lewis â€" Imperial 1954
13. GREAT 78* (I Love You) For Sentimental Reasons - Smiley Lewis â€" Imperial 1954
14. I Hear You Knocking - Smiley Lewis â€" Imperial 1955
15. Bumpity Bump - Smiley Lewis â€" Imperial 1955
16. One Night - Smiley Lewis â€" Imperial 1956
17. Please Listen To Me - Smiley Lewis â€" Imperial 1956
18. She's Got Me Hook, Line & Sinker - Smiley Lewis 1956
19. Shame, Shame, Shame - Smiley Lewis â€" Imperial 1957
20. After Hours - Erskine Hawkins â€" Bluebird 1946

===============================================
MIKE TAYLOR'S ROCKABILLY SHOW WITH A TRIBUTE TO
MEMPHIS 1955 ROCKABILLY ON SHOW #5427

Memphis 1955 was a very exciting time to be in the
music business, a lot was going on and the music scene
was rapidly changing. Many thanks to SUN Records and
a truck driver from Tupelo Mississippi named Elvis.
Come check out this special here exclusively on Rock-it Radio!

Journey back to the time and place where it all began and
listen to some of the rockin' tunes that came out of the
Bluff City in 1955. Includes a rare clip of the first live
radio broadcast hosted by Johnny Cash with the Tennessee Two...

1. Move Baby Move - Billy "The Kid" Emerson Jan 1955
2. Milk Cow Blues Boogie - Elvis w/Scotty and Bill Jan 1955
3. Movie Magg - Carl Perkins Mar 1955
4. I Feel So Worried/So Long Baby Goodbye - Sammy Lewis w/Willie Johnson Combo Apr 1955
5. Just love Me Baby - Rosco Gordon Aug 1955
6. The Johnny Cash Show - Johnny Cash & The Tennessee Two (Live on KWEM Radio) Aug 1955
7. Gone Gone Gone - Carl Perkins Oct 1955
8. Someday You Will Pay - The Miller Sisters Apr 1955
9. Baby Let's Play House - Elvis w/Scotty and Bill May 1955
10. Blue Suede Shoes/Honey Don't - Carl Perkins Dec 1955
11. Lookin' For My Baby - Little Milton Jun 1955
12. Ain't That Right - Eddie Snow Aug 1955
13. Mystery Train/ I Forgot To Remember To Forget - Elvis w/Scotty and Bill Aug 1955
14. The Signifying Monkey - Smokey Joe Sep 1955

===============================================
MOVIN AND GROOVIN SHOW WITH DJ SPINNING ROCK BOOGIE WITH PT. 2 OF RARE VINYL FROM FLORIDA SHOW #5428

Join DJ Spinning Rock Boogie for another in his series,
"Regional Round Up", where a particular State of America
is featured with some of the record labels from out of that State,
the towns and cities where those labels were situated, and the
artists who recorded on them. This show takes a look at the State
of Florida Pt 2 with predominantly music from the 50's and 60's
including, Rockabilly / Hillbilly Boogie / Rock and Roll /
a smattering of Soul and Blues and the regular feature, The Smooch Spot.

01. Intro - Medley
02. Rollin' The Jukebox Rock - Benny Joy (57) Tri-Dec - Haines City
03. Hey Mr Porter - Ralph Pruitt & His Rhythm Boys (59) Meridan - Winter Park
04. You're Nice - Bobby Gay & The Sparkle Tones (59) Mida - Miami
05. All You Gotta Do - Tracy Pendarvis (58) Scott - Miami
06. Chattanooga Drummer Man - The Flying Tornados (61) Glendale - Orlando
07. Corvette Baby - Bob Cass (59) RBC - Lakeland
08. You're A Doll - Rocky Davis (58) Blue Sky - Saint Cloud
09. Yes I'm Ready - Barbara Mason (65) Artic - Miami Beach
10. If You Would Be My Girl - Danny Carmichael (?) Gateway - Jacksonville
11. Why Can't We Live Together - Timmy Thomas (72) Glades - Miami
12. She Lied - The Offbeats (64) Tropical - DeLand
13. Be-Bop Boogie - Roger Smith (59) Air - Miami
14. My Shadow - Ray Pate & The Rhythm Rockets (57) Gulfstream - Hollywood
15. Messed Up - Bill Swing (58) Burton - Jacksonville
16. Hire A Mocking Bird - Harold Crosby (59) Lorida - Lorida
17. Anyway - Wesley Hardin & The Roxters (57) AFS - Miami
18. Knocked Out Joint On Mars - Buck Trail (58) Trail - Miami
19. My Baby Don't Rock Me - Kent Westbury & The Chaperones (58) Art - Fort Lauderdale
20. Shoo Rah Shoo Rah - Betty Wright (74) Alston - Hialeah
21. Mr Right Now - Doctor Hector & The Groove Injectors (95) Kingsnake - Sandford
22. Whatcha Gonna Do - The Four Mints (59) Choctaw - Valparasio
23. Black And White Shoes - Webster Dunn Jnr (?) Dunmar - Orlando
24. Life Must Go On - The Newports (67) Zebb - Ormand Beach
25. Night Angel - Billy Jones & The Teenettes (61) Carellen - Holly Hills
26. Outro - Medley

===============================================
COOL BOBBY B AND THE DOO WOP STOP ON ROCK-IT RADIO SHOW #5429

It's two shows in the same week for Cool Bobby B
as we catch up and get his shows online to you as
quick as possible. Don't be fooled by other oldies
stations - Cool Bobby B began his online shows right
here on Rock-it Radio. The others are just copy cats :)
Here is the playlist of his show.

Hour #1

1. Rockin' with the clock -- Shirley and Lee
2. Bongo Stomp -- Little Joey & Flips
3. Come back my love -- The Darts
4. You baby you -- The Cleftones
5. Once upon a time -- Kenny Vance & Planotones
6. Little Darlin' -- Diamonds
7. Diamonds and Pearls -- The Paradons
8. Remember Then -- The Earls
9. Thinking of you -- The Jaguars
10. Have I sinned -- Donnie Elbert
11. Candy -- The Astros
12. Don't say goodnight -- The Valentines
13. Fool Fool Fool -- The Impalas
14. Remember - The Velours
15. Maybe -- The Chantels
16. Be sure my love -- The Dubs
17. Tell Him -- The Gainors
18. Picture in my wallet -- Darrell & Oxfords
19. No NO No -- The Dovells

Hour #2

20. Where or When -- Dion & Belmonts
21. Why do fools fall in love -- Frankie Lymon & Teenagers
22. In the still of the night -- Five Satins
23. Creation of Love -- Otis Williams & Charms
24. Sunday kind of love -- Del Vikings
25. Need you so -- The Veltones
26. White Cliffs of Dover -- The Mystics
27. I love you -- The Volumes
28. Just to be with you -- The Passions
29. There goes my love -- The Fantastics
30. zing went the strings of my heart -- The Darts
31. This I swear - The Skyliners
32. Tonight tonight -- Mello Kings
33. Desiree -- The Charts
34. Dream Girl -- Norman Fox & Robroys
35. Greetings from Uncle Sam -- The Valadiers
36. Mr. Blue -- Fleetwoods
37. Denise -- Randy & Rainbows
38. Little Star -- The Elegants

Hour #3

39. 11th hour melody -- The Rivieras
40. Moonlight Cocktails -- The Rivieras
41. Buick '59 -- The Medallions
42. Ding Dong school is out -- Hollywood Playboys
43. Rainy Day bells -- Globetrotters
44. 16 Candles -- The Crests
45. Morse Code of Love -- The Capris
46. The Closer you are -- The Channels
47. 10 Commandments of love -- The Moonglows
48. The Diary -- Little Anthony & Imperials
49. Love is like music -- 5 Chords
50. Valerie -- The Starlites
51. Lonely nights -- The Hearts
52. When I woke up this morning -- Bop Chords
53. I wish that we were married -- Ronnie & Hi Lites
54. Tears on my pillow -- Little Anthony & Imperials
55. Havin Fun -- Dion & Belmonts
56. Little Girl -- Dion & Belmonts
57. Goodnight Baby -- The Imaginations

===============================================
JACK VAN OERS AND THE ROCKIN WINDMILL SHOW ROCKABILLY SHOW FROM THE NETHERLANDS! ON ROCK-IT RADIO #5430

From the land of windmills, dykes, canals, cheese, tulips,
cows and wooden shoes here is another dynamic Rockin' Windmill
Show with lots of rockabilly and a number of instrumentals.
Host Jack van Oers plays music from Australia, Canada, The USA,
the UK, Finland, The Netherlands and Belgium.
In the request corner at the end of the show you will hear 4
personal favorites of Simon Lewis from the UK.


1. My little baby - Jimmy & Johnny - 1959
2. Baby what's wrong with you - Jimmy Crain - 195x
3. Everybody but me - Johnny Earl - 19xx
4. All the time - Johnny Janis - 1957
5. Ma, he's making eyes at me - The Crescendo's - 1964
6. Better stop, look & listen - George & Earl - 1956
7. Sweet rockin' mama - The Hi-Tombes - 1960
8. Sixteen senoritas - The Valentines - 1960
9. Black Smoke & the Blue Tears - Clyde Arnold - 1961
10. I'll be your slave - Miss Mary Ann & the Ragtime Wranglers - 2005
11. Mean mean man - Wanda Jackson - 1960
12. Mean mean man - Terry White - 1996
13. Teenage boogie - Webb Pierce - 1956
14. Fingertips - Brien Fisher - 1957
15. The rockin' alcoholic - Crazy Cavan & the Rhythm Rockers - 1986
16. Baby come back - Johnny Rivers - 1958
17. She tears me up - Wynn Stewart - 1958
18. My babe - King Drapes - 2000
19. I've met my one and only - Barry Etris - 1959
20. I need your love tonight - Col Joye & the Joy Boys - 1963
21. Birds 'n bees - The Temptations - 1959
22. Ronny boy - The Jokers - 1963
23. Javalin's beat - The Javalins - 1963
24. Surfin' strangers - The Five Strangers - 1963
25. Twist watch - The Crazy Rockers - 1964
26. Guitar boogie shuffle - Bert Weedon - 1959

===============================================
PAPA WALT'S OLDIES SHOW WITH CIVIL UNREST SONGS
OF THE 60S ON ROCK-IT RADIO SHOW #5431

Civil unrest burgeoned during the 1960's as the Vietnam War
made headlines and social issues caused anxiety and
citizen backlash. This edition of the Oldies Show catalogues
some of the prominent protest music of that era.

1. Shape of Things to Come - Max Frost & the Troopers (1968)
2. Blowin' in the Wind - Peter, Paul & Mary (1963)
3. Signs - Five Man Electrical Band (1971)
4. Hair - The Cowsills (1969)
5. The Unknown Soldier - The Doors (1968)
6. Fortunate Son - Credence Clearwater Revival (1969)
7. One Tin Soldier - Coven (1971)
8. Revolution - The Beatles (1968)
9. Society's Child - Janis Ian (1966)
10. Sky Pilot - Eric Burdon & the Animals (1968)
11. Eve of Destruction - Barry McGuire (1965)
12. Footnote - Pearls Before Swine (1969)
13. For What It's Worth - Buffalo Springfield (1967)
14. The Times They Are A-Changin' - Bob Dylan (1964)
15. Won't Get Fooled Again - The Who (1971)
16. People Got to Be Free â€" The Rascals (1968)
17. Ohio - Crosby , Stills, Nash & Young (1970)
18. Sweet Cherry Wine - Tommy James & the Shondells (1969)
19. Sunshine - Jonathan Edwards (1971)
20. And the Band Played Waltzing Matilda - Eric Bogle (1971)

===============================================
STAND IN DJ - MINNIE ROGERS ON THE LET THE GOOD TIMES ROLL OLDIES SHOW WITH A SURF ROCK SPECIAL ON ROCK-IT RADIO SHOW #5432

She does great voice over work and have been a sidekick
on a few occasions for Jackie Bond. Here she has her very
own show featuring Surf Rock Music! It's Minnie Rogers and
here is the playlist of her special!

1. Wipe Out - The Surfaris
2. Stoked - The Beach Boys
3. Misirlou - Dick Dale and The Del-Tones
4. Moon Dawg - The Gamblers
5. Teen Scene - The Hunters
6. No Trespassing - The Ventures
7. Let's Go Trippin' - Dick Dale and The Del-Tones
8. Surf Jam - The Beach Boys
9. Panic Button - The Fireballs
10. Vibrations - The Royal Jokers
11. Point Panic - The Surfaris
12. Perfidia - The Ventures
13. Nervous Breakdown - Bobby Fuller
14. Del - Tone Rock - Dick Dale and The Del-Tones
15. Dead Man's Curve - Jan and Dean
16. Surfin' - The Beach Boys
17. Tequila - The Champs
18. Surfing Drums - The Surfaris
19. Peter Gunn - Duane Eddy and The Rebels
20. Tell 'Em I'm Surfing - Jan and Dean
21. Surfin' Safari - The Beach Boys
22. Mr Moto - The Bel-Airs
23. Walk Don't Run - The Surfaris
24. Do You Remember - The Beach Boys
25. Wild Weekend - The Surfaris
26. Bustin' Surfboards - The Tornados
27. Surf City - Jan and Dean
28. Sleepwalk - Santo and Johnny



==============================================
All the Rock-it Radio shows are available on CD

Each show is only $9.50 each and you can order
in bulk and shipping will never be more then $2.00.
Ask for a secure paypal invoice -- information is at:
http://www.rockitradio.net/order.html

==============================================

100'S OF VINTAGE ROCK AND ROLL VIDEOS ON FILE IN
OUR VIDEO SITE AT ROCK-IT RADIO:
CHECK IT OUT AT:

HTTP://WWW.ROCKITRADIO.NET/VIDEO.HTML

==============================================
COME JOIN US ON FACEBOOK !!! WE WOULD LOVE A
LIKE FROM YOU!

http://www.facebook.com/rockitface
The Rock-it Radio Facebook Site.

==============================================
HISTORY OF ROCK-IT RADIO

If you are new to Rock-it Radio and would like to learn more --
We have our History Page up as well -- telling the story of Rock-it
Radio. You can find it at:
http://www.rockitradio.net/history.html

===============================================

GIVE THE GIFT OF NOSTALGIA IN 2015


Nostalgic Rock and Roll and Country Radio shows
for sale and remastered onto Compact Disc.
Economically priced and 100s to choose from of the
1950's thru the 1970s. Local and Nation
wide famous DJ's and stations. Hear how Radio was. Check
out the Rock-it Radio Launching Pad store at:
http://www.rockitradio.net/store.html

Rock-it Radio is Publicly supported. And we rely on
our listener's to keep us going. But for your donation
we offer you a vintage radio broadcast or a Rock-it Radio
show like we offer in our Online store.

AUGUST END OF THE MONTH DRAWING OF WINNERS ANNOUNCED FOR LAUNCHING PAD SUPPORTERS
At the end of every month on Rock-it Radio we have a
random drawing for those that have supported Rock-it Radio by
purchasing either Rock-it Radio shows through the
either the Rock-it Radio Launching pad at:
Or by going and ordering Rock-it Radio shows at:
The AUGUST 2015 Winners this month are:
Juliet Bello - Fullerton, California USA
Ron Krueger - Berwyn, Illinois USA
Bendik Prytz - Hamar, Norway


SUPER MEGA WINNER - WINNER OF 10 SHOW
OF THEIR CHOICE !!!!!!!!
Kenneth Vail - Kalamazoo, Michigan USA

Each of you have won your choice of 3 vintage
Rock Radio programs (The Super Mega winner won 10!)
from our online store at:

or you can order Rock-it Radio Shows if you prefer on CD

You have until
September 30, 2015
to let us write back and let
us know of your choices.
Congratulations and let me know what you would like to
have along with a mailing address and we will got those
items out to you. Just our way of saying Thank you for helping
support Rock-it Radio. And of course we will have October drawings
as well at the first week of next month.
NOTE: You should keep on checking this notice board
or join the Launching Pad Facebook site at:
And of course we will be having another drawing at the
end of this month.
RECRUITING FOR RADIO PERSONALITIES FOR
ROCK-IT RADIO

Do you know your 50s and 60s Rock & Roll, Doo wop
or Rockabilly? And the ability to produce a show
on CD?
We do require a playlist for this newsletter but
your show will stay online for the world for approx.
3 weeks. Unlike some stations where you broadcast one
time and it's gone forever.
If interested check out our Rock-it Radio Team page
at: http://www.rockitradio.net/team.html

We are also looking for writers and translators!
================================================
17TH ANNUAL EAST VS. WEST BATTLE WITH LANE AND
BILL LAST MONTH .... RESULTS AND FINAL TALLY.

The 17th Annual East/West Showdown is in the books! Bill & Lane
thank you for all the kind comments about how much you enjoyed
this year's program. You voted, and by now five lucky listeners
have been notified that they are winners in this year's drawing.

The final outcome was a draw -- six rounds for the East Coast,
and six rounds for the West Coast. The closest contest came in Round 2,
where the Pyramids' "Penetration" narrowly edged The Tams'
"What Kind of Fool (Do You Think I Am)".
The most lopsided match was Round 12, where the Intruders'
version of "Together" gathered nearly four times as many votes as
Tierra's rendition of the same tune.

Here are the final results:


ROUND ONE: WRITTEN BY JOCKEYS
41% - EAST: Splish Splash - Bobby Darin (1958)
59% - WEST: Don't Worry Baby - The Beach Boys (1964)

ROUND TWO: BEACH MUSIC vs. SURF MUSIC
48% - EAST: What Kind Of Fool(Do You Think I Am)? - The Tams (1964)
52% - WEST: Penetration - The Pyramids (1964)

ROUND THREE: WHICH CROWNS WILL WEAR THE ROUND 3 CROWN?
55% - EAST: Kiss and Make Up - The Crowns (aka The 5 Crowns) (1958)
45% - WEST: Do The Bop - Arthur Lee Maye & The Crowns (1955)

ROUND FOUR: THE KINGS ARE GONE, LONG LIVE THE KINGS
66% - EAST: Come Closer To Me - Ben E. King (1961)
34% - WEST: You Upset Me Baby - B.B. King (1954)

ROUND FIVE: BEHIND EVERY GREAT WOMAN
28% - EAST: Who's That? - Tracey Dey (1964)
72% - WEST: Should I Cry? - Jackie DeShannon (1964)

ROUND SIX: The Joy of Sax
69% - EAST: Last Night - King Curtis (1967)
31% - WEST: Oh Yeah (aka Rock N Roll) - Chuck Higgins (1956)

ROUND SEVEN: Disputin' Duos
66% - EAST: You Don't Know Like I Know - Sam & Dave (1966)
34% - WEST: Hey Girl! Hey Boy! - Oscar McLollie & Jeanette Baker (1958)

ROUND EIGHT: Frankie & Johnny were Singers...
38% - EAST: Little Bitty Pretty One - Frankie Lymon (1958)
62% - WEST: It's Not For Me To Say - Johnny Mathis (1957)

ROUND NINE: ...And Their Brothers Were, Too!
55% - EAST: Lydia - Lewis Lymon & The Teenchords (1956)
45% - WEST: Never Let You Go - Ralph Mathis & The Ambers (1958)

ROUND TEN: Getting Inspired
34% - EAST: This Can't Be True - Eddie Holman (1966)
66% - WEST: Louie, Louie - Richard Berry (1957)

ROUND ELEVEN: Blues Masters
45% - EAST: Done Somebody Wrong - Elmore James (1960)
55% - WEST: Strollin' With Bones - T-Bone Walker (1950)

ROUND TWELVE: Ending Up Together
79% - EAST: Together - The Intruders (1967)
21% - WEST: Together - Tierra (1980)

Our thanks to everyone who listened and voted. Be sure to check back
next summer to see what Lane & Bill will have in store for the 18th edition of the East/West Showdown.
NEW CD SET RELEASE IN ROCK-IT RADIO EBAY STORE
6 CD SET ON LOUIS JORDAN R&B LEGEND.

If you recall back in May and June Matt the Cat and
the Juke in the Back show did a very thorough show
in 6 shows on the music of R&B Legend Louis Jordan.
That 6 CD Set is now in our Ebay Store and listed at:
http://www.ebay.com/itm/-/131610498631
descriptions and playlists of what you will get is
in that listing.

The Cost is $39.95 U.S. and a $20 savings if you ordered
the shows individually. You can also see all our other
Ebay listings at:
http://stores.ebay.com/Rockit-Radio

EARLY FALL IS HERE - THE PERFECT TIME OF YEAR
TO WEAR A ROCK-IT RADIO T SHIRT!

Have you seen the new full line of Rock-it Radio T shirts that have been Released. With new designs by Rock-it Radio's own Jammin' Jan.
Each Rock-it Radio T shirt is only $16.00 each plus shipping. And 100% of
All monies goes to keeping Rock-it Radio Online.

Come check out the latest styles.:

http://www.rockitradio.net/tshirt.html

Check Website for updates and availability
HOW'S THAT WEATHER UP THERE IN IDAHO DINGO?

For our main page of rockitradio.net and our FM
outlet website at http://www.rockitradio.net/fm.html
We put up a couple of week's ago towards the bottom
our latest weather information icon. Click to it
and you will get our forecast for up here in Northern
Idaho. One good thing about Idaho if you don't like
the weather wait 10 minutes it is bound to change!

=====================================
FRIENDLY REMINDER TO PLEASE SUPPORT ROCK-IT RADIO

Rock-it Radio is publicly supported by listener's like you.
But we don't ask for money without giving something in return!
(Besides the music we play) -- We have an online store with 100s
of vintage Rock and Roll and Country Radio broadcasts from the
1950s to the 1970s. Uncut and Unedited and placed onto CD for
modern listening convenience from the original tape format. --
Every purchase (donation) of these vintage shows goes right back
into Rock-it Radio and it's operation. We kindly invite you to
check out our website and see what we have to offer. Most all
listings have a ebay link where you can buy the item off of ebay
or directly through paypal. Each broadcast is guaranteed.
Please check out the Rock-it Radio Store at:
http://www.rockitradio.net/store.html

REMINDER ON HOW TO CONTACT THE DJ'S AT ROCK-IT RADIO

We all love our our e mails from listeners here at Rock-it
Radio. Along with requests and dedications. Earlier this year
due to the excessive spam we all were getting I stopped listing
the e mails at each shows playlist. But you can still
contact them. Just go to the Rock-it Radio DJ page and each
DJ has there e mail link underneath each bio.
You can find it at: http://www.rockitradio.net/dj.html


COLLECTING AIRCHECKS - A HOBBY OF RADIO NOSTALGIA
What is a Aircheck? It is simply a recording of a radio broadcast. Usually collected by Radio fans.
Come check out our webpage on collecting Airchecks.

http://www.rockitradio.net/aircheck.html


COME REMEMBER WOLFMAN JACK !!!
Rock-it Radio has a very special way to remember Wolfman Jack.
Arguably the most iconic of American DJ's. Come check out the
Rock-it Radio Wolfman Page at:
REMEMBERING OFFSHORE PIRATE RADIO IN THE UK
In the mid 1960s it was difficult for the youth to actually listen to Rock and Roll in the UK. The BBC actually ran only a few hours a weekend to provide the young Brits with this outlet. At night during the week they ventured to even tune into Radio Luxembourg to get there fill, that broadcast rock and pop around the clock.
To fill this void some venture capitalists decided to bring in commercial radio aboard refitted radio ships. And anchor themselves just off into International waters off the English coast. Radio Caroline (named after Caroline Kennedy the U.S. President's daughter at the time) and Radio London being the most famous.
Rock-it Radio has a website dedicated to their ventures and also have actual radio broadcasts available of these offshore pirates. We invite you to check them out our webpage at:
http://www.rockitradio.net/pirate.html
FINDING ROCK-IT RADIO ON THE 'TUNE IN RADIO' CELL PHONE APP.

We have had a few requests from listeners that they couldn't find us on the
popular 'Tune in Radio' App. on Android and PC and iphones. Running a
search of 'Rock-it Radio' will actually list 100s of Rock stations.
So, the best way to find us on this very thorough and extensive app. that
I love using myself is -
run a search on 'rockabilly' - there you will easily find
Rock-it Radio listed.
Our Tune in Radio App. webpage is also at:
http://tunein.com/station/?stationId=41878
MISSED A COUPLE OF NEWSLETTERS LAST COUPLE OF WEEKS??

THEN YOU CAN ALWAYS CHECK OUR BLOG WHERE IT IS ARCHIVED.
YOU CAN CHECK OUT OUR BLOG AT:

http://rock-itradio.blogspot.com/
=============================================


ROCK-IT RADIO DJ PAGE...


Remember you can check out all the Rock-it Radio DJ's

and read the bios of these DJ's that make these

Rock-it Radio Shows possible at:


And don't forget for even more pictures --

there is our picture page at:
============================================
HOORAY FOR ROCK-IT RADIO AS WE ENTER OUR 20TH
YEAR!!! 1995 - 2015 !!!
============================================
IF YOU HAVE TWITTER COME FOLLOW US THERE

If you are one that tweets then please check out and join and get our
updates on your twitter account. Our Twitter link is right below.

http://www.twitter.com/RockitRadio1
It is our new Twitter account and we will once again start
scrolling our messages and updates on our webpages as well.


============================================
ROCK-IT RADIO OTHER TWITTER ACCOUNT FOR
NEWS RELEASES FOR N. IDAHO, KODIAK ALASKA AND
THE WORLD!
Rock-it Radio has another Twitter account and is used for News
Alerts that come into the studio here at Studio A. For those Twitter
users that would like to follow the link is:
http://www.twitter.com/RockitRadioNews

The feed can also be seen in our World News broadcast Webpage
at: http://www.rockitradio.net/news.html


=============================================

WELCOME NEW MEMBERS TO THE LISTENER'S CLUB!!!!

A big welcome to the below new Rock-it Radio listeners that
joined our Listeners Club from September 11, 2015 to
September 22, 2015.
We hope that you enjoy the music Rock-it Radio provides
and our playlists and information that our weekly newsletter
provides. Any comments, criticisms, kudos, compliments or
future ideas is always welcome and you can e mail me personally at:
rockitradio@netzero.net

Sal Sierrra -- United Kingdom
Al Smicha -- Jackson, New Jersey USA
Jason Goggans -- New Braunfels, Texas USA
William Bermudez -- Whittier, California USA
Adele -- Nagysimonyi, Hungary
Don Gee -- Hammonton, New Jersey USA
Peter Ciao -- Illinois, USA
Jimmy Matthews! -- Moyie Springs, Idaho USA

We have gained 130 new likes in our listeners club
in our Facebook page Rock-it Radio Fan Page as well this week at:
http://facebook.com/rockitface and 23 more following us
on Twitter @Rockitradio1 .

We have added a total of 162 new members to the Rock-it Radio
Listeners Club since our last newsletter. We now have 82,289 exactly
that have joined the Rock-it Radio Listeners club.
We hope that you enjoy the rare 50's and early 60's
Rock and Roll, Rockabilly and Doo Wop (which most commercial
oldies radio stations have forgotten) that we are able to play
for you from Rock-it Radio. Remember, we are here for you!

So if you ever have any requests, dedications, comments and
suggestions we always love to hear from our listeners.
Our e mail address is:
rockitradio@netzero.net

====================================================
To learn more about the Rock-it Radio Listeners Club and our Free
Newsletter please check out:
http://www.rockitradio.net/member.html

It's free and easy to join and the Rock-it Radio Newsletter is always
online at: http://www.rockitradio.net/newsletter.html



====================================================

PLEASE HELP US SPREAD THE GOOD WORD OF ROCK-IT RADIO!

Do you know of someone that might also like the music

of Rock-it Radio? We are desperately trying to keep this

music alive and have been doing so since 1995! Please

share the information of this station. And if you have

a website would you please consider putting a Rock-it Radio

link on your page.

There are a few to choose from in our link page at:

http://www.rockitradio.net/links.html
HOW TO ORDER OLD ROCK-IT RADIO SHOWS = YOUR PURCHASES HELP US STAY ONLINE!!!
We have received many inquiries on how to order Rock-it Radio shows that are no longer in
our on archives webpage. These shows are still available on CD and mailed to you within 24
hours of receiving payment.
To help search for older shows that you may be looking for you may want to check the Rock-it
Radio blog site. Old newsletters describing the shows and playlists
are archived there and there is a menu bar on the right side that breaks down every playlist
Then you may either pay by check or money order or paypal. Rock-it Radio shows are only
$9.50 U.S. each and are studio quality broadcasts that were placed on Compact Disc here at
the Rock-it Radio Studio. We have a flat rate shipping charge of $1.50 U.S. so if you order
one or several -- it is still only $1.50
U.S. shipping. And we ship worldwide, overseas orders are mailed out first class airmail.
Instructions where to send payment is at our webpage:
like we can send you a paypal invoice within 24 hours.

When you order a Rock-it Radio show or shop at our Rock-it Radio Launching Pad you
help keep these oldies alive and help us pay the bills here at Rock-it Radio.
And at the same time -- you are not getting nothing for your donation, but actually
some of the shows and memories we hope we keep alive here at Rock-it Radio.



TOP 20 SELLERS OF THE ROCK-IT RADIO LAUNCHING PAD THIS WEEK

As you know the Rock-it Radio Store sells vintage Radio Broadcasts - Where you hear the actual music, news and vintage advertisements - uncut and unedited just like you would of heard it back then. Here are the top sellers this week.

1. RIR #393 - John Lennon as DJ on WNEW New York from 1974
2. RIR #127 - Alan Freed 1956 Rock & Roll Dance Party show
3. Lane Quigley - Class of 1965 50 year Reunion - Rock-it Radio.
4. RIR #387 - Joey Reynolds - WKBW Buffalo NY Beatles Special 2/24/1964
5. RIR #539 - Cousin Brucie - WABC New York 9/7/1965
6. RIR #181 - Wolfman Jack XERB Tijuana 12/8/1967
7. RIR #623 - Big Jim Edwards - CKLW Windsor, Ont. 12/1/1969
8. RIR #116 - Casey Kasem - KRLA Los Angeles 5/27/1965
9. RIR #176 - Porky Chedwick WAMO Pittsburgh 6/14/1960
10. RIR #466 - 3 Vintage early Beatles Interviews w/ Tom Lodge and Murray the K
11. RIR #115 - Rare Broadcasts of Alan Freed.
12. RIR #182 - John Peel - Radio London Perfumed Garden Show 1/11/1968
13. RIR #317 - Allison Steele (Nightbird) WNEW New York 2/11/1969
14. RIR #594 - Denny Sanders WMMS Cleveland 6/30/1978
15. RIR #505 - Allison Steele WNEW FM New york 2/11/1969 Hr. 2
16. RIR #135 - Rock-it Radio 1000th show Celebration 3 CD set
17. RIR #640 - Hy Lit - WIFI Philadelphia 7/12/1973
18. RIR #629 - Charlie Van Dyke - CKLW Windsor, Ontario 4/28/1969
19. RIR #320 - Allison Steele - WNEW New York 9/19/1975
20. RIR #522 - Joel Sebastian - WLS Chicago - 2 shows from 1970 & 1971



If you would like to view these shows in depth you can check out
our Rock-it Radio Ebay Store at:
http://stores.ebay.com/Rockit-Radio

or in the Rock-it Radio Launching Pad store at:
http://www.rockitradio.net/store.html(listed by date)
and in the upper left hand corner -
there is a search box where you can type in the DJ name or
Station Call letters and that information on that show will pop up.
Ordering from the Ebay store will also qualify you for the Rock-it Radio
giveaway mentioned previously in this newsletter. Sale of
these broadcasts is what keeps Rock-it Radio going and thank
you again to everyone that buys these!

===============================================
TOP 50 NATIONS THAT ARE TUNING INTO ROCK-IT RADIO.

We are always amazed at the World Wide Web and the 211 Countries that
tune us in every month online. Here are the top 50 Countries so far
this month.+ or - shows up or down how many positions from the previous week.
TOP 50 NATIONS THAT ARE TUNING INTO ROCK-IT RADIO.

1. United States +0
2. Brazil +0
3. United Kingdom +0
4. Hungary +0
5. Netherlands +1
6. Germany -1
7. Canada +0
8. Ireland +0
9. France +0
10. Belgium +0
11. Sweden +0
12. Australia +0
13. Spain +1
14. Croatia -1
15. Japan +0
16. Philippines +1
17. Italy -1
18. Switzerland +2
19. Austria +3
20. Czech Republic +1
21. Russia -3
22. Saudi Arabia -3
23. Finland +5
24. China +0
25. Mexico +1
26. Romania -1
27. Norway -4
28. South Africa +1
29. Slovakia +8
30. Turkey +8
31. India -1
32. United Arab Emirates +0
33. Estonia +19
34. Qatar +7
35. Greece +12
36. Morocco -3
37. Poland +2
38. Denmark -8
39. Ukraine -5
40. Malaysia +2
41. Portugal +5
42. Thailand -2
43. Indonesia -4
44. Colombia +4
45. Serbia -1
46. South Korea +3
47. New Zealand -11
48. Albania -3
49. Argentina +5
50. Israel +3

=============================================
U.S. STATES RANKINGS TUNING INTO ROCK-IT RADIO

1. California +0
2. New York +0
3. Florida +0
4. Pennsylvania +0
5. Texas +0
6. Massachusetts +0
7. Ohio +0
8. Washington +0
9. Illinois +0
10. North Carolina +0
11. New Jersey +4
12. Missouri +0
13. Wisconsin +1
14. Maryland -1
15. Michigan +1
16. Georgia -5
17. Arizona +3
18. Indiana +3
19. Virginia -2
20. Tennessee -1
21. Colorado -4
22. Connecticut +1
23. Alabama +1
24. Kansas +3
25. Kentucky -1
26. Rhode Island -1
27. South Carolina -1
28. Oregon +1
29. Delaware +5
30. Idaho -2
31. New Mexico -2
32. District of Columbia +1
33. Nevada -1
34. Arkansas -1
35. Minnesota +1
36. Oklahoma +2
37. Alaska +0
38. Mississippi -3
39. Nebraska +0
40. Iowa +0
41. Utah +1
42. Wyoming +1
43. Louisiana -2
44. Hawaii +4
45. New Hampshire +0
46. Montana +1
47. West Virginia -3
48. Vermont +1
49. North Dakota +1
50. Maine -4
51. South Dakota -1
Rockabilly bands looking for airplay
If you or know someone that would like airplay on Rock-it Radio we invite
you to submit your press kits to Rock-it Radio. Our website for further
information is:
http://www.rockitradio.net/airplay.html
============================================
Come tune into the World on your computer!
1000s of stations around the world now broadcast online. We have a
link to some of the internet top directories to help you find these stations.
http://www.rockitradio.net/internetradio.html
============================================
Rock-it Radio Program Webpage Reminder
Remember, if the show that you want to hear is getting close to the bottom
of the list of radio shows, you should tune in as soon as you can. These shows
to have a high audio quality require a lot of internet bandwidth and memory.
And currently we can only afford the
30
latest shows online here at Rock-it Radio.
So, when a new show is put online it knocks the oldest one off the Rock-it Radio
archives page. Usually a show will at least last 16 to 20 days, once it is placed in
the archives.
============================================
OUR SISTER STATION FIRST NATIONS BROADCASTING.
We invite you to also check out our sister station -- First Nations
Broadcasting. And tune into the rather Cool North of the Yukon and Alaska
with our very own Debbie Snowdove!
============================================
Well that is just about it for this newsletter and playlists of our latest
shows. We hope that you enjoy them.
We will do our best to keep these shows on for at least 14
days and hopefully 21 days.
All the best always,
Bennie Dingo
Rock-it Radio

website: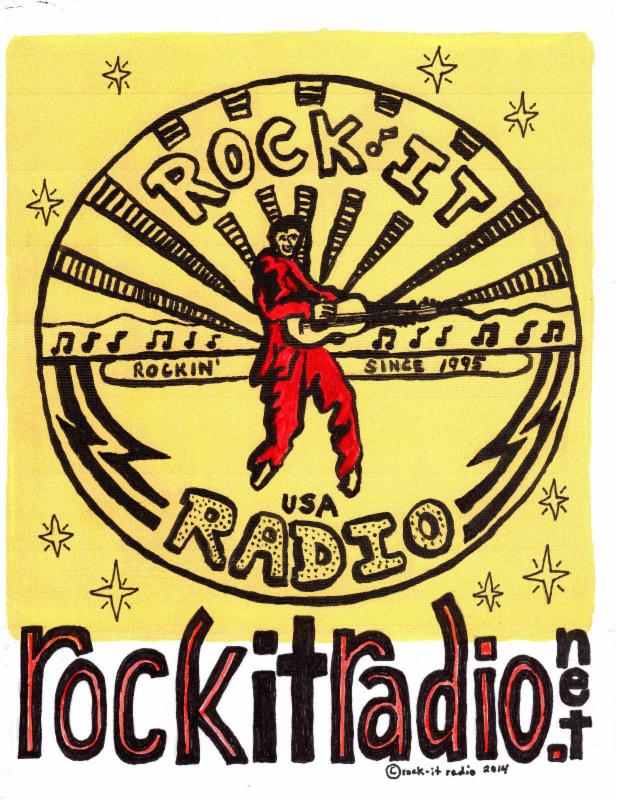 Rock-it Radio main website:
http://www.rockitradio.net

Archived Shows at:
http://www.rockitradio.net/programs.html

Rock-it Radio Vintage Broadcast Store:
(Launching Pad)
http://www.rockitradio.net/store.html