Rock-it Radio since 1995 providing 50s and early 60s Rock and Roll, Doo Wop and Rockabilly music online! Come tune us in at http://www.rockitradio.net We also have several 100 original radio shows from the first decade of Rock and Roll at: http://www.rockitradio.net/store.html
=========================================================================
ROCK-IT RADIO NEWSLETTER AND PLAYLIST
SHOWS #5491 TO #5506
FROM
November 24, 2015 to December 4, 2015
Hi Rock-it Radio Listeners & Launching Pad supporters,

It has been a very up and down week here
the last couple of week's here at Rock-it Radio.
Due to terrible sales out of our Launching Pad the
last couple of months if the trends continue we will
be forced to pull the plug and we sent last week a
S.O.S. Save our Station Campaign. Sales have picked
up and we are very grateful for that! But we are still
not out of the woods, but we have resumed sales and
A big thank you to all that have responded. But we have
also experienced listenership records of the most people
ever tuning into Rock-it Radio. We have a more in depth
look at that further down in the newsletter. We also this
newsletter have 15 new show playlists for shows #5491 to
#5505. Plus it's a new month so that means we will have
another drawing and give away to some lucky winners that
have helped support Rock-it Radio this past month.

So, Let's get started with some playlists!

Our shows can be heard in our archives page at:

http://www.rockitradio.net/programs.html
and click to the speaker on the left to hear the show.

Remember if you are new to Internet Radio and having trouble tuning in though --
Check out our webpage to help you out at:
http://www.rockitradio.net/tunein.html
============================================
REMEMBER YOU CAN ORDER ANY OF THESE ROCK-IT
RADIO SHOWS ON CD!!!! NEW EASIER ORDERING!

Would you like one of these Rock-it Radio shows on CD? To
be able to play anywhere? And help support Rock-it Radio at the same time.
For complete information check out our program
ordering webpage at: http://www.rockitradio.net/order.html

Our shows are of course copies straight from the studio so they are studio
quality and satisfaction is guaranteed.
Or if you would rather receive an invoice let me know and we
can e mail you a copy - Just e mail us the show(s) you would like
to have and the Rock-it # to: rockitradio@netzero.net

==============================================
All Rock-it Radio shows stay online from 18 to 24 days and are
broadcast in MP3 Format. To tune in just click to the speaker
at our program page at:
http://www.rockitradio.net/programs.html

The newest show added replaces the oldest show so if you see a
show near the bottom of the listing - you should listen as soon as
possible.

==============================================
WE COULD USE YOUR SUPPORT

Rock-it Radio is 100% Publicly supported. But when you
donate to the Rock-it Radio Launching Pad - we give you
a vintage broadcast of your choice.
100% of all sales from the Rock-it Radio Store (Launching
Pad) goes back to pay copyright fees, LLC taxes, Internet
and bandwidth costs of Rock-it Radio. Without your support
we would not exist. So. please consider a purchase at:
http://www.rockitradio.net/store.html

===============================================
NOTE: ALL SHOWS BELOW CAN BE FOUND IN OUR PROGRAM WEBPAGE - TO TUNE IN CLICK TO SPEAKER OF THE SHOW YOU WANT TO LISTEN TO. EITHER MP3 OR REAL PLAYER. BOTH FORMATS ARE SUPPORTED.
AT:
HTTP://WWW.ROCKITRADIO.NET/PROGRAMS.HTML

===============================================
TREVOR HYLAND'S ROCK AND ROLL DANCE PARTY
ON ROCK-IT RADIO SHOW #5491

Trevor is back again this week with some great
Rockabilly and Rock and Roll from the 50s and
Rockabilly bands today! Here is the playlist of
his latest show here on Rock-it Radio from his
studios in Bendigo, Victoria Australia!

01. Gonna Have A Party - Dickie Damron
02. Here Comes That Night - Billy Guitar
03. Almost Eighteen - Roy Orbison
04. At A High School Dance - R. Dean
05. Ballin' Keen - Bobby & Tery Caraway
06. Bottle To The Baby - Charlie Feathers
07. Come On Little Mama - Ray Harris
08. Crazy Baby - The rockin' R's
09. Go Go Go - Roy Orbison
10. Honey Love - Narvel Felts
11. I Got A Woman - Elvis Presley
12. Ice Water - Glen Barber
13. Laisy Daisy - Bobby Boston
14. Lovin' Honey - Gene Morris
15. Mary Lou - Ted Daigle
16. Now Stop - Martha Carson
17. Oh What Love Is - Jack Bailey
18. Rattle Snake Daddy - Joe D. Johnson
19. Rockin' Down Mexico Way - Loy Clingham
20. Rockin' Jukebox - Bob King
21. Rock-N- Bones - Elroy Dietzel
22. Shake It Up Baby - Frankie Dee
23. Susie Q - Dale Hawkins
24. Teeny Weeny - Jimmy Dell
25. That Ain't Nothin' But right - Joey Castle
26. The Boppin' Martian - Dick Robinson
27. The Bug - Gene Maltais

===============================================
CLARKE JAMES (CJ THE DJ) AND THE ROCKIN N ROLLIN
RECORD REVIEW ON ROCK-IT RADIO SHOW #5492

If you love Rockin' Records from the first decade of
Rock and Roll, without a doubt we suggest this show
here on Rock-it Radio. Just go to our program page
and click to the speaker next to show #5492. Here
is the playlist to this rockin' show.

1. Intro. Stack-A-Records (Edited) - Tom Tall
2. Betty Lou Got A New Pair Of Shoes - Bobby Freeman
3. Just Wait - Dotty Frederick
4. Vowels Of Love - The Poets
5. Gee…I Wish - Billy "Reda" Love
6. The Clock - The Jaytones
7. The First Time - The Genies
8. Cherrystone - The Addrisi Brothers
9. Mighty Mighty Man - Bobby Darin And The Rinky Dinks
10. Fee Fee Fi Fo Fum - LaVern Baker And The Gliders
11. Tic Tac Toe - The Stereos
12. Let's Go - Bonnie Blue Bell With Chic Adams Band
13. Jeanie, Jeanie, Jeanie - Jimmie Maddin
14. Please Mr. Sun - Tippie And The Clovermen
15. Did You Cry - Dickey Doo And The Dont's
16. A Fine, Fine Boy - Darlene Love
17. Why Do Lovers Break Each Other's Hearts ' Bob B. Soxx And The Blue Jeans
18. Whatcha Gonna Do ' Kuf-Linx
19. Puddin N Tain - The Alley Cats
20. Ain't That Loving You Baby - Hayden Thompson
21. Ball That Jack - Josie Kreuzer
22. You Cheated - The Shields
23. My Broken Heart - The Teenagers
24. The Good, The Bad, and The Ugly - The Atlantics
25. Mr. Rebel - Eddie & The Showmen
26. He's A Good Guy (Yes He Is) - The Marvelettes
27. My Boy - The Jodelles
28. The Genie - The Inspirations
29. Anniversary Of Love - The Caslons
30. Dis A Itty Bit! - Robin Hood Brians
31. Shake Shake - The Blue Tones Featuring Fred Coupland

===============================================
LANE QUIGLEY AND THE MEMORY LANE SHOW ON ROCK-IT RADIO SHOW #5493

This week's Memory Lane Show goes back in time to the
Glory Days of the 45 RPM with a variety pack of rock & roll,
RnB, rockabilly, blues and pop. Come join host Lane Quigley
for a great music mix - some songs that you'll remember, others
that might be new to you, along with a half dozen interview
clips from the performers talking about their music. It's
another 80 minutes of music and fun on The Memory Lane Show.

1. Sick and Tired - Chris Kenner 1957
2. Play Those Oldies Mr. D.J. - Anthony &The Sophomores 1963
SOUND BITE
3. Cherry Pie - Marvin & Johnny 1954
4. Every Day I Have To Cry - Steve Alaimo 1963
5. 21 Days In Jail - Magic Sam
6. Dance What You Wanna - The Olympics 1963
SOUND BITE
7. Work With Me Annie - The Midnighters 1954
8. Get Rhythm - Johnny Cash 1956
9. S.O.S. (Stop Her On Sight) - Edwin Starr 1966
10. MYSTERY ARTIST (Can you identify the artist??)
SOUND BITE
11. Don't You Just Know It - The Fendermen 1960
12. Talkin' That Talk - Jimmy Liggins 1954
13. Bossman - Deane Hawley 1960
14. Suspense - Johnny Brown & The Joy Boys
SOUND BITE
15. It's Only Make Believe - Conway Twitty 1958
16. After a Night Out - Fran Carol
17. Lewis Boogie - Jerry Lee Lewis 1958
18. Woody Wagon - Manuel & The Renegades 1963
SOUND BITE
19. If You Gotta Make a Fool Of Somebody - Maxine Brown 1965
20. Double or Nothing - Little Johnny Taylor 1968
21. I Need You So - Tommy McLain 1966
SOUND BITE
22. I Wonder - The Pentagons 1961
23. Gee How I Wish You Were Here - Curtis Lee 1961
24. My Heart's Desire - The Avalons 1958
25. Tonight Tonight - The Mello-Kings 1957

===============================================
BILLY VERA'S ROCK AND ROLL PARTY WITH A SPOTLIGHT
ON 1956 ROCKERS ON SHOW #5494

Join Billy Vera as his Rock & Roll Party takes a solid look
at some of the best R&B and Doo Wop released in that pivotal
year of 1956. Along with the fabulous music, Billy shares some
great personal memories and fills us in on the backstories
behind the records. This is a Rockit show that's not to be
missed!

HOUR #1
1. Geraldine - The El Venos
2. If I Could Make You Mine - The Love Notes
3. Mumbles Blues - Big Connie
4. Lonely Room - Lee Andrews & The Hearts
5. The Be-Bop Mouse - The Cellos
6. I Don't Want Nobody To Have My Love But You - Buddy Johnson Orch. featuring Ella Johnson
7. Anytime, Anyplace, Anywhere - Faye Adams with Joe Morris Orch.
8. Come Back Maybelline - Big John Greer
9. Come Back Maybelline - Mercy Dee
10. He Loves You Baby - Luther Bond & The Emeralds
11. School Bells - Nicky & The Nobels
12. Teenager's Dream - The Kodoks
13. Hush Oh Hush - Roosevelt Sykes
14. Raining In My Heart - The Hurricanes
15. Pneumonia - Joe Tex
16. My Nerves - Little Willie John
17. You Are My Queen - The Casanovas
18. Endless - The Honeybees
19. Gimme Gimme Gimme - Shirley Gunter & The Queens

HOUR TWO
20. Dry Your Eyes - The Inspirations
21. Darling How Long - The Heartbeats
22. Red Rose Tea Commercial
23. Am I Fooling Myself Again - Frankie Lymon & The Teenagers
24. Don't Mind Dyin' - The Jayhawks
25. Kill Me - Don & Dewey
26. That's My Desire - The Channels
27. Say Yeah - Ollie Sheppard
28. A Casual Look - The Six Teens
29. Devil That I See - The Penguins
30. Heaven Above Me - The Jets
31. Cora Lee - Little Bobby Rivera & The Hemlocks
32. And I Need You - The Pyramids
33. Sample Man - Lula Reed
34. When You Dance - The Turbans
35. Please Return - The Jewels
36. Hallelujah I Love Her So - Ray Charles
37. Wish You Were Here - The Keynotes
38. Banana Split For My Baby - Louis Prima



===============================================
JAMES RILEY AND THE ROCKABILLY AND BLUES SHOW ON
ROCK-IT RADIO SHOW #5495

From Tennessee, USA the birthplace of Rockabilly music
James Riley does his first show for us here at Rock-it
Radio.

Rockabilly N Blues Radio Hour #1
Rock & Roll Hall Of Famer John Fogerty is our guest
this hour as we discuss his new book, Fortunate Son,
early Sun Records influences, keeping it simple in
Creedence Clearwater Revival, his wife Julie, his sons
Tyler & Shane, Carl Perkins and much more!

1. Green River- Creedence Clearwater Revival
2. Big Train From Memphis- John Fogerty
3. Proud Mary- Creedence Clearwater Revival
4. Lookin' Out My Back Door- Creedence Clearwater Revival
5. Cross Tie-Walker- Creedence Clearwater Revival
6. All Mama's Children- Carl Perkins & John Fogerty
7. Blue Moon Nights- John Fogerty
8. Lodi- John Fogerty (w/ Tyler & Shane Fogerty)
9. You Win Again- Jerry Lee Lewis
10. Bad Moon Rising- Creedence Clearwater Revival

Rockabilly N Blues Radio Hour show #2
Oliver Baroni from Hillbilly Moon Explosion calls us
from France to talk about the band's origins and the
new collection titled, My Love For Evermore.
We also hear new tracks from Gas House Gorillas,
Jimmy & The Mustangs, JD McPherson, Doug C. & The
Blacklisted and Eddie Angel.

1. Rock & Roll Revival- Gas House Gorillas
2. Ball & Chain- Jimmy & The Mustangs
3. All I Can Do Is Cry- Hillbilly Moon Explosion
4. Spiderman- Hillbilly Moon Explosion
5. Little Lil- Hillbilly Moon Explosion
6. Chick Habit- Hillbilly Moon Explosion
7. Dead Cat Boogie- Hillbilly Moon Explosion
8. Call Me- Hillbilly Moon Explosion
9. Buy, Beg Or Steal- Hillbilly Moon Explosion
10. My Love For Evermore- Hillbilly Moon Explosion
11. Crazy Horse- JD McPherson
12. The Things I Could Do With You- Doug C & The Blacklisted
13. Devil Or Angel- Eddie Angel

Rockabilly N Blues Radio Hour #3
We catch up with Dave & Phil Alvin after a recent show
in Nashville, TN to discuss recording & touring together
again and their latest project, Lost Time. We also hear
rockers from Ricky Nelson, Big Sandy, Levi Dexter,
Johnny Cash, Elvis Presley, Dale Watson and others as
well as new tracks from Brian Setzer Orchestra (Christmas),
Vince Ray's Loser Machine and Danny B. Harvey &
Annie Marie Lewis!

1. Milk Cow Blues- Ricky Nelson
2. Feelin' Kinda Lucky- Big Sandy & His Fly Rite Boys
3. Turn My Back On You- Blue Cats
4. Completely Sweet- Levi Dexter
5. Please, Please, Please- Dave Alvin & Phil Alvin
6. World's In A Bad Condition- Dave Alvin & Phil Alvin
7. Rattlesnakin' Daddy- Dave Alvin & Phil Alvin
8. Mean Eyed Cat- Johnny Cash
9. Trying To Get To You- Robert Gordon
10. Down, Down, Down, Down, Down- Dale Watson
11. Don't Lie To Me- Danny B. Harvey & Annie Marie Lewis
12. Lotta Lovin'- Gene Vincent
13. Red Rocket 88- Vince Ray's Loser Machine
14. Hard To Want- Jack Skuller
15. Rockabilly Rudolph- Brian Setzer Orchestra
16. Just Because- Elvis Presley

===============================================
PETE CHASTON'S DOO WOP SHOW ON ROCK-IT RADIO
SHOW #5496

Pete is a veteran DJ here at Rock-it Radio and a loyal
provider of shows for us here.
His dedication and knowledge of 50s and early 60s Doo Wop
shines as he spins those tunes of yesteryear. Including The
Silly song segment and the rare But scratchy 45 segment.
Here is this week's playlist of what you will hear.

1. Doo-Wop All Night Long-The Blue Emotions (opening theme song) (1982)

THE MARCELS SPECIAL: First four hits of The Marcels:

2. Blue Moon-The Marcels (1961)
3. Summertime-The Marcels (1961)
4. Heartaches-The Marcels (1961)
5. My Melancholy Baby-The Marcels (1961)

"GET A JOB" SPECIAL:

6. Get a Job-The Silhouettes (1957)
7. Got a Job-The Miracles (1958)
8. I Got Fired-The Mistakes (1959)

"I WONDER WHY" SPECIAL:

9. I Wonder Why-Dion & The Belmonts (1958)
10. I Wonder Why (alternative version)-Dion & The Belmont (1958)
11. I Remember-The Five Discs (1958)
12. I Can't Believe-Dino & The Diplomats (early1960s)

THE SILHOUETTES SPECIAL:

13. Get a Job-The Silhouettes (1957)
14. Bing Bong-The Silhouettes (1958)
15. Your Love is All I Need-The Silhouettes (xxxx)
16. Rent Man-The Silhouettes (xxxx)

JAN & DEAN SPECIAL:

17. Baby Talk-Jan & Dean (1959)
18. Jenny Lee-Jan & Arnie (1958)
19. Tennessee-Jan & Dean (1962)
20. Linda-Jan & Dean (1962)
21. The New Girl in School-Jan & Dean (1964)

THE REGENTS SPECIAL:

22. Barbara-Ann-The Regents (1961)
23. I'm So Lonely-The Regents (1961)
24. Runaround-The Regents (1961)
25. Laura, My Darling-The Regents (1961)
26. Liar-The Regents (1961)
27. (closing theme song) Adios-The Five Discs (1961)

==============================================
DJ SPINNING ROCK BOOGIE AND THE MOVIN & GROOVIN
SHOW WITH CAROLINA RARITIES ON SHOW #5497

"REGIONAL ROUND UP Pt 44 - NORTH & SOUTH CAROLINA Pt 2.

Join DJ Spinning Rock Boogie for another in his series
"Regional Round Up", the show that features a particular
State of America, with some of the record labels from out
of that State, the towns and cities where those labels
were situated, and of course, the artists who recorded on them.
This show looks at the States of North and South Carolina
with rock and Roll / Rockabilly from the 50's, 60's 70's and
80's. So climb aboard the Rocket, buckle up and let's rock
around the Carolina's.

01. Intro - Medley
02. Love My Baby - Donald King & The Four Juniors (58) Rose Beth - Raleigh, North Carolina
03. Wild Party Twist (instrumental) - Bill Hanley & The Dixie Buddies (62) Dee Bee - Columbia, South Carolina
04. What A Line - Glenn Thompson (66) Tornado - Greensboro - North Carolina
05. Run Here Baby - Glenn Johnson (58) Oak - Elm City - North Carolina
06. Club Savoy - Rockin' Louis & The Mama Jammers (80) Ripete - Elliott - South Carolina
07. Me And My Harley-Davidson - Mickey Hawks (89) C-Horse - Highpoint - North Carolina
08. Ex Lover - Ted Patterson & The Tunesters (63) Klub - Greenville - South Carolina
09. My Hot Mama - Louis Gittins & The Sabres (58) Kat - Belmont - North Carolina
10. Memory Mountain - Patty Fay Mimms + Slim Mimms & The Dream Ranch Boys (63) Roni - Florence - South Carolina
11. The Great Society - Ski King & His Life Buoys (65) Dixie - Charlotte - North Carolina
12. I Wanna Hold Your Hand - Tommy Godbold & His Band (60) Wayne - Fayetteville - North Carolina
13. The Big Man Blues - Uncle Hix & The Happy Six (?) Teepee - Laurens - South Carolina
14. Smacky Mouth - Billy Craddock (57) Sky Castle - Greensboro - North Carolina
15. Little Angel Come Rock Me To Sleep - Ted Self (60) Plaid - Greenville - South Carolina
16. Cupid Shot A Tiger - Gene Pressley & The Invaders (65) Mastertone - Greenville - South Carolina
17. Middle Of The Night - The Tuttle Sisters (60) Granite - Mount Airy - North Carolina
18. This Is A Song - Shirlean Williams & The Tempos Band (76) Elvitrue - Willmington - North Carolina
19. Little Latin Lupe Lu - Mike & The Dimensions (65) Mike - Goldsboro - North Carolina
20. Surrender - Junior Dean & The Avalons (58) Mike - Spring Lake - North Carolina
21. That's All You Gotta Do - Carolyn Penlay & The Shantones (62) Piedmont - Lexington - North Carolina
22. It Ain't Gonna Happen No More - Eddie Fontaine (56) Jalo - Charleston - South Carolina
23. Sweettator And Cisco - D.F. McIver & The Star-Busters (65) Jaf-Tone - Cayce - South Carolina
24. Please Be Fair - Fred Thompson (61) Jim Dandy - Newbury - South Carolina
25. Somethin' Special - Don Duncan (59) Venture - Durham - North Carolina
26. Are You Ready - Henry Wilson & The Bluenotes (58) Colonial - Chapel Hill - North Carolina
27. One More Chance - The Rock-A-Tones (60) Whammy - Winston Salem - North Carolina
28. You're Just Right For Me - Don's Rockers (58) Donroc - Salisbury - North Carolina
29. Outro - Medley

==============================================
JACK VAN OERS AND THE ROCKIN' WINDMILL ROCKABILLY SHOW ON ROCK-IT RADIO #5498

From the land of windmills, dykes, canals, cheese, tulips,
cows and wooden shoes here is another dynamic Rockin'
Windmill Show. Host Jack van Oers plays music from Australia,
Sweden, The Netherlands, Germany, Norway, The USA and the UK.
You will also hear 3 songs from the new CD Spin me by
Aileen Quinn & the Leaping Lizards.


1. Right behind you baby - Ray Smith - 1958
2. Hey, pretty baby - Colin Cook & the Strangers - 1964
3. No love for me - Bob Barry - 1960
4. It's gonna take magic - Pipeline '61 - 2003
5. I can't forget you - The Tielman Brothers - 1960
6. Ubangi stomp - Blue Explosion - 1998
7. Saronaya baby - Aileen Quinn & the Leaping Lizards - 2015
8. Spin me - Aileen Quinn & the Leaping Lizards - 2015
9. Believe - Aileen Quinn & the Leaping Lizards - 2015
10. Come on home (live) - The Lennerockers - 1991
11. Rock and roll Thunderbird - The Burt Sisters -
12. Ten little women - Terry Noland - 1957
13. Ten little women - The Black Knights - 2001
14. Walking shoes (take 2) - Onie Wheeler - 1957
15. When we get old - Hank Sundown & the Roaring Cascades - 2011
16. Waiting (don't wait too long) - David Box & the Ravens - 1962
17. Luister naar mij (listen to me) - John Spencer - 1991
18. Square town - Darts (USA) - 1960
19. Lonely guy - Clarence Stacy - 1959
20. I'll keep on loving you - Blue Valley Boys - 2008
21. One kiss away from the blues - Ray Campi - 1959
22. The story of Jesse James - Jamie Coe - 1960
23. Sugar booger - The Ranch Girls & the Ragtime Wranglers - 2002
24. Little bitty Johnny - Travis & Bob - 1959
25. Oh! Baby - The Nite Rockers - 1958

==============================================
COOL BOBBY B AND THE DOO WOP STOP ON ROCK-IT RADIO SHOW #5499

It's two shows in the same week for Cool Bobby B
as we catch up and get his shows online to you as
quick as possible. Don't be fooled by other oldies
stations - Cool Bobby B began his online shows right
here on Rock-it Radio. The others are just copy cats :)
Here is the playlist of his show.

Hour #1

1. Rockin' with the clock -- Shirley and Lee
2. Heartbeat -- The Whirlwhinds
3. That's my desire -- Dion & Belmonts
4. Where or When - Dion & Belmonts
5. The Diary - Kid Kyle
6. Chapel of Dreams - The Dubs
7. A million and one Dreams -- Bel Larks
8. You belong to me -- The Duprees
9. Have you heart -- The Duprees
10. Who do you think you are -- Fascinators
11. Night Owl -- Tony Allen
12. Remember When - The Platters
13. Big Boy Pete -- The Olympics
14. Poor Rock n Roll - Nicky & Nobles
15. I sold my heart to the junkman - Blue Belles
16. I'm so Sorry -- The Viceroys
17. Red Hoy - Royal Jokers
18. Stormy Weather - The Spaniels
19. Trickle Trickle - The Videos
20. Canadian Sunset - The Impacts

Hour #2

21. Deserie - The Charts
22. Let's strt all over again - The Paragons
23. Runaround - The Regents
24. Once upon a time - Rochelle & Candles
25. Earth Angel - The Penguins
26. Barbara - The Temptations
27. What brought us together - The Edsels
28. I love you madly - Charlie & Ray
29. Tell Me -- The Mastertones
30. Why -- The Newmarks
31. Never let you go - Five Discs
32. That's the way it goes - Harptones
33. Mio Amore - The Flamingos
34. C'est la vie - The Wrens
35. I wonder - The Laurels
36. I'm coming home - The De Lights
37. Tonight - The Velvets
38. Is is because - Ron Baxter & Chantels

Hour #3

39. 11th hour melody - The Rivieras
40. Moonlight Cocktails - The Rivieras
41. Melba - The Dreamers
42. Lullabye of the bells -- The Dellaires
43. Walking the streets alone - Love Letters
44. Pitter Patter - Five Fleets
45. Hammer of my heart - The LaChords
46. So this is love -- The Castelles
47. Pretty little Angel -- The Crests
48. Hushabye my love - Dino & Diplomats
49. Step by Step - The Crests
50. The Stars - The Ocapellos
51. What's wrong - The Avalons
52. Been a long time -- Five Quails
53. Crazy over you -- Maureen Grey
54. Play that song -- The Jaguars
55. Castle in the sky -- Bop Chords
56. Let me love you - Georgie Goodman & Headliners
57. Goodnight Baby - The Imaginations

================================================
PAPA WALT'S OLDIES SHOW WITH DOPPELGANGERS #3
ON ROCK-IT RADIO SHOW #5500

The Oldies Show is offering up a third edition of doppelgangers.
Pairs of songs that are completely different but that share
the same song title. Here are two dozen great tunes that
span almost five decades of rock history.

1. Tell Me - The Sharmettes (1962)
2. Tell Me - The Rolling Stones (1964)
3. America - Simon & Garfunkel (1972)
4. America - Neil Diamond (1981)
5. I'm Sorry - Brenda Lee (1960)
6. I'm Sorry - John Denver (1975)
7. It Hurts to Be in Love - Annie Laurie (1957)
8. It Hurts to Be in Love - Gene Pitney (1964)
9. Trouble - Jackie Dee (DeShannon) (1959)
10. Trouble - Cat Stevens (1970)
11. Somebody to Love - Bobby Darin (1960)
12. Somebody to Love - Jefferson Airplane (1967)
13. It's Over - Erma Franklin (1962)
14. It's Over - Roy Orbison (1987)
15. Runaway - Del Shannon (1961)
16. Runaway - Damn Yankees (1990)
17. Poor Little Rich Girl - Steve Lawrence (1963)
18. Poor Little Rich Girl - The Marvelettes (1966)
19. Back Street Girl - Diana Dawn (1964)
20. Back Street Girl - The Rolling Stones (1967)
21. Hard Headed Woman - Elvis Presley (1958)
22. Hard Headed Woman - Cat Stevens (1970)
23. P.S. I Love You - The Classics (1963)
24. P.S. I Love You - The Beatles (1964)

================================================
OTTO FUCHS AND THE ROCKIN THE JOINT ROCKABILLY SHOW ON ROCK-IT RADIO SHOW #5501

From his studios in Baden, Austria renowned Author and
DJ Otto Fuchs is back this week with another great set
of rockin' tunes.
Rockin' The Juke Joint Show with some great Roots Rock &
Roll, Rockabilly, Doo-Wop and current rockin' sounds
for our listeners, which fit, the aforementioned genre's
in all points.

1. Rock Around The Clock â€" Bill Haley & His Comets
2. Everybody´s Rockin â€" Wearly Fairburn
3. Crazy Legs â€" Gene Vincent
4. Three Alley Cats â€" Roy Hall
5. Mystery Train â€" Elvis Presley
6. Rockabilly Boogie â€" Johnny Burnette
7. Ducktail â€" Mac Curtis
8. Miserlou â€" Dick Dale
9. Caravan â€" Santo & Johnny
10. Love Is Just Pretend â€" Jimmy & The Mustangs
11. Meet You On The Corner â€" Bones Maki & The Sun Dodgers
12. You're The Boss â€" Marti Brom
13. Betty Page â€" The Blue Devils
14. Move It â€" Johnny Bach & The Moonshine Boozers
15. Little Town Flirt â€" Del Shannon
16. Teardrops â€" Lee Andrews
17. Who Do You Love â€" Bo Diddley
18. We´re Gonna Make It â€" Little Milton
19. Mother In Law â€" Ernie K. Doe
20. Rock & Roll Lullabye â€" B.J. Thomas
21. Nip Sip â€" The Clovers
22. Thirty Days â€" Chuck Berry
23. Drive In Show â€" Eddie Cochran
24. In My Dreams â€" Gene Vincent
25. Gene & Eddie - Teencats

================================================
AL COOL DADDY SMITH WITH THE BOTTOM 40 ON
ROCK-IT RADIO SHOW #5502 PART II


This Show is part two in a Two part series that will
feature tunes that never reached the Top 40 during their time
on the Billboard charts and hence are what I call The Bottom 40.

The play list is as follows:

1.) Boom-A-Dip-Stan Robinson 1959
2.) Come Dance With Me-Eddie Quinteros 1960
3.) Calcutta-The Four Preps 1961
4.) The Taste Of A Tear-Johnny and The Tokens 1961
5.) Lonely Sixteen-Janie Black 1961
6.) I Love Onions-Susan Christie 1966
7.) Record Hop Blues-The Quarter Notes 1959
8.) Vacation Days Are Over-The Argyles 1959
9.) Long Tall Sally-The Kinks 1965
10.) Apache-Sonny James 1961
11.) He's Old Enough To Know Better-The Crickets 1960
12.) Our Song-Jack Jones 1967
13.) Swinging Shepherd Twist-Moe Kaufman 1962
14.) Little Star-Randy and The Rainbows 1964
15.) Cheryl's Goin' Home-The Cascades 1966
16.) Buzzzzzz-Jimmy Gordon 1963
17.) You Don't Have To Be A Tower Of Strength-Gloria Lynne 1961
18.) Patricia Twist-Perez Prado 1962
19.) Down The Aisle-Ike Clanton 1960
20.) Little Miss U.S.A.-Barry Mann 1961
21.) Good Night Irene-Jerry Reed 1962
22.) Father Knows Best-The Radiants 1962
23.) Beach Time-Roger Smith 1959
24.) Terry-Twinkle 1965
25.) Here's A Heart-The Diplomats 1964

==============================================
ROCKIN DADDY O'S ATOMIC DOO WOP DANCE PARTY
ON ROCK-IT RADIO SHOW #5503

One of the highest energy jocks of the Rock-it
Radio DJ's Rockin' Daddy O knows how to throw a
Doo Wop Party! He even has that retro echo effect
just like many of the Rockin' jocks had back in the
50s. Here is the playlist of his latest show here
on Rock-it Radio.

1. You Baby You-Excellents
2. Tell Me Why-Norman Fox & Rob-Roys
3. Zoop-Charts
4. Zoom Zoom Zoom-Collegians
5. Pretty Little Angel Eyes-Curtis Lee
6. My Jelly Bean-Bobby & The Consoles
7. Crazy Love-Velours
8. At The Ball-Unique Teens
9. Jay Walker-Cadillacs
10. Wild Life-Rudy Greene
11. King Kong-Big "T" Tyler
12. White Cliffs Of Dover-Checkers
13. I Love You-Volumes
14. Bobbie-Joey & The Lexingtons
15. Who Cares About Love-Vicky Tafoya & The Big Beat
16. Lovers Who Wander-Dion
17. Here Is Why I Love You-Spaniels
18. Oh What A Nite-Dells
19. Angel Baby-Rosie & The Originals
20. Rock With You-Extraordinaires
21. My Flaming Heart-Danleers
22. Buzz Buzz Buzz-Hollywood Flames
23. Finger Tips-Red Prysock
24. So Long-Fats Domino

==============================================
FLASHBACK SPECIAL - RICK WARD'S ROCK AND ROLL SHOW ON ROCK-IT RADIO SHOW #5504

Originally released as show #2505 it's a special
flashback of Rick Ward The Adonis of Internet Radio
and his lovely wife Judy The Beauty.
Enjoy this Rock-it Radio Flashback! No Playlist is
available but is guaranteed to be a pleaser!

==============================================
COOL BOBBY B AND THE DOO WOP STOP ON ROCK-IT RADIO SHOW #5505

It's two shows in the same week for Cool Bobby B
as we catch up and get his shows online to you as
quick as possible.

Hour #1

1. Rockin' with the clock -- Shirley and Lee
2. Mope ity mope -- The Bosstones
3. The Plea - Jesters
4. So Strange - Jesters
5. Play those oldies Mr. DJ - Anthony & Sophomores
6. Morse Code of Love - The Capris
7. YOu belong to me - Duprees
8. Wonderful Girl - Five Satins
9. Story Untold - Nutmegs
10. School day crush - Nicky & Nobles
11. Would I love you - Miracles
12. Every breath I take - Gene Pitney
13. Sweets for my sweet -- The Drifters
14. Just for a thrill - Five Keys
15. Our day will come - Ruby & Romantics
16. Where or When - Dion & Belmonts
17. Lonely Way - The Skyliners
18. This I swear - Skyliners
19. Since I don't have you - Skyliners

Hour #2

20. Don't leave me - The Magnificents
21. I'll be forever loving you -- El Dorados
22. Don't pity me - Dion & Belmonts
23. No One Knows - Dion & Belmonts
24. Baby oh baby - The Shells
25. I - The Velvets
26. Gee - The Crows
27. Be True - The Vocaleers
28. Dear One - The Scarlets
29. Please say you want me - The Schoolboys
30. Lucky Me, I'm in love - El Domingos
31. Gee How I wish you were here - Curtis Lee
32. Whole lot of shakin goin on - Big Maybelle
33. Greetings this is Uncle Sam - The Valadiers
34. We went away - Dion & Belmonts
35. This is love - Joseph Damiano
36. This is Love - The Tred Tones (Paradons)
37. Together - The Dreamlovers

Hour #3

38. 11th hour melody - The Rivieras
39. Moonlight Cocktails - The Rivieras
40. I need someone - The Belmonts
41. Birthday party - Pixies Three
42. Barbie - Kenny & The Cadets (Beachboys)
43. Once in awhile - The Chimes
44. Daddy Cool - The Rays
45. Happy Happy birthday baby - Tune Weavers
46. 16 Candles - The Crests
47. Dream Girl - Norman Fox & Robroys
48. Sh Boom - The Chords
49. This time it's love - The Tymes
50. Then he kissed me - The Crystals
51. Need you -- Donnie Owens
52. Since I fell for you -- Lenny Welch
53. I still care - Frankie Nolan
54. That's my desire - Dion & Belmonts
55. Stay where you are - The Olympics
56. Goodnight Baby - Imaginations

================================================
JACKIE BOND AND LET THE GOOD TIMES ROLL OLDIES
SHOW ON ROCK-IT RADIO SHOW #5506

From his studios in Great Britain comes one awesome
DJ with a great selection of Music. It's Jackie Bond
with more great musical memories from the first decade
of Rock and Roll. Here is the playlist of what you
will hear.

1. Baby It's Love - Johnny Angel
2. Cherry Lips - The Robins
3. Cool Shake - The Dell Vikings
4. Ginny - The Smart Tones
5. How About Me - The Belmonts
6. Walk That Walk - The Sheiks
7. Girl Around The Corner - Lee Andrews and The Hearts
8. You Gotta Go - Crystal and Running Wild
9. By My Side - Carolina and Her Rhythm Rockets
10. Rumours - The Frantic Rockers
11. Roots Man - Levi Dexter
12. Pistol Boogie - Dude Martin
13. The Girl With The Story In Her Eyes - The Safaris
14. I Wanna Love Him So Bad - The Jelly Beans
15. Who Put The Bomp - Barry Mann
16. Daisy Mae - The Parliaments
17. Counting The Stars - The Ladders
18. OoI - Carmen Taylor and The Boleros
19. Indian Marriage - Robert and Johnny
20. Swing On A Star - Big Dee Irwin with Little Eva
21. Hot Rod Racing - Ati Edge and The Shadowbirds
22. That Somethin' - The Rod Kay Trio
23. Did We Go Steady Too Soon - The Madisons
24. Baby Shakers - The Boners
25. Raw Deal - Sonny Burgess
26. Good Night My Love - Jesse Belvin

==============================================
All the Rock-it Radio shows are available on CD

Each show is only $9.50 each and you can order
in bulk and shipping will never be more then $2.00.
Ask for a secure paypal invoice -- information is at:
http://www.rockitradio.net/order.html

==============================================

100'S OF VINTAGE ROCK AND ROLL VIDEOS ON FILE IN
OUR VIDEO SITE AT ROCK-IT RADIO:
CHECK IT OUT AT:

HTTP://WWW.ROCKITRADIO.NET/VIDEO.HTML

==============================================
COME JOIN US ON FACEBOOK !!! WE WOULD LOVE A
LIKE FROM YOU!

http://www.facebook.com/rockitface
The Rock-it Radio Facebook Site.

==============================================
HISTORY OF ROCK-IT RADIO

If you are new to Rock-it Radio and would like to learn more --
We have our History Page up as well -- telling the story of Rock-it
Radio. You can find it at:
http://www.rockitradio.net/history.html

===============================================

NOVEMBER END OF THE MONTH DRAWING OF WINNERS ANNOUNCED FOR LAUNCHING PAD SUPPORTERS
At the end of every month on Rock-it Radio we have a
random drawing for those that have supported Rock-it Radio by
purchasing either Rock-it Radio shows through the
either the Rock-it Radio Launching pad at:
Or by going and ordering Rock-it Radio shows at:
The NOVEMBER 2015 Winners this month are:
Lola Schiefelbein - Richland, Washington USA
Joshua Keats - Castlemaine, Victoria Australia
Charles Crouch - Huntsville, Alabama USA


SUPER MEGA WINNER - WINNER OF 10 SHOW
OF THEIR CHOICE !!!!!!!!
Virgil Chapman - Napa, California USA

Each of you have won your choice of 3 vintage
Rock Radio programs (The Super Mega winner won 10!)
from our online store at:

or you can order Rock-it Radio Shows if you prefer on CD

You have until
December 31, 2015
to let us write back and let
us know of your choices.
Congratulations and let me know what you would like to
have along with a mailing address and we will got those
items out to you. Just our way of saying Thank you for helping
support Rock-it Radio. And of course we will have October drawings
as well at the first week of next month.
NOTE: You should keep on checking this notice board
or join the Launching Pad Facebook site at:
And of course we will be having another drawing at the
end of this month.
RECRUITING FOR RADIO PERSONALITIES FOR
ROCK-IT RADIO

Do you know your 50s and 60s Rock & Roll, Doo wop
or Rockabilly? And the ability to produce a show
on CD?
We do require a playlist for this newsletter but
your show will stay online for the world for approx.
3 weeks. Unlike some stations where you broadcast one
time and it's gone forever.
If interested check out our Rock-it Radio Team page
at: http://www.rockitradio.net/team.html

We are also looking for writers and translators!
================================================
NEW ROCK-IT RADIO SHOWS NOW AVAILABLE ON
FLASH DRIVE.


New Release!!!! Rock-it Radio Shows #5401 to #5450 on Flash
drive MP3 Over 60 hours of 50s and 60s Rock and Roll now on
Flash drive. Just plug into your usb port in your PC or if your
mp3 player has it in that usb port select and you will have
50 Rock-it Radio shows at your disposal.
In our Ebay listing at:
http://www.ebay.com/itm/-/131645776466

or the new Rock-it Site at:
http://www.rockitradio.net/flashdrive.html

It's something different and hopefully will catch on.
As soon as we hit Show #5500 we will have a 2nd Flash drive
available. It really is a great savings from our CD's that
we sell for $9.50 each could add up to $475 for 50 shows.
We are offering the flash drive to slash that amount to just
$39.95.

==================================================
NEW CD SET RELEASE IN ROCK-IT RADIO EBAY STORE
6 CD SET ON LOUIS JORDAN R&B LEGEND.

If you recall back in May and June Matt the Cat and
the Juke in the Back show did a very thorough show
in 6 shows on the music of R&B Legend Louis Jordan.
That 6 CD Set is now in our Ebay Store and listed at:
http://www.ebay.com/itm/-/131610498631
descriptions and playlists of what you will get is
in that listing.

The Cost is $39.95 U.S. and a $20 savings if you ordered
the shows individually. You can also see all our other
Ebay listings at:
http://stores.ebay.com/Rockit-Radio

SAD TO REPORT -- PASSINGS DEPT.

Station Manager Lane Quigley informed me a couple
of days ago this past week. We had lost 3 Doo Wop
Legends. Rest in Peace ...

Ronnie Bright (bass singer for The Valentines; he also
provided the deep voice on Johnny Cymbal's 1963 hit
"Mr. Bass Man")

Wally Roker of The Heartbeats

Shirley Gunter of The Queens

Gone but your music lives on forever!

=====================================
NEW RELEASE!!! IN THE ROCK-IT RADIO EBAY STORE
BILLY VERA'S ROCK & ROLL PARTY SHOW
RISQUE R&B SHOW NOW AVAILABLE ON CD.
Rock-it Radio DJ Billy Vera's show of Risque Rhythm
and Blues originally aired as show #5465 is now
available in our Ebay store. You can check it
out at:
http://www.ebay.com/itm/131668442904
ROCK-IT RADIO SENDS OUT S.O.S. TO SAVE OUR STATION
UPDATE!!!


Last Week Rock-it Radio sent out the following letter




to Listener Club Members.



Hello Everyone,

For those that celebrated Thanksgiving a couple of days ago
we hope you got to spend it with those you love. We have some
good news and bad news in this special bulletin of Rock-it Radio.

First The Good News!

1. We will be giving away a free CD of a special 1965 WCFL Chicago
Christmas Eve Broadcast featuring Christmas Music and Great Vintage
ads for every order we receive up to December 15th, 2015. It's a fun
and nostalgic Christmas Show. You can view it in our Ebay Store
and it's playlist at:
http://www.ebay.com/itm/140356618194

2. We have a new release of our Rock-it Radio shows on Flashdrive.
In MP3 just plug into your PC in the USB port and get over 70 hours
of our 50 latest shows here on Rock-it Radio. They are shows #5451
to #5500. You can view that in our Ebay Store at:
http://www.ebay.com/itm/131663201466
or on our site at: http://www.rockitradio.net/flashdrive.html

Now The Bad News

Straight to the point - Rock-it Radio sales have been dismal in
October and November. It costs nearly $2500 a month just to run
Rock-it Radio. And we have only made 2/3rds of that the last 2
months. If December is similar we will be bankrupt and will cease
operations on January 1,2016 and that will include closing down our
online stores of vintage broadcasts and our 50s 60s Radio Station online
at http://www.rockitradio.net

Therefore we kindly ask for your donation / purchase to the Rock-it
Radio Launching Pad. And shop for a little nostalgia this Christmas /
Holiday Season.
At the following Locations:

The Rock-it Radio Ebay Store:
http://stores.ebay.com/Rockit-Radio

Rock-it Radio Launching Pad:
(100s of Vintage 50s through 70s Rock Music Radio Programs)
http://www.rockitradio.net/store.html
Rock-it Radio Programs:
Either on CD or now on Flashdrive:
http://www.rockitradio.net/order.html
or
http://www.rockitradio.net/flashdrive.html

...................
IF YOU WISH TO ORDER BY CREDIT CARD OR ONLINE ...

If you would like a certain Rock-it Radio show or would just like to
order by Check or Credit Card in lieu of online. We can send you a invoice
that you can either pay via paypal or send in a check or money order (sorry
U.S. Only on that) by e mailing us what you would like to have and let
us know at: rockitradio@netzero.net and we will gladly send you a invoice.
...................

Every order received in the United States will receive our Catalog listing
all shows available along with a discount coupon for future purchases.
Overseas orders of 3 or more Shows will also receive our catalog with the
same offer. The reason why it takes more for overseas as we actually loose
money sending the catalog overseas with a order unless 3 shows are ordered.
(sorry)...............

You can follow Rock-it Radio on Facebook for updates and new items at:
http://www.facebook.com/rockitface

and on Twitter at:
http://www.twitter.com/RockitRadio1

Thank you and all the very best,

Bennie Dingo
Rock-it Radio
rockitradio.net
e mail: rockitradio@netzero.net

============================================
UPDATE ON ROCK-IT RADIO FINANCIAL WOES

First off a Giant Thank you for those that have
stepped forward to help Rock-it Radio woes. We
have gone from Grave condition to Serious Condition
almost overnight. Though we are not out of the woods,
at least we see a light at the end of the tunnel if we
can continue a modest flow of income. We still need
continued support. Many Rock-it Radio DJs themselves
also have given there support along with listener's
alike. We have upped our reserve enough to at least last
until January. In 2016 I will make it a commitment to put
out many more vintage radio broadcasts to freshen our
stock. I also want to thank all of you for your
wonderful suggestions.
===================================================
FREE VINTAGE CHRISTMAS EVE BROADCAST GIVE AWAY

From now until December 15th Rock-it Radio will
be giving away as a Thank you. We will be sending
you with your order a 1965 Christmas Eve Broadcast
from DJ Barney Pip over WCFL Chicago. It's a fun
Holiday Broadcast on CD and you can view the listing
on Ebay at:
http://www.ebay.com/itm/140356618194

But will be yours free when you order anything from
Rock-it Radio.
==================================================
===================================================
ROCK-IT RADIO SETS LISTENER RECORDS AND SCORES
NUMBER ONE BILLING OF INTERNET RADIO STATIONS

With recent promotions for new listeners, Eventhough Rock-it Radio has had tough news on their financial woes, they are setting records in Listenership. And is now rated the #1 Listened to Internet Radio Station according to Top Sites Rankings. Here is the link to see the latest standings.
http://internetradiotopsites.com/index.php

A big thank you to all of our listener's for making Rock-it Radio #1!

VINTAGE 1967 CHRISTMAS EVE BROADCAST MAKES FOR
A FUN LISTEN! AVAILABLE IN OUR EBAY STORE &
LAUNCHING PAD.

On Christmas Eve 1967 at WCFL in Chicago (The Top
40 Station at the time And competitor to the #1
Spot WLS in Chicago).
All the top jocks of that station went on the air
with one in the main studio spinning Christmas tunes.
The remainder out in the Streets in Chicago with several
fun reports for 5 hours from 7 p.m. until midnight that
including man on the street interviews,
Phone calls, reports of activities, and of course vintage
Christmas Songs. It's a truly great
nostalgic feel. And available on CD via our Ebay store
or at the Rock-it Radio Launching Pad. (RIR #'s is our
Catalog listings)

Hour #1 WCFL Christmas Eve '67 (RIR #218)
http://www.ebay.com/itm/140355608530

Hour #2 WCFL Christmas Eve '67 (RIR #224)
http://www.ebay.com/itm/130842056267

Hour #3 WCFL Christmas Eve '67 (RIR #226)
http://www.ebay.com/itm/140355135696

Hour #4 WCFL Christmas EVe '67 (RIR #365)
http://www.ebay.com/itm/140173013165

Hour #5 WCFL Christmas Eve '67 (RIR #369)
http://www.ebay.com/itm/140910695534

Other Vintage Christmas Radio Broadcasts Available.

- DJ Barney Pip Christmas Eve show from 1965.
WCFL - Chicago. (RIR #367)
(Currently FREE with purchase of any other show
or Rock-it Radio Item! until December 15th.
http://www.ebay.com/itm/140356618194

- DJ Jim Runyon Christmas Eve 1965 Broadcast
over WCFL Chicago. (RIR #368)
http://www.ebay.com/itm/131667339418

REMINDER ON HOW TO CONTACT THE DJ'S AT ROCK-IT RADIO

We all love our our e mails from listeners here at Rock-it
Radio. Along with requests and dedications. Earlier this year
due to the excessive spam we all were getting I stopped listing
the e mails at each shows playlist. But you can still
contact them. Just go to the Rock-it Radio DJ page and each
DJ has there e mail link underneath each bio.
You can find it at: http://www.rockitradio.net/dj.html


COLLECTING AIRCHECKS - A HOBBY OF RADIO NOSTALGIA
What is a Aircheck? It is simply a recording of a radio broadcast. Usually collected by Radio fans.
Come check out our webpage on collecting Airchecks.

http://www.rockitradio.net/aircheck.html


COME REMEMBER WOLFMAN JACK !!!
Rock-it Radio has a very special way to remember Wolfman Jack.
Arguably the most iconic of American DJ's. Come check out the
Rock-it Radio Wolfman Page at:
REMEMBERING OFFSHORE PIRATE RADIO IN THE UK
In the mid 1960s it was difficult for the youth to actually listen to Rock and Roll in the UK. The BBC actually ran only a few hours a weekend to provide the young Brits with this outlet. At night during the week they ventured to even tune into Radio Luxembourg to get there fill, that broadcast rock and pop around the clock.
To fill this void some venture capitalists decided to bring in commercial radio aboard refitted radio ships. And anchor themselves just off into International waters off the English coast. Radio Caroline (named after Caroline Kennedy the U.S. President's daughter at the time) and Radio London being the most famous.
Rock-it Radio has a website dedicated to their ventures and also have actual radio broadcasts available of these offshore pirates. We invite you to check them out our webpage at:
http://www.rockitradio.net/pirate.html
FINDING ROCK-IT RADIO ON THE 'TUNE IN RADIO' CELL PHONE APP.

We have had a few requests from listeners that they couldn't find us on the
popular 'Tune in Radio' App. on Android and PC and iphones. Running a
search of 'Rock-it Radio' will actually list 100s of Rock stations.
So, the best way to find us on this very thorough and extensive app. that
I love using myself is -
run a search on 'rockabilly' - there you will easily find
Rock-it Radio listed.
Our Tune in Radio App. webpage is also at:
http://tunein.com/station/?stationId=41878
MISSED A COUPLE OF NEWSLETTERS LAST COUPLE OF WEEKS??

THEN YOU CAN ALWAYS CHECK OUR BLOG WHERE IT IS ARCHIVED.
YOU CAN CHECK OUT OUR BLOG AT:

http://rock-itradio.blogspot.com/
=============================================


ROCK-IT RADIO DJ PAGE...


Remember you can check out all the Rock-it Radio DJ's

and read the bios of these DJ's that make these

Rock-it Radio Shows possible at:


And don't forget for even more pictures --

there is our picture page at:
============================================
IF YOU HAVE TWITTER COME FOLLOW US THERE

If you are one that tweets then please check out and join and get our
updates on your twitter account. Our Twitter link is right below.

http://www.twitter.com/RockitRadio1
It is our new Twitter account and we will once again start
scrolling our messages and updates on our webpages as well.


============================================
ROCK-IT RADIO OTHER TWITTER ACCOUNT FOR
NEWS RELEASES FOR N. IDAHO, KODIAK ALASKA AND
THE WORLD!
Rock-it Radio has another Twitter account and is used for News
Alerts that come into the studio here at Studio A. For those Twitter
users that would like to follow the link is:
http://www.twitter.com/RockitRadioNews

The feed can also be seen in our World News broadcast Webpage
at: http://www.rockitradio.net/news.html


=================================================
WELCOME NEW MEMBERS TO THE LISTENER'S CLUB!!!!

A big welcome to the below new Rock-it Radio listeners that
joined our Listeners Club from November 23, 2015 to
December 4, 2015.
We hope that you enjoy the music Rock-it Radio provides
and our playlists and information that our weekly newsletter
provides. Any comments, criticisms, kudos, compliments or
future ideas is always welcome and you can e mail me personally at:
rockitradio@netzero.net

Mickey Dunn -- USA
Keith Scowcroft - Dorset, United Kingdom
William Casper - Pittsburgh, Penn. USA
Jon Windholz - Monroe, New Jersey USA
Bill Buchsbaum - San Antonio, Texas USA
Raymond MacDonald - Vancouver, Washington USA
David Johnson - Sunderland, United Kingdom
Gary Reichele - St. Clair, Michigan, USA
Roy Martinosky - Beechhurst, New York USA

We have gained 131 new likes in our listeners club
in our Facebook page Rock-it Radio Fan Page as well this week at:
http://facebook.com/rockitface and 99 more following us
on Twitter @Rockitradio1 .

We have added a total of 239 new members to the Rock-it Radio
Listeners Club since our last newsletter. We now have 83,997 exactly
that have joined the Rock-it Radio Listeners club.
We hope that you enjoy the rare 50's and early 60's
Rock and Roll, Rockabilly and Doo Wop (which most commercial
oldies radio stations have forgotten) that we are able to play
for you from Rock-it Radio. Remember, we are here for you!

So if you ever have any requests, dedications, comments and
suggestions we always love to hear from our listeners.
Our e mail address is:
rockitradio@netzero.net

====================================================
To learn more about the Rock-it Radio Listeners Club and our Free
Newsletter please check out:
http://www.rockitradio.net/member.html

It's free and easy to join and the Rock-it Radio Newsletter is always
online at: http://www.rockitradio.net/newsletter.html



====================================================

PLEASE HELP US SPREAD THE GOOD WORD OF ROCK-IT RADIO!

Do you know of someone that might also like the music

of Rock-it Radio? We are desperately trying to keep this

music alive and have been doing so since 1995! Please

share the information of this station. And if you have

a website would you please consider putting a Rock-it Radio

link on your page.

There are a few to choose from in our link page at:

http://www.rockitradio.net/links.html
HOW TO ORDER OLD ROCK-IT RADIO SHOWS = YOUR PURCHASES HELP US STAY ONLINE!!!
We have received many inquiries on how to order Rock-it Radio shows that are no longer in
our on archives webpage. These shows are still available on CD and mailed to you within 24
hours of receiving payment.
To help search for older shows that you may be looking for you may want to check the Rock-it
Radio blog site. Old newsletters describing the shows and playlists
are archived there and there is a menu bar on the right side that breaks down every playlist
Then you may either pay by check or money order or paypal. Rock-it Radio shows are only
$9.50 U.S. each and are studio quality broadcasts that were placed on Compact Disc here at
the Rock-it Radio Studio. We have a flat rate shipping charge of $1.50 U.S. so if you order
one or several -- it is still only $1.50
U.S. shipping. And we ship worldwide, overseas orders are mailed out first class airmail.
Instructions where to send payment is at our webpage:
like we can send you a paypal invoice within 24 hours.

When you order a Rock-it Radio show or shop at our Rock-it Radio Launching Pad you
help keep these oldies alive and help us pay the bills here at Rock-it Radio.
And at the same time -- you are not getting nothing for your donation, but actually
some of the shows and memories we hope we keep alive here at Rock-it Radio.



TOP 20 SELLERS OF THE ROCK-IT RADIO LAUNCHING PAD THIS WEEK

As you know the Rock-it Radio Store sells vintage Radio Broadcasts - Where you hear the actual music, news and vintage advertisements - uncut and unedited just like you would of heard it back then. Here are the top sellers this week.

1. New Flashdrive Rock-it Radoi Shows 5451 - 5500
2. RIR #393 - John Lennon as DJ on WNEW New York from 1974
3. RIR #127 - Alan Freed 1956 Rock & Roll Dance Party show
4. New Flashdrive Rock-it Radio Shows 5401 - 5450
5. RIR #387 - Joey Reynolds - WKBW Buffalo NY Beatles Special 2/24/1964
6. RIR #181 - Wolfman Jack XERB Tijuana 12/8/1967
7. Lane Quigley - Class of 1965 50 year Reunion - Rock-it Radio.
8. RIR #539 - Cousin Brucie - WABC New York 9/7/1965
9. RIR #176 - Porky Chedwick WAMO Pittsburgh 6/14/1960
10. RIR #168 - Dan Ingram WABC New York 7/22/1967 2 CD set
11. RIR #135 - Rock-it Radio 1000th Show 3 CD Set.
12. RIR #116 - Casey Kasem - KRLA Los Angeles 5/27/1965
13. RIR #466 - 3 Vintage early Beatles Interviews w/ Tom Lodge and Murray the K
14. RIR #115 - Rare Broadcasts of Alan Freed.
15. RIR #623 - Big Jim Edwards - CKLW Windsor, Ont. 12/1/1969
16. RIR #359 - Gus Gossert Oldies Show WPIX New York from 1971
17. RIR #182 - John Peel - Radio London Perfumed Garden Show 1/11/1968
18. RIR #320 - Allison Steele WNEW FM New York 9/19/1975
19. RIR #397 - Wolfman Jack XERB Rosarito 8/1/1968
20. RIR #267 - Arnie Woo Woo Ginsburg WMEX Boston 12/12/1965


If you would like to view these shows in depth you can check out
our Rock-it Radio Ebay Store at:
http://stores.ebay.com/Rockit-Radio

or in the Rock-it Radio Launching Pad store at:
http://www.rockitradio.net/store.html(listed by date)
and in the upper left hand corner -
there is a search box where you can type in the DJ name or
Station Call letters and that information on that show will pop up.
Ordering from the Ebay store will also qualify you for the Rock-it Radio
giveaway mentioned previously in this newsletter. Sale of
these broadcasts is what keeps Rock-it Radio going and thank
you again to everyone that buys these!

===============================================
TOP 50 NATIONS THAT ARE TUNING INTO ROCK-IT RADIO.

We are always amazed at the World Wide Web and the 215 Countries that
tune us in every month online. Here are the top 50 Countries so far
this month.+ or - shows up or down how many positions from the previous week.
TOP 50 NATIONS THAT ARE TUNING INTO ROCK-IT RADIO.

1. United States +0
2. Brazil +0
3. France +2
4. Canada +4
5. United Kingdom -2
6. Vietnam +47
7. Germany +0
8. Italy +8
9. Netherlands -4
10. Spain +1
11. Russia +7
12. Lithuania +15
13. Mexico +9
14. Ireland -4
15. Romania +6
16. India +24
17. Australia -7
18. Philippines +12
19. Czech Republic -3
20. Sweden -4
21. Turkey -1
22. Ukraine +7
23. Argentina -8
24. Japan -13
25. Dominican Republic +8
26. Belgium -13
27. Colombia -6
28. Finland -6
29. Hungary -18
30. Singapore +22
31. Thailand +3
32. Peru -7
33. Indonesia +17
34. Hong Kong +21
35. Morocco -8
36. Croatia -20
37. Venezuela +16
38. Chile -8
39. Austria -18
40. South Korea +14
41. Bulgaria -4
42. Poland +5
43. Albania +6
44. Taiwan +15
45. China -13
46. Bolivia +6
47. Ecuador +8
48. Switzerland -21
49. Greece -23
50. Panama +7

=============================================
U.S. STATES RANKINGS TUNING INTO ROCK-IT RADIO

1. Oregon +16
2. New York +0
3. California -2
4. Virginia +4
5. Nevada +20
6. Pennsylvania -3
7. Texas -2
8. Florida -5
9. New Jersey +3
10. Washington -2
11. Arizona +0
12. Georgia +6
13. Illinois -3
14. North Carolina -1
15. Ohio -2
16. Missouri -2
17. Massachusetts -12
18. District of Columbia +14
19. Delaware +5
20. Michigan -2
21. Maryland -4
22. Indiana -2
23. Oklahoma +12
24. Wisconsin -3
25. Colorado -3
26. Connecticut -4
27. Tenessee -9
28. Alabama +0
29. Kentucky +0
30. Rhode Island -3
31. Idaho -5
32. New Mexico -6
33. South Carolina +0
34. Minnesota -4
35. Kansas +1
36. Utah +2
37. Arkansas -2
38. Iowa -2
39. Louisiana +4
40. Hawaii +1
41. Mississippi -2
42. Nebraska +5
43. Wyoming +1
44. Maine -2
45. North Dakota +5
46. West Virginia -5
47. Alaska -2
48. New Hampshire -2
49. Montana +0
50. Vermont -2
51. South Dakota +0


Rockabilly bands looking for airplay
If you or know someone that would like airplay on Rock-it Radio we invite
you to submit your press kits to Rock-it Radio. Our website for further
information is:
http://www.rockitradio.net/airplay.html
============================================
Come tune into the World on your computer!
1000s of stations around the world now broadcast online. We have a
link to some of the internet top directories to help you find these stations.
http://www.rockitradio.net/internetradio.html
============================================
Rock-it Radio Program Webpage Reminder
Remember, if the show that you want to hear is getting close to the bottom
of the list of radio shows, you should tune in as soon as you can. These shows
to have a high audio quality require a lot of internet bandwidth and memory.
And currently we can only afford the
30
latest shows online here at Rock-it Radio.
So, when a new show is put online it knocks the oldest one off the Rock-it Radio
archives page. Usually a show will at least last 16 to 20 days, once it is placed in
the archives.
============================================
OUR SISTER STATION FIRST NATIONS BROADCASTING.
We invite you to also check out our sister station -- First Nations
Broadcasting. And tune into the rather Cool North of the Yukon and Alaska
with our very own Debbie Snowdove!
============================================
Well that is just about it for this newsletter and playlists of our latest
shows. We hope that you enjoy them.
We will do our best to keep these shows on for at least 14
days and hopefully 21 days.
All the best always,
Bennie Dingo
Rock-it Radio

website: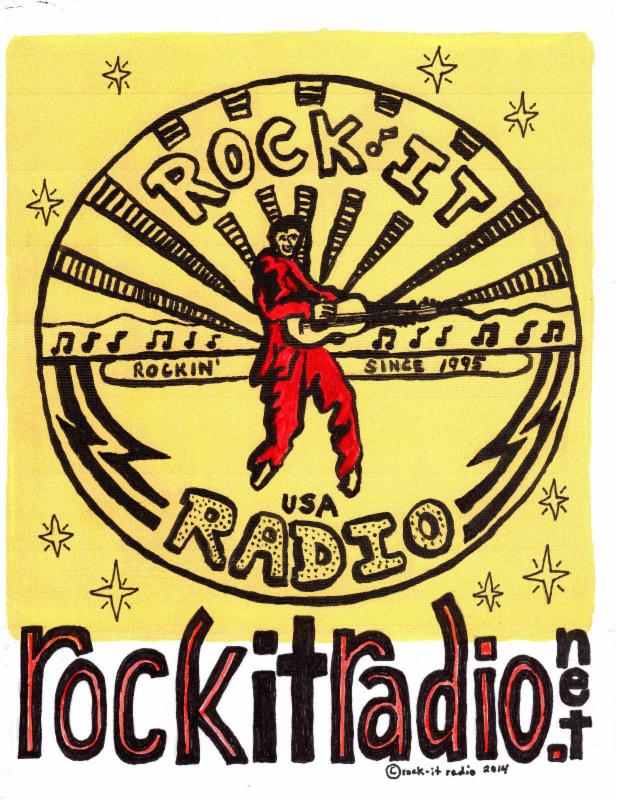 Rock-it Radio main website:
http://www.rockitradio.net

Archived Shows at:
http://www.rockitradio.net/programs.html

Rock-it Radio Vintage Broadcast Store:
(Launching Pad)
http://www.rockitradio.net/store.html