Rock-it Radio since 1995 providing 50s and early 60s Rock and Roll, Doo Wop and Rockabilly music online! Come tune us in at http://www.rockitradio.net We also have several 100 original radio shows from the first decade of Rock and Roll at: http://www.rockitradio.net/store.html
==========================================================================
ROCK-IT RADIO NEWSLETTER AND PLAYLIST
SHOWS #5573 TO #5586
FROM
February 6, 2016 to February 19, 2016

Hi Rock-it Radio Listeners,

Another 14 new shows on the Program page of Rock-it
Radio of great music from the first decade of
Rock and Roll. Plus some neat news that flattered
the heck out of this Rockiteer!
A new Rock-it Radio T Shirt design by Jammin Jan
And For the entire month of February we are still
giving away a BBC Buddy Holly Tribute Broadcast CD
information is further below in the newsletter.
Plus don't forget 10% Off on everything in our
Ebay Store this month!
Vintage Broadcasts, Rock-it Radio shows and T Shirts
& more!

So, Let's get started with some playlists!

Our shows can be heard in our archives page at:

http://www.rockitradio.net/programs.html
and click to the speaker on the left to hear the show.

Remember if you are new to Internet Radio and having trouble tuning in though --
Check out our webpage to help you out at:
http://www.rockitradio.net/tunein.html
============================================
REMEMBER YOU CAN ORDER ANY OF THESE ROCK-IT
RADIO SHOWS ON CD!!!! NEW EASIER ORDERING!

Would you like one of these Rock-it Radio shows on CD? To
be able to play anywhere? And help support Rock-it Radio at the same time.
For complete information check out our program
ordering webpage at: http://www.rockitradio.net/order.html

Our shows are of course copies straight from the studio so they are studio
quality and satisfaction is guaranteed.
Or if you would rather receive an invoice let me know and we
can e mail you a copy - Just e mail us the show(s) you would like
to have and the Rock-it # to: rockitradio@netzero.net

==============================================
All Rock-it Radio shows stay online from 18 to 24 days and are
broadcast in MP3 Format. To tune in just click to the speaker
at our program page at:
http://www.rockitradio.net/programs.html

The newest show added replaces the oldest show so if you see a
show near the bottom of the listing - you should listen as soon as
possible.

==============================================
WE COULD USE YOUR SUPPORT

Rock-it Radio is 100% Publicly supported. But when you
donate to the Rock-it Radio Launching Pad - we give you
a vintage broadcast of your choice.
100% of all sales from the Rock-it Radio Store (Launching
Pad) goes back to pay copyright fees, LLC taxes, Internet
and bandwidth costs of Rock-it Radio. Without your support
we would not exist. So. please consider a purchase at:
http://www.rockitradio.net/store.html

===============================================
NOTE: ALL SHOWS BELOW CAN BE FOUND IN OUR
PROGRAM WEBPAGE -
TO TUNE IN CLICK TO SPEAKER OF THE SHOW YOU WANT
TO LISTEN TO. EITHER MP3 OR REAL PLAYER.
BOTH FORMATS ARE SUPPORTED.
AT:
HTTP://WWW.ROCKITRADIO.NET/PROGRAMS.HTML

==============================================
BILLY VERA'S ROCK AND ROLL PARTY WITH TRIBUTE TO
SPECIALTY ROCKERS ON SHOW #5573
In 1989, Billy Vera began working as a consultant for
Specialty Records, the legendary independent company
that brought the world such great performers as Lloyd Price,
Roy Milton, Larry Williams, Sam Cooke, Jesse Belvin,
Joe Liggins, Don & Dewey and Little Richard.
For the next five years, he was in charge of reissuing the
company's catalog, including the first Little Richard box
set and a five disc set of Specialty's greatest recordings.
This week, Rock-it Radio presents Part One of Billy's
tribute to Specialty Records and its owner/producer, Art Rupe.
Part Two will be upcoming soon on Rock-it Radio.

HOUR 1
1. Voo-it Voo-it - Marion Abernathy - "The Blues Woman".
2. R.M Blues - Roy Milton & His Solid Senders
3. Rockin' Boogie - Joe Lutcher
4. Big Fat Mama - Roy Milton & His Solid Senders
5. Cadillac Boogie - Jimmy Liggins
6. X-Temporaneous Boogie - Camille Howard
7. The Hucklebuck - Roy Milton & His Solid Senders
8. Rag Mop - Joe Liggins
9. A Soldier's Plea - The Pilgrim Travelers
10. Teardrop Blues - Jimmy Liggins
11. Pink Champagne - Joe Liggins
12. Please Send Me Someone To Love - Percy Mayfield
13. Oh Babe - Roy Milton
14. Peace In The Valley - The Soul Stirrers (with Sam Cooke)
15. One Sweet Letter - Joe Liggins
16. That's What's Knocking Me Out - Jimmy Liggins
17. I Can't Lose With The Stuff I Use - Lester Williams

HOUR 2
18. Wheel of Fortune - The Four Flames
19. The Hunt Is On - Percy Mayfield
20. Lawdy Miss Clawdy - Lloyd Price
21. Dream Girl - Marvin & Jesse
22. One Room Country Shack - Mercy Dee
23. Drunk - Jimmy Liggins
24. Frog Legs - Lloyd Price
25. I Ate The Wrong Part - Little Temple & His 88
26. Hole In The Wall - Floyd Dixon
27. The Things I Used To Do - Guitar Slim
28. I'm Mad - John Lee Hooker
29. Whiskey, Women & Loaded Dice - Joe Liggins
30. Something's Going On In My Room - Chuck Higgins Band feat. Daddy Cleanhead
31. Aye Tete Fee - Clifton Chenier
32. Baby You're Rich - Percy Mayfield & The Maytones (aka Meadowlarks)

===============================================
LANE QUIGLEY AND THE MEMORY LANE SHOW WITH FORGOTTEN TOP 40S ON ROCK-IT RADIO SHOW #5574

Are you ready to rekindle some long-lost memories? Then make
sure you catch the latest Memory Lane Show, because host
Lane Quigley dusts off a bunch of fabulous Forgotten Top 40's
from the Glory Days of the 45 RPM.
Tune in and dig two dozen sides that are guaranteed to make you
tap your toes and put a warm smile on your face.

1. I'm Gonna Sit Right Down and Write Myself a Letter - Billy Williams 1957 #3
2. Ooh My Soul - Little Richard 1958 #31
SOUND BITE
3. Bristol Twistin' Annie - The Dovells 1962 #27
4. Memphis - Lonnie Mack 1963 #5
5. Ain't Nothin' You Can Do - Bobby Blue Bland 1964 #20
SOUND BITES
6. This Time - Troy Shondell 1961 #6
7. Rescue Me - Fontella Bass 1965 #4
8. Leroy - Jack Scott 1958 #11
SOUND BITE
9. A Fool In Love - Ike & Tina Turner 1960 #27
10. Let's Go Steady Again - Neil Sedaka 1963 #26
11. Jamie - Eddie Holland 1962 #30
SOUND BITE
12. Saturday Night - The New Christy Minstrels 1963 #29
13. Fannie Mae - Buster Brown 1960 #38
14. A Lover's Question - Clyde McPhatter 1958 #6
SOUND BITE
15. You Really Got Me - The Kinks 1964 #7
16. The Matador - Major Lance 1964 #20
17. Sway - Bobby Rydell 1960 #14
SOUND BITE
18. Kansas City - Trini Lopez 1963 #23
19. You've Been In Love Too Long - Martha & The Vandellas 1965 #36
20. Surfer's Stomp - The Marketts 1962 #31
SOUND BITE
21. Blow Top Blues - Dinah Washington with Lionel Hampton Sextet 1947 #20
22. Ask Me - Elvis Presley 1964 #12
23. It's Up To You - Rick Nelson 1962-63 #6
24. We Belong Together - Robert & Johnny 1958 #32

===============================================
COOL BOBBY B AND THE DOO WOP STOP ON ROCK-IT RADIO SHOW #5575

Cool Bobby B is back in this newsletter with another
3 hour extavaganza of Doo Wop Rock and Roll from the
first decade of Rock nad Roll! Here is the playlist
of what you will hear when you select his show in our
program page.

Hour #1

1. Rockin' with the clock - Shirley and Lee
2. The beat of my heart - The Cordells
3. Shimmy Shimmy Ko Ko Bop - Little Anthony & Imperials
4. Going out of my mind - Little Anthony & Imperials
5. Love makes me do foolish things - Martha and Vandellas
6. He's sure the boy I love - The Crystals
7. Secret Love - The Moonglows
8. Runaround - The Regents
9. Charlena - The Sevilles
10. Goodbye Mister Blues - The Mystics
11. Gone - Frankie Ford
12. Mr. Misery - Junior & Four Seasons
13. I'll be forever loving you - El Dorados
14. Tonight - Velvets
15. I'm in the mood for love - The Chimes
16. Greetings from Uncle Sam - The Valadiers
17. Corrina Corrina - Big Joe Turner
18. Honey Hush - Big Joe Turner
19. Jim Dandy - LaVerne Baker

Hour #2

20. Club of Broken Hearts - The Brilla Tears
21. Tomorrow Night - Laverne Baker & Gliders
22. Only a dream - The Carions
23. Tonight tonight - The Mello Kings
24. Please say you want me - The Schoolboys
25. Rock N Roll Lullabye - The Belmonts
26. Warm - The Skyliners
27. Thinking of you - the Jaguars
28. Over the Mountain, Across the Sea - Johnny and Joe
29. You send me - Sam Cooke
30. I won't ever - Gary DeCarlo
31. Angel Baby - Robin Robbert
32. Once in a while - The Chimes
33. There goes the baby - The Lydells
34. Walking the Streets alone - Love Letters
35. One Summer Night - Danleers
36. That'll be the day - The Ravens
37. Kneel and Pray - The Ravens
38. I remember - 5 Discs

Hour #3

39. 11th hour melody - The Rivieras
40. Moonlight Cocktails - The Rivieras
41. you belong to me - The Duprees
42. What's your name - Don and Juan
43. Warm soft and lonely - The Clickettes
44. Wedding Bells - The Senators
45. Never let her go - the Downbeats
46. Two broken hearts - Del Satins
47. Anymore - Johnny Ace
48. Cross my heart - Johnny Ace
49. Never let me go - Johnny Ace
50. Who do you love - Philly Cuzz
51. All night long - DuMauriers
52. Down the Road - The Cadillacs
53. Zu Zu - Bonnevilles
54. Bring Back those doo Wops - The Bagdads
55. Loneliness - The Impressors
56. Darling can't you tell - The Clusters
57. Goodnight Baby - Imaginations

===============================================
ROCKIN DADDY O'S ROCKABILLY RANCH PARTY ON ROCK-IT RADIO SHOW #5576

Our most energetic DJ of the Rock-it Radio Jocks
is back this week! And we are always glad to have his
new shows online here. It's Rockin' Daddy O's Rockabilly
Ranch Party show now online as Rock-it Radio show #5576
in our Program page. Here is what you will hear in this
show!

1. Jack The Ripper-Sabres
2. Ricochet-Margraves
3. Comanche-Revels
4. Rock Therapy-Johnny Burnette & R & R Trio
5. Boppin' The Blues-Carl Perkins
6. Ice Cold Baby-Marlon "Madman" Mitchel
7. Ice Cold-Darrel Higham
8. Love You So-Rhythm Shakers
9. Prissy Missy-Dale McBride
10. Record Hop-Four Tielman Brothers
11. Scorpion-Carnations
12. Broken Heart-Moonlighters
13. Baby C'Mon-Will & The Hi-Rollers
14. Train Kept A Rollin'-Bonnie & The Groove Cats
15. Pretty Baby-Vibes
16. In N Out Shout-Rip 'Em Ups
17. Walking Down The Street Called Love-Ray Men
18. Road Runner-Bo Diddley
19. Half Hearted Love-Mac Curtis
20. All Messed Up-Jess Hooper & The Daydreamers
21. Up Jumped The Devil-Ronnie Dawson & The Tin Stars
22. I Wish You Would-JD McPherson
23. I'm Gonna Love You Too-Buddy Holly
24. Twitchy-Rene Hall's Orch

===============================================
JACK VAN OERS AND THE ROCKIN' WINDMILL SHOW ON
ROCK-IT RADIO SHOW #5577

From the land of windmills, dykes, canals, cheese, tulips,
cows and wooden shoes here is another dynamic Rockin' Windmill Show.
Host Jack van Oers plays music from Norway, The Netherlands,
Canada, the UK, the USA and Sweden. Just put on your dancing
shoes and have a lot of fun!


1. Pretty little girl - Sonny West - 1959
2. Bang bang - Boppin' Rhythm Boozers - 2003
3. I cried - Jerry Woodard - ?
4. Down the Rolley Rink - Marvin Jackson - ?
5. Keep on shakin' - Jack Jersey - 1977
6. Everytime - Ken Darrow - 1958
7. Everybody's gone and done it - Eva Eastwood & the Major Keys - 2001
8. I need your love - Bill Morgan - 1962
9. Gimme you - The Teen Cats - 1993
10. Mr. Echo - Frank Fafara - 1961
11. Rocking with my baby - Session '57 - 1990
12. You're barking up the wrong tree - Don Woody - 1956
13. Barking up the wrong tree (live) - The Hillbilly Stringpickers - 2001
14. 3 Miles south of town - Bob Butler - 196x
15. Sweetie pie - Darrel Higham & the Jets - 1998
16. She's my little baby - Bobby Mack - 1959
17. Give me all your love - Deke Dickerson - 2005
18. This time - Mike Lorentz & the Rockin' Devils - 1993
19. Gold diggin' Papa - Ernie Baribeau - 1963?
20. Singing the blues - The Teen Kings - 1956
21. Love bug - The Jets (UK) - 1982
22. It couldn't happen with me - Carl Mann - 1984
23. Please pretty baby - Bobby Shadle & the Del Shas - 1961
24. You saved my heart - The Rimshots - 1995
25. Tell my baby - Lewis Weber - 1958
26. Bobby's boogie (instr) - Bobby Wayne - 1963

===============================================
PETE CHASTON'S DOO WOP SHOW ON ROCK-IT RADIO
SHOW #5578 - TRIBUTE TO THE MARCELS!

Pete is still on a Cruise so he sent me his 'best of'
shows and if you missed it the first time. Here it is
again A Musical Doo Wop Tribute To "The Marcels"
Here is the playlist.

* * * THE MARCELS SPECIAL * * *

1. Doo-Wop All Night Long-The Blue Emotions (opening theme song) (1982)
2. Zoom-The Cadillacs (1956)
3. Zoom Zoom Zoom-The Collegians (1957)
4. Zoom (demo)-The Marcels (early 1960s)
5. Blue Moon-The Marcels (1961)
6. Summertime-TheMarcels (1961)
7. Heartaches-The Marcels (1961)
8. Merry Twist-mas-The Marcels (1961)
9. My Melancholy Baby-The Marcels (1961)
10. Two People in the World-The Marcels (1961)
11. Most of All-The Marcels (1961)
12. Crazy Bells-The Marcels (1961)
13. Goodbye to Love-The Chantels (1959)
14. Goodbye to Love-The Marcels (1961)
15. Loved Her the Whole Week Through-The Marcels (1962)
16. That Old Black Magic-The Marcels (1962)
17. Never Stop Loving You-The Marcels (xxxx)
18. One Last Kiss-The Marcels (1963)
19. Mr. Bass Man-Johnny Cymbal (1963)
20. I Wanna Be the Leader-The Marcels (1963)
21. True, True Love-The Corvairs (1962)
22. Hey There-The Twiliters (1961)
23. I Could Have Danced All Night-The Souvenirs (1962)
24. Because of You-The Dreamers (1963)
25. Unchained Melody-Vito & The Salutations (1963)
26. High on a Hill-The Marcels (1973)
27. That Lucky Old Sun-The Marcels (1975)
28. (closing theme song) Adios-The Five Discs (1961)

===============================================
FLASHBACK: RICK WARD'S OLDIES SHOW ON ROCK-IT
RADIO SHOW #5579 ON ROCK-IT RADIO.

Another Best of Broadcast as we dig deep into the
Rock-it Radio Archives as we hold nearly all 5500+
Radio Shows of Rock-it Radio. Rick Ward besides
being producer for Wolfman Jack, Was a Icon DJ himself
in Southern California and beyond. We were blessed
to have him here at Rock-it Radio and we dug out
this show from 2008. If you didn't catch him then you
can now from tuning into Show #5579 on Rock-it Radio's
Program page. Sorry No playlist is available.

===============================================
MORE FORGOTTEN ROCKABILLY ON MIKE TAYLOR'S
ROCKABILLY HOUR ON ROCK-IT RADIO SHOW #5580

From his studios in Branson, Missouri - Mike Taylor
is back this week with another great set of Rockabilly.
This week it's FORGOTTEN ROCKABILLY - A mix of rare,
forgotten rockabilly tunes...another hour of the finest
in rockabilly!

1. Carmin Sue Rock - Lee "Red" Melson 1961 (Ridgecrest)
2. Mrs. Mergritory's Daughter - Dale Hawkins 1957 (Checker)
3. Don't Mean Maybe Baby - Alvis Wayne 1957 (Westport)
4. Find My Baby For Me - Sonny Burgess & Roy Orbison 1957 Unissued (Sun)
5. Midnight Shift - Buddy Holly 1958 (Decca LP)
6. Radio Promo for 1956 Memphis R&R Show
7. Be Bop Blues - Aubrey Cagle 1959 (Glee)
8. Sweet Talkin' - Billy Love 1961 (Glee)
9. Saturday Night Twist - Doug Clayton 1963 (Pure Gold)
10. Hey Mae - Rusty & Doug Kershaw 1958 (Hickory)
11. Gone Gone Gone - Don Wade 1959 (Sun)
12. Maybelle - Pat Shannon 1958 (Decca)
13. Betty Ann - Wayne Haas 1958 (Choice)
14. Baggie Maggie - Henry Henry 1959 (Staff)
15. Crazy Mama - Benny Cliff 1958 (Horseshoe)
16. Big Berry (Boss-Man Guitar) - Big Daddy G 1960 (Hyland)
17. She's My Little Baby - Bobby Mack 1959 (Tempus)
18. Meet Miss Susie - Eddie Cleary 1959 (Kanawa)
19. Gee Whiz Miss Liz - Marvin Jackson w/ The Ozark Toppers 1959 (Crest)
20. I've Changed My Wild Mind - Johnny "T" Talley 1956 (Mercury)
21. Tom Katt - Johnny Phelps 1958 (Ski)
22. Loco Weed - Mel Tillis 1960 (Columbia)
23. Sugaree - Rusty York 1959 (P.J.)
24. Little Boy Bop - Ralph Prescott 1962 (ABS)

===============================================
AL COOL DADDY SMITH AND PART I OF THE BLUE ROCK RECORD MUSIC AND STORY ON ROCK-IT RADIO SHOW #5581

This show is the first of two programs devoted to the
Blue Rock record label out of Chicago. It was a subsidiary
of Mercury Records and despite its name recorded neither Blues
or Rock music. Instead it was Mercury's attempt to get in on
the burgeoning Soul Music phenomenon of the Sixties.
The label itself existed only briefly between the years 1964
through to 1969 with an actual interregnum between
February 1966 and May 1968 where no recordings were made
at all. Despite this it had a very large and excellent catalogue
as will be heard throughout the two shows. Most artists on
"Blue Rock", as well as their recordings, are little known
and are hardly ,if ever, played on Oldies Radio stations today.
This show hopefully will rectify this unfortunate omission.

The Play List is as follows:

1.) Checkin' Out-The Festivals 1969
2.) Love Ain't Ever Hurt Nobody-Brenda Duff 1969
3.) I've Lived The Same Life Too-The Cat-Keys 1969
4.) We're Doing Fine-Dee Dee Warwick 1965
5.) Never No More-The Chi-Lites 1965
6.) Just Like A Woman-The Fads 1966
7.) Sweet Lovin' -The Shirelles 1968
8.)Call Me-The Shirelles 1968
9. Are You Really Happy-Timothy Wilson 1969
10.) Baby What's Wrong-Johnny Mae Matthews 1964
11.) My Man-Johnnie Mae Matthews 1965
12.) Don't Turn Away-Tony Diamond 1965
13.) Let Her Love Me-Otis Leavill 1964*
14.) A Reason To Be Lonely-Otis Leavill 1965
15.) To Be Or Not To Be-Otis Leavill 1965
16.) Doing The Snatch-The Lancers 1965
17.) Bassology-The Lancers 1965
18.) Let Me Talk To You-Dizzy Jones 1965
19.) I'm In Your Corner-Roy Hytower and Motif 1969
20.) Turn Away From Darkness-Joyce Dunn 1969
21.) Get A Hold Of Yourself-Little Rose Little 1964
22.) There Goes My Baby-Chuck and Cleo 1965
23.) Lonely Heart In The City-Johnny Moore 1968

===============================================
COOL BOBBY B & THE DOO WOP STOP ON ROCK-IT RADIO
SHOW #5582 A SECOND HELPLING OF COOL BOBBY B!
VALENTINE SPECIAL !!!!

Cool Bobby B is back in this newsletter with another
3 hour extavaganza of Doo Wop Rock and Roll from the
first decade of Rock nad Roll! Here is the playlist
of what you will hear when you select his show in our
program page.

Hour #1

1. Rockin' with the clock - Shirley and Lee
2. I love you - The Volumes
3. I love you - Four Most
4. I love you for sentimental reasons - Kenny Vance & Planotones
5. Love Love Love - The Clovers
6. Every beat of my heart - Gladys Knight & Pips
7. Every Beat of my heart - The Royals
8. Heartbeat - The Whirlwinds
9. Zing went the strings of my heart - The Darts
10. Your other love - The Flamingos
11. Oh what a night for love - Little Roy Tyson
12. My love for you will never die - The Channels
13. That girl in my heart - the Capris
14. A kiss from your lips - The Flamingos
15. Pledging my love - Johnny Ace
16. Eddie my love - Teen Queens
17. Two Broken Hearts - Del Satins
18. My Foolish Heart - The Demensions
19. Who do you love - Philly Cuzz

Hour #2

20. Wizard of Love - The Lydells
21. Park your love - 5 Notes
22. Would I love you - the Miracles
23. Pleading for your love - 4 Dots
24. The only one I love - the Miracles
25. A love for only you - The Stereos
26. Glory of love - Velvetones
27. I don't want your love - Rick & Masters
28. Baby I love you so - Joe Weaver & Don Juans
29. What is love - Fi Dells
30. Beat of our hearts - 5 blue notes
31. There goes my love - Fantastics
32. Dedicated to the one I love - the Shirelles
33. Without love - Clyde McPhatter
34. Secret Love - Moonglows
35. For your precious Love - Kenny Vance & Planotones
36. Tonight I fell in love - The Tokens
37. Down the Aisle of love - The Quintones
38. Let's fall in love - The Chimes

Hour #3

39. 11th hour melody - The Rivieras
40. Moonlight Cocktails - The Rivieras
41. Forever in love with you - Philly Cuzz
42. My heart stood still - The Innocents
43. Hello Love - The Standards
44. My hearts desire - The Blenders
45. Be sure my love - The Dubs
46. Morse Code of Love - The Capris
47. Heart's Desire - The Avalons
48. Come back my love - The Wrens
49. In my heart - Time tones
50. Will you love me tomorrow - The Shirelles
51. Please love me forever - Cathy Jean & Roommates
52. Please love me forever - 4 Esquires
53. String around my heart - The Cleftones
54. My Heart's desire - The Wheels
55. Lover's Island - Blue Jays
56. Goodnight my love - Jesse Belvin
57. Goodnight Baby - The Imaginations

===============================================
PAPA WALT'S OLDIES SHOW WITH COUPLETS TITLE SONGS
ON ROCK-IT RADIO SHOW #5583

The Oldies Show is offering a two-part cavalcade of
songs that use the same word twice in their song titles.
I call these song types 'couplets' and here are
forty of the best.


Part 1:

1. Cherry Cherry - Neil Diamond (1966)
2. Shame Shame - The Magic Lanterns (1968)
3. Corinna Corinna - Ray Peterson (1960)
4. Chip Chip - Gene McDaniels (1961)
5. Boom Boom - John Lee Hooker (1962)
6. Monday Monday - The Mamas & the Papas (1966)
7. Dum Dum - Brenda Lee (1961)
8. Sugar Sugar - The Archies (1969)
9. Tighter Tighter - Alive and Kicking (1970)
10. Tonight Tonight - The Mello-Kings (1957)
11. Iko Iko - The Dixie Cups (1965)
12. Laugh Laugh - The Beau Brummels (1964)
13. Chewy Chewy - The Ohio Express (1968)
14. Shout Shout - Ernie Maresca (1962)
15. Honey Honey - ABBA (1974)
16. Precious Precious - Jackie Moore (1971)
17. Hello Hello - The Sopwith Camel (1967)
18. Zip Zip - The Diamonds (1957)
19. Kow Kow - The Steve Miller Band (1969)
20. Wonderful Wonderful - Johnny Mathis (1957)

Part 2:

21. Summertime Summertime - The Jamies (1958)
22. Talk Talk - The Music Machine (1966)
23. Liar Liar - The Castaways (1965)
24. Beep Beep - The Playmates (1958)
25. Woman Woman - Gary Puckett & the Union Gap (1967)
26. Ya Ya - Lee Dorsey (1961)
27. Glory Glory - The Rascals (1970)
28. Yeh Yeh - Georgie Fame & the Blue Flames (1964)
29. Trickle Trickle - The Videos (1958)
30. Mony Mony - Tommy James & the Shondells (1968)
31. Green Green - The New Christy Minstrels (1963)
32. Come-a Come-a - The Bobbettes (1957)
33. Spin Spin - Gordon Lightfoot (1966)
34. Louie Louie - The Kingsmen (1963)
35. Pamela Pamela - Wayne Fontana (1966)
36. Bang Bang - Cher (1966)
37. Wiggle Wiggle â€" The Accents (1958)
38. Jenny Jenny - Little Richard (1957)
39. Wah Wah - George Harrison (1970)
40. Pata Pata - Miriam Makeba (1967)

===============================================
DAVE THE RAVE AND THE RELICS AND RARITIES SHOW ON
ROCK-IT RADIO SHOW #5584

Dave is back this week with another great set of mostly
60s Rock Favorites and Rarities you won't hear hardly
anywhere else! Here is this week's playlist.



1. I'm All Woke Up - Marty Wilson and the Strat-O-Lites 2. Two Sides (To Every Story) - Etta James
3. Two Sides To Every Story - Jimmy Love
4. I'm Walkin' - Fats Domino
5. East Is East - Casey Paxton
6. Turn On A Dream - Box Tops
7. Without A Girl - Montereys
8. Without Love - Southside Johnny and the Asbury Jukes
9. Kind Of A Drag - Buckinghams
10. I Love You Baby - ? and the Mysterians
11. I (Who Have Nothing) - Terry Knight and the Pack
12. Everything - Daily News
13. Pinch Me (Baby, Convince Me) - Ohio Express 14. Little Girl- Syndicate Of Sound
15. Take It Like A Man - Connie McGill and the Visions
16. You Made A Man Out Of Me - Tommy Hunt
17. I'm A Telling You - Jerry Butler
18. Out Of Harmony - Rumbles LTD. (Discovery of Week)
19. Wake Up, Wake Up - Grass Roots


===============================================
OTTO FUCHS ROCKIN THE JOINT SHOW WITH A TRIBUTE TO THE MUSIC OF CARL PERKINS ON ROCK-IT RADIO #5585

Rock It Radio DJ & Host Otto Fuchs, pays homage to the
King of Rockabilly Carl Perkins, in this Rockin' The Juke
Joint Special, spanning four decades of Rockabilly, Honky-Tonk,
Country and Straight Rock & Roll by this member of The Million
Dollar Quartet of SUN Records which consisted of Mr. Blue Suede
Shoes Carl Perkins, The Last Man Standing Jerry Lee Lewis,
The Man In Black Johnny Cash and last but by no way means The
King Elvis Presley!

1. Blue Suede Shoes-Carl Perkins
2. Turn Around-Carl Perkins
3. Movie Magg-Carl Perkins
4. Honey Don´t-Carl Perkins
5. Tennessee - Carl Perkins
6. All Mama's Children-Carl Perkins
7. Your True Love-Carl Perkins
8. Pink Pedal Pushers-Carl Perkins
9. Rockin' Record Hop-Carl Perkins
10. Kawliga-Carl Perkins
11. Pop, Let Me Have The Car-Carl Perkins
12. Levi Jacket (And A Long Tail Shirt)-Carl Perkins
13. Hang Up My Rock & Roll Shoes-Carl Perkins
14. Pointed Toe Shoes-Carl Perkins
15. All Mama's Children-Carl Perkins with NRBQ
16. What Am I Living For-Carl Perkins
17. Rock Island Line-Carl Perkins
18. The Rain Might Wash Your Love Away-Carl Perkins
19. Hallelujah Special-Carl Perkins
20. Don't Let Go-Carl Perkins
21. Sundays Are Fundays With My Lord-Carl Perkins
22. Roll Over Beethoven-Carl Perkins
23. Glad All Over-Carl Perkins
24. Right String Baby But The Wrong Yo-Yo-Carl Perkins
25. Let The Jukebox Keep On Playing-Carl Perkins
26. Blue Suede Shoes (Live)-Carl Perkins

===============================================
JAMES RILEY AND THE ROCKABILLY AND BLUES SHOW ON
ROCK-IT RADIO SHOW #5586 FEATURING REV. HORTON HEAT AND DION!

Jammin James Riley is back with the Rockabilly and
Blues Show on Rock-it Radio - 2 hours of great programming
and this is what he has in store for us in this show.

Rockabilly N Blues Radio Hour #1:
Jim Heath (aka "Reverend Horton Heat") is our guest this hour as
we discuss his stage name, early influences, touring, vinyl, new
albums, special requests and more!

1. Psychobilly Freakout- Reverend Horton Heat
2. Get Rhythm- Reverend Horton Heat
3. Rock This Joint- Reverend Horton Heat
4. Smell Of Gasoline- Reverend Horton Heat
5. Mad Mad Heart- Reverend Horton Heat
6. It's A Rave Up- Reverend Horton Heat
7. It's Only Love- Robert Gordon
8. Longest Gonest Man- Reverend Horton Heat
9. Black Slacks- Joe Bennett & The Sparkletones
10. Nervous- Gene Summers
11. The Way I Walk- Jack Scott


Rockabilly N Blues Radio Hour #2:
Dion joins us for part 1 of our interview. (Part II will air
on Rock-it Radio next week) We talk about playing Viva Las Vegas,
The Beatles and Elvis both loving "Ruby Baby" and begin discussions
of the new album, New York Is My Home.

1. 5 Years, 4 Months, 3 Days- Brian Setzer
2. We're Coming In Loaded- Elvis Presley
3. Runaround Sue- Dion
4. Teenager In Love- Dion
5. Written On The Subway Wall/ Little Star- Dion
6. Ruby Baby- Dion
7. Rave On- Dion
8. New York Is My Home- Dion (with Paul Simon)
9. Aces Up Your Sleeve- Dion
10. Rock All Night- Jack & The Real Deals
11. Vegas Baby- Si Cranstoun
12. Truck Drivin' Man- Red Simpson
13. Nobody's Woman- Charlie Feathers
==============================================
All the Rock-it Radio shows are available on CD

Each show is only $9.50 each and you can order
in bulk and shipping will never be more then $2.00.
Ask for a secure paypal invoice -- information is at:
http://www.rockitradio.net/order.html

==============================================

100'S OF VINTAGE ROCK AND ROLL VIDEOS ON FILE IN
OUR VIDEO SITE AT ROCK-IT RADIO:
CHECK IT OUT AT:

HTTP://WWW.ROCKITRADIO.NET/VIDEO.HTML

==============================================
COME JOIN US ON FACEBOOK !!! WE WOULD LOVE A
LIKE FROM YOU!

http://www.facebook.com/rockitface
The Rock-it Radio Facebook Site.

==============================================
HISTORY OF ROCK-IT RADIO

If you are new to Rock-it Radio and would like to learn more --
We have our History Page up as well -- telling the story of Rock-it
Radio. You can find it at:
http://www.rockitradio.net/history.html

===============================================

JANUARY END OF THE MONTH DRAWING OF WINNERS
ANNOUNCED FOR LAUNCHING PAD SUPPORTERS
At the end of every month on Rock-it Radio we have a
random drawing for those that have supported Rock-it
Radio by purchasing either Rock-it Radio shows through the
either the Rock-it Radio Launching pad at:
Or by going and ordering Rock-it Radio shows at:
The January 2016 Winners this month are:
Rhona Sharp - Glasgow, United Kingdom
Joseph Pecorino - Palisades, New York USA
Joe Carlino - Arlington Heights, Illinois USA

SUPER MEGA WINNER - WINNER OF 10 SHOW
OF THEIR CHOICE !!!!!!!!

Sammy Kiser - Salamanca, New York USA

Each of you have won your choice of 3 vintage
Rock Radio programs (The Super Mega winner won 10!)
from our online store at:

or you can order Rock-it Radio Shows if you prefer on CD

You have until February 29, 2016
to let us write back and let
us know of your choices.
Congratulations and let me know what you would like to
have along with a mailing address and we will got those
items out to you. Just our way of saying Thank you for helping
support Rock-it Radio. And of course we will have October drawings
as well at the first week of next month.
NOTE: You should keep on checking this notice board
or join the Launching Pad Facebook site at:
And of course we will be having another drawing at the
end of this month.
VINTAGE VIDEO PICK OF THE WEEK

For the week of 19 February, 2016
This week in our archives page at:

http://www.rockitradio.net/video.html

This week:
The DJ (Greatest Entertainer) by
Al Hendrix with a great surprise to
Bennie Dingo at about 1:55 of the video. But a great tribute
to all the DJ's out there! Past and Present!
Top listing now in our vintage video webpage.

http://www.rockitradio.net/video.html

RECRUITING FOR RADIO PERSONALITIES FOR
ROCK-IT RADIO

Do you know your 50s and 60s Rock & Roll, Doo wop
or Rockabilly? And the ability to produce a show
on CD?
We do require a playlist for this newsletter but
your show will stay online for the world for approx.
3 weeks. Unlike some stations where you broadcast one
time and it's gone forever.
If interested check out our Rock-it Radio Team page
at: http://www.rockitradio.net/team.html

We are also looking for writers and translators!
==================================================
3RD ROCK-IT RADIO FLASHDRIVE IS NOW RELEASED FOR
SALE - FOR ROCK-IT SHOWS #5501 TO #5550

New Release!!!! Rock-it Radio Shows #5501 to #5550 on Flash
drive MP3 - 70 hours of 50s and 60s Rock and Roll now on
Flashdrive. Just plug into your usb port in your pc or if your
mp3 player has it in that usb port select and you will have
50 Rock-it Radio shows at your disposal.
In our Ebay listing at:
http://cgi.ebay.com/ws/eBayISAPI.dll?ViewItem&item=141878689592

or the new Rock-it Radio Flashdrive Site listing all available at:
http://www.rockitradio.net/flashdrive.html

It really is a great savings from our CD's that
we sell for $9.50 each could add up to $475 for 50 shows.
We are offering the flashdrive to slash that amount to just
$39.95.
FREE BUDDY HOLLY CD TO THOSE THAT PURCHASE
FROM ROCK-IT RADIO IN FEBRUARY.

Rock-it Radio is giving away the BBC BUDDY HOLLY
Tribute Broadcast CD that was recorded in 1965.
To Everyone that purchases another Rock-it Radio
Product for the entire month of February.
On the 6th anniversary of the Tragic Plane Crash
that took his life.

You can see the listing and the playlist of this
show at:
http://www.ebay.com/itm/130005101427

But don't buy it - get something else in the store
and you will get this CD for free.

All you have to do is support and order something
from Rock-it Radio at the following sites.

You can find our Ebay Store at:
http://stores.ebay.com/Rock-it-Radio-Store

Or the Rock-it Radio Launching Pad at:
http://www.rockitradio.net/store.html

Rock-it Radio T Shirts at:
http://www.rockitradio.net/tshirt.html

Order a Rock-it Radio Show - instructions at:
http://www.rockitradio.net/order.html



*** And for the entire month of February get an additional 10% all
items in our Ebay Store!



ADDITIONAL SAVINGS IN MANY VINTAGE BROADCASTS
IN OUR EBAY STORE. 10% OFF EVERYTHING!

Many of our vintage broadcasts mostly in the auction
section of our Ebay Store is also receiving for the
month of February a 10% discount. If you are shopping
in our Ebay store make sure to look at these discount
broadcasts of early Rock and Roll Radio! At:
http://stores.ebay.com/Rock-it-Radio-Store

A couple of days ago Ebay told us we are not meeting our
sales quota to receive our discounts on Ebay. So,
we are offering these discounts so that Rock-it Radio
does not have to pay more to Ebay in fees.
===========================================
NEW ROCK-IT RADIO T SHIRT DESIGN RELEASED THIS
WEEK.

It's our 9th design of T Shirts here at Rock-it Radio.
Designed by Jammin' Jan and is titled "Classic Fins"
featuring a late 50s car with the Rock-it Radio
mentioned on it. You can view all our designs including
the latest #9 at http://www.rockitradio.net/tshirt.html
================================================
OUR SISTER STATION - FIRST NATIONS BROADCASTING

Just a reminder to hear Native American and
Alaskan Broadcasting and programming check out
our Sister Station - First Nations Broadcasting
that is tied into many streaming station of
Native Broadcasting online. And coverage of the
Iditarod Sled Dog Race on March 5th.
It is run and operated by our very own
Debbie Snowdove up in Kodiak Island, Alaska.
It's worth checking out at:
http://www.rockitradio.net/upnorth.html


AL HENDRIX YOUTUBE VIDEO SURPRISES STATION OWNER
BENNIE DINGO

I had quite an honor while just youtube searching
Rock-it Radio. That this video came up recorded a
couple of year's ago. Song Titled "DJ - (Greatest
Entertainer of them all) sung by Rockabilly singer
Al Hendrix. In a smooth country ballad song at about
1:55 in the video I just about was floored. As
my picture came up. I don't know how deserving I am.
But remain greatly flattered. We made it our video
pick of the week. Not because of the picture but
it is a great song and gives a salute to all the great
DJ's out there. You can check it out as our top listing
for this week in our Video page at:
http://www.rockitradio.net/video.html

=====================================
STREEMA.COM PICKS UP AUDIO FEED OF ROCK-IT RADIO

Another way to tune into Rock-it Radio on your
computer is now with Streema's audio feed of our
station that picked up Rock-it Radio.

http://streema.com/radios/Rock_it_Radio
ROCK-IT RADIO IS PUBLICLY SUPPORTED

Rock-it Radio is publicly supported but rather then
just asking for money we offer you something in return.
Actual Radio Broadcasts uncut and unedited and re mastered
onto Compact Disc from the 50s to the 70s. These shows
are great memories of how radio was - the days of top 40
radio! With the songs, and vintage ads and famous DJ's
that made radio a great part of growing up.
If you can we would greatly appreciate your support and
help keep Rock-it Radio online. Check out our selection
of 100s of these broadcasts in our Rock-it Radio Launching
Pad at: http://www.rockitradio.net/store.html

or in our Ebay Store at: http://stores.ebay.com/Rock-it-Radio-Store

If you are a big fan of Wolfman Jack you can check out his
shows we also have available at:
http://www.rockitradio.net/wolfman.html

Rock-it Radio also has it's shows currently being broadcast or
broadcasted in the past available. (We have saved every shows
since we began in 1995.) You can also order these shows and
information on that is available at:
http://www.rockitradio.net/order.html
or on Flashdrive in MP3 at: http://www.rockitradio.net/flashdrive.html

Each order received will also receive our Catalog along with
a discount coupon good towards a future purchase.

Thank you for your consideration and all the very best!
REMINDER ON HOW TO CONTACT THE DJ'S AT ROCK-IT RADIO

We all love our our e mails from listeners here at Rock-it
Radio. Along with requests and dedications. Earlier this year
due to the excessive spam we all were getting I stopped listing
the e mails at each shows playlist. But you can still
contact them. Just go to the Rock-it Radio DJ page and each
DJ has there e mail link underneath each bio.
You can find it at: http://www.rockitradio.net/dj.html


COLLECTING AIRCHECKS - A HOBBY OF RADIO NOSTALGIA
What is a Aircheck? It is simply a recording of a radio broadcast. Usually collected by Radio fans.
Come check out our webpage on collecting Airchecks.

http://www.rockitradio.net/aircheck.html


COME REMEMBER WOLFMAN JACK !!!
Rock-it Radio has a very special way to remember Wolfman Jack.
Arguably the most iconic of American DJ's. Come check out the
Rock-it Radio Wolfman Page at:
REMEMBERING OFFSHORE PIRATE RADIO IN THE UK
In the mid 1960s it was difficult for the youth to actually listen to Rock and Roll in the UK. The BBC actually ran only a few hours a weekend to provide the young Brits with this outlet. At night during the week they ventured to even tune into Radio Luxembourg to get there fill, that broadcast
rock and pop around the clock.
To fill this void some venture capitalists decided to bring in commercial radio aboard refitted radio ships. And anchor themselves just off into International waters off the English coast. Radio Caroline (named after Caroline Kennedy the
U.S. President's daughter at the time) and Radio London being the most famous. Rock-it Radio has a website dedicated to their ventures and also have actual
radio broadcasts available of these offshore pirates. We invite you to check them
out our webpage at:
http://www.rockitradio.net/pirate.html
FINDING ROCK-IT RADIO ON THE 'TUNE IN RADIO' CELL PHONE APP.

We have had a few requests from listeners that they couldn't find us on the
popular 'Tune in Radio' App. on Android and PC and iphones. Running a
search of 'Rock-it Radio' will actually list 100s of Rock stations.
So, the best way to find us on this very thorough and extensive app. that
I love using myself is -
run a search on 'rockabilly' - there you will easily find
Rock-it Radio listed.
Our Tune in Radio App. webpage is also at:
http://tunein.com/station/?stationId=41878
MISSED A COUPLE OF NEWSLETTERS LAST COUPLE OF WEEKS??

THEN YOU CAN ALWAYS CHECK OUR BLOG WHERE IT IS ARCHIVED.
YOU CAN CHECK OUT OUR BLOG AT:

http://rock-itradio.blogspot.com/
=============================================


ROCK-IT RADIO DJ PAGE...


Remember you can check out all the Rock-it Radio DJ's

and read the bios of these DJ's that make these

Rock-it Radio Shows possible at:


And don't forget for even more pictures --

there is our picture page at:
============================================
IF YOU HAVE TWITTER COME FOLLOW US THERE

If you are one that tweets then please check out and join and get our
updates on your twitter account. Our Twitter link is right below.

http://www.twitter.com/RockitRadio1
It is our new Twitter account and we will once again start
scrolling our messages and updates on our webpages as well.


============================================
ROCK-IT RADIO OTHER TWITTER ACCOUNT FOR
NEWS RELEASES FOR N. IDAHO, KODIAK ALASKA AND
THE WORLD!
Rock-it Radio has another Twitter account and is used for News
Alerts that come into the studio here at Studio A. For those Twitter
users that would like to follow the link is:
http://www.twitter.com/RockitRadioNews

The feed can also be seen in our World News broadcast Webpage
at: http://www.rockitradio.net/news.html


=================================================
WELCOME NEW MEMBERS TO THE LISTENER'S CLUB!!!!

A big welcome to the below new Rock-it Radio listeners that
joined our Listeners Club from February 5, 2016 to
February 19, 2016
We hope that you enjoy the music Rock-it Radio provides
and our playlists and information that our weekly newsletter
provides. Any comments, criticisms, kudos, compliments or
future ideas is always welcome and you can e mail me personally at:
rockitradio@netzero.net

Ken Browne - Eastham, United Kingdom
Frank Nacaranto - Columbia, Missouri USA
Mike Waters - Webster, New York USA
Bruce James - Sutton, West Virginia USA
Heather Bailey - Kodiak, Alaska USA

We have gained 166 new likes in our listeners club
in our Facebook page Rock-it Radio Fan Page as well this week at:
http://facebook.com/rockitface and 67 more following us
on Twitter @Rockitradio1 .

We have added a total of 238 new members to the Rock-it Radio
Listeners Club since our last newsletter. We now have 85,384 exactly
that have joined the Rock-it Radio Listeners club.
We hope that you enjoy the rare 50's and early 60's
Rock and Roll, Rockabilly and Doo Wop (which most commercial
oldies radio stations have forgotten) that we are able to play
for you from Rock-it Radio. Remember, we are here for you!

So if you ever have any requests, dedications, comments and
suggestions we always love to hear from our listeners.
Our e mail address is:
rockitradio@netzero.net

====================================================
To learn more about the Rock-it Radio Listeners Club and our Free
Newsletter please check out:
http://www.rockitradio.net/member.html

It's free and easy to join and the Rock-it Radio Newsletter is always
online at: http://www.rockitradio.net/newsletter.html



====================================================

PLEASE HELP US SPREAD THE GOOD WORD OF ROCK-IT RADIO!

Do you know of someone that might also like the music

of Rock-it Radio? We are desperately trying to keep this

music alive and have been doing so since 1995! Please

share the information of this station. And if you have

a website would you please consider putting a Rock-it Radio

link on your page.

There are a few to choose from in our link page at:

http://www.rockitradio.net/links.html
HOW TO ORDER OLD ROCK-IT RADIO SHOWS = YOUR PURCHASES HELP US STAY ONLINE!!!
We have received many inquiries on how to order Rock-it Radio shows that are no longer in
our on archives webpage. These shows are still available on CD and mailed to you within 24
hours of receiving payment.
To help search for older shows that you may be looking for you may want to check the Rock-it
Radio blog site. Old newsletters describing the shows and playlists
are archived there and there is a menu bar on the right side that breaks down every playlist
Then you may either pay by check or money order or paypal. Rock-it Radio shows are only
$9.50 U.S. each and are studio quality broadcasts that were placed on Compact Disc here at
the Rock-it Radio Studio. We have a flat rate shipping charge of $1.50 U.S. so if you order
one or several -- it is still only $1.50
U.S. shipping. And we ship worldwide, overseas orders are mailed out first class airmail.
Instructions where to send payment is at our webpage:
like we can send you a paypal invoice within 24 hours.

When you order a Rock-it Radio show or shop at our Rock-it Radio Launching Pad you
help keep these oldies alive and help us pay the bills here at Rock-it Radio.
And at the same time -- you are not getting nothing for your donation, but actually
some of the shows and memories we hope we keep alive here at Rock-it Radio.



TOP 20 SELLERS OF THE ROCK-IT RADIO LAUNCHING PAD THIS WEEK

As you know the Rock-it Radio Store sells vintage Radio Broadcasts - Where you hear the actual music, news and vintage advertisements - uncut and unedited just like you would of heard
it back then. Here are the top sellers this week.


1. Flashdrive Rock-it Radio Shows 5501 - 5550
2. Flashdrive Rock-it Radio Shows 5401 - 5450
3. RIR #270 - BBC Buddy Holly Tribute from 1965.
4. RIR #642 - Elliot Field - KFWB Los Angeles 1/9/1959
5. RIR #284 - Ralph Peabo - KTCR (country) Minneapolis 8/16/1963
6. RIR #387 - Joey Reynolds Beatles Special WKBW Buffalo 2/24/1964
7. RIR #267 - Arnie Woo Woo Ginsburg - WMEX Boston 12/12/1965
8. RIR #176 - Porky Chedwick WAMO Pittsburgh 6/14/1960
9. RIR #393 - John Lennon as DJ on WNEW New York from 1974
10. RIR #116 - Casey Kasem - KRLA Los Angeles 5/27/1965
11. RIR #181 - Wolfman Jack XERB Tijuana 12/8/1967
12. RIR #232 - Jim Stagg - KYA San Francisco 4/14/1961
13. RIR #589 - Jerry Kaye - WING Dayton, Ohio 4/20/1964
14. RIR #410 - Dr. Don Rose - KFRC San Francisco 4/4/1974
15. RIR #278 - DJ Hy Lit - WIBG Philadelphia 6/15/1967
16. RIR #149 - Alan Freed - WINS New York 1/23/1957
17. RIR #398 - Wolfman Jack & Don Imus New Years Eve Show 1/1/1974
18. RIR #532 - Bob Dayton KRLA Los Angeles 12/5/1967
19. RIR #299 - Unk. DJ Country Station - KHAT Phoenix 8/19/1963
20. RIR #170 - Ted The Bear Richardson CKLW Windsor, Ont. 6/29/1973




If you would like to view these shows in depth you can check out
our Rock-it Radio Ebay Store at:
http://stores.ebay.com/Rockit-Radio

or in the Rock-it Radio Launching Pad store at:
http://www.rockitradio.net/store.html(listed by date)
and in the upper left hand corner -
there is a search box where you can type in the DJ name or
Station Call letters and that information on that show will pop up.
Ordering from the Ebay store will also qualify you for the Rock-it Radio
giveaway mentioned previously in this newsletter. Sale of
these broadcasts is what keeps Rock-it Radio going and thank
you again to everyone that buys these!

===============================================
TOP 50 NATIONS THAT ARE TUNING INTO ROCK-IT RADIO.

We are always amazed at the World Wide Web and the 215 Countries that
tune us in every month online. Here are the top 50 Countries so far
this month.+ or - shows up or down how many positions from the previous week.
TOP 50 NATIONS THAT ARE TUNING INTO ROCK-IT RADIO.

1. United States +0
2. Canada +1
3. Brazil -1
4. France +0
5. Germany +1
6. Italy -1
7. United Kingdom +2
8. Russia +2
9. China +29
10. Lithuania -4
11. Vietnam -6
12. Sweden +0
13. Spain -2
14. India -1
15. Netherlands +1
16. Thailand +16
17. Ireland -5
18. Mexico -7
19. Japan +1
20. Turkey -5
21. Ukraine +3
22. Australia +3
23. Singapore +0
24. Czech Republic -7
25. Dominican Republic -7
26. South Korea +2
27. Hungary -12
28. Colombia -3
29. Indonesia +2
30. Argentina +0
31. Philippines -14
32. Venezuela +0
33. Romania -9
34. Albania -1
35. Poland -1
36. Taiwan -1
37. Hong Kong +15
38. Peru +12
39. Morocco -6
40. Chile -1
41. Belgium +4
42. Malaysia +2
43. Bulgaria -4
44. Switzerland +3
45. Austria +3
46. Bangladesh +4
47. Greece -3
48. Croatia +4
49. Norway +7
50. Bolivia +9

=============================================
U.S. STATES RANKINGS TUNING INTO ROCK-IT RADIO

1. Oregon +0
2. California +0
3. Virginia +0
4. New York +0
5. Texas +0
6. New Jersey +0
7. Pennsylvania +0
8. Ohio +2
9. Florida -1
10. Washington -1
11. Nevada +0
12. Missouri +2
13. Illinois -1
14. District of Columbia -1
15. Arizona +0
16. Georgia +0
17. Massachusetts +2
18. Delaware +0
19. North Carolina -2
20. Michigan +0
21. Colorado +0
22. Maryland +0
23. Wisconsin +0
24. Connecticut +1
25. Indiana -1
26. Oklahoma +0
27. Rhode Island +0
28. Alabama +0
29. Utah +0
30. New Mexico +3
31. Kentucky +1
32. Tennessee -2
33. Iowa +7
34. South Carolina +0
35. Idaho +0
36. Arkansas +0
37. Kansas -5
38. Minnesota -5
39. West Virginia +5
40. Louisiana +5
41. Nebaska -4
42. Maine -4
43. Wyoming -4
44. Mississippi +0
45. New Hampshire -3
46. Montana +1
47. Hawaii +3
48. Alaska -2
49. Vermont +2
50. North Dakota +0
51. South Dakota -3
Rockabilly bands looking for airplay
If you or know someone that would like airplay on Rock-it Radio we invite
you to submit your press kits to Rock-it Radio. Our website for further
information is:
http://www.rockitradio.net/airplay.html
============================================
Come tune into the World on your computer!
1000s of stations around the world now broadcast online. We have a
link to some of the internet top directories to help you find these stations.
http://www.rockitradio.net/internetradio.html
============================================
Rock-it Radio Program Webpage Reminder
Remember, if the show that you want to hear is getting close to the bottom
of the list of radio shows, you should tune in as soon as you can. These shows
to have a high audio quality require a lot of internet bandwidth and memory.
And currently we can only afford the
30
latest shows online here at Rock-it Radio.
So, when a new show is put online it knocks the oldest one off the Rock-it Radio
archives page. Usually a show will at least last 16 to 20 days, once it is placed in
the archives.
============================================
OUR SISTER STATION FIRST NATIONS BROADCASTING.
We invite you to also check out our sister station -- First Nations
Broadcasting. And tune into the rather Cool North of the Yukon and Alaska
with our very own Debbie Snowdove!
============================================
Well that is just about it for this newsletter and playlists of our latest
shows. We hope that you enjoy them.
We will do our best to keep these shows on for at least 14
days and hopefully 21 days.
All the best always,
Bennie Dingo
Rock-it Radio

website: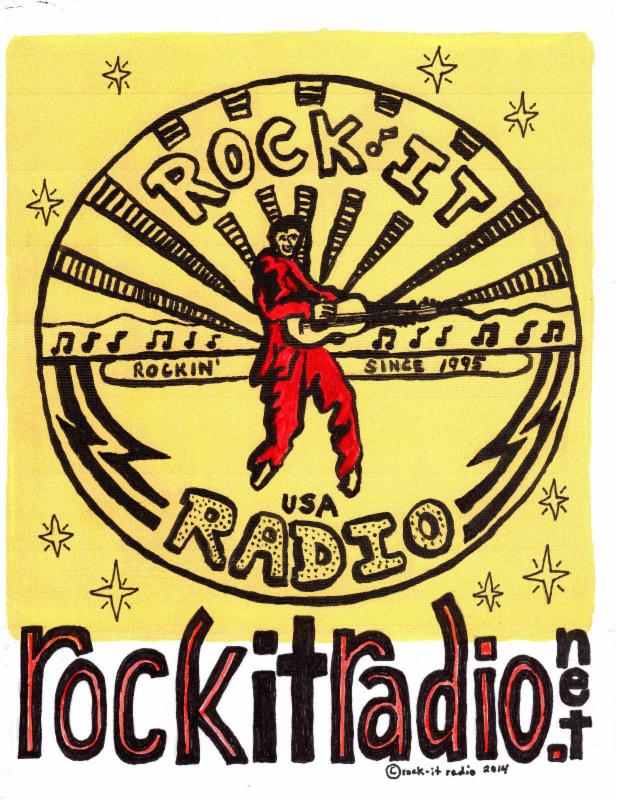 Rock-it Radio main website:
http://www.rockitradio.net

Archived Shows at:
http://www.rockitradio.net/programs.html

Rock-it Radio Vintage Broadcast Store:
(Launching Pad)
http://www.rockitradio.net/store.html