Rock-it Radio since 1995 providing 50s and early 60s Rock and Roll, Doo Wop and Rockabilly music online! Come tune us in at http://www.rockitradio.net We also have several 100 original radio shows from the first decade of Rock and Roll at: http://www.rockitradio.net/store.html
=====================================================================
ROCK-IT RADIO NEWSLETTER AND PLAYLIST
SHOWS #5729 TO #5745
FROM
July 29, 2016 to August 18, 2016

Hi Rock-it Radio Listeners,

The voting has begun for the entire month of August
for the 18th annual East vs West Coasts Show down,
We have the ballot and information further down
in this newsletter. Lots more news also including
show giveaways for our supporters of last month that
drawing and what you can win in the oldies Battle with
your vote and playlists for shows #5729-#5745.

So, Let's get started with some playlists!

Our shows can be heard in our archives page at:

http://www.rockitradio.net/programs.html
and click to the speaker on the left to hear the show.

Remember if you are new to Internet Radio and having trouble tuning in though --
Check out our webpage to help you out at:
http://www.rockitradio.net/tunein.html
============================================
REMEMBER YOU CAN ORDER ANY OF THESE ROCK-IT
RADIO SHOWS ON CD!!!! NEW EASIER ORDERING!

Would you like one of these Rock-it Radio shows on CD? To
be able to play anywhere? And help support Rock-it Radio at the same time.
For complete information check out our program
ordering webpage at: http://www.rockitradio.net/order.html

Our shows are of course copies straight from the studio so they are studio
quality and satisfaction is guaranteed.
Or if you would rather receive an invoice let me know and we
can e mail you a copy - Just e mail us the show(s) you would like
to have and the Rock-it # to: rockitradio@netzero.net

==============================================
All Rock-it Radio shows stay online from 18 to 24 days and are
broadcast in MP3 Format. To tune in just click to the speaker
at our program page at:
http://www.rockitradio.net/programs.html

The newest show added replaces the oldest show so if you see a
show near the bottom of the listing - you should listen as soon as
possible.

==============================================
WE COULD USE YOUR SUPPORT

Rock-it Radio is 100% Publicly supported. But when you
donate to the Rock-it Radio Launching Pad - we give you
a vintage broadcast of your choice.
100% of all sales from the Rock-it Radio Store (Launching
Pad) goes back to pay copyright fees, LLC taxes, Internet
and bandwidth costs of Rock-it Radio. Without your support
we would not exist. So. please consider a purchase at:
http://www.rockitradio.net/store.html

===============================================
NOTE: ALL SHOWS BELOW CAN BE FOUND IN OUR
PROGRAM WEBPAGE -
TO TUNE IN CLICK TO SPEAKER OF THE SHOW YOU WANT
TO LISTEN TO. EITHER MP3 OR REAL PLAYER.
BOTH FORMATS ARE SUPPORTED.
AT:
HTTP://WWW.ROCKITRADIO.NET/PROGRAMS.HTML

==============================================
MATT THE CAT AND THE JUKE IN THE BACK SHOW
ON ROCK-IT RADIO SHOW #5729 SPOTLIGHT ON
DINAH WASHINGTON PARTS 1 AND 2 OF 5.

PART I - RECORDINGS FROM 1943 TO 1946

Dinah Washington was more than just the Queen of the Jukeboxes
she was Queen Of The Blues and any other prestigious but vacant
title you could pin on her. Dinah was the real deal. As one of the best
selling artists of the 20th Century, Dinah was no pop sensation
or flash in the pan. She was a consummate artist, who developed
a playful, yet serious style of phrasing all her own. This week,
Matt The Cat honors the great Dinah Washington with the
first installment of a multi-part series on the Queen of the Blues
very first recordings for the Keynote label.


1. Swanee River Boogie - Albert Ammons â€" Mercury 1947Â
2. Evil Gal Blues - Sextet w/ Dinah Washington â€" Keynote 1944Â
3. Salty Papa Blues - Sextet w/ Dinah Washington â€" Keynote 1944Â
4. Blow Top Blues - Lionel Hampton & His Septet â€" Decca 1947Â
5. Mellow Mama Blues - Dinah Washington w/ Lucky Thompson & His All-Stars â€" Apollo 1945Â
6. My Lovin' Papa - Dinah Washington w/ Lucky Thompson & His All-Stars â€" Apollo 1945Â
7. Joy Juice - Dinah Washington w/ Gus Chappell's Orch â€" Mercury 1946Â
8. Embraceable You - Dinah Washington w/ Gus Chappell's Orch â€" Mercury 1946Â
9. Oo Wee Walkie Talkie - Dinah Washington w/ Gerald Wilson's Orch â€" Mercury 1946Â
10. GREAT 78* Wise Woman Blues - Dinah Washington w/ Lucky Thompson & His All-Stars â€" Apollo 1945Â
11. A Slick Chick (On The Mellow Side) - Dinah Washington w/ Tab Smith's Orch â€" Mercury 1946Â
12. Postman Blues - Dinah Washington w/ Tab Smith's Orch â€" Mercury 1946Â
13. I Want To Be Loved - Dinah Washington w/ Chubby Jackson's Orch â€" Mercury 1947Â
14. After Hours - Erskine Hawkins â€" Bluebird 1946

PART II - Recordings from 1947 to 1949

Matt The Cat continues to honor the great Dinah Washington with part 2 of our
multi-part series on The Queen. Part 2 picks up in 1947 and begins
with Dinah's first charting hit for Mercury Records,
she had a string of hits that peaks in 1948
with Am I Asking Too Much, her first #1 record. Her second #1 comes
in 1949 with the jumpin' Baby Get Lost. We'll also hear Dinah's
interpretation of other classics, I Sold My Heart To The Junkman and
It's Too Soon To know. Matt The Cat focuses on many Dinah Washington
singles that rarely receive airplay these days as well as Long John Blues,
which continues to be heard and make heads turn. We leave Dinah in 1949,
but will pick it up next show with part 3 of our mammoth Juke In The Back
series on Dinah Washington.


1. Swanee River Boogie - Albert Ammons Mercury 1947
2. Ain't Misbehavin - Dinah Washington & Rudy Martin's Trio â€" Mercury 1947
3. West Side Baby - Dinah Washington & The Rudy Martin Trio â€" Mercury 1948
4. Walkin' and Talkin' (And Crying My Blues Away) - Dinah Washington and
The Rudy Martin Trio â€" Mercury 1948
5. I Want To Cry - Dinah Washington & Cootie Williams Orch â€" Mercury 1948
6. Resolution Blues - Dinah Washington & Cootie Williams Orch â€" Mercury 1948
7. Record Ban Blues - Dinah Washington & Cootie Williams Orch â€" Unissued As Single
8. Am I Asking Too Much - Dinah Washington w/ Instrumental Accompaniment â€" Mercury 1948
9. I Sold My Heart To The Junkman - Dinah Washington w/ Instumental Accompaniment â€" Mercury 1948
10. It's Too Soon To Know - Dinah Washington w/ Quartet and Rhythm â€" Mercury 1948
11. You Satisfy - Dinah Washington w/ Chubby Jackson Orch â€" Mercury 1949
12. Baby Get Lost - Dinah Washington â€" Mercury 1949
13. GREAT 78* Mean And Evil Blues - Dinah Washington w/ Tab Smith's Orch â€" Mercury 1946
14. Long John Blues - Dinah Washington â€" Mercury 1949
15. Short John - Dinah Washington â€" Mercury 1954
16. After Hours - Erskine Hawkins â€" Bluebird 1946

===============================================
MIKE TAYLOR'S ROCKABILLY SHOW ON ROCK-IT RADIO #5730

Soma Records - Soma Records was an American record label,
based in Minneapolis, Minnesota, and owned by wholesale
record distributor Amos Heilicher. The Soma name was
"Amos" spelled backwards. Heilicher, along with his brother
Danny, was also in the jukebox and wholesale record distribution
businesses, and owned the Musicland chain of retail music stores.

Started in 1954, Soma began mainly recording polka music,
old-time country and western and jazz groups. Its first hit
was Bobby Vee's 1959 "Suzie Baby", which was a regional smash
before Liberty Records bought up the master and issued it nationally.

Among hits released by Soma were "Mule Skinner Blues" by The Fendermen
(purchased from Wisconsin's Cuca label), "Liar, Liar" by The Castaways,
"Run, Run, Run" by The Gestures and "Surfin' Bird" by The Trashmen.[1]
The last record was distributed by Soma, but recorded on the Garrett Records
label - George Garrett was an engineer who ran the board on many
Soma recordings at their Kay Bank Studios. Soma/Kay Bank recorded
many local and regional rock groups during the 1960s, including
The Accents, Gregory Dee and The Avanties, The Underbeats, and
The Del Counts, as well as distributing other smaller labels
(such as Garrett, Bangar, Golden Ring and Studio City). Country singer
Dave Dudley's first album, containing his biggest hit
"Six Days on the Road", was released on Golden Ring Records in 1963,
and distributed by Soma until Mercury Records bought the rights.

Heilicher had some ownership in the local Kay Bank Studios,
where most of Soma's recordings were made.

Soma continued releasing recordings until 1967, when the co-owned
record distributing company was merged into Pickwick Records.[2]
The Heilicher brothers exited the recorded
music business in 1977.[1]

1. Three Bad Habits - Hal Fritz & HIs Playboys 1958
2. Livin' Doll - Jim Eddy 1958
3. Goin' Out On You - Hal Frtiz & His Playboys 1958 (START 28 SEC IN)
4. Hey Little Girl - The Jags 1959
5. Switchblade - Ron Thompson & His Rowdy Guitar & The Broughams 1959
6. Suzie Baby - Bobby Vee & the Shadows 1959
7. Make Me Know You Love Me - The Stinson Brothers 1959
8. Mary's Swingin' Lamb - Myron Lee & The Caddies 1959Â (START 38 SEC IN)
9. My Little Sue - Terry Lee & The Poor Boys 1959
10. Mandy - Johnny Wallin 1959
11. Mule Skinner Blues - The Fendermen 1960
12. Hey Mama - Johnny Val 1960
13. Don't You Just Know It - The Fendermen 1960
14. Black Rock - The 5 Spots 1960
15. Been Away Too Long - Marv Blihovde And The Vanguards 1960
16. Heartbreakin' Special - The Fendermen 1961
17. Wailin' Wailin' Party - The Corvets w/Eddie Barkdall 1961
18. No Help Wanted - The Canadian Sweethearts 1961
19. The Flirtin' Kind - The Canadian Sweethearts 1961
20. Waiting Alone - Burch Ray & The Walkers 1962
21. Time Trap - Burch Ray & The Walkers 1962
22. Lulu Belle -Â Ray Faubus & The Strikes 1962
23. Tell Me How - Gerald, Harvey & The Mavericks 1964
24. Honky Tonk - The Fendermen 1960


===============================================
JACKIE BOND AND LET THE GOOD TIMES ROLL OLDIES
SHOW ON ROCK-IT RADIO #5731

From the UK Jackie Bond is back this week with another
marvelous show of Rockers from the 50s and early 60s.
Come tune in at our program page and click to the speaker
to show #5731 and get to hear these songs on this playlist.

1. Keep It Up - Dee Clark
2. Midnight Flyer - The Riverias
3. 7L - The Three Graces
4. Life Is But A Dream - Johnny Maestro
5. What Gave You The Idea - Dick D'Agostin
6. Speedin' - Vernon Green and The Medallions
7. There'll Be No Goodbye - The 5 Delights
8. Gum Drop - Otis Williams and The Charms
9. Hangin' on To My Baby - Tracey Dey
10. Darla,My Darling - The Academics
11. By Love Possessed - The Four Js
12. Black Stockings - Jesse Belvin
13. Don't Keep Our Love Hidden In The Dark - The Smoothtones
14. Man Like Wow - Tommy Sands
15. Listen Kitty - Freddie Neil and Friend
16. What You Call 'Em Joe - Oscar McLollie and The Honey Jumpers
17. Rosie Lee - Jimmy Edwards
18. Rosie Lee - The Mello-Tones
19. Fool In Love - The Veltones
20. (Fat) Mom-Mio - The Chalets
21. Really Wish You Were Here - The Keynotes
22. I Need Your Kisses - The Spaniels
23. Have You Ever Met An Angel - The Valtones
24. Pearl - The Schoolboys
25. Good Night My Love - Jesse Belvin

===============================================
COOL BOBBY B AND THE DOO WOP STOP ON ROCK-IT RADIO
SHOW #5732

Cool Bobby B is back in this newsletter with another
3 hour extavaganza of Doo Wop Rock and Roll from the
first decade of Rock nad Roll! Here is the playlist
of what you will hear when you select his show in our
program page.

Hour #1

1. Rockin' with the clock - Shirley and Lee
2. Zippidy Zippidy Zoom - The Pearls
3. Don't Go - Love Notes
4. Ready for your love - Shep & Limelites
5. It ain't nuttin' - Little Isidore & Inquisitors
6. High on a hill - Scott English
7. Way over there - The Miracles
8. A teardrop from Heaven - The Diablos
9. Dear Lord - The Continentals
10. We want a rock and Roll President - The Treniers
11. This Magic Moment - The Drifters
12. Dance With Me - The Drifters
13. Congratulations - The Turbans
14. Sister Sookie - The Turbans
15. Guilty - Herb Johnson
16. You Belong to me - The Duprees
17. Diamonds and Pearls - The Paradons
18. Two People in the World - The Imperials

Hour #2

19. Mopeity Mope - Boss Tones
20. Get a Job - The Silhouettes
21. Speedo - The Cadillacs
22. Goodbye to Love - The Chantels
23. Wishing Ring - 5 Satins
24. Gee - The Crests
25. For Sentimental Reasons - The Cleftones
26. Poor Boy needs a preacher - The Untouchables
27. Take me as I am - the Duprees
28. Wedding Bells - Tiny Tim & The Hits
29. Talk to me - Sunny & The Sunglows
30. Guess Who - Sunny & The Sunglows
31. Vault of Memories - The Persians
32. In this whole world - The Centuries
33. Give me your love - 4 Pharoahs
34. Golden Teardrops - The Flamingos
35. Sunday Kind of Love - The Harptones
36. Mio Amore - the Flamingos


Hour #3

37. 11th hour melody - The Rivieras
38. Moonlight Cocktails - The Rivieras
39. Wisdom of a fool - Kenny Vance & Planotones
40. Baby it's you - The Spaniels
41. Let's be lovers - The Starglows
42. A million miles from no where - Brook Benton
43. Check Yourself - The Temptations
44. Come go with me - Del Vikings
45. Morse Code of Love - The Capris
46. In the still of the night - Five Satins
47. Blue and Lonely - Pretenders with Jimmy Jones
48. At my front door - The Boptones
49. Angel of love - The Capitals
50. Operator - Lee Andrews
51. Unemployment - The Moonglows
52. I hear wedding Bells - Del Vikings
53. Darest Little Angel - Four Flops
54. That's how long I'll be lovin you - Bunny Siegler
55. Goodnight Baby - Imaginations

===============================================
MOVIN' AND GROOVIN SHOW WITH DJ SPINNING ROCK BOOGIE
ON ROCK-IT RADIO SHOW #5733

"REGIONAL ROUND UP Pt 51 - ALABAMA & MISSISSIPPI Pt 2".

Join DJ Spinning Rock Boogie for another rock & roll show
in his series "Regional Round Up"the show that features
a particular State or States of America, with some of the
record labels from out of that State(s), the towns and cities
where those labels were situated, and the artists who recorded
on them. This show takes another trip to the States of Alabama
and Mississippi for part 2 with music from the 50's and 60's
that includes Rock and Roll, Rockabilly, and the regular feature,
The Smooch Spot.

01. Intro - Medley
02. Let's Get It On - Hershel Almond + Al Good & His Band (59) Ace - Jackson - Mississippi
03. Baby I Don't Care - David Gregg (63) McDowell - Montgomery - Alabama
04. Mary Lee - Monty Olive (68) JJ's - Florence - Alabama
05. I'm Gonna Rock Some Too - The Hodges Brothers (56) Mississippi - Osyka - Mississippi
06. Girl With The Red Dress On - Mike Cunningham & His Sparks (60) Gladatone - Moss Point - Mississippi
07. Sweet Shop Doll - Ronnie Moore (60) Teen's Choice - Birmingham - Alabama
08. Just Benny And Me - Danny Edwards (65) Woodrich - Rogersville - Alabama
09. Mack's By The Tracks (instrumental) - Tim Whitsett & The Imperials (63) Rim - Jackson - Mississippi
10. Biggest Man Around - Jimmy Wages & The Tune Masters (57) TomBigTee - Pontotoc - Mississippi
11. caveman - Tommy Roe & The Satins (60) Judd - Muscle Shoals - Alabama
12. Burmuda Shorts - Marlon "Madman" Mitchell & The Rocketeers (57) Vena - Madison - Alabama
13. Promise Me - Andy Anderson & The Dawn Breakers (60) Century Ltd -Jackson - Mississippi
14. Crazy Over You - Dan Penn (59) Earth - Florence - Alabama
15. Lonely Girl - The Fugitives (66) Fugitive - Pascagoula - Mississippi
16. Mine All Mine - Freddie Beach (64) Summit - Mobile - Alabama
17. Baby You Got Me - Billy Stevens & The Nashville cats (67) Kid Glove - Belmont - Mississippi
18. Whispering Blues - Johnny Barnette + Bob & The Vets (63) Vance - Ripley - Mississippi
19. I've Been A Bad Bad Boy - The Kingbeats (64) Flash - Senatobia - Mississippi
20. My Pretty Baby - Tommy Fowler & The Coeds (60) Reed - Birmingham - Alabama
21. Who's That Big Man - Lee Mitchell & The Combo (59) Sharp - Phenix City - Alabama
22. Rag Roof Roadster - Jim Foster & The Kountry Kut-Ups (64) River - Biloxi - Mississippi
23. Blue Smoke - Betty Marie & The Bobolinks (61) Tune - Florence - Alabama
24. Satellite Rock - Jimmy Copeland & The J-Teens (58) B & K - Fairfax - Alabama
25. Gonna Roll And Rock - Lucky Joe Almond & His Hillbilly Rockers (54) Trumpet - Jackson - Mississippi
26. Jukebox Queen - Ronny Keenan (57) Sandy - Mobile - Alabama
27. Right Now - Gray Montgomery (62) Beagle - Natchez - Mississippi
28. Foggy River - Jimmy Holder & The Chevells (62) Lakeland - Guntersville - Alabama
29. Tapping That Thing - J.C. & The Cavemen (62) Allstate - Dora - Alabama
30. Baby It's Love - Jimmy Lee Fautheree (Johnny Angel) (58) Vin - Jackson - Mississippi
31. You're Undecided - Johnny Burnette (55) Von - Booneville - Mississippi
32. Outro - Medley

"Can't Stop Keep Rockin' Kid"

===============================================
BILLY VERA'S ROCK AND ROLL PARTY ON ROCK-IT RADIO
SHOW #5734 - R&B FROM BALTIMORE AND WASHINGTON DC

On this week's Rock & Roll Party, host Billy Vera takes a look
at some of the great R&B artists that came out of Washington DC,
Baltimore and nearby areas during the 50's. The playlist
includes major acts of the era such as The Clovers, Ruth Brown,
The Swallows, The Five Keys and The Orioles, mixed with lesser
known artists such as The Cap-Tans, The Plants,
The Honey Boys and Frank Motley. As always, Billy provides the
backstories behind the music. Take a listen to three dozen
great tunes on this week's Rock & Roll Party.

Hour One

1. It's Too Soon To Know - The Orioles
2. Teardrops From My Eyes - Ruth Brown
3. Don't You Know I Love You - The Clovers
4. Heartbreaker - The Heartbreakers
5. It Ain't The Meat (It's The Motion) - The Swallows
6. Old 999 - The Marylanders
7. I Don't Stand a Ghost of a Chance - The Five Keys
8. Please Baby Please - The Swallows
9. You Are My Only Love - The Cardinals
10. Mama Your Daughter Told a Lie On Me - The Five Keys
11. Mama He Treats Your Daughter Mean - Ruth Brown
12. Can't Help Lovin' You - The Bachelors
13. You Got To Go Baby - The Bluenotes
14. Here Goes a Fool - The Clovers
15. Nobody's Lovin' Me - The Swallows
16. Hound Dog - Frank Motley & His Crew
17. I'll Be Waiting - The Swallows
18. I'll Be Waiting - The Clefs

Hour Two

19. Good Googa Mooga - The Magic Tones
20. I'll Follow You - The Five Keys
21. Vippity Vop - The Honey Boys
22. Crying In The Chapel - The Orioles
23. Come Back My Love - The Cardinals
24. Dear I Swear - The Plants
25. Down In The Alley - The Clovers
26. They Say - The Rainbows
27. Shirley - The Rainbows
28. Bip Bop Bip - Pretty Boy (Don Covay)
29. I Cried - The Starlighters
30. Wisdom of a Fool - The Five Keys
31. Hey Little Schoolgirl - The Marquees
32. Baby You're My Only Love - Billy Stewart & The Marquees
33. The Bells Ring Out - The Cap-Tans
34. Tight Skirts and Crazy Sweaters - The Cap-Tans
35. Have I Been Gone Too Long (a capella) - The Cardinals
36. Where Do I Go From Here - The Swallows

===============================================
CLARKE JAMES (CJ THE DJ) AND THE ROCKIN N ROLLIN
RECORD REVIEW ON SHOW #5735

From the Gulf Coast it's CJ the DJ! With another great
set of 50s Rockers for all of our listeners. CJ puts
on a great show and always fun to listen too. Tune into
show #5735 and check out all these Rockin' Tunes
exclusively on Rock-it Radio!


1. Intro. Stack-A-Records (Edited) - Tom Tall
2. I Need A Man - Barbara Pittman
3. Ah, Poor Little baby - Bill Craddock
4. Cora Lee - Little Bobby Rivera & The Hemlocks
5. Mary Lee - Rainbows
6. Born To Love One Woman - Ric Cartey
7. The Woman I Need - Johnny Horton
8. Angel Of Love - The Capitols
9. Island Of Love - Sheppards
10. There's Not A Minute - Rick Nelson
11. Tear For Tear - Gene Chandler
12. In My Heart - Timetones
13. I Love You - Volume's
14. Brand New Cadillac - Vince Taylor & His Playboys
15. Cadillac Baby - Bill Sherell
16. Heart's Desire - The Avalons
17. Moments Like This - The Baltineers
18. Guitar Rock And Roll - Joe Maphis (King Of The Strings)
19. Raw-Hide - Link Wray & The Wraymen
20. Buzz-Buzz-Buzz - Hollywood Flames
21. Come Back My Love - The Wrens
22. Rocket 88 - Jackie Brenston
23. Rooftop Serenade - Dion

===============================================
LANE QUIGLEY AND BILL GREEN AND THE 18TH ANNUAL
EAST COAST VS. WEST COAST OLDIES BATTLE ON
ROCK-IT RADIO SHOW #5736 !!!

(REMEMBER TO CUT AND PASTE THIS PLAYLIST WITH YOUR
VOTES TO POSSIBLY WIN PRIZES AT ROCK-IT RADIO!)

18TH ANNUAL EAST COAST VS. WEST COAST OLDIES SHOW TO
AIR ONLINE FROM AUGUST 1ST TO 30TH
This show is now airing on Rock-it Radio on demand and archived
as show #5736 in our program webpage at http://www.rockitradio.net/programs.html
The Ballot is below and the polls are now open!!!
Final results and listener prize winners will be listed in our station
newsletter at the end of the month.
Every year for the last 18 years Rock-it Radio DJ's Lane Quigley
and Bill Green compete with who can come up with the best oldies
songs from opposite U.S. Coasts.
On August 1st the show will be uploaded and Rock-it Radio Listener's
get to vote for the outcome! Prizes will be awarded to a lucky
few that were drawn after August 3oth. Here is the ballot and
information to cut and paste for your vote.
You don't have to wait any longer it's time for the yearly bi-coastal
battle for oldies supremacy as Rock-it Radio presents the
18th Annual East/West Showdown. Since the late 1990's, Bill Green
and Lane Quigley have been facing off every year to determine
whether the East Coast of the West Coast will prevail. So far, the
East has been victorious seven times, the West has won eight contests,
and there have been two draws. Will the East Coast catch up this year?
Or will the West Coast extend its lead? Your votes will determine
the outcome.
The annual East/West Showdown is always a favorite of Rock-it
Radio listeners. If you're new to the showdown, here's how it works.
You will vote on your favorite tunes for each of 12 Rounds. Lane,
being a lifelong west coast resident, will present twelve rounds
of recordings that represent the west coast. Bill, a New Jersey native,
will match each round with east coast recordings. There will be a common
link between the east and west tunes from each round. You will keep
track of your favorites, and then after you've heard the entire program
you will submit your votes via email.
Five lucky listeners will be selected at random at the end of the month, and they will receive cool prizes from the Rock-it Radio Launching Pad courtesy of station manager Bennie Dingo.
You may copy-and-paste the playlist below and indicate your round-by-round preference, or you may simply send an email conveying your selection for each of the twelve rounds. Votes must be received by 11:59 pm PDT on August 31, 2016. Have fun, and good luck!

Submit your ballots to: showdownvote@gmail.com

ROUND 1: EARLY GIRL GROUPS
___ WEST: Eddie My Love - The Teen Queens 1956
___ EAST: Mr. Lee - The Bobbettes 1957

ROUND TWO: JUNE 18, 1958
___ WEST: Come On Let's Go - Ritchie Valens 1958
___ EAST: Stupid Cupid - Connie Francis 1958

ROUND THREE: TRAILBLAZERS
___ WEST: Route 66 - Nat King Cole 1945
___ EAST: Let The Good Times Roll - Louis Jordan 1947

ROUND FOUR: REMADE BY RAY CHARLES
___ WEST: Crying Time - Buck Owens 1964
___ EAST: Night Time Is The Right Time - Nappy Brown 1957

ROUND FIVE: COMPOSED BY TOMMY BOYCE
___ WEST: Peaches & Cream - The Ikettes 1965
___ EAST: Pretty Little Angel Eyes - Curtis Lee 1961

ROUND SIX: SNUBBED BY THE ROCK & ROLL HALL OF FAME
___ WEST: Miserlou - Dick Dale 1962
___ EAST: The Diary - Neil Sedaka 1958

ROUND SEVEN: THOSE BACK-UP SINGERS SOUND FAMILIAR
___ WEST: My Name Ain't Annie - Linda Hayes 1954
___ EAST: Itchy Twitchy Feeling - Bobby Hendricks 1958

ROUND EIGHT: HEY! I WROTE THAT SONG
___ WEST: It's Late - Dorsey Burnette 1957
___ EAST: Wedding Bell Blues - Laura Nyro 1967

ROUND NINE: FROM THE SCHOOLYARD TO THE RECORDING STUDIO
___ WEST: Wonderful One - The Shondells 1962
___ EAST: Little Girl of Mine - The Cleftoes 1956

ROUND TEN: SPLIT PERSONALITIES
___ WEST: Love Bandit - The Cadets 1957 / Why Donn't You Write Me The Jacks 1955
___ EAST: He's So Fine - The Chiffons 1963 / My Block The 4 Pennies 1963

ROUND ELEVEN: SO NICE, LET'S DO IT TWICE
___ WEST: KoKoMo - Gene & Eunice 1955
___ EAST: Every Beat Of My Heart - Gladys Knight & The Pips 1961

ROUND TWELVE: SMOOTH AS SILK
___ WEST: Guess Who - Jesse Belvin 1959
___ EAST: It's Just a Matter of Time - Brook Benton 1959

Please remember - one vote per listener. Please make sure you copy
and paste and submit your ballots by August 31. Winners will be
notified by email within two weeks after the polls close.
All voters will be notified of the results, which will also be
printed in the Rock-it Radio Newsletter. Send your ballot to:
showdownvote@gmail.com

===============================================
PETE CHASTON'S DOO WOP SHOW ON ROCK-IT RADIO
SHOW #5737

The Chaston Doo Wop Show is back this week with
another great segment of 50s and early 60s Doo
Wop Rock and Roll. Here is the playlist of this
week's show.

1. Doo-Wop All Night Long-The Blue Emotions (opening theme song) (1982)
2. Everyday of the Week-The Students (1958)
3. Ookey Ook-The Penguins (1955)
4. Dear I Swear-The Plants (1956)
5. Rang Tang Ding Dong-The Cellos (1957)
6. Ray Pearl-The Jivers (1956)
7. Lover's Island-The Blue Jays (1961)
8. You're Gonna Cry-The Blue Jays (1961)
9. Tears Are Falling-The Blue Jays (1961)
10. The Wanderer-The Knudsen Brothers (1997)

SILLY SONG SEGMENT:

11. Werewolves of London-Warren Zevon (xxxx)
12. Constipation Blues-Screaming Jay Hawkins (xxxx)

SCRATCHY 45 RPMs SEGMENT:

13. Runaround Baby-The Kodoks
(1958) 14. Now That You're Gone-The Jesters (xxxx)
15. My Juanita-The Crests (xxxx)
16. Chapel Bells-The Fascinators (1958)

BACK TO THE CDs &/or More 45 RPMs:

17. (with interview) A Casual Look-The Six Teens (1956)
18. Tell Me Why-The Belmonts (1961)
19. Dancing Danny-The Vibrations (1963)
20. Skippy is a Sissy-Roy Gaines (1958)

SLOW SONG SEGMENT:

21. Please Remember My Heart-The Solitaires (1954)
22. Believe Me-The Skyliners (1960)
23. I Love You So-The Chantels (1958)
24. Love No One But You-The Allures (xxxx)
25. I Need a Girl-The Feathers (1955)
26. It'll Be Easy-The Sultans (1961)
27. (closing theme song) Adios-The Five Discs (1961)

===============================================
DAVE THE RAVE AND THE RELICS AND RARITES SHOW
ON ROCK-IT RADIO SHOW #5738

Do you love the rarities of 60s Rock and Roll?
Then this is the show to tune into! Dave features
forgotten or lost or strayed releases of 60s Rock
& Roll. From Psychadellic to Bubble Gum to just good
old Rock and Roll !!!

Hour #1

1. Soul Twist - King Curtis and the Noble Knights
2. Ballad Of Cassius Clay - Alcoves
3. The Kind Of Boy That You Can't Forget - Jelly Beans
4. Don't Turn Around - Merseybeats
5. Take Him Back If It Makes You Happy - Fantastic Four
6. Do What You Gotta Do - Al Wilson
7. If You Just Woulda Said Goodby - Walkin' Willie and his Orch
8. Bustin' Rocks - Five Hungry Men
9. You Won't Get Me Workin' - Symon Grace & Tuesday Blues
10. Oh Yeah - Bob and Earl
11. One Day I'll Show You (I Really Love You) - Radiants
12. If By Chance - Neil Brown
13. Inside Out - Outside In - Derek
14 Selfish One - Jackie Ross
15. Baby Please Come Back Home - J.J. Barnes
16. Is There Anything I Can Do - Ashes
17. I Am The Greates - Cassius Clay (Discovery Of Week)
18. Function At The Junction - Ramsey Lewis

Hour #2

1. Thunder Express - Lenny and the Thundertones
2. Something In The Air - Thunderclap Newman
3. What Am I Doin' Here With You - P-Nut Butter
4. New York's A Lonely Town - Tradewinds
5. You Say - Night Crawlers
6. You Got What It Takes - Dave Clark Five
7. Look Of Love - Ellie Greenwich
8. Look Of Love - Leslie Gore
9. He Knows My Key (Is Always in the Mailbox) - Vivian Copeland
10. Chains Of Love - Kenny Gamble
11. Chain Of Fools - Aretha Franklin
12. Hey Mama You've Been On My Mind - Restless Feelin's
13. From Me To You - Beatles
14 Laugh Laugh - Beau Brummels
15. You Laff Too Much - Johnny Fox and the Foxes
16. It's Been Too Long - Jay Walkers
17. Can't You Hear My Heartbeat - Goldie and the Gingerbreads
18. Gotta Find Her - Razor's Edge
19. Just One More Time - J.J. Barnes (Discovery of Week)
20. Distortion Pt.1 - Travis Wammack

===============================================
ROCKIN DADDY O'S ROCKABILLY RANCH PARTY ON
ROCK-IT RADIO SHOW #5739

Rockin Daddy O is back this week with another
great high energy show of Rockabilly music. Both of
yesteryear and today. Come check it out in show
#5739 in our program page. Here is the playlist
of what you will hear!

1. Let's Have A Party-Desperados
2. Fine Fine Superfine-Big Sandy & His Fly-Rite Boys
3. Cool Penguin-Continentals
4. Congo Mombo-Guitar Gable
5. Savage Stomp-Screamin' Rebel Angels
6. Cannibal Party-Levi Dexter
7. So Long, Good Luck And Goodbye-Weldon Rogers
8. If You Want My Love-Bobby Lawson
9. Hate To Say Goodbye-Ricky Jones
10. I'm On Fire-Jerry Lee Lewis
11. Something Wicked This Way Comes-Jittery Jack
12. Baby Shame-Clyde Stacy
13. Her Love Rubbed Off-Carl Perkins
14. Bottle To The Baby-Charlie Feathers
15. Chick Chick-Junior Dean & The Avalons
16. 45 R.P.M.-TJ Mayes
17. Vinyl Records-Brian Setzer
18. I Got It-Sean Coleman & The Quasars
19. Killswitch-Rip 'em Ups
20. Spin The Bottle-Benny Joy
21. Mean When I'm Mad-Eddie Cochran

===============================================
GLEN GORDON'S MUSICAL WEB SHOW ON ROCK-IT
RADIO SHOW #5740 SONGS ABOUT MONEY!

On this edition of the Musical Web, Glen Gordon weaves
together songs about money.
There are songs about having none, borrowing it, earning it,
spending it and marrying for it. So let's get started
with the Musical Web show on Show #5740!

01. Dead Presidents - Little Walter
02. No Money - De Villes
03. My Money's Gone - Cecil Moore & the Ray's Trio
04. Mr. Credit Man - Dell Stewart
05. Friendly Loans - Marcels
06. First I Look At The Purse - Contours
07. Your Money Makes You Purty - Jerry Reed
08. If You've Got the Money I've Got the Time - Lefty Frizzell
09. Get Way Back - Percy Mayfield
10. Greenback Dollar - Kingston Trio
11. Greenback Dollar - Ray Harris
12. Hush Money - Collins Kids
13. Cash On The Barrelhead - Louvin Brothers
14. Your Cash Ain't Nothin' But Trash - Clovers
15. Money Crazy - Roland Bennett
16. Ruby Ann - Marty Robbins
17. Every Day I Have To Cry - Steve Alaimo
18. Money's My Problem - Sam The Sham
19. Long Green - Jimmy Gilmer & The Fireballs
20. Filthy Rich - Tom Ball & Kenny Sultan
21. Money, Money, Money - Gene Simmons
22. No Money Down - Chuck Berry
23. Money Back Guarantee - Five Man Electrical Band
24. Money - Lovin' Spoonful
25. Busted - Ray Charles
26. Big Money - Paul Davis

===============================================
JACK VAN OERS & THE ROCKIN' WINDMILL ROCKABILLY
SHOW ON ROCK-IT RADIO #5741

From the land of windmills, dykes, canals, cheese,
tulips, cows and wooden shoes here is another dynamic
Rockin' Windmill Show. Host Jack van Oers plays music
from Sweden, Australia, The UK, The Netherlands, Belgium,
Germany and The USA. So, just turn up the volume, put on
your dancing shoes and enjoy the show.

1. Peggy Sue - Buddy Holly - 1957
2. Teenage love - The Five Chesternuts - 1958
3. Parkin' lot - Jim McCrory - 1958
4. Wild little Willy - Ricky Vance - ??
5. You win again - White Waves - 1965
6. Orange lipstick - Greene Twins - 1960
7. All I see in you - Lil' Linn and the Lookout Boys - 2009
8. Cotton pickin' rocker - The Sparkletones - 1958
9. Eyes wide open - The Strollers - 1981
10. Open up your heart again - Bobby Lee Trammell - 1959
11. Born to lose - Savage Kalman & the Explosion Rockers - 1978
12. Teen street - Janis Martin - 1960
13. Teen street - Toni Eden - 1960
14. Just little boy blue - Johnny Preston - 1960
15. Who's that knocking - The Jets (UK) - 1980
18. Ain't got a thing - Sonny Burgess - 1957
17. Tremble - Jesse Al Tuscan - 2003
16. Bigelow 6-200 - Hopped Up! - 2004
19. This is it - The Firebirds - 1994
20. Let the good times roll - Ruth McKenny - 1980
21. Put me down - Colin Cook & the Strangers - 1964
22. Washmachine boogie - Blue Explosion - 1994
23. Go ahead baby - Luke McDaniel - 1956
24. Ich brauche dich dazu - Tommy Kent - 1959
25. Hobo baby - Joe & Ray Shannon - 1964
26. Galloping guitars - The Spotnicks - 1962

===============================================
AL COOL DADDY SMITH WITH JUMPING ON AND OFF THE
BANDWAGON ON ROCK-IT RADIO SHOW #5742

This show features virtually the entire 1973 The Band album
"Moondog Matinee" wherein this great Canadian/American group
covered many of the 1950's and 1960's R&B hits they played
while touring the country in their early years. As well
the show features various recordings by the artists that
are covered in this album and in most cases the originals
covered by the group are played as well.

The Play List is as follows:

1. Ain't Got No Home-The Band 1973
2. I Found A Home-Clarence Frogman Henry 1956
3. Troubles Troubles-Clarence Frogman Henry 1956
4. It Won't Be Long-Clarence Frogman Henry 1957
5. Holy Cow-The Band 1973
6. Holy Cow-Lee Dorsey 1966
7. Ya Ya-Lee Dorsey 1961
8. Ride Your Pony-Lee Dorsey 1965
9. I'm Ready-The Band 1973
10. I'm Ready-Fats Domino 1959
11. Ain't That A Shame-Fats Domino 1955
12. La La-Fats Domino 1955
13. Mystery Train-The Band 1973
14. Mystery Train-Junior Parker 1953
15. Mystery Train-Elvis Presley 1955
16. A Change Is Gonna Come-The Band 1973
17. A Change Is Gonna Come-Sam Cooke 1964
18. The Great Pretender The Band 1973
19. The Great Pretender-The Platters 1955
20. The Promised Land-The Band 1973
21. The Promised Land-Chuck Berry 1965
22. Saved-The Band 1973

===============================================
JAMES RILEY ROCKABILLY AND BLUES RADIO SHOW ON
ROCK-IT RADIO SHOW #5743

This week James is back with another 2 hours of great
shows featuring Rockabilly and or Blues Music from
yesterday and today. His show is in 2 parts in our
Program page which is always on demand to listen around
your schedule! Here is the playlists of this weeks
show on Rock-it Radio.

Rockabilly N Blues Radio Hour #1:

Billy Harlan is our guest this week. We discuss his early
influences, recording at RCA Studio B with Chet Atkins,
his lifelong local friends- The Everly Brothers, recording
at Studio B 57 years later for his recent Muddy Roots Records
project and more!

1. Jailhouse Rock- Elvis Presley
2. Juke Joint Jimmy- Kat Kings
3. Rock & Roll Guitar- Johnny Knight
4. Don't Push- The Polecats
5. You Got A Heart Like A Rock- Charlie Gracie
6. Teen Jean Jive- Billy Harlan
7. My Fate Is In Your Hands- Hawkshaw Hawkins
8. School House Rock- Billy Harlan
9. I Wanna Bop- Billy Harlan
10. This Lonely Man- Billy Harlan
11. Boogie Woogie Rock & Roll Man- Billy Harlan
12. I Ain't Elvis- Billy Harlan
13. All I Have To Do Is Dream- The Everly Brothers
14. '49 Mercury Blues- Brian Setzer Orchestra
15. The Apollo King- Dion
16. Vagabond- The Silvershakers


Rockabilly N Blues Radio Hour 2:

We get a couple of interview snippets from Dick Dale
and JD McPherson this hour. Plus, we'll hear new tunes
from Lance Lipinsky & The Lovers, Jake Calypso & Archie
Lee Hooker and Adam Lopez & His Rhythm Review.
We'll get classics from Buddy Holly, Johnny Burnette,
Carl Perkins, Buck Owens, Sonny Burgess, the final recorded
song from The Everly Brothers and much more!

1. I Saw The Whole Thing- Lance Lipinsky & The Lovers
2. Ready Teddy- Buddy Holly
3. Miserlou- Dick Dale
4. Sad & Blue- Di Maggio Brothers
5. Sam's Place- Buck Owens
6. Baby You Crazy- Nick Curran & The Lowlifes
7. All By Myself- Johnny Burnette & The Rock & Roll Trio
8. Vance, Mississippi- Jake Calypso & Archie Lee Hooker
9. I Don't Dig It- Sonny Burgess
10. Pistol Packin' Mama- A Man Called Stu
11. High School Hellcats- James Intveld
12. Big Door- Harmonica Sam with The Domestic Bumblebees
13. I Wish You Would- JD McPherson
14. Alabama Shake- The Modern Sounds
15. Long Tall Sally- Eddie Cochran
16. Cold- The Everly Brothers
17. Honey Cause I Love You- Carl Perkins
18. Somebody Call 911- Adam Lopez & His Rhythm Review
19. Two Time Fool- The Fabulous Thunderbirds

===============================================
LANE QUIGLEY AND THE MEMORY LANE SHOW ON
ROCK-IT RADIO SHOW #5744

This week's Memory Lane Show features another variety pack
of great but overlooked oldies. The playlist features
artists from all over the USA -- Chicago (El Dorados, Fontella Bass
& Bobby McClure), Memphis (Elvis, Pat Hare, Mar-Keys),
New Orleans (Bobby Marchan), Detroit (Martha & The Vandellas,
Mary Wells, Mable John), New York (Earls, CHuck Jackson, Lou Johnson),
Los Angeles (Ricky Nelson, The Coasters, Bobby Day), Pennsylvania
(Bill Haley, Eddie Rambeau, The Sherrys), and much more.
Rock, Pop, Doo Wop, Rockabilly and Blues fill up this rockin'
playlist. You'll also get a chance to guess the mystery artist,
and learn about the music from the artists themselves.
Check it out!


1. I'll Be Forever Loving You - The El Dorados 1955
2. That Is Rock & Roll - The Coasters 1959
SOUND BITE
3. Looking For My Baby - The Earls 1961
4. Chickie Wah Wah - Bobby Marchan 1956
5. I Ain't Mad At You Pretty Baby - Bobby Mr. Blues Merrill 1961
6. Portrait of a Fool - Conway Twitty 1962
SOUND BITE
7. I Keep Forgettin - Chuck Jackson 1962
8. It Feels So Right - Elvis Presley 1960
9. Prove It - Mary Wells 1962
10. MYSTERY ARTIST (Can you identify the artist?)
SOUND BITE
11. If You Can't Rock Me - Ricky Nelson 1957
12. Hey Miss Fannie - The Clovers 1952
13. Old Man Time - Ray Charles 1963
14. Don' Mess Up a Good Thing - Fontella Bass & Bobby McClure 1965
SOUND BITE
15. Rocket 88 - Bill Haley & His Saddlemen 1951
16. Saturday Night - The Sherrys 1963
17. I'm Gonna Murder My Baby - Pat Hare 1954
18. Gotta New Girl - Bobby Day 1959
SOUND BITE
19. Come Closer - Eddie Rambeau 1964
20. One Degree North - The Mar-Keys 1961
21. Don't Start Me Talkin' - Johnny Darrow 1960
SOUND BITE
22. Looking For a Man - Mable John 1961
23. You Better Let Her Go - Lou Johnson 1962
24. Love Makes Me Do Foolish Things - Martha & The Vandellas 1965

===============================================
ROCK-IT RADIO FLASHBACK --
BUTCHIE BOY'S DOO WOP DINER SHOW AND A ALL FEMALE
DOO WOP GROUP SPECIAL - RE RELEASED AS ROCK-IT RADIO
SHOW #5745

We went down to the basement to the archives and dug
this show up and thought it was so good we would air it
again! Featuring one of our Doo Wop DJ Butchie Boy Olmstead
at the time. Recorded back in 2008 as Rock-it Radio show
#2486 and here is the playlist of that special show.

BUTCHIE BOY'S DOO WOP DINER SHOW ON
ROCK-IT RADIO SHOW #2486

From the Central Coast of California- the "Old Gringo" Butchie fires
up the Rock-it Time-machine, snaps on his microphone and twirls yet
more of those righteous doo woppin' oldies of yesteryear! Its "Lady's
Night" in this special show at the Doo Wop Diner- spotlighting some
of the greatest of the "Girl Groups" of the Doo Wop era! Here's his
playlist.

1. Once He Loved Me - The Gaytones - 1959
2. Love, I Cant Get Over It - The Honey Bee's - 1964
3. Oh My Love Sweet Love - The Hill Sisters - 1958
4. No Other Love Can Ever Do - Naomi Caryl - 1956
5. Keep Your Hands Off My Baby - Little Eva - 1962
6. Needle In A Haystack - The Velvelettes - 1964
7. Oh No, Not My Baby - Maxine Brown - 1964
8. I Love How You Love Me - The Paris Sisters - 1961
9. He's Got The Power - The Exciters - 1963
10. Boys - The Shirelles - 1960
11. Opportunity - The Jewels - 1964
12. Baby Thats Me - The Cake - 1967
13. Chico's Girl - The Girls - 1966
14. I'm Nobody's Baby Now - Reperata & The Delrons
15. I Have A Boyfriend - The Chiffons - 1963
16. When Your Young And In Love - Ruby & The Romantics
17. Triangle - Janie Grant - 1961
18. Girl Dont Come - Sandie Shaw - 1965
19. I Cant Let Go - Evie Sands - 1965
20. I Never Dreamed - The Cookies - 1964
21. Adios ( The "Old Gringo's" closer since 1976! )- The Five Discs -1961

this show and all shows of the past are available on
CD and it increases your musical library and helps out
Rock-it Radio. For information on ordering a show.
Check out http://www.rockitradio.net/order.html
We ship worldwide at the same low postage rate also!



===============================================
All the Rock-it Radio shows are available on CD

Each show is only $9.50 each and you can order
in bulk and shipping will never be more then $2.00.
Ask for a secure paypal invoice -- information is at:
http://www.rockitradio.net/order.html


==============================================
COME JOIN US ON FACEBOOK !!! WE WOULD LOVE A
LIKE FROM YOU!

http://www.facebook.com/rockitface
The Rock-it Radio Facebook Site.

==============================================
HISTORY OF ROCK-IT RADIO

If you are new to Rock-it Radio and would like to learn more --
We have our History Page up as well -- telling the story of Rock-it
Radio. You can find it at:
http://www.rockitradio.net/history.html


JULY END OF THE MONTH DRAWING OF WINNERS
ANNOUNCED FOR LAUNCHING PAD SUPPORTERS
At the end of every month on Rock-it Radio we have a
random drawing for those that have supported Rock-it
Radio by purchasing either Rock-it Radio shows through the
either the Rock-it Radio Launching pad at:
Or by going and ordering Rock-it Radio shows at:
The July 2016 Winners this month are:
Darrin Snelgrove - Auburn, California USA
Aaron Ball - Savannah, Georgia USA
Kitty Espiritu - Doha, Qatar

SUPER MEGA WINNER - WINNER OF 10 SHOW
OF THEIR CHOICE !!!!!!!!

Connie Wiggins - Wasilla, Alaska USA
Each of you have won your choice of 3 vintage
Rock Radio programs (The Super Mega winner won 10!)
from our online store at:

or you can order Rock-it Radio Shows if you prefer on CD

You have until August 30, 2016
to let us write back and let
us know of your choices.
Congratulations and let me know what you would like to
have along with a mailing address and we will got those
items out to you. Just our way of saying Thank you for helping
support Rock-it Radio. And of course we will have October drawings
as well at the first week of next month.
NOTE: You should keep on checking this notice board
or join the Launching Pad Facebook site at:
And of course we will be having another drawing at the
end of this month.
NEW RELEASES IN THE ROCK-IT RADIO EBAY STORE.

We actually have a couple of new releases this month
of vintage radio broadcasts from a couple of Broadcast
legends.

RIR #645 - Chuck Dunaway at KILT in Houston, Texas
from July of 1966 Top 40 Radio to see the playlist of this show
check it out at: http://www.ebay.com/itm/142053696978

RIR #646 - Larry Lujack at WLS in Chicago Illinois
from August 8, 1970. Top 4o Radio show at the time
and that can be seen at: http://www.ebay.com/itm/-/142053775007

All updates and latest news on our vintage radio
broadcasts can be found in our Launching Pad Facebook
page at http://www.facebook.com/rockitpad

FREE CD GIVEAWAY FOR ENTIRE MONTH OF AUGUST!
FLASHBACK TO LOS ANGELES AND KHJ AND DJ CHARLIE
TUNA IN 1969.

Rock-it Radio continues to giveaway CD's for August
for orders received this entire month.

Southern California DJ & Icon Charlie Tuna from
1969 on KHJ Los Angeles.

In Southern California just about everyone will recognize
the name Charlie Tuna. He was a true Top 40 and later Oldies
Jock working at KHJ in the 60s in Los Angeles and later
other stations. We lost Charlie earlier this year. But you
can remember him and see what a great DJ he truly was with
this FREE CD with every order you make either thru our Ebay
Store at http://stores.ebay.com/Rock-it-Radio-Store
or our Rock-it Radio Launching Pad at http://www.rockitradio.net/store.html
You can see the playlist of this show by checking out
our Ebay store listing at: http://www.ebay.com/itm/140217983784
(But don't pay for it - you will get it free with any other order!)

And the entire month of August if you buy any
Rock-it Radio products or vintage shows we offer we
will be throwing this one in your package for FREE!

Rock-it Radio Launching Pad : http://www.rockitradio.net/store.html

Rock-it Radio Ebay Store: http://stores.ebay.com/Rock-it-Radio-Store
or

Order a show of Rock-it Radio at: http://www.rockitradio.net/order.html

Catalog orders will also receive this FREE CD.


**Rock-it Radio is 100% Listener supported we have no
sponsors and the sale of our vintage radio broadcasts helps
us to stay online and pay the copyright and broadcasting
fees it takes to remain online. thank you for all your
consideration.**



================================================
ANOTHER NEW FLASHDRIVE RELEASE OF OUR 50 LATEST SHOWS ON MP3.
ROCK-IT RADIO FLASHDRIVE FOR SHOWS #5601 - 5650 NOW AVAILABLE
50 Rock-it Radio shows on Flashdrive and 80 Hours of Oldies
Rock and Roll from the Rock-it Radio Jocks! All on one Flashdrive -
Studio Quality Recording from the Rock-it Radio Studio!
Just plug into your Computer and it will play in mp3! Our
latest Flashdrive and playlist can be seen in our Ebay Store at:
http://www.ebay.com/itm/-/131820304426
Also listed in our Flashdrive website at
http://www.rockitradio.net/flashdrive.html

================================================
DRAWING & PRIZES GIVEN OUT FOR THE 18TH ANNUAL
EAST COAST VS. WEST COAST SHOWDOWN

It's that time of year again starting August 1st and
running until August 31st. Prizes will be drawn!
To those that send in their votes and copy and paste the above
ballot in this newsletter under Rock-it Radio show #5736.

At the end of August -- Lane and Bill will randomly draw 5 winners
to those that had voted. Ballot is above in our playlists and
on air as show #5736.

And will relay the e mail addresses to Rock-it Radio main studio
here.
The following winners will be announced in the Listener's club
newsletter and here are the prizes and contacted via E mail.

1st Place: A CD Copy of the show; A Rock-it Radio T Shirt (design of their choice)
and their choice of 5 Vintage Radio Broadcasts from the Rock-it Store
Plus! A Rock-it Radio Flashdrive of 50 Rock-it Radio Programs on it.
And 3 Vintage Radio Shows of their choice from
http://www.rockitradio.net/store.html
And a copy of this show on CD. And a Rock-it Radio Bumper Sticker.


2nd Place: A CD Copy of the show; A Rock-it Radio T Shirt and their choice
of 3 Vintage Radio Broadcast from the Rock-it Store at:
http://www.rockitradio.net/store.html
And a copy of this show on CD. And a Rock-it Radio Bumper Sticker.

3rd Place: A CD Copy of the Show and a vintage Radio Broadcast from the
Rock-it Store. And a vintage Radio show of their choice from the
Rock-it Radio Lauching Pad Store. And a Rock-it Radio Bumper Sticker.

4th & 5th Place: A CD Copy of the show.
And a vintage Rock-it Radio broadcast of their choice.
And a Rock-it Radio Bumper Sticker.

The results of the tallying of you the Rock-it Radio Listener's
that vote will be posted in the Rock-it Radio newsletter in the
first week of September. If you are not a member of the Rock-it Radio
Listener's club and would like to join ... just go to our main webpage
at: http://www.rockitradio.net
And click to the banner towards the top of the page asking you to join.
It's free and we don't give out your e mail address and we don't spam.
Happy Voting everyone! Here this the ballot and playlist below.


================================================
RECRUITING FOR RADIO PERSONALITIES FOR
ROCK-IT RADIO

Do you know your 50s and 60s Rock & Roll, Doo wop
or Rockabilly? And the ability to produce a show
on CD?
We do require a playlist for this newsletter but
your show will stay online for the world for approx.
3 weeks. Unlike some stations where you broadcast one
time and it's gone forever.
If interested check out our Rock-it Radio Team page
at: http://www.rockitradio.net/team.html

We are also looking for writers and translators!
==================================================
AUGUST - 18TH ANNUAL EAST COAST VS. WEST COAST
OLDIES SHOW TO AIR ONLINE FROM AUGUST 1ST TO 30TH

Every year for the last 18 years Rock-it Radio
DJ's Lane Quigley and Bill Green compete with who can
come up with the best oldies songs from opposite U.S. Coasts.

On August 1st the show will be uploaded and Rock-it
Radio Listener's get to vote for the outcome! Prizes
will be awarded to a lucky few that were drawn after
August 3oth. Here is the ballot and information
to cut and paste for your vote.

You don't have to wait any longer it's time for the
yearly bi-coastal battle for oldies supremacy as Rock-it
Radio presents the 18th Annual East/West Showdown.
Since the late 1990's, Bill Green and Lane Quigley have been
facing off every year to determine whether the East Coast of
the West Coast will prevail. So far, the East has been
victorious seven times, the West has won eight contests,
and there have been two draws. Will the East Coast catch
up this year? Or will the West Coast extend its lead?
Your votes will determine the outcome.

The annual East/West Showdown is always a favorite of Rock-it Radio
listeners. If you're new to the showdown, here's how it works.
You will vote on your favorite tunes for each of 12 Rounds. Lane,
being a lifelong west coast resident, will present twelve rounds
of recordings that represent the west coast. Bill, a New Jersey
native, will match each round with east coast recordings.
There will be a common link between the east and west tunes from
each round. You will keep track of your favorites, and then after
you've heard the entire program you will submit your votes via email.

Five lucky listeners will be selected at random at the end of the month,
and they will receive cool prizes from the Rock-it Radio Launching Pad
courtesy of station manager Bennie Dingo.

You may copy-and-paste the playlist below and indicate your round-by-round
preference, or you may simply send an email conveying your selection
for each of the twelve rounds. Votes must be received by 11:59 pm PDT
on August 31, 2016. Have fun, and good luck!

Submit your ballots to: showdownvote@gmail.com

ROUND 1: EARLY GIRL GROUPS
___ WEST: Eddie My Love - The Teen Queens 1956
___ EAST: Mr. Lee - The Bobbettes 1957

ROUND TWO: JUNE 18, 1958
___ WEST: Come On Let's Go - Ritchie Valens 1958
___ EAST: Stupid Cupid - Connie Francis 1958

ROUND THREE: TRAILBLAZERS
___ WEST: Route 66 - Nat "King" Cole 1945
___ EAST: Let The Good Times Roll - Louis Jordan 1947

ROUND FOUR: REMADE BY RAY CHARLES
___ WEST: Crying Time - Buck Owens 1964
___ EAST: Night Time Is The Right Time - Nappy Brown 1957

ROUND FIVE: COMPOSED BY TOMMY BOYCE
___ WEST: Peaches & Cream - The Ikettes 1965
___ EAST: Pretty Little Angel Eyes - Curtis Lee 1961

ROUND SIX: SNUBBED BY THE ROCK & ROLL HALL OF FAME
___ WEST: Miserlou - Dick Dale 1962
___ EAST: The Diary - Neil Sedaka 1958

ROUND SEVEN: THOSE BACK-UP SINGERS SOUND FAMILIAR
___ WEST: My Name Ain't Annie - Linda Hayes 1954
___ EAST: Itchy Twitchy Feeling - Bobby Hendricks 1958

ROUND EIGHT: HEY! I WROTE THAT SONG
___ WEST: It's Late - Dorsey Burnette 1957
___ EAST: Wedding Bell Blues - Laura Nyro 1967

ROUND NINE: FROM THE SCHOOLYARD TO THE RECORDING STUDIO
___ WEST: Wonderful One - The Shondells 1962
___ EAST: Little Girl of Mine - The Cleftoes 1956

ROUND TEN: SPLIT PERSONALITIES
___ WEST: Love Bandit - The Cadets 1957 / Why Don't You Write Me - The Jacks 1955
___ EAST: He's So Fine - The Chiffons 1963 / My Block - The 4 Pennies 1963

ROUND ELEVEN: SO NICE, LET'S DO IT TWICE
___ WEST: KoKoMo - Gene & Eunice 1955
___ EAST: Every Beat Of My Heart - Gladys Knight & The Pips 1961

ROUND TWELVE: SMOOTH AS SILK
___ WEST: Guess Who - Jesse Belvin 1959
___ EAST: It's Just a Matter of Time - Brook Benton 1959

Please remember - one vote per listener. Please make sure you submit your
ballots by August 31. Winners will be notified by email within two weeks
after the polls close. All voters will be notified of the results, which
will also be printed in the Rock-it Radio Newsletter.
Send your ballot to: showdownvote@gmail.com



==================================================
=====================================================
STREEMA.COM PICKS UP AUDIO FEED OF ROCK-IT RADIO

Another way to tune into Rock-it Radio on your
computer is now with Streema's audio feed of our
station that picked up Rock-it Radio.

http://streema.com/radios/Rock_it_Radio
REMINDER ON HOW TO CONTACT THE DJ'S AT ROCK-IT RADIO

We all love our our e mails from listeners here at Rock-it
Radio. Along with requests and dedications. Earlier this year
due to the excessive spam we all were getting I stopped listing
the e mails at each shows playlist. But you can still
contact them. Just go to the Rock-it Radio DJ page and each
DJ has there e mail link underneath each bio.
You can find it at: http://www.rockitradio.net/dj.html


COLLECTING AIRCHECKS - A HOBBY OF RADIO NOSTALGIA
What is a Aircheck? It is simply a recording of a radio broadcast. Usually collected by Radio fans.
Come check out our webpage on collecting Airchecks.

http://www.rockitradio.net/aircheck.html


COME REMEMBER WOLFMAN JACK !!!
Rock-it Radio has a very special way to remember Wolfman Jack.
Arguably the most iconic of American DJ's. Come check out the
Rock-it Radio Wolfman Page at:
REMEMBERING OFFSHORE PIRATE RADIO IN THE UK
In the mid 1960s it was difficult for the youth to actually listen to Rock and Roll in the UK.
The BBC actually ran only a few hours a weekend to provide the young Brits with this outlet.
At night during the week they ventured to even tune into Radio Luxembourg to get there fill,
that broadcast rock and pop around the clock.
To fill this void some venture capitalists decided to bring in commercial radio aboard refitted
radio ships. And anchor themselves just off into International waters off the English coast.
Radio Caroline (named after Caroline Kennedy the U.S. President's daughter at the time)
and Radio London being the most famous. Rock-it Radio has a website dedicated to their ventures
and also have actual radio broadcasts available of
these offshore pirates.
We invite you to check them out our webpage at:
http://www.rockitradio.net/pirate.html
FINDING ROCK-IT RADIO ON THE 'TUNE IN RADIO' CELL PHONE APP.

We have had a few requests from listeners that they couldn't find us on the popular 'Tune in Radio' App. on Android and PC and iphones. Running a search of 'Rock-it Radio' will actually list 100s of Rock stations.
So, the best way to find us on this very thorough and extensive app. that
I love using myself is -
run a search on 'rockabilly' - there you will easily find
Rock-it Radio listed.
Our Tune in Radio App. webpage is also at:
http://tunein.com/station/?stationId=41878
MISSED A COUPLE OF NEWSLETTERS LAST COUPLE OF WEEKS??

THEN YOU CAN ALWAYS CHECK OUR BLOG WHERE IT IS ARCHIVED.
YOU CAN CHECK OUT OUR BLOG AT:

http://rock-itradio.blogspot.com/
=============================================


ROCK-IT RADIO DJ PAGE...


Remember you can check out all the Rock-it Radio DJ's

and read the bios of these DJ's that make these

Rock-it Radio Shows possible at:


And don't forget for even more pictures --

there is our picture page at:
============================================
IF YOU HAVE TWITTER COME FOLLOW US THERE

If you are one that tweets then please check out and join and get our
updates on your twitter account. Our Twitter link is right below.

http://www.twitter.com/RockitRadio1
It is our new Twitter account and we will once again start
scrolling our messages and updates on our webpages as well.


============================================
ROCK-IT RADIO OTHER TWITTER ACCOUNT FOR
NEWS RELEASES FOR N. IDAHO, KODIAK ALASKA AND
THE WORLD!
Rock-it Radio has another Twitter account and is used for News
Alerts that come into the studio here at Studio A. For those Twitter
users that would like to follow the link is:
http://www.twitter.com/RockitRadioNews

The feed can also be seen in our World News broadcast Webpage
at: http://www.rockitradio.net/news.html


=================================================
WELCOME NEW MEMBERS TO THE LISTENER'S CLUB!!!!

A big welcome to the below new Rock-it Radio listeners that
joined our Listeners Club from July 28, 2016 to
August 18, 2016
We hope that you enjoy the music Rock-it Radio provides
and our playlists and information that our weekly newsletter
provides. Any comments, criticisms, kudos, compliments or
future ideas is always welcome and you can e mail me personally at:
rockitradio@netzero.net

Sasa Sreckovic - Belgrade, Serbia
Joe Gaytan - Houston, Texas USA
Robert Talley - N. Myrtle Beach, South Carolina USA
Koer Kass - Tartu, Estonia
We have gained 87 new likes in our listeners club
in our Facebook page Rock-it Radio Fan Page as well this week at:
http://facebook.com/rockitface and 46 more following us
on Twitter @Rockitradio1 .

We have added a total of 137 new members to the Rock-it Radio
Listeners Club since our last newsletter. We now have 87,609 exactly
that have joined the Rock-it Radio Listeners club.
We hope that you enjoy the rare 50's and early 60's
Rock and Roll, Rockabilly and Doo Wop (which most commercial
oldies radio stations have forgotten) that we are able to play
for you from Rock-it Radio. Remember, we are here for you!

So if you ever have any requests, dedications, comments and
suggestions we always love to hear from our listeners.
Our e mail address is:
rockitradio@netzero.net

====================================================
To learn more about the Rock-it Radio Listeners Club and our Free
Newsletter please check out:
http://www.rockitradio.net/member.html

It's free and easy to join and the Rock-it Radio Newsletter is always
online at: http://www.rockitradio.net/newsletter.html



====================================================

PLEASE HELP US SPREAD THE GOOD WORD OF ROCK-IT RADIO!

Do you know of someone that might also like the music

of Rock-it Radio? We are desperately trying to keep this

music alive and have been doing so since 1995! Please

share the information of this station. And if you have

a website would you please consider putting a Rock-it Radio

link on your page.

There are a few to choose from in our link page at:

http://www.rockitradio.net/links.html
HOW TO ORDER OLD ROCK-IT RADIO SHOWS = YOUR PURCHASES HELP US STAY ONLINE!!!
We have received many inquiries on how to order Rock-it Radio shows that are no longer in
our on archives webpage. These shows are still available on CD and mailed to you within 24
hours of receiving payment.
To help search for older shows that you may be looking for you may want to check the Rock-it
Radio blog site. Old newsletters describing the shows and playlists
are archived there and there is a menu bar on the right side that breaks down every playlist
Then you may either pay by check or money order or paypal. Rock-it Radio shows are only
$9.50 U.S. each and are studio quality broadcasts that were placed on Compact Disc here at
the Rock-it Radio Studio. We have a flat rate shipping charge of $1.50 U.S. so if you order
one or several -- it is still only $1.50
U.S. shipping. And we ship worldwide, overseas orders are mailed out first class airmail.
Instructions where to send payment is at our webpage:
like we can send you a paypal invoice within 24 hours.

When you order a Rock-it Radio show or shop at our Rock-it Radio Launching Pad you
help keep these oldies alive and help us pay the bills here at Rock-it Radio.
And at the same time -- you are not getting nothing for your donation, but actually
some of the shows and memories we hope we keep alive here at Rock-it Radio.



TOP 25 SELLERS OF THE ROCK-IT RADIO LAUNCHING PAD THIS WEEK

As you know the Rock-it Radio Store sells vintage Radio Broadcasts - Where you
hear the actual music, news and vintage advertisements - uncut and unedited
just like you would of heard
it back then. Here are the top sellers this week.

1. Flashdrive Rock-it Radio Shows 5501 - 55502. Flashdrive Rock-it Radio shows 5451 - 55003. Flashdrive Rock-it Radio Shows 5401 - 54504. 50 year Class Reunion 1966 5 CD Set Lane Quigley Memory Lane Show5. RIR #436 - Pat Sajack Armed Forces Vietnam network 3/18/19696. Flashdrive - Rock-it Radio Shows 5601-56507. Flashdrive Rock-it Radio shows 5551 - 56008. RIR #644 - Dan Ingram WABC New York 6/12/19649. RIR #342 - John Peel BBC 1 12/31/1967 #110. RIR #539 - Cousin Brucie WABC New York 9/7/196511. RIR #181 - Wolfman Jack - XERB Tijuana 12/8/196712. RIR #642 - Elliot Field - KFWB Los Angeles 1/9/195913. RIR #270 - BBC Buddy Holly Tribute from 1965.14. RIR #393 - John Lennon as DJ on WNEW New York from 197415. Flashdrive Rock-it Radio Shows #5651 - 570016. RIR #359 - Gus Gossert Oldies show - WPIX FM New York 197117. RIR #168 - Dan Ingram - WABC New York 7/22/1967 2 cd set18. RIR #343 - John Peel BBC Radio 1 12/31/1967 #219. RIR #517 - Cousin Brucie - WABC New York 11/29/196720. RIR #646 - Larry Lujack WLS Chicago 8/8/197021. RIR #410 - Dr. Don Rose - KFRC San Francisco 4/4/197422. RIR #114 - Alan Freed - WABC New York 11/5/195923. RIR #149 - Alan Freed - WINS New York 1/23/195724. RIR #176 - Porky Chedwick - WAMO Pittsburgh 6/14/196025. RIR #497 - Larry Lujack - WLS Chicago 10/17/1978




If you would like to view these shows in depth you can check out

our Rock-it Radio Ebay Store at:

or in the Rock-it Radio Launching Pad store at:

http://www.rockitradio.net/store.html(listed by date)

and in the upper left hand corner -

there is a search box where you can type in the DJ name or

Station Call letters and that information on that show will pop up.

Ordering from the Ebay store will also qualify you for the Rock-it Radio

giveaway mentioned previously in this newsletter. Sale of

these broadcasts is what keeps Rock-it Radio going and thank

you again to everyone that buys these!

============================================
Rockabilly bands looking for airplay
If you or know someone that would like airplay on Rock-it Radio we invite
you to submit your press kits to Rock-it Radio. Our website for further
information is:
http://www.rockitradio.net/airplay.html
============================================
Come tune into the World on your computer!
1000s of stations around the world now broadcast online. We have a
link to some of the internet top directories to help you find these stations.
http://www.rockitradio.net/internetradio.html
============================================
Rock-it Radio Program Webpage Reminder
Remember, if the show that you want to hear is getting close to the bottom
of the list of radio shows, you should tune in as soon as you can. These shows
to have a high audio quality require a lot of internet bandwidth and memory.
And currently we can only afford the
30
latest shows online here at Rock-it Radio.
So, when a new show is put online it knocks the oldest one off the Rock-it Radio
archives page. Usually a show will at least last 16 to 20 days, once it is placed in
the archives.
============================================
OUR SISTER STATION FIRST NATIONS BROADCASTING.
We invite you to also check out our sister station -- First Nations
Broadcasting. And tune into the rather Cool North of the Yukon and Alaska
with our very own Debbie Snowdove!
============================================
Well that is just about it for this newsletter and playlists of our latest
shows. We hope that you enjoy them.
We will do our best to keep these shows on for at least 14
days and hopefully 21 days.
All the best always,
Bennie Dingo
Rock-it Radio

website: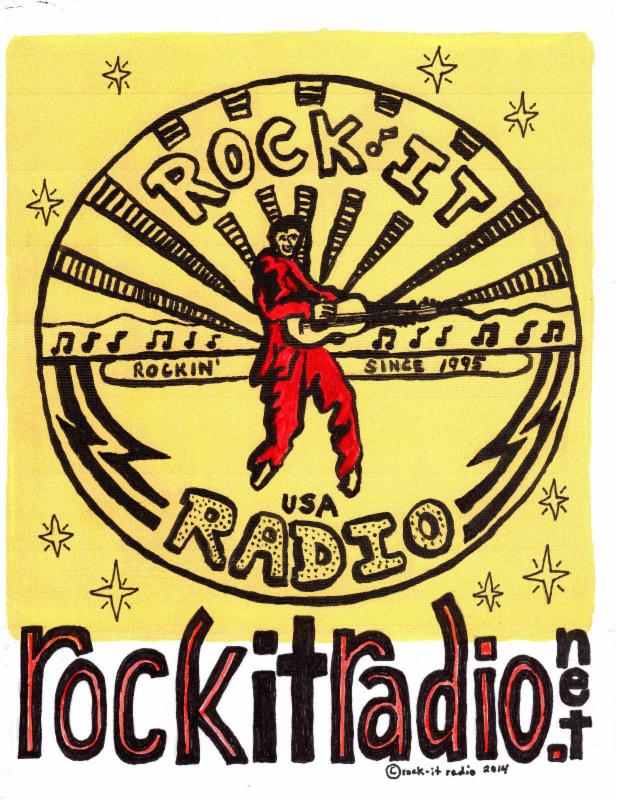 Rock-it Radio main website:
http://www.rockitradio.net

Archived Shows at:
http://www.rockitradio.net/programs.html

Rock-it Radio Vintage Broadcast Store:
(Launching Pad)
http://www.rockitradio.net/store.html