Rock-it Radio since 1995 providing 50s and early 60s Rock and Roll, Doo Wop and Rockabilly music online! Come tune us in at http://www.rockitradio.net We also have several 100 original radio shows from the first decade of Rock and Roll at: http://www.rockitradio.net/store.html
=======================================================================
ROCK-IT RADIO NEWSLETTER AND PLAYLIST
SHOWS #5762 TO #5777
FROM
September 2, 2016 to September 17, 2016

Hi Rock-it Radio Listeners,

I hope everyone is having a great weekend
as we have our 2nd newsletter for this month.
It will be featuring the playlists for Rock-it
Radio Shows #5762 to #5777 (16 programs all together)
plus we have the results of last months East vs. West
Battle and announcements of the winners. Plus more!

So, Let's get started with some playlists!

Our shows can be heard in our archives page at:

http://www.rockitradio.net/programs.html
and click to the speaker on the left to hear the show.

Remember if you are new to Internet Radio and having trouble tuning in though --
Check out our webpage to help you out at:
http://www.rockitradio.net/tunein.html
============================================
REMEMBER YOU CAN ORDER ANY OF THESE ROCK-IT
RADIO SHOWS ON CD!!!! NEW EASIER ORDERING!

Would you like one of these Rock-it Radio shows on CD? To
be able to play anywhere? And help support Rock-it Radio at the same time.
For complete information check out our program
ordering webpage at: http://www.rockitradio.net/order.html

Our shows are of course copies straight from the studio so they are studio
quality and satisfaction is guaranteed.
Or if you would rather receive an invoice let me know and we
can e mail you a copy - Just e mail us the show(s) you would like
to have and the Rock-it # to: rockitradio@netzero.net

==============================================
All Rock-it Radio shows stay online from 18 to 24 days and are
broadcast in MP3 Format. To tune in just click to the speaker
at our program page at:
http://www.rockitradio.net/programs.html

The newest show added replaces the oldest show so if you see a
show near the bottom of the listing - you should listen as soon as
possible.

==============================================
WE COULD USE YOUR SUPPORT

Rock-it Radio is 100% Publicly supported. But when you
donate to the Rock-it Radio Launching Pad - we give you
a vintage broadcast of your choice.
100% of all sales from the Rock-it Radio Store (Launching
Pad) goes back to pay copyright fees, LLC taxes, Internet
and bandwidth costs of Rock-it Radio. Without your support
we would not exist. So. please consider a purchase at:
http://www.rockitradio.net/store.html

===============================================
NOTE: ALL SHOWS BELOW CAN BE FOUND IN OUR
PROGRAM WEBPAGE -
TO TUNE IN CLICK TO SPEAKER OF THE SHOW YOU WANT
TO LISTEN TO. EITHER MP3 OR REAL PLAYER.
BOTH FORMATS ARE SUPPORTED.
AT:
HTTP://WWW.ROCKITRADIO.NET/PROGRAMS.HTML

==============================================
COOL BOBBY B AND THE DOO WOP STOP ON ROCK-IT RADIO
SHOW #5762

Cool Bobby B is back in this newsletter with another
3 hour extavaganza of Doo Wop Rock and Roll from the
first decade of Rock nad Roll! Here is the playlist
of what you will hear when you select his show in our
program page.

Hour #1

1. Rockin' with the clock - Shirley and Lee
2. The Beat of my heart - The Cordells
3. Shimmy shimmy ko ko bop - Little Anthony & Imperials
4. Going out of my head - Little Anthony & Imperials
5. Love makes me do foolish things - Martha & Vandellas
6. He's sure the boy I love - The Crystals
7. Secret Love - The Moonglows
8. Runaround - The Regents
9. Charlena - The Sevilles
10. Goodbye Mr. Blues - The Mystics
11. Gone - Frankie Ford
12. Mr. Misery - Junior & Four Seniors
13. I'll be forever loving you - El Dorados
14. Tonight - The Velvets
15. I'm in the mood for love - The Chimes
16. Greetings from Uncle Sam - The Valadiers
17. Corrina Corrina - Big Joe Turner
18. Honey Hush - Big Joe Turner
19. Jim Dandy - LaVern Baker

Hour #2

20. Club of Broken Hearts - Brilla Tears
21. Tomorrow Night - Laverne Baker
22. Only a dream - The Carions
23. Tonight Tonight - The Mello Kings
24. Please say you want me - Schoolboys
25. Rock n Roll Lullabye - The Belmonts
26. Warm - The Skyliners
27. Thinking of you - The Jaguars
28. Over the Mountain, Across The Sea - Johnny & Joe
29. You send me - Sam Cooke
30. I won't ever - Gary DeCanto
31. Angel Baby - Robin Robbert
32. Once in a while - The Chimes
33. There goes the boy - The Lydells
34. Walking in the streets alone - The Love Letters
35. One Summer night - The Danleers
36. That'll be the day - The Ravens
37. Kneel and Pray - The Ravens
38. I remember - 5 Discs


Hour #3

39. 11th hour melody - The Rivieras
40. Moonlight Cocktails - The Rivieras
41. You belong to me - The Duprees
42. What's your name - Don & Juan
43. Warm soft and lonely - The Clickettes
44. Wedding bells - The Senators
45. Never let her go - Gene Taylor & his downbeats
46. ??? - Del Satins (unreadable typed over)
47. Anymore - Johnny Ace
48. Cross my heart - Johnny Ace
49. Never let me go - Johnny Ace
50. Who do you love - Philly Cuzz
51. All night long - DuMauriers
52. Down the Road - The Cadillacs
53. Zu Zu - The Bonnevilles
54. Bring back those doo wops - The Bagdads
55. Loneliness - The Impressors
56. Darling can't you tell - The Clusters
57. Goodnight baby - The Imaginations

===============================================
LANE QUIGLEY AND THE MEMORY LANE SHOW -
ON ROCK-IT RADIO SHOW #5763

Great oldies, backstories behind the music, interesting
interview clips and a chance to guess the Mystery Artist.
All this and the usual fun and frolic from host Lane Quigley
awaits on this week's Memory Lane Show on Rock-it Radio.
Get ready to rock & roll with these great tracks:

1. The Girl Can't Help It - Little Richard 1957
2. I'm a Woman - Christine Kittrell 1962
SOUND BITE
3. Don't Hang Up - The Orlons 1962
4. Jam Up - Tommy Ridgely 1954
5. Tears, Tears and More Tears - Chuck Carbo 1961
6. Goodbye - The Spiders 1956
SOUND BITE
7. Blue Moon of Kentucky - Elvis Presley 1954
8. Every Minute of the Day - The Diamonds 1956
9. Third Finger, Left Hand - Martha & The Vandellas 1967
10. MYSTERY ARTIST - Can you identify the artist?
SOUND BITE
11. Arrow of Love - The Six Teens 1957
12. Magic Eyes - Nicky North & The Citations 1963
13. Burn That Candle - Bill Haley & The Comets 1955
14. That Mellow Saxophone - Roy Montrell 1956
SOUND BITE
15. Walk On By - Leroy Van Dyke 1961
16. May I - Maurice Williams & The Zodiacs 1965
17. So Glamorous - Sam Cooke 1960
18. It's In His Kiss - Ramona King 1963
SOUND BITE
19. The ABC's of Love - Frankie Lymon & The Teenagers 1956
20. Rollin' Stone - The Marigolds 1955
21. Bop Hop - Oscar Saldana 1954
22. That Man - Nappy Brown 1954
23. Funny (How Time Slips Away) - Joe Hinton 1964
SOUND BITE

===============================================
MATT THE CAT AND THE JUKE IN THE BACK SHOW
ON ROCK-IT RADIO SHOW #5764 SPOTLIGHT ON
DINAH WASHINGTON PARTS 5 OF 5.

Dinah Washington, Pt. 5 1954-59

Dinah was the real deal. As one of the best selling artists
of the 20th Century, Dinah was no pop sensation or flash in
the pan. She was a consummate artist, who developed a playful,
yet serious style of phrasing all her own. This week,
Matt The Cat continues to honor the great Dinah Washington
with the final installment of our 5 part series.

1. Swanee River Boogie - Albert Ammons â€" Mercury 1947Â
2. My Man's An Undertaker - Dinah Washington â€" Mercury 1954Â
3. Big Long Slidin' Thing Dinah Washington â€" Mercury 1954Â
4. I Don't Hurt Anymore - Dinah Washington â€" Mercury 1954Â
5. Dream - Dinah Washington â€" Mercury 1954Â
6. Teach Me Tonight - Dinah Washington â€" Mercury 1954Â
7. That's All I Want From You - Dinah Washington â€" Mercury 1955Â
8. If It's The Last Thing I Do - Dinah Washington â€" Mercury 1955Â
9. Dinah Tells A Joke - Dinah Washington â€" Mercury 1955 (Not Issued As Single, of course)Â
10. I Diddle - Dinah Washington â€" Mercury 1955Â
11. I Concentrate On You - Dinah Washington â€" Mercury 1955Â
12. I'm Lost Without You Tonight - Dinah Washington â€" Mercury 1955Â
13. You Might Have Told Me - Dinah Washington â€" Mercury 1955Â
14. *GREAT 78* Relax Max - Dinah Washington â€" Mercury 1956Â
15. Soft Winds - Dinah Washington â€" Mercury 1956Â
16. What A Diff'rence A Day Makes - Dinah Washington â€" Mercury 1959Â
17. There Is No Greater Love - Dinah Washington â€" Mercury 1954 (LP only)Â
18. After Hours - Erskine Hawkins â€" Bluebird 1946

===============================================
BILLY VERA'S ROCK AND ROLL PART ON ROCK-IT RADIO
SHOW #5765 - ROCKERS FROM 1960

All songs from 1959-60, right in the midst of my high school years,
so they hold a lot of memories for me. The Drifters were hugely popular
in New York, every one of their records got huge airplay. This was
the beginning of soul, so we have hits by James Brown, Dee Clark,
Ike & Tina and the Falcons. "Cry, Cry, Cry" was the first song I
ever heard by Bobby Bland. I recall the exact spot where I was when
I heard it. Blues by Eddie Vinson and Elmore James. If you've never
heard the Latons, you're in for a treat.

In hour two, we have New Orleans hits by Jessie Hill, Bobby Marchan
and Ernie K-Doe. Big stars Fats Domino, Lloyd Price and Ray Charles.
The Vibrations' popular dance tune "The Watusi" and rare doo-wop
by the Sh-Booms and Little Joey & the Flips. 1960 gave us jazz hits
by the Jazztet, the great Latin hipster ballad "To Be With You" by
the Joe Cuba Sextette, a killer duet by Dinah Washington & Brook Benton
and who can forget "The Madison Time" by Ray Bryant?


HOUR ONE

1. Fannie Mae - Buster Brown
2. Tonight's The Night - The Teenagers
3. So In Love - The Latons
4. Come On - Earl King
5. Java - Tousan (Allen Toussaint)
6. Valerie - Jackie & The Starlites
7. A Fool In Love - Ike & Tina Turner
8. Gonna Give Her All The Love I Got - Marv Johnson
9. Hold It - James Brown & The Famous Flames
10. Mio Amore (Till The End of Time) - The Flamingos
11. Let It Rock - Chuck Berry
12. Kidney Stew Blues - Eddie "Cleanhead" Vinson with Cannonball Adderley
13. Shoppin' for Clothes - The Coasters
14. Your Friends - Dee Clark
15. Cry, Cry, Cry - Bobby "Blue" Bland
16. Lonely Winds - The Drifters
17. You're So Fine - The Falcons
18. The Sun Is Shining - Elmore James

HOUR TWO

19. Country Boy - Fats Domino
20. The Watusi - The Vibrations
21. My Heart Cries - Etta & Harvey
22. Oo Poo Pah Doo - Jesse Hill
23. Bongo Stomp - Little Joey & The Flips
24. I Remember Clifford - The Jazztette
25. Baby (You Got What It Takes) - Dinah Washington & Brook Benton
26. I Guess I'll Never Stop Loving You - The Laurells
27. Tell The Truth - Ray Charles
28. There Is Something On Your Mind (Parts 1 & 2) - Bobby Marchan
29. Blue Moon - The Sh-Booms
30. Blue Skies - Harvey Fuqua
31. Lady Luck - Lloyd Price
32. To Be With You - Joe Cuba Sextet (Vocal by Jimmy Sabatar)
33. Mother In Law - Ernie K-Doe
34. Madison Time - Ray Bryant Combo

===============================================
PETE CHASTON'S DOO WOP SHOW ON ROCK-IT RADIO
SHOW #5766

The Pete Chaston Doo Wop Show is back this week with
another great segment of 50s and early 60s Doo
Wop Rock and Roll. Here is the playlist of this
week's show.

1. Doo-Wop All Night Long-The Blue Emotions (opening theme song) (1982)
2. I'm Spinning-The Dell-Vikings (1957)
3. Can't We Be Sweethearts-The Cleftones (1956)
4. There Goes My Love-The Fantastics (1959)
5. Midnight Ride of Paul Revere-The Monotones (xxxx)
6. Back to School Again-Timmie Rogers (late 1950s)
7. Ala-Men-Sy (acappella version)-The Quotations (1962)
8. Do I Love You-The Ronettes (xxxx)
9. Whispering Blues-The Debonaires (1957)
10. Rock & Roll Indian Dance-Little Butchie Saunders & his Buddies (1956)

SILLY SONG SEGMENT:

11. Toy Bell-The Bees (mid 1950s)
12. Bo Meets the Monster-Bo Diddley (1958)

SCRATCHY 45 RPMs SEGMENT:

13. Sea of Love-Phil Phillips & The Twilights (1959)
14. Wedding Song-The Fabulaires (1963)
15. Remember Then (live)-Harmony Street (xxxx)
16. It's Good to Me-The Ospreys (1958)

BACK TO THE CDs &/or More 45 RPMs:

17. The Slop-The Olympics (1960)
18. Dancin' Holiday-The Olympics (1963)
19. My Love is a Charm-The Shirelles (1958)
20. Saved-LaVern Baker (1961)

SLOW SONG SEGMENT:

21. In the Mission of St. Augustine-The Orioles (1953)
22. Love Will Make Your Mind Go Wild-The Penguins (1955)
23. Moonlight-The Vanguards (1958)
24. Oh What a Night-The Five Boroughs (2007)
25. short interview with Earl Lewis of The Channels
26. Our Songs of Love-The Love Notes (1963)
27. (closing theme song) Adios-The Five Discs (1961)

===============================================
JACKIE BOND AND LET THE GOOD TIMES ROLL OLDIES
SHOW ON ROCK-IT RADIO #5767

From the UK Jackie Bond is back this week with another
marvelous show of Rockers from the 50s and early 60s.
Come tune in at our program page and click to the speaker
to show #5767 and get to hear these songs on this playlist.

1. She's Hot - The Furys
2. I'm Satisfied With You - The Furys
3. I Want A Boy For My Birthday - The Cookies
4. I've Been Your Dog(Ever Since I've Been Your Man) Â -The Moonglows
5. Honey Gee - The Saigons
6. Copy Cat - The Cadillacs
7. Dance Girl Dance - Gerry Granahan
8. My One And Only Love - Rosie and The Originals
9. You Can't Beat The Horses - Ervin (Big Boy) Groves
10. Baby Doll - The Excels
11. Run Pretty Baby - The Goldentones
12. I'm In Love Again - Paul Evans
13. Happy Go Lucky Me - Paul Evans
14. Evening Bells - El Domingoes
15. Hey Big Boy - Little Rachel and The Lazy Jumpers
16. Be Kind - Ronnie and The Hi-Lites
17. None Of Your Tears - Ted Newman
18. Get It Off Your Mind - The Robins
19. Get It Off Your Mind - Brian Setzer
20. Get It Off Your Mind - Carl Mann
21. Chip Chip - Gene McDaniels
22. That Certain Female - Charlie Feathers
23. Good Night My Love - Jesse Belvin

===============================================
DAVE THE RAVE AND THE RELICS AND RARITES SHOW
ON ROCK-IT RADIO SHOW #5768 - 3 HOUR SHOW!

Do you love the rarities of 60s Rock and Roll?
Then this is the show to tune into! Dave features
forgotten or lost or strayed releases of 60s Rock
& Roll. From Psychadellic to Bubble Gum to just good
old Rock and Roll
Unfortunately playlists are not available for these
shows.

===============================================
NEW YORK OLDIES ON DJ SPINNING ROCK BOOGIE'S
MOVIN' & GROOVIN' SHOW - ROCK-IT RADIO SHOW #5769

"REGIONAL ROUND UP Pt 52 - NEW YORK STATE Pt 2"

Join me DJ Spinning Rock Boogie for another in my series
"Regional Round Up", the show that features a particular
State or States of America, with some of the record labels
from out of that State(s), the towns and cities where those
labels were based, and of course the artists who recorded
on them.
This show features Rock and Roll and Rockabilly plus the usual
feature of The Smooch Spot from the 50's and 60's, all from
the State of New York. I have featured New York State as a
whole and left out New York City as this is I feel is separate.
Although it is within New York State, with so many different
record labels, this has warranted a separate feature. Having
said that, I have included a set on the 'Moonglow' label out
of Woodside which is situated in the borough of Queens.
The reason being that 'Moonglow' is a subsidiary of the Belgium
based 'Rennox' label which features a whole host of artists who have
recorded for other labels from other States. So climb aboard
the Rocket and take a musical trip around the State of New York.

01. Intro - Medley
02. Sally - Jimmy Singleton & The Royal Satins (59) Devere - Albany
03. Brushfire (instrumental) - Dick Burdo & The Smiling Ranch Playboys (60) Wayne - Albany
04. Rock Pretty Baby - The Capris (58) Lifetime - Rochester
05. Everybody's Going To The Rollerland - Wild Bill Kennedy & The Twilites (62) Empire - Plattsburg
06. Going To The River - Jerry Jaye (59) Label - Buffalo
07. Take It Easy Greasy - Billy Lehman & The Rock-its (58) Prime - Hamburg
08. Whop-T-Bop - Sammy Masters & His Rockin' Rhythm (56) Moonglow - Woodside
09. Just Lookin' - Charlie Gracie (57) Moonglow - Woodside
10. Linda Lou - Curley Langley & His Western All Stars (56) Moonglow - Woodside
11. Love me To Pieces - Doug & Rusty Kershaw (57) Moonglow - Woodside
12. She's fallen For You - The New Breed (66) Benjo - Akron
13. You're The Greatest - The Belairs (63) Aegis - Utica
14. You're A Million Miles Away - Broken Arrow & The Tomahawks (61) Salamanca - Jamestown
15. And I Cried - Ralph Jerome (60) KP - Minola
16. Goodbye Little darlin' Gary Shelton (59) Mark - Utica
17. I'm Buggin' Out Little Baby - Donny Lee Moore (59) Shelly - Huntington Station
18. Rattlesnake - Bruce Porter & The Bellhops (61) Lee - Hornell
19. Linda Lee - Carl Moreli (59) Belmont - Rochester
20. Money Honey - Jance Morgan & The Melody Men (57) Marlee - Trumansburg
21. Rock And Roll Atom - Red McCoy & The Sons Of The Soil (59) Mount Vernon Music - Mount Vernon
22. Uh Huh Honey - Charlie Feathers (73) Pompadour - Buffalo
23. Shakin' And Stompin' - Big John & The Hot-Toddy's (59) Shan-Todd - Buffalo
24. Why Do You Cry - The Monterays (62) Rondack - Plattsburg
25. Cats And Dogs (instrumental) - Tommy Scott & The Men Of The Long Journey (60) Request - New Rochelle
26. Bright Lights - Ted Russell & His Rhythm Rockers (61) Terock - Buffalo
27. You Lied To Me - The Aggregation (66) Dynamic Sound - Hicksville
28. Rock Rock Rocket Ship - The Rockers (58) Mark - Utica
29. I Got A Girl - Ricky Shaw (58) Golden Crest - Huntington Station
30. Outro - Medley

===============================================
TREVOR HYLAND'S ROCK AND ROLL DANCE PARTY ON
ROCK-IT RADIO SHOW #5770

From his studios in Bendigo, Victoria Australia comes
one Rockin' Cat and some great boppin' vinyl spinning
on his turn table and now sent over the airways to you
or online via Rock-it Radio!
Mack Allen Smith introduces his new song Rock-A-Billy Addict .
Great early Rockabilly & Rock 'N ' Roll from New Zealand,
Rockin' It Out from Trev's studios in Bendigo Australia.

01. Rock-A-Billy Addict - Mack Allen Smith
02. Free Single And Disengaged - Mack Allen Smith
03. Daniel Blow Your Horn - Mack Allen Smith
04. Able Mable - Bobby Davis With The Dazzlers
05. Tallahassee Lassie - Bobby Davis With The Dazzlers
06. Bluebird - Clyde Scott And The Clansmen
07. Gravedigger's Rock - Clyde Scott With The Zanyopolis
08. Stuck On You - Eddie Howell & Ben Tawhitin & The Martanaries
09. Hippy Hippy Shake - Eddie Howell & Ben Tawhitin & The Martanaries
10. Carol - Glyn Tucker With Ian Lowe & The Tornados
11. I'm In Love - Glyn Tucker With Ian Lowe & The Tornados
12. You Haunt Me - Ivor fisher And The Satellites
13. Gone But Not Forgotten - Jack Riggir
14. Pretty Baby - Jack Riggir
15. Four City Rock
16. Money Honey - Peter Lewis And The Tri-Sonics
17. D.J.Blues - Red Hewitt The Buccanneers
18. Cool And Crazy - Ron Maxman & The Martians
19. R.O.C.K. - Bob Parish Combo
20. Ali Baba - The Satellites
21. Moo Cow Boogie Blues - Vince Callaher & Will Jess & His Jesters
22. How Would Ya Be - Johnny Devlin
23. Honey Don't - Johnny Devlin
24. Koala Bear - Johnny Devlin
25. Pointed Toe Shoes - Johnny Devlin

===============================================
PAPA WALT'S OLDIES SHOW ON ROCK-IT RADIO
SHOW #5771 - 2016 SUMMER SOIREE SPECIAL

Welcome to Papa Walt's 2016 Summer Soiree edition of
the Oldies Show which includes a variety of favorites from
Walt's vinyl vault. Fix yourself a cool drink that sports
a paper umbrella and enjoy the last few weeks of summer
by listening to some great oldies tunes.

PLAYLIST Papa Walt's Oldies Show (#29) 2016 Summer Soiree

1. California Sun - The Rivieras (1964)
2. Here Comes the Night - Them (1965)
3. Baby Come Back - The Equals (1966)
4. I Don't Want to Cry - Chuck Jackson (1961)
5. Summer in the City - The Lovin' Spoonful (1966)
6. Some Velvet Morning - Lee Hazelwood & Nancy Sinatra (1967)
7. Killer Joe - The Rocky Fellers (1963)
8. Ariel - Dean Friedman (1977)
9. Sad Eyes - Robert John (1979)
10. Jet Airliner - The Steve Miller Band (1977)
11. Your Bright Baby Blues - Jackson Browne (1976)
12. Since You Been Gone - Rainbow (1979)
13. Beth - KISS (1976)
14. Beach Baby - First Class (1974)
15. Rolene - Moon Martin (1979)
16. I Love You - The Volumes (1962)
17. Downtown Train - Rod Stewart (1989)
18. Them Terrible Boots - The Orlons (1963)
19. The Breakup Song - The Greg Kihn Band (1981)
20. Dreamy Eyes - Johnny Tillotson (1958)
21. The Sound of Silence - Disturbed (2015)

===============================================
AL COOL DADDY SMITH WITH PT. 2 THE SOUNDS OF BROWN ON
ROCK-IT RADIO SHOW #5772

This show completes (for now) my look at recordings of a
variety of artists whose last name is Brown. On this show
I attempt to show how not only do these artists share the
same last name they also share the fact that each one of
them has made significant contributions to the music we love.

The Play List is as follows:

1. Good Day For The Blues-Ruth Brown 1998
2. That's A Pretty Good Love-Charles Brown 1990
3. Tell Me Who-Charles Brown/Ruth Brown 1990
4. Butcher Pete Pt. One-Roy Brown 1949
5. Butcher Pete Pt. Two-Roy Brown 1949
6. I'm In The Mood-Nappy Brown 1958
7. Lawyers In Love-Jackson Browne 1983
8. Night Train-James Brown 1963
9. Wild Wild Young Men-Ruth Brown 1953
10. This Little Girls Gone Rockin' -Ruth Brown 1958
11. Goody Goody Gumdrop-Nappy Brown 1957
12. Bye Bye Baby-Nappy Brown 1957
13. Mighty Mighty Man-Roy Brown 1948
14. Let The Four Winds Blow-Roy Brown 1957
15. Hot Lips and Seven Kisses-Charles Brown 1955
16. Trouble Blues-Charles Brown 1949
17. Bobby Sox Baby-Charles Brown 1946
18. Tender Is The Night-Jackson Browne 1983
19. For A Rocker-Jackson Browne 1983
20. Please Please Please-James Brown 1956

===============================================
MIKE TAYLOR'S ROCKABILLY HOUR WITH ROCKABILLY
DUOS AND GROUPS ON ROCK-IT RADIO SHOW #5773

ROCKIN' DUOS AND GROUPS - Two dozen high-powered tunes
from a variety of long forgotten rockabilly groups, each
consisting of at least two or more artists...

1. Real Gone Daddy - Jim Flaherty's Caravan 1956
2. That Old Bomb Of Mine - Jim Flaherty's Caravan 1956
3. Can't You Hear Me Calling Babe - The Johnny Otis Show 1957
4. Black Slacks - Joe Bennett & The Sparkletones 1956
5. I'm Ready - The Cochran Brothers (Unissued)
6. Love Me - Wayne Walker & Jimmie Lee 1955
7. Everybody's Trying To Be My Baby - The York Brothers 1957
8. Walking Talking Baby Doll - The Three Ramblers 1958
9. If You Call That Love - The Three Ramblers (Unissued)
10. Sweet Love On My Mind - The Rock & Roll Trio 1957
11. Willie Joe - The Mystery Trio 1959
12. Moon Beat - The Fabulous Imperials 1958
13. Hey Sally Mae - The Fabulous Silver Tones 1960
14. Talk To Me Baby - The Fabulous Table-Toppers 1959
15. Sledge Hammer - The Thrashers 1959
16. Double Mirror Wraparound Shades - Andy & The Manhattans 1960
17. The Fickle Chicken - The Atmospheres 1959
18. Marlene - The Sonics 1959
19. Jitterbuggin' - The Five Bops (Unissued)
20. Keep A'Knockin' - The Bobby Fuller Four (Live)
21. Caught Caught Ring-A-Leevis - The Three Jays (Unissued)
22. I'll Tell My Mama On You - The Kingbeats 1964
23. Stop And Get Off - The Kinsmen 1958
24. Sweet Rockin' Mama - The Hi-Tombs 1960

===============================================
TOP 50 DOO WOP COUNTDOWN SPECIAL ON COOL BOBBY B'S
DOO WOP STOP ON ROCK-IT RADIO SHOW #5774

It's the top Doo Wop Requests from 2015 Count down
on Cool Bobby B's Doo Wop Stop show. Counting down
from #50 to #1 here is the playlist of this Cool
Bobby B Special.

HOUR #1

-- Rockin' with the Clock - Shirley and Lee
#50 - Why do fools fall in love - Frankie Lymon & Teenagers
#49 - Try the impossible - Lee Andrews & Hearts
#48 - One Summer Night - Philly Cuzz
#47 - Over the Rainbow - The Demensions
#46 - While Walking - The Fabulaires
#45 - Church bells may ring - The Willows
#44 - The Diary - Kid Kyle
#43 - A 1000 miles away - The Heartbeats
#42 - Unchained Melody - Vito & Salutations
#41 - Tonight I fell in love - The Tokens
#40 - This is my love - The Passions
#39 - Coney Island Baby - The Excellents
#38 - Gloria - The Cadillacs
#38 (TIE) - Gloria - Vito & Salutations
Extra - I'll be forever loving you - Jordan & Fascinations
#37 - Maybe you'll be there - Billy & the Essentials
#36 - Could this be magic - The Dubs
#35 - Hushabye - The Mystics

Hour #2

#34 - To be loved - The Pentagons
#33 - Every day of the week - The Students
#32 - Glory of Love - 5 Keys
#32 - (tie) Glory of Love - The Velvetones
#31 - 16 Candles - The Crests
#30 - He's Gone - The Chantels
#29 - Since I don't have you - The Skyliners
#28 - I'm so happy - Lewis Lymon & Teenchords
#27 - Shadows - 5 Satins
#26 - Just to be with you - The Passions
#25 - Tead Drops - Lee Andrews & Hearts
#24 - Rainy Day Bells - The Globetrotters
#23 - Life is but a dream - The Harptones
#23 (Tie) - Life is but a dream - The Earls
#22 - Walking along - The Solitaires
#21 - Maybe - The Chantels
#20 - Honey Honey - Lewis Lymon & Teenchords
#19 - Looking for an echo - Kenny Vance & Planotones
#18 - You belong to me - The Duprees

HOUR #3

-- 11th hour melody - The Rivieras
#17 - That's the way it goes - The Harptones
#16 - I'm so young - The Students
#15 - Don't ask me to be lonely - The Dubs
#14 - The Closer you are - The Channels
#13 - I only have eyes for you - The Flamingos
#12 - My True Story - Jive Five
#11 - There's a moon out tonight - The Capris
#10 - Never let you go - 5 Discs
#9 - The Lion Sleeps tonight - The Tokens
#8 - Remember Then - The Earls
#7 - Tell me why - Norman Fox & Rob roys
#6 - Crying in the Chapel - The Orioles
#5 - Devil or Angel - The Clovers
#4 - Sunday kind of love - The Harptones
#3 - Morse code of love - The Capris
#2 - Earth Angel - The Penguins
#1 - In the still of the night - 5 Satins
Show Close - Goodnight Baby - The Imaginations

===============================================
GLEN GORDON MUSICAL WEB SHOW ON ROCK-IT RADIO
SHOW #5775 - TELEPHONE SONGS OF YESTERYEAR!

Back long before there was the internet, the very next
best thing to being with the person you loved was
talking on the telephone. On this first of two telephone
shows, Glen Gordon features songs about phone numbers,
operators, party lines and more.

01. Telephone Baby - Werly Fairburn
02. Bigelow 6-200 - Brenda Lee
03. Lonesome 7-7203 - Hawkshaw Hawkins
04. Beechwood 4-5789 - Marvelettes
05. Dial L.o.v.e. For Me - Hank Thompson
06. 634-5789 - Wilson Pickett
07. Gotta Call That Number - Jesse Allen;Audrey Walker
08. Hey, Operator - Charades
09. Operator - Brenda Holloway
10. This Is Elbert Operator - Pete Marlo
11. Party Line - Kinks
12. Party Line - Johnny Fallin
13. Teenage Party Line - Curtis Wilson
14. Party Line - Lovers
15. The Telephone - Stan Boreson& Doug Stetterberg
16. Party Line - Mac Curtis
17. Party Line - Wilder Brothers
18. If A Woman Answers (Hang Up The Phone) - Leroy Van Dyke
19. If A Man Answers - Bobby Darin
20. Teenagers Talking On The Telephone - Lew Williams
21. Ring A Ling - Johnny Otis Show
22. Tell Him I'm Not Home - Lee Sellers
23. Tell Him I'm Not Home - Normie Rowe
24. 45 Men In A Telephone Booth - Four Top Hattters
25. Don't Hang Up - Orlons
26. Phone Call - Billy Fury
27. I Can't Hang Up The Phone - Stonewall Jackson

===============================================
ROCKIN' DADDY O'S ATOMIC DOO WOP DANCE PARTY
ON ROCK-IT RADIO SHOW #5776

Rockin' Daddy O is back this week wearing his
Doo Wop Hat and spinning some fantastic uptempo
Doo Wop and R&B from the 50s and early 60s.
Click to show #5776 in our program webpage of
Rock-it Radio. Here is the playlist of what you
will be listening too!

1. Lights, Please=Blend-Tones
2. Lama Rama Ding Dong-Edsels
3. Alone In This World-Trojans
4. Stormy Weather-Four Casts
5. Please Be My Girl Friend-Dahills
6. Jam Up-Tommy Ridgley
7. Sit Down-Delta Rhythm Boys
8. Jim Dandy Got Married=Lavern Baker
9. Pretty Pretty Girl-Timetones
10. My Lonely Friend-Continentals
11. Never Let Go=Vicky Tafoya & The Big Beat
12. Magic-Tru-Tones
13. Your Cash Ain't Nothin' But Trash-Clovers
14. One Night Only-Otis Williams & His charms
15. Baby Come On-Sammy & The Del-Larks
16. Love Call-Ebonaires
17. Let It Please Be You-Desires
18. In Exchange For Your Love-Little Jullian Herrera
19. It's Going To Be Alright-Decoys
20. I Love You-Volumes

===============================================
JAMES RILEY ROCKABILLY AND BLUES RADIO SHOW ON
ROCK-IT RADIO SHOW #5777

This week James is back with two hours of great
shows featuring Rockabilly and or Blues Music from
yesterday and today. His show is in 2 parts in our
Program page which is always on demand to listen around
your schedule! Here is the playlists of this weeks
show on Rock-it Radio.

Rockabilly N Blues Radio Hour #1:

New Dwight Yoakam and Kent Rose plus another segment of
Dale Yeah with Dale Watson, Rocky Burnette talking about
"Train Kept A Rollin'" and Dion talking about The Beatles
and Elvis' love of "Ruby Baby". We also hear from
Johnny Burnette, Dave Edmunds, Ricky Nelson, Jake Calypso,
Janis Martin, Dorsey Burnette and more!

1. High On A Mountain Of Love- Dwight Yoakam
2. Stranger Things- High Noon
3. Train Kept A Rollin'- Johnny Burnette & The Rock N Roll Trio
4. Jungle Jaguar Pants- Kent Rose
5. Get Out Of Denver- Dave Edmunds
6. Mr. Highway Man (Cadillac Daddy)- Howlin' Wolf
7. Jitters- Pat Capocci
8. Papa's On The Roof Top- Dave & Phil Alvin
9. Don't Let Go- Dorsey Burnette
10. Long White Cadillac- Janis Martin
11. Real Rockin' Baby- Marc & The Wild Ones
12. Ruby Baby- Dion
13. Turn Me Loose- Jake Calypso & His Red Hot
14. Beat Crazy Baby- Jinx Jones
15. Big Boss Man- Dale Watson
16. Jealousy- Leah & Her J-Walkers
17. If You Can't Rock Me- Ricky Nelson
18. Sweet Talkin' & Lies- The Highjivers

Rockabilly N Blues Radio Hour #2:

It's our 2nd annual Cover Charge Included show...all cover
tunes. We hear Paul McCartney covering Gene Vincent,
The Baseballs covering Snow Patrol, The Beach Boys covering
Eddie Cochran, Johnny Cash covering Roy Orbison, Jerry Lee Lewis
covering Elvis, Chris Isaak covering Cheap Trick and so much more!

1. Chasing Cars- The Baseballs
2. I Got A Woman- Carl Perkins
3. Summertime Blues- The Beach Boys
4. Maybellene- Marty Robbins
5. She's A Woman- The Bellfuries
6. Jailhouse Rock- Jerry Lee Lewis
7. Steady As She Goes- Sonny Burgess & The Legendary Pacers
8. I'm A Hog For You- The Modern Sounds
9. Haunted House- John Fogerty
10. Race With The Devil- Marcel Bontempi
11. Down The Line- Johnny Cash (with Tom Petty & The Heartbreakers)
12. I Walk The Line- Dale Watson
13. All I Can Do Is Cry- Blue Cats
14. Lovin' Up A Storm- Linda Gail Lewis
15. I Want You To Want Me- Chris Isaak
16. Why Lady Why- JD McPherson
17. It's So Easy- The Trashmen
18. Blue Jean Bop- Paul McCartney

===============================================
All the Rock-it Radio shows are available on CD

Each show is only $9.50 each and you can order
in bulk and shipping will never be more then $2.00.
Ask for a secure paypal invoice -- information is at:
http://www.rockitradio.net/order.html


==============================================
COME JOIN US ON FACEBOOK !!! WE WOULD LOVE A
LIKE FROM YOU!

http://www.facebook.com/rockitface
The Rock-it Radio Facebook Site.

==============================================
HISTORY OF ROCK-IT RADIO

If you are new to Rock-it Radio and would like to learn more --
We have our History Page up as well -- telling the story of Rock-it
Radio. You can find it at:
http://www.rockitradio.net/history.html


AUGUST END OF THE MONTH DRAWING OF WINNERS
ANNOUNCED FOR LAUNCHING PAD SUPPORTERS




At the end of every month on Rock-it Radio we have a

random drawing for those that have supported Rock-it
Radio by purchasing either Rock-it Radio shows through the
either the Rock-it Radio Launching pad at:

Or by going and ordering Rock-it Radio shows at:




The August 2016 Winners this month are:


Angela Leogrande - Selden, New York USA
Chuck Mitchell - Dayton, Ohio USA
Maral Siegel - Jamaica, New York USA



SUPER MEGA WINNER - WINNER OF 10 SHOW

OF THEIR CHOICE !!!!!!!!

Carole Debuque - LeHavre, France
Each of you have won your choice of 3 vintage
Rock Radio programs (The Super Mega winner won 10!)
from our online store at:


or you can order Rock-it Radio Shows if you prefer on CD


You have until September 30, 2016

to let us write back and let

us know of your choices.




Congratulations and let me know what you would like to
have along with a mailing address and we will got those
items out to you. Just our way of saying Thank you for helping
support Rock-it Radio. And of course we will have October drawings
as well at the first week of next month.

NOTE: You should keep on checking this notice board

or join the Launching Pad Facebook site at:

And of course we will be having another drawing at the
end of this month.
VINTAGE VIDEO PICK OF THE WEEK

For the week of 17 September, 2016
This week in our archives page at:

http://www.rockitradio.net/video.html

This week:
The Flamingos from 1959 on the Beechnut Show
doing their doo wop standard of "I only have eyes for you"

NEW RELEASES IN THE ROCK-IT RADIO EBAY STORE.

We actually have a couple of new releases this month
of vintage radio broadcasts from a couple of Broadcast
legends.

RIR #645 - Chuck Dunaway at KILT in Houston, Texas
from July of 1966 Top 40 Radio to see the playlist of this show
check it out at: http://www.ebay.com/itm/142053696978

RIR #646 - Larry Lujack at WLS in Chicago Illinois
from August 8, 1970. Top 4o Radio show at the time
and that can be seen at: http://www.ebay.com/itm/-/142053775007

All updates and latest news on our vintage radio
broadcasts can be found in our Launching Pad Facebook
page at http://www.facebook.com/rockitpad

FREE CD GIVEAWAY FOR ENTIRE MONTH OF SEPTEMBER!
FLASHBACK TO KLIF RADIO - DALLAS TEXAS FROM 1956!.

Rock-it Radio continues to giveaway CD's for September
for orders received this entire month.

We don't know too much about George Singer and their is
not much information out there on him. But for sometime
we have had and offering a show of his over KLIF Radio
in Dallas in 1956. With great 50s Rock & Pop Music and
vintage ads.


We are offering this FREE CD with every order you make
either thru our Ebay Store at
http://stores.ebay.com/Rock-it-Radio-Store

or our Rock-it Radio Launching Pad at http://www.rockitradio.net/store.html

You can see the playlist of this show by checking out
our Ebay store listing at: http://www.ebay.com/itm/140355122311
(But don't pay for it - you will get it free with any other order!)


Catalog orders will also receive this FREE CD.


**Rock-it Radio is 100% Listener supported we have no
sponsors and the sale of our vintage radio broadcasts helps
us to stay online and pay the copyright and broadcasting
fees it takes to remain online. thank you for all your
consideration.**
And the entire month of September if you buy any
Rock-it Radio products or vintage shows we offer we
will be throwing this one in your package for FREE!

================================================
NEW RELEASE -- FLASHDRIVE OF ROCK-IT RADIO
SHOWS #5701 TO #5750. OUR 7TH FLASHDRIVE

Flashdrive #7 featuring Rock-it Radio shows #5651 - #5700
50 Rock-it Radio Shows on mp3 thumb drive (75! hours of
oldies Rock!) now released and available at:
http://www.ebay.com/itm/-/142105930427
or in our Flashdrive page at:
http://www.rockitradio.net/flashdrive.html

================================================
18th ANNUAL EAST COAST VS. WEST COAST OLDIES
BATTLE VOTING RESULTS

The votes are in and the full results of the 18th Annual
East/West Showdown are below. This year the East was
victorious, winning 7 of the 12 rounds. When the votes
were being tabulated, it initially seemed as if the West
would walk away with the victory, as it won the first four rounds.
Round 1 was the closest match-up of the contest, as The
Teen Queens nosed out The Bobbettes 52% to 48%.
West won the next three rounds as well. However, the tide
turned in Round 5 as the most lopsided pairing in the 18
year history of the East/West Showdown had Curtis Lee
defeating The Ikettes 93% to 7%. The West could not recover,
as the East went on to capture all but one of the remaining rounds.
By virtue of this year's victory, the East has now pulled
even in the overall competition. Through the years,
West has 8 wins, East has 8 wins and there have been
two draws. We'll have to wait until next summer to try
and break the tie!
Thanks to everyone who submitted a ballot. Five voters will
be chosen at random for prizes from the Rock-it Radio Launching Pad.
If you are one of the lucky winners, you will be notified soon.

Here are the round-by-round results:

RESULTS OF 18th ANNUAL EAST/WEST SHOWDOWN

ROUND 1: EARLY GIRL GROUPS
52% - WEST: Eddie My Love - The Teen Queens 1956
48% - EAST: Mr. Lee - The Bobbettes 1957

ROUND TWO: JUNE 18, 1958
56% - WEST: Come On Let's Go - Ritchie Valens 1958
44% - EAST: Stupid Cupid - Connie Francis 1958

ROUND THREE: TRAILBLAZERS
67% - WEST: Route 66 - Nat "King" Cole 1945
33% - EAST: Let The Good Times Roll - Louis Jordan 1947

ROUND FOUR: REMADE BY RAY CHARLES
70% - WEST: Crying Time - Buck Owens 1964
30% - EAST: Night Time Is The Right Time - Nappy Brown 1957

ROUND FIVE: COMPOSED BY TOMMY BOYCE
93% - EAST: Pretty Little Angel Eyes - Curtis Lee 1961
7% - WEST: Peaches & Cream - The Ikettes 1965

ROUND SIX: SNUBBED BY THE ROCK & ROLL HALL OF FAME
63% - EAST: The Diary - Neil Sedaka 1958
37% - WEST: Miserlou - Dick Dale 1962

ROUND SEVEN: THOSE BACK-UP SINGERS SOUND FAMILIAR
73% - EAST: Itchy Twitchy Feeling - Bobby Hendricks 1958
27% - WEST: My Name Ain't Annie - Linda Hayes 1954

ROUND EIGHT: HEY! I WROTE THAT SONG
65% - WEST: It's Late - Dorsey Burnette 1957
35% - EAST: Wedding Bell Blues - Laura Nyro 1967

ROUND NINE: FROM THE SCHOOLYARD TO THE RECORDING STUDIO
58% - EAST: Little Girl of Mine - The Cleftones 1956
42% - WEST: Wonderful One - The Shondells 1962

ROUND TEN: SPLIT PERSONALITIES
78% - EAST: He's So Fine - The Chiffons 1963 / My Block The 4 Pennies 1963
22% - WEST: Love Bandit - The Cadets 1957 / Why Don't You Write Me The Jacks 1955

ROUND ELEVEN: SO NICE, LET'S DO IT TWICE
70% - EAST: Every Beat Of My Heart - Gladys Knight & The Pips 1961
30% - WEST: KoKoMo - Gene & Eunice 1955

ROUND TWELVE: SMOOTH AS SILK
63% - EAST: It's Just a Matter of Time - Brook Benton 1959
37%- WEST: Guess Who - Jesse Belvin 1959



================================================
RECRUITING FOR RADIO PERSONALITIES FOR
ROCK-IT RADIO

Do you know your 50s and 60s Rock & Roll, Doo wop
or Rockabilly? And the ability to produce a show
on CD?
We do require a playlist for this newsletter but
your show will stay online for the world for approx.
3 weeks. Unlike some stations where you broadcast one
time and it's gone forever.
If interested check out our Rock-it Radio Team page
at: http://www.rockitradio.net/team.html

We are also looking for writers and translators!
==================================================
WINNERS NOTIFIED OF DRAWING OF VOTERS IN
18TH ANNUAL EAST VS. WEST BATTLE.

Last week we sent out notifications of the winners
of the e mails drawn in the 18th annual east vs. west
oldies battle. So far only the 1st and 3rd place winners
have gotten back to me ...

Congratulations to:

David Blakey of Hull, United Kingdom who was
our First Place drawn winners.

And our 3rd place winner Denis King of Redondo Beach, California.

If you received an e mail from rockitradio@netzero.net
last week that was probably to let you know you won one of
our drawings and might want to check it out. The 2nd, 4th and
5th place winners have yet to contact us.
====================================================
PLEASE SUPPORT ROCK-IT RADIO WHEN YOU CAN.

Rock-it Radio wants to remain commercial free and
supported by it's listeners. If you enjoy our shows
and for those that go out and record out shows, we
kindly ask that you support Rock-it Radio when you
can. Rock-it Radio relies 100% on you the listeners.
But we don't want something without thanking you
for your donations - that is why we have the Rock-it
Radio Launching Pad - http://www.rockitradio.net/store.html

There you can give your donation and yet we in turn
will give you a vintage radio broadcast of your choice
from the 50s to the 70s. Including many famous DJ
shows like Wolfman Jack, Alan Freed, Casey Kasem etc.

Other places you can help Rock-it Radio is in the following
locations --

Rock-it Radio shows on Compact Disc - information at:
http://www.rockitradio.net/order.html

Rock-it Radio T Shirts -
http://www.rockitradio.net/tshirt.html

Rock-it Radio Flashdrive site - Get 50 Rock-it Radio
Shows in MP3 to play on your computer - just plug into
your usb port and chose the show you want to listen.
Over 70 hours of oldies shows of Rock-it Radio on each
thumb drive.
http://www.rockitradio.net/flashdrive.html
====================================================
UNETHICAL PRACTICES AWARD - HAMILTON RADIO

Congratulations to Hamilton Radio - at Hamiltonradio.net
from Hamilton, New Jersey USA for winning our award of
Unethical Radio Practices.
Last week - They Cut and pasted our page counter and put
it on their website. Our own Debbie Snowdove caught it
and informed myself that our numbers had been off and we
were recording hits from their website. We checked their
website and sure enough - our counter was posted on
hamiltonradio.net .
Rock-it Radio is flattered that they chose us
and our numbers to use on their website. But at the same
time - It has completely thrown off our statistics.
We immediately asked them to cease and desist using our
counter and notified the sites owner Gino DiPerro. It was
removed within 24 hours.
He apologized and stated his site was obviously hacked.
Pretty convenient and hackers don't usually do that but
we are just happy it stopped.

=====================================================
JAMMIN JAMES RILEY TO HOST NEW SHOW STARTING NEXT
WEEK!

Rock-it Radio DJ James Riley - Host of the Rockabilly &
Blues Radio Hour will be doing a 2nd show on Rock-it
Radio starting next week.

The Show "Catching A Wave" will air it's premiere broadcast
early next week and keep an eye out for it. It will
feature some of the best surf music of yesterday and
today.
LAUNCHING PAD - ROCK-IT STORE FACEBOOK SITE

Has a new url for it's facebook page -- keep notified and in the
know of our latest releases. The new webpage is:
http://www.facebook.com/rockitpad

REMINDER ON HOW TO CONTACT THE DJ'S AT ROCK-IT RADIO

We all love our our e mails from listeners here at Rock-it
Radio. Along with requests and dedications. Earlier this year
due to the excessive spam we all were getting I stopped listing
the e mails at each shows playlist. But you can still
contact them. Just go to the Rock-it Radio DJ page and each
DJ has there e mail link underneath each bio.
You can find it at: http://www.rockitradio.net/dj.html


COLLECTING AIRCHECKS - A HOBBY OF RADIO NOSTALGIA
What is a Aircheck? It is simply a recording of a radio broadcast. Usually collected by Radio fans.
Come check out our webpage on collecting Airchecks.

http://www.rockitradio.net/aircheck.html


COME REMEMBER WOLFMAN JACK !!!
Rock-it Radio has a very special way to remember Wolfman Jack.
Arguably the most iconic of American DJ's. Come check out the
Rock-it Radio Wolfman Page at:
REMEMBERING OFFSHORE PIRATE RADIO IN THE UK
In the mid 1960s it was difficult for the youth to actually listen to Rock and Roll in the UK.
The BBC actually ran only a few hours a weekend to provide the young Brits with this outlet.
At night during the week they ventured to even tune into Radio Luxembourg to get there fill,
that broadcast rock and pop around the clock.
To fill this void some venture capitalists decided to bring in commercial radio aboard refitted
radio ships. And anchor themselves just off into International waters off the English coast.
Radio Caroline (named after Caroline Kennedy the U.S. President's daughter at the time)
and Radio London being the most famous. Rock-it Radio has a website dedicated to their ventures
and also have actual radio broadcasts available of
these offshore pirates.
We invite you to check them out our webpage at:
http://www.rockitradio.net/pirate.html
FINDING ROCK-IT RADIO ON THE 'TUNE IN RADIO' CELL PHONE APP.

We have had a few requests from listeners that they couldn't find us on the popular 'Tune in Radio' App. on Android and PC and iphones. Running a search of 'Rock-it Radio' will actually list 100s of Rock stations.
So, the best way to find us on this very thorough and extensive app. that
I love using myself is -
run a search on 'rockabilly' - there you will easily find
Rock-it Radio listed.
Our Tune in Radio App. webpage is also at:
http://tunein.com/station/?stationId=41878
MISSED A COUPLE OF NEWSLETTERS LAST COUPLE OF WEEKS??

THEN YOU CAN ALWAYS CHECK OUR BLOG WHERE IT IS ARCHIVED.
YOU CAN CHECK OUT OUR BLOG AT:

http://rock-itradio.blogspot.com/
=============================================


ROCK-IT RADIO DJ PAGE...


Remember you can check out all the Rock-it Radio DJ's

and read the bios of these DJ's that make these

Rock-it Radio Shows possible at:


And don't forget for even more pictures --

there is our picture page at:
============================================
IF YOU HAVE TWITTER COME FOLLOW US THERE

If you are one that tweets then please check out and join and get our
updates on your twitter account. Our Twitter link is right below.

http://www.twitter.com/RockitRadio1
It is our new Twitter account and we will once again start
scrolling our messages and updates on our webpages as well.


============================================
ROCK-IT RADIO OTHER TWITTER ACCOUNT FOR
NEWS RELEASES FOR N. IDAHO, KODIAK ALASKA AND
THE WORLD!
Rock-it Radio has another Twitter account and is used for News
Alerts that come into the studio here at Studio A. For those Twitter
users that would like to follow the link is:
http://www.twitter.com/RockitRadioNews

The feed can also be seen in our World News broadcast Webpage
at: http://www.rockitradio.net/news.html


=================================================
WELCOME NEW MEMBERS TO THE LISTENER'S CLUB!!!!

A big welcome to the below new Rock-it Radio listeners that
joined our Listeners Club from September 2, 2016 to
September 17, 2016
We hope that you enjoy the music Rock-it Radio provides
and our playlists and information that our weekly newsletter
provides. Any comments, criticisms, kudos, compliments or
future ideas is always welcome and you can e mail me personally at:
rockitradio@netzero.net

Michael Mulligan - Long Beach, Mississippi USA
Ed Lino - Homewood, Illinois USA
Len Friend - Surrey, United Kingdom
Norbert Triff - Budapest, Hungary
Anthony Taylor - Keyser, West Virginia USA
Ralph Newman - Ardsley, New York USA
Lorne Vetter - Saskatoon, Saskatchewan Canada
Dom DiMaio - Fredricksburg, Virginia USA
Wilfried - Koln, Germany
We have gained 58 new likes in our listeners club
in our Facebook page Rock-it Radio Fan Page as well this week at:
http://facebook.com/rockitface and 33 more following us
on Twitter @Rockitradio1 .

We have added a total of 137 new members to the Rock-it Radio
Listeners Club since our last newsletter. We now have 87,829 exactly
that have joined the Rock-it Radio Listeners club.
We hope that you enjoy the rare 50's and early 60's
Rock and Roll, Rockabilly and Doo Wop (which most commercial
oldies radio stations have forgotten) that we are able to play
for you from Rock-it Radio. Remember, we are here for you!

So if you ever have any requests, dedications, comments and
suggestions we always love to hear from our listeners.
Our e mail address is:
rockitradio@netzero.net

====================================================
To learn more about the Rock-it Radio Listeners Club and our Free
Newsletter please check out:
http://www.rockitradio.net/member.html

It's free and easy to join and the Rock-it Radio Newsletter is always
online at: http://www.rockitradio.net/newsletter.html



====================================================

PLEASE HELP US SPREAD THE GOOD WORD OF ROCK-IT RADIO!

Do you know of someone that might also like the music

of Rock-it Radio? We are desperately trying to keep this

music alive and have been doing so since 1995! Please

share the information of this station. And if you have

a website would you please consider putting a Rock-it Radio

link on your page.

There are a few to choose from in our link page at:

http://www.rockitradio.net/links.html
HOW TO ORDER OLD ROCK-IT RADIO SHOWS = YOUR PURCHASES HELP US STAY ONLINE!!!
We have received many inquiries on how to order Rock-it Radio shows that are no longer in
our on archives webpage. These shows are still available on CD and mailed to you within 24
hours of receiving payment.
To help search for older shows that you may be looking for you may want to check the Rock-it
Radio blog site. Old newsletters describing the shows and playlists
are archived there and there is a menu bar on the right side that breaks down every playlist
Then you may either pay by check or money order or paypal. Rock-it Radio shows are only
$9.50 U.S. each and are studio quality broadcasts that were placed on Compact Disc here at
the Rock-it Radio Studio. We have a flat rate shipping charge of $1.50 U.S. so if you order
one or several -- it is still only $1.50
U.S. shipping. And we ship worldwide, overseas orders are mailed out first class airmail.
Instructions where to send payment is at our webpage:
like we can send you a paypal invoice within 24 hours.

When you order a Rock-it Radio show or shop at our Rock-it Radio Launching Pad you
help keep these oldies alive and help us pay the bills here at Rock-it Radio.
And at the same time -- you are not getting nothing for your donation, but actually
some of the shows and memories we hope we keep alive here at Rock-it Radio.



TOP 25 SELLERS OF THE ROCK-IT RADIO LAUNCHING PAD THIS WEEK

As you know the Rock-it Radio Store sells vintage Radio Broadcasts - Where you
hear the actual music, news and vintage advertisements - uncut and unedited
just like you would of heard
it back then. Here are the top sellers this week.


1. Flashdrive Rock-it Radio Shows 5501 - 55502. Flashdrive Rock-it Radio shows 5401 - 54503. Flashdrive Rock-it Radio Shows 5451 - 55004. RIR #436 - Pat Sajack Armed Forces Vietnam network 3/18/19695. 50 year Class Reunion 1966 5 CD Set Lane Quigley Memory Lane Show6. Flashdrive - Rock-it Radio Shows 5601-56507. Flashdrive Rock-it Radio shows 5551 - 5600 8. RIR #644 - Dan Ingram WABC New York 6/12/19649. RIR #642 - Elliot Field - KFWB Los Angeles 1/9/195910. RIR #393 - John Lennon as DJ on WNEW New York from 197411. RIR #181 - Wolfman Jack - XERB Tijuana 12/8/196712. RIR #539 - Cousin Brucie WABC New York 9/7/196513. RIR #342 - John Peel BBC 1 12/31/1967 #114. RIR #270 - BBC Buddy Holly Tribute from 1965.15. RIR #646 - Larry Lujack WLS Chicago 8/8/197016. RIR #168 - Dan Ingram - WABC New York 7/22/1967 2 cd set17. Flashdrive Rock-it Radio Shows #5651 - 570018. RIR #359 - Gus Gossert Oldies show - WPIX FM New York 197119. RIR #517 - Cousin Brucie - WABC New York 11/29/196720. RIR #343 - John Peel BBC Radio 1 12/31/1967 #221. RIR #149 - Alan Freed - WINS New York 1/23/195722. RIR #176 - Porky Chedwick - WAMO Pittsburgh 6/14/196023. RIR #114 - Alan Freed - WABC New York 11/5/195924. RIR #410 - Dr. Don Rose - KFRC San Francisco 4/4/197425. RIR #439 - 2 CKLW Shows from 1965 - Windsor Ontario Canada




If you would like to view these shows in depth you can check out

our Rock-it Radio Ebay Store at:

or in the Rock-it Radio Launching Pad store at:

http://www.rockitradio.net/store.html(listed by date)

and in the upper left hand corner -

there is a search box where you can type in the DJ name or

Station Call letters and that information on that show will pop up.

Ordering from the Ebay store will also qualify you for the Rock-it Radio

giveaway mentioned previously in this newsletter. Sale of

these broadcasts is what keeps Rock-it Radio going and thank

you again to everyone that buys these!

============================================
Rockabilly bands looking for airplay
If you or know someone that would like airplay on Rock-it Radio we invite
you to submit your press kits to Rock-it Radio. Our website for further
information is:
http://www.rockitradio.net/airplay.html
============================================
Come tune into the World on your computer!
1000s of stations around the world now broadcast online. We have a
link to some of the internet top directories to help you find these stations.
http://www.rockitradio.net/internetradio.html
============================================
Rock-it Radio Program Webpage Reminder
Remember, if the show that you want to hear is getting close to the bottom
of the list of radio shows, you should tune in as soon as you can. These shows
to have a high audio quality require a lot of internet bandwidth and memory.
And currently we can only afford the
30
latest shows online here at Rock-it Radio.
So, when a new show is put online it knocks the oldest one off the Rock-it Radio
archives page. Usually a show will at least last 16 to 20 days, once it is placed in
the archives.
============================================
OUR SISTER STATION FIRST NATIONS BROADCASTING.
We invite you to also check out our sister station -- First Nations
Broadcasting. And tune into the rather Cool North of the Yukon and Alaska
with our very own Debbie Snowdove!
============================================
Well that is just about it for this newsletter and playlists of our latest
shows. We hope that you enjoy them.
We will do our best to keep these shows on for at least 14
days and hopefully 21 days.
All the best always,
Bennie Dingo
Rock-it Radio

website: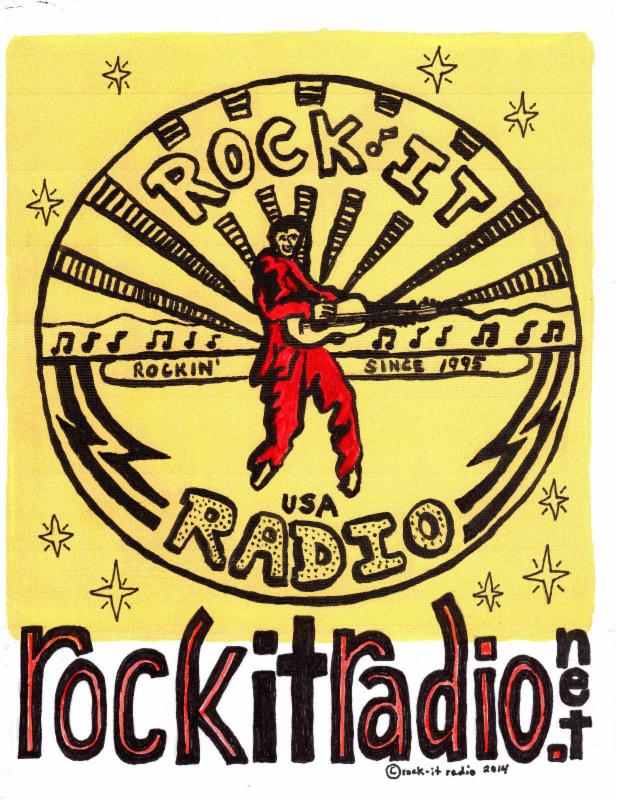 Rock-it Radio main website:
http://www.rockitradio.net

Archived Shows at:
http://www.rockitradio.net/programs.html

Rock-it Radio Vintage Broadcast Store:
(Launching Pad)
http://www.rockitradio.net/store.html