Rock-it Radio since 1995 providing 50s and early 60s Rock and Roll, Doo Wop and Rockabilly music online! Come tune us in at http://www.rockitradio.net We also have several 100 original radio shows from the first decade of Rock and Roll at: http://www.rockitradio.net/store.html
========================================================================
ROCK-IT RADIO NEWSLETTER AND PLAYLIST
SHOWS #5810 TO #5827
FROM
October 28, 2016 to December 15, 2016

Hi Rock-it Radio Listeners,


Do you remember Rock-it Radio?? Well we are still
out here! Our apologies no newsletter for November
and here it is the middle of December and we are
just now getting to it. Health issues has plagued
us and now trying to play catch up. We have playlists
for our 18 latest shows (#5810 to #5827) and lots of news
and four new exciting vintage
broadcast releases including something special for the
Beatles fans. And our First Christmas Holiday Oldies
Special.


So, Let's get started with some playlists!

Our shows can be heard in our archives page at:


http://www.rockitradio.net/programs.html
and click to the speaker on the left to hear the show.

Remember if you are new to Internet Radio and having trouble tuning in though --
Check out our webpage to help you out at:
http://www.rockitradio.net/tunein.html
============================================
REMEMBER YOU CAN ORDER ANY OF THESE ROCK-IT
RADIO SHOWS ON CD!!!! NEW EASIER ORDERING!

Would you like one of these Rock-it Radio shows on CD? To
be able to play anywhere? And help support Rock-it Radio at the same time.
For complete information check out our program
ordering webpage at: http://www.rockitradio.net/order.html

Our shows are of course copies straight from the studio so they are studio
quality and satisfaction is guaranteed.
Or if you would rather receive an invoice let me know and we
can e mail you a copy - Just e mail us the show(s) you would like
to have and the Rock-it # to: rockitradio@netzero.net

==============================================
All Rock-it Radio shows stay online from 18 to 24 days and are
broadcast in MP3 Format. To tune in just click to the speaker
at our program page at:
http://www.rockitradio.net/programs.html

The newest show added replaces the oldest show so if you see a
show near the bottom of the listing - you should listen as soon as
possible.

==============================================
WE COULD USE YOUR SUPPORT

Rock-it Radio is 100% Publicly supported. But when you
donate to the Rock-it Radio Launching Pad - we give you
a vintage broadcast of your choice.
100% of all sales from the Rock-it Radio Store (Launching
Pad) goes back to pay copyright fees, LLC taxes, Internet
and bandwidth costs of Rock-it Radio. Without your support
we would not exist. So. please consider a purchase at:
http://www.rockitradio.net/store.html

===============================================
NOTE: ALL SHOWS BELOW CAN BE FOUND IN OUR
PROGRAM WEBPAGE -
TO TUNE IN CLICK TO SPEAKER OF THE SHOW YOU WANT
TO LISTEN TO. EITHER MP3 OR REAL PLAYER.
BOTH FORMATS ARE SUPPORTED.
AT:
HTTP://WWW.ROCKITRADIO.NET/PROGRAMS.HTML

==============================================
JACKIE BOND & LET THE GOOD TIMES ROLL OLDIES
SHOW ON ROCK-IT RADIO SHOW #5810

From across the pond in the UK comes one awesome DJ
filled with great oldies from the 50s and early 60s.
It's Jackie Bond !!!! Here is the playlist of his
latest show on Rock-it Radio!

1. Pop The Question - Scotty Baker
2. Sea Of Heartbreak - CSA
3. Jungle Rock - Johnny Earl and The Jive street
4. Lucky Night - The Kingcats
5. Too Much Monkey Business - Chuck Berry
6. Up Above My Head - Sister Rosetta Thorpe
7. Crazy For My Baby - Willie Dixon
8. I Like It Like That - The 5 Royales
9. Out Of Gas - Chuck Howard
10. Comin' Down With Love - The Delicates
11. Uptown - Roy Orbison
12. Marlena - Frankie Valli and the Four seasons
13. Morse Code Of Love - The Capris
14. I Flipped - Gene Vincent
15. Cry,Cry,Cry - The Earls
16. Aint Gonna Cry - Betty Everett
17. Pretty Girls Everywhere - Eugene Church
18. Breezin' Out - Lou Josie
19. Lonesome - Hershel Almond
20. Pajama party - Bobby Pedrick Jr
21. Do I Love You - The Ronettes
22. Wine Wine Wine - The Nightcaps
23. Prisoner of Your Charms - Rusti Steel and The Startones
24. Philadelphia Baby - Robert Plant (The Crawling King Snakes)
25. Good Night My Love - Jesse Belvin

===============================================
JAMES RILEY ROCKABILLY AND BLUES RADIO SHOW ON
ROCK-IT RADIO SHOW #5811

This week James is back with two hours of great
shows featuring Rockabilly and or Blues Music from
yesterday and today. His show is in 2 parts in our
Program page which is always on demand to listen around
your schedule! Here is the playlists of this weeks
show on Rock-it Radio.

Rockabilly N Blues Radio Hour #1:

Chuck Berry countdown continues as we hear #6-3 on this week's
show plus Chuck covers from Stray Cats, Eddie Angel, Elvis Presley,
Rick Nelson, Buddy Holly and rockers from Billy Lee Riley,
Levi Dexter, Carl Perkins and more!

1. Got The Water Boiling- Billy Lee Riley
2. Rocket Girl- Jai Malano
3. No Particular Place To Go- Chuck Berry (#6)
4. Beautiful Delilah- Stray Cats
5. Back In The USA- Liam Grundy
6. Memphis Train- Kenichi Yamaguchi
7. Teddy Boy Rock & Roll- Levi Dexter & The Gretsch Brothers
8. Nadine- Chuck Berry (#5)
9. Almost Grown- Eddie Angel
10. I'm Talking About You- Rick Nelson
11. Two Timin' Fool- The Millwinders
12. Who Will The Next Fool Be- Charlie Rich
13. Let It Rock- Chuck Berry (#4)
14. Memphis Tennessee- Elvis Presley
15. Brown Eyed Handsome Man- Buddy Holly
16. Big City Blues- Darrel Higham & Jittery Jack
17. Glad All Over- Carl Perkins
18. Maybellene- Chuck Berry (#3)
19. Ready To Roll- The Obscuritones
20. Don't Stop Now- Linda Gail Lewis

Rockabilly N Blues Radio Hour #2:

We hear the top 2 songs in our Chuck Berry Countdown as
well as rockers from The Baseballs, JD McPherson, Billy Fury,
Bill Haley and more!

1. Never Ever- The Baseballs
2. Crazy Baby- 13 Cats
3. You Never Can Tell- Chuck Berry (#2)
4. Turn My Back On You- Billy Fury
5. It's All Over But THe Shouting- JD McPherson
6. Let It Rock- Rockpile
7. Gene Jeanie- Alan Mills (with Darrel Higham)
8. El Camino Real- Boz Boorer
9. We're Buggin' Out- Charlie Thompson
10. Linda Lu- Chris Casello Trio
11. Promised Land- Jerry Lee Lewis
12. Love Like Crazy- Jessica Lee Wilkes
13. Oh Maria- Joe Alexander & The Cubans (feat. Chuck Berry)
14. Muddy Roots- Liz Brasher
15. Caramel Baby- Matt Hill
16. Razzle Dazzle- Bill Haley & His Comets
17. Baby Bye Bye- Rocky Burnette with Darrel Higham
18. Johnny B. Goode- Chuck Berry (#1)

===============================================
DAVE THE RAVE RELICS & RARITIES SHOW ON
ROCK-IT RADIO SHOW #5812

Unfortunately we are unable to download Dave's playlist.
But if you love 60s Rock including the real rare releases.
Make sure that you catch his show on Show #5812 in our
playlist.

===============================================
COOL BOBBY B & THE DOO WOP STOP ON ROCK-IT RADIO
SHOW #5813

ROCK-IT RADIO'S 5800TH SHOW!!!

From a undisclosed location Cool Bobby B is back
with another 3 hours of programming for us here
at Rock-it Radio! Great Doo Wop Rock and Roll from
the first decade of Rock and Roll now on demand
as show #5800 here at Rock-it Radio. Here is
the playlist of the show.

Hour #1

1. Rockin' with the clock - Shirley and Lee
2. Imagination - The Quotations
3. Ala Men Sy - The Quotations
4. Down by the Ocean - The Exceptions
5. Hello - The Nutmegs
6. A lovely way to spend an evening - The Masters
7. Donna Donna Love Prima Donna - Dion
8. Life is but a dream - The Earls
9. If I knew - The Cruisers
10. Gloria - The Chariots
11. Gonna take a miracle - The Royalettes
12. Over the Rainbow - The Demensions
13. Whos that knocking - The Genies
14. Just be true - Gene Chandler
15. The best man cried - Clyde McPhatter
16. (Where are you) Now that I need you - Don Covay & Goodtimers
17. Who do you think you are - The Fascinators
18. Thank you and goodnight - The Angels
19. Soon - Four Seasons

Hour #2

20. Drip Drop - The Drifters
21. Guilty - Herb Johnson
22. Sally go round the roses - The Jaynettes
23. There goes my baby - Drifters
24. Your way - The Heartbeats
25. If you love me (really love me) - The Valentines
26. If you love me pretty baby - The Valentines
27. Oh what a night - The Dells
28. Runaround Sue - Dion
29. I believe - The Earls
30. I'm on the outside looking in - Little Anthony & Imperials
31. Tell Me - Jimmy Beaumont
32. Baby Baby - The Fairlanes
33. On our way to school - The Cautions
34. Promise to love - The Montgomerys
35. 7-11 - The Gone All Stars
36. Shake Rattle and Roll - Big Joe Turner
37. I'm so happy - Lewis Lymon & Teenchords
38. Living in a doo wop world - Richie Rosato


Hour #3

39. 11th hour melody - The Rivieras
40. Moonlight Cocktails - The Rivieras
41. That's love - The Uniques
42. Make believe lover - The Debonaires
43. One day next year - The Heartbeats
44. Last night I dreamed - The Fiestas
45. Gee How I wish you were here - Curtis
46. Rendezvous with you - The Desires
47. I'll be waiting - The Spaniels
48. What time is it? - Jive Five
49. I love you darling - The Apollos
50. Hold me Thrill me Kiss me - Mel Carter
51. One Summer Night - Philly Cuzz
52. Shu bop - Dion
53. Looking for an echo - Kenny Vance & Planotones
54. Troubles not at end - The Cupids
55. A Casual look - 5 Teens
56. The eyes of an angel - The Legends
57. Goodnight Baby - The Imaginations

===============================================
LANE QUIGLEY AND THE MEMORY LANE SHOW -
ON ROCK-IT RADIO SHOW #5814

Rock-it radio presents another Memory Lane Show jam-packed
with hot sides from the Glory Days of the 45 RPM Record.
This program includes a handful of songs that you may know
by other artists - but we think you'll dig these renditions.
Host Lane Quigley also features a half-dozen sound bites
giving you the backstories from the folks who created the music.
Of course, there's the weekly guessing game where you see
if you can identify the MYSTERY ARTIST. All that along with
the usual mirth and merriment you've come to expect from The
Memory Lane Show, heard exclusively here on Rockitradio.net.

1. Happy Landing - The Miracles 1962
2. Hello Little Girl - Lloyd Price 1957
SOUND BITE
3. Treat Her Right - Roy Head 1965
4. Zippity Zum - The Chordcats 1954
5. I'll Never Stop Loving You - The O'Jays 1964
6. Rock Around with Ollie Vee - Buddy Holly 1956
SOUND BITE
7. Didn't It Rain - Sister Rosetta Tharpe & Marie Knight 1947
8. Needle in a Haystack - The Velvelettes 1964
9. MYSTERY ARTIST (can you identify the artist?)
10. Just Tell Her Jim Said Hello - Elvis Presley 1962
SOUND BITE
11. Hearts of Stone - The Jewels 1954
12. I Can Hear Music - The Ronettes 1966
13. Memory Lane - Del Price 1963
14. Crazy House - Redd Foxx 1957
SOUND BITE
15. Needles and Pins - Jackie DeShannon 1963
16. Good Morning Judge - Wynonie Harris 1950
17. Night Rumble - The Mark V 1963
18. Thirty Days - Clyde McPhatter 1958
SOUND BITE
19. What Am I Gonna Do? - Jimmy Clanton 1961
20. Whole Lotta Love - BB King 1954
21. Women Like It Harder - Milton Parker 1967
SOUND BITE
22. Got My Mind Set On You - James Ray 1962
23. It's Love That Really Counts - Marlena Mars 1964
24. Close Your Eyes - The Five Keys 1955

===============================================
BILL GREEN'S ROCK & ROLL RETROSPECTIVE ON
ROCK-IT RADIO SHOW #5815

Gather 'round Rockiteers as D J Bill Green spins two dozen
very cool tunes for you. He's got music from the Boss of the Blues,
the Ice Man and Little Miss Dynamite. Check out a Barbara Lewis
twin spin. And hear two pairs of songs where the story lines
are almost identical. It's the Giant Juke Box edition of
Rock 'n Roll Retrospective so you're sure to hear everything
from the unknown to the unforgettable.

1) Rock and Roll Music - Chuck Berry (1957)
2) Let's Rock and Roll - The Cadets (1956)
3) It Will Stand - The Showmen (1961)
4) Just Rockin' and Rollin' - Ronnie Dawson (1996)
5) Shake, Rattle and Roll- Big Joe Turner (1954)
6) Such A Night - Clyde McPhatter and the Drifters (1954)
7) Such A Night - Elvis Presley (1964)
8) Topsy part 2 - Cozy Cole (1958)
9) Just A Dream - Jimmy Clanton (1958)
10) Don't You Just Know It - Huey 'Piano' Smith & the Clowns
11) Do I Love You? - The Ronettes (1964)
12) Up On A Roof - The Drifters (1962)
13) Wiggle Wobble - Les Cooper & the Soul Rockers (1962)
14) She's A Fool - Lesley Gore (1963)
15) Hello Stranger - Barbara Lewis (1963)
16) Make Me Your Baby - Barbara Lewis (1965)
17) I'm Just A Man - Billy Butler and the Enchanters (1964)
18) I Dig You Baby - Jerry Butler (1967)
19) Bad, Bad Leroy Brown - Jim Croce (1973)
20) Big Boy Pete - The Olympics (1960)
21) Come A Little Bit Closer - Jay and the Americans (1964)
22) Smokey Joe's Cafe - The Robins (1956)
23) Hey Girl - Freddie Scott (1963)
24) Heart In Hand - Brenda Lee (1962)

===============================================
PETE CHASTON'S DOO WOP SHOW ON ROCK-IT RADIO
SHOW #5816

Pete is back this week with more great Doo Wop
for you here on Rock-it Radio! We currently don't
have a playlist for this show but as always Pete is
spinning great 50s and early 60s Doo Wop here on
Rock-it Radio!

1. Doo-Wop All Night Long-The Blue Emotions (opening theme song) (1982)
2. Mary Lee-The Rainbows (1955)
3. Shirley-The Rainbows (1956)
4. Let's Start All Over Again-The Paragons (1957)
5. Come to Paradise-The Fascinators (1959)
6. What a Guy-The Raindrops (1963)
7. Shortnin' Bread-The Blisters (1963)
8. Hong Kong-The Quinns (1958)
9. Oh, Starlight-The Quinns (1958)
10. Big Boss Man-Jimmy Reed (1961)

SILLY SONG SEGMENT:

11. Martian Hop-The Ran-dells (1963)
12. People From Another World-The Jive Five (1961)

SCRATCHY 45 RPMs SEGMENT:

13. Little Bo Peep-The Admirations (1959)
14. Mary's Lamb-The Ideals (1959)
15. Snow White-The Devotions (1964)
16. The Fool-The Gallahads (1956)

BACK TO THE CDs &/or More 45 RPMs:

17. Darlene-The Blue Sky Boys (Dennis Ostrum) (1974)
18. Dorothy-The Hi-Fives (1958)
19. Memories of Love-The Rocking Chairs (late 1950s)
20. Shimmy Shimmy Ko-Ko Wop-The El Capris (1956)

SLOW SONG SEGMENT:

21. Glory of Love-Patty & The Street-tones (1981)
22. Bells Ring-The Paradons (1960)
23. Gloria-The Channels (1971)
24. The Way Love Should Be-The Nutmegs (mid 1950s)
25. Wear My Ring-The Creators (1957)
26. I'm So in Love-Patty & The Street-tones (1979)
27. (closing theme song) Adios-The Five Discs (1961)

===============================================
ROCKIN DADDY O'S ROCKABILLY RANCH PARTY ON
ROCK-IT RADIO SHOW #5817

Rockin' Daddy O is back this week with another
rockin' high energy delivery show of the Ranch Party
featuring great Rockabilly Songs - old and new.
Here is the playlist of what you will hear when
you tune in!

1. Shifting Gears-Miss Amy Griffin
2. Mondo-Junior & The Mondos
3. Little Pig-Mike Waggoner & The Bops
4. Supersonic Gal-Mary Ann & the Tri-Tones
5. Since My Baby Meet You-Scotty Baker & Darrel Higham
6. Put Your Cat Clothes On-Levi Dexter
7. Jive After Five-Carl Perkins
8. Got The Best Of Me-Donnie Bowser
9. Shirley Ann-Ronnie Brent
10. Something Wicked This Way Comes-Jittery Jack
11. Pete's Beat-The Stargazers
12. Dance With A Dolly (With A Hole In Her Stockin')-Bill Haley & His Comets
13. Fine Fine Superfine-Big Sandy & His Fly-Rite Boys
14. All Messed Up-Sean Coleman & The Quasars
15. Short Fuse-TJ Mayes
16. Saved-The Screamin' Rebel Angels
17. El Camino Reel-Boz Boorer
18. Baby Baby-Mike Waggoner & The Bops
19. Tayna Jean-The Rockats
20. Rip It, Rip It Up-Florian Monday & His Mondos
21. Good Rockin' Tonight-Elvis Presley

===============================================
AL COOL DADDY SMITH WITH PT. 3 TRIBUTE TO SCOTTY MOORE
ROCK-IT RADIO SHOW #5818

This show is Part Three of three in my tribute to "The Guitarist
Who Changed The World" Scotty Moore.
He was Inducted into the Rock and Roll Hall of Fame in 2000 and
Rolling Stone magazine ranks him number 29 in the top 100 Rock
guitarists of all time!
Much or most of this ranking is as a result of his early years with
Elvis Presley.

This show continue with those years 1954 through 1958.

The playlist is as follows:

1. Stuck On You-Elvis Presley 1960
2. A Mess Of Blues-Elvis Presley 1960
3. Tragedy-Thomas Wayne 1959
4. Reconsider Baby-Elvis Presley 1960
5. Kiss Me Quick-Elvis Presley 1961
6. Little Sister-Elvis Presley 1961
7. She's Not You-Elvis Presley 1962
8. Sound Bite-Eric Clapton on Scotty Moore
9. Mystery Train â€"Eric Clapton/Scotty Moore 2005
10. Memphis Tennessee-Elvis Presley 1964
11. Down In The Alley-Elvis Presley 1966
12. Guitar Man/What'd I Say-Elvis Presley 1967
13. Big Boss Man-Elvis Presley 1967
14. Smokie (Part Two)-Scotty Moore/D.J. Fontana 1977
15. Keep Your Hands Off-Scotty Moore/D.J. Fontana 1977
16. Too Much Monkey Business-Elvis Presley 1968
17. U.S. Male-Elvis Presley 1968
18. Trying To Get To You-Elvis Presley 1968(Come Back Special)
19. Sound Bite-Scotty comments on 1968 Special and why he never went to Las Vegas with Elvis
20. Hound Dog-Bryan Adams/Scotty Moore 1994
21. Blue Moon-Chris Isaak/Scotty Moore 1994
22. Jail House Rock-Michael Bolton/Carl Perkins/Scotty Moore 1994
23. Just Because-Elvis Presley 1954

===============================================
BILLY VERA'S ROCK AND ROLL PARTY ON ROCK-IT RADIO
SHOW #5819 - R&B from the year 1945

It was 1945, the War was winding down. Black popular music was
changing rapidly. The big bands were dying, although we still hear
the likes of Duke Ellington, Cab Calloway, Lionel Hampton, Buddy Johnson,
Erskine Hawkins and Lucky Millinder. There are the blues shouters
like Joe Turner, Wynonie Harris and Jimmy Rushing. Billy Eckstine
and Billie Holiday are crooning love songs. The Be-bop explorations
of Dizzy Gillespie, Charlie Parker and Dexter Gordon are scouting
new territory and the Race music that will become R&B and Rock'n'Roll
are jumping with Louis Jordan, Roy Milton and Joe Liggins.

HOUR 1

1. The Honeydripper - Cab Calloway
2. 20th Century Blues - Sir Charles Thompson & His All Stars
3. Left a Good Deal In Mobile - Herb Jeffries with Joe Liggins Band
4. Rock Me Mama - Arthur (Big Boy) Crudup
5. Beulah's Boogie - Lionel Hampton
6. Tell Me You'll Wait For Me - Charles Brown with Johnny Moore=s3 Blazers
7. That's The Stuff You Gotta Watch - Buddy & Ella Johnson
8. I Ain't Mad At You - Gatemouth Moore
9. Dexter's Deck - Dexter Gordon
10. Somebody's Got To Go - Eddie Cleanhead Vinson
11. Tippin' In - Erskine Hawkins
12. Things Have Changed - Big Maceo
13. Voo-it Voo-it - Marian Abernathy (The Blues Woman)
14. B. B. Blues - Lester Young
15. Blues at Sunrise - Ivory Joe Hunter with Johnny Moore's 3 Blazers
16. Be Baba Leba - Helen Humes
17. Harlem Nocturne - Johnny Otis Orchestra

HOUR 2

18. Sail On Boogie - T-Bone Walker
19. Cottage For Sale - Billy Eckstine
20. Strange Things Happening - Sister Rosetta Tharpe with Lucky Millinder Orch.
21. S.K. Blues (Part 2) - Joe Turner
22. Who Threw The Whiskey In The Well? - Wynonie Harris with Lucky Millinder Orch.
23. I Know - Andy Kirk Orch. vocal by The Jubilairs
24. Salt Peanuts - Dizzy Gillespie
25. Round The Clock Blues - Jimmy Rushing with Johnny Otis Orchestra
26. The Honeydripper - Joe Liggins
27. I Wonder - Pvt. Cecil Gant
28. Caldonia - Louis Jordan
29. I'm Beginning To See The Light - Duke Ellington Orch. vocal by Joya Sherrill
30. Don't Explain - Billie Holiday
31. Milton's Boogie - Roy Milton
32. Flyin' Home - Illinois Jacquet

===============================================
FROM BADEN AUSTRIA - OTTO FUCHS & ROCKIN' THE JOINT
SHOW ON ROCK-IT RADIO #5820

Rockin' The Juke Joint Show on Rock It Radio 99.1 FM
Post Falls / Idaho with an assembly of some fine
Neo-Rockabilly, recorded in the 1970s, 1980s, 1990s, 2000s
as well as Rockabilly cuts of today.
Bands such as the Stray Cats, The Jets and Matchbox from the
Rockabilly Revival Years, Revival Sounds veterans such as
Crazy Cavan & The Rhythm Rockers, Shotgun and Freddie Fingers Lee,
plus new bands such as The Real Gone Tones,
Emmy Lou & The Rhythm Boys, The Taggy Tones and much more.
A Rockabilly Mayhem, through the years of the ever-ongoing
Rockabilly Revival!

01.Rockabilly Blues-Brian Setzer
02.Bring Her To Me -Kid Rocker
03.Raw Rhythm Boogie-Black Knights
04.Rockabilly Rebel-Matchbox
05.Son Of Rockabilly-Shotgun
06.Look At That Cadillac-Stray Cats
07.Switchblade Pompadour-Three Blue Teardrops
08.His Latest Flame-Taggy Tones
09.Fight Back-Johnny Black
10.Trying To Get To Memphis-Freddie Fingers Lee
11.Old Black Joe-Crazy Cavan & The Rhythm Rockers
12.Johnny Come Lately-Foggy Mountain Rockers
13.De-Bop-Johnny Bach & The Moonshine Boozers
14.Baby I Don´t Care-Travis LeDoyt
15.The Honeydripper-The Jets
16.So Cool-The Real Gone Tones
17.Rockabee Baby-Emmy Lou & The Rhythm Boys
18.Wondrous Place-Darrel Higham & The Enforcers
19.One More Saturday Night-Matchbox
20.Rockabilly Special-Trouble Boys
21.Old Man Wants To Rock-The Hillside Wranglers

===============================================
JAMES RILEY AND CATCH A WAVE SURF ROCK RADIO
SHOW ON ROCK-IT RADIO #5821

Our newest show here on Rock-it Radio and archived
in our program page - 2 hours of great Surf Rock
Music awaits you in show #5821. Here is the playlist.

Hour #1
Guitarist Eddie Angel is our guest as we discuss surf,
Los Straitjackets, more!

1. Let's Go Trippin'- Dick Dale
2. Girl From New York City- The Beach Boys
3. The Lonely Bull- East Nashville Teens
4. Scram It's The Fuzz- Los Straitjackets
5. Devil Or Angel- Eddie Angel
6. Fury- Los Straitjackets
7. Pipeline- Los Straitjackets with Deke Dickerson
8. Out Of Limits- Martian Denny Orchestra
9. Rumble Mambo- Eddie Angel
10. Lil' XKE- The Neanderthals
11. Surf Party- The Astronauts
12. Tailspin- Los Straitjackets
13. Grey Skies- Southern Culture On The Skids
14. Soul Surfer- Johnny Fortune
15. Blunderbus- The Chantays
16. Guess I'm Dumb- Glen Campbell
17. Let There Be Surf- The Chevells

Hour #2

Veteran artist and musician Randell Kirsch joins us for
the show today as we discuss and play tunes he's been
involved with over the years.

1. Summertime Summer Nights- Papa Doo Run Run
2. What's The Point- The Pranks
3. Sidewalk Surfin'- Jan & Dean (Legendary Masked Surfers)
4. Blue Kiss- Jane Wiedlin
5. Try Too Hard- Show Of Hands
6. snippet of Michelle's Smiling- John Stamos
7. I'll Meet You On The Sand- Papa Doo Run Run
8. Gimme A Hug- Randell Kirsch
9. God Only Knows- Randell Kirsch
10. Big Electricity- Randell Kirsch & Christian Love
11. Surfin' USA- Al Jardine & Friends
12. Don't Say It's Over- The Bamboo Trading Company
13. True Love Again- Randell Kirsch
14. I Get Around- Jan & Dean (Legendary Masked Surfers)

===============================================
MATT THE CAT AND THE JUKE IN THE BACK SHOW
FOCUS ON 1956 ON ROCK-IT RADIO SHOW #5822


The Juke in the Back puts the ol' Rockola Jukebox front
and center on this week's program as we present part 1 of a 2 part
feature on the biggest jukebox jivers from 1956.

1. Swanee River Boogie - Albert Ammons â€" Mercury 1947Â
2. At My Front Door - The El Dorados â€" Vee-Jay 1955Â
3. That's Your Mistake - Otis Williams & His New Group â€" DeLuxe 1955Â
4. The Great Pretender - The Platters â€" Mercury 1955Â
5. Trouble No More - Muddy Waters â€" Chess 1956Â
6. Seven Days - Clyde McPhatter â€" Atlantic 1956Â
7. Eddie My Love - Teen Queens â€" RPM 1956Â
8. Why Do Fools Fall In Love - The Teenagers Featuring Frankie Lymon â€" Gee 1956Â
9. Drown In My Own Tears - Ray Charles & His Bandâ€" Atlantic 1956Â
10. Who - Little Walter â€" Checker 1956Â
11. Long Tall Sally - Little Richard & His Band â€" Specialty 1956Â
12. Please, Please, Please - James Brown With The Famous Flames â€" Federal 1956Â
13. *GREAT 78* April In Paris - Count Basie Big Band â€" Clef 1956Â
14. I'm In Love Again - Fats Domino â€" Imperial 1956Â
15. Little Girl Of Mine - The Cleftones â€" Gee 1956Â
16. Sweet Baby Of Mine - Ruth Brown â€" Atlantic 1956Â
17. Roll Over Beethoven - Chuck Berry & His Combo â€" Chess 1956Â
18. After Hours - Erskine Hawkins â€" Bluebird 1946

===============================================
JACK VAN OERS & THE ROCKIN' WINDMILL SHOW WITH
ROCKABILLY ON ROCK-IT RADIO SHOW #5823

From the land of windmills, dykes, canals, cheese, tulips, cows and
wooden shoes here is another dynamic Rockin' Windmill Show. Host
Jack van Oers plays music from Germany, Canada, The UK, The USA,
Sweden and The Netherlands - Â so, just turn up the volume,
find your blue suede shoes and petticoats and enjoy the show!

1. Watch your step - Chuck & Bill - 1957
2. Mine, mine, mine - Sonny Steele - 1961
3. Linda - The Ace Cats - 1984
4. Who do I know like this? - Buddy Shephard - 1959
5. My bucket's got a hole in it - The Sky Devils - 1999
6. Gone again - The Paladins - 1999
7. Boppin' the blues - Carl Perkins - 1956
8. A Swedish boy don't cry - Tom Powder - 2001
9. Treat me right - Kenny Parchman - 1957
10. The fifties girls - Mickey Hawks - 19xx
11. North wind - Bill Fadden & the Mostly Losers - 2004
12. Oh boy - Buddy Holly - 1957
13. Oh boy - Joe Ely & Todd Snider - 1996
14. The losing side of me - Rocking Jojo & his Red Angels - 1997
15. Oh, sweet Marie - Murray & Murray Hill Mob Band - 1959
16. Old Moss back - The Wild Stomping Bluecats -Â
17. Well all right - Myrna Lorrie - 1964
18. Lucky star - Ricky Nelson - 1961
19. The cat from Tennessee - Jimmy Castle & the Knights - 1996
20. You know what I mean - Mal Gray's Wild Angels - 196x
21. Long blonde hair - Ronnie Nightingale & the Haydocks -Â
22. C'mon baby - Al & Jet - 1959
23. Big blon' baby - Jerry Lee Lewis - 1959
24. Jailbait - Al Roberts Jr. - 1997
25. Cottonpickin' (instr) - The Night Raiders - 1959

===============================================
TREVOR HYLAND'S ROCK AND ROLL DANCE PARTY ROCKABILLY
SHOW ON ROCK-IT RADIO #5824 SUN RECORD SPECIAL

Rockabilly & Rock 'N ' Roll from two boys from SUN Records,
Mack Allen Smith and Warren Smith.
Rockin' it Out from Trev's studios at KLFM in Bendigo Australia.
SHAZAM SHAZAM !

Mack Allen Smith

01. King Of Rock & Roll - Mack Allen Smith
02. Rockabilly Addict - Mack Allen smith
03. Skeleton Fight - Mack Allen Smith
04. Anything That Turns You On - Mack Allen Smith
05. Do Dum Diddley Do - Mack Allen Smith
06. I See You Everywhere - Mack allen Smith
07. Zydeco Blues - Mack Allen Smith
08. What Ever Happened To Warren Smith - Mack Allen Smith

Warren Smith

09. Rock & Roll Ruby - Warren Smith
10. Ubangi Stomp - Warren Smith
11. So Long I'm Gone - Warren Smith
12. Got Love If you want It - Warren Smith
13. Sweet Little Girl( Live ) - Warren Smith
14. Sweet Little Girl - Warren Smith
15. Miss Froggie - Warren Smith
16. Red Cadillac & A Black Moustache - Warren Smith
17. Uranium Rock - Warren Smith
18. Movin' On - Warren Smith
19. Bop Bop - Warren Smith
20. Who Took My Baby - Warren Smith
21. Hank snow Medley - Warren Smith
Atomic Hi-Tones
22. Red Cadillac & A Black Moustache - Atomic Hi-Tones

===============================================
GOOD ROCKIN' TONIGHT SHOW WITH KEITH BAXTER ON
ROCK-IT RADIO SHOW #5825

More 50s Rock & Rockabilly is in store here at
Rock-it Radio with Keith Baxter from Bristol, UK.
Some great Rockin' tunes check out this playlist
you get to listen to on show #5825.


1. Rock This Town - Lee Rocker
2. Long Tall Sally (live) - Jerry Lee Lewis
3. Rollercoaster Ride - Billy Burnette
4. Let's Fall In Love - Dorsey Burnette
5. Runaround - Regents
6. Venice Beach - Los Venturas
7. Art Arfons - Surfin' Lungs
8. Reminiscing - Buddy Holly
9. Wait Till Eight - Vee 8s
10. Coney Island baby - Excellents
11. One More Summer - Atlantics
12. A Thousand Stars - Billy Fury
13. 3 Days, One Hour, 30 minutes - Jackie Wilson
14. Teenage Mambo - Gaylarks
15. Flip, Flop and Fly - Big Joe Turner
16. I Like My Chicken Frying Size - Dan Livingstone and the Griffin Town Jug Addicts
17. Start The Record Over - Jackie Wilson
18. Point Panic - Surfaris


===============================================
ROCKIN' DADDY O'S SPECIAL TRIBUTE TO BILLY MILLER
OF NORTON RECORDS ON ROCK-IT RADIO SHOW #5826

As some of you may know, Billy Miller, Head Honcho of the Mighty
Norton Record Label passed away this past November 13th. Billy,
along with his wife, Miriam have been keeping the Big Beat
Alive by releasing some of the Wildest and Coolest Sounds around
on their Norton Record label for the past thirty years. This is my
tribute to my friend, Billy Miller

Rockin' Daddy-O's Special Tribute to Billy Miller of Norton Records 1954-2016

1. Button Nose-The A-Bones
2. She Said-Hasil Adkins
3. Big Red Satellite-Hasil Adkins
4. Rockin' The Joint-Esquerita
5. Papa Lou And Gran-Little Victor
6. Hey Mrs. Jones-Long John Hunter
7. Daddy Rolling Stone-Andre Williams
8. Rockin' Out The Bloues-The Musical Linn Twins
9. I Want Some Of That-Kai Ray
10. The Birds-The Motivations
11. Cha Wailey Routa-The Saucers
12. Goo Goo Muck-Ronnie Cook And The Gaylads
13. Camel Walk (Part One)-The Saxons
14. Have Love Will Travel-The Sonics
15. Aqui En Mi Nube (Get Off My Cloud)-Luis And The Wildfires
16. Scalping Party-Jackie And The Cedrics
17. Bad Boy-The A-Bones
18. Hot Lips Baby-The Untamed Youth
19. Dueces Wild-Link Wray And His Ray Men
20. Miss Bobby Sox-Benny Joy
21. The Wind-The Diablos

===============================================
BILL GREEN'S ROCK & ROLL RETROSPECTIVE HOLIDAY SPECIAL
ON ROCK-IT RADIO SHOW #5827.

HO HO HO Rockiteers. It's time once again to tune into
Rock 'n Roll Retrospective as host D J Bill Green plays his
annual selection of Christmas classics and holiday favorites.
There's lots of well known songs and a few seldom if ever
heard recordings. Elvis, Brenda Lee, the Drifters and many
others along with some Rock-it Radio jocks are here to get
you into the spirit of the season.

1) Rock And Roll Christmas - George Thorogood (1983)
2) Run Rudolf Run - Chuck Berry (1958)
3) Rudolf The Red Nosed Reindeer The Ronettes (1963)
4) Merry Christmas - The Cameos (1957)
5) Oh Holy Night - The Orioles (1950)
6) Hey Santa Claus - The Moonglows (1953)
7) Rockin' Around The Christmas Tree - Brenda Lee (1960)
8) White Christmas - The Drifters (1965)
9) White Christmas - The Statues (1960)
10) Christmas Auld Lang Syne - Bobby Darin (1960)
11) Blue Holiday - The Shirelles (1961)
12) Monster's Holiday - Bobby 'Boris' Pickett & The Crypt Kickers (1962)
13) Christmas In Jail - The Youngsters (1956)
14) Sleighride - Leroy Anderson (1959)
15) I'll Be Home For Christmas - Elvis Presley (1958)
16) Santa Bring My Baby Back To Me - Elvis Presley (1958)
17) Jingle Bell Rock - Bobby Helms (1957)
18) Donde Esta Santa Claus - Augie Rios (1958)
19) Merry Christmas Baby - James Brown (1968)
20) If It Doesn't Snow On Christmas Day - Gene Autry (1949)
21) I'll Stay Home - The Jaynells (1963)
22) Jingle Bells - The Singing Dogs (1971)
23) It's The Most Wonderful Time Of The Year - Andy Williams (1963)
24) It Came Upon A Midnight Clear - Jackie Wilson (1963)
25) Merry Christmas Darling - The Carpenters (1970)


===============================================
All the Rock-it Radio shows are available on CD

Each show is only $9.50 each and you can order
in bulk and shipping will never be more then $2.00.
Ask for a secure paypal invoice -- information is at:
http://www.rockitradio.net/order.html


==============================================
HISTORY OF ROCK-IT RADIO

If you are new to Rock-it Radio and would like to learn more --
We have our History Page up as well -- telling the story of Rock-it
Radio. You can find it at:
http://www.rockitradio.net/history.html


VINTAGE VIDEO PICK OF THE WEEK

For the week of 15 December, 2016
This week in our archives page at:

http://www.rockitradio.net/video.html

This week:
A great animated Doo Wop Drifters version of
White Christmas :)

MORE NEW RELEASES IN THE ROCK-IT RADIO LAUNCHING PAD
STORE AND EBAY STORE.

Almost all of our funding for Rock-it Radio comes from the
sale of vintage radio broadcasts from Rock Radio Shows from
the 1950s to the 1970s. We have 4 new releases so far
this month. Here is a brief description and the Ebay link
to these shows. (Playlists of these vintage broadcasts can
be seen in our ebay listing links below).

1. Kenny Everett BBC Light Programme from 7/20/1969.
Great features of 60s Rock. Released as RIR #650 and
in our Ebay store as:
http://www.ebay.com/itm/131986894044

2. Sebastian Stone & Tony Taylor on WOR-FM New York City
from 4/2/1969. Released as RIR #651 and you can view the
playlist and all at our Ebay store listing at:
http://www.ebay.com/itm/142212250474

3. DJ Helen Shapiro and the LOST BEATLES INTERVIEW!
over BBC Radio 4. A must for any Beatles historian of fan.
Released as RIR #652 & at:
http://www.ebay.com/itm/132034603141

4. DJ Bob Dayton Top 40 Radio show over KRLA Los Angeles from
8/14/1969. Released as RIR #653 & at:
http://www.ebay.com/itm/-/132035582202

All updates and latest news on our vintage radio
broadcasts can be found in our Launching Pad Facebook
page at http://www.facebook.com/rockitpad

=============================================

FREE CHRISTMAS BONUS CD WITH EVERY ORDER !!!!
FOR DECEMBER 2016

Any purchase for the month of December if you buy any
Rock-it Radio products or vintage shows we offer we
will be throwing this one in your package for FREE!
Rock-it Radio's Special on CD of Hour #5 of our popular
Holiday Series of a 1967 Christmas Eve Broadcast over WCFL
in Chicago.
This show really brings out the Holidays with Holiday
songs and all the WCFL jocks out and about the town bringing
in Christmas of 1967.
If you would like to view the playlist you can by going to:
http://www.ebay.com/itm/140910695534

Rock-it Radio Launching Pad : http://www.rockitradio.net/store.html
Rock-it Radio Ebay Store: http://stores.ebay.com/Rock-it-Radio-Store
or
Order a show of Rock-it Radio at: http://www.rockitradio.net/order.html
Or vintage Wolfman Jack shows at http://www.rockitradio.net/wolfman.html
or 50 Rock-it Radio Shows on a flashdrive at http://www.rockitradio.net/flashdrive.html
Catalog orders will also receive this FREE CD.

**Rock-it Radio is 100% Listener supported we have no
sponsors and the sale of our vintage radio broadcasts helps
us to stay online and pay the copyright and broadcasting
fees it takes to remain online. thank you for all your
consideration.**
And the entire month of September if you buy any
Rock-it Radio products or vintage shows we offer we
will be throwing this one in your package for FREE!

================================================
VINTAGE 1967 CHRISTMAS EVE BROADCAST MAKES FOR
A FUN LISTEN! AVAILABLE IN OUR EBAY STORE &
LAUNCHING PAD.

On Christmas Eve 1967 at WCFL in Chicago (The Top
40 Station at the time And competitor to the #1
Spot WLS in Chicago).
All the top jocks of that station went on the air
with one in the main studio spinning Christmas tunes.
The remainder out in the Streets in Chicago with several
fun reports for 5 hours from 7 p.m. until midnight that
including man on the street interviews,
Phone calls, reports of activities, and of course vintage
Christmas Songs. It's a truly great
nostalgic feel. And available on CD via our Ebay store
or at the Rock-it Radio Launching Pad. (RIR #'s is our
Catalog listings)

Hour #1 WCFL Christmas Eve '67 (RIR #218)
http://www.ebay.com/itm/140355608530

Hour #2 WCFL Christmas Eve '67 (RIR #224)
http://www.ebay.com/itm/130842056267

Hour #3 WCFL Christmas Eve '67 (RIR #226)
http://www.ebay.com/itm/140355135696

Hour #4 WCFL Christmas EVe '67 (RIR #365)
http://www.ebay.com/itm/140173013165

Hour #5 WCFL Christmas Eve '67 (RIR #369)
http://www.ebay.com/itm/140910695534

Other Vintage Christmas Radio Broadcasts Available.

- DJ Barney Pip Christmas Eve show from 1965.
WCFL - Chicago. (RIR #367)
(Currently FREE with purchase of any other show
or Rock-it Radio Item! until December 15th.
http://www.ebay.com/itm/140356618194

- DJ Jim Runyon Christmas Eve 1965 Broadcast
over WCFL Chicago. (RIR #368)
http://www.ebay.com/itm/131667339418

================================================
NEW RELEASE -- FLASHDRIVE OF ROCK-IT RADIO
SHOWS #5751 TO #5800. OUR 8TH FLASHDRIVE

Flashdrive #8 featuring Rock-it Radio shows #5751 - #5800
50 Rock-it Radio Shows on mp3 thumb drive (70! hours of
oldies Rock!) now released and available at:
http://www.ebay.com/itm/131983826231
from there you can also see the playlist of shows on that
thumbdrive.
or you can order any of our Flashdrives at:
http://www.rockitradio.net/flashdrive.html

================================================
RECRUITING FOR RADIO PERSONALITIES FOR
ROCK-IT RADIO

Do you know your 50s and 60s Rock & Roll, Doo wop
or Rockabilly? And the ability to produce a show
on CD?
We do require a playlist for this newsletter but
your show will stay online for the world for approx.
3 weeks. Unlike some stations where you broadcast one
time and it's gone forever.
If interested check out our Rock-it Radio Team page
at: http://www.rockitradio.net/team.html

We are also looking for writers and translators!
====================================================
WHERE HAS ROCK-IT RADIO BEEN??

It's been 6 weeks since our last newsletter and shows have been very sparse
here as far as releases. At studio A it is just me here and with a pneumonia
that has been proven pretty resistant to anti biotics had me really laid out
for some time. It was all we could do to keep those orders getting out.
My apologies to you the listener and the Rock-it Radio Jocks that have
been waiting patiently for their shows to air. We will be getting right on
it with more shows straight away. Starting with more Awesome Christmas
shows later this week. So keep a listen and please keep on tuning in and
enjoy the oldies that Rock-it Radio can provide for you.

God Bless Everyone,

S/ Bennie Dingo
Rock-it Radio

====================================================
REMINDER ON HOW TO CONTACT THE DJ'S AT ROCK-IT RADIO

We all love our our e mails from listeners here at Rock-it
Radio. Along with requests and dedications. Earlier this year
due to the excessive spam we all were getting I stopped listing
the e mails at each shows playlist. But you can still
contact them. Just go to the Rock-it Radio DJ page and each
DJ has there e mail link underneath each bio.
You can find it at: http://www.rockitradio.net/dj.html


COLLECTING AIRCHECKS - A HOBBY OF RADIO NOSTALGIAWhat is a Aircheck? It is simply a recording of a radio broadcast. Usually collected by Radio fans.
Come check out our webpage on collecting Airchecks.

http://www.rockitradio.net/aircheck.html


COME REMEMBER WOLFMAN JACK !!!Rock-it Radio has a very special way to remember Wolfman Jack.
Arguably the most iconic of American DJ's. Come check out the
Rock-it Radio Wolfman Page at:
REMEMBERING OFFSHORE PIRATE RADIO IN THE UK
In the mid 1960s it was difficult for the youth to actually listen to Rock and Roll in the UK.
The BBC actually ran only a few hours a weekend to provide the young Brits with this outlet.
At night during the week they ventured to even tune into Radio Luxembourg to get there fill,
that broadcast rock and pop around the clock.
To fill this void some venture capitalists decided to bring in commercial radio aboard refitted
radio ships. And anchor themselves just off into International waters off the English coast.
Radio Caroline (named after Caroline Kennedy the U.S. President's daughter at the time)
and Radio London being the most famous. Rock-it Radio has a website dedicated to their ventures
and also have actual radio broadcasts available of
these offshore pirates.
We invite you to check them out our webpage at:
http://www.rockitradio.net/pirate.html
FINDING ROCK-IT RADIO ON THE 'TUNE IN RADIO' CELL PHONE APP.
We have had a few requests from listeners that they couldn't find us on the popular
'Tune in Radio' App. on Android and PC and iphones. Running a search of 'Rock-it Radio'
will actually list 100s of Rock stations.
So, the best way to find us on this very thorough and extensive app. that
I love using myself is -
run a search on 'rockabilly' - there you will easily find
Rock-it Radio listed.
Our Tune in Radio App. webpage is also at:
http://tunein.com/station/?stationId=41878
ARE YOU ON FACEBOOK ?? FOLLOW THE LATEST AT
ROCK-IT RADIO AND OUR LATEST VINTAGE BROADCAST RELEASES.
Rock-it Radio has 2 Facebook pages. One for our programming
online and notifications, and the other is for our vintage
broadcast shows for sale.


The Online Station is http://www.facebook.com/rockitface
For the Rock-it Radio Launching Pad and our latest deals and
releases you can follow us at:
http://www.facebook.com/rockitpad
MISSED A COUPLE OF NEWSLETTERS LAST COUPLE OF WEEKS??

THEN YOU CAN ALWAYS CHECK OUR BLOG WHERE IT IS ARCHIVED.
YOU CAN CHECK OUT OUR BLOG AT:

http://rock-itradio.blogspot.com/
=============================================


ROCK-IT RADIO DJ PAGE...


Remember you can check out all the Rock-it Radio DJ's

and read the bios of these DJ's that make these

Rock-it Radio Shows possible at:


And don't forget for even more pictures --

there is our picture page at:
============================================
IF YOU HAVE TWITTER COME FOLLOW US THERE

If you are one that tweets then please check out and join and get our
updates on your twitter account. Our Twitter link is right below.

http://www.twitter.com/RockitRadio1
It is our new Twitter account and we will once again start
scrolling our messages and updates on our webpages as well.


============================================
ROCK-IT RADIO OTHER TWITTER ACCOUNT FOR
NEWS RELEASES FOR N. IDAHO, KODIAK ALASKA AND
THE WORLD!
Rock-it Radio has another Twitter account and is used for News
Alerts that come into the studio here at Studio A. For those Twitter
users that would like to follow the link is:
http://www.twitter.com/RockitRadioNews

The feed can also be seen in our World News broadcast Webpage
at: http://www.rockitradio.net/news.html


=================================================
WELCOME NEW MEMBERS TO THE LISTENER'S CLUB!!!!

A big welcome to the below new Rock-it Radio listeners that
joined our Listeners Club from October 28, 2016 to
December 15, 2016
We hope that you enjoy the music Rock-it Radio provides
and our playlists and information that our weekly newsletter
provides. Any comments, criticisms, kudos, compliments or
future ideas is always welcome and you can e mail me personally at:
rockitradio@netzero.net

Gene Jackson - Las Vegas Nevada USA
Lennart - Thailand
David Gadd - Los Angeles, California USA
Cheryl Tassinari - Mt. Pleasant, South Carolina USA
Dave Maxwell - Keyingham, E. Yorkshire United Kingdom
Michael Zahorchak - Edinboro, Pennsylvania USA
Donald Rehrer - Mechanicsburg, Pennsylvania USA
Anita Doidge - Shepparton, Victoria Australia
Oscar Jimenez - San Juan, Costa Rica
David Lane - Lincolnton, North Carolina USA
Gordon Arnold - Herne Bay, Kent United Kingdom
Ferenc Hober - Somogy, Hungary
Peter Gallagher - Saltcoats, Scotland United Kingdom
Gertrudes Bernal - Marikina, Philippines
Robert Gilliam - Lake Jackson, Texas USA
Terry Lewis - St. Petersburg, Florida USA
Debbie Watts - Glasgow, Scotland United Kingdom
Richard Fahrner - Berkeley, California USA
Patrik FK - Albuquerque, New Mexico USA
John Ivey - United KingdomWe have gained 177 new likes in our listeners club
in our Facebook page Rock-it Radio Fan Page as well this week at:
http://facebook.com/rockitface and 91 more following us
on Twitter @Rockitradio1 .

We have added a total of 88 new members to the Rock-it Radio
Listeners Club since our last newsletter. We now have 88,390 exactly
that have joined the Rock-it Radio Listeners club.
We hope that you enjoy the rare 50's and early 60's
Rock and Roll, Rockabilly and Doo Wop (which most commercial
oldies radio stations have forgotten) that we are able to play
for you from Rock-it Radio. Remember, we are here for you!

So if you ever have any requests, dedications, comments and
suggestions we always love to hear from our listeners.
Our e mail address is:
rockitradio@netzero.net

====================================================
To learn more about the Rock-it Radio Listeners Club and our Free
Newsletter please check out:
http://www.rockitradio.net/member.html

It's free and easy to join and the Rock-it Radio Newsletter is always
online at: http://www.rockitradio.net/newsletter.html



====================================================

PLEASE HELP US SPREAD THE GOOD WORD OF ROCK-IT RADIO!

Do you know of someone that might also like the music

of Rock-it Radio? We are desperately trying to keep this

music alive and have been doing so since 1995! Please

share the information of this station. And if you have

a website would you please consider putting a Rock-it Radio

link on your page.

There are a few to choose from in our link page at:

http://www.rockitradio.net/links.html
HOW TO ORDER OLD ROCK-IT RADIO SHOWS = YOUR PURCHASES HELP US STAY ONLINE!!!
We have received many inquiries on how to order Rock-it Radio shows that are no longer in
our on archives webpage. These shows are still available on CD and mailed to you within 24
hours of receiving payment.
To help search for older shows that you may be looking for you may want to check the Rock-it
Radio blog site. Old newsletters describing the shows and playlists
are archived there and there is a menu bar on the right side that breaks down every playlist
Then you may either pay by check or money order or paypal. Rock-it Radio shows are only
$9.50 U.S. each and are studio quality broadcasts that were placed on Compact Disc here at
the Rock-it Radio Studio. We have a flat rate shipping charge of $1.50 U.S. so if you order
one or several -- it is still only $1.50
U.S. shipping. And we ship worldwide, overseas orders are mailed out first class airmail.
Instructions where to send payment is at our webpage:
like we can send you a paypal invoice within 24 hours.

When you order a Rock-it Radio show or shop at our Rock-it Radio Launching Pad you
help keep these oldies alive and help us pay the bills here at Rock-it Radio.
And at the same time -- you are not getting nothing for your donation, but actually
some of the shows and memories we hope we keep alive here at Rock-it Radio.



TOP 25 SELLERS OF THE ROCK-IT RADIO LAUNCHING PAD THIS WEEK

As you know the Rock-it Radio Store sells vintage Radio Broadcasts - Where you
hear the actual music, news and vintage advertisements - uncut and unedited
just like you would of heard
it back then. Here are the top sellers this week.


1. Flashdrive Rock-it Radio Shows 5501 - 5550
2. Flashdrive Rock-it Radio shows 5401 - 5450
3. Flashdrive Rock-it Radio Shows 5451 - 5500
4. RIR #393 - John Lennon as DJ on WNEW New York from 1974
5. Flashdrive - Rock-it Radio Shows 5601-5650
6. RIR #436 - Pat Sajack Armed Forces Vietnam network 3/18/1969
7. Flashdrive Rock-it Radio shows 5551 - 5600
8. RIR #539 - Cousin Brucie WABC New York 9/7/1965
9. RIR #181 - Wolfman Jack - XERB Tijuana 12/8/1967
10. Flashdrive Rock-it Radio Shows #5701 - 5750
11. RIR #644 - Dan Ingram WABC New York 6/12/1964
12. RIR #642 - Elliot Field - KFWB Los Angeles 1/9/1959
13. RIR #342 - John Peel BBC 1 12/31/1967 #1
14. Flashdrive Rock-it Radio Shows #5651 - 5700
15. RIR #176 - Porky Chedwick WAMO Pittsburgh 6/14/1960
16. RIR #646 - Larry Lujack WLS Chicago 8/8/1970
17. RIR #517 - Cousin Brucie WABC New York 11/29/1967
18. RIR #168 - Dan Ingram - WABC New York 7/22/1967 2 cd set
19. RIR #270 - BBC Buddy Holly Tribute from 1965.
20. RIR #439 - 2 CKLW Windsor, Ontario broadcasts from 1965.
21. RIR #567 - Kenny & Cash with Paul McCartney Capital Radio London 1973
22. Flashdrive Rock-it Radio Shows 5751 - 5800
23. RIR #359 - Gus Gossert Oldies show - WPIX FM New York 1971
24. RIR #410 - Dr. Don Rose - KFRC San Francisco 4/4/1974
25. RIR #343 - John Peel BBC Radio 1 12/31/1967 #2

If you would like to view these shows in depth you can check out

our Rock-it Radio Ebay Store at:

or in the Rock-it Radio Launching Pad store at:

http://www.rockitradio.net/store.html(listed by date)

and in the upper left hand corner -

there is a search box where you can type in the DJ name or

Station Call letters and that information on that show will pop up.

Ordering from the Ebay store will also qualify you for the Rock-it Radio

giveaway mentioned previously in this newsletter. Sale of

these broadcasts is what keeps Rock-it Radio going and thank

you again to everyone that buys these!

============================================
Rockabilly bands looking for airplay
If you or know someone that would like airplay on Rock-it Radio we invite
you to submit your press kits to Rock-it Radio. Our website for further
information is:
http://www.rockitradio.net/airplay.html
============================================
Come tune into the World on your computer!
1000s of stations around the world now broadcast online. We have a
link to some of the internet top directories to help you find these stations.
http://www.rockitradio.net/internetradio.html
============================================
Rock-it Radio Program Webpage Reminder
Remember, if the show that you want to hear is getting close to the bottom
of the list of radio shows, you should tune in as soon as you can. These shows
to have a high audio quality require a lot of internet bandwidth and memory.
And currently we can only afford the
30
latest shows online here at Rock-it Radio.
So, when a new show is put online it knocks the oldest one off the Rock-it Radio
archives page. Usually a show will at least last 16 to 20 days, once it is placed in
the archives.
============================================
OUR SISTER STATION FIRST NATIONS BROADCASTING.
We invite you to also check out our sister station -- First Nations
Broadcasting. And tune into the rather Cool North of the Yukon and Alaska
with our very own Debbie Snowdove!
============================================
Well that is just about it for this newsletter and playlists of our latest
shows. We hope that you enjoy them.
We will do our best to keep these shows on for at least 14
days and hopefully 21 days.
All the best always,
Bennie Dingo
Rock-it Radio

website: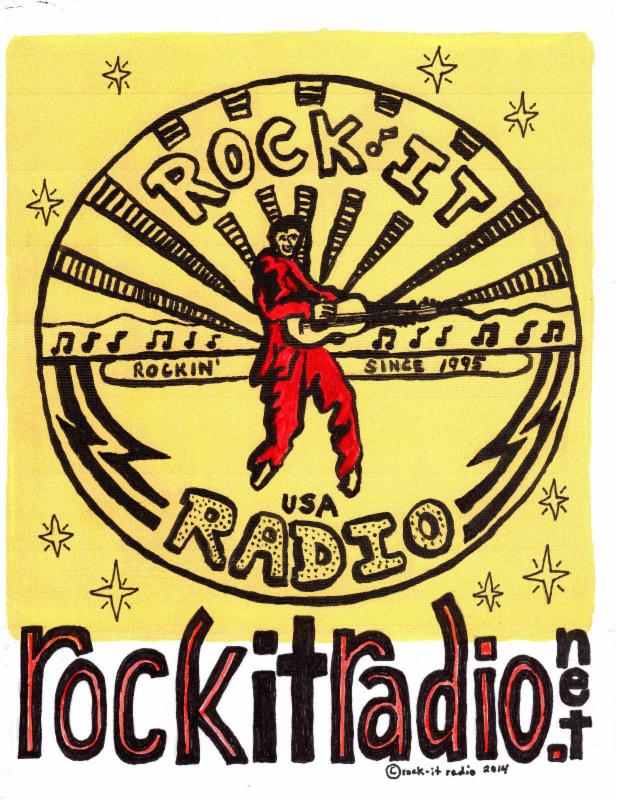 Rock-it Radio main website:
http://www.rockitradio.net

Archived Shows at:
http://www.rockitradio.net/programs.html

Rock-it Radio Vintage Broadcast Store:
(Launching Pad)
http://www.rockitradio.net/store.html