Rock-it Radio since 1995 providing 50s and early 60s Rock and Roll, Doo Wop and Rockabilly music online! Come tune us in at http://www.rockitradio.net We also have several 100 original radio shows from the first decade of Rock and Roll at: http://www.rockitradio.net/store.html
=======================================================================
ROCK-IT RADIO NEWSLETTER AND PLAYLIST
SHOWS #5895 TO #5910
FROM
May 3, 2017 to May 17, 2017

Hi Rock-it Radio Listeners,

More Rock-it Radio Shows online! 16 to be exact
featuring Shows #5895 to #5910. And the Playlists
are below. We also have for this newsletter 2 new
Releases for keeping Rock-it Radio online and
Rocking - Out 10th Flashdrive featuring Rock-it
Radio shows #5851 to #5900 over 80 hours of Rock-it
Oldies programming! And a new vintage Broadcast
not all that old from 2002 but that has Great Music.
More information on that further down in the newsletter!

So, Let's get started with some playlists!

Our shows can be heard in our archives page at:

http://www.rockitradio.net/programs.html
and click to the speaker on the left to hear the show.

Remember if you are new to Internet Radio and having trouble tuning in though --
Check out our webpage to help you out at:
http://www.rockitradio.net/tunein.html
============================================
REMEMBER YOU CAN ORDER ANY OF THESE ROCK-IT
RADIO SHOWS ON CD!!!! NEW EASIER ORDERING!

Would you like one of these Rock-it Radio shows on CD? To
be able to play anywhere? And help support Rock-it Radio at the same time.
For complete information check out our program
ordering webpage at: http://www.rockitradio.net/order.html

Our shows are of course copies straight from the studio so they are studio
quality and satisfaction is guaranteed.
Or if you would rather receive an invoice let me know and we
can e mail you a copy - Just e mail us the show(s) you would like
to have and the Rock-it # to: rockitradio@netzero.net

==============================================
All Rock-it Radio shows stay online from 18 to 24 days and are
broadcast in MP3 Format. To tune in just click to the speaker
at our program page at:
http://www.rockitradio.net/programs.html

The newest show added replaces the oldest show so if you see a
show near the bottom of the listing - you should listen as soon as
possible.

==============================================
WE COULD USE YOUR SUPPORT

Rock-it Radio is 100% Publicly supported. But when you
donate to the Rock-it Radio Launching Pad - we give you
a vintage broadcast of your choice.
100% of all sales from the Rock-it Radio Store (Launching
Pad) goes back to pay copyright fees, LLC taxes, Internet
and bandwidth costs of Rock-it Radio. Without your support
we would not exist. So. please consider a purchase at:
http://www.rockitradio.net/store.html

===============================================
NOTE: ALL SHOWS BELOW CAN BE FOUND IN OUR
PROGRAM WEBPAGE -
TO TUNE IN CLICK TO SPEAKER OF THE SHOW YOU WANT
TO LISTEN TO. EITHER MP3 OR REAL PLAYER.
BOTH FORMATS ARE SUPPORTED.
AT:
HTTP://WWW.ROCKITRADIO.NET/PROGRAMS.HTML

==============================================
JAMMIN JAMES RILEY WITH 3 HOURS OF THE ROCKABILLY AND
BLUES RADIO SHOW ON ROCK-IT RADIO SHOW #5895

With great Rockabilly and Blues style music along with
great interviews it's James Rileys Rockabilly and Blues
Radio show - this week featuring 3 Rockin' hours here
on Rock-it Radio.

Rockabilly N Blues Radio Hour #1

Segment with Billy Harlan about "I Wanna Bop" and playing Viva Las Vegas.

1. Trouble On The Line- Hayden Thompson
2. Monkey Beat City- The Rob Ryan Roadshow
3. Honky Tonk Mind (The Woman I Need)- Johnny Horton
4. It Shook Me Up- JD McPherson
5. Get Rhythm- Rosie Flores
6. How Do We Rock- Babe Miller
7. Good Gracious Me- Johnny Powers
8. Drinkin' Wine Spo-Dee-O-Dee- Malcolm Yelvington
9. Mean Woman Blues- Dion
10. Don't Over Think It- Texas T & The Shine Runners
11. All I Can Do Is Cry- The Palomars
12. Combo Boogie- Derek Irving & His Combo
13. I Wanna Bop- Billy Harlan
14. Try Me- Bob Luman
15. Jackpot- Nikki Lane
16. Viva Las Vegas- Elvis Presley
17. Bus' Breakdown- Dale Watson & Ray Benson
18. Saturday Night- The Sugar Daddies


Rockabilly N Blues Radio Hour #2

(Sorry no playlist available)

Rockabilly N Blues Radio Show Hour #3

(Sorry no Playlist available)

===============================================
ROCKIN' DADDY O'S ROCKABILLY RANCH PARTY ON
ROCK-IT RADIO SHOW #5896

Ready for some top notch high energy Rockabilly?
I bet Rock-it Radio's DJ Rockin' Daddy O has it
for you! Check out the playlist below of what you
will hear in this show!

1. Brown Eyed Handsome Man-Chuck Berry
2. Oh Baby Doll-Chuck Berry
3. Thirty Days (To Come Back Home)-Chuck Berry
4. Shifting Gears-Miss Amy Griffin
5. Let It Rain-The Screamin' Rebel Angels
6. Let's Go!-Rhythm Bound
7. Losing My Mind-Little Lesley & The Bloodshots
8. You Talk To Much-Dwarless Fearsley
9. Rockin' Out The Blues-The Musical Linn Twins
10. Coming In Hot-Pat Capocci
11. Gotta Move-Santos
12. Fine Fine Superfine-Big Sandy & His Flyrite Boys
13. I Got To The River-Barny & The Rhythm Allstars
14. Go! Go! Go!-Roy Orbison & The Teen Kings
15. Honey Bun-Levi Dexter
16. Something Wicked This Way Comes-Jittery Jack
17. Big City Blues-Darrel Higham & Jittery Jack
18. Rockabilly Saturday Night-Roy Wilson & The Buzzards
19. Forty Days-Ronnie Hawkins & The Hawks
20. Brown Eyed Handsome Man-Buddy Holly

===============================================
JACKIE BOND AND THE LET THE GOOD TIMES ROLL
OLDIES SHOW ON ROCK-IT RADIO SHOW #5897

Jackie Bond from his studios in the UK! Is back this
week with a great mix of 50s and early 60s Rock hits.
Come check it out as it's listed as show #5887 in
our program page here at Rock-it Radio!
Here's the playlist -

1. Frankie Please - Rodney Crowell
2. Modern Don Juan - James Intveld
3. 2.45 Jump - Phat Cat Swinger
4 Good Rockin Daddy - Etta James
5. I Wanna Know - The Duprees
6. Well All Right - Big Joe Turner
7. Proud Mary - Solomon Burke
8. Upstairs Boogie - Lil Son Johnson
9. Messy Bessie - Louis Jordan
10. Bye Bye Baby - B B King
11. That's My Desire - Bob and Earl
12. Bouncin' Baby - Laurel Aitken
13. Dressin Up - Charlie Gracie
14. Chicken Shack Boogie - Mitch Woods
15. Let There Be Drums - Sandy Nelson
16. Rock And Roll Is Here To Stay - Danny and The Juniors
17. Madison Time - Ray Bryant and His Combo
18. Walking Along - The Solitaires
19. Goodnight My Love - Jesse Belvin

===============================================
PETE CHASTON'S DOO WOP SHOW ON ROCK-IT RADIO
SHOW #5898

Pete is back this week with more great Doo Wop
for you here on Rock-it Radio! We currently don't
have a playlist for this show but as always Pete is
spinning great 50s and early 60s Doo Wop here on
Rock-it Radio!


1. Doo-Wop All Night Long-The Blue Emotions (opening theme song) (1982)
2. Bongo Stomp-Little Joey & The Flips (1962)
3. Bongo Stomp-Little Isidore & The Inquisitors (1995) * * *

***SPECIAL ON THE GROUP, THE CLASSICS***

4. Cinderella-The Classics (1960)
5. Life is But a Dream-The Classics (1961)
6. Angel Angela-The Classics (1961)
7. Till Then-The Classics (xxxx)
8. If You Want To-The Carousels (1962)
9. Pretty Girl-The Golden Bells (1959)
10. Wiggle Wobble (instrumental)-Les Cooper & The Soul Rockers (1962)

SILLY SONG SEGMENT:

11. Peanuts-Little Joe & The Thrillers (1957)
12. Hey, Peanuts-The Inventions (The Catalinas) (1960)

SCRATCHY 45 RPMs SEGMENT:

13. I'll Make You Understand-The Performers (1959)
14. Candy Store Love-The Val-chords (1959)
15. Pretty Baby-Gino & Gina (xxxx)
16. Didn't it Rain-The Exciting Voices (1960)

BACK TO THE CDs &/or More 45 RPMs:

17. Stranded in the Jungle-The Cadets (1956)
18. Mexico-The Rocketones (1957)
19. Gone-The Darvels (xxxx)
20. I Want You to be My Girl-Frankie Lymon & the Teenagers (1956)

SLOW SONG SEGMENT:

21. Shouldn't I Know-The Cardinals (1951)
22. My Girl Awaits Me-The Castelles (1953)
23. Blue Velvet-The Clovers (1954)
24. Music to my Ears-The Camelots (1963)
25. Walking the Streets Alone-The Love Letters (1957)
26. Lucille-The Drifters (1954)
27. (closing theme song) Adios-The Five Discs (1961)

===============================================
LANE QUIGLEY AND THE MEMORY LANE SHOW - PART II
50 YEAR CLASS REUNION - THE MUSIC OF THE CLASS OF 1967
ON ROCK-IT RADIO SHOW #5899

Those of us from the graduating Class of 1967 were listening to
some fabulous music during our senior year. On part 2 of The
Memory Lane Show's 5 part 50 Year Reunion program, Rock-it radio
features great memorable music from memorable artists like The 4 Tops,
Mamas & Papas, Monkees, Rascals, Rolling Stones, DC5,
The Byrds and Dionne Warwick.
Along with the music, we'll hear a number of interview clips from
the music makers, and we'll take a look at the headlines and pop
culture from the day. Come re-live your senior year as we shine
the Rock-it Radio Spotlight on the Class of 1967.

1. Bernadette - The Four Tops
2. Creeque Alley - The Mamas & Papas
3. You Got What It Takes - Dave Clark Five
4. Show Me - Joe Tex
5. A Little Bit Me, A Little Bit You - The Monkees
6. Lonely Too Long - The Rascals
7. Make Love To Me - Johnny Thunder & Ruby Winters
8. My Back Pages - The Byrds
9. Ruby Tuesday - The Rolling Stones
10. Sunday Will Never Be The Same - Spanky & Our Gang
11. Yellow Balloon - Yellow Balloon
12. Alfie - Dionne Warwck
13. Hip Hug Her - Booker T & The MGs
14. Angel of the Morning - Evie Sands
15. Don't You Care? - The Buckinghams
16. Just Look What You've Done - Brenda Holloway
17. Here Comes My Baby - The Tremeloes
18. I'll Make Her Love Me - Barbara Lewis
19. Then You Can Tell Me Goodbye - The Casinos
20. Speak Her Name - Walter Jackson

NOTE: THIS SERIES WILL AIR AND UPLOADED EVERY FRIDAY
SO STAY TUNED!

===============================================
DJ SPINNING ROCK BOOGIE AND THE MOVIN AND GROOVIN
SHOW ON ROCK-IT RADIO SHOW #5900
"REGIONAL ROUND UP Pt 58 - WASHINGTON STATE & WASHINGTON DC Pt 2"

Join DJ Spinning Rock Boogie for another in his series "Regional Round Up"
and another look at some of the record labels from the State of Washington
and Washington DC, where those labels were based, although not necessarily
where they were recorded, and of course the artists who recorded on them,
including tracks from the 50's and 60's
plus the regular feature of the "Smooch Spot".

01. Intro - Medley
02. lover Lover - Daryl Britt & The Blue Jeans (59) Blue - Seattle
03. Just like The Other One - Art Stuart (59) Colt-45 - DC
04. Rock And Roll Mama - Roy James & The Rhythm Rockers (57) Capital Transcription Service - DC
05. Oh Baby Doll - Leslie Sneed & The Sneed Family (59) Cascade - Spokane
06. Guitar Bass Boogie (instrumental) - Gary Valet & The Valets (60) Bison - Buffalo
07. We're Happy - Carl & Norman (60 Empire - DC
08. Hey Little Girlie - The Maddy Brothers (58) Celestial - Seattle
09. The Bug - Jerry Dallman & The Nightcaps (58) Punch - DC
10. Rockin' The Blues - Peggy Griffith (58) Now - Seattle
11. Able One (instrumental) - Eddie Seacrist & His Rollin' Rockets (58) KRC - DC
12. Club 21 - The Madmen Of Note (63) Ra-Ra - Tacoma
13. I Love An Angel - Little Bill & The Bluenotes (59) Dolton - Seattle
14. No Greater Love - Mickey Gilley (60) Potomac - DC
15. Don't Worry - Vince Everett (59) Saga - DC
16. Until You're Mine - Johnny & Stan (61 Ko-Mat - DC
17. Here We Go Again - Butch Paulson & His Rovin' Gamblers (67) Stacka - Tacoma
18. Tall Skinny Annie - Clayton Watson & His Silhouettes (58) Lavender - Centralia
19. Nursery Rock - Ira Allen (58) Mav-Rick - Puyallup
20. How Will It End - Barry Darvel (59) Colt-45 - DC
21. Step It Up And Go - Bob Dingus (61) Florentine - DC
22. Bop-A-Loop - Joe Lyons & The Arrows (59) Hit Maker - DC
23. No Doubt About It - The Chanteurs (64) Bolo - Seattle
24. Think About Me - Bill Griffith (59) Belfair - Tacoma
25. On The Rampage - Link Jefferies & The Missing Links (59) Key - DC
26. The Name Is Love - Johnny Clark & The Four Playboys (59) SRC - Spokane
27. Rock Maggie Rock (instrumental) - Roy Clark & The Versitals (60) Owens - DC
28. Danger One Way Love - Ray Vernon (61) Rumble - DC
29. Willie Was A Bad Boy - Ray Gentry & The Rovin' Gamblers (61) Maverick - Seattle
30. Do Your Best - Vince Malloy (58) Tait - DC
31. Outro - Medley

===============================================
JAMMIN JAMES RILEY AND tHE CATCH A WAVE SURF ROCK
SHOW ON ROCK-IT RADIO SHOW #5901

Time to kick off that board and run up to the beach
with your favorite guy or gal and tune in on your
solid state Hi Fi Radio for another 3 hour segment
of Catch A Wave Surf Rock Show! Here is the playlist
on Rock-it Radio.

Catching A Wave Hour #1

Trivia question, Dick Dale, Messer Chups, The Astronauts,
Jack Nitzsche and more!

1. California Sun- The Rivieras
2. Lonely Surfer- Jack Nitzsche
3. Nashville Coupe- Hal Blaine
4. Back To The Bermuda Triangle- Messer Chups
5. Rebel Without A Cause- The Hondells
6. Delirious Love- Neil Diamond (with Brian Wilson)
7. Listen To Me- Brian Wilson
8. Guess I'm Dumb- Wondermints
9. Powershake- The Paladins
10. Hot Rod USA- The Neanderthals
11. Isn't It Time- The Beach Boys
12. Surfer's Holiday- Annette
13. Baja- The Astronauts
14. Surfside- The Denvermen
15. Shoot The Curl- The Honeys
16. Palisades Park- Freddy Cannon
17. Let's Go Trippin'- The Marketts
18. El Nino- Chris Casello Trio
19. Hava Negila- Dick Dale


Catching A Wave Hour #2

Duane Eddy talks about "Rebel Rouser" in Forrest Gump later in the show.

1. Rhino Chaser- The Nebulas
2. Jack The Ripper- Los Straitjackets
3. Peter Gunn Theme- Clarence Clemons
4. Red '55- Deke Dickerson & The Trashmen
5. Atlanticus- Aqualads
6. The Whammy- Pollo Del Mar
7. I've Been Waiting- The Explorers Club
8. Walk Don't Run- Nokie Edwards & The Light Crust Doughboys
9. Inspector Longboard- Mikelangelo & The Tin Star
10. You're So Good To Me- M. Ward
11. Fugitive- Revelaires
12. Shleppin & Kvetchin'- Meshugga Beach Party
13. Rebel Rouser- Duane Eddy
14. Far Out- The Cherry Drops
15. Vega-Tables- The Beach Boys
16. Gasser- The Exotics
17. Surfink- Mr. Gasser & The Weirdos
18. Our Favorite Martian- Hawaii Samurai


Catching A Wave Hour #3

1. Big Surf- The Long Boards
2. Wild Ideas- Dick Dale
3. Teen Beat- Sandy Nelson
4. Origins Unknown- The Strangebeats
5. It's Alright- The Volcanics
6. Let's Dance- David Marks & The A-Phonics
7. Flamingo Twist- Black Flamingos
8. California Sun- The Crickets
9. The Brain From Planet X- Fifty Foot Combo
10. She's My Summer Girl- Jan & Dean
11. Surfin' Bird- Ramones
12. Tiger Shark- Insect Surfers
13. Soul Searchin'- The Beach Boys
14. Do It Again (2011 version)- The Beach Boys
15. Walk Like An Egyptian- Real Gone
16. Charge- Renegades
17. Run, Don't Walk- The Mermen
18. Hawaii Five-O- The Atlantics
19. Apache- Link Wray

===============================================
OTTO FUCHS & ROCKIN THE JOINT SHOW WITH DO YOU REMEMBER?
IN ROCK-IT RADIO SHOW #5902

THE WANDERERS SPECIAL on the movie, book, and a bit
of New York'Ss Bronx in 1963!

1. Do You Remember? - The Vision Mastermixers
2. Walk Like A Man - The Four Seasons
3. Ya Ya - Lee Dorsey
4. Big Girls Don't Cry - The Four Seasons
5. Pipeline - The Chantels
6. You Really Got A Hold On Me - Smokey Robinson & The Miracles
7. Shout - The Isley Brothers
8. Do You Love Me - The Contours
9. Wipeout - The Surfaris
10. Soldier Boy - The Shirelles
11. Runaround Sue - Dion
12. Stand By Me - Ben E. King
13. Midtown American Main Street Gang - Dion
14. Tequila - The Champs
15. I Love You - The Volumes
16. The Wanderer - Dion
17. The Pattern Of My Lifeline - Dion
18. Baby It´s You - The Shirelles
19. To Whom It May Concern - Lisa Marie Presley
20. If You Talk In Your Sleep - Elvis Presley

===============================================
COUNTRY RECORD ROUND UP SHOW WITH KEN STRANGE ON
ROCK-IT RADIO SHOW #5903

Join DJ Ken Strange as he delves once more into the archives
to bring you another Country Record Round Up with country
music from right across the board from the early 1950's to the
00's including his regular feature, "Duos & Duets"

01. Intro - Medley
02. I Don't Care If Tomorrow Never Comes - Hank Williams Snr & His Drifting Cowboys (50) MGM
03. Family Tradition - Hank Williams Jnr (79) Elektra / Curb
04. Crazed Country Rebel - Hank Williams III (06) Bruc
05. Gonna Pack My Troubles - Loretta Lynn (60) Zero
06. I Ain't Living Long Like This - Rodney Crowell (04) Epic
07. Tongue Tied Smith - Rex Allen (63) Mercury
08. Set The Wedding - Helen Carter (57) Hickory
09. It's A Love Thing - Keith Urban (99) Capitol
10. Cocaine Blues - Johnny Cash (60) Columbia
11. My Baby Loves Me - Martina McBride (93) RCA
12. Don't Tell Me What To Do - Pam Tillis (90) Arista
13. Golden Ring - Tammy Wynette & George Jones (76) Epic
14. My Kind Of Woman My Kind Of Man - Vince Gill & Patty Loveless (99) MCA-Nashville
15. Birds Of A Feather - The Almost Brothers (86) MTM
16. Let The World Keep On A Turnin' - Buck & Alan Owens & The Buckeroos (68) Capitol
17. Baby Nothing's Wrong With Me - Susan McCann (78) Top Spin
18. Truck Drivin' Woman - Philomena Begley (79) Home Spun
19. Back Home Again - Dickie Rock (77) Solo
20. Sunnyside Of The Mountain - John Glenn & The Mainliners (75) Misty
21. Blue Boy - Jim Reeves (58) RCA-Victor
22. Old Kentucky Fox Chase - Red Foley (50) Decca
23. I Feel The Blues Coming On - Hayden Thompson & His Southern Melody Boys (55) Von
24. You're Gonna Change - Bashful Vic Thomas & The Western Rhythmaires (56) Premium
25. Railroad Crossing - Cliff Shepard (56) Choice
26. Outro - Medley

===============================================
AL COOL DADDY SMITH WITH TRIBUTE TO BOBBY vEE ON
ROCK-IT RADIO SHOW #5904 PART III TRIBUTE TO
BILL HALEY!

This show will feature members of Bill Haley and the Comets
who in one way or another managed to stand on their own
as artists over and above their membership in this important
pioneer group of Rock and Roll.

The Jodimars consisting of Marshall Lytle, Dick Richards and
Joey D'Ambrosia left The Comets in 1955 to form their own group
that functioned successfully for about four years between
1955 and 1958.

A great number of their recordings will be played.

As well Rudy Pompilli, the saxophonist for The Comets after
Joey D'Ambrosia left will be featured. His only solo album was
released in 1976 one year after his death.
The Play list is a follows:

1. Rude The Dude-Rudy Pompilli 1976
2. Rattle My Bones-The Jodimars 1956
3. Rattle Shakin' Daddy-The Jodimars 1956
4. Slippin' and Slidin'-Rudy Pompilli 1976
5. Dynamite Sax-Rudy Pompilli 1976
6. Saxophobia-Rudy Pompilli 1976
7. Midnight At The Oasis-Rudy Pompilli 1976
8. Clara-Bella-The Jodimars 1956
9. Midnight-The Jodimars 1956
10. Cloud 99-The Jodimars 1957
11. Later-The Jodimars 1957
12. Well Now Dig This-The Jodimars 1955
13. Let's All Rock Together-The Jodimars 1955
14. Rudy's Rock-Rudy Pompilli 1976
15. Rudy's Rock-Bill Haley and The Comets 1956
16. Flamingo- Rudy Pompilli 1976
17. Annie Bananie-Rudy Pompilli 1976
18. Groovin' at The Nightcap-Rudy Pompilli 1976
19. Same Old Loverman-Rudy Pompilli 1976
20. Dance The Bop-The Jodimars 1956
21. Eat Your Heart Out Annie-The Jodimars 1956
22. Lotsa Love-The Jodimars 1956

===============================================
JACK VAN OERS ROCKIN WINDMILL ROCKABILLY SHOW
ON ROCK-IT RADIO SHOW #5905

This is a special show from the land of windmills, dykes,
canals, cheese, tulips, cows and wooden shoes.
In this dynamic Rockin' Windmill Show host Jack van Oers
plays music originating from the Netherlands only.
So, just turn up the volume, find your blue suede shoes
and petticoats and enjoy the show ......

1. Don't go - Charles Tuinenburg & the Goossens Brothers - 1960
2. Pretty rockin' shoes - The Four Sweeters - 1960
3. My little countess - John Lamers - 1961
4. Veertig rovers - Peter & zijn Rockets - 1960
5. Wild one - Fred (Franky) Franken & the Rocking Diamonds - 1960
6. Ching-ching twist - Clark Richard - 1962
7. Bumba bumba - Danny Angel & the Crescents - 1962
8. Jump up again - The Black Devils - 1962
9. Oh mein Papa - Fire Devils - 1963
10. All over the mountain - Tony Light - 1963
11. Just out of reach - John Marjon & the Beavers - 1964
12. I wanna dance with you - Johnny Lion & the Jumping Jewels - 1965
13. Carolina muka manies - The Young Savages - 1965
14. Just one time - The Dynamic Rockers - 196x
15. Don't knock me out - Long Tall Ernie & the Shakers - 1972
16. Teenage car crash - The Pontiacs - 1973
17. Listen - Albert West - 1976
18. True love - The Shakin' Arrows - 1977
19. I knew from the start - Pee Wee & the Specials - 1980
20. Amapola - Savage Kalman & the Explosion Rockets - 1981
21. I knew the bride - Pleasure - 198x
22. Love you done me wrong - Rene Shuman - 2001
23. Southern Streamline - Dixie Aces - 2002
24. Make like rock & roll - Keessie & the Seltens of Swing - 2002
25. Harmonize - The Ranch Girls & the Ragtime Wranglers - 2002
26. Silver threads between the gold - Little Henny & the Shaking Boys - 1961

===============================================
MATT THE CAT AND THE JUKE IN THE BACK SHOW WITH
PART II TRIBUTE TO CHUCK BERRY 1956 1957
IN ROCK-IT RADIO SHOW #5906

Chuck Berry has been called the Father of Rock and Roll and
with good reason. He took the blues of T-Bone Walker and
B.B. King, the guitar riffs of Carl Hogan and mixed it with
the fiddle and Western Swing music of Bob Wills & His Texas Playboys.
Then he rolled it all into one big sonic blast. Rhythm & Blues become
Rock n Roll when Chuck Berry began writing songs aimed at teenagers,
finally granting them their own music.

1. Swanee River Boogie - Albert Ammons & His Rhythm Kings â€" Mercury 1947Â
2. Roll Over Beethoven - Chuck Berry LIVE on Alan Freed's Rock n Roll Dance Party Show 1956
3. Havana Moon - Chuck Berry â€" Chess 1956Â
4. Rock And Roll Music (Demo) - Chuck Berry â€" Unissued 1956Â
5. Untitled Instrumental - Chuck Berry â€" Unissued 1956Â
6. School Day (Ring! Ring! Goes The Bell) - Chuck Berry â€" Chess 1957Â
7. Deep Feeling - Chuck Berry Chess 1957Â
8. Low Feeling - Chuck Berry â€" Unissued 1957Â
9. La Jaunda (Espanol) - Chuck Berry â€" Chess 1957Â
10. Oh Baby Doll - Chuck Berry â€" Chess 1957Â
11. How You've Changed - Chuck Berry â€" Unissued 1957Â
12. Rock And Roll Music - Chuck Berry 1957Â
13. *GREAT 78 Blue Feeling - Chuck Berry â€" Chess 1957Â
14. 13 Question Method - Chuck Berry â€" Unissued Early Version 1957Â
15. How High The Moon - Chuck Berry â€" Unissued I957Â
16. Sweet Little Sixteen (Demo) - Chuck Berry â€" Unissued 1957Â
17. Guitar Boogie - Chuck Berry â€" Unissued as Single 1957Â
18. After Hours - Erskine Hawkins & His Orch â€" Bluebird 1946

===============================================
LANE QUIGLEY AND THE MEMORY LANE SHOW - PART III
50 YEAR CLASS REUNION - THE MUSIC OF THE CLASS OF 1967
ON ROCK-IT RADIO SHOW #5907

Part 3 of our five-week tribute to the Class of 1967 spotlights
more music, interview clips, news headlines and pop culture
a Lane Quigley hosts a 50 Year Reunion on Rockitradio.net.
This week's playlist features a potpourri of musical styles,
including Motown, British Invasion, Sunshine Pop, Folk-Rock,
Pop, Classic Rock, Movie music and Soul If you are a graduate
of the Class of 1967, get ready to re-live your senior year on
this week's Memory Lane Show.

1. Little Bit of Soul - The Music Explosion
2. With This Ring - The Platters
3. On a Carousel - The Hollies
4. Sweet Soul Music - Arthur Conley
5. Ding Dong The Witch is Dead - The Fifth Estate
6. Soulfinger - The Bar-kays
7. I'm a Man - The Spencer Davis Group
8. Girl, You'll Be a Woman Soon - Neil Diamond
9. No Good To Cry - The Wildweeds
10. The Love I Saw In You Was Just a Mirage - Smokey Robinson & The Miracles
11. Six O'Clock - Lovin' Spoonful
12. Another Day, Another Heartache - The 5th Dimension
13. Sunshine Girl - The Parade
14. Fire - Jimi Hendrix
15. Let's Live for Today - The Grass Roots
16. Happy Jack - The Who
17. At The Zoo - Simon & Garfunkel
18. Casino Royale - Herb Alpert & The Tijuana Brass
19. The Look of Love (Soundtrack Version) - Dusty Springfield
20. That's Someone You'll Never Forget - Elvis Presley
21. Dry Your Eyes - Brenda & The Tabulations


NOTE: THIS SERIES WILL AIR AND UPLOADED EVERY FRIDAY
SO STAY TUNED!

===============================================
COOL BOBBY B & THE DOO WOP STOP ON ROCK-IT RADIO
SHOW #5908

From a undisclosed location Cool Bobby B is back
with another 3 hours of programming for us here
at Rock-it Radio! Great Doo Wop Rock and Roll from
the first decade of Rock and Roll now on demand
as show #5800 here at Rock-it Radio. Here is
the playlist of the show.

Hour #1

1. Rockin' with the clock - Shirley and Lee
2. Now - The Velltones
3. Talk to the Angels - Lou Josie
4. High on a hill - The Marcels
5. Enchanted - The Platters
6. The way of a clown - Teddy Randazzo
7. Hold me, Thrill me, Kiss me - Mel Carter
8. There goes my baby - The Drifters
9. When my little girl is smiling - The Drifters
10. Sweets for my sweet - The Drifters
11. My side of the story - The Crosstones
12. Tell me why - Norman Fox & Robroys
13. Gee - The Crows
14. For Sentimental Reasons - The Cleftones
15. Why don't you write me - The Dedications
16. Stormy Weather - The Zircons
17. Lone Stranger - The Zircons
18. I'm on the looking in - Little Anthony & Imperials

Hour #2

19. I'm Blue - the Ikettes
20. Glory of love - 5 Keys
21. Vengeance - The Matadors
22. A million to one - Jimmy Charles
23. You Cheated - The Shields
24. You'll never walk alone - Johnny Maestro & Brooklyn Bridge
25. To The Aisle - 5 Satins
26. Could this be magic - The Dubs
27. Count Every Star - The Rivieras
28. Dear Lord - The Continentals
29. Who do you love - Philly Cuzz
30. Who's lovin' you - The Miracles
31. Who do you think you are - The Fascinators
32. Lovers never say goodbye - The Flamingos
33. I only have eyes for you - The Flamingos
34. Every Night - The Chantels
35. A moment ago - The Angels
36. So many times - The Epics

Hour #3

37. 11th hour melody - The Rivieras
38. Moonlight Serenade - The Rivieras
39. Shangri La - The Parakeets
40. Diamonds and Pearls - The Paradons
41. What's so good about goodbye - The Miracles
42. Lonely way - The Skyliners
43. There goes the boy - The Lydells
44. On my way to school - The Cautions
45. I'll love you forever - Del Shays
46. You're for me - The Escorts
47. Cupid - Sam Cooke
48. Cherry Pie - Marvin & Johnny
49. A thousand miles away - The Heartbeats
50. Whispering Bells - Del Vikings
51. Silver Bells - The Zircons
52. Rainy day bells - The Globetrotters
53. Shu Bop - Dion
54. Singing Waters - The Truetones
55. I love you - Volumes
56. Goodnight Baby - The Imaginations

===============================================
DAVE THE RAVE RELICS AND RARITIES SHOW ON
ROCK-IT RADIO #5909

If you love the hits and also the rarities of 60s
Rock and Roll, then Dave the Rave's Relics and
Rarities show is for you. Check out the playlist
of this 2 hour show.

Hour #1

1. Back Slop - "Baby" Earl & The Trini-Dads
2. Lonely Days, Lonely Nights - Fabulaires
3. Two Kinds Of Teardrops - Del Shannon
4. Don't Cry Baby - Charles (Chuck) Colbert
5. We Can Work It Out - Beatles
6. She Don't Cry - Del Ashley
7. (If You Cry) True Love, True Love - Drifters
8. Feel Good All Over - Claude Huey
9. Play Me Something Slow - Marlene & the Debanettes
10.If I Can't Have You - Etta and Harvey
11. You're Something Else For Me - Freddy Fender
12. Let The Good Times Roll - JD McPherson
13. I Gotta Dance - Strangeloves
14. The Breeze From The Trees - Strands
15. Cry - Teddy Greene
16. Let Me Go The Right Way - Supremes
17. Ten Commandments - Prince Buster
18. I Know Me - Gene and Jeanne (Discovery of Week)
19. Night Train - Jimmy Nicol and the Shubdubs


Hour #2

1. Scream - Ralph Nielsen and Chancellors
2. It's All Over Now - Rolling Stones
3. It's All Over But The Shouting - JD McPherson
4. You Can Get What I Got - David Ruffin
5. Let Her Go - Nobody's Children
6. You'll Be Mine - Hollies
7. Settle Down - Esquires
8. They Ran For Their Lives - Knickerbockers
9. Outta Gas - Sunrays
10. Bad Misunderstanding - Critters
11. It Hurts So Much - Superbs
12. Soothe Me - Sam Cooke
13. Does Your Mind Go Wild - Detroit Soul
14. With A Tear - Invaders
15. Baby's Gone - Graham Bonney
16. I Can't Explain - Who
17. I Might Have Known - Teen Kings
18. Cara-Lin - Strangeloves
19. What Would You Do - Precisions
20. Now It's Gone - Bentleys (Discovery Of Week)
21. South Phoenix - Duane Eddy

===============================================
MIKE TAYLOR'S ROCKABILLY HOUR ON ROCK-IT RADIO
SHOW #5910

Mike Taylor one of our first DJs here at Rock-it
Radio is back this week with another great set of
Rockabilly tunes from his studios in Branson, Missouri.
Rockabilly The Way You like It...a mix of old and new tunes...
with an emphasis on the Macks!

1. I'm Gonna Leave You - Maryann & The Tri-Tones 2015
2. Bye Bye My Baby - Maryann & The Tri-Tones 2014
3. Senior Class - Mickey Lee Lane 1965
4. Handy Andy - Patti Mack 1958
5. Molly And Tenbrooks - Jimmy Sun & The Radiants 1961
6. I Beat The Blues - Jack Merlin 1962
7. The Tug Boat Song - Johnny Mac 1959
8. Rock These Blues Away - The Midnighters 1959
9. Rosalie - Roy Lett - 1960 (Smitty - Tenn)
10. Pick And Shuffle - Norb Kamin - 1960
11. All Over Again - Johnny Cash 1958
12. What Do I Care - Johnny Cash 1958
13. Pass That Bottle - The Devil's Daughters 2012
14. Train Kept A' Rollin' - Imelda May 2011
15. Rock-A-Chicka - Warner Mack 1957
16. She's My Little Baby - Bobby Mack 1959
17. Bony Maronie - Miss Nikki & The No Names 1961
18. You Tear Me Up - Arlie Miller 1959 (Unissued)
19. Kitty Kat - Bill Mack 1956
20. Dirty Dishes - Jeani Mack 1958
21. Baby I Want Another Date With You - Mac & Gwen 1958
22. I Like To Go - Floyd Mack 1960
23. You Hurt Me So - Leon Mach 1961
24. It's You I Love - Leon Mach 1961

==============================================
HISTORY OF ROCK-IT RADIO

If you are new to Rock-it Radio and would like to learn more --
We have our History Page up as well -- telling the story of Rock-it
Radio. You can find it at:
http://www.rockitradio.net/history.html


SUMMER IS COMING - THE PERFECT TIME OF YEAR
TO BUY A ROCK-IT RADIO T SHIRT!

Have you seen the new full line of Rock-it Radio T shirts that have been
Released. 3 New designs by Rock-it Radio's own Jammin' Jan.
Each Rock-it Radio T shirt is only $16.00 each plus shipping. And 100% of
All monies goes to keeping Rock-it Radio Online.

Come check out the latest styles.:

http://www.rockitradio.net/tshirt.html

Check Website for updates and availability

NEW RELEASE IN THE ROCK-IT RADIO STORE
FEATURING DJ DADDY DOO WOP

As most of you know Rock-it Radio exists and pays
for it's bills from selling vintage Rock & Roll Radio
Shows. We have a new one our release RIR #654. It
is DJ Daddy Doo wop and his show over WSNC 90.5 FM
from Winston-Salem North Carolina.
from 6/9/2002 A great Doo Wop Show. Now listed in
our Rock-it Store under North Carolina listings at
http://www.rockitradio.net/store.html

or now listed on Ebay at:
http://www.ebay.com/itm/-/142386254895

VINTAGE VIDEO PICK OF THE WEEK

For the week of 17 May, 2017
This week in our archives page at:

Now listed in the top listing of our video page...

http://www.rockitradio.net/video.html

This week:
A UK Band out there today called the "The Class of '58"
singing Little Bitty Pretty One at the Chesterfield UK
RnR Club.

MORE NEW RELEASES IN THE ROCK-IT RADIO LAUNCHING PAD
STORE AND EBAY STORE.

Almost all of our funding for Rock-it Radio comes from the
sale of vintage radio broadcasts from Rock Radio Shows from
the 1950s to the 1970s. We have 4 new releases so far
this month. Here is a brief description and the Ebay link
to these shows. (Playlists of these vintage broadcasts can
be seen in our ebay listing links below).

1. Kenny Everett BBC Light Programme from 7/20/1969.
Great features of 60s Rock. Released as RIR #650 and
in our Ebay store as:
http://www.ebay.com/itm/131986894044

2. Sebastian Stone & Tony Taylor on WOR-FM New York City
from 4/2/1969. Released as RIR #651 and you can view the
playlist and all at our Ebay store listing at:
http://www.ebay.com/itm/142212250474

3. DJ Helen Shapiro and the LOST BEATLES INTERVIEW!
over BBC Radio 4. A must for any Beatles historian of fan.
Released as RIR #652 & at:
http://www.ebay.com/itm/132034603141

4. DJ Bob Dayton Top 40 Radio show over KRLA Los Angeles from
8/14/1969. Released as RIR #653 & at:
http://www.ebay.com/itm/-/132035582202

All updates and latest news on our vintage radio
broadcasts can be found in our Launching Pad Facebook
page at http://www.facebook.com/rockitpad

=============================================

GIVEAWAY BROADCAST CD FOR MAY 2017 --
ALLISON STEELE - WNEW-FM NEW YORK CITY 2/11/1969

Flashback to 1969 as this month's giveaway is a show by the
Nightbird -- Allison Steele playing eclectic and psychadelic
rock in the wee hours at Radio Station Giant WNEW-FM in
New York City. If you would like to see the playlist of the
show you can see it in our Ebay Store listing at
http://www.ebay.com/itm/140090626396
BUT DON'T BUY IT! You get it free from us here at Rock-it Radio.
With every purchase you make from Rock-it Radio to support
Rock-it Radio.
All sales go to keeping Rock-it Radio online, and this is our
way to sweeten the deal and say Thank you!

Purchase anything from these sites below and you will get the
Allison Steele (Night Bird) Broadcast CD for FREE.

Thank you everyone that helps keep Rock-it Radio online and Rockin!

Your bonus CD for this month
by supporting Rock-it Radio - Just purchase any
Rock-it Radio items from the sites below.

Rock-it Radio Launching Pad : http://www.rockitradio.net/store.html
Rock-it Radio Ebay Store: http://stores.ebay.com/Rock-it-Radio-Store
or
Order a show of Rock-it Radio at: http://www.rockitradio.net/order.html
Or vintage Wolfman Jack shows at http://www.rockitradio.net/wolfman.html
or 50 Rock-it Radio Shows on a flashdrive at http://www.rockitradio.net/flashdrive.html
Catalog orders will also receive this FREE CD.


**Rock-it Radio is 100% Listener supported we have no
sponsors and the sale of our vintage radio broadcasts helps
us to stay online and pay the copyright and broadcasting
fees it takes to remain online. thank you for all your
consideration.**

================================================
NEW RELEASE -- FLASHDRIVE OF ROCK-IT RADIO
SHOWS #5851 TO #5900. OUR 10TH FLASHDRIVE

Flashdrive #10 featuring Rock-it Radio shows #5851 - #5900
50 Rock-it Radio Shows on mp3 thumb drive (80! hours of
oldies Rock!) now released and available at:
http://www.ebay.com/itm/-/142386227901

from there you can also see the playlist of shows on this
flashdrive.
or you can order any of our Flashdrives at:
http://www.rockitradio.net/flashdrive.html

================================================

================================================
RECRUITING FOR RADIO PERSONALITIES FOR
ROCK-IT RADIO

Do you know your 50s and 60s Rock & Roll, Doo wop
or Rockabilly? And the ability to produce a show
on CD?
We do require a playlist for this newsletter but
your show will stay online for the world for approx.
3 weeks. Unlike some stations where you broadcast one
time and it's gone forever.
If interested check out our Rock-it Radio Team page
at: http://www.rockitradio.net/team.html

We are also looking for writers and translators!
COLLECTING AIRCHECKS - A HOBBY OF RADIO NOSTALGIA
What is a Aircheck? It is simply a recording of a radio broadcast. Usually collected by Radio fans.
Come check out our webpage on collecting Airchecks.

http://www.rockitradio.net/aircheck.html


COME REMEMBER WOLFMAN JACK !!!
Rock-it Radio has a very special way to remember Wolfman Jack.
Arguably the most iconic of American DJ's. Come check out the
Rock-it Radio Wolfman Page at:
REMEMBERING OFFSHORE PIRATE RADIO IN THE UK
In the mid 1960s it was difficult for the youth to actually listen to Rock and Roll in the UK.
The BBC actually ran only a few hours a weekend to provide the young Brits with this outlet.
At night during the week they ventured to even tune into Radio Luxembourg to get there fill,
that broadcast rock and pop around the clock.
To fill this void some venture capitalists decided to bring in commercial radio aboard refitted
radio ships. And anchor themselves just off into International waters off the English coast.
Radio Caroline (named after Caroline Kennedy the U.S. President's daughter at the time)
and Radio London being the most famous. Rock-it Radio has a website dedicated to their ventures
and also have actual radio broadcasts available of
these offshore pirates.
We invite you to check them out our webpage at:
http://www.rockitradio.net/pirate.html
FINDING ROCK-IT RADIO ON THE 'TUNE IN RADIO' CELL PHONE APP.

We have had a few requests from listeners that they couldn't find us on the popular
'Tune in Radio' App. on Android and PC and iphones. Running a search of 'Rock-it Radio'
will actually list 100s of Rock stations.
So, the best way to find us on this very thorough and extensive app. that
I love using myself is -
run a search on 'rockabilly' - there you will easily find
Rock-it Radio listed.
Our Tune in Radio App. webpage is also at:
http://tunein.com/station/?stationId=41878
ARE YOU ON FACEBOOK ?? FOLLOW THE LATEST AT
ROCK-IT RADIO AND OUR LATEST VINTAGE BROADCAST RELEASES.

Rock-it Radio has 2 Facebook pages. One for our programming
online and notifications, and the other is for our vintage
broadcast shows for sale.


The Online Station is http://www.facebook.com/rockitface

For the Rock-it Radio Launching Pad and our latest deals and
releases you can follow us at:
http://www.facebook.com/rockitpad
MISSED A COUPLE OF NEWSLETTERS LAST COUPLE OF WEEKS??

THEN YOU CAN ALWAYS CHECK OUR BLOG WHERE IT IS ARCHIVED.
YOU CAN CHECK OUT OUR BLOG AT:

http://rock-itradio.blogspot.com/
=============================================


ROCK-IT RADIO DJ PAGE...


Remember you can check out all the Rock-it Radio DJ's

and read the bios of these DJ's that make these

Rock-it Radio Shows possible at:


And don't forget for even more pictures --

there is our picture page at:
============================================
IF YOU HAVE TWITTER COME FOLLOW US THERE

If you are one that tweets then please check out and join and get our
updates on your twitter account. Our Twitter link is right below.

http://www.twitter.com/RockitRadio1
It is our new Twitter account and we will once again start
scrolling our messages and updates on our webpages as well.


=================================================
We are in our 22nd year!!! Please share the good news with your
family and friends that love original Oldies Music - We are back and
Rockin' with new shows in our program page at
http://www.rockitradio.net/programs.html
Just click the MP3 speaker to the show that has your musical interest!
=================================================
WELCOME NEW MEMBERS TO THE LISTENER'S CLUB!!!!

A big welcome to the below new Rock-it Radio listeners that
joined our Listeners Club from May 2, 2017 to
May 17, 2017
We hope that you enjoy the music Rock-it Radio provides
and our playlists and information that our weekly newsletter
provides. Any comments, criticisms, kudos, compliments or
future ideas is always welcome and you can e mail me personally at:
rockitradio@netzero.net

John Guest - United Kingdom
Sylvia Davis - Jamestown, New York USA
Lou Dynowicz - Brooklyn New York, USA
Tim Bleichroth - Kentucky, USA
Dwayne Yonts - Goshen, Indiana USA
Nila Dir - Richmond Hill, Ontario Canada
Leo Sirios - Iriga, Camarines Sur Philippines
Soul Captain - St. George, Utah USA
Kelly Koenig - Toronto, Ontario Canada

We have gained 110 new likes in our listeners club
in our Facebook page Rock-it Radio Fan Page as well this week at:
http://facebook.com/rockitface and 29 more following us
on Twitter @Rockitradio1 .

We have added a total of 148 new members to the Rock-it Radio
Listeners Club since our last newsletter. We now have 89,655 exactly
that have joined the Rock-it Radio Listeners club.
We hope that you enjoy the rare 50's and early 60's
Rock and Roll, Rockabilly and Doo Wop (which most commercial
oldies radio stations have forgotten) that we are able to play
for you from Rock-it Radio. Remember, we are here for you!

So if you ever have any requests, dedications, comments and
suggestions we always love to hear from our listeners.
Our e mail address is:
rockitradio@netzero.net

====================================================
To learn more about the Rock-it Radio Listeners Club and our Free
Newsletter please check out:
http://www.rockitradio.net/member.html

It's free and easy to join and the Rock-it Radio Newsletter is always
online at: http://www.rockitradio.net/newsletter.html



====================================================

PLEASE HELP US SPREAD THE GOOD WORD OF ROCK-IT RADIO!

Do you know of someone that might also like the music

of Rock-it Radio? We are desperately trying to keep this

music alive and have been doing so since 1995! Please

share the information of this station. And if you have

a website would you please consider putting a Rock-it Radio

link on your page.

There are a few to choose from in our link page at:

http://www.rockitradio.net/links.html
HOW TO ORDER OLD ROCK-IT RADIO SHOWS = YOUR PURCHASES HELP US STAY ONLINE!!!
We have received many inquiries on how to order Rock-it Radio shows that are no longer in
our on archives webpage. These shows are still available on CD and mailed to you within 24
hours of receiving payment.
To help search for older shows that you may be looking for you may want to check the Rock-it
Radio blog site. Old newsletters describing the shows and playlists
are archived there and there is a menu bar on the right side that breaks down every playlist
Then you may either pay by check or money order or paypal. Rock-it Radio shows are only
$9.50 U.S. each and are studio quality broadcasts that were placed on Compact Disc here at
the Rock-it Radio Studio. We have a flat rate shipping charge of $1.50 U.S. so if you order
one or several -- it is still only $1.50
U.S. shipping. And we ship worldwide, overseas orders are mailed out first class airmail.
Instructions where to send payment is at our webpage:
like we can send you a paypal invoice within 24 hours.

When you order a Rock-it Radio show or shop at our Rock-it Radio Launching Pad you
help keep these oldies alive and help us pay the bills here at Rock-it Radio.
And at the same time -- you are not getting nothing for your donation, but actually
some of the shows and memories we hope we keep alive here at Rock-it Radio.



TOP 25 SELLERS OF THE ROCK-IT RADIO LAUNCHING PAD THIS WEEK

As you know the Rock-it Radio Store sells vintage Radio Broadcasts - Where you
hear the actual music, news and vintage advertisements - uncut and unedited
just like you would of heard
it back then. Here are the top sellers this week.


1. Rock-it Radio Flashdrive shows #5801 -5850
2. RIR #393 John Lennon Guest DJ - WNEW New York 1974
3. Rock-it Radio Flashdrive Show #5601 - 5650
4. RIR #168 Dan Ingram - WABC New York 7/22/1967
5. RIR #181 Wolfman Jack - XERB Rosarito Mexico 12/8/1967
6. RIR #426 Dan Ingram - WABC New York 7/4/1968
7. RIR #205 Porky Chedwick WAMO Pittsburgh 6/16/1960
8. RIR #425 Don Steele - KHJ Los Angeles 7/3/1967
9. RIR #539 Cousin Brucie - WABC New York 9/7/1965
10. RIR #260 Tony The Tiger Taylor - WXQI Atlanta 4/1/1965
11. RIR #644 Dan Ingram - WABC New York 6/12/1964
12. RIR #397 - Wolfman Jack - XERB Rosarito 8/1/1968
13. RIR #436 Pat Sajack - Armed Forces Vietnam Network 3/18/1969
14. RIR #559 Dan Ingram - WABC New York Hr. 3 12/26/1969
15. RIR #622 Johnny Morgan - CKLW Windsor, Ontario 7/12/1967
16. RIR #439 2 1965 Broadcasts of CKLW Ontario
17. RIR #624 Bob Green - WKNR Detroit 3/30/1970
18. Rock-it Radio show #5846 - Al Smith Bobby Vee tribute
19. RIR #200 Wolfman Jack XERB Rosarito 10/1/1969 Pt.1
20. RIR #629 Charlie Van Dyke - CKLW Windsor Ontario 4/28/1969
21. RIR #457 George Granny Goose Groves - KGMB Honolulu 6/27/1973
22. RIR #552 Cousin Brucie WABC New York 7/12/1963
23. RIR #176 Porky Chedwick - WAMO Pittsburgh 6/14/1960
24. RIR #650 Kenny Everett & Chris Denning BBC 5/20/1967
25. RIR #387 Joey Reynolds WKBW Buffalo 2/24/1964


If you would like to view these shows in depth you can check out

our Rock-it Radio Ebay Store at:

or in the Rock-it Radio Launching Pad store at:

http://www.rockitradio.net/store.html(listed by date)

and in the upper left hand corner -

there is a search box where you can type in the DJ name or

Station Call letters and that information on that show will pop up.

Ordering from the Ebay store will also qualify you for the Rock-it Radio

giveaway mentioned previously in this newsletter. Sale of

these broadcasts is what keeps Rock-it Radio going and thank

you again to everyone that buys these!

============================================
Rockabilly bands looking for airplay
If you or know someone that would like airplay on Rock-it Radio we invite
you to submit your press kits to Rock-it Radio. Our website for further
information is:
http://www.rockitradio.net/airplay.html
============================================
Come tune into the World on your computer!
1000s of stations around the world now broadcast online. We have a
link to some of the internet top directories to help you find these stations.
http://www.rockitradio.net/internetradio.html
============================================
Rock-it Radio Program Webpage Reminder
Remember, if the show that you want to hear is getting close to the bottom
of the list of radio shows, you should tune in as soon as you can. These shows
to have a high audio quality require a lot of internet bandwidth and memory.
And currently we can only afford the
30
latest shows online here at Rock-it Radio.
So, when a new show is put online it knocks the oldest one off the Rock-it Radio
archives page. Usually a show will at least last 16 to 20 days, once it is placed in
the archives.
============================================
OUR SISTER STATION FIRST NATIONS BROADCASTING.
We invite you to also check out our sister station -- First Nations
Broadcasting. And tune into the rather Cool North of the Yukon and Alaska
with our very own Debbie Snowdove!
============================================
Well that is just about it for this newsletter and playlists of our latest
shows. We hope that you enjoy them.
We will do our best to keep these shows on for at least 14
days and hopefully 21 days.
All the best always,
Bennie Dingo
Rock-it Radio

website: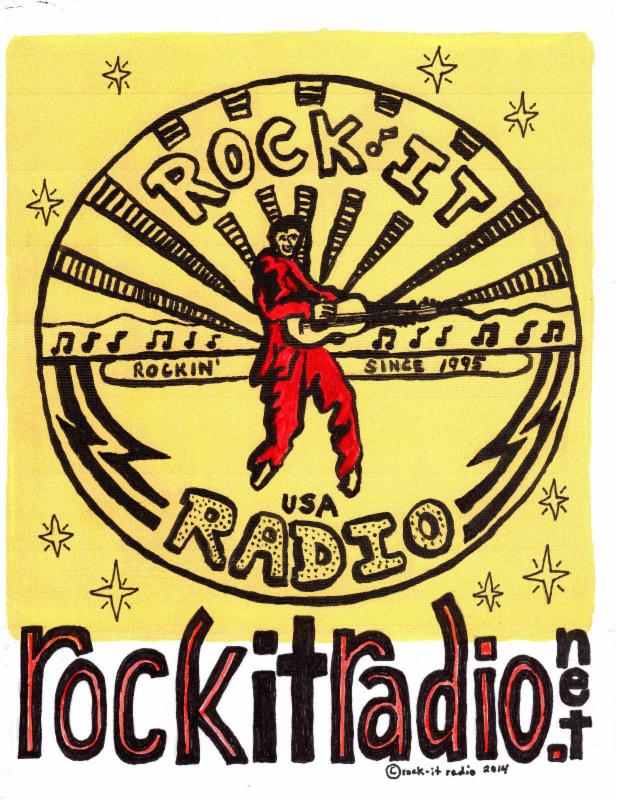 Rock-it Radio main website:
http://www.rockitradio.net

Archived Shows at:
http://www.rockitradio.net/programs.html

Rock-it Radio Vintage Broadcast Store:
(Launching Pad)
http://www.rockitradio.net/store.html