Rock-it Radio since 1995 providing 50s and early 60s Rock and Roll, Doo Wop and Rockabilly music online! Come tune us in at http://www.rockitradio.net We also have several 100 original radio shows from the first decade of Rock and Roll at: http://www.rockitradio.net/store.html
==========================================================================
ROCK-IT RADIO NEWSLETTER AND PLAYLIST
SHOWS #5447 TO #5460
FROM
October 8, 2015 to October 20, 2015
Hi Rock-it Radio Listeners & Launching Pad supporters,

Hope everyone is doing well as we are changing
seasons quickly into Fall from Summer here on the
top side of the World. This week we have the playlists
for shows #5447 to #5460 plus much more and not to mention
our FREE Halloween CD giveaway here at Rock-it Radio.

So, Let's get started with some playlists!

Our shows can be heard in our archives page at:

http://www.rockitradio.net/programs.html
and click to the speaker on the left to hear the show.

Remember if you are new to Internet Radio and having trouble tuning in though --
Check out our webpage to help you out at:
http://www.rockitradio.net/tunein.html
============================================
REMEMBER YOU CAN ORDER ANY OF THESE ROCK-IT
RADIO SHOWS ON CD!!!! NEW EASIER ORDERING!

Would you like one of these Rock-it Radio shows on CD? To
be able to play anywhere? And help support Rock-it Radio at the same time.
For complete information check out our program
ordering webpage at: http://www.rockitradio.net/order.html

Our shows are of course copies straight from the studio so they are studio
quality and satisfaction is guaranteed.
Or if you would rather receive an invoice let me know and we
can e mail you a copy - Just e mail us the show(s) you would like
to have and the Rock-it # to: rockitradio@netzero.net

==============================================
All Rock-it Radio shows stay online from 18 to 24 days and are
broadcast in MP3 Format. To tune in just click to the speaker
at our program page at:
http://www.rockitradio.net/programs.html

The newest show added replaces the oldest show so if you see a
show near the bottom of the listing - you should listen as soon as
possible.

==============================================
WE COULD USE YOUR SUPPORT

Rock-it Radio is 100% Publicly supported. But when you
donate to the Rock-it Radio Launching Pad - we give you
a vintage broadcast of your choice.
100% of all sales from the Rock-it Radio Store (Launching
Pad) goes back to pay copyright fees, LLC taxes, Internet
and bandwidth costs of Rock-it Radio. Without your support
we would not exist. So. please consider a purchase at:
http://www.rockitradio.net/store.html

===============================================
NOTE: ALL SHOWS BELOW CAN BE FOUND IN OUR PROGRAM WEBPAGE - TO TUNE IN CLICK TO SPEAKER OF THE SHOW YOU WANT TO LISTEN TO. EITHER MP3 OR REAL PLAYER. BOTH FORMATS ARE SUPPORTED.
AT:
HTTP://WWW.ROCKITRADIO.NET/PROGRAMS.HTML

===============================================
LANE QUIGLEY AND THE MEMORY LANE SHOW WITH MORE ROCKIN OLDIES IN ROCK-IT RADIO SHOW #5447

The Memory Lane Show makes another visit to a parallel
universe this week with two dozen more alternate takes
of songs that you know well " you just don't know them like
you're gonna hear them! Most of the recordings that
host Lane Quigley shares are rejected takes, but some are
underdubs (Unsweetened by strings, reverb, background
singers or other adornments), a capella tracks or other
oddities. Some of the differences are subtle and others
are blatant - but you know the originals well enough to
detect the differences. You're going to truly enjoy
listening to these fascinating rarities on this week's
Memory Lane Show.

1. Turn On Your Lovelight - Bobby Blue Bland
2. Stranded In The Jungle - The Cadets
3. Book of Love - The Monotones
SOUND BITE
4. Soul & Inspiration - The Righteous Brothers
5. It Will Stand - The Showmen
6. Short Fat Fannie - Larry Williams
7. Ain't Too Proud To Beg - The Temptations
SOUND BITE
8. Peggy Sue - Buddy Holly
9. Sound of Silence - Simon & Garfunkel
10. My True Story - The Jive Five
11. Iko Iko - The Dixie Cups
12. I Saw Her Standing There - The Beatles
SOUND BITE
13. Stagger Lee - Lloyd Price
14. Ruby Baby - Dion
15. Stop! In The Name Of Love - The Supremes
16. Charlie Brown - The Coasters
17. Wouldn't It Be Nice? - The Beach Boys
18. Hey Girl - Freddie Scott
19. I Want You, I Need You, I Love You - Elvis Presley
20. Crossfire - The Orlons
21. We Gotta Get Out Of This Place - The Animals
22. Summer Nights - Marianne Faithfull
23. Do I Love You - The Ronettes
24. Goodnight My Love - Jesse Belvin

================================================
CLARKE JAMES (CJ THE DJ) WITH THE ROCKIN N ROLLIN
RECORD REVIEW ON ROCK-IT SHOW #5448

CJ is back this week with another great rockin' show
of 50s and early 60s Rock and Roll. All Sub Genres
are always here on CJ's show and here is the playlist
of what you will hear in show #5448.

1. Intro. Stack-A-Records (Edited) - Tom Tall
2. Rock Crazy Baby - Art Adams And The Rhythm Knights
3. Rock Away My Blues - Sandra Peters
4. Girls Girls Girls (Part II) - The Coasters
5. The Jones Girl - The Five Satins
6. Darling - The Vibes
7. I Never Will Forget - Sammy And The Del-Larks
8. Hey Girl Hey Boy - Oscar McLollie And Jeanette Baker
9. Midsummer Night's Dream - Jan And Dean
10. Who's That Knocking - The Genies
11. Come On - The Sharps
12. Hot Dog - Corky Jones
13. Martha Sue - Bingo Miller And The Velvetones
14. A Thousand Stars - The Rivileers
15. Love No One But You - The Jesters
16. Splashin - The Shades
17. Land O Lakes - Deke Dickerson And The Trashmen
18. Baby I Need (Ting-A-Ling) - Benn Zeppa And The Zephyrs
19. How Soon - The Jacks
20. Dirty Dishes - Jeani Mack
21. C'mon Everybody - Eddie Cochran
22. There's No Other Like My Baby - The Crystals
23. The Wind - The Jewels
24. Devil With The Blue Dress - Shorty Long
25. Do Re Mi (Forget About The Do And Think About Me) - Dusty Springfield
26. I Want You To Be My Girl - The Teenagers Featuring Frankie Lymon
27. Shimmy Like Kate - The Olympics
28. Dry Run - Parker Cunningham
29. Spinning My Wheels - Chuck Brooks And The Sharpies
30. Darling (Please Bring Your Love) - Phil & Harv
31. I Got A Wife - The Mark IV

================================================
BILLY VERA'S ROCK AND ROLL PARTY WITH RISQUE
RHYTHM AND BLUES ON ROCK-IT RADIO SHOW #5449

Billy Vera's Rock & Roll Party Presents Risque Rhythm & Booze Records

In the early 50's, R&B was rarely played on the radio. Most often,
it got it's exposure in juke boxes (generally found in taverns) or from
the record players in the stores where the music was being sold.
Without having to worry about FCC restrictions, record manufacturers
learned that music about booze and sex attracted customers.
On this week's Rock & Roll Party, host Billy Vera presents some prime
examples of Risque Rhythm & Booze music from the era.
Time for some sin on RockitRadio.

Hour 1
1. Sexy Ways - The Midnighters
2. Hey Bartender - Floyd Dixon
3. My Man Stands Out - Julia Lee
4. Thunderbird - Hal Paige & The Wailers
5. Long John Blues - Dinah Washington
6. I Ain't Drunk - Lonnie The Cat
7. Rocket 69 - Todd Rhodes Orchestra
8. Double Crossin' Liquor - Stick McGhee & His Buddies
9. Keep On Churnin' - Wynonie Harris
10. One Scotch, One Bourbon, One Beer - Amos Milburn
11. No No Cherry - The Turbans
12. Looped - Melvin Smith
13. Walk a Block and Fall - Piney Brown
14. Don't Stop Dan - The Checkers
15. I Wasn't Thinkin' I Was Drinkin' - The Checkers
16. Drinkin' Wine Spo-Dee-O-Dee - Jerry Lee Lewis
17. Too Much Jelly Roll - Floyd Dixon
18. Half Pint of Whiskey - Johnny Guitar Watson
19. Toy Bell - The Bees

Hour Two
20. Bloodshot Eyes - Hank Penny
21. Rotgut - Wynonie Harris
22. Million Dollar Secret - Helen Humes
23. WPLJ - The Four Deuces
24. Silent George - Lucky Millinder
25. Pink Champagne - Joe Liggins
26. Baby Let Me Bang Your Box - The Toppers
27. Bootleggin' Baby - Roy Brown
28. The Walkin' Blues - Fluffy Hunter
29. Let Me Go Home Whiskey - Amos Milburn
30. Drill Daddy Drill - Dorothy Ellis
31. Drunk - Jimmy Liggins
32. Butcher Pete - Roy Brown
33. Can't Do Sixty No More - The Du Droppers
34. I Want a Bow-Legged Woman - Bullmoose Jackson
35. It Went Down Easy - Melvin Smith
36. Big Long Slidin' Thing - Dinah Washington
37. Sixty Minute Man - The Dominoes
38. Ride Daddy Ride - Fats Noel

===============================================
JAMES RILEY AND THE ROCKABILLY AND BLUES SHOW ON
ROCK-IT RADIO SHOW #5450

From Tennessee, USA the birthplace of Rockabilly music
James Riley does his first show for us here at Rock-it
Radio.

Rockabilly N Blues Radio Hour Hour #1
Legendary Sun Records drummer is our guests and talks
about playing on tracks from Jerry Lee Lewis, Billy Lee Riley,
Charlie Rich, Johnny Cash, Roy Orbison, Bill Justis ("Raunchy),
Charlie Feathers and more!

1. Uranium Rock- Warren Smith
2. Flyin' Saucers Rock & Roll- Billy Lee Riley & The Little Green Men
3. Red Hot- Billy Lee Riley & The Little Green Men
4. Crazy Arms- Jerry Lee Lewis
5. Breathless- Jerry Lee Lewis
6. Don't Be Cruel- Jerry Lee Lewis
7. Philadelphia Baby- Charlie Rich
8. Raunchy- Bill Justis
9. Straight A's In Love- Johnny Cash
10. Lonely Weekends- Charlie Rich
11. Cootzie Coo- Charlie Feathers
12. Beat Nik- J.M. Van Eaton
13. Bo Diddley- J.M. Van Eaton
14. Memphis '55- J.M. Van Eaton


Rockabilly N Blues Radio Hour #2
Brent Huff and Patrick Stack from the documentary It's A Rockabilly
World join us to talk about the film and hear a few tunes
from it as well.

1. Oh My- Nikki Hill
2. Clarksdale Boogie- Hillbilly Moon Explosion
3. When All Hell Breaks Loose- Aileen Quinn & The Leapin' Lizards
4. The Way I Walk- Robert Gordon with Link Wray
5. Honey Bun- Larry Donn
6. Treat Her Right- Switchblade 3
7. Love Fever- Jimmy Angel
8. He's Got It Bad- Dominique Pruitt
9. Down In Texas- Danny B. Harvey
10. Jelly Bean- Eddie Cochran
11. Big Mary's- Nico Duportal & His Rhythm Dudes
12. Tear The Woodpile Down- Marty Stuart & His Fabulous Superlatives

===============================================
COOL BOBBY B AND THE DOO WOP STOP ON ROCK-IT RADIO SHOW #5451

It's two shows in the same week for Cool Bobby B
as we catch up and get his shows online to you as
quick as possible. Don't be fooled by other oldies
stations - Cool Bobby B began his online shows right
here on Rock-it Radio. The others are just copy cats :)
Here is the playlist of his show.

Hour #1

1. Rockin' with the clock -- Shirley and Lee
2. Talk with the angels -- Lou Josie
3. If I just had you -- Johnnie and Joe
4. Drip Drop -- Drifters
5. Thank you and goodnight -- The Angels
6. Lover's Island -- Blue Jays
7. Soon -- Four Seasons
8. I love you -- Volumes
9. One Summer Night - Danleers
10. You'll never walk alone - Johnny Maestro & Brooklyn Bridge
11. For your precious love -- Kenny Vance & Planotones
12. Let's start all over again -- The Paragons
13. I know -- The Drifters
14. May I -- The Tams
15. Who do you love -- Sapphires
16. Maybe - The Chantels
17. Never Before -- The Cameos
18. Sunday kind of love -- The Harptones

Hour #2

19. Wisdom of a fool -- Five Keys
20. This I swear -- The Skyliners
21. Till Then -- The Classics
22. Lonely Teardrops -- Jackie Wilson
23. Just to be with you -- The Passions
24. Please love me forever -- Cathy Jean & Roommates
25. Take me as I am -- The Duprees
26. Oh what a night -- The Dells
27. Tears on my pillow -- Little Anthony & Imperials
28. I only have eyes for you - The Flamingos
29. 10 Commandments of Love -- The Moonglows
30. She's so fine -- The Cleftones
31. Baby I gotta know -- The Crests
32. No one to love -- The Crests
33. Guilty -- The Crests
34. I wonder who -- The Fascinators
35. Oh my angel -- The Inclinators
36. Poor boy needs a preacher -- Untouchables

Hour #3

37. 11th hour melody -- The Rivieras
38. Moonlight Cocktails -- The Rivieras
39. Under the Boardwalk -- The Drifters
40. Sand in my shoe -- The Drifters
41. I'm so unhappy -- Uniques
42. Lover's Plea -- The Pagans
43. My hear's desire -- Blenders
44. Always -- The Distants
45. I believe in you -- Robert & Johnny
46. All my love belongs to you -- Teen Queens
47. For your love -- Ed Townsend
48. What little girls dream of you -- The Castelles
49. To be loved -- Jackie Wilson
50. Sea of Love -- Phil Phillips
51. I'm in the mood for love -- The Chimes
52. The Bounce -- The Olympics
53. Cry like I Cried -- The Harptones
54. Truly -- Arthur Lee Maye & Crowns
55. Goodnight Baby -- The Imaginations

===============================================
ROCKIN' DADDY O'S VOODOO - ZOMBIE HALLOWEEN BASH ON ROCK-IT RADIO SHOW #5452

Every year we can count on Rockin Daddy O to do a
Halloween Special here on Rock-it Radio! And 2015
is no different! Here is his playlist of this year's
Rockin' Daddy O's Halloween Special!

1. The Jungle-Diablito
2. Watusi Zombie-Jan Davis
3. VooDoo Woman-Gene Maltais & Flat Duo Jets
4. Last Ride-Dukes
5. Dead-Poets
6. Zombie Stomp-Del-Aires
7. Oomp Boomp-Rhythm Addicts
8. Wombie Zombie-Bill Taylor
9. Ghost Train-Swanks
10. Rigor Mortis-Graystone Four
11. Voodoo Voodoo-Lavern Baker
12. Voodoo Twist-Johnny Winter
13. Casting My Spell-Spellbinders
14. Bloodshot-String Kings
15. Hoodoo Voodoo-Dusty Chance & Allnighters
16. I Put A Spell On You-Screamin' Jay Hawkins
17. Graveyard Rock-Tarantula Ghoul & Her Gravediggers
18. Spooksville-Nu-Trends
19. The Voodoo Man-Del Vikings
20. Deadman's Stroll-Revels
21. The Voodoo Man-Kingsfive
22. Voodoo Hurt-Marvels
23. Marie Celeste-Polecats
24. Ghost Riders-Ronnie Dawson

===============================================
JACKIE BOND & LET THE GOOD TIMES ROLL OLDIES SHOW ON ROCK-IT RADIO #5453

From the Uk comes Jackie Bond with another great set
of Oldies from the 50s and early 60s. It's all great
stuff and now waiting to be heard in our program page
at rockitradio.net/programs.html

1. Shakin Mother For You - Champion Jack Dupree
2. That's All I Want - Bobby Day
3. Hot Rod - Clifton Chenier
4. I Wanna Be There - Linda Brannon and The Singing Sons
5. I Got 9 Little Kisses - Shorty Long
6. The Candy Apple Red Impala - Little E and The Mello-Tone Three
7. House Party - Louis Jordan
8. Class Room - Frankie Sardo
9. I Don't Need No Doctor - Ray Charles
10. Hey Little Dancing Girl - Don Thomas
11. Hey Baby Stop - The Ebonaires
12. Stop Look And Love Me - Fletcher Williams
13. Harry and Carry - Eddie Cooley and The Dimples
14. Rock,Roma Rock It - Scat Man Crothers
15. Carol - Tommy Roe
16. I Really Love You - Dee Dee Sharp
17. Rock Me Baby - Ike and Tina Turner
18. Tell Me Why - The Belmonts
19. Dance On Little Girl - Dee Clark
20. You Said You Loved Me - Earl Lewis and The Channels
21. All Love Broke Loose - Wink Martindale
22. My Angel Lover - The Firebirds
23. Good Night My Love - Jesse Belvin

===============================================
KEN STRANGE COUNTRY RECORD ROUND UP SHOW WITH
TRADITIONAL COUNTRY MUSIC ON ROCK-IT #5454

Join DJ Ken Strange for another Country Record Round Up Show
with country music from right across the board.
Something old, something new, and a whole lot more in between,
including the regular feature, "Duos & Duets".
So let's head on out to them there hills for another round up
of good old country music.

01. Intro - Medley
02. Music Makin' Mama From Memphis - Hank Snow (51) RCA-Victor
03. Too Many Irons In The Fire - Moon Mullican (51) King
04. No Muss No Fuss No Bother - Hank Penny & His California Cowhands (51) RCA-Victor
05. Swinging Doors - George Jones (68) Musicor
06. Lonely Street - Patsy Cline (62) Decca
07. Hillbilly Girl With The Blues - Lacy J. Dalton (80) CBS
08. A Thousand Miles From Nowhere - Dwight Yoakam (93) Reprise
09. Made In Japan - Buck Owens & His Buckeroos (72) Capitol
10. Give Me 40 Acres - The Willis Brothers (64) Sparton
11. Big Bertha The Truck Driving Queen - Bud Brewer (72) RCA
12. Leavin' Louisiana In The Broad Daylight - The Oak Ridge Boys (79) MCA
13. Fishing In The Dark - The Nitty Gritty Dirt Band (87) Warner Bros-Nashville
14. There Ain't No Good Chain Gang - Johnny Cash & Waylon Jennings (78) Columbia
15. I've Come To Take You Home - Rose Lee & Joe Maphis (64) Starday
16. I Don't Want To Have To Marry You - Jim Ed Brown & Helen Cornelius (76) RCA-Victor
17. Keeping Up With The Joneses - Faron Young & Margie Singleton (64) Mercury
18. God's Gonna Getcha For That - George Jones & Tammy Wynette (75) Epic
19. The Ballad Of Sally Ann - The Country Sisters (06)
20. My Dixie Darlin' - Carlene Carter (90) Reprise
21. Against The Grain - Garth Brooks (91) Liberty
22. Second Hand Rose - Ferlin Husky (63) Capitol
23. Can Your Grandpa Rock And Roll Like This - Albert Lee & Hogan's Heroes (08) Heroic
24. Marie Laveau - Bobby Bare (74) RCA
25. Runaway Feelin' - Dolly Parton (91) Columbia-Nashville
26. Outro - Medley

===============================================
JACK VAN OERS AND THE ROCKIN' WINDMILL ROCKABILLY SHOW ON ROCK-IT RADIO #5455

From the land of windmills, dykes, canals, cheese, tulips,
cows and wooden shoes here is another dynamic Rockin' Windmill
Show. Host Jack van Oers plays music from Canada, The USA, the UK,
Finland, The Netherlands and Norway. In the request corner
at the end of the show you will hear 5 personal favorites
of Hans Suijkerbuijk from the Netherlands.

1. Shaking all over - Johnny Kidd & the Pirates - 1960
2. Listen to me - Buddy Holly - 1957
3. All I ever wanted - Sunset Trio - 19xx
4. Long before - Fabian - 1960
5. Ling ting tong - The Javalins - 1962
6. Midnight sun rock - Al Oster - 1960
7. Lucky night - The Teen Cats - 1989
8. That's my reward - Billy Wallace & the Bama Drifters - 1956
9. Honky tonk rock - Betty Johnson - 1956
10. What you fancy - Bonneville - 1984
11. Charlie Brown - Buck Owens - 1965
12. Why little girl - Shane Fenton & the Fentones - 1962
13. Why little girl - Pipeline '61 - 2000
14. Won't tell you her name - Al Urban - 1958
15. Hot dog - Shakin' Stevens - 1980
16. So long, I'm gone - Warren Smith - 1957
17. Every night - Long Tall Ernie & the Shakers - 1972
18. Indeed I do - Johnny "Scat" Brown - 1957
19. We say yeah - Cliff Richard & the Shadows - 1962
20. Martian hop - Rocky Sharpe & the Replays - 1980
21. Mrs. Merguitory's daughter - Dale Hawkins - 1957
22. Ut huus stut te schudde - Eightball Boppers - 2005
23. Hey little dreamboat - Mary Ann & her Ragtime Wranglers - 1998
24. Bip bop boom - Mickey Hawks - 1958
25. Will you be my girl - Jet Black - 1993
26. Suwannee River Rock - Bob Green & the Missiles - 1961

===============================================
PAPA WALT'S OLDIES SHOW - HALLOWEEN SPECIAL ON
ROCK-IT RADIO SHOW #5456

As Halloween approaches, the Oldies Show is serving up a
cocktail of ghoulish songs featuring a number of devilish
hits from the Cool Ghoul himself, Zacherley.
Put on your garlic necklace and grab your silver dagger as
we tiptoe into the graveyard of moaning rock and roll spirits.

1. Happy Halloween - Zacherley (1962)
2. The Boogie Man - The Cadillacs (1960)
3. Roland - Billy & the Dukes (1960)
4. I Want My Baby Back - Jimmy Cross (1965)
5. Dinner with Drac - Zacherley (1958)
6. Here Comes the Hearse - Terry Teene (1961)
7. Feast of the Mau Mau - Screamin Jay Hawkins (1969)
8. Casting My Spell - The Spellbinders (1965)
9. Limb from Limbo Rock - Zacherley (1962)
10. Night of the Vampire - Roky Erickson & the Aliens (1980)
[Sound Bite]
11. Don't Shake Me Lucifer - Roky Erickson & the Aliens (1980)
[Sound Bite]
12. I Walked with a Zombie - Roky Erickson & the Aliens (1980)
13. Walkin Through a Cemetery - Claudine Clark (1962)
14. Ghoul View Commercial - Zacherley (1960)
15. S'ance - The Ebb Tides (1967)
16. Count Macabre - The Connoisurs (1964)
17. Haunted House - Gene Simmons (1964)
18. Witch Girl - The Mystrys (1966)
19. Zoola Zooky - Johnny Alderson (1963)
20. Werewolf - The Frantics (1960)
21. The Voodoo Man - The Del Vikings (1958)
22. Witch Queen of New Orleans - Ervinna & the Stylers (1973)
23. Do the Zombie - Mr. Baseman & the Symbols (1963)
24. The Raven - Kenny & the Fiends (1965)
25. Monster Mash - Zacherley (1962)

===============================================
AL COOL DADDY SMITH WITH A TRIBUTE TO AMY RECORDS ON ROCK-IT RADIO SHOW #5457

This show is dedicated to the music of the obscure Record Label of Amy Records.
Amy existed from 1960 until its demise in 1969.
It was a subsidiary of Bell Records out of New York City and
although the label had few hits it did manage to sign some
important recording artists during its brief existence.
People such as Lee Dorsey, Del Shannon, Paul Simon,Clyde McPhatter,
The Kalin Twins, among many others, recorded for the label.
Some of these artists as well as more obscure folks are heard
on this show.

The Play List is as follows:

1. Handy Man-Del Shannon 1964
2. Ride Your Pony-Lee Dorsey 1965
3. For Your Love-Little Bessie 1961
4. The Rooster-Gabriel and The Angels 1961
5. Motorcycle-Tico and The Triumphs 1961
6. I Don't Believe Them-Tico and The Triumphs 1961
7. For All We Know-the Caslons 1961
8. The Madison-Al Brown and The Tunetoppers 1960
9. Take Me back-Al Brown and The Tunetoppers 1960
10. Mention Me-Al Brown and The Tunetoppers 1960
11. She's a Flirt-The Four Jokers 1961
12. Ghost Riders In The Sky-The Ramrods 1961
13. Young Girl-Ty Stewart and The Jokers 1961
14. Working In A Coal Mine-Lee Dorsey 1966
15. Holy Cow-Lee Dorsey 1966
16. Keep Searchin' (We'll Follow The Sun)-Del Shannon 1964
17. Do You Wanna Dance-Del Shannon 1964
18. Lisa-Jerry Landis (Paul Simon) 1962
19. Express Train-Tico and The Triumphs 1962
20. A Time For love-The Ecstasies 1962
21. First Sign of Love-The Star Steppers 1960
22. You're Gone-The Star Steppers 1960
23. That Lucky Old Sun-The Ecstasies 1962
24. Promise of Love-The Montgomerys 1963
25. Lifetime-Dougie The Dude 1962

==============================================
OTTO FUCHS AND ROCKIN' THE JOINT SHOW ON
ROCK-IT RADIO SHOW #5458 TEDDY BOY SPECIAL

Rockin' The Juke Joint Show with DJ & Host Otto Fuchs is
back: Otto was nearly two months in London, finding great
hospitality with Graham Wellmann, Rockin'´ Tony Riley, Roy,
Teddyboy Paul and his lovely fiancee Teddygirl Anja.
Not to forget finding out how Ted's stay on top of the game.
an induction into building. Back on www.rockitradio.net with a
tribute to my friends The Teddy Boys- and Girls, and working on a
book onto their story. Contract with publisher Wagner-Verlago
already signed!

1. Teddy Boy Rock & Roll - Crazy Cavan & The Rhythm Rockers
2. Hurricane - Matchbox
3. Rockin´ My Life Away - Backdraft
4. You´ll Never Be A Ted - Lou Cifer & The Hellions
5. Angel Of Love - Johnny Angel
6. Teddy Boy - Kentucky Boys
7. Teddy Boy Jive - Johnny Knife & The Rippers
8. Rock & Roll Will Never Die - Foggy Mountain Rockers
9. I Need Your Love - Flying Saucers
10. We Are The Teds - Yann The Corrupted
11. How Could I Help But Love You - Monkey & The Baboons
12. I Can Count Three Stars - Vernon & The GI´s
13. Teddy Girl - Trouble Boys
14. Deep Down South - Chevrolet
15. Watch The Wheels Go ´Round - Wild Angels
16. Rock & Roll Is Still Alive - The Crazy Teds
17. Long Live Rock & Roll - Cosh Boys
18. Tennessee Rockin' - Shotgun
19. In The Heart - Black Knights
20. Teddy Boy Rock Fan's Broken Romance Blues - Mick Satan & The Rockin'´ Devils
21. Red Rose Tattoo - Black Knights
22. Riot! - The Beetle Crushers
23. Rocket 88 - Freddie Fingers Lee
24. Alabama Shake - Badland Slingers
25. A Teddy Boy's Prayer - Lou Cifer & The Hellions

==============================================
PETE CHASTON'S DOO WOP SHOW ON ROCK-IT RADIO
SHOW #5459

Pete is a veteran DJ here at Rock-it Radio and a loyal
provider of shows for us here.
His dedication and knowledge of 50s and early 60s Doo Wop
shines as he spins those tunes of yesteryear. Including The
Silly song segment and the rare But scratchy 45 segment.
Here is this week's playlist of what you will hear.

1. Doo-Wop All Night Long-The Blue Emotions (opening theme song) (1982)
2. Carioca-The Aqua-Nites (1965)
3. Bing Bong-The Silhouettes (1958)
4. Your Love is All I Need-The Silhouettes (xxxx)
5. Flip Your Daddy-The Cocoas (1955)
6. Oh, Rosemarie-The Encounters (1998)
7. The Deacon Moves In-Little Esther & The Dominos (1951)
8. Bohemian Daddy-The Marquis (1956)
9. Peppermint-The Chantiers (xxxx)
10. Frankenstein's Den-The Hollywood Flames (1958)

SILLY SONG SEGMENT:

11. Gitarzan-Ray Stevens (xxxx)
12. Hello Muddah, Hello Fadduh!-Allan Sherman (xxxx)

SCRATCHY 45 RPMs SEGMENT:

13. Do-Re-Mi-The Rob-roys (1957)
14. Baby Talk-Jan & Dean (1959)
15. Bye, Bye, Baby-Mary Wells (1961)
16. A Love So Fine-The Chiffons (1963)

BACK TO THE CDs &/or More 45 RPMs:

17. Troubles Don't Last-The Kings (1959)
18. Too Much Lovin'-The Five Royales (1953)
19. Strange Love-The Native Boys (1956)
20. Shombalor-Sheriff & The Ravels (1958)

SLOW SONG SEGMENT:

21. I Wanna Know (1954 version)-The Diablos (1954)
22. Where Are You-The Sheps (1994)
23. One Summer Night-The Four Townsmen (xxxx)
24. Unchained Melody-The Five Boroughs (circa 2000)
25. Blue Star-Nicky Addeo & The Nite Owls (xxxx)
26. Sunday Kind of Love-The Sentimentals (1958)

==============================================
DAVE THE RAVE AND THE RELICS AND RARITIES SHOW
ON ROCK-IT RADIO SHOW #5460

If you love the music of the 1960s then the Relics
and Rarities show is for you. And this week it's a
double shot! From the girl group sound to Psychadelic
Rock it's all here. Here is this week's playlist.

Hour #1

1. Mr. Bumps - Edgar Blanchard and the Band
2. Later For You Baby - Marva Josie
3. Mashed Potatoes U.S.A. - James Brown
4. Dancing Mood - Tams
5. Don't Cry No More - Swingin' Medallions
6. You Can't Stop My Loving You - The Profiles
7. Don't You Care - Buckinghams
8. Leave Me Be - New Breed
9. Not This Time - Jackson Investment Company
10. I Need You - Kinks
11. I've Got To Find Me A Woman - Neil Ford Factory
12. Happiest Girl In The World - Tiffany's
13. She's Not Just Another Woman - 8th Day
14. Let's Go Baby (Where The Action Is) - Robert Parker
15. Baby Hang On - Maurice McAllister
16. Let's Hang On- Four Seasons
17. Dreams For Tomorrow - Smithsonian Institute
18. Someday Man - Monkees
19. What's So Good About Goodbye - Giant Sunflower (Discovery of Week)

Hour #2

1. Choppin Around - Jimmy Wisner
2. Party Time - Sollie McElroy
3. Bar B-Q - Wendy Rene
4. Love Is Alive - Proffer, Marmelzat and Reed
5. Baby Take Me In Your Arms - Jefferson
6. Something Better Beginning - Honeycombs
7. Soul Shake - Peggy Scott and Jo Jo Benson
8. 24 Hours (Everyday) - Headstones
9. I Wanna Be With You - Raspberries
10. Tossin' And Turnin' - Dave Davani Four
11. Uhh - Dyke And The Blazers
12. I Want What I Want - Soultones
13. I Thank You - Sam and Dave
14. Fill The Hole In Your Soul - Pat Wallace
15. Sweeter Than The Day Before - Valentinos
16. I Found A New Love- Ognir and the Nite People
17. Connection - Rolling Stones
18. You Wouldn't Listen - Ides Of March
19. It Hurts Doesn't It Girl - Val-Rays (Discovery of Week)


==============================================
All the Rock-it Radio shows are available on CD

Each show is only $9.50 each and you can order
in bulk and shipping will never be more then $2.00.
Ask for a secure paypal invoice -- information is at:
http://www.rockitradio.net/order.html

==============================================

100'S OF VINTAGE ROCK AND ROLL VIDEOS ON FILE IN
OUR VIDEO SITE AT ROCK-IT RADIO:
CHECK IT OUT AT:

HTTP://WWW.ROCKITRADIO.NET/VIDEO.HTML

==============================================
COME JOIN US ON FACEBOOK !!! WE WOULD LOVE A
LIKE FROM YOU!

http://www.facebook.com/rockitface
The Rock-it Radio Facebook Site.

==============================================
HISTORY OF ROCK-IT RADIO

If you are new to Rock-it Radio and would like to learn more --
We have our History Page up as well -- telling the story of Rock-it
Radio. You can find it at:
http://www.rockitradio.net/history.html

===============================================

GIVE THE GIFT OF NOSTALGIA IN 2015


Nostalgic Rock and Roll and Country Radio shows
for sale and remastered onto Compact Disc.
Economically priced and 100s to choose from of the
1950's thru the 1970s. Local and Nation
wide famous DJ's and stations. Hear how Radio was. Check
out the Rock-it Radio Launching Pad store at:
http://www.rockitradio.net/store.html

Rock-it Radio is Publicly supported. And we rely on
our listener's to keep us going. But for your donation
we offer you a vintage radio broadcast or a Rock-it Radio
show like we offer in our Online store.

SEPTEMBER END OF THE MONTH DRAWING OF WINNERS ANNOUNCED FOR LAUNCHING PAD SUPPORTERS
At the end of every month on Rock-it Radio we have a
random drawing for those that have supported Rock-it Radio by
purchasing either Rock-it Radio shows through the
either the Rock-it Radio Launching pad at:
Or by going and ordering Rock-it Radio shows at:
The SEPTEMBER 2015 Winners this month are:
Robert Gallacher -- Fayetteville, Georgia USA
Joseph Haus -- St. Paul, Minnesota USA
Roger Underwood -- Dothan, Alabama USA


SUPER MEGA WINNER - WINNER OF 10 SHOW
OF THEIR CHOICE !!!!!!!!
Jason Goggans -- New Braunfels, Texas USA

Each of you have won your choice of 3 vintage
Rock Radio programs (The Super Mega winner won 10!)
from our online store at:

or you can order Rock-it Radio Shows if you prefer on CD

You have until
October 31, 2015
to let us write back and let
us know of your choices.
Congratulations and let me know what you would like to
have along with a mailing address and we will got those
items out to you. Just our way of saying Thank you for helping
support Rock-it Radio. And of course we will have October drawings
as well at the first week of next month.
NOTE: You should keep on checking this notice board
or join the Launching Pad Facebook site at:
And of course we will be having another drawing at the
end of this month.
RECRUITING FOR RADIO PERSONALITIES FOR
ROCK-IT RADIO

Do you know your 50s and 60s Rock & Roll, Doo wop
or Rockabilly? And the ability to produce a show
on CD?
We do require a playlist for this newsletter but
your show will stay online for the world for approx.
3 weeks. Unlike some stations where you broadcast one
time and it's gone forever.
If interested check out our Rock-it Radio Team page
at: http://www.rockitradio.net/team.html

We are also looking for writers and translators!
================================================
OCTOBER GIVEAWAY FOR ROCK-IT RADIO - FREE
CD WITH EVERY ORDER!!!!!!

October is the month of Halloween and some
spooktacular broadcasts here on Rock-it Radio!
So everyone from today until October 31st that
orders from the Rock-it Radio Store.
( www.rockitradio.net/store.html ) or in our Ebay Store
at Rock-it Radio or orders a T shirt. Basically, if you
order anything from us, you will receive an additional
Rock-it Radio Halloween Special Broadcast on CD. Filled
with great Novelty songs of a Spooky nature. Just our
way of saying Thank you from Rock-it Radio.

==================================================
NEW CD SET RELEASE IN ROCK-IT RADIO EBAY STORE
6 CD SET ON LOUIS JORDAN R&B LEGEND.

If you recall back in May and June Matt the Cat and
the Juke in the Back show did a very thorough show
in 6 shows on the music of R&B Legend Louis Jordan.
That 6 CD Set is now in our Ebay Store and listed at:
http://www.ebay.com/itm/-/131610498631
descriptions and playlists of what you will get is
in that listing.

The Cost is $39.95 U.S. and a $20 savings if you ordered
the shows individually. You can also see all our other
Ebay listings at:
http://stores.ebay.com/Rockit-Radio

EARLY FALL IS HERE - THE PERFECT TIME OF YEAR
TO WEAR A ROCK-IT RADIO T SHIRT!

Have you seen the new full line of Rock-it Radio T shirts that have been Released. With new designs by Rock-it Radio's own Jammin' Jan.
Each Rock-it Radio T shirt is only $16.00 each plus shipping. And 100% of
All monies goes to keeping Rock-it Radio Online.

Come check out the latest styles.:

http://www.rockitradio.net/tshirt.html

Check Website for updates and availability
UP FOR CONSIDERATION IF IT HAS ENOUGH INTEREST...
ROCK-IT RADIO SHOWS IN MP3 ON FLASHDRIVE!

To help pay for the bills on Rock-it Radio and at
the same time save our listeners money. We are considering
to put up for purchase Rock-it Radio shows in 50 show
increments on a flashdrive in mp3 for sale. MP3 format
is played by all windows media players on your PC and you
would just plug it into your PC in your USB port and select it
and you will have 50 of the latest shows playing on your
Computer. The cost will be under $40 U.S. for the flashdrive
compared to $9.50 per show on CD. If we have enough interest
in this product we will start offering it probably starting
with show #5400 to #5450 which would be over 60 hours of
Rock-it Radio programming. Please e mail us with your
comments to rockitradio@netzero.net and let us know your
thoughts. Of course all proceeds would go back to keeping
Rock-it Radio online and rocking!

=====================================
FRIENDLY REMINDER TO PLEASE SUPPORT ROCK-IT RADIO

Rock-it Radio is publicly supported by listener's like you.
But we don't ask for money without giving something in return!
(Besides the music we play) -- We have an online store with 100s
of vintage Rock and Roll and Country Radio broadcasts from the
1950s to the 1970s. Uncut and Unedited and placed onto CD for
modern listening convenience from the original tape format. --
Every purchase (donation) of these vintage shows goes right back
into Rock-it Radio and it's operation. We kindly invite you to
check out our website and see what we have to offer. Most all
listings have a ebay link where you can buy the item off of ebay
or directly through paypal. Each broadcast is guaranteed.
Please check out the Rock-it Radio Store at:
http://www.rockitradio.net/store.html

REMINDER ON HOW TO CONTACT THE DJ'S AT ROCK-IT RADIO

We all love our our e mails from listeners here at Rock-it
Radio. Along with requests and dedications. Earlier this year
due to the excessive spam we all were getting I stopped listing
the e mails at each shows playlist. But you can still
contact them. Just go to the Rock-it Radio DJ page and each
DJ has there e mail link underneath each bio.
You can find it at: http://www.rockitradio.net/dj.html


COLLECTING AIRCHECKS - A HOBBY OF RADIO NOSTALGIA
What is a Aircheck? It is simply a recording of a radio broadcast. Usually collected by Radio fans.
Come check out our webpage on collecting Airchecks.

http://www.rockitradio.net/aircheck.html


COME REMEMBER WOLFMAN JACK !!!
Rock-it Radio has a very special way to remember Wolfman Jack.
Arguably the most iconic of American DJ's. Come check out the
Rock-it Radio Wolfman Page at:
REMEMBERING OFFSHORE PIRATE RADIO IN THE UK
In the mid 1960s it was difficult for the youth to actually listen to Rock and Roll in the UK. The BBC actually ran only a few hours a weekend to provide the young Brits with this outlet. At night during the week they ventured to even tune into Radio Luxembourg to get there fill, that broadcast rock and pop around the clock.
To fill this void some venture capitalists decided to bring in commercial radio aboard refitted radio ships. And anchor themselves just off into International waters off the English coast. Radio Caroline (named after Caroline Kennedy the U.S. President's daughter at the time) and Radio London being the most famous.
Rock-it Radio has a website dedicated to their ventures and also have actual radio broadcasts available of these offshore pirates. We invite you to check them out our webpage at:
http://www.rockitradio.net/pirate.html
FINDING ROCK-IT RADIO ON THE 'TUNE IN RADIO' CELL PHONE APP.

We have had a few requests from listeners that they couldn't find us on the
popular 'Tune in Radio' App. on Android and PC and iphones. Running a
search of 'Rock-it Radio' will actually list 100s of Rock stations.
So, the best way to find us on this very thorough and extensive app. that
I love using myself is -
run a search on 'rockabilly' - there you will easily find
Rock-it Radio listed.
Our Tune in Radio App. webpage is also at:
http://tunein.com/station/?stationId=41878
MISSED A COUPLE OF NEWSLETTERS LAST COUPLE OF WEEKS??

THEN YOU CAN ALWAYS CHECK OUR BLOG WHERE IT IS ARCHIVED.
YOU CAN CHECK OUT OUR BLOG AT:

http://rock-itradio.blogspot.com/
=============================================


ROCK-IT RADIO DJ PAGE...


Remember you can check out all the Rock-it Radio DJ's

and read the bios of these DJ's that make these

Rock-it Radio Shows possible at:


And don't forget for even more pictures --

there is our picture page at:
============================================
IF YOU HAVE TWITTER COME FOLLOW US THERE

If you are one that tweets then please check out and join and get our
updates on your twitter account. Our Twitter link is right below.

http://www.twitter.com/RockitRadio1
It is our new Twitter account and we will once again start
scrolling our messages and updates on our webpages as well.


============================================
ROCK-IT RADIO OTHER TWITTER ACCOUNT FOR
NEWS RELEASES FOR N. IDAHO, KODIAK ALASKA AND
THE WORLD!
Rock-it Radio has another Twitter account and is used for News
Alerts that come into the studio here at Studio A. For those Twitter
users that would like to follow the link is:
http://www.twitter.com/RockitRadioNews

The feed can also be seen in our World News broadcast Webpage
at: http://www.rockitradio.net/news.html


=============================================

WELCOME NEW MEMBERS TO THE LISTENER'S CLUB!!!!

A big welcome to the below new Rock-it Radio listeners that
joined our Listeners Club from October 8, 2015 to
October 20, 2015.
We hope that you enjoy the music Rock-it Radio provides
and our playlists and information that our weekly newsletter
provides. Any comments, criticisms, kudos, compliments or
future ideas is always welcome and you can e mail me personally at:
rockitradio@netzero.net

Nicole Ritterwander -- Baden, Austria
Jack -- Georgia, USA
Bob Felberg -- Myrtle Springs, South Carolina USA
Ray Janosko -- Canonsburg, Pennsylvania

We have gained 151 new likes in our listeners club
in our Facebook page Rock-it Radio Fan Page as well this week at:
http://facebook.com/rockitface and 30 more following us
on Twitter @Rockitradio1 .

We have added a total of 185 new members to the Rock-it Radio
Listeners Club since our last newsletter. We now have 82,619 exactly
that have joined the Rock-it Radio Listeners club.
We hope that you enjoy the rare 50's and early 60's
Rock and Roll, Rockabilly and Doo Wop (which most commercial
oldies radio stations have forgotten) that we are able to play
for you from Rock-it Radio. Remember, we are here for you!

So if you ever have any requests, dedications, comments and
suggestions we always love to hear from our listeners.
Our e mail address is:
rockitradio@netzero.net

====================================================
To learn more about the Rock-it Radio Listeners Club and our Free
Newsletter please check out:
http://www.rockitradio.net/member.html

It's free and easy to join and the Rock-it Radio Newsletter is always
online at: http://www.rockitradio.net/newsletter.html



====================================================

PLEASE HELP US SPREAD THE GOOD WORD OF ROCK-IT RADIO!

Do you know of someone that might also like the music

of Rock-it Radio? We are desperately trying to keep this

music alive and have been doing so since 1995! Please

share the information of this station. And if you have

a website would you please consider putting a Rock-it Radio

link on your page.

There are a few to choose from in our link page at:

http://www.rockitradio.net/links.html
HOW TO ORDER OLD ROCK-IT RADIO SHOWS = YOUR PURCHASES HELP US STAY ONLINE!!!
We have received many inquiries on how to order Rock-it Radio shows that are no longer in
our on archives webpage. These shows are still available on CD and mailed to you within 24
hours of receiving payment.
To help search for older shows that you may be looking for you may want to check the Rock-it
Radio blog site. Old newsletters describing the shows and playlists
are archived there and there is a menu bar on the right side that breaks down every playlist
Then you may either pay by check or money order or paypal. Rock-it Radio shows are only
$9.50 U.S. each and are studio quality broadcasts that were placed on Compact Disc here at
the Rock-it Radio Studio. We have a flat rate shipping charge of $1.50 U.S. so if you order
one or several -- it is still only $1.50
U.S. shipping. And we ship worldwide, overseas orders are mailed out first class airmail.
Instructions where to send payment is at our webpage:
like we can send you a paypal invoice within 24 hours.

When you order a Rock-it Radio show or shop at our Rock-it Radio Launching Pad you
help keep these oldies alive and help us pay the bills here at Rock-it Radio.
And at the same time -- you are not getting nothing for your donation, but actually
some of the shows and memories we hope we keep alive here at Rock-it Radio.



TOP 20 SELLERS OF THE ROCK-IT RADIO LAUNCHING PAD THIS WEEK

As you know the Rock-it Radio Store sells vintage Radio Broadcasts - Where you hear the actual music, news and vintage advertisements - uncut and unedited just like you would of heard it back then. Here are the top sellers this week.


1. RIR #127 - Alan Freed 1956 Rock & Roll Dance Party show
2. RIR #393 - John Lennon as DJ on WNEW New York from 1974
3. Lane Quigley - Class of 1965 50 year Reunion - Rock-it Radio.
4. RIR #387 - Joey Reynolds - WKBW Buffalo NY Beatles Special 2/24/1964
5. RIR #181 - Wolfman Jack XERB Tijuana 12/8/1967
6. RIR #539 - Cousin Brucie - WABC New York 9/7/1965
7. RIR #176 - Porky Chedwick WAMO Pittsburgh 6/14/1960
8. RIR #623 - Big Jim Edwards - CKLW Windsor, Ont. 12/1/1969
9. RIR #466 - 3 Vintage early Beatles Interviews w/ Tom Lodge and Murray the K
10. RIR #116 - Casey Kasem - KRLA Los Angeles 5/27/1965
11. RIR #115 - Rare Broadcasts of Alan Freed.
12. RIR #182 - John Peel - Radio London Perfumed Garden Show 1/11/1968
13. RIR #317 - Allison Steele (Nightbird) WNEW New York 2/11/1969
14. RIR #320 - Allison Steele - WNEW New York 9/19/1975
15. RIR #397 - Wolfman Jack XERB Tijuana 8/1/1968
16. RIR #594 - Denny Sanders WMMS Cleveland 6/30/1978
17. RIR #505 - Allison Steele WNEW FM New york 2/11/1969 Hr. 2
18. RIR #135 - Rock-it Radio 1000th show Celebration 3 CD set
19. RIR #267 - Arnie Woo Woo Ginsburg WMEX Boston 12/12/1965
20. RIR #638 - Howard Smith w/ John Lennon & Yoko pt. 1 WABC FM 1969



If you would like to view these shows in depth you can check out
our Rock-it Radio Ebay Store at:
http://stores.ebay.com/Rockit-Radio

or in the Rock-it Radio Launching Pad store at:
http://www.rockitradio.net/store.html(listed by date)
and in the upper left hand corner -
there is a search box where you can type in the DJ name or
Station Call letters and that information on that show will pop up.
Ordering from the Ebay store will also qualify you for the Rock-it Radio
giveaway mentioned previously in this newsletter. Sale of
these broadcasts is what keeps Rock-it Radio going and thank
you again to everyone that buys these!

===============================================
TOP 50 NATIONS THAT ARE TUNING INTO ROCK-IT RADIO.

We are always amazed at the World Wide Web and the 215 Countries that
tune us in every month online. Here are the top 50 Countries so far
this month.+ or - shows up or down how many positions from the previous week.
TOP 50 NATIONS THAT ARE TUNING INTO ROCK-IT RADIO.

1. United States +0
2. Brazil +0
3. United Kingdom +0
4. Hungary +0
5. Netherlands +0
6. Canada +0
7. Germany +0
8. Swedem +2
9. France +0
10. Australia +1
11. Ireland -3
12. Finland +5
13. Belgium -3
14. Spain -2
15. Argentina +10
16. Italy +2
17. Japan -3
18. Croatia -3
19. Mexico +5
20. Austria -5
21. Russia +0
22. Philippines -3
23. Switzerland -3
24. Thailand +3
25. Czech Republic -6
26. Colombia +7
27. China -7
28. Peru +22
29. Saudi Arabia +2
30. Norway -3
31. Chile +10
32. South Africa -4
33. Romania -6
34. Dominican Republic +18
35. Slovenia +5
36. India -7
37. Ukraine +1
38. Estonia -2
39. Serbia +5
40. Singapore +13
41. Slovakia -2
42. Poland +0
43. United Arab Emirates -8
44. Greece -5
45. Morocco -5
46. Bolivia +11
47. Bulgaria +5
48. Egypt +9
49. Denmark +7
50. Cyprus +11

=============================================
U.S. STATES RANKINGS TUNING INTO ROCK-IT RADIO

1. California +0
2. New York +0
3. Florida +0
4. Pennsylvania +0
5. Massachusetts +1
6. Texas -1
7. Ohio +0
8. Washington +0
9. New Jersey +2
10. North Carolina +0
11. Illinois -2
12. Virginia +7
13. Wisconsin +0
14. Arizona +3
15. Missouri -3
16. Michigan -2
17. Indiana +1
18. Maryland -3
19. Connecticut +3
20. Colorado +1
21. Alabama +2
22. Tennessee -3
23. Georgia -3
24. Kansas +0
25. New Mexico +3
26. Oregon +2
27. Kentucky -5
28. Delaware +1
29. Nevada +4
30. Oklahoma +6
31. Rhode Island -3
32. Idaho -2
33. South Carolina -4
34. Minnesota +1
35. Iowa +5
36. Arkansas -1
37. District of Columbia -5
38. Hawaii +6
39. Mississippi -3
40. Alaska -3
41. Louisiana +2
42. Nebraska -2
43. Wyoming -1
44. West Virginia +3
45. Utah -5
46. Montana +0
47. North Dakota +2
48. New Hampshire -1
49. South Dakota +2
50. Vermont -2
51. Maine -2
Rockabilly bands looking for airplay
If you or know someone that would like airplay on Rock-it Radio we invite
you to submit your press kits to Rock-it Radio. Our website for further
information is:
http://www.rockitradio.net/airplay.html
============================================
Come tune into the World on your computer!
1000s of stations around the world now broadcast online. We have a
link to some of the internet top directories to help you find these stations.
http://www.rockitradio.net/internetradio.html
============================================
Rock-it Radio Program Webpage Reminder
Remember, if the show that you want to hear is getting close to the bottom
of the list of radio shows, you should tune in as soon as you can. These shows
to have a high audio quality require a lot of internet bandwidth and memory.
And currently we can only afford the
30
latest shows online here at Rock-it Radio.
So, when a new show is put online it knocks the oldest one off the Rock-it Radio
archives page. Usually a show will at least last 16 to 20 days, once it is placed in
the archives.
============================================
OUR SISTER STATION FIRST NATIONS BROADCASTING.
We invite you to also check out our sister station -- First Nations
Broadcasting. And tune into the rather Cool North of the Yukon and Alaska
with our very own Debbie Snowdove!
============================================
Well that is just about it for this newsletter and playlists of our latest
shows. We hope that you enjoy them.
We will do our best to keep these shows on for at least 14
days and hopefully 21 days.
All the best always,
Bennie Dingo
Rock-it Radio

website: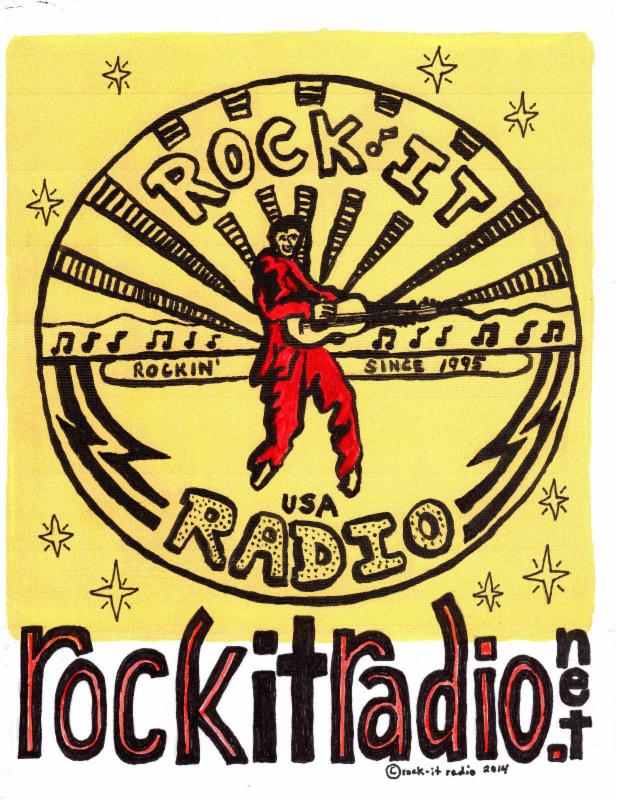 Rock-it Radio main website:
http://www.rockitradio.net

Archived Shows at:
http://www.rockitradio.net/programs.html

Rock-it Radio Vintage Broadcast Store:
(Launching Pad)
http://www.rockitradio.net/store.html