Rock-it Radio since 1995 providing 50s and early 60s Rock and Roll, Doo Wop and Rockabilly music online! Come tune us in at http://www.rockitradio.net We also have several 100 original radio shows from the first decade of Rock and Roll at: http://www.rockitradio.net/store.html
=========================================================================
ROCK-IT RADIO NEWSLETTER AND PLAYLIST
SHOWS #5461 TO #5475
FROM
October 21, 2015 to November 6, 2015
Hi Rock-it Radio Listeners & Launching Pad supporters,

We hope everyone is having a great change of Seasons
right now. Fall here only lasted a month it seems as
we are already having snow flurries here in North Idaho.
We have playlists for our 15 latest shows here on Rock-it
Radio (Shows #5461 to #5475). And a new drawing and winner
announcements for September Launching Pad winners, and a
brand new offering here on Rock-it Radio of 50 of our latest
shows on flashdrive using mp3 (0ver 60 hours of programming)
to plug into your usb port of your PC or MP3 player.
Plus much more. And a special thank you to the 917 new listeners
that started following Rock-it Radio since our last newsletter!

So, Let's get started with some playlists!

Our shows can be heard in our archives page at:

http://www.rockitradio.net/programs.html
and click to the speaker on the left to hear the show.

Remember if you are new to Internet Radio and having trouble tuning in though --
Check out our webpage to help you out at:
http://www.rockitradio.net/tunein.html
============================================
REMEMBER YOU CAN ORDER ANY OF THESE ROCK-IT
RADIO SHOWS ON CD!!!! NEW EASIER ORDERING!

Would you like one of these Rock-it Radio shows on CD? To
be able to play anywhere? And help support Rock-it Radio at the same time.
For complete information check out our program
ordering webpage at: http://www.rockitradio.net/order.html

Our shows are of course copies straight from the studio so they are studio
quality and satisfaction is guaranteed.
Or if you would rather receive an invoice let me know and we
can e mail you a copy - Just e mail us the show(s) you would like
to have and the Rock-it # to: rockitradio@netzero.net

==============================================
All Rock-it Radio shows stay online from 18 to 24 days and are
broadcast in MP3 Format. To tune in just click to the speaker
at our program page at:
http://www.rockitradio.net/programs.html

The newest show added replaces the oldest show so if you see a
show near the bottom of the listing - you should listen as soon as
possible.

==============================================
WE COULD USE YOUR SUPPORT

Rock-it Radio is 100% Publicly supported. But when you
donate to the Rock-it Radio Launching Pad - we give you
a vintage broadcast of your choice.
100% of all sales from the Rock-it Radio Store (Launching
Pad) goes back to pay copyright fees, LLC taxes, Internet
and bandwidth costs of Rock-it Radio. Without your support
we would not exist. So. please consider a purchase at:
http://www.rockitradio.net/store.html

===============================================
NOTE: ALL SHOWS BELOW CAN BE FOUND IN OUR PROGRAM WEBPAGE - TO TUNE IN CLICK TO SPEAKER OF THE SHOW YOU WANT TO LISTEN TO. EITHER MP3 OR REAL PLAYER. BOTH FORMATS ARE SUPPORTED.
AT:
HTTP://WWW.ROCKITRADIO.NET/PROGRAMS.HTML

===============================================
MATT THE CAT AND THE JUKE IN THE BACK SHOW ON
ROCK-IT RADIO SHOW #5461 STORY OF THE SIGNIFYING
MONKEY.

The Story Of The Signifying Monkey & Your Listener Requests

This week, Matt The Cat loads the Juke in the Back with a musical
history of the old African folktale about The Signifying Monkey.
We'll trace this tale's journey to America on slave ships from Africa
as it became threaded into African-American culture in song.

1. Swanee River Boogie - Albert Ammons â€" Mercury 1947
2. Woe Is Me - The Cadillacs â€" LIVE 1956 â€" Alan Freed's Rock n' Roll Dance Party â€" REQUEST
3. (Night Time Is) The Right Time - Ray Charles â€" Atlantic 1958 â€" REQUEST
4. Without Love (There Is Nothing) - Clyde McPhatter â€" Atlantic 1956 â€" REQUEST
5. Can't You Read - Big Maceo â€" Bluebird 1941
6. Signifying Monkey - Big Three Trio â€" Columbia 1947
7. The Jungle King (You Ain't Done A Doggone Thing) - Cab Calloway & His Cab-Jivers â€" Columbia 1947
8. The Monkey (The Jungle King) - Hot Lips Page â€" King 1952
9. The Signifying Monkey - Smoky Joe â€" Sun 1955
10. Joe Joe Gun - Chuck Berry â€" Chess 1958
11. Signifying Monkey - Oscar Brown Jr. â€" Columbia 1960
12. GREAT 78 - Signifying Blues - Bo Diddley â€" Checker 1960
13. Are You Fer It - King Cole Trio â€" Decca 1941 â€" REQUEST
14. Wyatt Earp (First Version) - The Marquees â€" Okeh 1957 â€" REQUEST
15. Blue Turning Grey Over You - Billie Holiday w/ Tiny Grimes Sextet â€" Aladdin 1951 â€" REQUEST
16. After Hours - Erskine Hawkins â€" Bluebird 1946

===============================================
TREVOR HYLAND'S ROCK AND ROLL DANCE PARTY ROCKABILLY SHOW ON ROCK-IT RADIO SHOW #5462

From his studios in Bendigo, Victoria Australia Trevor
actually has a double play in this newsletter! Also
on show #5475. Filled with great music and tributes
here is the playlist of this show.

Featuring some great Rockin' tracks from the boppin'
Louisianna cat Johnny Ray Harris. Some great rock & roll
from Philadelphia Charlie Gracie's LP Rockin' Philadelphia.
To rock out the show Annita, The Ranch Girls,
The Casey Sisters and Sparkle Moore get the Rock-it
into overdrive.

Johnny Ray Harris
01. Doge Gone ( Live Louisianna Hayride ) - Johnny Ray Harris
02. Lawdy Miss Clawdy ( unissued ) - Johnny Ray Harris
03. Cajun Weekend ( 601 - 60 ) - Johnny Ray Harris
04. Tired Of Crawling, Gonna Start To Run ( Ray 820-60 ) - Johnny Ray Harris
05. Dog Gone ( 601 - 60 ) - Johnny Ray Harris
06. No More Hurtin' ( 602 - 60 ) - Johnny Ray Harris
07. Bouncing ( unissued ) - Johnny Ray Harris
08. Deep In The Hole ( unissued ) - Johnny Ray Harris
09. Where Or Where ( unissued ) - Johnny Ray Harris
10. Aligator Meat ( unissued ) - Johnny Ray Harris

Charlie Gracie
11. Rockin' The Boogie - Charlie Gracie
12. Too Much Monkey Business - Charlie Gracie
13. Train Down to Hell - Charlie Gracie
14. Dirty Dog - Charlie Gracie
15. Fabulous - Charlie Gracie
16. Heart Like A Rock - Charlie Gracie
17. Little John's Gone - Charlie Gracie
18. Love Doll - Charlie Gracie
19. My Baby Loves Me - Charlie Gracie
20. You Mostest Girl - Charlie Gracie

Rockin' Girls
21. Friction Heat - Annita
22. Bigelow 6-200 - Annita
23. OK You're My Girl - Ranch Girls
24. Don't Lie To Me - Ranch Girls
25. Stop Look And Listen - Casey Sisters
26. Set My Soul On fire - Casey Sisters
27. Skull & Crossbones - Sparkle Moore
28. Rock A Bop - Sparkle Moore

===============================================
LANE QUIGLEY AND THE MEMORY LANE SHOW WITH MORE ROCKIN OLDIES IN ROCK-IT RADIO SHOW #5463

Lane Quigley digs deep this week as he scours the
back corner of his record library to dust off some
rare gems from the Glory Days of the 45 RPM.
You may not recognize a lot of these tunes, but we
guarantee that once you listen you'll discover some
new favorites. As always, you'll get to try and
identify the Mystery Artist, and of course there's a
handful of interview clips with the backstories that
you can only get on The Memory Lane Show.

1. Lights Out - Jerry Byrne 1958
2. So Tough - The Kuf Links 1958
SOUND BITE
3. I Promise To Remember - Jimmy Castor & The Juniors 1956
4. Midnight Shift - Buddy Holly 1956
5. Further On Up The Road - The Hawks 1961
6. Hands Off - Jay McShann with Pricilla Bowman 1955
SOUND BITE
7. Don't Throw Your Love Away - The Orlons 1963
8. Chicken Shack - Amos Milburn 1956
9. I Love Him So - Nikki Blu 1964
10. I Want To Flop - Mattie Jackson 1959
SOUND BITE
11. Since I Fell For You - The Harptones 1954
12. (He's Gonna Be) Fine, Fine, Fine - The Ikettes 1965
13. MYSTERY ARTIST (Can you identify the artist??)
14. Chicken - The Cheers 1956
SOUND BITE
15. Well Now Hear This - The Jodimars 1956
16. Try My Love Again - Bobby Moore & The Rhythm Aces
17. Down The Road Apiece - Chuck Miller 1958
18. Who Drank My Beer When I Was In The Rear? - Dave Bartholomew 1952
SOUND BITE
19. Dedicated To You - Sonny Knight 1957
20. They Say - Lloyd Price 1952
21. I Need Someone - Thee Midniters 1965
22. If I Knew - The Cruisers 1960
SOUND BITE
23. Come Home - Barbara Lewis 1965
24. Your Tender Lips - The Clovers 1956


================================================
COOL BOBBY B AND THE DOO WOP STOP ON ROCK-IT RADIO SHOW #5464

It's two shows in the same week for Cool Bobby B
as we catch up and get his shows online to you as
quick as possible. Don't be fooled by other oldies
stations - Cool Bobby B began his online shows right
here on Rock-it Radio. The others are just copy cats :)
Here is the playlist of his show.

Hour #1

1. Rockin' with the clock -- Shirley and Lee
2. I got a feeling -- The Creations
3. Lovely Dee -- The Untouchables
4. Goodnight Sweetheart Goodnight -- The Untouchables
5. I got a feeling -- Time Tones
6. To be loved -- The Pentagons
7. Besides you -- The Crests
8. Wisdom of a fool -- Kenny Vance & Planotones
9. Warm -- Skyliners
10. He's Gone -- The Chantels
11. My Prayer -- The Platters
12. Blonde Angel -- Brilliant Tears
13. One Day next year -- Heartbeats
14. Last night I dreamed -- The Fiestas
15. Gee how I wsih you were here -- Curtis Lee
16. Always be faithful -- The Monarchs
17. Rama Lama Ding Dong -- The Edsels
18. Bing Bong - Vince Castro & Tonettes
19. Angel Baby -- Rosie & Originals

Hour #2

20. Give me a girl -- The Serenaders
21. Since I met you baby -- Ivory Joe Hunter
22. Need your love -- The Metallics
23. I'll be easy -- The Sultans
24. Denise -- Randy & The Rainbows
25. Lonely Way -- The Skyliners
26. Who do you think you are -- The Fascinators
27. To the Aisle -- 5 Satins
28. Our Anniversary -- 5 Satins
29. The only girl i'll ever love -- Mello Kings
30. For your love -- Ed Townsend
31. Come on let's go -- Ritchie Valens
32. Come on Everybody -- Eddie Cochran
33. Sorry (I ran all the way home) -- The Impalas
34. I apologise -- Velours
35. St. Therese of the Roses -- Billy Ward & Dominos
36. All my love -- Jackie Wilson
37. Look homeward Angel -- The Monarchs

Hour #3

38. 11th hour melody -- The Rivieras
39. Moonlight Cocktails -- The Rivieras
40. Looking for my baby -- The Earls
41. Ding Dong Darling -- Fabulous Dudes
42. Possibility -- The Crowns
43. Eyes -- The Earls
44. Foolish Me -- Harptones
45. Baby come back to me -- Manhattan Transfer
46. Gloria -- Manhattan Transfer
47. Trickle Trickle -- Manhattan Transfer
48. Wild One -- Jerry Lee Lewis
49. Wildwood Days -- The Dovells
50. I lost Someone -- James Brown & Famous Flames
51. Ten Commandments of Love -- The Moonglows
52. Oh what a night -- The Dells
53. Angels flying too close to the ground -- Jerry Butler
54. Eddie my love -- Teen Queens
55. Tears on my pillow -- Little Anthony & Imperials
56. Goodnight Baby -- The Imaginations

================================================
BILLY VERA'S ROCK AND ROLL PARTY WITH RISQUE
RHYTHM AND BLUES ON ROCK-IT RADIO SHOW #5465

Billy Vera's Rock & Roll Party Spotlights
Los Angeles R&B from the 1950's

Those who grew up in Los Angeles in the 50s were able to hear
great music on the radio from DJ's like Huggy Boy, Art Laboe,
Hunter Hancock, Ray Robinson, Charles Trammell, Joe Adams and
Johnny Otis. These cats loved to feature lots of the fabulous
music that was emanating from local record labels like Specialty,
Modern, Recorded In Hollywood, Aladdin, Combo, RPM, Cash, Imperial,
Dootone, Vita, Flair, Dig, Spark, and Money. On this week's
Rock & Roll Party, Billy Vera features some great vocal groups,
honking sax men, and smooth solo singers who recorded in L.A. during
that era. Come take a listen, you're gonna dig these tracks.


Part One

1. Let's Go Crazy Crazy Baby- Jimmy Wright
2. If I'm a Fool - The Hollywood Four Flames
3. Tell You Love Me - The Hollywood Blue Jays
4. Dream Girl - Jesse Belvin
5. Kiss Me Baby - Marvin & Johnny
6. I Need You All The Time - The Platters
7. All Night Long - Joe Houston
8. The Telegram - The Medallions
9. Don't You Know I Love You So - Arthur Lee Maye & The Crowns (unreleased)
10. Sad and Lonely - The Lamplighters (unreleased)
11. Du Wada Du - Bip & Bop
12. Hearts of Stone - The Jewels
13. Always and Always - Don Julian & The Meadowlarks
14. Ko Ko Mo - Gene & Eunice
15. Night Owl - Tony Allen & The Champs
16. Mary Lou - Young Jesse
17. Earth Angel - The Penguins (unreleased version)
18. No No Cherry - The Turbans
19. Shotgun Wedding - Chuck Higgins


Part Two

20. Chop Chop - Chuck Higgins
21. Nona - The Feathers
22. Oop Shoop - Shirley Gunter & The Queens
23. Uh Oh! Get Out Of The Car - Richard Berry
24. Hey Henry - Etta James (with Richard Berry)
25. My Angel - The Californians
26. Bow Wow - The Pyramids
27. I'm a Fool - The Turks
28. I Don't Care No More - The Cats
29. Be-Bop-A-Lula - Scatman Crothers
30. Church Bells May Ring - The Cadets
31. At Last - Richard Berry & The Dreamers
32. Deacon Dan Tucker - Jesse Belvin
33. Flyin' Home - Joe Houston
34. Framed - The Robins
35. Justine - Don & Dewey
36. To Be Loved (Forever) - The Pentagons
37. Slow Down - Larry Williams
38. Confidential - Sonny Knight

===============================================
ROCKIN DADDY O'S ATOMIC DOO WOP DANCE PARTY ON
ROCK-IT RADIO SHOW #5466

Rockin' Daddy O is back this week with even more
great Doo Wop Rock and Roll for Rock-it Radio. Here
is this week's playlist of his show of what you will
hear when you click to show #5466 in our program
page.

1. Zoom-Cadillacs
2. Now You Know-Channels
3. No No No-Bud Johnson & Chanters
4. I'm Not Too Young To Fall In Love-Lewis Lymon & Teenchords
5. Oh What A Night For Love-Roy Tyson
6. Woe Woe Baby-Personalities
7. My Melancholy Baby-Marcels
8. I've Got A Notion-Harptones
9. Lily Maebelle-Valentines
10. Love You Baby-Fi-Tones Quintette
11. Peter Pumpkin Eater-Troupers
12. You're My Baby(I Love You So)-Redondos
13. Again-Concords
14. Stormy Weather-Spaniels
15. Chicken-Moroccos
16. Twist'n All Night-Counts
17. Come go With Me-Twisters
18. Lights Are Low-El Dorados
19. Can This Be Love-Winners
20. The Vow-Flamingos
21. The Sun-Fourteen Karat Soul
22. Daddy's Gonna Tell You No Lie-Cosmic Rays
23. Hey ! Little Women-Sonny Til & Orioles
24. So Long-Fats Domino

===============================================
PETE CHASTON'S DOO WOP SHOW ON ROCK-IT RADIO
SHOW #5467

Pete is a veteran DJ here at Rock-it Radio and a loyal
provider of shows for us here.
His dedication and knowledge of 50s and early 60s Doo Wop
shines as he spins those tunes of yesteryear. Including The
Silly song segment and the rare But scratchy 45 segment.
Here is this week's playlist of what you will hear.

1. Doo-Wop All Night Long-The Blue Emotions (opening theme song) (1982)
2. White Cliffs of Dover-The Robins (1961)
3. Zip-Boom-The Supremes (1956)
4. Tonight, Kathleen-The Valentines (1954)
5. Cry, Cry, Cry (alternative version)-The Earls (1963)
6. Dorothy-The Encounters (1998)
7. Coney Island Baby-The Excellents (1962)
8. Diddley Daddy-Bo Diddley (mid 1950s)
9. Feelin' No Pain-The Del-Satins (1963)
10. Blueberry Sweet-The Chandeliers (1958)

SILLY SONG SEGMENT:

11. Mope-itty Mope-The Bosstones (1959)
12. Alone at a Drive-in Movie-from "Grease",
the original Broadway Play (1972)

SCRATCHY 45 RPMs SEGMENT:

13. Carioca-The Aqua-Nites (1965)
14. Honey Hush (original version)-Joe Turner (1953)
15. Because of You-The Dreamers (1963)
16. Book of Songs-The Ly-dells (1961)

BACK TO THE CDs &/or More 45 RPMs:

17. Mr. Bass Man-Johnny Cymbal (1963)
18. I Wanna Be the Leader-The Marcels (1963)
19. Dream of Love-The Packards (1956)
20. I Only Want You-The Passions (1959)

SLOW SONG SEGMENT:

21. The Wind-The Jesters (1960)
22. Wedding Bells are Ringing in My Ears-The Angels (1954)
23. Oh, What a Night-The Five Boroughs (2007)
24. Down on my Knees-The Heartbeats (1956)
25. Pretty Girl-The Golden Bells (1959)
26. Need Your Love-The Metallics (circa 1960)
27. (closing theme song) Adios-The Five Discs (1961)

==============================================
JAMES RILEY AND THE ROCKABILLY AND BLUES SHOW ON
ROCK-IT RADIO SHOW #5468

From Tennessee, USA the birthplace of Rockabilly music
James Riley does his first show for us here at Rock-it
Radio.

Rockabilly N Blues Radio Hour #1
New tracks from BellFuries, Dave & Phil Alvin,
Leigh Nash, Harry Violet & The Sharks and Pack Of Wolves
along with classics from Wanda Jackson, Johnny Burnette,
Thurston Harris and so much more!!

1. Baltimore- The BellFuries
2. Flowers On The Wall- Eric Heatherly
3. Hide & Seek- Dave Alvin & Phil Alvin
4. Scandalous- JD McPherson
5. Brand New Beat- Gene Vincent
6. Fujiyama Mama- Wanda Jackson
7. Doing It Wrong- Leigh Nash
8. I'm The One- Lara Hope & The Ark Tones
9. Good Guy- Don Diego Trio
10. Texas Radio- Los Hightops
11. Blues Falling Down On Me- Cash Box Kings
12. Polk Salad Annie- Sleepy LaBeef
13. Little Bitty Pretty One- Thurston Harris
14. Full Moon Baby- Sixteen & The Sidewinders
15. Go Cat Wild- The Rockats
16. Dance At The Korova- Harry Violet & The Sharks
17. Crocodile Tears- Pack Of Wolves
18. Good Gracious Me- Johnny Powers
19. Rock Therapy- Johnny Burnette & The Rock N Roll Trio


Rockabilly N Blues Radio Hour #2
JD McPherson is our guest as we chat about Let The
Good Times Roll, Conan O'Brien, ZZ Top, Robert Plant, etc!
We also get a new single from Legendary Shack Shakers
and much more!!

1. Mud- Legendary Shack Shakers
2. Rock Me My Baby- Buddy Holly
3. Everybody's Talking 'Bout The All American- JD McPherson
4. North Side Gal- JD McPherson
5. It's All Over But The Shouting- JD McPherson
6. Let The Good Times Roll- JD McPherson
7. Head Over Heels- JD McPherson
8. Bridge Builder- JD McPherson
9. It Shook Me Up- JD McPherson
10. You Must Have Met Little Caroline- JD McPherson
11. I Wish You Would- JD McPherson
12. We Wanna Boogie- Sonny Buress & The Pacers (by request from JD)
13. Worryin' Kind- Ronnie Dawson
14. Bo Bo Ska Diddle Daddle- Wayne Walker


===============================================
JACK VAN OERS AND THE ROCKIN' WINDMILL ROCKABILLY SHOW ON ROCK-IT RADIO #5469

From the land of windmills, dykes, canals, cheese, tulips,
cows and wooden shoes here is another dynamic Rockin' Windmill
Show. Host Jack van Oers plays music from The UK, France,
Belgium, Sweden, The Netherlands and The USA. Please sing
along with these great tunes and have a lot of fun!


1. If I had me a woman - Mac Curtis - 1956
2. 18 Nickels and a rusty dime - Billy Ledbetter -
3. My one desire - The Firebirds - 1991
4. Stop! Baby - Chuck Johnston - 1959
5. Blue eyes crying in the rain - Danny Everett - 1997
6. Lookie lookie lookie - Ronnie Smith - 1959
7. That's love - Billy Fury - 1960
8. Only a dream romance - The Tilton Sisters & the Lawrence Brothers - 1959
9. Linnea (live) - Oijwinds - 196x
10. Sweet talk - Rusty York - 1959
11. Guilty conscience - Cochran Brothers - 1955
12. Come on, let's go - Tommy Steele - 1958
13. Come on, let's go - McCoys - 1966
14. Tongue-tied Jill - Charlie Feathers - 1956
15. That's all right - Johnny Tyrone - 198x
16. Rosie let's get cosy - Dave Rich - 1957
17. Everything's allright - Runnin' Wild - 2004
18. Old age and rough treatment - Charlie Stewart - 1959
19. Good morning - The Convertibles - 1999
20. Don't you rock me daddy-o - The Viper Skiffle Group - 1957
21. Moonshine - Montie Jones - 1960
22. Lets think about living - Sven Ingvars - 1960
23. Long black train - Harold Jenkins - 1961
24. Pour moi la vie va commencez - Johnny Hallyday - 1963
25. Touch me - Alvis Wayne - 2001
26. The swinging musicbox - Willy & his Giants - 1964

===============================================
DJ SPINNING ROCK BOOGIE AND THE MOVIN AND GROOVIN SHOW ON ROCK-IT RADIO SHOW #5470

"REGIONAL ROUND UP # 43 - WISCONSIN Pt 2"

Join DJ Spinning Rock Boogie for another show in his series,
"Regional Round Up", the show that each time takes a look
at a particular State of America and features some of the
record labels from out of that State, the towns and cities
where those labels were situated, and the array of artists that
performed on them. This show takes another look at the State
of Wisconsin with Pt 2 and features rock and roll
and rockabilly from the 1950's and 1960's.

01. Intro - Medley
02. Little Rocker - Scottie Stuart (60) MMC - Madison
03. Spring Fever - Vilas Craig & The Kollege Kings (59) Riff - Madison
04. Bundle Of Lovin' - Ken Davis & The Honey Bees (58) Pfau - Milwaukee
05. Greatest Girl - Dick & Roger (60) Leaf - Janesville
06. Rang Dang Do - The Chieftones (65) Claremont - Lake Geneva
07. Now How You Gonna Act - Pee Wee Maples (58) Sara - Sauk City
08. Big Fat Mama - Barbara Lee Mac (66) Cuca - Sauk City
09. Another Lonely Soldier Boy - Hugh Barrett (66) Dynamic Sound - Milwaukee
10. Baby Doll - The TJ's (59) Lindy - La Crosse
11. Venus Rock (instrumental) - The Roulettes Orchestra (58) Cinch - Milwaukee
12. Scrapbook Twister - Judy Jae & The Moonglows (62) Brosh - Milwaukee
13. I'm Wondering Now - Larry Phillipson & The Larry Lee Trio (54) Demo - Milwaukee
14. Little Miss Mary - Vilas Craig & The Vi-Counts (60) International Artists - Richland Center
15. You Don't Know About Love - The Torkays (65) Coulee - La Crosse
16. Fool About You - Danny Darren & The Drifting Playboys (66) Draeger - Racine
17. Milwaukee Road - Larry Phillipson (57) Raynard - Milwaukee
18. Gone Again - Ken Davis (59) Badger - Racine
19. Shook Shake Like A Big Mix Cake - Ken Davis (58) Star-Light - Racine
20. I Don't Care What They Say - Rehabilitation Cruise (68) Rondon - (?)
21. Never Gonna Let You Go - Karen Wells (61) Cuca - Sauk City
22. I Fought The Law - Paul Stefen & The Royal Lancers (62)Citation - Milwaukee
23. Shake That Thing - Charles Epps (62) Brosh - Milwaukee
24. Bad News - The Rhythm Rockers (62) Copper - Sauk City
25. Love Love Love - Dick Buscher & The Cliches (62) Cuca - Sauk City
26. Slipin' And Slidin' - The Citations (63) Sara - Sauk City
27. I'm Movin' On - Dick Hiorns & Jimmy Sun (61) Cuca - Sauk City
28. Outro - Medley

===============================================
OTTO FUCHS AND THE ROCKIN THE JOINT SHOW ON ROCK-IT RADIO SHOW #5471

Otto Fuchs & The Rockin' The Juke Joint Show on Rock It Radio
will take you for a cruise, as Rock It Radio is not only heard
over FM (99.1 FM, Post Falls / Idaho), First Nations Broadcasting
/ Alaska but now also over KWEB - FM Webb City, Missouri 98.5 FM,
on the former Route 66. For this reason Otto from Austria decided,
to play some of the great Roots Rock & Roll, Rockabilly and
Early Rhythm & Blues Hits of the Golden Age of Rock & Roll.

1. The Cat In The PT Cruiser â€" Sha Na NA
2. Cruisin' - Gene Vincent
3. Rocket 88 - Bill Haley & The Saddle Men
4. Draggin - Curtis Gordon
5. Going Down That Road - Ersel Hickey
6. Somethin Else - Eddie Cochran
7. Pop, Let Me Have The Car - Carl Perkins
8. No Particular Place To Go - Chuck Berry
9. You Can´t Catch Me - Chuck Berry
10. Cruisin´ The Drive In - Eddie Cochran
11. Rockabilly Blues - The Slapbacks
12. One Piece At A Time - Johnny Cash
13. Brand New Cadillac - Vince Taylor
14. Automobiles - The Spaniels
15. Motor Man - Sha Na Na
16. Forty Miles Of Bad Road - Duane Eddy
17. The Paper Boy - Bill Haley & His Comets
18. Red Cadillac & A Black Moustache - Bob Luman
19. Cadillac Boogie - Jimmy Lodges & His Drops Of Joy
20. No Particular Place To Go - Jerry Lee Lewis
21. Pink Thunderbird - Gene Vincent
22. Dig That Ford - Doug Hagin
23. Jungle Fever - Charlie Feathers
24. Route 66 - Nat King Cole

===============================================
DAVE THE RAVE AND THE RELICS AND RARITIES SHOW
ON ROCK-IT RADIO SHOW #5472

If you love the music of the 1960s then the Relics
and Rarities show is for you. And this week it's a
double shot! From the girl group sound to Psychadelic
Rock it's all here. Here is this week's playlist.

Hour #1

1. At The Party - Hector Rivera
2. Don't Tell Your Mama (Where You've Been) - Eddie Floyd
3. Givin' Up On Givin' You Up - Robert John Ballack
4. Be Young, Be Foolish, Be Happy - Tams
5. Wrong To Me - John Fred and His Playboy Band
6. This Boy - Beatles
7. Don't Look Back - Remains
8. Not This Time - Black Diamonds
9. Wanted: Lover - James Govan
10. Too Weak To Fight - Clarence Carter
11. Same As Before- Orthea Barnes
12. Little Girl - Arkay IV
13. The Push - U.S. Six
14. Can You Jerk Like Me - Contours
15. Falling Sugar - Palace Guard
16. Losing You - Ricochetts
17. While I'm Away - Torquay's
18. This Diamond Ring - Sammy Ambrose
19. Stormy - 4 Evers
20. Gee Baby - Mickey Wilson (Discovery of Week)


Hour #2

1. Do The Getaway - Doc Bagby
2. I'm So Glad - McKinley Mitchell
3. I Pretend I'm With You - Searchers
4. Back On My Feet Again - Foundations
5. Back On My Feet - Al Kooper
6. I'll Run - Spiral Staircase
7. Let's Go Let's Go Let's Go - Elegants
8. Help Me Find A Way - Upper Way
9. Let Me Be Your Man - Tyronne Ashley and the Funky Music Machine
10. I Wanna Be Your Man - Beatles
11. Seventeen Tears To The End - Liverpool Set
12. Pushin Too Hard - Seeds
13. Pushin and Pullin - Lovemasters
14. (Loneliness Made Me Realize) It's You That I Need - Temptations
15. Night Train - Bob Marriott and the Continentals
16. Tell Daddy - Ben E King
17. Why Girl - Precisions
18. Next Plane To London - Rose Garden
19. If You Could Love Me - Swampseeds (Discovery of Week)

===============================================
BILL GREEN AND THE GIANT JUKEBOX AND THE ROCK AND ROLL RETROSPECTIVE ON ROCK-IT RADIO SHOW #5473

Rock-it DJ Bill Green is back with a fine variety of 45s
from his Giant Juke Box. Starting with 'South Of The Border'
songs the play list features everything from the unknown
to the unforgettable. There's also a spotlight on a number
of tunes that may be cover records, may be remakes.
Time to take the Rock-it ride.

1) Down In Mexico - The Coasters (1956)
2) Mexican Hat Rock - The Applejacks (1958)
3) Tequila With Speedy - The Champs (1958)
4) Mexican Divorce - The Drifters (1962)
5) My True Story - Jive Five (1961)
6) Rinky Dink - Dave 'Baby' Cortez (1962)
7) Yakety Sax - Boots Randolf (1963)
8) Hey Little Cobra - The Rip Cords (63/64)
9) Little Girl Of Mine - The Cleftones (1956)
10 You Send Me - Sam Cooke (19570
11) Nobody Loves Me Like You Do - The Flamingos (1960)
12) Goodbye Baby - Jack Scott (58/59)
13) Church Bells May Ring - The Four Blades (1956)
14) I Want You To Be My Girl - The Four Blades (1956)
15) Just To Be With You - Rudy West (1959)
16) You Were Mine - Rudy West (1959)
17) Stay - The Four Seasons (1964)
18) Everybody's Somebody's Fool - The Hi-Lites (1962)
19) (Today I Met) The Boy I'm Gonna Marry - Darlene Love (1963)
20) My Boy Elvis - Janis Martin (1956)
21) Rip It Up - Elvis Presley (1956)
22) Run Baby Run (Back Into My Arms) - The Newbeats (1965)
23) Oh Boy - The Crickets (1957)
24) Don't Look Back - The Temptations (1965)

===============================================
AL COOL DADDY SMITH WITH A MIXED BAG OF OLDIES ON
ROCK-IT RADIO SHOW #5474

This is a show that started out as an attempt to simply
select tunes at random and play them.
A randomly chosen recording suggested another direction somewhat
related to the tune just played and that is where I went.
I ended up nowhere near where I thought I would be when I started
out as you will see by looking at the last four selections.
Hopefully I have not confused you but as the show unfolds it
should become clear (he said whimsically).

The playlist is as follows:

1. So Fine-Little Caesar and The Consuls 1993
2. See Saw-Don Covay 1965
3. Crackin Up-Bo Diddley 1958
4. Maxwell St. Jam-Robert Nighthawk 1957
5. That's All Right Mama-Ace Cannon 2002
6. The Swag-Link Wray 1958
7. My Babe-Ron Holden 1959
8. Love You So-Ron Holden 1959
9. Work With Me Annie-The Royals 1954
10. Annie Had A Baby-Hank Ballard and The Midnighters 1954
11. Annie's Aunt Fannie-Hank Ballard and The Midnighters 1954
12. I Walk The Line-Johnny Cash 1956
13. Travelin' Band-Jerry Lee Lewis/John Fogarty 2006
14. Crazy Arms/Don't Forbid Me-Johnny Cash?, Elvis Presley,Carl Perkins and Jerry Lee Lewis (The Million Dollar Quartet) 1956
15. Don't Forbid Me-Pat Boone 1957
16. Tutti Frutti-Little Richard 1955
17. Long Tall Sally-Little Richard 1956
18. The Things That I Used To Do-Guitar Slim 1953
19. The Fat Man-Fats Domino 1950
20. Lovable-Sam Cooke 1956
21. Touch The Hem of His Garment-Sam Cooke 1956
22. Train Kept A Rollin' -Colin James and His Little Big Band 1993
23. Train Kept A Rollin' -Tiny Bradshaw 1951
24. Train Kept A Rollin' -Johnny Burnett Trio 1956
25. Train Kept A Rollin' -The Yardbirds 1965

==============================================
TREVOR HYLAND'S ROCK AND ROLL DANCE PARTY ON
ROCK-IT RADIO SHOW #5475

Rockabilly & Rock'N ' Roll from some of the greats of
today & yesterday. " Rockin' It Out " from Trev's studios
in Bendigo Australia. SHAZAM SHAZAM !

01. Ain't I'm A Dog - Ronnie Self
02. Annabel - Al Ferrier
03. Lord Keep A Light - Al Ferrier
04. Annabel - Danny Mack
05. The Mighty Sky Cried - Gilles Vignal
06. Annabel - Warren Storm
07. All That I Need - High Strung Ramblers
08. Born To Love One Woman - Ric Cartey
09. Down The Track - Omar & The Stringpoppers
10. Eeny Meeny Miney Mo - Bob & Lucille
11. High Class Baby - Darrell Higham
12. I'm Left You're Right She's Gone - Elvis Presley
13. I've Got A Dollar - Jimmy Dell
14. Jello Sal - High Strung ramblers
15. Rock With Me Baby - The Stringpoppers
16. Like a Wolf - Go Getters
17. Red Headed Woman - Sonny Burgess
18. No Heart To Spare - Go Getters
19. Please Mama Please - Go Cat Go
20. Sag Drag & Fall - Sid King & The Five Strings
21. Sixteen Chicks - Joe Clay
22. Rock Your Baby - Wanda Jackson
23. Sweet Rockin' Baby - Sonny West
24.Rockin' Like There's No Tomorrow - Chan Romero


==============================================
All the Rock-it Radio shows are available on CD

Each show is only $9.50 each and you can order
in bulk and shipping will never be more then $2.00.
Ask for a secure paypal invoice -- information is at:
http://www.rockitradio.net/order.html

==============================================

100'S OF VINTAGE ROCK AND ROLL VIDEOS ON FILE IN
OUR VIDEO SITE AT ROCK-IT RADIO:
CHECK IT OUT AT:

HTTP://WWW.ROCKITRADIO.NET/VIDEO.HTML

==============================================
COME JOIN US ON FACEBOOK !!! WE WOULD LOVE A
LIKE FROM YOU!

http://www.facebook.com/rockitface
The Rock-it Radio Facebook Site.

==============================================
HISTORY OF ROCK-IT RADIO

If you are new to Rock-it Radio and would like to learn more --
We have our History Page up as well -- telling the story of Rock-it
Radio. You can find it at:
http://www.rockitradio.net/history.html

===============================================

GIVE THE GIFT OF NOSTALGIA IN 2015


Nostalgic Rock and Roll and Country Radio shows
for sale and remastered onto Compact Disc.
Economically priced and 100s to choose from of the
1950's thru the 1970s. Local and Nation
wide famous DJ's and stations. Hear how Radio was. Check
out the Rock-it Radio Launching Pad store at:
http://www.rockitradio.net/store.html

Rock-it Radio is Publicly supported. And we rely on
our listener's to keep us going. But for your donation
we offer you a vintage radio broadcast or a Rock-it Radio
show like we offer in our Online store.

OCTOBER END OF THE MONTH DRAWING OF WINNERS ANNOUNCED FOR LAUNCHING PAD SUPPORTERS
At the end of every month on Rock-it Radio we have a
random drawing for those that have supported Rock-it Radio by
purchasing either Rock-it Radio shows through the
either the Rock-it Radio Launching pad at:
Or by going and ordering Rock-it Radio shows at:
The OCTOBER 2015 Winners this month are:
Larkin Chapman - Belzoni, Mississippi USA
Randy Hamm - Ojai, California USA
Jonathan Winchell - Concord, California USA


SUPER MEGA WINNER - WINNER OF 10 SHOW
OF THEIR CHOICE !!!!!!!!
R.C. O'Mara - San Jose, California USA

Each of you have won your choice of 3 vintage
Rock Radio programs (The Super Mega winner won 10!)
from our online store at:

or you can order Rock-it Radio Shows if you prefer on CD

You have until
November 30, 2015
to let us write back and let
us know of your choices.
Congratulations and let me know what you would like to
have along with a mailing address and we will got those
items out to you. Just our way of saying Thank you for helping
support Rock-it Radio. And of course we will have October drawings
as well at the first week of next month.
NOTE: You should keep on checking this notice board
or join the Launching Pad Facebook site at:
And of course we will be having another drawing at the
end of this month.
RECRUITING FOR RADIO PERSONALITIES FOR
ROCK-IT RADIO

Do you know your 50s and 60s Rock & Roll, Doo wop
or Rockabilly? And the ability to produce a show
on CD?
We do require a playlist for this newsletter but
your show will stay online for the world for approx.
3 weeks. Unlike some stations where you broadcast one
time and it's gone forever.
If interested check out our Rock-it Radio Team page
at: http://www.rockitradio.net/team.html

We are also looking for writers and translators!
================================================
NEW ROCK-IT RADIO SHOWS NOW AVAILABLE ON
FLASH DRIVE.


New Release!!!! Rock-it Radio Shows #5401 to #5450 on Flash
drive MP3 Over 60 hours of 50s and 60s Rock and Roll now on
Flash drive. Just plug into your usb port in your PC or if your
mp3 player has it in that usb port select and you will have
50 Rock-it Radio shows at your disposal.
In our Ebay listing at:
http://www.ebay.com/itm/-/131645776466

or the new Rock-it Site at:
http://www.rockitradio.net/flashdrive.html

It's something different and hopefully will catch on.
As soon as we hit Show #5500 we will have a 2nd Flash drive
available. It really is a great savings from our CD's that
we sell for $9.50 each could add up to $475 for 50 shows.
We are offering the flash drive to slash that amount to just
$39.95.

==================================================
NEW CD SET RELEASE IN ROCK-IT RADIO EBAY STORE
6 CD SET ON LOUIS JORDAN R&B LEGEND.

If you recall back in May and June Matt the Cat and
the Juke in the Back show did a very thorough show
in 6 shows on the music of R&B Legend Louis Jordan.
That 6 CD Set is now in our Ebay Store and listed at:
http://www.ebay.com/itm/-/131610498631
descriptions and playlists of what you will get is
in that listing.

The Cost is $39.95 U.S. and a $20 savings if you ordered
the shows individually. You can also see all our other
Ebay listings at:
http://stores.ebay.com/Rockit-Radio

DONATIONS HELP! THANK YOU DEPARTMENT!
As you know Rock-it Radio is publicly supported. And we want to give thanks to two donations that came in this past month that is helping Rock-it Radio along! A big Thank you to Rock-it Radio Listeners and friends.
Deb Bauer of Santee, California
and Brian Cantin of Rancho Palos Verdes, California

With your help and others Rock-it Radio remains flying!
ROCK-IT RADIO LAUNCHING PAD WORSE MONTH OF THE
YEAR
Declining sales of our vintage rock radio broadcasts resulted in the worse month in sales in October. Rock-it Radio actually went in the red and lost nearly 40% of it's reserve just in running costs.
To combat this we are attempting new offers in the way of shows on Flash drive mp3 - (see article above) and will attempt to put out new releases of vintage broadcasts by attempting to purchase a reel to reel tape recorder to restore new archived tapes onto CD. If anyone knows where to get a good used reel to reel tape recorder for a decent price please let me know. They are becoming harder to come by. E mail me at rockitradio@netzero.net

=====================================
FRIENDLY REMINDER TO PLEASE SUPPORT ROCK-IT RADIO

Rock-it Radio is publicly supported by listener's like you.
But we don't ask for money without giving something in return!
(Besides the music we play) -- We have an online store with 100s
of vintage Rock and Roll and Country Radio broadcasts from the
1950s to the 1970s. Uncut and Unedited and placed onto CD for
modern listening convenience from the original tape format. --
Every purchase (donation) of these vintage shows goes right back
into Rock-it Radio and it's operation. We kindly invite you to
check out our website and see what we have to offer. Most all
listings have a ebay link where you can buy the item off of ebay
or directly through paypal. Each broadcast is guaranteed.
Please check out the Rock-it Radio Store at:
http://www.rockitradio.net/store.html

===================================================
ROCK-IT RADIO GOES ON MAJOR PROMOTION DRIVE FOR NEW LISTENER'S ON FACEBOOK.

This month Rock-it Radio will be doing a major drive looking for new listeners to join us in likes in our Facebook page and join our Listener's Club. In search for new Listeners to our station. Practically all of our advertising budget will be dedicated to this campaign. Along with our Ebay store and Launching Pad. So far Advertising on Facebook the past couple of week's has netted over 800 new followers. If you know of anyone that might enjoy listening to our variety of 50s and 60s Rock and Roll we kindly ask to tell a friend about us at rockitradio.net

REMINDER ON HOW TO CONTACT THE DJ'S AT ROCK-IT RADIO

We all love our our e mails from listeners here at Rock-it
Radio. Along with requests and dedications. Earlier this year
due to the excessive spam we all were getting I stopped listing
the e mails at each shows playlist. But you can still
contact them. Just go to the Rock-it Radio DJ page and each
DJ has there e mail link underneath each bio.
You can find it at: http://www.rockitradio.net/dj.html


COLLECTING AIRCHECKS - A HOBBY OF RADIO NOSTALGIA
What is a Aircheck? It is simply a recording of a radio broadcast. Usually collected by Radio fans.
Come check out our webpage on collecting Airchecks.

http://www.rockitradio.net/aircheck.html


COME REMEMBER WOLFMAN JACK !!!
Rock-it Radio has a very special way to remember Wolfman Jack.
Arguably the most iconic of American DJ's. Come check out the
Rock-it Radio Wolfman Page at:
REMEMBERING OFFSHORE PIRATE RADIO IN THE UK
In the mid 1960s it was difficult for the youth to actually listen to Rock and Roll in the UK. The BBC actually ran only a few hours a weekend to provide the young Brits with this outlet. At night during the week they ventured to even tune into Radio Luxembourg to get there fill, that broadcast rock and pop around the clock.
To fill this void some venture capitalists decided to bring in commercial radio aboard refitted radio ships. And anchor themselves just off into International waters off the English coast. Radio Caroline (named after Caroline Kennedy the U.S. President's daughter at the time) and Radio London being the most famous.
Rock-it Radio has a website dedicated to their ventures and also have actual radio broadcasts available of these offshore pirates. We invite you to check them out our webpage at:
http://www.rockitradio.net/pirate.html
FINDING ROCK-IT RADIO ON THE 'TUNE IN RADIO' CELL PHONE APP.

We have had a few requests from listeners that they couldn't find us on the
popular 'Tune in Radio' App. on Android and PC and iphones. Running a
search of 'Rock-it Radio' will actually list 100s of Rock stations.
So, the best way to find us on this very thorough and extensive app. that
I love using myself is -
run a search on 'rockabilly' - there you will easily find
Rock-it Radio listed.
Our Tune in Radio App. webpage is also at:
http://tunein.com/station/?stationId=41878
MISSED A COUPLE OF NEWSLETTERS LAST COUPLE OF WEEKS??

THEN YOU CAN ALWAYS CHECK OUR BLOG WHERE IT IS ARCHIVED.
YOU CAN CHECK OUT OUR BLOG AT:

http://rock-itradio.blogspot.com/
=============================================


ROCK-IT RADIO DJ PAGE...


Remember you can check out all the Rock-it Radio DJ's

and read the bios of these DJ's that make these

Rock-it Radio Shows possible at:


And don't forget for even more pictures --

there is our picture page at:
============================================
IF YOU HAVE TWITTER COME FOLLOW US THERE

If you are one that tweets then please check out and join and get our
updates on your twitter account. Our Twitter link is right below.

http://www.twitter.com/RockitRadio1
It is our new Twitter account and we will once again start
scrolling our messages and updates on our webpages as well.


============================================
ROCK-IT RADIO OTHER TWITTER ACCOUNT FOR
NEWS RELEASES FOR N. IDAHO, KODIAK ALASKA AND
THE WORLD!
Rock-it Radio has another Twitter account and is used for News
Alerts that come into the studio here at Studio A. For those Twitter
users that would like to follow the link is:
http://www.twitter.com/RockitRadioNews

The feed can also be seen in our World News broadcast Webpage
at: http://www.rockitradio.net/news.html


=============================================

WELCOME NEW MEMBERS TO THE LISTENER'S CLUB!!!!

A big welcome to the below new Rock-it Radio listeners that
joined our Listeners Club from October 21, 2015 to
November 6, 2015.
We hope that you enjoy the music Rock-it Radio provides
and our playlists and information that our weekly newsletter
provides. Any comments, criticisms, kudos, compliments or
future ideas is always welcome and you can e mail me personally at:
rockitradio@netzero.net


Mari Taylor -- New Castle, Delaware USA
George Block -- Ridgewood, New York USA
Perry Couloufacos -- Bayside, New York USA
Karen Jowett -- New Jersey, USA
Glen Hanson -- Hudson, Florida USA
Xami Zamikula -- Cambridge, United Kingdom
Leendert Klootwijk -- Enschede, Netherlands
Sascha Ahlinger -- Vienna Austria
Gary Pender -- Lapeer, Michigan USA
Kate Combruch -- Philadelphia, Pennsylvania USA

We have gained 871 new likes in our listeners club
in our Facebook page Rock-it Radio Fan Page as well this week at:
http://facebook.com/rockitface and 36 more following us
on Twitter @Rockitradio1 .

We have added a total of 936 new members to the Rock-it Radio
Listeners Club since our last newsletter. We now have 83,536 exactly
that have joined the Rock-it Radio Listeners club.
We hope that you enjoy the rare 50's and early 60's
Rock and Roll, Rockabilly and Doo Wop (which most commercial
oldies radio stations have forgotten) that we are able to play
for you from Rock-it Radio. Remember, we are here for you!

So if you ever have any requests, dedications, comments and
suggestions we always love to hear from our listeners.
Our e mail address is:
rockitradio@netzero.net

====================================================
To learn more about the Rock-it Radio Listeners Club and our Free
Newsletter please check out:
http://www.rockitradio.net/member.html

It's free and easy to join and the Rock-it Radio Newsletter is always
online at: http://www.rockitradio.net/newsletter.html



====================================================

PLEASE HELP US SPREAD THE GOOD WORD OF ROCK-IT RADIO!

Do you know of someone that might also like the music

of Rock-it Radio? We are desperately trying to keep this

music alive and have been doing so since 1995! Please

share the information of this station. And if you have

a website would you please consider putting a Rock-it Radio

link on your page.

There are a few to choose from in our link page at:

http://www.rockitradio.net/links.html
HOW TO ORDER OLD ROCK-IT RADIO SHOWS = YOUR PURCHASES HELP US STAY ONLINE!!!
We have received many inquiries on how to order Rock-it Radio shows that are no longer in
our on archives webpage. These shows are still available on CD and mailed to you within 24
hours of receiving payment.
To help search for older shows that you may be looking for you may want to check the Rock-it
Radio blog site. Old newsletters describing the shows and playlists
are archived there and there is a menu bar on the right side that breaks down every playlist
Then you may either pay by check or money order or paypal. Rock-it Radio shows are only
$9.50 U.S. each and are studio quality broadcasts that were placed on Compact Disc here at
the Rock-it Radio Studio. We have a flat rate shipping charge of $1.50 U.S. so if you order
one or several -- it is still only $1.50
U.S. shipping. And we ship worldwide, overseas orders are mailed out first class airmail.
Instructions where to send payment is at our webpage:
like we can send you a paypal invoice within 24 hours.

When you order a Rock-it Radio show or shop at our Rock-it Radio Launching Pad you
help keep these oldies alive and help us pay the bills here at Rock-it Radio.
And at the same time -- you are not getting nothing for your donation, but actually
some of the shows and memories we hope we keep alive here at Rock-it Radio.



TOP 20 SELLERS OF THE ROCK-IT RADIO LAUNCHING PAD THIS WEEK

As you know the Rock-it Radio Store sells vintage Radio Broadcasts - Where you hear the actual music, news and vintage advertisements - uncut and unedited just like you would of heard it back then. Here are the top sellers this week.


1. RIR #127 - Alan Freed 1956 Rock & Roll Dance Party show
2. RIR #393 - John Lennon as DJ on WNEW New York from 1974
3. Lane Quigley - Class of 1965 50 year Reunion - Rock-it Radio.
4. RIR #387 - Joey Reynolds - WKBW Buffalo NY Beatles Special 2/24/1964
5. RIR #181 - Wolfman Jack XERB Tijuana 12/8/1967
6. RIR #539 - Cousin Brucie - WABC New York 9/7/1965
7. RIR #176 - Porky Chedwick WAMO Pittsburgh 6/14/1960
8. RIR #466 - 3 Vintage early Beatles Interviews w/ Tom Lodge and Murray the K
9. RIR #116 - Casey Kasem - KRLA Los Angeles 5/27/1965
10. RIR #623 - Big Jim Edwards - CKLW Windsor, Ont. 12/1/1969
11. RIR #115 - Rare Broadcasts of Alan Freed.
12. RIR #182 - John Peel - Radio London Perfumed Garden Show 1/11/1968
13. RIR #397 - Wolfman Jack XERB Tijuana 8/1/1968
14. RIR #594 - Denny Sanders WMMS Cleveland 6/30/1978
15. RIR #638 - Howard Smith w/ John Lennon & Yoko pt. 1 WABC FM 1969
16. RIR #639 - Howard Smith w/ John Lennon & Yoko pt. 2 WABC FM 1969
17. RIR #267 - Arnie Woo Woo Ginsburg WMEX Boston 12/12/1965
18. RIR #317 - Allison Steele (Nightbird) WNEW New York 2/11/1969
19. RIR #425 - Real Don Steele KHJ Los Angeles 7/3/1967
20. RIR #459 - Tom Donahue KMPX San Francisco 5/2/1967


If you would like to view these shows in depth you can check out
our Rock-it Radio Ebay Store at:
http://stores.ebay.com/Rockit-Radio

or in the Rock-it Radio Launching Pad store at:
http://www.rockitradio.net/store.html(listed by date)
and in the upper left hand corner -
there is a search box where you can type in the DJ name or
Station Call letters and that information on that show will pop up.
Ordering from the Ebay store will also qualify you for the Rock-it Radio
giveaway mentioned previously in this newsletter. Sale of
these broadcasts is what keeps Rock-it Radio going and thank
you again to everyone that buys these!

===============================================
TOP 50 NATIONS THAT ARE TUNING INTO ROCK-IT RADIO.

We are always amazed at the World Wide Web and the 215 Countries that
tune us in every month online. Here are the top 50 Countries so far
this month.+ or - shows up or down how many positions from the previous week.
TOP 50 NATIONS THAT ARE TUNING INTO ROCK-IT RADIO.

1. United States +0
2. Brazil +0
3. United Kingdom +0
4. Hungary +0
5. Netherlands +0
6. Canada +0
7. Germany +0
8. France +1
9. Sweden -1
10. Australia +1
11. Finland +1
12. Ireland -1
13. Argentina +2
14. Belgium -1
15. Spain -1
16. Japan +1
17. Mexico +2
18. Italy -2
19. Austria +1
20. Croatia -3
21. Colombia +6
22. Peru +6
23. Russia -3
24. Philippines -5
25. Czech Republic +0
26. Chile +5
27. Switzerland -5
28. Thailand -1
29. Norway +1
30. Dominican Republic +4
31. South Africa +1
32. Saudi Arabia -2
33. China -5
34. Romania -5
35. Bolivia +11
36. Slovenia -1
37. Greece +7
38. Ukraine -1
39. Serbia +0
40. Guatemala +13
41. Luxembourg +21
42. Singapore +10
43. Morocco -5
44. Estonia -2
45. United Arab Emirates -2
46. Paraguay +18
47. Slovakia -6
48. Honduras +22
49. Costa Rica +26
50. Bulgaria +9

=============================================
U.S. STATES RANKINGS TUNING INTO ROCK-IT RADIO

1. California +0
2. New York +0
3. Florida +0
4. Pennsylvania +0
5. Texas +1
6. Ohio +1
7. Massachusetts -2
8. Washington +0
9. Illinois +2
10. Arizona +4
11. New Jersey -2
12. Wisconsin +1
13. Virginia -1
14. North Carolina -4
15. Maryland +3
16. Missouri -1
17. Indiana +0
18. Connecticut +1
19. Michigan -4
20. Colorado +0
21. Tennessee +1
22. Georgia +1
23. Alabama -2
24. New Mexico +1
25. Rhode Island +6
26. Kentucky +1
27. Oregon -1
28. Idaho +4
29. South Carolina +4
30. Delaware -2
31. Minnesota +2
32. Nevada -5
33. Kansas -7
34. Oklahoma -4
35. Arkansas +1
36. Iowa -1
37. District of Columbia +0
38. Utah +7
39. Louisiana +2
40. Hawaii -2
41. West Virginia +3
42. Alaska -3
43. New Hampshire +5
44. Mississippi -7
45. Montana +1
46. Vermont +4
47. Maine -3
48. Wyoming -5
49. Nebraska -8
50. South Dakota -3
51. North Dakota -3


Rockabilly bands looking for airplay
If you or know someone that would like airplay on Rock-it Radio we invite
you to submit your press kits to Rock-it Radio. Our website for further
information is:
http://www.rockitradio.net/airplay.html
============================================
Come tune into the World on your computer!
1000s of stations around the world now broadcast online. We have a
link to some of the internet top directories to help you find these stations.
http://www.rockitradio.net/internetradio.html
============================================
Rock-it Radio Program Webpage Reminder
Remember, if the show that you want to hear is getting close to the bottom
of the list of radio shows, you should tune in as soon as you can. These shows
to have a high audio quality require a lot of internet bandwidth and memory.
And currently we can only afford the
30
latest shows online here at Rock-it Radio.
So, when a new show is put online it knocks the oldest one off the Rock-it Radio
archives page. Usually a show will at least last 16 to 20 days, once it is placed in
the archives.
============================================
OUR SISTER STATION FIRST NATIONS BROADCASTING.
We invite you to also check out our sister station -- First Nations
Broadcasting. And tune into the rather Cool North of the Yukon and Alaska
with our very own Debbie Snowdove!
============================================
Well that is just about it for this newsletter and playlists of our latest
shows. We hope that you enjoy them.
We will do our best to keep these shows on for at least 14
days and hopefully 21 days.
All the best always,
Bennie Dingo
Rock-it Radio

website: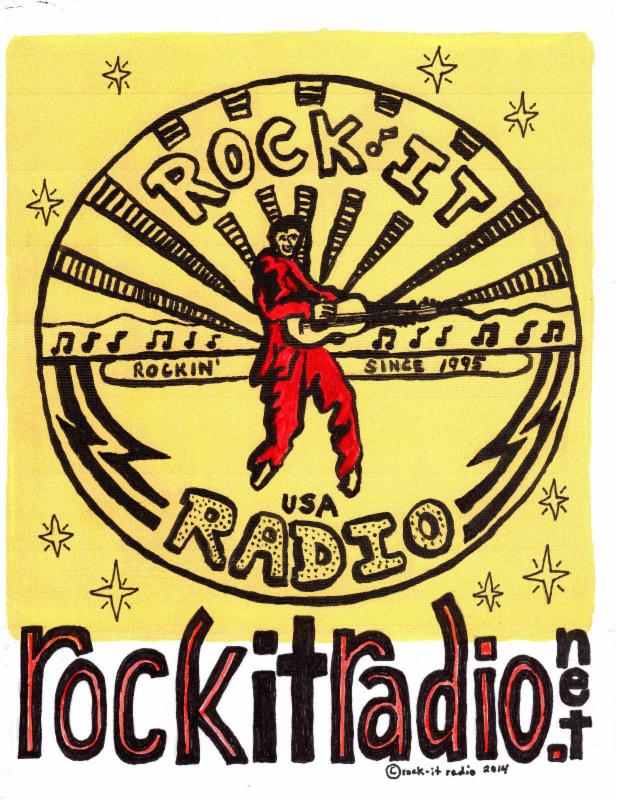 Rock-it Radio main website:
http://www.rockitradio.net

Archived Shows at:
http://www.rockitradio.net/programs.html

Rock-it Radio Vintage Broadcast Store:
(Launching Pad)
http://www.rockitradio.net/store.html