Rock-it Radio since 1995 providing 50s and early 60s Rock and Roll, Doo Wop and Rockabilly music online! Come tune us in at http://www.rockitradio.net We also have several 100 original radio shows from the first decade of Rock and Roll at: http://www.rockitradio.net/store.html
========================================================================
ROCK-IT RADIO NEWSLETTER AND PLAYLIST
SHOWS #5476 TO #5490
FROM
November 7, 2015 to November 23, 2015
Hi Rock-it Radio Listeners & Launching Pad supporters,

Quite an adventure this past week. We have had
the largest windstorm on record here for our area.
We have been without power, or any way to complete
orders or do anything on Rock-it Radio. Was getting
a bit chilly with temps dropping down into 18 F. at night.
We finally got our power back on and time to rejoin
The 21st century. So, let's get started we have lots of
playlists that should of gone out last week and plenty
of upcoming shows. This newsletter is for shows #5476 to
#5490.

So, Let's get started with some playlists!

Our shows can be heard in our archives page at:

http://www.rockitradio.net/programs.html
and click to the speaker on the left to hear the show.

Remember if you are new to Internet Radio and having trouble tuning in though --
Check out our webpage to help you out at:
http://www.rockitradio.net/tunein.html
============================================
REMEMBER YOU CAN ORDER ANY OF THESE ROCK-IT
RADIO SHOWS ON CD!!!! NEW EASIER ORDERING!

Would you like one of these Rock-it Radio shows on CD? To
be able to play anywhere? And help support Rock-it Radio at the same time.
For complete information check out our program
ordering webpage at: http://www.rockitradio.net/order.html

Our shows are of course copies straight from the studio so they are studio
quality and satisfaction is guaranteed.
Or if you would rather receive an invoice let me know and we
can e mail you a copy - Just e mail us the show(s) you would like
to have and the Rock-it # to: rockitradio@netzero.net

==============================================
All Rock-it Radio shows stay online from 18 to 24 days and are
broadcast in MP3 Format. To tune in just click to the speaker
at our program page at:
http://www.rockitradio.net/programs.html

The newest show added replaces the oldest show so if you see a
show near the bottom of the listing - you should listen as soon as
possible.

==============================================
WE COULD USE YOUR SUPPORT

Rock-it Radio is 100% Publicly supported. But when you
donate to the Rock-it Radio Launching Pad - we give you
a vintage broadcast of your choice.
100% of all sales from the Rock-it Radio Store (Launching
Pad) goes back to pay copyright fees, LLC taxes, Internet
and bandwidth costs of Rock-it Radio. Without your support
we would not exist. So. please consider a purchase at:
http://www.rockitradio.net/store.html

===============================================
NOTE: ALL SHOWS BELOW CAN BE FOUND IN OUR PROGRAM WEBPAGE - TO TUNE IN CLICK TO SPEAKER OF THE SHOW YOU WANT TO LISTEN TO. EITHER MP3 OR REAL PLAYER. BOTH FORMATS ARE SUPPORTED.
AT:
HTTP://WWW.ROCKITRADIO.NET/PROGRAMS.HTML

===============================================
COOL BOBBY B AND THE DOO WOP STOP ON ROCK-IT RADIO SHOW #5476

It's two shows in the same week for Cool Bobby B
as we catch up and get his shows online to you as
quick as possible. Don't be fooled by other oldies
stations - Cool Bobby B began his online shows right
here on Rock-it Radio. The others are just copy cats :)
Here is the playlist of his show.

Hour #1

1. Rockin' with the clock -- Shirley and Lee
2. Why do you do me -- The Cleftones
3. If you try -- The Chantels
4. This is my love -- The Passions
5. The Letter -- The Medallions
6. Cry like I cried -- The Harptones
7. Oh what a night -- The Dells
8. Tonight Tonight -- Mello Kings
9. Dance Girl Dance -- Norman Fox & Robroys
10. Is this a dream -- The Premiers
11. What time is it -- Jive 5
12. I need your love so badly -- The Vocaleers
13. Dry your eyes -- The Inspirations
14. Honey, Honey, Honey -- The Challengers
15. Sand in my shoes -- The Drifters
16. Saturday night at the movies -- The Drifters
17. Lovers never say goodbye -- The Flamingos
18. Tear Drops -- Lee Andrews & Hearts
19. Barbara -- Temptations (NYC)

Hour #2

20. Gee But I give the world -- Kid Kyle
21. I'm so young -- Kid Kyle
22. In the still of the night -- 5 Satins
23. Blue Moon -- The Marcels
24. Sympathy -- The Cadillacs
25. I wasn't a lie -- Fi Tones
26. The Wedding -- The Solitaires
27. Could this be magic -- The Dubs
28. You belong to me -- The Duprees
29. Little Star -- The Elegants
30. Long Tall Girl -- The Carnations
31. Looking for an echo -- Kenny Vance & Planotones
32. The Closer you are -- The Channels
33. My hero -- The Blue Notes
34. My Valerie -- Note-Torials
35. Mathilda -- Cookie & The Cupcakes
36. Don't you just know it -- Huey Smith & The Clowns
37. Woogie Flu -- Huey Smith & The Clowns

Hour #3

38. 11th hour melody -- The Rivieras
39. Moonlight Cocktails -- The Rivieras
40. Oh Starlight -- The Quinns
41. I wish I didn't love you so -- Philly Cuzz
42. Big Girls don't cry -- Four Seasons
43. Walk like a man -- Four Seasons
44. Sherry -- Four Seasons
45. Once in awhile -- The Chimes
46. Dream Girl -- Norman Fox & Robroys
47. Gee How I wish you were here -- Curtis Lee
48. Candy -- Astros
49. Rocket Ride -- Johnny Greco
50. Valley of Love -- The Turbans
51. This is my story -- The Turbans
52. Congratulations -- The Turbans
53. While Walking -- The Fabulaires
54. There goes my girl -- The Chancellors
55. Picture of Love -- The Continentals
56. Goodnight Baby -- The Imaginations

================================================
MIKE TAYLOR'S ROCKABILLY HOUR ON ROCK-IT RADIO
SHOW #5477

Mike is back this week with another set of Rockin'
Sister Rockabilly duos here on Rock-it Radio.

"SWINGING SISTERS" - A double-dozen of forgotten sister
acts from the rockabilly era...

1. Bird Dog - The Tilton Sisters 1959
2. Beatel Um-Bum - The Nettles Sisters 1956
3. Oh Ricky - The Gaye Sisters 1959
4. Whole Lotta Shakin' - The McCarver Sisters 1957
5. Voodoo- The Martin Sisters 1957
6. Ten Cats Down - The Miller Sisters 1957
7. Rockin' Robert - The LaDell Disters 1956
8. Pigfoot Pete - The Dinning Sisters 1952
9. Boom Boom Boomerang - The DeCastro Sisters 1955
10. Squeeze Box Rock - The Browning Sisters 1956
11. Real Gone Jive - The Minna Sisters 1956Â
12. Rockabye Boogie - The Davis Sisters 1953
13. Middle Of The Night - The Tuttle Sisters 1960
14. Rock 'n Roll Thunderbird - The Burt Sisters Unreleased
15. Bacon And Eggs - The Lovett Sisters Unreleased
16. Christmas Boogie - The Davis Sisters 1954
17. I Want Elvis For Christmas - The Holly Twins w/Eddie Cochran 1956
18. Stop The Clock Rock -The Creel Sisters 1956
19. Precious - The Chelette Sisters 1958
20. Rockin' At The Hop - The Cassidy Sisters 1958
21. Real Gone - The Acorn Sisters 1959
22. Red Velvet - The Kirby Sisters 1956 (Sun)
23. Yea Yea - The Kendall Sisters 1957 (Argo)
24. Wooden Head Willie - The Knight Sisters 1962

================================================
LANE QUIGLEY AND THE MEMORY LANE SHOW WITH MORE FORGOTTEN TOP 40S IN ROCK-IT RADIO SHOW #5478

This week's Memory Lane Show features nothing but
Fabulous Forgotten Top 40's. This playlist is entirely comprised
of songs that reached the Top 40 on the U.S. charts during
the Glory Days of the 45 rpm record, but are largely overlooked
in the 21st century. The playlist includes well-known artists
and lesser-known performers, Hall of Famers and One-Hit Wonders.
You'll learn about the music from performers such as Bobby Vee,
Jimmy Reed and BJ Thomas, as well as members of The Spaniels and
The Fireballs, and you'll hear Bruce Belland of The Four Preps discuss
whether or not the dirty line in one of their hits was or wasn't a
misheard lyric. Join Host Lane Quigley for these memory makers:

1. Goody Goody - Frankie Lymon & The Teenagers 1956 #20
2. Maybelline - Johnny Rivers 1964 #12
SOUND BITE
3. Sugar Shack - Jimmy Gilmer & The Fireballs 1963 #1
4. You Talk Too Much - Joe Jones 1960 #3
5. I'm a Happy Man - The Jive Five 1965 #36
SOUND BITES
6. The Night Has a Thousand Eyes - Bobby Vee 1962-63 #3
7. Don't Be Angry - Nappy Brown 1955 #25
8. Bumble Boogie - B. Bumble & The Stingers 1961 #21
SOUND BITE
9. Honest I Do - Jimmy Reed 1957 #32
10. Make Me Yours - Bettye Swann 1967 #21
11. Standing On The Corner - The Four Lads 1956 #3
SOUND BITE
12. I Just Can't Help Believin' - BJ Thomas 1970 #9
13. Let The Four Winds Blow - Roy Brown 1957 #29
14. I'm Waiting Just For You - Lucky Millinder Orch. with Anisteen Allen 1951 #19
SOUND BITE
15. Long Cool One - The Wailers 1959 #36; recharted 1964 #38
16. What'd I Say - Bobby Darin 1962 #24
17. I Hear Trumpets Blow - The Tokens 1966 #30
SOUND BITE
18. Lazy Summer Night - The Four Preps 1958 #21
19. Don't Be Cruel - Bill Black Combo 1960 #11
20. Don't Ask Me Why - Elvis Presley 1958 #25
21. Model Girl - Johnny Maestro 1961 #20
22. So Many Ways - Brook Benton 1959 #16
SOUND BITE
23. Goodnight Sweetheart Goodnight - The Spaniels 1954 #24

================================================
KEN STRANGE COUNTRY RECORD ROUND UP ON ROCK-IT
RADIO SHOW #5479

Join DJ Ken Strange as he delves into the country archives to
bring you another "Country Record Round Up Show" with good
'ole country music from right across the board with country
tracks from the 50's to the 00's, including the regular feature,
"Duos & Duets".

01. Intro - Medley
02. She Can Put Her Shoes Under My Bed Anytime - Johnny Duncan (78) Columbia
03. Flat Top - Jimmie Dawson (51) Playboy
04. Down At The Twist And Shout - Mary Chapin Carpenter (91) Columbia
05. Half Your Heart - Bonnie Guitar (57) Dot
06. There's Never Been A Time - The Pozo Seco Singers (70) Certron
07. The First Thing In The Morning - Jimmy Dean (65) Columbia
08. My Love Will Not Change - Hal Ketchum (04) Curb
09. Stay out Of The South (instrumental) - The Jack Mooney Quintet (60) ARC-Sound
10. She Thinks My Tractor's Sexy - Kenny Chesney (99) BNA
11. Goodbye Earl - The Dixie Chicks (99) Epic
12. The Boy Raised By The Railroad Line - Tennessee Ernie Ford (82) Capitol
13. Donald And Lydia - Steve Goodman (72) Buddah
14. Natural High - Merle Haggard & Janie Fricke (85) Epic
15. License To Chill - Jimmy Buffett & Kenny Chesney (04) Mailboat / RCA
16. I'm A Millionaire - The Tennessee Harmony Boys (60) Fortune
17. Your Husband My Wife - Bobby Bare & Lacy J. Dalton (69) RCA
18. Lonesome Whistle - Texas Jim Robertson & The Panhandle Punchers (51) RCA-Victor
19. I'll Never Be Free - Billie Jo Spears (73) Pickwick
20. Come On Back - Carlene Carter (90) Reprise
21. You Made Me What I Am - Conway Twitty (61) MGM
22. Country Girls - Marty Stuart (95) MCA-Nashville
23. Give Back My Heart - Lyle Lovett (87) Curb / MCA
24. Honky Tonk Stardust Cowboy - Lefty Frizzell (71) Columbia
25. Outro - Medley

================================================
BILLY VERA'S ROCK AND ROLL PARTY FEATURING R&B
FROM 1951 IN ROCK-IT RADIO SHOW #5480

Maybe you remember the summer of 1951, and maybe you don't.
But as you'll hear on the latest Rock & Roll Party with Billy Vera,
R&B music was undergoing some noticeable changes during that summer.
The big band era had died and the jump blues of the late 40's was
giving way to the big beat of 50's R&B. Come join the inimitable
Billy Vera for the songs, the stories and some smiles. It's the
summer of '51 all over again on Rock-it Radio.

Hour One

1. Go Go Go - The Treniers
2. Don't You Know I Love You - The Clovers
3. I'm a High Ballin' Daddy - Tiny Bradshaw
4. Am I Blue? - Buddy Johnson Orch. featuring Ella Johnson
5. I Got Loaded - Peppermint Harris
6. You Foolish Thing - Terri Timmons
7. Layin' The Boogie - Piano Red
8. My Blues - Percy Mayfield
9. Junco Partner - James Wayne
10. Shouldn't I Know - The Cardinals
11. I'm Just a Fool In Love - The Orioles
12. Lavender Cadillac - Lloyd Thompson
13. Strange Angel - Amos Easton (aka Bumblebee Slim)
14. Little Sidecar - The Larks
15. The Thrill Is Gone - Roy Hawkins
16. Honey I Don't Want You - The Ravens
17. You Won't Let Me Go - The Four Dots
18. Gin Gin Gin - Todd Rhodes
19. Wishing For You - The Swallows

Hour Two

20. Heart and Soul - The Four Buddies
21. Blue Turning Gray Over You - Billie Holiday
22. Rampagin' Mama - Melvin Smith
23. See See Rider - Ray Charles
24. Bloodshot Eyes - Wynonie Harris
25. With a Broken Heart - The Five Keys
26. Louisiana Women - Joe Liggins
27. Seven Long Days - Charles Brown
28. Poppa Stoppa - Pee Wee Crayton
29. Needless - The Clovers
30. Castle Rock - Johnny Hodges
31. Lookin' For a Man - Little Esther
32. Chains of Love - Joe Turner
33. Rocket 88 - Jackie Brenston with Ike Turner's Kings of Rhythm
34. I'm a Fool To Want You - Frank Sinatra

===============================================
PETE CHASTON'S DOO WOP SHOW ON ROCK-IT RADIO
SHOW #5481

Pete is a veteran DJ here at Rock-it Radio and a loyal
provider of shows for us here.
His dedication and knowledge of 50s and early 60s Doo Wop
shines as he spins those tunes of yesteryear. Including The
Silly song segment and the rare But scratchy 45 segment.
Here is this week's playlist of what you will hear.

1. Doo-Wop All Night Long-The Blue Emotions (opening theme song) (1982)
2. Did It-The Laddins (1958)
3. Shirley-The Rainbows (1956)
4. Bongo Stomp-Little Joey & The Flips (1962)
5. Memories of Love-The Rocking Chairs (late 1950s)
6. Denise-Randy & The Rainbows (1963)
7. Come Back- Randy & The Rainbows (1963)

Mini-Special: THE HALOS, mostly a studio back-up group:

8. Pretty Little Angel Eyes-Curtis Lee (and The Halos) (1961)
9. Who Put the Bomp-Barry Mann (& The Halos) (1961)
10. Every Breathe I Take-Gene Pitney (& the Halos) (1961)
11. Nag-The Halos (xxxx)

SILLY SONG SEGMENT:

11. Seven Little Girls Sitting in the Back Seat-Paul Evans (xxxx)
12. Woo-Hoo-The Rock-A-Teens (1958)

SCRATCHY 45 RPMs SEGMENT:

13. Rocket to the Moon-The Reflections (xxxx)
14. While Walking-The Fabulaires (1957)
15. If Teardrops Were Kisses-The Robins (1955)
16. Gloria-The Passions (1960)

BACK TO THE CDs &/or More 45 RPMs:

17. Hong Kong-The Quinns (1958)
18. Rudolph, The Red-Nosed Reindeer-The Melo-deers (1959)
19. Teardrops are Falling-The Five Wings (1955)
20. On Your Radio-Richard Lanham & The Tempo-tones (1959)

SLOW SONG SEGMENT:

21. Please Be My Love Tonight-The Charades (xxxx)
22. Bells Ring-The Paradons (1960)
23. Lover's Prayer-The Click-ettes (1959)
24. Lullabye of the Bells-The Deltairs (1959)
25. Echo-The Emotions (1962)
26. I Lied to my Heart-The Enchanters(1959)
27. (closing theme song) Adios-The Five Discs (1961)

==============================================
JAMES RILEY AND THE ROCKABILLY AND BLUES SHOW ON
ROCK-IT RADIO SHOW #5482

From Tennessee, USA the birthplace of Rockabilly music
James Riley does his first show for us here at Rock-it
Radio.

Rockabilly N Blues Radio Hour #1
Webb Wilder is our guest this episode and we discuss
growing up in Mississippi, early influences, new album
Mississippi Moderne and a request for Johnny Burnette &
The Rock N Roll Trio!

1. Lucy Mae Blues- Webb Wilder
2. Lonely Blue Boy- Webb Wilder
3. Rough & Tumble Guy- Webb Wilder
4. I Gotta Move- Webb Wilder
5. Yard Dog- Webb Wilder
6. Who Will The Next Fool Be- Webb Wilder
7. I'm Gonna Get My Baby- Webb Wilder
8. Stones In My Pathway (intro)- Webb Wilder
9. The Olde Elephant Man- Webb Wilder
10. Train Kept A Rollin'- Johnny Burnette & The Rock N Roll Trio
11. Stones In My Pathway (outro)- Webb Wilder


Rockabilly N Blues Radio Hour #2
Nikki Hill joins the show to talk about her early influences,
her favorite rumor about her right now, her husband/guitarist
Matt Hill, her new album Heavy Hearts Hard Fists and more!

1. Mama Wouldn't Like It- Nikki Hill
2. I've Got A Man- Nikki Hill
3. Let Me Tell You 'Bout LUV- Nikki Hill
4. And I Wonder- Nikki Hill
5. Heavy Hearts Hard Fists- Nikki Hill
6. Scratch Back- Nikki Hill
7. Oh My- Nikki Hill
8. Struttin'- Nikki Hill
9. I'm Gonna Love You- Nikki Hill
10. Red Boots- Matt Hill
11. Hide & Go Seek- Bunker Hill (with Link Wray)
12. Right On The Brink- Nikki Hill

===============================================
MATT THE CAT AND THE JUKE IN THE BACK SHOW ON
ROCK-IT RADIO SHOW #5483 SPOTLIGHT ON THE LUTCHERS

the Lutchers: Nellie & Joe

The Juke in the Back is proud to feature The Lutchers, a brother
and sister who's separate works helped define early Rhythm & Blues.
Older sister, Nellie Lutcher, the piano playing vocalist, scored more
hits and made much more of a national impact than her younger brother
Joe. Her style combined blues, jazz, R&B, pop and small elements of
what would become Vocalese. She hit the big time in 1947 after more
than a decade of working the clubs of Los Angeles.

1. Swanee River Boogie - Albert Ammons â€" Mercury 1947
2. Hurry On Down - Nellie Lutcher & Her Rhythm â€" Capitol 1947
3. He's A Real Gone Guy ' Nellie Lutcher & Her Rhythm â€" Capitol 1947
4. The Song Is Ended (But The Melody Lingers On) - Nellie Lutcher & Her Rhythm â€" Capitol 1948
5. Do You Or Don't You Love Me - Nellie Lutcher & Her Rhythm â€" Capitol 1948
6. Fine Brown Frame - Nellie Lutcher & Her Rhythm â€" Capitol 1948
7. Come And Get It, Honey - Nellie Lutcher & Her Rhythm â€" Capitol 1948
8. Cool Water - Nellie Lutcher & Her Rhythm â€" Capitol 1948
9. Lake Charles Boogie - Nellie Lutcher & Her Rhythm â€" Capitol 1948
10. Alexander's Ragtime Band - Nellie Lutcher & Her Rhythm â€" Capitol 1948
11. For You My Love - Nellie Lutcher & Nat King Cole â€" Capitol 1950
12. Shuffle Woogie - Joe Lutcher's Jump Band â€" Capitol 1948
13. GREAT 78* Wish I Was In Walla Walla - Nellie Lutcher & Her Rhythm â€" Capitol 1949
14. Rockin' Boogie - Joe Lutcher & His Society Cats â€" Specialty 1948
15. The Traffic Song - Joe Lutcher & His Society Cats â€" Specialty 1948
16. Mardi Gras - Joe Lutcher & His Orch. â€" Modern 1949
17. Ojai - Joe Lutcher & His Orch â€" Modern 1949
18. After Hours - Erskine Hawkins â€" Bluebird 1946

===============================================
JACKIE BOND & LET THE GOOD TIMES ROLL OLDIES SHOW ON ROCK-IT RADIO SHOW #5484

Jackie is back this week from the UK spinning more great
oldies from the 50s and early 60s. You will hear the
following great oldies when you click and play these
songs in our program page under show #5484.


1. Born To Boogie - Hank Williams Jr
2. Just Like Lovers Do - The Senti-Mentals
3. Kickin Up The Dust - Jackson Sloane and The Rhythmtones
4. I'm Gonna Pop The Question Today - Scotty Baker
5. Angel Of Love - Johnny Angel and The Nomads
6. Jumping In The Morning - The Jools Holland Orch with Ruby Taylor
7. Please,Mama,Please - The Lincolns
8. Na Na Hey Hey - The Belmonts
9. Good Good Whiskey - Amos Milburn
10. Too Much Monday Morning - The Crickets
11. Motorhead Baby - Ezra Lee
12. Stay In Bed - The Rob Ryan Roadshow
13. Revenoor Man - The Shadowmen
14. Dizzy Miss Lizzy - Larry Williams
15. Lovin Up A Storm - Jerry Lee Lewis
16. Call Me Shorty - Mickey Gilley
17. When I Get Home - Jools Holland Orch with Ruby Turner
18. Sea Of Heartbreak - CSA
19. It's A Lonely Town - Nick Willett
20. Brazil - The Coasters
21. Down In Bermuda - The Del Vikings
22. Chicken And The Bop - Lloyd Price
23. Good Night My Love - Jesse Belvin

===============================================
KEITH BAXTER AND THE GOOD ROCKIN' TONIGHT SHOW
ON ROCK-IT RADIO SHOW #5485

Also from the UK -- Bristol to be exact! Comes another
great show of great rockin' oldies from the 50s and 60s.
Here is Keith's playlist for show #5485 exclusively here at
Rock-it Radio.

Hit, Git and Split - Young Jessie
The Shape I'm In - Johnny Restivo
Barefoot Baby - Janis Martin
Mr. Lonely - Videls
Beach Party - Bob Jaxon
Where the Rio De Rosa Flows - Jimmy Lloyd
Mexico - Bob Moore
Keep A Hold On Him - Beatrice Lee
Come What May - Jerry Lee Lewis
I Love How You Love Me - Paris Sisters
Summer's Gone - Lettermen
This Little Girl - Dion
Long, Long Walk - Johnny Rivers
Halfway To Paradise - Billy Fury
The Loco-Motion - Vernons Girls
Tootsie - Carl McVoy
Here Today - Bobby Vee
What A Sweet Thing That Was - Shirelles
Walkin' With Link - Link Wray

===============================================
STEVE PROPES' 45 SHOW FEATURING EARLY ROCKERS
ON ROCK-IT RADIO SHOW #5486

Rock & Roll Historian and Author and DJ Steve Propes
returns this week on Rock-it Radio with another segment
of early Rock & Roll and Rhythm and Blues from the 50s
and early 60s. Here is the playlist.

PART I

1. Let's Get It - Edgar Blanchard
2. Shake Rattle & Roll - Joe Turner
3. Rockin' Pneumonia & Boogie Woogie Flu - Huey Smith & Clowns
4. Tweedlee Dee - Lavern Baker
5. Upon the Mountain - Magnificents
6. One Mint Julep - Clovers
7. Hey Little Girl - Dee Clark
8. Money Honey - Drifters
9. Please Love A Fool - Meadowlarks
10. Serve Another Round - Five Keys
11. It Should've Been Me - Ray Charles
12. Those Lonely Lonely Nights - Johnny Guitar Watson
13. Lover's Island - Blue Jays
14. Every Beat Of My Heart - Pips
15. 5-10-15 Hours - Ruth Brown
16. Beatnik Blues - Bobby Marchan
17. Young Blood - Coasters
18. Rama Lama Ding Dong - Edsels
19. In the Still Of the Nite - 5 Satins
20. T Bone Shuffle - T Bone Walker

PART II

1. Spring Fever - Ernie Freeman
2. Great Googly Moo - Spaniels
3. Milk & Gin - Crickets
4. Sincerely - Moonglows
5. Smoke From Your Cigarette - Lillian Leach & Mellows
6. The Closer Your Are - Channels
7. Newly Wed - Orchids
8. Stak A Lee - Archibald
9. Fattenin' Frogs For Snakes - Larks
10. Stak A Lee Pt. 1- Archibald
11. Yesterday's Memories - Lillian Leach & Mellows
12. Can I Come Over Tonight - Velours
13. Shoppin' For Clothes - Coasters
14. Spendin' Money Blues - Little Son Jackson
15. Gangster Of Love - Johnny Guitar Watson
16. Need Your Love - Pee Wee Crayton
17. Big Mama Want To Rock - Meadowlarks
18. Smokey Joe's Café - Robins
19. Ten Commandments Of Love - Moonglows
20. Lost Dreams - Ernie Freeman


===============================================
OTTO FUCHS AND THE ROCKIN THE JOINT SHOW ON ROCK-IT RADIO SHOW #5487

Rock-it Radio Show #5487 features from Baden, Austria -- Otto
Fuchs and his Rockin the Joint show. It's all Rockabilly
just like show #1 was back in 1995! Here is the playlist.

01. Rip It Up -- Bill Haley & His Comets
02. Jailhouse Rock -- Elvis Presley
03. Brand New Cadillac -- Vince Taylor & The Playboys
04. Move It -- Cliff Richard
05. Hoots Moon -- Lord Rockingham´s XI
06. Don´t Knock Upon My Door -- Billy Fury
07. Elevator Rock -- Tommy Steele
08. Don´t Let Go -- Dorsey Burnette
09. Rebel Rouser -- Duane Eddy
10. Old Black Joe -- Jerry Lee Lewis
11. Turne Me Loose -- Fabian
12. Endless Sleep -- Jody Reynolds
13. Gina -- Stray Cats
14. Keep On Rockin' - Teencats
15. Town Of Rock & Roll -- Black Knights
16. I Need Your Lovin -- Flying Saucers
17. Put The Blame On Me -- Matchbox
18. Congratulations -- Ricky Nelson
19. Love Makes The World Go Around -- The Jets
20. Ooh My Head -- Richtie Valens
21. Female Casanova -- Chili & The Baracudas
22. Puttin´ On The Style -- Lonnie Donegan
23. Telstar -- The Tornados
24. Tallahassie Lassie -- Tommy Steele
25. Pretty Little Pearly -- Terry Dene
26. Love Bug Crawl -- Wee Willie Harris
27. Funnel Of Love -- Wanda Jackson
28. How Could I Help But Love You -- Monkey & The Baboons

===============================================
COOL BOBBY B AND THE DOO WOP STOP ON ROCK-IT RADIO SHOW #5488

It's two shows in the same week for Cool Bobby B
as we catch up and get his shows online to you as
quick as possible.

Hour #1

1. Rockin' with the clock -- Shirley and Lee
2. Wake up -- The Elegants
3. Twilight -- The Paragons
4. Misty -- Magnificent Men
5. Tonight Tonight -- Dion
6. Just you -- Dion & The Belmonts
7. Hang up my Rock n Roll Shoes
8. Just ask your heart -- Frankie Avalon
9. I'm a happy man -- Jive 5
10. Diamonds and Pearls -- The Paradons
11. I do love you -- Billy Stewart
12. Whispering Bells -- Del Vikings
13. I'm in the mood for love -- Chimes
14. All mine -- 5 Satins
15. Oh mother of mine -- Temptations
16. Darling how long -- Heartbeats
17. You -- The Aquatones
18. What's your name -- Don & Juan
19. I don't know why I love you but I do -- Clarence Frogman Henry

Hour #2

20. Rendezvous with you -- The Desires
21. At last -- Classic Sounds
22. Starlight -- Preludes 5
23. Be sure my love -- The Dubs
24. Untie me -- The Tams
25. Sleep -- Little Willie John
26. A woman a lover a friend -- Jackie Wilson
27. Little Star -- Dion
28. My true story -- Jive 5
29. You belong to me -- The Duprees
30. This I swear -- The Skyliners
31. Stagger Lee -- Wilbert Harrison
32. Geraldine -- El Vinos
33. Doubtful -- The Moonglows
34. I need a girl -- Bobby Hatfield
35. Girl in my dreams -- Kenny Vance
36. Oh Rose Marie -- The Fascinators
37. Cara Mia -- Jay & The Americans
38. Please say you want me to -- Schoolboys

Hour #3

39. 11th hour melody -- The Rivieras
40. Moonlight Cocktails -- The Rivieras
41. Um Bow Bow -- The Bobettes
42. Would I love you -- The Miracles
43. Jeannie -- The Thrashers
44. That's All -- The Casanovas
45. To make a long story short -- Eddie & Starlighters
46. Guradian Angel -- The Selections
47. There goes the boy -- The Lydells
48. Stormy weather -- The Zircons
49. Be true -- The Vocaleers
50. Sand in my shoes -- The Drifters
51. Heartaches -- The Marcels
52. Fue en un cafe -- Los Apson
53. There goes my baby -- The Drifters
54. On my word of honor -- The Platters
55. If I had a girl -- Rod Lauren
56. Come along with me -- Del Vikings
57. Goodnight Baby -- Imaginations

================================================
AL COOL DADDY SMITH WITH THE BOTTOM 40 ON
ROCK-IT RADIO SHOW #5489

This show is Part I of a II part series of what is dubbed the Bottom 40
of Billboard Top 40s.

The play list is as follows:

1. Ruby Duby Du-Charles Wolcott 1960
2. Mr. Livingston-Larry Verne 1960
3. Say I Love You Doo Bee Dum-The Four Evers 1964
4. Hard Headed Woman-Elvis Presley 1958
5. Heart Breaker-Dean Christie 1962
6. Hey, Mr. Sax Man-Boots Randolph 1964
7. Two-Ten Six-Eighteen-Jimmy Rogers 1963
8. Hot Pepper-Floyd Cramer 1963
9. Monster Swim-Boris Pickett and The Rolling Bones 1964
10. A House, A Car and A Wedding Ring-Dale Hawkins 1958
11. He'll Have To Go-Solomon Burke 1964
12. Oh Boy!-Jackie DeShannon 1964
13. Kookie Little Paradise-Jo Ann Campbell 1960
14. Shortnin' Bread-The Bell Notes 1960
15. Truly Julie Blues (I'll Be There)-Bob Lind 1966
16. It Might Have Been-Joe London 1959
17. Magic Star(Telstar)-Margie Singleton 1963
18. Sippin' and Chippin'-The T-Bones 1966
19. Soul Dance-Tommy Leonetti 1963
20. I Feel Good (I Feel Bad)- Lewis and Clarke Expedition 1967
21. Rockin' Robin-The Rivieras 1964
22. Dance With The Dolly (With Hole In Her Stocking)-Damita Jo 1961
23. The River Is Wide-Forum 1967
24. Lisa-Jeanne Black 1960
25. Swinging Gently-Earl Grant 1962

==============================================
TED LOUKES AND THE ROCKABILLY RHYTHM SHOW ON
ROCK-IT RADIO SHOW #5490

From the Republic of South Africa it's with great
pleasure to bring another show from a great DJ! From
his studios it's Ted Loukes and the Rockabilly Rhythm show
filled with Rockabilly tunes from today and yesterday.

From 1945 to 1955, from Jump Blues to Hillbilly Bop, this
show takes a look at the roots of rockabilly and some of
the artists who had such a strong influence on it.

01. Rockabilly Rhythm Intro
02. Bear Cat - Rufus Thomas 1953
03. Jump, Little Children, Jump - Leroy Dallas 1948
04. Shout Sister Shout! - Arthur Big Boy Crudup 1949
05. Dirty Boogie - Roy Hall 1951
06. Pan American Boogie - The Delmore Brothers 1949
07. Texas Boogie - Gene O'Quin 1951
08. Okie Boogie - Ella Mae Morse 1951
09. Green Tree Boogie- Bill Haley 1951
10. Rompin' and Stompin' - Curtis Gordon 1953
11. Peepin' Eyes - Charlie Feathers 1955
12. My Two Timin? Woman - Buddy Holly 1949
13. Gonna Dance All Night - Hardrock Gunter 1954
14. Rollin' and Tumblin', Pt. 1 - Muddy Waters 1950
15. Rocket 88Â - Jackie Brentson 1951
16. Lightnin' Boogie - Lightnin' Hopkins ?
17. Diggin' My Potatoes - Washboard Sam 1953
18. Houserockin' Boogie - Howlin' Wolf 1952
19. Walkin' The Boogie - John Lee Hooker 1952
20. That's All Right Mama - Arthur "Big Boy" Crudup 1946
21. The Train Kept on a 'Rollin' - Tiny Bradshaw 1951
22. Mama Don't Allow - Julia Lee 1950
23. Drinkin' Wine, Spo-Dee-O-Dee - Sticks Mghee 1947?
24. Rocky Road Blues - Bill Monroe 1945
25. Honey Hush - Joe Turner 1953
26. Hound Dog - Big Mama Thornton 1953
27. Good Rockin' Tonight - Wynonie Harris 1948

==============================================
All the Rock-it Radio shows are available on CD

Each show is only $9.50 each and you can order
in bulk and shipping will never be more then $2.00.
Ask for a secure paypal invoice -- information is at:
http://www.rockitradio.net/order.html

==============================================

100'S OF VINTAGE ROCK AND ROLL VIDEOS ON FILE IN
OUR VIDEO SITE AT ROCK-IT RADIO:
CHECK IT OUT AT:

HTTP://WWW.ROCKITRADIO.NET/VIDEO.HTML

==============================================
COME JOIN US ON FACEBOOK !!! WE WOULD LOVE A
LIKE FROM YOU!

http://www.facebook.com/rockitface
The Rock-it Radio Facebook Site.

==============================================
HISTORY OF ROCK-IT RADIO

If you are new to Rock-it Radio and would like to learn more --
We have our History Page up as well -- telling the story of Rock-it
Radio. You can find it at:
http://www.rockitradio.net/history.html

===============================================

GIVE THE GIFT OF NOSTALGIA IN 2015


Nostalgic Rock and Roll and Country Radio shows
for sale and remastered onto Compact Disc.
Economically priced and 100s to choose from of the
1950's thru the 1970s. Local and Nation
wide famous DJ's and stations. Hear how Radio was. Check
out the Rock-it Radio Launching Pad store at:
http://www.rockitradio.net/store.html

Rock-it Radio is Publicly supported. And we rely on
our listener's to keep us going. But for your donation
we offer you a vintage radio broadcast or a Rock-it Radio
show like we offer in our Online store.

OCTOBER END OF THE MONTH DRAWING OF WINNERS ANNOUNCED FOR LAUNCHING PAD SUPPORTERS
At the end of every month on Rock-it Radio we have a
random drawing for those that have supported Rock-it Radio by
purchasing either Rock-it Radio shows through the
either the Rock-it Radio Launching pad at:
Or by going and ordering Rock-it Radio shows at:
The OCTOBER 2015 Winners this month are:
Larkin Chapman - Belzoni, Mississippi USA
Randy Hamm - Ojai, California USA
Jonathan Winchell - Concord, California USA


SUPER MEGA WINNER - WINNER OF 10 SHOW
OF THEIR CHOICE !!!!!!!!
R.C. O'Mara - San Jose, California USA

Each of you have won your choice of 3 vintage
Rock Radio programs (The Super Mega winner won 10!)
from our online store at:

or you can order Rock-it Radio Shows if you prefer on CD

You have until
November 30, 2015
to let us write back and let
us know of your choices.
Congratulations and let me know what you would like to
have along with a mailing address and we will got those
items out to you. Just our way of saying Thank you for helping
support Rock-it Radio. And of course we will have October drawings
as well at the first week of next month.
NOTE: You should keep on checking this notice board
or join the Launching Pad Facebook site at:
And of course we will be having another drawing at the
end of this month.
RECRUITING FOR RADIO PERSONALITIES FOR
ROCK-IT RADIO

Do you know your 50s and 60s Rock & Roll, Doo wop
or Rockabilly? And the ability to produce a show
on CD?
We do require a playlist for this newsletter but
your show will stay online for the world for approx.
3 weeks. Unlike some stations where you broadcast one
time and it's gone forever.
If interested check out our Rock-it Radio Team page
at: http://www.rockitradio.net/team.html

We are also looking for writers and translators!
================================================
NEW ROCK-IT RADIO SHOWS NOW AVAILABLE ON
FLASH DRIVE.


New Release!!!! Rock-it Radio Shows #5401 to #5450 on Flash
drive MP3 Over 60 hours of 50s and 60s Rock and Roll now on
Flash drive. Just plug into your usb port in your PC or if your
mp3 player has it in that usb port select and you will have
50 Rock-it Radio shows at your disposal.
In our Ebay listing at:
http://www.ebay.com/itm/-/131645776466

or the new Rock-it Site at:
http://www.rockitradio.net/flashdrive.html

It's something different and hopefully will catch on.
As soon as we hit Show #5500 we will have a 2nd Flash drive
available. It really is a great savings from our CD's that
we sell for $9.50 each could add up to $475 for 50 shows.
We are offering the flash drive to slash that amount to just
$39.95.

==================================================
NEW CD SET RELEASE IN ROCK-IT RADIO EBAY STORE
6 CD SET ON LOUIS JORDAN R&B LEGEND.

If you recall back in May and June Matt the Cat and
the Juke in the Back show did a very thorough show
in 6 shows on the music of R&B Legend Louis Jordan.
That 6 CD Set is now in our Ebay Store and listed at:
http://www.ebay.com/itm/-/131610498631
descriptions and playlists of what you will get is
in that listing.

The Cost is $39.95 U.S. and a $20 savings if you ordered
the shows individually. You can also see all our other
Ebay listings at:
http://stores.ebay.com/Rockit-Radio

DONATIONS HELP! THANK YOU DEPARTMENT!
As you know Rock-it Radio is publicly supported. And we want to give thanks to Gary Podsiedilk of Syracuse New York for his kind donation to Rock-it Radio while we were in the Dark last week.

With your help and others Rock-it Radio remains flying!
RECORD SETTING WIND STORM KNOCKS OUT POWER TO
ROCK-IT RADIO FOR 7 DAYS!

A week ago exactly The largest windstorm to hit
the inner Northwest of the United States occurred.
Over 35,000 Residences are still without power,
(originally it is over 200,000 residences) but
we got ours on sometime early this morning. Without
electricity and heat and temperatures down around 15 F.
At night (-10 C.) it really made you appreciate the small
things. And with darkness coming at around 4 p.m. here
now we really caught up on sleep to conserve oil lamp
fuel and candles. Our home and station is situated on
Stateline Rd. right on the State line between Washington
and Idaho, we are on the Idaho side (East side of the street).
Runs into a dead end about 5 miles. At the beginning of
our Street were downed trees and power lines so we were
pretty much cut off into town as well. It was peaceful though
kind of like living 1902 Style. We were very lucky much more
then most as we did not have much damage except a few limbs off
of some of our Fruit Trees. And Metal Roofing scraps that I
thought were tied down became airborne. (Dangerous).
But it was a bit boring at times without the modern conveniences.
and we are sorry for delays in shipments to those that
made orders to our online Store and after this newsletter
that is the next project we will get out here in the studio
today to fill those orders. Thank you for everyone's support
and patience. s/ Bennie Dingo - Rock-it Radio

=====================================
S.O.S. -- SAVE OUR STATION !!!!! S.O.S.!!!!

Last month we mentioned that October was the worse
month on record for this year. Unfortunately with the
power outage we have not been able to promote the
Rock-it Radio and November is scheduled to be worse.
I am afraid to say at this time we are hopeful for
December and maybe some Holiday gift purchases may
come in and we are going to feature a new promotion.
If we have a equally bad December all our Reserve will
be gone and afraid Rock-it Radio will have to shut down
until sales resume. So, we kindly ask that you consider
purchasing at the following sites.

Rock-it Radio Launching Pad for Vintage Broadcasts on CD.
http://www.rockitradio.net/store.html

Rock-it Radio T shirts:
http://www.rockitradio.net/tshirt.html

Rock-it Radio Shows on MP3:
http://www.rockitradio.net/flashdrive.html

Rock-it Radio Ebay Store:
http://stores.ebay.com/Rockit-Radio

Rock-it Radio Program Order Page:
http://www.rockitradio.net/order.html


===================================================
FREE VINTAGE CHRISTMAS EVE BROADCAST GIVE AWAY

From now until December 15th Rock-it Radio will
be giving away as a Thank you. We will be sending
you with your order a 1965 Christmas Eve Broadcast
from DJ Barney Pip over WCFL Chicago. It's a fun
Holiday Broadcast on CD and you can view the listing
on Ebay at:
http://www.ebay.com/itm/140356618194

But will be yours free when you order anything from
Rock-it Radio.
==================================================
REMINDER ON HOW TO CONTACT THE DJ'S AT ROCK-IT RADIO

We all love our our e mails from listeners here at Rock-it
Radio. Along with requests and dedications. Earlier this year
due to the excessive spam we all were getting I stopped listing
the e mails at each shows playlist. But you can still
contact them. Just go to the Rock-it Radio DJ page and each
DJ has there e mail link underneath each bio.
You can find it at: http://www.rockitradio.net/dj.html


COLLECTING AIRCHECKS - A HOBBY OF RADIO NOSTALGIA
What is a Aircheck? It is simply a recording of a radio broadcast. Usually collected by Radio fans.
Come check out our webpage on collecting Airchecks.

http://www.rockitradio.net/aircheck.html


COME REMEMBER WOLFMAN JACK !!!
Rock-it Radio has a very special way to remember Wolfman Jack.
Arguably the most iconic of American DJ's. Come check out the
Rock-it Radio Wolfman Page at:
REMEMBERING OFFSHORE PIRATE RADIO IN THE UK
In the mid 1960s it was difficult for the youth to actually listen to Rock and Roll in the UK. The BBC actually ran only a few hours a weekend to provide the young Brits with this outlet. At night during the week they ventured to even tune into Radio Luxembourg to get there fill, that broadcast rock and pop around the clock.
To fill this void some venture capitalists decided to bring in commercial radio aboard refitted radio ships. And anchor themselves just off into International waters off the English coast. Radio Caroline (named after Caroline Kennedy the U.S. President's daughter at the time) and Radio London being the most famous.
Rock-it Radio has a website dedicated to their ventures and also have actual radio broadcasts available of these offshore pirates. We invite you to check them out our webpage at:
http://www.rockitradio.net/pirate.html
FINDING ROCK-IT RADIO ON THE 'TUNE IN RADIO' CELL PHONE APP.

We have had a few requests from listeners that they couldn't find us on the
popular 'Tune in Radio' App. on Android and PC and iphones. Running a
search of 'Rock-it Radio' will actually list 100s of Rock stations.
So, the best way to find us on this very thorough and extensive app. that
I love using myself is -
run a search on 'rockabilly' - there you will easily find
Rock-it Radio listed.
Our Tune in Radio App. webpage is also at:
http://tunein.com/station/?stationId=41878
MISSED A COUPLE OF NEWSLETTERS LAST COUPLE OF WEEKS??

THEN YOU CAN ALWAYS CHECK OUR BLOG WHERE IT IS ARCHIVED.
YOU CAN CHECK OUT OUR BLOG AT:

http://rock-itradio.blogspot.com/
=============================================


ROCK-IT RADIO DJ PAGE...


Remember you can check out all the Rock-it Radio DJ's

and read the bios of these DJ's that make these

Rock-it Radio Shows possible at:


And don't forget for even more pictures --

there is our picture page at:
============================================
IF YOU HAVE TWITTER COME FOLLOW US THERE

If you are one that tweets then please check out and join and get our
updates on your twitter account. Our Twitter link is right below.

http://www.twitter.com/RockitRadio1
It is our new Twitter account and we will once again start
scrolling our messages and updates on our webpages as well.


============================================
ROCK-IT RADIO OTHER TWITTER ACCOUNT FOR
NEWS RELEASES FOR N. IDAHO, KODIAK ALASKA AND
THE WORLD!
Rock-it Radio has another Twitter account and is used for News
Alerts that come into the studio here at Studio A. For those Twitter
users that would like to follow the link is:
http://www.twitter.com/RockitRadioNews

The feed can also be seen in our World News broadcast Webpage
at: http://www.rockitradio.net/news.html


WELCOME NEW MEMBERS TO THE LISTENER'S CLUB!!!!

A big welcome to the below new Rock-it Radio listeners that
joined our Listeners Club from November 7, 2015 to
November 22, 2015.
We hope that you enjoy the music Rock-it Radio provides
and our playlists and information that our weekly newsletter
provides. Any comments, criticisms, kudos, compliments or
future ideas is always welcome and you can e mail me personally at:
rockitradio@netzero.net

Gene Franklin - Bahama, North Carolina USA
Hans - Australia
Alicia Verdades - Ventura, California USA
Larry Towns - Georgia, USA
Janet Hurt - Seattle, Washington USA
Chris Kruft - Brooksville, Florida USA
Walter Dutcher - Ontario, New York USA

We have gained 132 new likes in our listeners club
in our Facebook page Rock-it Radio Fan Page as well this week at:
http://facebook.com/rockitface and 83 more following us
on Twitter @Rockitradio1 .

We have added a total of 222 new members to the Rock-it Radio
Listeners Club since our last newsletter. We now have 83,758 exactly
that have joined the Rock-it Radio Listeners club.
We hope that you enjoy the rare 50's and early 60's
Rock and Roll, Rockabilly and Doo Wop (which most commercial
oldies radio stations have forgotten) that we are able to play
for you from Rock-it Radio. Remember, we are here for you!

So if you ever have any requests, dedications, comments and
suggestions we always love to hear from our listeners.
Our e mail address is:
rockitradio@netzero.net

====================================================
To learn more about the Rock-it Radio Listeners Club and our Free
Newsletter please check out:
http://www.rockitradio.net/member.html

It's free and easy to join and the Rock-it Radio Newsletter is always
online at: http://www.rockitradio.net/newsletter.html



====================================================

PLEASE HELP US SPREAD THE GOOD WORD OF ROCK-IT RADIO!

Do you know of someone that might also like the music

of Rock-it Radio? We are desperately trying to keep this

music alive and have been doing so since 1995! Please

share the information of this station. And if you have

a website would you please consider putting a Rock-it Radio

link on your page.

There are a few to choose from in our link page at:

http://www.rockitradio.net/links.html
HOW TO ORDER OLD ROCK-IT RADIO SHOWS = YOUR PURCHASES HELP US STAY ONLINE!!!
We have received many inquiries on how to order Rock-it Radio shows that are no longer in
our on archives webpage. These shows are still available on CD and mailed to you within 24
hours of receiving payment.
To help search for older shows that you may be looking for you may want to check the Rock-it
Radio blog site. Old newsletters describing the shows and playlists
are archived there and there is a menu bar on the right side that breaks down every playlist
Then you may either pay by check or money order or paypal. Rock-it Radio shows are only
$9.50 U.S. each and are studio quality broadcasts that were placed on Compact Disc here at
the Rock-it Radio Studio. We have a flat rate shipping charge of $1.50 U.S. so if you order
one or several -- it is still only $1.50
U.S. shipping. And we ship worldwide, overseas orders are mailed out first class airmail.
Instructions where to send payment is at our webpage:
like we can send you a paypal invoice within 24 hours.

When you order a Rock-it Radio show or shop at our Rock-it Radio Launching Pad you
help keep these oldies alive and help us pay the bills here at Rock-it Radio.
And at the same time -- you are not getting nothing for your donation, but actually
some of the shows and memories we hope we keep alive here at Rock-it Radio.



TOP 20 SELLERS OF THE ROCK-IT RADIO LAUNCHING PAD THIS WEEK

As you know the Rock-it Radio Store sells vintage Radio Broadcasts - Where you hear the actual music, news and vintage advertisements - uncut and unedited just like you would of heard it back then. Here are the top sellers this week.

1. RIR #393 - John Lennon as DJ on WNEW New York from 1974
2. RIR #127 - Alan Freed 1956 Rock & Roll Dance Party show
3. Lane Quigley - Class of 1965 50 year Reunion - Rock-it Radio.
4. RIR #387 - Joey Reynolds - WKBW Buffalo NY Beatles Special 2/24/1964
5. RIR #181 - Wolfman Jack XERB Tijuana 12/8/1967
6. RIR #539 - Cousin Brucie - WABC New York 9/7/1965
7. RIR #176 - Porky Chedwick WAMO Pittsburgh 6/14/1960
8. RIR #466 - 3 Vintage early Beatles Interviews w/ Tom Lodge and Murray the K
9. RIR #116 - Casey Kasem - KRLA Los Angeles 5/27/1965
10. RIR #623 - Big Jim Edwards - CKLW Windsor, Ont. 12/1/1969
11. RIR #115 - Rare Broadcasts of Alan Freed.
12. RIR #320 - Allison Steele WNEW FM New York 9/19/1975
13. RIR #182 - John Peel - Radio London Perfumed Garden Show 1/11/1968
14. RIR #267 - Arnie Woo Woo Ginsburg WMEX Boston 12/12/1965
15. RIR #317 - Allison Steele (Nightbird) WNEW New York 2/11/1969
16. RIR #594 - Denny Sanders WMMS Cleveland 6/30/1978
17. RIR #638 - Howard Smith w/ John Lennon & Yoko pt. 1 WABC FM 1969
18. RIR #639 - Howard Smith w/ John Lennon & Yoko pt. 2 WABC FM 1969
19. RIR #220 - Larry Lujack WLS Chicago 12/28/1968
20. RIR #168 - Dan Ingram WABC New York 7/22/1967 2 CD Set


If you would like to view these shows in depth you can check out
our Rock-it Radio Ebay Store at:
http://stores.ebay.com/Rockit-Radio

or in the Rock-it Radio Launching Pad store at:
http://www.rockitradio.net/store.html(listed by date)
and in the upper left hand corner -
there is a search box where you can type in the DJ name or
Station Call letters and that information on that show will pop up.
Ordering from the Ebay store will also qualify you for the Rock-it Radio
giveaway mentioned previously in this newsletter. Sale of
these broadcasts is what keeps Rock-it Radio going and thank
you again to everyone that buys these!

===============================================
TOP 50 NATIONS THAT ARE TUNING INTO ROCK-IT RADIO.

We are always amazed at the World Wide Web and the 215 Countries that
tune us in every month online. Here are the top 50 Countries so far
this month.+ or - shows up or down how many positions from the previous week.
TOP 50 NATIONS THAT ARE TUNING INTO ROCK-IT RADIO.

1. United States +0
2. Brazil +0
3. United Kingdom +0
4. Hungary +0
5. Netherlands +0
6. France +2
7. Germany +0
8. Canada -2
9. Sweden +0
10. Ireland +2
11. Spain +4
12. Finland -1
13. Belgium +1
14. Australia -4
15. Argentina -1
16. Italy +2
17. Japan -1
18. Russia +5
19. Croatia +1
20. Austria -1
21. Romania +13
22. Mexico -2
23. Peru -1
24. Colombia -4
25. Chile +1
26. Chile +5
27. Lithuania +25
28. Switzerland -1
29. Ukraine +9
30. Philippines -10
31. China +2
32. Norway -3
33. Dominican Republic -5
34. Thailand -9
35. Bulgaria +15
36. South Africa -9
37. Morocco +6
38. Israel +17
39. Bolivia -2
40. Saudi Arabia +11
41. Guatemala -1
42. Luxembourg -3
43. Greece -8
44. New Zealand +10
45. Slovenia +8
46. Serbia -1
47. Poland -5
48. United Arab Emirates -7
49. Albania +16
50. Paraguay -3

=============================================
U.S. STATES RANKINGS TUNING INTO ROCK-IT RADIO

1. California +0
2. New York +0
3. Florida +0
4. Pennsylvania +0
5. Texas +0
6. Washington +2
7. Ohio -1
8. Virginia +5
9. Massachusetts -3
10. Illinois -1
11. Arizona -1
12. New Jersey -1
13. North Carolina +1
14. Missouri +2
15. Wisconsin -2
16. Oregon +11
17. Maryland -4
18. Georgia +4
19. Michigan +0
20. Indiana -4
21. Colorado -1
22. Connecticut -4
23. Tennessee -7
24. Delaware +6
25. New Mexico -1
26. Idaho +2
27. Rhode Island -3
28. Alabama -2
29. Kentucky -5
30. Nevada +2
31. Minnesota +0
32. District of Columbia +5
33. South Carolina -3
34. Arkansas +1
35. Oklahoma -1
36. Kansas -3
37. Iowa -1
38. Utah +0
39. Mississippi +5
40. Maine +7
41. Hawaii -1
42. West Virginia -1
43. Louisisana -3
44. Wyoming +4
45. New Hampshire -5
46. Alaska -7
47. Nebraska +2
48. Vermont -2
49. Montana -4
50. North Dakota +1
51. South Dakota -1
Rockabilly bands looking for airplay
If you or know someone that would like airplay on Rock-it Radio we invite
you to submit your press kits to Rock-it Radio. Our website for further
information is:
http://www.rockitradio.net/airplay.html
============================================
Come tune into the World on your computer!
1000s of stations around the world now broadcast online. We have a
link to some of the internet top directories to help you find these stations.
http://www.rockitradio.net/internetradio.html
============================================
Rock-it Radio Program Webpage Reminder
Remember, if the show that you want to hear is getting close to the bottom
of the list of radio shows, you should tune in as soon as you can. These shows
to have a high audio quality require a lot of internet bandwidth and memory.
And currently we can only afford the
30
latest shows online here at Rock-it Radio.
So, when a new show is put online it knocks the oldest one off the Rock-it Radio
archives page. Usually a show will at least last 16 to 20 days, once it is placed in
the archives.
============================================
OUR SISTER STATION FIRST NATIONS BROADCASTING.
We invite you to also check out our sister station -- First Nations
Broadcasting. And tune into the rather Cool North of the Yukon and Alaska
with our very own Debbie Snowdove!
============================================
Well that is just about it for this newsletter and playlists of our latest
shows. We hope that you enjoy them.
We will do our best to keep these shows on for at least 14
days and hopefully 21 days.
All the best always,
Bennie Dingo
Rock-it Radio

website: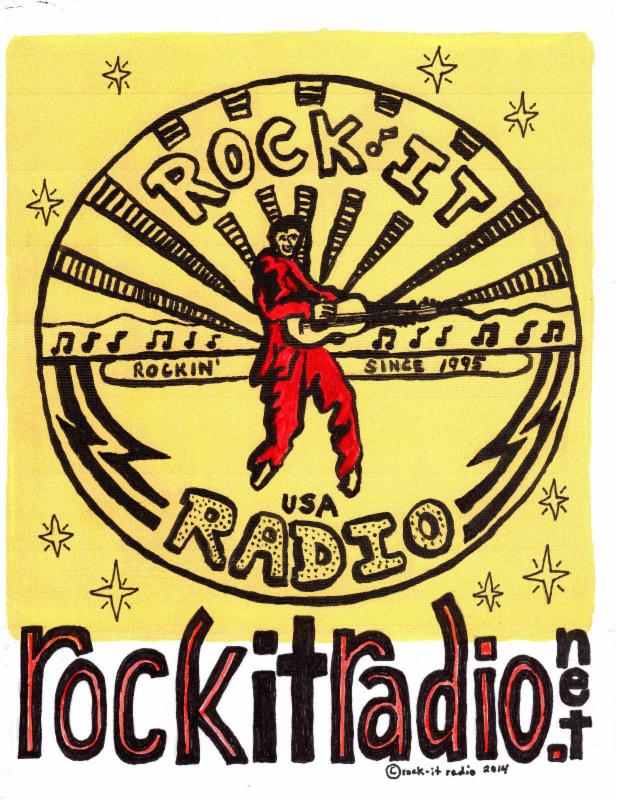 Rock-it Radio main website:
http://www.rockitradio.net

Archived Shows at:
http://www.rockitradio.net/programs.html

Rock-it Radio Vintage Broadcast Store:
(Launching Pad)
http://www.rockitradio.net/store.html