Rock-it Radio since 1995 providing 50s and early 60s Rock and Roll, Doo Wop and Rockabilly music online! Come tune us in at http://www.rockitradio.net We also have several 100 original radio shows from the first decade of Rock and Roll at: http://www.rockitradio.net/store.html
=======================================================================
ROCK-IT RADIO NEWSLETTER AND PLAYLIST
SHOWS #5601 TO #5613
FROM
March 3, 2016 to March 16, 2016

Hi Rock-it Radio Listeners,

We have 13 great shows for you this week in
our program page of Rock-it Radio. From shows
#5601 to #5613 along with the winner announcements
and latest releases in the Launching pad.

So, Let's get started with some playlists!

Our shows can be heard in our archives page at:

http://www.rockitradio.net/programs.html
and click to the speaker on the left to hear the show.

Remember if you are new to Internet Radio and having trouble tuning in though --
Check out our webpage to help you out at:
http://www.rockitradio.net/tunein.html
============================================
REMEMBER YOU CAN ORDER ANY OF THESE ROCK-IT
RADIO SHOWS ON CD!!!! NEW EASIER ORDERING!

Would you like one of these Rock-it Radio shows on CD? To
be able to play anywhere? And help support Rock-it Radio at the same time.
For complete information check out our program
ordering webpage at: http://www.rockitradio.net/order.html

Our shows are of course copies straight from the studio so they are studio
quality and satisfaction is guaranteed.
Or if you would rather receive an invoice let me know and we
can e mail you a copy - Just e mail us the show(s) you would like
to have and the Rock-it # to: rockitradio@netzero.net

==============================================
All Rock-it Radio shows stay online from 18 to 24 days and are
broadcast in MP3 Format. To tune in just click to the speaker
at our program page at:
http://www.rockitradio.net/programs.html

The newest show added replaces the oldest show so if you see a
show near the bottom of the listing - you should listen as soon as
possible.

==============================================
WE COULD USE YOUR SUPPORT

Rock-it Radio is 100% Publicly supported. But when you
donate to the Rock-it Radio Launching Pad - we give you
a vintage broadcast of your choice.
100% of all sales from the Rock-it Radio Store (Launching
Pad) goes back to pay copyright fees, LLC taxes, Internet
and bandwidth costs of Rock-it Radio. Without your support
we would not exist. So. please consider a purchase at:
http://www.rockitradio.net/store.html

===============================================
NOTE: ALL SHOWS BELOW CAN BE FOUND IN OUR
PROGRAM WEBPAGE -
TO TUNE IN CLICK TO SPEAKER OF THE SHOW YOU WANT
TO LISTEN TO. EITHER MP3 OR REAL PLAYER.
BOTH FORMATS ARE SUPPORTED.
AT:
HTTP://WWW.ROCKITRADIO.NET/PROGRAMS.HTML

==============================================
BILLY VERA'S ROCK AND ROLL PARTY WITH TRIBUTE TO
THE DRIFTERS ON SHOW #5601

From the mid-60s through the mid-70s, Billy Vera often
played guitar for the Drifters. They were onstage together
the night Ahmet Ertegun presented the group with a plaque
the read "To the all-time greatest Atlantic group."
Billy would play Soul Stirrers songs backstage for Johnny Moore
to warm up and he and Charlie Thomas became life long friends.
He played behind Clyde McPhatter during the final stage
of that great singer's career and played for Ben E. King as well.
So this 1989 episode of Billy Vera's Rock'n'Roll Party,
featuring this great group will be filled with insights as
well as heartfelt memories from a man who knew the Drifters
as well as anyone. In 1996, Billy went on to produce Rhino
Records' acclaimed Drifters Box Set.

HOUR 1

1. Let The Boogie Woogie Roll
2. Money Honey
3. Do Something For Me (The Dominoes featuring Clyde McPhatter)
4. Such a Night
5. What'cha Gonna Do
6. Honey Love
7. White Christmas
8. Someday You'll Want Me To Want You
9. I Can't Believe (The Hornets with Johnny Moore)
10. Ruby Baby
11. Adorable
12. Your Promise To Be Mine
13. It Was a Tear
14. Drip Drop
15. Kiss and Make Up (The Crowns)
16. There Goes My Baby
17. Oh My Love
18. Dance With Me
19. This Magic Moment

HOUR TWO

20. Lonely Winds
21. Save The Last Dance For Me
22. I Count The Tears
23. Please Stay
24. Sweets For My Sweet
25. Some Kind of Wonderful
26. Mexican Divorce
27. Only In America
28. Stranger On The Shore
29. When My Little Girl Is Smiling
30. Up On The Roof
31. Let The Music Play
32. Rat Race
33. I'll Take You Home
34. On Broadway
35. I Don't Want To Go On Without You

===============================================
JACK VAN OERS ROCKIN' WINDMILL ROCKABILLY SHOW
FROM THE NETHERLANDS ON ROCK-IT RADIO #5602

From the land of windmills, dykes, canals, cheese, tulips,
cows and wooden shoes here is another dynamic Rockin' Windmill
Show. Host Jack van Oers plays music from Belgium, The Netherlands,
the UK, the USA and Sweden - so, just turn up the volume, move
your feet and enjoy the show -

1. Am I blue? - Eddie Cochran - 1957
2. Your loving touch - Marty Wilde - 1961
3. Promised land - Art Adams - 1959?
4. Just because - The Collins Kids - 1957
5. Old black Joe - Frankie Hart & Nada -
6. Ballad of a teenage Queen - Johnny Cash - 1957
7. Can ya bop can ya boogie - Hot Rockin' - 2001
8. I can't find the doorknob - Jimmy & Johnny - 1958
9. I just can't wait - The Firebirds - 1998
10. Flatfoot Sam - Tommy Blake - 1957
11. Mean woman blues - Cliff Richard - 1959
12. Loves made a fool of you - Buddy Holly - 1958
13. Love's made a fool of you - Matchbox - 1981
14. No one - Chip Fisher - 1959
15. She's gone from me - Bobby Smith - 1960
16. Pick nick rock - The Tramps (B) - 1960
17. I'm ready if you're willing - Johnny Horton - 1956
18. Bop bop bo doo bop - Lew Williams - 1956
19. Little Lizzy - Eightball Boppers - 2007
20. Yes my darling - Fats Domino - 1958
21. Don't leave her too long - Dixie Aces - 1995
22. This wicked world - Arden Jervey - 1959
23. I've been around your door .... before - Vince Maloy - 1968
24. Fade away - Frank Hudson - 1964
25. Ghost riders in the sky - The Spotnicks - 1961

===============================================
COOL BOBBY B AND THE DOO WOP STOP ON ROCK-IT RADIO
SHOW #5603

Cool Bobby B is back in this newsletter with another
3 hour extavaganza of Doo Wop Rock and Roll from the
first decade of Rock nad Roll! Here is the playlist
of what you will hear when you select his show in our
program page.

Hour #1

1. Rockin' with the clock - Shirley and Lee
2. Chip Chip - Mello Kings
3. Nothing can change this love - Sam Cooke
4. Your Love - The Olympics
5. You came to me - The Duvals
6. Love came to me - Dion
7. You belong to me - The Duprees
8. The Clock - The Contenders
9. Dance girl dance - Norman Fox & Robroys
10. Pretty little Angel Eyes - Curtis Lee
11. The Cling - The Troys
12. Would I love you - The Miracles
13. There goes my love - The Fantastics
14. Lonely way - The Skyliners
15. Come go with me - Del Vikings
16. Heartaches - The Marcels
17. Who do you love - Philly Cuzz
18. Who do you think you are - The Fascinators
19. Who's Lovin' you - The Miracles

Hour #2

20. Shu bop - Dion
21. My vow to you - The Students
22. I'l be forever loving you - El Dorados
23. I'm in the mood for love - The Chimes
24. Tra La La - The Majors
25. Mr. 1950s - Elaine Silver
26. Count your blessings - The Demensions
27. Everyone was there - Bob Kayli
28. Out of the World - Four Sparks
29. I wonder where the Yellow Went - Jumpin' Jacks
30. I'd like to be there - Hunki Dori
31. Silhouettes - The Rays
32. Don't pity me - Dion
33. Cry like I cried - The Harptones
34. The Stars - Ocapellos
35. Please say you want me - The Schoolboys

Hour #3

36. 11th hour melody - The Rivieras
37. Moonlight Cocktails - The Rivieras
38. Let's start all over again - The Paragons
39. Lee Goofed - Shirley and Lee
40. High on a Hill - Scott English
41. Duke of Earl - Gene Chandler
42. Winner Take All - The Platters
43. Love you so bad - The Empires
44. If you want to - The Carousels
45. This is my love - The Beachcombers
46. Again - The Concords
47. (I live) half a block from an angel - The Danleers
48. Sometimes I wonder - The Heartbeats
49. Prayer - The Chantels
50. Without a friend - The Strangers
51. True True Love - The Corvairs
52. Mio Amore - The Flamingos
53. This I swear - The Skyliners
54. Goodnight Baby - The Imaginations

===============================================
JAMES RILEY AND THE ROCKABILLY AND BLUES SHOW ON
ROCK-IT RADIO SHOW #5604

Jammin James Riley is back with the Rockabilly and
Blues Show on Rock-it Radio -

Rockabilly N Blues Radio Hour #1:
This week we focus on artists performing at the upcoming
Viva Las Vegas April 14-17 in Las Vegas, NV. Festival founder
Tom Ingram joins us later in the show and we also hear tunes
from Dick Dale, Brian Setzer, The Jets, The Polecats,
Sleepy LaBeef, Dave Phillips, Big Sandy, Jack Scott, a brand new
tune from Jittery Jack & Darrel Higham and so much more!

1. Matchbox- Sleepy LaBeef
2. Barking Up The Wrong Tree- Don Woody
3. Hey Mae- Dave & Deke Combo
4. Voodoo- Bailey Dee & Her Late Night Bait
5. The Trip- Dave Phillips
6. Plenty Of Love- The Jets
7. Ring Of Fire- Dick Dale
8. Stiletto Cool- Brian Setzer
9. You Drive Me Insane- Restless
10. Big Green Car- Polecats
11. Lonesome Tears In My Eyes- Rocky Burnette with Darrel Higham
12. Cat Talk- Lew Williams
13. I Wanna Bop- Billy Harlan
14. Have Love Will Travel- Big Sandy
15. You Made Me Love You- Jai Malano
16. The Remedy- Jittery Jack & Darrel Higham
17. Hillbilly Fever- Jack Scott


Rockabilly N Blues Radio Hour #2:
Jimmy Vivino (from Jimmy Vivino & The Basic Cable
Band seen nightly on Conan) is our guest for part 1 of
our interview this week. We discuss producing the
new Dion, playing with Johnnie Johnson (Chuck Berry's pianist),
a favorite memory of playing with Chet Atkins on Conan,
and playing with Conan at Jack White's Third Man Records
plus tunes from the Neanderthals (featuring Eddie Angel
and covering David Bowie), new Jack Rabbit Slim,
The Barley Hoppers, Nick Curran, Head Cat and Cousin Harley!

1. Space Oddity- The Neanderthals
2. Next Time- Jack Rabbit Slim
3. I'm Mad- Johnnie Johnson
4. I Still Write Your Name In The Snow- Chet Atkins
5. I Wonder Why (live in New York)- Dion
6. Too Much Monkey Business- Conan O'Brien & The Legally Prohibited Band
7. I'm All Rocked Up- Dion
8. Almost Grown- Chuck Berry
9. She Called Me Out Of My Name- Johnnie Johnson
10. Doghouse Boogie- The Barley Hoppers
11. Player- Nick Curran & The Nitelifes
12. Love's Made A Fool Of You- Head Cat
13. Dust Bowl Devil- Cousin Harley

===============================================
PETE CHASTON'S DOO WOP SHOW ON ROCK-IT RADIO
SHOW #5605

The Doo Wop Meteorologist DJ Pete Chaston is back
this week with another Doo Wop 50s and early 60s
Rock Show here exclusively from Rock-it Radio.
Group Harmony Doo Wop Rock and Roll is still alive
and here is Pete to prove it! Here is the playlist.

1. Doo-Wop All Night Long-The Blue Emotions (opening theme song) (1982)
2. Bongo Stomp-Little Joey & The Flips (1962)
3. Little Girl of Mine-The Cleftones (1956)
4. While Walking-The Fabulaires (1957)
5. Never Let You Go-The Five Discs (1962)
6. False Alarm-The Re-Vels (1958)
7. Gloria-The Passions (1960)
8. Shirley-The Rainbows (1956)
9. Lookin' for my Baby-The Earls (1961)
10. Dorothy-The Hi-Fives (1958)

SILLY SONG SEGMENT:

11. Woo-Hoo-The Rock-A-Teens (1958)
12. Ain't Got No Home-Clarence "Frogman" Henry (1956)

SCRATCHY 45 RPMs SEGMENT:

13. Babalu's Wedding Day-The Eternals (1959)
14. Please Believe Me-The Elegants (1958)
15. Teardrops-Lee Andrews & The Hearts (1957)
16. My White Convertible-The Hall Brothers (1958)

BACK TO THE CDs &/or More 45 RPMs:

17. I Lied to my Heart-The Enchanters (1961)
18. Peppermint Stick-The El-chords (1958)
19. Bobbie-Joey & The Lexingtons (1963)
20. Peter, Peter (Pumpkin Eater)-The Royal Kings (1961)

SLOW SONG SEGMENT:

21. The First Time in my Life-The Comic Books (1959)
22. My Love is Gone-The Ladders (1958)
23. The Way Love Should Be-The Nutmegs (mid 1950s)
24. Just a Shoulder to Cry On-The Hi-Fives (1958)
25. Cherry-The Rivingtons (1963)
26. Girl of Mine-The El Capris (1955)
27. (closing theme song) Adios-The Five Discs (1961)

===============================================
DAVE THE RAVE AND THE RELICS AND RARITES SHOW
ON ROCK-IT RADIO SHOW #5606

Do you love the rarities of 60s Rock and Roll?
Then this is the show to tune into! Dave features
forgotten or lost or strayed releases of 60s Rock
& Roll. From Psychadellic to Bubble Gum to just good
old Rock and Roll !!!
you will find it here! Here is this shows playlist on
Rock-it Radio.

Hour #1

1. Sugar Pt 1 - Ronnie Woods
2. Maid Of Sugar, Maid Of Spice - Mouse And The Traps
3. You'll Come Back - Moon Rakers
4. Shapes Of Things - Yardbirds
5. I Won't Be There - Del Shannon
6. You Baby - Turtles
7. Sorry For Me - Roosevelt Nettles
8. Just Look What You've Done - Brenda Holloway
9. Sally Sayin' Somethin' - Billy Harner
10. Just Enough Of Your Love - Four Buddies
11. Time Is On My Side - Irma Thomas
12. Stick With Her - Gaunga Dyns
13. Be Mine - Fanatics
14. Let's Pretend- Raspberries
15. Time To Settle Down - Gene Chandler
16. Suspicion - Originals
17. Searching - Omens
18. Shame - Kings Ransom (Discovery Of Week)
19. Shame, Shame - Magic Lanterns
20. Scrambler - Sandals

Hour #2

1. Later - Terry and the Tomcats
2. It's Cold Outside - Choir
3. It May Be Winter Outside (But In My Heart It's Spring) - Felice Taylor
4. When You're Young And In Love - Marvelettes
5. Cupid - Otis Redding
6. Want You By My Side - Changing Colours
7. Mind, Body Soul - Flaming Ember
8. Lookin' For A Love - Valentinos
9. In The Midnight Hour - The Wanted
10. Glad All Over - Dave Clark Five
11. Don't Lose Your Mind - Galaxies IV
12. Cold 45 - Four Wheels
13. So Young (And So Innocent) - Poets
14. So Good Together- Andy Kim
15. I Love You - People
16. Can't Find The Time - Orpheus
17. Together Forever - Pat Powdrill and the Powerdrills (Discovery of Week)
18. Forever Came Today - Diana Ross and Supremes
19. Honky Train - Bill Blacks Combo

===============================================
KEN STRANGE COUNTRY RECORD ROUND UP SHOW WITH
TRADITIONAL COUNTRY MUSIC ON ROCK-IT RADIO SHOW #5607

Join Ken Strange for another Country Record Round Up as he delves
once more into the archives to bring you some good 'ole country
music from right across the board with tracks from the 1950's
through to the 00's, including his regular feature,
"Duos & Duets". So, let's head off to the hills for another
round up, a Country Record Round Up.

01. Intro - Medley
02. What Has The Bottle Done To My Baby - Loretta Lynn (70) Decca
03. You're For Me - Buck Owens & His Buckeroos (62) Capitol
04. Cotton Fields - Creedence Clearwater Revival (69) Fantasy
05. Come In Stranger - Johnny Cash (58) Sun
06. Together Alone - George Jones (82) Epic
07. Ghost Train Four-O-Ten - Marty Stuart (10) Sugar Hill
08. Watch Out - Dwight Yoakam (05) New West
09. Live Fast Love Hard Die Young - Faron Young (55) Capitol
10. Darlin' What Am I Gonna Do - Walt Cochran & His Holly River Boys (63) Olympic
11. Baby Boy - Mary Kay Place (76) Columbia
12. There's A Tear In The Eye Of The Man In The Moon - Alvedean Coker (56) Decca
13. Country Boy Roack and Roll - Marty Stuart & Kenny Vaughan (10) Sugar Hill
14. Ain't No Son - Court Yard Hounds (10) Columbia
15. Roll You Like A Wheel - Mickey Gilley & Barbie Benton (75) Playboy
16. If I Could Forgive You - Bob & Dink (60) Cama
17. Coming Of The Roads - Anita Carter & Johnny Darrell (68) United Artists
18. When The Grass Grows Over Me - Tammy Wynette (89) Epic
19. Just A Little Bit Sweet - Charlie Rich (61) Philips International
20. Bummin' Around - Boxcar Willie (81) Main Street
21. A Gal Named Joe - Mac Sales & The Esquire Trio (55) Meteor
22. Who's lonely Now - Highway 101 (89) Warner Bros
23. Pecos Promenade - Tanya Tucker (82) MCA
24. Feeling Single Seeing Double - Susan McCann (77) H&H
25. Blue Boy - Jim Reeves (58) RCA-Victor
26. Ghost Riders In The Sky (instrumental) - Duane Eddy (96) Curb
27. I Don't Believe In Tea Leaves - Jack Scott (65) RCA-Victor

====================================================
DJ SPINNING ROCK BOOGIE AND THE MOVIN AND GROOVIN SHOW
WITH REGIONAL ROUND UP - MISSOURI ROCKERS OF THE 50S & 60S
ON ROCK-IT RADIO SHOW #5608

"REGIONAL ROUND UP - MISSOURI Pt 2"

Join DJ Spinning Rock Boogie for another in his series of
Regional Round Up featuring a particular State or States of America
with some of the record labels from out of that State(s),
the Towns and Cities where those labels were situated, and of course
the artists who recorded on them.

This show features the State of Missouri Pt 2 with Rockabilly,
Rock and Roll, and Doo Wop from the 1950's & 1960's. So climb
aboard the rocket, strap yourself in, and enjoy a trip around
the State of Missouri with DJ Spinning Rock Boogie.

01. Intro - Medley
02. Fafine - Conny & The Bellhops (60) R - Kansas City
03. Ghost Memories - Gene McKowen (64) Brass - Kansas City
04. Hold Me Tight - Jim McDonald (57) Choice - Kansas City
05. Tom Cat Boogie - Lee Ebert (58) Rocket - Branson
06. Rock & Roll Blues - Jules Blattner & His Teen Tones (59) Bobbin - St Louis
07. Be My Baby - F.D. Johnson & The Missouri Valley Boys (58) Jan - Marshall
08. I Forgot To Remember To Forget - Larry Niswonger (63) Dallas - Cape Girardeau
09. Sqeeze Box Rock (instrumental) - The Browning Sisters (57) Velcille - Kansas City
10. Let Me In - Bozo Ratliff (57) Space - St Louis
11. Hey Good Lookin' - Marvin Rainwater (61) Star-Dale - Springfield
12. Geraldine - Ronnie Gill & The Pastel Keys (57) Expedite - St Louis
13. Don't Mean Maybe Baby - Alvis Wayne (57) Westport - Kansas City
14. Rollin' On The Street - Maynard Horlick & The Hep Teens (57) VIR - St Louis
15. Condition Your Heart - Little Herbert Reeves & The Arabians (61) Teek - St Louis
16. The One I Love - The Fandandos (57) Carter - St Louis
17. Count Every Star - The Rockers + The Emmett Carter Combo (57) Carter - St Louis
18. Your Car Machine - "Guitar" Tommy Moore & The 5 J's (64) Ultrasonic - St Louis
19. Rock It - Tom Blair & The West Coasters (60) Teen Tunes - Kansas City
20. Hey Sally Mae - The Fabulous Silvertones (60) West Coast - Kansas City
21. Teen Doll - David Starr (61) Cannon - St Louis
22. This Road That I walk - Terry Cobb (77) Boot Heel - St Louis
23. Memories - Burlington Express (67) Cavern - Independence
24. I Love You Baby - The Dusters (55) Hudson - St Louis
25. Shufflin' To St Louis (instrumental) - Jim Gentry & The Gents (59) Dawn - St Louis
26. Leroy (unissued) - The Rebel Rousers (59) Jan - Marshall
27. I'm Gonna Better Myself - Don Clements (60) Damon - Kansas City
28. Pick Up Your Hammer - Larry Good (60) R - Kansas City
29. Gonna Hold My Baby - Karen Wheeler (61) K-Ark - St Louis
30. Needle In A Haystack - Penny West (56) Ozark - St Louis
31. My Wish Is You - Ray Ruff (61)Norman - St Louis
32. Outro - Medley


====================================================
ROCKIN' DADDY O'S ATOMIC DOO WOP DANCE PARTY SHOW
ON ROCK-IT RADIO SHOW #5609

Rockin' Daddy O is back this week with uptempo doo wop
from the 50s and early 60s. Check out this latest playlist.
Here is what you will hear when you click to show #5588
in our archived program page.

1. Shouldn't I-Orients
2. I'll Make You Understand-Performers
3. Drive-In Movie-Academics
4. Peek Peek-A-Boo-Cornel Gunter & Ermines
5. Listen To Your Heart-Billy Fortune
6. Fee Fee Fi Fo Fum-Lavern Baker
7. Honey Honey-Lee Maye
8. Who Care About Love-Vicky Tafoya & The Big Beat
9. Now You Know-Channels
10. Shombalor-Sherrif & Ravels
11. My Isabella-Danny Cobb
12. You Are-Nolan Strong & Diablos
13. The Bells Ring Out-Spaniels (Acapella)
14. Shirley-Sharks Quintet
15. I've Got A Feeling-Creators
16. The Be-Bop Mouse-Cellos
17. Slow Down-Larry Williams
18. Love Is True-Chestnuts
19. The Eyes Of An Angel-Legends
20. Let's Start All Over Again-Paragons
21. Spellbound-Lil Mo & The Dynaflows
22. So Long-Fats Domino

===============================================
AL COOL DADDY SMITH WITH RISQUE R&B AND ROCK
& ROLL RELEASES ON ROCK-IT RADIO SHOW #5610

This show begins my 17th. year on Rockit Radio and
concludes my two part effort on Raunchy Rock and Roll,
Rhythm and Blues and Blues. This show will feature
tunes ranging from the 1930's through to the 1990's.

Perhaps a parental disclaimer is in order before our
listeners partake of these risque recordings.

The Play List is as follows:

1.) One Night Of Sin-Elvis Presley 1957
2.) Keep On Churnin' -Wynonie Harris 1952
3.) Fever-Peggy Lee 1958
4.) Jet Propelled Papa-Helen Humes 1947
5.) (I Can't Get No) Satisfaction-The Rolling Stones 1965
6.) Hoochie Coochie Man-Muddy Waters 1954
7.) King Size Papa-Julia Lee 1948
8.) Mountain Oysters-Eddie Lock Jaw Davis and Bill Doggett 1949
9.) Lead Pencil Blues-Johnnie Temple 1935
10). House Of The Rising Sun-The Animals 1965
11.) Walk Right In, Walk Right Out-Fluffy Hunter and The Jesse Powell Orchestra 1952
12.) One Mint Julep-The Clovers 1952
13.) Ticket To Ride-The Beatles 1965
14.) Cross Cut Saw-Otis Rush 1975
15.) Dec. 1963 (Oh What A Night)-The Four Seasons 1975
16.) Sexy Ways-Hank Ballard and The Midnighters 1953
17.) I Wanna Be Your Underwear-Bryan Adams 1996
18.) Lollipop Mama-Roy Brown 1947
19.) Love To Love You Baby-Donna Summer 1976

================================================
COOL BOBBY B AND THE DOO WOP STOP ON ROCK-IT RADIO
SHOW #5611

Cool Bobby B is back in this newsletter with another
3 hour extavaganza of Doo Wop Rock and Roll from the
first decade of Rock nad Roll! Here is the playlist
of what you will hear when you select his show in our
program page.

Hour #1

1. Rockin' with the clock - Shirley and Lee
2. Lonliness - The Impressions
3. What borught us together - Reynolds Brothers
4. Good Timin' - Jimmy Jones
5. Dance Girl Dance - Norman Fox & Robroys
6. Dream Girl - Norman Fox & Robroys
7. My own true love - The Duprees
8. Guardian Angel - The Selections
9. Smoke from your cigarette - The Mellows
10. Life is but a dream - The Earls
11. Never let you go - 5 Discs
12. Maybe you'll be there - Billy & Essentials
13. Dream On - 5 Keys
14. Hooka Tooka - Chubby Checker
15. Last night I dreamed - Fiestas
16. Tonight - Love Notes
17. Goodbye to love - The Chantels
18. Gee but I'd give the world - The Crests
19. Creation of Love - Frankie Lymon

Hour #2

20. Rocket Ride - Johnny Greco
21. Nobody but you - Dee Clark
22. Who do you think you are? - The Fascinators
23. Lonely way - Skyliners
24. Great Imposter - The Fleetwoods
25. Penny Arcade - The Moonglows
26. Island of Love - Sheppards
27. The Best man cried - Clyde McPhatter
28. Church bells may ring - The Willows
29. Thinking of you - The Jaguars
30. Secret Love - The Moonglows
31. Castle of love - The Raiders
32. Morse code of love - The Capris
33. 16 Candles - The Crests
34. Rainy Day Bells - The Globetrotters
35. I wish - Eric & Plazas
36. Remember Then - The Earls
37. This is my love - The Passions
38. Take me as I am - The Duprees

Hour #3

39. 11th hour melody - The Rivieras
40. Moonlight Cocktails - The Rivieras
41. I love you - The volumes
42. Love came to me - Dion
43. In memory (A tribute to Johnny Ace) - Marie Adams
44. Johnny Has gone - Venetta Dillard
45. Johnny's still singing - 5 Wings
46. I only hsve eyes for you - The Flamingos
47. IT's all in the game - Tommy Edwards
48. Donna - Richie Valens
49. Since I don't have you - The Skyliners
50. Heaven only knows - Cleopatra & Larks
51. A Casual look - Six Teens
52. Will you be mine - The Penguins
53. Send me flowers - Six Teens
54. For your precious love - Kenny Vance & Planotones
55. One look at your daddy - Carol Fran
56. Emmitt Lee - Carol Fran
57. Goodnight Baby - Imaginations

===============================================
JACKIE BOND AND LET THE GOOD TIMES ROLL OLDIES
SHOW ON ROCK-IT RADIO SHOW #5612

From the UK Jackie is back with another rockin' set
of 50s and early 60s Rockers that are sure to keep
your feet stompin! Here is the playlist of his
show.

1. Baby,Beat It - Big Duke
2. Robinson Crusoe Bop - Sonny Cole and The Roamers
3. All Right Baby - Janis Martin
4. Kee-Ro-Ryin - Johnnie and Jonie(Challenge Label)
5. Whole Lotta Shakin' Going On - Carl Perkins
6. Flying Saucers Rock And Roll - Rockin' Rebels
7. Baby Please Don't Go - Webb Wilder
8. Long Time Dead - Jack Rabbit Slim
9. Bip Bop Boom - Emmy Lou and The Rhythm Boys
10. My Man,A Sweet Man - Millie Jackson
11. One Fine Day - The Chiffons
12. Wastin' Time With You - Carlene Carter
13. Farther On Up The Road - Bobby Bland
14. Big Ten Inch Record - Bullmoose Jackson
15. Lipstick Powder and Paint - Big Joe Turner
16. Fatso - Gene Phillips and The Rhythm Aces
17. Blue Suede Shoes - Elvis Presley
18. Great Balls Of Fire - Jerry Lee Lewis
19. Johnny B Goode - Chuck Berry
20. Good Golly Miss Molly - Little Richard
21. Rave On - Buddy Holly
22. Here I Am Brokenhearted - The 4 J's
23. Church Bells May Ring - The Willows
24. I Wonder Why - Dion and The Belmonts
25. A Thousand Miles Away - The Heartbeats
26. Good Night My Love - Jesse Belvin (Outro)

===============================================
FLASHBACK: RICK WARD'S OLDIES SHOW ON ROCK-IT
RADIO SHOW #5613 ON ROCK-IT RADIO.

Another Best of Broadcast as we dig deep into the
Rock-it Radio Archives as we hold nearly all 5500+
Radio Shows of Rock-it Radio. Rick Ward besides
being producer for Wolfman Jack, Was a Icon DJ himself
in Southern California and beyond. We were blessed
to have him here at Rock-it Radio and we dug out
this show from 2008. If you didn't catch him then you
can now from tuning into Show #5596 on Rock-it Radio's
Program page. Sorry No playlist is available.



==============================================
All the Rock-it Radio shows are available on CD

Each show is only $9.50 each and you can order
in bulk and shipping will never be more then $2.00.
Ask for a secure paypal invoice -- information is at:
http://www.rockitradio.net/order.html

==============================================

100'S OF VINTAGE ROCK AND ROLL VIDEOS ON FILE IN
OUR VIDEO SITE AT ROCK-IT RADIO:
CHECK IT OUT AT:

HTTP://WWW.ROCKITRADIO.NET/VIDEO.HTML

==============================================
COME JOIN US ON FACEBOOK !!! WE WOULD LOVE A
LIKE FROM YOU!

http://www.facebook.com/rockitface
The Rock-it Radio Facebook Site.

==============================================
HISTORY OF ROCK-IT RADIO

If you are new to Rock-it Radio and would like to learn more --
We have our History Page up as well -- telling the story of Rock-it
Radio. You can find it at:
http://www.rockitradio.net/history.html

===============================================

FEBRUARY END OF THE MONTH DRAWING OF WINNERS
ANNOUNCED FOR LAUNCHING PAD SUPPORTERS
At the end of every month on Rock-it Radio we have a
random drawing for those that have supported Rock-it
Radio by purchasing either Rock-it Radio shows through the
either the Rock-it Radio Launching pad at:
Or by going and ordering Rock-it Radio shows at:
The February 2016 Winners this month are:
Judy Harmon - Rochester, New York USA
Michael Stevenson - Luton, Bedfordshire United Kingdom
Lisa Pierce - Danville, Illinois USA

SUPER MEGA WINNER - WINNER OF 10 SHOW
OF THEIR CHOICE !!!!!!!!

Robert Raymond - Seatle, Washington USA

Each of you have won your choice of 3 vintage
Rock Radio programs (The Super Mega winner won 10!)
from our online store at:

or you can order Rock-it Radio Shows if you prefer on CD

You have until March 31, 2016
to let us write back and let
us know of your choices.
Congratulations and let me know what you would like to
have along with a mailing address and we will got those
items out to you. Just our way of saying Thank you for helping
support Rock-it Radio. And of course we will have October drawings
as well at the first week of next month.
NOTE: You should keep on checking this notice board
or join the Launching Pad Facebook site at:
And of course we will be having another drawing at the
end of this month.
FREE ROCKIN WINDMILL SHOW CD TO THOSE THAT PURCHASE
FROM ROCK-IT RADIO IN MARCH.
Rock-it Radio continues to giveaway CD's for March
for orders received this entire month. This month's
giveaway comes from the Netherlands and is a actual
show of Jack Van Oers Rockin' Windmill show. It's in
English and show features ROOTS Style Rock and Roll and
Rockabilly from around the globe from bands in 25 different
countries. But you will only be able to receive and hear this
show by on this CD that you will receive with your order
in the month of March.

All you have to do is support and order something
from Rock-it Radio at the following sites.

You can find our Ebay Store at:
http://stores.ebay.com/Rock-it-Radio-Store

Or the Rock-it Radio Launching Pad at:
http://www.rockitradio.net/store.html

Rock-it Radio T Shirts at:
http://www.rockitradio.net/tshirt.html

Order a Rock-it Radio Show - instructions at:
http://www.rockitradio.net/order.html

Rock-it Radio Flashdrive featuring 50 of it's shows.
http://www.rockitradio.net/flashdrive.html

Here is the playlist....

1. Hey Lilli - Ricky Morvan & the Fens - 1963 - BEL
2. Tu peux la prendre - Johnny Halliday - 1961 - FRA
3. Estoy chispa - The Nu Niles - 2000 - ESP
4. Foxy little mama - Little Tony & his Brothers - 1959 - ITA
5. A1 baby - Adam & his Nuclear Rockets - 2006 - HRV
6. Lovin' girl - The Rhythm Cadillacs - 1988 - CHE
7. Call myself a Ted - The Rioters - 2002 - AUT
8. Spanischer Zigeunertanz - Die Sputnicks - 1965 - DEU
9. Dein kleiner Bruder - Ted Herold - 1959 - DEU
10. Anna - Jorgen Ingmann - 1961 - DNK
11. Sweet Cindy Lou - The Black Knights - 1998 - SWE
12. Alabama shake - The King Drapes - 2003 - FIN
13. Elisabeth - The Teen Cats - 1987 - NOR
14. Tight dress - Johnny & the Roccos - 1989 - GBR
15. Please don't touch - Johnny Kidd & the Pirates - 1959 - GBR
16. She's the one to blame - Crazy Cavan & the Rhythm Rockers - 1975 - GBR
17. Don't lose your hucklebuck shoes - The Royal Showband - 1965 - IRL
18. The Sock - The Valentines - 1960 - CAN
19. Only in my dreams - Frank Fafara - 1960 - USA
20. She's gone away - Crazy Legs - 2003 - BRA
21. Right now - Radio Texas - 1999 - ARG
22. Bullmoose - The Keil Isles - 1959 - WSM
23. Don't you leave me - Two Daves with the Trisonics - 1959 - NZL
24. I need your love tonight - Col Joye & the Joy Boys - 1963 - AUS
25. Doe maar net alsof - Peter & zijn Rockets - 1960 - NLD
26. La Comparsa - ZZ en de Maskers - 1963 - NLD

==============================================

TWO NEW VINTAGE RADIO SHOWS ARE ADDED TO THE
EBAY STORE AND THE LAUNCHING PAD OF ROCK-IT RADIO.

We have added two more vintage Rock Radio Broadcasts
in the Rock-it Radio Launching Pad, our mail order
catalog and our Ebay Store...

#1 Catalog RIR #643 - DJ Ted Quillin on KRLA Los Angeles
from 10/31/1981. Former Rock-it Radio DJ the Late Ted
Quillin returns on a special 20 year reunion show playing
the songs he did back in 1961 for KRLA and talking of his
experiences.
http://www.ebay.com/itm/131737461774

#2 Catalog RIR #644 - DJ Dan Ingram from WABC New York City
from 6/12/1964. The Summer of '64 with one of New York's favorite
DJ's spinning the hits.
http://www.ebay.com/itm/141914472858

These shows are also listed in the Rock-it Radio Launching
Pad at: http://www.rockitradio.net/store.html

================================================
NEW FLASHDRIVE RELEASE OF OUR 50 LATEST SHOWS ON MP3.
We have just released our 4th flashdrive featuring
Rock-it Radio shows #5551 to #5600. Over 70 hours
of oldies Rock and Roll. To order these shows on
CD would be $9.50 per show. So quite a savings and
much more oldies music and choices with 50 shows and
70 hours of oldies for $39.95. You can view the selection
in our flashdrive page at http://www.rockitradio.net/flashdrive.html
or you can view it in our Ebay store as:
http://www.ebay.com/itm/141918878892
100% of all sales of these flashdrives goes to keeping
Rock-it Radio online and Rockin'!!!!

================================================
ABOUT THE TV SHOW SHIVAREE VIA WIKIPEDIA
This week's vintage video comes to us from the TV
Show - Shivaree which was a Los Angeles-based music variety
show that ran in syndication from 1965 to 1966.
It was created and hosted by KFWB-AM personality Gene Weed,
LA's top nighttime DJ at the time, and who in later
years became a producer for Dick Clark Productions.
In its brief run, the show featured numerous well-known acts,
including the Supremes, the Rolling Stones, Marvin Gaye,
Ronnie Dove, James Brown, Stevie Wonder, The Ronettes, Cher,
the Byrds, The Toys, the Bobby Fuller Four, Allan Sherman,
Lesley Gore, and Gary Lewis, and was taped at KABC-TV's studios
in LA. It began in syndication in April 1965 and ran through
May 1966 in more than 150 markets in the U.S. and seven countries
internationally. Although it was a syndicated series,
Shivaree was produced and owned by the ABC network.

================================================
RECRUITING FOR RADIO PERSONALITIES FOR
ROCK-IT RADIO

Do you know your 50s and 60s Rock & Roll, Doo wop
or Rockabilly? And the ability to produce a show
on CD?
We do require a playlist for this newsletter but
your show will stay online for the world for approx.
3 weeks. Unlike some stations where you broadcast one
time and it's gone forever.
If interested check out our Rock-it Radio Team page
at: http://www.rockitradio.net/team.html

We are also looking for writers and translators!
==================================================
3RD ROCK-IT RADIO FLASHDRIVE IS NOW RELEASED FOR
SALE - FOR ROCK-IT SHOWS #5501 TO #5550

New Release!!!! Rock-it Radio Shows #5501 to #5550 on Flash
drive MP3 - 70 hours of 50s and 60s Rock and Roll now on
Flashdrive. Just plug into your usb port in your pc or if your
mp3 player has it in that usb port select and you will have
50 Rock-it Radio shows at your disposal.
In our Ebay listing at:
http://cgi.ebay.com/ws/eBayISAPI.dll?ViewItem&item=141878689592

or the new Rock-it Radio Flashdrive Site listing all available at:
http://www.rockitradio.net/flashdrive.html

It really is a great savings from our CD's that
we sell for $9.50 each could add up to $475 for 50 shows.
We are offering the flashdrive to slash that amount to just
$39.95.
==================================================
BILLY VERA DOCUMENTARY FROM HARLEM TO HOLLYWOOD
LOOKING FOR FUNDING.

Grammy award winner and Rock-it Radio DJ Billy Vera
shares the following:
Our documentary HARLEM TO HOLLYWOOD is almost complete! We
just need some funding to license the music & a few other things.
So check out this video and if you like what you see, please
consider helping out. No donation is too small.
https://www.indiegogo.com/projects/harlem-to-hollywood-the-billy-vera-story#/

==================================================
NEW ROCK-IT RADIO T SHIRT DESIGN RELEASED THIS
WEEK.

It's our 9th design of T Shirts here at Rock-it Radio.
Designed by Jammin' Jan and is titled "Classic Fins"
featuring a late 50s car with the Rock-it Radio
mentioned on it. You can view all our designs including
the latest #9 at http://www.rockitradio.net/tshirt.html
================================================
OUR SISTER STATION - FIRST NATIONS BROADCASTING

Just a reminder to hear Native American and
Alaskan Broadcasting and programming check out
our Sister Station - First Nations Broadcasting
that is tied into many streaming station of
Native Broadcasting online. And coverage of the
Iditarod Sled Dog Race on March 5th.
It is run and operated by our very own
Debbie Snowdove up in Kodiak Island, Alaska.
It's worth checking out at:
http://www.rockitradio.net/upnorth.html


=====================================================
STREEMA.COM PICKS UP AUDIO FEED OF ROCK-IT RADIO

Another way to tune into Rock-it Radio on your
computer is now with Streema's audio feed of our
station that picked up Rock-it Radio.

http://streema.com/radios/Rock_it_Radio
ROCK-IT RADIO IS PUBLICLY SUPPORTED

Rock-it Radio is publicly supported but rather then
just asking for money we offer you something in return.
Actual Radio Broadcasts uncut and unedited and re mastered
onto Compact Disc from the 50s to the 70s. These shows
are great memories of how radio was - the days of top 40
radio! With the songs, and vintage ads and famous DJ's
that made radio a great part of growing up.
If you can we would greatly appreciate your support and
help keep Rock-it Radio online. Check out our selection
of 100s of these broadcasts in our Rock-it Radio Launching
Pad at: http://www.rockitradio.net/store.html

or in our Ebay Store at: http://stores.ebay.com/Rock-it-Radio-Store

If you are a big fan of Wolfman Jack you can check out his
shows we also have available at:
http://www.rockitradio.net/wolfman.html

Rock-it Radio also has it's shows currently being broadcast or
broadcasted in the past available. (We have saved every shows
since we began in 1995.) You can also order these shows and
information on that is available at:
http://www.rockitradio.net/order.html
or on Flashdrive in MP3 at: http://www.rockitradio.net/flashdrive.html

Each order received will also receive our Catalog along with
a discount coupon good towards a future purchase.

Thank you for your consideration and all the very best!
REMINDER ON HOW TO CONTACT THE DJ'S AT ROCK-IT RADIO

We all love our our e mails from listeners here at Rock-it
Radio. Along with requests and dedications. Earlier this year
due to the excessive spam we all were getting I stopped listing
the e mails at each shows playlist. But you can still
contact them. Just go to the Rock-it Radio DJ page and each
DJ has there e mail link underneath each bio.
You can find it at: http://www.rockitradio.net/dj.html


COLLECTING AIRCHECKS - A HOBBY OF RADIO NOSTALGIA
What is a Aircheck? It is simply a recording of a radio broadcast. Usually collected by Radio fans.
Come check out our webpage on collecting Airchecks.

http://www.rockitradio.net/aircheck.html


COME REMEMBER WOLFMAN JACK !!!
Rock-it Radio has a very special way to remember Wolfman Jack.
Arguably the most iconic of American DJ's. Come check out the
Rock-it Radio Wolfman Page at:
REMEMBERING OFFSHORE PIRATE RADIO IN THE UK
In the mid 1960s it was difficult for the youth to actually listen to Rock and Roll in the UK. The BBC actually ran only a few hours a weekend to provide the young Brits with this outlet. At night during the week they ventured to even tune into Radio Luxembourg to get there fill, that broadcast
rock and pop around the clock.
To fill this void some venture capitalists decided to bring in commercial radio aboard refitted radio ships. And anchor themselves just off into International waters off the English coast. Radio Caroline (named after Caroline Kennedy the
U.S. President's daughter at the time) and Radio London being the most famous. Rock-it Radio has a website dedicated to their ventures and also have actual
radio broadcasts available of these offshore pirates. We invite you to check them
out our webpage at:
http://www.rockitradio.net/pirate.html
FINDING ROCK-IT RADIO ON THE 'TUNE IN RADIO' CELL PHONE APP.

We have had a few requests from listeners that they couldn't find us on the
popular 'Tune in Radio' App. on Android and PC and iphones. Running a
search of 'Rock-it Radio' will actually list 100s of Rock stations.
So, the best way to find us on this very thorough and extensive app. that
I love using myself is -
run a search on 'rockabilly' - there you will easily find
Rock-it Radio listed.
Our Tune in Radio App. webpage is also at:
http://tunein.com/station/?stationId=41878
MISSED A COUPLE OF NEWSLETTERS LAST COUPLE OF WEEKS??

THEN YOU CAN ALWAYS CHECK OUR BLOG WHERE IT IS ARCHIVED.
YOU CAN CHECK OUT OUR BLOG AT:

http://rock-itradio.blogspot.com/
=============================================


ROCK-IT RADIO DJ PAGE...


Remember you can check out all the Rock-it Radio DJ's

and read the bios of these DJ's that make these

Rock-it Radio Shows possible at:


And don't forget for even more pictures --

there is our picture page at:
============================================
IF YOU HAVE TWITTER COME FOLLOW US THERE

If you are one that tweets then please check out and join and get our
updates on your twitter account. Our Twitter link is right below.

http://www.twitter.com/RockitRadio1
It is our new Twitter account and we will once again start
scrolling our messages and updates on our webpages as well.


============================================
ROCK-IT RADIO OTHER TWITTER ACCOUNT FOR
NEWS RELEASES FOR N. IDAHO, KODIAK ALASKA AND
THE WORLD!
Rock-it Radio has another Twitter account and is used for News
Alerts that come into the studio here at Studio A. For those Twitter
users that would like to follow the link is:
http://www.twitter.com/RockitRadioNews

The feed can also be seen in our World News broadcast Webpage
at: http://www.rockitradio.net/news.html


=================================================
WELCOME NEW MEMBERS TO THE LISTENER'S CLUB!!!!

A big welcome to the below new Rock-it Radio listeners that
joined our Listeners Club from March 4, 2016 to
March 16, 2016
We hope that you enjoy the music Rock-it Radio provides
and our playlists and information that our weekly newsletter
provides. Any comments, criticisms, kudos, compliments or
future ideas is always welcome and you can e mail me personally at:
rockitradio@netzero.net

Linda Cox - Nevada, USA
Eric Munnings - Los Angeles, California USA
Rusty Laidlaw - Greenville, Penn. USA
Len Apter - W. Hartford, Connecticut USA
Harry Meerman - Caversham, Western Australia
Miss Mary Ann - The Netherlands
Nige Grant - United Kingdom
David Spicer - United Kingdom

We have gained 93 new likes in our listeners club
in our Facebook page Rock-it Radio Fan Page as well this week at:
http://facebook.com/rockitface and 24 more following us
on Twitter @Rockitradio1 .

We have added a total of 125 new members to the Rock-it Radio
Listeners Club since our last newsletter. We now have 85,653 exactly
that have joined the Rock-it Radio Listeners club.
We hope that you enjoy the rare 50's and early 60's
Rock and Roll, Rockabilly and Doo Wop (which most commercial
oldies radio stations have forgotten) that we are able to play
for you from Rock-it Radio. Remember, we are here for you!

So if you ever have any requests, dedications, comments and
suggestions we always love to hear from our listeners.
Our e mail address is:
rockitradio@netzero.net

====================================================
To learn more about the Rock-it Radio Listeners Club and our Free
Newsletter please check out:
http://www.rockitradio.net/member.html

It's free and easy to join and the Rock-it Radio Newsletter is always
online at: http://www.rockitradio.net/newsletter.html



====================================================

PLEASE HELP US SPREAD THE GOOD WORD OF ROCK-IT RADIO!

Do you know of someone that might also like the music

of Rock-it Radio? We are desperately trying to keep this

music alive and have been doing so since 1995! Please

share the information of this station. And if you have

a website would you please consider putting a Rock-it Radio

link on your page.

There are a few to choose from in our link page at:

http://www.rockitradio.net/links.html
HOW TO ORDER OLD ROCK-IT RADIO SHOWS = YOUR PURCHASES HELP US STAY ONLINE!!!
We have received many inquiries on how to order Rock-it Radio shows that are no longer in
our on archives webpage. These shows are still available on CD and mailed to you within 24
hours of receiving payment.
To help search for older shows that you may be looking for you may want to check the Rock-it
Radio blog site. Old newsletters describing the shows and playlists
are archived there and there is a menu bar on the right side that breaks down every playlist
Then you may either pay by check or money order or paypal. Rock-it Radio shows are only
$9.50 U.S. each and are studio quality broadcasts that were placed on Compact Disc here at
the Rock-it Radio Studio. We have a flat rate shipping charge of $1.50 U.S. so if you order
one or several -- it is still only $1.50
U.S. shipping. And we ship worldwide, overseas orders are mailed out first class airmail.
Instructions where to send payment is at our webpage:
like we can send you a paypal invoice within 24 hours.

When you order a Rock-it Radio show or shop at our Rock-it Radio Launching Pad you
help keep these oldies alive and help us pay the bills here at Rock-it Radio.
And at the same time -- you are not getting nothing for your donation, but actually
some of the shows and memories we hope we keep alive here at Rock-it Radio.



TOP 20 SELLERS OF THE ROCK-IT RADIO LAUNCHING PAD THIS WEEK

As you know the Rock-it Radio Store sells vintage Radio Broadcasts - Where you
hear the actual music, news and vintage advertisements - uncut and unedited
just like you would of heard
it back then. Here are the top sellers this week.


1. Flashdrive Rock-it Radio Shows 5501 - 5550
2. Flashdrive Rock-it Radio Shows 5401 - 5450
3. RIR #270 - BBC Buddy Holly Tribute from 1965.
4. RIR #642 - Elliot Field - KFWB Los Angeles 1/9/1959
5. Flashdrive Rock-it Radio shows 5551 -5600
6. RIR #393 - John Lennon as DJ on WNEW New York from 1974
7. RIR #284 - Ralph Peabo - KTCR (country) Minneapolis 8/16/1963
8. RIR #176 - Porky Chedwick WAMO Pittsburgh 6/14/1960
9. RIR #387 - Joey Reynolds Beatles Special WKBW Buffalo 2/24/1964
10. RIR #149 - Alan Freed WINS New York City 1/23/1957
11. RIR #267 - Arnie Woo Woo Ginsburg - WMEX Boston 12/12/1965
12. RIR #410 - Dr. Don Rose - KFRC San Francisco 4/4/1974
13. RIR #589 - Jerry Kaye - WING Dayton, Ohio 4/20/1964
14. Flashdrive Rock-it Radio shows #5451 - #5500
15. RIR #398 - Wolfman Jack & Don Imus WNBC New York 1/1/1974
16. RIR #116 - Casey Kasem - KRLA Los Angeles 5/27/1965
17. RIR #181 - Wolfman Jack XERB Tijuana 12/8/1967
18. RIR #317 - Allison Steele - WNEW FM New York 2/11/1969
19. RIR #299 - KHAT Phoenix Drive Home Show (Country) 8/19/1963
20. RIR #396 - Humble Harv KHJ Los Angeles 9/28/1968


If you would like to view these shows in depth you can check out
our Rock-it Radio Ebay Store at:
http://stores.ebay.com/Rock-it-Radio-Store

or in the Rock-it Radio Launching Pad store at:
http://www.rockitradio.net/store.html(listed by date)
and in the upper left hand corner -
there is a search box where you can type in the DJ name or
Station Call letters and that information on that show will pop up.
Ordering from the Ebay store will also qualify you for the Rock-it Radio
giveaway mentioned previously in this newsletter. Sale of
these broadcasts is what keeps Rock-it Radio going and thank
you again to everyone that buys these!

============================================
Rockabilly bands looking for airplay
If you or know someone that would like airplay on Rock-it Radio we invite
you to submit your press kits to Rock-it Radio. Our website for further
information is:
http://www.rockitradio.net/airplay.html
============================================
Come tune into the World on your computer!
1000s of stations around the world now broadcast online. We have a
link to some of the internet top directories to help you find these stations.
http://www.rockitradio.net/internetradio.html
============================================
Rock-it Radio Program Webpage Reminder
Remember, if the show that you want to hear is getting close to the bottom
of the list of radio shows, you should tune in as soon as you can. These shows
to have a high audio quality require a lot of internet bandwidth and memory.
And currently we can only afford the
30
latest shows online here at Rock-it Radio.
So, when a new show is put online it knocks the oldest one off the Rock-it Radio
archives page. Usually a show will at least last 16 to 20 days, once it is placed in
the archives.
============================================
OUR SISTER STATION FIRST NATIONS BROADCASTING.
We invite you to also check out our sister station -- First Nations
Broadcasting. And tune into the rather Cool North of the Yukon and Alaska
with our very own Debbie Snowdove!
============================================
Well that is just about it for this newsletter and playlists of our latest
shows. We hope that you enjoy them.
We will do our best to keep these shows on for at least 14
days and hopefully 21 days.
All the best always,
Bennie Dingo
Rock-it Radio

website: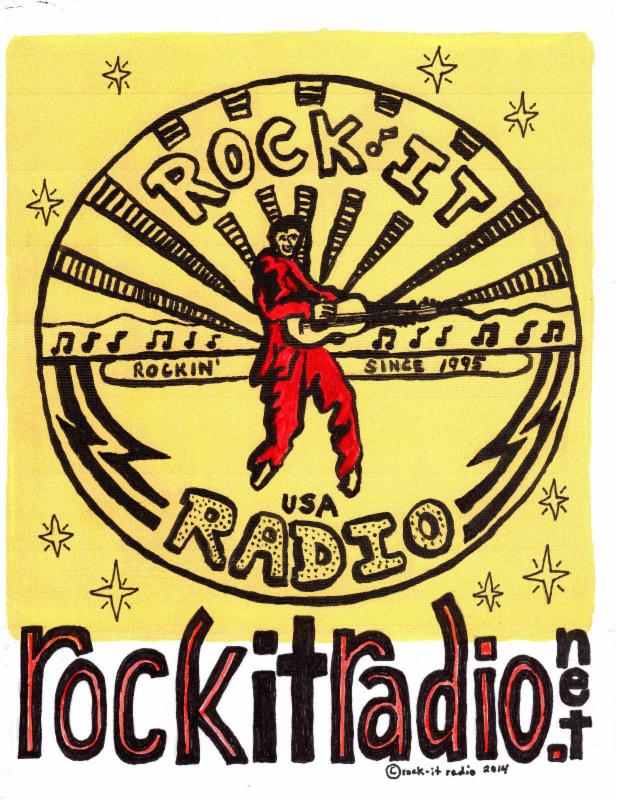 Rock-it Radio main website:
http://www.rockitradio.net

Archived Shows at:
http://www.rockitradio.net/programs.html

Rock-it Radio Vintage Broadcast Store:
(Launching Pad)
http://www.rockitradio.net/store.html