Rock-it Radio since 1995 providing 50s and early 60s Rock and Roll, Doo Wop and Rockabilly music online! Come tune us in at http://www.rockitradio.net We also have several 100 original radio shows from the first decade of Rock and Roll at: http://www.rockitradio.net/store.html
====================================================================
ROCK-IT RADIO NEWSLETTER AND PLAYLIST
SHOWS #5614 TO #5629
FROM
March 17, 2016 to April 1, 2016

Hi Rock-it Radio Listeners,

Well as we say goodbye to March the weather is
finally warming up here though it has been a very
wet March indeed here at the station. March will
also go down as our worse sales month in history to
keep Rock-it Radio operating. We have already sent out
a SOS (Save our Station) a couple of days ago. And thank
you to all those that have responded we will have more
on that later in the newsletter. We do have a large
group of playlists for you in this newsletter! Rock-it
Radio shows #5614 to #5629! 16 shows in all! Plus, being
the First of the Month we have a new drawing for
Rock-it Radio Supporters in March.


So, Let's get started with some playlists!

Our shows can be heard in our archives page at:


http://www.rockitradio.net/programs.html
and click to the speaker on the left to hear the show.

Remember if you are new to Internet Radio and having trouble tuning in though --
Check out our webpage to help you out at:
http://www.rockitradio.net/tunein.html
============================================
REMEMBER YOU CAN ORDER ANY OF THESE ROCK-IT
RADIO SHOWS ON CD!!!! NEW EASIER ORDERING!

Would you like one of these Rock-it Radio shows on CD? To
be able to play anywhere? And help support Rock-it Radio at the same time.
For complete information check out our program
ordering webpage at: http://www.rockitradio.net/order.html

Our shows are of course copies straight from the studio so they are studio
quality and satisfaction is guaranteed.
Or if you would rather receive an invoice let me know and we
can e mail you a copy - Just e mail us the show(s) you would like
to have and the Rock-it # to: rockitradio@netzero.net

==============================================
All Rock-it Radio shows stay online from 18 to 24 days and are
broadcast in MP3 Format. To tune in just click to the speaker
at our program page at:
http://www.rockitradio.net/programs.html

The newest show added replaces the oldest show so if you see a
show near the bottom of the listing - you should listen as soon as
possible.

==============================================
WE COULD USE YOUR SUPPORT

Rock-it Radio is 100% Publicly supported. But when you
donate to the Rock-it Radio Launching Pad - we give you
a vintage broadcast of your choice.
100% of all sales from the Rock-it Radio Store (Launching
Pad) goes back to pay copyright fees, LLC taxes, Internet
and bandwidth costs of Rock-it Radio. Without your support
we would not exist. So. please consider a purchase at:
http://www.rockitradio.net/store.html

===============================================
NOTE: ALL SHOWS BELOW CAN BE FOUND IN OUR
PROGRAM WEBPAGE -
TO TUNE IN CLICK TO SPEAKER OF THE SHOW YOU WANT
TO LISTEN TO. EITHER MP3 OR REAL PLAYER.
BOTH FORMATS ARE SUPPORTED.
AT:
HTTP://WWW.ROCKITRADIO.NET/PROGRAMS.HTML

==============================================
LANE QUIGLEY AND THE MEMORY LANE SHOW ON ROCK-IT
RADIO SHOW #5614

Join host Lane Quigley for a jumpin' hour-plus of great sides
from the Glory Days of the 45 RPM. Guess the mystery artist,
hear interview clips with the backstories behind the music,
and tap your feet to a wonderful assortment of hot platters.
All this and more on The Memory Lane Show.


1. Love Bandit - The Cadets 1957
2. Shake, Rattle & Roll - Elvis Presley 1956
SOUND BITE
3. I Adore Him - The Angels 1963
4. Bad Boy - Larry Williams 1958
5. Women About To Make Me Go Crazy - The Five Royales 1955
SOUND BITE
6. Come On - Chuck Berry 1961
7. Down On My Knees - The Hearrtbeats 1958
8. Don't Get Around Much Anymore - The Belmonts 1961
9. Please Love Me - B.B. King 1953
10. MYSTERY ARTIST (Can you identify the artist??
SOUND BITE
11. Cry Myself To Sleep - Del Shannon 1962
12. My Babe - The Righteous Brothers 1963
13. I Ain't Mad At You Pretty Baby - Gatemouth Moore 1945
14. Can I Come In? - Phil Terrell 1965
SOUND BITE
15. One More Time - Roy Head 1959
16. Love You Madly - The Sherwoods 1964
17. Route 66 - Al Brown & His Tunetoppers 1961
SOUND BITE
18. Gee - The Pixies Three 1964
19. Yama Yama Pretty Mama - Richard Berry 1956
20. That's The Way It's Gonna Be - The Shields 1958
21. Here I Stand - Wade Flemons 1959
SOUND BITE
22. September Song - The Impressions 1964
23. Baby's Gone - Gene Thomas 1963
24. Oh What a Night - The Dells 1956

===============================================
BILLY VERA'S ROCK AND ROLL PARTY WITH TRIBUTE TO
EARLY ROCKIN INSTRUMENTALS ON ROCK-IT RADIO SHOW #5615

This week's Billy Vera's Rock'n'Roll Party featured some
great instrumentals from the 50s and early 60s, a period
when instrumentals were very big. In addition to big tenor
sax hits like Red Prysock's "Handclappin'," Sil Austin's
"Slow Walk" and Lee Allen's "Walking With Mr. Lee," there's
guitar rockers like Link Wray's "Rumble" and "Prancin'"
by Ike Turner. Some were disc jockey themes, like Alan Freed's
"7-11" by the Gone All Stars and his own band's "Right Now,
Right Now" or Dick Clark's "Bandstand Boogie" by Les Elgart.
No words to distract you from all that rockin'!


HOUR 1
1. Jam Up - Tommy Ridgley
2. Bandstand Boogie - Les Elgart
3. Powerhouse Boogie - Vito Musso
4. Cloudburst - Claude Cloud & His Thunderclaps
5. Hawaiian Boogie - Elmore James
6. Juke - Little Walter
7. Handclappin' - Red Prysock
8. The Rocket - Jesse Stone
9. Doot Doot Dow - Buddy Johnson
10. The Big Wheel - Clifton Chenier
11. Driving Home (Part 2) - Charles Walker
12. Rockin' at the Philharmonic - Chuck Berry
13. Thunderbird - Hal Paige
14. Flyin' Home - Joe Houston
15. Right Now Right Now - The Alan Freed Big Band
16. Jivin' Around - Ernie Freeman Combo
17. Move Over - Jimmy Wright
18. Slow Walk - Sil Austin
19. Walkin' With Mr. Lee - Lee Allen

HOUR TWO
20. Nervous Boogie - Paul Gayten
21. Let It Roll - Earl Knight & George Kelly
22. Weekend - The Kingsmen (aka The Comets)
23. 7-11 - The Gone All Stars
24. Hard Times (The Slop) - Noble Watts
25. Shindig - Bill Doggett
26. Atomic Blues - Fender Guitar Slim
27. Hard Times - David "Fathead" Newman with Ray Charles Band
28. Rumble - Link Wray
29. Poor Boy - The Royaltones
30. Tall Cool One - The Wailers
31. Flamingo Express - The Royaltones
32. Prancin' - Ike Turner & His Kings of Rhythm

===============================================
OTTO FUCHS AND THE ROCKIN THE JOINT SHOW WITH
TRADITIONAL COUNTRY MUSIC ON SHOW #5616

For the latest Rockin' The Joint Show, DJ & Host Otto Fuchs
has selected Rock & Roll singers such as Bill Haley,
Jerry Lee Lewis, Carl Perkins and Elvis Presley with some
of their Country music recordings. Some early Rock & Roll
Pioneers had bigger careers in Country Music, than with
their classic Rockabilly or Rock & Roll recordings, including
Johnny Cash and Jerry Lee Lewis. Enjoy an Oldies Country
Special with some well and lesser known Rockabilly and
Rock & Roll Stars, and their approach to Country Music!

1. Dance Around The Clock - Bill Haley & The Comets
2. Lincoln Limousine - Jerry Lee Lewis
3. Cat's In The Cradle - Johnny Cash
4. Country Soul - Carl Perkins
5. Don´t Worry Daddy - Rayburn Anthony
6. Jambalaya - Mike Berry & The Crickets
7. Country Tough - Ersel Hickey
8. Don't Think Twice It's Alright - Heinz
9. A Girl Don't Have To Drink To Have Fun - Wanda Jackson
10. Another Place Another Time - Jerry Lee Lewis
11. Are You Really Real â€" Rick Nelson & The Stone Canyon Band
12. She Thinks I Still Care - Elvis Presley
13. That Old Wheel - Johnny Cash with Hank Williams Jr
14. Distant Drums - Gene Vincent
15. Sail Away - Ray Smith
16. Rollin' In My Sweet Baby's Arms - Sleepy LaBeef
17. Honky Tonk In Your Heart - Marvin Rainwater
18. Bigger Than Texas - Tommy Sands
19. In The Middle Of A Heartache - Wanda Jackson
20. Bye Bye Love - Webb Pierce
21. Rockin' Alone - The Everly Brothers
22. Mean Woman Blues - Roy Orbison
23. I Can't Stop Loving You - Roy Orbison
24. King Of The Country Sound - Johnny Stark aka Johnny Apollo

===============================================
COOL BOBBY B AND THE DOO WOP STOP ON ROCK-IT RADIO
SHOW #5617

Cool Bobby B is back in this newsletter with another
3 hour extavaganza of Doo Wop Rock and Roll from the
first decade of Rock nad Roll! Here is the playlist
of what you will hear when you select his show in our
program page.

Hour #1

1. Rockin' with the clock - Shirley and Lee
2. While Walking - the Fabulaires
3. Shangri La - the Parakeets
4. Hang up my rock and roll shoes - Chuck Willis
5. I love you - The Volumes
6. This I swear - The Skyliners
7. Two People in the world - The Imperials
8. After you - Johnny McKay
9. Solitaire - The Embers
10. Our love will be - The Alladins
11. Lovers never say Goodbye - The Tymes
12. It Ain't Nuttin' - Little Isidore & Inquisitors
13. Feelin' No Pain - Del Satins
14. Morse Code of Love - Manhattan Transfer
15. Crazy Eyes for you - Bobby Hamilton
16. Crazy Eyes for you - Jimmy Wilde
17. Shimmy Shimmy Ko Ko Bop - Little Anthony & Imperials
18. Take me back - Little Anthony & Imperials
19. The Search is over - Imaginations

Hour #2

20. Tra la la - The Majors
21. Since I don't have you - The Skyliners
22. Love Came to me - Dion
23. Dottie - Danny & Juniors
24. I'm so young - The Students
25. My vow to you - The Students
26. Every day of the week - The Students
27. Just to make you mine - Carol Cummings
28. There goes my baby - The Drifters
29. Sincerely - The Moonglows
30. In the still of the night - 5 Satins
31. The Duchess of Earl - Bobbie Smith & Dream Girls
32. Forever in Love - Lola & Saints
33. Doo Wop Lullabies - Lola & Saints
34. Doo Wop World - Richie Rosato
35. Music Music Music - Yvonne
36. The way you look tonight - The Jaguars
37. Remember me baby - The Earls
38. Do you love me - The Edsels

Hour #3

39. 11th hour melody - the Rivieras
40. Moonlight Cocktails - The Rivieras
41. I do - Johnny Maestro & Crests
42. My own true love - The Duprees
43. What in the world's come over you - Jack Scott
44. Don't bet money honey - Linda Scott
45. your other love - The Flamingos
46. Hey Little Angels - The Mascots
47. Winner Take All - the Platters
48. Oh Rose Marie - The Fascinators
49. Please remember my heart - the Solitaires
50. She's a troublemaker - The Majors
51. Heartache - The Marcels
52. Pizza Pie - Norman Fox & Robroys
53. Looking for an echo - Kenny Vance & Planotones
54. Triangle - Janie Grant
55. Baby oh Baby - The Shells
56. What's in an Angels eyes - The Shells
57. Goodnight baby - The Imaginations

===============================================
PETE CHASTON'S DOO WOP SHOW ON ROCK-IT RADIO
SHOW #5618

The Doo Wop Meteorologist DJ Pete Chaston is back
this week with another Doo Wop 50s and early 60s
Rock Show here exclusively from Rock-it Radio.
Group Harmony Doo Wop Rock and Roll is still alive
and here is Pete to prove it! Here is the playlist.

1. Doo-Wop All Night Long-The Blue Emotions (opening theme song) (1982)
2. Zip-Boom-The Supremes (1956)
3. Kathleen-The Adelphis (1958)
4. Tonight Kathleen-The Valentines (1954)
5. Tonight (Could Be the Night)-Tommy & The Saints (xxxx)
6. Gee-The Crows (1954)
7. Hearts of Stone-The Jewels (1955)
8. I Wonder Why-Dion & The Belmonts (1958)
9. Lovely, Wonderful, Beautiful-The Kartels (1957)
10. Oh, My Love-Li'l June & The Januarys (1959)

SILLY SONG SEGMENT:

11. Gitarzan-Ray Stevens (xxxx)
12. Cocktails for Two-Spike Jones (xxxx)

SCRATCHY 45 RPMs SEGMENT:

13. Baby Blue-The Echoes (1961)
14. Maybe You'll be There-Billy & The Essentials (1963)
15. Love Call-The Ebonaires (1958 or '59)
16. I Only Want You-The Passions (1959)

BACK TO THE CDs &/or More 45 RPMs:

17. She's Got It-Little Richard (1956)
18. Why Do You Pretend-The Mystics (1982)
19. Don't Run Away-Nino & The Ebb Tides (1961)
20. Fine Fine Baby-The Romeos (1957)

SLOW SONG SEGMENT:

21. The Wind-The Jesters (1960)
22. Twilight-The Paragons (1958)
23. Lonely Room-Lee Andrews & The Hearts (1955)
24. Can't Help Loving That Girl of Mine-The Hide-A-Ways (1954)
25. High on a Hill-Scott English & The Accents (1964)
26. How Did Your Vacation Go-Bobby Paris & The Parisians (1961)

27. (closing theme song) Adios-The Five Discs (1961)

===============================================
ROCKIN DADDY O'S ROCKABILLY RANCH PARTY ON
ROCK-IT RADIO SHOW #5619

The Daddy O is back this week playing some music
from the hottest Rockabilly bands out there today!
And some great rockin' oldies as well.
In the month of April we will be giving away the
entire month a program of great rockin' instrumentals
for those that support Rock-it Radio. More on that
further down in the newsletter for now, check out
the playlist for this show!

1. Thunder-Bob Taylor & Counts
2. Parabellum-Stompin' RiffRaffs
3. Intoxica-Revels
4. Wicked-Rudy Dozier
5. Rip It, Rip It Up-Florian Monday & His Mondos
6. Rock & Roll Guitar-Johnny Knight
7. When I'm With You-Screamin' Rebel Angels
8. Sadie's Back In Town-Sonny Burgess & Pacers
9. Big Boy Rock-Slim Dortch
10. Lucky Day-Rhythm Rockers
11. The Mr. Custer Stomp-Scouts
12. More Feathers-Fading Tribesmen
13. Roots Man-Levi Dexter
14. Kool Kat-Bill Sherrell & Dell Tones
15. Cool Baby-Lee Cole & Beau Jesters
16. A Little Clock Rock-Roundup Boys
17. Downtown Saturday Night-Rockats
18. Tommy Gun-TJ Mayes
19. Put You Down-Will & The Hi-Rollers
20. Kitty Kitty-Floyd Dakil Four
21. Shot Rod-Conny & The Bellhops
22. Fish Out Of Water-Ronnie Dawson
23. Not Fade Away-Crickets

===============================================
MATT THE CAT AND THE JUKE IN THE BACK SHOW WITH
PT. 1 JUKEBOX RHYTHM REVIEW 1946 IN ROCK-IT
RADIO SHOW #5620

1946: Jukebox Rhythm Review, Pt. 1

The Juke in the Back once again puts our old Rockola Jukebox
in the forefront as we spotlight the biggest Rhythm & Blues jukebox
hits of 1946. In part 1, we'll focus on the first half of the year,
featuring Wynonie Harris' first hit as a solo artist and bandleader
with Illinois Jacquet's group backing him up. Louis Jordan scores 2 #1s
during the first half of the year, while Lionel Hampton holds to top
spot for 16 non-consecutive weeks. The Ink Spots score the
biggest record of the year with 'The Gypsy' which actually sold
more copies to Pop audiences and remained #1 on the Pop Chart
for an impressive 13 weeks. Roy Milton, Billy Eckstine,
The King Cole Trio and The Blues Woman all make appearance
on this week's show. Next week, we'll dig in on the second
half of the hugely musically significant year of 1946.

1. Swanee River Boogie - Albert Ammons â€" Mercury 1947
2. Wynonie's Blues - Wynonie Harris w/ Illinois Jacquet & His All-Stars â€" Apollo 1946
3. Buzz Me - Louis Jordan & His Tympany Five â€" Decca 1946
4. Just A-Sittin' and A-Rockin' - Delta Rhythm Boys â€" Decca 1946
5. The Honeydripper - Cab Calloway & His Orch â€" Columbia 1946
6. Got A Right To Cry - Joe Liggins & His Honeydrippers â€" Exclusive 1946
7. Drifting Blues - Johnny Moore's Three Blazers â€" Philo 1946
8. Voo-It! Voo-It! - The Blues Woman â€" Juke Box 1946
9. Hey! Ba-Ba-Re-Bop - Lionel Hampton & His Orch. â€" Decca 1946
10. Don't Worry 'Bout The Mule - Louis Jordan & His Typany Five â€" Decca 1946
11. R. M. Blues - Roy Milton & His Solid Senders â€" Juke Box 1946
12. Prisoner Of Love - Billy Eckstine & His Orch. â€" National 1946
13. GREAT 78* Cement Mixer (Put-Ti-Put-Ti) - Slim Gaillard Trio â€" Cadet 1946
14. Cover The Waterfront Cats N Jammer Three â€" Mercury 1946
15. (Get Your Kicks On) Route 66 - The King Cole Trio â€" Capitol 1946
16. The Gypsy - The Ink Spots Decca 1946
17. After Hours - Erskine Hawkins â€" Bluebird 1946

===============================================
DAVE THE RAVE AND THE RELICS AND RARITES SHOW
ON ROCK-IT RADIO SHOW #5621

Do you love the rarities of 60s Rock and Roll?
Then this is the show to tune into! Dave features
forgotten or lost or strayed releases of 60s Rock
& Roll. From Psychadellic to Bubble Gum to just good
old Rock and Roll !!!
you will find it here! Here is this shows playlist on
Rock-it Radio.

Hour #1

(e mail error - could not receive playlist at time of newsletter)

Hour #2

1. Oasis Pt 1 - Majestics
2. Let The Good Times Roll - Bunny Sigler
3. Farmer John - Idle Few
4. A Little Love - Don and Dewey
5. I've Never Seen Love Like This - Orpheus
6. Would You Believe - Tempests
7. With A Girl Like You - Troggs
8. She's Got You - Zakary Thaks
9. Nasty - Richard and the Young Lions
10. In My Corner - Ray Algere
11. Dance, Dance, Dance - Tommy Duncan
12. I Can't Stop Dancing - Archie Bell and the Drells
13. Little Archie - Billy and the Ar-Kets
14. Back On My Feet Again - Foundations
15. Quit While I'm Ahead - Lonzine Cannon
16. She's In Love - Jynx Pack
17. She's A Rainbow - Rolling Stones
18. I Love The Boy Who Lives Next Door - Lockettes (Discovery of Week)
19. Steal Away - Jimmy Hughes
20. Caterpillar Crawler - Strangers

===============================================
TED LOUKES AND THE ROCKABILLY RHYTHM SHOW ON
ROCK-IT RADIO SHOW #5622

From the Republic of South Africa it's Rock-it
Radio DJ Ted Loukes and some great sounding early
Rockabilly on the Rockabilly Rhythm Show.
Another slice of 50s and early 60s rockin' tracks
from the well known and not so well known, including
a great 1958 version of Gene Summer's Straight Skirt
by New Zealander Johnny Devlin

01 Rockabilly Rhythm Intro
02 Rocket 88 - Bill Haley And The Saddlemen - 1951
03 Crawdad Hole - Milt Forrester ?
04 Meaner Than An Alligator - Ty B & Johnny 1964
05 Gotta Rock - Dale Davis 1958
06 Why Don't You - Charlie Feathers 1958
07 Baby Let's Play House - Curtis Johnson 1956
08 Straight Skirt - Johnny Devlin 1958
09 I Don't Dig It - Mike Mcalister 1958
10 Speedway Rock - Jerry Woodard 1961
11 Everybody's Rockin' - Billy Prager & His Caravans 1958
12 Shook Shake (Like A Big Mixed Cake) - Ken Davis 1958
13 Cool Tom Cat - Bill Carter 1960
14 That's All Right - Carl Canida & The Flames 1959
15 Dance To The Bop - Gene Rambo & The Flames 1959
16 Jumps, Giggles and Shouts - Gene Vincent & His Blue Caps 1956
17 Gone Baby Gone - Ray Smith 1956
18 Big Door - Gene Brown 1958
19 You Can't Make Love to Somebody - Carl Perkins 1955
20 Blue Moon of Kentucky - Elvis Presley 1954
21 Fancy Dan - Gene Summers 1958
22 I'm Gonna Rock - Travis Wammack ?
23 All Messed Up - Jess Hooper 1955
24 I'm Long Gone - Carl Belew 1956
25 Shake Shake - Blue Tones 1957
26 Oh Baby Dance With Me - Gene Stewart 1958
27 Everybody's Rockin Tonight - Ray Coleman ?

===============================================
JAMES RILEY AND THE ROCKABILLY AND BLUES SHOW ON
ROCK-IT RADIO SHOW #5623

Jammin James Riley is back with the Rockabilly and
Blues Show on Rock-it Radio -

Rockabilly N Blues Radio Hour #1:

Jimmy Vivino is our guest for part 2 of our interview.
We talk more about Johnnie Johnson, Chuck Berry, his solo
13 Live project, playing with Lee Rocker, Scotty Moore
stories, Elvis request and more! We also hear tunes from
Dick Dale, Deke Dickerson, Diablogato, Carolina &
Her Rhythm Rockers and Twisted Rod!

1. Night Rider- Dick Dale
2. My Eyes On You- Deke Dickerson (with Duane Eddy)
3. Bye Bye Johnny/Carol- Johnnie Johnson (with Jimmy Vivino)
4. Too Much Monkey Business- Chuck Berry
5. Heaven In A Pontiac- Jimmy Vivino & The Black Italians
6. Slap That Bass- Lee Rocker
7. Dance My Blues Away- Charlie Gracie
8. That's All Right- Elvis Presley
9. Stood Up- Ricky Nelson
10. Too Much- Elvis Presley
11. She Just Wants To Rock N Roll- Diablogato
12. By My Side- Carolina & Her Rhythm Rockets
13. Trapped Love- Twisted Rod


Rockabilly N Blues Radio Hour #2:
Jack Torrey & Page Burkum from The Cactus Blossoms join us this show.
We chat about JD McPherson co-producing their debut album for
Red House Records, touring with Nick Lowe & Los Straitjackets and
lots more! Plus, we get new tunes from Hillbilly Moon Explosion,
Veloninos, Frantic Rockers and rockers from Reach Around Rodeo
Clowns, Frank Deaton & The Mad Lads, Sandy & The Wild Wombats
and Rockpile!

1. Satisfy My Soul- Frantic Rockers
2. Boomerang- Reach Around Rodeo Clowns
3. Don't Let Go- Frank Deaton & The Mad Lads
4. Red Diesel Medicine- Veloninos
5. You're Dreaming- Cactus Blossoms
6. Stoplight Kisses- Cactus Blossoms
7. No More Crying The Blues- Cactus Blossoms
8. Clown Collector- Cactus Blossoms
9. Change Your Ways Or Die- Cactus Blossoms
10. Mississippi- Cactus Blossoms
11. Everybody's Trying To Be My Baby- Carl Perkins
12. Dearest Darling- Bo Diddley
13. Desperation- Hillbilly Moon Explosion
14. Wild One- Sandy & The Wild Wombats
15. Crawling From The Wreckage- Rockpile

===============================================
JACK VAN OERS ROCKIN' WINDMILL ROCKABILLY SHOW
FROM THE NETHERLANDS ON ROCK-IT RADIO #5624

From the land of windmills, dykes, canals, cheese, tulips,
cows and wooden shoes here is another dynamic
Rockin' Windmill Show. Host Jack van Oers plays music from
Belgium, Finland, Canada, The Netherlands, The UK, the USA
and Germany - so, just turn up the volume, move your feet
and let today be a great big day.


1. It's a great big day - Derrell Felts - 1959
2. Old man trouble - Moustache - 1979
3. Itty bitty Betty - Darry Weaver - 1959
4. Walkin' out - Dwight James & the Rocking Knights - 1961
5. Multiplication - Eddy and the Crazy Jets - 1995
6. Queen of hearts - Buzz Campbell & Hot Rod Lincoln - 2006
7. California blue - Ricky King - 1997
8. Rock house - Roy Orbison - 1956
9. That's rock & roll - Johnny Rivers - 1958
10. Tornado - Ronnie Nightingale & the Haydocks - 2001
11. When sin stops - Waylon Jennings - 1959
12. Everybody is trying to be my baby - Carl Perkins - 1957
13. Everybody is trying to be my baby - The Beatles - 1964
14. Plain Jane - Bobby Darin - 1959
15. Dee Dee - Narvel Felts - 1967
16. Little Suzie - Clarence "Frogman" Henry - 1961
17. Love is not a lie - The King Drapes - 2000
18. Should we tell him - The Everly Brothers - 1958
19. Snaggle tooth Ann - Gene Norman - 1959
20. Crazy heart - The Lennerockers - 1991
21. Deep elm blues - JW German - ?
22. Boogie bop dame - Crepes 'n' Drapes - 1978
23. Say so - Mac Curtis - 1992
24. Please don't drag that string around - Elvis Presley - 1963
25. Frightened city - The Shadows - 1961

===============================================
JACKIE BOND AND LET THE GOOD TIMES ROLL OLDIES
SHOW ON ROCK-IT RADIO SHOW #5625

From the UK Jackie is back with another rockin' set
of 50s and early 60s Rockers that are sure to keep
your feet stompin! Here is the playlist of his
show.

1. Patty Baby - Freddy Cannon
2. Give Our Love A Chance - Ada Ray
3. Hey Scooter - Andy Rose And The Thorns
4. Don't,Don't Drop Out - Ronnie And The Schoolmates
5. Tonight I Met An Angel - The Tokens
6. Miss You Miss Belinda - The Refreshments
7. Smooch Pooch - Honey Lane
8. Bop Bop Bu - The Dappers
9. Where Were You - The Wheels
10. One Great Love - The Five Keys
11. Well Goodbye Baby - Frankie Lee Sims
12. Green Mosquito - The Tune Rockers
13. Mother Goose Twist - Oliver And The Twisters
14. Cherry Lips - The Robins
15. A Casual Look - The Six Teens
16. Hey Rosalie - Micke Muster
17. Natalie - The Refreshments
18. You Left The Water Running - Barbara Lynn
19. Circle Rock - Lloyd Copas
20. Fat Girl Boogie - Rob Rio
21. Kickin' Up The Dust - Jackson Sloan And The Rhythmtones
22. This Time - Tro Shondell
23. Good Night My Love - Jesse Belvino

===============================================
AL COOL DADDY SMITH WITH PT. 2 RISQUE R&B AND ROCK
& ROLL RELEASES ON ROCK-IT RADIO SHOW #5626

From Studio C in Brampton, Ontario Canada the Cool
Daddy is back with Part II of the Risque early
Rock and R&B Special on Rock-it Radio. A lot of
double entendres are present in this show you can
let your mind wander .... here is the playlist.

1.) One Night Of Sin-Elvis Presley 1957
2.) Keep On Churnin'-Wynonie Harris 1952
3.) Fever-Peggy Lee 1958
4.) Jet Propelled Papa-Helen Humes 1947
5.) (I Can't Get No) Satisfaction-The Rolling Stones 1965
6.) Hoochie Coochie Man-Muddy Waters 1954
7.) King Size Papa-Julia Lee 1948
8.) Mountain Oysters-Eddie "Lockjaw" Davis and Bill Doggett 1949
9.) Lead Pencil Blues-Johnnie Temple 1935
10). House Of The Rising Sun-The Animals 1965
11.) Walk Right In, Walk Right Out-Fluffy Hunter and The Jesse Powell Orchestra 1952
12.) One Mint Julep-The Clovers 1952
13.) Ticket To Ride-The Beatles 1965
14.) Cross Cut Saw-Otis Rush 1975
15.) Dec. 1963 (Oh What A Night)-The Four Seasons 1975
16.) Sexy Ways-Hank Ballard and The Midnighters 1953
17.) I Wanna Be Your Underwear-Bryan Adams 1996
18.) Lollipop Mama-Roy Brown 1947
19.) Love To Love You Baby-Donna Summer 1976

================================================
COOL BOBBY B AND THE DOO WOP STOP ON ROCK-IT RADIO
SHOW #5627

Cool Bobby B is back in this newsletter with another
3 hour extavaganza of Doo Wop Rock and Roll from the
first decade of Rock nad Roll! Here is the playlist
of what you will hear when you select his show in our
program page.

Hour #1

1. Rockin' with the clock - Shirley and Lee
2. Nobody loves me like you do - The Flamingos
3. I only want you - The Passions
4. Penny Arcade - Bobby Lester & Moonglows
5. Two People in the world - The Imperials
6. Yesterday once more - The Belmonts
7. Without Love - Kid Kyle
8. here Am I - 4 Js
9. Be my girl - Four Evers
10. I love you - The Volumes
11. Chapel of Tears - Lonny & Carollons
12. I'm so young - The Students
13. Heartaches - The Marcels
14. Rainy Day Bells - Globetrotters
15. Lavender Blue - Sammy Turner
16. Who do you love - Philly Cuzz
17. Little Star - Dion & Belmonts
18. tonight Tonight - Dion & Del Satins
19. Drinkin Wine Spo dee o dee - Larry Dale

Hour #2

20. Sincerely - The Moonglows
21. Night Owl - Tony Allen
22. Your Way - Heartbeats
23. Without a friend - The Strangers
24. Darling Lorraine - The Knockouts
25. Ginny - The Duprees
26. Lorraine - The Bonnevilles
27. Please give me a chance - Bobby Starr
28. Teen Angel - Dion & Belmonts
29. For Sentimental Reasons - The Cleftones
30. Just a memory - The Paragons
31. bells of Rosa Rita - The Admirations
32. Cruise to the moon - The Chaperones
33. Story Untold - The Nutmegs
34. This is my love - The Passions
35. Hushabye - The Mystics
36. I need your love - Bobby Woods & Emeralds
37. Love her so - The Corvairs
38. Who put the bomp - Barry Mann

Hour #3

39. 11th hour melody - The Rivieras
40. Moonlight Cocktails - The Rivieras
41. The Clock - The Contenders
42. I believe - The Earls
43. Book of songs - Ly Dells
44. The Reason - 5 Channels
46. (Say I love you) Doo Bee Dum - Four Evers
47. Oh baby don't - The Heartbeats
48. Time Was - The Flamingos
49. Last night I dreamed - The Fiestas
50. Stop that wedding - Gold Bugs
51. The only one I love - The Miracles
52. That was the time - 5 Discs
53. I'm ready to go steady - Little Eddie & Excellents
54. Wait til my Bobby gets home - Darlene Love
55. Don't be a fool - The Explorers
56. My Prayer - The Platters
57. Goodbye to love - The Chantels
58. Goodnight Baby - The Imaginations


===============================================
FLASHBACK: RICK WARD'S OLDIES SHOW ON ROCK-IT
RADIO SHOW #5628 ON ROCK-IT RADIO.

Another Best of Broadcast as we dig deep into the
Rock-it Radio Archives as we hold nearly all 5500+
Radio Shows of Rock-it Radio. Rick Ward besides
being producer for Wolfman Jack, Was a Icon DJ himself
in Southern California and beyond. We were blessed
to have him here at Rock-it Radio and we dug out
this show from 2008. If you didn't catch him then you
can now from tuning into Show #5628 on Rock-it Radio's
Program page. Sorry No playlist is available.

===============================================
ABC'S OF ROCKABILLY ON MIKE TAYLOR'S ROCKABILLY
HOUR ON ROCK-IT RADIO SHOW #5629

From his studio in Branson, Missouri Mike Taylor
is back for the Rock-it this week. The ABC's of
Rockabilly -- Okay, guys and gals, spring break is
over -- so it's back to the classroom as we explore the
ABC's of rockabilly with 26 rockin' tunes!

1. I Love Ya Honey - Jimmy Apostle & The Willows 1961 (Power)
2. Folding Money- Carl Belew Unissued (Decca)
3. Get Ready Baby - Duddley Callicutt & The "Go" Boys 1959 (DC)
4. Green Front Boogie - The Del-Tones 1959 (Peach)
5. War Chant Boogie - Johnny Elmore & The Silver-Tones 1959 (Jar)
6. Little Bitty Mama - Webb Foley 1957 (Emerald)
7. Pick Up Your Hammer - Larry Good 1960 (R)
8. You Arouse My Curiosity - Dennis Herrold Unissued (Imperial)
9. Goin' Wild - Jimmy Isle & The Southlanders 1958 (Roulette)
10. Baby Do - Johnny And The Jays 1960 (Fairbanks)
11. Hey Pretty Mama - Ked Killen & His Western Band Unissued
12. Speed Limit - Tommy Lam 1959 (Nabor)
13. Guitar Rock And Roll - Joe Maphis 1956 (Columbia)
14. Hot Dog - Betty Nickell And The Rockets 1960 (Abbott)
15. Be My Baby - David Orrell 1958 (Felsted)
16. Night Train - Ken Patrick 1961 (Maken)
17. Slow Down Sandy - Eddie Quinteros 1960 (Brent)
18. All Alone At Night - Chuck Rivers 1960 (Cenla)
19. Honey Honey - Leon Smith 1960 (Wilhamette)
20. The P.T.A. Rock And Roll - Mitchell Torok 1959 (Decca)
21. Gonna Be Better Times - Al Urban 1958 (Sarg)
22. Love In Be Bop Time - Nick Venet 1958 (Imperial)
23. Shape Up - Otis White And The Hillrockers 1959 (Gala)
24. X-15 - Johnny Bond 1960 (Republic)
25. Oh Daddy - The Young Lions 1958 (Tampa)
26. Sapphire - Danny Zella And The Laredos 1959 (Dial)



==============================================
All the Rock-it Radio shows are available on CD

Each show is only $9.50 each and you can order
in bulk and shipping will never be more then $2.00.
Ask for a secure paypal invoice -- information is at:
http://www.rockitradio.net/order.html

==============================================

100'S OF VINTAGE ROCK AND ROLL VIDEOS ON FILE IN
OUR VIDEO SITE AT ROCK-IT RADIO:
CHECK IT OUT AT:

HTTP://WWW.ROCKITRADIO.NET/VIDEO.HTML

==============================================
COME JOIN US ON FACEBOOK !!! WE WOULD LOVE A
LIKE FROM YOU!

http://www.facebook.com/rockitface
The Rock-it Radio Facebook Site.

==============================================
HISTORY OF ROCK-IT RADIO

If you are new to Rock-it Radio and would like to learn more --
We have our History Page up as well -- telling the story of Rock-it
Radio. You can find it at:
http://www.rockitradio.net/history.html

===============================================

MARCH END OF THE MONTH DRAWING OF WINNERS
ANNOUNCED FOR LAUNCHING PAD SUPPORTERS
At the end of every month on Rock-it Radio we have a
random drawing for those that have supported Rock-it
Radio by purchasing either Rock-it Radio shows through the
either the Rock-it Radio Launching pad at:
Or by going and ordering Rock-it Radio shows at:
The MARCH 2016 Winners this month are:
Dan Taylor - New Canaan, Connecticut USA
Marty Friedman - Tokyo, Japan
David Kerr - Cream Ridge, New Jersey USA
SUPER MEGA WINNER - WINNER OF 10 SHOW
OF THEIR CHOICE !!!!!!!!

Roger Pithers - Bloomington, Minnesota USA

Each of you have won your choice of 3 vintage
Rock Radio programs (The Super Mega winner won 10!)
from our online store at:

or you can order Rock-it Radio Shows if you prefer on CD

You have until April 30, 2016
to let us write back and let
us know of your choices.
Congratulations and let me know what you would like to
have along with a mailing address and we will got those
items out to you. Just our way of saying Thank you for helping
support Rock-it Radio. And of course we will have October drawings
as well at the first week of next month.
NOTE: You should keep on checking this notice board
or join the Launching Pad Facebook site at:
And of course we will be having another drawing at the
end of this month.
FREE ROCKIN DADDY O SHOW CD TO THOSE THAT PURCHASE
FROM ROCK-IT RADIO IN APRIL. ROCKINEST INSTRUMENTALS!

Rock-it Radio continues to giveaway CD's for APRIL
for orders received this entire month. This month's
giveaway comes from Rockin' Daddy O host of the Rockabilly
Ranch Party and the Atomic Doo Wop Dance Party.
This show features some rare and greatest Rockin Instrumentals.
But you will only be able to receive and hear this
show by on this CD that you will receive with your order
in the month of April.

All you have to do is support and order something
from Rock-it Radio at the following sites.

All you have to do is support and order something
from Rock-it Radio at the following sites.

You can find our Ebay Store at:
http://stores.ebay.com/Rock-it-Radio-Store

Or the Rock-it Radio Launching Pad at:
http://www.rockitradio.net/store.html

Rock-it Radio T Shirts at:
http://www.rockitradio.net/tshirt.html

Order a Rock-it Radio Show - instructions at:
http://www.rockitradio.net/order.html

Rock-it Radio Flashdrive featuring 50 of it's shows.
http://www.rockitradio.net/flashdrive.html


1. After School Rock-Pancho Villa Orch
2. Back Street-Rusty Bryant & Carolyn Club Band
3. Hot Rod-Hal Singer
4. Real Gone-Sam (The Man) Taylor
5. Rock 'n' Roll Boogie-Alan Freed Orch
6. Right Now, Right Now-Alan Freed Orch
7. The Slop-Noble (Thin Man) Watts
8. The Whip-Gil Bernal
9. Hand Clappin'-Red Prysock
10. Heavy Sugar-Lloyd Lambert
11. Big Heavy-Cozy Eggleston
12. The Blast-Rusty Isabell
13. Camel Walk (Part One0-Saxons
14. Apache-Chiefs
15. Firewater-Rusty Isabell
16. Drum City Part 1-Gary Webb
17. Gismo-Jimmy Heap & Orch
18. Drums A-Go-Go-Hollywood Persuaders
19. Houdini-Gardenias
20. Jungle Safari-Noc-A-Bouts
21. Jaguar-Jaguars
22. Dynamite-Clee-Shays
23. Four On The Floor-Rangers
24. Don't Call Me Flyface-Reekers
25. Rockin' Rebel-Strangers
26. Scorpion-Carnations
27. Spunky Onions-Billy Davis & Legends
28. Twitchy-Rene Hall's Orch
29. Hey There-Red Prysock
==============================================
TWO NEW VINTAGE RADIO SHOWS ARE ADDED TO THE
EBAY STORE AND THE LAUNCHING PAD OF ROCK-IT RADIO.

We have added two more vintage Rock Radio Broadcasts
in the Rock-it Radio Launching Pad, our mail order
catalog and our Ebay Store...

#1 Catalog RIR #643 - DJ Ted Quillin on KRLA Los Angeles
from 10/31/1981. Former Rock-it Radio DJ the Late Ted
Quillin returns on a special 20 year reunion show playing
the songs he did back in 1961 for KRLA and talking of his
experiences.
http://www.ebay.com/itm/131737461774

#2 Catalog RIR #644 - DJ Dan Ingram from WABC New York City
from 6/12/1964. The Summer of '64 with one of New York's favorite
DJ's spinning the hits.
http://www.ebay.com/itm/141914472858

These shows are also listed in the Rock-it Radio Launching
Pad at: http://www.rockitradio.net/store.html

================================================
NEW FLASHDRIVE RELEASE OF OUR 50 LATEST SHOWS ON MP3.We have just released our 4th flashdrive featuring
Rock-it Radio shows #5551 to #5600. Over 70 hours
of oldies Rock and Roll. To order these shows on
CD would be $9.50 per show. So quite a savings and
much more oldies music and choices with 50 shows and
70 hours of oldies for $39.95. You can view the selection
in our flashdrive page at http://www.rockitradio.net/flashdrive.html
or you can view it in our Ebay store as:
http://www.ebay.com/itm/141918878892
100% of all sales of these flashdrives goes to keeping
Rock-it Radio online and Rockin'!!!!

================================================
EBAY DOWNGRADES ROCK-IT RADIO E BAY STORE

Due to lack of sales from our Ebay site at:
http://stores.ebay.com/Rock-it-Radio-Store
(We must maintain a $1000 a month in sales)
We have been downgraded from a Anchor Store to
a Basic Store. Making it so that Rock-it Radio
cannot receive a 20% discount in our listings.


================================================
RECRUITING FOR RADIO PERSONALITIES FOR
ROCK-IT RADIO

Do you know your 50s and 60s Rock & Roll, Doo wop
or Rockabilly? And the ability to produce a show
on CD?
We do require a playlist for this newsletter but
your show will stay online for the world for approx.
3 weeks. Unlike some stations where you broadcast one
time and it's gone forever.
If interested check out our Rock-it Radio Team page
at: http://www.rockitradio.net/team.html

We are also looking for writers and translators!
==================================================
3RD ROCK-IT RADIO FLASHDRIVE IS NOW RELEASED FOR
SALE - FOR ROCK-IT SHOWS #5501 TO #5550

New Release!!!! Rock-it Radio Shows #5501 to #5550 on Flash
drive MP3 - 70 hours of 50s and 60s Rock and Roll now on
Flashdrive. Just plug into your usb port in your pc or if your
mp3 player has it in that usb port select and you will have
50 Rock-it Radio shows at your disposal.
In our Ebay listing at:
http://cgi.ebay.com/ws/eBayISAPI.dll?ViewItem&item=141878689592

or the new Rock-it Radio Flashdrive Site listing all available at:
http://www.rockitradio.net/flashdrive.html

It really is a great savings from our CD's that
we sell for $9.50 each could add up to $475 for 50 shows.
We are offering the flashdrive to slash that amount to just
$39.95.
==================================================
3 New Re introductions of lost broadcasts

We are re listing 3 shows that have not been in our Ebay store for sometime.
But we thought we would re list them today. Especially since today marks
the 50th anniversary of The Vietnam War, we have a special broadcast of
Pat Sajack (before the wheel of Fortune) when he was serving and DJing on
AFVN (Armed Forces Vietnam Network). Serving and spinning Top 40 Songs
to Military serving in Vietnam. Those that know the Movie with Robin Williams
"Good Morning Vietnam" - it's that station! you can view the playlist of
that show at:
http://www.ebay.com/itm/141943972346

Also, come relive New Year's Eve 1967 with BBC Radio 1 Top Gear Show with
DJ John Peel.

John Peel was one of the most fascinating 60s DJ's in the UK! Equivalent in
popularity to the United States Wolfman Jack. He also introduced much of the
60s Psychadelic Rock to the UK. In our catalog these shows are listed as
RIR #342 and RIR #343 you really get your monies worth because both items are
a 2 CD set! Click to the link to see the playlists.

RIR #342 Disc #1 John Peel Top Gear Show BBC Radio 1
http://www.ebay.com/itm/141943985364

RIR #343 Part II of John Peel Top Gear Show BBC Radio 1
http://www.ebay.com/itm/141943992327

Sales of these items along with all items in our Launching Pad site of Rock-it
Radio go to supporting Rock-it Radio and pay for licensing and online and
broadcasting fees. We thank you for your continued support.

==================================================
MARCH REPORTED WORSE MONTH FOR ROCK-IT RADIO
ORDERS - SENDS OUT 2ND SOS

I want to thank you to all the listener's and supporters out there for
our cry for help and our 2nd SOS (Save our Station). You probably
received our e mail a couple of days ago, reporting our dilemma.
Rock-it Radio is publicly supported by it's listeners and we thank you
for all you have done. For some reason March sales of our vintage
broadcasts and Radio Shows of Rock-it Radio dipped severely leaving
very little financial reserve for operations of Rock-it Radio. We sent out
our first SOS last November and response was fantastic but has dwindled
again since and we kindly if you can ask for your donations. With a
purchase from Rock-it Radio we are giving away another free CD this
month as mentioned in this newsletter to all those that can lend support.
And a big thank you to those loyal listeners and followers that have already
given support in the last couple of days. It is greatly appreciated!


================================================

STARTING NEXT WEEK - LANE QUIGLEY AND THE
MEMORY LANE SHOW TRIBUTE TO THE CLASS OF 1966

Every year for several now 50 and 60 year class reunion.
Celebrating the Music of that Graduating Class. Starting
Next week we will be airing Part 1 of a 5 part series
of the Class of 1966. Make sure to keep an eye out for
it. :) Exclusively on Rock-it Radio!
=====================================================
STREEMA.COM PICKS UP AUDIO FEED OF ROCK-IT RADIO

Another way to tune into Rock-it Radio on your
computer is now with Streema's audio feed of our
station that picked up Rock-it Radio.

http://streema.com/radios/Rock_it_Radio
ROCK-IT RADIO LISTENER ASKS FOR HELP IN
FINDING INFORMATION ON BIOLOGICAL FATHER
OF OLDIES FANS.Today as I was working on the Newsletter we received a e mail
from Jason Bold and he sends us the following E mail.



Hi guys,




I am wondering if you can help me with a really strange request. Can
you possibly find a copy (mp3 would be OK) of 'She belongs to me' by
Ray Emmett and the Superiors? I believe it was recorded in 1965. You see,
I very recently tracked down my biological parents, found my birth mother,
and eventually found my biological father, who turned out to be Ray Emmett.
Apparently, he went on to be a front man for Faron Young, George Jones,
and a whole host of other fairly well known country musicians. I also heard that
The Superiors went on to become Grand Funk Railroad, although I cannot
confirm that.

So, I am hoping I can possibly locate a copy of this song as it would be the
only thing I would have as a memento. Is there anything you guys think
you might be able to do to help? I happened to find your website when
searching for the song.

Thanks so much!

Jason Bold

....
If anyone has information or can help Jason he says you can contact him at:
Madisonjazzman@gmail.com

REMINDER ON HOW TO CONTACT THE DJ'S AT ROCK-IT RADIO

We all love our our e mails from listeners here at Rock-it
Radio. Along with requests and dedications. Earlier this year
due to the excessive spam we all were getting I stopped listing
the e mails at each shows playlist. But you can still
contact them. Just go to the Rock-it Radio DJ page and each
DJ has there e mail link underneath each bio.
You can find it at: http://www.rockitradio.net/dj.html


COLLECTING AIRCHECKS - A HOBBY OF RADIO NOSTALGIAWhat is a Aircheck? It is simply a recording of a radio broadcast. Usually collected by Radio fans.
Come check out our webpage on collecting Airchecks.

http://www.rockitradio.net/aircheck.html


COME REMEMBER WOLFMAN JACK !!!Rock-it Radio has a very special way to remember Wolfman Jack.
Arguably the most iconic of American DJ's. Come check out the
Rock-it Radio Wolfman Page at:
REMEMBERING OFFSHORE PIRATE RADIO IN THE UK
In the mid 1960s it was difficult for the youth to actually listen to Rock and Roll in the UK.
The BBC actually ran only a few hours a weekend to provide the young Brits with this outlet.
At night during the week they ventured to even tune into Radio Luxembourg to get there fill,
that broadcast rock and pop around the clock.
To fill this void some venture capitalists decided to bring in commercial radio aboard
refitted radio ships. And anchor themselves just off into International waters off the English coast.
Radio Caroline (named after Caroline Kennedy the U.S. President's daughter at the time) and
Radio London being the most famous. Rock-it Radio has a website dedicated to their ventures
and also have actual radio broadcasts available of these offshore pirates.
We invite you to check them out our webpage at:
http://www.rockitradio.net/pirate.html
FINDING ROCK-IT RADIO ON THE 'TUNE IN RADIO' CELL PHONE APP.
We have had a few requests from listeners that they couldn't find us on the
popular 'Tune in Radio' App. on Android and PC and iphones. Running a
search of 'Rock-it Radio' will actually list 100s of Rock stations.
So, the best way to find us on this very thorough and extensive app. that
I love using myself is -
run a search on 'rockabilly' - there you will easily find
Rock-it Radio listed.
Our Tune in Radio App. webpage is also at:
http://tunein.com/station/?stationId=41878
MISSED A COUPLE OF NEWSLETTERS LAST COUPLE OF WEEKS??

THEN YOU CAN ALWAYS CHECK OUR BLOG WHERE IT IS ARCHIVED.
YOU CAN CHECK OUT OUR BLOG AT:

http://rock-itradio.blogspot.com/
=============================================


ROCK-IT RADIO DJ PAGE...


Remember you can check out all the Rock-it Radio DJ's

and read the bios of these DJ's that make these

Rock-it Radio Shows possible at:


And don't forget for even more pictures --

there is our picture page at:
============================================
IF YOU HAVE TWITTER COME FOLLOW US THERE

If you are one that tweets then please check out and join and get our
updates on your twitter account. Our Twitter link is right below.

http://www.twitter.com/RockitRadio1
It is our new Twitter account and we will once again start
scrolling our messages and updates on our webpages as well.


============================================
ROCK-IT RADIO OTHER TWITTER ACCOUNT FOR
NEWS RELEASES FOR N. IDAHO, KODIAK ALASKA AND
THE WORLD!
Rock-it Radio has another Twitter account and is used for News
Alerts that come into the studio here at Studio A. For those Twitter
users that would like to follow the link is:
http://www.twitter.com/RockitRadioNews

The feed can also be seen in our World News broadcast Webpage
at: http://www.rockitradio.net/news.html


=================================================
WELCOME NEW MEMBERS TO THE LISTENER'S CLUB!!!!

A big welcome to the below new Rock-it Radio listeners that
joined our Listeners Club from March 17, 2016 to
April 1, 2016
We hope that you enjoy the music Rock-it Radio provides
and our playlists and information that our weekly newsletter
provides. Any comments, criticisms, kudos, compliments or
future ideas is always welcome and you can e mail me personally at:
rockitradio@netzero.net

Bruce Kalfar - Iceland
Terry Lawrence - Rancho Cucamonga, California USA
Walter Holowantenko - Missisauga, Ontario Canada
Michael Gardner - Grand Blanc, Michigan USA
James Wilson - Sparta, Georgia USA
Mare Simon - Serbia
Steven Korezelidis - Hobart, Tasmania Australia
Angela Leogrande - Selden, New York USA
Bruce Hutter - Glenrock, Wyoming USA
Vida Mate - Hungary

We have gained 461 new likes in our listeners club
in our Facebook page Rock-it Radio Fan Page as well this week at:
http://facebook.com/rockitface and 37 more following us
on Twitter @Rockitradio1 .

We have added a total of 508 new members to the Rock-it Radio
Listeners Club since our last newsletter. We now have 86,161 exactly
that have joined the Rock-it Radio Listeners club.
We hope that you enjoy the rare 50's and early 60's
Rock and Roll, Rockabilly and Doo Wop (which most commercial
oldies radio stations have forgotten) that we are able to play
for you from Rock-it Radio. Remember, we are here for you!

So if you ever have any requests, dedications, comments and
suggestions we always love to hear from our listeners.
Our e mail address is:
rockitradio@netzero.net

====================================================
To learn more about the Rock-it Radio Listeners Club and our Free
Newsletter please check out:
http://www.rockitradio.net/member.html

It's free and easy to join and the Rock-it Radio Newsletter is always
online at: http://www.rockitradio.net/newsletter.html



====================================================

PLEASE HELP US SPREAD THE GOOD WORD OF ROCK-IT RADIO!

Do you know of someone that might also like the music

of Rock-it Radio? We are desperately trying to keep this

music alive and have been doing so since 1995! Please

share the information of this station. And if you have

a website would you please consider putting a Rock-it Radio

link on your page.

There are a few to choose from in our link page at:

http://www.rockitradio.net/links.html
HOW TO ORDER OLD ROCK-IT RADIO SHOWS = YOUR PURCHASES HELP US STAY ONLINE!!!
We have received many inquiries on how to order Rock-it Radio shows that are no longer in
our on archives webpage. These shows are still available on CD and mailed to you within 24
hours of receiving payment.
To help search for older shows that you may be looking for you may want to check the Rock-it
Radio blog site. Old newsletters describing the shows and playlists
are archived there and there is a menu bar on the right side that breaks down every playlist
Then you may either pay by check or money order or paypal. Rock-it Radio shows are only
$9.50 U.S. each and are studio quality broadcasts that were placed on Compact Disc here at
the Rock-it Radio Studio. We have a flat rate shipping charge of $1.50 U.S. so if you order
one or several -- it is still only $1.50
U.S. shipping. And we ship worldwide, overseas orders are mailed out first class airmail.
Instructions where to send payment is at our webpage:
like we can send you a paypal invoice within 24 hours.

When you order a Rock-it Radio show or shop at our Rock-it Radio Launching Pad you
help keep these oldies alive and help us pay the bills here at Rock-it Radio.
And at the same time -- you are not getting nothing for your donation, but actually
some of the shows and memories we hope we keep alive here at Rock-it Radio.



TOP 20 SELLERS OF THE ROCK-IT RADIO LAUNCHING PAD THIS WEEK

As you know the Rock-it Radio Store sells vintage Radio Broadcasts - Where you
hear the actual music, news and vintage advertisements - uncut and unedited
just like you would of heard
it back then. Here are the top sellers this week.


1. Flashdrive Rock-it Radio Shows 5501 - 5550
2. Flashdrive Rock-it Radio Shows 5401 - 5450
3. RIR #436 - Pat Sajack Armed Forces Vietnam network 3/18/1969
4. RIR #270 - BBC Buddy Holly Tribute from 1965.
5. RIR #342 - John Peel BBC 1 12/31/1967 #1
6. RIR #642 - Elliot Field - KFWB Los Angeles 1/9/1959
7. Flashdrive Rock-it Radio shows 5551 -5600
8. Flashdrive Rock-it Radio shows #5451 - #5500
9. RIR #410 - Dr. Don Rose - KFRC San Francisco 4/4/1974
10. RIR #149 - Alan Freed WINS New York City 1/23/1957
11. RIR #393 - John Lennon as DJ on WNEW New York from 1974
12. RIR #517 - Cousin Brucie - WABC New York 11/29/1967
13. RIR #343 - John Peel BBC Radio 1 12/31/1967 #2
14. RIR #176 - Porky Chedwick WAMO Pittsburgh 6/14/1960
15. RIR #284 - Ralph Peabo - KTCR (country) Minneapolis 8/16/1963
16. RIR #135 - Rock-it Radio 1000th Show 3 CD set.
17. RIR #644 - Dan Ingram WABC New York 6/12/1964
18. RIR #170 - Ted The Bear Richardson - CKLW Windsor Ontario 6/29/1973
19. RIR #589 - Jerry Kaye - WING Dayton, Ohio 4/20/1964
20. RIR #387 - Joey Reynolds Beatles Special WKBW Buffalo 2/24/1964

If you would like to view these shows in depth you can check out
our Rock-it Radio Ebay Store at:
http://stores.ebay.com/Rock-it-Radio-Store

or in the Rock-it Radio Launching Pad store at:
http://www.rockitradio.net/store.html(listed by date)
and in the upper left hand corner -
there is a search box where you can type in the DJ name or
Station Call letters and that information on that show will pop up.
Ordering from the Ebay store will also qualify you for the Rock-it Radio
giveaway mentioned previously in this newsletter. Sale of
these broadcasts is what keeps Rock-it Radio going and thank
you again to everyone that buys these!

============================================
Rockabilly bands looking for airplay
If you or know someone that would like airplay on Rock-it Radio we invite
you to submit your press kits to Rock-it Radio. Our website for further
information is:
http://www.rockitradio.net/airplay.html
============================================
Come tune into the World on your computer!
1000s of stations around the world now broadcast online. We have a
link to some of the internet top directories to help you find these stations.
http://www.rockitradio.net/internetradio.html
============================================
Rock-it Radio Program Webpage Reminder
Remember, if the show that you want to hear is getting close to the bottom
of the list of radio shows, you should tune in as soon as you can. These shows
to have a high audio quality require a lot of internet bandwidth and memory.
And currently we can only afford the
30
latest shows online here at Rock-it Radio.
So, when a new show is put online it knocks the oldest one off the Rock-it Radio
archives page. Usually a show will at least last 16 to 20 days, once it is placed in
the archives.
============================================
OUR SISTER STATION FIRST NATIONS BROADCASTING.
We invite you to also check out our sister station -- First Nations
Broadcasting. And tune into the rather Cool North of the Yukon and Alaska
with our very own Debbie Snowdove!
============================================
Well that is just about it for this newsletter and playlists of our latest
shows. We hope that you enjoy them.
We will do our best to keep these shows on for at least 14
days and hopefully 21 days.
All the best always,
Bennie Dingo
Rock-it Radio

website: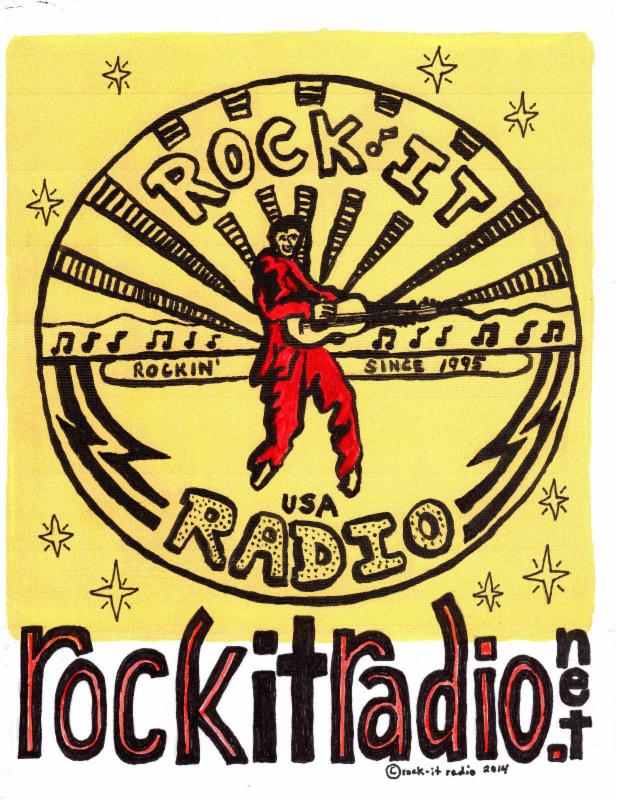 Rock-it Radio main website:
http://www.rockitradio.net

Archived Shows at:
http://www.rockitradio.net/programs.html

Rock-it Radio Vintage Broadcast Store:
(Launching Pad)
http://www.rockitradio.net/store.html