Rock-it Radio since 1995 providing 50s and early 60s Rock and Roll, Doo Wop and Rockabilly music online! Come tune us in at http://www.rockitradio.net We also have several 100 original radio shows from the first decade of Rock and Roll at: http://www.rockitradio.net/store.html
=========================================================================
ROCK-IT RADIO NEWSLETTER AND PLAYLIST
SHOWS #5648 TO #5664
FROM
April 14, 2016 to May 3, 2016

Hi Rock-it Radio Listeners,

Lots to cover in this newsletter including
playlists for shows #5648 to #5664 17 total!
Our monthly drawing for those that supported
Rock-it for the month of April. A New Rock-it
DJ premiere broadcast! And a FREE CD offer
for the entire month of May.

Our shows can be heard in our archives page at:

http://www.rockitradio.net/programs.html
and click to the speaker on the left to hear the show.

Remember if you are new to Internet Radio and having trouble tuning in though --
Check out our webpage to help you out at:
http://www.rockitradio.net/tunein.html
============================================
REMEMBER YOU CAN ORDER ANY OF THESE ROCK-IT
RADIO SHOWS ON CD!!!! NEW EASIER ORDERING!

Would you like one of these Rock-it Radio shows on CD? To
be able to play anywhere? And help support Rock-it Radio at the same time.
For complete information check out our program
ordering webpage at: http://www.rockitradio.net/order.html

Our shows are of course copies straight from the studio so they are studio
quality and satisfaction is guaranteed.
Or if you would rather receive an invoice let me know and we
can e mail you a copy - Just e mail us the show(s) you would like
to have and the Rock-it # to: rockitradio@netzero.net

==============================================
All Rock-it Radio shows stay online from 18 to 24 days and are
broadcast in MP3 Format. To tune in just click to the speaker
at our program page at:
http://www.rockitradio.net/programs.html

The newest show added replaces the oldest show so if you see a
show near the bottom of the listing - you should listen as soon as
possible.

==============================================
WE COULD USE YOUR SUPPORT

Rock-it Radio is 100% Publicly supported. But when you
donate to the Rock-it Radio Launching Pad - we give you
a vintage broadcast of your choice.
100% of all sales from the Rock-it Radio Store (Launching
Pad) goes back to pay copyright fees, LLC taxes, Internet
and bandwidth costs of Rock-it Radio. Without your support
we would not exist. So. please consider a purchase at:
http://www.rockitradio.net/store.html

===============================================
NOTE: ALL SHOWS BELOW CAN BE FOUND IN OUR
PROGRAM WEBPAGE -
TO TUNE IN CLICK TO SPEAKER OF THE SHOW YOU WANT
TO LISTEN TO. EITHER MP3 OR REAL PLAYER.
BOTH FORMATS ARE SUPPORTED.
AT:
HTTP://WWW.ROCKITRADIO.NET/PROGRAMS.HTML

==============================================
MATT THE CAT AND THE JUKE IN THE BACK SHOW
JUKEBOX RHYTHM REVIEW 1946 SHOW #5648

1946: Jukebox Rhythm Review, Pt. 2

The Juke In The Back once again puts our old Rockola
Jukebox in the forefront as we spotlight the biggest
Rhythm & Blues jukebox hits of 1946. This week, in part 2,
we'll focus on the second half of the year, featuring three
#1s from Louis Jordan and His Tympany Five. During 1946,
Jordan held the top spot on the Race Record Chart for
an incredible 35 weeks.

1. Swanee River Boogie - Albert Ammons â€" Mercury 1947
2. I Know Who Threw The Whiskey (In The Well) - Bull Moose Jackson & His Orch. â€" Queen 1946
3. To Each His Own - Ink Spots â€" Decca 1946
4. Stone Cold Dead In The Market (He Had It Coming) - Ella Fitzgerald and Louis Jordan & His Tympany Five â€" Decca 1946
5. You Call It Madness But I Call It Love - Billy Eckstine & His Orch. â€" National 1946
6. My Gal's A Jockey - Joe Turner with Bill Moore's Lucky Seven Band â€" National 1947
7. Voodoo Woman Blues - Jay McShann & His Sextette â€" Mercury 1946
8. Choo Choo Cha Boogie - Louis Jordan & His Typany Five â€" Decca 1946
9. Sunny Road - Roosevelt Sykes, Blues Singer w/ His Original Honeydrippers â€" RCA Victor 1946
10. Come Back To Me Baby - T-Bone Walker w/ Marl Young's Orch â€" Mercury 1946
11. That's All Right - Arthur Big Boy Cruddup RCA Victor 1946
12. Gotta Gimme Whatcha Got - Julia Lee & Her Boyfriends â€" Capitol 1946
13. GREAT 78* Red Light â€" Red Callender Trio â€" Black & White 1946
14. Ain't That Just Like A Woman - Louis Jordan & His Tympany Five â€" Decca 1946
15. (I Love You) For Sentimental Reasons - The King Cole Trio â€" Capitol 1946
16. After Hours - Erskine Hawkins â€" Bluebird 1946

===============================================
AL COOL DADDY SMITH WITH PART I OF THE BOB CREWE
STORY ON ROCK-IT RADIO SHOW #5649

This show is the first in a two part series that will demonstrate
both the importance and talent of Bob Crewe as they have
impacted Rock and Roll since the 1950's.
Bob Crewe was a singer,song writer, dancer,record producer,
record label owner,painter and even a designer of record album
covers.. He is probably best know for his important work with
groups such as Mitch Ryder and the Detroit Wheels, as well
as The 4 Seasons - a group which rivalled both The Beatles
and The Beach Boys during the 1960's. These artists however
are not the only ones who benefited from his work. People
such as Leslie Gore, LaBelle, Diane Renay and many others
as well fall into that category. All of these artists and
others will appear in these two show.
As well Bob Crewe Teen Age Idol phase will be examined
and many of his solo recordings from the 1950's and 60's,
most of which were written by him, will be heard.
Bob Crewe should be in the Rock & Roll Hall of Fame & I will
attempt to make a case for this during the shows.

The play list is as follows:

1.) Don't Call Me Chicken-Bob Crewe 1957
2.) Silhouettes-The Rays 1957
3.) Big Girls Don't Cry-The Four Seasons 1962
4.) Silhouettes-Bob Crewe 1961
5.) Daddy Cool-The Diamonds 1957
6.) It's All Over-Bob Crewe 1954
7.) Punch-Bob Crewe 1954
8.) Baby Jane-(Mo-Mo Jane)-Mitch Ryder and The Detroit Wheels 1965
9.) La Dee Dah-Billy and Lillie 1958
10.) Lucky Lady Bug-Billy and Lillie 1958
11.) Penny, Nickel, Dime, Quarter (On A Teenage Date)-Bob Crewe 1956
12.) Torn and Tattered Heart-Bob Crewe 1957
13.) I Can't Shake The Blues-Bob Crewe 1957
14.) Treat Me Like A Lady-Leslie Gore 1966
15.) California Nights-Leslie Gore 1966
16.) You Get Your Kicks-Mitch Ryder and The Detroit Wheels 1966
17.) Jenny Takes A Ride-Mitch Ryder and The Detroit Wheels- 1965
18.) Little Latin Lupe Lu-Mitch Ryder and The Detroit Wheels 1966
19.) Break Out-Mitch Ryder and The Detroit Wheels 1966
20.) Takin' All I Can Get-Mitch Ryder and The Detroit Wheels 1966
21.) Devil With A Blue Dress On/Good Golly Miss Molly-Mitch Ryder and The Detroit Wheels 1966
22.) Sock It To Me-Baby-Mitch Ryder and The Detroit Wheels 1967

===============================================
DAVE THE RAVE AND THE RELICS AND RARITES SHOW
ON ROCK-IT RADIO SHOW #5650

Do you love the rarities of 60s Rock and Roll?
Then this is the show to tune into! Dave features
forgotten or lost or strayed releases of 60s Rock
& Roll. From Psychadellic to Bubble Gum to just good
old Rock and Roll !!!

Hour #1

1 Slave Chain - Spinners
2. I'll Be Around - Spinners
3. I've Had It - Lee Andrews & The Hearts
4. Untie Me - Joe South
5. The Truth - Aesop's Fables
6. It's My Life - Animals
7. Don't Be Mad - Don Feger
8. I've Been Wrong - Buckinghams
9. Your Love's Got Me Burnin' Alive - Paul Peterson
10. All I Need - Temptations
11. Come On Home - Wayne Fontana
12. Daylight Savin' Time - Keith
13. It's Gone - The Motions
14. She's Not There - Zombies
15. Sweet Sweet Lovin' - Paul Kelly
16. Sweeter Than Sugar - Ohio Express
17. Frightened Little Girl - July Four
18. She's Ready - Spiral Starecase
19. Stop, Think It Over - Leverett Sisters (Discovery Of Week)
20. Lanky Bones - Eddie & The Showmen

Hour #2

1 So What - H.B. Barnum
2. Heaven - Rascals
3. New York's A Lonely Town - Tradewinds
4. We'll Cry Together - Maxine Brown
5. Ferry Cross The Mersey - Gerry & the Pacemakers
6. Why Don't You Love Me - Blackwells
7. Everybody Loves A Lover - Shirelles
8. Trapped In A Love - Barrino Brothers
9. That's My Baby - Jimmy Breedlove
10. Tutti Frutti - Little Richard
11. Justine - Don and Dewey
12. Concentration Baby - Dave Clark Five
13. Slippin Away - Ritchie Adams
14. Up On The Roof - Laura Nyro
15. I Won't Tell - Tracey Dey
16. Rag Doll - Four Seasons
17. Don't Make Faces - Tobin Matthews
18. Girl (I'm Waiting For You) - Merrell Fankhauser & HMS Bounty (Discovery Of Week)
19. House Of The Rising Sun - Duane Eddy

===============================================
COOL BOBBY B AND THE DOO WOP STOP ON ROCK-IT RADIO
SHOW #5651

Cool Bobby B is back in this newsletter with another
3 hour extavaganza of Doo Wop Rock and Roll from the
first decade of Rock nad Roll! Here is the playlist
of what you will hear when you select his show in our
program page.

Hour #1

1. Rockin' with the clock - Shirley and Lee
2. Don't play that song - Anthony & Sophomores
3. I know I know - Royal Jesters
4. It's so hard to say goodbye - Kenny Vance & Planotones
5. My Dream - The Platters
6. Gee baby, I'm Sorry - Three Degrees
7. Fools Fall in Love - The Drifters
8. Lonely Boy - Ronnie Jones & Classmates
9. True True Love - The Corvairs
10. What brought us Together - The Edsels
11. Last Night I dreamed - The Fiestas
12. Darling Little Angel - The Interiors
13. I'm so young - The Students
14. My vow to you - The Students
15. While Walking - The Fabulairs
16. Love Call - The Ebonairs
17. For your precious love - Jerry Butler
18. Rainbow Valley - Jerry Butler
19. Tonight - The Velvets

Hour #2

20. Why do you cry - The Charts
21. Just be true - Gene Chandler
22. Have I sinned - Donnie Elbert
23. Yes Sir, That's my baby - The Sensations
24. Tonight Kathleen - The Valentines
25. Once upon a time - Rochelle & Candles
26. Those lonely lonely nights - Earl King
27. Who do you love - Philly Cuzz
28. All I want is you - The Miracles
29. Lonely way - The Skyliners
30. Take me as I am - The Demans
31. I do - The Crests
32. Down the ASisle of Love - The Quintones
33. Gee Whiz - The Innocents
34. I got zero - The Fantastics
35. Step by Step - The Crests
36. 6 Nights a week - The Crests
37. Moments to remember - 4 Lads

Hour #3

38. 11th hour melody - The Rivieras
39. Midnight Cocktails - The Rivieras
40. Stagger Lee - Lloyd Price
41. Teen Prayer - The Velvetones
42. Once in a while - The Chimes
43. Count Every Star - The Rivieras
44. I'll be seeing you - 5 Satins
45. That was the time - Five Discs
46. Through a long and sleepless night - Jimmy Ratcliff
47. Johnny - The Dialtones
48. For your precious love - Garnett Mimms & Enchanters
49. Love Call - The Ebonairs
50. Congratulations - The Turbans
51. Maybe - The Chantels
52. The Closer you are - The Channels
53. This I swear - The Skyliners
54. Since I don't have you - The Skyliners
55. Goodnight baby - The Imaginations

===============================================
PETE CHASTON'S DOO WOP SHOW ON ROCK-IT RADIO
SHOW #5652

The Doo Wop Meteorologist DJ Pete Chaston is back
this week with another Doo Wop 50s and early 60s
Rock Show here exclusively from Rock-it Radio.
Group Harmony Doo Wop Rock and Roll is still alive
and here is Pete to prove it! Here is the playlist.

1. Doo-Wop All Night Long-The Blue Emotions (opening theme song) (1982)
2. Vowels of Love-The Poets (1958)
3. Fine Little Girl-The Arcades (1958)
4. Candy Store Love-The Val-chords (1959)
5. God Only Knows-The Capris (1954)
6. You Came to Me-The Duvals (1955)
7. Crazy Love-The Royaltones (1956)
8. Sally Green-The Jesters (1960)
9. Shout! Shout! (Knock Yourself Out)-Ernie Maresca (1961)
10. Rainy Day Bells-The Globetrotters (1970)

SILLY SONG SEGMENT:

11. Contact Lenses-Jeanne Hayes (1962 or '63)
12. Chi Chi Merengue-The Eloise Trio (1960)

SCRATCHY 45 RPMs SEGMENT:

13. (Shimmy Shimmy) Ko Ko Wop-The El Capris (1956)
14. Bristol Stomp-The Dovells (1961)
15. Gee Baby (I'm Sorry)-The Three Degrees (xxxx)
16. All Through the Night-The Mystics (1959)

BACK TO THE CDs &/or More 45 RPMs:

17. Say Man, Back Again-Bo Diddley (1960 or '59)
18. The Bounce-The Olympics (1963)
19. Trudy-Lonnie & The Carollons (1959)
20. My Chinese Girl-The Five Discs (xxxx)

SLOW SONG SEGMENT:

21. Down on my Knees-The Enchantments (xxxx)
22. Deserie-The Charts (1957)
23. I Believe-The Dee-Vines (1960)
24. If You Love Me-The Blue Notes (1960)
25. Why Do You Have to Go-The Dells (1956)
26. Jeannie-The Unique Teens (1958)

27. (closing theme song) Adios-The Five Discs (1961)

===============================================
LANE QUIGLEY MEMORY LANE SHOW - PART II OF THE
CLASS OF 1966 TRIBUTE ON SHOW #5653

Rock-it radio's annual 50 Year Reunion celebration
continues with Part 2 of the 5-part 1966 Class Reunion
Program on this week's Memory Lane Show.
Come join the celebration as host Lane Quigley brings
you music, sound bites and much much more from the
soundtrack that accompanied the graduates during
their senior year in 1966. This week's episode features
some of the most popular acts of the mid-60's,
including The Beatles, The Rolling Stones, Sonny & Cher,
Marvin Gaye, The Four Tops, The Mamas & Papas,
Stevie Wonder, Herman's Hermits, Wilson Pickett,
Gene Pitney, Dione Warwick, The Temptations and more!
Come share some memories with the 50 Year Reunion
Program celebrating the Class of 1966.

1. Get Ready - The Temptations
2. Monday Monday - The Mamas & The Papas
3. My Little Red Book - Love
4. Uptight - Stevie Wonder
5. Call Me - Chris Montez
6. Love Special Delivery - Thee Midniters
7. Paint It Black - The Rolling Stones
8. I'm So Lonesome I Could Cry - B.J. Thomas
9. These Boots Are Made For Walking - Nancy Sinatra
10. 634-5789 - Wilson Pickett
11. A Must To Avoid - Herman's Hermits
12. Killer Joe - The Kingsmen
13. Younger Girl - The Hondells
14. What Now My Love - Sonny & Cher
15. One More Heartache - Marvin Gaye
16. Shake Me, Wake Me (When It's Over) - The Four Tops
17. Backstage - Gene Pitney
18. Message To Michael - Dionne Warwick
19. Girl - The Beatles

===============================================
ROCKIN DADDY O'S ATOMIC DOO WOP DANCE PARTY ON
ROCK-IT RADIO SHOW #5654

The Daddy O is back this week playing some music
from the GREATEST Doo Wop bands from yesteryear!
In the month of April we were giving away his
FREE CD and hope you received your copy! Here is the
playlist for the latest in great doo wop of the
50s and early 60s.

1. Jitterbug-Blanders
2. Walkin' With My Baby-Vocal Tones
3. At My Front Door-El Dorados
4. Get Up And Dance-Lil Mo & The Dynaflos
5. Chonnie On Chon-James Brown & Famous Flames
6. Lover Please-Clyde McPhatter
7. I Need Your Lovin'-Don Gardner & Dee Dee Ford
8. Hey! Little Woman-Sonny Til & Orioles
9. Glad To Be Here-Lee Andrews & Hearts
10. (Somewhere) A Voice Is Calling-Five Satins
11. Who Cares About Love-Vicky Tafoya & Big Beat
12. Bells Of Rosa Rita-Admirations
13. Smooth Slow & Easy-Drivers
14. I Had A Little Too Much-Ensenators
15. The Stars Are Out Tonight-Tear Drops
16. Angel Face-Vocaleers
17. Pledging My Love-Johnny Ace
18. In The Evening-Keynotes
19. Baby's Comin' Home To Me-Cadillacs
20. Come On Baby-Cordovans
21. Don't Say Goodbye-Superiors
22. Hand Clappin'-Red Prysock
23. So Long-Fats Domino

===============================================
BILLY VERA'S ROCK AND ROLL PARTY WITH A SPOTLIGHT
ON 1947 ON ROCK-IT RADIO SHOW #5655

The year 1947 was a pivotal one. Big band swing was passe
and, in black vernacular music, two new forms were emerging:
bebop and the jump blues that in just two years would come
to be called rhythm & blues. Juke boxes in black locations
would throb with song that embodied both these idioms,
often in the same record. Perhaps the closest thing to the
coming R&B sound would be Jimmy Liggins's "Cadillac Boogie,"
the precursor to 1951's "Rocket 88." Riff-based tunes like
"Chicken Shack Boogie" and "Sneaky Pete" fit the same mold.
Songs like "Open The Door Richard" and the Ravens'
"Write Me A Letter" crossed over to the pop charts and the
big bands like Buddy Johnson kept that sound alive. Beboppers
Charlie Parker and Dizzy Gillespie could be heard on those same
juke boxes, as could great female singers like Billie Holidayand Kay Starr.

HOUR 1

1. Cadillac Boogie - Jimmy Liggins
2. Louisiana - Joe Liggins
3. No Eyes Blues - Lester Young
4. Since I Fell For You - Ella & Buddy Johnson
5. Oxydol Highball - Slim & Bam
6. Oo Pa A Da - Dizzy Gillespie
7. Rockin= Boogie - Joe Lutcher
8. Hurry On Down - Nellie Lutcher
9. Cleanhead Blues - Eddie ACleanhead@ Vinson
10. Chicken Shack Boogie - Amos Milburn
11. Flying Disc - Todd Rhodes
12. Big Fat Mama - Roy Milton
13. Sneaky Pete - Bullmoose Jackson
14. Luke the Spook - Morris Lane
15. You Better Change Your Ways - Arthur Prysock with Buddy Johnson Orch.
16. Open The Door Richard - Dusty Fletcher
17. Solitude - Leo Parker
18. Take The A Train - The Delta Rhythm Boys

HOUR 2

19. Hard Ridin= Mama - Wynonie Harris
20. The Blues are Brewin= - Billie Holiday
21. The Signifyin= Monkey - The Big Three Trio
22. I Sold My Heart To The Junkman - The Basin Street Boys
23. Write Me A Letter - The Ravens
24. Cheryl - Charlie Parker
25. Miss Fannie Brown - Roy Brown
26. Soothe Me - Charles Brown
27. Garbage Can Blues - Kay Starr
28. One Sweet Letter From You - Annie Laurie
29. Lonesome Women Blues - T-Bone Walker
30. I'll String Along With You - Nat King Cole Trio
31. Open The Door Richard - Louis Jordan

===============================================
FLASHBACK: RICK WARD'S OLDIES SHOW ON ROCK-IT
RADIO SHOW #5656 ON ROCK-IT RADIO.

Another Best of Broadcast as we dig deep into the
Rock-it Radio Archives as we hold nearly all 5500+
Radio Shows of Rock-it Radio. Rick Ward besides
being producer for Wolfman Jack, Was a Icon DJ himself
in Southern California and beyond. We were blessed
to have him here at Rock-it Radio and we dug out
this show from 2008. If you didn't catch him then you
can now from tuning into Show #5656 on Rock-it Radio's
Program page. Sorry No playlist is available.

===============================================
JAMES RILEY AND THE ROCKABILLY AND BLUES SHOW ON
ROCK-IT RADIO SHOW #5657

Jammin James Riley is back with the Rockabilly and
Blues Show on Rock-it Radio -

Rockabilly N Blues Radio Hour #1:

Great rockers packed into one hour!

1. Hot Rockin' Mama- AJ & The Rockin' Trio
2. Backwoods Girl- Ambur Rockell
3. Jelly Bean- Eddie Cochran
4. Sweet Jolene- Eskimo Brothers
5. Feeling Happy- Dave Alvin & Phil Alvin
6. Crying Over You- Domestic Bumblebees
7. Room To Rock- Levi & The Rockats
8. Jump Back Honey Jump Back- Gene Vincent
9. Bumble Bee- Screamin' Rebel Angels
10. Big Rig Rules- Sonny George
11. Wild Wild Women- Mac Curtis
12. Space Mosquito- Los Straitjackets
13. Fish Out Of Water- Ronnie Dawson
14. Couple De Ville- Si Cranstoun
15. Rock N Roll Ruby- Warren Smith
16. Much Later- Nico Duportal & His Rhythm Dudes
17. Mother Of Lies- JD McPherson
18. Bull- Drake Bell
19. Interstate Rocker- Number 9 Blacktops
20. Oh Boy- Buddy Holly & The Crickets

Rockabilly N Blues Radio Hour #2:

Robert "Big Sandy" Williams is our guest this hour!
We discuss influences, recording with Dave Alvin,
playing on Conan, new single and more!

1. Crazy Baby- The Blasters
2. Drugstore Rock N Roll- Janis Martin
3. Every Time- Big Sandy & His Fly Rite Boys
4. Power Of The 45- Big Sandy & His Fly Rite Boys
5. Hot Water- Big Sandy & The Fly Rite Trio
6. Jumpin' From 6 To 6- Big Sandy & His Fly Rite Boys
7. Chalk It Up To The Blues- Big Sandy & His Fly Rite Boys
8. Glad When I'm Gone- Big Sandy & His Fly Rite Boys
9. Fine, Fine Superfine- Big Sandy & His Fly Rite Boys
10. Yama, Yama Pretty Mama- Big Sandy
11. Steady Baby- Big Sandy & The Fly Rite Trio
12. I Guess It's Meant That Way- Pat Cupp

===============================================
COOL BOBBY B AND THE DOO WOP STOP ON ROCK-IT RADIO
SHOW #5658

Cool Bobby B is back in this newsletter with another
3 hour extavaganza of Doo Wop Rock and Roll from the
first decade of Rock nad Roll! Here is the playlist
of what you will hear when you select his show in our
program page.

Hour #1

1. Rockin' with the clock - Shirley and Lee
2. Hello Love - The Standards
3. Baby Walk on in - The Shells
4. Bye Bye Baby - The Channels
5. Gloria - The Passions
6. Deserie - The Charts
7. Maybe - The Chantels
8. Nobody but you - Dee Clark
9. Lonely way - The Skyliners
10. Who do you think you are - The Fascinators
11. Love me - Royal Jesters & Memphis III
12. When I woke up this morning - Bop Chords
13. Barbara - The Temptations
14. Imagination - The Quotations
15. Shu Bop - Dion
16. A dream of love - The Nutmegs
17. Goodnight - The Elegants
18. Daddy's Home - Shep & Limelights
19. At the hop - Danny & Juniors

Hour #2

20. Who's lovin' you - The Miracles
21. Would I love you - The Miracles
22. All I want is you - The Miracles
23. Morse code of love - The Capris
24. 16 Candles - The Crests
25. Rainy Day Bells - The Globetrotters
26. It ain't nuttin' - Little Isidore & Inquisitors
27. Feeling no pain - Del Satins
28. Morse Code of Love - Manhattan Transfer
29. Heart and soul - The Cleftones
30. Moments like this - The Baltineers
31. Don't pity me - Dion & Belmonts
32. Runaround Sue - Dion
33. Don't cry baby - Paragons
34. Story Untold - The Nutmegs
35. The house where lovers dream - Time Tones
36. My Love - The Time Tones
37. I've got a feeling - Time Tones

Hour #3

38. 11th hour melody - The Rivieras
39. Moonlight Cocktails - The Rivieras
40. I love you darling - The Apollos
41. Heaven only knows - Cleopatra & Larks
42. I love you - The Volumes
43. I lost my baby - The Darvels
44. Baby oh baby -The Shells
45. Since I don't have you - The Skyliners
46. I only have eyes for you - The Flamingos
47. We belong together - Robert & Johnny
48. Since you won my heart - The Miracles
49. Sometimes - Four Townsmen
50. Some kind of wonderful - The Drifters
51. Rent Man - Silhouetttes
52. Don't do me wrong - Little Butchie Saunders & Buddies
53. Just you - Dianne & Darlettes
54. Great Pretender - The Platters
55. You always hurt the one you love - Clarence Frogman Henry
56. Goodnight Baby - The Imaginations

===============================================
JACK VAN OERS & THE ROCKIN' WINDMILL ROCKABILLY
SHOW ON ROCK-IT RADIO SHOW #5659

From the land of windmills, dykes, canals, cheese, tulips, cows
and wooden shoes here is another dynamic Rockin' Windmill Show.
Host Jack van Oers plays music from Canada, Finland, The Netherlands,
the UK, the USA, Sweden and Germany. So, just turn up the volume,
put on your rocking shoes and enjoy the show.


1. Let's talk about us - Billy Lee Riley - 1959
2. Twist and shout - Brian Poole & the Tremeloes - 1963
3. Before it began (shame shame) - Teddy Redell - 1959
4. I want to walk with you - Paul Little - 1960
5. Memories - The Emeralds - 1960
6. You better not go - Skeets McDonald - 1956
7. I wanna love my baby - Sonny Rogers & the King Pins - 2001
8. Way up Alaska way - Al Oster - 1966
9. Rock 'n' roll lover - The Black Knights - 1999
10. Lonesome feeling - David Ray - 1959
11. Panic in the henhouse - Buck Jones & his Rhythm Riders - 1981
12. Dear one - Larry Finnegan - 1961
13. Dear one - Johnny Lion & the Jumping Jewels - 1962
14. Hey pretty baby - Ricky Nelson - 1960
15. Frantic - Dickie Pride - 1959
16. Dry run - Parker Cunningham - 1960
17. Diggin' the boogie - King Drapes - 2003
18. Good gosh gal - Phil Beasley & Charley Brown - 1961
19. The shag - Billy Graves - 1958
20. Don't knock me out - The Blue Moon Rockers - 2003
21. Maggie - Whitey White - 196x
22. Rockabilly religion - Mess of Booze - 1993
23. Oh yeah - Joe Melson - 1960
24. Runnin' wild - Arv Jenkins - 1962
25. Nashville boogie - Bert Weedon - 1959

===============================================
KEN STRANGE & THE COUNTRY RECORD ROUND UP SHOW
ON ROCK-IT RADIO #5660

Join DJ Ken Strange for another "Country Record Round Up"
where he'll be delving into the archives once more to
bring you some 'good ole' country music' from right across
the board, with tracks from the 40's through to the 00's,
including his regular feature, "Duos & Duets".

01. Intro - Medley
02. Have A Talk With Your Heart - Bob Rourk (55) Joyce
03. Too Much Town To Paint - Danny Ross (61) Minor
04. Love Letters From Old Mexico - Leslie Satcher (00) Warner
05. Nobody Mends A Broken Heart Like You - Barbara Mandrell (86) MCA
06. Blue Blooded Woman - Alan Jackson (89) Arista
07. Bummin' Around - Boxcar Willie (82) Spartan
08. White Lightning Express - Roy Drusky (65) Mercury
09. There's A Tear In The Eye Of The Man In The Moon - Alvadean Coker (56) Decca
10. Born To Fly - Sara Evans (00) RCA-Nashville
11. I'll Go Alone - Marty Robbins (53) Columbia
12. The Thunder Rolls - Garth Brooks (91) Capitol
13. Jackson - June Carter & Johnny Cash (67) Columbia
14. Paradise Tonight - Charly McClain & Mickey Gilley (83) Epic
15. Feelins' - Conway Twitty & Loretta Lynn (75) MCA
16. Rank Stranger - Ralph Stanley & Gail Davis (01) Rebel
17. I'm In A Daze - Lewis Pruitt & The True Lads (58) Peach
18. Jukebox Junkie - Ken Mellons (94) Epic
19. Baby Honey - Sherry Lee (56) Mar-Vel
20. Three Days - Mandy Barnett (06) Warner
21. Jukebox Blues - June Carter Cash (53) Columbia
22. Love A Little Stronger - Diamond Rio (94) Arista
23. Who's Lonely Now - Highway 101 (89) Warner
24. Forever Is Ending - Ernest Tubb (48) Decca
25. If You Ain't Lovin' You Ain't Livin' - Faron Young (54) Capitol

"Keep It Country"

===============================================
PREMIERE BROADCAST !!! NEW DJ AT ROCK-IT RADIO!
GLEN GORDON & THE MUSICAL WEB SHOW ON ROCK-IT
RADIO SHOW #5661

Please join me in welcoming our latest addition
to the Rock-it Radio Family. Glen hails from
Madison, Wisconsin and his show features great forgotten
musical favorites mostly from the 50s and 60s.
Here is the playlist to his first show.
The Show tile is Jail Songs.

01. In The Jailhouse Now - Webb Pierce
02. Leroy - Jack Scott
03. Jailhouse Rock - Elvis Presley
04. Chain Gang - Bobby Scott
05. Chain Gang Charlie - Curley Money
06. Chain Gang - Freddie Hart
07. Chain Gang - Sam Cooke
08. Jailer, Bring Me Water - Trini Lopez
09. Midnight Special - Johnny Rivers
10. Prisoner's Song - Warren Storm
11. Jail Bird - Smiley Lewis
12. Hang On The Bell, Nellie - Rowan & Martin
13. A Week In A Country Jail - Tom T. Hall
14. I Made The Prison Band - Tommy Collins
15. Prisoner Of Love - James Brown
16. No Bail In This Jail (Prisoner In Love) - Ikettes
17. The Tijuana Jail - Kingston Trio
18. Allentown Jail - Lettermen
19. El Paso Country Jail - Happenings
20. Have You Ever Spent The Night In Jail - Standells
21. Riot In Cell Block #9 - Coasters
22. Jailbird Blues - Price Leggs
23. Same Old Cell - Western Aces
24. Whichataw Jail - Charlie Daniels Band
25. New Orleans Jail - Rod Bernard

Why not let Glen know what you think of his
new show you can e mail him at:
glenrgordon@charter.net and check him out
in our DJ page at:
http://www.rockitradio.net/dj.html

===============================================
LANE QUIGLEY & THE MEMORY LANE SHOW PART 3 OF 5
OF THE CLASS OF 1966 TRIBUTE SHOW #5662

If you were graduating 50 years ago, then you will
fondly recall the fantastic music that provided the
soundtrack for your graduating semester.
This week, Rockit Radio is happy present Part 3 of a 5-part
salute to the graduating class of 1966 as The Memory Lane
Show presents the annual 50 Year Reunion Program.
This week's playlist will bring back lots of fond memories,
and host Lane Quigley also delivers a number of fascinating
interview pieces along with some other sound clips from the era.
Whether you were a graduate in 1966 or just wish you were,
this show will put a smile on your face.
Come joint the party for a 50 Year Reunion celebrating the
Class of 1966 here on Rock-it Radio.

1. You Baby - The Turtles
2. The Cheater - Bob Kuban & The In-Men
3. Try Too Hard - The Dave Clark 5
4. When a Man Loves a Woman - Percy Sledge
5. The One On The Right Is On The Left - Johnny Cash
6. Eight Miles High - The Byrds
7. Husbands and Wives - Roger Miller
8. Going To a Go Go - The Miracles
9. Drive My Car - The Beatles
10. Lies - The Knickerbockers
11. A Sign of The Times - Petula Clark
12. Elusive Butterfly - Bob Lind
13. Just a Little Misunderstanding - The Contours
14. Better Use Your Head - Little Anthony & The Imperials
15. Cool Jerk - The Capitols
16. Crying - Jay & The Americans
17. Good Lovin - The Rascals
18. Caroline, No - Brian Wilson
19. You've Got My Mind Messed Up - James Carr
20. Magic Town - The Vogues

===============================================
AL COOL DADDY SMITH AND PT. 2 OF THE BOB CREWE
STORY ON ROCK-IT RADIO SHOW #5663

(Part I is in show #5649)
This show continues what will be a three part look at
the importance of Bob Crewe to the music we love.
Many tunes written,produced or sung by Bob Crewe will
be played with an emphasis on his contribution to
the career of Rock-it Radio friend Freddy Cannon.
Many other artists tunes will be featured to show
the scope of his importance to the recording industry.
Part three will conclude this series by concentrating on his importance
to a group already in The Rock and Roll Hall of Fame -
The Four Seasons. That will air on Rock-it Radio next week.

The Play List is as follows:

1.) Do Be Do Be Do-Bob Crewe 1957
2.) Twistin' All Night Long-Danny and The Juniors (with Freddy Cannon) 1961
3.) Growing Up Too Fast-Diane Renay 1964
4.) Save It For Me-The Four Seasons 1964
5.) Watch Out Sally- Diane Renay 1964
6.) Navy Blue-Diane Renay 1964
7.) Melody For Lovers-Bob Crewe 1956
8.) Can't Get Away From It-Bob Crewe 1956
9.) The Whiffenpoof Song-Bob Crewe 1960
10.) Let's Pretend-Bob Crewe 1960
11.) Okefenokee-Freddy Cannon 1959
12.) Tallahassee Lassie-Freddy Cannon 1959
13.) Jump Over-Freddy Cannon 1959
14.) The Urge-Freddy Cannon 1960
15.) Palisades Park-Freddy Cannon 1962
16.) Buzz Buzz A-Diddle-It-Freddy Cannon 1961
17.) Happy Shades of Blue-Freddy Cannon 1960
18.) Teen Queen of The Week-Freddy Cannon 1961
19.) Knock Knock (Who's There)-The Orlons 1964
20.) Goin' Places-The Orlons 1964
21.) Deep Dark Secrets-Dee Dee Sharp 1964
22.) Charm Bracelet-Bob Crewe (with The Rays) 1957
23.) Happy(Love Theme from Lady Sings The Blues)-Bobby Darin 1972

===============================================
BILL GREEN AND THE ROCK AND ROLL RETROSPECTIVE
WITH THE GIANT JUKEBOX ON ROCK-IT RADIO SHOW #5664

Blast off with Rock 'n Roll Retrospective and host Bill Green
as he plays a wide variety of songs from his Giant Juke Box.
Lots of Rock and Roll Hall of Fame members are included
along with Billy Stewart's first chart success, Lee Andrews
highest charting tune and a five song set starting and ending
in Philadelphia with stops in Chicago and New York.
Don't miss this Rock-it ride.

1) DeDe Dinah - Frankie Avalon (1958)
2) Gingerbread - Frankie Avalon (1958)
3) I'll Wait For You - Frankie Avalon (1958)
4) Fat's Frenzy - Fats Domino (1956)
5) Walkin' With Mr. Lee - Lee Alan (1958)
sound bite
6) Jennie, Jennie - Little Richard (1957)
7) I Knew You When - Billy Joe Royal (1965)
8) Since I Lost My Baby -- The Temptations (1965)
9) I'm So Young - Maureen Gray (1962)
10) I'm So Young - The Students (1958)
11) Every Day Of The Week - The Students (58/61)
12) In My Heart - The Timetones (1961)
13) Bristol Stomp - The Dovels (1961)
14) Reap What You Sow - Billy Stewart (1962)
15) Some Of Your Lovin' (1965)
16) Teardrops - Lee Andrews And The Hearts (1957)
17) Fools Rush In - Brook Benton (1960)
18) Don't Forget I Still Love You - Bobbi Martin (64/65)
19) I Don't Know Why (But I Do) - Clarence 'Frogman' Henry (1961)
20) Surrender - Elvis Presley (1961)
21) Girl, You'll Be A Woman Soon - Neil Diamond (1967)
22) The Funniest Thing - Classics IV (1970)
23) By The Time I Get To Phoenix - Glen Campbell (1967)
24) Come Go With Me - The Del Vikings(1957)
25) Free - Chicago (1971)

===============================================
All the Rock-it Radio shows are available on CD

Each show is only $9.50 each and you can order
in bulk and shipping will never be more then $2.00.
Ask for a secure paypal invoice -- information is at:
http://www.rockitradio.net/order.html


==============================================

100'S OF VINTAGE ROCK AND ROLL VIDEOS ON FILE IN
OUR VIDEO SITE AT ROCK-IT RADIO:
CHECK IT OUT AT:

HTTP://WWW.ROCKITRADIO.NET/VIDEO.HTML

==============================================
COME JOIN US ON FACEBOOK !!! WE WOULD LOVE A
LIKE FROM YOU!

http://www.facebook.com/rockitface
The Rock-it Radio Facebook Site.

==============================================
HISTORY OF ROCK-IT RADIO

If you are new to Rock-it Radio and would like to learn more --
We have our History Page up as well -- telling the story of Rock-it
Radio. You can find it at:
http://www.rockitradio.net/history.html

===============================================

APRIL END OF THE MONTH DRAWING OF WINNERS
ANNOUNCED FOR LAUNCHING PAD SUPPORTERS
At the end of every month on Rock-it Radio we have a
random drawing for those that have supported Rock-it
Radio by purchasing either Rock-it Radio shows through the
either the Rock-it Radio Launching pad at:
Or by going and ordering Rock-it Radio shows at:
The APRIL 2016 Winners this month are:
Mike Ledley - Duanesburg, New York USA
Bob Koenig - Levittown, New York USA
Robert Holtzclaw - Murfreesboro, Tennessee USA

SUPER MEGA WINNER - WINNER OF 10 SHOW
OF THEIR CHOICE !!!!!!!!

Melissa Sale - Newport News, Virginia USA

Each of you have won your choice of 3 vintage
Rock Radio programs (The Super Mega winner won 10!)
from our online store at:

or you can order Rock-it Radio Shows if you prefer on CD

You have until May 31, 2016
to let us write back and let
us know of your choices.
Congratulations and let me know what you would like to
have along with a mailing address and we will got those
items out to you. Just our way of saying Thank you for helping
support Rock-it Radio. And of course we will have October drawings
as well at the first week of next month.
NOTE: You should keep on checking this notice board
or join the Launching Pad Facebook site at:
And of course we will be having another drawing at the
end of this month.
NEW RELEASES IN THE ROCK-IT RADIO EBAY STORE.

We have new releases in our Ebay Store of Rock-it
Radio shows. Here are the descriptions below.

1. 5 CD Set of Lane Quigley's Musical Tribute and 50 year Class
Reunion of the Class of 1966 now available in our Ebay Store.
This set of shows is currently being played on Rock-it Radio.
http://www.ebay.com/itm/-/141970472638

2. Last Year's 50 year Class Reunion - Just listed and a
year behind the 5 CD set of Lane Quigley's Musical Tribute
and 50 year Class Reunion for the Class of 1965!
Now in the Rock-it Radio Ebay store at:
http://www.ebay.com/itm/-/141970492550

3. JUST RELEASED! Cool Bobby B & The Doo Wop Stop Show 3 hour
countdown of the Top 50 Requests for 2015. Check out the details
at: http://www.ebay.com/itm/-/131791863990
==============================================

FREE CD GIVEAWAY FOR ENTIRE MONTH OF MAY!
TREVOR HYLAND ROCK AND ROLL DANCE PARTY SHOW.

Rock-it Radio continues to giveaway CD's for May
for orders received this entire month.

Many of you familiar with Rock-it Radio will know our Downunder
DJ Trevor Hyland from Bendigo, Victoria Australia and his popular
Rock and Roll Dance Party show that consists of 50s Rock and Roll
and Rockabilly. Trevor has produced a show not for broadcast but
only available for FREE when you order a vintage broadcast or
Rock-it Radio Show or Flashdrive at the following sites, for the
enitre month of May!

Rock-it Radio Launching Pad : http://www.rockitradio.net/store.html

Rock-it Radio Ebay Store: http://stores.ebay.com/Rock-it-Radio-Store
or

Order a show of Rock-it Radio at: http://www.rockitradio.net/order.html

Catalog orders will also receive this FREE CD.

Here is the playlist of this FREE CD OFFER!

01. Rock Roll Jump - Moonee Valley Drifters
02. Crash The Party - The Shindingers
03. The Magic 8 Balls - Hill Billy Stomp
04. Devil On My Shoulder - Jeannie Lushes & The Lubricators
05. Drive In Show - Howlin' Moondog
06. Ducktail - The Eddys
07. Long Blond Hair - The Flaming Stars
08. Flat Black Cadillac - Flying Saucers
09. Jitterbop Baby - Flatfoot Shakers
10. Rockin' In The Royal - Getback
11. Hot Dog - The Headliners
12. Hot Rod Baby In A Coup De Ville - Slap'n The Cats
13. Bigelow 6-2000 - Jive Bombers
14. Mean Mama - Johnny Law
15. Mean Woman - The Speedsters
16. My Baby Looks Like Betty Page - Wes Pudsey & The The Sonic Aces
17. My Baby's Gone Atomic Hi Tones
18. Rock Bop Boogie - Rusty & The Dragstrip Trio
19. Everybody's Rockin' - Satellite V
20. Saturday Night - Chrome Daddys
21. No Particular Place - The Chevrolets
22. Nervous Breakdown - The Mighty Guys
23. Moon Man Rock - The Whieliners
24. Please Don't Touch - The Top Cats
25. Hot Rod Man - V8 Vagabonds
26. Knock Knock Rattle - West Texas Crude
27. Something's Wrong With My Radio - The Wild Ones



================================================
NEW FLASHDRIVE RELEASE OF OUR 50 LATEST SHOWS ON MP3.
We have just released our 4th flashdrive featuring
Rock-it Radio shows #5551 to #5600. Over 70 hours
of oldies Rock and Roll. To order these shows on
CD would be $9.50 per show. So quite a savings and
much more oldies music and choices with 50 shows and
70 hours of oldies for $39.95. You can view the selection
in our flashdrive page at http://www.rockitradio.net/flashdrive.html
or you can view it in our Ebay store as:
http://www.ebay.com/itm/141918878892
100% of all sales of these flashdrives goes to keeping
Rock-it Radio online and Rockin'!!!!
We almost have shows #5601 to #5650 on Flashdrive and should
be out in a week or two as we wait for flashdrives to arrive at the
station here.

================================================
ROCK-IT RADIO DJ OTTO FUCHS WRITES LYRICS FOR
BILL HALEY TRIBUTE.

Rock-it Radio DJ Otto Fuchs wrote this dedication to
The Comets - A Bill Haley tribute song I penned the lyrics for,
in the version of 1960s Bill Haley´s Comets piano player
Joey Welz - A tribute song to Bill Haley, arranged by
Joey Welz & The Captain Joe Tomasi Combo. Lyrics written
by Otto Fuchs. You can catch it in the YouTube link below.
https://youtu.be/IN1uQ92JxCo
================================================
RECRUITING FOR RADIO PERSONALITIES FOR
ROCK-IT RADIO

Do you know your 50s and 60s Rock & Roll, Doo wop
or Rockabilly? And the ability to produce a show
on CD?
We do require a playlist for this newsletter but
your show will stay online for the world for approx.
3 weeks. Unlike some stations where you broadcast one
time and it's gone forever.
If interested check out our Rock-it Radio Team page
at: http://www.rockitradio.net/team.html

We are also looking for writers and translators!
==================================================
WELCOME ABOARD GLEN GORDON TO ROCK-IT RADIO
AND THE MUSICAL WEB SHOW

Program Manager Lane Quigley did it again and was able to
find a excellent new DJ here at Rock-it Radio. Welcome aboard Glen
Gordon now residing in Madison, Wisconsin but was a DJ in
the Los Angeles Market in the 60s at separate stations then
Lane but they did know each other and now re introduced and
working together here at Rock-it Radio. Glen Gordon and
The Musical Web Show is now online and is a 'must do' listen!

Catch the premiere broadcast of our latest addition to the
Rock-it Radio Jocks. It's Glen Gordon and the Musical Web Show
with Jail songs being his first theme on Rock-it Radio.
It is now on demand and ready to be heard with great oldies
galore as show #5661 in our program page at
http://www.rockitradio.net/programs.html

==================================================
3 New Re introductions of lost broadcasts

We are re listing 3 shows that have not been in our Ebay store for sometime.
But we thought we would re list them today. Especially since today marks
the 50th anniversary of The Vietnam War, we have a special broadcast of
Pat Sajack (before the wheel of Fortune) when he was serving and DJing on
AFVN (Armed Forces Vietnam Network). Serving and spinning Top 40 Songs
to Military serving in Vietnam. Those that know the Movie with Robin Williams
"Good Morning Vietnam" - it's that station! you can view the playlist of
that show at:
http://www.ebay.com/itm/141943972346

Also, come relive New Year's Eve 1967 with BBC Radio 1 Top Gear Show with
DJ John Peel.

John Peel was one of the most fascinating 60s DJ's in the UK! Equivalent in
popularity to the United States Wolfman Jack. He also introduced much of the
60s Psychadelic Rock to the UK. In our catalog these shows are listed as
RIR #342 and RIR #343 you really get your monies worth because both items are
a 2 CD set! Click to the link to see the playlists.

RIR #342 Disc #1 John Peel Top Gear Show BBC Radio 1
http://www.ebay.com/itm/141943985364

RIR #343 Part II of John Peel Top Gear Show BBC Radio 1
http://www.ebay.com/itm/141943992327

Sales of these items along with all items in our Launching Pad site of Rock-it
Radio go to supporting Rock-it Radio and pay for licensing and online and
broadcasting fees. We thank you for your continued support.

==================================================
ROCK-IT RADIO RETAKES #1 INTERNET RADIO STATION

With the excellent showing of DJ's and the talent
that they show and the music that they play at
Rock-it Radio - We are happy to report that Rock-it
Radio has regained the #1 position of most listened
to radio station over the internet according to
Top Internet Radio Stations.

You can follow the standings at:
http://internetradiotopsites.com/index.php

================================================
TWO ROCK-IT RADIO SHOWS SADLY SUSPENDED FROM AIRING.

Though we are thrilled with having Glen Gordon on board
here at Rock-it Radio. We got a double shot of bad news
for us here at Rock-it Radio.
First Ted Loukes host of the Rockabilly Rhythm Show from
South Africa that aired over Rock-it Radio. We received
word from Ted that he is currently unable to host the show
currently and not sure when he will be able to return.
We of course hope for a speedy recovery back to the Rock-it
Radio Airwaves.

Secondly, within days later we heard from Ken Strange a/k/a
DJ Spinning Rock Boogie from the UK host of The Movin' and Groovin' Show,
and Country Music Round Up show. His External Drive holding
thousands and thousands of his songs he has uploaded over years
of collecting was damaged beyond repair during a move to a
new location. A tedious task in deed of hours of work lays ahead
of Ken and we hope also a quick return to Rock-it Radio, both of
you will be surely missed on the Rock-it Radio line up.


=====================================================
STREEMA.COM PICKS UP AUDIO FEED OF ROCK-IT RADIO

Another way to tune into Rock-it Radio on your
computer is now with Streema's audio feed of our
station that picked up Rock-it Radio.

http://streema.com/radios/Rock_it_Radio
A SINCERE THANK YOU FOR DONATIONS INTO ROCK-IT RADIO.

In the last month we have received donations to those
that have been kind enough just to send checks or
donations through paypal. They were in the past month ...

David Shugarman - Las Vegas, Nevada
Steve Reck - San Diego, California
Edward Mayer - Dover, Delaware
Gary Podsieklik - Syracuse, New York
Alfred Mertz - Ft. Worth, Texas
REMINDER ON HOW TO CONTACT THE DJ'S AT ROCK-IT RADIO

We all love our our e mails from listeners here at Rock-it
Radio. Along with requests and dedications. Earlier this year
due to the excessive spam we all were getting I stopped listing
the e mails at each shows playlist. But you can still
contact them. Just go to the Rock-it Radio DJ page and each
DJ has there e mail link underneath each bio.
You can find it at: http://www.rockitradio.net/dj.html


COLLECTING AIRCHECKS - A HOBBY OF RADIO NOSTALGIA
What is a Aircheck? It is simply a recording of a radio broadcast. Usually collected by Radio fans.
Come check out our webpage on collecting Airchecks.

http://www.rockitradio.net/aircheck.html


COME REMEMBER WOLFMAN JACK !!!
Rock-it Radio has a very special way to remember Wolfman Jack.
Arguably the most iconic of American DJ's. Come check out the
Rock-it Radio Wolfman Page at:
REMEMBERING OFFSHORE PIRATE RADIO IN THE UK
In the mid 1960s it was difficult for the youth to actually listen to Rock and Roll in the UK.
The BBC actually ran only a few hours a weekend to provide the young Brits with this outlet.
At night during the week they ventured to even tune into Radio Luxembourg to get there fill,
that broadcast rock and pop around the clock.
To fill this void some venture capitalists decided to bring in commercial radio aboard
refitted radio ships. And anchor themselves just off into International waters off the English coast.
Radio Caroline (named after Caroline Kennedy the U.S. President's daughter at the time) and
Radio London being the most famous. Rock-it Radio has a website dedicated to their ventures
and also have actual radio broadcasts available of these offshore pirates.
We invite you to check them out our webpage at:
http://www.rockitradio.net/pirate.html
FINDING ROCK-IT RADIO ON THE 'TUNE IN RADIO' CELL PHONE APP.

We have had a few requests from listeners that they couldn't find us on the
popular 'Tune in Radio' App. on Android and PC and iphones. Running a
search of 'Rock-it Radio' will actually list 100s of Rock stations.
So, the best way to find us on this very thorough and extensive app. that
I love using myself is -
run a search on 'rockabilly' - there you will easily find
Rock-it Radio listed.
Our Tune in Radio App. webpage is also at:
http://tunein.com/station/?stationId=41878
MISSED A COUPLE OF NEWSLETTERS LAST COUPLE OF WEEKS??

THEN YOU CAN ALWAYS CHECK OUR BLOG WHERE IT IS ARCHIVED.
YOU CAN CHECK OUT OUR BLOG AT:

http://rock-itradio.blogspot.com/
=============================================


ROCK-IT RADIO DJ PAGE...


Remember you can check out all the Rock-it Radio DJ's

and read the bios of these DJ's that make these

Rock-it Radio Shows possible at:


And don't forget for even more pictures --

there is our picture page at:
============================================
IF YOU HAVE TWITTER COME FOLLOW US THERE

If you are one that tweets then please check out and join and get our
updates on your twitter account. Our Twitter link is right below.

http://www.twitter.com/RockitRadio1
It is our new Twitter account and we will once again start
scrolling our messages and updates on our webpages as well.


============================================
ROCK-IT RADIO OTHER TWITTER ACCOUNT FOR
NEWS RELEASES FOR N. IDAHO, KODIAK ALASKA AND
THE WORLD!
Rock-it Radio has another Twitter account and is used for News
Alerts that come into the studio here at Studio A. For those Twitter
users that would like to follow the link is:
http://www.twitter.com/RockitRadioNews

The feed can also be seen in our World News broadcast Webpage
at: http://www.rockitradio.net/news.html


=================================================
WELCOME NEW MEMBERS TO THE LISTENER'S CLUB!!!!

A big welcome to the below new Rock-it Radio listeners that
joined our Listeners Club from April 2, 2016 to
April 13, 2016
We hope that you enjoy the music Rock-it Radio provides
and our playlists and information that our weekly newsletter
provides. Any comments, criticisms, kudos, compliments or
future ideas is always welcome and you can e mail me personally at:
rockitradio@netzero.net

Jason Gold - Anchorage, Alaska USA
John Agnew - Tolga, Queensland Australia
Sarah Krishnan - Tadworth, Surrey United Kingdom
Sehrazat Joubert - Kwazulu Natal South Africa
Tom Wix - Illinois, USA
Derek Guy - Burton on Trent, United Kingdom
Mike Ledley - Duanesburg, New York USA

We have gained 114 new likes in our listeners club
in our Facebook page Rock-it Radio Fan Page as well this week at:
http://facebook.com/rockitface and 43 more following us
on Twitter @Rockitradio1 .

We have added a total of 164 new members to the Rock-it Radio
Listeners Club since our last newsletter. We now have 86,325 exactly
that have joined the Rock-it Radio Listeners club.
We hope that you enjoy the rare 50's and early 60's
Rock and Roll, Rockabilly and Doo Wop (which most commercial
oldies radio stations have forgotten) that we are able to play
for you from Rock-it Radio. Remember, we are here for you!

So if you ever have any requests, dedications, comments and
suggestions we always love to hear from our listeners.
Our e mail address is:
rockitradio@netzero.net

====================================================
To learn more about the Rock-it Radio Listeners Club and our Free
Newsletter please check out:
http://www.rockitradio.net/member.html

It's free and easy to join and the Rock-it Radio Newsletter is always
online at: http://www.rockitradio.net/newsletter.html



====================================================

PLEASE HELP US SPREAD THE GOOD WORD OF ROCK-IT RADIO!

Do you know of someone that might also like the music

of Rock-it Radio? We are desperately trying to keep this

music alive and have been doing so since 1995! Please

share the information of this station. And if you have

a website would you please consider putting a Rock-it Radio

link on your page.

There are a few to choose from in our link page at:

http://www.rockitradio.net/links.html
HOW TO ORDER OLD ROCK-IT RADIO SHOWS = YOUR PURCHASES HELP US STAY ONLINE!!!
We have received many inquiries on how to order Rock-it Radio shows that are no longer in
our on archives webpage. These shows are still available on CD and mailed to you within 24
hours of receiving payment.
To help search for older shows that you may be looking for you may want to check the Rock-it
Radio blog site. Old newsletters describing the shows and playlists
are archived there and there is a menu bar on the right side that breaks down every playlist
Then you may either pay by check or money order or paypal. Rock-it Radio shows are only
$9.50 U.S. each and are studio quality broadcasts that were placed on Compact Disc here at
the Rock-it Radio Studio. We have a flat rate shipping charge of $1.50 U.S. so if you order
one or several -- it is still only $1.50
U.S. shipping. And we ship worldwide, overseas orders are mailed out first class airmail.
Instructions where to send payment is at our webpage:
like we can send you a paypal invoice within 24 hours.

When you order a Rock-it Radio show or shop at our Rock-it Radio Launching Pad you
help keep these oldies alive and help us pay the bills here at Rock-it Radio.
And at the same time -- you are not getting nothing for your donation, but actually
some of the shows and memories we hope we keep alive here at Rock-it Radio.



TOP 20 SELLERS OF THE ROCK-IT RADIO LAUNCHING PAD THIS WEEK

As you know the Rock-it Radio Store sells vintage Radio Broadcasts - Where you
hear the actual music, news and vintage advertisements - uncut and unedited
just like you would of heard
it back then. Here are the top sellers this week.

1. Flashdrive Rock-it Radio Shows 5501 - 5550

2. 50 year Class Reunion 1966 Lane Quigley Memory Lane Show

3. RIR #436 - Pat Sajack Armed Forces Vietnam network 3/18/1969

4. Flashdrive Rock-it Radio Shows 5401 - 5450

5. Flashdrive Rock-it Radio shows 5451 - 5500

6. Flashdrive Rock-it Radio shows 5551 - 5600

7. RIR #342 - John Peel BBC 1 12/31/1967 #1

8. RIR #644 - Dan Ingram WABC New York 6/12/1964

9. RIR #270 - BBC Buddy Holly Tribute from 1965.

10. RIR #642 - Elliot Field - KFWB Los Angeles 1/9/1959

11. RIR #539 - Cousin Brucie WABC New York 9/7/1965

12. RIR #393 - John Lennon as DJ on WNEW New York from 1974

13. RIR #343 - John Peel BBC Radio 1 12/31/1967 #2

14. RIR #517 - Cousin Brucie - WABC New York 11/29/1967

15. RIR #149 - Alan Freed WINS New York City 1/23/1957

16. RIR #410 - Dr. Don Rose - KFRC San Francisco 4/4/1974

17. RIR #113 - Hunter Hancock 50s R&B Los Angeles Broadcasts

18. RIR #181 - Wolfman Jack - XERB Tijuana 12/8/1967

19. RIR #359 - Gus Gossert Oldies show - WPIX FM New York 1971

20. RIR #195 - Charlie O'Donnell KRLA Los Angeles 6/16/1967


If you would like to view these shows in depth you can check out
our Rock-it Radio Ebay Store at:
http://stores.ebay.com/Rock-it-Radio-Store

or in the Rock-it Radio Launching Pad store at:
http://www.rockitradio.net/store.html(listed by date)
and in the upper left hand corner -
there is a search box where you can type in the DJ name or
Station Call letters and that information on that show will pop up.
Ordering from the Ebay store will also qualify you for the Rock-it Radio
giveaway mentioned previously in this newsletter. Sale of
these broadcasts is what keeps Rock-it Radio going and thank
you again to everyone that buys these!

============================================
Rockabilly bands looking for airplay
If you or know someone that would like airplay on Rock-it Radio we invite
you to submit your press kits to Rock-it Radio. Our website for further
information is:
http://www.rockitradio.net/airplay.html
============================================
Come tune into the World on your computer!
1000s of stations around the world now broadcast online. We have a
link to some of the internet top directories to help you find these stations.
http://www.rockitradio.net/internetradio.html
============================================
Rock-it Radio Program Webpage Reminder
Remember, if the show that you want to hear is getting close to the bottom
of the list of radio shows, you should tune in as soon as you can. These shows
to have a high audio quality require a lot of internet bandwidth and memory.
And currently we can only afford the
30
latest shows online here at Rock-it Radio.
So, when a new show is put online it knocks the oldest one off the Rock-it Radio
archives page. Usually a show will at least last 16 to 20 days, once it is placed in
the archives.
============================================
OUR SISTER STATION FIRST NATIONS BROADCASTING.
We invite you to also check out our sister station -- First Nations
Broadcasting. And tune into the rather Cool North of the Yukon and Alaska
with our very own Debbie Snowdove!
============================================
Well that is just about it for this newsletter and playlists of our latest
shows. We hope that you enjoy them.
We will do our best to keep these shows on for at least 14
days and hopefully 21 days.
All the best always,
Bennie Dingo
Rock-it Radio

website: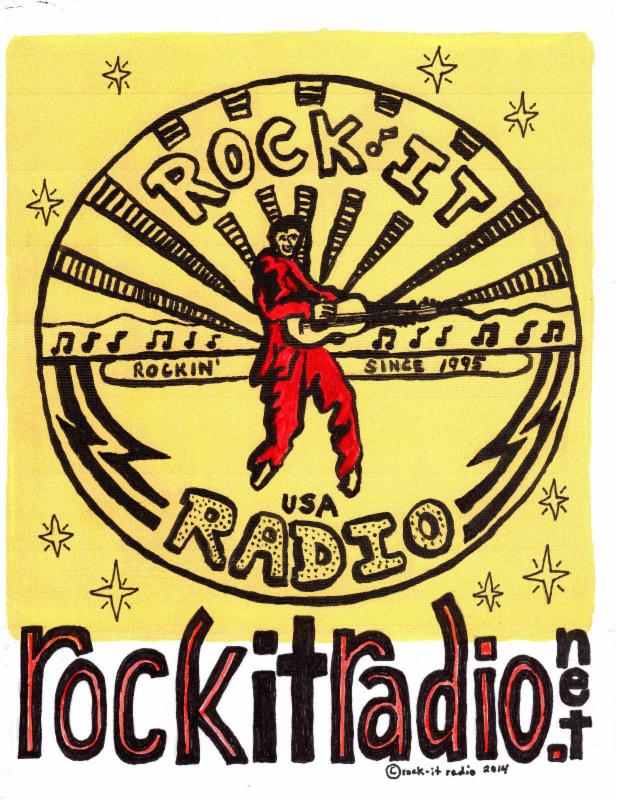 Rock-it Radio main website:
http://www.rockitradio.net

Archived Shows at:
http://www.rockitradio.net/programs.html

Rock-it Radio Vintage Broadcast Store:
(Launching Pad)
http://www.rockitradio.net/store.html