Rock-it Radio since 1995 providing 50s and early 60s Rock and Roll, Doo Wop and Rockabilly music online! Come tune us in at http://www.rockitradio.net We also have several 100 original radio shows from the first decade of Rock and Roll at: http://www.rockitradio.net/store.html
-------------------------------------------------------------------------------------------------------------------
Sign up for the Rock-it Radio Newsletter at http://www.rockitradio.net/member.html (it's free :) )
========================================================================
SHOWS #5846 TO #5860
FROM
December 31, 2016 to March 11, 2017

Hi Rock-it Radio Listeners,

Hope everyone is doing good and staying warm
for all of us here in the upper half of the
World! We have a new flashdrive of Rock-it
Radio shows of shows #5801 to #5850 all on
Flashdrive and a great Giveaway CD this month
of a rock & roll dj pioneer! George Hound Dog
Lorenz Radio Show from 1955 for March.
And playlists of our 15 latest shows (Rock-it
Radio Shows #5846 to #5860) - All featured
in this newsletter of Rock-it Radio!
We also have other news including what happened
to our programming last couple of months and the
State of Rock-it Radio. And a lot more shows
up coming!

So, Let's get started with some playlists!

Our shows can be heard in our archives page at:

http://www.rockitradio.net/programs.html
and click to the speaker on the left to hear the show.

Remember if you are new to Internet Radio and having trouble tuning in though --
Check out our webpage to help you out at:
http://www.rockitradio.net/tunein.html
============================================
REMEMBER YOU CAN ORDER ANY OF THESE ROCK-IT
RADIO SHOWS ON CD!!!! NEW EASIER ORDERING!

Would you like one of these Rock-it Radio shows on CD? To
be able to play anywhere? And help support Rock-it Radio at the same time.
For complete information check out our program
ordering webpage at: http://www.rockitradio.net/order.html

Our shows are of course copies straight from the studio so they are studio
quality and satisfaction is guaranteed.
Or if you would rather receive an invoice let me know and we
can e mail you a copy - Just e mail us the show(s) you would like
to have and the Rock-it # to: rockitradio@netzero.net

==============================================
All Rock-it Radio shows stay online from 18 to 24 days and are
broadcast in MP3 Format. To tune in just click to the speaker
at our program page at:
http://www.rockitradio.net/programs.html

The newest show added replaces the oldest show so if you see a
show near the bottom of the listing - you should listen as soon as
possible.

==============================================
WE COULD USE YOUR SUPPORT

Rock-it Radio is 100% Publicly supported. But when you
donate to the Rock-it Radio Launching Pad - we give you
a vintage broadcast of your choice.
100% of all sales from the Rock-it Radio Store (Launching
Pad) goes back to pay copyright fees, LLC taxes, Internet
and bandwidth costs of Rock-it Radio. Without your support
we would not exist. So. please consider a purchase at:
http://www.rockitradio.net/store.html

===============================================
NOTE: ALL SHOWS BELOW CAN BE FOUND IN OUR
PROGRAM WEBPAGE -
TO TUNE IN CLICK TO SPEAKER OF THE SHOW YOU WANT
TO LISTEN TO. EITHER MP3 OR REAL PLAYER.
BOTH FORMATS ARE SUPPORTED.
AT:
HTTP://WWW.ROCKITRADIO.NET/PROGRAMS.HTML

==============================================
AL COOL DADDY SMITH WITH TRIBUTE TO BOBBY VEE ON
ROCK-IT RADIO SHOW #5846

This show pays tribute to 1960's pop idol Bobby Vee. Bobby Vee
was lost to us on October 24th 2016 due to complications related
to Alzheimer's. His career was born on the day Buddy Holly died,
February 3rd.1959. This fact will be demonstrated during the show.
Not only was Buddy Holly Bobby Vee's idol he also could actually
sing like Buddy Holly! Given these facts the show will reference
greatly both the album he did with The Crickets on Liberty Records
in 1962 called Bobby Vee meets The Crickets also the album he
recorded in 1963 entitled I Remember Buddy Holly also recorded
on Liberty Records. Both these albums and others that I will play
are all the original vinyl albums!

As well his hits will be featured along with Bobby's insights into
the recording of those hit tunes.

The Play List is as follows:

1. Sweet Little Sixteen-Bobby Vee and The Crickets 1962
2. The Girl Cant Help It-Bobby Vee and The Crickets 1962
3. Peggy Sue- Bobby Vee and The Crickets 1962
4. Bo Diddley-Bobby Vee and The Crickets 1962
5. Someday-Bobby Vee and The Crickets 1962
6. Well..Alright Bobby Vee and The Crickets 1962
*Sound Bite*
7. I Gotta Know-Bobby Vee and The Crickets 1962
8. Suzie Baby-Bobby Vee 1959
9. Honey Comb-Bobby Vee and The Ventures 1962
*Sound Bite*
10. Devil or Angel-Bobby Vee 1960
11. Lookin' For Love-Bobby Vee and The Crickets 1962
*Sound Bite*
12. Rubber Ball-Bobby Vee 1961
13. That'll Be The Day-Bobby Vee 1963
14. It Doesn't Matter Anymore-Bobby Vee 1963
15. Oh Boy!-Bobby Vee 1963
16. Raining In My Heart-Bobby Vee 1963
*Sound Bite*
17. Take Good Care Of My Baby-Bobby Vee 1961
18. When Your In Love-Bobby Vee and The Crickets 1962
19. Lucille-Bobby Vee and The Crickets 1962
20. Girl Of My Best Friend-Bobby Vee and The Crickets 1962
21. Little Queenie-Bobby Vee and The Crickets 1962
22. Walk Right Back-Bobby Vee and The Ventures 1962


===============================================
PETE CHASTON'S DOO WOP SHOW ON ROCK-IT RADIO
SHOW #5847

Pete is back this week with more great Doo Wop
for you here on Rock-it Radio! We currently don't
have a playlist for this show but as always Pete is
spinning great 50s and early 60s Doo Wop here on
Rock-it Radio!

1. Doo-Wop All Night Long-The Blue Emotions (opening theme song) (1982)
2. Everyday of the Week-The Students (1958)
3. I'm So Young-The Students (1958)
4. I'm in Love-The Co-eds (1956)
5. Ding Dong-The Packards (1956)
6. Zombi-The Monotones (1958)
7. My Reckless Heart-The Rocketeers (mid 1950s)
8. I Know-The Spaniels (1960)
9. Strange Love-The Native Boys (1956)
10. Twistin' Pneumonia (and Boogie Woogie Flu)-The Genies (xxxx)

SILLY SONG SEGMENT:

11. Buchanan & Goodman On Trial-Buchanan & Goodman (1956)
12. (I'm in Love With) The Garbage Man-Linda Carr & The Impossibles (1962)

SCRATCHY 45 RPMs SEGMENT:

13. All Night Long-The Du Mauriers (1958) 14. Coney Island Baby-The Excellents (1962)
15. Oh Gee, Oh Gosh-The Kodoks (1958)
16. Valerie-The Starlites (1960)

BACK TO THE CDs &/or More 45 RPMs:

17. Castle in the Sky-The Bop-chords (1956)
18. Fine, Fine Frame-The Continentals (1956)
19. I Wanna Run to You-The Tellers (1961)
20. There They Go-The Delfonics (xxxx)

SLOW SONG SEGMENT:

21. Right By Her Side-The Profiles (xxxx)
22. Baby, I Love You-The Du Mauriers (1958)
23. Gloria-Vito & The Salutations (xxxx)
24. Tonight, Tonight-The Mello-Kings (1957)
25. Tear Drops-Lee Andrews & The Hearts (1957)
26. Don't Ask Me (To Be Lonely)-The Dubs (1956)
27. (closing theme song) Adios-The Five Discs (1961)

===============================================
MATT THE CAT AND THE JUKE IN THE BACK SHOW WITH
PT. 2 OF JUKEBOX RHYTHM REVIEW FOR 1956 IN SHOW
#5845

The Matt the Cat and the Juke in the Back puts the ole Rockola Jukebox
front and center on this week's program as we present
part 2 of a 2 part feature on the biggest jukebox jivers from 1956.

1. Swanee River Boogie - Albert Ammons â€" Mercury 1947Â
2. Forty Days & Forty Nights - Muddy Waters and His Guitar â€" Chess 1956Â
3. Stranded In The Jungle - The Cadets â€" Modern 1956Â
4. Fever - Little Willie John â€" King 1956Â
5. Treasure Of Love - Clyde McPhatter â€" Atlantic 1956Â
6. Who Can Explain? - Frankie Lymon & The Teenagers â€" Gee 1956Â
7. Rip It Up - Little Richard â€" Specialty 1956Â
8. Honky Tonk (Pt. 1 & 2) - Bill Doggett â€" King 1956Â
9. Bad Luck - B. B. King â€" RPM 1956Â
10. I Can't Love You Enough - LaVern Baker â€" Atlantic 1956Â
11. I Can't Quit You Baby - Otis Rush â€" Cobra 1956Â
12. GREAT 78* Tricky - Gus Jinkins & Orch â€" Flash 1956Â
13. Loney Avenue - Ray Charles â€" Atlantic 1956Â
14. Oh What A Nite - The Dells â€" Vee-Jay 1956Â
15. A Thousand Miles Away - The Heartbeats â€" Rama 1956Â
16. Don't Be Cruel - Elvis Presley â€" RCA Victor 1956Â
18. After Hours - Erskine Hawkins â€" Bluebird 1946

===============================================
ROCKIN' DADDY O'S ATOMIC DOO WOP DANCE PARTY SHOW
ON ROCK-IT RADIO SHOW #5849

The Daddy O is back this week with another great set of
Uptempo Doo Wop R&B Rockers! From his studios to our
broadcasting facility exclusively on Rock-it Radio.
Here is the playlist of what you will hear when you
click to the speaker on this show!

1. Zoom-The Cadillacs
2. Crazy Love-The Royaltones
3. Ka-Ding Dong-The G-Clefs
4. Happy Beat-The Kents
5. The Cat's Meow-The Romans
6. Hong Kong-The Quinns
7. Chopsticks-Lasalles
8. Zoop-The Charts
9. Castle In The Sky-The Bop-Chords
10. Florence-The Paragons
11. Love That Man Of Mine-Vicky Tafoya & The Big Beat
12. This Girl Of Mine-Jimmy Castor & The Juniors
13. Nunca-The Latin Lads
14. Have Love Will Travel-Richard Berry & The Pharaohs
15. Sapphire-Big Danny Oliver
16. Dearest Darling (You're the One)-Huey Smith
17. The Letter-The Medallions
18. Writing this Letter-The Fairlanes
19. Granny Baby-The Deli-Cados
20. Since You're Gone-Nolan Strong & The Diablos

===============================================
COUNTRY RECORD ROUND UP SHOW WITH KEN STRANGE ON
ROCK-IT RADIO SHOW #5850

Join DJ Ken Strange for another Country Record Round Up as
he delves into the archive to bring you some good ol' country
music from right across the board, with something old,
something new, and a whole lot more in between, including
his regular feature, Duos & Duets.

01. Intro - Medley
02. My Friends Are Gonna Be Strangers - Merle Haggard (65) Tally
03. Forever And Ever Amen - Randy Travis (87) Warner
04. Tobacco Road - Roy Clark (86) Silver Dollar
05. If You Need Me - Dolly Parton (91) Columbia
06. She was Skinny When I Met Her - Hayseed Dixie (07) Cooking Vinyl
07. Three Six Packs Two Arms And A Jukebox - Johnny Seay (68) Columbia
08. Don't Touch Me - Jeannie Seeley (66) Monument
09. Zydeco Gris Gris - Beausoleil (85) Swallow
10. I Like Good Bluegrass - Mac Wiseman (67) Hilltop
11. The Almanac Song - Texas Jim Robertson (59) Design
12. Wondering - Webb Pierce (52) Decca
13. Guess I'd Better Go - Texas Bill Strength (60) Sun
14. One Day After Pay Day - Buck Griffin (64) Rotary
15. It's A Cheating Situation - Moe Bandy & Janie Frickie (79) Columbia
16. I Just Wasted The Rest - Bobby Goldsboro & Del Reeves (68) United Artists
17. I Don't Believe You Met My Baby - The Louvin Brothers (56) Capitol
18. Gracefully - The Courtyard Hounds (10) Columbia
19. Me And Hank And Jumpin' Jack Flash - Marty Stuart (92) MCA-Nashville
20. Down Time - Jo Dee Messina (00) Curb
21. Burnin' Old Memories - Kathy Mattea (89) Mercury
22. Out Bound Plane - Suzy Bogguss (91) Liberty
23. Never wanted Nothing More - Kenny Chesney (07) BNA
24. You Caused It All By Telling Lies - Hank Williams Snr (47) MGM
25. Travelin' Blues - Lefty Frizzell (51) Columbia
26. Giles County Polaski Post Office Tennessee - Red Foley (51) Decca
27. Outro - Medley

===============================================
JACKIE BOND & LET THE GOOD TIMES ROLL OLDIES
SHOW ON ROCK-IT RADIO SHOW #5851 ROCKERS FROM 1957!

From across the pond in the UK comes one awesome DJ
filled with great oldies from the 50s and early 60s.
It's Jackie Bond !!!! Here is the playlist of his
latest show on Rock-it Radio!

1. BYE BYE LOVE - EVERLY BROS
2. THAT'LL BE THE DAY - THE CRICKETS
3. WHOLE LOTTA SHAKIN' GOING ON - JERRY LEE LEWIS
4. COME GO WITH ME - DEL-VIKINGS
5. BLACK SLACKS - JOE BENNETT AND THE SPARKLETONES
6. BUTTERFLY - CHARLIE GRACIE
7. KEEP A KNOCKIN - LITTLE RICHARD
8. BLUE MONDAY - FATS DOMINOÂ
9. YOUNG BLOOD - THE COASTERS
10. LOVE IS STRANGE - MICKEY AND SYLVIA
11. YOU SEND ME - SAM COOKE
12. SILHOUETTES - THE RAYS
13. MR LEE - THE BOBETTES
14. LITTLE BITTY PRETTY ONE - THURSTON HARRIS
15. GOT A LOT O' LIVIN TO DO - ELVIS PRESLEY
16. JIM DANDY - LAVERNE BAKER
17. LOTTA LOVE - GENE VINCENT
18. SCHOOL DAYS - CHUCK BERRY
19. ROCK AROUND THE CLOCK - BILL HALEY (4TH UK CHART ENTRY)


===============================================
JAMMIN JAMES RILEY WITH 3 HOURS OF THE ROCKABILLY AND
BLUES RADIO SHOW ON ROCK-IT RADIO SHOW #5852

With great Rockabilly and Blues style music along with
great interviews it's James Rileys Rockabilly and Blues
Radio show - this week featuring 3 Rockin' hours here
on Rock-it Radio.

Rockabilly N Blues Radio Hour #1
Part 2 of our "Feel Like Going Home: The Songs Of Charlie Rich"
series continues this week with Jerry Phillips (Sam's son),
Holli Mosley, Halley Phillips (Jerry's daughter) and Keith Sykes.
We also hear Howlin' Wolf, Jerry Lee Lewis and Big Sandy!!

1. Rebound- Shooter Jennings
2. Right Behind You Baby- Charlie Rich
3. Rocket 88- Jackie Brenston & His Delta Cats
4. Who Will The Next Fool Be- Holli Mosley
5. Don't Put No Headstone On My Grave- Johnny Hoy
6. Lonely Weekends- Charlie Rich
7. Everything I Do Is Wrong- Keith Sykes
8. How Many More Years- Howlin' Wolf
9. Mean Woman Blues- Jerry Lee Lewis
10. Feelin' Kinda Lucky- Big Sandy & His Fly Rite Boys

HOUR #2 ROCKABILLY N BLUES RADIO SHOW

We get our 3rd and final "Feel Like Going Home: The Songs Of Charlie Rich"
segment this episode. We speak with Preston Shannon & Susan Marshall
on location at the Sam Phillips Recording Service studio in Memphis, TN.
We also begin some Christmas programming with holiday tunes from
Charlie Rich, Billy Burnette and Elvis Presley!

1. Modern Don Juan- James Intveld
2. You're Humbuggin' Me- Lefty Frizell
3. Easy Money- Preston Shannon
4. Big Man- Charlie Rich
5. Midnight Blues- Anita Suhanin
6. Sittin' & Thinkin'- Will Kimbrough
7. Time & Again- Susan Marshall
8. Rebound- Charlie Rich
9. Santa Claus' Daughter- Charlie Rich
10. Santa Bring My Baby Back- Elvis Presley
11. Rock & Roll In Christmas- Billy Burnette

HOUR #3 ROCKABILLY N BLUES RADIO SHOW

We get a Christmas edition of "Dale Yeah" with Dale Watson
and more holiday tunes mixed in the show from Si Cranstoun,
Martin Cilia, Rosie Flores, Ricky Nelson and more! Plus, new
tunes from Wayne Hancock, Skip Frontz Jr, Country Side Of
Harmonica Sam, Jack Skuller and The Belmonts.
We also play a track from Bobby Vee who recently passed away.

1. A Christmas Twist- Si Cranstoun
2. Santa Claus Is Back In Town- Lara Hope & The Arktones
3. Slingin' Rhythm- Wayne Hancock
4. Asphalt In My Veins- Skip Frontz Jr. & His Left-Handed Luckies
5. Rock-A-Hula Baby- Paul Pigat
6. The Christmas Song- Ricky Nelson
7. There's Trouble Brewin'- Jack Scott
8. Lookout Heart- Country Side Of Harmonica Sam
9. Burning The Candle (Both Ends)- Rebel Dean with Linda Gail Lewis
10. Slinky- Jack Skuller
11. Jingle Bells- Martin Cilia
12. Silver Bells- Southern Culture On The Skids
13. Suzie Baby- Bobby Vee
14. The Hatchet Man- Deke Dickerson
15. Christmas On West Mistletoe- Rosie Flores
16. Christmas In Vegas- Dale Watson
17. Big Hunk Of Love- Elvis Presley
18. Welcome Me Back Home- The Belmonts
19. Little Lou- Eddie Cochran

===============================================
MORE FORGOTTEN TOP 40S WITH LANE QUIGLEY AND THE
MEMORY LANE SHOW - ON ROCK-IT RADIO SHOW #5853

This week's Memory Lane Show features all songs that were big hits
back in the day but are rarely heard these days. It's another
episode of Fabulous Forgotten Top 40s on Rock-it Radio. Join host
Lane Quigley for some nostalgic nuggets that are sure to bring
back memories. As always, the show includes a number of fascinating
sound bites in which the artists share the backstory behind their hits.

1. You Can't Sit Down - The Dovells 1963 #3
2. Get a Job - The Silhouettes 1958 #1
3. Girl Come Running - The Four Seasons 1965 #30
SOUND BITE
4. Over The Mountain Across The Sea - Johnny & Joe 1957 #8
5. I Beg of You - Elvis Presley 1958 #8
6. Selfish One - Jackie Ross 1964 #11
SOUND BITE
7. Talk Back Trembling Lips - Hohnny Tillotson 1963 #7
8. Hideaway - Freddie King 1961 #29
9. Stay Awhile - Dusty Springfield 1964 #38
SOUND BITE
10. Little Egypt - The Coasters 1961 #23
11. Trouble in Paradise - The Crests 1960 #20
12. I'm a Fool To Care - Joe Barry 1961 #24
SOUND BITE
13. In The Still of The Night - The Five Satins 1956 #25
14. Muddy Water - Johnny Rivers 1966 #19
15. Steal Away - Jimmy Hughes 1964 #17
SOUND BITE
16. Hello Heartaches, Goodbye Love - Little Peggy March 1963 #26
17. Something About You - The Four Tops 1965 #19
18. My Girl Josephine - Fats Domino 1960 #14
SOUND BITE
19. Tonight My Love Tonight - Paul Anka 1961 #13
20. Come Into My Heart - Lloyd Price 1959 #20
21. I Wanna Be Loved - Ricky Nelson 1959 #20
SOUND BITE
22. I Love How You Love Me - The Paris Sisters 1961 #5
23. Been So Long - The Pastels 1958 #24

===============================================
BILL GREEN GOES ON SOUL PATROL IN THE ROCK & ROLL
RETROSPECTIVE ON SHOW #5854


It's a new year and what better way to kick off 2017 than
heading out on a Soul Patrol. Rock-it D J Bill Green takes
us on this annual musical journey with some super soul sounds.
From the unknown to the unforgettable these records will
make you shout and shimmy. All aboard this fantastic Rock-it ride.

1) Hitchhike - Marvin Gaye (1963)
2) Fa - Fa - Fa - Fa- Fa (Sad Song) - Otis Redding (1966)
3) Chain Of Fools - Aretha Franklin (67/68)
4) I Got You (I Feel Good) - James Brown (1965)
5) Papa's Got A Brand New Bag - James Brown (1965)
6) Green Onions - Booker T and The MGs (1962)
7) Reach Out (I'll Be There) The Four Tops (1966)
8) Girl Watcher - The O'Kasions (1968)
9) Giving Up - Gladys Knight and The Pips (1964)
10) I Heard It Through The Grapevine - Gladys Knight and The Pips (1967)
11) I Can't Believe You Wanna Leave - Little Richard (1957)
12) I Don't Know What You Got - Little Richard (1965)
13) Ain't Too Proud To Beg (accapela) - The Temptations (1966)
14) Ain't Too Proud To Beg - The Temptations (1966)
15) Take Me In Your Arms - Kim Weston (1965)
16) I Ain't Got To Love Nobody Else - The Masqueraders (1968)
17) Break Your Promise - The Delfonics (1968)
18) Go Where You Wanna Go - The Fifth Dimension (1967)
19) Open The Door To Your Heart - Darrell Banks (1966)
20) I Wanna Testify - The Parliments (1967)
21) Tell Mama - Etta James (1967)
22) Watch Your Step - Bobby Parker (1961)
23) Want Ads - The Honey Cone (1971)
24) Oh Girl - The Chi-Lites (1972)


===============================================
JAMMIN JAMES RILEY AND tHE CATCH A WAVE SURF ROCK
SHOW ON ROCK-IT RADIO SHOW #5855

Time to kick off that board and run up to the beach
with your favorite guy or gal and tune in on your
solid state Hi Fi Radio for another 3 hour segment
of Catch A Wave Surf Rock Show! Here is the playlist
on Rock-it Radio.

Catching A Wave Hour #1
Dean Torrence is with us for part 2 of our interview as
we discuss the T.A.M.I. show, Kittyhawk Graphics, Steve Martin,
Jan & Dean tv pilot vs. The Monkees, The Beach Boys,
longevity and more. We also hear tracks from Duane Eddy,
The Belairs, Dennis Wilson, Hal Blaine and the Ramones
(covering Jan & Dean).

1. Yep- Duane Eddy
2. Volcanic Action- The Belairs
3. Pacific Ocean Blue- Dennis Wilson
4. Rock 'N Roll Music- The Beach Boys
5. Dance With The Surfin' Band- Hal Blaine & The Young Cougars
6. Here They Come From All Over The World- Jan & Dean
7. Like A Summer Rain- Jan & Dean
8. Baby Talk- Dean Torrence
9. Vegetables- Laughing Gravy
10. Little Old Lady From Pasadena- Jan & Dean
11. Shrewd Awakening- The Bamboo Trading Company
12. Drag City- Jan & Dean
13. Surf City- Ramones


Catching A Wave Hour #2
An hour packed full of new and classics from The Nebulas
(covering The Hollies), The Beach Boys (plus Bruce Johnston
talks of singing with The Beach Boys for the first time in
the studio), The Bangles (as "The Bangs" doing a surf
instrumental early on), Boss Martians, The Explorers Club,
Bang Mustang, The Monkees, Surfin' Gorillas and so much more!

1. Bus Stop- The Nebulas
2. Charles Bronson- Bang Mustang
3. Do It Again- Papa Doo Run Run
4. Sunny Girlfriend- The Monkees
5. King Of The Surf Guitar- Dick Dale
6. Bitchin' Summer/ Speedway- The Bangles (as "The Bangs")
7. No Sign Of A Pipeline- Martin Cilia
8. Let Him Run Wild- The Beach Boys
9. Calipopicana- Kylie Hughes
10. XKE- Boss Martians
11. Don't Waste Her Time- The Explorers Club
12. James Bond Theme- Glen Campbell
13. Moon Dawg- The Surfaris
14. Summertime Blues- Dion
15. Hawaii Five O- The Ventures
16. Surfin' Hootenanny- Al Casey
17. Kawanga- Eddie Angel
18. Toes On The Nose Bros- Stories From Shamehill
19. Hang Ten- Surfin' Gorillas


Catching A Wave Hour #3
Singer-Songwriter and former member of Jimmy Buffett's
Coral Reefer band, Keith Sykes, is our guest this week!
We discuss his new EP (Songs From A Little Beach Town),
songwriting and more! We also hear Chris Isaak talk
about Dick Dale and tunes from Jerry Cole, Elvis Presley,
El Caminos, Jinx Jones, Jan & Dean, Martian Denny
Orchestra and more!

1. Papa Oom Mow Mow- Jerry Cole & His Spacemen
2. Surf Teen Beat- El Caminos
3. Come As You Are Beach Bar- Keith Sykes
4. Volcano- Jimmy Buffett
5. Little Beach Town- Keith Sykes
6. The Best Day- Keith Sykes
7. Movin- Eddie & The Showmen
8. Walk Like A Man- Jan & Dean
9. We Got Love- The Beach Boys
10. The Day Of Malibu War- The Kanaloas
11. Thunderball- Jinx Jones
12. Hawaiian Sunset- Elvis Presley
13. Sweet Leilani- Chris Isaak
14. The Wedge- Dick Dale
15. On The Move- The Martian Denny Orcestra


===============================================
BILLY VERA'S ROCK AND ROLL PARTY ON ROCK-IT RADIO
SHOW #5856 - HEPSTERS OF THE EARLY 60S

Something a little different this time. This show from
January, 1992 features songs Billy remembers from
the New York jazz stations in the early 1960s,
namely Symphony Sid's show. As Sid used to say,
"A little Latin, a little jazz." All the greats of
that pre-British Invasion period are here, from
Sinatra to Ray Charles, Nancy Wilson to Nina Simone.
Instrumentalists like Jimmy Smith, Ramsey Lewis,
Donald Byrd and Count Basie. This is the stuff listened
to by hipsters, back when "hipster" meant someone
who was actually hip!


Hour 1

1. All About My Girl - Jimmy McGriff
2. Don't Go To Strangers - Etta Jones
3. Jive Samba - Cannonball Adderley
4. There Is No Greater Love - Little Jimmy Scott
5. Soul Sauce - Cal Tjader
6. Stormy Monday(alternate take) - Lou Rawls with Les McCann
7. Misty (Part 2) - Hank Crawford with Ray Charles Band
8. I Thought About You - Frank Sinatra
9. I'm a Fool To Want You - Billie Holiday
10. Something You Got - Ramsey Lewis Trio
11. Maria - Maynard Ferguson
12. Late Late Show - Nat King Cole
13. Con Mil Desenganos - Tito Puente & La Lupe
14. Sister (Part 2) - Shirley Scott
15. Guess Who I Saw Today? - Nancy Wilson
16. Killer Joe - Bennie Golson

Hour 2

17. Without The One You Love - Arthur Prysock
18. Walk On The Wild Side - Jimmy Smith
19. But On The Other Hand Baby - Ray Charles
20. Hard Times - David Fathead Newman with Ray Charles Band
21. Love I Found You - Gloria Lynne
22. Cute - Count Basie Orchestra
23. Where Are You? - Dinah Washington
24. To Be With You - Joe Cuba Sextet featuring Jimmy Sabatar
25. Sidewinder - Lou Morgan
26. Cristo Redentor - Donald Byrd
27. What's New? Jesse Belvin
28. Misty - Lloyd Price
29. I Loves You, Porgy - Nina Simone
30. Back at The Chicken Shack - Jimmy Smith
31. Cottage for Sale - Little Willie John
32. I've Got You Under My Skin - Frank Sinatra
33. Hittin' The Jug - Gene Ammons

===============================================
COOL BOBBY B & THE DOO WOP STOP ON ROCK-IT RADIO
SHOW #5857

From a undisclosed location Cool Bobby B is back
with another 3 hours of programming for us here
at Rock-it Radio! Great Doo Wop Rock and Roll from
the first decade of Rock and Roll now on demand
as show #5800 here at Rock-it Radio. Here is
the playlist of the show.

Hour #1

1. Rockin' with the clock - Shirley and Lee
2. A Sunday Kind of Love - Devotions
3. I'm so young - Kid Kyle
4. (Love You) Forever - Del Shays
5. Baby I love you so - Joe Weaver & Don Juans
6. The Closer you are - The Channels
7. 10 Commandments of love - The Moonglows
8. Stay in my heart - The Rivieras
9. Every beat of my heart - Gladys Knight & Pips
10. I thank the moon - The Crests
11. Close your eyes - The Pretenders
12. Chapel of dreams - The Dubs
13. A moment ago - The Angels
14. You always hurt the one you love - Clarence Frogman Henry
15. I only have eyes for you - The Flamingos
16. It's raining outside - The Platters
17. Teardrop - Santo & Johnny
18. Love Eyes - The Duprees

Hour #2

19. Lovers never say goodbye - the Flamingos
20. Adorable - The Drifters
21. After the lights go down - Al Hibbler
22. I love how you love me - Paris Sisters
23. Sunday kind of love - Dion
24. Up on the roof - The Drifters
25. I know I know - Pookie Hudson
26. Tonight - The Velvets
27. Wishing Ring - 5 Satins
28. Doo Wop Lullabies - Lola & Saints
29. Sleepy Lagoon - Platters
30. Twilight Time - Platters
31. Congratulations - The Turbans
32. Our Anniversary - 5 Satins
33. Love on one but you - The Jesters
34. Dancin the Strand - Maureen Grey
35. I'm so young - Maureen Grey
36. Since I don't have you - The Skyliners

Hour #3

37. 11th hour melody - The Rivieras
38. Moonlight Cocktails - The Rivieras
39. Baby - The Avons
40. Tell me why - Norman Fox & Robroys
41. Who do you think you are - The Fascinators
42. Thank you and goodnight - The Angels
43. Soon - 4 Seasons
44. Take it from a fool - Dreamlovers
45. Two broken hearts - Del Satins
46. You don't love me - Del & The Escorts
47. Gonna hang up my rock and roll shoes - Chuck Willis
48. The best man cried - Clyde McPhatter
49. Candy - The Astors
50. Ooo Poppa Doo - Jesse Hill
51. You're so fine - The Falcons
52. Little Girl of mine - The Cleftones
53. Smoke gets in your eyes - Platters
54. Hey Girl - Freddie Scott
55. Goodnight Baby - The Imaginations

===============================================
OTTO FUCHS ROCKIN THE JOINT ROCKABILLY SHOW ON
ROCK-IT RADIO SHOW #5858

From his studios in Baden, Austria Rockabilly Author
and DJ Otto Fuchs is back this week with another segment
of Rockin The Joint Show filled with Rockin Rockabilly
Music - check out this playlist!

01. Only Teenagers Allowed - Jackie Walker
02. That's Allright - Elvis Presley
03. Matchbox - Carl Perkins
04. Tear It Up - Johnny Burnette
05. Blue Jean Bop - Gene Vincent
06. London Is My Hillbilly Home - Johnny Key & The Kool Kats
07. Teen Street - Janis Martin
08. Sun # 209 - Danny Thompson
09. Riot In Cell Block No. 9 - Wanda Jackson
10. Hot Rodder´s Lament - Deke Dickerson with The Calvanes
11. Golden Hair - Restless Hair
12. Trying To Get To You - Roy Orbison
13. Rock The Joint - Bill Haley & The Saddle Men
14. New Rock The Joint - Bill Haley & The Comets
14. Move It On Over - Bill Haley & The Comets
15. Put Your Cat Clothes On - Carl Perkins
16. Is It Me - Tracey Pendarvis
17. Hank Snow Medley - Warren Smith
18. The Ways Of A Woman In Love - Johnny Cash
19. Baby Please Don´t Go - Billy Lee Riley
20. Searchin´ - Billy Lee Riley
21. Skinny Jim - Eddie Cochran
24. Hang Up My Rock & Roll Shoes - Jerry Lee Lewis
22. Black Slacks - Joe Bennett & The Sparkletones
23. One Hand Loose - Charlie Feathers
25. Sail Away - Ray Smith
26. A Rockin´ Good Way - Shakin´ Stevens & Bonnie Tyler


===============================================
DAVE THE RAVE RELICS AND RARITIES SHOW WITH
60S ROCKERS ON ROCK-IT RADIO SHOW #5859

Dave the Rave is back this week with a full 3 hours
of 60s Rock from R&B to 60s rare Psychadelia Rock -
if you are a lover of 60s Rock you have to check out
this show.

Hour #1

1. Let's Go Trippin' - Dick Dale and Del-Tones
2. There Was A Time - James Brown and Famous Flames
3. Call Somebody Please - Manhattans
4. To Have A Love (As Sweet As You) - Jay Hawkers
5. I'm Your Puppet - Dionne Warwick
6. Aladdin - Changin' Times
7. Zig Zag - Roy Orbison
8. What Good Is Love - Rick and Donna
9. (Here They Come) From All Over The World - Jan and Dean
10. I'm So Glad That You Found Me - The Girls From Petticoat Junction
11. Night Time Music - Majic Ship
12. Pay To The Piper - Chairmen Of The Board
13. OO Wee Baby, I Love You - Fred Hughes
14. Girl On A Swing - Bob Miranda of the Happenings
15. Miracle After Miracle - Van Dykes
16. Big Man In Town - Four Seasons
17. It Takes A Lot Of Lovin' - Landy McNeil
18. Think I'm Gonna Make It - Young Enterprise (Discovery Of Week)
19. Bony Maronie - Standells
20. Heads Up - Freddy King

Hour #2

1. Green Door - Eskew Reeder
2. It's My Life - Animals
3. Think I'm Gonna Make It - Young Enterprise
4. You Don't Know Like I Know - Sam and Dave
5. I Just Don't Know - Lightnin' Slim
6. I Ain't Gonna Tell Anybody - Fireballs
7. It's As Simple As That - Tommy Quickly and the Remo Four
8. I Like It - Gerry and the Pacemakers
9. Summer's Over - Tom Austin and Healeys
10. Short Shorts - Royal Teens
11. Love Is All A Game - Fifth Estate
12. As Long As There Is L-O-V-E Love - Jimmy Ruffin
13. Love Is Not A Game - Sam E Solo
14 Wouldn't It Be Easy - Chuck Trois and the Amazing Maze
15. Help Me Rhonda - Beach Boys
16. Thirty-Second Floor - Washington D.C.'S
17. Golden Gate Park - Rejoice
18. I Don't Care What He's Done (In The Past) - Vivian Copeland (Discovery Of Week)
19. My Dearest Beloved - O'Jays
20. Bus Stop - Oliver Sain

Hour #3

1. Jay Walk - Barons
2. Playboy - Marvelettes
3. Call Me - Chris Montez
4. Tempted - Lewis Weber
5. At The Scene - Dave Clark Five
6. Surf's Up - Royal Monarchs
7. Honolulu Lulu - Jan and Dean
8. 90 Day Guarantee - Donna Loren
9. Party People - Augie Moreno
10. Come On Let Me Try - Linda and the Del Rios
11. Poor Shell Of A Man - Standells
12. I Think I Found Love - Ty Wagner
13. I Found A Love - Wilson Pickett
14. Challenge My Love - Toby Lark
15. I Ain't Got To Love Nobody Else - Masqueraders
16. Wanting You - Maxine Brown
17. You've Got To Be Loved - Montanas
18. What Is Right - Anthony Dean
19. Keep Searching' - Del Shannon
20. Cry,Cry,Cry - Riot Squad (Discovery of Week)


===============================================
DJ SPINNING ROCK BOOGIE AND THE MOVIN AND GROOVIN
SHOW WITH A SPOTLIGHT ON THE UNKNOWN! OF THE 50S & 60S
ON ROCK-IT RADIO SHOW #5860

Join DJ Spinning Rock Boogie for another show in his series "Regional Round Up"
with a slightly different twist to the usual format of featuring a particular
State (s) of America as this show features music from the 50's and 60's
that was recorded all across America on independent labels that weren't pick up
by the national distributers.
Research for this show has shown that some of the featured tracks have both a year
of release and a label, some have just a label with no known year and some
just have the track title and no other information. The common denominator
here is that although year and label may be shown, the label location is
not known. Certainly not to this presenter anyway.

01. Intro - Medley
02. Top Knotch Grade A - Al Reed (57) Winner
03. Hound Dog Boogie - Ralph Arnold (?) Arnolds
04. Slim Jim - Betty Logan (62) Fairlane
05. Tiger Joe - Lee Smith (?) Cyclone
06. Rockin' Rocket - Jimmy Nelis & The Counts (?) ToJon
07. My Little Nancy - Tony Casanover (61) Chariot
08. You're My Baby - Curley Wallis (?) ?
09. The Damage Has Been Done - Ann Clark (?) ?
10. Cost Of Lovin' - Barney Barnicle's Uptowners (?) ?
11. Honky Tonk Song - Charly Walker (?) ?
12. Rock And Roll Thunderbird - The Burt Sisters (?) ?
13. Lonely Soldier Boy - Paul Rigsby (?) ARR
14. Tell Me - Stewart Self & The Gents (63) Starrett
15. Since I Found You - Johnny Garmon & The Shadows (59) Missile
16. You've Got The Magic Touch - Johnny Olen & The Extremes (60) Dee Gee
17. Crying Inside - John E. & The Mad Lads (?) Stone
18. Granny Tops 'Em At The Hop - Bob Grady (59) Chart
19. Gals Don't Mean A Thing - Ray Whisnant (62) Radcar
20. Wild Desire - Vinnie Di Sano + R. Thompson & The Cliffsiders (58) Cliffside
21. Sam Sam Sam - Carol Shaw (?) Talent
22. No No Baby - Carmen Davis & The Ernie Freeman Orchestra (?) Middle-Tone
23. Minor Chaos (instrumental) - Steve Rowe & The Furys (62) Steve Rowe
24. Stood Up - Joey Robinson (62) Mont
25. The Satellite Blues - Kenneth Thompson & The Happy Jacks (59) Cays
26. The Babylon Twist party - Tom Kerry (?) Star
27. The Slosh - Bernadette (62) Beach
28. Right And Ready - Clyde Owens & The Tunesters (60) Spartan
29. Outro - Medley

===============================================
All the Rock-it Radio shows are available on CD

Each show is only $9.50 each and you can order
in bulk and shipping will never be more then $2.00.
Ask for a secure paypal invoice -- information is at:
http://www.rockitradio.net/order.html


==============================================
HISTORY OF ROCK-IT RADIO

If you are new to Rock-it Radio and would like to learn more --
We have our History Page up as well -- telling the story of Rock-it
Radio. You can find it at:
http://www.rockitradio.net/history.html


CONGRATULATIONS TO ROCKIN' DADDY O - KEN ABRUZZI
A large congratulations to Rock-it Radio DJ - Ken
Abruzzi aka "Rockin Daddy O" and with his two shows
of the Rockabilly Ranch Party and the Doo Wop Dance
Party on Rock-it Radio - received the most listener
responses and kudos and the Rock-it Radio DJ for 2016.
Congratulations Ken for all you do and promotions of
your show on Rock-it Radio!

VINTAGE VIDEO PICK OF THE WEEK

For the week of 11 March, 2017
This week in our archives page at:

http://www.rockitradio.net/video.html

This week:
Etta James in a later concert singing
I'd rather be blind

MORE NEW RELEASES IN THE ROCK-IT RADIO LAUNCHING PAD
STORE AND EBAY STORE.

Almost all of our funding for Rock-it Radio comes from the
sale of vintage radio broadcasts from Rock Radio Shows from
the 1950s to the 1970s. We have 4 new releases so far
this month. Here is a brief description and the Ebay link
to these shows. (Playlists of these vintage broadcasts can
be seen in our ebay listing links below).

1. Kenny Everett BBC Light Programme from 7/20/1969.
Great features of 60s Rock. Released as RIR #650 and
in our Ebay store as:
http://www.ebay.com/itm/131986894044

2. Sebastian Stone & Tony Taylor on WOR-FM New York City
from 4/2/1969. Released as RIR #651 and you can view the
playlist and all at our Ebay store listing at:
http://www.ebay.com/itm/142212250474

3. DJ Helen Shapiro and the LOST BEATLES INTERVIEW!
over BBC Radio 4. A must for any Beatles historian of fan.
Released as RIR #652 & at:
http://www.ebay.com/itm/132034603141

4. DJ Bob Dayton Top 40 Radio show over KRLA Los Angeles from
8/14/1969. Released as RIR #653 & at:
http://www.ebay.com/itm/-/132035582202

All updates and latest news on our vintage radio
broadcasts can be found in our Launching Pad Facebook
page at http://www.facebook.com/rockitpad

=============================================

FREE George Hound Dog Lorenz CD WITH EVERY ORDER !!!!
FOR March 2016


MARCH'S GIVE AWAY ON ROCK-IT RADIO PIONEER ROCK DJ
GEORGE 'HOUND DOG' LORENZ - WJJL - NIAGARA FALLS 1955

FREE 1955 VINTAGE RADIO BROADCAST WITH EVERY PURCHASE TO
SUPPORT ROCK-IT RADIO IN March 2017!
The entire month of March we will be going back to the
beginnings of Rock and Roll and a pioneer DJ -
George Hound Dog Lorenz and his May 7, 1955 Rock & R&B
Show over WJJL Niagara Falls, New York.
You can view the Ebay listing of this show and playlist at:
http://www.ebay.com/itm/140359456127

If you would like to view the playlist you can by going to:
http://www.ebay.com/itm/140910695534

Your bonus CD for this month
by supporting Rock-it Radio - Just purchase any
Rock-it Radio items from the sites below.

Rock-it Radio Launching Pad : http://www.rockitradio.net/store.html
Rock-it Radio Ebay Store: http://stores.ebay.com/Rock-it-Radio-Store
or
Order a show of Rock-it Radio at: http://www.rockitradio.net/order.html
Or vintage Wolfman Jack shows at http://www.rockitradio.net/wolfman.html
or 50 Rock-it Radio Shows on a flashdrive at http://www.rockitradio.net/flashdrive.html
Catalog orders will also receive this FREE CD.


**Rock-it Radio is 100% Listener supported we have no
sponsors and the sale of our vintage radio broadcasts helps
us to stay online and pay the copyright and broadcasting
fees it takes to remain online. thank you for all your
consideration.**

================================================
SUN RECORDS FANS HAVE YOU BEEN CATCHING THE SERIES
ON CMT TELEVISION???

American listeners might want to note if you haven't heard
yet .... on Thursday nights the story of SUN Records with
actual actors playing the major characters is being
Televised at 7 PM Pacific Time on CMT.

This last Thursday was the 3rd episode and featured
Ike Turner coming in and recording Rocket 88 at
Sam Phillips Studios. If you haven't caught it yet
and a fan of 50s Music and History you might want to
catch it if you can!

================================================
NEW RELEASE -- FLASHDRIVE OF ROCK-IT RADIO
SHOWS #5801 TO #5850. OUR 9TH FLASHDRIVE

Flashdrive #9 featuring Rock-it Radio shows #5801 - #5850
50 Rock-it Radio Shows on mp3 thumb drive (70! hours of
oldies Rock!) now released and available at:
http://www.ebay.com/itm/142309810534
from there you can also see the playlist of shows on that
thumbdrive.
or you can order any of our Flashdrives at:
http://www.rockitradio.net/flashdrive.html
================================================
RECRUITING FOR RADIO PERSONALITIES FOR
ROCK-IT RADIO

Do you know your 50s and 60s Rock & Roll, Doo wop
or Rockabilly? And the ability to produce a show
on CD?
We do require a playlist for this newsletter but
your show will stay online for the world for approx.
3 weeks. Unlike some stations where you broadcast one
time and it's gone forever.
If interested check out our Rock-it Radio Team page
at: http://www.rockitradio.net/team.html

We are also looking for writers and translators!
PASSINGS FOR 2016 - IN MEMORIAM

Every year Station manager Lane Quigley composes
a list in memoriam that have passed this past year
of 2016.

The headlines in 2016 carried the unfortunate news of several music superstars who passed on.
However, we sadly lost many others who contributed to the music that we love.
Rock-it Radio remembers these men and women who left us last year:

In Memoriam 2016

JANUARY
George Grant of The Castelles (My Girl Awaits Me; Do You Remember)
Troy Shondell (This Time; Hey Little Miss Tease)
Gary Loizzo of The American Breed (Bend Me Shape Me; Step Out Of Your Mind)
Kitty Kallen (Little Things Mean a Lot; Chapel In The Moonlight)
Mic Gilette of Tower of Power (So Very Hard To Go; You're Still a Young Man)
Clarence Reid (Nobody But You ), writer, producer (Clean Up Woman; Girls Can't Do What The Guys Do)
David Bowie (Changes; China Girl)
Glenn Frey (The One You Love; The Heat Is On) of The Eagles (Tequila Sunrise; One of These Nights)
Robert Stigwood - Talent Manager (The Bee Gees; Cream)
Nick Caldwell of The Whispers (And The Beat Goes On; The Dip)
Paul Kantner of Jefferson Airplane (Somebody To Love; White Rabbit)
Otis Clay (Trying To Live My Life Without You)

FEBRUARY
Maurice White of Earth, Wind & Fire (September; Shining Star)
Joe Dowell (Wooden Heart; Little Red Rented Rowboat)
Sonny James (Young Love; First Date, First Kiss, First Love)
Lenny Baker of revival group Sha Na Na
Bobby Caldwell (What You Won't Do For Love; Close Your Eyes) of Terry Knight & The Pack (You're a Better Man Than I; I Who Have Nothing)
Jimmie Haskell - Arranger (Ricky Nelson; The Grass Roots)
Dan Hicks of Dan Hicks & The Hot Licks (I Scare Myself; How Can I Miss You When You Won't Go Away)
Bill Watkins (Missed The Workhouse, I Got Troubles)

MARCH
Gayle McCormick (It's a Crying Shame; It's Gonna Be Alright Now), lead singer of Smith (Baby It's You)
Gogi Grant (The Wayward Wind; Suddenly There's a Valley)
Wayne Smith of revival groups The Cliftonaires, Little Isador & The Inquisitors
George Martin â€" Record Producer (The Beatles; Gerry & The Pacemakers)
Fred Romain of The Native Boys (Strange Love; Native Girl)
Ned Miller (From a Jack To a King; Do What You Do Do Well)
Lee Andrews of Lee Andrews & The Hearts (Teardrops; Long Lonely Nights)
Frank Iovino of revival group The 4 Bouroughs and member of The Bob Knight 4 (Tomorrow We'll Be Married)
Pete Anders of The Videls (A Letter from Ann; Mr. Lonely), The Tradewinds (New York's a Lonely Town; Mind Excursion) and The Innocence (There's Got To Be a Word)
Patty Duke (Don't Just Stand There; Say Something Funny)
Andy Newman of Thunderclap Newman (Something In The Air)
Tommy Brown (Atlanta Boogie) of The Griffin Brothers (Tra-La-La; Weepin' & Cryin')
Keith Emerson of Emerson, Lake & Palmer (Lucky Man) and The Nice (America)
Frank Sinatra Jr.
Ernestine Anderson (You're Not The Guy For Me; Never Make Your Move Too Soon)
Phil Humphrey of The Fendermen (Mule Skinner Blues; Don't You Just Know It)

APRIL
Carlo Mastrangelo (Baby Doll) of The Belmonts (Tell Me Why; Come On Little Angel)
Jack Hammer, nee; Earl Burroughs â€" Songwriter (Great Balls of Fire; Fujiyama Mama)
Mike Lazo of The Tempos (See You In September; Look Homeward Angel)
Lonnie Mack (Memphis; Wham!)
Prince (I Want To Be Your Lover; 1999; Little Red Corvette)
Billy Paul (Me & Mrs. Jones; Am I Too Black For You)
Leon Haywood (It's Got To Be Mellow; She's With Her Other Love)
Merle Haggard (Okie From Muskogee; Mama Tried)
Marshall Jones of The Ohio Players (Pain; Fire; Love Rollercoaster)
Emile Ford of Emile Ford & the Checkmates (What Do You Want To Make Those Eyes At Me For, On A Slow Boat To China)

MAY
Julius LaRosa (Eh! Cumpari; Lipstick & Candy & Rubber Soled Shoes)
Johnny Sea (Day for Decision; My Baby Walks All Over Me)
Floyd Robinson (Makin' Love), Songwriter (The Little Space Girl)
Jack Miller - Producer/Engineer (Sanford Clark; Duane Eddy)

JUNE
Bobby Curtola (Aladdin; Fortune Teller)
Muhammad Ali, nee: Cassius Clay (Stand By Me; I Am The Greatest)
Chips Moman - Producer (Elvis Presley; B.J. Thomas)
Wayne Jackson of The Memphis Horns and The Mar-Keys (Last Night; Boot Leg)
Brian Rading of The Five Man Electrical Band (Signs; Absolutely Right)
Kim Venable of The Classics IV (Traces; Stormy)
Jerome Teasley of Junior Walker & The All Stars (Shotgun; Pucker Up Buttercup)
Sir Mack Rice (Mustang Sally) of The Falcons (You're So Fine)
Scotty Moore of Elvis, Scotty & Bill (That's All Right Mama; Blue Moon of Kentucky)
Mike Pedicine of the Mike Pedicin Quintet (Shake a Hand; Burnt Toast & Black Coffee)

JULY

Bonnie Brown of The Browns (The Three Bells; The Old Lamplighter)
Ron Taylor of The Del Larks (Remember the Night; Job Opening)
Gary S. Paxton of Skip & Flip (Cherry Pie; It Was I) and The Hollywood Argyles (Alley Oop)
Lewis Steinberg of Booker T & The MGs (Green Onions; Chinese Checkers)
William Curlee Dinkins of The Hollywood Flames (Buzz Buzz Buzz; Frankenstein's Den)
Pat Upton of The Spiral Starecase (More Today Than Yesterday; She's Ready)
Rokusuke Ei - Lyricist (Ue o Muite Aruko "aka- Sukiyaki)
Danny Smythe of The Box Tops (The Letter; Cry Like a Baby)
Alan Barnes of The Blackbyrds (Walking In Rhythm)

AUGUST
Carmen Romano of The Elegants (Little Star; Little Boy Blue)
Ruby Winters (I Will; Guess Who; Make Love To Me)
Glenn Yarbrough (Baby The Rain Must Fall; It's Gonna Be Fine)
Eleanor Baroochian of The Cake (Baby That's Me; I Know)
Juan Gabriel (Amor Eterno; No Tengo Dinero)

SEPTEMBER
Fred Hellerman of The Weavers (Goodnight Irene; On Top of Old Smokey; Wim-O-Weh)
Joe Jeffrey of The Joe Jeffrey Group (My Pledge of Love; My Baby Loves Lovin')
John D. Loudermilk (Tobacco Road; Language of Love); Songwriter (Then You Can Tell Me Goodbye; Indian Reservation)
Joe Clay (Ducktail; Sixteen Chicks)
Jerry Corbetta of Sugarloaf (Green Eyed Lady; Don't Call Us We'll Call You)
Jean Shepard (A Dear John Letter; A Satisfied Mind)
Clifford Curry (She Shot a Hole In My Soul; We're Gonna Hate Ourselves In The Morning)
Prince Buster (Al Capone; Oh Carolina)
Eddie Cash (Doing Alright; Come On Home)

OCTOBER
Bobby Vee (The Night Has 1,000 Eyes; Run To Him; Take Good Care of My Baby)
Rod Temperton of Heatwave (Always & Forever; Boogie Nights); Songwriter (Thriller; Off The Wall)
Curley Putman - Composer (Green Green Grass of Home; He Stopped Loving Her Today)
Phil Chess Co-owner of Chess Records
Don Ciccone of The Critters (Mr. Dieingly Sad; Younger Girl) and Four Seasons (December 1963; Who Loves You)
Joan Marie Johnson of The Dixie Cups (Chapel of Love; Iko Iko)
John Zacherle (Dinner with Drac)
Robert Big Sonny of The Intruders (Cowboys to Girls; Together)
Robert Bateman of The Satintones (Tomorrow & Always; Going to the Hop); and songwriter (Please Mr. Postman; Playboy; If You Need Me)
Sonny Sanders of The Satintones (Tomorrow & Always; Going to the Hop); and arranger (Agent Double-O Soul; Just Like Romeo & Juliet; Higher & Higher)

NOVEMBER
Albert Dizz Russell of The Regals (Got The Water Boiling; I'm So Lonely) and The Orioles (Happy 'Til The Letter; I Just Got Lucky)
Billy Miller Co-owner of Norton Records
Mentor Williams Composer (Drift Away) and Producer (Kim Carnes, Dobie Gray)
Doug Edwards of Skylark (Wildflower; I'll Have To Go Away)
Joe Esposito Road Manager for Elvis Presley
Mose Allison (Seventh Son; I Don't Worry About a Thing)
Leon Russell (Lady Blue; Tight Rope)
Leonard Cohen (Suzanne; Hallelujah)
Al Caiola (Bonanza; The Magnificent Seven)
Kay Starr (Wheel of Fortune; Side By Side; Rock & Roll Waltz)

DECEMBER
Herb Hardesty Saxophonist (Fats Domino, Smiley Lewis, Little Richard)
Jim Lowe (Green Door; Talkin To The Blues)
Joe Ligon of The Mighty Clouds of Joy (Amazing Grace; Mighty High)
Sharon Jones of Sharon Jones & The Dap-Kings (Making Up & Breaking Up; 100 Days, 100 Nights)
Wayne Duncan of revival group Daddy Cool
Robert Krasnow - founder of record labels Loma, Buddah and Blue Thumb; CEO of Elektra/Asylum
Greg Lake of Emerson, Lake & Palmer (Lucky Man) and King Crimson (Court of the Crimson King)
Alphonse Mouzon (The Next Time We Love; Morning Sun)
George Michael (A Different Corner; Faith) of Wham! (Wake Me Up Before You Go Go; Careless Whisper)
Debbie Reynolds (Tammy; Am I That Easy To Forget)


COLLECTING AIRCHECKS - A HOBBY OF RADIO NOSTALGIA
What is a Aircheck? It is simply a recording of a radio broadcast. Usually collected by Radio fans.
Come check out our webpage on collecting Airchecks.

http://www.rockitradio.net/aircheck.html


COME REMEMBER WOLFMAN JACK !!!
Rock-it Radio has a very special way to remember Wolfman Jack.
Arguably the most iconic of American DJ's. Come check out the
Rock-it Radio Wolfman Page at:
REMEMBERING OFFSHORE PIRATE RADIO IN THE UK
In the mid 1960s it was difficult for the youth to actually listen to Rock and Roll in the UK.
The BBC actually ran only a few hours a weekend to provide the young Brits with this outlet.
At night during the week they ventured to even tune into Radio Luxembourg to get there fill,
that broadcast rock and pop around the clock.
To fill this void some venture capitalists decided to bring in commercial radio aboard refitted
radio ships. And anchor themselves just off into International waters off the English coast.
Radio Caroline (named after Caroline Kennedy the U.S. President's daughter at the time)
and Radio London being the most famous. Rock-it Radio has a website dedicated to their ventures
and also have actual radio broadcasts available of
these offshore pirates.
We invite you to check them out our webpage at:
http://www.rockitradio.net/pirate.html
FINDING ROCK-IT RADIO ON THE 'TUNE IN RADIO' CELL PHONE APP.

We have had a few requests from listeners that they couldn't find us on the popular
'Tune in Radio' App. on Android and PC and iphones. Running a search of 'Rock-it Radio'
will actually list 100s of Rock stations.
So, the best way to find us on this very thorough and extensive app. that
I love using myself is -
run a search on 'rockabilly' - there you will easily find
Rock-it Radio listed.
Our Tune in Radio App. webpage is also at:
http://tunein.com/station/?stationId=41878
ARE YOU ON FACEBOOK ?? FOLLOW THE LATEST AT
ROCK-IT RADIO AND OUR LATEST VINTAGE BROADCAST RELEASES.

Rock-it Radio has 2 Facebook pages. One for our programming
online and notifications, and the other is for our vintage
broadcast shows for sale.


The Online Station is http://www.facebook.com/rockitface

For the Rock-it Radio Launching Pad and our latest deals and
releases you can follow us at:
http://www.facebook.com/rockitpad
MISSED A COUPLE OF NEWSLETTERS LAST COUPLE OF WEEKS??

THEN YOU CAN ALWAYS CHECK OUR BLOG WHERE IT IS ARCHIVED.
YOU CAN CHECK OUT OUR BLOG AT:

http://rock-itradio.blogspot.com/
=============================================


ROCK-IT RADIO DJ PAGE...


Remember you can check out all the Rock-it Radio DJ's

and read the bios of these DJ's that make these

Rock-it Radio Shows possible at:


And don't forget for even more pictures --

there is our picture page at:
============================================
IF YOU HAVE TWITTER COME FOLLOW US THERE

If you are one that tweets then please check out and join and get our
updates on your twitter account. Our Twitter link is right below.

http://www.twitter.com/RockitRadio1
It is our new Twitter account and we will once again start
scrolling our messages and updates on our webpages as well.


============================================
LETTER TO OUR LISTENERS & SUPPORTERS --
WHAT HAPPENED TO OUR
PROGRAMMING SO FAR IN 2017.

Here it is mid March and Rock-it Radio has barely
even gotten off the launching pad in regards to shows!
and those kind enough to order from us our products
items have been delayed at times. Thank you all for your patience
and esp. our DJ's who have stacks and stacks of shows
still waiting to be played here at Rock-it Radio. I should
of kept in more contact with them and our listening audience.
Since the first of the year I have had many health issues
including 4 herniated discs in my back and 3 bouts pneumonia - While
still being a caregiver to my wife. Then at end of January
my wife Jan started getting sick as well.
We pretty much stopped all production and programming of
Rock-it Radio. Heck this is even our first newsletter for 2017.
We pretty much got medical clearance yesterday to ease back into
it so we are finishing up this newsletter and will start producing
many more shows. Our FM outlet is automated so that pretty much remained
operational.
Now is the true test -- Does Rock-it Radio still have a audience and
desire to listen to our shows? We have enough $ to keep things running
for one month only so if you can and still want to support Rock-it Radio,
Now would be the time to do so. We have selected a pretty good show
this month as a free giveaway as well with every order. So if everyone
is ready to rock!!! Rock-it is now ready to Roll!

S/ Bennie Dingo

=================================================
WELCOME NEW MEMBERS TO THE LISTENER'S CLUB!!!!

A big welcome to the below new Rock-it Radio listeners that
joined our Listeners Club from December 31, 2016 to
March 11, 2017
We hope that you enjoy the music Rock-it Radio provides
and our playlists and information that our weekly newsletter
provides. Any comments, criticisms, kudos, compliments or
future ideas is always welcome and you can e mail me personally at:
rockitradio@netzero.net

Owen Field - Chicago, Illinois USA
Shaun Pewsey - Texas, USA
Phil Trakaski - Mc Henry, Illinois USA
John Yonko - Pennsylvania, USA
William Mauk - St. Thomas U.S. Virgin Islands
Michael Pisano - Lake Carmel, New York USA
Jonathan Sanford - Saugatuck, Michigan USA
Robert Christie - Warnambool, Victoria Austalia
John Mihal - Michigan, USA
Micky Jones - Geelong, Victoria Australia
Mike Utech - Appleton, Wisconsin USA
Plinio Goncalves - Sao Paulo, Brazil
Franolin Plinio - Sao Paulo, Brazil
Roger Hillier - United Kingdom
Robert Trout - Carlsbad, California USA
Richard Weatherford - Bakersfield, California USA
Fred Kruth - Hemlock, Michigan USA
Peter Zepeda - Lakewood, California USA
John Nielsen - Huntington Beach, California USA
Charles Haruna - Laredo, Texas USA
Don Shuttleworth - Thunder Bay, Ontario Canada
Bob Buszta - Michigan USA
John Rossilli - Belleview, Florida USA
Nicholas Smith - Madison, Wisconsin USA
David Pittman - Granite Bay, California USA
Joe Rogers - Georgetown, Kentucky USA
Allen Fossat - Orem, Utah USA
Pat - Soldotna, Alaska USA
Marisa Frasure - Flint, Michigan USA
Kevin Oliver - Shelton, Washington USA
Joey Welz - Lititz, Pennsylvania USA
Linda Haley - Allen, Texas USA
Tony - Hamilton, Ontario Canada
Frank Sowinski - New Kensington, Pennsylvania US
We have gained 353 new likes in our listeners club
in our Facebook page Rock-it Radio Fan Page as well this week at:
http://facebook.com/rockitface and 162 more following us
on Twitter @Rockitradio1 .

We have added a total of 549 new members to the Rock-it Radio
Listeners Club since our last newsletter. We now have 89,081 exactly
that have joined the Rock-it Radio Listeners club.
We hope that you enjoy the rare 50's and early 60's
Rock and Roll, Rockabilly and Doo Wop (which most commercial
oldies radio stations have forgotten) that we are able to play
for you from Rock-it Radio. Remember, we are here for you!

So if you ever have any requests, dedications, comments and
suggestions we always love to hear from our listeners.
Our e mail address is:
rockitradio@netzero.net

====================================================
To learn more about the Rock-it Radio Listeners Club and our Free
Newsletter please check out:
http://www.rockitradio.net/member.html

It's free and easy to join and the Rock-it Radio Newsletter is always
online at: http://www.rockitradio.net/newsletter.html



====================================================

PLEASE HELP US SPREAD THE GOOD WORD OF ROCK-IT RADIO!

Do you know of someone that might also like the music

of Rock-it Radio? We are desperately trying to keep this

music alive and have been doing so since 1995! Please

share the information of this station. And if you have

a website would you please consider putting a Rock-it Radio

link on your page.

There are a few to choose from in our link page at:

http://www.rockitradio.net/links.html
HOW TO ORDER OLD ROCK-IT RADIO SHOWS = YOUR PURCHASES HELP US STAY ONLINE!!!
We have received many inquiries on how to order Rock-it Radio shows that are no longer in
our on archives webpage. These shows are still available on CD and mailed to you within 24
hours of receiving payment.
To help search for older shows that you may be looking for you may want to check the Rock-it
Radio blog site. Old newsletters describing the shows and playlists
are archived there and there is a menu bar on the right side that breaks down every playlist
Then you may either pay by check or money order or paypal. Rock-it Radio shows are only
$9.50 U.S. each and are studio quality broadcasts that were placed on Compact Disc here at
the Rock-it Radio Studio. We have a flat rate shipping charge of $1.50 U.S. so if you order
one or several -- it is still only $1.50
U.S. shipping. And we ship worldwide, overseas orders are mailed out first class airmail.
Instructions where to send payment is at our webpage:
like we can send you a paypal invoice within 24 hours.

When you order a Rock-it Radio show or shop at our Rock-it Radio Launching Pad you
help keep these oldies alive and help us pay the bills here at Rock-it Radio.
And at the same time -- you are not getting nothing for your donation, but actually
some of the shows and memories we hope we keep alive here at Rock-it Radio.



TOP 25 SELLERS OF THE ROCK-IT RADIO LAUNCHING PAD THIS WEEK

As you know the Rock-it Radio Store sells vintage Radio Broadcasts - Where you
hear the actual music, news and vintage advertisements - uncut and unedited
just like you would of heard
it back then. Here are the top sellers this week.


1. RIR #393 John Lennon Guest DJ - WNEW New York 1974
2. RIR #425 Don Steele - KHJ Los Angeles 7/3/1967
3. RIR #436 Pat Sajack - Armed Forces Vietnam Network 3/18/1969
4. RIR #329 Scott Muni - WOR-FM New York City 10/8/1966
5. Rock-it Radio Flashdrive 5701 - 5750
6. RIR #176 Porky Chedwick - WAMO Pittsburgh 6/14/1960
7. RIR #539 Cousin Brucie - WABC New York 9/7/1965
8. RIR #644 Dan Ingram - WABC New York 6/12/1964
9. RIR #312 Dick Biondi - WLS Chicago 5/2/1963
10. RIR #248 Bob Foster - WSAI Cincinatti 4/20/1964
11. RIR #291 Radio London Final Broadcast - UK offshore Pirate 8/14/1967
12. RIR #457 George Granny Goose Groves - KGMB Honolulu 6/27/1973
13. RIR #639 Howard Smith w/ John Lennon & Yoko - WABC New York 1969
14. RIR #426 Dan Ingram - WABC New York 7/4/1968
15. RIR #320 Allison Steele - WNEW New York 9/19/1975
16. RIR #629 Charlie Van Dyke - CKLW Windsor Ontario 4/28/1969
17. RIR #497 Larry Lujack - WLS Chicago 10/17/1978
18. RIR #367 Barney Pip - WCFL Chicago 12/24/1965
19. RIR #410 Dr. Don Rose - KFRC San Francisco 4/4/1974
20. RIR #260 Tony The Tiger Taylor - WXQI Atlanta 4/1/1965
21. RIR #168 Dan Ingram - WABC New York 7/22/1967
22. RIR #305 Ed Cook - WVON Chicago 1/19/1966
23. RIR #559 Dan Ingram - WABC New York Hr. 3 12/26/1969
24. RIR #439 two 1965 radio shows from CKLW Windsor, Ontario
25. RIR #481 Johnny Walker - Radio Caroline UK Pirate 8/28/1967


If you would like to view these shows in depth you can check out

our Rock-it Radio Ebay Store at:

or in the Rock-it Radio Launching Pad store at:

http://www.rockitradio.net/store.html(listed by date)

and in the upper left hand corner -

there is a search box where you can type in the DJ name or

Station Call letters and that information on that show will pop up.

Ordering from the Ebay store will also qualify you for the Rock-it Radio

giveaway mentioned previously in this newsletter. Sale of

these broadcasts is what keeps Rock-it Radio going and thank

you again to everyone that buys these!

============================================
Rockabilly bands looking for airplay
If you or know someone that would like airplay on Rock-it Radio we invite
you to submit your press kits to Rock-it Radio. Our website for further
information is:
http://www.rockitradio.net/airplay.html
============================================
Come tune into the World on your computer!
1000s of stations around the world now broadcast online. We have a
link to some of the internet top directories to help you find these stations.
http://www.rockitradio.net/internetradio.html
============================================
Rock-it Radio Program Webpage Reminder
Remember, if the show that you want to hear is getting close to the bottom
of the list of radio shows, you should tune in as soon as you can. These shows
to have a high audio quality require a lot of internet bandwidth and memory.
And currently we can only afford the
30
latest shows online here at Rock-it Radio.
So, when a new show is put online it knocks the oldest one off the Rock-it Radio
archives page. Usually a show will at least last 16 to 20 days, once it is placed in
the archives.
============================================
OUR SISTER STATION FIRST NATIONS BROADCASTING.
We invite you to also check out our sister station -- First Nations
Broadcasting. And tune into the rather Cool North of the Yukon and Alaska
with our very own Debbie Snowdove!
============================================
Well that is just about it for this newsletter and playlists of our latest
shows. We hope that you enjoy them.
We will do our best to keep these shows on for at least 14
days and hopefully 21 days.
All the best always,
Bennie Dingo
Rock-it Radio

website: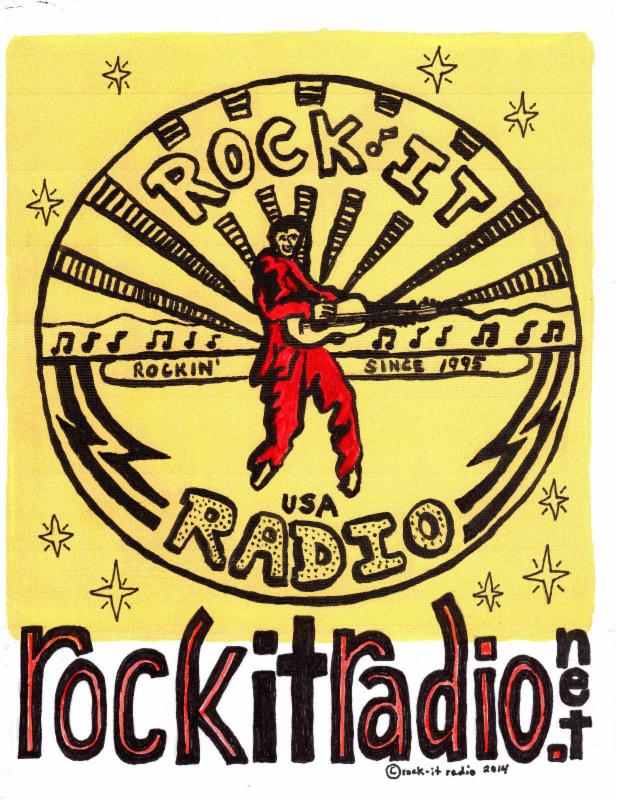 Rock-it Radio main website:
http://www.rockitradio.net

Archived Shows at:
http://www.rockitradio.net/programs.html

Rock-it Radio Vintage Broadcast Store:
(Launching Pad)
http://www.rockitradio.net/store.html