Rock-it Radio since 1995 providing 50s and early 60s Rock and Roll, Doo Wop and Rockabilly music online! Come tune us in at http://www.rockitradio.net We also have several 100 original radio shows from the first decade of Rock and Roll at: http://www.rockitradio.net/store.html
======================================================================
ROCK-IT RADIO NEWSLETTER AND PLAYLIST
SHOWS #5861 TO #5877
FROM
March 12, 2016 to April 24, 2017

Hi Rock-it Radio Listeners,

It has been a very slow start for Rock-it Radio
online this year! I have had to take so much time
off due to health reasons. And this last bout had
to take it easy so not to relapse. Well some time
has passed and ready to get back into the controls
of Rock-it Radio online and play the shows our
great DJs play.
To those that support Rock-it Radio this month we
have a very special CD of DJ Joey Reynolds
introducing some of the first Beatles songs in '64.
Yours Free with details below in this newsletter

So, Let's get started with some playlists!

Our shows can be heard in our archives page at:

http://www.rockitradio.net/programs.html
and click to the speaker on the left to hear the show.

Remember if you are new to Internet Radio and having trouble tuning in though --
Check out our webpage to help you out at:
http://www.rockitradio.net/tunein.html
============================================
REMEMBER YOU CAN ORDER ANY OF THESE ROCK-IT
RADIO SHOWS ON CD!!!! NEW EASIER ORDERING!

Would you like one of these Rock-it Radio shows on CD? To
be able to play anywhere? And help support Rock-it Radio at the same time.
For complete information check out our program
ordering webpage at: http://www.rockitradio.net/order.html

Our shows are of course copies straight from the studio so they are studio
quality and satisfaction is guaranteed.
Or if you would rather receive an invoice let me know and we
can e mail you a copy - Just e mail us the show(s) you would like
to have and the Rock-it # to: rockitradio@netzero.net

==============================================
All Rock-it Radio shows stay online from 18 to 24 days and are
broadcast in MP3 Format. To tune in just click to the speaker
at our program page at:
http://www.rockitradio.net/programs.html

The newest show added replaces the oldest show so if you see a
show near the bottom of the listing - you should listen as soon as
possible.

==============================================
WE COULD USE YOUR SUPPORT

Rock-it Radio is 100% Publicly supported. But when you
donate to the Rock-it Radio Launching Pad - we give you
a vintage broadcast of your choice.
100% of all sales from the Rock-it Radio Store (Launching
Pad) goes back to pay copyright fees, LLC taxes, Internet
and bandwidth costs of Rock-it Radio. Without your support
we would not exist. So. please consider a purchase at:
http://www.rockitradio.net/store.html

===============================================
NOTE: ALL SHOWS BELOW CAN BE FOUND IN OUR
PROGRAM WEBPAGE -
TO TUNE IN CLICK TO SPEAKER OF THE SHOW YOU WANT
TO LISTEN TO. EITHER MP3 OR REAL PLAYER.
BOTH FORMATS ARE SUPPORTED.
AT:
HTTP://WWW.ROCKITRADIO.NET/PROGRAMS.HTML

==============================================
JACK VAN OERS ROCKIN WINDMILL ROCKABILLY SHOW
ON ROCK-IT RADIO SHOW #5861

From the land of windmills, dykes, canals, cheese, tulips,
cows and wooden shoes here is another dynamic
Rockin' Windmill Show. Host Jack van Oers plays music
from Spain, Belgium, Norway, Australia, The UK, Finland,
The USA, Sweden and The Netherlands -
so, just turn up the volume, find your blue suede shoes
and petticoats and enjoy the show

1. Say mama - Gene Vincent - 1958
2. Betty-Lou - Paul Kepler - 1959
3. (The real) travelling band - Hank Sundown & the Roaring Cascades - 2011
4. Too young - Carl Mann - 1959
5. When it's springtime in the Rockies - The Hot Jumpers - 1962
6. Susie's house - Huelyn Duvall - 195x
7. I'm ready if you're willing - The Scatterjacks - 1999
8. Cat called Domino - The Teen Kings - 1956
9. Ramblin' n gamblin' Â - Buck Jones & his Rhythm Riders - 1980
10. Everybody's got a baby but me - Warner Miller - 1958
11. It's over - The Silhouettes - 1961
12. Baby I don't care - Buddy Holly - 1957
13. Baby I don't care - Burt Blanca - 197?
14. Betty Jo - Nicky Brazell & the Satellites - 1960
15. Powder and dynamite - The Black Knights - 1998
16. Goodbye Mary Ann - Charlie Rich - 1962
17. Saturday night - Bobby Fuller Four - 1963
18. Jezebel - Jet Black - 1993
19. I love you - The Temptations - 1958
20. I wanna rock - Micke Muster - 2000
21. Rock and roll record girl - Bobby Poe & the Poekats - 1958
22. Satisfied - The McMillin Brothers - 1960
23. Don't let the stars get in your eyes - Mike & the Rocking Devils - 1993
24. Gotta travel on - The Logan Sisters - 1961
25. Sweet and easy to love - Roy Orbison - 1957
26. La Cucaracha - Micky y los Tonys - 1964

===============================================
COUNTRY RECORD ROUND UP SHOW WITH KEN STRANGE ON
ROCK-IT RADIO SHOW #5862

Join DJ Ken Strange for another Country Record Round Up as
he delves into the archive to bring you some good ol' country
music from right across the board, with something old,
something new, and a whole lot more in between, including
his regular feature, Duos & Duets.
We don't have a playlist for this show but if you
enjoy traditional country music you will love this show!

===============================================
LANE QUIGLEY AND THE MEMORY LANE SHOW - ON
ROCK-IT RADIO SHOW #5863

Another outstanding assortment of rock, r&b, doo wop, rockabilly,
instrumentals, pop, girl groups and surf beat await you from
Rock-it Radio's king of variety, Lane Quigley.
Along with great music from the Glory Days of the 45 RPM,
Lane presents a handful of interview clips from the artists
providing the backstory behind the music plus you'll
also have a chance to see if you can identify this week's
Mystery Artist. All this and more are just click away on this
week's Memory Lane Show.

1. 5-10-15 Hours - Ruth Brown 1952
2. The Girl Around The Corner - Lee Andrews & The Hearts 1957
SOUND BITE
3. Dance By The Light of The Moon - The Olympics 1960
4. You're Gonna Need Me - Barbara Lynn 1962
5. 24 Boyfriends - Dee Clark 1957
6. Then They Wonder Why - Philly Cuzz 2006
SOUND BITE
7. I'm Gonna Sit Right Down and Cry Over You - Elvis Presley 1956
8. Yeh! Yeh! - Mongo Santamaria 1963
9. *MYSTERY ARTIST* Can you identify the artist?
10. Meet Me With Your Black Dress On - Jimmy T-99 Nelson 1953
SOUND BITE
11. I Gotta Know - Wanda Jackson 1956
12. Did You Get Your Fun? - The Bootiques 1966
13. Big Boss Man - Jimmy Reed 1961
14. Bambalam - The Du Droppers 1953
SOUND BITE
15. If My Car Could Only Talk - Lou Christie 1966
16. Oop Boopy Oop - Don Julian & The Meadowlarks 1956
17. Balboa Blue - The Mar-Ketts 1962
18. Angelito - Rene & Rene 1964
SOUND BITE
19. Night Owl - The Dukays 1962
20. If There's Anything Else You Want - Roddie Joy 1965
21. Poison Ivy - Willie Mabon 1954
22. Wait a Minute Baby - The Enchanters 1956
23. Call Me a Fool - Cornell Gunter 1956
24. Should I Ever Love Again? - Wynona Carr 1957
SOUND BITE
25. That's All - Thee Midniters 1965

===============================================
PETE CHASTON'S DOO WOP SHOW ON ROCK-IT RADIO
SHOW #5864 FEMALE DOO WOP FROM 1958

Pete is back this week with more great Doo Wop
for you here on Rock-it Radio! We currently don't
have a playlist for this show but as always Pete is
spinning great 50s and early 60s Doo Wop here on
Rock-it Radio!
It's a bit of a special this week as Pete brings you
Female Doo Wop Groups from the Year 1958!

1. Doo-Wop All Night Long-The Blue Emotions (opening theme song)(1982)
2. Holly-The Four Cheers (1958)
3. Oh, Julie-The Crescendos (1958)
4. Kathleen-The Adelphis (1958)
5. Dorothy-The Hi-Fives (1958)
6. Wanna Lee-The Vocaltones (1958)
7. Rama Lama Ding Dong-The Edsels (1958 & '60-'61)
8. Jeannie-The Unique Teens (1958)
9. I Cant Go On (Rosalie)-Dion & The Belmonts (1958)
10. Blueberry Sweet-The Chandeliers (1958)
11. Zombi-The Monotones (1958)
12. Bertha, My Girl-The Three Notes (1958)
13. Erlene-The Utopians (1958)
14. Ginny-The Smart Tones 1958)
15. Bila-The Versatones (1958)
16. Dot, My Love-The Aladdins (1958)
17. Jennie Lee-Jan & Arnie (1958)
18. Run, Betty, Run-The Van Dykes (1958)
19. Duffy-The Songspinners (1958)
20. Patricia-The Youngtones (1958)
21. Hey, Little Girl-Dee Clark (1958)
22. Valerie-The Mello-Kings (1958)
23. Betty-The Centuries (1957 or '58)
24. Bubble Gum Doll-The Del-Larks (1958)
25. Fine Little Girl-The Arcades (1958)
26. Tina-The Spaniels (1958)
27. (closing theme song) Adios-The Five Discs (1961)

===============================================
MIKE TAYLOR's ROCKABILLY HOUR ON ROCK-IT RADIO
SHOW #5865 FEATURING HONKY TONK ROCKABILLY

HONKY TONK ROCKABILLY - Honky Tonk was a mainstay of
country music from the late 1940's through the 1950's.
When rockabilly came along the themes merged perfectly.
Here's a sampling of some rare honky tonk rockabilly...


1. Honky Tonk Blues - Al Dexter 1936
2. Honky Tonk Blues - Hank Williams 1948
3. Honky Tonk Baby - Hardrock Gunter 1952
4. Honky Tonk - The Fendermen 1960
5. Honky Tonk Freeze - Sandy Coker With The Coker Family 1958
6. Honky Tonk Gal - Carl Perkins 1954
7. Honky Tonk Girl - Preston Ward 1954
8. Honky Tonk Hardwood Floor - Clyde Stacy 1958
9. Honky Tonk Song - Webb Pierce 1958
10. Honky Tonk Kind - Charlie Feathers 1956
11. Honky Tonk Man -Curley Money 1965
12. Honky Tonk Mind - Tommy Blake Unissued
13. Honky Tonk On Second Street - Buck Trail And The Dead Enders 1958
14. Honky Tonk Queen - Roy Duke 1956
15. Honky Tonk Rock - Jim Lowe 1956
16. Honky Tonk Stomp - Hal Payne 1958
17. Honky Tonk With You - Arnold Blevins & Calvin Spicer & The Rockers 1960
18. Honky Tonkin' Baby - Bob Smith And His Bobcats 1962
19. Honky Tonkin' Rhythm - Bobby Sisco, The Singing Farm Boy 1956
20. Honky-Tonk Fever - Johnny Bond 1957
21. Honky-Tonk Mama - Billy Reed 1958
22. Honky-Tonk Woman - Lee Russell With The Wayfarers 1958
23. Honky-Tonk Man - Johnny Horton 1956
24. Honky Tonk Rockabilly Medley - Groovy Joe Poovey (Live)

===============================================
AL COOL DADDY SMITH WITH TRIBUTE TO BILL HALEEY ON
ROCK-IT RADIO SHOW #5866

This show will feature famous and not so famous recordings by
the Father of Rock and Roll Bill Haley.
As well the entire album Bill Haley and His Comets from 1960
On Warner Brothers Records will be played.

The Play List is as follows:

1. Rocket 88- Bill Haley and The Saddlemen 1951
2. Rock The Joint-Bill Haley and The Saddlemen 1952
3. Crazy Man Crazy-Bill Haley and The Comets 1953
4. Shake Rattle and Roll-Bill Haley and The Comets 1954
5. Rock Around The Clock-Bill Haley and The Comets 1954/55
6. Thirteen Women (And Only One Man Around) 1954/55
7. Dim Dim The Lights-Bill Haley 1955
8. Crazy Man Crazy-Bill Haley and The Comets 1960
9. Kansas City-Bill Haley and The Comets 1960
10. Love Letters In The Sand-Bill Haley and The Comets 1960
11. Shake Rattle and Roll-Bill Haley and The Comets 1960
12. I'm In Love Again-Bill Haley and The Comets 1960
13. Stagger Lee-Bill Haley and The Comets 1960
14. See You Later Alligator-Bill Haley and The Comets 1956
15. Burn That Candle-Bill Haley and The Comets 1955
16. Rock Around The Clock-Bill Haley and The Comets 1960
17. I Almost Lost My Mind-Bill Haley and The Comets 1960
18. Blue Suede Shoes-Bill Haley and The Comets 1960
19. Skinny Minnie-Bill Haley and The Comets 1958
20. My Special Angel-Bill Haley and The Comets 1960
21. Blueberry Hill-Bill Haley and The Comets 1960
22. Whole Lotta Shakin Goin On-Bill Haley and The Comets 1960
23. Rock-A-Beatin' Boogie-Bill Haley and The Comets 1955
24. Sound Bite .....(Bill Haley explains how Rock and Roll music got its name).
25. Rock-A-Beatin Boogie-The Esquire Boys 1952
26. Don't Knock The Rock-Bill Haley and The Comets 1956

===============================================
JAMMIN JAMES RILEY WITH 3 HOURS OF THE ROCKABILLY AND
BLUES RADIO SHOW ON ROCK-IT RADIO SHOW #5867

With great Rockabilly and Blues style music along with
great interviews it's James Rileys Rockabilly and Blues
Radio show - this week featuring 3 Rockin' hours here
on Rock-it Radio.

Rockabilly N Blues Radio Hour #1

Los Straitjackets, The Holly Twins & Eddie Cochran,
Susan Marshall, Hillbilly Casino, Buck Owens, the Honeydippers,
Bill Haley & His Comets and Reverend Horton Heat who also
Shares one of his favorite Christmas traditions.
We also hear tunes from Lee Rocker, The Royal Hounds,
Hillbilly Moon Explosion, The Paladins, Dave & Phil Alvin,
Webb Wilder and more!

1. Frosty The Snowman- Los Straitjackets
2. Hoy, Hoy, Hoy (Rockin' On Christmas Eve)- Honeydippers
3. Rockin' Harder- Lee Rocker
4. Rough & Tumble Guy- Webb Wilder
5. Stumble & Fumble- Joakim Tinderholt & His Band
6. Santa Looked A Lot Like Daddy- Buck Owens
7. Let It Snow- Hillbilly Casino
8. You Miss Something- Hillbilly Moon Explosion
9. Make It Hail- The Royal Hounds
10. Good Lovin'- The Paladins
11. I Want Elvis For Christmas- The Holly Twins (with Eddie Cochran)
12. Jingle Bells- Susan Marshall
13. There You Go- Johnny Cash
14. Ooh My Head- Ritchie Valens
15. Precious- JD McPherson
16. Donuts In The Snow- Reverend Horton Heat
17. Jingle Bell Rock- Bill Haley & His Comets
18. Crazy Little Guitar Man- Red Foley
19. How You Want It Done- Dave & Phil Alvin

HOUR #2 ROCKABILLY N BLUES RADIO SHOW

Cliff Richard joins us on the show as we chat about his
latest album, Just...Fabulous Rock 'n' Roll! We also hear
tunes from Dion, Brian Setzer, Ricky Nelson and more!

1. Vinyl Records- Brian Setzer
2. Milk Cow Blues- Ricky Nelson
3. Dynamite- Cliff Richard & The Shadows
4. Roll Over Beethoven- Cliff Richard
5. Blue Suede Shoes- Cliff Richard & Elvis Presley
6. C'mon Everybody- Cliff Richard & The Shadows
7. Move It- Cliff Richard
8. She Means Nothing To Me- Phil Everly & Cliff Richard
9. Dimples- Cliff Richard (with Peter Frampton on guitar)
10. The Wanderer- Dion
11. Wild Wild Party- Charlie Feathers
12. My Baby Left Me- Creedence Clearwater Revival
13. You're Dreaming- The Cactus Blossoms

HOUR #3 ROCKABILLY N BLUES RADIO SHOW

New tunes from Imelda May, Nico Duportal, Kenley Collins,
The Rolling Stones, Wayne Hancock, Whiskey Kiss and classics
from Patsy Cline, Buddy Holly, Jerry Lee Lewis with
Charlie Rich and more!

1. Mercy- The Collins Kids
2. Lonely Weekends- Jimmie Vaughan
3. Part Time Lover- Dibbs Preston
4. Don't You See- Nico Duportal & His Rhythm Dudes
5. Call Me- Imelda May
6. Heartbeat- Buddy Holly
7. I Gotta Go- The Rolling Stones
8. Heeby Jeebies- Nick Curran & The Nitelifes
9. Oh My- Nikki Hill
10. Stop & Listen- Kenley Collins
11. Stop, Look & Listen- Patsy Cline
12. Love My Baby- Robert Gordon & Danny Gatton
13. Am I To Be The One- Jerry Lee Lewis & Charlie Rich
14. Blue Days Black Nights- Levi Dexter & Magic
15. Divorce Me C.O.D.- Wayne Hancock
16. Teenage Heaven- Eddie Cochran
17. She Knows Me- Benny & The Flybyniters
18. Keep It To Myself- Whiskey Kiss

===============================================
ROCKIN DADDY O'S ROCKABILLY RANCH PARTY ON
ROCK-IT RADIO SHOW #5868

The Daddy O is back with more rockin' Rockabilly
both vintage and rockabilly out there today! Delivered
with the high energy that only Rockin Daddy O can
do! Here is the playlist.

1. Lotta Lovin'-The Velaires
2. Coming In Hot-Pat Capocci
3. Get Hot Or Go Home-John Kerby
4. Hey Mama-Mike Waggoner & The Bops
5. Since My Baby Meet You-Scotty Baker
6. Doin' Fine-Little Lesley & The Bloodshots
7. Cogs-Miss Amy Griffin
8. Yes I Do-Royce Porter
9. Too Much Lovin' (Going On)-Derrell-Felts
10. I'm The Wolf Man-Round Robin
11. I'm Ready-Darrel Higham
12. El Camino Real-Boz Boorer
13. Restless-Levi Dexter
14. If I Had Me A Woman-Mac Curtis
15. You Oughta See Grandma Rock-Skeets McDonald
16. Bad Bad Boy-Bobby Lollar
17. Savage Stomp-Screamin' Rebel Angels
18. Setting This Town On Fire-Sean Coleman & The Quasars
19. Every Time-Big Sandy & His Flyrite Boys
20. Minnie Ha-Ha-Monday's Mondos
21. Hush Your Mouth-Bo Diddley

===============================================
BILL GREEN AND THE ROCK & ROLL RETROSPECTIVE WITH
THE GIANT JUKEBOX ON SHOW #5869

Get ready to Rock 'n Roll with Rock-it D J Bill Green.
The host of Rock 'n Roll Retrospective rolls out his
Giant Juke Box and plays everything from the unknown
to the unforgettable. Hop on board this Rock-it show
'cause it's time to blast off.

1) Rockin' Pneumonia & The Boogie Woggie Flu - Heuy 'Piano' Smith & Clowns (1957)
2) Fever - Little Willie John (1957)
3) Cold Sweat - James Brown (1967)
4) Since I Met You Baby - Ivory Joe Hunter (56/57)
5) Baby Work Out - Jackie Wilson (1963)
6) The Lonely One - Duane Eddy (1959)
7) Lonely Avenue - Ray Charles (1957)
8) Treat Her Right - Roy Head (1965)
9) I'm On The Outside (Looking In) - Little Anthony & Imperials (1964)
10) Sweets For My Sweat - The Drifters (1961)
11) Ruby Baby - The Drifters (1956)
12) Lovers Who Wander - Dion (1962)
13) Apples, Peaches, Pumpkin Pie - Jay and the Techniques (1967)
14) Down The Road Apiece - Chuck Berry (1960)
15) School Days - Bill Black's Combo (1964)
16) Wait Til My Bobby Gets Home - Darlene Love (1963)
17) Everybody - Tommy Roe (1963)
18) Come On - Tommy Roe (1964)
19) Good Rockin' Tonight - Elvis Presley (1954)
20) I'm In Love Again - Fats Domino (1956)
21) Look In My Eyes - The Chantels (1961)
22) Love Letter In The Sand - Pat Boone (1957)
23) More Today Than Yesterday - Spiral Staircase (1969)
24) A Dream Of Love - The Nutmegs (1960)

===============================================
PAPA WALT'S OLDIES SHOW ON ROCK-IT RADIO SHOW
#5870

This edition of the Oldies Show is celebrating the
International songs that appeared during, and after,
the onset of the rock and roll era in America but
excludes any material that was part of the British Invasion.
The playlist contains songs from artists hailing from
20 different countries and although some of the tracks
in the show were unheralded in the United States,
others climbed the Billboard charts due to their popular
appeal.

1. 99 Luftballons -Nena (1983) [Germany]
2. Al Di La - Emilio Pericoli (1962) [Italy]
3. Pata Pata - Miriam Makeba (1967) [South Africa]
4. Shanty - The Quests (1964) [Singapore]
5. Eres Tu - Mocedades (1974) [Spain]
6. Da Da Da - Trio (1982) [Germany]
7. Surrender - Perpetual Langley (1966) [Northern Ireland]
8. Morgen - Ivo Robic (1959) [Croatia]
9. Witch Queen of New Orleans - Ervinna & the Stylers (1973) [Indonesia]
10. L'amour Est Bleu - Vicky Leandro (1967) [Luxembourg/Greece]
11. El Watusi - Ray Barretto (1963) [Puerto Rico]
12. Ma Belle Amie - Tee Set (1970) [Netherlands]
13. Sukiyaki - Kyu Sakimoto (1963) [Japan]
14. Pole Musa - Equator Sound Band (1968) [Kenya]
15. Przesliczna Wiolonczelistka -Â Skaldowie (1969) [Poland]
16. La Poupee Qui Fait Non - Michel Polnareff (1966) [France]
17. Take On Me - a-ha (1984) [Norway]
18. La La La - Massiel (1968) [Spain]
19. Apache - Jorgen Ingmann (1961) [Denmark]
20. You Told Me a Lie - Jenny and the Rascals (1966) [Netherlands]
21. Belles Belles Belles - Claude Francois (1962) [France]
22. She's Black But She Always Thinks White - Kaz Lux (circa 1980) [Netherlands]
23. Seeman - Lolita (1960) [Austria]
24. Piesn Polski - Chaston & Groditski (2003) [Wensislavia]

===============================================
MATT THE CAT AND THE JUKE IN THE BACK SHOW WITH
A TRIBUTE TO BIG MAMA THORNTON ON SHOW #5871

Matt the Cat is back this week with a special on the very rockin'
and special recordings of Big Mama Thornton. The original
singer of Hound Dog to many other great songs. Check out
this show and R&B Great!

1. Swanee River Boogie - Albert Ammons â€" Mercury 1947Â
2. Bad Luck Got My Man - The Harlem Stars â€" E&W 1950Â
3. Partnership Blues - Willie Mae Thornton Peacock 1951Â
4. Mischievous Boogie - Willie Mae Thornton w/ Joe Scott Orchâ€" Peacock 1952Â
5. Hound Dog - Willie Mae Big Mama Thornton Peacock 1953Â
6. Night Mare - Willie Mae Big Mama Thornton w/ Kansas City Bill & Orch â€" Peacock 1953Â
7. Rock A Bye Baby - Willie Mae Big Mama Thornton with Kansas City Bill & Orch â€" Peacock 1953Â
8. They Call Me Big Mama - Wille Mae Big Mama Thornton w/ Kansas City Bell & Orch Peacock 1953Â
9. I Aint No Fool Either - Willie Mae Big Mama Thornton w/ Johnny Otis Orch â€" Peacock 1953Â
10. Yes, Baby - Johnny Ace & Band Duke 1953Â
11. I Smell A Rat - Willie Mae Big Mama Thornton w/ Johnny Otis Band â€" Peacock 1954Â
12. Stop Hoppin On Me - Willie Mae Big Mama Thornton w/ Burt Kendricks Orch. â€" Peacock 1954Â
13. GREAT 78** - All Right Baby - The Harlem Stars â€" E&W 1950Â
14. The Fish - Willie Mae Big Mama Thornton Peacock 1955Â
15. Tarzan & The Dignified Monkey -Willie Mae Big Mama Thornton & Elroy Peace â€" Peacock 1955Â
16. My Man Called Me - Willie Mae Thornton w/ Johnny Otis Band â€" Peacock 1957Â
17. After Hours - Erskine Hawkins â€" Bluebird 1946

===============================================
OTTO FUCHS ROCKIN THE JOINT ROCKABILLY SHOW ON
ROCK-IT RADIO SHOW #5872

From his studios in Baden, Austria Rockabilly Author
and DJ Otto Fuchs is back this week with another segment
of Rockin The Joint Show filled with Rockin Rockabilly
Music - check out this playlist!

01.Don´t Let Go-Dorsey Burnette
02.All Week Long-Johnny Burnette
03.I Don´t Care-Carl Mann
04.Let´s Get Drunk-Johnnie Allen
05.The Mystery Of Love-Joey Welz
06.Three Steps To Heaven-Eddie Cochran
07.Say Mama-Gene Vincent
08.Primrose Lane-Dickie Pride
09.Johnny Rocco-Marty Wilde
10.High Class Baby-Cliff Richard
11.Think It Berry-Mike Berry & The Crickets
12.Memphis, Tennesse - Dave Berry
13.Lousiana Man-Jerry Lee Lewis
14.Walk A Mile In My Shoes-Elvis Presley
15.Wild Hearts Run Out Of Time-Roy Orbison
16.You´re True Love-Carl Perkins
17.Whiskey River-Johnny Carroll
18.Rollin´ Rock-Mac Curtis
19.In The Valley Of The Moon-Marvin Rainwater
20.Move It On Over-Bill Haley & The Comets
21.Dance To The Bop - Gene Vincent
22.Teenage Moon-The Big Bopper
23.The Groovy Age-Boyd Bennett & His Rockets
24.Til I Waltz Again With You-Freddie Fingers Lee
25.Red Cadillac & A Black Moustache-Shazam
26.Troublesome Bay-Matchbox
27.Honey Love-Bunny Paul

===============================================
JAMMIN JAMES RILEY AND tHE CATCH A WAVE SURF ROCK
SHOW ON ROCK-IT RADIO SHOW #5873

Time to kick off that board and run up to the beach
with your favorite guy or gal and tune in on your
solid state Hi Fi Radio for another 3 hour segment
of Catch A Wave Surf Rock Show! Here is the playlist
on Rock-it Radio.

Catching A Wave Hour #1

We get part 1 with Mike Love of the Beach Boys this week
as well as Christmas tunes from Man Or Astroman,
The Trashmen, Colbie Caillat, Spechlis and Jimmy Buffett.
Plus, we spin rockers from Junior Brown (& The Beach Boys),
Duane Eddy and The Astronauts

1. Frosty The Snowman- Los Straitjackets
2. Dancing With Santa- The Trashmen
3. 409- Junior Brown with The Beach Boys
4. Beach Bound- Duane Eddy
5. Susie Q- The Astronauts
6. Surfin' USA- The Beach Boys
7. California Girls- The Beach Boys
8. Little Honda- Mike Love, Bruce Johnston & David Marks
9. Here Today- The Beach Boys
10. God Only Knows- The Beach Boys
11. Christmas In The Sand- Colbie Caillat
12. Up On The Housetop- Spechlis
13. Run Rudolph Run- Jimmy Buffett

Catching A Wave Hour #2

Part 2 with Mike Love as well as Christmas tunes from Mike,
Los Straitjackets, The Ventures, Phil Keaggy and Jan & Dean.
Plus, rockers from Al Casey, The Sabres, Southern Culture
On The Skids, Dick Dale and The Chantays!

1. Feliz Navidad- Los Straitjackets
2. Frosty The Snowman- Jan & Dean
3. Surfs You Right- Al Casey
4. Stink Bomb- The Sabres
5. Rumours Of Surf- Southern Culture On The Skids
6. I Get Around- The Beach Boys
7. Good Vibrations- The Beach Boys
8. Goin' To The Beach- The Beach Boys
9. Hungry Heart- Mike Love
10. You'll Never Be Alone On Christmas Day- Mike Love
11. All This Is That- The Beach Boys
12. Blue Christmas- The Ventures
13. I Saw Mommy Kissing Santa Claus- Phil Keaggy
14. Stranded- Bang Mustang
15. Mr. Eliminator- Dick Dale
16. Banzai- The Chantays


Catching A Wave Hour #3

We hear a mix of Christmas and non-holiday tunes this week
including new tunes from Wonderlux and The Bayonets!

1. Here Comes Santa Claus- Hillbilly Casino
2. The Man With All The Toys- Brian Wilson
3. Bucket Seats- The Marketts
4. Surf City Stomp- Denvermen
5. Kustom Kar Show- David Marks & The Marksmen
6. It Came From The North Pole- Wonderlux
7. Mele Kalikimaka- Chris Isaak
8 Ain't Got A Thing- Untamed Youth
10. Bullseye- East Nashville Teens
11. A Surfer's Christmas- The Surfaris
12. Deck The Halls- Martin Cilia
13. Ramrod- Bruce Johnston
14. The Sun Comes Out Again- Randy Stonehill with Havalina Rail Co.
15. Thunder Downunder- The Atlantics
16. Christmas Time Is Cruel- The Bayonets
17. Jingle Bell Rock- Davie Allan & The Arrows
18. Christmas Time Is Here Again- The Beach Boys
19. The Warmth Of The Sun- Surf City Allstars

===============================================
BILLY VERA'S ROCK AND ROLL PARTY ON ROCK-IT RADIO
SHOW #5874 -

From one of my old radio shows from 1989, a great selection
of items from the early 50s, including hits like "Cadillac Boogie"
by Jimmy Liggins, "One Mint Julep" by the Clovers,
"Baby Let Me Hold Your Hand" by Ray Charles and "At Last"
by Buddy Johnson, vocal by Arthur Prysock. Lesser know gems
like Tiny Bradshaw's "Soft," The Swallows' "It Ain't The Meat"
and Jimmy Scott's hipster ballad classic "The Masquerade Is Over."
All this plus unreleased goodies by Annie Laurie, the Five Keys
and the Robins. If you're a fan of paleo-rock'n'roll,
don't miss this one!


HOUR 1

1. We're Gonna Rock This Joint - The Jackson Brothers
2. Lowdown Feeling - Annie Laurie (unreleased demo)
3. Cadillac Boogie - Jimmy Liggins
4. Flames In My Heart - The Checkers
5. Chartreuse - Louis Jordan
6. When Will My Troubles End - The Five Keys(unreleased)
7. Hurricane - Joe Houston
8. The Candle's Burning Low - Johnny Otis Orch. vocal by Mel Walker
9. Sad Head Blues - Mr. Sad Head
10. You Are My Future - Percy Mayfield (unreleased)
11. My Baby Done Told Me - The Robins (unreleased)
12. Confused - Paul Gayten
13. Undercover Girl Blues - Lester Young
14. I'm Gonna Jump In The River - Ella &Buddy Johnson
15. It Went Down Easy - Melvin Smith
16. Looped - Melvin Smith
17. The Masquerade Is Over - Little Jimmy Scott
18. No Mail Blues - Memphis Slim
19. Gambler's Blues - Dinah Washington
20. Shrimp Boats - Sonny Til & The Orioles

HOUR 2

21. Aviator Papa - Lollipop & Ethel
22. At Last - Buddy Johnson Orch. vocal by ArthurPrysock
23. Brand New Baby - Little Mr. Midnight
24. Soft - Tiny Bradshaw
25. Baby What's New - Paul Gayten Band, vocal by Annie Laurie
26. It Ain't The Meat (It's The Motion) - The Swallows
27. Go Get Some More You Fool - Jimmy Rushing
28. There's No Other Way - The Jackson Brothers
29. I'll Be There - Johnny Otis Ork. vocal by Little Esther
30. In The Alley - Dave Bartholomew
31. Baby Let Me Hold Your Hand - Ray Charles
32. One Mint Julep - The Clovers
33. Going Home - The Ravens

===============================================
DJ SPINNING ROCK BOOGIE AND THE MOVIN AND GROOVIN
SHOW ON ROCK-IT RADIO SHOW #5875
"REGIONAL ROUND UP - OREGON -MARYLAND -COLORADO & IOWA Pt 2"

Join DJ Spinning Rock Boogie for another in his series
"Regional Round Up", the show that features a particular
State(s) of America with some of the record labels from
out of that State(s) the towns and cities where those
labels were based, although not necessarily where they
were recorded, and of course the artists who recorded on them.
This show, Pt 60 features the States of, Oregon, Maryland,
Colorado and Iowa with rock and roll and rockabilly from
the 1950's and 1960's plus the regular feature of The Smooch
Spot.

01. Intro - Medley
02. Song Of The City - The Kisn Sisters (60) 91derful Presents - Portland - Oregon
03. Drag Strip Baby - Johnny Roane (58) Wagon - Baltimore - Maryland
04. Revenuer Man - Bill Goodwin (62) Band Box - Denver - Colorado
05. Bayou Boogie - Smokey Smith (63) Cardinal - Des Moines - Iowa
06. Mama You've Had Your Day - Arlie Duff (58) Smartt - Colorado Springs - Colorado
07. Springtime Rock (instrumental) - Jimmy Volk (59) Rocket - Portland - Oregon
08. That Nonsense Stuff - Mac McLanahan & The Rhythm Busters (68) Tiger - La Junta - Colorado
09. I'm Gonna Let You Go - Hank Rector (58) Starlite - Bel Air - Maryland
10. Easy Payments - Sherree Scott (59) Sherree Heart - Mehama - Oregon
11. I Love 'Cause I Love You - Tom King & The Starfires = The Ardells (63) Rescue - Baltimore - Maryland
12. I've Been Around Your Door Before - Vince Maloy (68) 1223 - Accokeek - Maryland
13. Honey Honey - Leon Smith (60) Willamette - Eugene - Oregon
14. Darlene Darlene (smooch) - Larry De Rieux (59) Arco - Eugene - Oregon
15. Blue Eyes Don't Run Away (smooch) - Link Wray (60) Vermillion - Accokeek - Maryland
16. Rock And Roll Blues (smooch) - Frank Bowen + Dave Warren & The Ark valley Wranglers (57) Cimmeron - Lamar - Colorado
17. He'll Make Me Strong (gospel smooch) - The Dynamic Traveleers (78) Dynamic Traveleer - Baltimore - Maryland
18. Rollin' Rhythm - Andy Doll & His Band (58) AD - Oelwein - Iowa
19. It's Rock And Roll - Jack Winston & The Hi-Jacks (58) Jaywing - Stevenson - Maryland
20. Hop Rock - Wes Holly & The Rhythm Ranchers (58) Wes Holly - Davenport - Iowa
21. Single Man - Warren Robbe (59) Mystic - Cannon City - Colorado
22. Please Don't Squeeze My Jimmy - Judy Sword (?) Lavender - Seaside - Oregon
23. Danger (instrumental) - The Rockets (61) Lo-Nel - Corvallis - Oregon
24. Little Girl - Bobby Everhart (61) Bat - Baltimore - Maryland
25. Crazy Mama - Benny Cliff (58) Horseshoe - Portland - Oregon
26. Alligator Stomp - Ray Williams & The Rampages (64) Wedge - Baltimore - Maryland
27. Jump Baby Jump - Harry Carter (58) Zap - Mount Rainier - Maryland
28. I Wanna Do It - The Escorts (63) Fredlo - Davenport - Iowa
29. All That Really Matters - Jerry Savoy (62) Enterprise - Denver - Colorado
30. Outro - Medley

===============================================
COOL BOBBY B & THE DOO WOP STOP ON ROCK-IT RADIO
SHOW #5876

From a undisclosed location Cool Bobby B is back
with another 3 hours of programming for us here
at Rock-it Radio! Great Doo Wop Rock and Roll from
the first decade of Rock and Roll now on demand
as show #5800 here at Rock-it Radio. Here is
the playlist of the show.

Hour #1

1. Rockin' with the clock - Shirley and Lee
2. Dream come true - The Earls
3. Singing Waters - The Cashmeres
4. Never let you go - 5 Discs
5. Bim Bam Boom - El Dorados
6. Little Girl of mine - The Cleftones
7. You're so fine - The Falcons
8. Walk with the wind - The Fidelitys
9. Magic Moon - The Rays
10. Blue Velvet - The Paragons
11. I need your love - Donna Lin & Royals
12. Light a candle in the chapel - The Solitaires
13. Dandilion - The Chargers
14. The Girl I love - Roy Tyson
15. At times like this - The Originals
16. Magic Lady - Larry DiSalvi
17. There goes the boy - The Lydells
18. An angle up in heaven - Del Vikings
19. I will never pass this way again - The Duprees

Hour #2

20. You Cheated - The Shields
21. Baby Blue - The Echoes
22. Ten commandments of love - The Moonglows
23. Can't help lovin that girl of mine - The Hideaways
24. Pretty little Angel - The Crests
25. Sweetest One - The Crests
26. What a surprise - The Crests
27. Tomorrow - The Decoys
28. Two broken hearts - The Del Satins
29. Gonna make him my baby - April Young
30. Mr. Maestro - The Impossibles
31. Take my love - The Corvells
32. Wish I didn't love you so - The Clips
33. You know I go for you - The Cool Breezers
34. Heavenly - Four Counts
35. Chapel of Tears - Lonnie & Carollons
36. Passing By - The Versatiles
37. Whispering Campaign - The Temples
38. Flat Foot Sam - Oscar Wilis

Hour #3

39. 11th hour melody - The Rivieras
40. Moonlight Serenade - The Rivieras
41. Lonely Teenager - Dion
42. I got the blues - Dion & Belmonts
43. We belong together - Robert & Johnny
44. Pledging my love - Johnny Ace
45. Maybe - The Chantels
46. Boardwalk Angel - Philly Cuzz
47. My Reverie - The Larks
48. Deed I do - The Gems
49. Letters of Love - The Dovells
50. One Phone Call (will do) - Pattle La Belle & Her Bluebells
51. It's so hard to be young - The Yachtsmen
52. Three signs of love - Bobby & The Counts
53. Out of Town - Publio & Valiants
54. Image of love - Publio & Valiants
55. Barbara - The Temptations
56. Looking for an echo - Kenny Vance & Planotones
57. Goodnight Baby - The Imaginations

===============================================
DAVE THE RAVE RELICS AND RARITIES SHOW WITH
60S ROCKERS ON ROCK-IT RADIO SHOW #5877

Dave the Rave is back this week with a full 3 hours
of 60s Rock from R&B to 60s rare Psychadelia Rock -
if you are a lover of 60s Rock you have to check out
this show.

Hour #1

1. Rinky Dink - Sounds Incorporated
2. Eight Days A Week - Beatles
3, (I've Got A Feeling) You're Gonna Be Sorry - Billy Butler
4. Born Again - Sam and Dave
5. Snoopy For President - Royal Guardsmen
6. How To Pick A Winner - Diamond Joe
7. That's For Sure - Mustangs
8. Oh Yeah - Joe Melson
9. The Dark End Of The Street - James Carr
10. She Shot A Hole In My Soul - Clifford Curry
11. Sock It To Me Baby - Mitch Ryder and Detroit Wheels
12. What's Your Secret - Ron Cochrane & The Entertainers
13. Action Woman - The Litter
14. Action, Action, Action - Keith Allison
15. Soul - Great Nathaniel
16. Hitch It To The Horse - Fantastic Johnny C
17. Do The Walk - The Vels
18. Walk Like A Man - Four Seasons
19. The Problem Is - Fads (Discovery of Week)
20. Elephant Stomp - Dragons

Hour #2

No Playlist received

Hour #3

No Playlist received



===============================================
All the Rock-it Radio shows are available on CD

Each show is only $9.50 each and you can order
in bulk and shipping will never be more then $2.00.
Ask for a secure paypal invoice -- information is at:
http://www.rockitradio.net/order.html


==============================================
HISTORY OF ROCK-IT RADIO

If you are new to Rock-it Radio and would like to learn more --
We have our History Page up as well -- telling the story of Rock-it
Radio. You can find it at:
http://www.rockitradio.net/history.html


SUMMER IS COMING - THE PERFECT TIME OF YEAR
TO BUY A ROCK-IT RADIO T SHIRT!

Have you seen the new full line of Rock-it Radio T shirts that have been
Released. 3 New designs by Rock-it Radio's own Jammin' Jan.
Each Rock-it Radio T shirt is only $16.00 each plus shipping. And 100% of
All monies goes to keeping Rock-it Radio Online.

Come check out the latest styles.:

http://www.rockitradio.net/tshirt.html

Check Website for updates and availability

ROCK-IT RADIO CATALOG OF VINTAGE RADIO BROADCASTS
SUSPENDED.

In the past several years we have included a catalog
with every order for those that ordered a vintage
radio broadcast from our website at:
http://www.rockitradio.net/store.html

Over the months though we have seen a decline in
mail orders for the broadcasts. And due to the
high cost of printing these catalogs we have decided
to stop sending our catalogs as a cost savings to
Rock-it Radio. We do still have them and if you would
like to order one you can e mail us at rockitradio@netzero.net
and give us your address. If their is a increase in
mail orders we will start sending out the catalogs but
for now just a expense we need to cut back on.

If also we are entertaining the idea of making the catalog
online if their is enough interest.


VINTAGE VIDEO PICK OF THE WEEK

For the week of 24 April, 2017
This week in our archives page at:

Now listed in the top listing of our video page...

http://www.rockitradio.net/video.html

This week:
Chuck Berry on the Beach Nut show with Dick Clark
singing Sweet Little Sixteen.

MORE NEW RELEASES IN THE ROCK-IT RADIO LAUNCHING PAD
STORE AND EBAY STORE.

Almost all of our funding for Rock-it Radio comes from the
sale of vintage radio broadcasts from Rock Radio Shows from
the 1950s to the 1970s. We have 4 new releases so far
this month. Here is a brief description and the Ebay link
to these shows. (Playlists of these vintage broadcasts can
be seen in our ebay listing links below).

1. Kenny Everett BBC Light Programme from 7/20/1969.
Great features of 60s Rock. Released as RIR #650 and
in our Ebay store as:
http://www.ebay.com/itm/131986894044

2. Sebastian Stone & Tony Taylor on WOR-FM New York City
from 4/2/1969. Released as RIR #651 and you can view the
playlist and all at our Ebay store listing at:
http://www.ebay.com/itm/142212250474

3. DJ Helen Shapiro and the LOST BEATLES INTERVIEW!
over BBC Radio 4. A must for any Beatles historian of fan.
Released as RIR #652 & at:
http://www.ebay.com/itm/132034603141

4. DJ Bob Dayton Top 40 Radio show over KRLA Los Angeles from
8/14/1969. Released as RIR #653 & at:
http://www.ebay.com/itm/-/132035582202

All updates and latest news on our vintage radio
broadcasts can be found in our Launching Pad Facebook
page at http://www.facebook.com/rockitpad

=============================================

DJ JOEY REYNOLDS FROM 1964 WITH PLENTY OF BEATLES TUNES
ROCK-IT RADIO GIVEAWAY FOR APRIL 2017

BEATLES SPECTACULAR! JOEY REYNOLDS 1964 ON WKBW BUFFALO NEW YORK -
RECORDING GIVEAWAY FOR APRIL 2017 ON ROCK-IT RADIO!

WKBW no longer exists but in 1964 it was the top rated station in
the Buffalo New York market and had top ranked DJ's with great
personalities like Joey Reynolds! featured in this broadcast.
This show goes to show how much the Beatles in 1964 truly owned
the airwaves and the music being played in the United States.
Just about every other song was a Beatles song or a song about
the Beatles and mentions and promos. of this station concerning
The Beatles. If you are a Beatles fan you really should have this
recording to remember or learn how the U.S. went bonkers over
John, Paul, George and Ringo. Not only do you get vintage Beatles
songs and Promos. But the humor of Joey Reynolds at WKBW
(They went as 'KB Radio') is phenomenal and a true treat to tune into.
IT'S THIS MONTHS GIVEAWAY SPECIAL WITH ANY ORDER FROM ROCK-IT RADIO IN
APRIL 2017. WHEN YOU ORDER FROM rockitradio.net/store.html you will
also receive this CD!

You can view the Ebay listing of this show and playlist at:
http://www.ebay.com/itm/130208469887

Your bonus CD for this month
by supporting Rock-it Radio - Just purchase any
Rock-it Radio items from the sites below.

Rock-it Radio Launching Pad : http://www.rockitradio.net/store.html
Rock-it Radio Ebay Store: http://stores.ebay.com/Rock-it-Radio-Store
or
Order a show of Rock-it Radio at: http://www.rockitradio.net/order.html
Or vintage Wolfman Jack shows at http://www.rockitradio.net/wolfman.html
or 50 Rock-it Radio Shows on a flashdrive at http://www.rockitradio.net/flashdrive.html
Catalog orders will also receive this FREE CD.


**Rock-it Radio is 100% Listener supported we have no
sponsors and the sale of our vintage radio broadcasts helps
us to stay online and pay the copyright and broadcasting
fees it takes to remain online. thank you for all your
consideration.**

================================================
RELAPSE CAUSES FURTHER DELAYS IN PROGRAMMING
OF ROCK-IT RADIO SHOWS ONLINE BUT WE ARE BACK!

2017 Has been nothing but atrociously terrible and
we are extemely backlogged. Our apologies to our
listeners and our DJs here at Rock-it Radio.
I have had enough good days and airways remain
clear after another bout of lung health problems.
So we are doing this newsletter and putting more
shows online, to get the Rock-it flying once again.
Thank you for your patience.

Bennie Dingo
Rock-it Radio
e mail: rockitradio@netzero.net

================================================
UPCOMING SPECIALS ON ROCK-IT RADIO

Last month we lost one of the original Rock & Roll
legends with the passing of Chuck Berry and
Matt the Cat & The Juke in the Back show has
made a multi part special featuring his story
and music that will begin this week. Also,
Lane Quigley and the Memory Lane Show has a
5 segment special of the 50 year Class Reunion
featuring the music and what was happening in
the year of 1967. Each segment of the Reunion
will be airing each week. We plan on putting
many new shows on so stay tuned as we have MUCH!
catching up to do.
================================================
NEW RELEASE -- FLASHDRIVE OF ROCK-IT RADIO
SHOWS #5801 TO #5850. OUR 9TH FLASHDRIVE

Flashdrive #9 featuring Rock-it Radio shows #5801 - #5850
50 Rock-it Radio Shows on mp3 thumb drive (70! hours of
oldies Rock!) now released and available at:
http://www.ebay.com/itm/142309810534
from there you can also see the playlist of shows on that
thumbdrive.
or you can order any of our Flashdrives at:
http://www.rockitradio.net/flashdrive.html
================================================
RECRUITING FOR RADIO PERSONALITIES FOR
ROCK-IT RADIO

Do you know your 50s and 60s Rock & Roll, Doo wop
or Rockabilly? And the ability to produce a show
on CD?
We do require a playlist for this newsletter but
your show will stay online for the world for approx.
3 weeks. Unlike some stations where you broadcast one
time and it's gone forever.
If interested check out our Rock-it Radio Team page
at: http://www.rockitradio.net/team.html

We are also looking for writers and translators!
COLLECTING AIRCHECKS - A HOBBY OF RADIO NOSTALGIA
What is a Aircheck? It is simply a recording of a radio broadcast. Usually collected by Radio fans.
Come check out our webpage on collecting Airchecks.

http://www.rockitradio.net/aircheck.html


COME REMEMBER WOLFMAN JACK !!!
Rock-it Radio has a very special way to remember Wolfman Jack.
Arguably the most iconic of American DJ's. Come check out the
Rock-it Radio Wolfman Page at:
REMEMBERING OFFSHORE PIRATE RADIO IN THE UK
In the mid 1960s it was difficult for the youth to actually listen to Rock and Roll in the UK.
The BBC actually ran only a few hours a weekend to provide the young Brits with this outlet.
At night during the week they ventured to even tune into Radio Luxembourg to get there fill,
that broadcast rock and pop around the clock.
To fill this void some venture capitalists decided to bring in commercial radio aboard refitted
radio ships. And anchor themselves just off into International waters off the English coast.
Radio Caroline (named after Caroline Kennedy the U.S. President's daughter at the time)
and Radio London being the most famous. Rock-it Radio has a website dedicated to their ventures
and also have actual radio broadcasts available of
these offshore pirates.
We invite you to check them out our webpage at:
http://www.rockitradio.net/pirate.html
FINDING ROCK-IT RADIO ON THE 'TUNE IN RADIO' CELL PHONE APP.

We have had a few requests from listeners that they couldn't find us on the popular
'Tune in Radio' App. on Android and PC and iphones. Running a search of 'Rock-it Radio'
will actually list 100s of Rock stations.
So, the best way to find us on this very thorough and extensive app. that
I love using myself is -
run a search on 'rockabilly' - there you will easily find
Rock-it Radio listed.
Our Tune in Radio App. webpage is also at:
http://tunein.com/station/?stationId=41878
ARE YOU ON FACEBOOK ?? FOLLOW THE LATEST AT
ROCK-IT RADIO AND OUR LATEST VINTAGE BROADCAST RELEASES.

Rock-it Radio has 2 Facebook pages. One for our programming
online and notifications, and the other is for our vintage
broadcast shows for sale.


The Online Station is http://www.facebook.com/rockitface

For the Rock-it Radio Launching Pad and our latest deals and
releases you can follow us at:
http://www.facebook.com/rockitpad
MISSED A COUPLE OF NEWSLETTERS LAST COUPLE OF WEEKS??

THEN YOU CAN ALWAYS CHECK OUR BLOG WHERE IT IS ARCHIVED.
YOU CAN CHECK OUT OUR BLOG AT:

http://rock-itradio.blogspot.com/
=============================================


ROCK-IT RADIO DJ PAGE...


Remember you can check out all the Rock-it Radio DJ's

and read the bios of these DJ's that make these

Rock-it Radio Shows possible at:


And don't forget for even more pictures --

there is our picture page at:
============================================
IF YOU HAVE TWITTER COME FOLLOW US THERE

If you are one that tweets then please check out and join and get our
updates on your twitter account. Our Twitter link is right below.

http://www.twitter.com/RockitRadio1
It is our new Twitter account and we will once again start
scrolling our messages and updates on our webpages as well.


=================================================
We are in our 22nd year!!! Please share the good news with your
family and friends that love original Oldies Music - We are back and
Rockin' with new shows in our program page at
http://www.rockitradio.net/programs.html
Just click the MP3 speaker to the show that has your musical interest!
=================================================
WELCOME NEW MEMBERS TO THE LISTENER'S CLUB!!!!

A big welcome to the below new Rock-it Radio listeners that
joined our Listeners Club from March 12, 2017 to
Ap;ril 24, 2017
We hope that you enjoy the music Rock-it Radio provides
and our playlists and information that our weekly newsletter
provides. Any comments, criticisms, kudos, compliments or
future ideas is always welcome and you can e mail me personally at:
rockitradio@netzero.net

Mark Morochnick - USA
Linda Jarvis - Ipswich, Suffolk United Kingdom
Richard Edwards - Winnipeg, Manitoba Canada
Welerson de Souza Teixera - Joao Monlevade, Brazil
James Holmes - Floral Park, New York USA
Laurie Berlin - Florida USA
Sue Hickson - London, Ontario Canada
Ayslinn Cline - David Florida, USA
John Stempick - Aurora, Colorado USA
Wally Watson - Riverview, Florida USA
Jamison George - Beech Grove, USA
Lydia Young - Texas, USA
David Moore - St. Catherines, Ontario Canada
Morgan Dittrick - Lacombe, Alberta Canada
Margaret Wynkoop - Saugerties, New York USA
Edwin Jacobs - Tampa, Florida USA
Allan Calleja - Werribee, Victoria Australia
Sineide Batista dias Silva - Sao Paulo, Brazil
Mary Ficklin - Bloomfield, Indiana USA
Tim Ryan - Ypsilanti, Michigan USA
James Howland - Corsicana, Texas USA
Abreu Lessa - Olho D'Agua das flores, Brazil
Cliff Roberts - Edgewater, Florida USA
Don Arata - Windsor, California USA
Bernard Stesel - Sydney, Australia
Thomas Ziska - Strongville, Ohio USA
Travis Hall - Florence, Kentucky USA
Larry Wilson - Midvale, Western Australia
Thomas Sites - Georgia, USA

We have gained 216 new likes in our listeners club
in our Facebook page Rock-it Radio Fan Page as well this week at:
http://facebook.com/rockitface and 83 more following us
on Twitter @Rockitradio1 .

We have added a total of 328 new members to the Rock-it Radio
Listeners Club since our last newsletter. We now have 89,409 exactly
that have joined the Rock-it Radio Listeners club.
We hope that you enjoy the rare 50's and early 60's
Rock and Roll, Rockabilly and Doo Wop (which most commercial
oldies radio stations have forgotten) that we are able to play
for you from Rock-it Radio. Remember, we are here for you!

So if you ever have any requests, dedications, comments and
suggestions we always love to hear from our listeners.
Our e mail address is:
rockitradio@netzero.net

====================================================
To learn more about the Rock-it Radio Listeners Club and our Free
Newsletter please check out:
http://www.rockitradio.net/member.html

It's free and easy to join and the Rock-it Radio Newsletter is always
online at: http://www.rockitradio.net/newsletter.html



====================================================

PLEASE HELP US SPREAD THE GOOD WORD OF ROCK-IT RADIO!

Do you know of someone that might also like the music

of Rock-it Radio? We are desperately trying to keep this

music alive and have been doing so since 1995! Please

share the information of this station. And if you have

a website would you please consider putting a Rock-it Radio

link on your page.

There are a few to choose from in our link page at:

http://www.rockitradio.net/links.html
HOW TO ORDER OLD ROCK-IT RADIO SHOWS = YOUR PURCHASES HELP US STAY ONLINE!!!
We have received many inquiries on how to order Rock-it Radio shows that are no longer in
our on archives webpage. These shows are still available on CD and mailed to you within 24
hours of receiving payment.
To help search for older shows that you may be looking for you may want to check the Rock-it
Radio blog site. Old newsletters describing the shows and playlists
are archived there and there is a menu bar on the right side that breaks down every playlist
Then you may either pay by check or money order or paypal. Rock-it Radio shows are only
$9.50 U.S. each and are studio quality broadcasts that were placed on Compact Disc here at
the Rock-it Radio Studio. We have a flat rate shipping charge of $1.50 U.S. so if you order
one or several -- it is still only $1.50
U.S. shipping. And we ship worldwide, overseas orders are mailed out first class airmail.
Instructions where to send payment is at our webpage:
like we can send you a paypal invoice within 24 hours.

When you order a Rock-it Radio show or shop at our Rock-it Radio Launching Pad you
help keep these oldies alive and help us pay the bills here at Rock-it Radio.
And at the same time -- you are not getting nothing for your donation, but actually
some of the shows and memories we hope we keep alive here at Rock-it Radio.



TOP 25 SELLERS OF THE ROCK-IT RADIO LAUNCHING PAD THIS WEEK

As you know the Rock-it Radio Store sells vintage Radio Broadcasts - Where you
hear the actual music, news and vintage advertisements - uncut and unedited
just like you would of heard
it back then. Here are the top sellers this week.


1. Rock-it Radio Flashdrive shows #5801 -5850
2. RIR #393 John Lennon Guest DJ - WNEW New York 1974
3. RIR #425 Don Steele - KHJ Los Angeles 7/3/1967
4. RIR #168 Dan Ingram - WABC New York 7/22/1967
5. RIR #644 Dan Ingram - WABC New York 6/12/1964
6. RIR #436 Pat Sajack - Armed Forces Vietnam Network 3/18/1969
7. RIR #426 Dan Ingram - WABC New York 7/4/1968
8. Rock-it Radio show #5846 - Al Smith Bobby Vee tribute
9. RIR #559 Dan Ingram - WABC New York Hr. 3 12/26/1969
10. RIR #629 Charlie Van Dyke - CKLW Windsor Ontario 4/28/1969
11. RIR #260 Tony The Tiger Taylor - WXQI Atlanta 4/1/1965
12. RIR #622 Johnny Morgan - CKLW Windsor, Ontario 7/12/1967
13. RIR #624 Bob Green - WKNR Detroit 3/30/1970
14. RIR #329 Scott Muni - WOR-FM New York City 10/8/1966
15. RIR #439 2 1965 Broadcasts of CKLW Ontario
16. RIR #205 Porky Chedwick WAMO Pittsburgh 6/16/1960
17. RIR #356 John Landecker WLS Chicago Pt. 1 10/11/1972
18. Rock-it Radio Flashdrive 5701 - 5750
19. RIR #539 Cousin Brucie - WABC New York 9/7/1965
20. RIR #291 Radio London Final Broadcast - UK offshore Pirate 8/14/1967
21. RIR #367 Barney Pip - WCFL Chicago 12/24/1965
22. RIR #271 Ron Lundy & Dan Ingram WABC New York 12/28/1968
23. RIR #457 George Granny Goose Groves - KGMB Honolulu 6/27/1973
24. RIR #653 Bob Dayton KRLA Los Angeles 8/14/1969
25. RIR #359 Gus Gossert WPIX FM New York oldies show 1971




If you would like to view these shows in depth you can check out

our Rock-it Radio Ebay Store at:

or in the Rock-it Radio Launching Pad store at:

http://www.rockitradio.net/store.html(listed by date)

and in the upper left hand corner -

there is a search box where you can type in the DJ name or

Station Call letters and that information on that show will pop up.

Ordering from the Ebay store will also qualify you for the Rock-it Radio

giveaway mentioned previously in this newsletter. Sale of

these broadcasts is what keeps Rock-it Radio going and thank

you again to everyone that buys these!

============================================
Rockabilly bands looking for airplay
If you or know someone that would like airplay on Rock-it Radio we invite
you to submit your press kits to Rock-it Radio. Our website for further
information is:
http://www.rockitradio.net/airplay.html
============================================
Come tune into the World on your computer!
1000s of stations around the world now broadcast online. We have a
link to some of the internet top directories to help you find these stations.
http://www.rockitradio.net/internetradio.html
============================================
Rock-it Radio Program Webpage Reminder
Remember, if the show that you want to hear is getting close to the bottom
of the list of radio shows, you should tune in as soon as you can. These shows
to have a high audio quality require a lot of internet bandwidth and memory.
And currently we can only afford the
30
latest shows online here at Rock-it Radio.
So, when a new show is put online it knocks the oldest one off the Rock-it Radio
archives page. Usually a show will at least last 16 to 20 days, once it is placed in
the archives.
============================================
OUR SISTER STATION FIRST NATIONS BROADCASTING.
We invite you to also check out our sister station -- First Nations
Broadcasting. And tune into the rather Cool North of the Yukon and Alaska
with our very own Debbie Snowdove!
============================================
Well that is just about it for this newsletter and playlists of our latest
shows. We hope that you enjoy them.
We will do our best to keep these shows on for at least 14
days and hopefully 21 days.
All the best always,
Bennie Dingo
Rock-it Radio

website: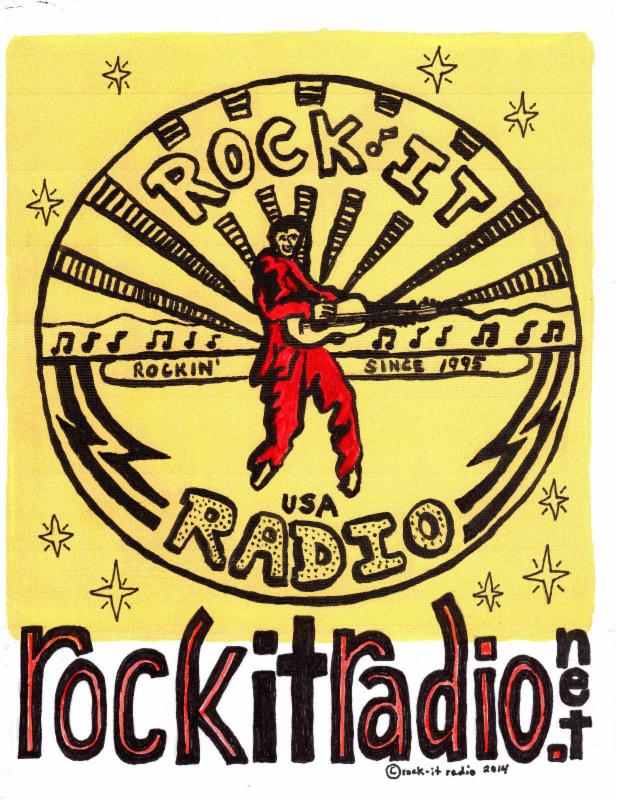 Rock-it Radio main website:
http://www.rockitradio.net

Archived Shows at:
http://www.rockitradio.net/programs.html

Rock-it Radio Vintage Broadcast Store:
(Launching Pad)
http://www.rockitradio.net/store.html