Rock-it Radio since 1995 providing 50s and early 60s Rock and Roll, Doo Wop and Rockabilly music online! Come tune us in at http://www.rockitradio.net We also have several 100 original radio shows from the first decade of Rock and Roll at: http://www.rockitradio.net/store.html
=======================================================================
ROCK-IT RADIO NEWSLETTER AND PLAYLIST
SHOWS #5928 TO #5945
FROM
June 7, 2017 to July 6, 2017

Hi Rock-it Radio Listeners,

Happy July everyone and for us on the Northern Side
of the Earth it's the beginning of Summer! Today it's
supposed to reach triple digits for the first time this summer!
We have more Rock-it Radio Shows online! 18 to be exact
featuring Shows #5928 to #5945. And the Playlists
are below.
We also have an announcement of a New Rock-it DJ starting
here. And the Class of 1967 5 part series that aired in May
is now available on CD.
And we are giving away a FREE CD of Wolfman Jack in London!
Broadcast CD - And much more news....
So, Let's get started with some playlists!
We also have a new Release of a vintage broadcast from DJ Dr. Doo wop
from North Carolina - offer mentioned further down in the newsletter.

So, Let's get started with some playlists!

Our shows can be heard in our archives page at:

http://www.rockitradio.net/programs.html
and click to the speaker on the left to hear the show.

Remember if you are new to Internet Radio and having trouble tuning in though --
Check out our webpage to help you out at:
http://www.rockitradio.net/tunein.html
============================================
REMEMBER YOU CAN ORDER ANY OF THESE ROCK-IT
RADIO SHOWS ON CD!!!! NEW EASIER ORDERING!

Would you like one of these Rock-it Radio shows on CD? To
be able to play anywhere? And help support Rock-it Radio at the same time.
For complete information check out our program
ordering webpage at: http://www.rockitradio.net/order.html

Our shows are of course copies straight from the studio so they are studio
quality and satisfaction is guaranteed.
Or if you would rather receive an invoice let me know and we
can e mail you a copy - Just e mail us the show(s) you would like
to have and the Rock-it # to: rockitradio@netzero.net

==============================================
All Rock-it Radio shows stay online from 18 to 24 days and are
broadcast in MP3 Format. To tune in just click to the speaker
at our program page at:
http://www.rockitradio.net/programs.html

The newest show added replaces the oldest show so if you see a
show near the bottom of the listing - you should listen as soon as
possible.

==============================================
WE COULD REALLY !!! USE YOUR SUPPORT

Rock-it Radio is 100% Publicly supported. But when you
donate to the Rock-it Radio Launching Pad - we give you
a vintage broadcast of your choice.
100% of all sales from the Rock-it Radio Store (Launching
Pad) goes back to pay copyright fees, LLC taxes, Internet
and bandwidth costs of Rock-it Radio. Without your support
we would not exist. So. please consider a purchase at:
http://www.rockitradio.net/store.html

===============================================
NOTE: ALL SHOWS BELOW CAN BE FOUND IN OUR
PROGRAM WEBPAGE -
TO TUNE IN CLICK TO SPEAKER OF THE SHOW YOU WANT
TO LISTEN TO. EITHER MP3 OR REAL PLAYER.
BOTH FORMATS ARE SUPPORTED.
AT:
HTTP://WWW.ROCKITRADIO.NET/PROGRAMS.HTML

==============================================
KEITH BAXTER GOOD ROCKIN' TONIGHT SHOW ON
ROCK-IT RADIO SHOW #5928

From Brighton, United Kingdom comes a DJ that always
plays a great selection from the 50s and early 60s.
It is time for another segment of Keith Baxter and the
Good Rockin' Tonight Show.
To tune in go to our playlist page and click the speaker
next to listing #5928. Most computers have the capability
to play mp3 files - so make sure to select the MP3 column
for that show.

1. Drugstore Rock'n'Roll - Janis Martin
2. Two Hands - Wanda Jackson
3. Your Love (All That I'm Missing) - JD McPherson
4. Race With The Devil - Gene Vincent
5. Carry Me Back To Old Virginia - Jerry Lee Lewis
6. A-Ooga - The Routers
7. Drive In Show - Eddie Cochran
8. Scarlet Sunset - Ventures
9. Jukebox Songs - Tommy McLain
10. Have You Ever Loved Someone - Vocaleers
11. Try Me - James Brown
12. Namida No Heart - Emy Jackson and The Smashmen
13. Trouble On The Line - Hayden Thompson
14. That Makes It Tough - Buddy Holly
15. Tear Drops Fell Every Step Of The Way - Tina Britt
16. Blue Coral - Ventures
17. Pop, Let Me Have The Car - Carl Perkins
18. Bongo Rock - Preston Epps

===============================================
JACKIE BOND AND LET THE GOOD TIMES OLDIES SHOW ON
ROCK-IT RADIO SHOW #5929

Jackie Bond is back this week with more great Rockers
from the first decade of Rock and Roll. With a mix
of Rockabilly and Rock and Roll hits here is his
playlist of this show and what you will hear,
when you click the speaker next to this shows listing.

1. Jack The Cat - Jackie Lee Cochran
2. Dream Lover - Fanny Mae and The Dynamic Believers
3. They Never Know - The Boppers and Eva Eastwood
4. Move It - Mark Keeleys Good Rockin Tonight
5. Fat Girl Boogie - Rob Rio
6. Outerspace Chick - Texabilly Rockers
7. I Believe In Love - The Fabulous Thunderbirds
8. Black Diamond - Roy Brown
9. Baby Take Me Back - Roc LaRue
10. Big Wheel - Planet Rockers
11. I'm Coming Home - Carl Mann
12. Sweet Lookin Mama - Rod Little Trio
13. A'int There Something Money Can't Buy - Nick Waterhouse
14. Long Tall Sally - Barbara Greene
15. I Need You So - Tommy McLain
16. I've Got A Thing About You Baby - Elvis Presley and The Royal Philamonic Orchestra
17. Baby Blue Eyes - The Stray Cats
18. What's Your Name - Don and Juan
19. My Search - Ben Hewitt
20. Behave Be Quiet or Be Gone - Roy Duke
21. Goodnight My Love - Jesse Belvin

===============================================
JACK VAN OERS & THE ROCKIN' WINDMILL ROCKABILLY
SHOW ON ROCK-IT RADIO #5930

The music in this Rocking Windmill show originates from
New Zealand, The UK, Germany, The USA, The Netherlands,
Australia and Sweden - Â so, just turn up the volume,
find your blue suede shoes and petticoats and enjoy the shoW!

1. Love maker, love breaker - Frank Fafara - ?
2. For quite a while - Ben Hewitt - 1959
3. A losing game - The Barnstompers - 2010
4. Stranger than fiction - The Crackerjacks - 1981
5. Happy birthday Josephine (in German) - The Candy Kids - 1962
6. Chew tobacco rag no. 2 - Billy Briggs - 1950
7. What you gonna do? - Bonneville - 198x
8. Wild side of life - Charlie Feathers - 197x
9. Please me tonight - The Firebirds - 1995
10. Tear it up - Johnny Burnette Trio - 1956
11. D.J. Blues - Red Hewitt & the Buccaneers - 1960
12. Hot dog - Buck Owens (Corky Jones) - 1956
13. Hot dog - Glenn Darren & the Krew Katz - 1999
14. Kool cat - Bill Sherrell - 1958
15. Draggin' - The Reno Brothers - 2000
16. Let's go downtown - Mac Curtis & the Rimshots - 1998
17. Bop a lena - Jim Friis & the Valiants - 1958
18. Greensleaves - The Lords - 1965
19. That's my girl - Jesse Lee Turner - 1959
20. Only girl for me - The Blue Jays - 2003
21. I want you back - Jackie Lee Cochran - 1958
22. Put me down - Marty Wilde - 1959
23. Baby, I'll never let you go - The Love Brothers - 1960
24. When God made you - Boppin' Steve & the Playtones - 2004
25. Hello blues - Deke Dickerson & the Ecco Fonics - 2000
26. The white rabbit - Peter Posa - 1964

===============================================
GIRL GROUP GALAPALOOZA ON THE MEMORY LANE SHOW
WITH LANE QUIGLEY ON ROCK-IT RADIO SHOW #5931

It's a Rock-it radio Galapalooza as this week's Memory Lane
Show spotlights girl groups and female artists from the '60's.
Join host Lane Quigley as he presents some overlooked gems and
forgotten hits featuring the Girl Group Sound that was prevalent
back in that era. Unlike today's music that contains blatantly
sexual lyrics, many of the tunes on this playlist also deal
with sex, but with lyrics that are more subtle and veiled
(examples: "I'll do anything to make you glad"; "when love was over
I was all used up inside"; "we're gonna learn a lot about love tonight").
Come on and enjoy 25 delicious slices of love and angst from the
viewpoint of a 60's teenage girl on this Rockit Radio Galapalooza!

1. Bad Boy - The Donays 1962
2. Thinking About You Baby - Sharon Marie 1964
SOUND BITE
3. Has Anybody Seen My Boyfriend? - The Angels 1963
4. His Way With The Girls - The Lornettes 1965
5. Little Things Like That - Suzi Wallis 1965
SOUND BITE
6. Birthday Party - The Pixies Three 1963
7. Baby That's Me - The Cake 1967
SOUND BITE
8. I Don't Give a Darn - The Paris Sisters
9. Till Johnny Comes Home - Brenda Holloway 1965
10. She's Got Everything - The Essex 1963
SOUND BITE
11. That's When The Tears Start - The Blossoms 1965
12. White Levis - The Majorettes 1962
13. MYSTERY ARTIST - Can you identify the artist??
SOUND BITE
14. (The Best Part of) Breaking Up - The Ronettes 1964
15. Little Girl Bad - Joanie Sommers 1963
SOUND BITE
16. It's as Easy as 1-2-3 - Jill Gibson 1965
17. It Happens Every Time - Barbara McNair 1969
18. As Long As I Know He's Mine - The Marvelettes 1963
19. Things I Want To Hear (Pretty Words) - The Shirelles 1962
SOUND BITE
20. Not Tomorrow - The Delicates 1961
21. Baby Boy - Juanita Williams 1964
22. Breakaway - Linda Lloyd 1965
23. Breakaway - Irma Thomas 1964
SOUND BITE
24. Love Makes Me Do Foolish Things - Martha & The Vandellas 1965
25. He's So Easy To Love - Roddie Joe

===============================================
JAMMIN JAMES RILEY AND tHE CATCH A WAVE SURF ROCK
SHOW ON ROCK-IT RADIO SHOW #5932

Time to kick off that board and run up to the beach
with your favorite guy or gal and tune in on your
solid state Hi Fi Radio for another 3 hour segment
of Catch A Wave Surf Rock Show! We don't have the
playlist to this set but it's great Surf Rock n Roll
worth tuning into!

===============================================
OTTO FUCHS & ROCKIN THE JOINT SHOW WITH DO YOU REMEMBE?
IN ROCK-IT RADIO SHOW #5933

From his studios in Baden, Austria comes Otto Fuchs
and the Rockin' The Joint Show.


Otto Fuchs & The Rockin´ The JUKEJOINT Show -
Keep Calm & Listen To Roots Rock & Roll Rockabilly

1. Yakety Yak-Andy Lee Lang with The Coasters
2. Please Mama Please-The Rioters
3. Is It Cool? -Buzz & The Flyers
4. Marie, Marie-The Blasters
5. Lewis Boogie -Jerry Lee Lewis
6. Cut To The Chase -Annie Marie Dolan
7. Crawfish -Elvis Presley
8. Dark Lonely Street- Eddie Cochran
9. Don´t Walk Away-Billy Fury
10. That Silver Haired Daddy Of Mine- Johnny Cash
11. Georgia Pines- Jimmy Ellis
12. Lonely Summer Nights -Stray Cats
13. The Wanderer-U2 Starring Johnny Cash
14. Wildwood Flower - Reese Witherspoon
15. A Fool Such As I-Bill Haley & The Comets
16. Sentimental Fool-Barbara Pittmann
17. Slow Down-Jack Earls
18. Don´t Be Cruel-The Million Dollar Quartet
19. Levi Jacket-Carl Perkins
20. Here Comes Summer-Cliff Richard:
21. Wolverton Mountain-Claude King
22. Putting On The Style-Lonnie Donegan Skiffle Group
23. Rock Of Ages-Andy Lee Lang
24. We´ll Meet Again-Cash Family & Friends

===============================================
DJ SPINNING ROCK BOOGIE AND THE MOVIN AND GROOVIN
SHOW ON ROCK-IT RADIO SHOW #5934
"REGIONAL ROUND-UP # 63 - ROCKING IN THE CITY Pt 1"

Join DJ Spinning Rock Boogie for another show in his series of
Regional Round Up. This show is "Rocking In The City" with music
including Bop, Boogie, Jive, Stroll, Pop, and the regular
feature The Smooch Spot, from out of the Big Apple, New York City.
Once again this show features record labels that were based in NYC
and not where all the artists recorded them. A good example is
Fats Domino who recorded his music down in New Orleans and whose
labels were firstly "Imperial" out of Hollywood California and then
"ABC-Paramount" out of New York City.

01. Intro - Medley
02. Country Boy Boogie - Billy Lamont (59) Okeh
03. It's Me - Jimmy Star (59) Debbie
04. Bop-A-Rock - Jim Pewter (72) MGM
05. Shake Rattle And Roll - Arthur Conley (67) Atco
06. Your Last Chance - Lewis Lymon & The Teenchords (57) End
07. Be By Me - Bill Haley & His Comets (59) Decca
08. The Fat Man - Fats Domino (64) ABC-Paramount
09. Beetle Bug Bop - The Collins Kids (55) Columbia
10. Love Me Love - The Berry Kids (56 MGM
11. Mary Jane - Al Henderson (58) East West
12. Rock Everybody Rock - Joe Gene & The Cordells (71) Antique
13. Waiting - Jan Amber (59) Cleff-Tone
14. A Place In My Heart - Joey Columbo & The Delchords (62) Taurus
15. Big Wide World - Teddy Randazzo (63) Colpix
16. Sometime - Gene Thomas (61) United Artists
17. Sunday In May - Scott Stevens & The Cavaliers (59) APT
18. Cuttin' Out (instrumental) - Rockin' Ronald (Ronnie Hawkins) & The Rebels (59) Orchid
19. Honey Don't - Mac Curtis (70) Epic
20. The ABC's Of Love - Frankie Lymon & The Teenagers (56) Gee
21. Do Do Do - Commonwealth Jones (61) Columbia
22. All I Can Do Is Cry - Wayne Walker (56) ABC-Paramount
23. Goodbye Baby - Jack Scott & The Chantones (58) Carlton
24. Ah Poor Little Baby - Billy Crash Craddock (58) Date
25. Takin' Care Of Business - Ruth Brown (60) Atlantic
26. I Know You Don't Love Me No More - Barbara George (62) AFO
27. I'm Your Slave - Jeanie Allen & The Beavers (60) Arliss
28. Funny Thing - Jo-Ann Campbell (57) Eldorado
29. Nicotine - Paul Chaplain & His Emeralds (60) Harper
30. Pucker Up - Gar Bacon (57) Baton
31. Outro - Medley

===============================================
MATT THE CAT AND THE JUKE IN THE BACK SHOW WITH
TRIBUTE TO PERCY MAYFIELD ON ROCK-IT RADIO SHOW #5935

Some songwriters and singers just know how to tap into deepest regions
of sadness, passion and truth. Such is the musical prowess of
Percy Mayfield, the "Poet Laureate Of The Blues." Mayfield was born
in rural Louisiana in 1920 and found he had a knack for writing poetry
early on in life. By high school, he was putting his poems to music and
finding local encouragement. By the early 1940s, he was settled in
Los Angeles doing odd jobs, trying to make it as a songwriter and a singer.
In '49, he took his song, "Two Years Of Torture" to Supreme Records in LA,
hoping that their artist, Jimmy Witherspoon would record it, but they were
so impressed with Mayfield, that they had him wax it instead.
"Two Years Of Torture" sold well enough around California to peak the
interest of record man, Art Rupe of Specialty Records. He signed Mayfield in
1950 and they struck gold right out of the gate with his composition,
"Please Send Me Someone To Love," his only #1 record. What followed was six
consecutive charging singles and a jukebox full of songs about pain,
suffering and lonliness. This week, Matt The Cat digs through the musical
treasure trove of fantastic 78s by the one and only Percy Mayfield.


1. Swanee River Boogie - Albert Ammons - Mercury 1947
2. Two Years Of Torture - Monroe Tucker & His Orch. Vocal: Percy Mayfield - Supreme 1949
3. Please Send Me Someone To Love - Percy Mayfield & Orch - Specialty 1950
4. Strange Things Happening - Percy Mayfield & Orch - Specialty 1950
5. Lost Love - Percy Mayfield & Orch - Specialty 1951
6. What A Fool I Was - Percy Mayfield & Orch - Specialty 1951
7. My Blues - Percy Mayfield & Orch - Specialty 1951
8. Praying For Your Return - Percy Mayfield & Orch - Specialty 1951
9. Cry Baby - Percy Mayfield & Orch - Specialty 1952
10. The Big Question - Percy Mayfield & Orch - Specialty 1952
11. Louisiana - Percy Mayfield & Orch - Specialty 1952
12. The River's Invitation - Percy Mayfield & Orch - Specialty 1952
13. GREAT 78 - Leary Blues - Monroe Tucker & His Orch. Vocal: Percy Mayfield - Supreme 1949
14. How Deep Is The Well - Percy Mayfield & Orch - Specialty 1953
15. Loose Lips - Percy Mayfield & Orch - Specialty 1954
16. Baby You're Rich - Percy Mayfield & Orch - Specialty 1955
17. Hit The Road Jack (1960 Demo) - Percy Mayfield - Unreleased
18. After Hours - Erskine Hawkins - Bluebird 1946

===============================================
BILLY VERA'S ROCK AND ROLL PARTY SHOW WITH
ELVIS PRESLEY COVERS ON ROCK-IT RADIO SHOW #5936

For this show, Billy had the idea to play versions of songs that
pre-dated Elvis's versions. Not all of these are "original" versions but,
in the case of Freddie Bell's "Hound Dog," for example, it was the version
where Elvis got the wrong lyrics he ended up recording, rather than
the original by Big Mama Thornton. "A Fool Such As I," first recorded
by Hank Snow, is presented here by a contemporary R&B cover version by
the Robins. While "Party" by Elvis and "Let's Have a Party" by Amos Milburn
are by different writers, their closeness is interesting to hear.
Wynonie Harris's "Good Rockin' Tonight," is a cover of the Roy Brown original,
but the one Elvis would've heard.

Hour 1

1. That's All Right Mama - Elvis Presley
2. That's All Right Mama - Arthur Big Boy Crudup
3. Good Rockin' Tonight - Wynonie Harris
4. Good Rockin' Tonight - Elvis Presley
5. Baby, Let's Play House - Arthur Gunter
6. Baby, Let's Play House - Elvis Presley
7. Stranger In My Own Home Town - Percy Mayfield
8. Stranger In My Own Home Town - Elvis Presley
9. Mystery Train - Little Junior Parker
10. Mystery Train - Elvis Presley
11. Trying To Get To You - The Eagles
12. Trying To Get To You - Elvis Presley
13. My Baby Left Me - Arthur Big Boy Crudup
14. My Baby Left Me - Elvis Presley
15. Hound Dog - Freddie Bell & The Bellboys
16. Hound Dog - Elvis Presley
17. Love Me - Willie & Ruth
18. Love Me - Elvis Presley

Hour 2

19. Long Tall Sally - Little Richard
20. Long Tall Sally - Elvis Presley
21. One Night of Sin - Smiley Lewis
22. One Night of Sin - Elvis Presley
23. Let's Have a Party - Amos Milburn
24. Party - Elvis Presley
25. I Need You So - Ivory Joe Hunter
26. I Need You So - Elvis Presley
27. When It Rains, It Really Pours - Billy The KidEmerson
28. When It Rains, It Really Pours - Elvis Presley
29. (Now and Then There's) A Fool Such As I - The Robins
30. (Now and Then There's) A Fool Such As I - Elvis Presley
31. Bossa Nova Baby - Tippie & The Clovers
32. Bossa Nova Baby - Elvis Presley

===============================================
PETE CHASTON'S DOO WOP SHOW WITH A SHIRELLES
ON ROCK-IT RADIO #5937

Pete is one of our veteran DJs here on the Rock-it
and his Doo Wop collection is quite extensive!
If you love Doo Wop Rock and Roll but in search
of more of the obscurities along with the standards
this show just might be for you. Here is the playlist
of this show of Pete Chaston's Doo Wop Show.

1. Doo-Wop All Night Long-The Blue Emotions (opening theme song) (1982)
2. Never Let You Go-The Five Discs (xxxx)
3. Unchained Melody-The Five Discs (xxxx)
4. The World is a Beautiful Place-The Five Discs (xxxx)
5. Oh, My Love-Li'l June & The Januarys (1959)
6. How Did Your Vacation Go-Bobby Paris & The Parisians (1961)
7. Woo Woo Train-The Valentines (1955)
8. True Love, True Love-The Cupids (xxxx)
9. Teenage Paradise-The Volumes (1963)
10. The Beat of My Heart-The Cordells (1962)

SILLY SONG SEGMENT:

11. Shower Rock Blues-Chaston & Groditski (2000)
12. Chi Chi Merengue-The Eloise Trio (1960)

SCRATCHY 45 RPMs SEGMENT:

13. She Say (Oom Dooby Doom)-The Diamonds
(1959)
14. Marcella-The Castelles (1954)
15. I Wanna Be Loved-Dean & Jean (1964)
16. Vision of Love-The Explorers (1959)

BACK TO THE CDs &/or More 45 RPMs:

17. Can I Come Over Tonight-The Velours (1957)
18. Up On the Mountain-The Magnificents (1956)
19. Please Believe Me-The Elegants (1958)
20. Sally Green-The Jesters (1960)

SLOW SONG SEGMENT:

21. Two People in the World-The Marcels (1961)
22. Dear Lord-The Continentals (1956)
23. The Closer You Are-The Channels (1956)
24. Glory of Love-The Velvetones (1956)
25. (closing theme song) Adios-The Five Discs (1961)

===============================================
BILL GREEN & ROCK & ROLL RETROSPECTIVE WITH ROCK
DANCE SONGS ON ROCK-IT RADIO SHOW #5938

Hey Rockiteers. Time to put on your dancin' shoes. D J Bill Green,
host of Rock 'n Roll Retrospective, presents part 2 of a 4 part
program featuring dance songs. This episode covers the Fifties
and early Sixties. Turn up the volume, dance along and show us
your best moves.

1) Do You Wanna Dance - Bobby Freeman (1958)
2) The Twist - Hank Ballard & The Midnighters (1960)
3) Do You Know How To Twist - Hank Ballard & The Midnighters (1962)
4) Mess Around - Ray Charles (1953)
5) Loop de loop Mambo - The Robins (1954)
Sound Bite
6) Rock and Roll Waltz - Kay Starr (1956)
Sound Bite
7) Do The Bop - The Juvenaires (1957)
8) The Stroll - The Diamonds (1958)
9) The Walk - Jimmy McCracklin (1958)
Sound Bite
10) Willie and the Hand Jive - Johnny Otis Show (1958)
11) The Mess Around - Richard Berry (1958)
12) Mexican Hat Rock - The Applejacks (1958)
13) Rocka Conga - The Applejacks (1958)
14) Everybody Likes To Cha Cha Cha - Sam Cooke (1959)
Sound Bite
15) Shimmy Shimmy Ko-Ko Bop - Little Anthony & The Imperials (59/60)
16) The Madison Time part 1 - Ray Bryant (1960)
17) The Hoochi Coochi Coo - Hank Ballard & The Midnighters (1960)
18) Blue Tango - Bill Black's Combo (1960)
Sound Bite
19) (Baby) Hully Gully - The Olympics (1960)
20) The Slop - The Olympics (1960)
Sound Bite
21) Shimmy Like Kate - The Olympics (1960)
22) (I Do) The Shimmy Shimmy - Bobby Freeman (1960)
23) The Hucklebuck - Chubby Checker (1960)
24) Pony Time - Don Covay (1961)
25) The Watusi - The Vibrations (1961)

===============================================
AL COOL DADDY SMITH WITH THE BLUES POWER HOUR
ON ROCK-IT RADIO SHOW #5939 LITTLE CAESAR TRIBUTE

This show will feature a relatively unknown R&B singer,
Harry Caesar, or as he was known professionally "Little Caesar".
Born in 1928 this Pittsburgh native moved to California in 1949
and began recording with Los Angeles entrepreneur John Dolphin's
"Recorded In Hollywood" label. His most well known recordings such
as "Goodbye Baby" and "Going Down To The River" were unique
to R&B of the day in as much as they were basically mini
play-lets or dramas. Some quite violent.
In subsequent years after, the 1950's , he left his singing career
behind to pursue an an acting career in movies and TV.
He appeared in such movies as "The Longest Yard" and TV shows such as
"Hart to Hart". These facts are dealt with throughout the show.
Harry "Little Caesar" is a singer you may never have heard but
and an actor that you have seen.
You just never knew it.....The Play List is as follows:

1. You Can't Bring Me Down-Little Caesar 1952
2. Here Is A Letter-Little Caesar 1952
3. Do Right Blues-Little Caesar 1952
4. Chains of Love Have Disappeared -Little Caesar 1953
5. Tried To Reason With You Baby-Little Caesar 1953
6. Big Eyes-Little Caesar 1953
7. Chains of Love-Big Joe Turner 1951
8. I Can't Stand It All Alone-Little Caesar 1953
9. Good Bye Baby-Little Caesar 1952
10. Going Down To The River-Little Caesar 1952
11. Lying Woman-Little Caesar 1952
12. If I Could See My Baby-Little Caesar 1952
13. Excerpt from "The Longest Yard" 1974
14. What Kind of Fool Is He-Little Caesar 1953
15. Wonder Why I'm Leaving (The Rat Song)-Little Caesar 1953
16. Atomic Love-Little Caesar 1952
17. Tell Me Baby-Little Willie Littlefield 1949
18. Your Money Ain't Long Enough-Little Caesar 1952
19. Long Time Baby-Little Caesar 1952
20. Kidney Stew-Eddie "Clean Head" Vinson 1976
21. Move Me-Little Caesar 1952

===============================================
ROCKIN DADDY O'S ROCKABILLY RANCH PARTY SHOW
ON ROCK-IT RADIO SHOW #5940

Rockin' Daddy O is back this week with another great set
of rockin' Rockabilly from yesteryear and those bands playing
the rockin style today! Here is Daddy O's playlist of what
you will hear in this show!

1. Too Much Monkey Business-Dion
2. That Jim-Mackey Beers & The Rockitts
3. Break My Heart-Bloodshot Bill
4. Let's Dance-The Excels
5. Sizzle-Screamin' Rebel Angels
6. Dance Franny Dance-The Stompin' Riff Raffs
7. Coming In Hot-Pat Capocci
8. Tell Me-Little Lesley & The Bloodshots
9. Record Hop-The Four Tielman Brothers
10. Cool Baby-Lee Cole & The Beau Jesters
11. Ride The Savage-The Sabres
12. I'm Laying It On The Line-Levi Dexter
13. Final And Misery-Simon Brothers Club
14. Baby Sittin' All The Time-Bob Hicks & The Fenders
15. Bloodshots-The String Kings
16. Baby Doll-The Rip em' Ups
17. Secret Mistress-Scotty Baker
18. There's Two Things-Roy Wilson & The Buzzards
19. Red Hot Mama-Darrell Higham & Jittery Jack
20. Sweet And Easy To Love-Roy Orbison & The Roses

===============================================
COOL BOBBY B & THE DOO WOP STOP ON ROCK-IT RADIO
SHOW #5941

From a undisclosed location Cool Bobby B is back
with another 3 hours of programming for us here
at Rock-it Radio! Great Doo Wop Rock and Roll from
the first decade of Rock and Roll now on demand
as show #5941 here at Rock-it Radio. Here is
the playlist of the show.

Hour #1

1. Rockin' with the clock - Shirley and Lee
2. I'll never fall in love again - Legends
3. Oh Why - Sof Tones
4. One day next year - Heartbeats
5. I believe - The Earls
6. Teen Angel - Dion & Belmonts
7. Just to be with you - Passions
8. Our day will come - Ruby & Romantics
9. thinking of you - Jaguars
10. Poppa oom mow mow - The Rivingtons
11. The Bounce - Olympics
12. My Foolish Heart - The Demensions
13. The Stars - The Ocapellos
14. Lonely way - Mark Miller & Harmony Street
15. Please Forgive me - The Du-ettes
16. You were mine - Fireflies
17. Book of love - The Monotones
18. The Diary - Kid Kyle

Hour #2

19. Here Am I - 4 Js
20. Beside you - Diablos
21. Dear Lord - The Continentals
22. I know - Spaniels
23. Runaround - The Regents
24. Baby I love you - Joe Weaver & Don Juans
25. For your precious love - Kenny Vance & Planotones
26. Would I love you - The Miracles
27. All I want is you - Miracles
28. What's so godd about goodbye - Miracles
29. Where are you - The Caps
30. The boy that got away - The Supremes
31. once upon a time - Rochelle & Candles
32. Chapel of dreams - The Dubs
33. You Cheated - The Shields
34. Only Yesterday - Quantrell & Valley Raiders
35. Indian love call - Ray Stevens
36. True True Love - The Drifters
37. This magic moment - The Drifters


Hour #3

38. 11th hour melody - The Rivieras
39. Moonlight Serenade - The Rivieras
40. Blue Velvet - The Statues
41. All of a sudden my heart sings - Paul Anka
42. My love is gone - The Ladders
43. Lonely nights - The Hearts
44. Oh Rose Marie - The Fascinators
45. We belong together - Robert & Johnny
46. Pledging my love - Johnny Ace
47. Please say you want me - Schoolboys
48. Baby Workout - Jackie Wilson
49. Little Star - The Elegants
50. Never let you go - Royaltones
51. Give me your number - Kingbees
52. Going to the hop - The Satintones
53. Speedillac - Sonny Day & Versatiles
54. Long Tall girl - The Carnations
55. Mio Amore - Flamingos
56. Goodnight Baby - The Imaginations

===============================================
COUNTRY RECORD ROUND UP SHOW WITH KEN STRANGE ON
ROCK-IT RADIO SHOW #5942

Join DJ Ken Strange as he delves once more into the archives
to bring you another Country Record Round Up with country
music from right across the board from the early 1950's to the
00's including his regular feature, "Duos & Duets"

01. Intro - Medley
02. Music Makin' Mama From Memphis - Hank Snow (51) RCA-Victor
03. Queen Of Hearts - Hank Locklin (65) RCA-Victor
04. Searching - Donna Darlene (67) ARC
05. Bread And Butter Man - Sandy Posey (67) MGM
06. Fear Of Flying - Suzy Bogguss (91) Capitol
07. Country Girls - Marty Stuart (96) MCA
08. Leaving Louisiana In The Broad Daylight - Rodney Crowell (77) Warner Bros
09. Knee Deep - Leroy Pullins (66) Kapp
10. Don't Go Near The Indians - Rex Allen (62) Mercury
11. Baby Boy - Mary Kay Place (76) Columbia
12. Ghost Riders In The Sky - Andy & The Rockits (03) Flathead
13. Hey Don - Kim Tarry (65) Universal Sound
14. She's My Woman - Randy Travis (79) Paula
15. Am I The Only One Who's Ever Felt This Way - The Dixie Chicks (98) Monument
16. Before The Sunrise - Bobby Bare & Skeeter Davis (70) RCA-Victor
17. Slowly - Jimmie Dean & Dottie West (71) RCA-Victor
18. Truck Drivers Queen - Bill Napier & Charlie Moore (70) Nashville
19. You Taught Me How To Cry - Tanya Tucker & Hoyt Axton (77) MCA
20. Divorce Me C.O.D - Merle Travis (46) Capitol
21. If You've Got The Money I've Got The Time - Lefty Frizzell (50) Columbia
22. Blood Red And Going Down - Tanya Tucker (73) Columbia
23. Party Girl - Nancie Griffith (09) Rounder
24. Jump Right Out Of This Jukebox - Onie Wheeler (57) Sun
25. She's A Little Bit Country - George Hamilton IV (70) RCA-Victor
26. Outro - Medley

===============================================
JAMMIN JAMES RILEY WITH 3 HOURS OF THE ROCKABILLY AND
BLUES RADIO SHOW ON ROCK-IT RADIO SHOW #5943

With great Rockabilly and Blues style music along with
great interviews it's James Rileys Rockabilly and Blues
Radio show - this week featuring 3 Rockin' hours here
on Rock-it Radio.

Rockabilly N Blues Radio Hour #1

1. Miss Atomic Bombshell 1949- Celine Lee
2. Spinnin' Around- Vince & The Sun Boppers
3. Texas Thunder- Danny B. Harvey
4. What's It Gonna Take- Maureen & The Mercury 5
5. What Makes Ya Tick- The Silvershakers
6. Damned (If You Do)- The Mavericks
7. Baby Where Are You- Phil Haley & His Comments
8. I've Been Trying For A Long Time- Harry Fontana
9. Big Berry (Boss Man Guitar)- Legaster
10. Rockin' My Life Away- Jerry Lee Lewis
11. Torpedo- Marty Stuart & His Fabulous Superlatives
12. Blues Stop Knockin' (At My Door)- Al Ferrier
13. They Call Me Big Mama- Big Mama Thornton
14. Don't Ya- Cherry Divine
15. Shake It Up- Conway Twitty
16. Tennessee Naughty Water- Cash O'Riley
17. I Lean- Adam Lopez & His Rhythm Review
18. Juicy Fruit- Rudy Greene
19. River Run Dry- Reverend Horton Heat

Rockabilly N Blues Radio Hour #2

WS Holland talks about the "Million Dollar Quartet" session
later in the program.

1. Blue- The Hoodoo Tones
2. I Ain't Gonna Hang Around- Southern Culture On The Skids
3. Rock The Bop- Brenda Lee
4. School Of Rock- Polecats
5. Two Hound Dogs- Bill Haley & His Comets
6. Gitterbug- Petunia & The Vipers
7. Hi-Billy Music- Big Sandy & His Fly-Rite Boys
8. Fun On Saturday Night- The Blasters
9. Lonely Blue Boy- Webb Wilder
10. Little Red Riding Hood- Big Bopper
11. Ride- Wayne Hancock
12. Mule Skinner Blues- Fendermen
13. Matchbox- Carl Perkins
14. Reconsider Baby- Million Dollar Quartet
15. Cherokee Boogie- BR549
16. Five Feet High & Rising- Johnny Cash
17. Catman- Jeff Beck
18. Moon Over Memphis- The Planet Rockers
19. Lonesome Joe From Kokomo- The Modern Sounds

Rockabilly N Blues Radio Show Hour #3

Levi Dexter returns to co-host and picks all the songs on the show.

1. Scratchin' Circles- JD McPherson
2. Booze, Booze, Booze- Charlie Hightone
3. The Norton Spirit (The Dazza Mix)- The Blue Cats
4. Jitterbop Baby- Hal Harris
5. B29 (Droppin' Bombs On Your Heart)- Boz Boorer
6. Wildest Cat In Town- Crazy Cavan & The Rhythm Rockers
7. Her Love Rubbed Off- Carl Perkins
8. Jungle Rock- Hank Mizell
9. Goodbye Goodbye- Joe Clay
10. Rockabilly Rebel- Matchbox
11. I've Heard That Line Before- Ruby Ann
12. Move Around- Groovy Joe Poovey
13. I Wanna Bop- Billy Harlan
14. Turn My Back On You- Billy Fury
15. One Hand Loose- Charlie Feathers
16. So Long Baby Goodbye- The Blasters

===============================================
PAPA WALT'S OLDIES SHOW WITH SONGS ABOUT OUTLAWS
ON ROCK-IT RADIO SHOW #5944

This edition of the Oldies Show is rustling-up a whole herd of
oldies tunes dealing with the subject of outlaws and offers a
playlist that is chock full of songs about those lawless men
and women of days gone by.


1. Outlaw Blues - Pat Benatar (1984)
2. The Man Who Shot Liberty Valance - Gene Pitney (1962)
3. Pistol Packin' Mama - Gene Vincent & the Beat Boys (1960)
4. Folsom Prison Blues - Johnny Cash (1955)
5. The Great Filling Station Holdup - Jimmy Buffett (1973)
6. Stagger Lee - Lloyd Price (1959)
7. Fire on the Mountain - The Marshall Tucker Band (1975)
8. Ladies Love Outlaws - The Everly Brothers (1972)
9. Twilight Zone - Golden Earring (1982)
10. Bad Bad Leroy Brown - Jim Croce (1973)
11. Outlaw Man - The Eagles (1973)
12. Renegade - Styx (1979)
13. I Fought the Law - The Crickets (1960)
14. The Pusher - Steppenwolf (1968)
15. The Rebel Johnny Yuma - Johnny Cash (1961)
16. Rocky Raccoon - The Beatles (1968)
17. Pretty Boy Floyd - The Byrds (1968)
18. Ringo - Lorne Greene (1964)
19. Take the Money and Run - The Steve Miller Band (1976)
20. Doolin Dalton - The Eagles (1966)
21. The Ballad of Bonnie and Clyde - Georgie Fame (1968)

===============================================
ROCKIN DADDY O'S ATOMIC DOO WOP DANCE PARTY
ON ROCK-IT RADIO SHOW #5945

With a high energy delivery it's great uptempo Doo Wop
Rock & Roll the rarities to the hits with Rockin' Daddy O's
Atomic Doo Wop Dance Party .... Here is the playlist of
what you will hear in this show.

1. Everyday Of The Week-The Students
2. Rock n' Roll Indian Dance-Little "Butchie" Saunders & His Buddies
3. I Wonder Why-Dion & The Belmonts
4. Kickin' Child-Dion
5. Arabia-The Delcos
6. Cha Wailey Routa-The Saucers
7. Won't You Let Me Know-The King Crooners
8. For Your Precious Love-Jerry Butler & The Impressions
9. Candy Store Love-The Val-Chords
10. Be My Girl-Tony & The Twilighters
11. He Man Looking For A She Girl-The Four Dots
12. Who Cares About Love-Vicky Tafoya & The Big Beat
13. Rendezvous With You-The Desires
14. Imagination(Acapella)-The Quotations
15. Little Bitty Pretty One-Frankie Lymon
16 .Pizza Sure Is Good-Dick & Libby Halleman
17. My Baby Love Me-The Five Discs
18. Down The Aisle Of Love-The Quin-Tones
19. Three Wishes-The Harptones
20. My Darling(Acapella)-The Mellows

==============================================
HISTORY OF ROCK-IT RADIO

If you are new to Rock-it Radio and would like to learn more --
We have our History Page up as well -- telling the story of Rock-it
Radio. You can find it at:
http://www.rockitradio.net/history.html


SUMMER IS COMING - THE PERFECT TIME OF YEAR
TO BUY A ROCK-IT RADIO T SHIRT!

Have you seen the new full line of Rock-it Radio T shirts that have been
Released. 3 New designs by Rock-it Radio's own Jammin' Jan.
Each Rock-it Radio T shirt is only $16.00 each plus shipping. And 100% of
All monies goes to keeping Rock-it Radio Online.

Come check out the latest styles.:

http://www.rockitradio.net/tshirt.html

Check Website for updates and availability

NEW RELEASE IN THE ROCK-IT RADIO STORE
FEATURING DJ DADDY DOO WOP

As most of you know Rock-it Radio exists and pays
for it's bills from selling vintage Rock & Roll Radio
Shows. We have a new one our release RIR #654. It
is DJ Daddy Doo wop and his show over WSNC 90.5 FM
from Winston-Salem North Carolina.
from 6/9/2002 A great Doo Wop Show. Now listed in
our Rock-it Store under North Carolina listings at
http://www.rockitradio.net/store.html

or now listed on Ebay at:
http://www.ebay.com/itm/-/142386254895

VINTAGE VIDEO PICK OF THE WEEK

For the week of 7 July, 2017
This week in our archives page at:

Now listed in the top listing of our video page...

http://www.rockitradio.net/video.html

This week: Bobby Fuller Four in commemoration of Papa Walt's
show this week on outlaws - There smash hit from 1966 -
"I fought the law".



CLASS OF 1967 5 CD SET NOW AVAILABLE IN ROCK-IT

RADIO E BAY STORE.


Many of our listeners enjoyed the 5 part series back

in May of Lane Quigley's tribute to the Class of 1967

50 year reunion featuring stories and the music of that

musical year. We are happy to say that that series

of 5 shows on 5 CD's is now available here at Rock-it

Radio. You can check out the link at:

If you are not a member of Ebay that's ok e mail us

at Rockitradio@netzero.net and we will gladly send you

a non obligatory invoice to purchase the show.

The 5 CD's that would normally cost $47.50 is on sale

as a set for $34.95 and is studio quality and 100% goes

to supporting Rock-it Radio.

=============================================




EAST VS. WEST OLDIES BATTLE TO AIR ON ROCK-IT

ENTIRE MONTH OF AUGUST


Long time listeners of Rock-it Radio will recognize

the East/ West Battle. And has become a annual event

here on Rock-it Radio. This is the 19th annual East West

Battle - hard to believe it's been 19 years.

Lane Quigley will take one coast and Bill Green will

take the other and they will go round by round of where

you the listener get to vote on your favorites.

In upcoming newsletters we will publish the ballot that

you can send in and vote. At the end of the month those

votes will be tallied and 5 Lucky listeners that will be

awarded some nice prizes.

=============================================

ROCK-IT RADIO T SHIRTS DISCOVER MUCH BETTER TRANSFER
FOR BETTER QUALITY.

Last couple of months we started using a much easier t shirt
transfer brand. It's a bit more but we are not raising the
cost of our T shirts. The Color Quality is brighter and
bolder and holds up better in the wash. If you would
like to check out our different varieties of Rock-it Radio
art work T shirts check them out at:
SAD TO REPORT ROCKABILLY HALL OF FAME ONLINE
TO GO DORMENT ONLINE

We at Rock-it Radio were saddened to read that
the popular website of Rockabilly Hall of Fame run
by Bob Timmers is going to go dorment. Evidently
no more up to date updates for that website.
Bob Timmers cited health reasons for the stoppage
of updates. But the cite will remain online until
at least 2037. Buying a 20 year lease on the site.
The site remains a massive source of fantastic information
and you can check it out at:
http://www.rockabillyhall.com
=============================================




NEW DJ AND SHOW TO AIR ON ROCK-IT RADIO




We are thrilled to announce our latest DJ to the

Rock-it Radio family. It's Gary Kieper also known

as Gary K and his vintage vinyl treasure chest show.

Make sure to catch it's premiere broadcast that will

be released later today as show #5946 archived in

our program page as show #5946. You can also check

out his bio at the Rock-it Radio DJ page at:

=============================================

MORE NEW RELEASES IN THE ROCK-IT RADIO LAUNCHING PAD
STORE AND EBAY STORE.

Almost all of our funding for Rock-it Radio comes from the
sale of vintage radio broadcasts from Rock Radio Shows from
the 1950s to the 1970s. We have 4 new releases so far
this month. Here is a brief description and the Ebay link
to these shows. (Playlists of these vintage broadcasts can
be seen in our ebay listing links below).

1. Kenny Everett BBC Light Programme from 7/20/1969.
Great features of 60s Rock. Released as RIR #650 and
in our Ebay store as:
http://www.ebay.com/itm/131986894044

2. Sebastian Stone & Tony Taylor on WOR-FM New York City
from 4/2/1969. Released as RIR #651 and you can view the
playlist and all at our Ebay store listing at:
http://www.ebay.com/itm/142212250474

3. DJ Helen Shapiro and the LOST BEATLES INTERVIEW!
over BBC Radio 4. A must for any Beatles historian of fan.
Released as RIR #652 & at:
http://www.ebay.com/itm/132034603141

4. DJ Bob Dayton Top 40 Radio show over KRLA Los Angeles from
8/14/1969. Released as RIR #653 & at:
http://www.ebay.com/itm/-/132035582202

All updates and latest news on our vintage radio
broadcasts can be found in our Launching Pad Facebook
page at http://www.facebook.com/rockitpad

=============================================

GIVEAWAY BROADCAST CD FOR JULY 2017 --
WOLFMAN JACK OVER CAPITAL RADIO IN LONDON PILOT SHOW
FROM 1974.


July Giveaway from Rock-it Radio! Wolfman Jack from December 1974.
By the mid 70s Wolfman Jack was at the pinnacle of his career, after
a Cameo appearance from the movie Classic American Graffitti -
his show was receiving national syndication across the United States,
and his own late night TV show. It was time to go international and
in 1974 attempted a pilot program in the UK over Capital Radio in London.
Catch this rare recording of this show - FREE with any order in July.
If you would like to see the playlist of the show you can see it in our
Wolfman Page you can at listing at
http://www.rockitradio.net/wolfman506.html

BUT DON'T BUY IT! You get it free from us here at Rock-it Radio.
With every purchase you make from Rock-it Radio to support
Rock-it Radio.
All sales go to keeping Rock-it Radio online, and this is our
way to sweeten the deal and say Thank you!

Purchase anything from these sites below and you will get the
Allison Steele (Night Bird) Broadcast CD for FREE.

Thank you everyone that helps keep Rock-it Radio online and Rockin!

Your bonus CD for this month
by supporting Rock-it Radio - Just purchase any
Rock-it Radio items from the sites below.

Rock-it Radio Launching Pad : http://www.rockitradio.net/store.html
Rock-it Radio Ebay Store: http://stores.ebay.com/Rock-it-Radio-Store
or
Order a show of Rock-it Radio at: http://www.rockitradio.net/order.html
Or vintage Wolfman Jack shows at http://www.rockitradio.net/wolfman.html
or 50 Rock-it Radio Shows on a flashdrive at http://www.rockitradio.net/flashdrive.html
Catalog orders will also receive this FREE CD.


**Rock-it Radio is 100% Listener supported we have no
sponsors and the sale of our vintage radio broadcasts helps
us to stay online and pay the copyright and broadcasting
fees it takes to remain online. thank you for all your
consideration.**

================================================
NEW RELEASE -- FLASHDRIVE OF ROCK-IT RADIO
SHOWS #5851 TO #5900. OUR 10TH FLASHDRIVE

Flashdrive #10 featuring Rock-it Radio shows #5851 - #5900
50 Rock-it Radio Shows on mp3 thumb drive (80! hours of
oldies Rock!) now released and available at:
http://www.ebay.com/itm/-/142386227901

from there you can also see the playlist of shows on this
flashdrive.
or you can order any of our Flashdrives at:
http://www.rockitradio.net/flashdrive.html

================================================
RECRUITING FOR RADIO PERSONALITIES FOR
ROCK-IT RADIO

Do you know your 50s and 60s Rock & Roll, Doo wop
or Rockabilly? And the ability to produce a show
on CD?
We do require a playlist for this newsletter but
your show will stay online for the world for approx.
3 weeks. Unlike some stations where you broadcast one
time and it's gone forever.
If interested check out our Rock-it Radio Team page
at: http://www.rockitradio.net/team.html

We are also looking for writers and translators!
COLLECTING AIRCHECKS - A HOBBY OF RADIO NOSTALGIA
What is a Aircheck? It is simply a recording of a radio broadcast. Usually collected by Radio fans.
Come check out our webpage on collecting Airchecks.

http://www.rockitradio.net/aircheck.html


COME REMEMBER WOLFMAN JACK !!!
Rock-it Radio has a very special way to remember Wolfman Jack.
Arguably the most iconic of American DJ's. Come check out the
Rock-it Radio Wolfman Page at:
REMEMBERING OFFSHORE PIRATE RADIO IN THE UK
In the mid 1960s it was difficult for the youth to actually listen to Rock and Roll in the UK.
The BBC actually ran only a few hours a weekend to provide the young Brits with this outlet.
At night during the week they ventured to even tune into Radio Luxembourg to get there fill,
that broadcast rock and pop around the clock.
To fill this void some venture capitalists decided to bring in commercial radio aboard refitted
radio ships. And anchor themselves just off into International waters off the English coast.
Radio Caroline (named after Caroline Kennedy the U.S. President's daughter at the time)
and Radio London being the most famous. Rock-it Radio has a website dedicated to their ventures
and also have actual radio broadcasts available of
these offshore pirates.
We invite you to check them out our webpage at:
http://www.rockitradio.net/pirate.html
FINDING ROCK-IT RADIO ON THE 'TUNE IN RADIO' CELL PHONE APP.

We have had a few requests from listeners that they couldn't find us on the popular
'Tune in Radio' App. on Android and PC and iphones. Running a search of 'Rock-it Radio'
will actually list 100s of Rock stations.
So, the best way to find us on this very thorough and extensive app. that
I love using myself is -
run a search on 'rockabilly' - there you will easily find
Rock-it Radio listed.
Our Tune in Radio App. webpage is also at:
http://tunein.com/station/?stationId=41878
ARE YOU ON FACEBOOK ?? FOLLOW THE LATEST AT
ROCK-IT RADIO AND OUR LATEST VINTAGE BROADCAST RELEASES.

Rock-it Radio has 2 Facebook pages. One for our programming
online and notifications, and the other is for our vintage
broadcast shows for sale.


The Online Station is http://www.facebook.com/rockitface

For the Rock-it Radio Launching Pad and our latest deals and
releases you can follow us at:
http://www.facebook.com/rockitpad
MISSED A COUPLE OF NEWSLETTERS LAST COUPLE OF WEEKS??

THEN YOU CAN ALWAYS CHECK OUR BLOG WHERE IT IS ARCHIVED.
YOU CAN CHECK OUT OUR BLOG AT:

http://rock-itradio.blogspot.com/
=============================================


ROCK-IT RADIO DJ PAGE...


Remember you can check out all the Rock-it Radio DJ's

and read the bios of these DJ's that make these

Rock-it Radio Shows possible at:


And don't forget for even more pictures --

there is our picture page at:
============================================
IF YOU HAVE TWITTER COME FOLLOW US THERE

If you are one that tweets then please check out and join and get our
updates on your twitter account. Our Twitter link is right below.

http://www.twitter.com/RockitRadio1
It is our new Twitter account and we will once again start
scrolling our messages and updates on our webpages as well.


=================================================
We are in our 22nd year!!! Please share the good news with your
family and friends that love original Oldies Music - We are back and
Rockin' with new shows in our program page at
http://www.rockitradio.net/programs.html
Just click the MP3 speaker to the show that has your musical interest!
=================================================
WELCOME NEW MEMBERS TO THE LISTENER'S CLUB!!!!

A big welcome to the below new Rock-it Radio listeners that
joined our Listeners Club from June 6, 2017 to
July 6, 2017
We hope that you enjoy the music Rock-it Radio provides
and our playlists and information that our weekly newsletter
provides. Any comments, criticisms, kudos, compliments or
future ideas is always welcome and you can e mail me personally at:
rockitradio@netzero.net

Greg Knight - Eagle, Idaho USA
Moto Blanco - Anguilla
Mike Gleason - Careywood, Idaho USA
David Tzschetke - Berlin, Germany
James Lofty - Bucks, United Kingdom
Ian Coward - Leicestershire, United Kingdom
Thad Sand - Omaha, Nebraska USA
Ed Koester - Springfield, Illinois USA
Moe Botero - Bayside Queens, New York USA
Julie Bonilla - Columbia, California USA
Ed Sampare - Prince Rupert, British Columbia Canada
Jim Cunningham - Clifton Springs, New York USA
We have gained 180 new likes in our listeners club
in our Facebook page Rock-it Radio Fan Page as well this week at:
http://facebook.com/rockitface and 28 more following us
on Twitter @Rockitradio1 .

We have added a total of 220 new members to the Rock-it Radio
Listeners Club since our last newsletter. We now have 90,365 exactly
that have joined the Rock-it Radio Listeners club.
We hope that you enjoy the rare 50's and early 60's
Rock and Roll, Rockabilly and Doo Wop (which most commercial
oldies radio stations have forgotten) that we are able to play
for you from Rock-it Radio. Remember, we are here for you!

So if you ever have any requests, dedications, comments and
suggestions we always love to hear from our listeners.
Our e mail address is:
rockitradio@netzero.net

====================================================
To learn more about the Rock-it Radio Listeners Club and our Free
Newsletter please check out:
http://www.rockitradio.net/member.html

It's free and easy to join and the Rock-it Radio Newsletter is always
online at: http://www.rockitradio.net/newsletter.html



====================================================

PLEASE HELP US SPREAD THE GOOD WORD OF ROCK-IT RADIO!

Do you know of someone that might also like the music

of Rock-it Radio? We are desperately trying to keep this

music alive and have been doing so since 1995! Please

share the information of this station. And if you have

a website would you please consider putting a Rock-it Radio

link on your page.

There are a few to choose from in our link page at:

http://www.rockitradio.net/links.html
HOW TO ORDER OLD ROCK-IT RADIO SHOWS = YOUR PURCHASES HELP US STAY ONLINE!!!
We have received many inquiries on how to order Rock-it Radio shows that are no longer in
our on archives webpage. These shows are still available on CD and mailed to you within 24
hours of receiving payment.
To help search for older shows that you may be looking for you may want to check the Rock-it
Radio blog site. Old newsletters describing the shows and playlists
are archived there and there is a menu bar on the right side that breaks down every playlist
Then you may either pay by check or money order or paypal. Rock-it Radio shows are only
$9.50 U.S. each and are studio quality broadcasts that were placed on Compact Disc here at
the Rock-it Radio Studio. We have a flat rate shipping charge of $1.50 U.S. so if you order
one or several -- it is still only $1.50
U.S. shipping. And we ship worldwide, overseas orders are mailed out first class airmail.
Instructions where to send payment is at our webpage:
like we can send you a paypal invoice within 24 hours.

When you order a Rock-it Radio show or shop at our Rock-it Radio Launching Pad you
help keep these oldies alive and help us pay the bills here at Rock-it Radio.
And at the same time -- you are not getting nothing for your donation, but actually
some of the shows and memories we hope we keep alive here at Rock-it Radio.



TOP 25 SELLERS OF THE ROCK-IT RADIO LAUNCHING PAD THIS WEEK

As you know the Rock-it Radio Store sells vintage Radio Broadcasts - Where you

hear the actual music, news and vintage advertisements - uncut and unedited

just like you would of heard

it back then. Here are the top sellers this week.


1. Rock-it Radio Flashdrive shows #5801 -5850

2. RIR #168 Dan Ingram - WABC New York 7/22/1967

3. RIR #393 John Lennon Guest DJ - WNEW New York 1974

4. RIR #260 Tony The Tiger Taylor - WXQI Atlanta 4/1/1965

5. Rock-it Radio Flashdrive Shows #5601 - #5650

6. RIR #539 Cousin Brucie - WABC New York 9/7/1965

7. Rock-it Radio Flashdrive #5851 - #5900

8. RIR #181 Wolfman Jack - XERB Rosarito Mexico 12/8/1967

9. RIR #644 Dan Ingram - WABC New York 6/12/1964

10. RIR #425 Don Steele - KHJ Los Angeles 7/3/1967

11. RIR #426 Dan Ingram - WABC New York 7/4/1968

12. RIR #650 Kenny Everett & Chris Denning BBC 5/20/1967

13. RIR #205 Porky Chedwick WAMO Pittsburgh 6/16/1960

14. RIR #397 - Wolfman Jack - XERB Rosarito 8/1/1968

15. Lane Quigley Class of 1967 5 CD Set - Rock-it Radio

16. RIR #436 Pat Sajack - Armed Forces Vietnam Network 3/18/1969

17. RIR #439 2 1965 Broadcasts of CKLW Ontario

18. RIR #624 Bob Green - WKNR Detroit 3/30/1970

19. RIR #312 Dick Biondi - WLS Chicago 5/2/1963

20. RIR #652 Helen Shapiro BBC - Lost Beatles Interview

21. RIR #200 Wolfman Jack XERB Rosarito 10/1/1969 Pt.1

23. RIR #559 Dan Ingram - WABC New York Hr. 3 12/26/1969

24. RIR #622 Johnny Morgan - CKLW Windsor, Ontario 7/12/1967

25. RIR #387 Joey Reynolds WKBW Buffalo 2/24/1964






If you would like to view these shows in depth you can check out

our Rock-it Radio Ebay Store at:

or in the Rock-it Radio Launching Pad store at:

and in the upper left hand corner -

there is a search box where you can type in the DJ name or

Station Call letters and that information on that show will pop up.

Ordering from the Ebay store will also qualify you for the Rock-it Radio

giveaway mentioned previously in this newsletter. Sale of

these broadcasts is what keeps Rock-it Radio going and thank

you again to everyone that buys these!

============================================
Rockabilly bands looking for airplay
If you or know someone that would like airplay on Rock-it Radio we invite
you to submit your press kits to Rock-it Radio. Our website for further
information is:
http://www.rockitradio.net/airplay.html
============================================
Come tune into the World on your computer!
1000s of stations around the world now broadcast online. We have a
link to some of the internet top directories to help you find these stations.
http://www.rockitradio.net/internetradio.html
============================================
Rock-it Radio Program Webpage Reminder
Remember, if the show that you want to hear is getting close to the bottom
of the list of radio shows, you should tune in as soon as you can. These shows
to have a high audio quality require a lot of internet bandwidth and memory.
And currently we can only afford the
30
latest shows online here at Rock-it Radio.
So, when a new show is put online it knocks the oldest one off the Rock-it Radio
archives page. Usually a show will at least last 16 to 20 days, once it is placed in
the archives.
============================================
OUR SISTER STATION FIRST NATIONS BROADCASTING.
We invite you to also check out our sister station -- First Nations
Broadcasting. And tune into the rather Cool North of the Yukon and Alaska
with our very own Debbie Snowdove!
============================================
Well that is just about it for this newsletter and playlists of our latest
shows. We hope that you enjoy them.
We will do our best to keep these shows on for at least 14
days and hopefully 21 days.
All the best always,
Bennie Dingo
Rock-it Radio

website: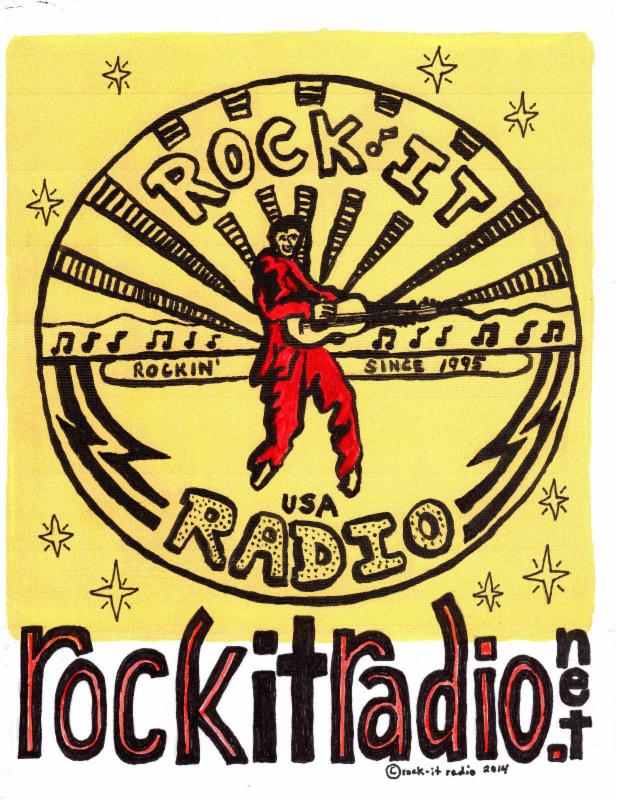 Rock-it Radio main website:
http://www.rockitradio.net

Archived Shows at:
http://www.rockitradio.net/programs.html

Rock-it Radio Vintage Broadcast Store:
(Launching Pad)
http://www.rockitradio.net/store.html