Rock-it Radio since 1995 providing 50s and early 60s Rock and Roll, Doo Wop and Rockabilly music online! Come tune us in at http://www.rockitradio.net We also have several 100 original radio shows from the first decade of Rock and Roll at: http://www.rockitradio.net/store.html
=========================================================================
ROCK-IT RADIO NEWSLETTER AND PLAYLIST
SHOWS #5946 TO #5961
FROM
July 7, 2017 to July 18, 2017

Hi Rock-it Radio Listeners,

Another Rock-it Radio Newsletter And we have 16 more new
shows playing in our archived program page. Including and starting
with a premiere broadcast of our latest DJ. Also, a new
Flashdrive featuring our latest batch of shows on flashdrive
being shows #5901 - #5950 a real way to save money and having
over 70 hours of Rock-it Radio programming on one flashdrive.
Also, remember we are giving away a FREE CD of Wolfman Jack in London!
Broadcast CD - And much more news....
So, Let's get started with some playlists!

So, Let's get started with some playlists!

Our shows can be heard in our archives page at:

http://www.rockitradio.net/programs.html
and click to the speaker on the left to hear the show.

Remember if you are new to Internet Radio and having trouble tuning in though --
Check out our webpage to help you out at:
http://www.rockitradio.net/tunein.html
============================================
REMEMBER YOU CAN ORDER ANY OF THESE ROCK-IT
RADIO SHOWS ON CD!!!! NEW EASIER ORDERING!

Would you like one of these Rock-it Radio shows on CD? To
be able to play anywhere? And help support Rock-it Radio at the same time.
For complete information check out our program
ordering webpage at: http://www.rockitradio.net/order.html

Our shows are of course copies straight from the studio so they are studio
quality and satisfaction is guaranteed.
Or if you would rather receive an invoice let me know and we
can e mail you a copy - Just e mail us the show(s) you would like
to have and the Rock-it # to: rockitradio@netzero.net

==============================================
All Rock-it Radio shows stay online from 18 to 24 days and are
broadcast in MP3 Format. To tune in just click to the speaker
at our program page at:
http://www.rockitradio.net/programs.html

The newest show added replaces the oldest show so if you see a
show near the bottom of the listing - you should listen as soon as
possible.

==============================================
WE COULD REALLY !!! USE YOUR SUPPORT

Rock-it Radio is 100% Publicly supported. But when you
donate to the Rock-it Radio Launching Pad - we give you
a vintage broadcast of your choice.
100% of all sales from the Rock-it Radio Store (Launching
Pad) goes back to pay copyright fees, LLC taxes, Internet
and bandwidth costs of Rock-it Radio. Without your support
we would not exist. So. please consider a purchase at:
http://www.rockitradio.net/store.html

===============================================
NOTE: ALL SHOWS BELOW CAN BE FOUND IN OUR
PROGRAM WEBPAGE -
TO TUNE IN CLICK TO SPEAKER OF THE SHOW YOU WANT
TO LISTEN TO. EITHER MP3 OR REAL PLAYER.
BOTH FORMATS ARE SUPPORTED.
AT:
HTTP://WWW.ROCKITRADIO.NET/PROGRAMS.HTML

==============================================
GARY K. VINTAGE VINYL TREASURE CHEST PREMIERE
SHOW ON ROCK-IT RADIO SHOW #5946

Rockitradio welcomes our newest DJ - Gary K
"The Rockin' Mailman" - and the Vintage Vinyl Treasure
Chest. On this premiere broadcast, you will get to
know a little bit about Gary and will hear the great
variety of music from his extensive collection of 45's.
We think you'll dig the VVTC (Vintage Vinyl Treasure Chest),
so give a listen. Feel free to let Gary know how you
like the program - you can email him at: oldiesgary@mail.com
Being the latest and newest DJ I am sure he would love to
get some e mail!


1 Mailman Bring Me No More Blues - Buddy Holly 1958
2 I've Told Every Little Star - Linda Scott 1961
3 Johnny Get Angry - Joannie Sommers 1962
4 Red Hot - Bob Luman 1957
5 Atom Bomb Baby - Five Stars 1957
6 Ain't I'm a Dog - Ronnie Self 1957
7 This Time -Troy Shondell 1961
8 Whispering Pines - Johnny Horton 1961
9 Easier Said Than Done - The Essex 1963
10 Little Cricket - Royal Teens 1959
11 Flip Flop and Fly - Big Joe Turner/Blues Kings 1955
12 Day Old Bread & Canned Beans - Treniers 1956
13 Blue Shadows on the Trail - Sons of the Pioneers 1960
14 Mystery Train - Elvis 1955
15 Old Records - Margie Singleton 1963
16 Gee How I Wish You Were Here - Curtis Lee flip
17 Pretty Little Angel Eyes - Curtis Lee 1961
18 This I Swear - Geezecats 2002
20 Some Kind of Wonderful - Idalia Boyd 1963
21 Groovy - Joe Dodo & The Groovers 1958
22 'Ol Man River - Ravens 1947
23 Last Date - Floyd Cramer 1960
24 My Last Date with You - Skeeter Davis 1960
25 That's All She Wrote - Rick Nelson 1963

You can also catch Gary's bio in our DJ page at
Rock-it Radio at http://www.rockitradio.net/dj.html

===============================================
JACK VAN OERS & THE ROCKIN' WINDMILL ROCKABILLY
SHOW ON ROCK-IT RADIO #5947

The music in this Rocking Windmill show originates from
Estonia, Finland, Norway, The UK, The USA and The Netherlands -
so, just turn up the volume, find your blue suede shoes
and petticoats and enjoy the show!

1. Loretta - Al Jones - 1959
2. Baby remember me - Al & the Echoes - 1966
3. Sparkling brown eyes - George Jones - 1960
4. My gran' Pappy don't smoke no grass - Al Roberts Jr, - 197x
5. Lady of Spain - The Black Arrows - 1962
6. Rudy Tudy baby - Jimmy Graham - 195x
7. Honey Bee - The Darts - 1979
8. Ethalena - Al Hendrix - 195x
9. Move it - The Jumpin' Wheels - 2003
10. Teenage doll - Jim White & the Kings Men - 1961
11. Lonestar boogie - Johnny & the Jailbirds - 2000
12. Hippy hippy shake - Chan Romero - 1959
13. Hippy hippy shake - Swinging Blue Jeans - 1963
14. Lookin' - Royce Porter - 1958
15. Fancy Nancy - Crazy Cavan & the Rhythm Rockers - 1975
16. Shook up - Joe Melson - 1960
17. Rockabilly star - The Slippers - 1980
18. Come on, twist - Jody Reynolds - 1962
19. The losing side of me - The Rocking Birds - 1998
20. Tears today, gone tomorrow - The Flea Bops - 2000
21. Gonna have a party - The Teen Cats - 1987
22. Don't wake up the kids - The Four Dots - 1959
23. Tell me how - Johnny & the Rocco's - 1989
24. The moon is crying - Alan Riddle - 1960
25. That's OK - The Rimshots - 1996
26. San Antonio Rose - Johnny & the Hurricanes - 1962

===============================================
LANE QUIGLEY & THE MEMORY LANE SHOW ON ROCK-IT
RADIO SHOW #5948

It's time for another trip down Memory Lane with host Lane Quigley.
This week's show features another fantastic array of sides from
the Glory Days of the 45 RPM, along with interesting interview clips
and your chance to guess the Mystery Artist. Get ready to rock & roll
as you dig the latest Memory Lane Show on Rockitradio.net .

1. Looking For a Love - The Valentinos 1962
2. Hurts Me To My Heart - Faye Adams 1954
SOUND BITE
3. I'm a Telling You - Jerry Butler 1961
4. I Vibrate - Conway Twitty 1958
5. That's The Way Boys Are - Lesley Gore 1964
SOUND BITE
6. Please Be My Girlfriend - The Cadillacs 1957
7. McDonald's Daughter - Lester Williams 1956
8. Stop Look & Listen - Patsy Cline 1956
9. MYSTERY ARTIST - Can you identify the artist??
SOUND BITE
10. What a Guy - The Raindrops 1963
11. 39-21-40 - The Showmen 1963
12. She Moves Me - Johnny Guitar Watson 1956
13. Got My Eyes On You -Johnny York 1964
SOUND BITE
14. Crazy Arms - Jerry Lee Lewis 1956
15. Here I Stand - Wade Flemons 1958
16. String Along - Jesse Powell & The Majors 1958
17. Red Pepper - Roosevelt Fountain & His Pens of Rhythm 1963
SOUND BITE
18. White Lightnin' - George Jones 1959
19. I Need Your Lovin' - Roy Hamilton 1959
20. Drop Me a Line - Karl Hammell Jr. 1963
21. Funny - Jesse Belvin 1958
SOUND BITE
22. Don't Take Your Love From Me - The Calvanes 1956
23. Story Untold - The Nutmegs 1955
24. Soldier Boy - The Four Fellows 1955

===============================================
DJ SPINNING ROCK BOOGIE AND THE MOVIN AND GROOVIN
SHOW FEATURING WORLDWIDE RARITIES ON SHOW #5949

Join DJ Spinning Rock Boogie for another show in his series
"Regional Round Up". Instead of the usual States of America
that are featured, this show will concentrate on artists and record
labels from around the globe and the country where the record labels
were based with right across the board music from Belgium, Austria,
Italy, Australia, New Zealand, Sweden, UK, Germany,
Netherlands, France, Finland, Hungary, South Africa, Spain and Japan.
So get your passports and visas ready for a musical trip around the world.

01. Intro - Medley
02. Hot Rock Beat - Clark Richard & His Tropical Stars (62) HMV - Belgium
03. She's Got It - Jimmy & The Rackets (64) Austroton - Austria
04. Rock-A-Bongo Boogie (instrumental) - Terry Snyder & The All Stars (59) Command - Italy
05. Miss You So - Brandi & The Badcats (04) Mustang - Victoria - Australia
06. Blue Moon Of Kentucky - Luke Simmons & His Blue Mountain Boys (57) Columbia - New Zealand
07. Pink Eyed Pussycat - Bill Haley & The Comets (71) Sonet - Sweden
08. Tarzan Boogie - Johnny & The Roccos (85) Offbeat - London - UK
09. Livin' Lovin' Doll - Cliff Richard & The Drifters (59) Columbia - London - UK
10. Rattlesnake Café - The Lennerockers (95) Lennerecords - Hagen - Germany
11. Miss You Miss Belinda - The Refreshments (99) Pool Sounds - Stockholm - Sweden
12. Dixieland Boogie (instrumental) - The Dutch Swing College Band (?) Philips - Netherlands
13. Stranded In The Jungle - The Cadets (57) London - New Zealand
14. It Gives Me Chills - Don Taylor (59) Versailles - France
15. Campin' With Jack - Buck Jones & His Billyhowgs (08) Rebel - Finland
16. Make Like Rock 'n' Roll - The Prison Band (08) Rebel - Hungary
17. Evergreen Tree - Cliff Richard & The Shadows (61) Columbia - South Africa
18. Tread Softly Stranger - Vince Eager (58) Decca - London - UK
19. All I Have To Do Is Dream - Marco Da Silva (03) Ninapo - Italy
20. Midnight - The Refreshments (99) Pool Sounds - Stockholm - Sweden
21. I Wanna Make Love - Rockin' Bonnie & The Rot Gut Shots (09) Toro - Barcelona - Spain
22. Love Love Love - Ruth Brown (62) Philips - Netherlands
23. Border Town Blues - Long John Hunter (86) Double Trouble - Netherlands
24. Hob Nob Club - Ray Collins Hot Club (01) Vinyl Japan - Tokyo - Japan
25. Dizzy Miss Lizzy - The Hellcats (08)) Rebel - Italy
26. Brown Eyed Handsome Man - Wanda Jackson (63) Capitol - Germany
27. Hiccough Rock - Henry Cording & His Original Rock And Roll Boys (56) Philips - Germany

===============================================
AL COOL DADDY SMITH WITH A PT. 1 TRIBUTE TO SOUND STAGE 7
RECORDS ON ROCK-IT RADIO SHOW #5950

This show is Part One of a multi part presentation featuring unknown
but great Soul and R&B recordings from Sound Stage 7 Records out of
Nashville Tennessee.
Sound Stage 7 was founded in 1963 by Fred Foster of Monument records
fame. It at first recorded what one wag has described as "dull pop
ephemera" but this was to change when famous WLAC radio DJ John Richbourg
took over the reigns as A&R man in 1965 turning the label into a strictly
Soul and R&B recording entity. Many of the artists as well as their
recordings on Sound Stage 7 will be unknown to all but the most hard
core aficionados of this genre of music. Despite this fact the artists
and their recordings are as good as anything that appeared on Stax out
of Memphis or Atlantic Records out of New York City. As well as the music
being played ; the importance of John Richbourg to the development of
Rock and Roll will be described.

The play list is as follows:

1. I Know Your Heart Has Been Broken-Roscoe Shelton 1965
2. Please Give Me Another Chance-Ted Ford 1968
3. V.C. Blues-Allen Orange 1966
4. There's Something On My Baby's Mind-The Ambassadors 1967
5. Right On Time-Jimmy Church 1966
6. Teenager's Prayer-Joe Simon 1966
7. He Called Me Baby-Ella Washington 1968
8. Gotta Get Yourself Together-The Valentines 1969
9. I'll Find My Sunshine-Moody Scott 1970
10. Little Turch-Fenton Robinson 1970
11. Don't Destroy Me-Margie Hendrix 1968
12. Otis Is Gone Pt. One-Lattimore Brown 1968
13. Just Like She Said-The Soul Ambassadors 1968
14. Nashville Wimmen-Piney Brown 1970
15. I Wish I Was A Baby-Little Richie 1965
16. I Can't Be Your Part Time Baby-Gwen Davis 1966
17. Why Are You Afraid?-Roscoe Robinson 1967
18. The Chokin' Kind-Joe Simon 1969
19. I Can't Afford To Lose Him-Ella Washington 1967
20. How Sweet It Is-Chuck Armstrong 1969
21. The Get Away-Fenton Robinson 1970
22. Sunny-Sam Baker 1967

===============================================
OTTO FUCHS & ROCKIN THE JOINT ROCKABILLY SHOW
ON ROCK-IT RADIO SHOW #5951

From his studios in Baden, Austria comes Otto Fuchs
and the Rockin' The Joint Show.
Otto Fuchs & The Rockin´ The JUKEJOINT Show -
Keep Calm & Listen To Roots Rock & Roll Rockabilly

1. Jump Jive & Wail-The Brian Setzer Orchestra
2. Dim Dim The Lights-Bill Haley & His Comets
3. Maybe Baby-Buddy Holly & The Crickets
4. Be-Bop-A-Lula -Gene Vincent
5. Finger Poppin´ Time-Hank Ballard
6. The Rain Might Wash Your Love Away-Carl Perkins
7. Your Love Keeps Me Lifting Higher & Higher-Jackie Wilson
8. Remember (Walking In The Sand)-The Shangri-Las
9. Roll Over Beethoven-Carl Perkins
10. Will You Love Me Tomorrow-The Shirelles
11. Singing The Blues (Live)-Tommy Steele
12. Poor Little Fool-The Slapbacks
13. Important Words-Gene Vincent
14. Devil Or Angel-Bobby Vee
15. Mr. Lonely-Bobby Vinton
16. Bad Boy-Marty Wilde
17. Rock & Roll Ruby-Johnny Cash
18. F.B.I.-The Shadows
19. Viva La Rock & Roll-Bill Haley & The Comets with Caterina Valente
20. La Bamba-Ritchie Valens
21. Have I Told You Lately That I Love You-Elvis Presley
22. Sleep Walk-Stray Cats
23. Then You Can Tell Me Goodbye-The Casanovas
24. Duke Of Earl-Gene Chandler
25. Runaway-Del Shannon
26. When The Rebel Comes Home-Jim The King Brown

===============================================
COOL BOBBY B & THE DOO WOP STOP ON ROCK-IT RADIO
SHOW #5952

From a undisclosed location Cool Bobby B is back
with another 3 hours of programming for us here
at Rock-it Radio! Great Doo Wop Rock and Roll from
the first decade of Rock and Roll now on demand
as show #5941 here at Rock-it Radio. Here is
the playlist of the show.

Hour #1

1. Rockin' with the clock - Shirley and Lee
2. No time - the Titans
3. While Walking - The Fabulaires
4. I love only you - The 3 Pennies
5. Tra la la - The Majors
6. I want to love you - Dee Clark
7. Believe me - Hollywood Flames
8. Where or when - Dion & Belmonts
9. Chapel Bells - The Fascinators
10. Something Cool - The Academics
11. Magic Lady - Larry Di Salvi
12. Tears on my pillow - Stanley Brown & Majestics
13. Wheelin and a dealin - The Danleers
14. Getting Dizzy - The Elegants
15. There ain't no news today - The Penguins
16. Without love - Clyde McPhatter
17. You're so fine - the Falcons
18. Have you heard - The Duprees
19. Shimmy Shimmy Ko Ko Bop - El Capris

Hour #2

20. Why can't you be true - the Vermalls
21. The Sun's message - The Butlers
22. Oh what a day - The Ovations
23. The Gift of love - The Impressions
24. Fools Fall in love - The Drifters
25. Over the Rainbow - The Demensions
26. Please write - The Tokens
27. Last night I dreamed - The Fiestas
28. High on a Hill - Scott English
29. Mr. 1950s - Elaine Silver
30. Some kind of wonderful - Kenny Vance & Planotones
31. Blue Star - Blue Notes
32. I see a star - The Roulettes
33. So Far Away - The Pastels
34. Memories of El Monte - The Penguins
35. Way over there - The Miracles
36. Vows of Love - The Paragons
37. If I (oh I) - The Diablos

Hour #3

38. 11th hour melody - The Rivieras
39. Moonlight Serenade - The Rivieras
40. My Dream - The Platters
41. Barbara - The Temptations
42. There goes the boy - The Lydells
43. Always - The Distants
44. Walk the streets alone - Love Letters
45. Could this be magic - the Dubs
46. In the still of the night - 5 Satins
47. We belong together - Robert & Johnny
48. All my tomorrows - The Duprees
49. 16 Candles - The Crests
50. Happy Happy Birthday baby - Tune Weavers
51. I can't do enough for you - the Dells
52. Sipping a cup of coffee - The Ordells
53. This silver ring - The Castelles
54. Who do you love - Philly Cuzz
55. Maybe - The Chantels
56. Goodnight Baby - The Imaginations

===============================================
BILLY VERA'S ROCK AND ROLL PARTY SHOW WITH INTERVIEW
AND MUSIC OF LAVERN BAKER ON ROCK-IT RADIO SHOW #5953

In April, 1991 I was fortunate to host the great LaVern Baker
in her very first interview upon her return to the States from
many years working on an Army base in the Philippines. LaVern lived
near me in White Plains, New York when I was younger and she
was married to comedian Slappy White. We discussed that and the whole
of her career. She was happy to hear the songs from her beginnings and
had a good memory, so I and my audience learned much about this wonderful
singer.


HOUR 1

1. Tweedle Dee
2. Nobody Knows You When You're Down and Out
3. Easy Baby
4. I Want To Rock
5. Lavender Cadillac
6. Must I Cry Again
7. Soul On Fire
8. Tra La La
9. Slow Rollin' Mama
10. How Can You Leave a Man Like That

HOUR 2

11. Cry (Johnnie Ray)
12. Jim Dandy
13. That Lucky Old Sun
14. You're The Boss (Lavern Baker with Jimmy Ricks)
15. Take My Hand Precious Lord
16. Go Away
17. So High So Low
18. Tomorrow Night
19. Think Twice (Lavern Baker with Jackie Wilson)
20. Play It Fair
21. Saved


===============================================
ROCKIN DADDY O'S ROCKABILLY RANCH PARTY SHOW
ON ROCK-IT RADIO SHOW #5954

Rockin' Daddy O is back this week with another great set
of rockin' Rockabilly from yesteryear and those bands playing
the rockin style today! Here is Daddy O's playlist of what
you will hear in this show!

1. Rockin' Rochester-The Tempests
2. Ghost Train-The Swanks
3. Big Eyes, Crazy Curls-Bloodshot Bill
4. Love You So-The Rhythm Shakers
5. Savage Stomp-The Screamin' Rebel Angels
6. She's The Girl-Kid Rocker & The Phantoms
7. Rockabilly Rave-Darrell Higham & Jittery Jack
8. Bad Girl-Little Lesley & The Bloodshots
9. Raw Deal-Junior Thompson & The Meteors
10. Everybody's Lovin' My Baby-Charlie Feathers with Jody & Jerry
11. Rock Therapy-Johnny Burnette & The Rock n' Roll Trio
12. Dragster-Johnny Fortune
13. Shifting Gears-Miss Amy Griffin
14. Surfin' Crow-The Jades
15. Move Around-Levi Dexter
16. Jello Sal-Benny Ingram
17. Call His Name-Ruby Ann
18. Hoodoo Voodoo-The Star Mountain Dreamers
19. She's My Baby-Steve Alaimo
20. Her Love Rubbed Off-Carl Perkins

===============================================
PETE CHASTON'S DOO WOP SHOW WITH A SHIRELLES
ON ROCK-IT RADIO #5955

Pete is one of our veteran DJs here on the Rock-it
and his Doo Wop collection is quite extensive!
If you love Doo Wop Rock and Roll but in search
of more of the obscurities along with the standards
this show just might be for you. Here is the playlist
of this show of Pete Chaston's Doo Wop Show.

1. Doo-Wop All Night Long-The Blue Emotions (opening theme song) (1982)
2. Crazy Bells-The Marcels (1961)
3. Will Love Ever Come My Way-The Mystics (1982)
4. Feel So Good-Shirley & Lee (mid 1950s)
5. No One to Love Me-The Shaweez (1952)
6. Gum Drop-Otis Williams & his Charms (circa 1953)
7. Doreen is Never Boring-The Mystics (1982)
8. Tick Tock-Richie Cordell & group (xxxx)
9. A Little Bit of Soap-The Jarmels (1961)
10. Image of a Girl-The Safaris (1960)

SILLY SONG SEGMENT:

11. Fat-Fat-Fat! Mom-Mi-O-The Chalets (1959)
12. Roaches-The Court Jesters (xxxx)

SCRATCHY 45 RPMs SEGMENT:

13. I've Got a Woman-Donnie & The Del Chords
14. 14. 14. Castle in the Sky-the Bop-chords (1956)
15. Dear Lord-The Continentals (1956)
16. Don't Go-The Love Notes (1957)

BACK TO THE CDs &/or More 45 RPMs:

17. In My Heart-The Timetones (1961)
18. What's Your Name-The Dukes Of Harmony (xxxx)
19. Heartaches-The Marcels (1961)
20. Somethin' Bout Cha-The Nylons (1982)

SLOW SONG SEGMENT:

21. To be Loved (Forever)-The Pentagons (1961)
22. Lover's Island-The Blue Jays (1961)
23. Sure as the Flower-The Dukes of Harmony (xxxx)
24. My Girl Awaits Me-The Castelles (1953)
25. Maybe-The Chantels (1957)
26. Newly Weds-The Orchids (1955)
27. (closing theme song) Adios-The Five Discs (1961)

===============================================
JAMMIN JAMES RILEY WITH 3 HOURS OF THE ROCKABILLY AND
BLUES RADIO SHOW ON ROCK-IT RADIO SHOW #5956

With great Rockabilly and Blues style music along with
great interviews it's James Rileys Rockabilly and Blues
Radio show - this week featuring 3 Rockin' hours here
on Rock-it Radio.

Rockabilly N Blues Radio Hour #1

Brenda Lee discusses career, Elvis and more!

1. To The Bone- Hayden Thompson
2. 18 Miles To Memphis- Stray Cats
3. Too Good To Stay Away From- Kokomo Kings
4. Mixed Up World- Dexter Shaw & The Wolftones
5. Nobody But You- Mo Al Jaz & Friends
6. Dynamite- Brenda Lee
7. Jambalaya (On The Bayou)- Brenda Lee
8. Bigelow 6-200- Brenda Lee
9. Just Because- Brenda Lee
10. Are You Lonesome Tonight- Elvis Presley
11. I Will Be Yours- The Mavericks
12. Goodbye Lonesome, Hello Baby Doll- Kieron McDonald
13. Speed Limit- Truly Lover Trio
14. Heartbreaker- Jittery Jack
15. Mystery Train- Dean Z
16. A Boy Like Me, A Girl Like You- Lance Lipinsky & The Lovers
17. All By Myself- Johnny Burnette & The Rock N Roll Trio


Rockabilly N Blues Radio Hour #2

Elvis Tribute Artist champion Dean Z joins us

1. We Need Elvis Back- The Katmen
2. Lawdy Miss Clawdy- Elvis Presley
3. I Beg Of You- Robert Gordon & Chris Spedding
4. Such A Night- Carl Bradychok
5. Heartbreak Hotel- The Rockats
6. The EP Express- Carl Perkins
7. Hard Headed Woman- Lee Rocker
8. Baby, Let's Play House- Dean Z
9. Blue Moon Of Kentucky- Dean Z
10. Trying To Get To You- Dean Z
11. I Don't Care If The Sun Don't Shine- Elvis Presley
12. All Shook Up- Shawn Camp & Billy Burnette
13. You're So Square (Baby I Don't Care)- Buddy Holly
14. Mean Woman Blues- Cliff Richard
15. His Latest Flame- Cliff Richard
16. Jailhouse Rock- Elvis Presley
17. Little Sister- Link Wray

===============================================
MATT THE CAT AND THE JUKE IN THE BACK SHOW WITH
TRIBUTE TO ELMORE JAMES ON ROCK-IT RADIO SHOW #5957

Elmore James never tried to have crossover success. He was a
bluesman through and through; an ambassador of the Mississippi Delta
Blues with a modern, 1950s electric twist. Elmore's blues was as pure
as his ambitions when starting out as a sideman for now legendary blues
harpist Sonny Boy Williamson II. James played on several Williamson
sessions held in 1951 at Trumpet Records in Jackson, MS, until he was
coaxed into playing the Robert Johnson tune, "Dust My Broom" in August.
Trumpet gave James one side of the original 78 RPM release and in early
1952, "Dust My Broom" became a national R&B hit! Ike Turner, who was
scouting for the Bihari Brothers of LA's Modern Records, found Elmore
and got him signed to a four year deal with the Biharis. They issued his
first record on their Meteor subsidiary and "I Believe," a reworking of
"Dust My Broom," also became a top 10 national hit. Elmore James wouldn't
score another hit record until 1960, but in those years in-between,
James issued some incredible and highly influential blues sides, featuring
his legendary slide guitar style. James would go on to inspire The Rolling Stones,
The Yardbirds, early Fleetwood Mac and others, but would not live to see it.
This week, Matt The Cat dusts off some prime Elmore James 78s from several
labels and in many blues styles. Many of these records built off the original
"Dust My Broom" guitar lick, but they are also good enough to stard firmly on
their own.


1. Swanee River Boogie - Albert Ammons - Mercury 1947
2. Dust My Broom - Elmo James - Trumpet 1951
3. I Believe - Elmore James - Meteor 1952
4. Baby What's Wrong - Elmore James - Meteor 1953
5. Country Boogie - Elmore James - Checker 1953
6. Early In The Morning - Elmore James & The Broom Dusters - Flair 1953
7. Hawaiian Boogie - Elmore James & The Broom Dusters - Flair 1953
8. Can't Stop Lovin' - Elmore James & The Broom Dusters - Flair 1953
9. Strange Kinda Feeling - Elmore James and The Broomdusters - Flair 1953
10. TV Mama - Joe Turner & His Blues Kings - Atlantic 1953
11. GREAT 78 - I Held My Baby Last Night - Elmore James - Meteor 1952
12. Hand In Hand - Elmore James & His Broomdusters - Flair 1954
13. Sho Nuff I Do - Elmore James & His "Broomdusters" - Flair 1954
14. Sunny Land - Elmore James & His "Broomdusters" - Flair 1954
15. Dust My Blues - Elmore James & His "Broom Dusters" - Flair 1955
16. After Hours - Erskine Hawkins - Bluebird 1946

===============================================
BILL GREEN & ROCK & ROLL RETROSPECTIVE WITH PART III
ROCK DANCE SONGS ON ROCK-IT RADIO SHOW #5958

Hey Rockiteers. Time once again to put on your dancin' shoes because
Bill Green from the Retro Show is back with part three of his four
part spotlight on the many dance songs of the Rock 'n Roll era.
This show covers the early sixties with a huge selection from 1962.

1) Dancin' Party - Chubby Checker (1962)
2) The Majestic - Dion (1961)
3) The Fly - Chubby Checker (1961)
sound bite
4) Bristol Stomp - The Dovells (1961)
5) The Switch-A-Roo - Hank Ballard & The Midnighters (1961)
6) The Float - Hank Ballard & The Midnighters (1961)
7) The Continental Walk - Hank Ballard & The Midnighters (1961)
8) Do The New Continental - The Dovells (1962)
9) Hully Gully Baby - The Dovells (1962)
10) The Jitterbug - The Dovells (1962)
sound bite
11) Mashed Potato Time - Dee Dee Sharp (1962)
sound bite
12) The Loco-Motion - Little Eva (1962)
13) Limbo Rock - Chubby Checker (1962)
14) Dancin' The Strand - Maureen Gray (1962)
15) Now Let's Popeye - Eddie Bo (1962)
16) Do The Zombie - Al Tigro (1962)
17) Let's Go (Pony) - The Routers (1962)
18) Bongo Stomp - Little Joey & The Flips (1963)
19) Let's Stomp - Bobby Comstock & The Counts (1963)
sound bite
20) Loop De Loop - Johnny Thunder (1963)
21) The Twitch - Danny White (1963)
22) The Bounce - The Olympics (1963)
sound bite
23) The Dog - Rufus Thomas (1963)
24) Bossa Nova Baby - Elvis Presley (1963)
sound bite
25) The Monkey Time - Major Lance (1963)

===============================================
MIKE TAYLOR'S ROCKABILLY HOUR ON ROCK-IT RADIO
SHOW #5959 - ROCK AND ROLL GOES POP

ROCK 'N' ROLL GOES POP...as Rock and Roll swooped in
and began to take over the charts in the mid-1950's, pop
singers who had begun the decade on top scrambled to
adapt to this new musical wave. Many covered songs
by lesser known artists, mainly black, others came up with
some new tunes on their own...the result was a R&R beat but with
full orchestration!

1. I Need Your Lovin' - The Cheers 1954
2. At My Front Door - Pat Boone 1955
3. Boom Boom Boomerang - The DeCastro Sisters 1955
4. Daddy-O - The Fontaine Sisters 1955
5. I Hear You Knockin' - Gale Storm 1955
6. My Boy--Flattop - Dorothy Collins 1955
7. Sweet Old Fashioned Girl - Teresa Brewer 1956
8. Boll Weevil - Teresa Brewer 1956
9. Are You Satisfied - Rusty Draper 1956
10. Lay Down Your Arms - The Chordettes 1956
11. Butterfly - Andy Williams 1957
12. Rock A Billy - Guy Mitchell 1957
13. Ninety-Nine Years - Guy Mitchell 1956
14. Send For Me - Nat King Cole 1957
15. Juke Box Baby - Perry Como 1956
16. Kewpie Doll - Perry Como 1958
17. Rock And Roll Waltz - Kay Starr 1955
18. Dance With Me Henry - Georgia Gibbs 1955
19. Gum Drop - The Crew Cuts 1955
20. Hearts Made of Stone - The Fontane Sisters 1955
21. Dungaree Doll - Eddie Fisher 1956
22. Yes Tonight Josephine - Johnnie Ray 1957
23. Left Right Out Of Your Heart - Patti Page 1958
24. Footsteps - Steve Lawrence 1960 ABC 1955

===============================================
COUNTRY RECORD ROUND UP SHOW WITH KEN STRANGE ON
ROCK-IT RADIO SHOW #5960

Join DJ Ken Strange as he delves once more into the archives
to bring you another Country Record Round Up with country
music from right across the board from the early 1950's to the
00's including his regular feature, "Duos & Duets"

01. Intro - Medley
02. celebrity - Brad Paisley (03) Arista-Nashville
03. No Mas Cerveza - Mac Davis (08) Show Dog-Nashville
04. Hello Memphis - Mason Dixon (61) Reed
05. Wild One - Faith Hill (93) Warner
06. Line Dancing Days - Capricorn (96) Polygram
07. That's What I Like - Terry Fell (55) RCA-Victor
08. Cryin' Steel Guitar - Mavis Collins (17) Non Studio Recording
09. No Shame - Wendy Jamieson (98) Non Studio Recording
10. Goodbye Earl - The Dixie Chicks (99) Monument
11. What have You Got To Lose - Tom T. Hall (78) RCA
12. You're Not Easy To Forget - Kitty Wells (53) Decca
13. Runaway Heart - Pam Rose (77) Capitol
14. You Never Can Tell - Waylon Jennings & Jessie Colter (81) RCA
15. Wrong Company - Wynn Stewart & Jan Howard (60) Challenge
16. Too Many Irons In The Fire - Billy Parker & Cal Smith (82) Soundwaves
17. neon Woman - Carmol Taylor & Stella Parton (76) Elektra
18. Two Lips Away - Frankie Miller & Dottie Sills (60) Starday
19. Kentucky Means Paradise - Glenn Campbell & The Green River Boys (62) Capitol
20. Uh Uh No - George Jones (57) Mercury
21. Love Letters From Old Mexico - Leslie Satcher (01) Warner
22. The Love You Gave Me - Dolly Parton (62) Mercury
23. I'll Tell Her Tomorrow - Gene Davis (640 Liberty
24. Y'all Come - Loretta Lynn (97) Stick
25. Draggin' The River - Ferlin Husky (59) Capitol
26. Gettin' Over You Again - Dale McBride (76) Con Brio
27. Outro - Medley

===============================================
JAMMIN JAMES RILEY AND tHE CATCH A WAVE SURF ROCK
SHOW ON ROCK-IT RADIO SHOW #5961

Time to kick off that board and run up to the beach
with your favorite guy or gal and tune in on your
solid state Hi Fi Radio for another 3 hour segment
of Catch A Wave Surf Rock Show! We don't have the
playlist to this set but it's great Surf Rock n Roll
worth tuning into!

Catching A Wave Hour #1

1. Fury- Los Straitjackets
2. Mau Mau Stomp- The Champs
3. She's Mine- Carl Wilson
4. What's Wrong- Dennis Wilson
5. One Kind Of Love- Brian Wilson
6. The Condor- The Strangebeats
7. Ghost Of The Surfer Girl- The Hi-Risers
8. It's Always Sunny- Mark McGrath
9. Kitty Hawk- Bamboo Trading Company
10. Sunset Beach- The Sentinals
11. Wake Up To Summer- Hawthorne
12. Takin' The Plunge- The Plungers
13. California Here I Come- Freddy Cannon
14. California Sleepwalking- Papa Doo Run Run with Randell Kirsch
15. California- John Lindberg Trio
16. Summer In Paradise- The Beach Boys
17. Hushabye- The Mystics
18. Love Will Arrive- Gary Griffin


Catching a Wave Hour #2

Car show theme
1. Drag City- Jan & Dean
2. Happy Hodaddy (With Ragtop Caddy)- The Vettes
3. Ballad Of Ole' Betsy- The Beach Boys
4. Squad Car- The Belairs
5. Red Corvette- Ellie Gee & The Jets
6. Wild Wild Mustang- Dick Dale
7. PT Cruiser- Al Jardine
8. Kustom Kar Show- David Marks & The A-Phonics
9. Mustang- Eddie Angel
10. '69 El Camino- Southern Culture On The Skids
11. Hot Rod Baby- Surfin' Gorillas
12. G.T.O.- Ronny & The Daytonas
13. Custom Machine- Bruce & Terry
14. Drag Race Johnny- Little Pattie & The Statesmen
15. Woody Wagon- The Marketts
16. Fink Rod 409- Mr. Gasser & The Weirdos
17. Theme From Thunder Alley- The Band Without A Name
18. Draggin' Wagon- The Surfer Girls
19. Bucket T- Deke Dickerson & The Trashmen
20. Little Deuce Coupe- Brian Setzer & Brian Wilson
21. In Gear- Duane Eddy


Catching A Wave Hour #3

1. Surfin' Blues (part 1)- Al Casey
2. Gun & Surf- Aki Aleong & The Nobles
3. Surfer Boy- The Supremes
4. Long Green- Untamed Youth
5. Surf Explosion- Martin Cilia
6. Pray For Surf- The Honeys
7. Surf Attack/ Di Maggio Theme- The Di Maggio Connection
8. Coconut Island- Junior Brown
9. Swinging Hawaii- Kitty, Daisy & Lewis
10. Honolulu Lulu- Jan & Dean
11. Surf N Rolla- Messer Chups
12. Surfin' Craze- The Rip Chords
13. Their Hearts Were Full Of Spring- The Four Freshmen
14. Kiss Me Baby- The Beach Boys
15. Before I'm Gone- The Explorers Club
16. Emoji Of A Wave- John Mayer (with Al & Matt Jardine)
17. Eleanor Rigby- The Real Gone
18. Nashville Spy Line- Steve Wariner & Duane Eddy





==============================================
HISTORY OF ROCK-IT RADIO

If you are new to Rock-it Radio and would like to learn more --
We have our History Page up as well -- telling the story of Rock-it
Radio. You can find it at:
http://www.rockitradio.net/history.html


SUMMER IS COMING - THE PERFECT TIME OF YEAR
TO BUY A ROCK-IT RADIO T SHIRT!

Have you seen the new full line of Rock-it Radio T shirts that have been
Released. 3 New designs by Rock-it Radio's own Jammin' Jan.
Each Rock-it Radio T shirt is only $16.00 each plus shipping. And 100% of
All monies goes to keeping Rock-it Radio Online.

Come check out the latest styles.:

http://www.rockitradio.net/tshirt.html

Check Website for updates and availability

NEW RELEASE IN THE ROCK-IT RADIO STORE
FEATURING DJ DADDY DOO WOP

As most of you know Rock-it Radio exists and pays
for it's bills from selling vintage Rock & Roll Radio
Shows. We have a new one our release RIR #654. It
is DJ Daddy Doo wop and his show over WSNC 90.5 FM
from Winston-Salem North Carolina.
from 6/9/2002 A great Doo Wop Show. Now listed in
our Rock-it Store under North Carolina listings at
http://www.rockitradio.net/store.html

or now listed on Ebay at:
http://www.ebay.com/itm/-/142386254895

VINTAGE VIDEO PICK OF THE WEEK

For the week of 18 July, 2017
This week in our archives page at:

Now listed in the top listing of our video page...

http://www.rockitradio.net/video.html

This week: Homer and Jethro making poking a little fun
at the Beatles with their novelty version of
"She Loves you"




CLASS OF 1967 5 CD SET NOW AVAILABLE IN ROCK-IT

RADIO E BAY STORE.


Many of our listeners enjoyed the 5 part series back

in May of Lane Quigley's tribute to the Class of 1967

50 year reunion featuring stories and the music of that

musical year. We are happy to say that that series

of 5 shows on 5 CD's is now available here at Rock-it

Radio. You can check out the link at:

If you are not a member of Ebay that's ok e mail us

at Rockitradio@netzero.net and we will gladly send you

a non obligatory invoice to purchase the show.

The 5 CD's that would normally cost $47.50 is on sale

as a set for $34.95 and is studio quality and 100% goes

to supporting Rock-it Radio.

=============================================




EAST VS. WEST OLDIES BATTLE TO AIR ON ROCK-IT

ENTIRE MONTH OF AUGUST


Long time listeners of Rock-it Radio will recognize

the East/ West Battle. And has become a annual event

here on Rock-it Radio. This is the 19th annual East West

Battle - hard to believe it's been 19 years.

Lane Quigley will take one coast and Bill Green will

take the other and they will go round by round of where

you the listener get to vote on your favorites.

In upcoming newsletters we will publish the ballot that

you can send in and vote. At the end of the month those

votes will be tallied and 5 Lucky listeners that will be

awarded some nice prizes.

=============================================

ROCK-IT RADIO T SHIRTS DISCOVER MUCH BETTER TRANSFER
FOR BETTER QUALITY.

Last couple of months we started using a much easier t shirt
transfer brand. It's a bit more but we are not raising the
cost of our T shirts. The Color Quality is brighter and
bolder and holds up better in the wash. If you would
like to check out our different varieties of Rock-it Radio
art work T shirts check them out at:
CONGRATULATIONS TO ROCK-IT RADIO DJ PETE
CHASTON - GETS PICKED UP BY KANSAS CITY KPGZ

Congrats to Pete Chaston as he is back on
Terrestrial radio in the Kearney/ Kansas City
Area as he will be on for 4 hours on a weekly
show starting this September 3rd from 1 to 5 p.m.
If you are in and around Kansas City make sure
to give him a listen at KPGZ 102.7 FM.

=============================================

MORE NEW RELEASES IN THE ROCK-IT RADIO LAUNCHING PAD
STORE AND EBAY STORE.

Almost all of our funding for Rock-it Radio comes from the
sale of vintage radio broadcasts from Rock Radio Shows from
the 1950s to the 1970s. We have 4 new releases so far
this month. Here is a brief description and the Ebay link
to these shows. (Playlists of these vintage broadcasts can
be seen in our ebay listing links below).

1. Kenny Everett BBC Light Programme from 7/20/1969.
Great features of 60s Rock. Released as RIR #650 and
in our Ebay store as:
http://www.ebay.com/itm/131986894044

2. Sebastian Stone & Tony Taylor on WOR-FM New York City
from 4/2/1969. Released as RIR #651 and you can view the
playlist and all at our Ebay store listing at:
http://www.ebay.com/itm/142212250474

3. DJ Helen Shapiro and the LOST BEATLES INTERVIEW!
over BBC Radio 4. A must for any Beatles historian of fan.
Released as RIR #652 & at:
http://www.ebay.com/itm/132034603141

4. DJ Bob Dayton Top 40 Radio show over KRLA Los Angeles from
8/14/1969. Released as RIR #653 & at:
http://www.ebay.com/itm/-/132035582202

All updates and latest news on our vintage radio
broadcasts can be found in our Launching Pad Facebook
page at http://www.facebook.com/rockitpad

=============================================

GIVEAWAY BROADCAST CD FOR JULY 2017 --
WOLFMAN JACK OVER CAPITAL RADIO IN LONDON PILOT SHOW
FROM 1974.


July Giveaway from Rock-it Radio! Wolfman Jack from December 1974.
By the mid 70s Wolfman Jack was at the pinnacle of his career, after
a Cameo appearance from the movie Classic American Graffitti -
his show was receiving national syndication across the United States,
and his own late night TV show. It was time to go international and
in 1974 attempted a pilot program in the UK over Capital Radio in London.
Catch this rare recording of this show - FREE with any order in July.
If you would like to see the playlist of the show you can see it in our
Wolfman Page you can at listing at
http://www.rockitradio.net/wolfman506.html

BUT DON'T BUY IT! You get it free from us here at Rock-it Radio.
With every purchase you make from Rock-it Radio to support
Rock-it Radio.
All sales go to keeping Rock-it Radio online, and this is our
way to sweeten the deal and say Thank you!

Purchase anything from these sites below and you will get the
Allison Steele (Night Bird) Broadcast CD for FREE.

Thank you everyone that helps keep Rock-it Radio online and Rockin!

Your bonus CD for this month
by supporting Rock-it Radio - Just purchase any
Rock-it Radio items from the sites below.

Rock-it Radio Launching Pad : http://www.rockitradio.net/store.html
Rock-it Radio Ebay Store: http://stores.ebay.com/Rock-it-Radio-Store
or
Order a show of Rock-it Radio at: http://www.rockitradio.net/order.html
Or vintage Wolfman Jack shows at http://www.rockitradio.net/wolfman.html
or 50 Rock-it Radio Shows on a flashdrive at http://www.rockitradio.net/flashdrive.html
Catalog orders will also receive this FREE CD.


**Rock-it Radio is 100% Listener supported we have no
sponsors and the sale of our vintage radio broadcasts helps
us to stay online and pay the copyright and broadcasting
fees it takes to remain online. thank you for all your
consideration.**

================================================
NEW RELEASE -- FLASHDRIVE OF ROCK-IT RADIO
SHOWS #5901 TO #5950. OUR 11TH FLASHDRIVE

Flashdrive #10 featuring Rock-it Radio shows #5901 - #5950
50 Rock-it Radio Shows on mp3 thumb drive (70+! hours of
oldies Rock!) now released and available at:
http://www.ebay.com/itm/-/132265859935

from there you can also see the playlist of shows on this
flashdrive.
or you can order any of our Flashdrives at:
http://www.rockitradio.net/flashdrive.html

================================================
RECRUITING FOR RADIO PERSONALITIES FOR
ROCK-IT RADIO

Do you know your 50s and 60s Rock & Roll, Doo wop
or Rockabilly? And the ability to produce a show
on CD?
We do require a playlist for this newsletter but
your show will stay online for the world for approx.
3 weeks. Unlike some stations where you broadcast one
time and it's gone forever.
If interested check out our Rock-it Radio Team page
at: http://www.rockitradio.net/team.html

We are also looking for writers and translators!
COLLECTING AIRCHECKS - A HOBBY OF RADIO NOSTALGIA
What is a Aircheck? It is simply a recording of a radio broadcast. Usually collected by Radio fans.
Come check out our webpage on collecting Airchecks.

http://www.rockitradio.net/aircheck.html


COME REMEMBER WOLFMAN JACK !!!
Rock-it Radio has a very special way to remember Wolfman Jack.
Arguably the most iconic of American DJ's. Come check out the
Rock-it Radio Wolfman Page at:
REMEMBERING OFFSHORE PIRATE RADIO IN THE UK
In the mid 1960s it was difficult for the youth to actually listen to Rock and Roll in the UK.
The BBC actually ran only a few hours a weekend to provide the young Brits with this outlet.
At night during the week they ventured to even tune into Radio Luxembourg to get there fill,
that broadcast rock and pop around the clock.
To fill this void some venture capitalists decided to bring in commercial radio aboard refitted
radio ships. And anchor themselves just off into International waters off the English coast.
Radio Caroline (named after Caroline Kennedy the U.S. President's daughter at the time)
and Radio London being the most famous. Rock-it Radio has a website dedicated to their ventures
and also have actual radio broadcasts available of
these offshore pirates.
We invite you to check them out our webpage at:
http://www.rockitradio.net/pirate.html
FINDING ROCK-IT RADIO ON THE 'TUNE IN RADIO' CELL PHONE APP.

We have had a few requests from listeners that they couldn't find us on the popular
'Tune in Radio' App. on Android and PC and iphones. Running a search of 'Rock-it Radio'
will actually list 100s of Rock stations.
So, the best way to find us on this very thorough and extensive app. that
I love using myself is -
run a search on 'rockabilly' - there you will easily find
Rock-it Radio listed.
Our Tune in Radio App. webpage is also at:
http://tunein.com/station/?stationId=41878
ARE YOU ON FACEBOOK ?? FOLLOW THE LATEST AT
ROCK-IT RADIO AND OUR LATEST VINTAGE BROADCAST RELEASES.

Rock-it Radio has 2 Facebook pages. One for our programming
online and notifications, and the other is for our vintage
broadcast shows for sale.


The Online Station is http://www.facebook.com/rockitface

For the Rock-it Radio Launching Pad and our latest deals and
releases you can follow us at:
http://www.facebook.com/rockitpad
MISSED A COUPLE OF NEWSLETTERS LAST COUPLE OF WEEKS??

THEN YOU CAN ALWAYS CHECK OUR BLOG WHERE IT IS ARCHIVED.
YOU CAN CHECK OUT OUR BLOG AT:

http://rock-itradio.blogspot.com/
=============================================


ROCK-IT RADIO DJ PAGE...


Remember you can check out all the Rock-it Radio DJ's

and read the bios of these DJ's that make these

Rock-it Radio Shows possible at:


And don't forget for even more pictures --

there is our picture page at:
============================================
IF YOU HAVE TWITTER COME FOLLOW US THERE

If you are one that tweets then please check out and join and get our
updates on your twitter account. Our Twitter link is right below.

http://www.twitter.com/RockitRadio1
It is our new Twitter account and we will once again start
scrolling our messages and updates on our webpages as well.


=================================================
We are in our 22nd year!!! Please share the good news with your
family and friends that love original Oldies Music - We are back and
Rockin' with new shows in our program page at
http://www.rockitradio.net/programs.html
Just click the MP3 speaker to the show that has your musical interest!
=================================================
WELCOME NEW MEMBERS TO THE LISTENER'S CLUB!!!!

A big welcome to the below new Rock-it Radio listeners that
joined our Listeners Club from July 7, 2017 to
July 17, 2017
We hope that you enjoy the music Rock-it Radio provides
and our playlists and information that our weekly newsletter
provides. Any comments, criticisms, kudos, compliments or
future ideas is always welcome and you can e mail me personally at:
rockitradio@netzero.net

Drew Corman - California, USA
Bob Patterson - Chilliwick, British Columbia Canada
Ken Kay - Scotch Plains, New Jersey USA
Paul Kesler - Bridgeport, Pennsylvania USA
David Marc - Calabasas, California USA
We have gained 97 new likes in our listeners club
in our Facebook page Rock-it Radio Fan Page as well this week at:
http://facebook.com/rockitface and 17 more following us
on Twitter @Rockitradio1 .

We have added a total of 119 new members to the Rock-it Radio
Listeners Club since our last newsletter. We now have 90,484 exactly
that have joined the Rock-it Radio Listeners club.
We hope that you enjoy the rare 50's and early 60's
Rock and Roll, Rockabilly and Doo Wop (which most commercial
oldies radio stations have forgotten) that we are able to play
for you from Rock-it Radio. Remember, we are here for you!

So if you ever have any requests, dedications, comments and
suggestions we always love to hear from our listeners.
Our e mail address is:
rockitradio@netzero.net

====================================================
To learn more about the Rock-it Radio Listeners Club and our Free
Newsletter please check out:
http://www.rockitradio.net/member.html

It's free and easy to join and the Rock-it Radio Newsletter is always
online at: http://www.rockitradio.net/newsletter.html



====================================================

PLEASE HELP US SPREAD THE GOOD WORD OF ROCK-IT RADIO!

Do you know of someone that might also like the music

of Rock-it Radio? We are desperately trying to keep this

music alive and have been doing so since 1995! Please

share the information of this station. And if you have

a website would you please consider putting a Rock-it Radio

link on your page.

There are a few to choose from in our link page at:

http://www.rockitradio.net/links.html
HOW TO ORDER OLD ROCK-IT RADIO SHOWS = YOUR PURCHASES HELP US STAY ONLINE!!!
We have received many inquiries on how to order Rock-it Radio shows that are no longer in
our on archives webpage. These shows are still available on CD and mailed to you within 24
hours of receiving payment.
To help search for older shows that you may be looking for you may want to check the Rock-it
Radio blog site. Old newsletters describing the shows and playlists
are archived there and there is a menu bar on the right side that breaks down every playlist
Then you may either pay by check or money order or paypal. Rock-it Radio shows are only
$9.50 U.S. each and are studio quality broadcasts that were placed on Compact Disc here at
the Rock-it Radio Studio. We have a flat rate shipping charge of $1.50 U.S. so if you order
one or several -- it is still only $1.50
U.S. shipping. And we ship worldwide, overseas orders are mailed out first class airmail.
Instructions where to send payment is at our webpage:
like we can send you a paypal invoice within 24 hours.

When you order a Rock-it Radio show or shop at our Rock-it Radio Launching Pad you
help keep these oldies alive and help us pay the bills here at Rock-it Radio.
And at the same time -- you are not getting nothing for your donation, but actually
some of the shows and memories we hope we keep alive here at Rock-it Radio.



TOP 25 SELLERS OF THE ROCK-IT RADIO LAUNCHING PAD THIS WEEK

As you know the Rock-it Radio Store sells vintage Radio Broadcasts - Where you

hear the actual music, news and vintage advertisements - uncut and unedited

just like you would of heard

it back then. Here are the top sellers this week.

1. Rock-it Radio Flashdrive shows #5801 -5850
2. Lane Quigley Class of 1967 5 CD Set - Rock-it Radio
3. Rock-it Radio Flashdrive #5851 - #5900
4. RIR #168 Dan Ingram - WABC New York 7/22/1967
5. RIR #393 John Lennon Guest DJ - WNEW New York 1974
6. Rock-it Radio Flashdrive Shows #5601 - #5650
7. RIR #539 Cousin Brucie - WABC New York 9/7/1965
8. RIR #260 Tony The Tiger Taylor - WXQI Atlanta 4/1/1965
9. RIR #181 Wolfman Jack - XERB Rosarito Mexico 12/8/1967
10. RIR #426 Dan Ingram - WABC New York 7/4/1968
11. RIR #644 Dan Ingram - WABC New York 6/12/1964
12. RIR #425 Don Steele - KHJ Los Angeles 7/3/1967
13. RIR #650 Kenny Everett & Chris Denning BBC 5/20/1967
14. Rock-it Radio Flashdrive #5701-#5750
15. RIR #397 - Wolfman Jack - XERB Rosarito 8/1/1968
16. RIR #205 Porky Chedwick WAMO Pittsburgh 6/16/1960
17. RIR #312 Dick Biondi - WLS Chicago 5/2/1963
18. RIR #436 Pat Sajack - Armed Forces Vietnam Network 3/18/1969
19. RIR #439 2 1965 Broadcasts of CKLW Ontario
20. RIR #624 Bob Green - WKNR Detroit 3/30/1970
21. RIR #652 Helen Shapiro BBC - Lost Beatles Interview
22. RIR #200 Wolfman Jack XERB Rosarito 10/1/1969 Pt.1
23. RIR #320 Allison Steele WNEW FM New York City 9/19/1975
24. RIR #622 Johnny Morgan - CKLW Windsor, Ontario 7/12/1967
25. RIR #559 Dan Ingram - WABC New York Hr. 3 12/26/1969




If you would like to view these shows in depth you can check out

our Rock-it Radio Ebay Store at:

or in the Rock-it Radio Launching Pad store at:

and in the upper left hand corner -

there is a search box where you can type in the DJ name or

Station Call letters and that information on that show will pop up.

Ordering from the Ebay store will also qualify you for the Rock-it Radio

giveaway mentioned previously in this newsletter. Sale of

these broadcasts is what keeps Rock-it Radio going and thank

you again to everyone that buys these!

============================================
Rockabilly bands looking for airplay
If you or know someone that would like airplay on Rock-it Radio we invite
you to submit your press kits to Rock-it Radio. Our website for further
information is:
http://www.rockitradio.net/airplay.html
============================================
Come tune into the World on your computer!
1000s of stations around the world now broadcast online. We have a
link to some of the internet top directories to help you find these stations.
http://www.rockitradio.net/internetradio.html
============================================
Rock-it Radio Program Webpage Reminder
Remember, if the show that you want to hear is getting close to the bottom
of the list of radio shows, you should tune in as soon as you can. These shows
to have a high audio quality require a lot of internet bandwidth and memory.
And currently we can only afford the
30
latest shows online here at Rock-it Radio.
So, when a new show is put online it knocks the oldest one off the Rock-it Radio
archives page. Usually a show will at least last 16 to 20 days, once it is placed in
the archives.
============================================
OUR SISTER STATION FIRST NATIONS BROADCASTING.
We invite you to also check out our sister station -- First Nations
Broadcasting. And tune into the rather Cool North of the Yukon and Alaska
with our very own Debbie Snowdove!
============================================
Well that is just about it for this newsletter and playlists of our latest
shows. We hope that you enjoy them.
We will do our best to keep these shows on for at least 14
days and hopefully 21 days.
All the best always,
Bennie Dingo
Rock-it Radio

website: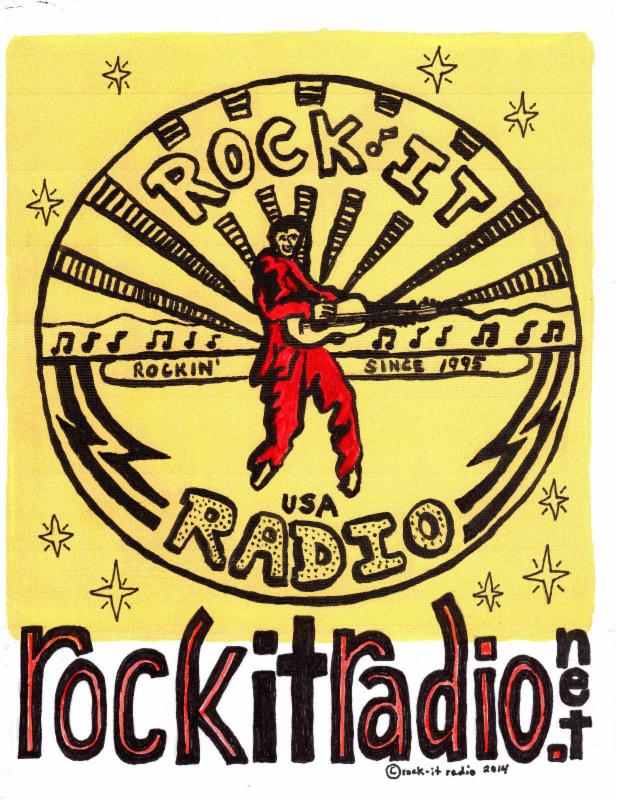 Rock-it Radio main website:
http://www.rockitradio.net

Archived Shows at:
http://www.rockitradio.net/programs.html

Rock-it Radio Vintage Broadcast Store:
(Launching Pad)
http://www.rockitradio.net/store.html