Rock-it Radio since 1995 providing 50s and early 60s Rock and Roll, Doo Wop and Rockabilly music online! Come tune us in at http://www.rockitradio.net We also have several 100 original radio shows from the first decade of Rock and Roll at: http://www.rockitradio.net/store.html
======================================================================
ROCK-IT RADIO NEWSLETTER
SHOWS #6007 TO #6022
FROM
September 17, 2017 to October 10, 2017

Hi Rock-it Radio Listeners,

Happy October everyone!!! The crispness is already in
the air here in Northern Idaho woke up and this morning
and it was in the mid 30s F. about 1 or 2 on the Celsius
Scale. Plenty of playlists to list in this newsletter and
to tune into. They are shows #6007 to #6022.
Also, with a new month we have a NEW FREE CD giveaway here
at the station. It is of the New York DJ Icon Show of
Murray the K back in 1967 and details are further down in
the newsletter.
And a few other newsy items so let's get started.


So, Let's get started with some playlists!

Our shows can be heard in our archives page at:

http://www.rockitradio.net/programs.html
and click to the speaker on the left to hear the show.

Remember if you are new to Internet Radio and having trouble tuning in though --
Check out our webpage to help you out at:
http://www.rockitradio.net/tunein.html
============================================
REMEMBER YOU CAN ORDER ANY OF THESE ROCK-IT
RADIO SHOWS ON CD!!!! NEW EASIER ORDERING!

Would you like one of these Rock-it Radio shows on CD? To
be able to play anywhere? And help support Rock-it Radio at the same time.
For complete information check out our program
ordering webpage at: http://www.rockitradio.net/order.html

Our shows are of course copies straight from the studio so they are studio
quality and satisfaction is guaranteed.
Or if you would rather receive an invoice let me know and we
can e mail you a copy - Just e mail us the show(s) you would like
to have and the Rock-it # to: rockitradio@netzero.net

==============================================
All Rock-it Radio shows stay online from 18 to 24 days and are
broadcast in MP3 Format. To tune in just click to the speaker
at our program page at:
http://www.rockitradio.net/programs.html

The newest show added replaces the oldest show so if you see a
show near the bottom of the listing - you should listen as soon as
possible.

==============================================
WE COULD REALLY !!! USE YOUR SUPPORT

Rock-it Radio is 100% Publicly supported. But when you
donate to the Rock-it Radio Launching Pad - we give you
a vintage broadcast of your choice.
100% of all sales from the Rock-it Radio Store (Launching
Pad) goes back to pay copyright fees, LLC taxes, Internet
and bandwidth costs of Rock-it Radio. Without your support
we would not exist. So. please consider a purchase at:
http://www.rockitradio.net/store.html

===============================================
NOTE: ALL SHOWS BELOW CAN BE FOUND IN OUR
PROGRAM WEBPAGE -
TO TUNE IN CLICK TO SPEAKER OF THE SHOW YOU WANT
TO LISTEN TO. EITHER MP3 OR REAL PLAYER.
BOTH FORMATS ARE SUPPORTED.
AT:
HTTP://WWW.ROCKITRADIO.NET/PROGRAMS.HTML

==============================================
JACKIE BOND AND LET THE GOOD TIMES ROLL OLDIES
SHOW ON ROCK-IT RADIO SHOW #6007

From his studios in the UK it's a great mix of
rockers from the 50s and early 60s. Jackie always
digs out a great mix of oldies and this show is
no exception - check out this playlist of what you
will hear when you click to show #6007

1. Roll Over Beethoven - Jerry Lee Lewis
2. Sweet Rockin' Mama - The Hi-Tombs
3. Doggie House Boogie - Merrill E Moore
4. Rock And Roll Moviestar - The Jive Aces
5. Pasquale Americano - Ray Gelato
6. King Creole - The Di Maggio Bros
7. I Was Wrong - Barry Ryan
8. Fine Little Mama - Billy Lee Riley
9. Honky Tonky Queen - Big Sandy
10. Boppin' The Rock - Clifton Chenier
11. Rock-A-Beating Boogie - The Treniers
12. Our Anniversary - The 5 Satins
13. Cry,Cry,Cry - The Earls
14. Good Luck Darling - The 5 Crowns
15. Deal With The Devil - The Hicksville Bombers
16. Call Me Shorty - Mickey Gilley
17. It's All Over - Nikki Sullivan
18. Uh Huh Honey - Charlie Feathers
19. Rockabilly Show - The Blacktop Rockets
20. Give Me Your Word - Ernie Ford
21. Gee What A Guy - Yvonne Carroll And the Roulettes
22. Rocket Ship mama - Warren Scott And The Memphis Playboys
23. Good Night My Love - Jesse Belvin

===============================================
JAMMIN JAMES RILEY WITH 2 HOURS OF THE ROCKABILLY AND
BLUES RADIO SHOW ON ROCK-IT RADIO SHOW #6008

With great Rockabilly and Blues style music along with
great interviews it's James Rileys Rockabilly and Blues
Radio show - this week featuring 3 Rockin' hours here
on Rock-it Radio.

Rockabilly N Blues Radio Hour #1

Danny B. Harvey & Annie Marie Lewis are guests this week.

1. Train Kept A Rollin'- Johnny Burnette & The Rock 'n' Roll Trio
2. Race With The Devil- Gene Vincent & His Blue Caps
3. Hard Rockin' Man- Linda Gail Lewis
4. Matchbox- Headcat
5. Trying To Get To You- Danny B. Harvey & Annie Marie Lewis (w/ Lemmy)
6. Baby Let's Play House- Elvis Presley (w/ Danny B. Harvey, Lee Rocker & Slim Jim Phantom)
7. Main Street Breakdown- Chet Atkins
8. True Love Ways- Danny B. Harvey
9. She Still Comes Around (To Love What's Left Of Me)- Jerry Lee Lewis
10. Drive In Movie- Mickey Gilley
11. Cry Me A River- Danny B. Harvey & Annie Marie Lewis
12. Go Cat Wild- The Rockats
13. I Get So Excited- Levi Dexter & The Ripchords
14. Good Rockin' Tonight- Wanda Jackson
15. My Little Sister's Gotta Motorbike- Crazy Cavan & The Rhythm Rockers

Rockabilly N Blues Hour #2

1. Hey Baby- Mario Bradley
2. All Torn Up- Rebel Dean (w/ Darrel Higham)
3. She's Stealin' Candy- The Kokomo Kings
4. Faster Than The Speed Of Sound- Hayden Thompson
5. Four O' Clock Stomp- The Bullets
6. Bank Account's Too Small- Jackslacks
7. Truly- Colton Turner
8. I Forgot To Remember To Forget- Elvis Presley (live '55)
9. Loud and Proud- Rockin' Bonnie Western Combo
10. Hey Porter- Di Maggio Bros
11. I've Got A Tiger By The Tail- The Derailers
12. One Long Saturday Night- BR5-49
13. It Was Us- Dale Watson
14. Pickpocket- Brian Setzer
15. Boot Heel Drag- The Carolyn Sills Combo
16. Lucky Penny- JD McPherson
17. Whole Lotta Love- The Wolverhinos
18. Drink You Off My Mind- Hot Rod Lincoln
19. I'm Coming Home- Sleepy LaBeef


Rockabilly N Blues Radio Hour #3

1. Zing Zing- Hillbilly Moon Explosion
2. Tip Toe- Bailey Dee
3. Three Alley Cats- Roy Hall
4. Whiskey Highway- Cousin Harley
5. Suicide Doors- Reverend Horton Heat
6. Blues Are Settin' In- The Country Side Of Harmonica Sam
7. Sweethearts Or Strangers- A Man Called Stu
8. Ultra Twist- Rhythm Shakers
9. My Heart Is Achin' For You- James Intveld
10. Callin' My Name- Lara Hope & The Ark-Tones
11. Highway Patrol (live)- Junior Brown
12. Texas Thing- Texas T & The Shine Runners
13. Ju Ju Man- Webb Wilder
14. Genesee River Rock- Greg Townson
15. Built For Speed- Supertubos
16. Mama Wouldn't Like It- Nikki Hill
17. Down The Line- Matt Hill
18. Just Tell Her Jim Said Hello- Carl Bradychok

===============================================
MATT THE CAT & THE JUKE IN THE BACK SHOW WITH
A SPOTLIGHT ON CLYDE MC PHATTER ON ROCK-IT SHOW #6009

The Drifters would become the most successful vocal group
in history, charting hit after hit for over 20 years, with no
less than a dozen different lead singers. This week, the
"Juke In The Back" spotlights The Drifters' first chapter
with the great high tenor of Clyde McPhatter out front.
The group was created by Atlantic Records in order to showcase
McPhatter's beautiful and powerful voice after his 2 year
stint with Billy Ward & The Dominos ended. McPhatter never got
the money or the recognition that he deserved from Billy Ward
and after learning of his departure from the group, Atlantic co-founder
Ahmet Ertegun was eager to sign him to Atlantic. It was a
smart decision as McPhatter's new group, The Drifters,
scored a #1 R&B record right off the bat with "Money Honey"
in 1953.
They would score another #1 a year later with "Honey Love" as well
as five other charting hits before McPhatter left the group in 1955
for a solo career. The Drifters would continue to have huge
chart success as would McPhatter, but this week, Matt The Cat
focuses on The Drifters' genesis.

1. Swanee River Boogie - Albert Ammons - Mercury 1947
2. Money Honey - Clyde McPhatter & The Drifters - Atlantic 1953
3. The Way I Feel - Clyde McPhatter & The Drifters - Atlantic 1953
4. Lucille - Clyde McPhatter & The Drifters - Atlantic 1954
5. Such A Night - Clyde McPhatter & The Drifters - Atlantic 1954
6. Honey Love -The Drifters Feat. Clyde McPhatter - Atlantic 1954
7. Warm Your Heart -The Drifters Feat. Clyde McPhatter - Atlantic 1954
8. Someday You'll Want Me To Want You -The Drifters Feat. Clyde McPhatter - Atlantic 1954
9. Bip Bam - The Drifters Feat. Clyde McPhatter - Atlantic 1954
10. Bells Of St. Mary's - The Drifters Feat. Clyde McPhatter - Atlantic 1954
11. Gone - Clyde McPhatter & The Drifters - Atlantic 1955
12. What'Cha Gonna Do - Clyde McPhatter & The Drifters - Atlantic 1955
13. GREAT 78 - White Christmas - The Drifters Feat. Clyde McPhatter and Bill Pinkney - Atlantic 1954
14. Everyone's Laughing - Clyde McPhatter - Atlantic 1955
15. Hot Ziggety - Clyde McPhatter - Atlantic 1955
16. Love Has Joined Us Together - Ruth Brown & Clyde McPhatter w/ Orch - Atlantic 1955
17. After Hours - Erskine Hawkins - Bluebird 1946

===============================================
ROCKIN DADDY O'S ROCKABILLY RANCH PARTY SHOW
ON ROCK-IT RADIO #6010

The Daddy O is back this week with another batch of
high energy Rockabilly music!! It is now listed as
show #6010 in our program page as show #6010 so
tune in around your schedule. Here is the playlist
of this show.

1. Insane-The Dragtones
2. Baby Behave-Charlie Hightone & The Rock-Its
3. Hypnotize-Bloodshot Bill
4. Speechless-Vince Murphy & The Catalinas
5. Two Ton Feather-Dion
6. Tell Me-Little Lesley & The Bloodshots
7. Ice Cold-Darell Higham
8. One Hand Loose-Charlie Feathers with Jody & Jerry
9. Bumble Bee-Screamin' Rebel Angels
10. Honey Bun-Levi Dexter
11. Nothin' Shakin'-Eddie Fontaine
12. Shake Around-The House Rockers
13. The Slide-The Rhythm Shakers
14. Yea Yea (Class Cutter)-Dale Hawkins
15. What You Want-Mac Curtis
16. Pink Pegged Pants-Eddie Cochran
17. Saturday Night To Tease-Jake Calypso with C.W, Gatlin
18. Rock And Roll Joys-Little Donnie Bowshier & The Radio Ranch Hands
19. Bop Bobby Socks Bop-Alton Guyon & His Boogie Blues Boys
20. Think It Over-The Crickets

===============================================
JACK VAN OERS & THE ROCKIN' WINDMILL SHOW FROM
THE NETHERLANDS ON ROCK-IT RADIO SHOW #6011

This Rockin' Windmill Show #083 is a tribute to one of the
best rock and roll bands Europe ever had. These German
Rock and Rollers played all over Europe between February 1984
and December 2016. Guest performances by Orville Nash
and Graham Fenton (Matchbox).

1. Crazy heart - The Lennerockers - 1986
2. Free as birds - The Lennerockers - 1986
3. I'm just a man - The Lennerockers - 1988
4. Move your feet - The Lennerockers - 1988
5. Chihuahua - The Lennerockers - 1988
6. She's like fire - The Lennerockers - 1991
7. Think it all over - The Lennerockers - 1991
8. Nothing lasts forever - The Lennerockers - 1991
9. Rollin' up the country - The Lennerockers - 1991
10. Skifflebilly bop - The Lennerockers - 1991
11. Rebels of nowadays - The Lennerockers - 1991
12. Come on home (live) - The Lennerockers - 1991
13. Life is tough (live) - The Lennerockers - 1991
14. Dixie (live) - The Lennerockers - 1991
15. Puttin' on the style (live) - The Lennerockers - 1991
16. Women, booze and RnR (live) - The Lennerockers - 1991
17. Gunning for the dog - Graham Fenton & The Lennerockers - 1992
18. Wells Fargo trail - Orville Nash & the Lennerockers - 1997
19. Get along - Orville Nash & the Lennerockers - 1997
20. Simply beautiful - The Lennerockers - 2000
21. Pin up girl - The Lennerockers - 2000
22. Uberfordert (in German) - The Lennerockers - 2002
23. Kathrin - The Lennerockers - 2006
24. Travel on - The Lennerockers - 2006
25. Don't ask Polly - The Lennerockers - 2013
26. Try hard, dig deep, break through - The Lennerockers 2013

===============================================
PETE CHASTON'S DOO wOP SHOW WITH A SHIRELLES
ON ROCK-IT RADIO #6012

Pete is one of our veteran DJs here on the Rock-it
and his Doo Wop collection is quite extensive!
If you love Doo Wop Rock and Roll but in search
of more of the obscurities along with the standards
this show just might be for you.

1. Doo-Wop All Night Long-The Blue Emotions (opening theme song) (1982)
2. Trickle, Trickle-The Videos (1958)
3. Tonight (Could Be the Night)-The Velvets (1961)
4. All Night Long-The DuMauriers (1958 or '57)
5. Always Be Faithful-The Monarchs (xxxx)
6. Ankle Bracelet-The Pyramids (1958)
7. by request: Golden Teardrops-The Flamingos (1953)
8. Alphabet of Love-The Suburbans (mid 1950s)
9. Dance Girl-The Firebirds (from the U.K.) (2007)
10. Zing Went the Strings of My Heart-The Firebirds (from the U.K.) (2007)

SILLY SONG SEGMENT:

11. Nuts 'N' Sprinkles-The Bop Shop (circa 1970s)
12. Valerie-The Starlites (1960)

SCRATCHY 45 RPMs SEGMENT:

13. I Found a Love-The Falcons (1962)
14. Goodnight Baby-The Imaginations (1961)
15. Hey You-The Imaginations (1961)
16. Carioca-The Aqua-Nites (1965)

BACK TO THE CDs &/or More 45 RPMs:

17. Bila-The Versatones (1958)
18. Hidi Hidi Hidi-The Night Raiders (1959)
19. Everybody Pony-Teddy & The Continentals (1961)
20. Tick Tick Tock-Teddy & he Continentals (1961)

SLOW SONG SEGMENT:

21. Death of an Angel-Donald Woods & The Vel-Aires (1955)
22. An Angel Up In Heaven-The Del-Vikings (1963)
23. Once Upon a Time-Rochell & The Candles (1961)
24. Florence-The Paragons (1957)
25. Love No One But You-The Jesters (1957)
26. Please Let Me Love You-The Jesters (1957)
27. (closing theme song) Adios-The Five Discs (1961)

===============================================
AL COOL DADDY SMITH WITH PT. 2 TRIBUTE BLUES ARTIST
JAMES COTTON ON ROCK-IT RADIO SHOW #6013

This show concludes my two part look at Blues pioneer and Blues
icon James Cotton. Part Two will focus almost exclusively on
his work with "The James Cotton Band".
He formed the first such organization in 1965 and although
he continued session work throughout the years after this his
best work in my opinion was when he played and sang in his own Band.

Although the play list is relatively short many of the recordings
are quite long.

The play list is as follows:

1. Queen Bee-Koko Taylor 1985
2. Flip, Flop and Fly-The James Cotton Band 1976
3. The Sky is Falling-The James Cotton Band 1970
4. Evil-Koko Taylor 1985
5. Born In Chicago-The James Cotton Band 1986
6. Burner-The James Cotton Band 1974
7. When It Rains It Pours.-The James Cotton Band 1986
8.Love Me Or Leave Me-The Jimmy Cotton Quartet 1966
9. Next Time You See Me-The Jimmy Cotton Quartet 1966
10. The Blues Keep Falling-The Jimmy Cotton Quartet 1966
11. I Got A Feeling-The James Cotton Band 1975
12. Creeper Creeps Again-The James Cotton band 1974
13. Juke- The James Cotton Band 1988
14. Little Car Blues-James Cotton,Junior Wells and Billy Branch 1991
15. Diggin' My Potatoes-The James Cotton Band 1984
16. One More Mile-The James Cotton Band 1976


===============================================
COOL BOBBY B & THE DOO WOP STOP ON ROCK-IT RADIO
SHOW #6014

From a undisclosed location Cool Bobby B is back
with another 3 hours of programming for us here
at Rock-it Radio! Great Doo Wop Rock and Roll from
the first decade of Rock and Roll now on demand
as show #6014 here at Rock-it Radio. Here is
the playlist of the show.

Hour #1

1. Rockin' with the clock - Shirley and Lee
2. That lucky old sun - The Velvets
3. You broke my heart - The Gleams
4. Mr. Maestro - The Impossibles
5. Tear Drops - Lee Andrews & Hearts
6. Gee but I'd give the world - Anthony & Sophomores
7. Sometimes - Danny & Juniors
8. If I knew - The Cruisers
9. Gloria - The Chariots
10. Dance Girl Dance - Norman Fox & Robroys
11. Stop Pretending - Clovers
12. Maybe you'll be there - Billy & Essentials
13. Crazy for you - The Heartbeats
14. Please Come Back Home - The Flamingos
15. I love you madly - Charlie & Ray
16. Gum Drop - Crew Cuts
17. Let's strt all over again - The Paragons
18. Now that you're gone - The Jesters
19. Little Star - The Elegants

Hour #2

20. There she goes - The Cleftones
21. The Wind - The Diablos
22. Need you - Johnny Jack
23. Where have they gone - Skyliners
24. That's my girl - The Elgins
25. Oh what a night - The Dells
26. Little Girl next door - Ronnie Jones & Classmates
27. Stormy Weather - Five Sharps
28. Mio Amore - Flamingos
29. Sunday kind of love - Harptones
30. Looking for an echo - The Persuassions
31. Just a should to cry on - Demensions
32. I'm Blue - The Ikettes
33. Thinking of you - Jaguars
34. Think - 5 Royales
35. My vow to you - Students
36. So you will know - The Paragons
37. I won't come to your wedding - The Wrens
38. My side of the story - The Crosstones


Hour #3

39. 11th hour melody - The Rivieras
40. Moonlight Serenade - The Rivieras
41. Somebody nobody wants - Dion
42. I've cried before - Dion & Belmonts
43. Thank you and good night - The Angels
44. One Summer night - The Danleers
45. Sincerely - Moonglows
46. My Hero - Blue Notes
47. Sweetest one - Crests
48. Wonderful Girl - Dion & Belmonts
49. A kiss from your lips - Flamingos
50. Blue Moon - Marcels
51. Woo Hoo - Rock A Teens
52. Don't you know - Rico & Ravens
53. The Bells are ringing - Van Dykes
54. Where - The Platters
55. Why do you have to go - Del Stars (Acapella)
56. Teenage Prayer - Gloria Mann
57. Goodnight Baby - The Imaginations

===============================================
GARY K THE ROCKIN' MAILMAN AND THE VINYL TREASURE
CHEST SHOW ON ROCK-IT RADIO #6015

Our newest DJ with an instantly popular show with
some more Cruisin' Moonlight Classics. His latest show
is now online with another great selection of tunes of
yesteryear. Here is the playlist of the show.

1. A Letter from Betty Bobby Vee 1963
2. What's Your Name? Don & Juan 1962
3. When I Fall in Love Lettermen 1962
4. Alone at a Drive-In Movie Grease Soundtrack 1978
5. Once Upon a Time Rochelle/Candles 1960
6. You Belong to Me Duprees 1962
7. Dreamin' Tony Allen/Night Owls 1961
8. You Aquatones 1958
9. My Memories of You Teddy Phillips/Colleen Lovett 1963
10. Last Night I Dreamed Fiestas 1959
11. The End of the World Skeeter Davis 1963
12. So Slow Viscounts 1961
13. Girl in My Dreams Jesse Belvin/Clique 1956
14. Confidential Sonny Knight 1956
15. The Girl I Love Cadillacs 1956
16. Only to You Fidelitys 1959
17. Sweet Dreams Patsy Cline 1963
18. Our Faded Love Royaltones 1964
19. At Last Etta James 1961
20. Will You Remember Mine? Merlene Garner 1961
21. What Will Mary Say? Johnny Mathis 1963
22. Dream Dinah Washington 1962
23. Kiss Away Ronnie Dove 1965
24. Down the Aisle of Love Quin-Tones 1958
25. This I Swear Kenny Vance/Planotones 2002
Closing Song
26. That's All She Wrote Rick Nelson 1963

===============================================
JAMMIN JAMES RILEY AND tHE CATCH A WAVE SURF ROCK
SHOW ON ROCK-IT RADIO SHOW #6016

Time to kick off that board and run up to the beach
with your favorite guy or gal and tune in on your
solid state Hi Fi Radio for another 3 hour segment
of Catch A Wave Surf Rock Show! We don't have the
playlist to this set but it's great Surf Rock n Roll
worth tuning into!

Catching A Wave Hour #1

1. House Of Sand- The Del Reys
2. Stomp Fever- The Denvermen
3. Half A Boy Half A Man- Los Straitjackets
4. Aphrodisia- The Trashwomen
5. Surf Rider- North Of Malibu
6. Shark Repellant- Black Flamingos
7. Jan & Dean- Batman
8. The Bat Signal- The Marketts
9. Batman Theme- Duane Eddy
10. Batman Riddles The Riddler/ Hi Diddle Riddle- Nelson Riddle
11. Batmobile- The Squires
12. Surfin' Round The World- Bruce Johnston
13. The Garage- The Real Gone
14. San Bernardino- James Wilsey
15. Power Shift- Gary Usher
16. Ventura- Super Stocks
17. I Want To Go Home- Johnny Cash
18. Sloop John B- The Beach Boys
19. Fez- The Atlantics
20. My Baby Does The Bird- Deke Dickerson & The Trashmen

Catching A Wave Hour #2

1. Prelude/Honolulu Lulu- Jan & Dean
2. Never To Return- The Huntington Cads
3. Aren't You Glad- The Beach Boys
4. Our Favorite Martian- The Bobby Fuller Four
5. D-Twang- Doyley & The Twanglords
6. Rumblebee- The New Dimensions
7. Tranquilizer- The Lively Ones
8. Brass Section Introductions/ Deadman's Curve- Jan & Dean
9. Surfer Strip- The Persuaders
10. Girls Girls Girls- The Volcanics
11. Can't Wait Too Long- The Beach Boys
12. Saturday Night On Mars- The Verbtones
13. Hang On Sloopy/ Jan & Dean They'll Be Back- Jan & Dean
14. Surfin' Rebel- Dick Dale
15. Tallahassee Lassie- Freddy Cannon
16. See The Light- The Flame
17. Carl Wilson- Terry Anderson
18. Surfer Girl (1967 a cappella)- The Beach Boys
19. The Sweeper- Southern Culture On the Skids

Catching A Wave Hour #3

1. Exile On Chapel Street- Martin Cilia
2. James Bond Theme- Said The Ripper
3. Go Go Gorilla- The Surfin' Gorillas
4. Caveman- Eddie Angel
5. Thunder Beach- Al Casey
6. Getcha Back- Mark McGrath
7. Girl Don't Tell Me- The Beach Boys
8. Cry For A Shadow- The Beatles
9. Surfin' Queen- Larry Bright
10. Honey I Don't Know Why- The Explorers Club
11. King Twang- The Terrorsurfs
12. Baja- The Revelaires
13. Do It Again (w/ Mark McGrath & John Stamos)- Mike Love
14. Phantom Surfer- Mr. Gasser & The Weirdos
15. Reverb A Go Go- The Reverb Syndicate
16. Skate Board- The Sidewalk Surfers
17. Where Have You Gone- Surf School Dropouts
18. The Warmth Of The Sun- Surf City Allstars
19. Mucho Reverbo- The Wet Tones

===============================================
OTTO FUCHS AND ROCKIN' THE JOINT SHOW FROM AUSTRIA
WITH A BILL HALEY SPECIAL ON ROCK-IT #6017

Next to being a Rock It Radio DJ - Otto Fuchs also writes for
music magazines in the UK and Germany such as UK Rock & Roll
Magazine (www.ukrock.net) and Rock & Roll Music Magazine Germany
(www.rocknroll-magazin.de). Plus Otto Fuchs is the author of a
two books spanning Bill Haley Biography, chronicling this
Rock & Roll Pioneers full life from 1925 - 1981, as well as
Bill Haley´s musical legacy including the various Comets Reunions,
from 1981 right up today. Further full-length interviews with nine
former members of Bill Haley & The Comets, three of Bill´s sons,
as well as an interview with Haley´s youngest daughter - Gina Haley,
a singer and songwriter in her own right. The English language books
"Bill Haley - The Father of Rock & Roll" Vol 1. And Vol.2 are available
via Books On Demand Publishing over amazon or in your trusted bookstore.
As two of Bill Haley´s children - Bill Haley Jr. and Gina Haley
appear with Original Roots Rock & Roll, and many titles of the
Bill Haley Catalogue on stage, plus that Otto´s books have been
revised, including a full index on persons, songs, movies, albums
and songs - and are available again (www.billhaley.at) -
Rock It Radio repeats a two-volume spanning - Bill Haley Special"
hosted by Otto Fuchs, including many of Bill´s hits and misses,
interviews with The Comets and Bill Haley, as well as some rarities
on Rock It Radio.

So, crank up the volume, sit back, or roll up the carpet and dance
to the legendary Bill Haley & The Comets on Rock It Radio!

Order the Otto Fuchs written Bill Haley Biography (Book 1 & Book 2) click here

Playlist - A Bill Haley Special Part 1:

1. God Bless Rock & Roll-Bill Haley & The Comets
2. Four Leaf Clover Blues-Bill Haley & The Four Aces Of Westernswing
3. Yodel Your Blues Away-Bill Haley
4. Rocket 88-Bill Haley & The Saddlemen
5. I´m Crying-Bill Haley with Loretta Glendenning & The Saddlemen
6. Pretty Baby-Bill Haley with Loretta Glendenning & The Saddlemen
7. Rock The Joint-Bill Haley & The Saddlemen
8. Rockin´ Chair On The Moon-Bill Haley & The Saddlemen
9. Crazy Man Crazy-Bill Haley with Haley´s Comets
10. Fractured-Bill Haley with Haley´s Comets
11. Live It Up-Bill Haley with Haley´s Comets
12. Rock Around The Clock-Bill Haley & His Comets
13. Thirteen Women-Bill Haley & His Comets
14. Shake, Rattle & Roll-Bill Haley & His Comets
15. Dim Dim The Lights-Bill Haley & His Comets
16. Rock-A-Beatin´ Boogie-Bill Haley & His Comets
17. Mambo Rock-Bill Haley & His Comets
18. Don´t Knock The Rock-Bill Haley & His Comets
19. Rockin´ Thru´ The Rye-Bill Haley & His Comets
20. Rip It Up-Bill Haley & His Comets
21. See You Later Alligator-Bill Haley & His Comets

Playlist - A Bill Haley Special Part 2:

22. New Rock The Joint-Bill Haley & His Comets
23. Mary Mary Lou-Bill Haley & His Comets
24. It´s A Sin-Bill Haley & His Comets
25. Skinny Minnie-Bill Haley & His Comets
26. Lean Jean-Bill Haley & His Comets
27. The Walkin´ Beat-Bill Haley & His Comets
28. Joey´s Song-Bill Haley & His Comets
29. Skookiaan-Bill Haley & His Comets
30. Candy Kisses-Bill Haley & His Comets
31. My Special Angel-Bill Haley & His Comets
32. Singing The Blues-Bill Haley & His Comets
33. Hawk-Bill Haley & His Comets
34. Chick Safari-Bill Haley & His Comets
35. Rudy´s Rock (Live 1974)-Bill Haley & The Comets
36. Cerca Del Mar-Bill Haley Y Sus Cometas
37. Jealous Heart-Bill Haley & A Mexican Trio
38. That´s How I Got To Memphis-Bill Haley
39. Me & Bobby McGee-Bill Haley & The Comets
40. A Little Piece At A Time-Bill Haley & The Comets
41. Jukebox Cannonball-Bill Haley & The Comets
42. Rock Around The Clock (Live in New York 1969)-Bill Haley & The Comets

===============================================
DJ SPINNING ROCK BOOGIE AND THE MOVIN' AND GROOVIN'
SHOW WITH UNIDENTIFIED LOCATION OF RARE OLDIES
ON ROCK-IT SHOW #6018

Join DJ Spinning Rock Boogie for another in his series,
"Regional Round Up". This show # 136
is "Location Unknown", with tracks that have either a date
and label, a label only, or a date only but of course no known location.
A lot of artists, especially in the 50's and 60's recorded for small
independent record labels who in a majority of cases gave no information
on their labels except for the artists. I'm not even going to try to
guess where these labels were located as quite often, a
group or artist from say Indiana would record in Alabama and so on.
So sit back and listen to music from the 50's and 60's that have
(in this presenters experience) an unknown location.

01. Intro - Medley
02. Real Gone Baby - Alvis "Eddie" Edwards (59) Enall
03. Megaton Boogie Rock - Lynn Kelly (?) unknown label
04. You're Wrong - Johnny Garmon & The Shadows (58) Missile
05. Taheene - Jack Rogers (?) Staff
06. Mr Rainbow Man - The Kampus Kids (61) Ensign
07. The Slosh - Bernadette (62) Beach
08. Study Hall Blues - The Rockin' Rebels (59) Senica
09. Play My Music Loud - Sat & The Cats (58) [acetate] Jaggers Studio
10. Rock That Rhythm - Ray Whisnant (62) Radcar
11. That Jim - Mackey Beers & The Rockitts (62) Mark
12. Yeah Yeah Baby - Bobby Stanley (?) Star-Ling
13. My Story - Burrie Manso & The Bonnevilles (59) Town Crier
14. I'm Leaving It All Up To You - Jay & Marjanne Chevalier (63) Long Shot
15. Raining In My Heart - Carl McVoy (61) Tri
16. I Want Somebody - Rod Bernard (63) Hall
17. Rock And Roll Party - Bernie & The Renegades (?) unknown label
18. Just Rockin' - Glen Cooper & His Jets (57) Mecca
19. Twisting With The Rhythm - Troy Talton (61) Kin
20. At The Jamboree - Troy Ferguson's Country Gentlemen (59) Flame
21. Do Die Do Die Do Die - Dennis LeRoi & LeRoi's Boys (58) Fabulous
22. Take A Ride With Me - Johnny Redd (59) Horizon
23. Jilted Again - The Collins Coins (62) Jabs
24. Jitterbug Rock (instrumental) - Joey Weltz & The Jay Rockers (59) Berman
25. Cut That Out - Dee Rogers & The Nighthawks (60) Hawk
26. Funny Honey - Cenith Opkis (?) Heartbreak
27. Little Jukebox - Wayne Newton & The Newton Brothers (61) George
28. Goodbye It's Over I'm Gone - Everett Pauley + Tiny Wellman & The Gypsies (70) Gypsy
29. High Leggin' Party - Jimmie Jay & The Moon-Reyes (64) Dixietone
30. Candy Store - Curt Furr & His Band (59) Crystal
31. Pretty Little Woman - Chuck Forest (64) Aldon
32. Baby You Just Wait - The Spirals (58) Indigo
33. Outro - Medley

================================================
KEN STRANGE AND THE VINTAGE COUNTRY RECORD
ROUND UP SHOW ON ROCK-IT RADIO #6019

Join DJ Ken Strange for another Country Record Round Up, with
country music from the 40's to the 00's.
Country music from right across the board including the regular
feature of Duos & Duets.

01. Intro - Medley
02. Gone Country - Alan Jackson (94) Arista
03. I Still Miss Someone - Art Young & The Country Gems (65) Eagle
04. I'll Be Your Baby Tonight - Anne Murray (69) Capitol
05. Slam My Door On Your Way Out - Betsy Gay (46) Superior
06. I Got Stripes - Johnny Cash (59) Columbia
07. Ole Slew Foot - Johnny Horton (59) Columbia
08. What Locks The Door - Jack Greene (67) Decca
09. A 11 - Johnny Paycheck (65) Hilltop
10. A Poor Man's Roses Or A Rich Man's Gold - Patsy Cline (57) Decca
11. Ten Years - Jack Clement (58) Sun
12. The Alcan Run - Jimmy Simpson (61) Starday
13. Old Standby - Dick Curless & Kay Adams (66) Tower
14. Bury Me - Dwight Yoakam & Maria McKee (86) Reprise
15. Little Miss Honky Tonk - Brooks & Dunn (95) Arista
16. Reuben - Joe & Sam Brown (06) Track
17. Playing For Keeps - Holly Dunn (85) MTM
18. Right Or Wrong - Wanda Jackson (61) Capitol
19. Free Bird - Wynona Judd (94) MCA
20. Real Deal - George Jones (99) Asylum
21. She's Acting Single - Gary Stewart (75) RCA-Victor
22. In No Time At All - George Ducas (95) Liberty
23. Outro - Medley


================================================
LANE QUIGLEY AND THE MEMORY LANE SHOW WITH MORE
FORGOTTEN TOP 40SON ROCK-IT RADIO SHOW #6020

Are you ready to rekindle some long-lost memories? Then make
sure you catch the latest Memory Lane Show, because host
Lane Quigley dusts off a bunch of fabulous Forgotten Top 40's
from the Glory Days of the 45 RPM. Tune in and dig some great
sides that are guaranteed to make you tap your toes and put a
warm smile on your face.

1. Don't You Just Know It - Huey Piano Smith & The Clowns 1958 #9
2. I Really Love You - The Stereos 1961 #29
SOUND BITE
3. Birth of The Boogie - Bill Haley & The Comets 1955 #17
4. I Gotta Dance To Keep From Cryin' - The Miracles 1964 #35
5. The Jam - Bobby Gregg & Friends 1962 #29
SOUND BITES
6. Respect - Otis Redding 1965 #35
7. Ling Ting Tong - (Otis Williams &) The Charms 1955 #26
8. Hide Nor Hair - Ray Charles 1960 #20
SOUND BITE
9. Forget Me Not - The Kalin Twins 1958 #12
10. Since I Don't Have You - The Skyliners 1959 #12
11. Tonight's The Night - Solomon Burke 1965 #28
SOUND BITE
12. Blue Moon - The Marcels 1961 #1
13. Hot Rod Lincoln - Johnny Bond 1960 #24
14. You Never Can Tell - Chuck Berry 1964 #14
SOUND BITE
15. Silver Threads & Golden Needles - The Springfields 1962 #20
16. Cool Shake - The Del Vikings 1958 #12
17. Mixed Up Shook Up Girl - Patty & The Emblems 1964 #37
18. My Bucket's Got a Hole In It - Ricky Nelson 1958 #12
SOUND BITE
19. Stay - Maurice Williams & The Zodiacs 1960 #1
20. Wheels - The String-a-Longs 1961 #3
21. You Better Move On - Arthur Alexander 1962 #24
SOUND BITE
22. Alone at Last - Jackie Wilson 1960 #8
23. On My Word of Honor - The Platters 1957 #20
24. Lonely Street - Andy Williams 1959 #5
25. Harlem Nocturne - The Viscounts 1966 #39 (also charted 1960 #52)


================================================
BILLY VERA'S ROCK AND ROLL PARTY WITH A SPOTLIGHT ON
1955 ON ROCK-IT RADIO SHOW #6021

This 1991 show features hits and misses from early 1955. The hits
include the Rivileers' fine original version of "A Thousand Stars,"
and "Lonely Nights" by the Hearts, both on the Baton label.
More hits by B.B. King, Ray Charles, Dinah Washington, the
Five Keys, Etta James and J.B. Lenoir's belated answer to
Ruth Brown's "Mama (He Treats Your Daughter Mean)." Not to mention
the song that insured its singer would be forever known as
"the late, great Johnny Ace." Some of the remaining, non-charting
records have become genre classics, like the Wrens' "Come Back My Love,"
the Flamingos' "Dream Of A Lifetime" and Richard Berry's "Uh Oh,
Get Out Of The Car. Rounding things out, there's also a lot of nice
sides you've never heard before.

Hour 1

1. No Chance - The Cadillacs
2. Coupe de Ville Baby - Vernon Green & The Medallions
3. A Thousand Stars - The Rivileers
4. Ko Ko Mo - Gene & Eunice
5. Pledging My Love - Johnny Ace
6. Don't You Know - Fats Domino
7. Dreams Came True - The Strangers
8. Everyday I Have The Blues - B.B. King
9. Lonely Nights - The Hearts
10. Uh Oh, Get Out Of The Car - Richard Berry
11. Close Your Eyes - The Five Keys
12. Maggie Doesn't Work Here Anymore - The Platters
13. Shtiggy Boom - Joe Houston
14. Roll With Me Henry - Etta James
15. Johnny's Still Singing - The Five Wings
16. Rock-a-Locka- The Five Wings
17. Our Only Child - Guitar Slim
18. Come Back My Love - The Wrens

Hour 2

19. Dream of a Lifetime - The Flamingos
20. Lord Lord Amen - Lloyd Price
21. By The Bend In The River - Charles Brown
22. I Got a Woman - Ray Charles
23. My Sentimental Heart - The Cashmeres
24. When It Rains It Really Pours - Billy 'The Kid' Emerson
25. Believe In Me - The Lamplighters
26. After The Lights Go Down Low (Original Version) - Al Hibbler
27. Little School Girl - The Five Royales
28. Farewell - The Laurels
29. My Greatest Mistake - Willard McDaniel
31. Play It Cool - The Spaniels
32. That's All I Want From You - Dinah Washington
33. When The Lights Go Out - Willie Dixon & Jimmy Witherspoon
34. Mama Talk To Your Daughter - J.B. Lenoir
35. Oochie Pachie - Arthur Lee Maye & The Crowns
36. Love Will Make Your Mind Go Wild - The Penguins
37. Rock & Roll - Red Prysock

================================================
COOL BOBBY B & THE DOO WOP STOP ON ROCK-IT RADIO
SHOW #6022

From a undisclosed location Cool Bobby B is back
with another 3 hours of programming for us here
at Rock-it Radio! Great Doo Wop Rock and Roll from
the first decade of Rock and Roll now on demand
as show #6022 here at Rock-it Radio. Here is
the playlist of the show.

Hour #1

1. Rockin' with the clock - Shirley and Lee
2. I love you - Four Mosts
3. Today - the Eternals
4. Your Sweet Love - The Kings
5. I'm so young - Kid Kyle
6. A kiss from your lips - The Flamingos
7. Welcome me back home - The Belmonts
8. Mexico - The Rocketones
9. Til - The Angels
10. You belong to me - The Duprees
11. I love you - The Volumes
12. Eyes of an angel - The Legends
13. You must be an angel - 5 Satins
14. Eddie my love - Teen Queens
15. My Prayer - The Platters
16. Lucky Me, I'm in love - El Domingos
17. Adorable - The Drifters
18. Over the mountain, across the sea - Johnny and Joe
19. Since I don't have you - Skyliners

Hour #2

20. Looking for love - Valentinos
21. Never let you go - 5 Discs
22. A beggar for your kisses - Diamonds
23. Love Call - Ebonairs
24. The End - Earl Grant
25. I wonder why - Dion & Belmonts
26. Step by Step - The Crests
27. Bongo Stomp - Little Joey & Flips
28. Big Brown Eyes - The Holidays
29. Something Happens - Dante & his friends
30. There's a fool born every minute - Five Superiors
31. Heavenly night - The Collegians
32. Don't hang up - The Orlons
33. Wah Wahtusi - Orlons
34. Sally go round the roses - Jaynettes
35. Take me as I am - The Demons
36. Memory Lane - The Hippies
37. Sand in my shoes - The Drifters
38. Saturday night at the movies - The Drifters

Hour #3

39. 11th hour melody - The Rivieras
40. Moonlight Cocktails - The Rivieras
41. Heaven and Paradise - Don Julian & Meadowlarks
42. Ding Dong - The Echoes
43. Whos that knocking - The Genies
44. A teenager in love - Dion & Belmonts
45. Trouble in Paradise - The Crests
46. Talking about the weather - The Gems
47. Why do you do me like you do - The Cleftones
48. Angel Face - The Neons
49. Nature's Creation - The Valentines
50. Tear Drops - Lee Andrews & The Hearts
51. Baby Blue - Echoes
52. Oh what a night for love - Little Roy Tyson
53. Looking for an echo - Kenny Vance & Planotones
54. You're everything to me - The Orchids
55. Wop Ding a ling - The Big Five
56. Stormy Weather - The Magnificent Men
57. Goodnight Baby - The Imaginations

===============================================
All the Rock-it Radio shows are available on CD

Each show is only $9.50 each and you can order
in bulk and shipping will never be more then $2.00.
Ask for a secure paypal invoice -- information is at:
http://www.rockitradio.net/order.html

==============================================
100'S OF VINTAGE ROCK AND ROLL VIDEOS ON FILE IN
OUR VIDEO SITE AT ROCK-IT RADIO:
CHECK IT OUT AT:

HTTP://WWW.ROCKITRADIO.NET/VIDEO.HTML

==============================================
COME JOIN US ON FACEBOOK !!! WE WOULD LOVE A
LIKE FROM YOU!

http://www.facebook.com/rockitface
The Rock-it Radio Facebook Site.

==============================================
HISTORY OF ROCK-IT RADIO

If you are new to Rock-it Radio and would like to learn more --
We have our History Page up as well -- telling the story of Rock-it
Radio. You can find it at:
http://www.rockitradio.net/history.html


SUMMER IS COMING - THE PERFECT TIME OF YEAR
TO BUY A ROCK-IT RADIO T SHIRT!

Have you seen the new full line of Rock-it Radio T shirts that have been
Released. 3 New designs by Rock-it Radio's own Jammin' Jan.
Each Rock-it Radio T shirt is only $16.00 each plus shipping. And 100% of
All monies goes to keeping Rock-it Radio Online.

Come check out the latest styles.:

http://www.rockitradio.net/tshirt.html

Check Website for updates and availability

NEW RELEASE IN THE ROCK-IT RADIO STORE
FEATURING DJ DADDY DOO WOP

As most of you know Rock-it Radio exists and pays
for it's bills from selling vintage Rock & Roll Radio
Shows. We have a new one our release RIR #654. It
is DJ Daddy Doo wop and his show over WSNC 90.5 FM
from Winston-Salem North Carolina.
from 6/9/2002 A great Doo Wop Show. Now listed in
our Rock-it Store under North Carolina listings at
http://www.rockitradio.net/store.html

or now listed on Ebay at:
http://www.ebay.com/itm/-/142386254895

VINTAGE VIDEO PICK OF THE WEEK

For the week of 10 October, 2017
This week in our archives page at:

Now listed in the top listing of our video page...

http://www.rockitradio.net/video.html

This week: The National Anthem of Doo Wop - Kenny Vance
and the Planotones with their hit - "Looking for an echo".


CLASS OF 1967 5 CD SET NOW AVAILABLE IN ROCK-IT

RADIO E BAY STORE.


Many of our listeners enjoyed the 5 part series back

in May of Lane Quigley's tribute to the Class of 1967

50 year reunion featuring stories and the music of that

musical year. We are happy to say that that series

of 5 shows on 5 CD's is now available here at Rock-it

Radio. You can check out the link at:

If you are not a member of Ebay that's ok e mail us

at Rockitradio@netzero.net and we will gladly send you

a non obligatory invoice to purchase the show.

The 5 CD's that would normally cost $47.50 is on sale

as a set for $34.95 and is studio quality and 100% goes

to supporting Rock-it Radio.

=============================================

UNEASY SUBJECT - NOT OLDIES RELATED BUT IT MAY HELP

SOMEONE YOU KNOW.


Former co worker of ours and lifelong dear friend

Shemetra James is getting her doctorate and involved in

a study on date rape. If you or a loved one has had this

happen to them, there is a study that may help or at least

they could help maybe someone else.

We have further details that we created a website for at:

============================================

DOMESTIC ORDERS FOR ROCK-IT RADIO SAVE 25% BY USING YOUR
COUPON!!

Every order Rock-it Radio receives for a vintage Radio Broadcast or a Rock-it
Radio Show or Flashdrive. We include a Catalog along with a coupon that allows
you to get 4 CD's for the price of 3. 25% savings. It isn't used much though and
we are wondering why. It does have to be by mail order and their is a order sheet
in the back of the catalog. We pass the savings along as we are charged less from
Ebay and Paypal when we get our orders in through the Catalog. As they don't take
out their portions they charge. So if you like to purchase more from Rock-it Radio
think about doing the old fashioned way afterall we are a old fashiioned station and
it might take 3 or 4 days more but you will be saving money through the coupon.


Our apologies we can't do this for overseas orders but we are already taking a huge

hit on postage that we also have to absorb mailing overseas.


=============================================

CELL PHONE APP FOR ROCK-IT RADIO ???

With the advent of iphones and smartphones and tablets
and all ... We are attempting to keep 50s and 60s rock and
roll alive in 2017. We are working on a app. to download
to listen to Rock-it Radio. We will report the progress
of this in the next newsletter where we hope to be up and
able to download in Play Google and the Apple Store.
In the mean time you can still listen to Rock-it Radio on
your phones thru the Tune in Radio App - which information
is further down in the newsletter.

=============================================

NEW RELEASE -- FLASHDRIVE OF ROCK-IT RADIO
SHOWS #5951 TO #6000. OUR 12TH FLASHDRIVE

NEW RELEASE!!!!! ROCK-IT RADIO FLASHDRIVE #12!!

This includes over 75 hours of Rock-it Radio oldies programming
from shows #5951 to #6000 including the 19th annual East vs. West
Battle of show #5977. The Flashdrive features all these shows
in their entirety in mp3 format and just plug into your computer
and Rock-it Away!!!! Check out #12 and it's playlist via our
Flashdrive page at rockitradio.net/flashdrive.html or in our Ebay
Store listed as:
http://www.ebay.com/itm/-/142504371476

=============================================

AMATEUR RADIO STATION KI7PMQ BEING BUILT AT
ROCK-IT RADIO STUDIOS

After retiring from public service 4 years ago we
have decided to finish something I started back in
1973 at the age of 13. And that was to be a Ham Radio
Operator. The world of radio took me in different directions
but now being semi retired last week surprised myself,
I took both the technician and general radio exams, and
to my surprise passed both.
On Friday September 1st we are having an antenna raising
party here - and should be soon on the ham bands shortly
after. I don't know how many of our listeners are ham
radio operators - some have already come forward from
my facebook page but would love to chat with many of you.
contact me at: rockitradio@netzero.net
all the best & 73,
Bennie at the Rock-it -- KI7PMQ
=============================================

ROCK-IT RADIO'S OCTOBER'S GIVEAWAY!!!
MURRAY THE K! OVER WOR FM NEW YORK FROM 1967

Murray the K over WOR FM in the Big Apple of New York City
from 24 May 1967.
Murray the K was a huge presence on the dial and can easily
be said what Alan Freed was to New York Radio - Murray the K
was IT in the 60s. It's in our catalog as RIR #513 and currently
not offered online but you can have it by purchasing a Rock-it Radio
item this month of October here at Rock-it Radio. Listed below
BUT DON'T BUY IT! You get it free from us here at Rock-it Radio.
With every purchase you make from Rock-it Radio to support
Rock-it Radio. All sales go to keeping Rock-it Radio online,
and this is our way to sweeten the deal and say Thank you!

Any order from the following sites will get you this
FREE CD and our way for a little bonus for saying
Thank you for Supporting Rock-it Radio!

Rock-it Radio Launching Pad : http://www.rockitradio.net/store.html
Rock-it Radio Ebay Store: http://stores.ebay.com/Rock-it-Radio-Store
or
Order a show of Rock-it Radio at: http://www.rockitradio.net/order.html
Or vintage Wolfman Jack shows at http://www.rockitradio.net/wolfman.html
or 50 Rock-it Radio Shows on a flashdrive at http://www.rockitradio.net/flashdrive.html
Catalog orders will also receive this FREE CD.


**Rock-it Radio is 100% Listener supported we have no
sponsors and the sale of our vintage radio broadcasts helps
us to stay online and pay the copyright and broadcasting
fees it takes to remain online. thank you for all your
consideration.**

=============================================
=============================================

MORE NEW RELEASES IN THE ROCK-IT RADIO LAUNCHING PAD
STORE AND EBAY STORE.

Almost all of our funding for Rock-it Radio comes from the
sale of vintage radio broadcasts from Rock Radio Shows from
the 1950s to the 1970s. We have 4 new releases so far
this month. Here is a brief description and the Ebay link
to these shows. (Playlists of these vintage broadcasts can
be seen in our ebay listing links below).

1. Kenny Everett BBC Light Programme from 7/20/1969.
Great features of 60s Rock. Released as RIR #650 and
in our Ebay store as:
http://www.ebay.com/itm/131986894044

2. Sebastian Stone & Tony Taylor on WOR-FM New York City
from 4/2/1969. Released as RIR #651 and you can view the
playlist and all at our Ebay store listing at:
http://www.ebay.com/itm/142212250474

3. DJ Helen Shapiro and the LOST BEATLES INTERVIEW!
over BBC Radio 4. A must for any Beatles historian of fan.
Released as RIR #652 & at:
http://www.ebay.com/itm/132034603141

4. DJ Bob Dayton Top 40 Radio show over KRLA Los Angeles from
8/14/1969. Released as RIR #653 & at:
http://www.ebay.com/itm/-/132035582202

All updates and latest news on our vintage radio
broadcasts can be found in our Launching Pad Facebook
page at http://www.facebook.com/rockitpad

=============================================

RECRUITING FOR RADIO PERSONALITIES FOR
ROCK-IT RADIO

Do you know your 50s and 60s Rock & Roll, Doo wop
or Rockabilly? And the ability to produce a show
on CD?
We do require a playlist for this newsletter but
your show will stay online for the world for approx.
3 weeks. Unlike some stations where you broadcast one
time and it's gone forever.
If interested check out our Rock-it Radio Team page
at: http://www.rockitradio.net/team.html

We are also looking for writers and translators!
COLLECTING AIRCHECKS - A HOBBY OF RADIO NOSTALGIA
What is a Aircheck? It is simply a recording of a radio broadcast. Usually collected by Radio fans.
Come check out our webpage on collecting Airchecks.

http://www.rockitradio.net/aircheck.html


COME REMEMBER WOLFMAN JACK !!!
Rock-it Radio has a very special way to remember Wolfman Jack.
Arguably the most iconic of American DJ's. Come check out the
Rock-it Radio Wolfman Page at:
REMEMBERING OFFSHORE PIRATE RADIO IN THE UK
In the mid 1960s it was difficult for the youth to actually listen to Rock and Roll in the UK.
The BBC actually ran only a few hours a weekend to provide the young Brits with this outlet.
At night during the week they ventured to even tune into Radio Luxembourg to get there fill,
that broadcast rock and pop around the clock.
To fill this void some venture capitalists decided to bring in commercial radio aboard refitted
radio ships. And anchor themselves just off into International waters off the English coast.
Radio Caroline (named after Caroline Kennedy the U.S. President's daughter at the time)
and Radio London being the most famous. Rock-it Radio has a website dedicated to their ventures
and also have actual radio broadcasts available of
these offshore pirates.
We invite you to check them out our webpage at:
http://www.rockitradio.net/pirate.html
FINDING ROCK-IT RADIO ON THE 'TUNE IN RADIO' CELL PHONE APP.

We have had a few requests from listeners that they couldn't find us on the popular
'Tune in Radio' App. on Android and PC and iphones. Running a search of 'Rock-it Radio'
will actually list 100s of Rock stations.
So, the best way to find us on this very thorough and extensive app. that
I love using myself is -
run a search on 'rockabilly' - there you will easily find
Rock-it Radio listed.
Our Tune in Radio App. webpage is also at:
http://tunein.com/station/?stationId=41878
ARE YOU ON FACEBOOK ?? FOLLOW THE LATEST AT
ROCK-IT RADIO AND OUR LATEST VINTAGE BROADCAST RELEASES.

Rock-it Radio has 2 Facebook pages. One for our programming
online and notifications, and the other is for our vintage
broadcast shows for sale.


The Online Station is http://www.facebook.com/rockitface

For the Rock-it Radio Launching Pad and our latest deals and
releases you can follow us at:
http://www.facebook.com/rockitpad
MISSED A COUPLE OF NEWSLETTERS LAST COUPLE OF WEEKS??

THEN YOU CAN ALWAYS CHECK OUR BLOG WHERE IT IS ARCHIVED.
YOU CAN CHECK OUT OUR BLOG AT:

http://rock-itradio.blogspot.com/
=============================================


ROCK-IT RADIO DJ PAGE...


Remember you can check out all the Rock-it Radio DJ's

and read the bios of these DJ's that make these

Rock-it Radio Shows possible at:


And don't forget for even more pictures --

there is our picture page at:
============================================
IF YOU HAVE TWITTER COME FOLLOW US THERE

If you are one that tweets then please check out and join and get our
updates on your twitter account. Our Twitter link is right below.

http://www.twitter.com/RockitRadio1
It is our new Twitter account and we will once again start
scrolling our messages and updates on our webpages as well.


=================================================
We are in our 22nd year!!! Please share the good news with your
family and friends that love original Oldies Music - We are back and
Rockin' with new shows in our program page at
http://www.rockitradio.net/programs.html
Just click the MP3 speaker to the show that has your musical interest!
=================================================
WELCOME NEW MEMBERS TO THE LISTENER'S CLUB!!!!

A big welcome to the below new Rock-it Radio listeners that
joined our Listeners Club from September 17, 2017 to
October 9, 2017
We hope that you enjoy the music Rock-it Radio provides
and our playlists and information that our weekly newsletter
provides. Any comments, criticisms, kudos, compliments or
future ideas is always welcome and you can e mail me personally at:
rockitradio@netzero.net

William Booth - Milford, Conneticut USA
Steve Golston - Albany, Oregon USA
Sugar Bear - Honolulu, Hawaii USA
Tatiana Gallardo - Modesto, California USA
Sebastian Laue - Baden- Wurttemberg, Germany
Len Paris - Nehalem, Oregon USA
Les McLean - Lowes Toft, Suffolk, United Kingdom
Boyd Allen - Exeter, Massachusetts USA
Charles Layna - San Francisco, California USA
We have gained 129 new likes in our listeners club
in our Facebook page Rock-it Radio Fan Page as well this week at:
http://facebook.com/rockitface and 25 more following us
on Twitter @Rockitradio1 .

We have added a total of 176 new members to the Rock-it Radio
Listeners Club since our last newsletter. We now have 91,331 exactly
that have joined the Rock-it Radio Listeners club.
We hope that you enjoy the rare 50's and early 60's
Rock and Roll, Rockabilly and Doo Wop (which most commercial
oldies radio stations have forgotten) that we are able to play
for you from Rock-it Radio. Remember, we are here for you!

So if you ever have any requests, dedications, comments and
suggestions we always love to hear from our listeners.
Our e mail address is:
rockitradio@netzero.net

====================================================
To learn more about the Rock-it Radio Listeners Club and our Free
Newsletter please check out:
http://www.rockitradio.net/member.html

It's free and easy to join and the Rock-it Radio Newsletter is always
online at: http://www.rockitradio.net/newsletter.html



====================================================

PLEASE HELP US SPREAD THE GOOD WORD OF ROCK-IT RADIO!

Do you know of someone that might also like the music

of Rock-it Radio? We are desperately trying to keep this

music alive and have been doing so since 1995! Please

share the information of this station. And if you have

a website would you please consider putting a Rock-it Radio

link on your page.

There are a few to choose from in our link page at:

http://www.rockitradio.net/links.html
HOW TO ORDER OLD ROCK-IT RADIO SHOWS = YOUR PURCHASES HELP US STAY ONLINE!!!
We have received many inquiries on how to order Rock-it Radio shows that are no longer in
our on archives webpage. These shows are still available on CD and mailed to you within 24
hours of receiving payment.
To help search for older shows that you may be looking for you may want to check the Rock-it
Radio blog site. Old newsletters describing the shows and playlists
are archived there and there is a menu bar on the right side that breaks down every playlist
Then you may either pay by check or money order or paypal. Rock-it Radio shows are only
$9.50 U.S. each and are studio quality broadcasts that were placed on Compact Disc here at
the Rock-it Radio Studio. We have a flat rate shipping charge of $1.50 U.S. so if you order
one or several -- it is still only $1.50
U.S. shipping. And we ship worldwide, overseas orders are mailed out first class airmail.
Instructions where to send payment is at our webpage:
like we can send you a paypal invoice within 24 hours.

When you order a Rock-it Radio show or shop at our Rock-it Radio Launching Pad you
help keep these oldies alive and help us pay the bills here at Rock-it Radio.
And at the same time -- you are not getting nothing for your donation, but actually
some of the shows and memories we hope we keep alive here at Rock-it Radio.



TOP 25 SELLERS OF THE ROCK-IT RADIO LAUNCHING PAD THIS WEEK Week ending 10/10/2017

As you know the Rock-it Radio Store sells vintage Radio Broadcasts - Where you hear the actual

music, news and vintage advertisements - uncut and unedited just like you would of heard

it back then. Here are the top sellers this week.




1. Lane Quigley Class of 1967 5 CD Set - Rock-it Radio
2. Rock-it Radio Flashdrive shows #5801 -5850
3. Rock-it Radio Flashdrive #5851 - #5900
4. RIR #168 Dan Ingram - WABC New York 7/22/1967
5. RIR #393 John Lennon Guest DJ - WNEW New York 1974
6. RIR #539 Cousin Brucie - WABC New York 9/7/1965
7. RIR #181 Wolfman Jack - XERB Rosarito Mexico 12/8/1967
8. RIR #260 Tony The Tiger Taylor - WXQI Atlanta 4/1/1965
9. RIR #397 Wolfman Jack - XERB Rosarito 8/1/1968
10. RIR #356 John Landecker - WLS Chicago Pt. 1 10/11/1972
11. RIR #200 Wolfman Jack XERB Rosarito 10/1/1969 Pt.1
12. RIR #644 Dan Ingram - WABC New York 6/12/1964
13. RIR #426 Dan Ingram - WABC New York 7/4/1968
14. RIR #312 Dick Biondi - WLS Chicago 5/2/1963
15. RIR #650 Kenny Everett & Chris Denning BBC 5/20/1967
16. RIR #559 Dan Ingram - WABC New York Hr. 3 12/26/1969
17. RIR #436 Pat Sajack - Armed Forces Vietnam Network 3/18/1969
18. RIR #205 Porky Chedwick WAMO Pittsburgh 6/16/1960
19. RIR #206 Wolfman Jack XERB Rosarito Mexico 10/1/1969 pt. 2
20. RIR #220 Larry Lujack WLS Chicago 12/26/1968
21. RIR #439 2 1965 Broadcasts of CKLW Ontario
22. RIR #357 John Landecker - WLS Chicago Pt. 2 10/11/1972
23. RIR #517 Cousin Brucie WABC New York 11/29/1967
24. RIR #622 Johnny Morgan CKLW Windsor, Ontario 7/12/1967
25. RIR #317 Allison Steele WNEW FM New York 2/11/1969

If you would like to view these shows in depth you can check out

our Rock-it Radio Ebay Store at:

or in the Rock-it Radio Launching Pad store at:

and in the upper left hand corner -

there is a search box where you can type in the DJ name or

Station Call letters and that information on that show will pop up.

Ordering from the Ebay store will also qualify you for the Rock-it Radio

giveaway mentioned previously in this newsletter. Sale of

these broadcasts is what keeps Rock-it Radio going and thank

you again to everyone that buys these!

============================================



REQUEST A ROCK-IT RADIO STORE CATALOG
If you don't like ordering online but still want to have some
of the vintage radio shows from the 50s through the 70s - We
understand that. That is why we still take mail orders. You can
actually save money also in our orders if you use our coupon that
comes with every catalog - That will give your order a 25% discount!

If you would like a Rock-it Radio catalog that lists over 500 rare and rockin' radio shows with famous DJs when Radio was truly radio! Just e mail us
your mailing address and we will send it out straight away!
Our E mail address is: rockitradio@netzero.net

============================================
Rockabilly bands looking for airplay
If you or know someone that would like airplay on Rock-it Radio we invite
you to submit your press kits to Rock-it Radio. Our website for further
information is:
http://www.rockitradio.net/airplay.html
============================================
Come tune into the World on your computer!
1000s of stations around the world now broadcast online. We have a
link to some of the internet top directories to help you find these stations.
http://www.rockitradio.net/internetradio.html
============================================
Rock-it Radio Program Webpage Reminder
Remember, if the show that you want to hear is getting close to the bottom
of the list of radio shows, you should tune in as soon as you can. These shows
to have a high audio quality require a lot of internet bandwidth and memory.
And currently we can only afford the
30
latest shows online here at Rock-it Radio.
So, when a new show is put online it knocks the oldest one off the Rock-it Radio
archives page. Usually a show will at least last 16 to 20 days, once it is placed in
the archives.
============================================
OUR SISTER STATION FIRST NATIONS BROADCASTING.
We invite you to also check out our sister station -- First Nations
Broadcasting. And tune into the rather Cool North of the Yukon and Alaska
with our very own Debbie Snowdove!
============================================
Well that is just about it for this newsletter and playlists of our latest
shows. We hope that you enjoy them.
We will do our best to keep these shows on for at least 14
days and hopefully 21 days.
All the best always,
Bennie Dingo
Rock-it Radio

website: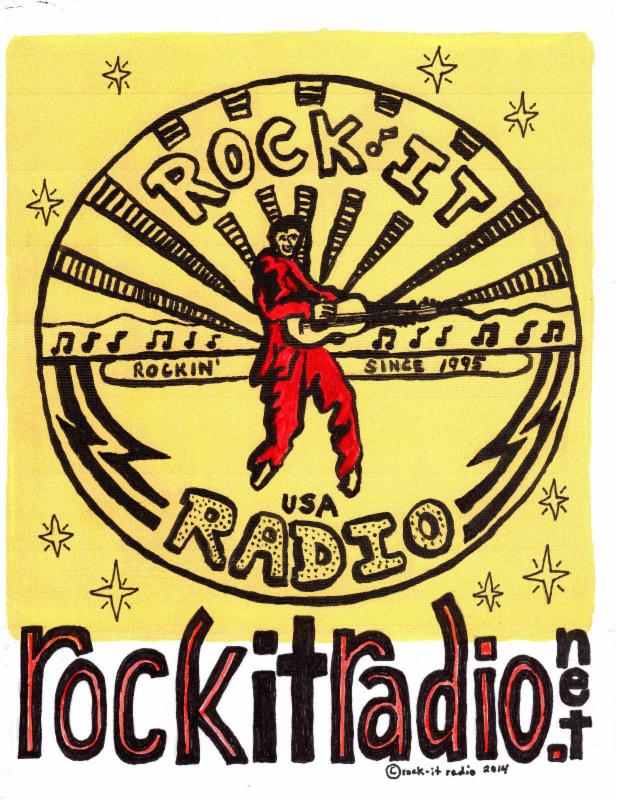 Rock-it Radio main website:
http://www.rockitradio.net

Archived Shows at:
http://www.rockitradio.net/programs.html

Rock-it Radio Vintage Broadcast Store:
(Launching Pad)
http://www.rockitradio.net/store.html