Rock-it Radio since 1995 providing 50s and early 60s Rock and Roll, Doo Wop and Rockabilly music online! Come tune us in at http://www.rockitradio.net We also have several 100 original radio shows from the first decade of Rock and Roll at: http://www.rockitradio.net/store.html
======================================================================
ROCK-IT RADIO NEWSLETTER AND PLAYLIST
SHOWS #6023 TO #6038
FROM
October 11, 2017 to October 26, 2017

Hi Rock-it Radio Listeners,

We have a batch of many new shows here on Rock-it
Radio on this newsletter, including many Halloween
Novelty song shows. Our shows this newsletter are
shows #6023 to #6038. We are losing a show and gaining
one, plus we are now offering our vintage radio broadcasts
on Flashdrive on MP3 and with a savings as well.
We are saddened to report the passing of Fats Domino
and a Halloween Favorite for the vintage video pick
and much more in this newsletter!

So, Let's get started with some playlists!

Our shows can be heard in our archives page at:

http://www.rockitradio.net/programs.html
and click to the speaker on the left to hear the show.

Remember if you are new to Internet Radio and having trouble tuning in though --
Check out our webpage to help you out at:
http://www.rockitradio.net/tunein.html
============================================
REMEMBER YOU CAN ORDER ANY OF THESE ROCK-IT
RADIO SHOWS ON CD!!!! NEW EASIER ORDERING!

Would you like one of these Rock-it Radio shows on CD? To
be able to play anywhere? And help support Rock-it Radio at the same time.
For complete information check out our program
ordering webpage at: http://www.rockitradio.net/order.html

Our shows are of course copies straight from the studio so they are studio
quality and satisfaction is guaranteed.
Or if you would rather receive an invoice let me know and we
can e mail you a copy - Just e mail us the show(s) you would like
to have and the Rock-it # to: rockitradio@netzero.net

==============================================
All Rock-it Radio shows stay online from 18 to 24 days and are
broadcast in MP3 Format. To tune in just click to the speaker
at our program page at:
http://www.rockitradio.net/programs.html

The newest show added replaces the oldest show so if you see a
show near the bottom of the listing - you should listen as soon as
possible.

==============================================
WE COULD REALLY !!! USE YOUR SUPPORT

Rock-it Radio is 100% Publicly supported. But when you
donate to the Rock-it Radio Launching Pad - we give you
a vintage broadcast of your choice.
100% of all sales from the Rock-it Radio Store (Launching
Pad) goes back to pay copyright fees, LLC taxes, Internet
and bandwidth costs of Rock-it Radio. Without your support
we would not exist. So. please consider a purchase at:
http://www.rockitradio.net/store.html

===============================================
NOTE: ALL SHOWS BELOW CAN BE FOUND IN OUR
PROGRAM WEBPAGE -
TO TUNE IN CLICK TO SPEAKER OF THE SHOW YOU WANT
TO LISTEN TO. EITHER MP3 OR REAL PLAYER.
BOTH FORMATS ARE SUPPORTED.
AT:
HTTP://WWW.ROCKITRADIO.NET/PROGRAMS.HTML

==============================================
KEITH BAXTER AND THE GOOD ROCKIN' TONIGHT
ROCK AND ROCKABILLY SHOW ON SHOW #6023

From the UK comes one rockin' show, it doesn't come
out too often but when it does it's always a show
of great rockin' tunes. It's Keith Baxter and the
Good Rockin' Tonight Show. Here is the playlist of
what you will hear when you click to the speaker
next to show #6023.

1. Slap The Bass - Lee Rocker
2. When The Drinks Dried Up - Katmen
3. Sammy The Sidewalk Surfer - Surfettes
4. Heart And Soul - Jan and Dean
5. Train From Kansas City - Razorblades
6. I Want That Boy - Chantelles
7. Drive-In Movie - Mickey Gilley
8. I Ain't Sharin' Sharon - Bobby Darin
9. Alright, OK You Win - Screamin' Jay Hawkins
10. Magic Mirror - Whirlers
11. You Can Make It If You Try - Gene Allison
12. I Wonder Why - Quotations
13. Let's Get This Show On The Road - Hank Ballard and The Midnighters
14. Flying Saucers Rock 'n' Roll - Billy Lee Riley
15. Forget About The Bad Things - Helen Shapiro
16. Palisades Park - Freddy Cannon
17. I'm Lonely - Screamin' Jay Hawkins
18. Hey Hey Train - Hayden Thompson
19. I Love Those Country Boogie Woogies - Rayburn Anthony
20. Rockabye Baby - King Curtis

===============================================
JAMMIN JAMES RILEY WITH 3 HOURS OF THE ROCKABILLY AND
BLUES RADIO SHOW ON ROCK-IT RADIO SHOW #6024

With great Rockabilly and Blues style music along with
great interviews it's James Rileys Rockabilly and Blues
Radio show - this week featuring 3 Rockin' hours here
on Rock-it Radio.

Rockabilly N Blues Radio Hour #1

1. Bump Stops- Scotty Baker
2. Farmer John- Joakim Tinderholt & His Band
3. Girls- Glen Campbell (as "Billy Dolton")
4. Rockin' Bug- Gone Hepsville
5. Hot Rod Girl- Danny B. Harvey & Annie Marie Lewis
6. Hula Hula Bang Bang- The Hula Girls
7. Hypnotize- Bloodshot Bill
8. I Will Be Home Again- Jake Calypso
9. Boss Eyed Cat- Marcel Bontempi
10. My Little Sister's Got A Motorbike- Levi Dexter
11. Everybody Wants You- Weldon Rogers & Wanda Wolfe (w/ Glen Campbell)
12. Let Yourself Go- Carl Bradychok
13. Hank Williams & Me- Darrel Higham
14. Buzz Saw- Gee Cees (Glen Campbell)
15. Have Cadillac Will Travel- The Cadillac Angels
16. Curse Of The Cajun Queen- Legendary Shack Shakers
17. Skull & Crossbones- Sparkle Moore
18. Baby Bye Bye- Carl Perkins
19. Rockin' My Way- Vince & The Sunboppers
20. Somethin' Else- Eddie Cochran

Rockabilly N Blues Hour #2

1. (All I Can Do Is) Dream You- Billy Burnette
2. Rock Billy Boogie- Johnny Burnette & The Rock 'n' Roll Trio
3. Sweet Love On My Mind- Johnny Burnette & The Rock 'n' Roll Trio
4. Bertha Lou- Dorsey Burnette
5. Tear It Up- Johnny Burnette & The Rock 'n' Roll Trio
6. It's Late- Ricky Nelson
7. Honey Hush- Billy Burnette
8. Train Kept A Rollin'- Paul Burlison (with Rocky Burnette & Billy Burnette)
9. Cincinnati Fireball- Johnny Burnette
10. Hey Little One- Glen Campbell
11. Baby Blue Eyes- Stray Cats
12. Crazy Like Me- Billy Burnette
13. Tear It Up- Billy Burnette

Rockabilly N Blues Hour #3
Part 2 interview with Billy Burnette

1. Hot Rod Hillbilly- Billy Burnette
2. (All I Can Do Is) Dream You- Roy Orbison
3. When The Sun Goes Down- Fleetwood Mac
4. Warm Love- Johnny & Dorsey Burnette
5. Lookin' Out My Back Door (live)- John Fogerty
6. Burnin' Love- Shawn Camp & Billy Burnette
7. Didn't Start Livin'- Darrel Higham
8. Nothing To Do (And All Night To Do It)- Billy Burnette
9. Ghost Town- Billy Burnette
10. Oh Well- Billy Burnette
11. Honky Tonk Heaven- Jerry Lee Lewis
12. Memphis Blues- Paul Burlison (with Billy Burnette)
13. Circle Rock- Dorsey Burnette

===============================================
MATT THE CAT & THE JUKE IN THE BACK SHOW WITH Pt. 2
A SPOTLIGHT ON CLYDE MC PHATTER ON ROCK-IT SHOW #6025

Clyde McPhatter had one of the sweetest and most powerful
tenor voices in all of Rhythm & Blues and early Rock n' Roll.
His issue throughout his 22 year recording career, was getting
the recognition he thought he deserved. After singing memorable
leads on many hit records for Billy Ward & The Dominoes, Clyde
left because Billy Ward wouldn't put his name on the records or
pay him a fair share of the profits. Ahmet Ertegun of Atlantic
Records was ready to sign McPhatter and give him his own group,
The Drifters. That worked out well as now Clyde had top billing
and a couple #1 records with the Drifters under his belt. In mid-1955,
The Drifters' manager, George Treadwell, convinced Clyde to go out on
his own. His solo career began very successfully as he scored 11
charting records, including 3 #1s in the next 4 years with Atlantic
Records. However, the 1960s proved a tough time for Clyde as he felt
many of his fans had abandoned him. This week, Matt The Cat focuses on
Clyde McPhatter's Atlantic solo sides from 1955-1959. Clyde was a
singer who's style changed as musical styles progressed during the 1950s,
but he never lost his Gospel roots. Dig on Clyde's greatest solo sides
on this week's "Juke In The Back."

1. Swanee River Boogie - Albert Ammons - Mercury 1947
2. Seven Days - Clyde McPhatter - Atlantic 1955
3. I'm Not Worthy Of You - Clyde McPhatter - Atlantic 1955
4. Treasure Of Love - Clyde McPhatter - Atlantic 1956
5. Thirty Days - Clyde McPhatter - Atlantic 1956
6. Without Love (There Is Nothing) - Clyde McPhatter - Atlantic 1956
7. Just To Hold My Hand - Clyde McPhatter - Atlantic 1957
8. Long Lonely Nights - Clyde McPhatter - Atlantic 1957
9. Rock and Cry - Clyde McPhatter - Atlantic 1957
10. Come What May - Clyde McPhatter - Atlantic 1958
11. A Lover's Question - Clyde McPhatter - Atlantic 1958
12. I Can't Stand Up Alone - Clyde McPhatter - Atlantic 1958
13. GREAT 78 - Let The Boogie Woogie Roll - Clyde McPhatter - Atlantic 1960
14. Lovey Dovey - Clyde McPhatter - Atlantic 1959
15. Since You've Been Gone - Clyde McPhatter - Atlantic 1959
16. You Went Back On Your Word - Clyde McPhatter - Atlantic 1959
17. Treasure of Love - Clyde McPhatter - 1956 - Recorded Live on Alan Freed's Rock n' Roll Dance Party Radio Program
18. After Hours - Erskine Hawkins - Bluebird 1946

===============================================
BILL GREEN HALLOWEEN ROCK AND ROLL RETROSPECTIVE
SPECIAL ON ROCK-IT RADIO SHOW #6026

Great Caesar's Ghost. It's time for the annual Halloween
Spooktacular. Get ready for ghosts, ghouls, goblins and
lots of scary good songs courtesy of Rock 'n Roll
Retrospective host Bill Green.

1) My Son The Vampire - Alan Sherman (1964)
2) Ju Ju Hand - Sam The Sham & The Pharaohs (1965)
3) Flying Saucer the 2nd - Buchanon and Goodman (1957)
4) Swamp Witch - Jim Stafford (1973)
5) Batman, Wolfman & Frankenstein - The Diamonds (1957)
6) Midnight Stroll - The Revels (1959)
7) I Put A Spell On You - Screamin' Jay Hawkins (1956)
8) Feast Of The Mau Mau - Screamin' Jay Hawkins (1953)
9) Midnight Moan - Hasil Adkins (1987)
10) I Need Your Head - Hasil Adknis (1960)
11) Monster Mash - Bobby 'Boris' PIckett (1962)
12) Spooky - Classics IV (1968)
13) Don't Scream, It's Only Halloween - Andrew Gold (1996)
14) Ain't Superstitious - Howlin' Wolf (1961)
15) Born Under A Bad Sign - Albert King (1967)
17) Witch Doctor - David Seville (1958)
18) Martian Hop - The Ran-Dels (1963)
19) Bo Meets The Monster - Bo Didley (1958)
20) Peek-A-Boo - The Cadillacs (1958)
21) Witch Queen Of New Orleans - Redbone (1971)
22) Trick Or Treat - Otis Redding (1966)
23) Haunted House - Gene Simmons (1964)
24) Hansel and Gretel - John Zacherlee (1963)
25) Surfboard 1-0-9 - John Zacherlee (1963)

===============================================
PETE CHASTON'S DOO WOP SHOW WITH A SHIRELLES
ON ROCK-IT RADIO #6027

Pete is one of our veteran DJs here on the Rock-it
and his Doo Wop collection is quite extensive!
If you love Doo Wop Rock and Roll but in search
of more of the obscurities along with the standards
this show just might be for you.

1. Doo-Wop All Night Long-The Blue Emotions (opening theme song) (1982)
2. Bye, Bye Baby-The Channels (1958)
3. Stars in the Sky-The Channels (1956)
4. Stick With Me Baby-The Paragons (1957)
5. Oh, Baby-The Jesters (1958)
6. Baby, Oh Baby-The Shells (1957 & '60-'61)
7. Bermuda Shorts-The Delroys (1957)
8. Go Back Where You Came From-The Summits (1961)
9. Stay-Maurice Williams & The Zodiacs (1960)
10. At My Front Door-The El Dorados (1955)

SILLY SONG SEGMENT:

11.Fat! Fat Fat Mom-Mi-O-The Chalets (1959)
12. Mope-itty Mope-The Bosstones (1960)

SCRATCHY 45 RPMs SEGMENT:

13. Can't We Be Sweethearts-The Cleftones (1956)
14. Chapel Bells-The Fascinators (1958)
15. I Didn't Want To Do It-The Fascinators (1958)
16. Indian Girl-The Capris (1958 & '60-61)

BACK TO THE CDs &/or More 45 RPMs:

17. Be My Girl-Tony & The Twiliters (1960)
18. Break Away-The Newbeats (1965)
19. Doom-Lang-The Tokens (1958)
20. House of Love-The Bel-Aires (circa 1959)

SLOW SONG SEGMENT:

21. Don't Ask Me To Be Lonely-Street Corner Serenade (2001)
22. I Found My Love-The Velvetones (circa 1956)
23. Please Remember My Heart-The Solitaires (1954)
24. Two People in the World-The Marcels (1961)
25. Darling, Little Angel-The Encounters (1998)
26. Gloria-Big Sandy & The Calvanes (1998)
27. (closing theme song) Adios-The Five Discs (1961)

===============================================
ROCKIN DADDY O'S ROCKABILLY RANCH PARTY SHOW
ON ROCK-IT RADIO #6028

The Daddy O is back this week with another batch of
high energy Rockabilly music!! It is now listed as
show #6028 in our program page as show #6010 so
tune in around your schedule. Here is the playlist
of this show.

1. Rocket Baby-Rocket J
2. She Put Me Down-Shaun Young & The 3 Ringers
3. Going To The Shake-Up-Bloodshot Bill
4. Shifting Gears-Miss Amy Griffin
5. I've Got A Dollar-Lil Mo & The Unholy 4
6. Midnight Sun Rock-Al Oster
7. When I'm With You-Screamin' Rebel Angels
8. Tell Me-Little Lesley & The Bloodshots
9. You Bring Out The Wolf in Me-Furious
10. Switchblade-Marieke & The Go Get 'Em Boys
11. Fine Fine Superfine-Big Sandy & The Flyrite Boys
12. Tip Top Boogie-Bailey Dee
13. Chills And Fever-Dickie Loader & The Blue Jeans
14. Restless-Levi Dexter
15. One Hand Loose(alt)-Charlie Feathers
16. Get Real Wild-Eddie & Thee Scorpians
17. Get Some Lovin'-Omar Romero
18. Rockin' 'N My Sweet Baby's Arms-Pete Peters & The Rhytmakers
19. Come Here Mama-Lynn Pratt & His Rhythm Cats
20. Who's Knocking?-Junior Thompson
21. Well...All Right-Buddy Holly

===============================================
GARY K THE ROCKIN' MAILMAN AND THE VINYL TREASURE
CHEST SHOW ON ROCK-IT RADIO #6029 HALLOWEEN SPECIAL!

Gary K the Rockin' Mailman is back this week with
an all Halloween Novelty Oldies Show in this week's
Vinyl Treasure Chest show. To pack in the most
amount of scarey tunes in this show it is just
one after another so get ready to be freightened
only half to death in this show!

1. Swamp Witch - Jim Stafford
2. Little Demo - Screamin' Jay Hawkins
3. Haunted Guitar - Three Suns
4. The Ghost Song - Salty Holmes
5. Chicken Heart - Bill Cosby
6. I Put a Spell on You - Screamin' Jay Hawkins
7. The Hitchhiker
8. Laurie - Dickey Lee
9. Riders in the Sky - Sons of the Pioneers
10. Dinner with Drac - John Zacherle
11. Witch Queen of New Orleans- Redbone
12. Tubular Bells - Mike Oldfield
13. Midnight Stroll - Revells
14. Monsters Dance Party - Bobby "Boris" Pickett
15. Spooky - Classics IV
16. Abracadabra - Steve Miller Band
17. Martian Hop - Ran-Dells
18. The Railroad Signal Man
19. Walking Through a Cemetery - Claudine Clark

===============================================
JAMMIN JAMES RILEY CATCH A WAVE SURF ROCK
HALLOWEEN SPECIAL ON ROCK-IT RADIO SHOW #6030

Your spooky host Jammin James Riley is back this week
for the Special Halloween broadcast of the Catch a
wave show filled with haunted surfin' tunes! An
entire show of them. Check out what you will hear
in this show #6030!

1. All Back To Drac's- Los Straitjackets
2. Graveyard- The Phantom Five
3. Monster Surfing Time- The Halibuts
4. The Shadow Knows- Man Or Astroman
5. Dratsylvania- The Von Drats
6. Frogman, Robutz & UFO's- Kevin White
7. Creature From Beyond The Reef- The Surfaders
8. Monster Mash- Bobby "Boris" Pickett & The Crypt Kickers
9. Bela Be Good- The Ghouls
10. Werewolf From Outer Space- The Neanderthals
11. The Hearse- Al Casey
12. Surfin' Hearse- Jan & Dean
13. Haunted House Of Rock- Satan's Pilgrims
14. Haunted Hall- Black Flamingos
15. Call Me The Wolfman- The Hi-Risers
16. Dracula's Daughter- The Woggles
17. Hangman Hangten- The Ghastly Ones
18. Ghost Hop- Surfmen
19. Crypt Surfer- Burt Rocket
20. Insomnia Of The Mummies- Messer Chups

===============================================
AL COOL DADDY SMITH WITH PT. 1 TRIBUTE TO ROCK LEGEND
CHUCK BERRY ON ROCK-IT RADIO SHOW #6031

This show is Part One of a six part tribute to the late
"True King of Rock and Roll" ..Chuck Berry. Elvis had the
swagger and sexuality to take Rock and Roll to the masses
but Chuck Berry was its architect. From 1955 on numerous
"Star Acts" were influenced by him including Elvis, The Beatles,
The Rolling Stones and The Beach Boys. As much as those
artists influenced all who came after them it was undoubtedly
Chuck Berry who was the "Prime Cause" of it all.
The shows to be presented will follow Chuck Berry's career
in chronological order from 1958 ( a time when most but not all
of his most influential recordings were behind him) until his
death on March 18th. 2017.
These shows will complement the fine shows done by Matt "The Cat"
who covered his ground breaking recordings from 1955 to 1957.
As well relevant parts of his life as it relates to the year or
years under discussion will be covered.

The play list is as follows:

1. It Don't Take But A Few Moments-Chuck Berry 1958
2. Almost Grown-Chuck Berry 1959
3. Let It Rock-Chuck Berry 1960
4. How You've Changed-Chuck Berry 1958
5. Low Feeling-Chuck Berry 1958
6. Ingo-Chuck Berry 1958
7. Guitar Boogie-Chuck Berry 1958
8. Run Rudolph Run-Chuck Berry 1958
9. Little Queenie-Chuck Berry 1959
10. Broken Arrow-Chuck Berry 1959
11. Childhood Sweetheart-Chuck Berry 1959
12. Blue On Blue-Chuck Berry 1959
13. Back In The U.S.A.-Chuck Berry 1959
14. Let Me Sleep Woman-Chuck Berry/Ecuadors 1959
15. That's My Desire-Chuck Berry 1959
16. Bye Bye Johnny-Chuck Berry 1960
17. Worried Life Blues-Chuck Berry 1960
18. Down The Road A Piece-Chuck Berry 1960
19. Confessin' The Blues-Chuck Berry 1960
20. Betty Jean-Chuck Berry 1960
21. Too Pooped To Pop-Chuck Berry 1960
22. Mad Lad-Chuck Berry 1960

===============================================
JAMMIN JAMES RILEY AND tHE CATCH A WAVE SURF ROCK
SHOW ON ROCK-IT RADIO SHOW #6032

Time to kick off that board and run up to the beach
with your favorite guy or gal and tune in on your
solid state Hi Fi Radio for another 3 hour segment
of Catch A Wave Surf Rock Show! We don't have the
playlist to this set but it's great Surf Rock n Roll
worth tuning into!

Catching A Wave Hour #1

1. Valley Of The Kaisers- The Kaisers
2. Tempus Fugitive- The TomorrowMen
3. Miserlu- Chris Casello Trio
4. Midnight At Vic's- Dex Romweber
5. Honda Beach Party- The Hondells
6. Itchy Chicken- Los Straitjackets
7. Pressure- The Pyramids
8. Storm Surf- The Surfaris
9. Don't Fear The Reaper- Dragstrip
10. The Fireball- Satan's Pilgrims
11. The Best Day- Keith Sykes
12. Lovers Luau- The Palomars
13. Honolulu Baby- Ka'au Crater Boys
14. Spinout City- The Hi-Risers
15. Rockin' Little Roadster- Jan & Dean
16. Surfin' (Takes 1 & 2)- The Beach Boys
17. Festival Of Lights- Meshugga Beach Party
18. Party In Laguna- The Ventures
19. Pumpin' Surfing Stance- Frankie & The Poolboys

Catching A Wave Hour #2

1. You're Gonna Miss Me- Teisco Del Ray
2. Fireball- Kustom Kings
3. Surfside Park- Tom & Jerry
4. California Sun- Annette Funicello
5. Dance Just Like Annette- Bombon
6. Cachaca- Dustaphonics
7. Jane In The Jungle- The 5.6.7.8's
8. You Disappear- La Luz
9. Monstros & Fantasmas- Footstep Surf Music Band
10. La Pachuca- Twang-O-Matics
11. Darlin'- The Beach Boys
12. Psyclone- Guitar Up
13. Mighty Mustang- The Road Runners
14. Sunshine All The Time- Jeffrey Foskett
15. Bucket Seats- The Marketts
16. Cobra Beach- Rip Chords
17. Guitar'd & Feathered- Duane Eddy
18. Summer Fun- Tijuana Panters
19. Mr. Blister- Flux Capacitors
20. El Condor Pasa- The Dead Rocks

Catching A Wave Hour #3

1. Venturing Out- Los Straitjackets
2. Surf Breaker- Dave Myers & The Surftones
3. Little Honda (alt. version)- The Beach Boys
4. Goofy Foot- The Lively Ones
5. Summertime Blues- The Surf Dawgs
6. Apache- Jeff Beck
7. Said The Ripper Theme- Said The Ripper
8. California Sun (instrumental)- Ramones
9. High Voltage- Jim Messina & His Jesters
10. Diamondback- Insect Surfers
11. California Girls- Nancy Sinatra (w/ Brian Wilson & Jeffrey Foskett)
12. Be My Baby- Brian Wilson
13. Web Surfin'- The Ventures
14. Dance Dance Dance- The Surfaris
15. Comanche- The Revels
16. Gotta Getta Date- Jan & Arnie
17. Bullwinkle Pt. 2- The Centurians
18. Challenger 2- Hal Blaine & The Young Cougars
19. 36-24-36- The Shadows

===============================================
ROCKIN DADDY O'S 2017 HALLOWEEN SPOOKTACULAR
GHOST ON THE LOOSE SHOW ON ROCK-IT RADIO #6033

Rockin' Daddy O is back with another show and a
Halloween Ghost on the Loose Special! Graveyard
Rockers are sure to be heard in this show #6033.
You will be hearing the following Gholish delights
on a vinyl platter! with lots of gooey splatter!

1. Ghost Train-The Swanks
2. Scream-Ralph Nielsen & The Chancellors
3. Tones In My Bones-The Hi-Winders
4. Wicked-Rudy Dozier
5. Mad House Jump-The Daylighters
6. Goon River-Frankie Stein & his Gouls
7. Weird-Bob Vidone & The Rhythm Rockers
8. The Shadow Knows-Link Wray & His Ray Men
9. Goo Goo Muck-Ronnie Cook & The Gaylads
10. Headless Horseman-Annie Marie Lewis & Danny B. Harvey
11. The Legend Of Sleepy Hollow-The Monotones
12. Rip Van Winkle-The Devotions
13. The Witch-The Sonics
14. Spooksville (Unknown)-The Nu-Trends
15. I Was A Teenage Monster-The Keytones
16. Frankenstein's Den-The Mighty El Dukes
17. Frankenstein's Party-The Swinging Phillies
18. King Kong-Tarantula Ghoul & Her Gravediggers
19. The Mummy-Bob McFadden & Dor
20. Gila Monster-Joe Johnson
21. I Hear Voices-Screamin' Jay Hawkins
22. Witchcraft-The Spiders

===============================================
JAMMIN JAMES RILEY ROCKABILLY N BLUES HALLOWEEN
SPECIAL ON ROCK-IT RADIO SHOW #6034

The Halloween shows keep on comin' this week on
Rock-it Radio! In show #6034 your host Jammin'
James Riley. Spinning some new Halloween Tracks
as well. Here is the playlist of show #6034.

1. Crying's Just A Thing You Do- JD McPherson *
2. Blues' Back In Town- Al Dual *
3. Haunted House- Marcel Bontempi *
4. Flying Saucer Rock and Roll- Billy Lee Riley
5. Double Talking- John Lindberg Trio *
6. Mean Woman Blues- Roy Orbison w/ The Royal Philharmonic Orchestra *
7. Goodbye Ain't Always A Word- Wesley Orbison
8. Headless Horseman- Annie Marie Lewis & Danny B. Harvey *
9. Why Do You Do Me Like That?- Garry Tallent
10. It's Late- Billy Burnette *
11. One O' You- Eric Heatherly *
12. Rockabilly Rave- Darrel Higham & Jittery Jack *
13. Oh Lonesome Me- Janis Martin
14. The Clock Strikes Three- Marcel Bontempi *
15. Doctor Spook- Messer Chups
16. Kentucky In A Spin (live)- Dale Watson
17. High School Confidential (live)- Jerry Lee Lewis
18. Double Talkin' Baby (live)- Stray Cats
19. Maybellene (live)- Elvis Presley
*- new tracks

===============================================
JACKIE BOND AND LET THE GOOD TIMES ROLL OLDIES
SHOW ON ROCK-IT RADIO SHOW #6035

From his studios in the UK it's a great mix of
rockers from the 50s and early 60s. Jackie always
digs out a great mix of oldies and this show is
no exception - check out this playlist of what you
will hear when you click to show #6035

1. SAFRONIA B - CALVIN BOZE
2. BLACKLAND FARMER - SLEEPY LaBEEF
3. HOLD THE PHONE - HANK PENNY AND HIS CALIFORNIA COWHANDS
4. SHIM SHAM SHIMMY - AXEL ZWINGENBERGER AND CHAMPION JACK DUPREE
5. JELLY BELLIE NELLIE - LARRY WILLIAMS
6. FOLLOW THE ROCK - THE BAY BOPS
7. SHIMMY LIKE MY SISTER KATE - THE OLYMPICS
8. LOST IN THE 50s TONITE - RONNIE MILSAP
9. PLEASE DON'T BE MAD AT ME - THE VISUALS
10. SHEILA - TOMMY ROE
11. TRUE LOVE WAYS - BUDDY HOLLY
12. WHAT A PARTY - ANDY LEE LANG
13. TANK TOWN BOOGIE - EDDIE BOND
14. JUDY - THE LINCOLNS
15. OH WELL - THE GOOD OLD BOYS
16. HAWAII-5-0 - THE VENTURES
17. HAPPY HAPPY BABY - BILL HALEY AND HIS COMETS
18. CRAZY HORSE BOOGIE - THE ROCKABILLY REBELS
19. BO DIDDLEY - BO DIDDLEY
20. OH CAROL - NEIL SEDAKA
21. TONIGHT I FELL IN LOVE - THE TOKENS
22. YOU BELONG TO ME - THE DUPREES
23. GOOD NIGHT MY LOVE - JESSE BELVIN

===============================================
PAPA WALT'S OLDIES SHOW ON ROCK-IT RADIO SHOW
#6036 WITH A SHOW CALLED LET'S DANCE

Rock music of the 60's & 70's had a long list of songs that
sparked a variety of dance crazes, but this edition of the
Oldies Show is rolling out songs that deal with the simple
activity of dancing itself. So kick off your shoes, put on
a pair of fuzzy socks, and let's dance.

1. Let's Dance - Chris Montez (1962)
2. Let's Dance Tonight - Poco (1973)
3. Keep On Dancing - The Avantis (1963)
4. Dancing in the Moonlight - King Harvest (1972)
5. Do You Want to Dance - Bobby Freeman (1958)
6. Dancing in the Street - Martha & the Vandellas (1964)
7. Slow Dancing - The Funky Kings (1976)
8. Dance with Me - The Drifters (1959)
9. Dance with Me - Orleans (1975)
10. Dance in the Smoke - Argent (1970)
11. I'm Happy Just to Dance with You - The Beatles (1964)
12. Moondance - Van Morrison (1970)
13. Dance Dance Dance - The Beach Boys (1964)
14. Come Dancing - The Kinks (1982)
15. When You Dance - The Turbans (1955)
16. Come Dance with Me - Eddie Quinteros (1960)
17. Your Mama Don't Dance - Loggins & Messina (1972)
18. Dance On Little Girl - Paul Anka (1961)
19. Let the Little Girl Dance - Billy Bland (1960)
20. Dancing Queen - ABBA (1976)
21. Dance Me Daddy - Marvin Rainwater (1958)
22. Cosmic Dancer - T. Rex (1971)
23. I'll Never Dance Again - Bobby Rydell (1962)


===============================================
DJ SPINNING ROCK BOOGIE AND THE MOVIN' AND GROOVIN'
SHOW WITH LISTENER REQUESTS SPECIAL ON ROCK-IT SHOW #6037

This Show features a Top Ten request from Rock-it Radio listener,
Al Wilmes who listens in from Dayton Ohio, plus some of my personal
favourites from right across the board.
My regular feature of The Smooch Spot is split in two as most of Al's
requests are smoochers, so this Smooch Spot x 2 are all Al's choices
and not mine.

Movin' & Groovin'
01. Intro - Medley
02. What'd I Say - Jerry Lee Lewis (61) Sun - Memphis - Tennessee (SRB)
03. I Might - Shakin' Stevens (90) Epic - London - UK (SRB)
04. Wild Weekend (instrumental) - The Rockin' Rebels (63) Swan - Philadelphia - Pennsylvania (Al Wilmes)
05. Peter Gunn Theme (instrumental) - Duane Eddy (59) Jamie - Philadelphia - Pennsylvania (SRB)
06. Nadine - Chuck Berry (64) Chess - Chicago - Illinois (SRB)
07. I Dig You Baby - Marvin Rainwater (58) MGM - NYC (SRB)

Smooch Spot 1
08. It'll Be Easy - The Sultans (61) Tilt - Louisville - Kentucky (Al Wilmes)
09. I Don't Want To Go On Without You - The Drifters (64) Atlantic - NYC (Al Wilmes)
10. My Girlfriend Betty - Mary Swan (59) Swan - Philadelphia - Pennsylvania (Al Wilmes)

Movin' & Groovin'
11. Good Golly Miss Molly - Little Richard (58) Specialty - Hollywood - California (SRB)
12. Ready Willing And Able - Albert Lee & Hogan's Heroes (02) Heroic - London - UK (SRB)
13. I Wanna Do More - Ruth Brown (55) Atlantic - NYC (SRB)
14. Shirley - John Fred & His Playboy Band (58) Montel - Baton Rouge - Louisiana (SRB)
15. Let The Four Winds Blow - Fats Domino (61) Imperial - Hollywood - California (SRB)
16. Cool Disc Jockey - Boyd Bennett & His Rockets (59) King - Cincinnati - Ohio (SRB)

Smooch Spot 2
17. My Girl Awaits Me - The Castelles (53) Grand - Philadelphia - Pennsylvania (Al Wilmes)
18. I'll Wait For You - Frankie Avalon (58) Chancellor - Philadelphia - Pennsylvania (Al Wilmes)
19. Members Only - Bobby "Blue" Bland (85) Malaco - Jackson - Mississippi (Al Wilmes)
20. You Never Loved Me - The Monotones (58) Argo - Chicago - Illinois (Al Wilmes)
21. With Open Arms - Jane Morgan (59) Kapp - NYC)

Movin' & Groovin'
22. Sweets For My Sweet - The Drifters (61) Atlantic - NYC (Al Wilmes)
23. Mama Rock - Brandi & The Badcats (04) Mustang - Australia (SRB)
24. Club Savoy - Rockin' Louis & The Mama Jammers (80) Ripete - Elliott - South Carolina (SRB)
25. That's Alright Mama - Darell Higham & The Enforcers )99) Vampirella - Frankfurt - Germany (SRB)
26. Mumblin' Mosie - The Johnny Otis Band (59) Capitol - Hollywood - California (SRB)
27. Outro - Medley

"Can't Stop Keep Rockin' Kid"

================================================
COOL BOBBY B & THE DOO WOP STOP ON ROCK-IT RADIO
SHOW #6038

From a undisclosed location Cool Bobby B is back
with another 3 hours of programming for us here
at Rock-it Radio! Great Doo Wop Rock and Roll from
the first decade of Rock and Roll now on demand
as show #6038 here at Rock-it Radio. Here is
the playlist of the show.

Hour #1

1. Rockin' with the clock - Shirley and Lee
2. Don't forget - The Earls
3. How come - The Duvells
4. Nightmare - The Velvets
5. Little girl of mine - the Cleftones
6. So Fine - The Fiestas
7. You're so fine - The Falcons
8. Land of Love - the Tridels
9. Speedo - The Cadillacs
10. Sh Boom - The Chords
11. Come go with me - Del Vikings
12. Most of All - The marcels
13. 6 nights a week - The Crests
14. All or nothing - Patti LaBelle & Blue Belles
15. My Love - Co-Hearts
16. Til - The Angels
17. Never say goodbye - Jimmy Beaumont
18. Pennies from heaven - The Skyliners
19. Where have they gone - Jimmy Beaumont & Skyliners

Hour #2

20. Darling little Angel - The Interiors
21. Shifting Sands - The Rajahs
22. Kiss Kiss Kiss - Jive 5
23. Adam and Eve - The Mystics
24. Besides you - Nolan Strong
25. Dear One - The Scarlets
26. Everybodys somebody's fool - The Heartbeats
27. Let me show youaround my heart - The Turbans
28. I'll never tell - The Harptones
29. Crazy Bells - The Marcels
30. Forever in love with you - Philly Cuzz
31. I won't cry - Johnny Adams
32. Check yourself - The Temptations
33. let's be lovers - The Starglows
34. elephant Walk - Donald Jenlins & Daughters
35. Some kind of wonderful - Kenny Vance & Planotones
36. Should I cry - The Concords
37. All alone in this world - the Trojans
38. Heartbreaker - Dean Christie

Hour #3

39. 11th hour melody - The Rivieras
40. Moonlight Cocktails - The Rivieras
41. That stranger used to be my girl - The Viscounts
42. What a guy - The Raindrops
43. Little Miracles - The Crests
44. Souvenirs of Summertime - The Rays
45. Love with no love in return - 5 Satins
46. Lonely way - The Skyliners
47. Baby Blue - The Echoes
48. Hushabye - the Mystics
49. Goodnight my love - Jesse Belvin
50. Tonight I fell in love - The Tokens
51. Trickle Trickle - The Videos
52. At my front door - El Dorados
53. Imagination - The Quotations
54. Midnight Stroll - The Revels
55. Stardust - Billy Ward & Dominoes
56. You lost that lovin' feeling - Kenny Vance & Johnny Maestro
57. Goodnight Baby - The Imaginations

===============================================
All the Rock-it Radio shows are available on CD

Each show is only $9.50 each and you can order
in bulk and shipping will never be more then $2.00.
Ask for a secure paypal invoice -- information is at:
http://www.rockitradio.net/order.html

And now on flashdrive as well at:
http://www.rockitradio.net/flashdrivemp3.html
==============================================
100'S OF VINTAGE ROCK AND ROLL VIDEOS ON FILE IN
OUR VIDEO SITE AT ROCK-IT RADIO:
CHECK IT OUT AT:

HTTP://WWW.ROCKITRADIO.NET/VIDEO.HTML

==============================================
COME JOIN US ON FACEBOOK !!! WE WOULD LOVE A
LIKE FROM YOU!

http://www.facebook.com/rockitface
The Rock-it Radio Facebook Site.

==============================================
HISTORY OF ROCK-IT RADIO

If you are new to Rock-it Radio and would like to learn more --
We have our History Page up as well -- telling the story of Rock-it
Radio. You can find it at:
http://www.rockitradio.net/history.html


ROCK-IT RADIO T SHIRTS - MANY DESIGNS TO CHOOSE FROM!!

Have you seen the new full line of Rock-it Radio T shirts that have been
Released. 3 New designs by Rock-it Radio's own Jammin' Jan.
Each Rock-it Radio T shirt is only $16.00 each plus shipping. And 100% of
All monies goes to keeping Rock-it Radio Online.

Come check out the latest styles.:

http://www.rockitradio.net/tshirt.html

Check Website for updates and availability

NEW RELEASE IN THE ROCK-IT RADIO STORE
FEATURING DJ DADDY DOO WOP

As most of you know Rock-it Radio exists and pays
for it's bills from selling vintage Rock & Roll Radio
Shows. We have a new one our release RIR #654. It
is DJ Daddy Doo wop and his show over WSNC 90.5 FM
from Winston-Salem North Carolina.
from 6/9/2002 A great Doo Wop Show. Now listed in
our Rock-it Store under North Carolina listings at
http://www.rockitradio.net/store.html

or now listed on Ebay at:
http://www.ebay.com/itm/-/142386254895

VINTAGE VIDEO PICK OF THE WEEK

For the week of 10 October, 2017
This week in our archives page at:

Now listed in the top listing of our video page...

http://www.rockitradio.net/video.html

This week: The National Anthem of Doo Wop - Kenny Vance
and the Planotones with their hit - "Looking for an echo".


CLASS OF 1967 5 CD SET NOW AVAILABLE IN ROCK-IT

RADIO E BAY STORE.


Many of our listeners enjoyed the 5 part series back

in May of Lane Quigley's tribute to the Class of 1967

50 year reunion featuring stories and the music of that

musical year. We are happy to say that that series

of 5 shows on 5 CD's is now available here at Rock-it

Radio. You can check out the link at:

If you are not a member of Ebay that's ok e mail us

at Rockitradio@netzero.net and we will gladly send you

a non obligatory invoice to purchase the show.

The 5 CD's that would normally cost $47.50 is on sale

as a set for $34.95 and is studio quality and 100% goes

to supporting Rock-it Radio.

=============================================

============================================
FATS DOMINO PASSES AWAY AT 89

He sold over 110 Million Records in his life time some
of his biggest hits Blueberry Hill and Ain't that a shame
will forever be remembered as part of the roots of Americana
Rock and Roll. Living in New Orleans it was believed at
one point that Fats Domino perished during Hurricane Katrina
as spray painted on plywood at his heavily flooded New Orleans
home it read RIP Fats. He survived and will always be remembered
as one of the true greats of Rock and Roll. He passed away at
his home in Louisiana of natural causes on the morning of
October 24, 2017.
============================================


TRIAL RUN FOR ROCK-IT RADIO LISTENER'S ONLY
VINTAGE BROADCASTS ON FLASHDRIVE

It's hard to believe but we realize that perhaps our
declining sales is due to Compact Discs are a
aging medium. And Flashdrives And digital is where it's
at. So, I am going to make this offer just on a trial
basis for the remainder of 2017. If you would prefer to
have Rock-it Radio shows and vintage radio shows that we
offer for sale on Flashdrive in mp3 format rather then
on CD we can provide that service here at Rock-it Radio.
Here it is how it works:

1. E mail me at rockitradio@netzero.net and let me
know what shows you would like to have on Flashdrive.
Let's make it a minimum of 3 broadcasts. Either any
Rock-it Radio show .... or Vintage Radio Show from the
50s through 70s that we offer at:
http://www.rockitradio.net/store.html

2. The Cost: Flashdrive will cost $5.00 and each show
that you wish to have will cost $5.00 - nearly 50% CHEAPER then on
CD.

3. I will send you back a invoice within a couple of days, It will be
sent via paypal and it is not obligatory. If you change your mind
just don't pay. But it is easy to pay with any major credit card.

4. Please allow up to 7 days for me to fill the order. Once payment
is sent. In case I get swamped with this offer. Probably sooner.
I have to redigitalize all sold shows into MP3 and that takes a little
bit of time. All orders will have $3.00 postage a slight increase but
that is due to it is shipped as a package and not envelope since it will
be over a 1/4" thick.

For example you order: 3 of our Alan Freed Radio shows. And a Real Don
Steele show. A total of 4 shows - That would normally be a cost of $40.00
on CD. All together on one flashdrive so the invoice would look like

- Flashdrive $5.00
- Four Shows on Flashdrive @ $5.00 each - $20.00
- shipping $3.00

Total: $28.00

Of course if you order more shows on the flashdrive you would continue saving
as you are paying the $5.00 per show rather then $9.50.

And of course we will be adding the monthly giveaway as well.

So for a invoice again just e mail me your wants on your flashdrive for
shows on mp3 at: rockitradio@netzero.net

Also, check out this offer again at:
http://www.rockitradio.net/flashdrivemp3.html

CHECK OUT ALL OF OUR HALLOWEEN SHOWS THIS YEAR
ON ROCK-IT RADIO!
Halloween is definitely among us and several shows to choose from.
Make sure that you tune in and enjoy in all the fun this year on
Rock-it Radio. Here is a list of our Halloween Special broadcasts,
now in our Program page at: http://www.rockitradio.net/programs.html

1. Rock-it #6026 - Bill Green's Halloween Spooktacular Rock and Roll Retrospective
2. Rock-it #6029 - Rockin' Mailman Gary K's Halloween Special
3. Rock-it #6030 - Jammin James Riley Catch a Wave Surf Rock Halloween special
4. Rock-it #6033 - Rockin' Daddy O's Rockabilly Ranch Party Halloween Special.
5. Rock-it #6034 - James Riley Rockabilly n Blues Halloween Special

=============================================

DOMESTIC ORDERS FOR ROCK-IT RADIO SAVE 25% BY USING YOUR
COUPON!!

Every order Rock-it Radio receives for a vintage Radio Broadcast or a Rock-it
Radio Show or Flashdrive. We include a Catalog along with a coupon that allows
you to get 4 CD's for the price of 3. 25% savings. It isn't used much though and
we are wondering why. It does have to be by mail order and their is a order sheet
in the back of the catalog. We pass the savings along as we are charged less from
Ebay and Paypal when we get our orders in through the Catalog. As they don't take
out their portions they charge. So if you like to purchase more from Rock-it Radio
think about doing the old fashioned way afterall we are a old fashiioned station and
it might take 3 or 4 days more but you will be saving money through the coupon.


Our apologies we can't do this for overseas orders but we are already taking a huge

hit on postage that we also have to absorb mailing overseas.


=============================================

CELL PHONE APP FOR ROCK-IT RADIO ???

With the advent of iphones and smartphones and tablets
and all ... We are attempting to keep 50s and 60s rock and
roll alive in 2017. We are working on a app. to download
to listen to Rock-it Radio. We will report the progress
of this in the next newsletter where we hope to be up and
able to download in Play Google and the Apple Store.
In the mean time you can still listen to Rock-it Radio on
your phones thru the Tune in Radio App - which information
is further down in the newsletter.

=============================================

NEW RELEASE -- FLASHDRIVE OF ROCK-IT RADIO
SHOWS #5951 TO #6000. OUR 12TH FLASHDRIVE

NEW RELEASE!!!!! ROCK-IT RADIO FLASHDRIVE #12!!

This includes over 75 hours of Rock-it Radio oldies programming
from shows #5951 to #6000 including the 19th annual East vs. West
Battle of show #5977. The Flashdrive features all these shows
in their entirety in mp3 format and just plug into your computer
and Rock-it Away!!!! Check out #12 and it's playlist via our
Flashdrive page at rockitradio.net/flashdrive.html or in our Ebay
Store listed as:
http://www.ebay.com/itm/-/142504371476

=============================================

JAMES RILEY CATCH A WAVE RADIO SHOW TO BE ENDING
EFFECTIVE THIS JANUARY.

We received past word this last week that Rock-it Radio
DJ Jammin' James Riley is ceasing the Surf Rock Radio show
that aired on Rock-it Radio the "Catch a Wave" Radio Show.
James stated that their is just not enough time to produce
two 3 hour shows a week with interviews etc. and decided to
focus on the more popular show of the Rockabilly n Blues
Radio show that will of course be airing on Rock-it Radio.
And we will be airing Catch a Wave Radio show until the final
broadcast of course as well.

=============================================

NEW UPCOMING SHOW TO AIR ON ROCK-IT RADIO -

LONG RUNNING, POPULAR LOS ANGELES OLDIES RADIO SHOW IS
MOVING TO ROCK-IT RADIO!

We delighted to announce that long-time Los Angeles
DJ John "Cooch" Minnicucci will be bringing his popular
"John's Attic" program to Rock-it Radio. Cooch has been
bringing R&B, Doo Wop, Rockabilly and Rock 'n' Roll to
Southern California listeners for over twenty years,
but a recent format change on his radio station ended
this run. However, LA Radio's loss is our gain, because this
legendary program will now be carried exclusively on Rock-it Radio.
Be on the lookout for the debut of "John's Attic" on Rock-it Radio.
We will keep you posted on when his first show airs along with
his profile in the Rock-it Radio DJ page at:
http://www.rockitradio.net/dj.html

=============================================

ROCK-IT RADIO'S OCTOBER'S GIVEAWAY!!!
MURRAY THE K! OVER WOR FM NEW YORK FROM 1967

Murray the K over WOR FM in the Big Apple of New York City
from 24 May 1967.
Murray the K was a huge presence on the dial and can easily
be said what Alan Freed was to New York Radio - Murray the K
was IT in the 60s. It's in our catalog as RIR #513 and currently
not offered online but you can have it by purchasing a Rock-it Radio
item this month of October here at Rock-it Radio. Listed below
BUT DON'T BUY IT! You get it free from us here at Rock-it Radio.
With every purchase you make from Rock-it Radio to support
Rock-it Radio. All sales go to keeping Rock-it Radio online,
and this is our way to sweeten the deal and say Thank you!

Any order from the following sites will get you this
FREE CD and our way for a little bonus for saying
Thank you for Supporting Rock-it Radio!

Rock-it Radio Launching Pad : http://www.rockitradio.net/store.html
Rock-it Radio Ebay Store: http://stores.ebay.com/Rock-it-Radio-Store
or
Order a show of Rock-it Radio at: http://www.rockitradio.net/order.html
Or vintage Wolfman Jack shows at http://www.rockitradio.net/wolfman.html
or 50 Rock-it Radio Shows on a flashdrive at http://www.rockitradio.net/flashdrive.html
Catalog orders will also receive this FREE CD.


**Rock-it Radio is 100% Listener supported we have no
sponsors and the sale of our vintage radio broadcasts helps
us to stay online and pay the copyright and broadcasting
fees it takes to remain online. thank you for all your
consideration.**

=========================================
ROCK-IT RADIO LAUNCHING PAD RECORDS WORSE SALES
RECORD THIS YEAR SO FAR IN OCTOBER.

Due to copyright fees and ebay fees AND internet fees
that always come in our October bill - we have accrued
over $3000.00 currently owed in the Rock-it Radio account.
And so far this month we have sold approximately $1200.00
in Sales of our vintage shows. With only about $2000.00 in
Reserve you can do the math and see why we are sweating
bullets a little bit. We are hoping Christmas Season and
the Holidays will pick up plus in next newsletter we will be
announcing some new fresh shows available as well.
Also, you know you get that Murray the K 1967 New York show
with every order until the end of October!
Please REMEMBER that Rock-it Radio is completey 100% publicly
funded and rely on our sales of vintage broadcasts from our
Ebay store and our Launching Pad at:
http://www.rockitradio.net/store.html

=========================================

OUR FREE GIVEAWAY FOR NOVEMEBER - SOMETHING SPECIAL
TO BOOST SALES AS OUR FREEBIE IN NOVEMBER.
We are digging around a little bit in our archives and
remembered back in the summer of 2013 Matt the Cat did
a tribute to the music of Fats Domino. We thought it would
be appropriate for our listener's and supporters for all
of next month we will be giving away show #4566 of Rock-it
Radio on CD to all who order from us in November 2017.
It is part II featuring his music from 1953 to 1955 -
of that series of Fats Domino. It's Our way of saying Thank you
for helping support Rock-it Radio. But wait until
November to place your order. Thank you ... incidentally
here is a playlist of that show.

MATT THE CAT AND THE JUKE IN THE BACK SHOW WITH
A TRIBUTE TO FATS DOMINO Pt. 1 ON SHOW #4566

Fats Domino Pt. 2 (1953-55)

The "Juke In The Back" is proud to feature Fats Domino, one
of the most influential and popular recording stars of both
Rhythm & Blues and Rock n' Roll music. Fats' streak of hit
records was nearly unbroken from 1950-1963 and he did it without
changing his core sound. He just kept on playin' the New Orleans
boogie woogie music that he grew up with. Antoine "Fats" Domino Jr.
got his first recording contract in early December of 1949 as bandleader
Dave Bartholomew introduced him to Lew Chudd, the head of LA's Imperial
Records. Within days, they were in Cosimo Matassa's famous J&M studios
cutting Fats' first record, "The Fat Man," which sold over one million
copies and made him a star. In part two of this two part series, Matt
The Cat will spin the A and B sides of EVERY Fats Domino R&B charting
single from mid-1953 thru his enormous crossover success in 1955 with
"Ain't It A Shame." That record not only spent 11 weeks on top of the
R&B charts, but it also crossed over and hit #10 on the Pop charts.
Pat Boone would take his cover version to #1, thus giving Fats Domino
even more Pop exposure. This show will also feature some great non-charting
records and fabulous instrumentals from this time period as well.
So c'mon and dig the R&B roots of Fats Domino, this week on the
"Juke In The Back."

1. Swanee River Boogie - Albert Ammons - Mercury 1947
2. Rose Mary - Fats Domino - Imperial 1953
3. You Said You Love Me - Fats Domino - Imperial 1953
4. Something's Wrong - Fats Domino - Imperial 1953
5. Don't Leave Me This Way - Fats Domino - Imperial 1953
6. You Done Me Wrong - Fats Domino - Imperial 1954
7. Little School Girl - Fats Domino - Imperial 1954
8. Thinking Of You - Fats Domino - Imperial 1954
9. I Know - Fats Domino - Imperial 1954
10. Don't You Know - Fats Domino - Imperial 1955
11. Helping Hand (A Long Way From Home) - Fats Domino - Imperial 1955
12. Ain't It A Shame - Fats Domino - Imperial 1955
13. GREAT 78 - Where Did You Stay - Fats Domino - Imperial 1954
14. La-La - Fats Domino - Imperial 1955
15. You Can Pack Your Suitcase - Fats Domino - Imperial 1954
16. Swanee River Hop - Fats Domino - Imperial 1956
17. Domino Stomp (Twistin' The Stomp) - Fats Domino - Imperial 1956
18. After Hours - Erskine Hawkins - Bluebird 1946


=========================================
MORE NEW RELEASES IN THE ROCK-IT RADIO LAUNCHING PAD
STORE AND EBAY STORE.

Almost all of our funding for Rock-it Radio comes from the
sale of vintage radio broadcasts from Rock Radio Shows from
the 1950s to the 1970s. We have 4 new releases so far
this month. Here is a brief description and the Ebay link
to these shows. (Playlists of these vintage broadcasts can
be seen in our ebay listing links below).

1. Kenny Everett BBC Light Programme from 7/20/1969.
Great features of 60s Rock. Released as RIR #650 and
in our Ebay store as:
http://www.ebay.com/itm/131986894044

2. Sebastian Stone & Tony Taylor on WOR-FM New York City
from 4/2/1969. Released as RIR #651 and you can view the
playlist and all at our Ebay store listing at:
http://www.ebay.com/itm/142212250474

3. DJ Helen Shapiro and the LOST BEATLES INTERVIEW!
over BBC Radio 4. A must for any Beatles historian of fan.
Released as RIR #652 & at:
http://www.ebay.com/itm/132034603141

4. DJ Bob Dayton Top 40 Radio show over KRLA Los Angeles from
8/14/1969. Released as RIR #653 & at:
http://www.ebay.com/itm/-/132035582202

All updates and latest news on our vintage radio
broadcasts can be found in our Launching Pad Facebook
page at http://www.facebook.com/rockitpad

=============================================

RECRUITING FOR RADIO PERSONALITIES FOR
ROCK-IT RADIO

Do you know your 50s and 60s Rock & Roll, Doo wop
or Rockabilly? And the ability to produce a show
on CD?
We do require a playlist for this newsletter but
your show will stay online for the world for approx.
3 weeks. Unlike some stations where you broadcast one
time and it's gone forever.
If interested check out our Rock-it Radio Team page
at: http://www.rockitradio.net/team.html

We are also looking for writers and translators!
COLLECTING AIRCHECKS - A HOBBY OF RADIO NOSTALGIA
What is a Aircheck? It is simply a recording of a radio broadcast. Usually collected by Radio fans.
Come check out our webpage on collecting Airchecks.

http://www.rockitradio.net/aircheck.html


COME REMEMBER WOLFMAN JACK !!!
Rock-it Radio has a very special way to remember Wolfman Jack.
Arguably the most iconic of American DJ's. Come check out the
Rock-it Radio Wolfman Page at:
REMEMBERING OFFSHORE PIRATE RADIO IN THE UK
In the mid 1960s it was difficult for the youth to actually listen to Rock and Roll in the UK.
The BBC actually ran only a few hours a weekend to provide the young Brits with this outlet.
At night during the week they ventured to even tune into Radio Luxembourg to get there fill,
that broadcast rock and pop around the clock.
To fill this void some venture capitalists decided to bring in commercial radio aboard refitted
radio ships. And anchor themselves just off into International waters off the English coast.
Radio Caroline (named after Caroline Kennedy the U.S. President's daughter at the time)
and Radio London being the most famous. Rock-it Radio has a website dedicated to their ventures
and also have actual radio broadcasts available of
these offshore pirates.
We invite you to check them out our webpage at:
http://www.rockitradio.net/pirate.html
FINDING ROCK-IT RADIO ON THE 'TUNE IN RADIO' CELL PHONE APP.

We have had a few requests from listeners that they couldn't find us on the popular
'Tune in Radio' App. on Android and PC and iphones. Running a search of 'Rock-it Radio'
will actually list 100s of Rock stations.
So, the best way to find us on this very thorough and extensive app. that
I love using myself is -
run a search on 'rockabilly' - there you will easily find
Rock-it Radio listed.
Our Tune in Radio App. webpage is also at:
http://tunein.com/station/?stationId=41878
ARE YOU ON FACEBOOK ?? FOLLOW THE LATEST AT
ROCK-IT RADIO AND OUR LATEST VINTAGE BROADCAST RELEASES.

Rock-it Radio has 2 Facebook pages. One for our programming
online and notifications, and the other is for our vintage
broadcast shows for sale.


The Online Station is http://www.facebook.com/rockitface

For the Rock-it Radio Launching Pad and our latest deals and
releases you can follow us at:
http://www.facebook.com/rockitpad
MISSED A COUPLE OF NEWSLETTERS LAST COUPLE OF WEEKS??

THEN YOU CAN ALWAYS CHECK OUR BLOG WHERE IT IS ARCHIVED.
YOU CAN CHECK OUT OUR BLOG AT:

http://rock-itradio.blogspot.com/
=============================================


ROCK-IT RADIO DJ PAGE...


Remember you can check out all the Rock-it Radio DJ's

and read the bios of these DJ's that make these

Rock-it Radio Shows possible at:


And don't forget for even more pictures --

there is our picture page at:
============================================
IF YOU HAVE TWITTER COME FOLLOW US THERE

If you are one that tweets then please check out and join and get our
updates on your twitter account. Our Twitter link is right below.

http://www.twitter.com/RockitRadio1
It is our new Twitter account and we will once again start
scrolling our messages and updates on our webpages as well.


=================================================
We are in our 22nd year!!! Please share the good news with your
family and friends that love original Oldies Music - We are back and
Rockin' with new shows in our program page at
http://www.rockitradio.net/programs.html
Just click the MP3 speaker to the show that has your musical interest!
=================================================
WELCOME NEW MEMBERS TO THE LISTENER'S CLUB!!!!

A big welcome to the below new Rock-it Radio listeners that
joined our Listeners Club from October 10, 2017 to
October 26, 2017
We hope that you enjoy the music Rock-it Radio provides
and our playlists and information that our weekly newsletter
provides. Any comments, criticisms, kudos, compliments or
future ideas is always welcome and you can e mail me personally at:
rockitradio@netzero.net

John Deveson - Moonee Beach New South Wales Australia
Richard Gould - Tywyn Gwynynedd, United Kingdom
Sherry Davis - Ohio, USA
Terry Wheaton - Bristol, United Kingdom
Marcus Nellen - Germany
Karl Ayer - Germantown, Wisconsin USA
Urban - Sweden
Marina Alvarez - Las Vegas, Nevada USA
Annie Doveton - Port Edward, South Africa
Frances Lawton - Clifton, Virginia USA
Steve Collins - Leeds, W. Yorkshire United Kingdom
Lonnie Augst - Roaring Spring, Pennsylvania USA
John Minnicucci - Los Angeles, California USA
We have gained 81 new likes in our listeners club
in our Facebook page Rock-it Radio Fan Page as well this week at:
http://facebook.com/rockitface and 29 more following us
on Twitter @Rockitradio1 .

We have added a total of 121 new members to the Rock-it Radio
Listeners Club since our last newsletter. We now have 91,452 exactly
that have joined the Rock-it Radio Listeners club.
We hope that you enjoy the rare 50's and early 60's
Rock and Roll, Rockabilly and Doo Wop (which most commercial
oldies radio stations have forgotten) that we are able to play
for you from Rock-it Radio. Remember, we are here for you!

So if you ever have any requests, dedications, comments and
suggestions we always love to hear from our listeners.
Our e mail address is:
rockitradio@netzero.net

====================================================
To learn more about the Rock-it Radio Listeners Club and our Free
Newsletter please check out:
http://www.rockitradio.net/member.html

It's free and easy to join and the Rock-it Radio Newsletter is always
online at: http://www.rockitradio.net/newsletter.html



====================================================

PLEASE HELP US SPREAD THE GOOD WORD OF ROCK-IT RADIO!

Do you know of someone that might also like the music

of Rock-it Radio? We are desperately trying to keep this

music alive and have been doing so since 1995! Please

share the information of this station. And if you have

a website would you please consider putting a Rock-it Radio

link on your page.

There are a few to choose from in our link page at:

http://www.rockitradio.net/links.html
HOW TO ORDER OLD ROCK-IT RADIO SHOWS = YOUR PURCHASES HELP US STAY ONLINE!!!
We have received many inquiries on how to order Rock-it Radio shows that are no longer in
our on archives webpage. These shows are still available on CD and mailed to you within 24
hours of receiving payment.
To help search for older shows that you may be looking for you may want to check the Rock-it
Radio blog site. Old newsletters describing the shows and playlists
are archived there and there is a menu bar on the right side that breaks down every playlist
Then you may either pay by check or money order or paypal. Rock-it Radio shows are only
$9.50 U.S. each and are studio quality broadcasts that were placed on Compact Disc here at
the Rock-it Radio Studio. We have a flat rate shipping charge of $1.50 U.S. so if you order
one or several -- it is still only $1.50
U.S. shipping. And we ship worldwide, overseas orders are mailed out first class airmail.
Instructions where to send payment is at our webpage:
like we can send you a paypal invoice within 24 hours.

When you order a Rock-it Radio show or shop at our Rock-it Radio Launching Pad you
help keep these oldies alive and help us pay the bills here at Rock-it Radio.
And at the same time -- you are not getting nothing for your donation, but actually
some of the shows and memories we hope we keep alive here at Rock-it Radio.



TOP 25 SELLERS OF THE ROCK-IT RADIO LAUNCHING PAD THIS WEEK Week ending 10/26/2017

As you know the Rock-it Radio Store sells vintage Radio Broadcasts - Where you hear the actual

music, news and vintage advertisements - uncut and unedited just like you would of heard

it back then. Here are the top sellers this week.




1. Lane Quigley Class of 1967 5 CD Set - Rock-it Radio
2. Rock-it Radio Flashdrive shows #5801 -5850
3. Rock-it Radio Flashdrive #5851 - #5900
4. RIR #168 Dan Ingram - WABC New York 7/22/1967
5. RIR #393 John Lennon Guest DJ - WNEW New York 1974
6. RIR #539 Cousin Brucie - WABC New York 9/7/1965
7. RIR #181 Wolfman Jack - XERB Rosarito Mexico 12/8/1967
8. RIR #260 Tony The Tiger Taylor - WXQI Atlanta 4/1/1965
9. RIR #644 Dan Ingram - WABC New York 6/12/1964
10. RIR #397 Wolfman Jack - XERB Rosarito 8/1/1968
11. RIR #356 John Landecker - WLS Chicago Pt. 1 10/11/1972
12. RIR #312 Dick Biondi - WLS Chicago 5/2/1963
13. RIR #200 Wolfman Jack XERB Rosarito 10/1/1969 Pt.1
14. RIR #426 Dan Ingram - WABC New York 7/4/1968
15. RIR #650 Kenny Everett & Chris Denning BBC 5/20/1967
16. RIR #176 Porky Chedwick WAMO Pittsburg 6/14/1960
17. RIR #517 Cousin Brucie WABC New York 11/29/1967
18. RIR #109 Don Steele KHJ Los Angeles 1/21/1966
19. RIR #206 Wolfman Jack XERB Rosarito Mexico 10/1/1969 pt. 2
20. RIR #357 John Landecker - WLS Chicago Pt. 2 10/11/1972
21. RIR #220 Larry Lujack WLS Chicago 12/26/1968
22. RIR #559 Dan Ingram - WABC New York Hr. 3 12/26/1969
23. RIR #436 Pat Sajack - Armed Forces Vietnam Network 3/18/1969
24. RIR #205 Porky Chedwick WAMO Pittsburgh 6/16/1960
25. RIR #317 Allison Steele WNEW FM New York 2/11/1969

If you would like to view these shows in depth you can check out

our Rock-it Radio Ebay Store at:

or in the Rock-it Radio Launching Pad store at:

and in the upper left hand corner -

there is a search box where you can type in the DJ name or

Station Call letters and that information on that show will pop up.

Ordering from the Ebay store will also qualify you for the Rock-it Radio

giveaway mentioned previously in this newsletter. Sale of

these broadcasts is what keeps Rock-it Radio going and thank

you again to everyone that buys these!

============================================



REQUEST A ROCK-IT RADIO STORE CATALOG
If you don't like ordering online but still want to have some
of the vintage radio shows from the 50s through the 70s - We
understand that. That is why we still take mail orders. You can
actually save money also in our orders if you use our coupon that
comes with every catalog - That will give your order a 25% discount!

If you would like a Rock-it Radio catalog that lists over 500 rare and rockin' radio shows with famous DJs when Radio was truly radio! Just e mail us
your mailing address and we will send it out straight away!
Our E mail address is: rockitradio@netzero.net

============================================
Rockabilly bands looking for airplay
If you or know someone that would like airplay on Rock-it Radio we invite
you to submit your press kits to Rock-it Radio. Our website for further
information is:
http://www.rockitradio.net/airplay.html
============================================
Come tune into the World on your computer!
1000s of stations around the world now broadcast online. We have a
link to some of the internet top directories to help you find these stations.
http://www.rockitradio.net/internetradio.html
============================================
Rock-it Radio Program Webpage Reminder
Remember, if the show that you want to hear is getting close to the bottom
of the list of radio shows, you should tune in as soon as you can. These shows
to have a high audio quality require a lot of internet bandwidth and memory.
And currently we can only afford the
30
latest shows online here at Rock-it Radio.
So, when a new show is put online it knocks the oldest one off the Rock-it Radio
archives page. Usually a show will at least last 16 to 20 days, once it is placed in
the archives.
============================================
OUR SISTER STATION FIRST NATIONS BROADCASTING.
We invite you to also check out our sister station -- First Nations
Broadcasting. And tune into the rather Cool North of the Yukon and Alaska
with our very own Debbie Snowdove!
============================================
Well that is just about it for this newsletter and playlists of our latest
shows. We hope that you enjoy them.
We will do our best to keep these shows on for at least 14
days and hopefully 21 days.
All the best always,
Bennie Dingo
Rock-it Radio

website: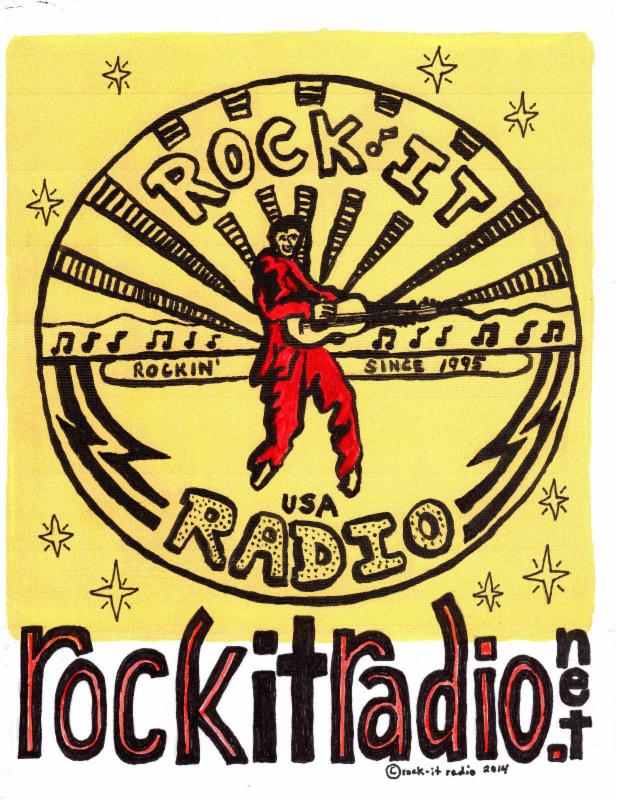 Rock-it Radio main website:
http://www.rockitradio.net

Archived Shows at:
http://www.rockitradio.net/programs.html

Rock-it Radio Vintage Broadcast Store:
(Launching Pad)
http://www.rockitradio.net/store.html