Rock-it Radio since 1995 providing 50s and early 60s Rock and Roll, Doo Wop and Rockabilly music online! Come tune us in at http://www.rockitradio.net We also have several 100 original radio shows from the first decade of Rock and Roll at: http://www.rockitradio.net/store.html
======================================================================
ROCK-IT RADIO NEWSLETTER AND PLAYLIST
SHOWS #6077 TO #6089
FROM
December 17, 2017 to December 29, 2017

Hi Rock-it Radio Listeners,

Well gang it's getting close and thank you for all
those that have supported Rock-it Radio this critical
month. Right now we are only $388.00 short of our
goal to continue into January 2018. That's the good
news, the bad news it's the 29th of December. We remain
pretty confident it will happen though. Rock-it Radio
listener's are always the best.
On other notes we have the playlists for shows #6077 to
#6089 with our usual Rock-it Oldies and some of the
Holiday show Specials that aired on The Rock-it.
Also, some future plans for Rock-it Radio for 2018.
And the big list of the Top Sellers for Rock-it Radio
Airchecks for 2017 at the bottom of this newsletter.

So, Let's get started with some playlists!

Our shows can be heard in our archives page at:

http://www.rockitradio.net/programs.html
and click to the speaker on the left to hear the show.

Remember if you are new to Internet Radio and having trouble tuning in though --
Check out our webpage to help you out at:
http://www.rockitradio.net/tunein.html
============================================
REMEMBER YOU CAN ORDER ANY OF THESE ROCK-IT
RADIO SHOWS ON CD!!!! NEW EASIER ORDERING!

Would you like one of these Rock-it Radio shows on CD? To
be able to play anywhere? And help support Rock-it Radio at the same time.
For complete information check out our program
ordering webpage at: http://www.rockitradio.net/order.html

Our shows are of course copies straight from the studio so they are studio
quality and satisfaction is guaranteed.
Or if you would rather receive an invoice let me know and we
can e mail you a copy - Just e mail us the show(s) you would like
to have and the Rock-it # to: rockitradio@netzero.net

==============================================
All Rock-it Radio shows stay online from 18 to 24 days and are
broadcast in MP3 Format. To tune in just click to the speaker
at our program page at:
http://www.rockitradio.net/programs.html

The newest show added replaces the oldest show so if you see a
show near the bottom of the listing - you should listen as soon as
possible.

==============================================
WE COULD REALLY !!! USE YOUR SUPPORT

Rock-it Radio is 100% Publicly supported. But when you
donate to the Rock-it Radio Launching Pad - we give you
a vintage broadcast of your choice.
100% of all sales from the Rock-it Radio Store (Launching
Pad) goes back to pay copyright fees, LLC taxes, Internet
and bandwidth costs of Rock-it Radio. Without your support
we would not exist. So. please consider a purchase at:
http://www.rockitradio.net/store.html

===============================================
NOTE: ALL SHOWS BELOW CAN BE FOUND IN OUR
PROGRAM WEBPAGE -
TO TUNE IN CLICK TO SPEAKER OF THE SHOW YOU WANT
TO LISTEN TO. EITHER MP3 OR REAL PLAYER.
BOTH FORMATS ARE SUPPORTED.
AT:
HTTP://WWW.ROCKITRADIO.NET/PROGRAMS.HTML

==============================================
ROCKIN THE JUKE JOINT CHRISTMAS SPECIAL WITH OTTO
FUCHS ON ROCK-IT RADIO SHOW #6077
Otto Fuchs & The Rockin´ The Juke Joint Christmas Special dive
into the 1950s and 1960s Christmas sounds, with All-time-favourites
of the era and beyond, such as Elvis Presley, Johnny Cash,
Bill Haley, Billy Fury featuring Rock & Roll Christmas songs
like Jingle Bell Rock", Rock & Roll Santa", Run Rudolph Run"
and Gospel favourites like If That Isn´t Love" and Farther Along".
A rhythmic Christmas revue on Rock It Radio!


1. Rockin´ Around The Christmas Tree-Bill Haley & The Comets
2. Blue Christmas-Elvis Presley
3. Christmas As I Knew It-Johnny Cash
4. Jingle Jangle-The Penguins
5. My Christmas Prayer-Billy Fury
6. Christmas Time For Everyone But Me (Live)-Hank Ballard & The Midnighters
7. Ring-A-Chime-Bill Haley´s Original Comets
8. Rock & Roll Santa-Little Joey Farr
9. Run Rudolph Run-Chuck Berry
10. I´ll Be Home For Christmas-Bobby Vee
11. White Christmas-Elvis Presley
12. Farther Along-Johnny Cash
13. Jingle Bell Rock-Bill Haley & The Comets
14. Jingle Bells-Vel Mares
15. Christy Christmas-Brenda Lee
16. They Shined Up Rudolph´s Nose-Johnny Horton
17. Rockin´ Rollin´ Christmas-Ian Fenn
18. I Don´t Wan´t To Be Alone For Christmas-Bill Haley
19. If That Isn´t Love-Elvis Presley
20. The Christmas Spirit-Johnny Cash
21. Merry Christmas Baby-Chuck Berry
22. Santa Baby-Eartha Kitt
23. Happy New Year Baby-Jo Ann Campbell
24. A Year Ago This Christmas-Bill Haley
25. Silent Night-Elvis Presley


===============================================
AL COOL DADDY SMITH WITH PART 4 THE MERCURY RECORD
YEARS ON CHUCK BERRY AS ROCK-IT RADIO SHOW #6078

This show will feature his recordings from 1967 to 1969
when he had left Chess records for a more lucrative
contract with Mercury records. Most critics dismiss
these recordings as being inferior to those he made
at Chess. I will leave that judgement up to our listeners.
Suffice it to say that no real fan of the true
"King of Rock and Roll" would not want to hear them.
They are interesting if for no other reason then the fact
that Chuck was given great freedom in what he recorded
and how these tunes would be produced. The Play List is
short but the last track "Concerto in B. Goode" runs 15 minutes
and is truncated!!!

The Play List is as follows:

1. Flying Home-Chuck Berry 1967
2. Soul Rockin'-Chuck Berry 1968
3. Good Looking Woman-Chuck Berry 1969
4. Driftin' Blues-Chuck Berry 1967
5. Louie to Frisco-Chuck Berry 1968
6.It Hurts Me Too-Chuck Berry 1967
7. Fillmore Blues-Chuck Berry 1967
8. Feelin' It-Chuck Berry 1967
9. Ma Dear-Chuck Berry 1968
10. The Love I Lost-Chuck Berry 1968
11. Little Fox-Chuck Berry 1968
12. Misery-Chuck Berry 1968
13. Rock Cradle Rock-Chuck Berry 1968
14. My Tambourine-Chuck Berry 1968
15. It's Too Dark In There-Chuck Berry 1969
16. My Woman-Chuck Berry 1969
17. Concerto in B. Goode-Chuck Berry 1969

===============================================
'COVERING ELVIS' ON MIKE TAYLOR'S ROCKABILLY HOUR
ON ROCK-IT RADIO SHOW #6079

From his studios in Branson, Missouri Mike Taylor is
back this week playing some pretty great Rockabilly
standards - covering by the King. Check out this
playlist of Elvis Cover Artists!

COVERING ELVIS...The King started out his career covering other artists'
songs, so as we approach what would have been his 82nd birthday
here's a slightly different kind of tribute--a selection of different
performers covering some of the tunes Elvis was known for...

1. That's All Right - Marty Robbins 1955 (Columbia)
2. Blue Moon Of Kentucky - The Stompers 1960 (Souvenir)
3. Good Rockin' Tonight - Mike Waggoner & The Bops Unissued (Vee)
4. Baby Let's Play House - Vince Everett 1963 (ABC-Paramount)
5. Such A Night - Joe Sawyer Trio 1960 (Do-Re-Mi)
6. Money Honey - Sheila Gernon 1959 (Cool)
7. Wear My Ring Around Your Neck - Jerry Williams & The Violents 1963 (Live)
8. Love Me - The Jackson Brothers 1958 (London)
9. My Baby Left Me - Conway Twitty 1964 (ABC-Paramount)
10. Jailhouse Rock - Dusty Glass 1959 (Tops)
11. All Shook Up - David Hill 1956 (Aladdin)
12. Heartbreak Hotel - Delbert Barker 1956 (Top 4)
13. Mystery Train - Johnny Waleen 1964 (Coulee)
14. Hardheaded Woman - Wanda Jackson 1957 (Capitol)
15. (Now And Then There's) A Fool Such As I - Bill Haley & His Comets 1959 (Decca)
16. Trying To Get To You - Roy Orbison & The Teen Kings 1956 (Je-wel)
17. Treat Me Nice - Jack Gillen With The Internationals 1959 (Provencher)
18. Playing For Keeps - Roc Rowland & The Cineramas 1960 (Rhapsody)
19. G.I. Blues - Ronnie Knull & His Rock-A-Kings 1962 (Carroll)
20. Mean Woman Blues - Jim Johnston & The Starlighters 1958 (Midwest)
21. Let's Have A Party -Susy Rose 1964 (Sur-Speed)
22. I Gotta Know - Bobby Vee With The Crickets 1962 (Liberty)
23. A Big Hunk O'Love - Ray Pennington 1959 (Unissued)
24. I'M Gonna Sit Right Down and Cry Over You - Andy Anderson & The Dawnbreakers 1960 (Century Ltd, Inc.)

===============================================
ROCKIN' DADDY O'S CHRISTMAS SPECIAL FOR ROCK-IT
RADIO! ON DEMAND AS SHOW #6080

THE Atomic Doo Wop Dance Party Christmas Hop is
now online nad Rockin' as show #6080 at our program
page. Check out this Cool Yule Playlist!

1. Mr. Santa's Boogie-The Marshalls
2. Deep Dark Secret-Gizzelle
3. She's Gone-The Del Royals
4. Sweet Water-The Stereos
5. Rudolph The Red Nosed Reindeer-The Cadillacs
6. Hey Santa Claus-Vicky Tafoya & The Big Beat
7. Dearest One-Dean Barlow & The Montereys
8. Woe Woe Baby-The Personalities
9. White Christmas-The Drifters
10. Christmas In Jail-The Youngsters
11. I've Been Wondering-The Charts
12. Hey Babe-The Cleftones
13. I'm Ready-Fats Domino
14. Rock Around The Christmas Tree-Big Bud
15. Rockin' N' Rollin' With Santa Claus-The Hepsters
16. Merry Twistmas-The Marcels
17. Bells Of St. Mary-Lee Andrews & The Hearts
18. Christmas Prayer-The Valentines
19. After New Year's Eve-The Heartbeats
20. A Simple Prayer-The Ravens

===============================================
JOHN MINNICUCCI 'THE COOCH' WITH JOHN'S ATTIC SHOW
OLDIES CHRISTMAS SPECIAL ON ROCK-IT RADIO SHOW #6081

John's Attic show # 4 is our annual Rhythm & Blues & Rock & Roll
Christmas show, where we feature classic Christmas songs from the
40s, 50s, a touch of the 60s and a little beyond. Some of todays
featured artists Mills Brothers, MIckey Champions, Julia Lee &
Charles Brown and more. Merry Christmas everyone.


1. Rock & Roll Christmas- George Thorogood & Destroyers 1983
2. Christmas Boogie- Frankie Sugar Chile Robinson 1950
3. Dig That Crazy Santa Claus- Oscar McLollie 1954
4. Santa Claus Got Stuck In My Chimney- Ella Fitzgerald 1950
5. Wonderful Christmas Night- Dan Grisson 1948
6. Merry Christmas Baby- Charles Brown & Johnny Moore's 3 Blazers 1947
7. Your All I Want For Christmas- Brook Benton 1963
8. It's Christmas Time- Marvin 7 Johnny 1958
9. Run Rudolph- Chuck Berry 1958
10.Christmas Spirit- Julia Lee 1947
11. Be Bop Santa Claus- Babs Gonzales 1955
12. Gonna Have A Merry Christmas- Mickey Champion 1950
13 Merry Christmas Darling & A Happy New - Stuffy & Uniques 1962
14. Please Come Home For Christmas- Charles Brown 1960
15 Boogie Woogie Santa Claus- Mabel Scott 1948
16. All I Want For Christmas Is My 2 Front Teeth 1947
17. It's Christmas Time- Five Keys 1951
18. All I Want For Christmas - Larks 1955
19. Santa Claus Baby - Voices 1955
20. White Christmas - Drifters 1954
21. Far Away Christmas Blues- Johnny Otis 1950
22. Christmas In Heaven- Jackie Wilson & Dominoes 1953
23. It's Christmas Time- Bubber Johnson 1955
24. My Christmas Song- Mills Brothers 1949
25. The Christmas Song- Nate King ColeTrio 1946
26. I Want You With Me Christmas- Jesse Belvin 1956

===============================================
PETE CHASTON'S CHRISTMAS DOO WOP SPECIAL
ON ROCK-IT RADIO #6082

Pete is one of our veteran DJs here on the Rock-it
and his Doo Wop collection is quite extensive!
If you love Doo Wop Rock and Roll but in search
of more of the obscurities along with the standards
this show just might be for you.

* * * DOO-WOP CHRISTMAS SPECIAL FOR 2017 * * *

1. Merry Christmas-The Cameos (1957)
2. White Christmas-The Saints (1984)
3. A Street Carol-Stormy Weather (xxxx)
4. Doo-Wop Christmas-Kenny Vance & The Planotones (2001)
5. Deck the Halls With Boughs of Holly-The Dukes of Harmony (xxxx)
6. Merry Christmas, Darling-The Uniques (1963)
7. Mambo, Santa, Mambo-The Enchanters (1957)
8. White Christmas-The Drifters (1954)
9. Hey, Santa Claus-The Moonglows (1953)
10. Christmas in Jail-The Youngsters (1956
11. Rockin' Around the Christmas Tree-Dion (DiMucci) (1997)
12. Rudolph, the Red-Nosed Reindeer-The Melo-deers (1959)
13. Silent Night-The Ravens (1948)
14. Merry Twist-Mas-The Marcels (1961)
15. A Christmas Long Ago (Jingle, Jingle)-The Echelons (xxxx)
16. I Stayed Home (New Year's Eve)-The Ad-libs (acappella version) (xxxx)
17. The Bells of Christmas-The Beach Boys (circa 1964)
18. Pie Jesu-The Priests (xxxx)
19. Silent Night-The Shirelles (1997)
20. The Jesus Song-The Persuasions (1997)
21. At Christmas Time-The Castelles (1989)
22. White Christmas-Michael Buble & ShaniaTwain (2011)
23. Rockin' 'N' Rollin' with Santa Claus-The Hepsters (1955)
24. Santa Town, U.S.A.-Lonnie & The Crisis (1961)
25. We Roasted Santa Claus-Chaston & Groditski (2003)
26. O Holy Night-The Blue Notes (1960)
27. Joy to the World-The Persuasions (1997)

===============================================
PAPA WALT'S OLDIES SHOW GOES CRUISING DOWN BLUES
BOULEVARD IN ROCK-IT RADIO SHOW #6083

This edition of the Oldies Show is delving into the world
of second-generation blues music and rolling out a potpourri
of blues tracks from artists that found inspiration from the
likes of Muddy Waters and John Lee Hooker and pushed urban blues
into the mainstream of rock and roll music.


1. Rocky Road Blues - Gene Vincent (1958)
2. Goldwatch Blues - Donovan (1971)
3. Wedding Bell Blues - Laura Nyro (1967)
4. Roadhouse Blues - The Doors (1970)
5. North Country Blues - Joan Baez (1968)
6. South Nashville Blues - Steve Earle (1996)
7. Trouble Blues - Sam Cooke (1963)
8. Kozmic Blues - Janis Joplin (1969)
9. Good Time Charlie's Got the Blues - Danny O'Keefe (1972)
10. Constipation Blues - Screamin' Jay Hawkins (1970)
11. Lovesick Blues - Linda Ronstadt (1970)
12. Show-Biz Blues - Fleetwood Mac (1969)
13. Lightning Bar Blues - Arlo Guthrie (1972)
14. Barstool Blues - Neil Young (1975)
15. Billy's Blues - Laura Nyro (1967)
16. Runnin' Blue(s) - The Doors (1969)
17. Subterranean Homesick Blues - Bob Dylan (1965)
18. I Got the Blues - The Rolling Stones (1971)
19. Yer Blues - The Beatles (1968)
20. Homesick Blues - Ed Sanders (1970)
21. Steel Rail Blues - Gordon Lightfoot (1966)
22. I Call It Pretty Music but the Old People Call It the Blues - Stevie Wonder (1962)


===============================================
MATT THE CAT & THE JUKE IN THE BACK SHOW WITH A
2 PART RHYTHM REVIEW OF 1947. ROCK-IT SHOW #6084

PART I


This week, we travel back 70 years with our ol' Rockola Jukebox to spotlight
the biggest Rhythm & Blues jukebox hits from 1947. In part one, we'll focus
on the biggest jukebox jivers from the first half of 1947, including the first
charting hits for T-Bone Walker, Hadda Brooks and the original Sonny Boy Williamson.

1. Swanee River Boogie - Albert Ammons & His Rhythm Kings - Mercury 1947
2. Ain't Nobody Here But Us Chickens - Louis Jordan & His Tympany Five - Decca 1946
3. Let The Good Times Roll - Louis Jordan & His Tympany Five - Decca 1946
4. Bobby Sox Blues - T Bone Walker & His Guitar with Jack McVea & His All Stars- Black & White 1947
5. Open The Door Richard! - Jack McVea & His All Stars - Black & White 1947
6. Shake The Boogie - Sonny Boy Williamson - RCA Victor 1947
7. Texas And Pacific - Louis Jordan & His Tympany Five - Decca 1947
8. W.B. Blues - Walter Brown and Jay McShann's Quartet - Mercury 1947
9. Lolly Pop Mama - Clarence Samuels w/ Dave Young's Orch - Aristocrat 1947
10. I'll Get Along Somehow - Julia Lee & Her Boy Friends - Capitol 1947
11. I Want To Be Loved (But Only By You) - Savannah Churchill & The Sentimentalists - Manor 1947
12. That's My Desire - Hadda Brooks Trio - Modern 1947
13. GREAT 78 - Hawk's Boogie - Erskine Hawkins & His Orch. - RCA Victor 1947
14. Blow-Top Blues - Lionel Hampton & His Septet - Decca 1947
15. Meet Me At No Special Place (And I'll Be There At No Particular Time) - The King Cole Trio - Capitol 1947
16. Old Maid Boogie - Eddie Vinson & His Orch - Mercury 1947
17. After Hours - Erskine Hawkins & His Orch - Bluebird 1946


PART II

This week, we travel back 70 years with our ol' Rockola Jukebox to spotlight
the biggest Rhythm & Blues jukebox hits from 1947. In part two of two,
we'll focus on the biggest jukebox jivers from the second half of 1947,
including the only charting singles for Bill Johnson & His Musical Notes
and The Floyd Hunt Quartette. Louis Jordan continues to dominate the year
with two more #1 platters this week and R&B stalwarts Roy Milton, Johnny Moore's
Three Blazers, Joe Liggins & His Honeydrippers and The Ink Spots continue to
score massive jukebox hits.

1. Swanee River Boogie - Albert Ammons & His Rhythm Kings - Mercury 1947
2. Jack, You're Dead - Louis Jordan & His Tympany Five - Decca 1947
3. New Orleans Blues - Johnny Moore's Three Blazers - Exclusive 1947
4. Blow Mr. Jackson - Joe Liggins & His Honeydrippers - Exclusive 1947
5. Ask Anyone Who Knows - The Ink Spots - Decca 1947
6. True Blues - Roy Milton & His Solid Senders - Specialty 1947
7. Boogie Woogie Blue Plate - Louis Jordan & His Tympany Five - Decca 1947
8. Don't You Think I Ought To Know - Bill Johnson & His Musical Notes - Harlem 1947
9. Red Top - Gene Ammons & His Sextet - Mercury 1947
10. Fool That I Am - Floyd Hunt Quartette - Miracle 1947
11. Since I Fell For You - Annie Laurie w/ Paul Gayten & His Trio - DeLuxe 1947
12. Down The Road A Piece - Amos Milburn - Aladdin 1947
13. GREAT 78 - Dream, Dream, Dream - Mills Brothers - Decca 1947
14. He's A Real Gone Guy - Nellie Lutcher & Her Rhythm - Capitol 1947
15. (Opportunity Knocks But Once) Snatch and Grab It - Julia Lee & Her Boyfriends - Capitol 1947
16. Guitar In My Hand - Clarence "Gatemouth" Brown w/ Maxwell Davis & His Orch - Aladdin 1947
17. After Hours - Erskine Hawkins & His Orch - Bluebird 1946

===============================================
BILLY VERA'S ROCK AND ROLL PARTY WITH A LOOK AT
PRE ROCKERS OF 1946 AT ROCK-IT RADIO SHOW #6085

It was 1946. The War was over, our boys were home again.
The economy was jumping, and so was the music. Post-war music
was rapidly changing. The musicians were going in different
directions. Some, like Louis Jordan, Lucky Millinder and
Eddie "Cleanhead" Vinson, leaned toward entertainment while more
serious-minded young musicians, like Charlie Parker, Dizzy Gillespie
and Dexter Gordon, veered off onto the more intellectual sounds of be-bop.

The blues ballad was taking hold, in the hands of Billy Eckstine,
Dinah Washington and Arthur Prysock and jazz vocalists like Sarah Vaughan
and Billie Holiday were treading new ground. The stage was set for what would
become rhythm & blues, still called race music in 1946. Practitioners
included Roy Milton, Wynonie Harris, Joe Liggins and Johnny Moore's
Three Blazers featuring Charles Brown. The big bands were fading, but not
dead yet, as heard by Duke Ellington, Erskine Hawkins and the
Johnny Otis Orchestra.

The Ravens and the Jubilaires gave a hint of the vocal group explosion just
around the corner and a future star of the highest magnitude was hitting
his stride, Nat King Cole.

Here's two hours of great music from 1946.

HOUR 1

1. Choo Choo Ch-Boogie - Louis Jordan & His Tympani Five
2. RM Blues - Roy Milton
3. Night In Tunisia - Charlie Parker
4. Gloomy Sunday - Billy Eckstine
5. Don't Take Everybody To Be Your Friend - Sister Rosetta Tharp
6. Bye Bye Baby Blues - The Ravens
7. Chicago Breakdown - Big Maceo
8. When a Woman Loves a Man - Dinah Washington
9. My Gal's a Jockey - Joe Turner
10. Sgt. Barksdale - Johnny Otis Orchestra
11. If You Could See Me Now - Sarah Vaughan
12. I Know Who Threw The Whiskey In The Well - Bullmoose Jackson
13. Boogie at the Bandbox - Hadda Brooks
14. I Know - Andy Kirk Orchestra featuring The Jubilaires
15. Who Put The Benzadrine in Mrs. Murphy's Ovaltine - Harry The Hipster Gibson
16. Down The Road Apiece - Amos Milburn

HOUR 2

17. Tanya - Joe Liggins
18. I've Got a Right To Cry - Erskine Hawkins Orchestra (vocal by Laura Washington)
19. Let's Wiggle a Little Woogie - Redd Foxx
20. They All Say I'm The Biggest Fool - Buddy Johnson Orch. (vocal by Arthur Prysock)
21. Kidney Stew -Eddie (Cleanhead) Vinson
22. Diminuendo In Blue - Duke Ellington
23. Gotta Give Me What You Got - Julia Lee & Her Boyfriends
24. Drifting Blues - Johnny Moore's Three Blazers (vocal by Charles Brown)
25. Lester Leaps In - Lester Young
26. Shorty's Got To Go - Lucky Millinder
27. So Glad You're Mine - Arthur (Big Boy) Crudup
28. Ray's Idea - Dizzy Gillespie
29. Playful Baby -Wynonie Harris
30. Good Morning Heartache - Billie Holiday
31. Long Tall Dexter - Dexter Gordon
32. Route 66 - Nat King Cole Trio
33. Let The Good Times Roll - Louis Jordan

===============================================

JAMMIN' JAMES RILEY CATCH A WAVE SHOW WITH
3 HOURS OF SURF ROCK ON ROCK-IT RADIO #6086

Surf is up and it's time to hit the musical waves
with Jammin' James Riley with Surf Rock from the
60s to Today. Check out the playlist of what you
will hear when you click to show #6086.


HOUR #1

1. Bombora- Dex Romweber
2. Absinth- The Anacondas
3. The Spy Who Surfed Me- The Terrorsurfs
4. I Walk Like Jane Mansfield- The 5.6.7.8's
5. Chariot Rock- The Champs
6. Wave Perfect- Paul Johnson
7. Phistful Of Photons- The TomorrowMen
8. Roller Skating Child- The Beach Boys
9. Never Trust A Chick In A 3 Window Coupe- The Boss Martians
10. West 30- Susan & The Surftones
11. Motion Of The Ocean- Speedball Jr.
12. Flashing Eyes- Dick Dale
13. Neanderthal Twist- The Neanderthals
14. I Found A Girl- Jan & Dean
15. Phantom Point- Aqualads
16. Guitaro- The Rituals
17. Chuck Norris- Pointbreak
18. Tales Of A Raggy Tramline- The Shadows
19. Walk Don't Run- The Hot Doggers
20. Miami Mendoza- Supertubos

HOUR #2

1. Lo-Fi Spy- Happy Times
2. The Bells Of St. Kahuna- Slacktone
3. Surfin' & A Swingin'- Dick Dale
4. Avalon Stomp- The Denvermen
5. Telstar- The Lively Ones
6. A California Saga- Al Jardine (with Neil Young)
7. Down Under- Bruce Johnston
8. Sound Of Free- Dennis Wilson
9. Too Early To Tell- Carl Wilson
10. Surf's Up- Brian Wilson
11. Bottlerocket- The Lustre Kings
12. Foolish- Tijuana Panters
13. Surf Hammer- Big Ray & The Futuras
14. Uprising- The Real Gone
15. Mighty Bah-Room- The Mighty Surf Lords
16. Tequila- Glen Campbell
17. Scratchin' and Twistin'- Hillbilly Soul Surfers
18. Futurama- Martin Cilia


HOUR #3

1. Tremble- The Galaxies
2. Surf's Up- The Atlantics
3. Shuck N Jive- Chris Casello Trio
4. Creep Beat- Satan's Pilgrims
5. Malibu Run- Richie Allan & The Pacific Surfers
6. The Victor- The Men In The Gray Suits
7. Low Tide- Bo Diddley
8. Surfin' At Tia Juana- Johnny Cymbal
9. The Original Surfer Stomp- Kay Bell & The Tuffs
10. Flaming Guitar- Billy Mure
11. Showman Twang Tiki Gods- The Dustaphonics
12. Tsunami Tsurprise- The Space Cossacks
13. Get Your Kicks On Route 66- The Surfaris
14. Darlin'- The Beach Boys
15. Hour Of The Coyote- Black Flamingos
16. Teenager In Love- Dean Torrence & Papa Doo Run Run
17. I Got Rhythm- Brian Wilson
18. Hula Blues- Slowey & The Boats
19. Squirt- The Belairs

===============================================
COOL BOBBY B & THE DOO WOP STOP ON ROCK-IT RADIO
SHOW #6087

Cool Bobby B & The Doo Wop Stop is back this week
his last show for 2017! Great 50s and 60s Doo Wop
music and including some Doo Wop Groups out there
today!

Hour #1

1. Rockin' with the clock - Shirley and Lee
2. All night long - Du Mauriers
3. Here I am - Jive 5
4. Maybe you'll be there - Billy & The Essentials
5. Blue Velvet - The Clovers
6. Deep Purple - The Dominos
7. I remember - 5 Discs
8. Imagine - The Capris
9. I believe - Earls
10. You'll never walk alone - Johnny Maestro & Brooklyn Bridge
11. The closer you are - Magnificent 4
12. Misirlou - The Cardinals
13. The door is still open - The Cardinals
14. Please send me someone to love - The Moonglows
15. Wonderful Girl - 5 Satins
16. Please say you want me to - The Schoolboys
17. For your precious love - Kenny Vance & Planotones
18. Gee but I'd give the world - Anthony & Sophomores
19. Embraceable you - Anthony & Sophomores

Hour #2

20. Little Darlin' - The Diamonds
21. 1000 Stars - Kathy Young & Innocents
22. Looking for an echo - Kenny Vance & Planotones
23. Amazons and Coyotes - The Dreamlovers
24. In my heart - The Time Tones
25. Pretty Pretty Girl - The Time Tones
26. (Where are you) now that I need you - Don Cobay & Goodtimers
27. Over the Rainbow - Demensions
28. Hot dog dooly wah - The Pyramids
29. What a surprise - Johnny Maestro
30. Worst that could happen - Johnny Maestro & Brooklyn Bridge
31. Enchanted - The Platters
32. Baby I love you so - Joe Weaver & Don Juans
33. Rock and Roll Lullabye - The Belmonts
34. 10 Commandments of Love - Desire
35. I'll be home - The Flamingos
36. Where or when - Dion & Belmonts


Hour #3

37. 11th hour melody - The Rivieras
38. Moonlight Cocktails - The Rivieras
39. Shrine of St. Cecilia - The Harptones
40. Without a cause - The Heartbreakers
41. I lost my baby - The Darvels
42. Secret Love - The Orioles
43. This little girl - Dion
44. Western Movies - The Olympics
45. Our Love - Don Julian & Meadowlarks
46. Wherever you are - Richard Baindon & Dubs
47. Queen of the Hop - Bobby Darin
48. Love me Always - Arthur Lee Maye & Crowns
49. Let me show you around my heart - The Turbans
50. I can't believe - The Hornets
51. Satisfied - The Chateaus
52. Wait a minute - Tim Tam & Turn ons
53. 16 Candles - The Crests
54. Happy Happy Birthday Baby - Tune Weavers
55. Goodnight Baby - The Imaginations

===============================================
JOHN THE COOCH MINNICUCCI WITH JOHN'S ATTIC AND
MORE GREAT OLDIES ON ROCK-IT RADIO SHOW #6088

John's Attic where we feature classic Rhythm & Blues,
Rock & Roll, Rockabilly, Doo Wop vocal groups & Blues
songs & artists from the 40s,50s & a touch of the 60s &
a little beyond. This show features pound for pound he
was the greatest boxer to step into the ring. Was this the
first rock & roll record? Mr. B Billy Eckstine, Bobby G &
the Celestials and many more.

1. Jam Up - Tommy Ridgley 1954
2. Fannie Brown Got Married - Roy Brown 1954.
3. Rockett 88 - Jackie Brenston & his Delta Cats 1951
4. Oop Boopy Oop - Don Julian & The Meadowlarks 1956
5. Tomorrow Night - Lonnie Johnson 1947
6. Willette - Dell Vikings 1957
7. Here Comes The Night - Jimmy Norman 1961
8. It's Raining - Irma Thomas 1962
9. Big Mamou - Smiley Lewis 1963
10.Hey Ba Ba Re Bop - Lionel Hampton 1946
11. Johnny B Goode - Chuck Berry 1958
12. Knock Him Down Whiskey - Sugar Ray Robinson 1958
13. She Really Loves You - Timi Yuro 1961
14. Aint Nobodys Business - Jimmy Witherspoon 1949
15. I Found Heaven & Love - Henry Houston & The Raindrops 1956
16. Those Lonely Lonely Nights - Earl King 1955
17. Chop Chop Boom - Danderliers 1955
18. Open The Door Richard - Jack McVea 1946
19. Combination Boogie - J.B. & His Hawks 1954
20. Man From Utopia - Donald Woods & The Velaires 1955
21. Sealed With A Kiss - Bobby G & Celestials 1960
22. Tenderly - Billy Eckstine 1952
23. Pistol Packing Mama - Hurricanes 1955
24. Hydramatic Woman - Joe Hill Louis 1952
25. Every Once I A While - Debonairs
26. Trust In Me - Etta James 1961
27. Good Night - Castle Tones 1959

===============================================
DAVE THE RAVE AND THE RELICS AND RARITIES OLDIES
SHOW ON ROCK-IT RADIO SHOW #6089

We don't have playlists to his shows but if you love
60s Rock and Roll from the hits to the rarities and
oddities then Dave the Rave's show is for you!
3 Full hours of 60s rock awaits you in this show!

==============================================
100'S OF VINTAGE ROCK AND ROLL VIDEOS ON FILE IN
OUR VIDEO SITE AT ROCK-IT RADIO:
CHECK IT OUT AT:

HTTP://WWW.ROCKITRADIO.NET/VIDEO.HTML

==============================================
COME JOIN US ON FACEBOOK !!! WE WOULD LOVE A
LIKE FROM YOU!

http://www.facebook.com/rockitface
The Rock-it Radio Facebook Site.

==============================================
HISTORY OF ROCK-IT RADIO

If you are new to Rock-it Radio and would like to learn more --
We have our History Page up as well -- telling the story of Rock-it
Radio. You can find it at:
http://www.rockitradio.net/history.html


ROCK-IT RADIO T SHIRTS - MANY DESIGNS TO CHOOSE FROM!!

Have you seen the new full line of Rock-it Radio T shirts that have been
Released. 3 New designs by Rock-it Radio's own Jammin' Jan.
Each Rock-it Radio T shirt is only $16.00 each plus shipping. And 100% of
All monies goes to keeping Rock-it Radio Online.

Come check out the latest styles.:

http://www.rockitradio.net/tshirt.html

Check Website for updates and availability

VINTAGE VIDEO PICK OF THE WEEK

For the week of 29 December, 2017
This week in our archives page:
It's a musical video this week of some
pretty rare unreleased Doo Wop. From 1958 Unreleased
song of "Oh Baby" by The Four Belairs. You decide
should X TRA records of released this on vinyl?
White Christmas by The Drifters
================================================
WILL THERE BE A 2018 FOR ROCK-IT RADIO???

The last couple of newsletters we have whined about our
financial woes here on Rock-it Radio. And in our newsletter.
We are currently $388.00 short of meeting our goal to
begin programming for 2018. I am fairly confident that
The Rock-it Listener's will come through as we are
100% publicly supported. And a Big Thank you to all
those that have already gave. Myself and all the Jocks
here are volunteers at Rock-it Radio. In past years
I would of gladly of made up the difference, this year with
medical bills pending I cannot.
We have some new plans for Rock-it Radio in 2018. We
have cut back in areas we have to right now and others that
we have found is a bit out of date.
If we continue we will stop our 2nd streaming of Real Audio
/ Real Media format. We have asked if anyone is still using
that format and noone came forward. It was popular in the 90s
when we began streaming and have continued. Therefore our program
page will only show and have one stream and speaker in mp3 format,
that most all modern computers worldwide acknowledge and capability.
We have cut our budget for advertising 100% until Rock-it Radio
gets back on it's feet. we rely more then ever word of mouth and
grass roots campaign to let people know we are out here playing music
from the first decade of Rock and Roll. And the first station to do
so that we know of back in 1995.
We also have several new vintage radio airchecks / shows waiting to
be released as well for 2018.
So, with positive thoughts we move forward and want to Thank all of
our listener's and supporters through the years. We remain confident
and as usual the Rock-it remains one of the best rides of my life!
Thank you all and here is to 2018 with Rock-it Radio!

================================================
REAL MEDIA FOR ROCK-IT RADIO TO END ON
DECEMBER 31, 2017

Several months back we did a survey of who would
be affected if Rock-it Radio stopped their streaming
in Real Media. It was a major audio and musical streaming
program we had at the beginning of Rock-it Radio in the
Mid 90s and have continued. But no one ever replied to
our answer. So effective 12/31/2017 we will only be streaming
our shows online in glorious mp3. It will simplify the
look of our program page and save time in production.

==================================================

ONLY 2 DAYS LEFT TO GET THIS FREE CD FOR DECEMBER
ORDERS!!!
ROCK-IT RADIO FREE GIVEAWAY FOR DECEMBER
TO OUR SUPPORTERS THAT BUY ROCK-IT PRODUCTS.

For the month of December those that purchase
any Rock-it Radio product from our Launching Pad
with vintage broadcasts to various flashdrives or
order a Rock-it Radio show.
December's giveaway is DJ Barney Pip over WCFL Chicago
on a very special Christmas Eve Broadcast from 12/24/1965.
Holiday music and great retro advertisements and nostalgia
abounds in this broadcast. It's RIR #367 in our Catalog.
So from December 1 to Dec. 31 for everything you purchase
from our Rock-it Store.
http://www.rockitradio.net/store.html

Wolfman Jack Shows.
http://www.rockitradio.net/wolfman.html

Rock-it Radio Shows:
http://www.rockitradio.net/order.html

or our new service of Rock-it Radio shows
on Flashdrive.
http://www.rockitradio.net/flashdrivemp3.html

Or our 50 Rock it Radio shows on Flashdrive at:
http://www.rockitradio.net/flashdrive.html

Any order from any of those sites in December you will
get this CD for FREE!

===============================================
ROCK-IT RADIO GIVEAWAY FOR JANUARY 2018 (PENDING)

I have to say pending only because at the writing of
this newsletter we have yet to reach our goal. But just
short of it! But we are releasing our Jocko Henderson
1957 Rock and Roll Show over WOV in New York City.
In our catalog under RIR #179.

Jocko Henderson had a long popular DJ career in New York
City from the 50s & 60s. And his style was energetic and
the Rock-it Radio Launching Pad is lucky to feature 3 of
his recordings. We elected to go to the earliest recording
we have on CD back to 1957. And it will be yours as our
Thank you for supporting Rock-it Radio in January 2018!

If you would like to view this item in our Ebay Store you
can, but don't buy it in January because it is already yours
if you order something else :)

https://www.ebay.com/itm/140355475967

============================================


TRIAL RUN FOR ROCK-IT RADIO LISTENER'S ONLY
VINTAGE BROADCASTS ON FLASHDRIVE

It's hard to believe but we realize that perhaps our
declining sales is due to Compact Discs are a
aging medium. And Flashdrives And digital is where it's
at. So, I am going to make this offer just on a trial
basis for the remainder of 2017. If you would prefer to
have Rock-it Radio shows and vintage radio shows that we
offer for sale on Flashdrive in mp3 format rather then
on CD we can provide that service here at Rock-it Radio.
Here it is how it works:

1. E mail me at rockitradio@netzero.net and let me
know what shows you would like to have on Flashdrive.
Let's make it a minimum of 3 broadcasts. Either any
Rock-it Radio show .... or Vintage Radio Show from the
50s through 70s that we offer at:
http://www.rockitradio.net/store.html

2. The Cost: Flashdrive will cost $5.00 and each show
that you wish to have will cost $5.00 - nearly 50% CHEAPER then on
CD.

3. I will send you back a invoice within a couple of days, It will be
sent via paypal and it is not obligatory. If you change your mind
just don't pay. But it is easy to pay with any major credit card.

4. Please allow up to 7 days for me to fill the order. Once payment
is sent. In case I get swamped with this offer. Probably sooner.
I have to redigitalize all sold shows into MP3 and that takes a little
bit of time. All orders will have $3.00 postage a slight increase but
that is due to it is shipped as a package and not envelope since it will
be over a 1/4" thick.

For example you order: 3 of our Alan Freed Radio shows. And a Real Don
Steele show. A total of 4 shows - That would normally be a cost of $40.00
on CD. All together on one flashdrive so the invoice would look like

- Flashdrive $5.00
- Four Shows on Flashdrive @ $5.00 each - $20.00
- shipping $3.00

Total: $28.00

Of course if you order more shows on the flashdrive you would continue saving
as you are paying the $5.00 per show rather then $9.50.

And of course we will be adding the monthly giveaway as well.

So for a invoice again just e mail me your wants on your flashdrive for
shows on mp3 at: rockitradio@netzero.net

Also, check out this offer again at:
http://www.rockitradio.net/flashdrivemp3.html

=============================================

NEW RELEASE -- FLASHDRIVE OF ROCK-IT RADIO
SHOWS #6001 TO #6050. OUR 13TH FLASHDRIVE

NEW RELEASE!!!!! ROCK-IT RADIO FLASHDRIVE #13!!

This includes over 75 hours of Rock-it Radio oldies programming
from shows #6001 to #6050. The Flashdrive features all these shows
in their entirety in mp3 format in studio quality and just plug into
your computer and Rock-it Away!!!! Check out #13 and it's playlist via our
Flashdrive page at http://www. rockitradio.net/flashdrive.html or in our Ebay
Store listed as:
https://www.ebay.com/itm/142600952019

=============================================

JAMES RILEY CATCH A WAVE RADIO SHOW TO BE ENDING
EFFECTIVE THIS JANUARY.

We received past word this last week that Rock-it Radio
DJ Jammin' James Riley is ceasing the Surf Rock Radio show
that aired on Rock-it Radio the "Catch a Wave" Radio Show.
James stated that their is just not enough time to produce
two 3 hour shows a week with interviews etc. and decided to
focus on the more popular show of the Rockabilly n Blues
Radio show that will of course be airing on Rock-it Radio.
And we will be airing Catch a Wave Radio show until the final
broadcast of course as well.

=============================================

MORE NEW RELEASES IN THE ROCK-IT RADIO LAUNCHING PAD
STORE AND EBAY STORE.

Almost all of our funding for Rock-it Radio comes from the
sale of vintage radio broadcasts from Rock Radio Shows from
the 1950s to the 1970s. We have 4 new releases so far
this month. Here is a brief description and the Ebay link
to these shows. (Playlists of these vintage broadcasts can
be seen in our ebay listing links below).

1. Kenny Everett BBC Light Programme from 7/20/1969.
Great features of 60s Rock. Released as RIR #650 and
in our Ebay store as:
http://www.ebay.com/itm/131986894044

2. Sebastian Stone & Tony Taylor on WOR-FM New York City
from 4/2/1969. Released as RIR #651 and you can view the
playlist and all at our Ebay store listing at:
http://www.ebay.com/itm/142212250474

3. DJ Helen Shapiro and the LOST BEATLES INTERVIEW!
over BBC Radio 4. A must for any Beatles historian of fan.
Released as RIR #652 & at:
http://www.ebay.com/itm/132034603141

4. DJ Bob Dayton Top 40 Radio show over KRLA Los Angeles from
8/14/1969. Released as RIR #653 & at:
http://www.ebay.com/itm/-/132035582202

All updates and latest news on our vintage radio
broadcasts can be found in our Launching Pad Facebook
page at http://www.facebook.com/rockitpad

=============================================

RECRUITING FOR RADIO PERSONALITIES FOR
ROCK-IT RADIO

Do you know your 50s and 60s Rock & Roll, Doo wop
or Rockabilly? And the ability to produce a show
on CD?
We do require a playlist for this newsletter but
your show will stay online for the world for approx.
3 weeks. Unlike some stations where you broadcast one
time and it's gone forever.
If interested check out our Rock-it Radio Team page
at: http://www.rockitradio.net/team.html

We are also looking for writers and translators!
COLLECTING AIRCHECKS - A HOBBY OF RADIO NOSTALGIA
What is a Aircheck? It is simply a recording of a radio broadcast. Usually collected by Radio fans.
Come check out our webpage on collecting Airchecks.

http://www.rockitradio.net/aircheck.html


COME REMEMBER WOLFMAN JACK !!!
Rock-it Radio has a very special way to remember Wolfman Jack.
Arguably the most iconic of American DJ's. Come check out the
Rock-it Radio Wolfman Page at:
REMEMBERING OFFSHORE PIRATE RADIO IN THE UK
In the mid 1960s it was difficult for the youth to actually listen to Rock and Roll in the UK.
The BBC actually ran only a few hours a weekend to provide the young Brits with this outlet.
At night during the week they ventured to even tune into Radio Luxembourg to get there fill,
that broadcast rock and pop around the clock.
To fill this void some venture capitalists decided to bring in commercial radio aboard refitted
radio ships. And anchor themselves just off into International waters off the English coast.
Radio Caroline (named after Caroline Kennedy the U.S. President's daughter at the time)
and Radio London being the most famous. Rock-it Radio has a website dedicated to their ventures
and also have actual radio broadcasts available of
these offshore pirates.
We invite you to check them out our webpage at:
http://www.rockitradio.net/pirate.html
FINDING ROCK-IT RADIO ON THE 'TUNE IN RADIO' CELL PHONE APP.

We have had a few requests from listeners that they couldn't find us on the popular
'Tune in Radio' App. on Android and PC and iphones. Running a search of 'Rock-it Radio'
will actually list 100s of Rock stations.
So, the best way to find us on this very thorough and extensive app. that
I love using myself is -
run a search on 'rockabilly' - there you will easily find
Rock-it Radio listed.
Our Tune in Radio App. webpage is also at:
http://tunein.com/station/?stationId=41878
ARE YOU ON FACEBOOK ?? FOLLOW THE LATEST AT
ROCK-IT RADIO AND OUR LATEST VINTAGE BROADCAST RELEASES.

Rock-it Radio has 2 Facebook pages. One for our programming
online and notifications, and the other is for our vintage
broadcast shows for sale.


The Online Station is http://www.facebook.com/rockitface

For the Rock-it Radio Launching Pad and our latest deals and
releases you can follow us at:
http://www.facebook.com/rockitpad
MISSED A COUPLE OF NEWSLETTERS LAST COUPLE OF WEEKS??

THEN YOU CAN ALWAYS CHECK OUR BLOG WHERE IT IS ARCHIVED.
YOU CAN CHECK OUT OUR BLOG AT:

http://rock-itradio.blogspot.com/
=============================================


ROCK-IT RADIO DJ PAGE...


Remember you can check out all the Rock-it Radio DJ's

and read the bios of these DJ's that make these

Rock-it Radio Shows possible at:


And don't forget for even more pictures --

there is our picture page at:
============================================
IF YOU HAVE TWITTER COME FOLLOW US THERE

If you are one that tweets then please check out and join and get our
updates on your twitter account. Our Twitter link is right below.

http://www.twitter.com/RockitRadio1
It is our new Twitter account and we will once again start
scrolling our messages and updates on our webpages as well.


=================================================
We are in our 22nd year!!! Please share the good news with your
family and friends that love original Oldies Music - We are back and
Rockin' with new shows in our program page at
http://www.rockitradio.net/programs.html
Just click the MP3 speaker to the show that has your musical interest!
=================================================
WELCOME NEW MEMBERS TO THE LISTENER'S CLUB!!!!

A big welcome to the below new Rock-it Radio listeners that
joined our Listeners Club from December 17, 2017 to
December 29, 2017
We hope that you enjoy the music Rock-it Radio provides
and our playlists and information that our weekly newsletter
provides. Any comments, criticisms, kudos, compliments or
future ideas is always welcome and you can e mail me personally at:
rockitradio@netzero.net

Christopher Lowe - Nottingham, United Kingdom
Randy Scuria - Oxnard, California USA
Moon Graph - Georgia, USA
We have gained 41 new likes in our listeners club
in our Facebook page Rock-it Radio Fan Page as well this week at:
http://facebook.com/rockitface and 5 more following us
on Twitter @Rockitradio1 .

We have added a total of 49 new members to the Rock-it Radio
Listeners Club since our last newsletter. We now have 91,865 exactly
that have joined the Rock-it Radio Listeners club.
We hope that you enjoy the rare 50's and early 60's
Rock and Roll, Rockabilly and Doo Wop (which most commercial
oldies radio stations have forgotten) that we are able to play
for you from Rock-it Radio. Remember, we are here for you!

So if you ever have any requests, dedications, comments and
suggestions we always love to hear from our listeners.
Our e mail address is:
rockitradio@netzero.net

====================================================
To learn more about the Rock-it Radio Listeners Club and our Free
Newsletter please check out:
http://www.rockitradio.net/member.html

It's free and easy to join and the Rock-it Radio Newsletter is always
online at: http://www.rockitradio.net/newsletter.html



====================================================

PLEASE HELP US SPREAD THE GOOD WORD OF ROCK-IT RADIO!

Do you know of someone that might also like the music

of Rock-it Radio? We are desperately trying to keep this

music alive and have been doing so since 1995! Please

share the information of this station. And if you have

a website would you please consider putting a Rock-it Radio

link on your page.

There are a few to choose from in our link page at:

http://www.rockitradio.net/links.html
HOW TO ORDER OLD ROCK-IT RADIO SHOWS = YOUR PURCHASES HELP US STAY ONLINE!!!
We have received many inquiries on how to order Rock-it Radio shows that are no longer in
our on archives webpage. These shows are still available on CD and mailed to you within 24
hours of receiving payment.
To help search for older shows that you may be looking for you may want to check the Rock-it
Radio blog site. Old newsletters describing the shows and playlists
are archived there and there is a menu bar on the right side that breaks down every playlist
Then you may either pay by check or money order or paypal. Rock-it Radio shows are only
$9.50 U.S. each and are studio quality broadcasts that were placed on Compact Disc here at
the Rock-it Radio Studio. We have a flat rate shipping charge of $1.50 U.S. so if you order
one or several -- it is still only $1.50
U.S. shipping. And we ship worldwide, overseas orders are mailed out first class airmail.
Instructions where to send payment is at our webpage:
like we can send you a paypal invoice within 24 hours.

When you order a Rock-it Radio show or shop at our Rock-it Radio Launching Pad you
help keep these oldies alive and help us pay the bills here at Rock-it Radio.
And at the same time -- you are not getting nothing for your donation, but actually
some of the shows and memories we hope we keep alive here at Rock-it Radio.



TOP 50 SELLERS OF THE ROCK-IT RADIO LAUNCHING PAD

FOR 2017 !!!! THE BIG 50 COUNTDOWN

HERE IT IS !!! The Top 50 Countdown from the Rock-it
Radio Launching Pad http://www.rockitradio.net/store.html
FOR 2017.

As you know the Rock-it Radio Store sells vintage Radio Broadcasts -
Where you hear the actual music, news and vintage advertisements -
uncut and unedited just like you would of heard it back then.
Here are the top sellers this week.

1. Lane Quigley Class of 1967 5 CD Set - Rock-it Radio
2. 38 cd Set of History of Rock and Roll from 1969
3. Rock-it Radio Flashdrive shows #5801 -5850
4. RIR #393 John Lennon Guest DJ - WNEW New York 1974
5. RIR #181 Wolfman Jack - XERB Rosarito Mexico 12/8/1967
6. RIR #168 Dan Ingram - WABC New York 7/22/1967
7. Rock-it Radio Flashdrive Shows #5951 - 6000
8. Rock-it Radio Flashdrive Shows #5851 - 5900
9. RIR #539 Cousin Brucie - WABC New York 9/7/1965
10. RIR #200 Wolfman Jack XERB Rosarito 10/1/1969 Pt.1
11. RIR #644 Dan Ingram - WABC New York 6/12/1964
12. RIR #397 Wolfman Jack - XERB Rosarito 8/1/1968
13. RIR #260 Tony The Tiger Taylor - WXQI Atlanta 4/1/1965
14. RIR #176 Porky Chedwick WAMO Pittsburg 6/14/1960
15. RIR #650 Kenny Everett & Chris Denning BBC 5/20/1967
16. RIR #312 Dick Biondi - WLS Chicago 5/2/1963
17. RIR #622 Johnny Morgan CKLW Windsor 7/12/1967
18. RIR #439 2 broadcasts from 1965 over CKLW in Windsor. Ont.
19. RIR #356 John Landecker - WLS Chicago Pt. 1 10/11/1972
20. RIR #517 Cousin Brucie WABC New York 11/29/1967
21. RIR #220 Larry Lujack WLS Chicago 12/26/1968
22. RIR #426 Dan Ingram - WABC New York 7/4/1968
23. RIR #594 Denny Sanders WMMS Cleveland 6/30/1978
24. RIR #149 Alan Freed - WINS New York 1/23/1957
25. RIR #206 Wolfman Jack XERB Rosarito Mexico 10/1/1969 pt. 2
26. RIR #127 Alan Freed 1956 Rock and Roll Party over Armed Forces Radio
27. RIR #170 Ted The Bear Richardson CKLW Windsor, Ont. 6/23/1973
28. RIR #436 Pat Sajack - Armed Forces Vietnam Network 3/18/1969
29. RIR #559 Dan Ingram - WABC New York Hr. 3 12/26/1969
30. RIR #205 Porky Chedwick WAMO Pittsburgh 6/16/1960
31. RIR #359 Gus Gossert Oldies Show WPIX New York Feb. 1971
32. RIR #357 John Landecer Pt. 2 WLS Chicago 10/11/1972
33. RIR #115 Ultra Rare Broadcasts of Alan Freed
34. RIR #114 Alan Freed WABC New York 11/5/1959
35. RIR #317 Allison Steele WNEW FM New York 2/11/1969
36. RIR #567 Kenny & Cash w/ Paul & Linda Mc Carthy Capital Radio London 1973
37. RIR #495 John R WLAC Nashville Summer 1967 R&B Countdown
38. RIR #552 Cousin Brucie WABC New York 7/12/1963
39. RIR #640 Hy Lit WIFI Philadelphia 7/12/1973
40. RIR #497 Larry Lujack WLS Chicago 10/17/1978
41. RIR #653 Bob Dayton KRLA Los Angeles 8/14/1969
42. RIR #629 Charlie Van Dyke CKLW Windsor 4/28/1969
43. RIR #457 George Granny Goose Groves KGMB Honolulu 6/27/1973
44. RIR #278 Hy Lit WIBG Philadelphia 6/15/1967
45. RIR #103 Alan Freed WINS New York 3/5/1955
46. RIR #624 Bob Green WKNR Detroit 3/30/1970
47. RIR #522 Joel Sebastian Shows WLS Chicago 1970 & 1971
48. RIR #320 Allison Steele WNEW FM New York 9/19/1975
49. RIR #367 Barney Pip WCFL Chicago 12/24/1965
50. RIR #652 Helen Shapiro Lost Beatles Interview BBC Radio 4





If you would like to view these shows in depth you can check out

our Rock-it Radio Ebay Store at:

or in the Rock-it Radio Launching Pad store at:

and in the upper left hand corner -

there is a search box where you can type in the DJ name or

Station Call letters and that information on that show will pop up.

Ordering from the Ebay store will also qualify you for the Rock-it Radio

giveaway mentioned previously in this newsletter. Sale of

these broadcasts is what keeps Rock-it Radio going and thank

you again to everyone that buys these!

============================================



REQUEST A ROCK-IT RADIO STORE CATALOG
If you don't like ordering online but still want to have some
of the vintage radio shows from the 50s through the 70s - We
understand that. That is why we still take mail orders. You can
actually save money also in our orders if you use our coupon that
comes with every catalog - That will give your order a 25% discount!

If you would like a Rock-it Radio catalog that lists over 500 rare and rockin' radio shows with famous DJs when Radio was truly radio! Just e mail us
your mailing address and we will send it out straight away!
Our E mail address is: rockitradio@netzero.net

============================================
Rockabilly bands looking for airplay
If you or know someone that would like airplay on Rock-it Radio we invite
you to submit your press kits to Rock-it Radio. Our website for further
information is:
http://www.rockitradio.net/airplay.html
============================================
Come tune into the World on your computer!
1000s of stations around the world now broadcast online. We have a
link to some of the internet top directories to help you find these stations.
http://www.rockitradio.net/internetradio.html
============================================
Rock-it Radio Program Webpage Reminder
Remember, if the show that you want to hear is getting close to the bottom
of the list of radio shows, you should tune in as soon as you can. These shows
to have a high audio quality require a lot of internet bandwidth and memory.
And currently we can only afford the
30
latest shows online here at Rock-it Radio.
So, when a new show is put online it knocks the oldest one off the Rock-it Radio
archives page. Usually a show will at least last 16 to 20 days, once it is placed in
the archives.
============================================
OUR SISTER STATION FIRST NATIONS BROADCASTING.
We invite you to also check out our sister station -- First Nations
Broadcasting. And tune into the rather Cool North of the Yukon and Alaska
with our very own Debbie Snowdove!
============================================
Well that is just about it for this newsletter and playlists of our latest
shows. We hope that you enjoy them.
We will do our best to keep these shows on for at least 14
days and hopefully 21 days.
All the best always,
Bennie Dingo
Rock-it Radio

website: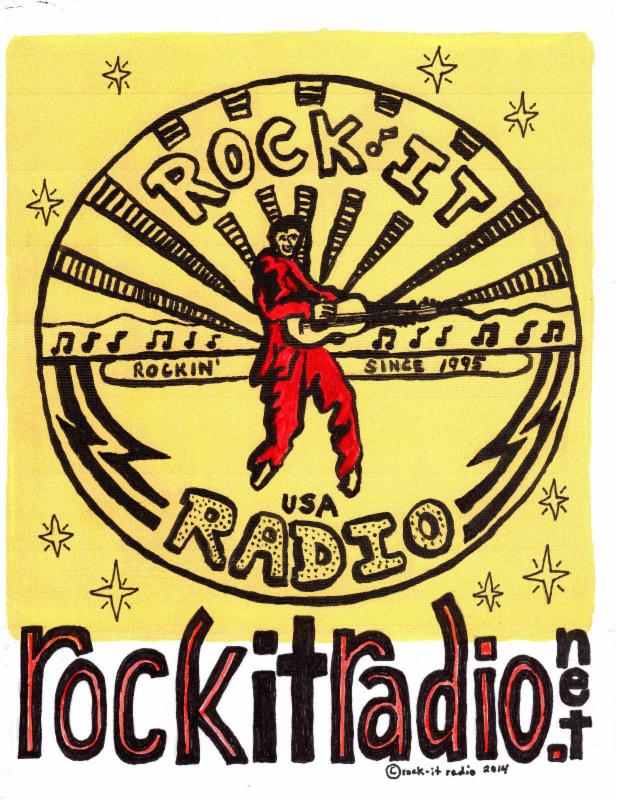 Rock-it Radio main website:
http://www.rockitradio.net

Archived Shows at:
http://www.rockitradio.net/programs.html

Rock-it Radio Vintage Broadcast Store:
(Launching Pad)
http://www.rockitradio.net/store.html