Rock-it Radio since 1995 providing 50s and early 60s Rock and Roll, Doo Wop and Rockabilly music online! Come tune us in at http://www.rockitradio.net We also have several 100 original radio shows from the first decade of Rock and Roll at: http://www.rockitradio.net/store.html
===================================================================
ROCK-IT RADIO NEWSLETTER AND PLAYLIST
SHOWS #6124 TO #6143
FROM
March 6, 2017 to April 15, 2018

Hi Rock-it Radio Listeners,

It has been a pretty harsh winter here at Rock-it Radio
esp. in the communications department. You will notice it
has been awhile since we have had new shows and again over
a month without a newsletter and playlist of our new shows
or news on our great giveaway CD for April to all of our
supporters. We have new shows coming in right now and a lot
of catch up to do, so our older shows will be leaving quick on
our program page. So get ready because Rock-it Radio and it's
oldies format is ready for spring!!! News stories of all that
is happening along with the playlists for shows #6124 to #6143
are all listed below. Thank you everyone for your patience from
slow getting shows out to getting or vintage broadcast orders out.

So, Let's get started with some playlists!

Our shows can be heard in our archives page at:


http://www.rockitradio.net/programs.html
and click to the speaker on the left to hear the show.

Remember if you are new to Internet Radio and having trouble tuning in though --
Check out our webpage to help you out at:
http://www.rockitradio.net/tunein.html
============================================
REMEMBER YOU CAN ORDER ANY OF THESE ROCK-IT
RADIO SHOWS ON CD!!!! NEW EASIER ORDERING!

Would you like one of these Rock-it Radio shows on CD? To
be able to play anywhere? And help support Rock-it Radio at the same time.
For complete information check out our program
ordering webpage at: http://www.rockitradio.net/order.html

Our shows are of course copies straight from the studio so they are studio
quality and satisfaction is guaranteed.
Or if you would rather receive an invoice let me know and we
can e mail you a copy - Just e mail us the show(s) you would like
to have and the Rock-it # to: rockitradio@netzero.net

==============================================
All Rock-it Radio shows stay online from 18 to 24 days and are
broadcast in MP3 Format. To tune in just click to the speaker
at our program page at:
http://www.rockitradio.net/programs.html

The newest show added replaces the oldest show so if you see a
show near the bottom of the listing - you should listen as soon as
possible.

==============================================
WE COULD REALLY !!! USE YOUR SUPPORT

Rock-it Radio is 100% Publicly supported. But when you
donate to the Rock-it Radio Launching Pad - we give you
a vintage broadcast of your choice.
100% of all sales from the Rock-it Radio Store (Launching
Pad) goes back to pay copyright fees, LLC taxes, Internet
and bandwidth costs of Rock-it Radio. Without your support
we would not exist. So. please consider a purchase at:
http://www.rockitradio.net/store.html

===============================================
NOTE: ALL SHOWS BELOW CAN BE FOUND IN OUR
PROGRAM WEBPAGE -
TO TUNE IN CLICK TO SPEAKER OF THE SHOW YOU WANT
TO LISTEN TO. EITHER MP3 OR REAL PLAYER.
BOTH FORMATS ARE SUPPORTED.
AT:
HTTP://WWW.ROCKITRADIO.NET/PROGRAMS.HTML

==============================================
ROCKIN THE JUKE JOINT SHOW WITH OTTO
FUCHS - Double Play in Rock-it Radio show #6124

Hour #1
Two Hound Dogs - Back To Back: Elvis Presley & Bill Haley

Bill Haley & Elvis Presley were not only contemporaries. They also
toured together and met privately. The last time they met each other
was some time in the 1970s, when Elvis came backstage to Bill Haley,
after seeing him perform as part of a Richard Nader Rock & Roll Revival
Show on Las Vegas.
This show features historic recordings by both artists. Also versions by
both, of the same song back to back. Enjoy the ride!

1. Rock The Joint-Bill Haley
2. That´s Allright- Elvis Presley
3. Shake, Rattle & Roll- Bill Haley
4. Shake, Rattle & Roll-Elvis Presley
5. Rip It Up-Bill Haley
6. Rip It Up-Elvis Presley
7. A Fool Such As I-Elvis Presley
8. A Fool Such As I-Bill Haley
9. Blue Suede Shoes-Bill Haley
10. Blue Suede Shoes-Elvis Presley
11. Bluberry Hill-Elvis Presley
12. Blueberry Hill-Bill Haley
13. CC Rider-Bill Haley
14. CC Rider-Elvis Presley
15. Tweedle Dee-Bill Haley
16. Tweedle Dee-Elvis Presley
17. Lawdy Miss Clawdy-Elvis Presley
18. Lawdy Miss Clawdy-Bill Haley
19. I Got A Woman-Bill Haley
20. I Got A Woman-Elvis Presley
21. Whole Lotta Shakin´ Goin On-Bill Haley
22. Whole Lotta Shakin´ Goin On-Elvis Presley
23. Crazy Man Crazy (Live)-Bill Haley
24. Rock Around The Clock-Bill Haley
25. I Can´ Stop Loving You-Elvis Presley
26. Can´t Help Falling In Love-Elvis Presley


Hour #2

DJ Otto Fuchs salutes the late great "New King of Rock & Roll" as RCA Victor
tried to buld him up in 1958 - Joey Castle. The wonderfully talented Vince Everett,
who recorded fine work in the 1960s, some of which would have come directly
out of the better of Elvis Presley´s catalogue at that time. Plus the German ´
Elvis Ted Herold who has a career spanning four decades now.
A handful of English language Songs exist from Ted Herold, some of these fine
tunes can be found in this Rockin´ The Joint Three Kings Special by Ted Herold,
as well as his german millionseller "Moonglight" from 1960, his 1961 hit with
a german language rendition of Elvis Presley´s "His Latest Flame" entitled
"Sie War All Sein Glück" as well another hit for Herold: "Ich Brauch Mein Herz
Nicht Mehr". As well as recent duets with The Queen of Rockabilly Wanda Jackson.

Enjoy, sit back, and find out why these three gentlemen Mr. Castle, Mr. Everett
and Mr. Herold can certainly be labeled as "Kings of Rock & Roll".

For requests, dedications or feedback for upcoming Rockin The Joint Shows write
to rockinthejukejointshow@yahoo.com
Playlist:

01. True Lips-Joey Castle aka Cliff Rivers
02. Don´t Knock It-Joey Castle aka Cliff Rivers
03. That Ain´t Nothing But Right - Joey Castle
04. Rock & Roll Daddy-O-Joey Castle
05. Wild Love - Joey Castle
06. Phantom Lover - The Phantom Lover (Joey Castle)
07. That´s My Secret - The Phantom Lover (Joey Castle)
08. Lucy Ann - Joey Castle
09. Such A Night - Vince Everett
10. Don´t Go - Vince Everett
11. Baby Let´s Play House - Vince Everett
12. Come-Onna My House - Vince Everett
13. Love Me - Vince Everett
14. I´m Snowed - Vince Everett
15. To Love Is To Gamble - Vince Everett
16. Glitter & Gleam - Vince Everett
17. I Was A Fool - Ted Herold
18. Tribute To Buddy Holly - Ted Herold
19. True Live - Ted Herold & Wanda Jackson (Duet)
20. Party - Ted Herold & Wanda Jackson (Duet)
21. Moonlight - Ted Herold
22. Sie War All Sein Glück - Ted Herold
23. Medley: Don´t Be Cruel / Teddy Bear & Love Me Tender - Ted Herold

===============================================
JAMMIN JAMES RILEY AND ROCKABILLY N BLUES RADIO
SHOW ON ROCK-IT RADIO SHOW #6125 TRIPLE PLAY!!!

From his studios in Nashville, Tennessee Jammin'
James Riley puts together one great Rockin' Rockabilly
and Blues show for our listeners here at Rock-it Radio.
Here is the playlist.


Rockabilly N Blues Radio Hour #1

1. The Way I Walk- The Starlight Drifters
2. Have Love Will Travel- The Sharps (with Duane Eddy)
3. Do Right Mama- Ruby Ann
4. Gave Her My Heart (Now I Want It Back)- The Desperados
5. He's Nowhere- High Steppers
6. (We're Gonna) Rock Around The Clock- Bill Haley & His Comets
7. Motorhead Baby- Gene Taylor & C.C. Jerome's Jet Setters
8. Lover's Rock- Johnny Horton
9. The Train With The Rumba Beat- Deke Dickerson & The Sex-Phonics
10. I'm Coming Home- Sleepy LaBeef
11. Cry Me A River- The Country Side Of Harmonica Sam
12. Spend A Night In The Box- Reverend Horton Heat
13. It's All Your Fault- Asleep At The Wheel
14. Step It Up & Go- Josh Hi-Fi & The Rhythm Kings
15. Jump- The Go-Getters
16. I Quit- Chris Ruest
17. I Hear You Knockin'- Billy Lee Riley with The Bellhops
18. Blackjack- Dale Watson
19. Just Little Boy Blue- George Jones


Rockabilly N Blues Radio Hour #2

1. Standin' On A Rock- James Intveld
2. Honky Tonk Hardwood Floor- Jason D. Williams
3. It's Late- Matthew & Gunnar Nelson
4. Big River- Johnny Cash
5. Different Girl- Big Sandy & His Fly-Rite Boys
6. Son Of Rumble- Link Wray
7. The Buck Stops Here- Redd Volkaert
8. Baby Won't You Come Out Tonight- Buddy Holly
9. Oh Boy- Buddy Holly
10. That'll Be The Day- Pat DiNizio
11. Daddy's On A Freight Train- Don Diego Trio
12. Over Easy- Wayne Hancock
13. Runaway Boys- Brian Setzer
14. Working Man's Dream- Luke Bell
15. Dancing Doll- Art Adams
16. Hillbilly Bop Rhythm & Blues- Million Sellers
17. Don't Be Cruel- Elvis Presley
18. One Love- Vince & The Sun Boppers
19. Catfish & Collard Greens- Junior Brown

Rockabilly N Blues Radio Show Hour #3

1. Mystery Train Kept A Rollin'- Stray Cats
2. Teenage Blues- Al Casey
3. Screamin'- Sonny West
4. Move It- Cliff Richard
5. How Many Times- Colton Turner
6. Grab The Bull- Hot Rod 56
7. Growl- Johnny Kidd & The Pirates
8. Hey Mister Bottle- The Retrobaits
9. Mainstret Breakdown- Merle Travis & Joe Maphis
10. Sleepwalk- Stray Cats
11. No Love In My Heart- Kim Wilson
12. Sit Down Baby- Dave Alvin & Phil Alvin
13. Jeanie, Jeanie, Jeanie- Eddie Cochran
14. Sweetie Pie- Darrel Higham
15. Somethin' Else- Stray Cats
16. The 92107- Jackslacks
17. Back To The Country- Scotty Baker
18. Too N-N-N-Nervous To Rock- The Shakin' Pyramids
19. Big Bess- Si Cranstoun

===============================================
DJ SPINNING ROCK BOOGIE AND THE MOVIN AND GROOVIN
SHOW WITH TENNESSEE RARE ROCKERS PT. 3 ON ROCK-IT RADIO SHOW #6126

Join DJ Spinning Rock Boogie for another show in his series "Regional Round Up"
which features a particular State of America with some of the record labels
from out of that State, the towns and cities where those labels were based -
although not always recorded there - and the artists who recorded on them.
This show takes another look at the music that came out of the State of Tennessee
in the 50's and 60's with a predominant Rockabilly output, plus the regular
feature "The Smooch Spot".

01. Intro - Medley
02. Gonna Love My Baby - Lloyd McCollough (56) Republic - Nashville
03. Swamp Gal - Tommy Bell (59) Zil - Nashville
04. Knees Shakin' - Frank Starr (61) Holiday Inn - Memphis
05. They're Learning - Lynn Pratt (59) Hornet - Lexington
06. Don't Push Don't Shove - Bill Browning & His Echo Valley Boys (59) Starday - Madison
07. Poor Gal - The Chaparrals (58) Rebel - South Pittsburg
08. My Rosa-Lee - The Orbits (58) Friddell - Cleveland
09. Searching For Love - Bruce Gist & The Invaders (60) Conquest - St Joseph
10. Annabelle Lee - Joe Griffith & His Teenage Rebels (58) Reelfoot - Rives
11. Going Down To The River - Jimmy Bell (60) Hickory - Nashville
12. Juvenile Delinquent - Ronnie Allen (59) San - Bon Aqua
13. Rock And Roll Fever Ain't Got Me - Jim Harless & The Lonesome Valley Boys (56) Shadow - Bristol
14. Parking In The Dark - Charles Dean & The Rondells (58) Benton - Dyersburg
15. Johnny Collins - Kirk Hanserd (60) HAP - Chattanooga
16. Tapping That Thing - Boliver Shagnasty (62) Quartercash - La Vergne
17. Jinglin' Janglin' Pockets - Tommy Jay & The Jay-Notes (59) Globe - Nashville
18. Where Did I Go Wrong - Willie Hobbs (71) Seventy 7 - Nashville
19. Tragedy - Thomas Wayne & The DeLons (59) Fernwood - Memphis
20. Wanda - Lebron Dupree (59) Spann - Chattanooga
21. With Your Love With Your Kiss - Johnny Powers (59) Sun - Memphis
22. That Long Black Train - Franklin Stewart (57) LU - Jackson
23. Hootchey Cootchey - Curtis Long & The Rhythm Rockers (59) Linco - Fayetteville
24. Tongue Tied Jill - Charlie Feathers (56) Meteor - Memphis
25. Me And My Blues - Teddy Redell (60) Sun - Memphis
26. Sweet Love - Orangie Ray Hubbard (57) Dixie - Madison
27. Don't Start Crying Now - Slim Harpo (61) Excello - Nashville
28. Knock Knock - Carol Fran (59) Excello - Nashville
29. Outro - Medley
Click here to Reply

===============================================
LANE QUIGLEY AND THE MEMORY LANE SHOW ON ROCK-IT
RADIO #6127 MORE FORGOTTEN TOP 40'S!

This week's Memory Lane Show features two dozen Fabulous Forgotten Top 40s -
records that went high on the charts during the glory days of the 45 RPM,
but are largely forgotten or overlooked today. Join host Lane Quigley for
some great music, interesting interview clips, and a chance to revive some
long-lost memories.

1. C'mon Everybody - Eddie Cochran 1958 #35
2. Good Times - Sam Cooke 1964 #11
SOUND BITE
3. Nobody Loves Me Like You - The Flamingos 1960 #30
4. I Know - Barbara George 1962 #3
5. It Isn't Right - The Platters 1956 #13
6. Please Don't Go - Ral Donner 1961 #39
SOUND BITE
7. Go Jimmy Go - Jimmy Clanton 1959-60 #5
8. Some Kind-a Earthquake - Duane Eddy 1959 #37
9. Baby I Love You - The Ronettes 1963-64 #24
SOUND BITE
10. Party Doll - Buddy Knox & The Rhythm Orchids 1957 #1
11. Hey Little Girl - Dee Clark 1959 #20
12. Little Bitty Pretty One - Thurston Harris & The Sharps 1957 #6
13. Ginnie Bell - Paul Dino 1961 #38
SOUND BITE
14. My Girl Has Gone - The Miracles 1965 #14
15. Flaming Star - Elvis Presley 1961 #14
16. So Sad (To Watch Good Love Go Bad) - The Everly Brothers 1960 #7
17. Laughing Boy - Mary Wells 1963 #15
SOUND BITE
18. El Paso - Marty Robbins 1959-60 #1
19. Roll Over Beethoven - Chuck Berry 1956 #29
20. Kiddio - Brook Benton 1960 #7
21. Mama Look at Bubu - Harry Belafonte 1957 #11
SOUND BITE
22. Put Your Head On My Shoulder - Paul Anka 1959 #2
23. Till Then - The Classics 1963 #20
24. I'm Gonna Be Strong - Gene Pitney 1965 #9

===============================================
PETE CHASTON'S CHRISTMAS DOO WOP SPECIAL
ON ROCK-IT RADIO #6128

Pete is one of our veteran DJs here on the Rock-it
and his Doo Wop collection is quite extensive!
If you love Doo Wop Rock and Roll but in search
of more of the obscurities along with the standards
this show just might be for you.

1. Doo-Wop All Night Long-The Blue Emotions (opening theme song) (1982)
2. I Want You to Be My Girl-Frankie Lymon & The Teenagers (1956)
3. Oh Gee, Oh Gosh-The Kodaks (1958)
4. Yibby-Yeh-The Caprisians (1959)
5. Dorothy-The Hi-Fives (1958)
6. I Can't Go On (Rosalie)-Dion & The Belmonts (1958)
7. Back to School Again-Timmie Rogers (late 1950s)
8. Little Girl of Mine-The Cleftones (1956)
9. Been So Long-Little Isidore & The Inquisitors (xxxx)
10. Have Mercy Baby-The Dominoes (1952)

SILLY SONG SEGMENT:

11. Frankenstein of '59-Buchanan & Goodman (1959)
12. Harmony of Love-The Five Dollars (The Don Juans) (1955)

SCRATCHY 45 RPMs SEGMENT:

13. Who Put the Bomp-Barry Mann & The Halos (1961)
14. Midnight Stroll (aka Deadman's Stroll) (1959)
15. Mommy and Daddy-The Students (1957)
16. Dot My Love-The Aladdins (1958)

BACK TO THE CDs &/or More 45 RPMs:

17. Donna, the Prima Donna-Dion & The Del-satins (1963)
18. Don't Ask Me (To Be Lonely)-The Dubs (1957)
19. Do I Love You-The Ronettes (mid 1960s)
20. Lookin' for My Baby-The Doo-Wop All-Stars (xxxx)

SLOW SONG SEGMENT:

21. Beside My Love (live)-The Dubs (1986)
22. Darling, How Long-The Heartbeats (mid 1950s)
23. Jeannie-The Unique Teens (1958)
24. You're Mine-The Crickets (mid 1950s)
25. Please Say You Love Me-The Schoolboys (1956)
26. Why Do You Cry-Little Isidore & The Inquisitors (xxxx)
27. (closing theme song) Adios-The Five Discs (1961)

===============================================
MATT THE CAT & THE JUKE IN THE BACK SHOW WITH A
TRIBUTE TO THE HARPTONES IN ROCK-IT RADIO SHOW #6129

The Harptones never had a national hit record, yet they are arguably the
finest Doo Wop vocal group to come out of New York City during the 1950s.
Willie Winfield's soaring tenor matched with Raoul Cita's songwriting and
arrangements helped them hit the local charts and influence their peers.
What set The Harptones apart from many of the successful vocal groups of
the day was their perfectly matched harmonies. Whereas most vocal groups
had only one signature song, The Harptones enjoyed many, from their first
release, 1953's "A Sunday Kind Of Love," to "Life Is But A Dream" in '55 and
"The Shrine Of St. Cecilia" in '57. This week, Matt The Cat digs out many
of The Harptones' wrongfully forgotten records and gives 'em a spin in our
old Rockola "Juke In The Back."


1. Swanee River Boogie - Albert Ammons & His Rhythm Kings - Mercury 1947
2. A Sunday Kind Of Love - The Harp-Tones - Bruce 1953
3. I'll Never Tell - The Harp-Tones - Bruce 1953
4. My Memories Of You - The Harptones - Bruce 1954
5. It Was Just For Laughs - The Harptones - Bruce 1954
6. I Depended On You - The Harptones - Bruce 1954
7. Why Should I Love You - The Harptones w/ The Shytans- Bruce 1954
8. Since I Fell For You - The Harptones Feat. Willie Winfield- Bruce 1954
9. I Almost Lost My Mind - The Harptones Feat. Willie Winfield - Bruce 1955
10. Life Is But A Dream - The Harptones - Paradise 1955
11. Gimmie Some - The Harptones Feat. Willie Winfield - Andrea 1956
12. That's The Way It Goes - The Harptones w/ The Royale Cita Chorus - Rama 1956
13. GREAT 78 - Oobidee-Oobidee-Oo (You're The Only One For Me) - The Harptones Feat. Willie Winfield - Bruce 1954
14. High Flyin' Baby - The Harptones - Tip Top 1956
15. The Masquerade Is Over - The Harptones - Rama 1956
16. The Shrine Of St. Cecilia - The Harptones - Rama 1957
17. Cry Like I Cried - The Harptones - Gee 1957
18. After Hours - Erskine Hawkins & His Orch - Bluebird 1946

===============================================
MIKE TAYLOR'S ROCKABILLY HOUR ON ROCK-IT RADIO
SHOW #6130

ROCKABILLY FROM THE ATTIC - Mike Discovered in a cardboard box full
of old cassette tapes...a great selection of all-Canadian rockabilly!

1. So Long, Goodbye - Gerry Fiander 1959
2. Freight Train Blues - Jack Kingston 1957
3. Snake Bite - Hank Smith & the Madisons 1961
4. Mean Lover - Mel Shaw Unk
5. Hey Sweet Baby - Jerry Palmer Unk
6. 3 Wild Women - Stan Cayer Unk
7. Hen House Rock - Kerry Regan & The Hachey Brothers 1957
8. My Bonnie - The Bucks Unk
9. My Love, My Love - Andy Wilson Unk
10. We Fell In Love As We Tangoed - R. Dean Taylor Unk
11. Lindy Lou - Kenny & The Be-Bops 1961
12. Gonna Have A Party - Dickie Damron 1959
13. Oh, What Love Is - Jack Bailey & The Naturals 1961
14. Moon Boogie Twist - Red Shea 1962
15. Little Woman- The Dukes 1960
16. Come On Pretty Baby - Gary Cooper 1961
17. A Woman's Mind - Jimmy Merrill 1906
18. Looking For My Baby - Cliffy & Jerry 1959
19. Baby Sitter Rock - Jimmy James 1958
20. Rockin' Band - Del Erickson Unk
21. Rock & Roll Riot - The Stolz Brothers 1958
22. Hey Woman - The Ducats 1965
23. Love By The Numbers - Eddie Clermont 1959
24. Clap Your Hands Once Again - Beau Marks Unk

===============================================
ROCKIN DADDY O'S ROCKABILLY RANCH PARTY SHOW
ON ROCK-IT RADIO SHOW #6131

Rockin Daddy O is back with another rockin rockabilly
show featuring Rockabilly from yesteryear and out there
today. If you love high energy bass slapping rockabilly
then this is the show for you. Here is the playlist of
this show.

1. Rave On-Buddy Holly
2. Dixie Fried-Carl Perkins
3. Going To The Shake-Up-Bloodshot Bill
4. Got Another Baby-Nate Gibson
5. Heartbeat-Little Lesley & The Bloodshots
6. I Wanna Bop-Billy Harlan
7. Completely Sweet-Levi Dexter
8. Think Link-Deke Dickerson & The Trashmen
9. Tip Top Boogie-Bailey Dee
10. It's The Beat-Rocket J
11. Primitive State-The Dalharts
12. When I'm With You-Screamin' Rebel Angels
13. Not Guilty-The Margraves
14. Rip It, Rip It Up-Florian Monday & The Mondos
15. Guitar Man-Mike Waggoner & The Bops
16. Taco Party-The Raging Teens
17. Wildcat-'Lil Sal & The Wildtones
18. She Put Me Down-Shaun Young & The Three Ringers
19. All The Time-Daddy Long Legs
20. Sure Like The Look In Your Eyes-Red Hot & Blue

===============================================
AL COOL DADDY SMITH WITH SOME ROCKIN' ROCKABILLY
ON ROCK-IT RADIO SHOW #6132

From his studios in Brampton, Ontario Canada Al this
show features some Rockin' Rockabilly here on Rock-it
Radio. Here is the playlist.

This show features great "Rockin'' Rockabilly from a variety of
artists.

The playlist is as follows:

1. We Wanna Boogie-Sonny Burgess 1956
2. Wild Eyed Woman-Bob Luman 1957
3. Hearts Of Stone-Johnny Carroll 1955
4. High School Hop-Lee Denson 1958
5. I Guess It's Meant That Way-Pat Cupp 1956
6. Flip, Flop, and Fly-Billy Lee Riley 1961
7. Rock House-Buddy Knox 1957
8. Don't Get Pushy-Ray Campi 1977
9. Three Months To Kill-Huelyn Duvall 1958
10. Humdinger-Huelyn Duvall 1958
11. Hoy Hoy-Collins Kids 1957
12. Big Fool-Ronnie Self 1957
13. Date Bait-Ronnie Self 1958
14. Rock and Roll Ruby-Ted Daigle 1963
15. When You Said You All-Ted Daigle 1963
16. Pink Cadillac-Larry Dowd 1959
17. Red Cadillac-Bill Watkins 1957
18. Wildwood Boogie-Charlie Gracie 1955
19. Boogie Woogie Blues-Charlie Gracie 1957
20. Hangin' Around-Ersel Hickey 1958
21. Heartbreak Hotel-Ersel Hickey 1960
22. Me and Bobby McGee-Ray Harris 1978
23. Come On Little Mama-Ray Harris 1956
24. Where'd You Stay Last Night-Ray Harris 1956
25. I Need A Man-Barbara Pittman 1956
26. Nervous and Shakin' All Over-Tommy Strange 1960
27. That's The Way I Feel-Jimmy Pritchett 1958
28. Bo Bo Ska Diddle Daddle-Wayne Walker 1957

===============================================
BILLY VERA'S ROCK AND ROLL PARTY ON ROCK-IT RADIO
SHOW #6133 Early RCA Record Releases.

As Billy digs he notices it contains songs from the RCA vaults from the
early 1950s, some previously unreleased. RCA wasn't known for they're R&B
roster, but digging in the vault I came up with some juicy items by the Robins,
Count Basie, obscure acts like Mr. Sad Head, Melvin Smith and Big John Greer,
including his big hit, "Got You On My Mind." There were two never-issued tracks
from the Five Keys' only session for the label. I was also able to include
LaVern Baker's first record as Little Miss Sharecropper.

Other, non-RCA songs on the show that week were by some of my favorite acts,
Ray Charles, Dinah Washington, Buddy Johnson, Lula Reed and the Clovers.

HOUR 1

1. We're Gonna Rock this Joint - the Jackson Brothers
2. Can't You See - Chuck Willis
3. Easy Baby - Eddie Penigar Orch. Featuring Little Miss Sharecropper (Lavern Baker)
4. Mumbles Blues - Paul Bascomb
5. That's When Your Heartaches Begin - Billy Bunn & His Buddies
6. Blowin' the Boogie - Paul Williams
7. Mambo-shevitz - the Crows
8. Got You on My Mind - Big John Greer
9. My Ding-a-ling - Dave Bartholomew
10. (Now and Then There's) a Fool Such as I - the Robins
11. Down Boy - Paul Gayten
12. My Poor Heart - Lula Reed
13. It Went down Easy - Melvin Smith
14. Hip Shakin' Mama - Chubby Newsome
15. Sad Head Blues - Mr. Sad Head
16. Stormy Weather - Ella Johnson with Buddy Johnson Orch.
17. My Dear Dearest Darling - the Five Willows

HOUR 2

18. My Baby Done Told Me - The Robins
19. Please Send Me Somebody To Love - Dinah Washington
20. Honey I Don't Want You - Jimmy Ricks & The Ravens
21. I'll Follow You - The Five Keys
22. Moondog Boogie - Freddie Mitchell
23. Do Something For Me - The Ink Spots
24. Do Something For Me - The Dominoes
25. There's No Other Way - The Jackson Brothers
26. Talking About Another Man's Wife - Buddy Johnson
27. Open The Door Richard - Count Basie
28. Two Little Girls - Jimmy Witherspoon
29. My Heart's The Biggest Fool - The Robins
30. Looped - Melvin Smith
31. Lovey Dovey - The Clovers
32. Greenbacks - Ray Charles
33. When Will My Troubles End? - The Five Keys


===============================================
JACKIE BOND FROM THE UK AND LET THE GOOD TIMES
ROLL OLDIES SHOW ON ROCK-IT RADIO SHOW #6134

And Jackie Bond is going Rockabilly in his show this
week on Rock-it Radio. Check out all the cool rockers
you get to hear in show #6134 in our program page when
you click that mp3 speaker.

1. Jack the Cat - Jackie Lee Cochrane
2. Pink 'n' Black Days - Narvel Felts
3. Rockabilly Cadillac Girl - Texas 55
4. Cats Just Got Back In Town - Bill Mack
5. Drinkin' Whiskey And Wine - Little Aron/East Side River Boys
6. Susie Q - Dale Hawkins
7. Drip Dry - Johnny And The Roccos
8. Petrolhead - Jack Rabbit Slim
9. That Certain Female - Charlie Feathers
10. Rock And Roll Party - Sue Moreno/Marco Maggio
11. Boom Chika Boom - Rayburn Anthony
12. Rockin' By Myself - Sammy Gowans
13. Barking Up The Wrong Tree - Don Woody
14. Rockin' Spot - Curley Coldiron
15. Turn My Back on You - Billy Fury
16. Boppin' The Blues - Carl Perkins
17. Rockin' 50's - Billy Lee Riley
18. That's What Daddy wants - Wayne Hancock
19. Hep Hep Hep - Eva Eastwood
20. Long Long Ponytail - Chuck Tharp
21. Good Night my Love - Jesse Belvin

===============================================
JOHN MINNICUCCI 'THE COOCH' WITH JOHN'S ATTIC SHOW
HEADING DOWN TO NEW ORLEANS SPECIAL ON ROCK-IT RADIO SHOW #6135

John's Attic show #7 we are going to New Orleans for the Mardi Gras
and we will be featuring some of the great New Orleans artists,
Fats Domimo Pro. Longhair, Lloyd Price, Sugarboy Crawford and more.
The second part of the show love songs and songs about love for you
and your favorite Valentine.

1. Mardi Gras In New Orleans Roy Byrd 1949
2. Let The Good Times Roll Shirley & Lee 1956
3. Jock A Mo Sugar Boy Crawford 1954
4. Aint It a Shame Fats Domino 1955
5. No One To Love Me Shaw Weez 1952
6. Mathilda Cookie & His Cupcakes 1958
7. Edgar Blanchard & Gondoliers Sweet Sue 1965
8. Just To Hold My Hand Big Boy Myles 1956
9. Lawdy Miss Clawdy Lloyd Price 1955
10. Those Lonely Lonely Nights Earl King 1955
11.Mardi Gras Mambo Hawkettes 1954
12. 3x7= 21 Jewel King 1950
13. A Lovers Story Art Neville
14.You're The One Spiders 1954
15 Pro. Longhair Red Beans
16. Walking To New Orleans Fats Domino 1960
17 Love Love Love Clovers 1956
18. My Valentine Sweet Teens 1957
19. Cupid Sam Cook 1961
20. I Want You To Be My Girl Frankie Lymon & Teenagers 1956
21.I Want You To Be My Boy Friend Shielles 1958
22. Pledging My Love Johnny Ace 1955
23. For Your Love Ed Townsend 1958
24. We Belong Together Johnny & Joe 1957
25. All My Love Belongs To You Hearts 1955
26. This Should Go On Forever Rod Bernard 1959
27. I Only Have Eyes Foe You Swallows 1952
28. My Funny Valentine Jesse Belvin


===============================================
TREVOR HYLAND'S ROCK AND ROLL PARTY ON ROCK-IT
RADIO SHOW #6136

Rockin' It Out from Trev's studios at KLFM in Bendigo Australia.
This show features great rockin' music from Mack Allan Smith,
Alton & Jimmy, Jerry Leee Lewis, Sonny Burgess, Ronnie Dawson and
some great Aussie rockabillies . Have a Rockabilly Party.

01. King Of Rock and Roll - Mack Allen Smith
02. Skeleton Fight - Mack Allen Smith
04. No More Cryin' The Blues - Alton & Jimmy
05. Rockabilly Addict - Alton & Jimmy
06. Rockin' In The Shadow Of Sun - Alton & Jimmy
07. Golden Sun Records - Bill Stix & The Revenuers
08. Whole Lotta Shakin' Goin' On - Jerry Lee Lewis
09. Little Town Baby - Sonny Burgess
10. Do Do Do - Ronnie Dawson

AUSSIE

11. Careful Baby - The Starliners
12. Hide & Seek - The Starliners
13. Please Mama Please - Go Cat Go
14. Good Rockin' Tonite - Go Cat Go
15. Flippity Flop - Slap'N The Cats
16. Spin My Wheels - Slap'N The Cats
17. Hypnotised - Flatfoot Shakers
18. Jitter Bop Baby - Flatfoot Shakers
19. My Little Baby's gone Boppin Tonight - Flatfoot Shakers
20. Set My Soul On Fire - Blackhill Ramblers
21. The Creature - Rusty & The Dragstrip Trio

===============================================
GARY KEIPER'S VINTAGE VINYL TREASURE CHEST SHOW
ON ROCK-IT RADIO SHOW #6137

Gary is back with more great memories of the 50s
and early 60s on show #6137. Gary the Rockin' Mailman
always plays fantastic oldies from the first decade
of Rock and Roll. Unfortunately for this issue we
don't have a playlist. If we get it we will post in
our next newsletter.

===============================================
KEN STRANGE COUNTRY RECORD ROUND UP SHOW ON
ROCK-IT RADIO #6138

Join DJ Ken Strange for another "Country Record Round Up", with good ole
country music from right across the board, with Country tracks from
the 50's to the 00's including his regular
feature "Duos & Duets".

01. Intro - Medley
02. Whoopie Baby - Earl Songer (54) Imperial
03. I Can't Fight This Much Longer - Eddie Bond (64) Goldwax
04. Operator Operator - Eddy Raven (85) RCA
05. Honky Tonk Town - Eve Selis (04) Proper
06. Thing About You - Emmylou Harris & Southern Pacific (85) Warner
07. I Wouldn't Buy A Used Car From Him - Norma Jean (65) RCA-Victor
08. Sweet Sweet Judy - David Houston (65) Epic
09. My Sweet Love Ain't Around - Nita Rita & Ruby (57) RCA-Victor
10. No News - Lonestar (96) BNA
11. Queen Of Memphis - Confederate Railroad (92) Atlantic
12. Invisible Tears - Bobby Bare & Skeeter Davis (65) RCA-Victor
13. Pictures Can't Talk Back - Darrell McCall & Johnny Paycheck (96) Artap
14. The King Of Country Meets The Queen Of Rock & Roll - Even Steven & Sherry Coombs (77) Elektra
15. Too Late To Try Again - Carl & Pearl Butler (63) Columbia
16. I'm A Poor Oakie - Arkie Shibley (60) 4-Star
17. Jim Bridger - Johnny Horton (60) Columbia
18. Three Days - Mandy Barnett (96) Asylum
19. Long Black Veil - Sammi Smith (74 Mega
20. Have I Told You Lately That I Love You - Jim Reeves (56) RCA-Victor
21. Mother-In-Law - Jim Nesbitt (64) Chart
22. If You Can't Bite Don't Growl - Tommy Collins (66) Columbia
23. Do What You Do Do Well - Ned Miller (65) Fabor
24. Forget Her - Kentucky Shorty Long & His Kentucky Ramblers (61) Smiling
25. Easy Come Easy Go - Gene Davis (65) Rhythm
26. Outro - Medley

"Keep It Country"

===============================================
JACK VAN OERS & THE ROCKIN' WINDMILL ROCKABILLY SHOW
ON ROCK-IT RADIO SHOW #6139

The Rockin' Windmill is still turning like 45's on a pick-up.
The music in this show originates from Germany, The UK, Belgium,
The USA, New Zealand, The Netherlands, Canada and Brazil.
So, just turn up the volume, find your blue suede shoes and
petticoats and enjoy this Rockin' Windmill show.

1. Sheila - Billy Fury -
2. Klickety Klack - Rollie Webber - 1964
3. Please return - The Black Devils - 1962
4. Long sideburns - Bolean Barry - 1956
5. Rosaleena - The Sky Devils - 1999
6. One minute to one - Ricky Nelson - 1959
7. If it's lovin' that you want - Billy Martin - 1960
8. A fool such as I - Burt Blanca - 1996
9. Storm clouds - Buddy Knox - 1960
10. All by myself - Sylvia Mobley - 1962
11. Medley - Shakin' Pyramids - 1981
12. Running scared - Roy Orbison - 1961
13. Die Besten sterben Jung - Ted Herold - 1981
14. Crazy bullfrog - Lewis Pruitt - 1960
15. Streets of Bakersfield - Crazy Legs - 2003
16. Wichita Willy - Brenda Pepper -
17. Freight train - Canadian Sweethearts - 1964
18. I can't help it - Bing Day - 1959
19. Knee deep in the blues - Don Evans & the Initials - 1963
20. Too much alike - Charlie Feathers - 1957
21. Be my bride - Charlie Phillips - 1958
22. Gee whiz it's you - The Rocking Birds - 1998
23. Knocking on the backside - Teddy Redell - 1960
24. Can we be sweethearts - The Firebirds - 1994
25. El Choclo (instr) - Noisemakers - 1963

===============================================
ROCKIN' DADDY O'S ATOMIC DOO WOP DANCE PARTY ON
ROCK-IT RADIO SHOW #6140


For lover's of Doo Wop Rock and Roll, Rockin' Daddy O
has your favorite uptempo Doo Wop Tunes! Here is the
songs you will hear in this show, now in our program
page!

1. Shtiggy Boom-"The Fabulous" Joe Houston
2. Yama Yama Pretty Mama-Richard Berry
3. Rockin' The Joint-Esquerita
4. Ko Ko Mo-Gene & Eunice
5. Betty My Love-The Cadillacs
6. You're Gone-The Redondos
7. Harmony Of Love-The Five Dollars
8. Service With A Smile-The Kuf-Linx featuring John Jennings
9. Love Is Strange-Mickey & Sylvia
10. I Can't Sit Down-Marie & Rex
11. Girl In My Heart-The Kac-Ties
12. Little Boy Blue-The Elegants
13. Bad Boy-Larry Williams
14. Louie Louie-Richard Berry & The Pharohs
15. One Hot Dog-The Five Shades
16. Deep Dark Secret-Gizzelle
17. I Know-The Spaniels
18. Walking Beside You-The Mighty El Dukes
19. The Sun-Fourteen Karat Soul
20. Sweet Breeze-Vernon Green & The Phantoms

===============================================
COOL BOBBY B AND THE DOO WOP STOP ON ROCK-IT RADIO
SHOW #6141

From a undisclosed location due to him cranking the
transmitter to a Million Watts! Cool Bobby B is back
on the Rock-it this week with 3 hours of great Doo Wop
music of the 50s and early 60s. And occasionally even
doo wop today! Let's get started with the playlist.


Hour #1

1. Rockin with the clock -- Shirley and Lee
2. Rainy day bells -- The Globetrotters
3. Whispering Bells -- Del Vikings
4. I die -- The Skyliners
5. Lost without you -- Teddy Randazzo
6. Let's locke the door -- Jay & The Americans
7. Please let me love you -- The Jesters
8. Stormy weather -- The Spaniels
9. Paper Castles -- Frankie Lymo & Teenagers
10. This love of ours -- The Delrons
11. Gloria -- The Cadillacs
12. Denise -- Randy & Rainbows
13. Cry like I cried -- The Harptones
14. Night Owl -- Tony Allen & Champs
15. Coney Island Baby -- The Excellents
16. Cool Bobby B -- Kenny Vance & Planotones
17. My True Story -- Jive Five
18. Sorry -- The Impalas

Hour #2 (All Requests)

19. Hushabye -- The Mystics
20. You belong to me -- The Duprees
21. My Juanita -- The Crests
22. Worst that could happen -- Brooklyn Bridge
23. Who do you love -- The Sapphires
24. Lonely way -- The Skyliners
25. Maybe -- The Chantels
26. Love you so -- Ron Holden & Thunderbirds
27. Why do you have to go -- The Dells
28. A million to me -- Jimmy Charles
29. Baby Blue -- The Echoes
30. Daddy's home -- Shep & Limelites
31. tonight I fell in love -- The Tokens
32. Maybe you['ll be there -- Lee Andrews & The Hearts
33. Black Slacks -- Joe Bennet & Sparkletones
34. Wisdom of a fool -- Kenny Vance & Planotones
35. Duke of Earl -- Gene Chandler & Dukays
36. Deep in my heart -- The Shells

Hour #3 ( More Requests!)

37. 11th hour melody -- The Rivieras
38. Stay in my heart -- The Rivieras
39. Letter to a schoolgirl -- The Delacardos
40. Chapel of Dreams -- The Dubs
41. Have you heard -- The Duprees
42. Lovers never say goodbye -- The Flamingos
43. Barbara -- The Temptations
44. Poor Boy needs a preacher -- The Untouchables
45. What time is it? -- Jive Five
46. Have I sinned? -- Donnie Elbert
47. Gloria -- Vito & The Salutations
48. Dance Dance Dance -- Scott Stevens & Cavaliers
49. Once upon a time -- Rochelle Henderson & Candles
50. Love Eyes -- The Duprees
51. Why don't you believe me -- The Duprees
52. Island of love -- The Sheppards
53. Blue Moon -- The Marcels
54. Goodnight Baby -- The Imaginations

===============================================
JAMMIN JAMES RILEY AND ROCKABILLY N BLUES RADIO
SHOW ON ROCK-IT RADIO SHOW #6142
ANOTHER TRIPLE PLAY!!!

From his studios in Nashville, Tennessee Jammin'
James Riley puts together one great Rockin' Rockabilly
and Blues show for our listeners here at Rock-it Radio.
Here is the playlist.


Rockabilly N Blues Radio Hour #1

4th annual "Cover Charge Included" show. All cover tunes this hour.
1. Run Through The Jungle- The Delta Bombers
2. Don't Leave Poor Me- Eilen Jewell
3. The EP Express- Darrel Higham
4. Catman- Marcel Bontempi
5. Girl On The Billboard- Chuck Mead
6. Crazy Rhythm- James Intveld
7. Ooby Doobie- Jerry Lee Lewis
8. Whiskey River- Lee Rocker
9. Rebel Rouser- Link Wray
10. Rumble- Duane Eddy
11. Crazy- Alice Jayne
12. Downtown- Levi Dexter & Steve Hooker
13. Down The Line- Los Straitjackets with Reverend Horton Heat
14. Bad- The Baseballs
15. I'm On Fire- John Lindberg Trio
16. Road To Nowhere- Di Maggio Connection
17. Rock 'n' Roll- Lara Hope & The Ark-Tones
18. Cry, Cry, Cry- Marty Stuart


Rockabilly N Blues Radio Hour #2

1. Love & Hate- The Go-Getters
2. Spirit Of Woodstock- Shakin' Stevens & The Sunsets
3. Let's Talk About Us- Dave Edmunds
4. Bad News Travels Fast- Ten Bob Millionaires
5. Love Bug Crawl- Danny Fisher w/ The House Rockers & Claire Hamlin
6. Nobody Cares- Chris Ruest
7. Baby Ride With me (take 3)- Howlin' Wolf
8. Tryin' To Get To You- Elvis Presley
9. Flat Tire- Johnny London
10. Fireball- Bo Diddley
11. Jump Back Baby- The Delta Bombers
12. Blow My Bop- The Skinny Teens
13. Honky Tonk Gal- Carl Perkins
14. Movie Magg- Paul McCartney
15. Matchbox- Stan Perkins
16. Dr. Bartender- Lara Hope & The Ark-Tones
17. Let Her Know- Big Sandy & His Fly Rite Boys
18. Smell Of Gasoline- Reverend Horton Heat

Rockabilly N Blues Radio Show Hour #3

1. There I Was Gone- Restless
2. Your Time Has Come- Jackslacks
3. Guitar Player- Kid Ramos (with Big Sandy)
4. Shake Holler & Run- John Lee Hooker
5. Rock And Roll Will Stand- The Blasters
6. Karnival Joe (From Kokomo)- The Squirrel Nut Zippers
7. Walk Between The Raindrops- J.D. Wilkes
8. Man We Had A Party- Wanda Jackson
9. Rock Your Baby- Rosie Flores
10. Funnel Of Love- Cyndi Lauper
11. I Got My Eyes On You Baby- Dion
12. Slap Back- Outlawed & The Hollow Bodies
13. Flatfoot Sam- Bill Wyman's Rhythm Kings
14. Guitar Blues- Eddie Cochran
15. Sterno- Los Straitjackets
16. Rockabilly Fever- Billy Hancock & The Tennessee Rockets
17. Easy Money- Preston Shannon
18. You Tear Me Up- Ricky Nelson

===============================================
DAVE THE RAVE AND THE RELICS AND RARITIES OLDIES
SHOW ON ROCK-IT RADIO SHOW #6143

We don't have playlists to his shows but if you love
60s Rock and Roll from the hits to the rarities and
oddities then Dave the Rave's show is for you!
3! Full hours of 60s rock awaits you in this show!

==============================================
100'S OF VINTAGE ROCK AND ROLL VIDEOS ON FILE IN
OUR VIDEO SITE AT ROCK-IT RADIO:
CHECK IT OUT AT:

HTTP://WWW.ROCKITRADIO.NET/VIDEO.HTML

==============================================
COME JOIN US ON FACEBOOK !!! WE WOULD LOVE A
LIKE FROM YOU!

http://www.facebook.com/rockitface
The Rock-it Radio Facebook Site.

==============================================
HISTORY OF ROCK-IT RADIO

If you are new to Rock-it Radio and would like to learn more --
We have our History Page up as well -- telling the story of Rock-it
Radio. You can find it at:
http://www.rockitradio.net/history.html


ROCK-IT RADIO T SHIRTS - MANY DESIGNS TO CHOOSE FROM!!

Have you seen the new full line of Rock-it Radio T shirts that have been
Released. 3 New designs by Rock-it Radio's own Jammin' Jan.
Each Rock-it Radio T shirt is only $16.00 each plus shipping. And 100% of
All monies goes to keeping Rock-it Radio Online.

Come check out the latest styles.:

http://www.rockitradio.net/tshirt.html

Check Website for updates and availability

VINTAGE VIDEO PICK OF THE WEEK

For the week of 15 April, 2018
This week in our archives page:
This week: From 1965 it's 'We Five' singing
You were on my mind

Now listed in the top listing of our video page...

http://www.rockitradio.net/video.html

This week: A favorite of ours - Animated version of
White Christmas by The Drifters
================================================
REST IN PEACE - FORMER ROCK-IT DJ
JOHNNY G HOST OF THE CRUISIN' SHOW.

We received some sad news in mid March that former
Rock-it Radio DJ in which many long time Rock-it Radio
listener's will remember - Johnny G passed away in his
home in England. Johnny G, actual name was John Grimwood
left Rock-it Radio to stickto a domestic UK station of Forest FM
spinning doo woprock and roll, but many of us stayed in contact through
social media. Johnny even flew out for our 10 year reunion
of Rock-it Radio. A true Gentleman and Gentle man you will
be missed Johnny and it was way too soon for you to go.
================================================
APRIL ROCK-IT RADIO FREE GIVEAWAY CD - BBC SPECIAL
OF THE 6TH ANNIVERSARY OF THE PASSING OF BUDDY HOLLY.

For APRIL with every order you make from a Rock-it Radio website
you will also receive for FREE! A special BBC Radio broadcast from
1965 featuring the 6th anniversary of the passing of Buddy Holly.
The show talks of his life and features his music.
- it's yours Free with every order from the month of April 2018!
from the following websites.
If you wish to see what is in this Buddy Holly CD check it out in
our Ebay Store at: https://www.ebay.com/itm/130005101427

BUT DON'T BUY IT! Get another Rock-it Radio product
from the sites below and we will send you this CD
for FREE. You can shop at the following Rock-it
Radio sites.

The Rock-it Radio Launching Pad:
http://www.rockitradio.net/store.html

Wolfman Jack Shows.
http://www.rockitradio.net/wolfman.html

Rock-it Radio Shows:
http://www.rockitradio.net/order.html

or our new service of Rock-it Radio shows
on Flashdrive.
http://www.rockitradio.net/flashdrivemp3.html

Or our 50 Rock it Radio shows on Flashdrive at:
http://www.rockitradio.net/flashdrive.html

Any order from any of those sites in April you will
get this CD for FREE!
================================================
NEW RELEASE -- FLASHDRIVE OF ROCK-IT RADIO
SHOWS #6051 TO #6100. OUR 14TH FLASHDRIVE

NEW RELEASE!!!!! ROCK-IT RADIO FLASHDRIVE #14!!

This includes over 75 hours of Rock-it Radio oldies programming
from shows #6051 to #6100. The Flashdrive features all these shows
in their entirety in mp3 format in studio quality and just plug into
your computer and Rock-it Away!!!! Check out #14 and it's playlist via our
Flashdrive page at http://www. rockitradio.net/flashdrive.html or in our Ebay
Store listed as:
https://www.ebay.com/itm/132521887670


================================================
COMING SOON! LANE QUIGLEY AND THE MEMORY LANE SHOW
CLASS OF 1968 SPECIAL

In the next couple of months we will start airing once
again the 50 year Class reunion series by Station Manager
Lane Quigley. Lane does a 50 year Class reunion every year
and has done so for several years now here on Rock-it Radio.
Filled with the music from 1968, along with ads, news bits
and the pop culture of the time.
It will be a 5 part series probably airing a show once a week
with a special part 6 that will be a CD giveaway for those that
support Rock-it Radio in a upcoming month.
===============================================MORE DELAYS WREAKS HAVOC ON ROCK-IT RADIO
PROGRAMMING.It's been a hard winter for Rock-it Radio. First
being on a microwave network the first wind and ice storm
took out the microwave dish up on the mountain top for our
internet provider. Just before the last newsletter
our microwave dish was blown around and lost the signal
as the wind bent our line of site target dish for internet.
Then health wise our lungs decided to do the winter gunk
and that layed me out for awhile, then our router went out on the computer
system, that was a quick fix though a couple of week's ago, just about to get restarted
with more programming and last week my brother passed away and
had to go out of town.
But it's looking up, Though we are having some serious rain storms
at least the weather is now hitting the 40s F. and the grass
is turning green. While I am typing this newsletter on Sunday
afternoon I already have 4 new shows to go online, and will be
putting them up. And many more to follow. I try not to put
more then 4 shows up a day. I want to thank for the patience
of all our DJs and listeners. My next goal is also to put more
vintage radio shows up for sale in the Launching pad.
www.rockitradio.net/store.html
God Bless everyone, and thank you all for your continued support!
Here's to spring finally getting here!
God Bless,
S/Bennie Dingo

============================================


ROCK-IT RADIO LISTENER'S
VINTAGE BROADCASTS ON FLASHDRIVE

It's hard to believe but we realize that perhaps our
declining sales is due to Compact Discs are a
aging medium. And Flashdrives And digital is where it's
at. So, I am going to make this offer just on a trial
basis for the remainder of 2017. If you would prefer to
have Rock-it Radio shows and vintage radio shows that we
offer for sale on Flashdrive in mp3 format rather then
on CD we can provide that service here at Rock-it Radio.
Here it is how it works:

1. E mail me at rockitradio@netzero.net and let me
know what shows you would like to have on Flashdrive.
Let's make it a minimum of 3 broadcasts. Either any
Rock-it Radio show .... or Vintage Radio Show from the
50s through 70s that we offer at:
http://www.rockitradio.net/store.html

2. The Cost: Flashdrive will cost $5.00 and each show
that you wish to have will cost $5.00 - nearly 50% CHEAPER then on
CD.

3. I will send you back a invoice within a couple of days, It will be
sent via paypal and it is not obligatory. If you change your mind
just don't pay. But it is easy to pay with any major credit card.

4. Please allow up to 7 days for me to fill the order. Once payment
is sent. In case I get swamped with this offer. Probably sooner.
I have to redigitalize all sold shows into MP3 and that takes a little
bit of time. All orders will have $3.00 postage a slight increase but
that is due to it is shipped as a package and not envelope since it will
be over a 1/4" thick.

For example you order: 3 of our Alan Freed Radio shows. And a Real Don
Steele show. A total of 4 shows - That would normally be a cost of $40.00
on CD. All together on one flashdrive so the invoice would look like

- Flashdrive $5.00
- Four Shows on Flashdrive @ $5.00 each - $20.00
- shipping $3.00

Total: $28.00

Of course if you order more shows on the flashdrive you would continue saving
as you are paying the $5.00 per show rather then $9.50.

And of course we will be adding the monthly giveaway as well.

So for a invoice again just e mail me your wants on your flashdrive for
shows on mp3 at: rockitradio@netzero.net

Also, check out this offer again at:
http://www.rockitradio.net/flashdrivemp3.html

=============================================================
MORE NEW RELEASES IN THE ROCK-IT RADIO LAUNCHING PAD
STORE AND EBAY STORE.

Almost all of our funding for Rock-it Radio comes from the
sale of vintage radio broadcasts from Rock Radio Shows from
the 1950s to the 1970s. We have 4 new releases so far
this month. Here is a brief description and the Ebay link
to these shows. (Playlists of these vintage broadcasts can
be seen in our ebay listing links below).

1. Kenny Everett BBC Light Programme from 7/20/1969.
Great features of 60s Rock. Released as RIR #650 and
in our Ebay store as:
http://www.ebay.com/itm/131986894044

2. Sebastian Stone & Tony Taylor on WOR-FM New York City
from 4/2/1969. Released as RIR #651 and you can view the
playlist and all at our Ebay store listing at:
http://www.ebay.com/itm/142212250474

3. DJ Helen Shapiro and the LOST BEATLES INTERVIEW!
over BBC Radio 4. A must for any Beatles historian of fan.
Released as RIR #652 & at:
http://www.ebay.com/itm/132034603141

4. DJ Bob Dayton Top 40 Radio show over KRLA Los Angeles from
8/14/1969. Released as RIR #653 & at:
http://www.ebay.com/itm/-/132035582202

All updates and latest news on our vintage radio
broadcasts can be found in our Launching Pad Facebook
page at http://www.facebook.com/rockitpad

=============================================

RECRUITING FOR RADIO PERSONALITIES FOR
ROCK-IT RADIO

Do you know your 50s and 60s Rock & Roll, Doo wop
or Rockabilly? And the ability to produce a show
on CD?
We do require a playlist for this newsletter but
your show will stay online for the world for approx.
3 weeks. Unlike some stations where you broadcast one
time and it's gone forever.
If interested check out our Rock-it Radio Team page
at: http://www.rockitradio.net/team.html

We are also looking for writers and translators!
COLLECTING AIRCHECKS - A HOBBY OF RADIO NOSTALGIAWhat is a Aircheck? It is simply a recording of a radio broadcast. Usually collected by Radio fans.
Come check out our webpage on collecting Airchecks.

http://www.rockitradio.net/aircheck.html


COME REMEMBER WOLFMAN JACK !!!Rock-it Radio has a very special way to remember Wolfman Jack.
Arguably the most iconic of American DJ's. Come check out the
Rock-it Radio Wolfman Page at:
REMEMBERING OFFSHORE PIRATE RADIO IN THE UK
In the mid 1960s it was difficult for the youth to actually listen to Rock and Roll in the UK.
The BBC actually ran only a few hours a weekend to provide the young Brits with this outlet.
At night during the week they ventured to even tune into Radio Luxembourg to get there fill,
that broadcast rock and pop around the clock.
To fill this void some venture capitalists decided to bring in commercial radio aboard refitted
radio ships. And anchor themselves just off into International waters off the English coast.
Radio Caroline (named after Caroline Kennedy the U.S. President's daughter at the time)
and Radio London being the most famous. Rock-it Radio has a website dedicated to their ventures
and also have actual radio broadcasts available of
these offshore pirates.
We invite you to check them out our webpage at:
http://www.rockitradio.net/pirate.html
FINDING ROCK-IT RADIO ON THE 'TUNE IN RADIO' CELL PHONE APP.
We have had a few requests from listeners that they couldn't find us on the popular
'Tune in Radio' App. on Android and PC and iphones. Running a search of 'Rock-it Radio'
will actually list 100s of Rock stations.
So, the best way to find us on this very thorough and extensive app. that
I love using myself is -
run a search on 'rockabilly' - there you will easily find
Rock-it Radio listed.
Our Tune in Radio App. webpage is also at:
http://tunein.com/station/?stationId=41878
ARE YOU ON FACEBOOK ?? FOLLOW THE LATEST AT
ROCK-IT RADIO AND OUR LATEST VINTAGE BROADCAST RELEASES.
Rock-it Radio has 2 Facebook pages. One for our programming
online and notifications, and the other is for our vintage
broadcast shows for sale.


The Online Station is http://www.facebook.com/rockitface
For the Rock-it Radio Launching Pad and our latest deals and
releases you can follow us at:
http://www.facebook.com/rockitpad
MISSED A COUPLE OF NEWSLETTERS LAST COUPLE OF WEEKS??

THEN YOU CAN ALWAYS CHECK OUR BLOG WHERE IT IS ARCHIVED.
YOU CAN CHECK OUT OUR BLOG AT:

http://rock-itradio.blogspot.com/
=============================================


ROCK-IT RADIO DJ PAGE...


Remember you can check out all the Rock-it Radio DJ's

and read the bios of these DJ's that make these

Rock-it Radio Shows possible at:


And don't forget for even more pictures --

there is our picture page at:
============================================
IF YOU HAVE TWITTER COME FOLLOW US THERE

If you are one that tweets then please check out and join and get our
updates on your twitter account. Our Twitter link is right below.

http://www.twitter.com/RockitRadio1
It is our new Twitter account and we will once again start
scrolling our messages and updates on our webpages as well.


=================================================
We are in our 22nd year!!! Please share the good news with your
family and friends that love original Oldies Music - We are back and
Rockin' with new shows in our program page at
http://www.rockitradio.net/programs.html
Just click the MP3 speaker to the show that has your musical interest!
=================================================
WELCOME NEW MEMBERS TO THE LISTENER'S CLUB!!!!

A big welcome to the below new Rock-it Radio listeners that
joined our Listeners Club from March 6, 2018 to
April 14, 2018
We hope that you enjoy the music Rock-it Radio provides
and our playlists and information that our weekly newsletter
provides. Any comments, criticisms, kudos, compliments or
future ideas is always welcome and you can e mail me personally at:
rockitradio@netzero.net

Paul Kearns - Milford, New Hampshire USA
Phil Fitzgerald - Olathe, Kansas USA
John Seeley - Harvard, Massachusetts USA
Ronald Johnson Sr. - Lawrenceville, Georgia USA
Amy Sheneman - Cazenovia, New York, USA
Luis Cabrera Garcia - Madrid, Spain
Nicholas - Flushing, New York USA
Ella Moyes - Helenville, Wisconsin USA
Martin Pearson - Manchester, Oldham United Kingdom
George Matthews - ??
Ged Fern - Wilchingen, Shcaffhausen Switzerland
Steve Szecs - Warren, Ohio USA
D. Albrecht - Houston, Texas USA
Shawna Hood - Redmond, Oregon USAWe have gained 141 new likes in our listeners club
in our Facebook page Rock-it Radio Fan Page as well this week at:
http://facebook.com/rockitface and 18 more following us
on Twitter @Rockitradio1 .

We have added a total of 160 new members to the Rock-it Radio
Listeners Club since our last newsletter. We now have 92,379 exactly
that have joined the Rock-it Radio Listeners club.
We hope that you enjoy the rare 50's and early 60's
Rock and Roll, Rockabilly and Doo Wop (which most commercial
oldies radio stations have forgotten) that we are able to play
for you from Rock-it Radio. Remember, we are here for you!

So if you ever have any requests, dedications, comments and
suggestions we always love to hear from our listeners.
Our e mail address is:
rockitradio@netzero.net

====================================================
To learn more about the Rock-it Radio Listeners Club and our Free
Newsletter please check out:
http://www.rockitradio.net/member.html

It's free and easy to join and the Rock-it Radio Newsletter is always
online at: http://www.rockitradio.net/newsletter.html



====================================================

PLEASE HELP US SPREAD THE GOOD WORD OF ROCK-IT RADIO!

Do you know of someone that might also like the music

of Rock-it Radio? We are desperately trying to keep this

music alive and have been doing so since 1995! Please

share the information of this station. And if you have

a website would you please consider putting a Rock-it Radio

link on your page.

There are a few to choose from in our link page at:

http://www.rockitradio.net/links.html
HOW TO ORDER OLD ROCK-IT RADIO SHOWS = YOUR PURCHASES HELP US STAY ONLINE!!!
We have received many inquiries on how to order Rock-it Radio shows that are no longer in
our on archives webpage. These shows are still available on CD and mailed to you within 24
hours of receiving payment.
To help search for older shows that you may be looking for you may want to check the Rock-it
Radio blog site. Old newsletters describing the shows and playlists
are archived there and there is a menu bar on the right side that breaks down every playlist
Then you may either pay by check or money order or paypal. Rock-it Radio shows are only
$9.50 U.S. each and are studio quality broadcasts that were placed on Compact Disc here at
the Rock-it Radio Studio. We have a flat rate shipping charge of $1.50 U.S. so if you order
one or several -- it is still only $1.50
U.S. shipping. And we ship worldwide, overseas orders are mailed out first class airmail.
Instructions where to send payment is at our webpage:
like we can send you a paypal invoice within 24 hours.

When you order a Rock-it Radio show or shop at our Rock-it Radio Launching Pad you
help keep these oldies alive and help us pay the bills here at Rock-it Radio.
And at the same time -- you are not getting nothing for your donation, but actually
some of the shows and memories we hope we keep alive here at Rock-it Radio.
TOP 25 SELLERS OF THE ROCK-IT RADIO LAUNCHING PAD
FOR April 15, 2018

HERE IT IS !!! The Top 50 Countdown from the Rock-it
Radio Launching Pad http://www.rockitradio.net/store.html
FOR April 15, 2018.

As you know the Rock-it Radio Store sells vintage Radio Broadcasts -
Where you hear the actual music, news and vintage advertisements -
uncut and unedited just like you would of heard it back then.
Here are the top sellers this week.

1. Rock-it Radio Shows #6051 to #6100 Flashdrive
2. RIR #594 - Denny Sanders WMMS Cleveland 6/30/1978
3. RIR #644 - Dan Ingram WABC New York 6/12/1964
4. RIR #541 - Denny Sanders WMMS Cleveland 1/31/1978
5. RIR #222 - Ron Britain WCFL Chicago 5/31/1970
6. RIR #355 - Real Don Steele KHJ Los Angeles 2/9/1968
7. RIR #386 - Charlie Tuna - KHJ Los Angeles 2/23/1969
8. RIR #181 - Wolfman Jack XERB Rosarito, Mexico 12/8/1967
9. RIR #652 - Lost Beatles Interview BBC Radio 4 London
10. RIR #168 - Dan Ingram WABC New York 7/22/1967
11. RIR #114 - Alan Freed WABC New York 11/5/1959
12. RIR #179 - Jocko Henderson WOV New York 6/10/1957
13. Rock-it Radio Shows #6001 to #6050 Flashdrive
14. RIR #457 - George 'Granny Goose' Groves KGMB Honolulu 6/27/1973
15. RIR #622 - Johnny Morgan CKLW Windsor, Ontario 7/12/1967
16. RIR #200 - Wolfman Jack XERB Rosarito Mexico 10/1/1969
17. RIR #231 - Leo Underhill WNOP Newport, Ky. 7/2/1962
18. RIR #646 - Larry Lujack WLS Chicago 8/8/1970
19. RIR #499 - John Zacherle WPLJ New York 9/18/1975
20. RIR #219 - WMGM broadcasts from 1959 - New York
21. RIR #436 - Pat Sajack Armed Forces Vietnam Network 3/18/1969
22. RIR #381 - Charlie Tuna KHJ Los Angeles 2 shows 1969 & 1970
23. RIR #206 - Wolfman Jack XERB Rosarito Mexico Pt. 2 10/1/1969
24. RIR #567 - Kenny & Cash Capital Radio London int. with Paul & Linda Mc Cartny 1973
25. RIR #272 - Jim Simms WOLF Syracuse, New York 2/15/1962


If you would like to view these shows in depth you can check out

our Rock-it Radio Ebay Store at:

or in the Rock-it Radio Launching Pad store at:

and in the upper left hand corner -

there is a search box where you can type in the DJ name or

Station Call letters and that information on that show will pop up.

Ordering from the Ebay store will also qualify you for the Rock-it Radio

giveaway mentioned previously in this newsletter. Sale of

these broadcasts is what keeps Rock-it Radio going and thank

you again to everyone that buys these!

============================================



REQUEST A ROCK-IT RADIO STORE CATALOGIf you don't like ordering online but still want to have some
of the vintage radio shows from the 50s through the 70s - We
understand that. That is why we still take mail orders. You can
actually save money also in our orders if you use our coupon that
comes with every catalog - That will give your order a 25% discount!

If you would like a Rock-it Radio catalog that lists over 500 rare and rockin' radio shows with famous DJs when Radio was truly radio! Just e mail us
your mailing address and we will send it out straight away!
Our E mail address is: rockitradio@netzero.net

============================================
Rockabilly bands looking for airplay
If you or know someone that would like airplay on Rock-it Radio we invite
you to submit your press kits to Rock-it Radio. Our website for further
information is:
http://www.rockitradio.net/airplay.html
============================================
Come tune into the World on your computer!
1000s of stations around the world now broadcast online. We have a
link to some of the internet top directories to help you find these stations.
http://www.rockitradio.net/internetradio.html
============================================
Rock-it Radio Program Webpage Reminder
Remember, if the show that you want to hear is getting close to the bottom
of the list of radio shows, you should tune in as soon as you can. These shows
to have a high audio quality require a lot of internet bandwidth and memory.
And currently we can only afford the
30
latest shows online here at Rock-it Radio.
So, when a new show is put online it knocks the oldest one off the Rock-it Radio
archives page. Usually a show will at least last 16 to 20 days, once it is placed in
the archives.
============================================
OUR SISTER STATION FIRST NATIONS BROADCASTING.
We invite you to also check out our sister station -- First Nations
Broadcasting. And tune into the rather Cool North of the Yukon and Alaska
with our very own Debbie Snowdove!
============================================
Well that is just about it for this newsletter and playlists of our latest
shows. We hope that you enjoy them.
We will do our best to keep these shows on for at least 14
days and hopefully 21 days.
All the best always,
Bennie Dingo
Rock-it Radio

website: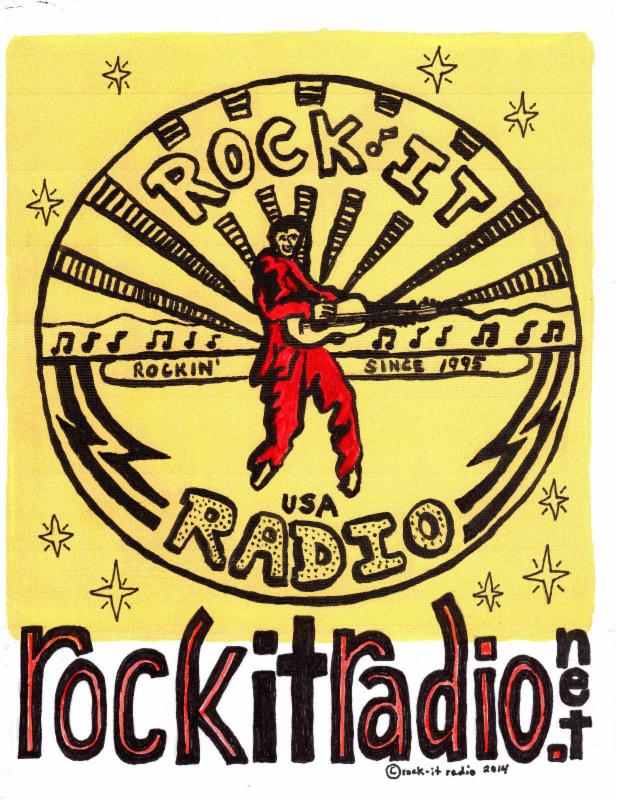 Rock-it Radio main website:
http://www.rockitradio.net

Archived Shows at:
http://www.rockitradio.net/programs.html

Rock-it Radio Vintage Broadcast Store:
(Launching Pad)
http://www.rockitradio.net/store.html