Rock-it Radio since 1995 providing 50s and early 60s Rock and Roll, Doo Wop and Rockabilly music online! Come tune us in at http://www.rockitradio.net We also have several 100 original radio shows from the first decade of Rock and Roll at: http://www.rockitradio.net/store.html
===================================================================
ROCK-IT RADIO NEWSLETTER AND PLAYLIST
SHOWS #6144 TO #6163
FROM
April 16, 2017 to May 10, 2018

Hi Rock-it Radio Listeners,

We have some exciting new shows here on Rock-it
and actually quite a few since our last newsletter.
Below are the playlists for shows #6144 to
#6163 20 total and I think the most we have ever had
for a single newsletter.
Also we have a new set of 50 shows on flashdrive
shows #6101 to #6150 are now availablew on flashdrive
mp 3 files, your best savings to buy Rock-it Radio shows.
And for the first time in a long time actual new releases
of vintage broadcasts - RIR #655 and RIR #656 two shows
from 1977 from Myrtle Beach, S. Carolina of the
Syndicated Dick Biondi Super Gold Radio show.
So, we have lota to cover ao I better get started!!!

Our shows can be heard in our archives page at:

http://www.rockitradio.net/programs.html
and click to the speaker on the left to hear the show.

Remember if you are new to Internet Radio and having trouble tuning in though --
Check out our webpage to help you out at:
http://www.rockitradio.net/tunein.html
============================================
REMEMBER YOU CAN ORDER ANY OF THESE ROCK-IT
RADIO SHOWS ON CD!!!! NEW EASIER ORDERING!

Would you like one of these Rock-it Radio shows on CD? To
be able to play anywhere? And help support Rock-it Radio at the same time.
For complete information check out our program
ordering webpage at: http://www.rockitradio.net/order.html

Our shows are of course copies straight from the studio so they are studio
quality and satisfaction is guaranteed.
Or if you would rather receive an invoice let me know and we
can e mail you a copy - Just e mail us the show(s) you would like
to have and the Rock-it # to: rockitradio@netzero.net

==============================================
All Rock-it Radio shows stay online from 18 to 24 days and are
broadcast in MP3 Format. To tune in just click to the speaker
at our program page at:
http://www.rockitradio.net/programs.html

The newest show added replaces the oldest show so if you see a
show near the bottom of the listing - you should listen as soon as
possible.

==============================================
WE COULD REALLY !!! USE YOUR SUPPORT

Rock-it Radio is 100% Publicly supported. But when you
donate to the Rock-it Radio Launching Pad - we give you
a vintage broadcast of your choice.
100% of all sales from the Rock-it Radio Store (Launching
Pad) goes back to pay copyright fees, LLC taxes, Internet
and bandwidth costs of Rock-it Radio. Without your support
we would not exist. So. please consider a purchase at:
http://www.rockitradio.net/store.html

===============================================
NOTE: ALL SHOWS BELOW CAN BE FOUND IN OUR
PROGRAM WEBPAGE -
TO TUNE IN CLICK TO SPEAKER OF THE SHOW YOU WANT
TO LISTEN TO. EITHER MP3 OR REAL PLAYER.
BOTH FORMATS ARE SUPPORTED.
AT:
HTTP://WWW.ROCKITRADIO.NET/PROGRAMS.HTML

==============================================
PAPA WALT'S OLDIES SHOW ON ROCK-IT RADIO
SHOW #6144

This edition of the Oldies Show was recorded during a rare
northern-California thunderstorm and offers up a playlist
chock full of rain-themed rock music. Put on your galoshes,
grab your umbrella, and listen to this melodic precipitation
of oldies falling from the heavens.

PLAYLIST - Papa Walt's Oldies Show #36: Right as Rain

1. I Wish It Would Rain - The Temptations (1967)
2. In the Rain - The Dramatics (1972)
3. Laughter In the Rain - Neil Sedaka (1974)
4. Crying In the Rain - The Everly Brothers (1962)
5. Walking In the Rain - The Ronettes (1964)
6. Just Walkin' In the Rain - The Prisonaires (1952)
7. Baby the Rain Must Fall - Glenn Yarbrough (1965)
8. Here Comes the Rain Again - The Eurythmics (1984)
9. It's Raining Again - Supertramp (1982)
10. Who'll Stop the Rain - Creedence Clearwater Revival (1970)
11. Tell It to the Rain - The Four Seasons (1966)
12. Rain - The Beatles (1966)
13. Rhapsody In the Rain - Lou Christie (1966)
14. Rhythm of the Rain - The Cascades (1962)
15. Rain On the Roof - The Lovin' Spoonful (1966)
16. Rain On the Scarecrow - John Mellencamp (1985)
17. Early Morning Rain - Gordon Lightfoot (1966)
18. Summer Rain - Johnny Rivers (1967)
19. Alabama Rain - Jim Croce (1973)
20. Georgia Rain - Joshua Kadison (1993)
21. Kentucky Rain - Elvis Presley (1970)
22. It Might as Well Rain Until September - Carole King (1962)
===============================================
ROCKIN THE JUKE JOINT SHOW WITH OTTO
FUCHS - ON Rock-it Radio show #6145

Another Rockin' Segment on this American Graffitti special,
on Rock-it Radio. Check out this playlist of what you
will hear on show #6145.

1. Rock Around The Clock-Bill Haley & His Comets
2. Get A Job-The Silhouettes
3. That´ll Be The Day-Buddy Holly
4. Teen Angel-Mark Dinning
5. Be My Guest-Fats Domino
6. Talahassie Lassie-Freddy Cannon
7. Born Too Late-The Poni-Tails
8. Rock And Roll Waltz-Kay Starr
9. Smoke Gets In Your Eyes-The Platters
10. Splish Splash-Bobby Darin
11. Take Good Care Of My Baby-Bobby Vee
12. Heart & Soul-The Cleftones
13. Wonderful World-Sam Cooke
14. Teenage Crush-Tommy Sands
15. Will You Love Me Tomorrow-The Shirelles
16. Please Mr. Postman-The Marvelettes
17. Calendar Girl-Neil Sedaka
18. The Girl Next Door Went A´Walking-Elvis Presley
19. I Woonder Why-Dion & The Belomonts
20. Almost Grown-Chuck Berry
21. Cruisin´-Gene Vincent
22. Drive In Show-Eddie Cochran
23. Bo Weevil-Fats Domino
24. Poor Little Fool-Ricky Nelson
25. Your True Love-Carl Perkins
26. Raindrops-Roy Orbison
27. Rock Your Baby-Wanda Jackson


===============================================
AL COOL DADDY SMITH WITH SOME RARE AND
ROCKIN' SONGS ON ROCK-IT RADIO SHOW #6146

From his studios in Brampton, Ontario Canada Al this
show features some Rare and Rockin'!!! here on Rock-it
Radio.
This show features recordings whose artists as well as the tunes
played by them may well be unknown to many of our Rock-it Radio Listeners.


The play list is as follows:

1. Let Me In-The Rialtos 1963
2. You've Got To Rock and Roll-The Sunbeams 1957
3. I Get The Blues So Bad-Henry Artis/Curtiss 1958
4. Yeah Let's Fly-Frank Motley 1961
5. Have I Sinned-Donnie Elbert 1957
6. Vowels Of Love-The Poets 1958
7. Cool One, Groove Two-Tommy Dean 1952
8. She Wants To Mambo-The Chanters 1954
9. Oo-Kook-A-Boo-The Tip Tops 1963
10. Oo Wee Baby-The Ivy Tones 1958
11. Dumplins-Doc Bagby 1957
12. Convicted-Oscar McLollie 1952
13. Why Can't You Be True-The Vernalls 1958
14. When You Walked Out-The Arcados 1963
15. It's Going To Be Alright-The Decoys 1963
16. Lost Love-H.B. Barnum 1961
17. Fall In Love With Me-Bettye Swan 1967
18. I Can't Stay Away-The Caressors 1964
19. Sixteen Years Ago Tonight-Kenny Karen 1963
20. If The Law Says Stop-Johnny Faire 1957
21. Cha Hua Hua The Pets 1958
22. I Miss You So-Lillian Offitt 1967
23. Tell The Boys-Sandie Shaw 1967
24. Every Day- Rocky Hart and The Passions 1959
25. Go Girl Go-Jet Powers 1957
26. The Present Of Love-Amanda and The Jays (?)
27. Goodbye My Love Goodbye-Robert Mosely 1963

===============================================
LANE QUIGLEY AND THE MEMORY LANE SHOW ON ROCK-IT
RADIO #6147

Join host Lane Quigley for the latest Memory Lane Show.
This week's playlist has some HOT tracks, and as always
Lane shares some of his world famous interview clips from
the artists talking about their music.
It's an hour-and-a-quarter of great fun and fabulous music.
Don't miss it!

1. Chills & Fever - Ronnie Love 1960
2. That's All - Etta James 1955
SOUND BITE
3. Can't We Be Sweethearts - The Cleftones 1956
4. Lawdy Miss Clawdy - Elvis Presley 1956
5. You Don't Love Me - Tommy Raye 1964
6. Sentimental Journey - Joe Houston 1952
SOUND BITE
7. I Won't Tell - Tracey Dey 1964
8. Greenbacks - Ray Charles 1955
9. MYSTERY ARTIST (Can you identify the artist??)
10. You Tear Me Up - Ricky Nelson 1958
SOUND BITE
11. A Breath Taking Guy - The Supremes 1963
12. When I Meet My Girl - Tommy Ridgley 1957
13. Du Ronda - Lou Christie 1966
14. To Be With You - Joe Cuba Sextet featuring Jimmy Sabatar 1962
SOUND BITE
15. Big Man - The Four Preps 1958
16. Hot Little Mama - Johnny Guitar Watson 1955
17. Put Yourself In My Place - Big Maybelle 1964
18. I Ain't Gonna Let You In - Paul Gayten Orch with Annie Laurie
SOUND BITE
19. The Mojo - J.B. Lenoir 1953
20. Just Ain't Enough Love - Eddie Holland
21. I Wanna Be Loved - Dean & Jean 1964
22. Gee What a Guy - Yvonne Carroll 1963
SOUND BITE
23. Love Will Make Your Mind Go Wild - The Penguins 1955
24. While We Were Dreaming - The Dreamlovers 1962
25. Forever - The Marvelettes 1963

===============================================
GARY KEIPER'S VINTAGE VINYL TREASURE CHEST SHOW
ON ROCK-IT RADIO SHOW #6148

Gary is back with more great memories of the 50s
and early 60s on show #6148. Gary the Rockin' Mailman
always plays fantastic oldies from the first decade
of Rock and Roll. Here is the playlist.

1 St James Infirmary Louis Armstrong 1950
2 Mona Lisa Nat King Cole 1950
3 With Men Who Know Tobacco Best ... Tex Williams 1950
4 Hot Rod Race Red Foley 1951
5 I Got Loaded Peppermint Harris 1951
6 Just Waitin' Hank Williams 1951
7 Bim Bam Baby Frank Sinatra 1952
8 One Mint Julep Clovers 1952
9 Diesel Smoke, Dangerous Curves Tiny Hill 1952
10 Cryin' in the Chapel Orioles 1953
11 Hound Dog Big Mama Thornton 1953
12 You Didn't Want Me Baby Louis Jordan 1953
13 My Baby's 3-D Billy Ward/Dominoes 1954
14 That's All Right Elvis 1954
15 Sh Boom Chords 1954
16 Bark Battle & Ball Platters 1955
17 Hummingbird Les Paul/Mary Ford 1955
18 Sincerely Moonglows 1955
19 Bop Bop Baby Wade Moore/Dick Penner 56
20 Hot Dog Buddy Buddy Bill Haley/His Comets 1956
21 The Closer You Are Channels 1956
22 Lover Boy Cleftones 1957
23 Love Letters in the Sand Pat Boone 1957
24 Rang Tang Ding Dong Chuck Miller 1957
25 Blue Ribbon Baby Tommy Sands/Raiders 1958
26 Summertime, Summertime Jamies 1958
27 I Can't Stand Up Alone Clyde McPhatter 1958
28 Da Da Goo-Goo Harvey 1959

===============================================
PETE CHASTON'S DOO WOP SHOW HERE
ON ROCK-IT RADIO #6149

Pete is one of our veteran DJs here on the Rock-it
and his Doo Wop collection is quite extensive!
If you love Doo Wop Rock and Roll but in search
of more of the obscurities along with the standards
this show just might be for you.

1. Doo-Wop All Night Long-The Blue Emotions (opening theme song) (1982)
2. Bong Bong-Vince Castro & The Tonettes (1958)
3. Bing Bong-The Silhouettes (1958)
4. I'm So Happy-Lewis Lymon & The Teenchords (1957)
5. Cherry-The Rivingtons (1963)
6. Come Back-Randy & The Rainbows (193)
7. False Alarm-The Re-Vels (1958)
8. On Your Radio-Richard Lanham & The Tempo-tones (1959)
9. Ookey Ook-The Penguins (1955)
10. Hong Kong-The Quinns (1958)

SILLY SONG SEGMENT:

11. Ain't Got No Home-Clarence "Frogman" Henry (1956)
12. Flying Saucer the 3rd-Buchanan & Goodman (1959)

SCRATCHY 45 RPMs SEGMENT:

13. Ding Dong-The Echoes (1956)
14. Gloria-The Passions (1960)
15. Can I Come Over-The Youngtones (1958)
16. Count Every Star-The Rivieras (1958)

BACK TO THE CDs &/or More 45 RPMs:

17. It Ain't the Meat-The Swallows (1951)
18. In the Still of the Night-The Raundrops (early 1960s)
19. Magic Moon (Clare de Lune)-The Rays (1961)
20. Hot Dog Dooly Wah-The Pyramids (1958)

SLOW SONG SEGMENT:

21. I Lied to my Heart-The Enchanters (1961)
22. Your Love is All I Need-The Silhouettes (xxxx)
23. Made to Love-The Sharptones (1955)
24. Brenda-The Cupids (1963)
25. Please Let Me Love You-The Legends of Doo-Wop (circa 2001)
26. God Only Knows-The Capris (1954)
27. (closing theme song) Adios-The Five Discs (1961)

===============================================
JOHN MINNICUCCI 'THE COOCH' WITH JOHN'S ATTIC SHOW
ON ROCK-IT RADIO SHOW #6150


John's Attic show #8 classic R&R R&R Rockabilly & blues songs & artists
from the 40s 50s & a touch of the 60s. Featured artists, Memphis Minni,
Ted Taylor, Julia Lee, Larry Dale Sonny Knight and more.

1. Plantation Boogie- George Auld 1957
2. Drinking Wine Spo Dee O Dee- Larry Dale 1962
3. Quit Pushing- Bill Robinson & The Quails 1949
4. Dry Bones- Delta Rhythm Boys 1949
5. Be Ever Wonderful-Ted Taylor 1959
6. Eternally-Sarah Vaughn 1957
7. I Wish I Knew- Jimmy Scott 1950
8. You Played Me a Fool- Story Tellers 1959
9. Sugar Sugar- Cadillacs 1957
10. Snatch & Grab It-Julia Lee 1947
11. A Fools Prayer-Arthur Lee Maye 1957
12. Unforgettable-Nate King Cole 1951
13. Chicken Shake Boogie-Amos Milburn 1948
14. The Way I Walk-Jack Scott 1959
15. Fannie Mae- Buster Brown 1959
16. I've Got A Right To Cry- Joe Liggins 1950
17. Chicken Hop- Billy Bland 1959
18. Java Jive-m Ink Spots 1940
19. Love Birds- Sonny Till & Edna McGriff 1953
20. Buffs- I Want To Know 1960
21. Memphis Mini- 1953 Kissing In The Dark
22. John Carol & Lucky Millinders Band- 51 Chew Tobacco Rag 1951
23. L&N Special Christine Kittrell 1953
24. Betty Lou Got A New Pair Of Shoes- Bobby Freeman 1958
25. Walk On The Wild Side- Brook Benton 1962
26. I Just Called To Say Hello- Sonny Knight 1964
27. It's Time Squires 1963

===============================================
JACKIE BOND FROM THE UK AND LET THE GOOD TIMES
ROLL OLDIES SHOW ON ROCK-IT RADIO SHOW #6151

And Jackie Bond is going Rockabilly in his show this
week on Rock-it Radio. Check out all the cool rockers
you get to hear in show #6151 in our program page when
you click that mp3 speaker.

1. Don't You Know - Johnny Ace
2. Ko Ko Joe - Don and Dewey
3. Hoy Hoy - The Collins Kids
4. Humdinger - Huellyn Duvall
5. Don't Play That Song - Anthony and The Sophomores
6. Chonnie On Chon - James Brown
7. All That Wine Is Gone - Big Jay McNeeley
8. Buzz Buzz A Diddle It - Freddie Cannon
9. Let's Flat Git It - Danny Wolfe
10. Crazy Over You - Dee Clark and The Kool Gents
11. Too Much Lovin' - The 5 Royales
12. Let It Please Be You - The Desires
13. Pretty Little Angel - The Crests
14. Let's Go To A Movie Baby - Johnny and Jackey
15. Again - The 4 Epics
16. Pepper Hot Baby - Phil Gray and The Go Boys
17. There Was A Fungus Among Us - Hugh Barrett and The Victors
18. Remember Then - The Firebirds
19. Fools Fall In Love - Rocky Sharp and The Replays
20. You Never Can Tell - Chuck Berry
21. Good Night My Love - The Vogues

===============================================
DJ SPINNING ROCK BOOGIE AND THE MOVIN AND GROOVIN
SHOW WITH INDIANA RARE ROCKERS PT. 3 ON ROCK-IT RADIO SHOW #6152

"REGIONAL ROUND UP Pt 69 - INDIANA Pt 3.
Join DJ Spinning Rock Boogie for another show in his series "Regional Round Up".
This show is Pt 3 of music out of the State of Indiana, with some of the record labels
from out of that State, the towns & cities where those labels were based......although
they may not have been recorded there......and the artists who recorded on them. So
take a ride on the rocket and enjoy music from the 50's and 60's out of the State of
Indiana.

01. Intro - Medley
02. Be-Bop Blues - Aubrey Cagle (59) Glee - Indianapolis
03. Yes No Or Maybe - Bill Sherrell (58) Tyme - Indianapolis
04. Rocking With The Rhythm And Blues - Ronnie Haig (58) Note - Indianapolis
05. Old Age And Rough Treatment - Charlie Stewart & The Gem Tones (59) Solid Gold - Indianapolis
06. Servant Of Love - The Van Brothers (60) Poor Boy - Muncie
07. Rock baby Rock - Cliff Ayres & The Five Crowns (56) Emerald - Fort Wayne
08. That's The Way - The Casinos (67) Airtown - Richmond
09. Stop And Get Off - The Kinsmen (68) Relation - Kokomo
10. Jump Baby Jump - Harry Carter & The Dixie Rhythmaires (56) Mar-Vel - Hammond
11. Midnight Express (instrumental) - The Dawnbeats (60) AMP - Columbus
12. You Know What I Like (instrumental) - The Rivies (63) Anderson - Anderson
13. Santa Fe Rock (instrumental) - The Nomads (60) Genie - Michigan City
14. I Won't Cry (smooch) - The Shades (64) Metropolis - Warsaw
15. Teenagers Dream (smooch) - Tommy Lam (61) K - Indianapolis
16. Make Life Real (smooch) - Glenna Dene & The Rock-Its (61) Eunice - Evansville
17. Gold Will Never Do (smooch) - Luther Bond & The Emeralds (59) Showboat - Santa Claus
18. Please Mr Disc Jockey (smooch) - Dickie & The Debonaires (66) Valli - South Bend
19. So Long Baby - The Swagmen (69) Americana - Mishawaka
20. Spinner Hub Caps - Pat Davis (60) ACTS - Indianapolis
21. Ex Missus Jones - Don Reno + Bill Harrell & The Tennessee Cutups (66) Derby Town - Charleston
22. Slippin' And Slidin' - Tennessee Thompson & The Boomerangs (59) RCT - Indianapolis
23. Record Hop - Shorty Sergent (58) Jet - Indianapolis
24. Roberta - The Silver Jets (62) Parr - Frankfort
25. Mean Machine - Everett Gates & The Jokers (64)Tally - Union City
26. Jitterbug Drag - Walter Arkie Bittle & His Flying Saucers (56) Claudra - Marion
27. Sock Hop - Charlie Gore (58) Fan - Indianapolis
28. Little Heart Don't Be Disgusted - Kenny Holiday & The Rhythmairs (61) Four Wheels - Paoli
29. I'll Move Along - Red Lewis & The Rockin' Robins (65) Kasko - Santa Claus
30. TD's Boogie Woogie (instrumental) - The Carol Lou Trio (59) Juke - Richmond
31. Outro - Medley

===============================================
JAMMIN JAMES RILEY AND ROCKABILLY N BLUES RADIO
SHOW ON ROCK-IT RADIO SHOW #6153 TRIPLE PLAY!!!

From his studios in Nashville, Tennessee Jammin'
James Riley puts together one great Rockin' Rockabilly
and Blues show for our listeners here at Rock-it Radio.
Here is the playlist.


Rockabilly N Blues Radio Hour #1

Danielle Colby from American Pickers is our guest this week.

1. Too Long- Bailey Dee
2. Call EO TO Pray- Al Dual
3. Lorene- The Carolyn Sills Combo
4. All Blue- Luke Bell
5. Long Black Shiny Car- The Go-Getters
6. Fingernails- Jason D. Williams
7. Good Lovin'- Dickie Lee
8. Ain't Got Time- Chris Scruggs
9. Milk Cow Blues- Matthew & Gunnar Nelson
10. I Won't Back Down- Johnny Cash & Tom Petty
11. Johnny At The Door- Dale Watson
12. Crazy Mixed Emotions- Rosie Flores
13. Both Sides Of The Line- Jesse Dayton


Rockabilly N Blues Radio Hour #2:

1. Gonna Have A Time- Jittery Jack
2. New England In The Fall- The Doel Brothers
3. Let's Go To Mars- Barrence Whitfield & The Savages
4. I Miss You Baby- Colton Turner
5. She Got Back On The That Train- Red Hot 'N' Blue
6. Time Has Made A Difference- Jimmy DeBerry
7. Shake It Up- Conway Twitty
8. Get Ready- Tilford Sellers
9. Hey Bartender- SaraLee
10. Gimme Gimme- Gone Hepsville
11. Cha Cha Heels- The Surfrajettes
12. Chicken Pluckin'- The Sabres
13. My Baby Walks All Over Me- Waylon Jennings
14. Only Daddy That'll Walk The Line- The Fabulous Thunderbirds
15. Nashville Bum- Webb Wilder
16. Drop You Like A Bad Habit- Shakedown Tim & The Rhythm Revue
17. Trouble Up The Road- Jackie Brenston w/ Ike Turner's Orchestra
18. No Good, No Good- The Nut Jumpers
19. Going To The Shake-Up- Bloodshot Bill

Rockabilly N Blues Radio Show Hour #3

1. Let Her Go- The Delta Bombers
2. Rock & Roll Rhythm- Lucky Marcell & The Ramblin' Three
3. For Your Love- Little Lesley & The Bloodshots
4. Tennessee Saturday Night- Gene Summers
5. Bop- The Sirocco Bros
6. Lone Teen Ranger- Jerry Landis (Paul Simon)
7. Turned Out A Fool- Modern Don Juans
8. Dig It Up- TJ Mayes
9. Six Days On The Road- Larry Scott
10. All Aboard, Cats- Marco Di Maggio
11. Mr. Jukebox- Joshua Hedley
12. Short Goodbye- Chuck Mead
13. I Don't Want To- The Blasters
14. Long White Cadillac- Janis Martin
15. Flattop Joint- Sonny Burgess with Dave Alvin
16. Homesick- Marty Stuart & His Fabulous Superlatives
17. Funnel of Love- Nikki Lane
18. Little Sister- Elvis Presley
19. Hey Memphis- LaVern Baker


===============================================
ROCKIN' DADDY O'S ROCKABILLY RANCH PARTY ON
ROCK-IT RADIO SHOW #6154

Rockin Daddy O is back this week spinning the finest
of Rockabilly over Rock-it Radio. Here is this week's
playlist.

1. Basher # 3-Mike Waggoner & The Bops
2. Dry Run-Parker Cunningham
3. Shake It Up-Bloodshot Bill
4. Turn Down The Lights-The Starjays
5. That Jim-Mackey Beers & The Rockits
6. Savage Stomp-Screamin' Rebel Angels
7. Honey Bun-Levi Dexter
8. Primitive State-The Dalharts
9. Rootie Tootie Baby-Lee Mitchell
10. Drinkin' Age-The Raging Teens
11. You Don't Fool Me-Little Lesley & The Bloodshots
12. She's A Pistol(When She's Loaded)-Shaun Young & The 3 Ringers
13. Miss Bobby Sox-Benny Joy
14. Got Another Baby-Nate Gibson
15. Hootchie Coochie Gal-James Mask
16. Rocket Baby-Rocket J
17. Gotta Move-Santos
18. Lotta Lovin-Deke Dickerson & The Trashmen
19. Tip Top Boogie-Bailey Dee
20. Milk Cow Blues-Ricky Nelson


===============================================
BILL GREEN AND THE ROCK AND ROLL RETROSPECTIVE
SHOW ON ROCK-IT RADIO #6155 THE DO'S AND DON'TS

"DO" or "DON'T". That's the theme for this edition of Rock 'n Roll
Retrospective hosted by Rock-it D J Bill Green with each song
containing one of those words in the title. It makes for a very
interesting play list so be sure to check it out.

1) I Do - The Marvelos (1965)
2) Don't - Elvis Presley (1958)
3) Do The Bird - Dee Dee Sharp (1963)
4) Don't Hang Up - The Orlons (1962)
5) I Do Love You - Billy Stewart (1965)
6) Since I Don't Have You - The Skyliners (1959)
7) That's All You Gotta Do - Brenda Lee (1960)
8) Don't Let Go - Roy Hamilton (1958)
9) How Do You Do It? - Gerry And The Pacemakers (1964)
10) Don't Play That Song (You Lied) - Ben E. King (1962)
11) Breaking Up Is Hard To Do - Neil Sedaka (1962)
12) You Don't Miss Your Water - William Bell (1962)
13) The Way You Do The Things You Do - The Temptations (1964)
14) Don't Look Back - The Temptations (1966)
15) All I Could Do Was Cry - Etta James (1960)
16) Don't Stop The Wedding - Ann Cole (1962)
17) Ooby Dooby - Roy Orbisoin (1956)
18) You Don't Know What You've Got - Ral Donner (1961)
19) Honest I Do - Jimmy Reed (1957)
20) Please Don't Leave Me - Fats Domino (19530
21) The Things I Used To Do - Guitar Slim (1954)
22) I Don't Want To Cry - Chuck Jackson (1961)
23) Do I Love You? - The Ronettes (1964)
24) Don't You Care - The Buckinghams (1967)
25) Don't Do Me That Way - Joan Moody (1965)

===============================================
OTTO FUCHS AND ROCKIN' THE JOINT SHOW
ON ROCK-IT RADIO SHOW #6156

Otto Fuchs & A Rockin´ The Joint show on Rock It Radio,
with an assembly of some fine International Roots Rock & Roll and
Rockabilly with a cool twist of Country music.

For requests & dedications write to rockinthejukejointshow@yahoo.com

1. Rock The Joint-Bill Haley
2. Last Train-The Hillside Wranglers
3. Rock a Billy Bop-Hemenex
4. Fortune Teller-The Rioters
5. The Wild Boys-The Rock-A-Bulls
6. Rock & Roll Story-Shakin´ Stevens & The Sunsets
7. Elevator Rock-Tommy Steele & The Steel-Men
8. Stood Up-Ricky Nelson
9. Keep Searchin´-Del Shannon
10. Mama Said-The Shirelles
11. Rote Lippen Soll Man Küssen-Cliff Richard
12. Twist Espanol-Bill Haley & The Comets
13. Gonna Dance All Night-Hardrock Gunther
14. There´s No Tomorrow-Rayburn Anthony
15. Me & Bobby McGee-Sleepy La Beef
16. Cat Called Domino-Roy Orbison
17. Green Door-Jim Lowe
18. A Gal Named Joe-Mac Sales & The Esquire Trio
19. Rockabilly Guy-The Polecats
20. Bring Her To Me-Kid Rocker
21. The Ballad Of Johnny Reb-Flying Saucers
22. Put Your Cat Clothes On-Carl Perkins
23. Bottle To The Baby-Charlie Feathers
24. Darlin´-Chuck Berry
25. Nearer To A Love-Darrel Higham
26. Rock & Roll Forever-Bill Haley´s Comets with Andy Lee Lang


===============================================
ROCKIN' DADDY O'S ATOMIC DOO WOP DANCE PARTY
ON ROCK-IT RADIO SHOW #6157

Ready for some uptempo doo wop?? The real good tunes?
Then tune into this show!!! Here is the playlist of
this show.

1. All Night Long-The Fabulous Joe Houston
2. Lama Rama Ding Dong-The Edsels
3. Picture Of Love-The Continentals
4. When I Woke Up This Morning-The Redondos
5. It Happened Today-The Skyliners
6. Lookin' For My Baby-The Earls
7. Zoom Zoom Zoom-The Collegians
8. He's Gone-The Chantels
9. I've Got A Feeling-The Creations
10. Be My Pussy Cat-The Boptones
11. Hands Off-Lil Mo & The Dynaflows
12. I'll Be True-Faye Adams
13. Rock Step-The 24th Street Wailers
14. Please Believe Me-The Elegants
15. Cleopatra-The Precisions
16. Deep Down Secret-Gizzelle
17. Jungle Fever-The Grand Prees
18. You're The Reason(I'm In Love)-The Charts
19. Baby-The Avons
20. Most Of All-The Moonglows

===============================================
BILLY VERA'S ROCK AND ROLL PARTY ON ROCK-IT RADIO
SHOW #6158 WITH JOHNNY OTIS

BILLY VERA WRITES:
In the late 1980s and early 90s, I occasionally had guests on the show.
Most of these people are no longer with us. They were comfortable with me,
as we were able to speak, artist-to-artist and so I was able to get
more out of them than most other interviewers, or at least get them
from a different perspective. Here, we have Johnny Otis.
We talk about his career, the artists he discovered and the records
I played. His most famous discoveries include Little Esther, the Robins,
Etta James and the Royals, who with a name change, became
Hank Ballard & the Midnighters. On this show from 1989, we also
discuss and play records by Johnny with Little Richard, Jimmie Rushing,
Linda Hopkins, Charles Brown, Wynonie Harris as well as the great jazzmen,
Illinois Jacquet, Lester Young and Ben Webster.


HOUR ONE

1. Flying Home - Illinois Jacquet
2. Around The Clock - Johnny Otis All Stars featuring Wynonie Harris
3. Driftin' Blues - Johnny Moore's Three Blazers
4. Lover Come Back To Me- Lester Young
5. Harlem Nocturne - Johnny Otis Orchestra
6. My Baby's Business - Jimmy Rushing with Johnny Otis Orchestra
7. Courtroom Blues - Darby Hicks & Clem Talley with Johnny Otis Orhestra
8. Double Crossing Blues -Little Esther and The Robins with Johnny Otis Orchestra
9. Midnight at the Barrelhouse - Johnny Otis Orchestra featuring Pete Lewis (guitar)
10. Stardust - Ben Webster with Johnny Otis Orchestra

HOUR TWO

11. Rockin Blues - Mel Walker with Johnny Otis Orchestra
12. I'll Ask My Heart - Linda Hopkins
13. Hound Dog - Willie Mae (Big Mama) Thornton
14. The Wallflower (Roll With Me Henry) - Etta James
15. Still Love You So - Johnny Ace with Johnny Otis Orchestra
16. Directly From My Heart - Little Richard with Johnny Otis Orchestra
17. So Fine - The Sheiks
18. Strange Land Blues - The Flames
19. Willie & The Hand Jive - The Johnny Otis Show
20. Vine Street Swing - The Johnny Otis Orchestra
21. Every Beat of My Heart - The Royals
22. Crazy Country Hop - The Johnny Otis Show
23. Bye Bye Baby - Johnny Otis with Marie Adams

===============================================
TREVOR HYLAND'S ROCK AND ROLL PARTY ON ROCK-IT
RADIO SHOW #6159 TRIBUTE TO LAURA LEE PERKINS RIP

The Rock And Roll Dance Party plays tribute to Rockabilly sweetheart
Laura Lee Perkins who passed away on Friday April 6, 2018.
Our grief is shared with her family and all rockabilly lovers around
the globe. A great talent and beautiful soul has left us R.I.P.

Laura Lee Perkins the female Jerry Lee Lewis tells of her time at
Imperial Records and her return to the recording studios in 2006.
Enjoy the fabulous music and stories from this bundle of joy.


01. Gonna Rock My Baby - Laura Lee Perkins
02. Laura Lee Perkins interview Pt. 1 Early Life
02. Remember Me ( I'm The One That Loves You ) - Laura Lee Perkins
03. Laura Lee Perkins interview Pt. 2Â First time on tape.
04. Hound Dog
05. My Babe
06. Laura Lee Perkins interview Pt. 3 Name change.
07. Come On Baby
08. Laura Lee Perkins interview Pt. 4 First release.
09. I Just Don't Like This Kind Of Living
10. Kiss Me Baby
11. Laura Lee Perkins interview Pt. 5. Second release.
12. Don't Wait Up
13. Oh La Baby
14. Laura Lee Perkins interview Pt. 6 The Tartans / marriage to Neil
15. You Don't Know
16. Laura Lee Perkins interview Pt. 7 I'm Back And Here We Go . CD
17. Everybody Rock & Roll
18. Johnny B Goode
19. Jambalaya

Gene Vincent Sessions

20. Important Words ( 56' ) - Gene Vincent & The Blue Caps
21. You Better Believe
22. Red Blue Jeans & A Ponytail
23. Five Days, Five Days

High School Rock & Roll
24. High School U.S.A. ( Florida ) - Tommy Facenda
25. Aussie add - Enjoy Life , Have Your Eyes Checked
26. Aussie add - Fix Quill Pens

The Blue Caps
27. I Got A Baby - The Blue Caps ( Wales 1982 )
28. Blue Cap Man - The Blue Caps ( Wales 1982 )

Rydell's Records
29. Rock & Roll Fever - Chris Almoada
30. Sally Ann
31. Rock Crazy Baby
32. Aussie add - Frigidaire refrigerators

Aussie Rockabilly
33. Bop Tonight - Satellites
34. Buddy Can You Spare A Time - Satellites

===============================================
MATT THE CAT & THE JUKE IN THE BACK SHOW WITH A
TRIBUTE TO R&B ARTIST JIMMY WITHERSPOON IN
ROCK-IT RADIO SHOW #6160

Jimmy Witherspoon is one of most influential blues shouters to
emerge after WWII and yet he remains just a footnote in the evolution
of Rhythm & Blues and Rock n' Roll. Originally from Arkansas,
'Spoon settled in Los Angeles after his time in the Merchant Marines
during the war. He replaced fellow-shouter Walter Brown in Jay McShann's
band and was featured on McShann's first single for the fledgling Philo Label
in 1945. Witherspoon is best remembered for his 1949 chart-topper,
"Ain't Nobody's Business".

PART I 1945 - 1950

1. Swanee River Boogie - Albert Ammons & His Rhythm Kings - Mercury 1947
2. Confessing The Blues - Jay McShann & His Jazz-Men - Philo 1945
3. Hard-Working Man's Blues - Jay McShann & His Jazz-Men - Philo 1945
4. I Want A Little Girl - Jay McShann & His Sextette - Mercury 1947
5. Gone With The Blues - Jay McShann & His Sextette - Mercury 1947
6. Cain River Blues - Lou Spreignier's Orch. - Supreme 1948
7. Ain't Nobody's Business Pt. 1 & 2 - Jimmy Witherspoon - Supreme 1948
8. In The Evening - Jimmy Witherspoon - Supreme 1949
9. No Rollin' Blues - Jimmy Witherspoon - Modern 1949
10. Big Fine Gal - Jimmy Witherspoon - Modern 1949
11. GREAT 78 - Money's Getting Cheaper - Jimmy Witherspoon - Supreme 1948
12. Jump Children - Jimmy Witherspoon - Modern 1949
13. Who's Been Jivin' You - Jimmy Witherspoon - Modern 1949
14. Drinkin' Beer (Have A Ball) - Jimmy Witherspoon - Modern 1950
15. New Orleans Woman - Jimmy Witherspoon - Modern 1950
16. After Hours - Erskine Hawkins & His Orch - Bluebird 1946

PART II 1950 - 1956

1. Swanee River Boogie - Albert Ammons & His Rhythm Kings - Mercury 1947
2. I'm Just A Ladies Man - Jimmy Witherspoon - Modern 1950
3. Fickle Woman - Jimmy Witherspoon - Modern 1950
4. Real Ugly Woman - Jimmy Witherspoon - Modern 1951
5. Daddy Pinocchio - Jimmy Witherspoon - Modern 1951
6. The Wind Is Blowing - Jimmy Witherspoon - Modern 1952
7. Two Little Girls - Jimmy Witherspoon - Federal 1952
9. Baby, Baby - Jimmy Witherspoon - Modern 1953
10. Back Door Blues - Jimmy Witherspoon - Federal 1953
11. Move Me Baby - Jimmy Witherspoon - Federal 1953
12. 24 Sad Hours - Jimmy Witherspoon - Federal 1954
13. GREAT 78 - Fast Women And Slow Gin - Jimmy Witherspoon
14. I Done Told You - Jimmy Witherspoon - Federal 1954
15. When The Lights Go Out - Jimmy Witherspoon & His Orch.- Checker 1954
17. My Girl Ivy - Jimmy Witherspoon & The Quintones - Atco 1956
18. After Hours - Erskine Hawkins & His Orch - Bluebird 1946

===============================================
DAVE THE RAVE AND THE RELICS AND RARITIES OLDIES
SHOW ON ROCK-IT RADIO SHOW #6161

We don't have playlists to his shows but if you love
60s Rock and Roll from the hits to the rarities and
oddities then Dave the Rave's show is for you!
3! Full hours of 60s rock awaits you in this show!

===============================================
JACK VAN OERS & THE ROCKIN' WINDMILL ROCKABILLY SHOW
ON ROCK-IT RADIO SHOW #6162

The Rockin' Windmill is still turning like 45's on a pick-up.
The music in this show originates from Estonia, Germany, Switzerland,
The UK, Sweden,The USA, Finland, Canada and The Netherlands.
And believe it or not: Chubby Checker is even singing in German!
So, just turn up the volume, find your blue suede shoes and
petticoats and enjoy this Rockin' Windmill show.

1. Goody goody good-bye - Dale Wright - 1958
2. Betty Lou - Conway Twitty - 1960
3. Make like Rock 'n Roll - The Jumpin' Wheels - 2003
4. Don't you know I love you - Bobby Lee Trammell - 1966
5. April in Paris - The Tielman Brothers - 1961
6. Maybe little baby - George Jones - 1960
7. Five cadillacs - The Rhythm Cadillacs - 1988
8. Break up - Ray Smith - 1958
9. Rocket trip - Hot Rockin' - 2003
10. Twist doch mal mit mir - Chubby Checker - 1962
11. My way - Crazy Cadillac - 2001
12. I go ape - Neil Sedaka - 1959
13. I go ape - The Pontiacs - 1973
14. Back to the hop - Danny & the Juniors - 1961
15. Thought a little about you - Doug Wilshire & the Capers - 2004
16. Don't send your excuses - Dottie & the Wolfpack - 2003
17. Lovely Bernadine - Jimmy Castle & the Knights - 1996
18. Bird dog - Don Woody - 1956
19. Hey! Andy Valeri - Crazy Joe & the Mad River Outlaws - 2004
20. Linda, my Linda - Al Quick - 1964
21. You left me crying - The Slippers - 1980
22. Nightmare of a woman - Deke Dickerson & the Ecco Fonics - 1999
23. Slip slip slipping in - Boppin' Rhythm Boozers - 2003
24. Rock 'n roll on a Saturday night - Dwain Bell - 1959
25. Fafine - Conny & the Bellhops - 1960?
26. Shindig - The Shadows - 1963

===============================================
COOL BOBBY B AND THE DOO WOP STOP ON ROCK-IT RADIO
SHOW #6163

From a undisclosed location due to him cranking the
transmitter to a Million Watts! Cool Bobby B is back
on the Rock-it this week with 3 hours of great Doo Wop
music of the 50s and early 60s. And occasionally even
doo wop today! Let's get started with the playlist.


Hour #1

1. Rockin with the clock -- Shirley and Lee
2. Babalu's Wedding Day -- The Eternals
3. Blue and Lonely -- Pretenders featuring Jimmy Jones
4. There goes my heart -- Johnny and Joe
5. Oh Rose Marie -- The Fascinators
6. You could be my love -- 5 Crowns
7. Silhouettes -- 5 Rays
8. Jelly Belly -- Little Isidore & Inquisitors
9. The Girl next door -- The Channels
10. Begging you please -- Jive Five
11. Over the rainbow -- The Marcels
12. Last Chance -- Allan Collay & Satellites
13. I love you yes I do -- Tommy Ridgley
14. Can't tell my heart what to do -- Frankie Ford
15. Barbara Ann -- The Regents
16. Satisfied -- The Chateaus
17. Goodnight sweetheart goodnight -- Sha Na Na
18. Nadine -- The Coronets

Hour #2

19. Alphabet of Love -- The Suburbans
20. My Dianne -- The Bachelors
21. Lets be lovers -- The Starglows
22. You gave me peace of mind -- The Spaniels
23. Last night I dreamed -- The Fiestas
24. I do -- The Crests
25. Moonglow you know -- The Videos
26. It's you -- Little Guy & The Giants
27. Long Tall girl -- The Carnations
28. Castle in the sky -- Bop Chords
29. Don't take the stars -- The Mystics
30. C'est la vie -- The Wrens
31. Honest I do -- The Innocents
32. Gee whiz -- The Innocents
33. Dream on -- 5 Keys
34. Come to me softly -- Jimmy James & Vagabonds
35. I believe -- The Earls
36. Just for a thrill -- 5 Keys
37. You are -- The Cadillacs

Hour #3

38. 11th hour melody -- The Rivieras
39. Moonlight Cocktails -- The Rivieras
40. A funny feeling -- Dion & Belmonts
41. Havin' Fun -- Dion
42. Fools fall in love -- The Drifters
43. Angel Baby -- Rosie & The Originals
44. There is something on your mind -- Big Jay McNeely
45. Been so long -- The Pastels
46. Bong Bong -- Richard Latham & Tempo Tones
47. Wonderful night -- Reunion
48. My Prayer -- The Platters
49. Where or When -- The Flamingos
50. Tonight I fell in love -- The Tokens
51. Somewhere -- The Tymes
52. Why don't you write me -- The Feathers
53. Oh Gee Oh Gosh -- The Kodaks
54. Goodnight Baby -- The Imaginations

Thanks Cool Bobby B for all you do to keep Doo Wop Group
Harmony Alive! You can write to Cool Bobby B at:
coolbobbyb@rockitradio.net and if you do please let him
know you heard him on Rock-it Radio!

==============================================
100'S OF VINTAGE ROCK AND ROLL VIDEOS ON FILE IN
OUR VIDEO SITE AT ROCK-IT RADIO:
CHECK IT OUT AT:

HTTP://WWW.ROCKITRADIO.NET/VIDEO.HTML

==============================================
COME JOIN US ON FACEBOOK !!! WE WOULD LOVE A
LIKE FROM YOU!

http://www.facebook.com/rockitface
The Rock-it Radio Facebook Site.

==============================================
HISTORY OF ROCK-IT RADIO

If you are new to Rock-it Radio and would like to learn more --
We have our History Page up as well -- telling the story of Rock-it
Radio. You can find it at:
http://www.rockitradio.net/history.html


ROCK-IT RADIO T SHIRTS - MANY DESIGNS TO CHOOSE FROM!!

Have you seen the new full line of Rock-it Radio T shirts that have been
Released. 3 New designs by Rock-it Radio's own Jammin' Jan.
Each Rock-it Radio T shirt is only $16.00 each plus shipping. And 100% of
All monies goes to keeping Rock-it Radio Online.

Come check out the latest styles.:

http://www.rockitradio.net/tshirt.html

Check Website for updates and availability

VINTAGE VIDEO PICK OF THE WEEK

For the week of 10 MAY, 2018
This week in our archives page:
This week: The Jive Five with A GREAT Doo Wop Revival with
their hit "My True Story".

Now listed in the top listing of our video page...

http://www.rockitradio.net/video.html

This week: A favorite of ours - Animated version of
White Christmas by The Drifters
================================================
A BIG THANK YOU TO ALL THOSE THAT SUPPORT US
HERE AT ROCK-IT RADIO.

I want to thank all of you for purchasing our vintage
broadcasts, T shirts and Rock-it Radio shows they all
go to help keep Rock-it Radio online. AND ALSO A BIG
THANK YOU to 2 gentlemen that sent Rock-it Radio checks
to help us going as well.
Frederick Felch from San Luis Obispo, Calif.
and Ed Mayer from Dover, Delaware.

Thank you Gentlemen and Thank you all! Thanks to all
of you we stay committed to keeping the Oldies alive!



================================================
MAY ROCK-IT RADIO FREE GIVEAWAY CD -
DJ DICK BIONDI OVER WLS CHICAGO 1962 GREAT TUNES!

MAY 2018 GIVEAWAY SPECIAL!!! -- For MAY with every order you make
from a Rock-it Radio website you will also receive for FREE!
A vintage musical rock radio show from 9 March, 1962 from the
Wild Itralian himself Dick Biondi! Dick Biondi has had a long
career in radio mostly in Chicago for the two giant top 40 stations
at the time - WLS and WCFL. Dick is quite the character and knows
how to put up a great show. He even had a slight novelty hit that
some of you might remember called "On top of Spaghetti - The Meat Ball Song"
to the tune of On top of old smokey. This show (catalog release RIR #165)
- it's yours Free with every order from the month of May 2018!
from the following websites.
If you wish to see what is in this Dick Biondi WLS Chicago broadcast CD
check it out in our Ebay Store at:
https://www.ebay.com/itm/132611328189

BUT DON'T BUY IT! Get another Rock-it Radio product
from the sites below and we will send you this CD
for FREE. You can shop at the following Rock-it
Radio sites.

The Rock-it Radio Launching Pad:
http://www.rockitradio.net/store.html

Wolfman Jack Shows.
http://www.rockitradio.net/wolfman.html

Rock-it Radio Shows:
http://www.rockitradio.net/order.html

or our new service of Rock-it Radio shows
on Flashdrive.
http://www.rockitradio.net/flashdrivemp3.html

Or our 50 Rock it Radio shows on Flashdrive at:
http://www.rockitradio.net/flashdrive.html

Any order from any of those sites in April you will
get this CD for FREE!

================================================
NEW RELEASE -- FLASHDRIVE OF ROCK-IT RADIO
SHOWS #6101 TO #6150. OUR 15TH FLASHDRIVE

NEW RELEASE!!!!! ROCK-IT RADIO FLASHDRIVE #14!!

This includes over 75 hours of Rock-it Radio oldies programming
from shows #6101 to #6150. The Flashdrive features all these shows
in their entirety in mp3 format in studio quality and just plug into
your computer and Rock-it Away!!!! Check out #14 and it's playlist via our
Flashdrive page at http://www. rockitradio.net/flashdrive.html or in our Ebay
Store listed as:
https://www.ebay.com/itm/142772851535


================================================
COMING SOON! LANE QUIGLEY AND THE MEMORY LANE SHOW
CLASS OF 1968 SPECIAL

PART I TO AIR LATER THIS WEEK - KEEP EYES OPEN

In the next couple of months we will start airing once
again the 50 year Class reunion series by Station Manager
Lane Quigley. Lane does a 50 year Class reunion every year
and has done so for several years now here on Rock-it Radio.
Filled with the music from 1968, along with ads, news bits
and the pop culture of the time.
It will be a 5 part series probably airing a show once a week
with a special part 6 that will be a CD giveaway for those that
support Rock-it Radio in a upcoming month.
===============================================TWO NEW RELEASES IN THE ROCK-IT RADIO LAUNCHING PAD
STORE AND EBAY STORE.
It's our first 2 new vintage releases for 2018.
And since Dick Biondi is our free giveaway this week.
We thought we would release 2 more shows of his on his
syndicated show of Dick Biondi's Super Gold Show from 1977.
It's an oldies show from back then aired at
WNMB Myrtle Beach, S. Carolina.
Now listed in the Rock-it Radio Launching pad
As our first South Carolina listings at:
http://www.rockitradio.net/store.html

Or our Ebay Store Listings with playlists et al at:
Part I at: https://www.ebay.com/itm/142786822785 (RIR #655)
Part II at: https://www.ebay.com/itm/142786838451 (RIR #656)


All updates and latest news on our vintage radio
broadcasts can be found in our Launching Pad Facebook
page at http://www.facebook.com/rockitpad


============================================


ROCK-IT RADIO LISTENER'S
VINTAGE BROADCASTS ON FLASHDRIVE

It's hard to believe but we realize that perhaps our
declining sales is due to Compact Discs are a
aging medium. And Flashdrives And digital is where it's
at. So, I am going to make this offer just on a trial
basis for the remainder of 2017. If you would prefer to
have Rock-it Radio shows and vintage radio shows that we
offer for sale on Flashdrive in mp3 format rather then
on CD we can provide that service here at Rock-it Radio.
Here it is how it works:

1. E mail me at rockitradio@netzero.net and let me
know what shows you would like to have on Flashdrive.
Let's make it a minimum of 3 broadcasts. Either any
Rock-it Radio show .... or Vintage Radio Show from the
50s through 70s that we offer at:
http://www.rockitradio.net/store.html

2. The Cost: Flashdrive will cost $5.00 and each show
that you wish to have will cost $5.00 - nearly 50% CHEAPER then on
CD.

3. I will send you back a invoice within a couple of days, It will be
sent via paypal and it is not obligatory. If you change your mind
just don't pay. But it is easy to pay with any major credit card.

4. Please allow up to 7 days for me to fill the order. Once payment
is sent. In case I get swamped with this offer. Probably sooner.
I have to redigitalize all sold shows into MP3 and that takes a little
bit of time. All orders will have $3.00 postage a slight increase but
that is due to it is shipped as a package and not envelope since it will
be over a 1/4" thick.

For example you order: 3 of our Alan Freed Radio shows. And a Real Don
Steele show. A total of 4 shows - That would normally be a cost of $40.00
on CD. All together on one flashdrive so the invoice would look like

- Flashdrive $5.00
- Four Shows on Flashdrive @ $5.00 each - $20.00
- shipping $3.00

Total: $28.00

Of course if you order more shows on the flashdrive you would continue saving
as you are paying the $5.00 per show rather then $9.50.

And of course we will be adding the monthly giveaway as well.

So for a invoice again just e mail me your wants on your flashdrive for
shows on mp3 at: rockitradio@netzero.net

Also, check out this offer again at:
http://www.rockitradio.net/flashdrivemp3.html

=============================================================
COLLECTING AIRCHECKS - A HOBBY OF RADIO NOSTALGIA
What is a Aircheck? It is simply a recording of a radio broadcast. Usually collected by Radio fans.
Come check out our webpage on collecting Airchecks.

http://www.rockitradio.net/aircheck.html


COME REMEMBER WOLFMAN JACK !!!
Rock-it Radio has a very special way to remember Wolfman Jack.
Arguably the most iconic of American DJ's. Come check out the
Rock-it Radio Wolfman Page at:
REMEMBERING OFFSHORE PIRATE RADIO IN THE UK
In the mid 1960s it was difficult for the youth to actually listen to Rock and Roll in the UK.
The BBC actually ran only a few hours a weekend to provide the young Brits with this outlet.
At night during the week they ventured to even tune into Radio Luxembourg to get there fill,
that broadcast rock and pop around the clock.
To fill this void some venture capitalists decided to bring in commercial radio aboard refitted
radio ships. And anchor themselves just off into International waters off the English coast.
Radio Caroline (named after Caroline Kennedy the U.S. President's daughter at the time)
and Radio London being the most famous. Rock-it Radio has a website dedicated to their ventures
and also have actual radio broadcasts available of
these offshore pirates.
We invite you to check them out our webpage at:
http://www.rockitradio.net/pirate.html
FINDING ROCK-IT RADIO ON THE 'TUNE IN RADIO' CELL PHONE APP.

We have had a few requests from listeners that they couldn't find us on the popular
'Tune in Radio' App. on Android and PC and iphones. Running a search of 'Rock-it Radio'
will actually list 100s of Rock stations.
So, the best way to find us on this very thorough and extensive app. that
I love using myself is -
run a search on 'rockabilly' - there you will easily find
Rock-it Radio listed.
Our Tune in Radio App. webpage is also at:
http://tunein.com/station/?stationId=41878
ARE YOU ON FACEBOOK ?? FOLLOW THE LATEST AT
ROCK-IT RADIO AND OUR LATEST VINTAGE BROADCAST RELEASES.

Rock-it Radio has 2 Facebook pages. One for our programming
online and notifications, and the other is for our vintage
broadcast shows for sale.


The Online Station is http://www.facebook.com/rockitface

For the Rock-it Radio Launching Pad and our latest deals and
releases you can follow us at:
http://www.facebook.com/rockitpad
MISSED A COUPLE OF NEWSLETTERS LAST COUPLE OF WEEKS??

THEN YOU CAN ALWAYS CHECK OUR BLOG WHERE IT IS ARCHIVED.
YOU CAN CHECK OUT OUR BLOG AT:

http://rock-itradio.blogspot.com/
=============================================


ROCK-IT RADIO DJ PAGE...


Remember you can check out all the Rock-it Radio DJ's

and read the bios of these DJ's that make these

Rock-it Radio Shows possible at:


And don't forget for even more pictures --

there is our picture page at:
============================================
IF YOU HAVE TWITTER COME FOLLOW US THERE

If you are one that tweets then please check out and join and get our
updates on your twitter account. Our Twitter link is right below.

http://www.twitter.com/RockitRadio1
It is our new Twitter account and we will once again start
scrolling our messages and updates on our webpages as well.


=================================================
We are in our 22nd year!!! Please share the good news with your
family and friends that love original Oldies Music - We are back and
Rockin' with new shows in our program page at
http://www.rockitradio.net/programs.html
Just click the MP3 speaker to the show that has your musical interest!
=================================================
WELCOME NEW MEMBERS TO THE LISTENER'S CLUB!!!!

A big welcome to the below new Rock-it Radio listeners that
joined our Listeners Club from April 15, 2018 to May 10 , 2018
We hope that you enjoy the music Rock-it Radio provides
and our playlists and information that our weekly newsletter
provides. Any comments, criticisms, kudos, compliments or
future ideas is always welcome and you can e mail me personally at:
rockitradio@netzero.net

Junior -- Brazil
Andriy -- Kiev, Ukraine
Dennis Baker - Florence, Oregon USA
Lonnie Batchlor - Amarillo, Texas USA
John Miller - Olive Branch, Mississippi USA
Martyn Faulds -- Worksop, Nottinghamshire, United Kingdom
Brian Bouchey - New York, USA
William Craig - Ft. Walton Beach, Florida USA
S.E. Charles - North East Coast MAINE, USA
James Lamb - Washington, Indiana USA
Al Frey - Rochester, New York USA
Gary Bryer - Wayne, Pennsylvania USA
We have gained 112 new likes in our listeners club
in our Facebook page Rock-it Radio Fan Page as well this week at:
http://facebook.com/rockitface and 11 more following us
on Twitter @Rockitradio1 .

We have added a total of 135 new members to the Rock-it Radio
Listeners Club since our last newsletter. We now have 92,700 exactly
that have joined the Rock-it Radio Listeners club.
We hope that you enjoy the rare 50's and early 60's
Rock and Roll, Rockabilly and Doo Wop (which most commercial
oldies radio stations have forgotten) that we are able to play
for you from Rock-it Radio. Remember, we are here for you!

So if you ever have any requests, dedications, comments and
suggestions we always love to hear from our listeners.
Our e mail address is:
rockitradio@netzero.net

====================================================
To learn more about the Rock-it Radio Listeners Club and our Free
Newsletter please check out:
http://www.rockitradio.net/member.html

It's free and easy to join and the Rock-it Radio Newsletter is always
online at: http://www.rockitradio.net/newsletter.html



====================================================

PLEASE HELP US SPREAD THE GOOD WORD OF ROCK-IT RADIO!

Do you know of someone that might also like the music

of Rock-it Radio? We are desperately trying to keep this

music alive and have been doing so since 1995! Please

share the information of this station. And if you have

a website would you please consider putting a Rock-it Radio

link on your page.

There are a few to choose from in our link page at:

http://www.rockitradio.net/links.html
HOW TO ORDER OLD ROCK-IT RADIO SHOWS = YOUR PURCHASES HELP US STAY ONLINE!!!
We have received many inquiries on how to order Rock-it Radio shows that are no longer in
our on archives webpage. These shows are still available on CD and mailed to you within 24
hours of receiving payment.
To help search for older shows that you may be looking for you may want to check the Rock-it
Radio blog site. Old newsletters describing the shows and playlists
are archived there and there is a menu bar on the right side that breaks down every playlist
Then you may either pay by check or money order or paypal. Rock-it Radio shows are only
$9.50 U.S. each and are studio quality broadcasts that were placed on Compact Disc here at
the Rock-it Radio Studio. We have a flat rate shipping charge of $1.50 U.S. so if you order
one or several -- it is still only $1.50
U.S. shipping. And we ship worldwide, overseas orders are mailed out first class airmail.
Instructions where to send payment is at our webpage:
like we can send you a paypal invoice within 24 hours.

When you order a Rock-it Radio show or shop at our Rock-it Radio Launching Pad you
help keep these oldies alive and help us pay the bills here at Rock-it Radio.
And at the same time -- you are not getting nothing for your donation, but actually
some of the shows and memories we hope we keep alive here at Rock-it Radio.
TOP 25 SELLERS OF THE ROCK-IT RADIO LAUNCHING PAD
FOR May 10, 2018

HERE IT IS !!! The Top 25 Countdown from the Rock-it
Radio Launching Pad http://www.rockitradio.net/store.html
FOR May 10, 2018.

As you know the Rock-it Radio Store sells vintage Radio Broadcasts -
Where you hear the actual music, news and vintage advertisements -
uncut and unedited just like you would of heard it back then.
Here are the top sellers this week.

1. Rock-it Radio Shows #6051 to #6100 Flashdrive
2. RIR #594 - Denny Sanders WMMS Cleveland 6/30/1978
3. RIR #644 - Dan Ingram WABC New York 6/12/1964
4. RIR #181 - Wolfman Jack XERB Rosarito, Mexico 12/8/1967
5. RIR #541 - Denny Sanders WMMS Cleveland 1/31/1978
6. RIR #355 - Real Don Steele KHJ Los Angeles 2/9/1968
7. RIR #386 - Charlie Tuna - KHJ Los Angeles 2/23/1969
8. RIR #222 - Ron Britain WCFL Chicago 5/31/1970
9. Rock-it Radio Lane Quigley Class of 1966 tribute
10. RIR #114 - Alan Freed WABC New York 11/5/1959
11. RIR #622 - Johnny Morgan CKLW Windsor, Ontario 7/12/1967
12. RIR #168 - Dan Ingram WABC New York 7/22/1967
13. RIR #646 - Larry Lujack WLS Chicago 8/8/1970
14. RIR #267 - Arnie woo woo Ginsburg WMEX Boston 12/12/1965
15. RIR #652 - Lost Beatles Interview - Helen Shapiro BBC Radio 4 London
16. RIR #229 - Jerry Stevens - WIBG Philadelphia 1/6/1961
17. RIR #127 - Alan Freed 1956 Rock & Roll Dance Party over Armed Forces Radio
18. RIR #206 - Wolfman Jack XERB Rosarito Mexico Pt. 2 10/1/1969
19. RIR #250 - Dixon Dairy Show KDXE Little Rock 6/12/1964
20. RIR #179 - Jocko Henderson WOV New York 6/10/1957
21. Rock-it Radio Shows #6001 to #6050 Flashdrive
22. RIR #410 - Dr. Don Rose KFRC San Francisco 4/4/1974
23. RIR #151 - George Hound Dog Lorenz - WBLK Buffalo, NY 1962
24. RIR #347 - Bob Whitney KBOX Dallas 4/4/1959
25. RIR #457 - George 'Granny Goose' Groves KGMB Honolulu 6/27/1973


If you would like to view these shows in depth you can check out

our Rock-it Radio Ebay Store at:

or in the Rock-it Radio Launching Pad store at:

and in the upper left hand corner -

there is a search box where you can type in the DJ name or

Station Call letters and that information on that show will pop up.

Ordering from the Ebay store will also qualify you for the Rock-it Radio

giveaway mentioned previously in this newsletter. Sale of

these broadcasts is what keeps Rock-it Radio going and thank

you again to everyone that buys these!

============================================



REQUEST A ROCK-IT RADIO STORE CATALOG
If you don't like ordering online but still want to have some
of the vintage radio shows from the 50s through the 70s - We
understand that. That is why we still take mail orders. You can
actually save money also in our orders if you use our coupon that
comes with every catalog - That will give your order a 25% discount!

If you would like a Rock-it Radio catalog that lists over 500 rare and rockin' radio shows with famous DJs when Radio was truly radio! Just e mail us
your mailing address and we will send it out straight away!
Our E mail address is: rockitradio@netzero.net

============================================
Rockabilly bands looking for airplay
If you or know someone that would like airplay on Rock-it Radio we invite
you to submit your press kits to Rock-it Radio. Our website for further
information is:
http://www.rockitradio.net/airplay.html
============================================
Come tune into the World on your computer!
1000s of stations around the world now broadcast online. We have a
link to some of the internet top directories to help you find these stations.
http://www.rockitradio.net/internetradio.html
============================================
Rock-it Radio Program Webpage Reminder
Remember, if the show that you want to hear is getting close to the bottom
of the list of radio shows, you should tune in as soon as you can. These shows
to have a high audio quality require a lot of internet bandwidth and memory.
And currently we can only afford the
30
latest shows online here at Rock-it Radio.
So, when a new show is put online it knocks the oldest one off the Rock-it Radio
archives page. Usually a show will at least last 16 to 20 days, once it is placed in
the archives.
============================================
OUR SISTER STATION FIRST NATIONS BROADCASTING.
We invite you to also check out our sister station -- First Nations
Broadcasting. And tune into the rather Cool North of the Yukon and Alaska
with our very own Debbie Snowdove!
============================================
Well that is just about it for this newsletter and playlists of our latest
shows. We hope that you enjoy them.
We will do our best to keep these shows on for at least 14
days and hopefully 21 days.
All the best always,
Bennie Dingo
Rock-it Radio

website: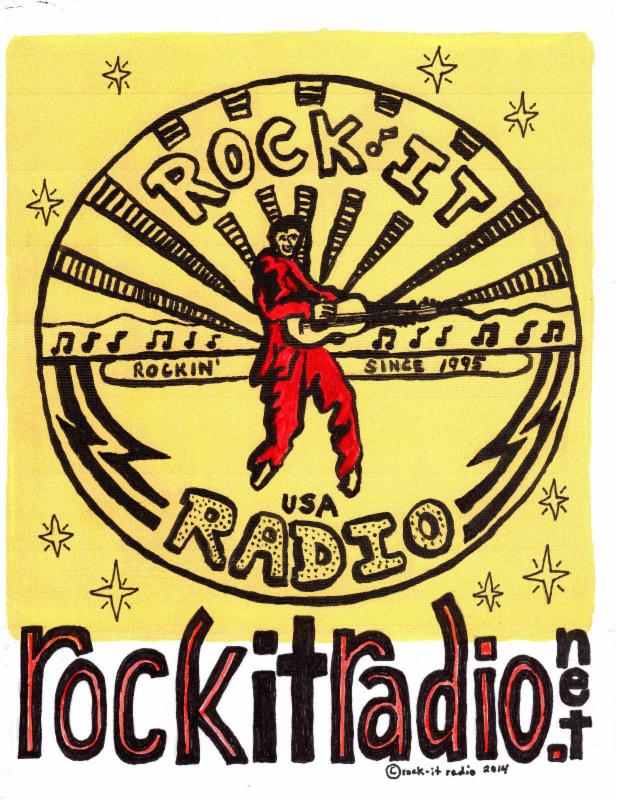 Rock-it Radio main website:
http://www.rockitradio.net

Archived Shows at:
http://www.rockitradio.net/programs.html

Rock-it Radio Vintage Broadcast Store:
(Launching Pad)
http://www.rockitradio.net/store.html