Rock-it Radio since 1995 providing 50s and early 60s Rock and Roll, Doo Wop and Rockabilly music online! Come tune us in at http://www.rockitradio.net We also have several 100 original radio shows from the first decade of Rock and Roll at: http://www.rockitradio.net/store.html
==========================================================================
ROCK-IT RADIO NEWSLETTER AND PLAYLIST
SHOWS #6164 TO #6181
FROM
May 11, 2017 to June 2, 2018

Hi Rock-it Radio Listeners,

A Happy Warm June to all of our listeners! We have a
new giveaway of a British Invasion Count Down Show from
1966 - For all of our supporters. Also, 18 new shows
online since our last newsletter being shows #6164 to #6181.
Plus! including the first two segments of the 50 year Class
Reunion Special featuring the music from 1968.
And talk of some recent woes and tech issues that most we
have fixed, but one that has us perplexed that we are calling
for our listener's for some help on. It's all in this week's
Rock-it Radio Newsletter and playlist.

Our shows can be heard in our archives page at:

http://www.rockitradio.net/programs.html
and click to the speaker on the left to hear the show.

Remember if you are new to Internet Radio and having trouble tuning in though --
Check out our webpage to help you out at:
http://www.rockitradio.net/tunein.html
============================================
REMEMBER YOU CAN ORDER ANY OF THESE ROCK-IT
RADIO SHOWS ON CD!!!! NEW EASIER ORDERING!

Would you like one of these Rock-it Radio shows on CD? To
be able to play anywhere? And help support Rock-it Radio at the same time.
For complete information check out our program
ordering webpage at: http://www.rockitradio.net/order.html

Our shows are of course copies straight from the studio so they are studio
quality and satisfaction is guaranteed.
Or if you would rather receive an invoice let me know and we
can e mail you a copy - Just e mail us the show(s) you would like
to have and the Rock-it # to: rockitradio@netzero.net

==============================================
All Rock-it Radio shows stay online from 18 to 24 days and are
broadcast in MP3 Format. To tune in just click to the speaker
at our program page at:
http://www.rockitradio.net/programs.html

The newest show added replaces the oldest show so if you see a
show near the bottom of the listing - you should listen as soon as
possible.

==============================================
WE COULD REALLY !!! USE YOUR SUPPORT

Rock-it Radio is 100% Publicly supported. But when you
donate to the Rock-it Radio Launching Pad - we give you
a vintage broadcast of your choice.
100% of all sales from the Rock-it Radio Store (Launching
Pad) goes back to pay copyright fees, LLC taxes, Internet
and bandwidth costs of Rock-it Radio. Without your support
we would not exist. So. please consider a purchase at:
http://www.rockitradio.net/store.html

===============================================
NOTE: ALL SHOWS BELOW CAN BE FOUND IN OUR
PROGRAM WEBPAGE -
TO TUNE IN CLICK TO SPEAKER OF THE SHOW YOU WANT
TO LISTEN TO. EITHER MP3 OR REAL PLAYER.
BOTH FORMATS ARE SUPPORTED.
AT:
HTTP://WWW.ROCKITRADIO.NET/PROGRAMS.HTML

==============================================
AL COOL DADDY SMITH A DOO WOP TRIBUTE TO EARLY R&B
ON ROCK-IT RADIO SHOW #6164

From his studios in Brampton, Ontario Canada Al this
show features some Rare and Rockin'!!! here on Rock-it
Radio.
This show features great R&B from the late 1940's and early 1950's including a few recordings that could be considered the first Rock and Roll recordings and have been acknowledged as such by a variety of Rock historians.

The play list is as follows:

1. My Gal's A Jockey-Big Joe Turner 1946
2. Hey Ba-Ba-Re-Bop-Lionel Hampton 1946
3. (Get Your Kicks) On Route 66-Nat King Cole Trio 1946
4. Open The Door-Richard-Jack McVea and His All Stars 1946/7
5. Blow Illinoise Blow-Illinoise Jaquet 1947
6. Old Man River-The Ravens 1947
7. We're Gonna Rock,We're Gonna Roll-Wild Bill Moore 1948
8. Corn Bread-Hal Singer 1948
9. Boogie Woogie Barbeque-Tiny Grimes 1948
10. Saturday Night Fish Fry-Louis Jordan 1948
11. Cole Slaw-Frank Culley 1949
12. Cadillac Blues-Roy Brown 1950
13. The Fat Man-Fats Domino 1950
14. Jay's Frantic-Big Jay McNeely 1950
15. Let's Jump Tonight-Chuck Willis 1951
16. Sixty Minute Man-The Dominos 1951
17. Lawdy Lawdy Miss Clawdy- Lloyd Price 1952
18. So Tired-Roy Milton 1952
19. Hound Dog-Big Mama Thornton 1953
20. Keep-A-Talkin'-Wynonie Harris 1954
21. Baby You Thrill Me-Amos Milburn 1954

===============================================
DJ SPINNING ROCK BOOGIE AND THE MOVIN AND GROOVIN
SHOW WITH MICHIGAN RARE ROCKERS ON ROCK-IT RADIO SHOW #6165

Join DJ Spinning Rock Boogie for another show in his series,
"Regional Round Up", the show that features a particular State or
States of America, with some of the Record Labels from out
of that State(s), the Towns and Cities where those Labels were based,
although not always recorded in, and the Artists who recorded on them.
This show is taking another look at the State of Michigan with music
from the 50's and 60's including, Hillbilly, Rockabilly, Rock & Roll,
Teeners, and the regular feature of "The Smooch Spot".

01. Intro - Medley
02. Cool Guitar - The Blue Echoes (59) Bon Musique - Lansing
03. In The Middle Of The Night - Pete Cummins & The Redeemers Four (?) Raelex -

Lansing
04. Too Small To Dance - Little Ernest Tucker (58) Fortune - Detroit
05. Rock Little Lucy - The Four Scores (57) Bart - Detroit
06. Ain't No Sign I Wouldn't If I Could - Ford Nix & The Moonshiners (59) Clix - Troy
07. Oh She's The One - Mike O'Berry (66) Soo - Pontiac
08. Geronimo Stomp - Barry Darvell (59) Colt 45 - Flint
09. Big Green Car - Jimmy Carroll (58) Fascination - Highland Park
10. Three Years - Harold L & The Offbeats (62) Happy Hearts - Wayne
11. Work Work Work - Alan Pearson (65) Mutt - Inkster
12. Columbus Stockade Blues - Kenny Layne & His Bulldogs (57) Strate-8 - Detroit
13. Love Bug Crawl - Jim Bullington (57) Wednesday - Flint
14. Rock And Roll Tonight - The Three Ramblers (58) Ozark - Sault Ste Marie
15. New Spark - Johnny Powers (93) School Kids - Ann Arbor
16. Night Club Rock And Roll - Kimble & Wanda Janes |+ The Gene Parsons Band (59) Southfield - Oaklawn
17. Bring Back (smooch) - The Van Dellos (61) Card - Ecorse
18. Now She's Gone (smooch) - Bob & The Bandits (59) Loki - Lansing
19. Some Happy Day (smooch) - The Bohemians (62) Chex - Detroit
20. The Tears (smooch) - The Supremes (61) Motown - Detroit
21. I'll Be So Glad (smooch) - Big Red & The Comancheros (66) Arnold - Detroit
22. Bevy Mae - Bobby Smith (60) Fox - Detroit
23. I Got Another Lover - The Monuments (65) Dis-co - Kalamazoo
24. Buzzin' Bee - The Ramblers (66) Sunrise - Grand Rapids
25. Blowin' Through Yokahama - The Medallions (63) Munro - Saginaw
26. He's My Daddy - Velma Cross & Her High Steppers (61) Fine Art - Detroit
27. Frogman Hop - Kenny Owens (58) Ruth - Ann Arbor
28. Big Bad Wolf - Clinton O'Neal & The Country Drifters (63 Drifter - Imlay City
29. Outro - Medley

===============================================
PETE CHASTON'S DOO WOP SHOW HERE
ON ROCK-IT RADIO #6166

Pete is one of our veteran DJs here on the Rock-it
and his Doo Wop collection is quite extensive!
If you love Doo Wop Rock and Roll but in search
of more of the obscurities along with the standards
this show just might be for you.

1. Doo-Wop All Night Long-The Blue Emotions (opening theme song) (1982)
2. I'll Make You Understand-The Performers (1959)
3. Beyond the Sea-The Reveres (1963)
4. Barbara Ann-Street Corner Society (1979)
5. Close to Me-The Charades (1961)
6. B'wa Nina-The Tokens (1962)
7. Echo-The Emotions (1962)
8. Don't Run Away-Nino & The Ebbtides (1961)
9. Amazons and Coyotes-The Dreamlovers (1963)
10. I Can't Believe-Dino & The Diplomats (1962)

SILLY SONG SEGMENT:

11. Dinner With Drac-John Zacherle (1958)
12. Hide and Go Seek-Part 1-Bunker Hill (1962)

SCRATCHY 45 RPMs SEGMENT:

13. Kill It-The Antwinetts (1958)
14. La La-The Four Knights (1963)
15. Lonely Way-The Zircons (1964)
16. Gunslinger-Bo Diddley (1960)

BACK TO THE CDs &/or More 45 RPMs:

17. Why You Do Me Like You Do-The Cleftones (1957)
18. You Baby You-The Excellents (1962)
19. Strange Love-The Native Boys (1956)
20. O-Mi Yum-Mi Yum-Mi-The Shells (1961)

SLOW SONG SEGMENT:

21. Whispering Sorrows-The Nutmegs (1955)
22. Vision of Love-The Explorers (1959)
23. To a Soldier Boy-The Tassels (1960)
24. The Facts of Love-The Fluorescents (1959)
25. The Honeymoon-The Solitaires (1956)
26. For Sentimental Reasons-The Devotions (1961)

27. (closing theme song) Adios-The Five Discs (1961)

===============================================
PART I OF THE 50 YEAR CLASS REUNION SHOW FEATURING
MUSIC FROM 1968 WITH HOST LANE QUIGLEY - ROCK-IT #6167


It's an annual tradition on RockitRadio as the Memory Lane Show celebrates the 50 Year Reunion for the graduating class of 1968. This week is Part One of a five-week journey looking at the music and pop culture that provided the backdrop for the seniors of '68. During this series, we'll hear over 100 great tunes, dozens of interview clips, and host Lane Quigley will take a peek back to movies, TV shows, sports headlines, radio jingles and even a handful of memorable commercials from the day. Join us now and tune in every week for the next month to catch all five episodes of the Memory Lane Show 50 Year Reunion celebrating the Class of 1968.

1. Dance To The Music - Sly & The Family Stone
2. Jumping Jack Flash - The Rolling Stones
3. The Eyes of a New York Woman - B.J. Thomas
4. Grazing In The Grass - Hugh Masekela
5. Time for Living - The Association
6. I Thank You - Sam & Dave
7. If You Can Want - Smokey Robinson & The Miracles
8. U.S. Male - Elvis Presley
9. Cowboys to Girls - The Intruders
10. Mrs. Robinson - Simon & Garfunkel
11. Baby Now That I Found You - The Foundations
12. Green Tambourine - The Lemon Pipers
13. Shoo Be Doo Be Doo Da Day - Stevie Wonder
14. I Wonder What She's Doing Tonight - Tommy Boyce & Bobby Hart
15. Stoned Soul Picnic - 5th Dimension
16. Young Girl - The Union Gap featuring Gary Puckett
17. How'd We Ever Get This Way? - Andy Kim
18. Ain't No Way - Aretha Franklin
19. Look of Love - Sergio Mendes & Brasil 66
20. I Will Always Think About You - New Colony Six

===============================================
JAMMIN JAMES RILEY AND ROCKABILLY N BLUES RADIO
SHOW ON ROCK-IT RADIO SHOW #6168 TRIPLE PLAY!!!

From his studios in Nashville, Tennessee Jammin'
James Riley puts together one great Rockin' Rockabilly
and Blues show for our listeners here at Rock-it Radio.
Here is the playlist.

Rockabilly N Blues Radio Hour #1

Jackslacks is my co-host and picks all the songs this hour!

1. Crazy When She Drinks- Buzz Campbell
2. Lost Weekend- The Beat Farmers
3. Come Home With Me- Jackslacks
4. Let's Buzz- The Paladins
5. She's Tuff- The Fabulous Thunderbirds
6. Our Neck Of The Woods- Cathouse Thumpers
7. Break Up- Jerry Lee Lewis
8. No Other Girl- The Blasters
9. If I Didn't- Nobody's Business
10. Matchbox- Carl Perkins
11. Lonely Girl- Dead Engines
12. How Long You Wanna Live Anyway- Stray Cats
13. Toe To Toe- Billy Bacon
14. Back In The Mix- Jackslacks
15. Rock Billy Boogie- Johnny Burnette & The Rock N Roll Trio


Rockabilly N Blues Radio Hour #2

1. Knock Down Drag Out- Ronnie Dawson
2. Rhythm Rockin' Blues- Crazy Cavan & The Rhythm Rockers (with Linda Gail Lewis)
3. The First Train Headin' South- Johnny Horton
4. I Want A Lover- Ruby Ann
5. Shakin' The Blues- Donny Young (Johnny Paycheck)
6. Somethin' Real Good- The Bullets
7. Squeeze Me Baby- The Rhythm Preachers
8. Nothing To Do (And All Night To Do It)- Billy Burnette
9. Ewa On The Beach- Frankie & The Pool Boys
10. Django With Twango- Don Diego Trio
11. Drinkin' Age- The Raging Teens
12. Reckless, Wild & Crazy- Danny B. Harvey & Annie Marie Lewis
13. Don't Let It Go- Bo Diddley
14. Diddley Daddy- Chris Isaak
15. Who Do You Love- Dion
16. Burn Rubber Burn- Rockbottom James & The Detonators
17. My Cat's Cat's Gone- The Cable Bugs
18. You're Gone- Rudy Grayzell


Rockabilly N Blues Radio Hour #3

1. Firecracker- Cherry Divine
2. Long-legged Guitar Pickin' Man- Johnny Cash & June Carter Cash
3. Jessy Lee- Skinny Teens
4. East Bound & Down- Shorty Jetson & The Racketeers
5. Turn Me Loose- Sultans Of Jungle
6. I Can't Bear It- Dale Watson
7. Twice Sorry- Truly Lover Trio
8. I've Got A Tiger By The Tail- Buck Owens
9. All The Way From Memphis- James Intveld
10. Wolf At My Door- Aisha Khan
11. Mind Out That Gutter- Chris Ruest (with Marti Brom)
12. Tall, Black & Bitter- Barrence Whitfield & The Savages
13. Dixie Doodle- Link Wray
14. Rumble- Dick Dale
15. Jack The Ripper- Los Straitjackets
16. Living Too Fast- Mike Teardrop Trio
17. I'm So Done With You- Celine Lee
18. Hi-Class Mama- The Wise Guyz
19. Shake It Loose- Johnny 7 & The Black Crabs

===============================================
KEN STRANGE COUNTRY RECORD ROUND UP SHOW DOUBLE
PLAY NOW ON ROCK-IT RADIO SHOW #6169

Join DJ Ken Strange for another Country Record Round Up Show that includes country music from right across the board from the late 1940's to the 00's, including his regular feature of Duos & Duets.

HOUR #1

01. Intro - Medley
02. Blue Eyed Baby - Dempsey Sims & His Melody Ramblers (57) Huber
03. One More Time - Lee Bonds (58) Todd
04. Making Believe - Dolly Parton (63) Somerset
05. Wishful Thinking - Donna Fargo (68) Challenge
06. I Learned A Thing Or Two - Quinton Horton (97) Pegasus
07. The Way He Said Your Name - Porter Wagoner (70) RCA-Victor
08. Bombshell Stomp - Bombshell (07) Curb
09. Sunshine On My Shoulder - John Denver (74) RCA-Victor
10. Cotton Fields - Creedence Clearwater Revival (81) Fantasy
11. Cheyenne - Don Bach (61) Warwick
12. When God Fearin' Women Get The Blues - Martina McBride (01) RCA
13. What Can I Tell The Folks Back Home - Melba Montgomery (67) Musicor
14. Just Over A Girl - The Renfro Brothers (54) Dixiana
15. We're Gonna Hold On - Tammy Wynette & George Jones (73) Epic
16. Oh Let Me Love You - Ray & Lindy (57) Rocket
17. That Lovin' You're Feelin' Again - Roy Orbison & Emmylou Harris (80) Warner
18. Remember Me I'm The One Who Loves You - Patsy Cline & Bobby Lord (62) Decca
19. International Harvester - Craig Morgan (07) Broken Bow
20. Love Is A Drug - Jypsi (07) Arista-Nashville
21. Rootie Tootie - Hank Williams Snr (47) MGM
22. Mobile Boogie - Hank Williams Jnr (77) MGM
23. Green Green Fire - Howard Crockett (66) Fontana
24. Super Skirt - Connie Cato (73) Capitol
25. Long Way Down - Hal Ketchum (98) Curb
26. Get On My Train Of Love - LaCosta Tucker (74) Capitol

HOUR #2

01. Intro - Medley
02. Conscience I'm Guilty - Hank Snow (56) RCA-Victor
03. Cocaine Blues - Hank Thompson (59) Capitol
04. Franklin County - Tanya Tucker (76) MCA
05. I Don't Hurt Anymore - Linda Cassady (77) Cin-Kay
06. Bull Rider - Johnny Cash (79) Columbia
07. Sweetwater Texas - The Charlie Daniels Band (76) Epic
08. Baby Nothing's Wrong With Me - Susan McCann (78) Top Spin
09. Back Home Again - Dickie Rock (77) Solo
10. She Never Spoke Spanish To Me - Joe Ely (77) MCA
11. Dark Moon - Jim Reeves (60) RCA
12. The Hot Guitar - Upton Cook (55) Royale
13. I Still Love Her Memory - Hoot Hester (79) Little Darlin'
14. Ocean Of Tears - Billie Jean Horton (61) 20th Fox
15. A Thing Called Love - Bonnie Raitt (89) Capitol
16. If I Needed You - Emmylou Harris & Don Williams (81) Warner
17. Haven't I Loved You Somewhere Before - Ray Pennington & Jerry McBee (Bluestone) (80) Dimension
18. Tennessee Bird walk - Jack Blanchard & Misty Morgan (70) Wayside
19. Gone For Good - Gene Watson & Rhonda Vincent (11) Upper Management
20. Shinbone (instrumental) - Jimmy Bryant & Speedy West (orville & Ivy) (66) Imperial
21. Stone Cold Love - The Beards (88) Beardo
22. Baby me baby - Hank Crow & His Raven River Ramblers (54) Southwest
23. Soldiers Joy - Hawkshaw Hawkins (59) Columbia
24. Outro - Medley

"Keep It Country"

===============================================
JOHN MINNICUCCI 'THE COOCH' WITH JOHN'S ATTIC SHOW
ON ROCK-IT RADIO SHOW #6170 DOUBLE PLAY!


John's Attic show with classic R&R R&R Rockabilly & blues songs & artists
from the 40s 50s & a touch of the 60s. Featured artists, Memphis Minni,
Ted Taylor, Julia Lee, Larry Dale Sonny Knight and more.

HOUR #1

Classic R&B R&R Rockabilly, Doo Wop vocal groups & Blues songs & artists from the 40s,50s and a touch of the 60s. Some featured artists. Royals, Peacocks, Amos Milburn, Heartbreakers,Moon Mullican & more.

1. Bongo Blues- Dee Williams 1949
2. Be Bop Wino- Lamplighters 1953
3. Straighten Up & Fly Right- Nate King Cole Trio 1944
4. Smokey Joe's Cafe- Robins 1955
5. Bouquet Of Roses- Peacocks 1957
6.Fool That I Am- Ravens 1947
7. Can't Help Loving That Girl Of Mine- Hideaways 1956
8. 16 Candles-Johnny Maestro & Crests 1958
9. Chattanoogie Shoeshine Boy- Red Foley 1949
10. I Done Done It- Amos Milburn 1954
11., I Like Moonshine- 5 Owls 1955
12. Little Red Rooster- Margie Day & Griffin Bros. 1951
13. Every Beat Of My Heart- Royals 1952
14. Oh What A Dream- Ruth Brown 1954
15. The Coffee Grind- Hank Ballard & TheMidnighters 1960
16. Shim Sham Shimmy- Jack Dupree 1953
17. Till Then- Mills Brothers 1944
18. Cradle Rock- Heartbreakers 1963
19. 7 Nights To Rock- Moon Mullican 1956
20. Rink A Dink Doo- Edsels 1959
21. Open Up Your Heart- Eugene Church 1957
22. Don't You Know- Della Reese 1959
23. The Big Hurt- Miss Toni Fisher 1959
24. Gee Whiz- Innocents 1960
25. Guess Who- Miller Sisters
26. LOVE-Swinging Phillies 1958
27. Goodnight My Love- Jesse Belvin

HOUR #2

classic R&B & R&R girls first name songs from the 50s & 60 in honor of Mothers Day. Some featured artists- Sonny Knight & The Jay Hawks, Marvin Phillips,Schoolboys & More.

1.Denise- Randy & Rainbows 1963
2. Priscilla- Eddie Colley & Dimples 1956
3. Louella- Sevilles 1961
4. Barbara- Sonny Knight& Jay Hawks 1959
5. Jo Ann- Playmates 1957
6. Anna Marie- Marvin Phillips 1954
7. Ju Judy- Original Casuals 1957
8. Shirley- Empires 1955
9. Yvonne-Parakeets 1956
10. Arlene- Titans 1958
11.Peggy Sue- Buddy Holly & Crickets 1957
12. Linda Lu- Ray Sharp 1959
13. Louise-Morrie Williams & The Kids 1958
14.Gloria- Cadallics 1954
15. Oh Julie- Crescendos 1957
16. Donna- Ritchie Vallens 1958
17. Darling Lorraine- Knockouts 1959
18. Juanita- Chuck Willis 1956
19. Geraldine- El Venos 1956
20. Oh Rose Marie- Fascinators 1959
21. Florence- Paragons 1957
22. Marcella- George Grant & Casteles 1954
23. Cindy- Cobras 1955
24. Dear Ruth- Universals 1957
25. Betty My Darling- Jesse Belvin & Laurals 1956
26. Carol - Schoolboys 1957
27. My Mothers Eyes- Clovers 1959

===============================================
MATT THE CAT & THE JUKE IN THE BACK SHOW WITH A
TRIBUTE TO R&B LABEL COMBO RECORDS ON ROCK-IT RADIO SHOW #6171

Combo Records

"Juke In The Back" kicks off 2018 with a profile of Combo Records, a small,
independent Los Angeles record label that only scored one national hit, but had a stellar roster full of the top R&B acts of its day. Combo was formed in 1951 by trumpeter, bandleader and arranger Jake Porter. He kept the label up and running for ten years and released stellar records by some of his musician friends, honkin' sax cat Joe Houston, bandleader Jack McVea and Blues Shouter Gene Phillips. He recorded established blues stars Smokey Hogg and Betty Hall Jones. Vocal groups from The Squires to The Chanters also graced Combo's label.

1. Swanee River Boogie - Albert Ammons & His Rhythm Kings - Mercury 1947
2. Slowly Go Out Of Your Mind - Jake Porter's Combo - Combo 1951
3. Goin' Back To Town (I'm Gonna Leave You On The Outskirts Of Town) - Betty Hall Jones - Combo 1952
4. Where Have You Been - Smokey Hogg - Combo 1952
5. Motor Head Baby - Chuck Higgins & The Mellotones - Combo 1952
6. Pachuko Hop - Chuck Higgins & The Mellotones - Combo 1952
7. Lightning - Joe Houston - Combo 1952
8. No Parking After 8 - Floyd Turnham - Combo 1952
9. Let's Give Love A Try - The Squires - Combo 1952
10. Sadie Lee - Tal Carter Orch - Combo 1953
11. I Owe Everybody - Gene Phillips - Combo 1954
12. Wino - Jack McVea - Combo 1954
13. GREAT 78 - Nervous - Jimmy Burns - Combo 1952
14. Only A Dream - Jake Porter w/ Gene Moore & The Chimes - Combo 1954
15. Ko Ko Mo (I Need You So) - Gene & Eunice w/ Jonesy's Combo - Combo 1954
16. Take Off My Wig - Johnny Moore's Three Blazers - Combo 1954
17. Why - Brother Woodman & The Chanters Feat. Gene Ford - Combo 1954
18. After Hours - Erskine Hawkins & His Orch - Bluebird 1946

===============================================
ROCKIN THE JUKE JOINT SHOW WITH OTTO
FUCHS - ON Rock-it Radio show #6172

From his studios in Baden, Austria DJ and Rockabilly and Ted
Author Otto Fuchs is a double play. Check out these rockin'
shows here on Rock-it Radio.

HOUR #1 Golden Age of Rock and Roll.

1. Rock Around The Clock-Bill Haley & His Comets
2. Jailhouse Rock-Elvis Presley
3. That´lle Be The Day-Buddy Holly
4. Playboy-The Marvelettes
5. When Will I Be Loved-The Everly Brothers
6. Only The Lonely-Roy Orbison
7. Johnny B.Goode-Jerry Lee Lewis
8. I Wanna Rock-Patsy Holcomb
9. All Mama´s Children-Carl Perkins
10. Welcome To The Club-Jean Chapel
11. Green Door-Jim Lowe
12. You Can´t Judge A Book By It´s Cover-Bo Diddley
13. Ten Commandments Of Love-The Moonglows
14. Mama Said-The Shirelles
15. Raindrops Keep Falling On My Head-B.J. Thomas
16. Hi-Lili-Hi-Lo-Gene Vincent
17. Having A Party-Sam Cooke
18. I Only Want To Be In Love With You-Dusty Springfield
19. For The Good Times-Elvis Presley
20. Sweetheart Please Don´t Go-The Gladiolas
21. Stockin´s & Shoes-Eddie Cochran
22. Where Or When-Dion & The Belmonts
23. When-The Kalin Twins
24. Sea Of Love-Marty Wilde
25. Living Doll-Cliff Richard
26. He´s Got The Whole Wide World In His Hands-Laurie London

HOUR #2 CRUISIN' TO THE 50s SPECIAL

1. Crusin´ To The 50s-Steve James
2. Little Darlin´-The Diamonds
3. Duke Of Earl-Gene Chandler
4. Blue Moon-The Marcels
5. Pistol Packin´ Mama-Gene Vincent
6. It´s Only Make Believe-Conway Twitty
7. The Fool-Sanford Clark
8. Earth Angel-The Penguins
9. Saturday Night At The Movies-The Drifters
10. Where Did You Go Last Night-Bill Haley & His Comets
11. Peter Gunn-Duane Eddy
12. Summertime Blues-Eddie Cochran
13. Runaround Sue-Dion
14. Gee How I Wish You Were Here-Curtis Lee
15. Goin´ Steady-Tommy Sands
16. It Doesn´t Matter Anymore-Buddy Holly
17. Walkin´ After Midnight-Patsy Cline
18. Searchin´-The Coasters
19. Hey Paula-Paul & Paula
20. Poison Ivy-The Coasters
21. Tutti Frutti-Little Richard
22. Remember-The Shangri-Las
23. Rock & Roll Is Here To Stay-Danny & The Juniors
24. Midtown American Main Street Gang-Dion

===============================================
JACKIE BOND FROM THE UK AND LET THE GOOD TIMES
ROLL OLDIES SHOW ON ROCK-IT RADIO SHOW #6173

And Jackie Bond is going Rockabilly in his show this
week on Rock-it Radio. Check out all the cool rockers
you get to hear in show #6173 in our program page when
you click that mp3 speaker.

1. Take Your Shoes Off Pop - Oscar McLollie and His Honey Jumpers
2. On Down The Line - Zig Dillon
3. Tank Town Boogie - Eddie Bond
4. Seal Rock - Ernie Kelley
5. Now Hear This - Jimmy Thomason
6. Poor Little Puppet - Cathy Carroll
7. Dreamy Eyes - Johnny Tillotson
8. Rock the Joint - Bill Haley and His Comets
9. Brown Eyed Handsome Man - Buddy Holly
10. I'll Never Leave You Again - Little Pete and The Youngstars
11. Tonight and Forever - The Whirlers
12. Sugar Baby - The Jacks
13. Baby Drop Top - The Fabulous Pearls
14. Pink and Black - Sonny Fisher
15. Hot Dog - Dale Hawkins
16. A Fools Fortune - Cufflinx
17. Getting Nearer - John Lester and The Mello-Queens
18. Bright Lights and Blond Haired Women - Dale Watson
19. Big Bad Wolf - Freddie Bell and The Bellboys
20. Rocket Ship - Vernon Green and The Medallions
21. Who Slapped John - Jeff Beck and The Big Town Playboys
22. Don't Sweep That Dirt On Me - Buddy Shaw
23. You're Dreaming - The Cactus Blossoms


===============================================
ROCKIN' DADDY O'S ROCKABILLY RANCH PARTY ON
ROCK-IT RADIO SHOW #6174

Rockin Daddy O is back this week spinning the finest
of Rockabilly over Rock-it Radio. Here is this week's
playlist.

1. Move It On Over-Del Shannon
2. Machine Gun-The Riptides
3. Little Bo Peep-Buddy Miller
4. I've Got A Dollar-Lil Mo & The Unholy 4
5. When I'm With You-Screamin' Rebel Angels
6. New England Shakeup In The Fall-The Doel Brothers
7. Completely Sweet-Levi Dexter
8. Primitive State-The Dalharts
9. Heartbeat-Little Lesley & The Bloodshots
10. B-I Bickey-Bi, Bo-Go-Go-Gene Vincent & His Blue Caps
11. In My Arms-Omar Romero
12. Please Mama Please-Go Cat Go
13. I Don't Mind Being Free-Rocket J
14. Shake It Up-Bloodshot Bill
15. Drinkin' Age-The Raging Teens
16. Goodbye Little Star-Kenny Baker
17. Double Zombie-Deke Dickerson
18. She Put Me Down-Shaun Young & The 3 Ringers
19. Not Guilty-The Margraves
20. Fine Fine Superfine-Big Sandy & His Flyrite Boys

===============================================
AL COOL DADDY SMITH A DOO WOP TRIBUTE TO THE CARDINALS ON ROCK-IT RADIO SHOW #6175

From his studios in Brampton, Ontario Canada Al this
show features some Rare and Rockin'!!! here on Rock-it
Radio.
This show features great R&B from the late 1940's and early
1950's including a few recordings that could be considered
the first Rock and Roll recordings and have been acknowledged
as such by a variety of Rock historians.

The play list is as follows:

1. My Gal's A Jockey-Big Joe Turner 1946
2. Hey Ba-Ba-Re-Bop-Lionel Hampton 1946
3. (Get Your Kicks) On Route 66-Nat King Cole Trio 1946
4. Open The Door-Richard-Jack McVea and His All Stars 1946/7
5. Blow Illinoise Blow-Illinoise Jaquet 1947
6. Old Man River-The Ravens 1947
7. We're Gonna Rock,We're Gonna Roll-Wild Bill Moore 1948
8. Corn Bread-Hal Singer 1948
9. Boogie Woogie Barbeque-Tiny Grimes 1948
10. Saturday Night Fish Fry-Louis Jordan 1948
11. Cole Slaw-Frank Culley 1949
12. Cadillac Blues-Roy Brown 1950
13. The Fat Man-Fats Domino 1950
14. Jay's Frantic-Big Jay McNeely 1950
15. Let's Jump Tonight-Chuck Willis 1951
16. Sixty Minute Man-The Dominos 1951
17. Lawdy Lawdy Miss Clawdy- Lloyd Price 1952
18.So Tired-Roy Milton 1952
19. Hound Dog-Big Mama Thornton 1953
20. Keep-A-Talkin'-Wynonie Harris 1954
21. Baby You Thrill Me-Amos Milburn 1954

===============================================
PT 2 TRIBUTE TO THE CLASS OF 1968 50 YEAR CLASS REUNION
ON ROCK-IT RADIO SHOW #6176

MEMORY LANE SHOW #625 - 1968 CLASS REUNION, PART 2

This week it's Part 2 of the 5 week tribute to the graduates of 1968. Join host Lane Quigley for 21 great tunes, a handful of interview clips, and pop culture highlights as we look back at the soundtrack that accompanied us as we prepared for Senior Prom.

It's the 50 Year Reunion Program, Part Two.

1. Sunshine of Your Love - Cream
2. The Horse - Cliff Nobles & Company
3. Never Gonna Give You Up - Jerry Butler
4. A Beautiful Morning - The Rascals
5. The Good, The Bad & The Ugly - Hugo Montenegro
6. Tell Mama - Etta James
7. We Can Fly - The Cowsills
8. Paying The Cost To Be The Boss - B.B. King
9. Love Is All Around - The Troggs
10. Valley of The Dolls - Dionne Warwick
11. Like To Get To Know You - Spanky & Our Gang
12. I Promise To Wait My Love - Martha & The Vandellas
13. Dock of The Bay - Otis Redding
14. I Wish It Would Rain - The Temptations
15. Get Out Now - Tommy James & The Shondells
16. Be Young, Be Foolish, Be Happy - The Tams
17. Hold On - The Radiants
18. Honey - Bobby Goldsboro
19. Playboy - Gene & Debbe
20. A Man Without Love - Engelbert Humperdinck
21. La La Means I Love You - The Delfonics

===============================================
BILLY VERA'S ROCK AND ROLL PARTY ON ROCK-IT RADIO
SHOW #6177 SPOTLIGHT ON 1948

This show from features songs that were released in 1948. Due to a musicians' union recording ban, all were recorded in 1947. There are some big hits here by the Orioles, Roy Brown, Bullmoose Jackson, Sonny Thompson, Buddy Johnson and Pee Wee

Crayton. Some of the songs have gone on to be genre standards and are still being performed today: "It's Too Soon To Know," "Good Rockin' Tonight," "I Love You, Yes I Do," and "Call It Stormy Monday." Nat King Cole's "Nature Boy" was the song that made him a Pop music star.

There's R&B records as well as bebop with Charlie Parker, trombonist J.J. Johnson. The line between jazz and jump music was still blurry in 1948 and the same people listened to and enjoyed both on the juke boxes that were everywhere one looked. One song, Julia Lee's "King Size Papa," after remaining hidden in the Capitol Records vault for 50 years, wound up in a Pillsbury TV commercial, earning over $50,000 for the publisher and the writer's estate. All this from a music form that nobody thought
would have any lasting value.

HOUR 1

1. Lollipop Mama - Wynonie Harris
2. Blues After Hours - Pee Wee Crayton
3. Bubbles - Wild Bill Moore
4. It's Too Soon To Know - The Orioles
5. King Size Papa - Julia Lee
6. Good Rockin' Tonight - Roy Brown
7. I Don't Care Who Knows - Buddy Johnson Orch. (vocal by Ella Johnson)
8. Geronimo - Jay McShann
9. I Love You Yes I Do - Bullmoose Jackson
10. My New Papa's Got To Have Everything - Nellie Lutcher
11. Daddyo - Louis Jordan & Martha Davis
12. Together - The Ravens
13. Down Vernon's Alley - J.J. Johnson
14. Messing Around - Memphis Slim
15. Calloway Boogie - Cab Calloway
16. One Sweet Letter From You - Paul Gayten Band (vocal by Annie Laurie)
17. I Like It - Ivory Joe Hunter
18. Soothe Me - Johnny Moore's Three Blazers (vocal by Charles Brown)

HOUR 2

19. Long Gone (Part Two) - Sonny Thompson
20. Frog-I-More - Jimmy Witherspoon
21. I'll Wait - Dinah Washington
22. Keep a Dollar In Your Pocket - Roy Milton & His Solid Senders
23. Midnight Sun - Lionel Hampton
24. Rock Bottom - Gene Phillips
25. Call It Stormy Monday (Alternate Take) - T-Bone Walker
26. You Better Change Your Ways - Arthur Prysock with Buddy Johnson Orch. (vocal by Arthur Prysock)
27, Apple of My Eye - Joe Liggins
28. Tate's a Jumping - Buddy Tate
29. I Loves You Porgy - Billie Holiday
30. Hep Cat Boogie - Jimmy Liggins
31. Nature Boy - Nat King Cole
32. Crazyology - Charlie Parker
33. Blues For The Red Boy - Todd Rhodes Orch.

===============================================
JACK VAN OERS & THE ROCKIN' WINDMILL SHOW ON
ROCK-IT RADIO SHOW #6178

The Rockin' Windmill is still turning like 45's on a pick-up. The music in this show originates from Italy, The UK, The USA, The Netherlands and Canada. So, just turn up the volume, find your blue suede shoes and petticoats and enjoy this Rockin' Windmill show.

1. Tease - Don Lanier & the Roses - 1957
2. Crazy love - Dick Glasser - 1957
3. Just a country boy - The Shakin' Arrows - 1987
4. Circle rock - Dorsey Burnette - 1961
5. Nina bo bo - Rudy & the Royal Rhytmics - 1965
6. So we walked - Delbert Trolinder - 1959
7. I gotta know - Di Maggio Brothers - 2002
8. Long long ponytail - Ray Ruff - 1959
9. Nine times out of ten - Cliff Richard & the Shadows - 1960
10. Bright lights - Dixie Dee -
11. Let's talk about us - Dave Edmunds - 1977
12. Marie Marie - The Blasters - 1981
13. Marie Marie - Roy & the Kiliaan Brothers - 1999
14. Tall Oak tree - Deke Wade - 1965
15. Haunted house - Jerry Fuller - 1964
16. Rollin' Roadhouse (live) - The Reno Brothers - 2002
17. What will the answer be - Dayton Smith - 1957
18. Teenage wedding - Johnny Angel - 1958
19. Girls - The Jets (UK) - 1993
20. Rocket ride - Dick Douglas - 1962
21. Tiddley-Diddley - Don Hopkins - 1961
22. Rockin' with Nina - Ronnie Nightingale & the Haydocks - 2001
23. Pretty pearl - Gene Vincent - 1960
24. Rockin' party - Dickie Damron - 1957
25. Born to love one woman - Don Johnston - 1956
26. Roodborstje (instr) - Ronal Four - 1992

===============================================
COOL BOBBY B AND THE DOO WOP STOP ON ROCK-IT RADIO
SHOW #6179

From a undisclosed location due to him cranking the
transmitter to a Million Watts! Cool Bobby B is back
on the Rock-it this week with 3 hours of great Doo Wop
music of the 50s and early 60s. And occasionally even
doo wop today! Let's get started with the playlist.


Hour #1

1. Rockin with the clock -- Shirley and Lee
2. Why do you do me -- The Chantels
3. If you try -- The Passions
4. This is my love -- The Passions
5. The Letter -- The Medallions
6. Cry Like I cried -- The Harptones
7. Oh what a night -- The Dells
8. Tonight Tonight -- The Mello Kings
9. Dance Girl Dance -- Norman Fox & RobRoys
10. Is this a dream? -- The Premiers
11. What time is it -- Jive 5
12. I need your love so badly -- The Vocaleers
13. Dry your eyes -- The Inspirations
14. Honey, Honey, Honey -- The Challengers
15. Sand in my shoes -- The Drifters
16. Saturday night at the movies -- The Drifters
17. Lovers never say goodbye -- The Flamingos
18. Tear Drops -- Lee Andrews & Hearts
19. Barbara -- The Temptations

Hour #2

20. Gee (But I'd give the world) -- Kid Kyle
21. I'm so young -- Kid Kyle
22. In the still of the night -- 5 Satins
23. Blue Moon -- The Marcels
24. Sympathy -- The Cadillacs
25. I wasn't a lie -- Fi Tones
26. The Wedding -- The Solitaires
27. Could this be magic -- The Dubs
28. You belong to me -- The Duprees
29. Little Star -- The Elegants
30. Long Tall Sally -- The Carnations
31. Looking for an echo -- Kenny Vance & Planotones
32. The closer you are -- The Channels
33. My Hero -- Blue Notes
34. My Valerie -- Note-Torials
35. Mathilda -- Cookie & Cupcakes
36. Don't you just know it -- Huey Smith & Clowns
37. Rockin Pneumonia & Boogie woogie flu -- Huey Smith & Clowns

Hour #3

38. 11th hour melody -- The Rivieras
39. Moonlight Cocktails -- The Rivieras
40. Oh Starlight -- The Quinns
41. I wish I didn't love you so -- Philly Cuzz
42. Big girls don't cry -- Four Seasons
43. Walk like a man -- Four Seasons
44. Sherry -- Four Seasons
45. Once in a while -- The Chimes
46. Dream Girl -- Norman Fox & RobRoys
47. Gee How I wish you were here -- Curtis Lee
48. Candy -- The Astros
49. Rocket Ride -- Johnny Greco
50. Valley of Love -- The Turbans
51. This is my story -- The Turbans
52. Congratulations -- The Turbans
53. While Walking -- The Fabulaires
54. There goes my girl -- The Chancellors
55. Picture of Love -- The Continentals
56. Goodnight Baby -- The Imaginations

Thanks Cool Bobby B for all you do to keep Doo Wop Group
Harmony Alive! You can write to Cool Bobby B at:
coolbobbyb@rockitradio.net and if you do please let him
know you heard him on Rock-it Radio!

===============================================
DAVE THE RAVE AND THE RELICS AND RARITIES OLDIES
SHOW ON ROCK-IT RADIO SHOW #6180

We don't have playlists to his shows but if you love
60s Rock and Roll from the hits to the rarities and
oddities then Dave the Rave's show is for you!
3! Full hours of 60s rock awaits you in this show!

===============================================
ROCKIN' DADDY O'S ATOMIC DOO WOP DANCE PARTY
ON ROCK-IT RADIO SHOW #6181

Ready for some uptempo doo wop?? The real good tunes?
Then tune into this show!!! Here is the playlist of
this show.

1. Romeo-The Cadillacs
2. Peppermint Stick-The Elchords
3. Jeannie-The Thrashers
4. Pretty, Pretty Girl (The New Beat)-The Time Tones
5. Sapphire-Big Danny Oliver
6. Village Of Love-Nathaniel Mayer & The Fabulous Twilights
7. Gee Whiz-The Redondos
8. Hard Working Mama-The Five Dollars featuring Little Eddie
9. Our Love Will Never Die-The Avons
10. The Castle Of Love-The Raiders
11. Baby Tell Me (why why why)-The Mello Kings
12. The Traveler-Archie & The Bunkers
13. Oh Gee Oh Gosh-The Savoys
14. Cherry-The Bon-Aires
15. All I Think Of Is You-24th Street Wailers
16. Deep Dark Secret-Gizzelle
17. Every Night-The Chantels
18. Angel Face-The Vocaleers
19. Thrill Of Love-The Solitaires
20. He's Gone-The Carvels NYC

==============================================
100'S OF VINTAGE ROCK AND ROLL VIDEOS ON FILE IN
OUR VIDEO SITE AT ROCK-IT RADIO:
CHECK IT OUT AT:

HTTP://WWW.ROCKITRADIO.NET/VIDEO.HTML

==============================================
COME JOIN US ON FACEBOOK !!! WE WOULD LOVE A
LIKE FROM YOU!

http://www.facebook.com/rockitface
The Rock-it Radio Facebook Site.

==============================================
HISTORY OF ROCK-IT RADIO

If you are new to Rock-it Radio and would like to learn more --
We have our History Page up as well -- telling the story of Rock-it
Radio. You can find it at:
http://www.rockitradio.net/history.html


ROCK-IT RADIO T SHIRTS - MANY DESIGNS TO CHOOSE FROM!!

Have you seen the new full line of Rock-it Radio T shirts that have been
Released. 3 New designs by Rock-it Radio's own Jammin' Jan.
Each Rock-it Radio T shirt is only $16.00 each plus shipping. And 100% of
All monies goes to keeping Rock-it Radio Online.

Come check out the latest styles.:

http://www.rockitradio.net/tshirt.html

Check Website for updates and availability

VINTAGE VIDEO PICK OF THE WEEK

For the week of 2 June, 2018
This week in our archives page:
This week: The Reflections with Just like Romeo and Juliet.
Now listed in the top listing of our video page...

http://www.rockitradio.net/video.html

This week: A favorite of ours - Animated version of
White Christmas by The Drifters
================================================
A BIG THANK YOU TO ALL THOSE THAT SUPPORT US
HERE AT ROCK-IT RADIO.

I want to thank all of you for purchasing our vintage
broadcasts, T shirts and Rock-it Radio shows they all
go to help keep Rock-it Radio online. AND ALSO A BIG
THANK YOU to 1 gentleman that sent Rock-it Radio a check
donation to help us going as well.

Thank you Dan McCue !!!



================================================
LANE QUIGLEY AND THE MEMORY LANE SHOW
CLASS OF 1968 SPECIAL ON CD NOW AVAILABLE ON EBAY STORE

With this newsletter the annual 50 year class Reunion
featuring the highlights and music of 1968 has begun
being listed and played here at Rock-it Radio.
A total of 5 Shows will be broadcast. There is a 6th
CD though and the entire set is for sale - just now listed
in our Ebay Store - The Cost is $39.95 but remember it
is 6 CD's! The link to it in our store is:
https://www.ebay.com/itm/142819182437

100% OF ALL SALES GOES TO KEEPING ROCK-IT RADIO ONLINE.
================================================
JUNE ROCK-IT RADIO FREE GIVEAWAY CD -
DJ JIM STAGG BRITISH COUNTDOWN OVER WCFL CHICAGO 1966 GREAT TUNES!
For JUNE with every order you make from a Rock-it Radio website you will also receive for FREE!
A vintage musical rock radio show from 21 March, 1966 from DJ Jim Stagg (catalog release RIR #337) Jim Stagg one of the top Jocks of WCFL playing the 'British Countdown' for that week -- Back when with the Beatles, Rolling Stones, Dave Clark 5 and many others British band topped the charts on both sides of the Atlantic.- it's yours Free with every order from the month of JUNE 2018! from the following websites.
If you wish to see what is in this Jim Stagg WCFL Chicago broadcast CD check it out in our Ebay Store at:
https://www.ebay.com/itm/140124747054

BUT DON'T BUY IT! Get another Rock-it Radio product
from the sites below and we will send you this CD
for FREE. You can shop at the following Rock-it
Radio sites.

The Rock-it Radio Launching Pad:
http://www.rockitradio.net/store.html

Wolfman Jack Shows.
http://www.rockitradio.net/wolfman.html

Rock-it Radio Shows:
http://www.rockitradio.net/order.html

or our new service of Rock-it Radio shows
on Flashdrive.
http://www.rockitradio.net/flashdrivemp3.html

Or our 50 Rock it Radio shows on Flashdrive at:
http://www.rockitradio.net/flashdrive.html

Any order from any of those sites in April you will
get this CD for FREE!

================================================
NEW RELEASE -- FLASHDRIVE OF ROCK-IT RADIO
SHOWS #6101 TO #6150. OUR 15TH FLASHDRIVE

NEW RELEASE!!!!! ROCK-IT RADIO FLASHDRIVE #14!!

This includes over 75 hours of Rock-it Radio oldies programming
from shows #6101 to #6150. The Flashdrive features all these shows
in their entirety in mp3 format in studio quality and just plug into
your computer and Rock-it Away!!!! Check out #14 and it's playlist via our
Flashdrive page at http://www. rockitradio.net/flashdrive.html or in our Ebay
Store listed as:
https://www.ebay.com/itm/142772851535


===============================================TWO NEW RELEASES IN THE ROCK-IT RADIO LAUNCHING PAD
STORE AND EBAY STORE.
It's our first 2 new vintage releases for 2018.
And since Dick Biondi is our free giveaway this week.
We thought we would release 2 more shows of his on his
syndicated show of Dick Biondi's Super Gold Show from 1977.
It's an oldies show from back then aired at
WNMB Myrtle Beach, S. Carolina.
Now listed in the Rock-it Radio Launching pad
As our first South Carolina listings at:
http://www.rockitradio.net/store.html

Or our Ebay Store Listings with playlists et al at:
Part I at: https://www.ebay.com/itm/142786822785 (RIR #655)
Part II at: https://www.ebay.com/itm/142786838451 (RIR #656)


All updates and latest news on our vintage radio
broadcasts can be found in our Launching Pad Facebook
page at http://www.facebook.com/rockitpad


============================================


ROCK-IT RADIO LISTENER'S
VINTAGE BROADCASTS ON FLASHDRIVE

It's hard to believe but we realize that perhaps our
declining sales is due to Compact Discs are a
aging medium. And Flashdrives And digital is where it's
at. So, I am going to make this offer just on a trial
basis for the remainder of 2017. If you would prefer to
have Rock-it Radio shows and vintage radio shows that we
offer for sale on Flashdrive in mp3 format rather then
on CD we can provide that service here at Rock-it Radio.
Here it is how it works:

1. E mail me at rockitradio@netzero.net and let me
know what shows you would like to have on Flashdrive.
Let's make it a minimum of 3 broadcasts. Either any
Rock-it Radio show .... or Vintage Radio Show from the
50s through 70s that we offer at:
http://www.rockitradio.net/store.html

2. The Cost: Flashdrive will cost $5.00 and each show
that you wish to have will cost $5.00 - nearly 50% CHEAPER then on
CD.

3. I will send you back a invoice within a couple of days, It will be
sent via paypal and it is not obligatory. If you change your mind
just don't pay. But it is easy to pay with any major credit card.

4. Please allow up to 7 days for me to fill the order. Once payment
is sent. In case I get swamped with this offer. Probably sooner.
I have to redigitalize all sold shows into MP3 and that takes a little
bit of time. All orders will have $3.00 postage a slight increase but
that is due to it is shipped as a package and not envelope since it will
be over a 1/4" thick.

For example you order: 3 of our Alan Freed Radio shows. And a Real Don
Steele show. A total of 4 shows - That would normally be a cost of $40.00
on CD. All together on one flashdrive so the invoice would look like

- Flashdrive $5.00
- Four Shows on Flashdrive @ $5.00 each - $20.00
- shipping $3.00

Total: $28.00

Of course if you order more shows on the flashdrive you would continue saving
as you are paying the $5.00 per show rather then $9.50.

And of course we will be adding the monthly giveaway as well.

So for a invoice again just e mail me your wants on your flashdrive for
shows on mp3 at: rockitradio@netzero.net

Also, check out this offer again at:
http://www.rockitradio.net/flashdrivemp3.html

=============================================================
ARE YOU EXPERIENCING THE SAME PROBLEM?? SHOW
PLAYS THEN STOPS AFTER A FEW SECONDS.
I have received a letter from one listener claiming when
he selects a Rock-it Show in our program page at
http://www.rockitradio.net/programs.html
It will play for about 10 seconds then stop. Usually with
some error message. I googled trying to help him out and
just googled "audio stream stops after 10 seconds" evidently
this is not a uncommon problem, but the fixes vary depending
on your system and what's going on. So, not quite a quick fix.
I checked it out using Firefox and sure enough it was now
doing it to me too. But no problem whatsoever on International
Explorer.
so one possible solution would be to switch over to Microsoft
Internet Explorer. Another is to possibly download the most
recent Winamp player. They are free online.
If one of our Techy listener's out there might have a solution
or if you are facing the same problem, please let us know I
hope to get to the bottom of this.
Our e mail address is : rockitradio@netzero.net

SPRING GROWTH BLOCKS MICROWAVE SIGNAL TO ROCK-IT
RADIO CAUSING MORE PROGRAM DELAYS.

Our uploading went to a snail pace about 1/2 of what
dial up used to be. Pretty much making Rock-it Radio
programming time out once again impossible. The Microwave
dish this time was blocked by new Spring growth and branches
of maple trees on our property. The Spring leaves came out and
blocked our microwave signal. Thanks to some tree and dish work
we are once again ready to rock and roll!



COLLECTING AIRCHECKS - A HOBBY OF RADIO NOSTALGIA
What is a Aircheck? It is simply a recording of a radio broadcast. Usually collected by Radio fans.
Come check out our webpage on collecting Airchecks.

http://www.rockitradio.net/aircheck.html


COME REMEMBER WOLFMAN JACK !!!
Rock-it Radio has a very special way to remember Wolfman Jack.
Arguably the most iconic of American DJ's. Come check out the
Rock-it Radio Wolfman Page at:
REMEMBERING OFFSHORE PIRATE RADIO IN THE UK
In the mid 1960s it was difficult for the youth to actually listen to Rock and Roll in the UK.
The BBC actually ran only a few hours a weekend to provide the young Brits with this outlet.
At night during the week they ventured to even tune into Radio Luxembourg to get there fill,
that broadcast rock and pop around the clock.
To fill this void some venture capitalists decided to bring in commercial radio aboard refitted
radio ships. And anchor themselves just off into International waters off the English coast.
Radio Caroline (named after Caroline Kennedy the U.S. President's daughter at the time)
and Radio London being the most famous. Rock-it Radio has a website dedicated to their ventures
and also have actual radio broadcasts available of
these offshore pirates.
We invite you to check them out our webpage at:
http://www.rockitradio.net/pirate.html
FINDING ROCK-IT RADIO ON THE 'TUNE IN RADIO' CELL PHONE APP.

We have had a few requests from listeners that they couldn't find us on the popular
'Tune in Radio' App. on Android and PC and iphones. Running a search of 'Rock-it Radio'
will actually list 100s of Rock stations.
So, the best way to find us on this very thorough and extensive app. that
I love using myself is -
run a search on 'rockabilly' - there you will easily find
Rock-it Radio listed.
Our Tune in Radio App. webpage is also at:
http://tunein.com/station/?stationId=41878
ARE YOU ON FACEBOOK ?? FOLLOW THE LATEST AT
ROCK-IT RADIO AND OUR LATEST VINTAGE BROADCAST RELEASES.

Rock-it Radio has 2 Facebook pages. One for our programming
online and notifications, and the other is for our vintage
broadcast shows for sale.


The Online Station is http://www.facebook.com/rockitface

For the Rock-it Radio Launching Pad and our latest deals and
releases you can follow us at:
http://www.facebook.com/rockitpad
MISSED A COUPLE OF NEWSLETTERS LAST COUPLE OF WEEKS??

THEN YOU CAN ALWAYS CHECK OUR BLOG WHERE IT IS ARCHIVED.
YOU CAN CHECK OUT OUR BLOG AT:

http://rock-itradio.blogspot.com/
=============================================


ROCK-IT RADIO DJ PAGE...


Remember you can check out all the Rock-it Radio DJ's

and read the bios of these DJ's that make these

Rock-it Radio Shows possible at:


And don't forget for even more pictures --

there is our picture page at:
============================================
IF YOU HAVE TWITTER COME FOLLOW US THERE

If you are one that tweets then please check out and join and get our
updates on your twitter account. Our Twitter link is right below.

http://www.twitter.com/RockitRadio1
It is our new Twitter account and we will once again start
scrolling our messages and updates on our webpages as well.


=================================================
We are in our 22nd year!!! Please share the good news with your
family and friends that love original Oldies Music - We are back and
Rockin' with new shows in our program page at
http://www.rockitradio.net/programs.html
Just click the MP3 speaker to the show that has your musical interest!
=================================================
WELCOME NEW MEMBERS TO THE LISTENER'S CLUB!!!!

A big welcome to the below new Rock-it Radio listeners that
joined our Listeners Club from May 11, 2018 to June 2, 2018
We hope that you enjoy the music Rock-it Radio provides
and our playlists and information that our weekly newsletter
provides. Any comments, criticisms, kudos, compliments or
future ideas is always welcome and you can e mail me personally at:
rockitradio@netzero.net

Marty Goldberg - Woodmere, New York USA
The Dracotts - United Kingdom
Daryl Witmer - Pennsylvania, USA
Chris Richards - Faversham, Kent United Kingdom
Andy Casson - Barrow in Furness, United Kingdom
Harry Villard - Vancouver, British Columbia Canada
Kenn - ??
Jeff Moncrief - Rosyth Guernsey, United Kingdom
Erik Sandoval - Los Angeles, California USA
We have gained 185 new likes in our listeners club
in our Facebook page Rock-it Radio Fan Page as well this week at:
http://facebook.com/rockitface and 1 more following us
on Twitter @Rockitradio1 .

We have added a total of 195 new members to the Rock-it Radio
Listeners Club since our last newsletter. We now have 92,895 exactly
that have joined the Rock-it Radio Listeners club.
We hope that you enjoy the rare 50's and early 60's
Rock and Roll, Rockabilly and Doo Wop (which most commercial
oldies radio stations have forgotten) that we are able to play
for you from Rock-it Radio. Remember, we are here for you!

So if you ever have any requests, dedications, comments and
suggestions we always love to hear from our listeners.
Our e mail address is:
rockitradio@netzero.net

====================================================
To learn more about the Rock-it Radio Listeners Club and our Free
Newsletter please check out:
http://www.rockitradio.net/member.html

It's free and easy to join and the Rock-it Radio Newsletter is always
online at: http://www.rockitradio.net/newsletter.html



====================================================

PLEASE HELP US SPREAD THE GOOD WORD OF ROCK-IT RADIO!

Do you know of someone that might also like the music

of Rock-it Radio? We are desperately trying to keep this

music alive and have been doing so since 1995! Please

share the information of this station. And if you have

a website would you please consider putting a Rock-it Radio

link on your page.

There are a few to choose from in our link page at:

http://www.rockitradio.net/links.html
HOW TO ORDER OLD ROCK-IT RADIO SHOWS = YOUR PURCHASES HELP US STAY ONLINE!!!
We have received many inquiries on how to order Rock-it Radio shows that are no longer in
our on archives webpage. These shows are still available on CD and mailed to you within 24
hours of receiving payment.
To help search for older shows that you may be looking for you may want to check the Rock-it
Radio blog site. Old newsletters describing the shows and playlists
are archived there and there is a menu bar on the right side that breaks down every playlist
Then you may either pay by check or money order or paypal. Rock-it Radio shows are only
$9.50 U.S. each and are studio quality broadcasts that were placed on Compact Disc here at
the Rock-it Radio Studio. We have a flat rate shipping charge of $1.50 U.S. so if you order
one or several -- it is still only $1.50
U.S. shipping. And we ship worldwide, overseas orders are mailed out first class airmail.
Instructions where to send payment is at our webpage:
like we can send you a paypal invoice within 24 hours.

When you order a Rock-it Radio show or shop at our Rock-it Radio Launching Pad you
help keep these oldies alive and help us pay the bills here at Rock-it Radio.
And at the same time -- you are not getting nothing for your donation, but actually
some of the shows and memories we hope we keep alive here at Rock-it Radio.
TOP 25 SELLERS OF THE ROCK-IT RADIO LAUNCHING PAD
FOR June 2, 2018

HERE IT IS !!! The Top 25 Countdown from the Rock-it
Radio Launching Pad http://www.rockitradio.net/store.html
FOR June 2, 2018.

As you know the Rock-it Radio Store sells vintage Radio Broadcasts -
Where you hear the actual music, news and vintage advertisements -
uncut and unedited just like you would of heard it back then.
Here are the top sellers this week.

1. Lane Quigley - Class of 1968 50 Year Reunion
2. Rock-it Radio Shows #6051 to #6100 Flashdrive
3. RIR #181 - Wolfman Jack XERB Rosarito, Mexico 12/8/1967
4. RIR #594 - Denny Sanders WMMS Cleveland 6/30/1978
5. RIR #644 - Dan Ingram WABC New York 6/12/1964
6. RIR #646 - Larry Lujack WLS Chicago 8/8/1970
7. RIR #541 - Denny Sanders WMMS Cleveland 1/31/1978
8. RIR #355 - Real Don Steele KHJ Los Angeles 2/9/1968
9. RIR #386 - Charlie Tuna - KHJ Los Angeles 2/23/1969
10. RIR #622 - Johnny Morgan CKLW Windsor, Ontario 7/12/1967
11. RIR #222 - Ron Britain WCFL Chicago 5/31/1970
12. RIR #168 - Dan Ingram WABC New York 7/22/1967
13. RIR #466 - 3 vintage Beatles interviews 60s.
14. RIR #114 - Alan Freed WABC New York 11/5/1959
15. RIR #179 - Jocko Henderson WOV New York 6/10/1957
16. RIR #410 - Dr. Don Rose KFRC San Francisco 4/4/1974
17. RIR #397 - Wolfman Jack XERB Rosarito 8/1/1968
18. RIR #652 - Lost Beatles Interview - Helen Shapiro BBC Radio 4 London
19. RIR #396 - Humble Harv KHJ Los Angeles 9/28/1968
20. RIR #267 - Arnie woo woo Ginsburg WMEX Boston 12/12/1965
21. RIR #200 - Wolfman Jack XERB Rosarito 10/1/1969
22. RIR #229 - Jerry Stevens - WIBG Philadelphia 1/6/1961
23. RIR #567 - Kenny & Cash show with Paul and Linda McCarthy Capital Radio London 1973
24. RIR #127 - Alan Freed 1956 Rock & Roll Dance Party over Armed Forces Radio
25. RIR #533 - Dick Biondi KRLA Los Angeles 6/14/1965


If you would like to view these shows in depth you can check out

our Rock-it Radio Ebay Store at:

or in the Rock-it Radio Launching Pad store at:

and in the upper left hand corner -

there is a search box where you can type in the DJ name or

Station Call letters and that information on that show will pop up.

Ordering from the Ebay store will also qualify you for the Rock-it Radio

giveaway mentioned previously in this newsletter. Sale of

these broadcasts is what keeps Rock-it Radio going and thank

you again to everyone that buys these!

============================================



REQUEST A ROCK-IT RADIO STORE CATALOG
If you don't like ordering online but still want to have some
of the vintage radio shows from the 50s through the 70s - We
understand that. That is why we still take mail orders. You can
actually save money also in our orders if you use our coupon that
comes with every catalog - That will give your order a 25% discount!

If you would like a Rock-it Radio catalog that lists over 500 rare and rockin' radio shows with famous DJs when Radio was truly radio! Just e mail us
your mailing address and we will send it out straight away!
Our E mail address is: rockitradio@netzero.net

============================================
Rockabilly bands looking for airplay
If you or know someone that would like airplay on Rock-it Radio we invite
you to submit your press kits to Rock-it Radio. Our website for further
information is:
http://www.rockitradio.net/airplay.html
============================================
Come tune into the World on your computer!
1000s of stations around the world now broadcast online. We have a
link to some of the internet top directories to help you find these stations.
http://www.rockitradio.net/internetradio.html
============================================
Rock-it Radio Program Webpage Reminder
Remember, if the show that you want to hear is getting close to the bottom
of the list of radio shows, you should tune in as soon as you can. These shows
to have a high audio quality require a lot of internet bandwidth and memory.
And currently we can only afford the
30
latest shows online here at Rock-it Radio.
So, when a new show is put online it knocks the oldest one off the Rock-it Radio
archives page. Usually a show will at least last 16 to 20 days, once it is placed in
the archives.
============================================
OUR SISTER STATION FIRST NATIONS BROADCASTING.
We invite you to also check out our sister station -- First Nations
Broadcasting. And tune into the rather Cool North of the Yukon and Alaska
with our very own Debbie Snowdove!
============================================
Well that is just about it for this newsletter and playlists of our latest
shows. We hope that you enjoy them.
We will do our best to keep these shows on for at least 14
days and hopefully 21 days.
All the best always,
Bennie Dingo
Rock-it Radio

website: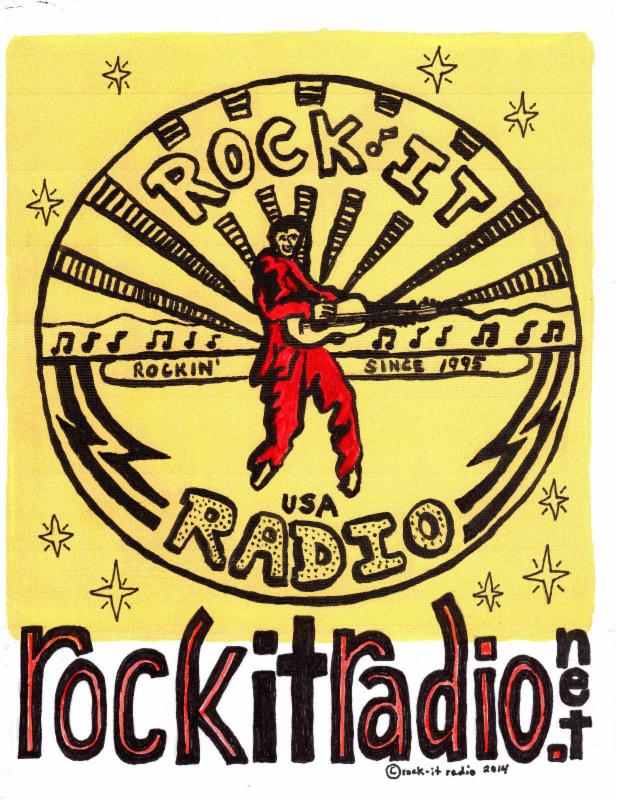 Rock-it Radio main website:
http://www.rockitradio.net

Archived Shows at:
http://www.rockitradio.net/programs.html

Rock-it Radio Vintage Broadcast Store:
(Launching Pad)
http://www.rockitradio.net/store.html