Rock-it Radio since 1995 providing 50s and early 60s Rock and Roll, Doo Wop and Rockabilly music online! Come tune us in at http://www.rockitradio.net We also have several 100 original radio shows from the first decade of Rock and Roll at: http://www.rockitradio.net/store.html
-----------------------------------------------------------------------------------------------------------------------
ROCK-IT RADIO NEWSLETTER AND PLAYLIST
SHOWS #6232 TO #6246
FROM
August 4, 2018 to September 14, 2018
Hi Rock-it Radio Listeners,

Well it's another late newsletter of Rock-it Radio
from me. More health problems landed me in the hospital.
But we are back, and finding some solutions now so we
are once again ready to Rock and Roll.

We have a new Free giveaway for September it's a
Special one too. its a FREE CD
of DJ Joey Reynolds from From February 1964 - over
WKBW Buffalo New York and this show is one of the first
broadcasts introducing the Beatles for
the first time on the Radio in the U.S.
It's our way of saying thank you for your order and
supporting Rock-it Radio. More news on that in this
newsletter along with 15 more shows and playlists
waiting to be heard in our program page.

And news of a new Rock-it Radio DJ coming up here
at Rock-it Radio. Along with the results of the 20th
Annual East vs. West oldies battle here on Rock-it.

Our shows can be heard in our archives page at:

http://www.rockitradio.net/programs.html
and click to the speaker on the left to hear the show.

Remember if you are new to Internet Radio and having trouble tuning in though --
Check out our webpage to help you out at:
http://www.rockitradio.net/tunein.html
============================================
REMEMBER YOU CAN ORDER ANY OF THESE ROCK-IT
RADIO SHOWS ON CD!!!! NEW EASIER ORDERING!

Would you like one of these Rock-it Radio shows on CD? To
be able to play anywhere? And help support Rock-it Radio at the same time.
For complete information check out our program
ordering webpage at: http://www.rockitradio.net/order.html

Our shows are of course copies straight from the studio so they are studio
quality and satisfaction is guaranteed.
Or if you would rather receive an invoice let me know and we
can e mail you a copy - Just e mail us the show(s) you would like
to have and the Rock-it # to: rockitradio@netzero.net

==============================================
All Rock-it Radio shows stay online from 18 to 24 days and are
broadcast in MP3 Format. To tune in just click to the speaker
at our program page at:
http://www.rockitradio.net/programs.html

The newest show added replaces the oldest show so if you see a
show near the bottom of the listing - you should listen as soon as
possible.

==============================================
WE COULD REALLY !!! USE YOUR SUPPORT

Rock-it Radio is 100% Publicly supported. But when you
donate to the Rock-it Radio Launching Pad - we give you
a vintage broadcast of your choice.
100% of all sales from the Rock-it Radio Store (Launching
Pad) goes back to pay copyright fees, LLC taxes, Internet
and bandwidth costs of Rock-it Radio. Without your support
we would not exist. So. please consider a purchase at:
http://www.rockitradio.net/store.html

===============================================
NOTE: ALL SHOWS BELOW CAN BE FOUND IN OUR
PROGRAM WEBPAGE -
TO TUNE IN CLICK TO SPEAKER OF THE SHOW YOU WANT
TO LISTEN TO. EITHER MP3 OR REAL PLAYER.
BOTH FORMATS ARE SUPPORTED.
AT:
HTTP://WWW.ROCKITRADIO.NET/PROGRAMS.HTML

==============================================
COOL BOBBY B AND THE DOO WOP STOP ON ROCK-IT RADIO
SHOW #6232

From a undisclosed location due to him cranking the
transmitter to a Million Watts! Cool Bobby B is back
on the Rock-it this week with 3 hours of great Doo Wop
music of the 50s and early 60s. And occasionally even
doo wop today! Let's get started with the playlist.


Hour #1

1. Rockin with the clock -- Shirley and Lee
2. Mope ity Mope - The Boss Tones
3. While Walking - The Fabulaires
4. So this is love - The Castells
5. Gee Baby - I'm Sorry
6. Sunday kind of Love - Etta James
7. Your other love - The Flamingos
8. There is - The Dells
9. Shu Bop is - Dion
10. There she goes - The Paramours
11. Rock and Roll Lullabye - The Belmonts
12. Please Please Please - James Brown & Famous Flames
13. Blue Velvet - The Clovers
14. Bing Bong - Vince Castro
15. There goes the boy - The Lydells
16. When we get married - The Dreamlovers
17. Maybe you'll be there - Billy & The Essentials
18. Looking for an echo - Kenny Vance & Planotones
19. My Prayer - The Platters

Hour #2

20. Never let me go - The Five Discs
21. You broke my heart - The States
22. Walking Alone - 4 Dukes
23. Don't take your love from me - The Calvanes
24. Would I love you - The Miracles
25. This I swear - The Skyliners
26. You'll never know - The Platters
27. Lovers never say goodbye - The Flamingos
28. You are - The Cadillacs
29. The girl I love - The Cadillacs
30. Sympathy - The Cadillacs
31. You belong to me - The Duprees
32. Chain of broken hearts - The Camelots
33. The door is still open - The Cardinals
34. Just a shoulder to cry on - The Demensions
35. Since I fell for you - Lenny Welch
36. This heart of mine - The Falcons
37. You're so fine - The Falcons
38. Mr. Lee - The Bobettes

Hour #3

39. 11th hour melody - The Rivieras
40. Moonlight Cocktails - the Rivieras
41. One in a million - The Platters
42. The magic touch - The Platters
43. Why do fools fall in love - Frankie Lymon & Teenagers
44. Sunday Kind of Love - The Harptones
45. Tell me why - Norman Fox and Robroys
46. My heart belongs to only you - The Standards
47. Soon - 4 Seasons
48. Pollyanna - The Classics
49. Goodbye to love - The Chantels
50. White cliffs of Dover - The Robins
51. I'm so young - The Students
52. Paper Castles - Frankie Lymon
53. Little Boy Blue - The Elegants
54. Suddenly There's a valley - The Drifters
55. That's the way it goes - Manhattan Transfer
56. Don't say goodbye - The Criterions
57. Good night Baby - The Imaginations


=================================================
DJ BILL GREEN AND THE ROCK AND ROLL RETRIBUTION
CELEBRATES 10 YEARS ON ROCK-IT RADIO IN SHOW #6233

Rock 'n Roll Retrospective with host Bill Green is celebrating
ten years here on Rock-it Radio. To salute this milestone
Bill presents part 2 of his theme show special. All of the songs
represent different themes used by Bill over the past decade.
However, none of these tunes appeared on the original theme
playlist so it's all 'new' material. Can you guess what each theme is?
Don't guess. Take a listen and hear for yourself.

1) Strollin' With Bones - T-Bone Walker (1950)
2) Early In The Morning - Bobby Darin (1958)
3) Save Your Heart For Me - Gary Lewis & The Playboys (1965)
4) California Dreaming - Mamas and the Papas (1966)
5) Shangri-La - The Four Coins (1957)
6) Shangri-La - Robert Maxwell His Harp & Orchestra (1964)
7) Tramp - Otis and Carla (1967)
8) Bitter Dreams - The Strollers (1957)
9) Open The Door To Your Heart - Darrell Banks (1966)
10) Somebody (Somewhere) Needs You (1966)
11) La Bamba - Ritchie Valens (1959)
12) He Will Break Your Heart - Jerry Butler (1960)
13) Rocket 88 - Jackie Brenston (1951)
14) Good Golly Miss Molly - Little Richard (1958)
15) You Need Love Like I Do (Don't You) 1970)
16) Oh Julie - The Crecendos (1958)
17) Down In The Alley - The Clovers (1957)
18) Down In The Alley - Elvis Presley (1966)
19) This I Swear - The Skyliners (1959)
20) So Fine - The Fiestas (1959)
21) A Thousand Miles Away - The Heartbeats (56/57)
22) Daddy's Home - Shep and the Limelites (1961)
23) You Got Me Hummiin - Cold Blood (1970)

=================================================
KEN STRANGE AND THE COUNTRY RECORD ROUND UP
SHOW ON ROCK-IT RADIO #6234

Join DJ Ken Strange as he delves into the archives to bring you
another "Country Record Round Up " show, with country music from
right across the board from the 1930's to the 2000's
including his regular feature of "Duos and Duets".

01. Intro - Medly
02. Watch Where You're Going - Don Gibson (65) RCA-Victor
03. Throwin' Memories On The Fire - Cal Smith (77) MCA
04. If I Ever Need A Lady I'll Call You - Claude Gray (67) Decca
05. I'm Ready If You're Willing - Johnny Horton (56) Columbia
06. I Just Want To Love You - DeAnne Horn (78) Chartwheel
07. Mr Walker It's Over - Billie Jo Spears (69) Capitol
08. Too You to Tango - (13 yr old) Sunshine Ruby (53) RCA-Victor
09. You're My Shoulder To Lean On - Lana Rae (72) Decca
10. Pussy Pussy Pussy - The Light Crust Dough Boys (39) Vocalion
11. Praying For Daylight - Rascal Flatts (00) Lyric Street
12. Ghost Riders In The Sky - Andy & The Rockits (03) Flathead
13. Hanging Around - The Whites (82) Elektra
14. Who-Ah - Carl Sauceman & The Green Valley Boys (58) N-One
15. Rattlesnake Mama - Rattlesnake Annie (84) Columbia
16. Little Bitty Nitty Gritty Dirt Town - Roger Sovine (69) Imperial
17. It Makes You Happy To Know You Make Me Blue - Kenny Vernon (66) Caravan
18. The Picture - Ray Godfrey (60) Savoy
19. Two Part Harmony - The Kendals (85) Mercury
20. Got To get To Oklahoma 'Cause California's Getting To Me - The Hager Twins (69 Capitol
21. A Truer Love You'll Never Find - Bonnie Guitar & Buddy Killen (69) Paramount
22. We've Got It All Together Now - Guy & Ralna (75) Ranwood
23. Shorty - Jimmy Smart & Judy McDowell (61) Plaid
24. Mr And Mrs Untrue - Price Mitchell & Rene Sloane (80) Sunbird
25. You Wouldn't Put The Shuck On Me - The Geezinslaw Brothers (66) Capitol
26. Rich Man Po' Boy - Phil Sullivan (59) Starday
27. That, I Love you, You Love Me Too, Song - Laney Smallwood (78) Monument
28. Outro - Medley

"Keep It Country".
=================================================
JAMMIN JAMES RILEY AND ROCKABILLY N BLUES RADIO
SHOW ON ROCK-IT RADIO SHOW #6235 TRIPLE PLAY!!!

From his studios in Nashville, Tennessee Jammin'
James Riley puts together one great Rockin' Rockabilly
and Blues show for our listeners here at Rock-it Radio.
Here is the playlist.

Rockabilly N Blues Radio Hour #1

Freddy "Boom Boom" Cannon is our guest

1. Move It On Over- Freddy Cannon & The Gears
2. Humdinger- Freddy Cannon w/ Frank Slay & His Orchestra
3. Tallahassee Lassie- Freddy Cannon
4. Palisades Park- Freddy Cannon w/ Frank Slay & His Orchestra
5. Buzz Buzz A Diddle It- Freddy Cannon
6. The Sox Are Rockin'- Freddy Cannon with Los Straitjackets
7. The Urge- Freddy Cannon w/ Frank Slay & His Orchestra
8. Hail Hail Rock & Roll- Freddy Cannon
9. Boppin' The Blues- Freddy Cannon
10. Chica Alborotada (Tallahassee Lassie)- Los Straitjackets & Big Sandy
11. Roll Over Beethoven- Chuck Berry
12. Muskrat Rumble- Freddy Cannon w/ Frank Slay & His Orchestra


Rockabilly N Blues Radio Hour #2

1. Folsom Prison Blues (live)- Johnny Cash
2. Jiggle Wiggle Walkin' Baby- Ed Cavin & The Blue Kings
3. Drinkin' For Your Leavin'- The Honkabillies
4. Hot Love Gone Cold- The Rhythm Preachers
5. Gone, Gone, Gone (live)- Carl Perkins
6. Everybody Needs Rock 'n' Roll- Stray Cats
7. I'm Not Waiting- Chris Isaak
8. The Coal Mine Blues- Marty Stuart
9. Gonna Have Love- Buck Owens
10. Written on The Subway Wall/Little Star- Dion
11. One Step Down- Larry Collins
12. Another Man Done Gone- Lorrie Collins
13. Hoy Hoy- The Collins Kids
14. Mercy- The Paladins
15. Whistle Bait- Barrence Whitfield & The Savages
16. This Little Girl's Gone Rockin'- Tammi Savoy & The Chris Casello Combo
17. Panic- The Rhythm Shakers
18. Blonde Hair Betty- Darrel Higham
19. Long Long Walk- Johnny Rivers

Rockabilly N Blues Radio Hour #3

1. You're My Baby- James Intveld
2. The Big Time- Dwight Yoakam
3. Dog On A Chain- Hillbilly Casino
4. Make A Circuit With Me (with Sarah Vista)- Boz Boorer
5. Cursed- The 24th Street Wailers
6. Throw It On Me Baby- John Paul Keith
7. Girl On A Motorbike- Guana Batz
8. 1200 Building- Babe Miller
9. Oakie Dokie Stomp- Clarence "Gatemouth" Brown
10. Omar's Boogie- Omar & The Howlers
11. I Love You Because- Johnny Cash
12. Love My Baby- Hayden Thompson
13. Breathless (Take 3)- Jerry Lee Lewis
14. Great Balls Of Fire- Brian Setzer
15. High School Confidential- Mudcrutch
16. Coffee Every Morning- Adam Lopez & The San Joaquin Valley Boys
17. Temptation Baby- Gene Vincent
18. Bad Biscuit- Bloodshot Bill & Deke Dickerson
19. Little Baby- Buddy Holly

===============================================
BILLY VERA ROCK AND ROLL PARTY FOCUS ON KING
RECORDS ON ROCK-IT RADIO SHOW #6236

Since you all have been listening to my old radio shows on
Rock-it radio, Lane Quigley thought I should do something new.
So I came up with the idea of doing a tribute to one of my
favorite record companies, King Records of Cincinnati.
King began as a "hillbilly" label, to service the country folks who'd
moved across the Ohio River from Kentucky. As King became
successful, they decided to put out black popular music as well.
This show features the best artists in both idioms from the
late 1940s until early 1955. Mainly under the supervision of
Henry Glover, acts like Bullmoose Jackson, the Delmore Brothers,
Wynonie Harris, Tiny Bradshaw, Moon Mullican, LaVern Baker,
Jack Dupree and Little Willie John sold tons of records.
On the West Coast, A&R man Ralph Bass, brought with him Little Esther,
Jimmy Witherapoon, Young John Watson and East Coast vocal group
the Dominoes, featuring Clyde McPhatter and Jackie Wilson.
King was a label that should be recognized as right up there with
Atlantic, Chess, Aladdin and Specialty.

HOUR ONE
1. I Want a Bow Legged Woman - Bull Moose Jackson
2. Blues Stay Away from Me - The Delmore Brothers
3. Gospel Boogie (Everybody's Gonna Have a Wonderful Time Up There)- Lee Roy Abernathy
4. Sixty Minute Man - Elliot Lawrence
5. Bloodshot Eyes - Hank Penny
6. I'm Waiting Just For You - Lucky Millinder Orch. featuring Annisteen Allen
7. Flamingo - Earl Bostic
8. The Train Kept A-Rollin' - Tiny Bradshaw
9. Nosey Joe - Moose Jackson
10. Better Beware - Little Esther
11. Keep On Churnin' - Wynonie Harris
12. I'll Drown In My Tears - Sonny Thompson Orch. featuring Lula Reed
13. My Ding a Ling - Dave Bartholomew
14. Every Beat of My Heart - The Royals
15. Pig Latin Blues - Todd Rhodes Orch. featuring Lavern Baker
16. Soft - Tiny Bradshaw
17. Soft - Henry Glover
18. Jambalaya - Moon Mullican
19. Person to Person - Eddie Cleanhead Vinson
20. Bloodshot Eyes - Charlie Spivak
21. Big Ten Inch Record - Bullmoose Jackson

HOUR TWO
22. Hurry Hurry Baby - Roy Brown
23. Laugh (Though You Want To Cry) - The Swallows
24. Shuckin' & Jivin' - Babs Gonzalez
25. These Foolish Things (Remind Me of You) - Billy Ward & The Dominos
26. Jay's Blues - Jimmy Witherspoon
27. Tongue Tied Blues - Champion Jack Dupree
28. My Baby Keeps Rollin' - Annisteen Allen
29. Motor Head Baby - Young John Watson
30. Be Bop Wino - The Lamplighters
31. Knock Em Down Whiskey - Sugar Ray Robinson
32. Good Googa Mooga - The Magic Tones
33. My Friends - The Strangers
34. Don't Stop Dan - The Checkers
35. Monkey Hips and Rice - The Five Royales
36. I'm Gonna Move To The Outskirts of Town - Billy Ward & The Dominos
37. Sexy Ways - The Midnighters
38. Seventeen - Boyd Bennett & The Rockets
39. Two Hearts - The Charms
40. Get Your Mind Out of The Gutter - Stick McGhee
41. All Around The World - Little Willie John
42. Long Gone (Part 2) - Sonny Thompson

===============================================
PETE CHASTON'S DOO WOP SHOW HERE
ON ROCK-IT RADIO #6237

Pete is one of our veteran DJs here on the Rock-it
and his Doo Wop collection is quite extensive!
If you love Doo Wop Rock and Roll but in search
of more of the obscurities along with the standards
this show just might be for you.

1. Doo-Wop All Night Long-The Blue Emotions (opening theme song) (1982)
2. Unchained Melody-The Five Discs (1982)
3. I Remember-The Five Discs (1958)
4. Zu-Zu-The Five Discs (1991)
5. Hush, My Darling-The Mystics (1982)
6. Ray Pearl-The Jivers (1956)
7. I Love You, Darling-The Valentines (1955)
8. Twistin' Pneumonia (and Boogie Woogie Flu)-The Genies (circa 1959)
9. Vadunt un Va Da-The Ramblers (1955 or '54)
10. White Cliffs of Dover-The Robins (1961)

SILLY SONG SEGMENT:

11. Hide & Go Seek-Part 1-Bunker Hill (1962)
12. Cocktails for Two-Spike Jones (xxxx)

SCRATCHY 45 RPMs SEGMENT:

13. Tonight (Could Be the Night)-Tommy & The Saints (xxxx)
14. Every Once in Awhile-The Debonaires (1959)
15. Rockin' in the Rocket Room-The Larks (1954)
16. Trickle, Trickle-The Videos (1958)

BACK TO THE CDs &/or More 45 RPMs:

17. Denise-Randy & The Rainbows (1963)
18. Little Star-The Elegants (1958)
19. The Lone Stranger-The Majestics (xxxx)
20. Jeannie-The Thrashers (1957)

SLOW SONG SEGMENT:

21. Please Let Me Love You-The Legends of Doo-Wop (circa 2001)
22. Sit and Cry-The Grand Prees (1963)
23. Hey You-The Legends of Doo-Wop (circa 2001)
24. I Was the One-Elvis Presley & The Jordanaires (1956)
25. My Saddest Hour-The Five Keys (1953)
26. Those Oldies But Goodies (Remind Me of You) - Little Caesar & The Romans (1961)
27. (closing theme song) Adios-The Five Discs (1961)

===============================================
ROCKIN' DADDY O'S ATOMIC DOO WOP DANCE PARTY
VIA ROCK-IT RADIO SHOW #6238

If you love Doo Wop with a great delivery from a
high energy fun DJ then the Atomic Doo Wop Dance
Party is for you! Come tune in and see what we mean.
Here is this show's playlist.

1. Hocus Pocus-The Raiders
2. Betty Ann-The Cruisers
3. Chicken Grabber-The Nite Hawks
4. She's My Baby-Steve Alaimo & The Red Coats
5. Rockin' Daddy-The Greyhounds
6. Everybody Wants Her-Little Lesley & The Bloodshots
7. Scumptious Baby-Ray Campi
8. Rollin' To The Juke Box Rock-Levi Dexter
9. New England Shakeup In The Fall-The Doel Brothers
10. When I'm With You-Screamin' Rebel Angels
11. You're So Right For Me-Ronnie Self
12. In My Arms-Omar Romero
13. Drinkin' Age-The Raging Teens
14. Rocket Baby-Rocket J
15. Primitive State-The Dalharts
16. Jungle Fever-Charlie Feathers
17. The Hunt-Bloodshot Bill
18. I've Got A Dollar-Lil Mo & The Unholy 4
19. She Put Me Down-Shaun Young & The 3 Ringers
20. Fish Out O' Water-Ronnie Dawson

===============================================
THE COOCH JOHN MINNECUCCI AND JOHN'S ATTIC OLDIES
SHOW IS ON DEMAND AT ROCK-IT RADIO SHOW #6239

Johns Attic show this week features classic R&B R&R & Doo Wop
Vocal groups & Blues songs & artists from the 40s 50s & A touch
of the 60s. Featuring Cozy Cole, Gladiarors, Sam Cook minni set,
Ban Lons & more

First Hour

1. Down The Line Apiece-Amos Milburn 1945
2. Here Comes Henry- Young Jessie 1957
3. Pointed Toe Shoes- Carl Perkins 1958
4. Long Tall Girl-Carnations 1961
5. A Kiss & A Rose Sonny Till & Orioles 1949
6. Laugh Or Cry- Yvonne Carroll 1965
7. Cadillac Boogie- Jimmy Liggins 1947
8 Set'em Up Joe- Ralph Rebel
9. I Want To Be Loved- Ronnie Baker & Del Tones 1962
10. My Baby Doll- Gladiators 1957
11. Jump Rock & Roll- Marvels 1956
12.Rock With Me Baby- Jukebox Bonner 1957
13. Only You Only Me- Jackie Wilson 1959
14.Venus My Love- Leon Peels & Blue Jays 1962
15.The Little Things You Do- Sam Cook 1959
16.A Change Is Gonna Come- Sam Cook 1965
17. Nothing Can Change This Love- Sam Cook 1962
18. Harlem Nocturne - Viscounts 1960
19. Dream A Little Dream Of Me- Ella & Louie 1950
20. My Special Angel- Bobby Helms 1957
21. 12th Of Never-Johnny Mathis 1957

Second Hour

22. X Temporaneous Boogie- Camille Howard 1947
23.Let's Rock While The Rockin Is Good- Little Willie John 1958
24. I'm Tore Up- Billy Gales 1956
25. I Like It- Ban Lons 1962
26. Two Heart On A Window Pane- Wanderers 1958
27. For All We Know-Jackie & Starlites 1962
28. Good Rocking Tonight- Roy Brown 1947
29. Good Rocking Tonight- Wynonie Harris 1948
30. I'm So Proud- Impressions 1964
31 Dedicated To You- Sonny Knight 1957
32. Tiny's Boogie- Bimble Bee Slim 1951
33. Gabbin Blues- Big Maybell & Rosemary McCoy 1952
34. You'll Lose a Good Thing- Barbara Lynn 1962
35. Three Wishes- Harptones 1956
36. Bad- Cozy Cole 1958
37. Get To Gettin- Mercy Dee Walton & Lady Fox 1953
38. My Baby;s Gone On On
39. One Million Years- Heartbeats 1958
40. Old McDonald- Jesse Belvin & the Chargers 1958
41. Hambone_ Hambone Kids 1952
42.Blue Velvet_ Clovers 1954

===============================================
DJ SPINNING ROCK BOOGIE AND THE MOVIN AND GROOVIN
SHOW ON ROCK-IT RADIO SHOW #6240 - GEORGIA pt. 3

ROCK-IT RADIO: PLAYLIST: SPINNING ROCK BOOGIE -
GEORGIA PT. 3

Join DJ Spinning Rock Boogie for another show in his series
"Regional Round Up", the show that features a State(s) of America
with some of the record labels from out of that State(s), the
Towns and Cities where those labels were based (although not necessarily
recorded in), and the artists who recorded on them. This show takes another
look at the State of Georgia, bringing you music from the 1950's and 1960's,
including, Rock and Roll, Rockabilly, Teeners, plus a smattering of Soul
and Doo Wop, as well as the regular feature of the "Smooch Spot".

01. Intro - Medley
02. The Coo - Wayne Cochran (59) Scottie - Atlanta
03. Just Me And My Baby - Chuck Atha (58) Fox - Atlanta
04. I Got A Girl - Tommy Roe & The Satins (60) Mark IV - Atlanta
05. Tennessee Twister (instrumental) - Bob Jones & The Bob Cats (62) Bo-Jo - Atlanta
06. Live It Up - Joe Moon & The Stars Of Note (60) Hillcrest - Cornelia
07. No Alimony - Joe Shinall & The Sabres (62) Gala - Vidalia
08. Gypsy Boogie - Gerald Powers & The Teen Tones (58) Nu-Clear - Columbus
09. You're No Good For Me - Dori Sudduth (59) Peach - Jefferson
10. Who Taught Who - Mary Carr & The Carr Tunes (67) Trepur - La Grange
11. Precious - The Chelette Sisters (58) NRC - Atlanta
12. Dreamworld Of My Own (smooch) - LaVern Stovall (59) Kip - Tifton
13. A Soldiers Prayer (smooch) - Eddie Billups (67) Peachtree - Atlanta
14. This Time (smooch) - Troy Shondell (61) Gaye - Decatur
15. Teenage Lover (smooch) - The Night Beats (59) Peach - Douglasville
16. A Million Tears (smooch) - The Five Sparks (58) Jimbo - Savannah
17. You And Johnny Smith - Ray Melton (60) Hope - Atlanta
18. Forgetful - Larry Tyner (67) Space - Macon
19. Tore Up - Billy Reed (67) Men-Del - Columbus
20. You Gotta Love Me Baby - Hiram Philman (60) Philman - Blakely
21. One Day - Bob James & The Creations (65) McDonald - Perry
22. Ladies Man - Eddy Raven (61) Cosmos - ?
23. The Whipmaster - Don Johnson (57) Chic - Thomasville
24. It Goes Without Saying - Leon 'Ken' Kennington (62) Confederate - Macon
25. Hang Loose - Weyman Parham (58) Staro - Athens
26. Cindy Marie - Wayne Cochran (62) Aire - Dublin
27. Scratchin' On My Screen - Ric Carty (58) NRC - Atlanta
28. I Feel So Bad - Danny Mote (64) Opal - Atlanta
29. But I Did - Betty Logan (61) Fairlane - Atlanta
30. Outro - Medley

===============================================
FROM THE NETHERLANDS - JACK VAN OERS & THE ROCKING
WINDMILL ROCKABILLY SHOW ON ROCK-IT RADIO #6241

The Rockin' Windmill is still turning like 45's on a pick-up. The music
in this show originates from Denmark, Canada, Sweden, Wales,
The Netherlands, Germany, France, The UK, Belgium, The USA, Scotland
and Austria. So, just turn up the volume, find your blue suede shoes
and petticoats and enjoy this Rockin' Windmill show.

1. Loretta - Bob Luman - 1959
2. My love's named Rock & Roll - The Rioters - 2002
3. Save my soul - Jack Scott - 1958
4. Teenage fool - Hank Turko with Johnny & the Nite-Liters - 1964
5. I can't help myself - The Black Wings - 1999
6. Rock it up to the moon - Jackie Gotroe - 1958
7. That's the way - Boppin' Steve & the Playtones - 2004
8. Dinah Lee - Vernon Taylor - 195x
9. Mrs. Devil - Hard Working Raoul & the Lazy Boys - 1999
10. So help me gal - Huelyn Duvall -
11. You make me mad - The Riot Rockers - 1976
12. Thirty days - Chuck Berry - 1955
13. Rien que huit jours - Burt Blanca - 1996
14. Teenage wedding - Mel Tillis - 1958
15. Fancy Dan - Rocking Boys - 2000
16. Breakaway - Jackie de Shannon - 1964
17. Heartbreaker - Ramshackle Daddies - 2003
18. Sugar-coated baby - Johnny Horton - 1956
19. High class baby - Jerry Arnold - 1958
20. Hello Mary Lou - Jan & Kjeld - 1961
21. Just around the corner - Jenny Lou Crumpler - 1968
22. When she's good - High Noon - 1991
23. Tell me how - Matchbox - 1979
24. Bobby Socks - Jerry King & the Rivertown Ramblers - 2006
25. It's all your fault - Crazy Cavan & the Rhythm Rockers - 1982
26. Swanee River Blues - The Champs - 1959

===============================================
GARY K'S VINTAGE VINYL TREASURE CHEST SHOW ON
ROCK-IT RADIO SHOW #6242

Gary K is back this week with another fantastic
radio show on Rock-it Radio with more forgotten
favorites and some rarities from the first decade
of Rock and Roll. Here is the playlist of what you
will hear in this show. It's a BOOGIE Special!!!

1 Boogie at Midnight-Roy Brown-1949
2 Boogie Woodie-Beach Boys-1963
3 Sea Cruise-Frankie Ford-1959
4 Boogie Woogie Bugle Boy- Andrews Sisters- 1941
5 Boogie Woogie Rock-The Jury (Bill Justus)-1960
6 Blackberry Boogie- Tennessee Ernie Ford- 1952
7 Bumble Boogie- B Bumble/Stingers-1961
8 Bonnie B- Jerry Lee Lewis-1961
9 Swanee River Rocket-Jimmy Ellidge-1961
10 Boogie Chillen- John Lee Hooker-1948
11 We Wanna Boogie- Sonny Burgess-1956
12 New York Boogie-Lightnin' Hopkins-1952
13 Plantation Boogie-Lenny Dee-1955
14 Jole Blon- Moon Mullican-1947
15 True Fine Mama-Little Richard-1958
16 Shot Gun Boogie- Pat Boone-1957
17 Jake's Boogie-Bel Airs- ?
18 Hey La Bas-Fats Domino-1950
19 Luther Played the Boogie-Johnny Cash-1959
20 Jump for Joy-Joe Turner-1958
21 Boogie Woogie-Tommy Dorsey-1955
22 Beat Me Daddy Eight to the Bar-Commander Cody/Lost Planet Airmen-1972
23 Too Much Boogie-Doc Pomus-1951

Closing Song:
24 That's All She Wrote- Rick Nelson-1963
===============================================
LANE QUIGLEY AND THE MEMORY LANE SHOW ON
ROCK-IT RADIO #6243

Host Lane Quigley dusts off some fantastic 45s for this week's
Memory Lane Show. Along with the terrific music, there's a bunch of
fascinating interview clips from the artists, this week's Mystery
Artist, and the usual mirth and merriment. Listen and enjoy!

1. R-O-C-K - Bill Haley & The Comets 1956
2. She Don't Deserve You - The Noney Bees 1964
SOUND BITE
3. Send Her To Me - Johnny Thunder 1964
4. Bottle It Up and Go - Big John Greer 1954
5. Bright Lights, Big City - Jimmy Reed 1961
6. Hold It - Bill Doggett 1958
SOUND BITE
7. Looking for a Man - Mable John 1961
8. Dad Gum Ya Hide Boy - Louis Jordan 1954
9. Matchbox - Carl Perkins 1957
10. MYSTERY ARTIST (Can you identify the artist??)
SOUND BITE
11. Idol With a Golden Head - The Coasters 1957
12. I Got The Skill - Jackie Ross
13. I Gotta Go Home - Gene & Eunice 1956
14. I'd Much Rather Be With The Girls - Donna Lynn 1965
SOUND BITE
15. Let's Go Trippin' - Dick Dale & The Deltones 1961
16. That's All I Want - Bobby Day 1959
17. White Lightning - Gene Vincent 1971
18. Alimony - Frankie Ford 1959
SOUND BITE
19. Honeycomb - Jimmie Rodgers 1957
20. Those Heartaches - Jackie Wilson 1967
21. Queen Of My Heart - Rene & Ray 1962
SOUND BITE
22. PS I Love You - The Starlets 1960
23. Baby Think It Over - The Martinels 1963
24. Baby Baby All The Time - The Superbs 1964
25. What Will I Tell My Heart? - The Harptones 1961


===============================================
AL COOL DADDY SMITH WITH PT. 4 TRIBUTE TO CREEDENCE
CLEARWATER REVIVAL ON ROCK-IT RADIO SHOW #6244

This show concludes my look at the greatest Rock and Roll group
of the late 1960's and early 1970's "Creedence Clearwater Revival"
The remainder of their sixth Album "Pendulum" will be played as well
as all of their seventh and final album "Mardi Gras" that they
recorded for Fantasy Records. It was "Mardi Gras" and the way it was
produced that proved to be the final straw that broke up what was now
a three man group. The reasons for this and other difficulties that
faced the group are discussed along with the playing of these albums.
Some recordings by John Fogerty as a solo act will be played as well.

The Play List is as follows:

1. Hey Tonight-Creedence Clearwater Revival 1970
2. It's Just a Thought-Creedence Clearwater Revival 1970
3. Sailor's Lament-Creedence Clearwater Revival 1970
4. Hello Mary Lou-John Fogerty (From Mardi Gras) 1972
5. Door To Door-Stu Cook(From Mardi Gras 1972)
6. Sweet Hitch Hiker-John Fogerty(from Mardi Gras) 1972
7. Lookin' For A Reason-John Fogerty (From Mardi Gras) 1972
8. Tearin' Up The Country-Doug Clifford (From Mardi Gras) 1972
9. Some Day Never Comes-John Fogerty (From Mardi Gras) 1972
10. What Are Gonna Do-Doug Clifford (From Mardi Gras) 1972
11. Take It Like A Friend-Stu Cook (From Mardi Gras) 1972
12. Need Someone To Hold-Doug Clifford (From Mardi Gras) 1972
13. Sail Away-Stu Cook (From Mardi Gras) 1972
14. Centerfield-John Fogerty 1985
15. The Old Man Down The Road-John Fogerty 1985
16 Zanz Kant Danz-John Fogerty 1985
17. Proud Mary (Live)-Creedence Clearwater Revival 1970
18. Fortunate Son (Live)-Creedence Clearwater Revival 1970

===============================================
OTTO FUCHS & ROCKIN' THE JOINT SHOW ON ROCK-IT RADIO
SHOW #6245

Otto Fuchs takes you out to rock the juke joint with great Roots
Rock & Roll, Rockabilly, Classic R&B, Revival Rock & Roll and Neo-Rockabilly.
So sit back, relax, enjoy, or roll out the carpet, move away the chairs
and rock with this rockin´ party programme.
For requests & dedications for upcoming Rockin´ The Joint Shows write to
rockinthejukejoint@gmx.at


1. Rocking Chair On The Moon-Bill Haley & The Saddle Men
2. Trying To Get To Memphis-Freddie Fingers Lee
3. Rollin´ Through The Night-Backdraft
4. My Little Sister´s Got A Motorbike-Crazy Cavan & The Rhythm Rockers
5. Teenage Paradise-Foggy Mountain Rockers
6. Honky Tonk Queen-Big Sandy & The Fly-Rite Boys
7. Half Hearted Love-Mac Curtis
8. Girl In Saskatoon-Johnny Cash
9. Hey, Hey Memories-Linda Gail Lewis
10. Forget Him-Billy Fury
11. Story Of The Rockers-Shakin´ Stevens & The Sunsets
12. Back To Rock & Roll-Ken Lovelace
13. School Of Rock & Roll-Gene Summers
14. Another Saturday Night-Gene Vincent
15. I´m Just A Lonely Guy-Little Richard
16. Country Fair-Phil Alvin
17. Put The Blame On Me-Matchbox
18. Jesse James-Black Knights
19. Rumble In Brighton-Stray Cats
20. Lovin´ Up A Storm-Jerry Lee Lewis
21. Puttin´ On The Style-Lonnie Donegan
22. The Fat Man-Fats Domino
23. I Wish This Night Would Never End-Ral Donner
24. Live My Life-Bo Diddley

=================================================
MATT THE CAT & THE JUKE IN THE BACK SHOW WITH A
TRIBUTE TO VITA RECORDS ON ROCK-IT RADIO
SHOW #6246

The Juke In The Back is jumpin' this week with records from the Vita Label
and its direct predecessor, Mambo Records. In 1955, record producer
Mike Gradney got together with Larry Mead, who owned a record pressing
plant in Pasadena, CA to form Mambo Records. They picked that name, because
the Mambo was all the rage in '55. Mambo hit the ground running with a
roster of fantastic R&B cats, like Willie Egan (who's name always appeared
on record as either Eggins or Egans), saxophonist Jackie Kelso and vocal groups
the Squires and The Colts. Just as Mambo issued The Colts, "Adorable," they
decided that disc jockeys might get confused and think Mambo Records was a
Latin label instead of an R&B label. They changed Mambo to Vita and reissued
"Adorable" as Vita 112. "Adorable" was Vita's first hit record and The Colts
only hit record. More Vita releases from The Colts, The Squires, Harmonic Slim,
Ike Turner and The Titans followed. In late 1956, Vita had a huge hit on
their hands when "Confidential" by Sonny Knight took off nationally. Vita
couldn't handle the distribution of such a large seller, so they leased
the record out to Dot Records. The tide started turning for Vita in 1957
and Gradney left Mead to form his own label, Spry Records. Unfortunately,
he took some of Vita's best artists with him and by 1959, Mead decided to
shut Vita down for good. This week's Juke In The Back is a look into
the musical legacy of Vita Records, another small West Coast label that made
a significant contribute to Rhythm & Blues and the formation of Rock n' Roll.

1. Swanee River Boogie - Albert Ammons & His Rhythm Kings - Mercury 1947
2. Don't Know Where She Went - Lloyd & Willie - Mambo 1955
3. Wow Wow - Willie Eggins & Orch - Mambo 1955
4. Sindy - The Squires - Mambo 1955
5. Blue Moon - Jackie Kelso & Orch. - Mambo 1955
6. Adorable - The Colts - Mambo & Vita 1955
7. Sweet Girl - The Squires - Vita 1955
8. You Can't Beat The Horses - Ervin (Big Boy) Groves - Vita 1956
9. Sweet Sixteen - The Colts - Vita 1956
10. Wear Your Black Dress - Willie Egans - Vita 1956
11. Peg Leg Woman - Willie King with the Ike Turner Band - Vita 1956
12. Red Tape - The Chavelles - Vita 1956
13. GREAT 78 - Rhythm & Blues - The Titans - Vita 1957
14. Confidential - Sonny Knight w/ Jack Collier Orch - Vita and Dot 1956
15. Drop Anchor - Harmonica Slim & Orch - Vita 1956
16. So Hard To Laugh So Easy To Cry - The Titans - Vita 1957
17. Bitter Wind - Christy Sextet - Vita 1959
18. Jail Bird - Sonny Knight w/ Jack Collier Orch - Vita and Dot 1956
19. After Hours - Erskine Hawkins & His Orch - Bluebird 1946



==============================================
HISTORY OF ROCK-IT RADIO

If you are new to Rock-it Radio and would like to learn more --
We have our History Page up as well -- telling the story of Rock-it
Radio. You can find it at:
http://www.rockitradio.net/history.html


ROCK-IT RADIO T SHIRTS - MANY DESIGNS TO CHOOSE FROM!!

Have you seen the new full line of Rock-it Radio T shirts that have been
Released. 3 New designs by Rock-it Radio's own Jammin' Jan.
Each Rock-it Radio T shirt is only $16.00 each plus shipping. And 100% of
All monies goes to keeping Rock-it Radio Online.

Come check out the latest styles.:

http://www.rockitradio.net/tshirt.html

Check Website for updates and availability

A BIG THANK YOU TO ALL THOSE THAT SUPPORT US
HERE AT ROCK-IT RADIO.

I want to thank all of you for purchasing our vintage
broadcasts, T shirts and Rock-it Radio shows they all
go to help keep Rock-it Radio online. AND ALSO A BIG
THANK YOU to 1 gentleman that sent Rock-it Radio a check
donation to help us going as well.

Thank you Gary Podsieklik of Syracuse, New York

=============================================


=============================================
VINTAGE VIDEO PICK OF THE WEEK

For the week of 14 September, 2018
This week in our archives page:
================================================
SPECIAL SEPTEMBER 2018 GIVEAWAY

JOEY REYNOLDS ON WKBW BUFFALO NEW YORK FROM
FEBRUARY 1964 INTRODUCING THE #BEATLES! SPECIAL FREE
BROADCAST TO ROCK-IT SUPPORTERS
This is an uncut and unedited broadcast from the above
mentioned date. WKBW no longer exists but in 1964 it was the
top rated station in the Buffalo New York market and had top
ranked DJ's with great personalities like Joey Reynolds!
featured in this broadcast. This show goes to show how much
the Beatles in 1964 truly owned the airwaves and the music
being played in the United States. Just about every other song was
a Beatles song or a song about the Beatles and mentions and promos.
of this station concerning The Beatles. If you are a Beatles
fan you really should have this recording to remember or
learn how the U.S. went bonkers over John, Paul, George and Ringo.
Not only do you get vintage Beatles songs and Promos. But
the humor of Joey Reynolds at WKBW (They went as 'KB Radio')
is phenomenal and a true treat to tune into. This show has been
remastered and placed on Compact Disc from the studios here at
Rock-it Radio.

BUT DON'T BUY IT! Get another Rock-it Radio product
from the sites below and we will send you this CD
for FREE. You can shop at the following Rock-it
Radio sites.

- it's yours Free with every order from the month of August 2018! from the following
websites.

The Rock-it Radio Launching Pad:
http://www.rockitradio.net/store.html

Wolfman Jack Shows.
http://www.rockitradio.net/wolfman.html

Rock-it Radio Shows:
http://www.rockitradio.net/order.html

or our new service of Rock-it Radio shows
on Flashdrive.
http://www.rockitradio.net/flashdrivemp3.html

Or our 50 Rock it Radio shows on Flashdrive at:
http://www.rockitradio.net/flashdrive.html

Any order from any of those sites in April you will
get this CD for FREE!

================================================
NEW RELEASE -- FLASHDRIVE OF ROCK-IT RADIO
SHOWS #6101 TO #6150. OUR 15TH FLASHDRIVE

NEW RELEASE!!!!! ROCK-IT RADIO FLASHDRIVE #16!!

This includes over 75 hours of Rock-it Radio oldies programming
from shows #6151 to #6200. The Flashdrive features all these shows
in their entirety in mp3 format in studio quality and just plug into
your computer and Rock-it Away!!!! Check out #16 and it's playlist via our
Flashdrive page at http://www. rockitradio.net/flashdrive.html
or in our Ebay Store listed as:
https://www.ebay.com/itm/142859495693


================================================
WELCOME ABOARD NEW ROCK-IT RADIO DJ
BILL ROBERTS AND THE LITTLE BOSS MAN SHOW

DOO WOP AND R&B DJ LITTLE BOSSMAN CRANKS IT UP
TO FULL BLAST, HE RETURNS TO THE MIKE ONCE AGAIN
EXCLUSIVELY ON ROCK-IT RADIO

Worldwide internet listewners are in for a thrill when
the Little Bossman Show takes to the airwaves. With a prize
collection of classics rhythm and blues and rare doo wop
45s, the Pittsburgh born California based Little Bossman,
AKA Bill Roberts specializes in mixing frantic rave ups
with smooth vocal group harmony to create aome of the most
satisfying musical sessions on contemporary radio... A long
running popular fixture on the Cable Radio Network,
Roberts mix of affable charm and jive exhortations have a
boundless appeal to not only his core audience in Bossman
parlance but also to younger listeners just discovering the
exciting world of 1950s era black music.

You can catch his Premiere broadcast later on this afternoon
where it will be archived as show #6248 in the Rock-it Radio
Program page.

You can let him know your thoughts at his e mail at:
littlebossman@yahoo.com

================================================
BENNIE DINGO HOSPITALIZED PROGRAMMING TEMPORARILY
SEIZES FOR ROCK-IT RADIO

First of all thank you all again for your patience
here at Rock-it Radio and our lack of programming.
And the patience of our DJs as well. I was once
again hospitalized with breathing and lung problems.
And noticed I had gained 25 lbs. in 10 days!!
Fluids were once again building up in my lungs,
but upon my return home I have lost get this
50 lbs. in 15 days most being I am sure those liquids.
We have strict doctor orders that we are following to
the tee. And hopefully my last hospital visit in a
long long time. And now looking forward to getting
Rock-it Radio back on a regular schedule.
================================================
NEGATIVE FEEDBACK ON ROCK-IT RADIO E BAY STORE
HURTS SALES.

It was a simple misunderstanding that we could
of easily fixed. We do have a 100% Satisfaction
guarantee. But when David Johnson of Alameda, Calif.
bought 5 CDs from us he was under the impression he
could get flat rate shipping, which he would have
if he ordered all the shows at once rather then one
at a time. We refunded his money but he still left
4 negative feedbacks. Rock-it Radio attempted to
ask him to kindly remove the feedbacks but he refused
saying people need to know what you are doing.
We attempted to contact him again to no avail.
This dropped our 100% rating on Ebay down to 99.7%
Believe it or not in the world of Ebay that actually
matters. We are currently trying to rectify the feedback
through e bay and have our paws crossed.
In the mean time please remember when you help Rock-it
Radio by a purchase of our Ebay Store. (Ebay user:
Rockitradionet) We do just like in the Launching Pad
of Rock-it Radio offer 100% guarantee.

==========================================================
RIP LORRIE COLLINS AND ARETHA FRANKLIN

Last month we lost 2 great lady legends of music.
They were both on separate genres and we will miss
them both. Lorrie Collins of the Collins Kids and
then Aretha Franklin of Motown and her own fame.
The music we play here at Rock-it Radio the performers
are thinning out so make sure to catch those that are
still still out there performing.

============================================


ROCK-IT RADIO LISTENER'S
VINTAGE BROADCASTS ON FLASHDRIVE

It's hard to believe but we realize that perhaps our
declining sales is due to Compact Discs are a
aging medium. And Flashdrives And digital is where it's
at. So, I am going to make this offer just on a trial
basis for the remainder of 2017. If you would prefer to
have Rock-it Radio shows and vintage radio shows that we
offer for sale on Flashdrive in mp3 format rather then
on CD we can provide that service here at Rock-it Radio.
Here it is how it works:

1. E mail me at rockitradio@netzero.net and let me
know what shows you would like to have on Flashdrive.
Let's make it a minimum of 3 broadcasts. Either any
Rock-it Radio show .... or Vintage Radio Show from the
50s through 70s that we offer at:
http://www.rockitradio.net/store.html

2. The Cost: Flashdrive will cost $5.00 and each show
that you wish to have will cost $5.00 - nearly 50% CHEAPER then on
CD.

3. I will send you back a invoice within a couple of days, It will be
sent via paypal and it is not obligatory. If you change your mind
just don't pay. But it is easy to pay with any major credit card.

4. Please allow up to 7 days for me to fill the order. Once payment
is sent. In case I get swamped with this offer. Probably sooner.
I have to redigitalize all sold shows into MP3 and that takes a little
bit of time. All orders will have $3.00 postage a slight increase but
that is due to it is shipped as a package and not envelope since it will
be over a 1/4" thick.

For example you order: 3 of our Alan Freed Radio shows. And a Real Don
Steele show. A total of 4 shows - That would normally be a cost of $40.00
on CD. All together on one flashdrive so the invoice would look like

- Flashdrive $5.00
- Four Shows on Flashdrive @ $5.00 each - $20.00
- shipping $3.00

Total: $28.00

Of course if you order more shows on the flashdrive you would continue saving
as you are paying the $5.00 per show rather then $9.50.

And of course we will be adding the monthly giveaway as well.

So for a invoice again just e mail me your wants on your flashdrive for
shows on mp3 at: rockitradio@netzero.net

Also, check out this offer again at:
http://www.rockitradio.net/flashdrivemp3.html

=============================================================
EAST COAST VS. WEST COAST 20TH ANNIVERSARY
RESULTS OF YOUR VOTES!!!

RESULTS OF 2018 20TH ANNUAL EAST COAST VS.
WEST COAST OLDIES BATTLE.

The polls are closed, the votes have been tallied and the winner of the 20th Annual East West Showdown is......THE EAST.
Seven out of twelve rounds went for East songs so it was a close race. Going back over twenty years the East has been
victorious 11 times, The West has won 8 times and there was 1 tie.

Thanks to all the Rockiteers who participated. The five lucky voters who were selected at random will be notified shortly and will be receiving a marvelous prize from Rock-it Radio's Launching Pad store.

Here are the final round by round results:

ROUND # ARTIST SONG TITLE % OF VOTE WINNER
1 EUGENE CHURCH PRETTY GIRLS EVERYWHERE 48

O'KAYSIONS GIRL WATCHER 52 EAST

....

2 ESTHER PHILLIPS RELEASE ME 58 WEST

DINAH WASHINGTON I DON'T HURT ANYMORE 42

....

3 ANNETTE FIRST NAME INITIAL 62 WEST

ROYAL TEENS BIG NAME BUTTON 38

....

4 JOE HOUSTON ALL NIGHT LONG 46

RED PRYSOCK HAND CLAPPIN' 54 EAST

....

5 REDBONE COME AND GET YOUR LOVE 58 WEST

LINK WRAY RUMBLE 42

....

6 LORRAINE ELLISION STAY WITH ME 42

DRIFTERS I DON'T WANT TO GO ON W/O YOU 58 EAST

....

7 IMPERIALITES HAVE LOVE WILL TRAVEL 46

SWANS YOU BETTER BE A GOOD GIRL NOW 54 EAST

....

8 TURTLES IT AIN'T ME BABE 73 WEST

PETER, PAUL AND MARY BLOWIN' IN THE WIND 27

....

9 FOUR BLUEBIRDS MY BABY DONE TOLD ME 42

RAVENS BYE BYE BABY BLUES 58 EAST

....

10 LITTLE CAESAR & THE ROMANS THOSE OLDIES BUT GOODIES 54 WEST

KENNY VANCE LOOKING FOR AN ECHO 46

....

11 SAMMY MASTERS PINK CADILAC 31

DELICATES BLACK AND WHITE THUNDERBIRD 69 EAST

....

12 NINO TEMPO & APRIL STEVENS ALL STRUNG OUT 46

DREAMLOVERS YOU GAVE ME SOMEBODY TO LOVE 54 EAST

A Big thank you to all those that participated and voted
last month!!! We will be having the announcement of the
prize winners in the next Rock-it Radio Newsletter.




=============================================================
COLLECTING AIRCHECKS - A HOBBY OF RADIO NOSTALGIA
What is a Aircheck? It is simply a recording of a radio broadcast. Usually collected by Radio fans.
Come check out our webpage on collecting Airchecks.

http://www.rockitradio.net/aircheck.html


COME REMEMBER WOLFMAN JACK !!!
Rock-it Radio has a very special way to remember Wolfman Jack.
Arguably the most iconic of American DJ's. Come check out the
Rock-it Radio Wolfman Page at:
REMEMBERING OFFSHORE PIRATE RADIO IN THE UK
In the mid 1960s it was difficult for the youth to actually listen to Rock and Roll in the UK.
The BBC actually ran only a few hours a weekend to provide the young Brits with this outlet.
At night during the week they ventured to even tune into Radio Luxembourg to get there fill,
that broadcast rock and pop around the clock.
To fill this void some venture capitalists decided to bring in commercial radio aboard refitted
radio ships. And anchor themselves just off into International waters off the English coast.
Radio Caroline (named after Caroline Kennedy the U.S. President's daughter at the time)
and Radio London being the most famous. Rock-it Radio has a website dedicated to their ventures
and also have actual radio broadcasts available of
these offshore pirates.
We invite you to check them out our webpage at:
http://www.rockitradio.net/pirate.html
VINTAGE ALAN FREED RADIO BROADCASTS AVAILABLE
THRU THE ROCK-IT RADIO LAUNCHING PAD.

No DJ represents 50s rock and roll then that of
The Late Great Alan Freed. He truly was Mr. Rock & Roll.
And a icon in broadcasting. Rock-it Radio is blessed
enough to have actual radio broadcasts uncut and unedited
of some of these 50s shows. Here is a list and
ebay links of what we have available, with the Ebay
store links.

1. Ultra Rare Broadcasts of Alan Freed.
http://www.ebay.com/itm/2230394396

2. Alan Freed over WINS New York City from 5 March, 1955
http://www.ebay.com/itm/4004323982

3. Alan Freed over WINS New York City from 23 March, 1955
Rock and Roll Dance Party Show.
http://www.ebay.com/itm/140357066934

4. Alan Freed Rock & Roll Dance Party plus more from 1956
http://www.ebay.com/itm/4013450227

5. Alan Freed After School Rock and Roll Show from 27 Jan. 1957
over WINS New York City!
http://www.ebay.com/itm/140359196279

6. Alan Freed over WINS New York Rock and Roll Dance Party from
10 June, 1957.
http://www.ebay.com/itm/140359459651

7. Alan Freed over WABC New York City from 5 November, 1959
Just a couple of weeks before the Payola scandal breaks out.
http://www.ebay.com/itm/140355474287

100% of sales of these shows goes to supporting and maintaining
Rock-it Radio. The shows are remastered onto Compact Disc for
modern day convenience. And are less then $10 U.S. each and we
ship worldwide.

==============================================
FINDING ROCK-IT RADIO ON THE 'TUNE IN RADIO' CELL PHONE APP.

We have had a few requests from listeners that they couldn't find us on the popular
'Tune in Radio' App. on Android and PC and iphones. Running a search of 'Rock-it Radio'
will actually list 100s of Rock stations.
So, the best way to find us on this very thorough and extensive app. that
I love using myself is -
run a search on 'rockabilly' - there you will easily find
Rock-it Radio listed.
Our Tune in Radio App. webpage is also at:
http://tunein.com/station/?stationId=41878
ARE YOU ON FACEBOOK ?? FOLLOW THE LATEST AT
ROCK-IT RADIO AND OUR LATEST VINTAGE BROADCAST RELEASES.

Rock-it Radio has 2 Facebook pages. One for our programming
online and notifications, and the other is for our vintage
broadcast shows for sale.


The Online Station is http://www.facebook.com/rockitface

For the Rock-it Radio Launching Pad and our latest deals and
releases you can follow us at:
http://www.facebook.com/rockitpad
MISSED A COUPLE OF NEWSLETTERS LAST COUPLE OF WEEKS??

THEN YOU CAN ALWAYS CHECK OUR BLOG WHERE IT IS ARCHIVED.
YOU CAN CHECK OUT OUR BLOG AT:

http://rock-itradio.blogspot.com/
=============================================


ROCK-IT RADIO DJ PAGE...


Remember you can check out all the Rock-it Radio DJ's

and read the bios of these DJ's that make these

Rock-it Radio Shows possible at:


And don't forget for even more pictures --

there is our picture page at:
============================================
IF YOU HAVE TWITTER COME FOLLOW US THERE

If you are one that tweets then please check out and join and get our
updates on your twitter account. Our Twitter link is right below.

http://www.twitter.com/RockitRadio1
It is our new Twitter account and we will once again start
scrolling our messages and updates on our webpages as well.


=================================================
We are in our 22nd year!!! Please share the good news with your
family and friends that love original Oldies Music - We are back and
Rockin' with new shows in our program page at
http://www.rockitradio.net/programs.html
Just click the MP3 speaker to the show that has your musical interest!
=================================================
WELCOME NEW MEMBERS TO THE LISTENER'S CLUB!!!!

A big welcome to the below new Rock-it Radio listeners that
joined our Listeners Club from August 4, 2018 to September 14, 2018
We hope that you enjoy the music Rock-it Radio provides
and our playlists and information that our weekly newsletter
provides. Any comments, criticisms, kudos, compliments or
future ideas is always welcome and you can e mail me personally at:
rockitradio@netzero.net

Raul Castro - Ventura, California USA
Antony Davies - Florida USA
Ricky Carlin - Paisley, United Kingdom
Bruce Morris - Amelia, Ohio USA
Rich Gardner - Chicago, Illinois USA
John Weeks - Gatineau, Quebec Canada
A. Goodman - Williamsburg, Virginia USA
Liza Moulton - Sioux Falls, S. Dakota USA
Fabian Flahut - Pas de Calais, France
Ronald Ausman - Duncansville, Pennsylvania USA
Dennis O'Brien - Butler, Pennsylvania USA
Bill Clements - Knoxville, Tennessee USA
Paul Trinder - London, United Kingdom
James Butteri - Bridgeville, Pennsylvania USA
We have gained 160 new likes in our listeners club
in our Facebook page Rock-it Radio Fan Page as well this week at:
http://facebook.com/rockitface and 21 more following us
on Twitter @Rockitradio1 .

We have added a total of 195 new members to the Rock-it Radio
Listeners Club since our last newsletter. We now have 93,534 exactly
that have joined the Rock-it Radio Listeners club.
We hope that you enjoy the rare 50's and early 60's
Rock and Roll, Rockabilly and Doo Wop (which most commercial
oldies radio stations have forgotten) that we are able to play
for you from Rock-it Radio. Remember, we are here for you!

So if you ever have any requests, dedications, comments and
suggestions we always love to hear from our listeners.
Our e mail address is:
rockitradio@netzero.net

====================================================
To learn more about the Rock-it Radio Listeners Club and our Free
Newsletter please check out:
http://www.rockitradio.net/member.html

It's free and easy to join and the Rock-it Radio Newsletter is always
online at: http://www.rockitradio.net/newsletter.html



====================================================

PLEASE HELP US SPREAD THE GOOD WORD OF ROCK-IT RADIO!

Do you know of someone that might also like the music

of Rock-it Radio? We are desperately trying to keep this

music alive and have been doing so since 1995! Please

share the information of this station. And if you have

a website would you please consider putting a Rock-it Radio

link on your page.

There are a few to choose from in our link page at:

http://www.rockitradio.net/links.html
HOW TO ORDER OLD ROCK-IT RADIO SHOWS = YOUR PURCHASES HELP US STAY ONLINE!!!
We have received many inquiries on how to order Rock-it Radio shows that are no longer in
our on archives webpage. These shows are still available on CD and mailed to you within 24
hours of receiving payment.
To help search for older shows that you may be looking for you may want to check the Rock-it
Radio blog site. Old newsletters describing the shows and playlists
are archived there and there is a menu bar on the right side that breaks down every playlist
Then you may either pay by check or money order or paypal. Rock-it Radio shows are only
$9.50 U.S. each and are studio quality broadcasts that were placed on Compact Disc here at
the Rock-it Radio Studio. We have a flat rate shipping charge of $1.50 U.S. so if you order
one or several -- it is still only $1.50
U.S. shipping. And we ship worldwide, overseas orders are mailed out first class airmail.
Instructions where to send payment is at our webpage:
like we can send you a paypal invoice within 24 hours.

When you order a Rock-it Radio show or shop at our Rock-it Radio Launching Pad you
help keep these oldies alive and help us pay the bills here at Rock-it Radio.
And at the same time -- you are not getting nothing for your donation, but actually
some of the shows and memories we hope we keep alive here at Rock-it Radio.
TOP 25 SELLERS OF THE ROCK-IT RADIO LAUNCHING PAD
FOR September 14, 2018

HERE IT IS !!! The Top 25 Countdown from the Rock-it
Radio Launching Pad http://www.rockitradio.net/store.html

As you know the Rock-it Radio Store sells vintage Radio Broadcasts -
Where you hear the actual music, news and vintage advertisements -
uncut and unedited just like you would of heard it back then.
Here are the top sellers this week.

1. Lane Quigley - Class of 1968 50 Year Reunion
2. Rock-it Radio Shows #5701 to #5750 Flashdrive
3. RIR #644 - Dan Ingram WABC New York 6/12/1964
4. Rock-it Radio shows #6051-6100 on Flashdrive
5. RIR #168 - Dan Ingram WABC New York 7/22/1967
6. RIR #426 - Dan Ingram WABC New York 7/4/1968
7. RIR #594 - Denny Sanders WMMS Cleveland 6/30/1978
8. RIR #646 - Larry Lujack WLS Chicago 8/8/1970
9. RIR #181 - Wolfman Jack XERB Rosarito, Mexico 12/8/1967
10. RIR #179 - Jocko Henderson WOV New York 6/10/1957
11. RIR #516 - Dick Biondi WCFL Chicago 10/3/1967
12. RIR #497 - Larry Lujack WLS Chicago 10/17/1978
13. RIR #466 - 3 vintage Beatles interviews 1960s.
14. RIR #396 - Humble Harv KHJ Los Angeles 9/28/1968
15. RIR #410 - Dr. Don Rose KFRC San Francisco 4/4/1974
16. RIR #495 - John R WLAC Nashville 1967 R&B countdown
17. RIR #386 - Charlie Tuna - KHJ Los Angeles 2/23/1969
18. RIR #393 - John Lennon as DJ at WNEW New York 1974
19. RIR #222 - Ron Britain WCFL Chicago 5/31/1970
20. RIR #267 - Arnie woo woo Ginsburg WMEX Boston 12/12/1965
21. RIR #171 - Peter Tripp WMGM New York 1/1/1960
22. RIR #541 - Denny Sanders WMMS Cleveland 1/31/1978
23. RIR #539 - Cousin Brucie WABC NEW YORK 9/7/1965
24. RIR #114 - Alan Freed WABC New York 11/5/1959
25. RIR #648 - Real Don Steele KHJ Los Angeles 3/21/1970




If you would like to view these shows in depth you can check out

our Rock-it Radio Ebay Store at:

or in the Rock-it Radio Launching Pad store at:

and in the upper left hand corner -

there is a search box where you can type in the DJ name or

Station Call letters and that information on that show will pop up.

Ordering from the Ebay store will also qualify you for the Rock-it Radio

giveaway mentioned previously in this newsletter. Sale of

these broadcasts is what keeps Rock-it Radio going and thank

you again to everyone that buys these!

============================================



REQUEST A ROCK-IT RADIO STORE CATALOG
If you don't like ordering online but still want to have some
of the vintage radio shows from the 50s through the 70s - We
understand that. That is why we still take mail orders. You can
actually save money also in our orders if you use our coupon that
comes with every catalog - That will give your order a 25% discount!

If you would like a Rock-it Radio catalog that lists over 500 rare and rockin' radio shows with famous DJs when Radio was truly radio! Just e mail us
your mailing address and we will send it out straight away!
Our E mail address is: rockitradio@netzero.net

============================================
Rockabilly bands looking for airplay
If you or know someone that would like airplay on Rock-it Radio we invite
you to submit your press kits to Rock-it Radio. Our website for further
information is:
http://www.rockitradio.net/airplay.html
============================================
Come tune into the World on your computer!
1000s of stations around the world now broadcast online. We have a
link to some of the internet top directories to help you find these stations.
http://www.rockitradio.net/internetradio.html
============================================
Rock-it Radio Program Webpage Reminder
Remember, if the show that you want to hear is getting close to the bottom
of the list of radio shows, you should tune in as soon as you can. These shows
to have a high audio quality require a lot of internet bandwidth and memory.
And currently we can only afford the
30
latest shows online here at Rock-it Radio.
So, when a new show is put online it knocks the oldest one off the Rock-it Radio
archives page. Usually a show will at least last 16 to 20 days, once it is placed in
the archives.
============================================
OUR SISTER STATION FIRST NATIONS BROADCASTING.
We invite you to also check out our sister station -- First Nations
Broadcasting. And tune into the rather Cool North of the Yukon and Alaska
with our very own Debbie Snowdove!
============================================
Well that is just about it for this newsletter and playlists of our latest
shows. We hope that you enjoy them.
We will do our best to keep these shows on for at least 14
days and hopefully 21 days.
All the best always,
Bennie Dingo
Rock-it Radio

website: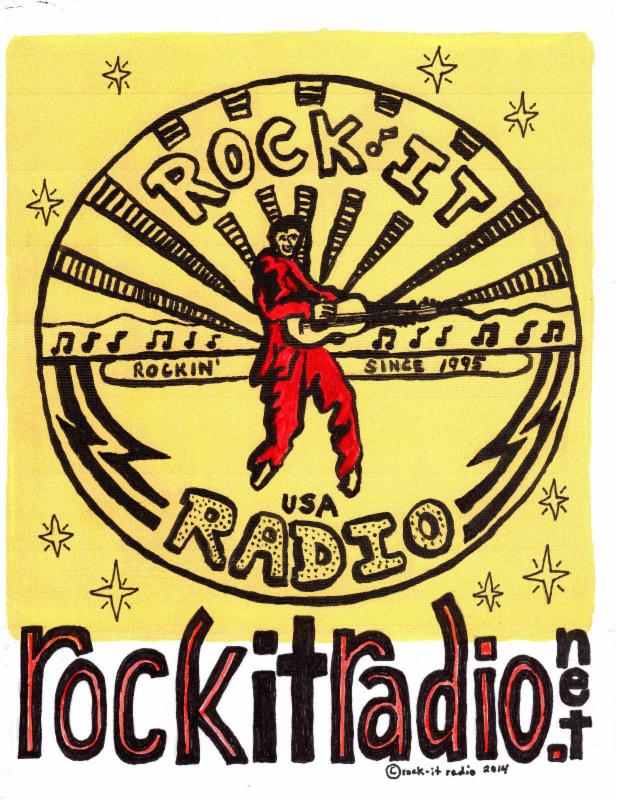 Rock-it Radio main website:
http://www.rockitradio.net

Archived Shows at:
http://www.rockitradio.net/programs.html

Rock-it Radio Vintage Broadcast Store:
(Launching Pad)
http://www.rockitradio.net/store.html