Rock-it Radio since 1995 providing 50s and early 60s Rock and Roll, Doo Wop and Rockabilly music online! Come tune us in at http://www.rockitradio.net We also have several 100 original radio shows from the first decade of Rock and Roll at: http://www.rockitradio.net/store.html
========================================================================
ROCK-IT RADIO NEWSLETTER AND PLAYLIST
SHOWS #5520 TO #5534
FROM
December 18, 2015 to Janusary 2, 2015
Hi Rock-it Radio Listeners,

Happy 2016 everyone! That marks our 21st
year of Rock-it Radio! We wish all of our
listeners and supporters a Happy and Blessed
New Year!
We have playlists and featuring 15 shows in this
newsletter (Shows #5520 to #5534) Plus being the first
newsletter of the month we held our Listener Supporters
drawing for some prizes listed below as well. Plus some
interesting articles!

So, Let's get started with some playlists!

Our shows can be heard in our archives page at:

http://www.rockitradio.net/programs.html
and click to the speaker on the left to hear the show.

Remember if you are new to Internet Radio and having trouble tuning in though --
Check out our webpage to help you out at:
http://www.rockitradio.net/tunein.html
============================================
REMEMBER YOU CAN ORDER ANY OF THESE ROCK-IT
RADIO SHOWS ON CD!!!! NEW EASIER ORDERING!

Would you like one of these Rock-it Radio shows on CD? To
be able to play anywhere? And help support Rock-it Radio at the same time.
For complete information check out our program
ordering webpage at: http://www.rockitradio.net/order.html

Our shows are of course copies straight from the studio so they are studio
quality and satisfaction is guaranteed.
Or if you would rather receive an invoice let me know and we
can e mail you a copy - Just e mail us the show(s) you would like
to have and the Rock-it # to: rockitradio@netzero.net

==============================================
All Rock-it Radio shows stay online from 18 to 24 days and are
broadcast in MP3 Format. To tune in just click to the speaker
at our program page at:
http://www.rockitradio.net/programs.html

The newest show added replaces the oldest show so if you see a
show near the bottom of the listing - you should listen as soon as
possible.

==============================================
WE COULD USE YOUR SUPPORT

Rock-it Radio is 100% Publicly supported. But when you
donate to the Rock-it Radio Launching Pad - we give you
a vintage broadcast of your choice.
100% of all sales from the Rock-it Radio Store (Launching
Pad) goes back to pay copyright fees, LLC taxes, Internet
and bandwidth costs of Rock-it Radio. Without your support
we would not exist. So. please consider a purchase at:
http://www.rockitradio.net/store.html

===============================================
NOTE: ALL SHOWS BELOW CAN BE FOUND IN OUR PROGRAM WEBPAGE - TO TUNE IN CLICK TO SPEAKER OF THE SHOW YOU WANT TO LISTEN TO. EITHER MP3 OR REAL PLAYER. BOTH FORMATS ARE SUPPORTED.
AT:
HTTP://WWW.ROCKITRADIO.NET/PROGRAMS.HTML

===============================================
MATT THE CAT AND THE JUKE IN THE BACK SHOW WITH
EARLY LITTLE RICHARD ON ROCK-IT RADIO SHOW #5520

Early Little Richard: 1951-55

Growing up in a poor section of Macon, GA wasn't easy and
young Richard Wayne Penniman found himself on his own,
singing in clubs before he was 17. However, he was a musical
sponge, picking up vocal and performance tips from blues
shouters Billy Wright and Roy Brown and some piano licks
from the young Esquerita. He landed his first record contract
with RCA Victor in late 1951 and cut 4 singles that didn't go
anywhere for the major label. Then in early '53, Richard was
on Don Robey's Peacock label where he didn't fare any better.
But through all the disappointing record sales, Little Richard
was building a style that would burst open when he cut Tutti Fruitti
for Specialty Records in September of 1955.
Matt The Cat digs out Little Richard's long forgotten humble
beginnings and spins them this week on the
Juke in the Back show!

1. Swanee River Boogie - Albert Ammons â€" Mercury 1947
2. Blue Light Boogie Pt 1 & 2 - Louis Jordan & His Tympani Five Decca 1950
3. Every Hour - Little Richard â€" RCA Victor 1951
4. Taxi Blues - Little Richard â€" RCA Victor 1951
5. Thinkin' 'Bout My Mother - Little Richard â€" RCA Victor 1952
6. Get Rich Quick - Little Richard â€" RCA Victor 1952
7. Why Did You Leave Me - Little Richard â€" RCA Victor 1952
8. Ain't Nothin Happenin' - Little Richard â€" RCA Victor 1952
9. I Brought It All On Myself - Little Richard â€" RCA Victor 1952
10. Please Have Mercy On Me - Little Richard â€" RCA Victor 1952
11. Ain't That Good News - Deuces Of Rhythm & Tempo Toppers, Lead: Little Richard Peacock 1953
12. GREAT 78* Fool At The Wheel - Deuces Of Rhythm & Tempo Toppers, Lead:Little Richard Peacock 1953
13. Rice Red Beans and Turnip Greens - Little Richard Peacock 1954
14. Always - The Tempo Toppers Featuring Little Richard Peacock 1954
15. Little Richard's Boogie - Little Richard w/ Johnny Otis Band Peacock 1956
16. Tutti Frutti - Little Richard Specialty 1955
17. After Hours - Erskine Hawkins Bluebird 1946

===============================================
JACK VAN OERS & THE ROCKIN' WINDMILL SHOW ON
ROCK-IT RADIO SHOW #5521

From the land of windmills, dykes, canals, cheese, tulips,
cows and wooden shoes here is another dynamic Rockin' Windmill
Show. Host Jack van Oers plays Rockabilly music from Belgium, Canada,
The Netherlands, Germany, Norway, The USA and the UK. So, put on
your dancing shoes and have fun!

1. Be-bop baby - Ricky Nelson - 1957
2. I'm leaving you to-day - The Rocking Birds - 1998
3. Pepper hot baby - Phil Gray - 195x
4. With you tonight - Bob Davis - 1963
5. Queen of love - Clark Richard - 1962
6. Shake it up - DC Rand & the Jokers - 1959
7. Laura Lee - Ruth McKenny - 1979
8. All they wanna do is stroll - Vernon Taylor - 19xx
9. The girl in the Cardigan sweater - Dub Dickerson - 19xx
10. Boomerang - The Crocats - 1989
11. Ha ha hey hey - Mel Kimbrough - 19xx
12. My little girl - The Crickets - 1963
13. File file file - Johnny Taylor & Les Strangers - 1963
14. Whoa Mabel! - Bill Haley & the Comets - 1958
15. Memphis Tennessee - Renee & the Alligators - 1978
16. Let's not be two in love - The Thompson Valley Boys - 19xx
17. Keep me waiting - Jeff Spencer - 1986
18. Three chords - The Cascadez - 2001
19. Moonshine liquor - Dwight "Whitey" Pullen - 1963
20. Mound of clay - Black Raven - 2001
21. The Rhythm of the Hillbilly boogie - Cruisers - 1994
22. Lovin' memories - Mack Self - 1959
23. Joe Brown and me - Freddie "Fingers" Lee - 1981
24. Rambler - Comer Money - 1964
25. Party date - Carl Canida - 1960
26. Greensleeves (instr) - The Shakin' Arrows - 1992

===============================================
DJ SPINNING ROCK BOOGIE AND THE MOVIN' AND GROOVIN'
SHOW FEATURING VIRGINIA AND W. VIRGINIA OLDIES ON
ROCK-IT RADIO SHOW #5522

Join UK-DJ Spinning Rock Boogie for another in his series "Regional
Round Up", the show that features a particular State or States of
America with some of the record labels from out of that State(s)
the towns and cities where those labels were situated, and the
artists who recorded on them.
This show features the States of, Virginia and West Virginia with music
from the 1950's and 1960's including Rock and Roll, Rockabilly, a
smattering of Doo Wop, and the regular feature, The Smooch Spot.
So, let's climb aboard the Rocket, strap yourselves in and
fly off around the Virginias.

01. Intro - Medley
02. Rocking Banjo - Pete Peters (61) Lance - Richmond - Virginia
03. My Woman - Barrie Manso & The Bonniviles (59) Town Crier - Charleston - West Virginia
04. Grandpa's Rock - Ray Darden & The Trail Blazers (58) Watson - Norfolk - Virginia
05. Baby I Got You - Mickey Hawks & Gwen Kallam + Moon Mullins & His Night Raiders (64) Piedmont - Daneville - Virginia
06. Stoney Mountain Boogie - Bob Varney & The Stoney Mountain Playboys (58) Blue Grass - Logan - West Virginia
07. Ballad Of Daddy Cool - Larry Saunders (66) Twilight - Falls Church - Virginia
08. Rock And Roll Rhythm - Mickey Hawks (58) Mart - Martinsville - Virginia
09. Loud Mufflers - Robert Williams & The Groovers (59) Tip Top - Richmond - Virginia
10. Craig's Crazy Boogie (instrumental) - Earl Craig & The Downbeats (59) Dominion - Salem - Virginia
11. Gotta Rock - The Carter Kids (?) Gambler - Springfield - Virginia
12. First Prom - Johnny Boni & The Triumphs (57) Black Crest - Wheeling - West Virginia
13. Created For Me - Pat Garrison (60) Emporer - Wheeling - West Virginia
14. Girl - King James & The Royal Jesters (68) Plato - Milton - West Virginia
15. Those Love Me Blues - Ruben Siggers & His Fabulous Kool Kats (58) Spinks - Ronceverte - West Virginia
16. Bluest Boy In Town - Phil Gray & His Go Boys (57) Rhythm - Portsmouth - Virginia
17. Don't Break My Heart - The Miller Brothers (64) Layne - Staunton - Virginia
18. Rock And Roll Fever - Buzz Busby (57) Speaks - Norfolk - Virginia
19. Cheer Me Up - Plez Gary Mann (58) Playboy - Yolyn - West Virginia
20. I'm So Tired - Pee Wee & The Prophets (59) Raven - Clarksburg - West Virginia
21. Wig Walk - Pete peters & His Rhythm Makers (62) P&J - Richmond - Virginia
22. Woo Hoo (instrumental) - The Rock-A-Teens (59) Doran - Salem - Virginia
23. Devil or An Angel - Tex Montana & His TV Cowboys (58) C-Way - Norfolk - Virginia
24. Let's Rock Rock And Roll Our Blues Away - Johnny Watson & His Night Owls (59) Cactus - Portsmouth - Virginia
25. Hard Headed Woman - Judy Layne & The Rumblers (61) Wren - Norfolk Virginia
26. Little Girl - Everett Pauley & The Swinging Drifters (63) Everett Pauley - Huntington - West Virginia
27. Back Up - The New Mason Dixons (64) Centennial - Clarksburg - West Virginia
28. Wore Me To A Frazzle - Tony & Jackie Lamie (58) Sunset - Tannersville - Virginia
29. Jake Legged Preacher - Connie Dycus (69) Cathay - Charleston - West Virginia
30. Outro - Medley

===============================================
LANE QUIGLEY AND THE MEMORY LANE SHOW WITH MORE
FORGOTTEN TOP 25S ON ROCK-IT RADIO SHOW #5523

It's time to dust off a couple dozen memories from the
Golden Age of Top 40 Radio, as this week's Memory Lane Show
takes you on a time travel trip with two dozen lost 45's.
Every record on this week's playlist reached the Top 40 on
the U.S. charts, but these songs have been largely ignored
in the last couple of decades - but not here on Rock-it Radio.
So kick back and enjoy these tunes once again.

1. Short Fat Fannie - Larry Williams 1957 #5
2. Give Him a Great Big Kiss - The Shangri-Las 1964 #18
SOUND BITE
3. Bongo Rock - Preston Epps 1959 #14
4. I Want You To Be My Girl - Frankie Lymon & The Teenagers 1956 #13
5. Guess Things Happen That Way - Johnny Cash 1958 #11
SOUND BITES
6. Secret Agent Man - Johnny Rivers 1965 #3
7. Think It Over - The Crickets 1957 #27
8. Live It Up - Bill Haley & The Comets 1953 #25
SOUND BITE
9. School Day - Chuck Berry 1957 #3
10. 20-75 - Willie Mitchell 1964 #31
11. Fool Fool Fool - Kay Starr 1952 #13
SOUND BITE
12. Let's Lock The Door - Jay & The Americans 1965 #11
13. Never Be Anyone Else But Me For You - Ricky Nelson 1958 #6
14. Open The Door To Your Heart - Darrell Banks 1966 #27
SOUND BITE
15. Wild! - Dee Dee Sharp 1963 #33
16. You're The One - The Vogues 1965 #4
17. Slippin' & Slidin' - Little Richard 1956 #33
SOUND BITE
18. Lonely Weekends - Charlie Rich 1960 #22
19. I Like It Like That - The Miracles 1964 #27
20. Little Coco Palm - Jerry Wallace 1960 #36
21. Searchin' For My Love - Bobby Moore & The Rhythm Aces 1966 #27
SOUND BITE
22. Hurt So Bad - The Lettermen 1969 #12
23. Dream - Betty Johnson 1958 #19
24. Sacred - The Castells 1961 #20

===============================================
COOL BOBBY B AND THE DOO WOP STOP ON ROCK-IT RADIO
SHOW #5524 - CHRISTMAS DOO WOP SPECIAL

Cool Bobby B is back in this newsletter with another
3 hour extavaganza of Doo Wop Rock and Roll from the
first decade of Rock nad Roll! Here is the playlist
of what you will hear when you select his show in our
program page.

Hour #1

1. Rockin' with the clock - Shirley and Lee
2. A Christmas Long Ago - The Echelons
3. Blue Holiday - Kenny Vance & Planotones
4. It's Christmas once again - Joel Katz & The Glows
5. Christmas time is coming - The Fabulous Dudes
6. White Christmas - Kid Kyle
7. Lonely Christmas - The Orioles
8. Please come home for Christmas - Dion
9. Here comes Santa Claus - Santa's Doo Wop Helpers
10. Mr. Santa - Kenny Vance & The Planotones
11. Silent Night - Lola & The Saints
12. Christmas Time To play - Philly Cuzz & The Elves
13. My Letter to Santa - The Crystalaires
14. You're my angel present - The Skyliners
15. Rudolph - The Cadillacs
16. God's Christmas - The Demensions

Hour #2

17. Christmas is - Johnny Maestro & Brooklyn Bridge
18. Merry Merry Christmas Baby - Tune Weavers
19. Rockin' Around the Christmas Tree - Dion
20. The Christmas Song - The Flamingos
21. For such a time as this - Joel Katz & The Glows
22. Another Lonely New Years Eve - Jimmy Beaumont & Skyliners
23. Like a kid at Christmas - Five Burroughs
24. Dancing in the snow - Billy & The Essentials
25. Merry Twistmas - The Marcels
26. White Christmas - The Ravens
27. Christmas Serenade - Johnny Maestro & Brooklyn Bridge
28. The Bells of St. Mary's - The Drifters
29. Winter Wonderland - Dion
30. It's Christmas Time - Five Keys
31. Merry Christmas - The Glows
32. You're all I want for Christmas - The Persuassions
33. It's Christmas once again - Frankie Lymon
34. After New year's eve - The Heartbeats
35. Happy Holiday - The Shells

Hour #3

36. 11th hour melody - The Rivieras
37. Moonlight Cocktails - The Rivieras
38. Oh Holy Night - Johnny Maestro & Brooklyn Bridge
39. Christmas Ain't my friend - The Roomates
40. No Christmas Cheer - Larry Chance & The Earls
41. White Christmas - The Drifters
42. Just a lonely Christmas - The Moonglows
43. Christmas on my block - Kenny Vance & Planotones
44. O Holy Night - Dion
45. Merry Christmas Darling - The Uniques
46. I wish you were coming home for Christmas - Ba Ba Doos
47. Jingle Jangle - The Penguins
48. White Christmas - The Statues
49. Doo Wop Christmas - Kenny Vance & Planotones
50. can this be Christmas - The Falcons
51. After New Year's Eve - The Glows
52. Have yourself a Merry Little Christmas - Johnny Maestro & Brooklyn Bridge
53. What are you doing New Year's Eve - Kenny Vance & Planotones
54. Goodnight Baby - Tie Imaginations


================================================
OTTO FUCHS AND THE ROCKIN THE JOINT SHOW WITH A
BILL HALEY TRIBUTE SHOW ON ROCK-IT RADIO SHOW #5525

The Rockin' The Juke Joint Show on Rock It Radio, with host
and DJ Otto Fuchs: Besides of being a Rock It Radio DJ. Otto
is also the author of a 1070 pages, 200+photos containing biography
on Bill Haley entitled "The Father of Rock & Roll", published by
Verlagoo, in 2015 coinciding with the 60th anniversary of
"Rock Around The Clock" by Bill Haley & His Comets, becoming the
best-selling rock single of all times. For further information
on the book, and on Bill Haley, please visit the website
www.billhaley.at. To order the book, check your country's amazon
site, or see a bookstore you trust.
During the research for his book, Otto not only, could interview
9 members of Bill Haley's Comets, three of his sons, and his very
talented daughter Gina Haley. A singer and songwriter in her own
right. He also obtained, a fine collection of recorded work by
Bill Haley. A Bill Haley Special on Rockitradio.net - as 2015
the 60th anniversary of Rock & Roll´s explosion comes to an end!

1. Rock The Joint - Bill Haley & The Saddle Men
2. Rock Around The Clock - Sunny Dae & His Knights
3. Bill Haley Talks About His Early Career To Jacques Barsemian
4. Yodel Your Blues Away - Bill Haley & The Four Aces of Westernswing
5. Four Leaf Clover Blues - Bill Haley & The Four Aces of Westernswing
6. Jukebox Cannonball - Bill Haley & The Saddle Men
7. Caravan - Danny Cedrone & The Esquire Boys
8. JINGLE
9. Bill Haley Interview
10. Rock-A-Beatin' Boogie - Bill Haley & His Comets
11. Rock Around The Clock - Bill Haley & His Comets
12. Well Now Dig This - The Jodimars
13. Rockabilly Bill - Johnny Kay
14. Interview Armed Forces Radio
15. Medley: Malaguena, Tales From The Vienna Woods, La Paloma, Hungarian Rhapsody (AFN Broadcast)
16. Rudy's Rock - Bill Haley & The Comets featuring Rudy Pompilli & Al Rappa
17. Johnny B. Goode - Bill Haley & The Comets featuring Nick Nastos (aka Nick Masters)
18. The Saints Rock & Roll - Bill Haley & The Comets
19. Love Letters In The Sand - Bill Haley & The Comets
20. A Little Piece At A Time - Bill Haley & The Comets
21. Crazy Man Crazy - Bill Haley & The Comets
22. R-O-C-K - Bill Haley & The Comets
23. Jukebox Cannonball - Bill Haley & The Comets

==============================================
BILLY VERA'S ROCK AND ROLL PARTY SHOW
ON ROCK-IT RADIO SHOW #5526

Great music and lots of laughs are on the menu with Billy Vera
on this week's Rock & Roll Party. Kick back and enjoy the
rebroadcast of this fun program from 1989 right here
on Rock-it Radio.

HOUR ONE

1. Whatcha Gonna Do - Clyde McPhatter & The Drifters
2. Lyin' Woman - Smiley Lewis
3. It Would Be Heavenly - The Coronets
4. Talking About Another Man's Wife - Buddy Johnson Orch. feat. Geezil Minerve
5. I Just Can't Tell No Lie - The Moonglows
6. Jungle Juice - Stick McGhee
7. I'm Your Hootchie Cootchie Man - Muddy Waters
8. Sacroiliac Swing - The Drifters
9. Miss You - The Crows
10. The Iceman - Dave Bartholomew
11. Please Forgive Me - Johnny Ace
12. Flyin' Home - Babs Gonzalez with Little Johnny Griffin
13. Hair Dressin' Women - Big Maybelle
14. Give It Up Baby - The Hawks
15. Sho Nuff I Do - Elmore James
16. Without a Song - The Ravens

HOUR TWO

17. Strugglin' Blues - T-Bone Walker
18. Please Don't Leave Me - Fats Domino
19. Plan For Love - The Flamingos
20. That's My Desire - The Flamingos
21. One Room Country Shack - Mercy Dee
22. If You Want Me - Little Esther
23. Monkey Hips and Rice - The Five Royales
24. Why Fool Yourself - Ivory Joe Hunter
25. All I Do Is Rock - The Robins
26. Hogwash - Louis Jordan
27. Woke Up This Morning - B.B. King
28. Got a Letter From Home - Roy Brown


===============================================
CLARKE JAMES (CJ THE DJ) AND THE ROCKIN N ROLLIN
RECORD REVIEW ON ROCK-IT RADIO SHOW #5527

CJ spins some of the coolest rockers of the 50s and
early 60s! Here is his playlist of what you will hear
on Rock-it Radio show #5527 in our program page.

1. Intro. Stack-A-Records (Edited) - Tom Tall
2. Rip It Up - Bill Haley And His Comets
3. Feelin' Right Tonight - Martha Hull
4. Pretty Little Girl - The Monarchs
5. Lonely Days, lonely Night - The Fabulaires
6. Once In A While - The Chimes
7. Florence - The Paragons
8. Sea Cruise - Huey (Piano) Smith And the Clowns
9. Deep Sea Ball - Clyde McPhatter
10. Roberta - Frankie Ford
11. Bony Maronie - Larry Williams
12. Blue Lights Down Low - The Three Vales
13. My True Love - Jack Scott
14. Hey Boy - The Vibraniques
15. I'm So Young - The Starlets
16. Down Under - The Original Surfaris
17. Big Wednesday - The Rip Chords
18. Zoop - The Charts
19. Bim Bam Boom - The El Dorados
20. I'm Gonna Leave You - Walt Benton And The Dipomats
21. Long Blond Hair, Rose Red Lips - Johnny Powers
22. Ankle Bracelet - The Pyramids
23. Teenagers Dream - The Kodoks
24. I'm Left, You're Right, She's Gone - Elvis Presley Scotty & Bill
25. Make Ready For Love - Otis Blackwell
26. Jeanette, Get Your Hair Done - Jan & Dean
27. Chevy Shut Down - The Jaguars
28. We Belong Together - Richie Valens
29. Angel Baby - Rosie And The Originals
30. I Could Have Loved You So Well - Ray Peterson

Also if you are on Facebook come give a like to CJ the
DJ facebook page at:
https://www.facebook.com/Rockin-CJ-The-DJ-564631073638906

===============================================
TREVOR HYLAND'S ROCK AND ROLL DANCE PARTY ON
ROCK-IT RADIO SHOW #5528

From his studios in Bendigo, Victoria Australia
Trevor comes this week with another great set of
Rockers!
Rockabilly & Rock'N ' Roll from U.S. and early Aussie
Rock N Roll rarities. "Rockin' It Out" from Trev's studio
and here is what you will hear!

SHAZAM SHAZAM !

01. Chicksville - Jimmy Gray
02. Draggin' - Curtis Gordon
03. Diggin' The Boogie - Roy Hall
04. Hillbilly Rock - Joe Ozak
05. Ice Water - Glenn Barber
06. Jimmy Boy - Guido D'Amico
07. Ready To Rock - Jim Morrison
08. Red Hen Hop - Ted Diagle
09. I'm Left, You're Right, She's Gone - Elvis Presley
10. I've Got A Dollar - Jimmy Dell
11. Real Gone Daddy - Jim Flaherty's Caravan
12. Shake Em Up Rock - Benny Cliff
13. Rock & Roll Riot - Little Boy Stoltz & The Stoltz Brothers
14. 16 Chicks - Joe Clay
15. Rock your Baby - wanda Jackson
16. Rock-N-Bones - Elroy Dietzel
17. Romp & Stomp - Billy Barnett
18. She's So Square - Ray St. Germain
19. Spin The Bottle Benny Joy
20. Swamp Girl - Tommy Bell
21. Sweet Rockin' Baby - Sonny West
22. Tootsie - Carl McVoy
23. We Wanna Boogie - Sonny Burgess
24. You're Some Kind Of Nice Kind - The Rock-A-Tunes
Australian Early Rockers
25. Dreamin' 'bout My Baby - Grade Wicker
26. Goofy Foot - The Midnighters
27. Love's Made A Fool Of You - Peter & The Panthers
28. My Baby Doll - Johnny Guitar with Henri Bource & The Moontones
29. Cross My Heart - Malcolm Arthur

===============================================
PETE CHASTON'S DOO WOP SHOW ON ROCK-IT RADIO
SHOW #5529

Pete is a veteran DJ here at Rock-it Radio and a loyal
provider of shows for us here.
His dedication and knowledge of 50s and early 60s Doo Wop
shines as he spins those tunes of yesteryear. Including The
Silly song segment and the rare But scratchy 45 segment.
Here is this week's playlist of what you will hear.

1. Doo-Wop All Night Long-The Blue Emotions (opening theme song) (1982)
2. Rudolph, the Red-Nosed Reindeer-The Melo-deers (1959)
3. Recess in Heaven-The Holidays (xxx)
4. Come On Baby-The Five Discs (xxxx)
5. Oh, But She Did-The El Capris (1956)
6. Geraldine-The El Vinos (1956)
7. Pretty, Pretty Girl-The Timetones (1961)
8. Tears in My Eyes-The Baltineers (1954)
9. Merry Christmas, Darling-The Uniques (1963)
10. Deck the Halls With Boughs of Holly-The Dukes of Harmony (xxxx)

SILLY SONG SEGMENT:

11. A Dog Named Zippo-Da Yoopers (xxxx)
12. Rusty Chevrolet-Da Yoopers (1986)

SCRATCHY 45 RPMs SEGMENT:

13. Valerie-Ronnie & The Hi-Lites (xxxx) 14. Rockin' Santa Claus-The Martells (1959)
15. Shelly-The Velons (1964)
16. You, Baby, You-The Excellents (1962)

BACK TO THE CDs &/or More 45 RPMs:

17. Bells of Christmas-The Beach Boys (circa 1964)
18. Come On Baby-The Cordovans (1957)
19. Pretty Little Girl-The Monarchs (1956)
20. Cora Lee-The Hemlocks (1957)

SLOW SONG SEGMENT:

21. There's a Moon Out Tonight-The Capris (1958 and '60-'61)
22. My Heart's Desire-The Wheels (1956)
23. Ankle Bracelet-The Pyramids (1958)
24. Baby, Oh Baby-The Shells (1957 & 1960)
25. Life Can Be Beautiful-The Cineramas (xxxx)
26. Hey You-the Imaginations (1961)
27. (closing theme song) Adios-The Five Discs (1961)

==============================================
JAMES RILEY AND THE ROCKABILLY AND BLUES SHOW ON
ROCK-IT RADIO SHOW #5530

From Tennessee, USA the birthplace of Rockabilly music
James Riley does his first show for us here at Rock-it
Radio.
Rockabilly N Blues Radio Show Hour #1
All Christmas show!

1. Yabba Dabba Yuletide- Brian Setzer Orchestra
2. White Christmas- Lee Rocker
3. Blue Christmas- Elvis Presley
4. Jingle Bell Rock- Dion
5. Hush Lil' Baby- Annie Marie Lewis & Danny B. Harvey
6. Santa Bring Her Back- Dale Watson
7. Jingle Bells- Los Straitjackets
8. Christmas Blues- Darrel Higham
9. The North Pole Express- Nick Lowe
10. Run Rudolph Run- Rocky Burnette
11. Hey Santa- Chris Isaak
12. Make Somebody Happy This Christmas- Linda Gail Lewis
13. Here We Come A Wassailing- Under The Streetlamp
14. Christmas To Me (The Birds & The Bees)- Eric Heatherly
15. Letter To Santa- Chan Romero
16. You'll Never Be Alone On Christmas- Mike Love
17. Jingle Bell Slide- Jack Scott
18. Under The Christmas Tree- Honeydippers
19. Twinkle Little Christmas Lights- JD McPherson

Rockabilly N Blues Radio Hour #2

1. Wiggle On Out- Jack Scott
2. Who Do You Love- Ronnie Hawkins
3. Boomerang- Buzz & The Flyers
4. Real Rock Drive- The Blasters
5. Let It Rock- Chuck Berry
6. If Sugar Was As Sweet As You- Rockpile
7. Please Don't Leave Me- Johnny Burnette & The Rock N Roll Trio
8. Train Kept A Rollin'- Quentin Jones' Rock & Roll Revue
9. Flyin' Saucers Rock N Roll- Robert Gordon
10. Dig A Hole- Marcel Bontempi
11. Hotwire Woman- The Highjivers
12. Slippin & Slidin'- Wanda Jackson
13. New York Is My Home- Dion & Paul Simon
14. Mr. Highway Man (Cadillac Daddy)- Howlin' Wolf
15. So Good To My Baby- Jai Malano
16. Skid Row- Chris Shiflett & The Dead Peasants
17. I'm Shakin'- Rio & The Rockabilly Revival
18. Folsom Prison Blues- James Intveld
19. Poker Face- The Baseballs

===============================================
COUNTRY RECORD ROUND UP SHOW WITH KEN STRANGE ON
ROCK-IT RADIO SHOW #5531

Join DJ Ken Strange for another "Country Record Round Up"
as he delves into the archives to bring you some good 'ole
country music from right across the board, with music from the
40's to the 00's including his regular feature, "Duos & Duets".
So climb aboard the Rocket, strap your selves in and let's head
on out for that Country Round Up.

01. Intro - Medley
02. If You're Ever Lonely Darling - Lefty Frizzell (59) Columbia
03. Your Driving Me Out Of My Mind - Kitty Wells (66) Decca
04. You Wanna Give Me A Lift - Loretta Lynn (70) Decca
05. The Fightin' Side Of Me - Merle Haggard (70) Capitol
06. Preachin' To The Choir - Rodney Crowell (03) Epic
07. Cowboy Casanova - Carrie Underwood (09) Arista-Nashville
08. Don't Tell Me What To Do - Pam Tillis (90) Arista
09. Honeycomb - Bonnie Guitar (69) RCA
10. A Man On The Loose - Carolyn Bradshaw (54) Abbott
11. Guitar Pickin' Man - Wanda Jackson & Mike Post (69 live) Capitol
12. Play Something Country - Brooks & Dunn (05) Arista-Nashville
13. Too Old To Cut The Mustard - Buck Owens & Buddy Alan Owens (71) Capitol
14. Grandpa Tell Me About The Good Old Days - The Judds (86) RCA / Curb
15. I'll Never Stop Loving You - Barbara Mandrell & Lee Greenwood (84) MCA
16. That's How They Do It In Dixie - Hank Williams Jnr, Gretchen Wilson, Big & Rich, Van Zent (06) Asylum / Curb
17. As Good As I Once Was - Toby Keith (05) Dream Works
18. That's How Country Boys Roll - Billy Currington (09) Mercury
19. Uneasy Rider - Charlie Daniels (73) Karma Sutra
20. That Girl's Been Spying On Me - Billy Dean (96) Capitol
21. God's Coloring Book - Dolly Parton (78) RCA
22. Rocky Top - Conway Twitty (70) Decca
23. Tomorrow Never Comes - Ernest Tubb (45) Decca
24. Outro - Medley

"KEEP IT COUNTRY"

===============================================
JACKIE BOND AND LET THE GOOD TIMES ROLL OLDIES SHOW
ON ROCK-IT RADIO SHOW #5532

From his studios in the UK Jackie Bond is back this
week spinning those oldies we all love to hear! Come
tune in by clicking the speaker in our program page
to show #5532. Here is the playlist.

1. Baby-Baby - I Still Love You - The Cinderellas
2. Lets Do the Razzle Dazzle - The Rip Chords
3. Happiest Birthday Party - The Lolly-Pops
4. What Did I Do - Little Anthony and The Imperials
5. Getting Nearer - Johnny Lester and Mello Queens
6. Shirley - The Empires
7. Sing A Song Of Sixpence - The Corvairs
8. I Need Some Money - The Miracles
9. Pretty Little Girl - The Monarchs
10. Night Air - The Four Mints
11. To Be Loved - The Pentagons
12. Drive In Movie - Micky Gilley
13. Letter Of Love - The Crickets
14. The Prisoners Song - Warren Storm
15. Whim,Wham,Whop - Fay Simmons
16. The Freeze - Tony and Joe
17. Sweet Sue Just For You - The Crows
18. Neither Rain Nor Snow - The Rivieras
19. The First Sign of Love - Otis Williams and The Charms
20. I Wonder (If Your Love Will Ever Belong To Me) - The Pentagons
21. Strange Love - The Native Boys
22. Run Betty Run - The Van Dykes
23. Linda - The Empires
24. I'm Satisfied With Rock and Roll - The Concords
25. My Name Is Michael - The Miracles
26. Promised Land - Elvis Presley
27. Good Night My Love - Jesse Belvin

==============================================
MIKE TAYLOR'S ROCKABILLY HOUR ON ROCK-IT RADIO
SHOW #5533

MOVIE MUSIC MEMORIES - Taking a short break from rockabilly...
here are some of the memorable movie tunes that came out
during the decade or so when we were all learning to rock and roll!

1. The Ballad of Cat Ballou - Nat King Cole & Stubby Kaye 1965
2. Because They're Young - Duane Eddy 1960
3. Theme From Moulin Rouge - Percy Faith Orchestra w/Felicia Sanders 1953
4. High School Confidential - Jerry Lee Lewis 1958
5. The Magnificent Seven - Elmer Bernstein Orchestra 1960
6. Gunfight At The O.K. Corral - Frankie Laine 1957
7. The Girl Can't Help It - Little Richard 1956
8. Don't Knock The Rock - Bill Haley & The Comets 1956
9. Colonel Bogie March (The Bridge On The River Kwai) - Mitch Miller Orchestra 1957
10. Theme From Picnic - Morris Stoloff Orchestra 1955
11. Three Coins In The Fountain - The Four Aces 1954
12. Kissin' Cousins - Elvis Presley 1964
13. The James Bond Theme - John Barry Orchestra 1962
14. Hey Boy, Hey Girl - Louis Prima & Keely Smith 1959
15. High Hopes (A Hole In The Head) - Frank Sinatra 1959
16. Theme From Exodus - Ferrante & Teicher 1960
17. Rock Pretty Baby - Jimmy Daley 1956
18. Bop Girl Goes Calypso - Judy Tyler 1957
19. Rock, Rock, Rock - Jimmy Cavallo & The House Rockers 1956
20. The Big Beat - Fats Domino 1958
21. Theme From Come September - Bobby Darin And His Orchestra 1961
22. Pillow Talk - Doris Day 1959
23. Follow The Boys - Connie Francis 1963
24. Green Leaves Of Summer (The Alamo) - The Brothers Four 1960

==============================================
ROCKIN' DADDY O'S ROCKABILLY RANCH PARTY ON
ROCK-IT RADIO SHOW #5534

it's another great Rocker of a show with the DJ
with High Energy and High Energy Rockabilly music
from yesterday and today! Here is the playlist of
Rockin' Daddy O's Rockabilly Ranch Party now in our
program page as show #5534!

1. Bust Out-Busters
2. Ride The Savage-Sabres
3. Let Down-Marlins
4. Ubangi Stomp-Warren Smith
5. Baby Sittin' All The Time-Bob Hicks & Fenders
6. Shake Um Up Rock-Benny Cliff
7. Slow Down-Seeburg Spotlite Band
8. Bony Maronie-Joey & The Twisters
9. The Girl Can't Help It-British Walkers
10. Three Or Four Nights-Johnny Bond
11. Go Kat Wild-Rockats (Live)
12. Little Lil-Mel Dorsey
13. Darlene-Eddie Clendening
14. Justine-Rangers
15. Buzz Saw-Gee Cees
16. Childhood Sweetheart-Chuck Berry
17. Before You Accuse Me-Bo Diddley
18. Linda Lu-Ray Sharpe
19. Action Packed-Ronnie Dee (Dawson)
20. You Gotta Go-Crystal & Running Wild
21. I Know Your Mind-Luis & The Wildfires
22. Hey High School Baby-Benny Joy
23. The Night Is For Dreaming-Big Sandy & Flyrite Boys
24. Twitchy-Rene Hall's Orchestra

==============================================
All the Rock-it Radio shows are available on CD

Each show is only $9.50 each and you can order
in bulk and shipping will never be more then $2.00.
Ask for a secure paypal invoice -- information is at:
http://www.rockitradio.net/order.html

==============================================

100'S OF VINTAGE ROCK AND ROLL VIDEOS ON FILE IN
OUR VIDEO SITE AT ROCK-IT RADIO:
CHECK IT OUT AT:

HTTP://WWW.ROCKITRADIO.NET/VIDEO.HTML

==============================================
COME JOIN US ON FACEBOOK !!! WE WOULD LOVE A
LIKE FROM YOU!

http://www.facebook.com/rockitface
The Rock-it Radio Facebook Site.

==============================================
HISTORY OF ROCK-IT RADIO

If you are new to Rock-it Radio and would like to learn more --
We have our History Page up as well -- telling the story of Rock-it
Radio. You can find it at:
http://www.rockitradio.net/history.html

===============================================

DECEMBER END OF THE MONTH DRAWING OF WINNERS
ANNOUNCED FOR LAUNCHING PAD SUPPORTERS
At the end of every month on Rock-it Radio we have a
random drawing for those that have supported Rock-it Radio by
purchasing either Rock-it Radio shows through the
either the Rock-it Radio Launching pad at:
Or by going and ordering Rock-it Radio shows at:
The DECEMBER 2015 Winners this month are:
Robert Doyle - Chalfont, Penn. USA
Paul Hofer - Ontario, California USA
Melissa Bernius - Bloomington, Illinois USA

SUPER MEGA WINNER - WINNER OF 10 SHOW
OF THEIR CHOICE !!!!!!!!

Noreen Rodriguez - Arlington Heights, Ill. USA

Each of you have won your choice of 3 vintage
Rock Radio programs (The Super Mega winner won 10!)
from our online store at:

or you can order Rock-it Radio Shows if you prefer on CD

You have until January 31, 2016
to let us write back and let
us know of your choices.
Congratulations and let me know what you would like to
have along with a mailing address and we will got those
items out to you. Just our way of saying Thank you for helping
support Rock-it Radio. And of course we will have October drawings
as well at the first week of next month.
NOTE: You should keep on checking this notice board
or join the Launching Pad Facebook site at:
And of course we will be having another drawing at the
end of this month.
RECRUITING FOR RADIO PERSONALITIES FOR
ROCK-IT RADIO

Do you know your 50s and 60s Rock & Roll, Doo wop
or Rockabilly? And the ability to produce a show
on CD?
We do require a playlist for this newsletter but
your show will stay online for the world for approx.
3 weeks. Unlike some stations where you broadcast one
time and it's gone forever.
If interested check out our Rock-it Radio Team page
at: http://www.rockitradio.net/team.html

We are also looking for writers and translators!
================================================
NEW ROCK-IT RADIO SHOWS NOW AVAILABLE ON
FLASH DRIVE.


New Release!!!! Rock-it Radio Shows #5401 to #5450 on Flash
drive MP3 Over 60 hours of 50s and 60s Rock and Roll now on
Flash drive. Just plug into your usb port in your PC or if your
mp3 player has it in that usb port select and you will have
50 Rock-it Radio shows at your disposal.
In our Ebay listing at:
http://www.ebay.com/itm/-/131645776466

or the new Rock-it Site at:
http://www.rockitradio.net/flashdrive.html

It's something different and hopefully will catch on.
As soon as we hit Show #5500 we will have a 2nd Flash drive
available. It really is a great savings from our CD's that
we sell for $9.50 each could add up to $475 for 50 shows.
We are offering the flash drive to slash that amount to just
$39.95.

==================================================
ROCK-IT RADIO RANKS #1 IN STATIONS BROADCASTING
OVER THE INTERNET IN DECEMBER!

On the Internet Radio Top Sites webpage Rock-it
Radio ranked #1 for the month of December in
Listenership. And we want to Thank all of our
Listeners. So far in the month of January we
are ranking #2, but we can catch up. To follow
Rock-it Radio's Rankings check out the website
http://internetradiotopsites.com/index.php
30 YEARS AGO - THE REAL STORY OF THE CRASH OF
RICKY NELSON'S PLANE IS REVEALED AND REMEMBERED

Tracy Nelson the Daughter of Rock / Rockabilly Legend
Ricky Nelson, who happens to be a friend of mine on
Facebook posted the actual account and I wanted to share
it with all of our Listeners. Hard to believe it has
been 30 years ago December 31, 1985 since the fatal crash
of his plane. Here is what she shared.

It's been 30 years to the day and still people have the wrong
information about what happened on my dad's plane. I'm going to
write about it extensively at some point, but here is the short
version. The band was on its way from Alabama to Texas, to play
a gig in Dallas. The plane was an old DC3 that had belonged to
Jerry lee Lewis, my father who hated to fly his entire life called
it "the flying bus" because it was so slow. The butane heater aboard
had been a pain in the ass since my dad got the plane, it malfunctioned
all the time and had cost the band a spot at Farm Aid when it
completely broke down on the runway. The pilot knew it was acting up
that New Year's, and my dad got commercial tickets at the airport for
everybody to make it to Dallas on time. He was talked into getting on
the plane, however, by his manager who was in LA, known here as
The Scumbag, who told him "don't worry, they'll fix it in Dallas."
(The Scumbag made it a point to never fly on the plane, btw, and who
also had a key man life insurance policy on my father, but that's a
whole other saga.) Midair it started to get cold, someone asked to turn
on the heater, Fergie (co-pilot) said no, only on the ground. Brad (pilot)
said "what the hell I'll do it", and proceeded to the back behind the
luggage to the heater with a wrench. He did some stuff to the heater,
yelled to Fergie to turn it on. Fergie again said no. Brad went back
to the cockpit and turned it on himself. Immediately a spark hit
the carpet under the heater in the back of the plane where fuel
had been leaking because of a loose cap that hadn't been tightened
properly during regular maintenance. Smoke filled the plane and
trailed behind it as it descended and tried to land. They were
over DeKalb Texas, a rural area, and tried to land on a highway,
but 2 cars stopped instead of pulling over as the plane came
toward them. Brad was forced to take it around again and tried to
land in a field, which he did, but the plane hit a ditch and a tree
and one wing exploded before the plane rolled to a stop, burning.
The pilot and co-pilot (Fergie was horribly burned, he had been using
the brake system through the flames around his legs,) escaped
through the high cockpit window, but no one else was able to get out.
As they crawled away from the plane, the pilot kept saying:"don't tell
them about the heater." My father, his girlfriend Helen, Bobby Neal,
Ricky Intveld, Andy Chapin, Pat Woodward and Clark Russel were all
found trying to get out through the door to the cockpit. My father
was lying on top of Helen, arms out, as if trying to protect her.
I heard about the accident on TV, one of those "special bulletins",
making it not just horrifying, but surreal too. And they showed
footage of that damned plane smoldering every night on the news,
talking about drugs, for an entire year- no matter that the NTSB
and the FAA both gave press conferences saying it was the heater.
When the LA Times finally retracted and apologized, it was more
than a year later, in a paragraph, on page 11. When the accident
happened it was like that entire chunk of my life just disappeared,
no one who really knew him to mourn with because all of Pop's closest
friends were on the plane with him. I can't believe it's been 30 years.
James Intveld and I always make contact on this night, it's a ritual.
His brother Ricky was only 21. All around people are celebrating,
getting smashed, dancing, watching the ball drop in Times Square,
but I just want this night, every year, to be over. When I went
to my dad's house afterward, there was a piece of paper with his
writing taped to the wall of his bedroom. It said:
"The Creative Soul, May It Ever Fly Free."
click on this link, it's my favorite song of his:
https://youtu.be/N0kyXoxT87M


=====================================
ROCK-IT RADIO MOVES FORWARD INTO 2016 THANKS
TO IT'S SUPPORTERS.
As we enter our 21st year here at Rock-it Radio I
want to Thank everyone that started coming forward
towards the end of November and the month of December
and allowing us to continue by your support. When
sales of our vintage shows plummeted in September to
November. I was having doubts if we could keep the
Rock-it flying to 2016. Many of you jumped forward
as we are publicly supported and purchased from the
Rock-it Radio Launching Pad at http://www.rockitradio.net/store.html
and our Ebay Store at:
http://stores.ebay.com/Rock-it-Radio-Store And now here we are as we prepare to make many more
shows for you for 2016 and a pledge to you to get more
vintage radio shows available to remember your favorite
DJ's by. We also have our DJ's here to thank! No one
gets a paycheck here and we all do it for the love of the
music and keeping this music alive. So, this year like
all the other years I am very thankful for all of you!
Here is to another Rockin' year for 2016! And I really do
hate to say it - it's my least favorite thing to do really!
But please remember when you can we are supported by you and
do have expenses! So, we hope that we can provide you with
products you are interested in to help keep us going.
all the very best! Bennie Dingo - Rock-it Radio
===================================================
REMEMBERING THOSE THAT HAVE PAST IN 2015
It surely isn't everyone but Program Manager Lane
Quigley every year puts out a list of those that
have passed in the previous year.

Happy New Year to all the Rockit Jocks. Here's a wish
for a fabulous 2016 for our entire Rock-it Radio family.
It's always painful to start off the new year by listing
the artists who passed away during the preceding 12 months,
but for years we have included this information in the
Rock-it Radio newsletter. If anyone is aware of any passings
that I have overlooked, please add it to the list and let Bennie
know before the next newsletter is distributed.

In Memoriam 2015

JANUARY
Curtis Lee (APretty Little Angel Eyes; AUnder The Moon of Love)
Rose Marie McCoy - Songwriter (Don't Be Angry; I Beg Of You)
Don Covay (Mercy Mercy; See Saw; Popeye Waddle)
Little Jimmy Dickens (May The Bird of Paradise Fly Up Your Nose)
Ray Gipson of The G-Clefs (Ka-Ding-Dong; I Understand)
Al Ferrier (Let's Go Boppin= Tonight; Hey Baby)
Kim Fowley of The Hollywood Argyles (Alley Oop); producer (Popsicles & Icicles)

FEBRUARY
Joe B. Mauldin of The Crickets (Maybe Baby; That'll Be The Day)
Sam Andrew of Big Brother & The Holding Company (Piece of My Heart; Summertime)
Lesley Gore (It's My Party; Maybe I Know; California Nights)
Kenneth Kelly of The Manhattans (Kiss and Say Goodbye; Shining Star)
Willie Jackson of The Spaniels (Baby It's You; Goodnight Sweetheart Goodnight)
Marlene Barrow-Tate of The Andantes aka The Darnells (It's a Nightmare; Too Hurt To Cry)

MARCH
Brian Carman of The Chantays (Pipeline)
Lew Soloff of Blood Sweat & Tears (You've Made Me So Very Happy; Spinning Wheel)
Michael Brown of The Left Banke (Walk Away Renee; Pretty Ballerina)
Jackie Trent (Where Are You Now My Love; You Baby)
Preston Ritter of The Electric Prunes (I Had Too Much To Dream Last Night)
Miriam Abramson Birkenstock - Co-founder and long time executive of Atlantic Records

APRIL
Cynthia Lennon - former wife of John Lennon
Percy Sledge (When a Man Loves a Woman; It Tears Me Up)
Wally Lester of The Skyliners (This I Swear; Since I Don't Have You)
Jack Ely of The Kingsmen (Louie Louie)
Ben E. King (Spanish Harlem; Stand By Me; I Who Have Nothing)
Sid Tepper - Lyricist (G.I. Blues; Red Roses for a Blue Lady; Naughty Lady of Shady Lane)
Ray Charles - choral director (Love Me With All Your Heart; Al Di La)
Stan Freberg (Wun'erful Wun'erful; Green Christmas; John & Marsha)

MAY
B.B. King (The Thrill Is Gone; Rock Me Baby; You Upset Me Baby)
Twinkle (Terry)

JUNE
Ronnie Gilbert of The Weavers (Goodnight Irene; On Top Of Old Smokey)
Harold Battiste - Producer (Sonny & Cher; Barbara George)
Jim Ed Brown of The Browns (The Three Bells; The Old Lamplighter)

JULY
Val Doonican (Walk Tall; The Special Years)
Ernie Maresca (Shout Shout, composer of The Wanderer)
David Sommervile of The Diamonds (She Say; Little Darlin)
Buddie Buie - Composer (Traces; Spooky)
Wayne Carson - Composer (The Letter; Always On My Mind)
Lynn Anderson (Rose Garden; How Can I Unlove You)
Roy Bennett - Composer (G.I. Blues; Red Roses for a Blue Lady; Naughty Lady of Shady Lane)
Buddy Emmons - legendary Nashville steel guitarist

AUGUST
Cilla Black (You're My World; Alfie)
Billy Sherrill - Composer (Stand By Your Man; The Most Beautiful Girl)

SEPTEMBER
Peggy Jones aka Lady Bo (accompanyist for Bo Diddley)
Donny Conn of The Playmates (Jo-Ann); What Is Love; Beep Beep)
Ben Cauley of The Bar-Kays (Soul Finger) - the only survivor of the Otis Redding plane crash
Frankie Ford (ASea Cruise; Alimony)
Denny Greene of Sha Na Na

OCTOBER
Billy Joe Royal (Down In The Boondocks; I Knew You When)
Cory Wells of Three Dog Night (Mama Told Me Not To Come; Easy To Be Hard)

NOVEMBER
Allen Toussaint - composer (Mother In Law; Java; Southern Nights)
Andy White (British studio drummer, replaced Ringo Starr on single version of Love Me Do)
P.F. Sloan - composer (Secret Agent Man; Eve of Destruction; Let Me Be)
Gene Norman - producer (Jazz at the Philharmonic), disk jockey and owner of GNP Crescendo record label
Cynthia Robinson of Sly & The Family Stone (Dance To The Music; Everyday People)
Ronnie Bright of The Valentines (Lily Maebelle; The Woo Woo Train); was the bass voice on Johnny Cymbal=s hit Mr. Bass Man

DECEMBER
Wally Roker of The Heartbeats (A Thousand Miles Away; Everybody's Somebody's Fool)
Shirley Gunter of The Queens (Oop Shoop; That's The Way I Like It)
Bonnie Lou (Daddy-O; Tennessee Wig Walk)
Snuff Garrett - producer (Bobby Vee; Johnny Burnette; Gary Lewis & The Playboys)
Haleema Alkhatib, formerly known as Idella Morris, of The Majors (A Wonderful Dream; Tra La La) and The Versatiles (Lundee Dundee)
Luigi Creatore - producer (Little Peggy March; Sam Cooke) and composer (Can't Help Falling In Love)
William Guest of The Pips (Every Beat of My Heart; I Heard It Through The Grapevine)
Stevie Wright of The Easybeats (Friday On My Mind; Come and See Her)
Joe Houston (All Night Long; Rockin' At The Drive-In)
Natalie Cole (This will Be, Pink Cadillac, Unforgettable)



REMINDER ON HOW TO CONTACT THE DJ'S AT ROCK-IT RADIO

We all love our our e mails from listeners here at Rock-it
Radio. Along with requests and dedications. Earlier this year
due to the excessive spam we all were getting I stopped listing
the e mails at each shows playlist. But you can still
contact them. Just go to the Rock-it Radio DJ page and each
DJ has there e mail link underneath each bio.
You can find it at: http://www.rockitradio.net/dj.html


COLLECTING AIRCHECKS - A HOBBY OF RADIO NOSTALGIA
What is a Aircheck? It is simply a recording of a radio broadcast. Usually collected by Radio fans.
Come check out our webpage on collecting Airchecks.

http://www.rockitradio.net/aircheck.html


COME REMEMBER WOLFMAN JACK !!!
Rock-it Radio has a very special way to remember Wolfman Jack.
Arguably the most iconic of American DJ's. Come check out the
Rock-it Radio Wolfman Page at:
REMEMBERING OFFSHORE PIRATE RADIO IN THE UK
In the mid 1960s it was difficult for the youth to actually listen to
Rock and Roll in the UK. The BBC actually ran only a few hours a weekend
to provide the young Brits with this outlet. At night during the week they
ventured to even tune into Radio Luxembourg to get there fill, that broadcast
rock and pop around the clock.
To fill this void some venture capitalists decided to bring in commercial radio
aboard refitted radio ships. And anchor themselves just off into International
waters off the English coast. Radio Caroline (named after Caroline Kennedy the
U.S. President's daughter at the time) and Radio London being the most famous.
Rock-it Radio has a website dedicated to their ventures and also have actual
radio broadcasts available of these offshore pirates. We invite you to check them
out our webpage at:
http://www.rockitradio.net/pirate.html
FINDING ROCK-IT RADIO ON THE 'TUNE IN RADIO' CELL PHONE APP.

We have had a few requests from listeners that they couldn't find us on the
popular 'Tune in Radio' App. on Android and PC and iphones. Running a
search of 'Rock-it Radio' will actually list 100s of Rock stations.
So, the best way to find us on this very thorough and extensive app. that
I love using myself is -
run a search on 'rockabilly' - there you will easily find
Rock-it Radio listed.
Our Tune in Radio App. webpage is also at:
http://tunein.com/station/?stationId=41878
MISSED A COUPLE OF NEWSLETTERS LAST COUPLE OF WEEKS??

THEN YOU CAN ALWAYS CHECK OUR BLOG WHERE IT IS ARCHIVED.
YOU CAN CHECK OUT OUR BLOG AT:

http://rock-itradio.blogspot.com/
=============================================


ROCK-IT RADIO DJ PAGE...


Remember you can check out all the Rock-it Radio DJ's

and read the bios of these DJ's that make these

Rock-it Radio Shows possible at:


And don't forget for even more pictures --

there is our picture page at:
============================================
IF YOU HAVE TWITTER COME FOLLOW US THERE

If you are one that tweets then please check out and join and get our
updates on your twitter account. Our Twitter link is right below.

http://www.twitter.com/RockitRadio1
It is our new Twitter account and we will once again start
scrolling our messages and updates on our webpages as well.


============================================
ROCK-IT RADIO OTHER TWITTER ACCOUNT FOR
NEWS RELEASES FOR N. IDAHO, KODIAK ALASKA AND
THE WORLD!
Rock-it Radio has another Twitter account and is used for News
Alerts that come into the studio here at Studio A. For those Twitter
users that would like to follow the link is:
http://www.twitter.com/RockitRadioNews

The feed can also be seen in our World News broadcast Webpage
at: http://www.rockitradio.net/news.html


=================================================
WELCOME NEW MEMBERS TO THE LISTENER'S CLUB!!!!

A big welcome to the below new Rock-it Radio listeners that
joined our Listeners Club from December 18, 2015 to
January 2, 2016.
We hope that you enjoy the music Rock-it Radio provides
and our playlists and information that our weekly newsletter
provides. Any comments, criticisms, kudos, compliments or
future ideas is always welcome and you can e mail me personally at:
rockitradio@netzero.net

Joyce Helm - Romeoville, Illinois USA
Bud Senn - Cassatt, S. Carolina USA
Ronald Coleman - Long Beach, Calif. USA
Mike Lynch - Omaha, Nebraska USA
Leah O'Hara - Boston, Massachusetts USA
Eddy Sandoval - Downey, California USA
Tony Warner - Malvern, Arkansas USA
Edward Pasley - Galax, Virginia USA

We have gained 137 new likes in our listeners club
in our Facebook page Rock-it Radio Fan Page as well this week at:
http://facebook.com/rockitface and 83 more following us
on Twitter @Rockitradio1 .

We have added a total of 228 new members to the Rock-it Radio
Listeners Club since our last newsletter. We now have 84,785 exactly
that have joined the Rock-it Radio Listeners club.
We hope that you enjoy the rare 50's and early 60's
Rock and Roll, Rockabilly and Doo Wop (which most commercial
oldies radio stations have forgotten) that we are able to play
for you from Rock-it Radio. Remember, we are here for you!

So if you ever have any requests, dedications, comments and
suggestions we always love to hear from our listeners.
Our e mail address is:
rockitradio@netzero.net

====================================================
To learn more about the Rock-it Radio Listeners Club and our Free
Newsletter please check out:
http://www.rockitradio.net/member.html

It's free and easy to join and the Rock-it Radio Newsletter is always
online at: http://www.rockitradio.net/newsletter.html



====================================================

PLEASE HELP US SPREAD THE GOOD WORD OF ROCK-IT RADIO!

Do you know of someone that might also like the music

of Rock-it Radio? We are desperately trying to keep this

music alive and have been doing so since 1995! Please

share the information of this station. And if you have

a website would you please consider putting a Rock-it Radio

link on your page.

There are a few to choose from in our link page at:

http://www.rockitradio.net/links.html
HOW TO ORDER OLD ROCK-IT RADIO SHOWS = YOUR PURCHASES HELP US STAY ONLINE!!!
We have received many inquiries on how to order Rock-it Radio shows that are no longer in
our on archives webpage. These shows are still available on CD and mailed to you within 24
hours of receiving payment.
To help search for older shows that you may be looking for you may want to check the Rock-it
Radio blog site. Old newsletters describing the shows and playlists
are archived there and there is a menu bar on the right side that breaks down every playlist
Then you may either pay by check or money order or paypal. Rock-it Radio shows are only
$9.50 U.S. each and are studio quality broadcasts that were placed on Compact Disc here at
the Rock-it Radio Studio. We have a flat rate shipping charge of $1.50 U.S. so if you order
one or several -- it is still only $1.50
U.S. shipping. And we ship worldwide, overseas orders are mailed out first class airmail.
Instructions where to send payment is at our webpage:
like we can send you a paypal invoice within 24 hours.

When you order a Rock-it Radio show or shop at our Rock-it Radio Launching Pad you
help keep these oldies alive and help us pay the bills here at Rock-it Radio.
And at the same time -- you are not getting nothing for your donation, but actually
some of the shows and memories we hope we keep alive here at Rock-it Radio.



TOP 20 SELLERS OF THE ROCK-IT RADIO LAUNCHING PAD THIS WEEK

As you know the Rock-it Radio Store sells vintage Radio Broadcasts - Where you hear the actual
music, news and vintage advertisements - uncut and unedited just like you would of heard
it back then. Here are the top sellers this week.


1. New Flashdrive Rock-it Radoi Shows 5451 - 5500
2. New Flashdrive Rock-it Radio Shows 5401 - 5450
3. RIR #393 - John Lennon as DJ on WNEW New York from 1974
4. RIR #127 - Alan Freed 1956 Rock & Roll Dance Party show
5. RIR #387 - Joey Reynolds - WKBW Buffalo NY Beatles Special 2/24/1964
6. RIR #181 - Wolfman Jack XERB Tijuana 12/8/1967
7. Lane Quigley - Class of 1965 50 year Reunion - Rock-it Radio.
8. RIR #539 - Cousin Brucie - WABC New York 9/7/1965
9. RIR #168 - Dan Ingram WABC New York 7/22/1967 2 CD set
10. RIR #176 - Porky Chedwick WAMO Pittsburgh 6/14/1960
11. RIR #135 - Rock-it Radio 1000th Show 3 CD Set.
12. RIR #116 - Casey Kasem - KRLA Los Angeles 5/27/1965
13. RIR #115 - Rare Broadcasts of Alan Freed.
14. RIR #182 - John Peel Radio London Perfumed Garden Show 1/11/1968
15. RIR #466 - 3 Vintage early Beatles Interviews w/ Tom Lodge and Murray the K
16. RIR #359 - Gus Gossert Oldies Show WPIX New York from 1971
17. RIR #623 - Big Jim Edwards - CKLW Windsor, Ont. 12/1/1969
18. RIR #594 - Denny Sanders WMMS Cleveland6/30/1978
19. RIR #270 - BBC Tribute To Buddy Holly 5th Anniv. of his passing
20. RIR #397 - Wolfman Jack XERB Rosarito 8/1/1968

If you would like to view these shows in depth you can check out
our Rock-it Radio Ebay Store at:
http://stores.ebay.com/Rockit-Radio

or in the Rock-it Radio Launching Pad store at:
http://www.rockitradio.net/store.html(listed by date)
and in the upper left hand corner -
there is a search box where you can type in the DJ name or
Station Call letters and that information on that show will pop up.
Ordering from the Ebay store will also qualify you for the Rock-it Radio
giveaway mentioned previously in this newsletter. Sale of
these broadcasts is what keeps Rock-it Radio going and thank
you again to everyone that buys these!

===============================================
TOP 50 NATIONS THAT ARE TUNING INTO ROCK-IT RADIO.

We are always amazed at the World Wide Web and the 215 Countries that
tune us in every month online. Here are the top 50 Countries so far
this month.+ or - shows up or down how many positions from the previous week.
TOP 50 NATIONS THAT ARE TUNING INTO ROCK-IT RADIO.

1. United States +0
2. Brazil +0
3. Canada +1
4. France -1
5. Italy +3
6. Vietnam +0
7. Germany +0
8. United Kingdom -3
9. Lithuania +3
10. Spain +0
11. Russia +0
12. Hungary -3
13. Netherlands -1
14. Australia +3
15. India +1
16. Czech Republic +3
17. Ireland -3
18. Romania -3
19. Turkey -2
20. Mexico -2
21. Sweden -1
22. Japan +2
23. Singapore +7
24. Dominican Republic +1
25. Hong Kong +9
26. Colombia +1
27. Philippines -13
28. Ukraine -11
29. Indonesia +5
30. Thailand +1
31. Argentina -8
32. Peru +0
33. Morocco +2
34. Venezuela +3
35. Finland -5
36. Chile +2
37. Belgium -9
38. Taiwan +6
39. Croatia -3
40. South Korea +0
41. Poland +1
42. Albania +1
43. Bulgaria +8
44. Bangladesh +18
45. Austria -16
46. Ecuador +1
47. Malaysia +6
48. Bolivia +8
49. Greece +0
50. Portugal +1

=============================================
U.S. STATES RANKINGS TUNING INTO ROCK-IT RADIO

1. Oregon +0
2. New York +0
3. California +0
4. Nevada +1
5. Virginia -1
6. Texas +1
7. Pennsylvania -1
8. New Jersey +1
9. Washington +1
10. Florida -2
11. Ohio +4
12. North Carolina +2
13. Arizona -2
14. Missouri +2
15. Georgia -3
16. Illinois -3
17. District of Columbia +1
18. Oklahoma +5
19. Massachusetts -3
20. Delaware -3
21. Michigan -6
22. Wisconsin +2
23. Maryland -2
24. Connecticut +2
25. Colorado +0
26. Indiana -5
27. Mississippi +14
28. Alabama +0
29. Rhode Island +1
30. New Mexico +2
31. Tennessee -2
32. Utah +4
33. Kansas +2
34. Kentucky -7
35. South Carolina -5
36. Wyoming +7
37. Louisiana +2
38. Minnesota -3
39. Idaho -10
40. Iowa -8
41. Nebraska +1
42. Arkansas -5
43. Hawaii -3
44. West Virginia +2
45. New Hampshire +3
46. Maine -2
47. Alaska +0
48. Montana +1
49. North Dakota -4
50. Vermont +0
51. South Dakota +0
Rockabilly bands looking for airplay
If you or know someone that would like airplay on Rock-it Radio we invite
you to submit your press kits to Rock-it Radio. Our website for further
information is:
http://www.rockitradio.net/airplay.html
============================================
Come tune into the World on your computer!
1000s of stations around the world now broadcast online. We have a
link to some of the internet top directories to help you find these stations.
http://www.rockitradio.net/internetradio.html
============================================
Rock-it Radio Program Webpage Reminder
Remember, if the show that you want to hear is getting close to the bottom
of the list of radio shows, you should tune in as soon as you can. These shows
to have a high audio quality require a lot of internet bandwidth and memory.
And currently we can only afford the
30
latest shows online here at Rock-it Radio.
So, when a new show is put online it knocks the oldest one off the Rock-it Radio
archives page. Usually a show will at least last 16 to 20 days, once it is placed in
the archives.
============================================
OUR SISTER STATION FIRST NATIONS BROADCASTING.
We invite you to also check out our sister station -- First Nations
Broadcasting. And tune into the rather Cool North of the Yukon and Alaska
with our very own Debbie Snowdove!
============================================
Well that is just about it for this newsletter and playlists of our latest
shows. We hope that you enjoy them.
We will do our best to keep these shows on for at least 14
days and hopefully 21 days.
All the best always,
Bennie Dingo
Rock-it Radio

website: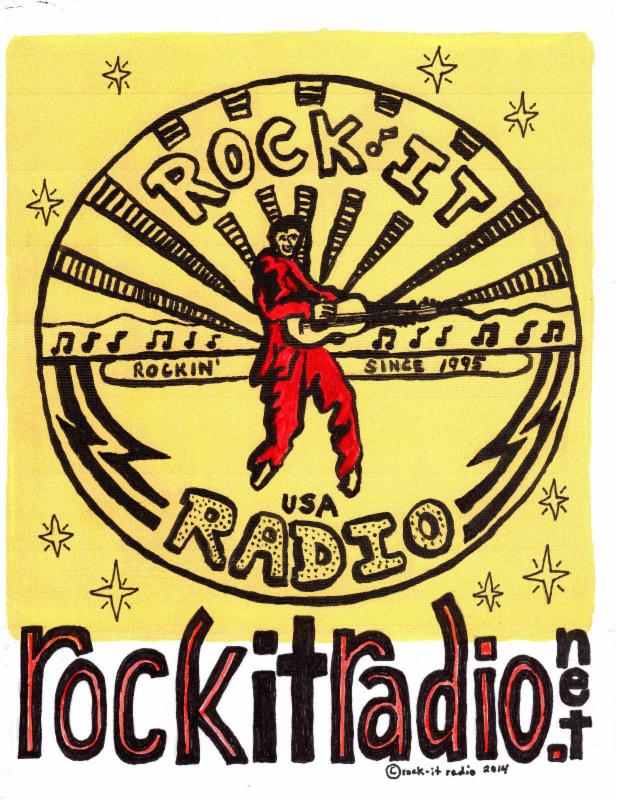 Rock-it Radio main website:
http://www.rockitradio.net

Archived Shows at:
http://www.rockitradio.net/programs.html

Rock-it Radio Vintage Broadcast Store:
(Launching Pad)
http://www.rockitradio.net/store.html