Rock-it Radio since 1995 providing 50s and early 60s Rock and Roll, Doo Wop and Rockabilly music online! Come tune us in at http://www.rockitradio.net We also have several 100 original radio shows from the first decade of Rock and Roll at: http://www.rockitradio.net/store.html
======================================================================
ROCK-IT RADIO NEWSLETTER AND PLAYLIST
SHOWS #5549 TO #5560
FROM
January 14, 2016 to January 23, 2016
Hi Rock-it Radio Listeners,

We have another 12 shows for all of you online here
at Rock-it Radio. The latest playlists for shows
#5549 to #5560. Plus another set of 50 Rock-it Radio
shows available on flashdrive. Plus much more!

So, Let's get started with some playlists!

Our shows can be heard in our archives page at:

http://www.rockitradio.net/programs.html
and click to the speaker on the left to hear the show.

Remember if you are new to Internet Radio and having trouble tuning in though --
Check out our webpage to help you out at:
http://www.rockitradio.net/tunein.html
============================================
REMEMBER YOU CAN ORDER ANY OF THESE ROCK-IT
RADIO SHOWS ON CD!!!! NEW EASIER ORDERING!

Would you like one of these Rock-it Radio shows on CD? To
be able to play anywhere? And help support Rock-it Radio at the same time.
For complete information check out our program
ordering webpage at: http://www.rockitradio.net/order.html

Our shows are of course copies straight from the studio so they are studio
quality and satisfaction is guaranteed.
Or if you would rather receive an invoice let me know and we
can e mail you a copy - Just e mail us the show(s) you would like
to have and the Rock-it # to: rockitradio@netzero.net

==============================================
All Rock-it Radio shows stay online from 18 to 24 days and are
broadcast in MP3 Format. To tune in just click to the speaker
at our program page at:
http://www.rockitradio.net/programs.html

The newest show added replaces the oldest show so if you see a
show near the bottom of the listing - you should listen as soon as
possible.

==============================================
WE COULD USE YOUR SUPPORT

Rock-it Radio is 100% Publicly supported. But when you
donate to the Rock-it Radio Launching Pad - we give you
a vintage broadcast of your choice.
100% of all sales from the Rock-it Radio Store (Launching
Pad) goes back to pay copyright fees, LLC taxes, Internet
and bandwidth costs of Rock-it Radio. Without your support
we would not exist. So. please consider a purchase at:
http://www.rockitradio.net/store.html

===============================================
NOTE: ALL SHOWS BELOW CAN BE FOUND IN OUR
PROGRAM WEBPAGE -
TO TUNE IN CLICK TO SPEAKER OF THE SHOW YOU WANT
TO LISTEN TO. EITHER MP3 OR REAL PLAYER.
BOTH FORMATS ARE SUPPORTED.
AT:
HTTP://WWW.ROCKITRADIO.NET/PROGRAMS.HTML

===============================================


AL COOL DADDY SMITH WITH PART I TRIBUTE TO DORE RECORDS
ON

ROCK-IT RADIO SHOW #5549

From Studio C in Brampton, Ontario Canada The Cool
Daddy Al Smith is back this week with Part One of a
two part effort on the Los Angeles indie label
"Dore Records". It evolved out of "Era" records and was
founded by Lew Bedell and his cousin Herb Newman.
After Herb Newman left it became a one man operation
run by Lew Bedell . The label lasted for more than
two decades launching the careers of Phil Spector
and Jan and Dean in the late 50's and built on these
early triumphs with an extensive catalogue that included
pop,rock and soul. It later evolved into a comedy record
label in the 70's. These two shows will concentrate
on the hits and misses of the 1950's and 1960's
especially Doo Wop.

The Play List is as follows:

1.) Ring-A- Ding Ding-The Tides 1961
2.) Every Once In Awhile-The Debonaires 1961
3.) Too Far To Turn Around-The Creators 1962
4.) Look For A Star-Dean Hawley 1960
5.) Someday-Cam Morris 1960
6.) After School Rock-The Baritones 1958
7.) Sentimental Baby-The Baritones 1958
8.) So Young, So Wise-Ronnie Height 1959
9.) I Loved Him So-The Dories 1959
10.) To Know Him Is To Love Him-The Teddy Bears 1958
11.) Vickie Sue-The Ebbs 1959
12.) Jeanette Get Your Hair Done-Jan and Dean 1959
13.)Baby Talk-Jan and Dean 1959
14.)There's A Girl-Jan and Dean 1959
15.) My Heart Sings-Jan and Dean 1959
16.) Boss Man-Dean Hawley 1960
17.The Big Hurt-The Superbs 1965
18.) Story Book of Love-The Superbs 1964
19.) Darling It's You-Gloria Rose 1958
20.) Love You I Do I Do-Gloria Rose 1958
21.) I Love You I Do-Freddie Willis 1960
22.) It's Only-Freddie Willis 1960
23.)Tell Me-John and Judy 1960
24.) Why This Feeling-John and Judy 1960
25.) Please Write Me A Letter-Chris Darlin' 1961
26.) A Casual Look-Chris Darlin' 1961
27.) Tragedy of Love-The Dories 1959
28.) Dear Mr. President-The Tides 1961

===============================================
LANE QUIGLEY AND THE MEMORY LANE SHOW WITH MORE
MEMORIES OF TOP 40 RADIO ON ROCK-IT RADIO SHOW #5550

This week's Memory Lane Show returns to the Glory Days
of the 45 RPM with host Lane Quigley delivering a great
music mix of two dozen forgotten favorites.
As usual, the program features a bunch of sound bites
from the Memory Lane Interview Archives. Plus, can you
guess this week's Mystery Artist?
All this and more with another 80 minutes of music
and fun on The Memory Lane Show.

1. Open Up That Door - Nappy Brown 1956
2. Hard Headed Woman - Elvis Presley 1958
SOUND BITE
3. She's Gone Gone Gone - The Penguins 1955
4. 5 Months, 2 Weeks, 2 Days - Louis Prima 1958
5. You're Gonna Need Me - Thurston Harris 1958
6. Mardi Gras in New Orleans - Professor Longhair 1950
SOUND BITE
7. I Never Dreamed - The Cookies 1964
8. Daddy Cool - The Rays 1957
9. MYSTERY ARTIST (Can you identify the artist??)
10. Voice Your Choice - The Radiants 1964
SOUND BITE
11. Rocket 88 - Jackie Brenston with Ike Turner's Kings of Rhythm 1951
12. Road Runner - Bo Diddley 1960
13. Who Will The Next Fool Be - Charlie Rich 1961
14. Cut You A-Loose - Ricky Allen 1963
SOUND BITE
15. A Teenager Feels It Too - Denny Reed 1960
16. Fingertips - Red Prysock 1956
17. Stay With Me - Eddy Wiliams 1963
SOUND BITE
18. Boogie Woogie Country Girl - Joe Turner 1956
19. I'll Be True - Faye Adams 1954
20. You're The Boss - Lavern Baker & Jimmy Ricks 1961
21. The Town I Live In - McKinley Mitchell 1962
SOUND BITES
22. Let The Rumors Fly - Gerry Granahan 1959
23. Queen Of My Heart - Rene & Ray 1962
24. Just To Be With You - The Passions 1959

===============================================
MATT THE CAT AND THE JUKE IN THE BACK SHOW WITH
TRIBUTE TO FORTUNE RECORDS ON ROCK-IT RADIO SHOW #5551

Andre Williams, Nolan Strong & The Diablos and Fortune Records

This week, on a very unique Juke in the Back - Matt The Cat
pays tribute to not only a fantastic and underrated record label,
Fortune Records, but focuses on the label's biggest acts,
Andre Williams and Nolan Strong & The Diablos. Fortune Records
was a Detroit original, started in late 1946, it paved the way
for future greatness. We'll dig on some of their early
releases, before jumping into their biggest star, Andre Williams.
Originally from Alabama, Williams packed each single with grit,
soul and a touch of weirdness that makes nearly all of his
releases remain fresh-sounding today. Williams scored a national
top 10 R&B record in 1956-57 with "Bacon Fat" It was so big,
that Fortune Records licensed it to Epic Records for national
distribution. A portion of this week's program is also dedicated
to Nolan Strong & The Diablos, one of the smoothest and soulful of the
50s doo wop vocal groups. Even though The Diablos never had a
national hit, they are remembered today for Nolan Strong's
beautiful tenor and their original rendition of "The Wind" from 1954.

1. Swanee River Boogie - Albert Ammons â€" Mercury 1947
2. Nobles' Shuffle - Jimmy Milner & His Blue Ribbon Band â€" Fortune 1949
3. Leaving Blues - Big Maceo â€" Fortune 1950
4. Doctor Baby - The Five Dollars â€" Fortune 1955
5. Going Down To Tia Juana - Andre Williams (Mr. Rhythm) & The Don Juans â€" Fortune 1955
6. Mozelle - Andre Williams (Mr. Rhythm) â€" Fortune 1955
7. Bobby Jean - Andre Williams (Mr. Rhythm) & The Don Juans â€" Fortune 1956
8. Bacon Fat - Andre Williams (Mr. Rhythm) & His New Group â€" Fortune & Epic 1956
9. Jail Bait - Andre Williams (Mr. Rhythm) â€" Fortune 1957
10. The Greasy Chicken - Andre Williams (Mr. Rhythm) â€" Fortune 1957
11. Adios, My Desert Love - The Diablos Featuring Nolan Strong â€" Fortune 1954
12. The Wind - The Diablos Featuring Nolan Strong â€" Fortune 1954
13. GREAT 78* You're The Only Girl, Dolores - Nolan Strong & The Diablos â€" Fortune 1956
14. Do You Remember What You Did Last Night - Nolan Strong & The Diablos â€" Fortune 1955
15. The Way You Dog Me Around - Nolan Strong & The Diablos â€" Fortune 1956
16. After Hours - Erskine Hawkins â€" Bluebird 1946

===============================================
PETE CHASTON'S DOO WOP SHOW ON ROCK-IT RADIO
SHOW #5552

Pete is a veteran DJ here at Rock-it Radio and a loyal
provider of shows for us here.
His dedication and knowledge of 50s and early 60s Doo Wop
shines as he spins those tunes of yesteryear. Including The
Silly song segment and the rare But scratchy 45 segment.
Here is this week's playlist of what you will hear.

1. Doo-Wop All Night Long-The Blue Emotions (opening theme song) (1982)
2. I Really Love You-The Stereos (1961)
3. Oh But She Did-The El Capris (1956)
4. Woo Woo Train-The Valentines (1955)
5. Long Tall Girl-The Carnations (xxxx)
6. I Was Wrong-The Moonglows (1954)
7. All Through the Night-The Mystics (1959)
8. Boss Guitar (instrumental)-Duane Eddy & The Rebelettes (1963)
9. Imagination-The Quotations (xxxx)
10. Tonight (Could Be The Night)-The Velvets (1961)

SILLY SONG SEGMENT:

11. Night After Night-Lenny & Squiggy )from the LaVerne & Shirley TV Show
12. Sorry, No Words-from MAD Magazine (1980)

SCRATCHY 45 RPMs SEGMENT:

13. Turtle Dovin'-The Coasters (1956)
14. Shout! Shout! (Knock Yourself Out)-Ernie Maresca (1961)
15. Why Did You Laugh-The Excellents (1963)
16. Misery-The Dynamics (1963)

BACK TO THE CDs &/or More 45 RPMs:

17. Please Let Me Love You-The Legends of Doo-Wop (2001) 18. Stay in my Corner (1968 version)-The Dells (1968)
19. Gunslinger-Bo Diddley (1960)
20. Pretty Little Girl-The Dreamlovers (1963)



21. Please Love Me Forever-Cathy Jean & The Roommates
22. Do You Remember-The Castelles (1954)
23. Melba-The Dreamers (1955)
24. My Love is Beautiful-The Dukes (1956)
25. My Vow to You-The Blue Sky Boys (Dennis Ostrum) (1974)

==============================================
COOL BOBBY B AND THE DOO WOP STOP ON ROCK-IT RADIO
SHOW #5553

Cool Bobby B is back in this newsletter with another
3 hour extravaganza of Doo Wop Rock and Roll from the
first decade of Rock nad Roll! Here is the playlist
of what you will hear when you select his show in our
program page.

Hour #1

1. Rockin' with the clock - Shirley and Lee
2. La La - The Cobras
3. Gee - the Crows
4. I love you so - The Crows
5. Oh what a night - The Dells
6. In the still of the night - 5 Satins
7. The Clock - The Contenders
8. Miss you - The Holidays
9. Again - The Concords
10. A tear fell - The Demensions
11. She's Mine - The Pentagons
12. I won't ever - Gary DeCarlo
13. Please say you want me - The Schoolboys
14. Dottie - Danny and the Juniors
15. Hearts of Stone - Otis Williams & Charms
16. Be Fair - The Pipes
17. Sincerely - Moonglows
18. Pledging my love - Johnny Ace
19. Count Every Star - The Rivieras

Hour #2

20. I've got a feeling - The Cliftonaires
21. We go together - The Moonglows
22. When I'm with you - The Moonglows
23. Darling Dear - The Counts
24. Mr. Misery - The Intentions
25. Have love will travel - The Sharps
26. If you want to - The Carousels
27. Where do we go from here - The Dubs
28. It's gonna take a miracle - the Royalettes
29. Gloria - The Chariots
30. If I knew - The Cruisers
31. There goes the boy - The Lydells
32. Waking the streets alone - Love Letters
33. Lonely way - The Skyliners
34. Cold Grey Dawn - Lee Andrews & Hearts
35. Club of Broken Hearts - BrillanTears
36. Along my lonely way - The Utopians
37. No More - The Uptones

Hour #3

38. 11th hour melody - The Rivieras
39. Moonlight Cocktails - The Rivieras
40. Baby come back - Lee Andrews & Hearts
41. Over the Weekend - Billy & Essentials
42. Runaround - The Fleetwoods
43. I don't want your love - Rick & Masters
44. Two Broken Hearts - Del Satins
45. I'm a happy man - Jive 5
46. Take meas I am - The Duprees
47. There goes my love - The Fascinators
48. Vacation Time - Johnny Madara
49. Thinking of you - the Jaguars
50. The way you look tonight - the Jaguars
51. Picture of love - The Continentals
52. So Far Away - Rochelle & Candles
53. Teenager's Dream - The Kodaks
54. Memory Lane - The Hippies
55. Last Night I dreamed - The Fiestas
56. Goodnight Baby - The Imaginations

===============================================
JACKIE BOND AND LET THE GOOD TIMES ROLL OLDIES
SHOW ON ROCK-IT RADIO SHOW #5554

Across the Pond in the UK Jackie Bond is back this
week with another great set of 50s and early 60s
Rock and Roll. His shows are always first rate with
the best of oldies and hear is what you will hear
in our program page.

1. Big Town Boy - Shirley Matthews
2. Born Reckless - Johnny Olenn and the Blockbusters
3. Slinky - Link Wray
4. Jungle Hop - Don and Dewey
5. Doing Time For Being Young - James Intveld
6. Now You Know - The Channels
7. The Girl Around The Corner - The Shields
8. Daddy Needs Baby - The Pretenders
9. Rattle Snake Daddy - The Sky Devils
10. Bongo Stomp - Little Joey and The Flips
11. Daddy Daddy - Robin Clark
12. It's Good To Me - The Ospreys
13. Polka Dotted Poliwampus - Clint Miller
14. My Kinda Woman - Allen Baum and Little Ann
15. Moonlight in The Dark - Wise Guyz
16. Great Googly Moo - The Spaniels
17. Lone Teen Ranger - Jerry Landis
18. Little Miss Stuck Up - The Playmates
19. I Wanna make You Understand - Frankie and Johnny
20. I'll Hold You - Frankie and Johnny
21. Charlie Brown - The Coasters
22. Charlie Brown Got Expelled - JoeTex
23. Egad Charlie Brown - Dean Beard
24. I'm Looking Around - The Danleers
25. What Do You Do - The Channels
26. Good Night My Love - Jesse Belvin

===============================================
JAMES RILEY AND THE ROCKABILLY AND BLUES SHOW ON
ROCK-IT RADIO SHOW #5555

Rockabilly N Blues Radio Hour #1:
We begin part 1 of our chat with Rocky Burnette about
his career and his dad Johnny & uncle Dorsey. We'll hear
tracks from all of them as well as new tunes from
Cactus Blossoms, Ambur Rockell and Shemekia Copeland
and classics from Stray Cats, Elvis and more!

1. Clown Collector- Cactus Blossoms
2. Pinchita Boogie- Ambur Rockell
3. Thunder & Lightning- Rocky Burnette with Darrel Higham & The Enforcers
4. All By Myself- Johnny Burnette & The Rock N Roll Trio
5. Freight Train- Rocky Burnette
6. O Baby Babe- Johnny Burnette & The Rock N Roll Trio
7. Sweet Baby Doll- Johnny Burnette
8. Tired Of Toein' The Line- Rocky Burnette
9. Rockabilly Boogie- Rocky Burnette with Darrel Higham & The Enforcers
10. Something's Wrong With My Radio- Stray Cats
11. It Ain't Right- John Fogerty
12. Drivin' Out Of Nashville- Shemekia Copeland
13. Too Much- Bo Walton
14. Blue Moon Of Kentucky- Elvis Presley
15. Shinin' Bright- Ollie Vee


Rockabilly N Blues Radio Hour #2:
We continue our chat with Rocky Burnette who has some great
stories about his dad and uncle as well as family friends.
His story about meeting Dolly Parton is classic!
We hear tunes from the Burnettes as well as covers of their
tunes by Levi Dexter, Robert Gordon, Rick Nelson & The Beatles
and a special tribute song by Darrel Higham!

1. Lonesome Train- Levi Dexter & Magic
2. Sweet Love On My Mind- Robert Gordon
3. Got The Bull By The Horns- Rocky Burnette with Darrel Higham & The Enforcers
4. You're Sixteen- Rocky Burnette
5. Tired Of Toein' The Line- Rick Nelson
6. Train Kept A Rollin'- Paul Burlison with Rocky Burnette & Billy Burnette
7. Trouble Is I'm In Love With You- Paul Burlison with Rocky Burnette
8. Lonesome Tears In My Eyes- The Beatles
9. Honey Hush- Johnny Burnette & The Rock N Roll Trio
10. Riding On A Rocket- Rocky Burnette
11. Plenty Of Love- Rocky Burnette with Darrel Higham & The Enforcers
12. Johnny & Dorsey- Darrel Higham

===============================================
CLARKE JAMES (CJ THE DJ) AND THE ROCKIN N ROLLIN
RECORD REVIEW SHOW ON ROCK-IT RADIO SHOW #5556

It's CJ's 25th show here on Rock-it Radio and we are
always thrilled to get his show to air in the mail.
Here is his playlist of what you will hear when you
click to show #5556 in our program page.

1. Intro. Happy Time (Edited) - The Skyliners
2. I'm Not A Juvenile Delinquent - Frankie Lymon And The Teenagers
3. I Want A Boy - Ronnie And The Relatives
4. Lotta Lovin' - Gene Vincent And His Blue Caps
5. Rockin' Record Hop - Carl Perkins
6. Please Say You Want Me - The Schoolboys
7. Teller Of Fortune - The Dootones
8. The Girl Next Door - Max K. Lipscomb
9. Gonna Get You - Fabian
10. Have Mercy Baby - Billy Ward And The Dominoes
11. That's All She Wrote - Ricky Nelson
12. My Baby Left Me - Elvis Presley
13. Just A Shoulder To Cry On - The Demensions
14. I Was Yours - The Paulette Sisters
15. Believe Me - The Royal Teens
16. Trickle Trickle - The Videos
17. Lookin' - The Metros
18. I'm In A Whirl - The Deuces Wild
19. Golden Ruby Blue - Jimmy Edwards
20. I Wish That We Were Married - Ronnie And The Hi-Lites
21. A Million To One - Jimmy Charles And The Revelettes
22. Gismo - Jimmy Heap & His Orchestra
23. Percolator (Twist) - Billy Joe And The Checkmates
24. Wiggie Waggie Woo - The Cadets
25. A Wonderful Dream - The Majors
26. Birmingham Bounce - Hardrock Gunter And The Pebbles
27. Alabama Shake - Gene Summers
28. Believe Me - The Skyliners
29. Let It Be Me - Betty Everette And Jerry Butler
30. The Wonder Of You - Ray Peterson

Keep on Rockin'!

===============================================
OTTO FUCHS AND THE ROCKIN THE JOINT SHOW WITH A
ELVIS PRESLEY TRIBUTE SHOW ON ROCK-IT RADIO SHOW #5557

DJ & Host Otto Fuchs is back with a Rockin' The Juke Joint
Special featuring Rockabilly, Rock & Roll, Love Ballads
and Classic Country - a potpourri of Golden Oldies!
tune in, sit back, relax, enjoy or roll out the carpet and
put on your Dancin' Shoes!

1. Hot Dog Buddy Buddy-Bill Haley & His Comets
2. Mailman Bring Me No More Blues-Buddy Holly & The Crickets
3. Never-Eddie Cochran
4. Baby Jean-Ronnie Hawkins
5. Rock Your Baby-Wanda Jackson
6. Ice Water-Glenn Barber
7. Hot And Cold-Marvin Rainwater
8. Venus In Blue Jeans-Jimmy Clanton
9. Rhythm Of The Rain- The Cascades
10. Keep Searchin´- Del Shannon
11. Frankie & Johnnie-Elvis Presley
12. Personality -Bill Haley & The Comets
13. We Did In 54-Carl Perkins
14. Lana-Roy Orbison
15. Reminisce Café-Gene Summers
16. Breathless-Jerry Lee Lewis
17. Pretty Thing -Bo Diddley
18. Duke Of Earl-Gene Chandler
19. Lonely Boy- Paul Anka
20. Don't Forbid Me-Pat Boone
21. You Always Hurt The One You Love-Clarence Frogman Henry
22. Do You Wanna Dance-Bobby Freeman
23. You Send Me-Sam Cooke
24. The Day The World Turned Blue-Gene Vincent
25. I Wish I Was 18 Again-Jerry Lee Lewis

===============================================
BILLY VERA'S ROCK AND ROLL PARTY SHOW
ON ROCK-IT RADIO SHOW #5558 INTERVIEW AND MUSIC
OF R&B GREAT CHARLES BROWN.

This week's Rock & Roll Party with Billy Vera takes us
back to an incredible in-studio interview with
legendary bluesman and Rock & Roll Hall of Famer
Charles Brown. In the '40's, Charles Brown was the
leading proponent of the smooth west coast cocktail
blues sound, with several big R&B hits.
In the late 80's, he was rediscovered by Bonnie Raitt
which led to a career resurgence with several best-selling
albums in the 90's. He passed away in 1999.
In January 1991, Charles came into studio for a fascinating
conversation with Billy Vera. In addition to some great
recordings from the different stages of his career, Charles
sat down at the grand piano and delivered some wonderful
live performances. Give a listen to this incredible slice
of history this week on Rock-it Radio.


===============================================
TED LOUKES ROCKABILLY RHYTHM SHOW ON ROCK-IT
RADIO SHOW #5559

From his studios way down in South Africa Ted
Loukes joins us for another rockin' 50s Rockabilly
show. Here is this week's playlist.

01 Grandaddy's Rockin - Mac Curtis 1956
02 I'm A Poor Oakie - Arkie Shibley 1960
03 Rockin' And Rollin' - Johnny Skiles 1959
04 The Big Man Blues - Uncle Hix & The Happy Six ?
05 Call Your Daddy, Baby - Kenny McKennon 1956
06 Rock-Ola Baby - Sonee West 1956
07 Mobile Alabama - Curtis Gordon 1956
08 Red Hot Mama - Wayne Williams & The Sure Shots 1958
09 I'm Hungry For Your Lovin' - Danny Dill 1956
10 Oakie Boogie - Hank Swatley ?
11 Solid Rock - Jimmie John 1958
12 That Ain't Nothin' But Right - Joey Castle 1958
13 Swing Bop Boogie - Alvis Wayne 1956
14 The Crossing - Ray Campi 1956
15 Eager Boy - The Lonesome Drifter 1958
16 Cattin' Tonight - Tim Dinkins 1957
17 Slim Jim Baby - Johnny Dollar 1957/1958
18 Jump & Run - Commonwealth Jones 1966
19 Real Gone Baby - Alvis Edwards 1959
20 Campus Cutie - Billy Perkins 1961
21 Hard Hearted Girl - Cliff Davis & His Kentucky Playboys 1957
22 Ice Cream Baby - Fankie Triolo With The Shipmates Orch. 1958
23 Rock And Roll Mr Moon - Harold Shultters & His Rocats 1956
24 Got Rockin' On My Mind - Curley Griffin 1957
25 Come Here Mama - Lynn Pratt & His Rhythm Cats 1959
26 Everybody's Rockin But Me - Bobby Lord 1956
27 I Can't Lose - Sonny Fisher and the Rockin' Boys 1955

===============================================
STEVE PROPES' 45 SHOW WITH A TRIBUTE TO JESSE
BELVIN ON ROCK-IT RADIO SHOW #5560

Steve is back this week with a 2 hour special on the
music of a Rock and Roll Pioneer - Jesse Belvin.
Steve also spins some other 50s and early 60s Rock
Standards to make for one great show. It's listed
as show #5560 in the Rock-it Radio Program page at:
http://www.rockitradio.net/programs.html

==============================================
All the Rock-it Radio shows are available on CD

Each show is only $9.50 each and you can order
in bulk and shipping will never be more then $2.00.
Ask for a secure paypal invoice -- information is at:
http://www.rockitradio.net/order.html

==============================================

100'S OF VINTAGE ROCK AND ROLL VIDEOS ON FILE IN
OUR VIDEO SITE AT ROCK-IT RADIO:
CHECK IT OUT AT:

HTTP://WWW.ROCKITRADIO.NET/VIDEO.HTML

==============================================
COME JOIN US ON FACEBOOK !!! WE WOULD LOVE A
LIKE FROM YOU!

http://www.facebook.com/rockitface
The Rock-it Radio Facebook Site.

==============================================
HISTORY OF ROCK-IT RADIO

If you are new to Rock-it Radio and would like to learn more --
We have our History Page up as well -- telling the story of Rock-it
Radio. You can find it at:
http://www.rockitradio.net/history.html

===============================================

DECEMBER END OF THE MONTH DRAWING OF WINNERS
ANNOUNCED FOR LAUNCHING PAD SUPPORTERS
At the end of every month on Rock-it Radio we have a
random drawing for those that have supported Rock-it Radio by
purchasing either Rock-it Radio shows through the
either the Rock-it Radio Launching pad at:
Or by going and ordering Rock-it Radio shows at:
The DECEMBER 2015 Winners this month are:
Robert Doyle - Chalfont, Penn. USA
Paul Hofer - Ontario, California USA
Melissa Bernius - Bloomington, Illinois USA

SUPER MEGA WINNER - WINNER OF 10 SHOW
OF THEIR CHOICE !!!!!!!!

Noreen Rodriguez - Arlington Heights, Ill. USA

Each of you have won your choice of 3 vintage
Rock Radio programs (The Super Mega winner won 10!)
from our online store at:

or you can order Rock-it Radio Shows if you prefer on CD

You have until January 31, 2016
to let us write back and let
us know of your choices.
Congratulations and let me know what you would like to
have along with a mailing address and we will got those
items out to you. Just our way of saying Thank you for helping
support Rock-it Radio. And of course we will have October drawings
as well at the first week of next month.
NOTE: You should keep on checking this notice board
or join the Launching Pad Facebook site at:
And of course we will be having another drawing at the
end of this month.
RECRUITING FOR RADIO PERSONALITIES FOR
ROCK-IT RADIO

Do you know your 50s and 60s Rock & Roll, Doo wop
or Rockabilly? And the ability to produce a show
on CD?
We do require a playlist for this newsletter but
your show will stay online for the world for approx.
3 weeks. Unlike some stations where you broadcast one
time and it's gone forever.
If interested check out our Rock-it Radio Team page
at: http://www.rockitradio.net/team.html

We are also looking for writers and translators!
==================================================
3RD ROCK-IT RADIO FLASHDRIVE IS NOW RELEASED FOR
SALE - FOR ROCK-IT SHOWS #5501 TO #5550

New Release!!!! Rock-it Radio Shows #5501 to #5550 on Flash
drive MP3 - 70 hours of 50s and 60s Rock and Roll now on
Flashdrive. Just plug into your usb port in your pc or if your
mp3 player has it in that usb port select and you will have
50 Rock-it Radio shows at your disposal.
In our Ebay listing at:
http://cgi.ebay.com/ws/eBayISAPI.dll?ViewItem&item=141878689592

or the new Rock-it Radio Flashdrive Site listing all available at:
http://www.rockitradio.net/flashdrive.html

It really is a great savings from our CD's that
we sell for $9.50 each could add up to $475 for 50 shows.
We are offering the flashdrive to slash that amount to just
$39.95.

==================================================
NEW VINTAGE BROADCAST FROM 1959! RELEASED IN
LAUNCHING PAD AND EBAY STORE!

Our latest release and first for 2016 is a Top 40
Radio Broadcast going back to 1959 and Los Angeles
Station KFWB. DJ Elliott Field with Field Frolics
and a great line up of great songs and vintage advertisements
from January 9, 1959!
NEW RELEASE!!!!
On Compact Disc uncut and unedited 70 minutes total with promotions
on Ritchie Valens who will tragically lose his life a month later.
in our Ebay Store at:
http://www.ebay.com/itm/131698811282

And Listed Alphabetically in our California Listings
in our Online Launching Pad at:
http://www.rockitradio.net/store.html
=====================================
STREEMA.COM PICKS UP AUDIO FEED OF ROCK-IT RADIO

Another way to tune into Rock-it Radio on your
computer is now with Streema's audio feed of our
station that picked up Rock-it Radio.

http://streema.com/radios/Rock_it_Radio
ROCK-IT RADIO IS PUBLICLY SUPPORTED

Rock-it Radio is publicly supported but rather then
just asking for money we offer you something in return.
Actual Radio Broadcasts uncut and unedited and re mastered
onto Compact Disc from the 50s to the 70s. These shows
are great memories of how radio was - the days of top 40
radio! With the songs, and vintage ads and famous DJ's
that made radio a great part of growing up.
If you can we would greatly appreciate your support and
help keep Rock-it Radio online. Check out our selection
of 100s of these broadcasts in our Rock-it Radio Launching
Pad at: http://www.rockitradio.net/store.html

or in our Ebay Store at: http://stores.ebay.com/Rock-it-Radio-Store

If you are a big fan of Wolfman Jack you can check out his
shows we also have available at:
http://www.rockitradio.net/wolfman.html

Rock-it Radio also has it's shows currently being broadcast or
broadcasted in the past available. (We have saved every shows
since we began in 1995.) You can also order these shows and
information on that is available at:
http://www.rockitradio.net/order.html
or on Flashdrive in MP3 at: http://www.rockitradio.net/flashdrive.html

Each order received will also receive our Catalog along with
a discount coupon good towards a future purchase.

Thank you for your consideration and all the very best!
REMINDER ON HOW TO CONTACT THE DJ'S AT ROCK-IT RADIO

We all love our our e mails from listeners here at Rock-it
Radio. Along with requests and dedications. Earlier this year
due to the excessive spam we all were getting I stopped listing
the e mails at each shows playlist. But you can still
contact them. Just go to the Rock-it Radio DJ page and each
DJ has there e mail link underneath each bio.
You can find it at: http://www.rockitradio.net/dj.html


COLLECTING AIRCHECKS - A HOBBY OF RADIO NOSTALGIA
What is a Aircheck? It is simply a recording of a radio broadcast. Usually collected by Radio fans.
Come check out our webpage on collecting Airchecks.

http://www.rockitradio.net/aircheck.html


COME REMEMBER WOLFMAN JACK !!!
Rock-it Radio has a very special way to remember Wolfman Jack.
Arguably the most iconic of American DJ's. Come check out the
Rock-it Radio Wolfman Page at:
REMEMBERING OFFSHORE PIRATE RADIO IN THE UK
In the mid 1960s it was difficult for the youth to actually listen to
Rock and Roll in the UK. The BBC actually ran only a few hours a weekend
to provide the young Brits with this outlet. At night during the week they
ventured to even tune into Radio Luxembourg to get there fill, that broadcast
rock and pop around the clock.
To fill this void some venture capitalists decided to bring in commercial radio
aboard refitted radio ships. And anchor themselves just off into International
waters off the English coast. Radio Caroline (named after Caroline Kennedy the
U.S. President's daughter at the time) and Radio London being the most famous.
Rock-it Radio has a website dedicated to their ventures and also have actual
radio broadcasts available of these offshore pirates. We invite you to check them
out our webpage at:
http://www.rockitradio.net/pirate.html
FINDING ROCK-IT RADIO ON THE 'TUNE IN RADIO' CELL PHONE APP.

We have had a few requests from listeners that they couldn't find us on the
popular 'Tune in Radio' App. on Android and PC and iphones. Running a
search of 'Rock-it Radio' will actually list 100s of Rock stations.
So, the best way to find us on this very thorough and extensive app. that
I love using myself is -
run a search on 'rockabilly' - there you will easily find
Rock-it Radio listed.
Our Tune in Radio App. webpage is also at:
http://tunein.com/station/?stationId=41878
MISSED A COUPLE OF NEWSLETTERS LAST COUPLE OF WEEKS??

THEN YOU CAN ALWAYS CHECK OUR BLOG WHERE IT IS ARCHIVED.
YOU CAN CHECK OUT OUR BLOG AT:

http://rock-itradio.blogspot.com/
=============================================


ROCK-IT RADIO DJ PAGE...


Remember you can check out all the Rock-it Radio DJ's

and read the bios of these DJ's that make these

Rock-it Radio Shows possible at:


And don't forget for even more pictures --

there is our picture page at:
============================================
IF YOU HAVE TWITTER COME FOLLOW US THERE

If you are one that tweets then please check out and join and get our
updates on your twitter account. Our Twitter link is right below.

http://www.twitter.com/RockitRadio1
It is our new Twitter account and we will once again start
scrolling our messages and updates on our webpages as well.


============================================
ROCK-IT RADIO OTHER TWITTER ACCOUNT FOR
NEWS RELEASES FOR N. IDAHO, KODIAK ALASKA AND
THE WORLD!
Rock-it Radio has another Twitter account and is used for News
Alerts that come into the studio here at Studio A. For those Twitter
users that would like to follow the link is:
http://www.twitter.com/RockitRadioNews

The feed can also be seen in our World News broadcast Webpage
at: http://www.rockitradio.net/news.html


=================================================
WELCOME NEW MEMBERS TO THE LISTENER'S CLUB!!!!

A big welcome to the below new Rock-it Radio listeners that
joined our Listeners Club from January 14, 2016 to
January 23,2016
We hope that you enjoy the music Rock-it Radio provides
and our playlists and information that our weekly newsletter
provides. Any comments, criticisms, kudos, compliments or
future ideas is always welcome and you can e mail me personally at:
rockitradio@netzero.net

Bob Reeves - British Columbia Canada
Scott - USA

We have gained 51 new likes in our listeners club
in our Facebook page Rock-it Radio Fan Page as well this week at:
http://facebook.com/rockitface and 36 more following us
on Twitter @Rockitradio1 .

We have added a total of 89 new members to the Rock-it Radio
Listeners Club since our last newsletter. We now have 85,016 exactly
that have joined the Rock-it Radio Listeners club.
We hope that you enjoy the rare 50's and early 60's
Rock and Roll, Rockabilly and Doo Wop (which most commercial
oldies radio stations have forgotten) that we are able to play
for you from Rock-it Radio. Remember, we are here for you!

So if you ever have any requests, dedications, comments and
suggestions we always love to hear from our listeners.
Our e mail address is:
rockitradio@netzero.net

====================================================
To learn more about the Rock-it Radio Listeners Club and our Free
Newsletter please check out:
http://www.rockitradio.net/member.html

It's free and easy to join and the Rock-it Radio Newsletter is always
online at: http://www.rockitradio.net/newsletter.html



====================================================

PLEASE HELP US SPREAD THE GOOD WORD OF ROCK-IT RADIO!

Do you know of someone that might also like the music

of Rock-it Radio? We are desperately trying to keep this

music alive and have been doing so since 1995! Please

share the information of this station. And if you have

a website would you please consider putting a Rock-it Radio

link on your page.

There are a few to choose from in our link page at:

http://www.rockitradio.net/links.html
HOW TO ORDER OLD ROCK-IT RADIO SHOWS = YOUR PURCHASES HELP US STAY ONLINE!!!
We have received many inquiries on how to order Rock-it Radio shows that are no longer in
our on archives webpage. These shows are still available on CD and mailed to you within 24
hours of receiving payment.
To help search for older shows that you may be looking for you may want to check the Rock-it
Radio blog site. Old newsletters describing the shows and playlists
are archived there and there is a menu bar on the right side that breaks down every playlist
Then you may either pay by check or money order or paypal. Rock-it Radio shows are only
$9.50 U.S. each and are studio quality broadcasts that were placed on Compact Disc here at
the Rock-it Radio Studio. We have a flat rate shipping charge of $1.50 U.S. so if you order
one or several -- it is still only $1.50
U.S. shipping. And we ship worldwide, overseas orders are mailed out first class airmail.
Instructions where to send payment is at our webpage:
like we can send you a paypal invoice within 24 hours.

When you order a Rock-it Radio show or shop at our Rock-it Radio Launching Pad you
help keep these oldies alive and help us pay the bills here at Rock-it Radio.
And at the same time -- you are not getting nothing for your donation, but actually
some of the shows and memories we hope we keep alive here at Rock-it Radio.



TOP 20 SELLERS OF THE ROCK-IT RADIO LAUNCHING PAD THIS WEEK

As you know the Rock-it Radio Store sells vintage Radio Broadcasts - Where you hear the actual
music, news and vintage advertisements - uncut and unedited just like you would of heard
it back then. Here are the top sellers this week.

1. Flashdrive Rock-it Radio Shows 5501 - 5550
2. Flashdrive Rock-it Radio Shows 5401 - 5450
3. RIR #393 - John Lennon as DJ on WNEW New York from 1974
4. RIR #116 - Casey Kasem - KRLA Los Angeles 5/27/1965
5. RIR #114 - Alan Freed - WABC New York 11/5/1959
6. RIR #149 - Alan Freed - WINS New York 1/23/1957
7. RIR #622 - Johnny Morgan - CKLW Windsor, Ontario 7/12/1967
8. RIR #267 - Arnie Woo Woo Ginsburg - WMEX Boston 12/12/1965
9. RIR #176 - Porky Chedwick WAMO Pittsburgh 6/14/1960
10. RIR #532 - Bob Dayton KRLA Los Angeles 12/5/1967
11. RIR #299 - Unk. DJ Country Station - KHAT Phoenix 8/19/1963
12. RIR #391 - Art Roberts - WLS Chicago 8/2/1966
13. RIR #371 - Alan Freeman BBC Pick of the Pops 8/26/1962
14. RIR #428 - Bob Lewis - WABC New York 2/7/1964
15. RIR #523 - Pat Holiday - CKLW Windsor, Ontrario 6/29/1973
16. RIR #170 - Ted The Bear Richardson CKLW Windsor 6/29/1973
17. RIR #181 - Wolfman Jack XERB Tijuana 12/8/1967
18. RIR #642 - Elliot Field - KFWB Los Angeles 1/9/1959
19. RIR #112 - Hunter Hancock Show on Rock-it Radio with Lane Quigley
orig. released as Rock-it Radio show #197.
20. RIR #113 - Hunter Hancock Rare early R&B Shows of Los Angeles.

If you would like to view these shows in depth you can check out
our Rock-it Radio Ebay Store at:
http://stores.ebay.com/Rockit-Radio

or in the Rock-it Radio Launching Pad store at:
http://www.rockitradio.net/store.html(listed by date)
and in the upper left hand corner -
there is a search box where you can type in the DJ name or
Station Call letters and that information on that show will pop up.
Ordering from the Ebay store will also qualify you for the Rock-it Radio
giveaway mentioned previously in this newsletter. Sale of
these broadcasts is what keeps Rock-it Radio going and thank
you again to everyone that buys these!

===============================================
TOP 50 NATIONS THAT ARE TUNING INTO ROCK-IT RADIO.

We are always amazed at the World Wide Web and the 215 Countries that
tune us in every month online. Here are the top 50 Countries so far
this month.+ or - shows up or down how many positions from the previous week.
TOP 50 NATIONS THAT ARE TUNING INTO ROCK-IT RADIO.

1. United States +0
2. Brazil +1
3. Canada -1
4. France +0
5. Italy +0
6. Germany +0
7. Vietnam +0
8. Lithuania +1
9. United Kingdom -1
10. Russia +0
11. Spain +0
12. Sweden +4
13. Czech Republic +0
14. India +1
15. Netherlands -1
16. Mexico +2
17. Ireland +0
18. Hungary -6
19. Dominican Republic +3
20. Turkey +0
21. Japan +2
22. Philippines +3
23. Ukraine +1
24. Romania -5
25. Singapore -3
26. Australia -10
27. Colombia -1
28. Indonesia -1
29. Argentina -1
30. Taiwan +0
31. South Korea +7
32. Venezuela -5
33. Thailand -1
34. Poland -3
35. Albania +0
36. Morocco -7
37. Peru -4
38. Bulgaria +1
39. Finland -5
40. China +10
41. Chile -3
42. Greece +2
43. Portugal +4
44. Belgium -8
45. Croatia -11
46. Ecuador +2
47. Portugal +3
48. Switzerland -8
49. Austria -5
50. Bangladesh -2

=============================================
U.S. STATES RANKINGS TUNING INTO ROCK-IT RADIO

1. Oregon +0
2. California +1
3. New York -1
4. Virginia +1
5. Texas +1
6. Pennsylvania +1
7. New Jersey +1
8. Nevada -4
9. Washington +0
10. Florida +0
11. Ohio +0
12. North Carolina +0
13. Arizona +0
14. Georgia +1
15. Illinois +1
16. District of Columbia +1
17. Missouri -3
18. Massachusetts +1
19. Oklahoma -1
20. Delaware +0
21. Michigan +0
22. Maryland +1
23. Wisconsin -1
24. Indiana +1
25. Colorado +0
26. Connecticut -2
27. Mississippi +0
28. Rhode Island +1
29. Utah +3
30. Alabama -2
31. New Mexico -1
32. Tennessee -1
33. Kansas +0
34. Kentucky +0
35. South Carolina +0
36. Minnesota +2
37. Louisiana +0
38. Nebraska +3
39. Idaho +0
40. Iowa +0
41. Maine +5
42. Wyoming -4
43. Arkansas -7
44. New Hampshire +1
45. West Virginia -1
46. Hawaii -4
47. Alaska +0
48. Montana +0
49. Vermont +1
50. South Dakota +1
51. North Dakota -2
Rockabilly bands looking for airplay
If you or know someone that would like airplay on Rock-it Radio we invite
you to submit your press kits to Rock-it Radio. Our website for further
information is:
http://www.rockitradio.net/airplay.html
============================================
Come tune into the World on your computer!
1000s of stations around the world now broadcast online. We have a
link to some of the internet top directories to help you find these stations.
http://www.rockitradio.net/internetradio.html
============================================
Rock-it Radio Program Webpage Reminder
Remember, if the show that you want to hear is getting close to the bottom
of the list of radio shows, you should tune in as soon as you can. These shows
to have a high audio quality require a lot of internet bandwidth and memory.
And currently we can only afford the
30
latest shows online here at Rock-it Radio.
So, when a new show is put online it knocks the oldest one off the Rock-it Radio
archives page. Usually a show will at least last 16 to 20 days, once it is placed in
the archives.
============================================
OUR SISTER STATION FIRST NATIONS BROADCASTING.
We invite you to also check out our sister station -- First Nations
Broadcasting. And tune into the rather Cool North of the Yukon and Alaska
with our very own Debbie Snowdove!
============================================
Well that is just about it for this newsletter and playlists of our latest
shows. We hope that you enjoy them.
We will do our best to keep these shows on for at least 14
days and hopefully 21 days.
All the best always,
Bennie Dingo
Rock-it Radio

website: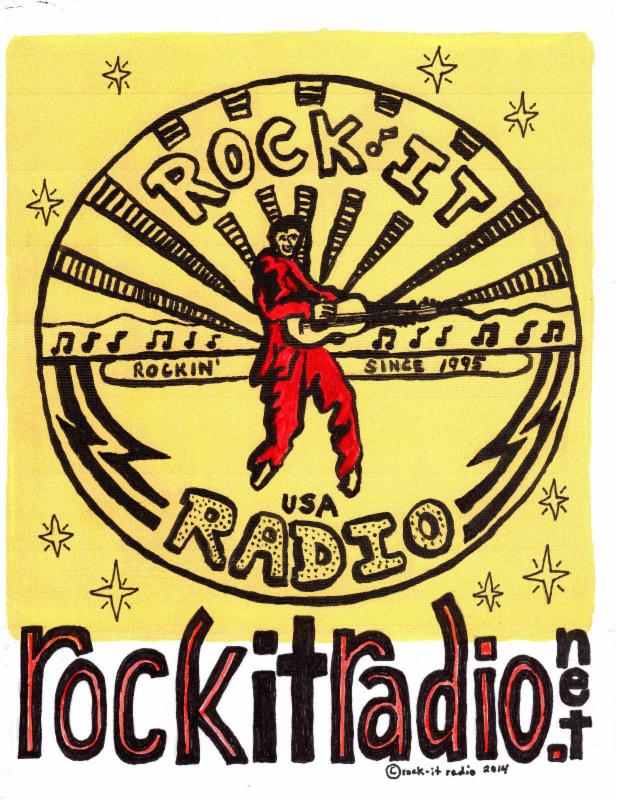 Rock-it Radio main website:
http://www.rockitradio.net

Archived Shows at:
http://www.rockitradio.net/programs.html

Rock-it Radio Vintage Broadcast Store:
(Launching Pad)
http://www.rockitradio.net/store.html