Rock-it Radio since 1995 providing 50s and early 60s Rock and Roll, Doo Wop and Rockabilly music online! Come tune us in at http://www.rockitradio.net We also have several 100 original radio shows from the first decade of Rock and Roll at: http://www.rockitradio.net/store.html
=======================================================================
ROCK-IT RADIO NEWSLETTER AND PLAYLIST
SHOWS #5535 TO #5548
FROM
January 3, 2015 to Janusary 13, 2015
Hi Rock-it Radio Listeners,

This week we have 14 new shows online with playlists
to tell you about. And also our new release for 2016
in our Launching Pad - a KFWB DJ Elliott Field Top 40
Show from Los Angeles from January 1959! Plus much more!

So, Let's get started with some playlists!

Our shows can be heard in our archives page at:

http://www.rockitradio.net/programs.html
and click to the speaker on the left to hear the show.

Remember if you are new to Internet Radio and having trouble tuning in though --
Check out our webpage to help you out at:
http://www.rockitradio.net/tunein.html
============================================
REMEMBER YOU CAN ORDER ANY OF THESE ROCK-IT
RADIO SHOWS ON CD!!!! NEW EASIER ORDERING!

Would you like one of these Rock-it Radio shows on CD? To
be able to play anywhere? And help support Rock-it Radio at the same time.
For complete information check out our program
ordering webpage at: http://www.rockitradio.net/order.html

Our shows are of course copies straight from the studio so they are studio
quality and satisfaction is guaranteed.
Or if you would rather receive an invoice let me know and we
can e mail you a copy - Just e mail us the show(s) you would like
to have and the Rock-it # to: rockitradio@netzero.net

==============================================
All Rock-it Radio shows stay online from 18 to 24 days and are
broadcast in MP3 Format. To tune in just click to the speaker
at our program page at:
http://www.rockitradio.net/programs.html

The newest show added replaces the oldest show so if you see a
show near the bottom of the listing - you should listen as soon as
possible.

==============================================
WE COULD USE YOUR SUPPORT

Rock-it Radio is 100% Publicly supported. But when you
donate to the Rock-it Radio Launching Pad - we give you
a vintage broadcast of your choice.
100% of all sales from the Rock-it Radio Store (Launching
Pad) goes back to pay copyright fees, LLC taxes, Internet
and bandwidth costs of Rock-it Radio. Without your support
we would not exist. So. please consider a purchase at:
http://www.rockitradio.net/store.html

===============================================
NOTE: ALL SHOWS BELOW CAN BE FOUND IN OUR
PROGRAM WEBPAGE -
TO TUNE IN CLICK TO SPEAKER OF THE SHOW YOU WANT
TO LISTEN TO. EITHER MP3 OR REAL PLAYER.
BOTH FORMATS ARE SUPPORTED.
AT:
HTTP://WWW.ROCKITRADIO.NET/PROGRAMS.HTML

===============================================
AL COOL DADDY SMITH WITH THE BLUES POWER HOUR ON
ROCK-IT RADIO SHOW #5535

From Studio C in Brampton, Ontario Canada The Cool
Daddy Al Smith is back this week with another set of
his forays of the Blues Power Hour here on Rock-it Radio.
Here is the playlist.

1.) Dust My Broom - Jeff Healey 1994
2.) Shake Your Money Maker - Elmore James 1961
3.) Sweet Home Chicago - Robert Johnson 1937
4.) Crossroads - Cream 1968
5.) Crossroad Blues - Robert Johnson 1937
6.) I Wish You Would - The Yardbirds 1964
7.) Good Morning Little School Girl - The Yardbirds 1964
8.) Calcutta Blues - John Mayall's Blues Breakers (with Eric Clapton) 1966
9.) Third Degree - John Mayall's Blues Breakers (with Eric Clapton) 1966
10.) Before You Accuse Me - Eric Clapton 1989
11.) 29 Ways - Willie Dixon 1956
12.) Violent Love - Willie Dixon and The Big Three Trio 1951
13.) Payin' The Cost To be The Boss - Pat Benatar 1991
14.) Annie's Got A Sister - The Downchild Blues Band 1994
15.) Keep On Lovin' Me Baby- Otis Rush 1958
16.) Little Red Rooster- Otis Rush 1991
17.) No More Doggin' - Colin James and His Little Big band 1993
18.) No More Doggin' - Roscoe Gordon 2000
19.) Further On Up The Road-Magic Slim and The Teardrops 1990

===============================================
COOL BOBBY B AND THE DOO WOP STOP ON ROCK-IT RADIO
SHOW #5536

Cool Bobby B is back in this newsletter with another
3 hour extavaganza of Doo Wop Rock and Roll from the
first decade of Rock nad Roll! Here is the playlist
of what you will hear when you select his show in our
program page.

Hour #1

1. Rockin' with the clock - Shirley and Lee
2. Chip Chip - The Mello Kings
3. Come go with me - Del Vikings
4. Heaven on Earth - The Platters
5. Miss Annie - The Plurals
6. Way Up - Lincoln Fig & The Dates
7. My Hero - The Blue Notes
8. Gloria - Earl Lewis & Channels
9. White Cliffs of Dover - The Mystics
10. I won't ever - Gary DeCarlo
11. Angel Baby - Robin Robbert
12. You talk too much - Frankie Ford
13. Barbara - The Temptations
14. May I - Bill Deal & Rhondells
15. Cure of Love - The Continentals
16. Florence - The Paragons
17. How the time flies - Jerry Wallace
18. Club of broken hearts - Brilliant Tears

Hour #2

19. Last Night I Dreamed - The Fiestas
20. I do - The Marvellows
21. Tonight I fell in love - The Tokens
22. Would I love you - The Miracles
23. Remember - Donny & The Explorers
24. Eternity with you - Robert & Johnny
25. I wish that we were married - Ronnie & Hi Lites
26. Be sure my love - The Dubs
27. When I woke up this morning - Bop Chords
28. Fool Fool Fool - The Impalas
29. I've got a feeling - The Cliftonaires
30. Flying Saucer Part One - Buchanan and Goodman
31. Thank you and Good night - The Angels
32. Lover's Island - Blue Jays
33. Soon - Four Seasons
34. Flying Saucers Part two - Buchanan and Goodman
35. Every Night - The Chantels
36. I only want you - The Passions
37. Rocket Ride - Johnny Greco (should actually be Rock-it Ride :) )

Hour #3

38. 11th hour melody - The Rivieras
39. Moonlight Cocktails - The Rivieras
40. Take me as I am - The Duprees
41. Secret Love - The Moonglows
42. I'm a happy man - Jive Five
43. Yes Sir that's my baby - Four Seasons
44. I love you - The Volumes
45. Darling I know - The El Rays
46. Memory Lane - The Hippies
47. Brenda - The Cupids
48. Can't say goodbye - The Fireflies
49. Coney Island Baby - The Excellents
50. In my diary - The Moonglows
51. It hurts to be in love - Annie Laurie
52. Over the Rainbow - The Demensions
53. You baby you - The Cleftones
54. Imagination - Quotations
55. Shu Bop - Dion
56. Goodnight Baby - The Imaginations

===============================================
PAPA WALT'S OLDIES SHOW GOING DOWN THE AVENUE OF
OLDIES ON ROCK-IT RADIO SHOW #5537

The Oldies Show is hitting the road to sample twenty tunes
that explore our affinity with the literal, and metaphorical,
streets and avenues of our life experiences.
Fasten your seat belts and crank up the volume.

1. 18th Avenue - Cat Stevens (1972)
2. Penny Lane - The Beatles (1967)
3. Main Street - Bob Seger & the Silver Bullet Band (1977)
4. South Street - The Orlons (1963)
5. Baker Street - Jerry Rafferty (1978)
6. Blue Avenue - Roy Orbison (1961)
7. Ventura Highway - America (1972)
8. Crossroads - Cream (1968)
9. The Long and Winding Road - The Beatles (1970)
10. Tobacco Road - The Nashville Teens (1964)
11. Second Avenue - Tim Moore (1974)
12. Take Me Home Country Roads - John Denver (1971)
13. Highway 61 Revisited - Johnny Winter (1969)
14. On Broadway - The Drifters (1963)
15. Love Street - The Doors (1968)
16. Seven Bridges Road - Steve Young (1969)
17. Copperhead Road - Steve Earle (1988)
18 Carefree Highway - Gordon Lightfoot (1974)
19. Brooklyn Roads - Neil Diamond (1968)
20. Why Don't We Do It In the RoaD - The Beatles (1968)

===============================================
LANE QUIGLEY AND THE MEMORY LANE SHOW WITH MORE
MEMORIES OF TOP 40 RADIO ON ROCK-IT RADIO SHOW #5538

Two dozen great platters from the Glory Days of the 45 RPM
are yours for the listening on this week's Memory Lane Show.
You can try to identify the Mystery Artist, you'll learn
more about the music from the interview clips, and you'll
hear a tribute to three beloved vocal group members who
sadly have recently passed away.
All this and more with host Lane Quigley on the
Memory Lane Show.

1. Tryin' To Get To You - Elvis Presley 1955
2. Is Everything Alright? - Earl King 1955
SOUND BITE
3. When I'm With You - The Moonglows 1956
4. Shame, Shame, Shame - Smiley Lewis 1956
5. To Get Your Love Back - Nella Dodds 1965
SOUND BITE
6. How Sweet It Is - Marvin Gaye 1965
7. Milkcow Blues - Ricky Nelson 1961
8. MYSTERY ARTIST (Can you identify the artist??)
SOUND BITE
9. Lips Red as Wine - The Colts 1955
10. Woo Woo Train - The Valentines 1956
11. Mr. Bass Man - Johnny Cymbal 1963
12. I Won't Be The Fool Anymore - The Heartbeats 1957
SOUND BITE
13. That's The Way I Like It - Shirley Gunter & The Queens 1955
14. Un-Huh-Mm - Sonny James 1957
15. Feelin' No Pain - The Del Satins 1963
SOUND BITE
16. Take Me For a Little While - Jackie Ross 1965
17. I'm a Woman - Christine Kittrell 1962
18. Foolish Lover - Jim Tig & The Rounders 1964
SOUND BITE
19. Why Do Lovers Break Each Others' Hearts? - Bob B. Soxx & The Blue Jeans 1963
20. I Remember When - The Cameos 1960
21. I'll Do It For You - Toussaint McCall 1967
SOUND BITE
22. Every Little Bit Hurts (Original Unreleased Version) - Brenda Holloway 1963
23. Thinking of You - The Jaguars 1959
24. A Thousand Miles Away - The Heartbeats 1956-57

===============================================
OTTO FUCHS AND THE ROCKIN THE JOINT SHOW WITH A
ELVIS PRESLEY TRIBUTE SHOW ON ROCK-IT RADIO SHOW #5539

Otto Fuchs & The Rockin The Juke Joint Show is back with
an Elvis Presley Special. The eventual successor the the
title of King of Rock & Roll after Bill Haley, which Otto
featurend in the last show. Let's go back in music history,
as Otto Fuchs pays homage to the "Hillbilly Cat" who changed
the musical landscape forever!

1. That's Allright-Elvis, Scotty & Bill aka Elvis Presley & The Blue Moon Boys
2. Blue Moon Of Kentucky-Elvis Presley & The Blue Moon Boys
3. Interview Excerpt
4. Blue Suede Shoes-Elvis Presley
5. Jailhouse Rock-Elvis Presley
6. Blue Moon-Elvis Presley
7. Are You Lonesome Tonight-Elvis Presley
8. Doin´ The Best I Can-Elvis Presley
9. One Night-Elvis Presley
10. Old Shep-Elvis Presley
11. Party-Elvis Presley
12. His Latest Flame-Elvis Presley
13. In The Ghetto-Elvis Presley
14. Interview Excerpt
15. Promised Land-Elvis Presley
16. Somebody Bigger Than You And I-Elvis Presley
17. Early Mornin´ Rain-Elvis Presley
18. Farther Along-Elvis Presley
19. Interview Excerpt
20. You Don't Know Me-Elvis Presley
21. My Way-Elvis Presley

===============================================
MATT THE CAT AND THE JUKE IN THE BACK SHOW WITH
PRIME LITTLE RICHARD ON ROCK-IT RADIO SHOW #5540

Prime Little Richard 1955-57

No one could pack more frantic soul into a 2 minute record
like LITTLE RICHARD. This week, the "Juke In The Back" focuses
on Richard's prime, hit-making period of 1955-57.
Matt The Cat will take you from his early 1956 explosion,
through his 3 #1 R&B hits up to Richard's giving up
Rock n Roll to dedicate himself to the Ministry at the end of
1957.
His 2nd single for Specialty Records, Long Tall Sally was not
only Little Richard's biggest hit, but also the best selling
single in the Specialty Records catalog. Matt The Cat also
digs out some demo versions of Little Richard classics and
shows the evolutions of songs you thought you knew backwards
and forwards. We'll look at the evolution of Slippin' And Sliddin,
Heebie Jeebies and Keep A Knockin. Doctors recommend that you
have a healthy heart before attempting to listen to this week's
action-packed Juke in the Back

1. Swanee River Boogie - Albert Ammons â€" Mercury 1947
2. Long Tall Sally - Little Richard & His Band â€" Specialty 1956
3. Slippin' And Sliddin' (Peepin' & Hidin') - Little Richard & His Band â€" Specialty 1956
4. Rip It Up - Little Richard & His Band â€" Specialty 1956
5. Ready Teddy - Little Richard & His Band â€" Specialty 1956
6. Heeby-Jeebies - Little Richard & His Band â€" Specialty 1956
7. She's Got It - Little Richard & His Band â€" Specialty 1956
8. The Girl Can't Help It - Little Richard & His Band â€" Specialty 1956
9. All Around The World - Little Richard & His Band â€" Specialty 1956
10. Lucille - Little Richard & His Band â€" Specialty 1957
11. Send Me Some Lovin' - Little Richard & His Band â€" Specialty 1957
12. Jenny Jenny - Little Richard & His Band â€" Specialty 1957
13. GREAT 78* I'm Just A Lonely Guy - Little Richard & His Band â€" Specialty 1955
14. Miss Ann - Little Richard & His Band â€" Specialty 1957
15. Keep A Knockin' - Little Richard â€" Specialty 1957
16. Can't Believe You Wanna Leave - Little Richard â€" Specialty 1957
17. Hey-Hey-Hey-Hey - Little Richard â€" Specialty 1958
18. After Hours - Erskine Hawkins â€" Bluebird 1946

===============================================
PETE CHASTON'S DOO WOP SHOW ON ROCK-IT RADIO
SHOW #5541

Pete is a veteran DJ here at Rock-it Radio and a loyal
provider of shows for us here.
His dedication and knowledge of 50s and early 60s Doo Wop
shines as he spins those tunes of yesteryear. Including The
Silly song segment and the rare But scratchy 45 segment.
Here is this week's playlist of what you will hear.

1. Doo-Wop All Night Long-The Blue Emotions (opening theme song) (1982)
2. Who's That Knocking-The Genies (1958)
3. It's Me Knockin'-Jeannie & her Boy Friends (1959)
4. Rainy Day Bells-The Globetrotters (1970)
5. Fine, Fine Frame-The Continentals (1956)
6. He's in Town-The Tokens (1964)
7. Submarine Race-The Visuals (1962)
8. Bristol Stomp-The Dovells (1961)
9. Bermuda Shorts-The Del-roys (1959)
10. (Shimmy Shimmy) Ko Ko Wop-The El Capris (1956)

SILLY SONG SEGMENT:

11. Flying Saucer the 3rd-Buchanan & Goodman (1959)
12. Little Egypt-The Coasters (1961)

SCRATCHY 45 RPMs SEGMENT:

13. A Night with Daddy "G"-The Church Street Five
(1961)
14. Quarter to Three-Gary "U.S." Bonds (1961)
15. Sea of Love-Phil Phillips & The Twilights (1959)
16. Ding Dong Teenage Bells-The Crystalaires (from Germany) (1990)

BACK TO THE CDs &/or More 45 RPMs:

17. I Believe-Battery Park (1972)
18. Seven Lonely Days-The Crows (1953)
19. Baby Blue-The Echoes (1961)
20. Tra La La-The Majors (1963)

SLOW SONG SEGMENT:

21. White Cliffs of Dover-The Pelicans (1955)
22. Gee Baby, I'm Sorry-The Three Degrees (xxxx)
23. This Friendly World-Fabian (xxxx)
24. Christmas is Over-The Sheps (2000)
25. Tonight We Love-The Four Directions (1965)
26. I Stayed Home (New Year's Eve) (acappella version)-The Ad-libs (xxxx)

27. (closing theme song) Adios-The Five Discs (1961)

==============================================
BILLY VERA'S ROCK AND ROLL PARTY SHOW
ON ROCK-IT RADIO SHOW #5542

Billy Vera shines the spotlight on the sounds of September 1954
on this week's Rock & Roll Party . Come join Billy for good fun
and great music on Rock-it Radio with the rebroadcast of this
program that originally aired in 1991.

Hour One

1. Cat Music - Dave Bartholomew
2. Oop Shoop - Shirley Gunter & The Queens
3. Bless You - The Chords
4. Shim Sham Shimmy - Champion Jack Dupree
5. My Lovin' Baby - The El Dorados
6. Hearts of Stone - The Jewels
7. Baby Baby All The Time - Amos Milburn
8. The Real Thing - The Spiders
9. At Last - Richard Berry & The Dreamers
10. I Really Really Love You - The Crows
11. My Heart's Been Broke Again - Chuck Willis
12. I Ain't Drunk - Jimmy Liggins
13. If I Had Any Sense I'd Go Back Home - Louis Jordan
14. My Heart's Crying For You - The Chimes (aka The Flairs)
15. Chimes - The Pelicans
16. I'm Mad - John Lee Hooker
17. The Wind - The Diablos
18. Don't You Know - Ray Charles

Hour Two

19. Buick '59 - Vernon Green & The Medallions
20. Four Years of Torment - Memphis Slim
21. Annie Had a Baby - The Midnighters
22. Trouble Don't Last - Guitar Slim
23. Come Back, Come Back - The Emperors
24. God Only Knows - The Capris
25. Tick Tock - Marvin & Johnny
26. Hoping You'll Understand - The Strangers
27. ABC's - Smilin' Joe
28. No Money - The Blue Diamonds
29. My Silent Love - Charles Brown with Johnny Moore's 3 Blazers
30. Stop Harpin' On Me - Big Mama Thornton with Johnny Otis Orchestra
31. I Don't Hurt Anymore - Dinah Washington
32. Native Girl - The Native Boys
33. Well Alright - Joe Turner
34. I Put a Spell On You - Screamin' Jay Hawkins (unreleased version)
35. Cotton Ball - Sonny Thompson

===============================================
JAMES RILEY AND THE ROCKABILLY AND BLUES SHOW ON
ROCK-IT RADIO SHOW #5543

Hour #1 of our interview with artist and Ameripolitan founder
Dale Watson plus several Ameripolitan Awards nominees like
The BellFuries, Cash O'Riley, Country Side Of Harmonica Sam,
Jinx Jones, Marti Brom, awards show host Ray Benson and more!

1. Beaumont Blues- The BellFuries
2. Honky Tonk Mind- Don Diego Trio
3. Miss Molly- Western Swing Authority
4. Open Letter To The Blues- Country Side Of Harmonica Sam
5. Mamas Don't Letter Cowboys Grow Up To Be Babies- Dale Watson
6. Drive, Drive, Drive- Dale Watson
7. I Got Stripes- Dale Watson
8. Nashville Rash- Dale Watson
9. Little Chain- Nathan Belt & The Buckles
10. Wham Bam Boogie- Jinx Jones
11. Floatin' Down The River- Lara Hope & The Ark-Tones
12. Send Alone- Cash O'Riley & The Down Right Daddies
13. The Automobile Song- Charlie Thompson
14. Hillbilly Boogie- Neon Stars
15. Ambush- Marti Brom
16. JJ Cale- Ray Benson


Rockabilly N Blues Radio Hour #2:

Dale Watson joins us again to chat more about Ameripolitan and
his latest project, Call Me Insane as well as a request for
Carl Perkins. We also hear from some of the Ameripolitan nominees
such as Cousin Harley Hillbilly Casino, Chris Casello, Bloodshot Bill,
Wayne Hancock, "Founder Of The Sound" recipients Wanda Jackson
and Red Simpson and lots more!

1. I'm Coming Home- Cousin Harley
2. Boy As I Say- Emmy Lou & The Rhythm Boys
3. Debt With The Devil- Hillbilly Casino
4. Knockout- Scotty Baker
5. Hot Dang- Dale Watson
6. Color Me Gone- Dale Watson
7. A Day At A Time- Dale Watson
8. Jonesin' For Jones- Dale Watson
9. Honey Don't- Carl Perkins
10. All Messed Up- Chris Casello
11. When My Baby Passes By- Bloodshot Bill
12. Time Is Money- B-Stars
13. Long Road Home- Wayne Hancock
14. Rockin' On My Guitar- Sara Dee & The Foxhunters
15. Serpentine Blues- Rachel Brooke
16. Rhythm In Here- Bailey Dee & Her Late Night Bait
17. Speedin' North- Joel Paterson
18. Funnel Of Love- Wanda Jackson
19. Diesel Smoke Dangerous Curves- Red Simpson

===============================================
JACK VAN OERS & THE ROCKIN' WINDMILL SHOW ON
ROCK-IT RADIO SHOW #5544

From the land of windmills, dykes, canals, cheese,
tulips, cows and wooden shoes here is another dynamic
Rockin' Windmill Show. Host Jack van Oers plays music
from Canada, The USA, Belgium, Suriname, The Netherlands,
The UK, Germany and Finland. So, put on your dancing
shoes and have fun!

1. Oh, what love is - Jack Bailey & the Naturals - 1961
2. Baby baby - Curtis Johnson - 1957
3. Knock knock rattle - The Barnshakers - 2005
4. Don't mess up my hair - Mike Miller & Jack Casey & the Star Mountain Boys - 1958
5. The big adventure - The Black Arrows - 1962
6. Slippery Sal - Bobby Dadino - 196x
7. Roll on - Glenn Darren & the Krew Katz -
8. Miss you baby - Bob Papotnik & the Raiders - 1960
9. The moose - Keessie & the Seltens of Swing - 2002
10. Shake baby shake - Wayne Raney - 1957
11. Honka pig boogie - The Scatterjacks - 1999
12. Sweet sweet girl - Don Gibson - 1958
13. Sweet sweet girl - Ballroom Rockets - 2006
14. Sherry Lee - Leon Barnett - 19xx
15. Get on home - Flea Bops - 2004
16. C'est un rocker - Burt Blanca - 196x
17. Rock me my baby - The Roses - 1957
18. Sucu sucu - Ping Ping - 1960
19. The bells are ringing - Danny Wild & the Wildcats - 1978
20. You're in love - Bobby Fuller - 1961
21. Bundle of lovin' - Ken Davis - 1958
22. Hip shakin' baby - El Rio Trio - 2003
23. Dood it - Bobby Martin - 1958
24. That's where lonesome lives - Dave Kennedy & the Ambassadors - 1962
25. Think it over - Rocking Jojo & his Red Angels - 1997
26. Rockin Johnny home (instr) - The Texans - 1961

===============================================
DJ SPINNING ROCK BOOGIE AND THE MOVIN' AND GROOVIN'
SHOW FEATURING ARKANSAS PT. 2 OLDIES ON
ROCK-IT RADIO SHOW #5545

"REGIONAL ROUND UP Part 46 - ARKANSAS Part 2"

Join DJ Spinning Rock Boogie for another in his series Regional
Round Up which features a particular state(s) of America with
some of the record labels from out of that state(s), the town and
cities where those labels were situated, and of course the
artists who recorded on them. This show re-visits the State
of Arkansas for part 2 which features Rock and Roll / Rockabilly
from the 50's and 60's as well as the regular feature, The Smooch
Spot. So jump aboard the Rocket, buckle up and let's take a trip
around the State of Arkansas!

01. Intro - Medley
02. Whatcha Gonna Do Tomorrow - Buddy Killen (59) University - Little Rock
03. Spinning My Wheels - Chuck Brooks (58) Dub International - Little Rock
04. Let's Be Happy Tonight - Lafay Hawkins (61) Caesar - Hot Springs
05. Wake Up Little Boy Blue - Bob Calloway (60) UBC - Fort Smith
06. I Know My Baby Loves Me - Gene Stacks (57) Cooper - Pine Bluff
07. Born To Lose - Sonny Deckleman (59) Reka - Jonesboro
08. Twenty One - Mike & Nancy (58) Hob Nob - Harrison
09. Little Mama - Jimmy Bone & The Jokers (61) Grace - Batesville
10. The Girl Next Door - Larry Donn - (61) Ad-Bur - Newport
11. It Ain't Easy - Melvin Endsley (69) Melark - Heber Springs
12. Coffee Baby - Buddy Phillips & The Rockin' Ramblers (56) CKM - Bald Knob
13. Don't You Know I Love You - Bobby Lee Trammell (66) Alley - Jonesboro
14. After Tonight - Johnny Hughes (61) UBC - Fort Smith
15. Why Don't You Write Me - The Philharmonics (58) Future - Batesville
16. Closer - Billy Rafferty & The Jokers (?) Big C - Little Rock
17. T-Bird Rock (instrumental) - The Thunderbirds (61) United Southern Artists - Hot Springs National Park
18. I Can't Sit Still - Misty Bonner (62) Atlanta - Jonesboro
19. My Lovin' Arms - Johnny Roberts (59) Stylo - Little Rock
20. Down At Big Mary's House - Bobby Brown & The Curios (60) Vaden - Trumann
21. Little Judy - Charlie Maybee (66) Rimrock - Concord
22. Bop Bobby Sox Bop - Alton Guyon (56) Arkansas - Judsonia
23. One's All The Law Will Allow - Luke Royer (70) BeJay - Fort Smith
24. I'm Getting Restless - Mona Lunsford (60) Van-Deck - Harrisburg
25. You're Just That Kind - Little Monte Jones (60) Jemm - Siloam Springs
26. Road Runner - Ron & Ellie Jaye (69) Table Rock - Omaha
27. Little Twister - Jim Climer (62) Kris - Marianna
28. Whole Lot Of Shakin' - The Thunderbirds (61) Buffalo - Monette
29. Mary Lou - Sonny Burgess & The Kings IV (65) Razorback - Newport
30. Outro - Medley


===============================================
BILL GREEN'S ROCK AND ROLL RETROSPECTIVE GOES ON
SOUL PATROL ON ROCK-IT RADIO SHOW #5546

Hey Rockiteers. It's 2016 and time to get down. Rock 'n Roll
Retrospective host Bill Green is taking you on a Soul Patrol '
cause there's no better way to start the new year off right
than with a string of soulful sounds coming straight at you
courtesy of Rock-it Radio.

1) Land of 1000 Dances - Wilson Pickett (1966)
2) Slip Away - Clarence Carter (1968)
3) I've Just Got To Cut You Loose - The Boomerangs (1964)
4) This Old Heart Of Mine - The Isley Brothers (1966)
5) It's Your Thing - The Isley Brothers (1969)
6) I Ain't Got To Love Nobody Else - The Masqueraders (1968)
7) You're A Wonderful One - Marvin Gaye (1964)
8) Helpless - Kim Weston (1966)
9) Take Time To Know Her - Percy Sledge (1968)
10) That's How Strong My Love Is - Mattie Moultrie (1966)
11) Hip-Hug-Her - Booker T And The MGs (1967)
12) I Got You (I Feel Good) - James Brown (1965)
13) Chain Of Fools - Aretha Franklin (67/68)
14) That' How Heartaches Are Made - Baby Washington (1963)
15) Mercy, Mercy, Mercy - Cannonball Adderley (1967)
16) Hot Fun In The Summertime - Sly And The Family Stone (1969)
17) Break Your Promise - The Delfonics (1968)
18) Tell Mama - Etta James (1968)
19) It's Got To Be Mellow - Leon Haywood (1967)
20) It's All Right - The Impressions (1963)
21) Love And Happiness - Al Green (1972)

==============================================
COOL BOBBY B AND THE DOO WOP STOP ON ROCK-IT RADIO
SHOW #5547

It's a double shot of Cool Bobby B this week and a
very special announcement about his show and Rock-it
Radio later on in this newsletter. In the mean time
here is what you will hear in show #5547 in our program
page - 3 hours of great Doo Wop Rock and Roll with
Cool Bobby B & here is the playlist.

Hour #1

1. Rockin with the Clock - Shirley and Lee
2. For Sentimental Reasons - The Cleftones
3. Gloria - The Cadillacs
4. This is my love - The Passions
5. Blue Moon - The Marcels
6. On my word of honor - The Platters
7. One in a million - The Platters
8. 100 years from now - The Spaniels
9. All I want is you - The Miracles
10. Gotta dance to keep from crying - The Miracles
11. I know - Hollywood Flames
12. Rama Lama Ding Dong - The Edsels
13. Thank you and Good night - The Angels
14. Soon - Four Seasons
15. Lover's island - Blue Jays
16. Wish I didn't love you so - Philly Cuzz
17. Who do you love - The Sapphires
18. You belong to me - The Duprees
19. Puddin N Tain - Alley Cats

Hour #2

20. Love Potion #9 - the Clovers
21. The Great Pretender - The Platters
22. Don't Pity Me - Dion & Belmonts
23. Where or When - Dion & Belmonts
24. Mia Amore - The Flamingos
25. Big Boy Pete - The Olympics
26. Dance by the light of the moon - The Olympics
27. Pledging my love - Johnny Ace
28. My Adorable one - Joe Simon
29. True Love - Ron Holden
30. Never Let you go - Terry Gene & his Down Beats
31. My vow to you - Students
32. I'd like to Thank you Mr. DJ - Otis Williams & Charms
33. Endless - The Honey Bees
34. Jerry - The Minors
35. Need You - Donnie Owens
36. Down the Road - The Cadillacs
37. Ship of Love - The Nutmegs
38. Most of All - The Moonglows

Hour #3

39. 11th hour melody - The Rivieras
40. Moonlight Cocktails - The Rivieras
41. While Walking - Tony & Rainbows
42. Sometimes - Danny & The Juniors
43. Rock and Roll Lullabye - The Belmonts
44. Goodbye to Love - The Chantels
45. My Memories of you - The Chantels
46. Picture in my wallet - Darrel & Oxfords
47. Be True - Vocaleers
48. Please say you want me - The Schoolboys
49. Can I come over - The Youngsters
50. Who's lovin' you - The Miracles
51. Count Every Star - The Rivieras
52. I knew from the Start - The Moonglows
53. We go together - The Moonglows
54. I love how you love me - Paris Sisters
55. Since I don't have you - Skyliners
56. Only You - The Platters
57. Goodnight Baby - The Imaginations

==============================================
DAVE THE RAVE AND THE RELICS AND RARITIES SHOW
ON ROCK-IT RADIO SHOW #5548

Dave is back this week with another set of 60s
Rock Rarities here on Rock-it Radio! Some definite
Groovy Tunes that are sure to please! Here is the
playlist.

1. Bust Out - Busters
2. It's A Cry'n Shame - Gentlemen
3. Keep On Running - Spencer Davis Group
4. The Trip - Kim Fowley
5. Let's Get Lost On A Country Road - Kit Kats
6. Love Boat - Karillions
7. A Broken Man - Malibus
8. What Becomes Of The Broken Hearted - Jimmy Ruffin
9. I Can't Believe In Love - Soulbenders
10. When It's Over - Avengers
11. I'll Never Know - Dave Clark Five
12. Hey Hey Woman - Joe Jeffrey
13. Look At That Girl - Otis Redding
14. I Can't Believe- Barracudas
15. Just One Look - Hollies
16. Just Because - Pat and the Blenders
17. Helpless - Kim Weston
18. Now I'm Missing You - Roman Rebellion
19. Up and Down - John Fred and His Playboy Band
20. Young Generation - Sandpipers (Discovery of Week)

==============================================
All the Rock-it Radio shows are available on CD

Each show is only $9.50 each and you can order
in bulk and shipping will never be more then $2.00.
Ask for a secure paypal invoice -- information is at:
http://www.rockitradio.net/order.html

==============================================

100'S OF VINTAGE ROCK AND ROLL VIDEOS ON FILE IN
OUR VIDEO SITE AT ROCK-IT RADIO:
CHECK IT OUT AT:

HTTP://WWW.ROCKITRADIO.NET/VIDEO.HTML

==============================================
COME JOIN US ON FACEBOOK !!! WE WOULD LOVE A
LIKE FROM YOU!

http://www.facebook.com/rockitface
The Rock-it Radio Facebook Site.

==============================================
HISTORY OF ROCK-IT RADIO

If you are new to Rock-it Radio and would like to learn more --
We have our History Page up as well -- telling the story of Rock-it
Radio. You can find it at:
http://www.rockitradio.net/history.html

===============================================

DECEMBER END OF THE MONTH DRAWING OF WINNERS
ANNOUNCED FOR LAUNCHING PAD SUPPORTERS
At the end of every month on Rock-it Radio we have a
random drawing for those that have supported Rock-it Radio by
purchasing either Rock-it Radio shows through the
either the Rock-it Radio Launching pad at:
Or by going and ordering Rock-it Radio shows at:
The DECEMBER 2015 Winners this month are:
Robert Doyle - Chalfont, Penn. USA
Paul Hofer - Ontario, California USA
Melissa Bernius - Bloomington, Illinois USA

SUPER MEGA WINNER - WINNER OF 10 SHOW
OF THEIR CHOICE !!!!!!!!

Noreen Rodriguez - Arlington Heights, Ill. USA

Each of you have won your choice of 3 vintage
Rock Radio programs (The Super Mega winner won 10!)
from our online store at:

or you can order Rock-it Radio Shows if you prefer on CD

You have until January 31, 2016
to let us write back and let
us know of your choices.
Congratulations and let me know what you would like to
have along with a mailing address and we will got those
items out to you. Just our way of saying Thank you for helping
support Rock-it Radio. And of course we will have October drawings
as well at the first week of next month.
NOTE: You should keep on checking this notice board
or join the Launching Pad Facebook site at:
And of course we will be having another drawing at the
end of this month.
RECRUITING FOR RADIO PERSONALITIES FOR
ROCK-IT RADIO

Do you know your 50s and 60s Rock & Roll, Doo wop
or Rockabilly? And the ability to produce a show
on CD?
We do require a playlist for this newsletter but
your show will stay online for the world for approx.
3 weeks. Unlike some stations where you broadcast one
time and it's gone forever.
If interested check out our Rock-it Radio Team page
at: http://www.rockitradio.net/team.html

We are also looking for writers and translators!
================================================
NEW ROCK-IT RADIO SHOWS NOW AVAILABLE ON
FLASH DRIVE.


New Release!!!! Rock-it Radio Shows #5401 to #5450 on Flash
drive MP3 Over 60 hours of 50s and 60s Rock and Roll now on
Flash drive. Just plug into your usb port in your PC or if your
mp3 player has it in that usb port select and you will have
50 Rock-it Radio shows at your disposal.
In our Ebay listing at:
http://www.ebay.com/itm/-/131645776466

or the new Rock-it Site at:
http://www.rockitradio.net/flashdrive.html

It's something different and hopefully will catch on.
As soon as we hit Show #5500 we will have a 2nd Flash drive
available. It really is a great savings from our CD's that
we sell for $9.50 each could add up to $475 for 50 shows.
We are offering the flash drive to slash that amount to just
$39.95.

==================================================
NEW VINTAGE BROADCAST FROM 1959! RELEASED IN
LAUNCHING PAD AND EBAY STORE!

Our latest release and first for 2016 is a Top 40
Radio Broadcast going back to 1959 and Los Angeles
Station KFWB. DJ Elliott Field with Field Frolics
and a great line up of great songs and vintage advertisements
from January 9, 1959!
NEW RELEASE!!!!
On Compact Disc uncut and unedited 70 minutes total with promotions
on Ritchie Valens who will tragically lose his life a month later.
in our Ebay Store at:
http://www.ebay.com/itm/131698811282

And Listed Alphabetically in our California Listings
in our Online Launching Pad at:
http://www.rockitradio.net/store.html
=====================================
REMINDER ON HOW TO CONTACT THE DJ'S AT ROCK-IT RADIO

We all love our our e mails from listeners here at Rock-it
Radio. Along with requests and dedications. Earlier this year
due to the excessive spam we all were getting I stopped listing
the e mails at each shows playlist. But you can still
contact them. Just go to the Rock-it Radio DJ page and each
DJ has there e mail link underneath each bio.
You can find it at: http://www.rockitradio.net/dj.html


COLLECTING AIRCHECKS - A HOBBY OF RADIO NOSTALGIA
What is a Aircheck? It is simply a recording of a radio broadcast. Usually collected by Radio fans.
Come check out our webpage on collecting Airchecks.

http://www.rockitradio.net/aircheck.html


COME REMEMBER WOLFMAN JACK !!!
Rock-it Radio has a very special way to remember Wolfman Jack.
Arguably the most iconic of American DJ's. Come check out the
Rock-it Radio Wolfman Page at:
REMEMBERING OFFSHORE PIRATE RADIO IN THE UK
In the mid 1960s it was difficult for the youth to actually listen to
Rock and Roll in the UK. The BBC actually ran only a few hours a weekend
to provide the young Brits with this outlet. At night during the week they
ventured to even tune into Radio Luxembourg to get there fill, that broadcast
rock and pop around the clock.
To fill this void some venture capitalists decided to bring in commercial radio
aboard refitted radio ships. And anchor themselves just off into International
waters off the English coast. Radio Caroline (named after Caroline Kennedy the
U.S. President's daughter at the time) and Radio London being the most famous.
Rock-it Radio has a website dedicated to their ventures and also have actual
radio broadcasts available of these offshore pirates. We invite you to check them
out our webpage at:
http://www.rockitradio.net/pirate.html
FINDING ROCK-IT RADIO ON THE 'TUNE IN RADIO' CELL PHONE APP.

We have had a few requests from listeners that they couldn't find us on the
popular 'Tune in Radio' App. on Android and PC and iphones. Running a
search of 'Rock-it Radio' will actually list 100s of Rock stations.
So, the best way to find us on this very thorough and extensive app. that
I love using myself is -
run a search on 'rockabilly' - there you will easily find
Rock-it Radio listed.
Our Tune in Radio App. webpage is also at:
http://tunein.com/station/?stationId=41878
MISSED A COUPLE OF NEWSLETTERS LAST COUPLE OF WEEKS??

THEN YOU CAN ALWAYS CHECK OUR BLOG WHERE IT IS ARCHIVED.
YOU CAN CHECK OUT OUR BLOG AT:

http://rock-itradio.blogspot.com/
=============================================


ROCK-IT RADIO DJ PAGE...


Remember you can check out all the Rock-it Radio DJ's

and read the bios of these DJ's that make these

Rock-it Radio Shows possible at:


And don't forget for even more pictures --

there is our picture page at:
============================================
IF YOU HAVE TWITTER COME FOLLOW US THERE

If you are one that tweets then please check out and join and get our
updates on your twitter account. Our Twitter link is right below.

http://www.twitter.com/RockitRadio1
It is our new Twitter account and we will once again start
scrolling our messages and updates on our webpages as well.


============================================
ROCK-IT RADIO OTHER TWITTER ACCOUNT FOR
NEWS RELEASES FOR N. IDAHO, KODIAK ALASKA AND
THE WORLD!
Rock-it Radio has another Twitter account and is used for News
Alerts that come into the studio here at Studio A. For those Twitter
users that would like to follow the link is:
http://www.twitter.com/RockitRadioNews

The feed can also be seen in our World News broadcast Webpage
at: http://www.rockitradio.net/news.html


=================================================
WELCOME NEW MEMBERS TO THE LISTENER'S CLUB!!!!

A big welcome to the below new Rock-it Radio listeners that
joined our Listeners Club from January 3, 2016 to
January 13,2016
We hope that you enjoy the music Rock-it Radio provides
and our playlists and information that our weekly newsletter
provides. Any comments, criticisms, kudos, compliments or
future ideas is always welcome and you can e mail me personally at:
rockitradio@netzero.net

Ivan Brovkin - New York, USA
Steve Eckels - Kalispell, Montana USA
Christine Kelly - New York, USA
Michael Aguilera - Colorado Springs, Colorado USA
Barry Field - ??
Don Inchuck - Irwin, Pennsylvania USA
Liam McDowell - Edinburgh, United Kingdom

We have gained 108 new likes in our listeners club
in our Facebook page Rock-it Radio Fan Page as well this week at:
http://facebook.com/rockitface and 25 more following us
on Twitter @Rockitradio1 .

We have added a total of 142 new members to the Rock-it Radio
Listeners Club since our last newsletter. We now have 84,927 exactly
that have joined the Rock-it Radio Listeners club.
We hope that you enjoy the rare 50's and early 60's
Rock and Roll, Rockabilly and Doo Wop (which most commercial
oldies radio stations have forgotten) that we are able to play
for you from Rock-it Radio. Remember, we are here for you!

So if you ever have any requests, dedications, comments and
suggestions we always love to hear from our listeners.
Our e mail address is:
rockitradio@netzero.net

====================================================
To learn more about the Rock-it Radio Listeners Club and our Free
Newsletter please check out:
http://www.rockitradio.net/member.html

It's free and easy to join and the Rock-it Radio Newsletter is always
online at: http://www.rockitradio.net/newsletter.html



====================================================

PLEASE HELP US SPREAD THE GOOD WORD OF ROCK-IT RADIO!

Do you know of someone that might also like the music

of Rock-it Radio? We are desperately trying to keep this

music alive and have been doing so since 1995! Please

share the information of this station. And if you have

a website would you please consider putting a Rock-it Radio

link on your page.

There are a few to choose from in our link page at:

http://www.rockitradio.net/links.html
HOW TO ORDER OLD ROCK-IT RADIO SHOWS = YOUR PURCHASES HELP US STAY ONLINE!!!
We have received many inquiries on how to order Rock-it Radio shows that are no longer in
our on archives webpage. These shows are still available on CD and mailed to you within 24
hours of receiving payment.
To help search for older shows that you may be looking for you may want to check the Rock-it
Radio blog site. Old newsletters describing the shows and playlists
are archived there and there is a menu bar on the right side that breaks down every playlist
Then you may either pay by check or money order or paypal. Rock-it Radio shows are only
$9.50 U.S. each and are studio quality broadcasts that were placed on Compact Disc here at
the Rock-it Radio Studio. We have a flat rate shipping charge of $1.50 U.S. so if you order
one or several -- it is still only $1.50
U.S. shipping. And we ship worldwide, overseas orders are mailed out first class airmail.
Instructions where to send payment is at our webpage:
like we can send you a paypal invoice within 24 hours.

When you order a Rock-it Radio show or shop at our Rock-it Radio Launching Pad you
help keep these oldies alive and help us pay the bills here at Rock-it Radio.
And at the same time -- you are not getting nothing for your donation, but actually
some of the shows and memories we hope we keep alive here at Rock-it Radio.



TOP 20 SELLERS OF THE ROCK-IT RADIO LAUNCHING PAD THIS WEEK

As you know the Rock-it Radio Store sells vintage Radio Broadcasts - Where you hear the actual
music, news and vintage advertisements - uncut and unedited just like you would of heard
it back then. Here are the top sellers this week.


1. New Flashdrive Rock-it Radoi Shows 5451 - 5500
2. New Flashdrive Rock-it Radio Shows 5401 - 5450
3. RIR #393 - John Lennon as DJ on WNEW New York from 1974
4. RIR #127 - Alan Freed 1956 Rock & Roll Dance Party show
5. RIR #387 - Joey Reynolds - WKBW Buffalo NY Beatles Special 2/24/1964
6. RIR #181 - Wolfman Jack XERB Tijuana 12/8/1967
7. Lane Quigley - Class of 1965 50 year Reunion - Rock-it Radio.
8. RIR #539 - Cousin Brucie - WABC New York 9/7/1965
9. RIR #168 - Dan Ingram WABC New York 7/22/1967 2 CD set
10. RIR #176 - Porky Chedwick WAMO Pittsburgh 6/14/1960
11. RIR #135 - Rock-it Radio 1000th Show 3 CD Set.
12. RIR #116 - Casey Kasem - KRLA Los Angeles 5/27/1965
13. RIR #115 - Rare Broadcasts of Alan Freed.
14. RIR #182 - John Peel Radio London Perfumed Garden Show 1/11/1968
15. RIR #466 - 3 Vintage early Beatles Interviews w/ Tom Lodge and Murray the K
16. RIR #359 - Gus Gossert Oldies Show WPIX New York from 1971
17. RIR #623 - Big Jim Edwards - CKLW Windsor, Ont. 12/1/1969
18. RIR #594 - Denny Sanders WMMS Cleveland6/30/1978
19. RIR #270 - BBC Tribute To Buddy Holly 5th Anniv. of his passing
20. RIR #397 - Wolfman Jack XERB Rosarito 8/1/1968

If you would like to view these shows in depth you can check out
our Rock-it Radio Ebay Store at:
http://stores.ebay.com/Rockit-Radio

or in the Rock-it Radio Launching Pad store at:
http://www.rockitradio.net/store.html(listed by date)
and in the upper left hand corner -
there is a search box where you can type in the DJ name or
Station Call letters and that information on that show will pop up.
Ordering from the Ebay store will also qualify you for the Rock-it Radio
giveaway mentioned previously in this newsletter. Sale of
these broadcasts is what keeps Rock-it Radio going and thank
you again to everyone that buys these!

===============================================
TOP 50 NATIONS THAT ARE TUNING INTO ROCK-IT RADIO.

We are always amazed at the World Wide Web and the 215 Countries that
tune us in every month online. Here are the top 50 Countries so far
this month.+ or - shows up or down how many positions from the previous week.
TOP 50 NATIONS THAT ARE TUNING INTO ROCK-IT RADIO.

1. United States +0
2. Canada +1
3. Brazil -1
4. France +0
5. Italy +0
6. Germany +1
7. Vietnam -1
8. United Kingdom +0
9. Lithuania +0
10. Russia +1
11. Spain -1
12. Hungary +0
13. Czech Republic +3
14. Netherlands -1
15. India +0
16. Sweden +5
17. Ireland +0
18. Mexico +2
19. Australia -5
20. Turkey -1
21. Romania -3
22. Dominican Republic +2
23. Japan -1
24. Ukraine +4
25. Philippines +2
26. Colombia +0
27. Indonesia +2
28. Argentina +3
29. Thailand +1
30. Taiwan +8
31. Venezuela +3
32. Poland +9
33. Morocco +0
34. Peru -3
35. Albania +7
36. Finland -1
37. Chile -1
38. South Korea +2
39. Bulgaria +4
40. Belgium -2
41. Croatia -5
42. Switzerland -1
43. Austria +2
44. Greece +5
45. Hong Kong -11
46. Bangladesh -3
47. Portugal +3
48. Ecuador -2
49. Bolivia -1
50. China +3

=============================================
U.S. STATES RANKINGS TUNING INTO ROCK-IT RADIO

1. Oregon +0
2. California +1
3. New York -1
4. Virginia +1
5. Texas +1
6. Pennsylvania +1
7. New Jersey +1
8. Nevada -4
9. Washington +0
10. Florida +0
11. Ohio +0
12. North Carolina +0
13. Arizona +0
14. Georgia +1
15. Illinois +1
16. District of Columbia +1
17. Missouri -3
18. Massachusetts +1
19. Oklahoma -1
20. Delaware +0
21. Michigan +0
22. Maryland +1
23. Wisconsin -1
24. Indiana +1
25. Colorado +0
26. Connecticut -2
27. Mississippi +0
28. Rhode Island +1
29. Utah +3
30. Alabama -2
31. New Mexico -1
32. Tennessee -1
33. Kansas +0
34. Kentucky +0
35. South Carolina +0
36. Minnesota +2
37. Louisiana +0
38. Nebraska +3
39. Idaho +0
40. Iowa +0
41. Maine +5
42. Wyoming -4
43. Arkansas -7
44. New Hampshire +1
45. West Virginia -1
46. Hawaii -4
47. Alaska +0
48. Montana +0
49. Vermont +1
50. South Dakota +1
51. North Dakota -2
Rockabilly bands looking for airplay
If you or know someone that would like airplay on Rock-it Radio we invite
you to submit your press kits to Rock-it Radio. Our website for further
information is:
http://www.rockitradio.net/airplay.html
============================================
Come tune into the World on your computer!
1000s of stations around the world now broadcast online. We have a
link to some of the internet top directories to help you find these stations.
http://www.rockitradio.net/internetradio.html
============================================
Rock-it Radio Program Webpage Reminder
Remember, if the show that you want to hear is getting close to the bottom
of the list of radio shows, you should tune in as soon as you can. These shows
to have a high audio quality require a lot of internet bandwidth and memory.
And currently we can only afford the
30
latest shows online here at Rock-it Radio.
So, when a new show is put online it knocks the oldest one off the Rock-it Radio
archives page. Usually a show will at least last 16 to 20 days, once it is placed in
the archives.
============================================
OUR SISTER STATION FIRST NATIONS BROADCASTING.
We invite you to also check out our sister station -- First Nations
Broadcasting. And tune into the rather Cool North of the Yukon and Alaska
with our very own Debbie Snowdove!
============================================
Well that is just about it for this newsletter and playlists of our latest
shows. We hope that you enjoy them.
We will do our best to keep these shows on for at least 14
days and hopefully 21 days.
All the best always,
Bennie Dingo
Rock-it Radio

website: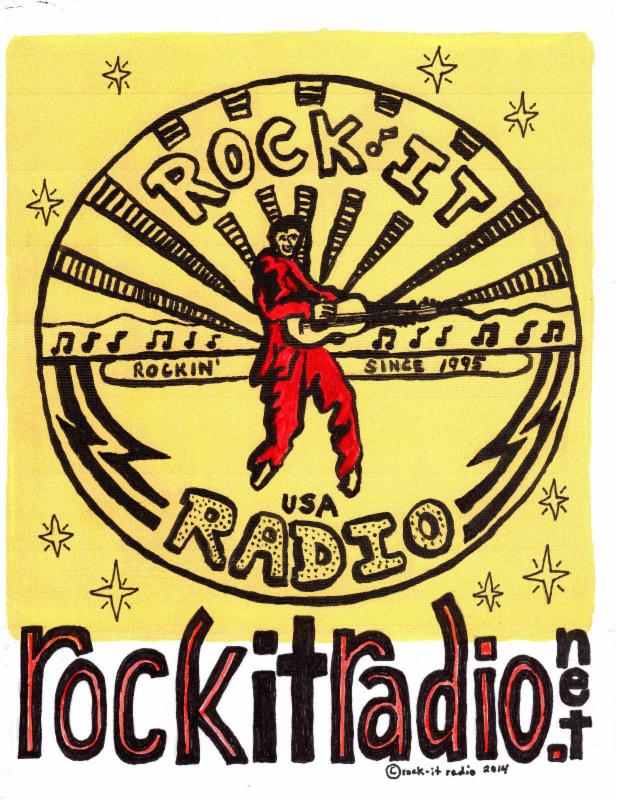 Rock-it Radio main website:
http://www.rockitradio.net

Archived Shows at:
http://www.rockitradio.net/programs.html

Rock-it Radio Vintage Broadcast Store:
(Launching Pad)
http://www.rockitradio.net/store.html