Rock-it Radio since 1995 providing 50s and early 60s Rock and Roll, Doo Wop and Rockabilly music online! Come tune us in at http://www.rockitradio.net We also have several 100 original radio shows from the first decade of Rock and Roll at: http://www.rockitradio.net/store.html
========================================================================
ROCK-IT RADIO NEWSLETTER AND PLAYLIST
SHOWS #5682 TO #5697
FROM
June 7, 2016 to June 15, 2016

Hi Rock-it Radio Listeners,

Hope everyone is having a great start of Summer
up here in the Northern Hemisphere. I have a
total of 16 new shows online for this newsletter
they are Rock-it Radio shows #5682 to show #5697.
Don't forget to check out our other great deals we
have to offer here in this newsletter from FREE
Rock-it Radio Newsletter to a FREE 1962 WLS Chicago
Top 40 Show with DJ Dick Biondi -- For June in helping
keep Rock-it Radio Online!


Our shows can be heard in our archives page at:

http://www.rockitradio.net/programs.html
and click to the speaker on the left to hear the show.

Remember if you are new to Internet Radio and having trouble tuning in though --
Check out our webpage to help you out at:
http://www.rockitradio.net/tunein.html
============================================
REMEMBER YOU CAN ORDER ANY OF THESE ROCK-IT
RADIO SHOWS ON CD!!!! NEW EASIER ORDERING!

Would you like one of these Rock-it Radio shows on CD? To
be able to play anywhere? And help support Rock-it Radio at the same time.
For complete information check out our program
ordering webpage at: http://www.rockitradio.net/order.html

Our shows are of course copies straight from the studio so they are studio
quality and satisfaction is guaranteed.
Or if you would rather receive an invoice let me know and we
can e mail you a copy - Just e mail us the show(s) you would like
to have and the Rock-it # to: rockitradio@netzero.net

==============================================
All Rock-it Radio shows stay online from 18 to 24 days and are
broadcast in MP3 Format. To tune in just click to the speaker
at our program page at:
http://www.rockitradio.net/programs.html

The newest show added replaces the oldest show so if you see a
show near the bottom of the listing - you should listen as soon as
possible.

==============================================
WE COULD USE YOUR SUPPORT

Rock-it Radio is 100% Publicly supported. But when you
donate to the Rock-it Radio Launching Pad - we give you
a vintage broadcast of your choice.
100% of all sales from the Rock-it Radio Store (Launching
Pad) goes back to pay copyright fees, LLC taxes, Internet
and bandwidth costs of Rock-it Radio. Without your support
we would not exist. So. please consider a purchase at:
http://www.rockitradio.net/store.html

===============================================
NOTE: ALL SHOWS BELOW CAN BE FOUND IN OUR
PROGRAM WEBPAGE -
TO TUNE IN CLICK TO SPEAKER OF THE SHOW YOU WANT
TO LISTEN TO. EITHER MP3 OR REAL PLAYER.
BOTH FORMATS ARE SUPPORTED.
AT:
HTTP://WWW.ROCKITRADIO.NET/PROGRAMS.HTML

==============================================
OTTO FUCHS ROCKIN THE JOINT SHOW TRIBUTE TO
JOHNNY CASH ON ROCK-IT RADIO #5682

It's a 100% tribute to the Man in Black - Mr.
Johnny Cash from his first released on SUN Records
to one of his last recordings. Now on demand as
show #5682 in our program page. Here is the playlist.

1. Redemption Day-JohnnyCash
2. Ain't No Grave-Fisk Jubilee Singers
3. I Still Miss Someone-Rosanne Cash
4. Cry, Cry, Cry-Johnny Cash
5. Frankie's Man, Johnny-Johnny Cash
6. The Long Black Veil-Johnny Cash
7. I'd Rather Die Young-Johnny Cash
8. As Long As The Grass Shall Grow-Johnny Cash
9. Danny Boy-Johnny Cash
10. Everybody Loves A Nut-Johnny Cash
11. Cisco Clifton´s Fillin´ Station-Johnny Cash
12. Dark As The Dungeon-Johnny Cash
13. Starkeville City Jail-Johnny Cash
14. Papa Was A Good Man-Johnny Cash
15. Clean Your Own Tables-Johnny Cash
16. Committed To Parkview-Johnny Cash
17. Highway Patrolman-Johnny Cash
18. Folks Out On The Road-Johnny Cash
19. Deportee-The Highway Men
20. Far Side Banks Of Jordan-Johnny Cash & June Carter Cash
21. That Old Wheel-Johnny Cash with Hank Williams Jr.

===============================================
LANE QUIGLEY AND THE MEMORY LANE SHOW ON
ROCK-IT RADIO SHOW #5683

It's another excursion back to the Glory Days of the 45 RPM
as host Lane Quigley ventures into his velvet vault filled
with volumes of vintage vinyl for a variety of solid sounds.
From well-known performers to obscure artists, this playlist
has it all. Plus - can you guess this week's Mystery Artist?
Come check out the latest Memory Lane Show and get ready to rock.

1. I Must Be Dreaming - The Robins 1955
2. Down The Line - Jerry Lee Lewis 1958
SOUND BITE
3. Don't Feel Sorry For Me - Jimmy Beasley 1956
4. Rat Race - Richard Maltby 1960
5. Why Don't You Let Yourself Go? - Mary Wells 1965
SOUND BITE
6. Summertime USA - The Pixies Three 1964
7. She Wants to Rock - The Flairs 1953
8. I Want a Love I Can See - The Temptations 1963
SOUND BITE
9. TV Mama - Joe Turner 1954
10. MYSTERY ARTIST (Can you identify the artist??)
11. Your True Love - Carl Perkins 1957
SOUND BITE
12. Summer Means Fun - Bruce & Terry 1964
13. Don't You Want a Man Like Me? - BB King 1954
14. Summertime's Calling Me - The Catalinas 1975
15. I Believe To My Soul - Louis Jones 1962
SOUND BITE
16. Someday We're Gonna Love Again - Barbara Lewis 1964
17. Good Rocking Tonight - Elvis Presley 1955
18. My Summer Love - Ruby & The Romantics 1963
19. Oh Baby Doll - Chuck Berry 1957
20. The First and Last - The Chiffons 1963
21. If You Want This Love - Sonny Knight 1964
SOUND BITE
22. Lovers Never Say Goodbye - The Flamingos 1958
23. Play It Fair - Lavern Baker 1955
24. Oh My Angel - Bertha Tillman 1962

===============================================
BILLY VERA'S ROCK AND ROLL PARTY WITH A SPOTLIGHT
ON IMPERIAL RECORDS ON ROCK-IT RADIO SHOW #5684

Here we have only one hour of Billy Vera's Rock'n'Roll
Party. It's a salute to Imperial Records, featuring some
well-known acts and songs as well as some rare obscurities.
Our hits include Imperial's biggest star, Fats Domino
singing "Ain't It A Shame," along with Smiley Lewis's
"I Hear You Knocking," and "You're The One" by the Spiders.
Our rarities include items by T-Bone Walker, Joe Turner,
Guitar Slim and a very young Jesse Belvin. Listen for
Billy Starr's pre-Elvis "Hound Dog" and the Honey Bee's
"Endless," a big hit at the time but, alas, mostly
forgotten today.


1. Hound Dog - Billy Starr
2. You're The One - The Spiders
3. I Hear You Knocking - Smiley Lewis
4. Do Unto Others - Pee Wee Crayton
5. Doin' The Hambone - Little Booker
6. Keep Your Feet On The Floor - The Jewels
7. Ain't It a Shame - Fats Domino
8. Toy Bell - The Bees
9. Hush Oh Hush - Roosevelt Sykes
10. Travelin' Mood - Wee Willie Wayne
11. Endless - The Honey Bees
12. The Hustle Is On - T-Bone Walker
13. 3x7=21 - Jewel King
14. Lucille - Joe Turner
15. Carnival Day - Dave Bartholomew
16. Stack-O-Lee - Archibald
17. Monkey Man - Tommy Ridgely
18. New Arrival - Guitar Slim
19. All That Wine Is Gone - Jesse Belvin with Big Jay McNeely
20. Hurricane - Joe Houston

===============================================
DAVE THE RAVE AND THE RELICS AND RARITES SHOW
ON ROCK-IT RADIO SHOW #5685

Do you love the rarities of 60s Rock and Roll?
Then this is the show to tune into! Dave features
forgotten or lost or strayed releases of 60s Rock
& Roll. From Psychadellic to Bubble Gum to just good
old Rock and Roll !!!

Hour #1

1 Hey Ruby Shut Your Mouth - Ruby and the Party Gang
2. Reap What You Sow - Billy Stewart
3. You - Johnny Johnson and Bandwagon
4. Rockin Rochester USA - Tempests
5. The Girl From New York City - Tony Rivers and the Castaways
6. Uptown - Crystals
7. Sweet Inspiration - Sweet Inspirations
8. Baby Make Your Own Sweet Music - Jay and the Techniques
9. That's Why I Cry - George Hughley
10. What Becomes Of The Broken Hearted - Jimmy Ruffin
11. Baby, Baby It's You - The Group
12. You Turned Me Over - Endless Pulse
13. Gimme Gimme Good Lovin - Crazy Elephant
14. That's Part Of The Game - Daytrippers
15. Ain't Gonna Lie - Keith
16. Lovey Dovey - Otis Redding and Carla Thomas
17. The Boy Of My Dreams - Twinkle
18. Open Up Your Door - Richard and the Young Lions
19. Young Blues - Joel Christian (Discovery of Week)
20. Devil's Den Pt 1 - Poets

Hour #2

1 Nite Lite - Jim Conley Combo
2. She Put The Hurt On Me - Prince La La
3. Another Day, Another Heartache - Phil Sloan
4. Unchain My Heart - Chasers
5. Go Where You Wanna Go - Mama's and Papa's
6. Looking For You - Garnet Mimms
7. Little Girl Blue (Love Is That Way) - Johnny Barnes
8. A Lot Of Love - Homer Banks
9. Walkin' Away - Fifth Order
10. Over And Over - Dave Clark Five
11. You Cheated - The Daytrippers
12. Back In Love Again - Buckinghams
13. Back In Love With You - Johnny Christopher
14. Save Your Sundays For Surfin' - Fantastic Baggys
15. San Franciscan Nights - Eric Burdon and the Animals
16. Sky Gone Gray - Boenzee Cryque
17. I Ain't Gonna Eat Out My Heart Anymore - Young Rascals
18. Bye Bye Charlie - Lori Burton (Discovery of Week)
19. Cherry Cherry - Neil Diamond
20. Lover's Holiday - Sil Austin

===============================================
MATT THE CAT AND THE JUKE IN THE BACK SHOW
FEATURE ON EARLY ROCKIN R&B GREAT NAPPY BROWN
ON ROCK-IT RADIO SHOW #5686

Nappy Brown is a very important figure in early Rock n Roll
as it was his blend of pure Gospel shouting, a strong backbeat
and bouncy pop arrangements that helped define the young musical
genre. Brown is not so well remembered today, but in mid-1955,
it would be hard to find a bigger national music star. His
song titled Don't Be Angry topped out at #2 R&B, but more importantly,
it crossed over onto the Pop Chart, giving it huge mass appeal.
Nappy Brown soon became one of the biggest acts signed to
Savoy Records, scoring more hits with "Piddley Patter Patter,"
'Little by Little' and 'It don't hurt no more' Matt The Cat
was fortunate enough to interview Brown a year before he passed
away and so we'll hear Nappy's story told in his own words.


1. Swanee River Boogie - Albert Ammons â€" Mercury 1947
2. I Wonder (What's Wrong With Me) - Nappy Brown â€" Savoy 1954
3. Is It True-Is It True - Nappy Brown â€" Savoy 1954
4. Two Faced Woman (And A Lyin' Man) - Nappy Brown â€" Savoy 1954
5. Nappy Brown Interview 1
6. Don't Be Angry - Nappy Brown â€" Savoy 1955
7. It's Really You - Nappy Brown â€" Savoy 1955
8. Piddily Patter Patter - Nappy Brown â€" Savoy 1955
9. Well, Well, Well Baby- Nappy Brown â€" Savoy 1956
10. Open Up That Door (And Walk Right In My Heart) - Nappy Brown â€" Savoy 1956
11. Nappy Brown Interview 2
12. Pleasin' You - Nappy Brown â€" Savoy 1956
13. GREAT 78* - That Man - Nappy Brown â€" Savoy 1954
14. Little By Little - Nappy Brown â€" Savoy 1956
15. Nappy Brown Interview 3
16. The Right Time - Nappy Brown â€" Savoy 1957
17. Nappy Brown Interview 4Â
18. It Don't Hurt No More - Nappy Brown â€" Savoy 1958
19. After Hours - Erskine Hawkins â€" Bluebird 1946

===============================================
PETE CHASTON'S DOO WOP SHOW ON ROCK-IT RADIO
SHOW #5687

The Doo Wop Meteorologist DJ Pete Chaston is back
this week with another Doo Wop 50s and early 60s
Rock Show here exclusively from Rock-it Radio.
Group Harmony Doo Wop Rock and Roll is still alive
and here is Pete to prove it! Here is the playlist.

1. Doo-Wop All Night Long-The Blue Emotions (opening theme song) (1982)
2. Traveling Stranger-Little Anthony & The Imperials (1961)
3. Here Am I Broken-Hearted-The Four J's (xxxx)
4. Dancing Danny-The Vibrations (1963)
5. This is Goodbye-The Storytellers (1991)
6. Limbo-The Capris (1962)
7. Way Up-Lincoln Fig & The Dates (1959 or '60)
8. Oh, What a Night-The Kact-ties (1962 or '63)
9. Yes, Oh Baby, Yes-The Laddins (1959)
10. Feelin' No Pain-The Del-Satins (1963)

SILLY SONG SEGMENT:

11. They're Coming to Take Me Away, Ha-Haaa!-Napoleon XIV (xxxx)
12. Baby Sittin' Boogie-Buzz Clifford (1961)

SCRATCHY 45 RPMs SEGMENT:

13. Wait a Minute-Tim Tam & The Turn-Ons (1966)
14. Bells in the Chapel-Lonnie & The Crisis (1961)
15. The Bells Are Ringing-The Van Dykes (1957)
16. Go to the Mardi Gras-Professor Longhair (1959)

BACK TO THE CDs &/or More 45 RPMs:

17. At My Front Door-The El Dorados (1955)
18. Ding Dong-The Echoes (1956)
19. My Girlfriend-The Cadillacs (1957)
20. I Promise to Remember-Frankie Lymon & The Teenagers (1956)

SLOW SONG SEGMENT:

21. Baby-The Fabulous Idols (1960)
22. Darling, How Long-The Heartbeats (mid 1950s)
23. Could This Be Magic-The Dubs (xxxx)
24. You'll Never Walk Alone-Patti LaBelle & The Blue Belles (1963)
25. That's My Desire-Dion & The Belmonts (1959)
26. Love You So-Ron Holden & The Thunderbirds (1960)

27. (closing theme song) Adios-The Five Discs (1961)

===============================================
DJ SPINNING ROCK BOOGIE AND THE MOVIN' AND GROOVIN'
SHOW WITH OKLAHOMA AND MINNESOTA LABEL EARLY
ROCKERS ON ROCK-IT RADIO SHOW #5688

"REGIONAL ROUND UP Pt 50 - OKLAHOMA & MINNESOTA Pt 2"

Join DJ Spinning Rock Boogie for another show in his series
"Regional Round Up" where he features a State or States of America
with some of the record labels from out of that State(s) the
Towns and Cities where those labels were situated and of course, the
artists who recorded on them. This show features another look at
the States of Oklahoma and Minnesota with tracks from the 1950's
and 1960's with some well known names and not so well known names.
So climb aboard the Rocket and enjoy another musical

trip around the States of Oklahoma and Minnesota.

01. Intro - Medley
02. That's Love - Wendell & The Dreamers (62) Reon - Oklahoma City - Oklahoma
03. Aw C'mon Baby - Myron Lee & The Caddies (58) Hep - Saint Paul - Minnesota
04. Three Bad habits - Hal Fritz & His Playboys (58) Soma - Minneapolis - Minnesota
05. Let's Paint The Town Red - Al Sweatt + Johnnie Cale & The Valentines (58) Keen - Tulsa - Oklahoma
06. Pretty Patti - Robin Lee & The Lavenders (60) Circle Dot - Minneapolis - Minnesota
07. Swinging Boogie - Ray Smith & His Rockin' Wranglers (56) Heart - Duncan - Oklahoma
08. Cosy Inn - Leon McAuliffe (61) Cimarron - Tulsa - Oklahoma
09. Gonna Learn To Rock - Doyle Madden + Merle Lindsay's Oklahoma Nightriders (57) Hu-Se-Co - Hobart - Oklahoma
10. Crazy Batty And Gone - Dale Davis & His Tomcats (57) Stardale - Morris - Oklahoma
11. Twang (instrumental) - The Rhythm Rockers (61) Gaity - Minneapolis - Minnesota
12. Koosey Coo - Curtis Long (65) Pride - Tulsa - Oklahoma
13. Jeanie 16 - DJ & The Cats (59) Hep - Saint Paul - Minnesota
14. Solid Rock - Walter Perkins & The Turfs (66) Pla-Me - Muskogee - Oklahoma
15. My Little Jewel - Tommy Jim Beam & The Four Fiths (58) 100 Proof - Tulsa - Oklahoma
16. When The Band Plays The Blues - Pamela Law (60) Boyd - Oklahoma City - Oklahoma
17. Jo Baby - David Gates & The Accents (57) Perspective Sound - Tulsa - Oklahoma
18. Hot Night (instrumental) - Ron Thompson & The Broughman's (59) Soma - Minneapolis - Minnesota
19. Sugar Baby - Donnie Bell (62) Reece-Rawson - Oklahoma City - Oklahoma
20. Jack daddy - Freddy McDuff (64) Shore Bird - Norman - Oklahoma
21. Greenback Dollar - Norma Beasler & The Rosebud Orchestra (57) Rose - Stillwater - Oklahoma
22. Heart Breakin' Special - Duke Larson (65) Bangar - Minneapolis - Minnesota
23. Hey Porter - Jack Chapman (64) Garrett - Minneapolis - Minnesota
24. Coming Up - Mike Waggoner & The Bops (61) unissued Vee - Minneapolis - Minnesota
25. Moonlight Rock - Chuck Carson (58) Hep - Saint Paul - Minnesota
26. Rains - Jim Edgar & The Roadrunners (63) Chan - Oklahoma City - Oklahoma
27. Sheet Board Down - James Wallis & The Roadrunners (63) Penny - Oklahoma City - Oklahoma
28. Little Marlene - The Jades (64) Oxboro - Minnesota
29. Queen Bee - The Orbits (59) Space - Minnesota
30. Diggin' That Rock And Roll - The Stinston Brothers (59) Rako - Minneapolis - Minnesota


===============================================
COOL BOBBY B AND THE DOO WOP STOP ON ROCK-IT RADIO
SHOW #5689

Cool Bobby B is back in this newsletter with another
3 hour extavaganza of Doo Wop Rock and Roll from the
first decade of Rock nad Roll! Here is the playlist
of what you will hear when you select his show in our
program page.

Hour #1

1. Rockin' with the clock - Shirley and Lee
2. My side of the story - The Crosstones
3. Please say you'll be mine - The Sunbeams
4. Recess in Heaven - 5 Burroughs
5. What brought us together - The Edsels
6. Down the Aisle of Love - Quin Tones
7. The Wedding - The Solitaires
8. To be loved - The Pentagons
9. Talk to me - Sunny & the Sunglows
10. So this is love - The Castelles
11. Take me back - Little Anthony & Imperials
12. Treasure of Love - Clyde McPhatter
13. While Walking - Tony & Raindrops
14. You're for me - The Escorts
15. (Love You) Forever - Del Shays
16. On our way to school - The Cautions
17. Lovers Island - Blue Jays
18. A million to one - Jimmy Charles
19. We belong together - Robert & Johnny

Hour #2

20. Diamonds and Pearls - Kenny Vance & Planotones
21. My vow to you - The Students
22. Just ask your heart - Frankie Avalon
23. Let it please be you - The Desires
24. What's your decision - The Harptones
25. That's my desire - The Channels
26. Let me love you - The Nutmegs
27. Fat Fat Mom Mi O - The Chalets
28. Lonely way - The Zircons
29. Life is but a dream - The Harptones
30. Picture in my wallet - Darrell & Oxfords
31. hearts of stone - Otis Williams & Charms
32. Ivory Tower - Otis Williams & charms
33. In the still of the night - Dion & Belmonts
34. Teen Angel - Dion & Belmonts
35. Runaround Sue - Dion
36. I wanna run you - Tellers
37. Loveable you - Willis Sanders & Fabulous Embers
38. Time and Time Again - Field Brothers

Hour #3

39. 11th hour melody - The Rivieras
40. Moonlight Cocktails - The Rivieras
41. Zoom Zoom Zoom - The Collegians
42. I'm in the mood for love - The Chimes
43. Bing Bong - The Silhouettes
44. Since I don't have you - The Skyliners
45. Coney Island Baby - The Excellents
46. Gonna make him my baby - April Young
47. Two Broken Hearts - Del Satins
48. Starlight - Preludes 5
49. To get back to you - Anthony & Sophomores
50. Somebody nobody wants - Dion
51. Tonight I fell in love - The Tokens
52. Never - The Earls
53. Boo bhh Hoo Hoo (I'll never let you go) - Little Richard
54. Crying in the Chapel - Orioles
55. For your precious love - Kenny Vance & Planotones
56. Shu Bop - Dion
57. Goodnight Baby - The Imaginations

===============================================
JACK VAN OERS & THE ROCKIN' WINDMILL ROCKABILLY
SHOW ON ROCK-IT RADIO SHOW #5690

From the land of windmills, dykes, canals, cheese, tulips,
cows and wooden shoes here is another dynamic Rockin'
Windmill Show. Host Jack van Oers plays music from Switzerland,
Canada, Sweden, The UK, Norway, The Netherlands, the USA,
France and Belgium. So, just turn up the volume, move your
feet and enjoy the show.

1. Gonna type a letter - Billy Fury - 1959
2. If I ever needed you - Carl Mann - 1960
3. Pocketfull of hearts - The Rhythm Cadillacs - 1988
4. I'm gonna tell - Cousin Louie - 1961
5. Hippy hippy shake - The Hot Jumpers - 1961
6. Bonnie Lou - Jan & Arnie - 1958
7. We fell in love as we tangoed - R Dean Taylor  - 1962
8. Paper roses - Ruthie & the Wranglers - 1996
9. Truly yours - Boppin' Steve & the Playtones - 2004
10. Counting the days - Eddie Bell - 1959
11. The beat goes on - Hank Sundown & the Roaring Cascades - 2011
12. Hey Mae - Rusty & Doug Kershaw - 1958
13. Hey Mae - The Cousins - 1962
14. Annie Mae - Bobby DeWitt - 1959
15. Je veux me promener - Johnny Hallyday - 1960
16. Sunny - Bobby Comstock - 1963
17. Warm love - King Size Trio - 2001
18. Saturday jump - Kim Lenz & her Jaguars - 1998
19. Extra, extra - Gary Ray - 1965
20. Iedere dag (everyday) - John Spencer - 1991
21. Singing in the jungle - Hank Mizell - 1976
22. Juke box hop - Dale Wayne & the Wanderers - 1960
23. Send me some lovin' - Blue Valley Boys - 2006
24. Where my sweet baby goes - Ray Campi - 1974
25. Strange feeling - Jerry Mason - 1959
26. Dakota (instr) - Pipeline '61 - 2003

===============================================
JACKIE BOND & LET THE GOOD TIMES ROLL OLDIES SHOW
ON ROCK-IT RADIO SHOW #5691 ROCKABILLY SPECIAL

From the UK Jackie is back this week with another
great set of oldies Rock and Roll from the 50s and
early 60s here is the playlist of the show.

1. Cadillac baby - Bill Sherrell
2. Be Boppin Baby - Mack Banks
3. Trouble Bound - Billy Lee Riley
4. Rock To The Top - Billy Peek
5. Bottle to The Baby - Charlie Feathers
6. Oh Love - Don Wade
7. Mama Rock - Johnny Powers
8. I'm Gonna Rock Some Too - The Hodges Bros
9. My Boy Flat Top - Dorothy Collins
10. Barefoot baby -Janis Martin
Soundbite
11. Rockabilly Boogie - Johnny Burnette and The Rock n Roll Trio
12. Bump - Jay Cee Hill
13. Satellite Rock - Jimmy Copeland and The J-Teens
14. Conny Lou - Ray Taylor
15. Moaning The Blues - Norman Bullock
Soundbite
16. Let 'er Roll - Sid and Billy King and The Five StringsÂ
17. Broken Heart - The MoonlightersÂ
18. Rocky-Rolly-Lover Boy - Judy Faye
Soundbite
19. Mystery Train - Elvis Presley
20. Usta Be My Baby - Sanford Clark
Soundbite
21. Boppin' The Blues - Carl Perkins
22. Hobo Bop - Tommy Nelson
23. I Wanna Bop - Billy Harlan
Soundbite
24. Waitin' In School - Ricky Nelson
25. You Don't Know My Mind - Roy Moss
26. Rock n Roll Ruby -Warren Smith
27. Nervous Breakdown - Eddie Cochran
Soundbite
28. Rock-Ola Ruby - Sonnee West
29. Carry On - Jimmy C Newman
Soundbite
30. Cat Talk - Lew Williams(Outro)

===============================================
ROCKIN' DADDY O'S ROCKABILLY RANCH PARTY SHOW
ON ROCK-IT RADIO SHOW #5692

From up and around the Big Apple Rockin' Daddy O's
Rockabilly Ranch Party returns with some of the
wildest rockabilly out there today! Now on demand
in our program page as show #5692 just click to the
speaker on the left hand side. Here is this shows
playlist of what you will hear!

1. All Messed Up-Sean Coleman & The Quasars
2. El Passo Rock-Long John Hunter
3. Chaquita-Dave Clark Five
4. Thunderbolt-Shondells
5. I Ain't Gonna Be Around-Joe Therrien & The Sully Trio
6. 99 Chicks-Ron Haydock & The Boppers
7. Pretty Kitty-Reggie Perkins & His Rockin' Maniacs
8. Little Angel-Herbie Duncan
9. Hitch Hike-Screamin' Rebel Angels
10. Ice Cold-Darrel Higham
11. Make Me Dance Little Ant-Playboys
12. Please Mama Please-Go Cat Go
13. The Raging Sea-Gene Maltais & The Gibson String Band
14. Boppin' Bernie-Levi Dexter
15. What You Want-Mac Curtis
16. Please Give Me Something-Bill Allen & The Back Beats
17. T.V. Mama-Frantic Four
18. Silhouette-T J Mayes
19. Dance, Franny Dance-Floyd Dakil Combo
20. Dance Baby (With Me)-Little Mac & The Bravadoes
21. Go Man Go-Dala Rocka & The Volcanos
22. Stay Away From My Girl-Sean Coleman & The Quasars
23. Chalk It Up To The Blues-Big Sandy & His Fly-Rite Boys
24. Twitchy-Rene Hall's Orch

===============================================
AL COOL DADDY SMITH WITH THE ROY HALL SPOTLIGHT
ON ROCK-IT RADIO SHOW #5693

This show is a tribute to one of "The Unsung Heroes of Rock and Roll",
Roy Hall. Roy was a pianist,singer and song writer who was there
at the beginnings of Rockabilly and Rock and Roll.
He never had any hits but is very likely the co-writer of one
of the greatest piano driven Rockabilly tunes of all time,
Jerry Lee Lewis' version of "Whole Lotta Shakin' Goin' On".
I say very likely because there is some dispute to that fact
depending upon whom you read and whom you believe.
This mystery is dealt with during the show as well as the
playing of rare and not so rare tunes by this artist, who
is virtually unknown to most listeners of radio today.
Ironically..if Roy did co write Whole Lotta Shakin' his
version (not the original by the way) does not contain
a piano within it!

The play list is as follows:

1.) Whole Lotta Shakin' Goin' On-Jerry Lee Lewis 1957
2.) Whole Lotta Shakin' Goin' On-Big Maybelle 1955
3.) Whole Lotta Shakin' Goin' On-Roy Hall 1955
4.) See You Later Alligator- Roy Hall 1956
5. Blue Suede Shoes-Roy Hall 1956
6.) Dirty Boogie-Roy Hall 1949
7.) Okee Doaks-Roy Hall 1949
8.) No Rose In San Antone-Roy Hall 1949
9.) Never Marry A Tennessee Gal-Roy Hall 1949
10.) Mule Boogie-Roy Hall 1950
11.) All By Myself-Roy Hall 1955
12.) Three Alley Cats-Roy Hall 1956
13.) You Ruined My Blue Suede Shoes-Roy Hall 1956
14.) Move On-Roy Hall 1956
15.) She Sure Can Rock Me-Roy Hall 1956
16.) Rock and Roll Granpa-Roy Hall 1956
17.) Rockin' The Blues-Roy Hall 1956
18.) Dig Everybody That Boogie-Roy Hall 1958
19.) One Monkey Can't Stop The Show-Roy Hall 1958
20.) Flood of Love-Roy Hall 1958
21.) Christine-Roy Hall 1958
22.) Bed Spring Motel-Roy Hall 1958
23.) Go Go Little Queenie-Roy Hall 1958

===============================================
BILL GREEN ROCK AND ROLL RETROSPECTIVE ON
ROCK-IT RADIO SHOW #5694 - HEAVENLY BODIES

It's out of this world. Rock 'n Roll Retrospective
host Bill Green presents songs with moon, sun and stars
in the title. This is a fascinating collection with
artists as varied as Elvis, Perry Como and Ivory Joe Hunter.
What better way to explore these heavenly bodies than
on the Rock-it.

1) Blue Moon - The Marcels (1961)
2) Please Mr. Sun - Tommy Edwards (1959)
3) The Stars - The Ocapellas (1966)
4) There's A Moon Out Tonight - The Capris (1961)
5) California Sun - The Rivieras (1964)
6) Count Every Star - The Rivieras (1958)
7) Moon River - Jerry Butler (1961)
8) Blues At Sunrise - Ivory Joe Hunter (1945)
9) Little Star - The Elegants (1958)
10) Blue Moon Of Kentucky - Elvis Presley (1954)
11) I Don't Care If The Sun Don't Shine (1954)
12) Flaming Star - Elvis Presley (1960)
13) In The Misty Moonlight - Jerry Wallace (1964)
14) The Sun Ain't Gonna Shine Anymore - The Walker Brothers (1966)
15) A Thousand Stars - Cathy Young and the Innocents (1960)
16) Havana Moon - Chuck Berry (1956)
17) Please Mr. Sun - Johnny Ray (1952)
18) Don't Let The Stars Get In Your Eyes - Perry Como (1953)
19) Moonbeam - The Argyles (1957)
20) Please Mr. Sun - Tippie and the Clovermen (1962)
21) I Told Every Little Star - Linda Scott (1961)
22) In The Moonlight - The Four Troys (1959)
23) Warmth Of The Sun - The Beach Boys (1964)
24) Look For A Star - Gary Miles (1960)
25) When You Wish Upon A Star - The Crescents (1964)

===============================================
GLEN GORDON'S MUSICAL WEB SHOW WITH SONGS ABOUT
SINGERS ON ROCK-IT RADIO SHOW #5695

Glen is our latest addition of jocks here at
Rock-it Radio. His very first show aired early last
month and he is back again with a great set of oldies
here at Rock-it Radio and we are very happy to have him!
This time, Glen Gordon features songs about musical
luminaries with a few about being a singer thrown in for
good measure.

01. Do You Remember - Beach Boys
02. (Here They Come) From All Over The World - Jan & Dean
03. My Boy Elvis - Janis Martin
04. Elvis Is Rocking Again - Hunt Sisters
05. My Baby's Crazy 'Bout Elvis - Billy Boyle
06. It Won't Happen With Me - Jerry Lee Lewis
07. Got A Girl - Four Preps
08. Buddy - Jackie DeShannon
09. Buddy's Song - Bobby Vee
10. Tribute To Buddy Holly - Mike Berry
11. Let's Think About Living - Bob Luman
12. Sing The Girls A Song, Bill - Waylon Jennings
13. The Beatles Are In Town - Fondettes
14. Beatles, Please Come Back - Gigi Parker & The Lonelies
15. Looking For An Echo - Persuasions
16. Memories Of El Monte - Penguins
17. Creeque Alley - Mamas & Papas
18. Please Phil Spector - Mike Lendell & The Attack
19. Sweet Soul Music - Arthur Conley
20. Bo Diddley - Bo Diddley
21. Bop Like Carl - Bill Jenkins
22. (I Want) The Real Thing - Chip Taylor
23. Where Does A Rock & Roll Singer Go - Artie Wayne
24. Young Singer - Alvie Self
25. Little Eva - Locomotions
26. The Folk Singer - Tommy Roe
27. Honky Tonk Singer - Art Buchanan
28. My Baby Don't Dance To Nothing But Ernest Tubb - Junior Brown

===============================================
JAMES RILEY ROCKABILLY AND BLUES RADIO SHOW ON
ROCK-IT RADIO SHOW #5696

This week James is back with another 2 hours of great
shows featuring Rockabilly and or Blues Music from
yesterday and today. His show is in 2 parts in our
Program page which is always on demand to listen around
your schedule! Here is the playlists of this weeks
show on Rock-it Radio.

Rockabilly N Blues Radio Hour #1:
We kick off the show with Ronnie Dawson's "Action Packed"
which is the best description of the show...a full hour of
action-packed tunes! We hear Paul McCartney talk about
the Burnette Brothers and specifically "Honey Hush" which his
cover appears on the show, plus tunes from Jimmy & The Mustangs,
Jerry Lee Lewis with John Fogerty, Eddie Cochran, Rich Mahan,
Gene Summers, Bryan Adams, Johnny Cash and much more!!

1. Action Packed- Ronnie Dawson
2. Long Black & Greasy- Rayford Bros.
3. You Belong To Me- Bryan Adams
4. I Won't Cry- Jimmy & The Mustangs
5. Travelin' Band- Jerry Lee Lewis & John Fogerty
6. School Of Rock & Roll- Gene Summers
7. Hotrod Girls- Rocket 3
8. Maybe Baby Amy- Petunia & The Vipers
9. Pink & Black Cadillac- The Rockats
10. I'm The One- Lara Hope & The Arktones
11. Knock Knock Rattle- Rex Allen
12. I'll Get Off The Booze- Rich Mahan
13. Brown Eyed Handsome Man- Johnny Cash with Carl Perkins
14. Honky Tonk Hell- Webb Wilder
15. Changing All These Changes- Nick Lowe
16. Honey Hush- Paul McCartney
17. Something Else- Eddie Cochran
18. My Wild Girl- The Starjays
19. She's The Most- Lil Mo & The Dynaflos


Rockabilly N Blues Radio Hour #2:
We get interview snippets from Linda Gail Lewis and
JM Van Eaton as well as our first "Dale Yeah" segment
with Dale Watson. Plus, we hear rockers from Carl Bradychok,
Glen Glenn, The WildTones, Big Mama Thornton, Wanda Jackson,
Rosie Flores, Sirocco Brothers, The Mavericks, Fats Domino
and more!

1. Love Machine- The WildTones
2. Hands Off- Lil Mo & The Dynaflos
3. Sure Does Help- Linda Gail Lewis
4. Capybara Boogie- Old Stuff Trio
5. I Smell A Rat- Big Mama Thornton
6. Too Much- Carl Bradychok
7. That Weeping Willow Tree- Eddie Clendening
8. Money Honey- Wanda Jackson
9. Jukebox Jump- Si Cranstoun
10. This Cat's In The Doghouse- Rosie Flores
11. Sag, Drag & Fall- Sid King & The Five Strings
12. Stomp- Sirocco Brothers
13. Whole Lotta Shakin' Going On- Jerry Lee Lewis
14. The Only Question- The Mavericks
15. Good Guy- Don Diego Trio
16. If You Know What's Good For You- Dale Watson
17. Blue Jeans & A Boy's Shirt- Glen Glenn
18. Burning Love- Darrel Higham & The Enforcers
19. Honey Chile- Fats Domino

===============================================
TREVOR HYLAND'S ROCK AND ROLL DANCE PARTY 2 HOUR
FEATURE ON ROCK-IT RADIO SHOW #5697

Two full hours in 2 parts for the DJ from
Bendigo, Victoria Australia! Rock-it Radio is
always thrilled to get a show off of Trevor and this
week features a double feature for Show #5697 now
archived in our program page. Here is the playlist
below.

Hour #1 - " Rockin' It Out " from Trev's studios in Bendigo
Australia. with music that will get you movin' from the
beautiful Helen Baiely from Cherry Divine plus hot tracks
from rockin' ladies who have inspired her.


01. Mean Evil Woman - Cherry Divine
02. Hard Headed Woman - Elvis Presley
03. Mean Woman Blues - Elvis Presley
04. Eat My Words - Mari Brom
05. Jeopardy - Marti Brom
06. My Baby Plays Bass - Chery Divine
07. Rockabilly Chick - Cherry Divine
08. Queen Of Rockabilly - Cherry Divine
09. Brand New Tattoo - Cherry Divine
10. Bring My Cadillac Back - Imelda May
11. Lucky & Wild - Josie Kruezer
12. They Call Me Crazy - Marti Brom
13. Drugstore Rock & Roll - Janis Martin
14. I Wore Elvis's Ring - Wanda Jackson
15. Crazy Mixed Emotions - Rosie Flores
16. Rockabilly Dancers - Cherry Divine
17. Ain't No Fool - Cherry Divine
18. Crazy - Cherry Divine
19. I Need A Man - Cherry Divine
20. Howl At The Moon - Kim Lenz
21. Rock & Roll Guitar - Kim Lenz

Hour #2

01. Rock Roll Jump - Moonee Valley Drifters
02. Crash The Party - The Shindingers
03. The Magic 8 Balls - Hill Billy Stomp
04. Devil On My Shoulder - Jeannie Lushes & The Lubricators
05. Drive In Show - Howlin' Moondog
06. Ducktail - The Eddys
07. Long Blond Hair - The Flaming Stars
08. Flat Black Cadillac - Flying Saucers
09. Jitterbop Baby - Flatfoot Shakers
10. Rockin' In The Royal - Getback
11. Hot Dog - The Headliners
12. Hot Rod Baby In A Coup De Ville - Slap'n The Cats
13. Bigelow 6-2000 - Jive Bombers
14. Mean Mama - Johnny Law
15. Mean Woman - The Speedsters
16. My Baby Looks Like Betty Page - Wes Pudsey & The The Sonic Aces
17. My Baby's Gone Atomic Hi Tones
18. Rock Bop Boogie - Rusty & The Dragstrip Trio
19. Everybody's Rockin' - Satellite V
20. Saturday Night - Chrome Daddys
21. No Particular Place - The Chevrolets
22. Nervous Breakdown - The Mighty Guys
23. Moon Man Rock - The Whieliners
24. Please Don't Touch - The Top Cats
25. Hot Rod Man - V8 Vagabonds
26. Knock Knock Rattle - West Texas Crude
27. Something's Wrong With My Radio - The Wild Ones

===============================================
All the Rock-it Radio shows are available on CD

Each show is only $9.50 each and you can order
in bulk and shipping will never be more then $2.00.
Ask for a secure paypal invoice -- information is at:
http://www.rockitradio.net/order.html


==============================================

100'S OF VINTAGE ROCK AND ROLL VIDEOS ON FILE IN
OUR VIDEO SITE AT ROCK-IT RADIO:
CHECK IT OUT AT:

HTTP://WWW.ROCKITRADIO.NET/VIDEO.HTML

==============================================
COME JOIN US ON FACEBOOK !!! WE WOULD LOVE A
LIKE FROM YOU!

http://www.facebook.com/rockitface
The Rock-it Radio Facebook Site.

==============================================
HISTORY OF ROCK-IT RADIO

If you are new to Rock-it Radio and would like to learn more --
We have our History Page up as well -- telling the story of Rock-it
Radio. You can find it at:
http://www.rockitradio.net/history.html

===============================================

MAY END OF THE MONTH DRAWING OF WINNERS
ANNOUNCED FOR LAUNCHING PAD SUPPORTERS
At the end of every month on Rock-it Radio we have a
random drawing for those that have supported Rock-it
Radio by purchasing either Rock-it Radio shows through the
either the Rock-it Radio Launching pad at:
Or by going and ordering Rock-it Radio shows at:
The May 2016 Winners this month are:
Kurt Hallmeyer - Tualatin, Oregon USA
James Harris - LaVale, Maryland USAEdward Miles - Charlotte, North Carolina USA

SUPER MEGA WINNER - WINNER OF 10 SHOW
OF THEIR CHOICE !!!!!!!!

Angela Leogrande - Selden, New York USA

Each of you have won your choice of 3 vintage
Rock Radio programs (The Super Mega winner won 10!)
from our online store at:

or you can order Rock-it Radio Shows if you prefer on CD

You have until June 30, 2016
to let us write back and let
us know of your choices.
Congratulations and let me know what you would like to
have along with a mailing address and we will got those
items out to you. Just our way of saying Thank you for helping
support Rock-it Radio. And of course we will have October drawings
as well at the first week of next month.
NOTE: You should keep on checking this notice board
or join the Launching Pad Facebook site at:
And of course we will be having another drawing at the
end of this month.
NEW RELEASES IN THE ROCK-IT RADIO EBAY STORE.

We have new releases in our Ebay Store of Rock-it
Radio shows. Here are the descriptions below.

1. 5 CD Set of Lane Quigley's Musical Tribute and 50 year Class
Reunion of the Class of 1966 now available in our Ebay Store.
This set of shows is currently being played on Rock-it Radio.
http://www.ebay.com/itm/-/141970472638

2. Last Year's 50 year Class Reunion - Just listed and a
year behind the 5 CD set of Lane Quigley's Musical Tribute
and 50 year Class Reunion for the Class of 1965!
Now in the Rock-it Radio Ebay store at:
http://www.ebay.com/itm/-/141970492550

3. JUST RELEASED! Cool Bobby B & The Doo Wop Stop Show 3 hour
countdown of the Top 50 Requests for 2015. Check out the details
at: http://www.ebay.com/itm/-/131791863990
==============================================

FREE CD GIVEAWAY FOR ENTIRE MONTH OF JUNE!
TREVOR HYLAND ROCK AND ROLL DANCE PARTY SHOW.

Rock-it Radio continues to giveaway CD's for May
for orders received this entire month.

For many year's Dick Biondi was a icon in Chicago
Radio working at the 2 top 40 radio giants of WLS and
WCFL. And the entire month of June if you buy any
Rock-it Radio products or vintage shows we offer we
will be throwing this one in your package for FREE!
This FREE Giveaway if you have our catalog is Catalog
RIR #165.

Rock-it Radio Launching Pad : http://www.rockitradio.net/store.html

Rock-it Radio Ebay Store: http://stores.ebay.com/Rock-it-Radio-Store
or

Order a show of Rock-it Radio at:http://www.rockitradio.net/order.html
or a 50 Show Rock-it Radio Flashdrive at http://www.rockitradio.net/flashdrive.html






Catalog orders will also receive this FREE CD.

Here is the playlist of this FREE CD OFFER!

Actual Broadcast Recording (Aircheck)
Station: WLS 890 AM - Chicago, Illinois
DJ and Show: Dick Biondi
Date of Broadcast: 9 March, 1962
RIR #165
Length: 55 minutes (digitally remastered and placed on
CD at our studios here at Rock-it Radio)

This is an actual Broadcast from 1962 unedited and you hear
everything just like you did back in 1962! This show is
from WLS Radio 890 in Chicago. With Dick Biondi at the
Microphone! Who at the time was doing the 9 p.m. to Midnight lineup.
The WLS 50,000 Watt Signal covered 40 States and Dick Biondi
quickly became one of America's top jocks having a huge
audience. Along with the great tunes of that era you will
also hear some local and World Newscasts and jingles and
vintage ads. Here is a playlist of what is on this broadcast.

1. ID and Jingle of WLS in Chicago
2. Jazzy little instrumental - unknown title or theme but could be Dick Biondi's theme song <?>
3. Ad: for Power Ford of Chicago and get a new '62 Ford for only $44.00 down!
4. Ad: Harlem Globetrotters in Chicago - Tickets are $1.50.
5. Love me warm and tender - Paul Anka (his first RCA release)
6. Ad: Mason's Bridal shop - Call GR 7 4700 for a catalog
7. The one who really loves you - Mary Wells
8. Ad: For Stridex Medicated pads for Acne Blemishes. Only 98 cents at your local store.
9. Baby it's you - The Shirelles
10. Ad: For St. Joseph High School Mardi Gras Dance in Gary Indiana.
11. Weather report by Pierre the weather guy in French accent - "It's going to be magnifique!"
12. Johnny Jingo - Hayley Mills
13. Ad: For latest Highwaymen LP
14. Please don't ask about Barbara - Bobby Vee
15. News Headline: President Kennedy plans to resume Nuclear Testing unless the Soviet Union agrees to meet on nuclear talks.
16. Hey let's Twist - Joey Dee & the Starliters
17. Don't break the heart that loves you - Connie Francis
18. You better move on - Arthur Alexander
19. Dick Biondi with various Community Announcements in and around Chicago.
20. Love is the sweetest thing - Mario Lanza
21. Ad: Progress in Transportation - total electronic control of driving could be as little as 5 years away!
22. Slow Twistin' - Chubby Checker and Dee Dee Sharp
23. Dick Biondi reading a letter from students of Kansas State University saying his show is the best show to study under.
24. Fever - Peggy Lee
25. Foot Stompin' - (instrumental version) Unknown band
26. WLS Chicago Jingle

Hear All this great nostalgia for free, uncut and
uncensored when you. And get this FREE CD when you
order any product from Rock-it Radio for the entire
month on June 2016!

**Rock-it Radio is 100% Listener supported we have no
sponsors and the sale of our vintage radio broadcasts helps
us to stay online and pay the copyright and broadcasting
fees it takes to remain online. thank you for all your
consideration.**


================================================
ANOTHER NEW FLASHDRIVE RELEASE OF OUR 50 LATEST SHOWS ON MP3.
ROCK-IT RADIO FLASHDRIVE FOR SHOWS #5601 - 5650 NOW AVAILABLE
50 Rock-it Radio shows on Flashdrive and 80 Hours of Oldies
Rock and Roll from the Rock-it Radio Jocks! All on one Flashdrive -
Studio Quality Recording from the Rock-it Radio Studio!
Just plug into your Computer and it will play in mp3! Our
latest Flashdrive and playlist can be seen in our Ebay Store at:
http://www.ebay.com/itm/-/131820304426
Also listed in our Flashdrive website at
http://www.rockitradio.net/flashdrive.html

================================================
ANOTHER FREE GIVEAWAY FOR JUNE !!!
GET A FREE ROCK-IT RADIO T SHIRT !!!!

We have 9 great styles of Rock-it Radio T shirts and
we are giving them away for FREE also. For every order
of vintage shows or Flashdrives or Rock-it Radio shows
with a Total of $70.00 U.S. or more we will throw in a
Rock-it Radio T Shirt for FREE! We have 9 great styles to
choose from.

Here is what to do to get your T Shirt --
After you order $70.00 or more in a single order for
Rock-it Radio Products - go to our T Shirt website at:
http://www.rockitradio.net/tshirt.html Choose the
style you would like ....
Then e mail us at rockitradio@netzero.net in the
subject line type in FREE T Shirt
and then let us know what size you would like (small,
medium, Large, X Large, 2X or 3X) and we will include
that shirt with your order.

================================================
RECRUITING FOR RADIO PERSONALITIES FOR
ROCK-IT RADIO

Do you know your 50s and 60s Rock & Roll, Doo wop
or Rockabilly? And the ability to produce a show
on CD?
We do require a playlist for this newsletter but
your show will stay online for the world for approx.
3 weeks. Unlike some stations where you broadcast one
time and it's gone forever.
If interested check out our Rock-it Radio Team page
at: http://www.rockitradio.net/team.html

We are also looking for writers and translators!
==================================================
3 New Re introductions of lost broadcasts

We are re listing 3 shows that have not been in our Ebay store for sometime.
But we thought we would re list them today. Especially since today marks
the 50th anniversary of The Vietnam War, we have a special broadcast of
Pat Sajack (before the wheel of Fortune) when he was serving and DJing on
AFVN (Armed Forces Vietnam Network). Serving and spinning Top 40 Songs
to Military serving in Vietnam. Those that know the Movie with Robin Williams
"Good Morning Vietnam" - it's that station! you can view the playlist of
that show at:
http://www.ebay.com/itm/141943972346

Also, come relive New Year's Eve 1967 with BBC Radio 1 Top Gear Show with
DJ John Peel.

John Peel was one of the most fascinating 60s DJ's in the UK! Equivalent in
popularity to the United States Wolfman Jack. He also introduced much of the
60s Psychadelic Rock to the UK. In our catalog these shows are listed as
RIR #342 and RIR #343 you really get your monies worth because both items are
a 2 CD set! Click to the link to see the playlists.

RIR #342 Disc #1 John Peel Top Gear Show BBC Radio 1
http://www.ebay.com/itm/141943985364

RIR #343 Part II of John Peel Top Gear Show BBC Radio 1
http://www.ebay.com/itm/141943992327

Sales of these items along with all items in our Launching Pad site of Rock-it
Radio go to supporting Rock-it Radio and pay for licensing and online and
broadcasting fees. We thank you for your continued support.

==================================================
ROCK-IT RADIO RETAKES #1 INTERNET RADIO STATION
FOR MAY 2016

With the excellent showing of DJ's and the talent
that they show and the music that they play at
Rock-it Radio - We are happy to report that Rock-it
Radio has regained the #1 position of most listened
to radio station over the internet according to
Top Internet Radio Stations for MAY 2016.
Even with lack of programming we still managed to
make #1 2 months in a row :)

You can follow the standings at:
http://internetradiotopsites.com/index.php

================================================
=====================================================
STREEMA.COM PICKS UP AUDIO FEED OF ROCK-IT RADIO

Another way to tune into Rock-it Radio on your
computer is now with Streema's audio feed of our
station that picked up Rock-it Radio.

http://streema.com/radios/Rock_it_Radio
REMINDER ON HOW TO CONTACT THE DJ'S AT ROCK-IT RADIO

We all love our our e mails from listeners here at Rock-it
Radio. Along with requests and dedications. Earlier this year
due to the excessive spam we all were getting I stopped listing
the e mails at each shows playlist. But you can still
contact them. Just go to the Rock-it Radio DJ page and each
DJ has there e mail link underneath each bio.
You can find it at: http://www.rockitradio.net/dj.html


COLLECTING AIRCHECKS - A HOBBY OF RADIO NOSTALGIA
What is a Aircheck? It is simply a recording of a radio broadcast. Usually collected by Radio fans.
Come check out our webpage on collecting Airchecks.

http://www.rockitradio.net/aircheck.html


COME REMEMBER WOLFMAN JACK !!!
Rock-it Radio has a very special way to remember Wolfman Jack.
Arguably the most iconic of American DJ's. Come check out the
Rock-it Radio Wolfman Page at:
REMEMBERING OFFSHORE PIRATE RADIO IN THE UK
In the mid 1960s it was difficult for the youth to actually listen to Rock and Roll in the UK.
The BBC actually ran only a few hours a weekend to provide the young Brits with this outlet.
At night during the week they ventured to even tune into Radio Luxembourg to get there fill, that broadcast rock and pop around the clock.
To fill this void some venture capitalists decided to bring in commercial radio aboard refitted radio ships. And anchor themselves just off into International waters off the English coast.
Radio Caroline (named after Caroline Kennedy the U.S. President's daughter at the time)
and Radio London being the most famous. Rock-it Radio has a website dedicated to their ventures and also have actual radio broadcasts available of
these offshore pirates.
We invite you to check them out our webpage at:
http://www.rockitradio.net/pirate.html
FINDING ROCK-IT RADIO ON THE 'TUNE IN RADIO' CELL PHONE APP.

We have had a few requests from listeners that they couldn't find us on the popular 'Tune in Radio' App. on Android and PC and iphones. Running a search of 'Rock-it Radio' will actually list 100s of Rock stations.
So, the best way to find us on this very thorough and extensive app. that
I love using myself is -
run a search on 'rockabilly' - there you will easily find
Rock-it Radio listed.
Our Tune in Radio App. webpage is also at:
http://tunein.com/station/?stationId=41878
MISSED A COUPLE OF NEWSLETTERS LAST COUPLE OF WEEKS??

THEN YOU CAN ALWAYS CHECK OUR BLOG WHERE IT IS ARCHIVED.
YOU CAN CHECK OUT OUR BLOG AT:

http://rock-itradio.blogspot.com/
=============================================


ROCK-IT RADIO DJ PAGE...


Remember you can check out all the Rock-it Radio DJ's

and read the bios of these DJ's that make these

Rock-it Radio Shows possible at:


And don't forget for even more pictures --

there is our picture page at:
============================================
IF YOU HAVE TWITTER COME FOLLOW US THERE

If you are one that tweets then please check out and join and get our
updates on your twitter account. Our Twitter link is right below.

http://www.twitter.com/RockitRadio1
It is our new Twitter account and we will once again start
scrolling our messages and updates on our webpages as well.


============================================
ROCK-IT RADIO OTHER TWITTER ACCOUNT FOR
NEWS RELEASES FOR N. IDAHO, KODIAK ALASKA AND
THE WORLD!
Rock-it Radio has another Twitter account and is used for News
Alerts that come into the studio here at Studio A. For those Twitter
users that would like to follow the link is:
http://www.twitter.com/RockitRadioNews

The feed can also be seen in our World News broadcast Webpage
at: http://www.rockitradio.net/news.html


=================================================
WELCOME NEW MEMBERS TO THE LISTENER'S CLUB!!!!

A big welcome to the below new Rock-it Radio listeners that
joined our Listeners Club from June 7, 2016 to
June 15, 2016
We hope that you enjoy the music Rock-it Radio provides
and our playlists and information that our weekly newsletter
provides. Any comments, criticisms, kudos, compliments or
future ideas is always welcome and you can e mail me personally at:
rockitradio@netzero.net

Bobby Dixon - Snow Camp, North Carolina USA
Robert Ziejewski - New York, USA
Pat - Ventnor, New Jersey USA
Larry Valdez - Wrightwood, California USA
Ed Hodnicki - McKinney, Texas USA
Trisha - USA

We have gained 265 new likes in our listeners club
in our Facebook page Rock-it Radio Fan Page as well this week at:
http://facebook.com/rockitface and 49 more following us
on Twitter @Rockitradio1 .

We have added a total of 320 new members to the Rock-it Radio
Listeners Club since our last newsletter. We now have 87,085 exactly
that have joined the Rock-it Radio Listeners club.
We hope that you enjoy the rare 50's and early 60's
Rock and Roll, Rockabilly and Doo Wop (which most commercial
oldies radio stations have forgotten) that we are able to play
for you from Rock-it Radio. Remember, we are here for you!

So if you ever have any requests, dedications, comments and
suggestions we always love to hear from our listeners.
Our e mail address is:
rockitradio@netzero.net

====================================================
To learn more about the Rock-it Radio Listeners Club and our Free
Newsletter please check out:
http://www.rockitradio.net/member.html

It's free and easy to join and the Rock-it Radio Newsletter is always
online at: http://www.rockitradio.net/newsletter.html



====================================================

PLEASE HELP US SPREAD THE GOOD WORD OF ROCK-IT RADIO!

Do you know of someone that might also like the music

of Rock-it Radio? We are desperately trying to keep this

music alive and have been doing so since 1995! Please

share the information of this station. And if you have

a website would you please consider putting a Rock-it Radio

link on your page.

There are a few to choose from in our link page at:

http://www.rockitradio.net/links.html
HOW TO ORDER OLD ROCK-IT RADIO SHOWS = YOUR PURCHASES HELP US STAY ONLINE!!!
We have received many inquiries on how to order Rock-it Radio shows that are no longer in
our on archives webpage. These shows are still available on CD and mailed to you within 24
hours of receiving payment.
To help search for older shows that you may be looking for you may want to check the Rock-it
Radio blog site. Old newsletters describing the shows and playlists
are archived there and there is a menu bar on the right side that breaks down every playlist
Then you may either pay by check or money order or paypal. Rock-it Radio shows are only
$9.50 U.S. each and are studio quality broadcasts that were placed on Compact Disc here at
the Rock-it Radio Studio. We have a flat rate shipping charge of $1.50 U.S. so if you order
one or several -- it is still only $1.50
U.S. shipping. And we ship worldwide, overseas orders are mailed out first class airmail.
Instructions where to send payment is at our webpage:
like we can send you a paypal invoice within 24 hours.

When you order a Rock-it Radio show or shop at our Rock-it Radio Launching Pad you
help keep these oldies alive and help us pay the bills here at Rock-it Radio.
And at the same time -- you are not getting nothing for your donation, but actually
some of the shows and memories we hope we keep alive here at Rock-it Radio.



TOP 20 SELLERS OF THE ROCK-IT RADIO LAUNCHING PAD THIS WEEK

As you know the Rock-it Radio Store sells vintage Radio Broadcasts - Where you
hear the actual music, news and vintage advertisements - uncut and unedited
just like you would of heard
it back then. Here are the top sellers this week.

1. Flashdrive Rock-it Radio Shows 5501 - 5550
2. 50 year Class Reunion 1966 Lane Quigley Memory Lane Show
3. RIR #436 - Pat Sajack Armed Forces Vietnam network 3/18/1969
4. Flashdrive Rock-it Radio Shows 5401 - 5450
5. Flashdrive Rock-it Radio shows 5451 - 5500
6. Flashdrive Rock-it Radio shows 5551 - 5600
7. RIR #342 - John Peel BBC 1 12/31/1967 #1
8. RIR #644 - Dan Ingram WABC New York 6/12/1964
9. RIR #393 - John Lennon as DJ on WNEW New York from 1974
10. RIR #642 - Elliot Field - KFWB Los Angeles 1/9/1959
11. RIR #270 - BBC Buddy Holly Tribute from 1965.
12. RIR #539 - Cousin Brucie WABC New York 9/7/1965
13. RIR #359 - Gus Gossert Oldies show - WPIX FM New York 1971
14. RIR #343 - John Peel BBC Radio 1 12/31/1967 #2
15. RIR #181 - Wolfman Jack - XERB Tijuana 12/8/1967
16. Flashdrive - Rock-it Radio Shows 5601-5650
17. RIR #517 - Cousin Brucie - WABC New York 11/29/1967
18. RIR #168 - Dan Ingram - WABC New York 7/22/1967 2 cd set
19. RIR #149 - Alan Freed WINS New York City 1/23/1957
20. RIR #410 - Dr. Don Rose - KFRC San Francisco 4/4/1974




If you would like to view these shows in depth you can check out
our Rock-it Radio Ebay Store at:
http://stores.ebay.com/Rock-it-Radio-Store

or in the Rock-it Radio Launching Pad store at:
http://www.rockitradio.net/store.html(listed by date)
and in the upper left hand corner -
there is a search box where you can type in the DJ name or
Station Call letters and that information on that show will pop up.
Ordering from the Ebay store will also qualify you for the Rock-it Radio
giveaway mentioned previously in this newsletter. Sale of
these broadcasts is what keeps Rock-it Radio going and thank
you again to everyone that buys these!

============================================
Rockabilly bands looking for airplay
If you or know someone that would like airplay on Rock-it Radio we invite
you to submit your press kits to Rock-it Radio. Our website for further
information is:
http://www.rockitradio.net/airplay.html
============================================
Come tune into the World on your computer!
1000s of stations around the world now broadcast online. We have a
link to some of the internet top directories to help you find these stations.
http://www.rockitradio.net/internetradio.html
============================================
Rock-it Radio Program Webpage Reminder
Remember, if the show that you want to hear is getting close to the bottom
of the list of radio shows, you should tune in as soon as you can. These shows
to have a high audio quality require a lot of internet bandwidth and memory.
And currently we can only afford the
30
latest shows online here at Rock-it Radio.
So, when a new show is put online it knocks the oldest one off the Rock-it Radio
archives page. Usually a show will at least last 16 to 20 days, once it is placed in
the archives.
============================================
OUR SISTER STATION FIRST NATIONS BROADCASTING.
We invite you to also check out our sister station -- First Nations
Broadcasting. And tune into the rather Cool North of the Yukon and Alaska
with our very own Debbie Snowdove!
============================================
Well that is just about it for this newsletter and playlists of our latest
shows. We hope that you enjoy them.
We will do our best to keep these shows on for at least 14
days and hopefully 21 days.
All the best always,
Bennie Dingo
Rock-it Radio

website: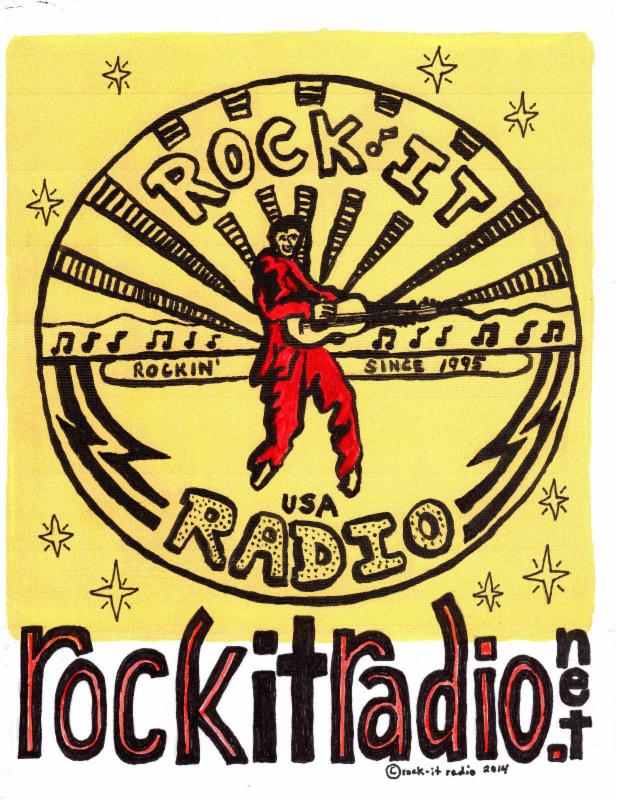 Rock-it Radio main website:
http://www.rockitradio.net

Archived Shows at:
http://www.rockitradio.net/programs.html

Rock-it Radio Vintage Broadcast Store:
(Launching Pad)
http://www.rockitradio.net/store.html